Parkdale Plaza Parts 1 & 2

PARKDALE PLAZA. Part 1. Bounded on one side by Gollihar, other side by Staples, Parkdale Plaza in Corpus Christi we enjoyed in 1960s. The routine was same: poppa got paid his $156 check on Friday, being Catholic, we would head in our Rambler station wagon to the fancy new McDonalds, which was just east of Everhart on Staples near a church. Brand new place, and of course 4 Filet-O-Fish, 4 fries, 4 sodas, sit in car & eat, then head over to Parkdale Plaza. I would be lying to you if I didn't say Woolco was main stop. Momma head inside with money in purse, she was like Imelda Marcos in shoe store, or like tossing a bottle water in middle of Flint, Michigan with the wealth.

Dad stayed in car UNLESS he needed something automotive. To this day, never knew why he sat in car watching people, but he did. And would park up against store near awning, between the main doors and opening at garden center which was farther back. Woolco had a wonderful automotive section I may add, only place maybe better was Sears & Western Auto, with Montgomery Ward (ha ha monkey wards we used to call it) also in mix.

Besides Woolco, we sometimes would go back to Parkdale Plaza during the day on Saturdays. The wooden pillars that held up in front of stores were nice looking pastels in 1960s, aqua, peach, strawberry colors. At one time, there was a J. C. Penneys next to a cafeteria. This was close to Woolco side, the J. C. Penneys eventually bailed and Lichenstein's moved in. Momma liked Lichenstein's but could not afford a whole lot there. She had worked in gift wrapping downtown location decades before and was damned good at it, then moved to the one on corner of Leopard & Carcachua near Cathedral. Anyways, Lichenstein's was one of the few stores you could walk into, not touch anything and come out smelling really nice, simply because of the perfumes.

And there was a lot of perfumes there, and bottles to spray yourself as samples. Momma didn't have stuff to make her smell pretty at home so sometimes overdo it, was a walking cornucopia or aroma, would have to ride home with Rambler windows all rolled down. Next to this place was a cafeteria, I thought was Luby's but was Picadilly's Cafeteria. We didn't eat there, but later on as a teen I would go eat there, as nothing on the menu was bad, they had big portions and could pick and choose stuff like cafeteria at W. B. Ray.

Behind these two places facing Gollihar was White's Hardware. This is a place my dad would jump out of Rambler while it was still rolling to go inside. Ok, he really did park it. Not sure how many of you remember PUSH BUTTONS on dash with Park, Reverse, Drive-1, Drive-2, Drive-3 but our car had these. Anyways, this was like a Cage's Hardware on steroids back in 1960s. You could get all sorts of tools, lumber, nails, iceboxes, washers, dryers, you name it. The people were similar to what you see now in Ace Hardware, will come up to you and ask 'can I help?' a lost art form unlike Home Depot's & Lowe's where you can look for days for someone to help you.

Then many don't know what the hell they are talking about like the Home Depot in Houston where I bought 3 different faucet things employee 'told me it will fit, is universal' and had to take them back. I told refund lady 'why the hell don't ya'll put a revolving door on front here since I have been here 3 times today?' Ha ha. Well, while poppa bought a lot at Cage's, he really liked Whites.

Some of the other stores I remember are S & Q Clothiers, this was sort of fancy stuff, too fancy for our poor ass family, so momma, Tommy & me just look thru windows at all the fine stuff can't afford. Not big deal, have to live within means you know. What would I do with a suit anyways, get slapped by crazy Miss Devine at Cathedral in it? There were other places on Gollihar later like Windjammers bar, also Dallas bar, I actually turned down job offer at Dallas cause can't stand Dallas Cowboys. Not that I would have made any money in there bartender, but Corpus Christi really seasonal on that.

At the south end anchor store was a Texas Gold Stamps store, before that was a HEB. We shopped both but I never understood why, I think momma just liked being seen in 'well off' stores, anything away from the sh*thole neighborhood we drove from at Port & Leopard. Still, we would not buy "cold"

foods here, just basics, beans, rice, Vermicelli of which I still can't eat to this day, bread, tortillas and lots of canned goods. But nothing cold as it was a drive back to house. We would buy things like Old Bossy gallon glass milk near us, back in old hood. The Texas Gold Stamps store was wonderful, we got Texas Gold Stamps damned near everywhere back then, same with S & H Green stamps. One would have thought momma had real money as you could trade these little booklets for cool stuff like glasses, plates, towels, even electric things like toasters we could use BC (Before Celia).

Diamond Shamrock, FINA many gas stations gave out stamps, even HEB.

Somewhere buried in Parkdale Plaza was a Toy Store. Do not remember name, but along with numerous shoes stores, insurance places, a lone toy store loomed. Tommy & me knew how to find it in the maze of Parkdale Plaza though.

Photos! Photo #1 it is Christmas Time at Parkdale Plaza in 1960s. Sharp eyed folks that don't have to use dollar store reading glasses will quickly see big Santa in there. Also shown is Tyo Store, HFC Loans, Martin's, and way in background, large sign of whites Hardware. If you look closely, there is a Rambler wagon on right, near it a 63 Chevrolet, in foregrond a Volvo, behind it a Porsche, next to it a Falcon, and far left & far right 56 Chevrolets, probably from Lew Williams!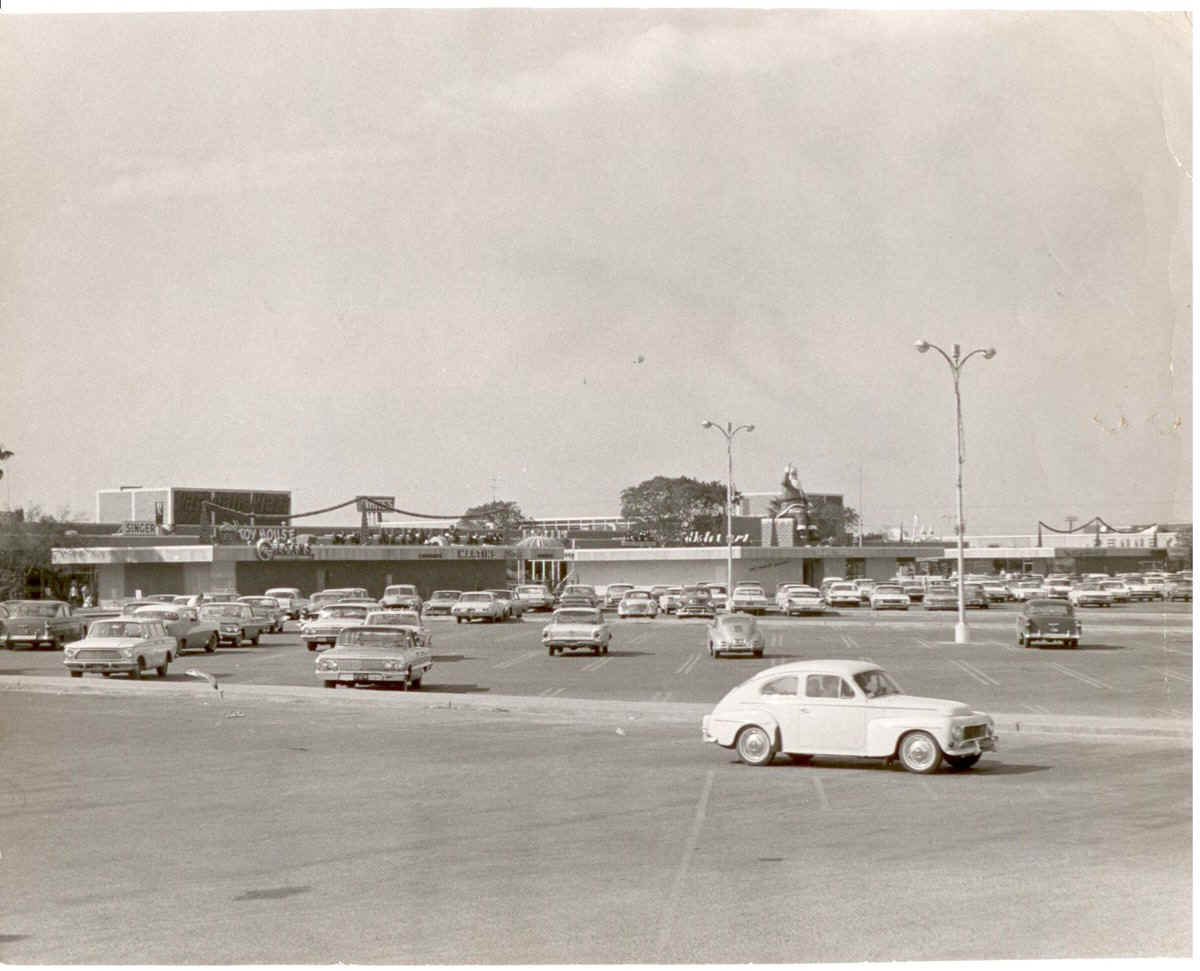 Photo #2 is Staples side and far southern corner of Parkdale Plaza facing Northwest. HEB, HFC Loans, a Grill, Fabric Shop & in background, Whites. Being a old car guy, could stare at this photo for hours. But I also stared at the poster of Carly Simon for hours but different results.

Photo #3. J C Penneys next to Picadilly Cafeteria, this is also facing east towards Staples. At a later date, Lichenstein's would take over spot Penneys in. To the right not shown would be Woolco.

Photo #4. Entrance to Penney's facing south towards HEB & rest of Parkdale Plaza. special note is to look at the "You Are Here" sign on left. If you followed back behind this would be White's. Visible inside store as soon as you walk in appears to be Mens Wear.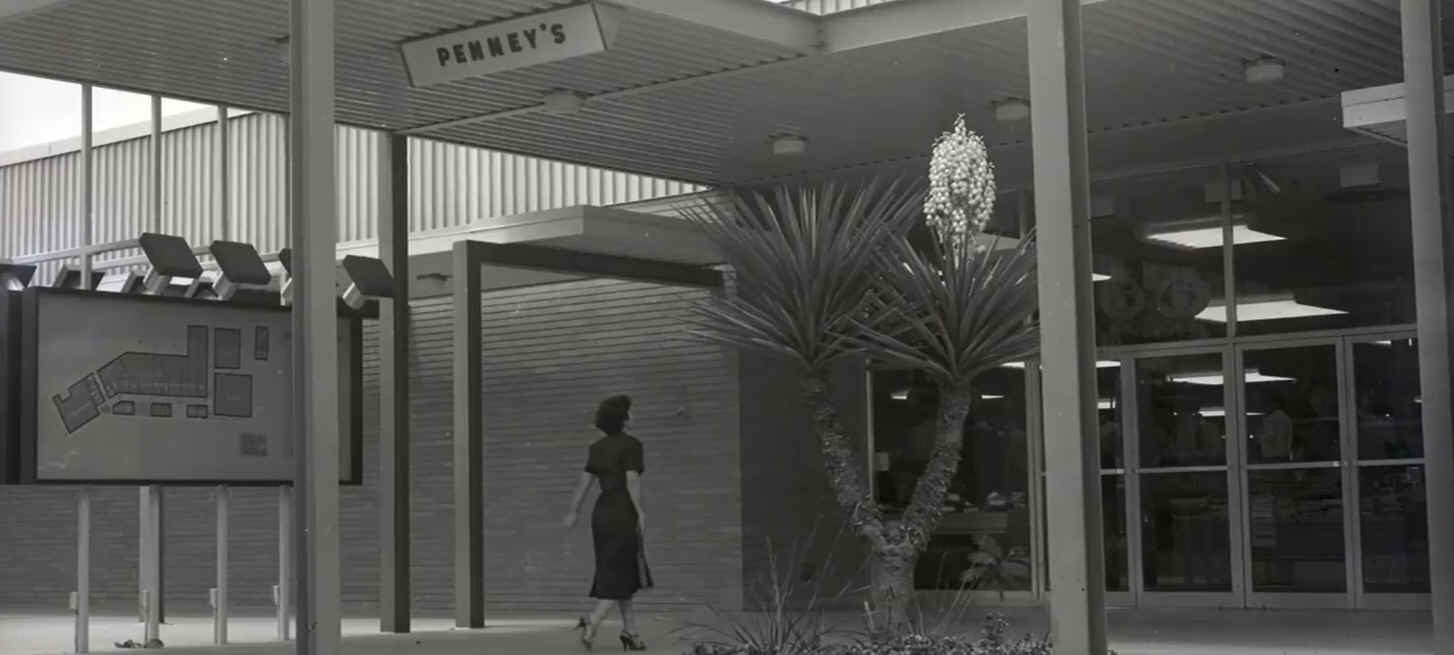 Photo #5. Woolco anchored northern end of Parkdale Plaza and was huge stand alone store. Note Texas flag. Inside the front doors shown under 1960s overhang WWW was slew of gumball machines, some wit trinkets, and a popular photo booth where you could cram you and friends inside, for $1 take silly photos. Directly below Texas flag inside was the checkouts, and up against glass was ice cream, popcorn, caramel apples and other tricks they pop you with on way out. Hard to tell a whiny kid no to stuff like that.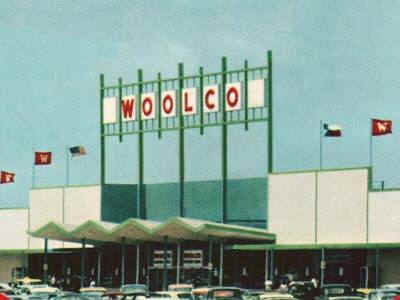 Photos #6, #7, #8 inside Woolco's Auto Department. Besides tires, Cragar mags, tools and what not, if you ever wanted to pry my dad out of car, tell him 'lets go look at the auto stuff' and off we went thru back door garden center. Behind Garden Center which was a adventure in itself was a Auto Center, where grease monkeys like my dad, worked on cars: brakes, alignments, oil changes, that sort of stuff, no paint and body, but you could buy your tires inside, and have them installed back there in a stall while you shop! Or at at Woolco's awesome grille in back of store.

Parkdale Plaza contributed to this and like many places back then, 'was a destination' where you could go, sometimes spent hours or most of day, either shopping, hanging out, pricing stuff against stores not far like K-Mart. If it seemed like bad Groundhog Day movie for my family it was as many times we found ourselves back at Parkdale Plaza on Saturday, and had been there night before, mostly at Woolco though. Now we had run of mill of everything place had to offer, sometimes even hitting Woolco again as momma would get run out at 9:00pm when they close. She used to hide things in store if she knew she was coming back next day. How many of you have done that? I have done that my whole life, still do in Houston, especially if item is only one left, or special markdown, or just pile somethings up behind other products, go back next day and uh, continue shopping.

So seemed at this sprawling retail place Saturdays would have "Special Events" Of which in turn would amount to more traffic. As we say in the bar business, if you can get the women into the place, the guys will follow. In this case, if you did stuff for kids, parents would follow! So if you still reading and the Red Bull or Starbucks Triple Mocha Frappicino has kicked in by reading my posts, will mention one more place. In the grand scheme of places my family went to here, #1 Woolco, #2 Texas Gold, #3 Whites. We ended up with crap really didn't need nor could afford sometimes like at Texas Gold, but what the heck, momma had boxes of these books, and the books took hundreds, if not thousands of stamps (some were 1200 to fill 1 book) to trade in for stuff. Woolco she was extremely thrifty, many times picking up only basics, underwear, socks, household items. Dad got his allowance and picked up some tools or car stuff. Tommy got one you build it type model like AMT, MPC or something, I got a Hot wheels car, later on a HO scale boxcar, tanker or something.

Photo #1 shows one of the fishing events Parkdale Plaza would put on, you get to keep whatever you catch, was no hooks, no weights, the fishing rods had little nets on end, and if you were patient, you could get that goldfish with red eyes. Ore calico one! You got to keep it, put in bag with some water, but if you wanted a small aquarium as shown different sizes on the left, had to buy that. The goldfish usually made it home, then croaked, so treat for cats.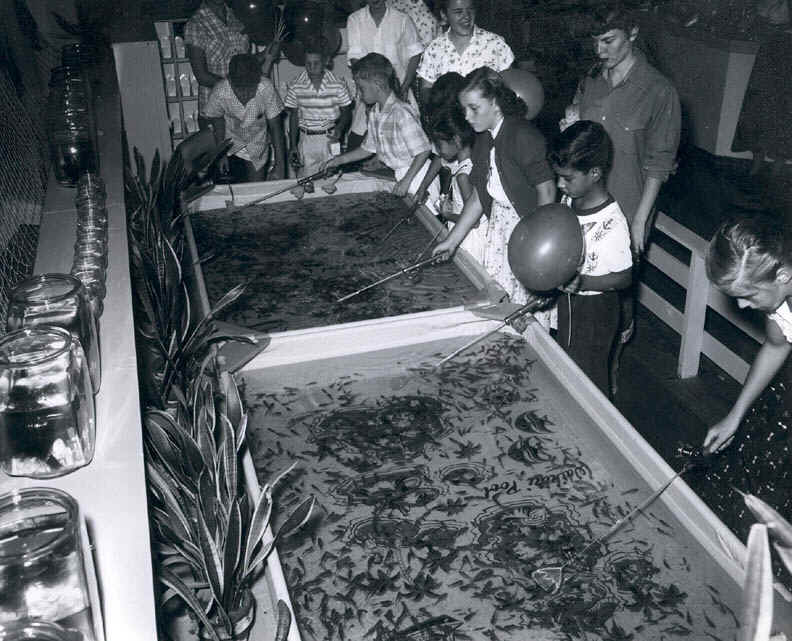 Photo #2. Sinclair gasoline would sponsor "Dinosaur Days" at Parkdale Plaza, that looks like my dad's Rambler facing crowd on far right of photo, not sure how he got such great parking as place was usually packed! Big dinos were brought in, they looked great for 1960s technology, didn't scream, screech or sing I Love You, You Love Me like that disgusting purple one does, these were fierce looking, ready to eat kids! You could take photos of them. And there were lots of other things to do, booths where you pour in some plastic goo, it closes, and makes you a dinosaur on the spot after 2 or so minutes! Wow! There were also games. Look closely, this is pretty much right up against Staples, the colorful Parkdale Plaza sign visible neat Mister T-Rex leg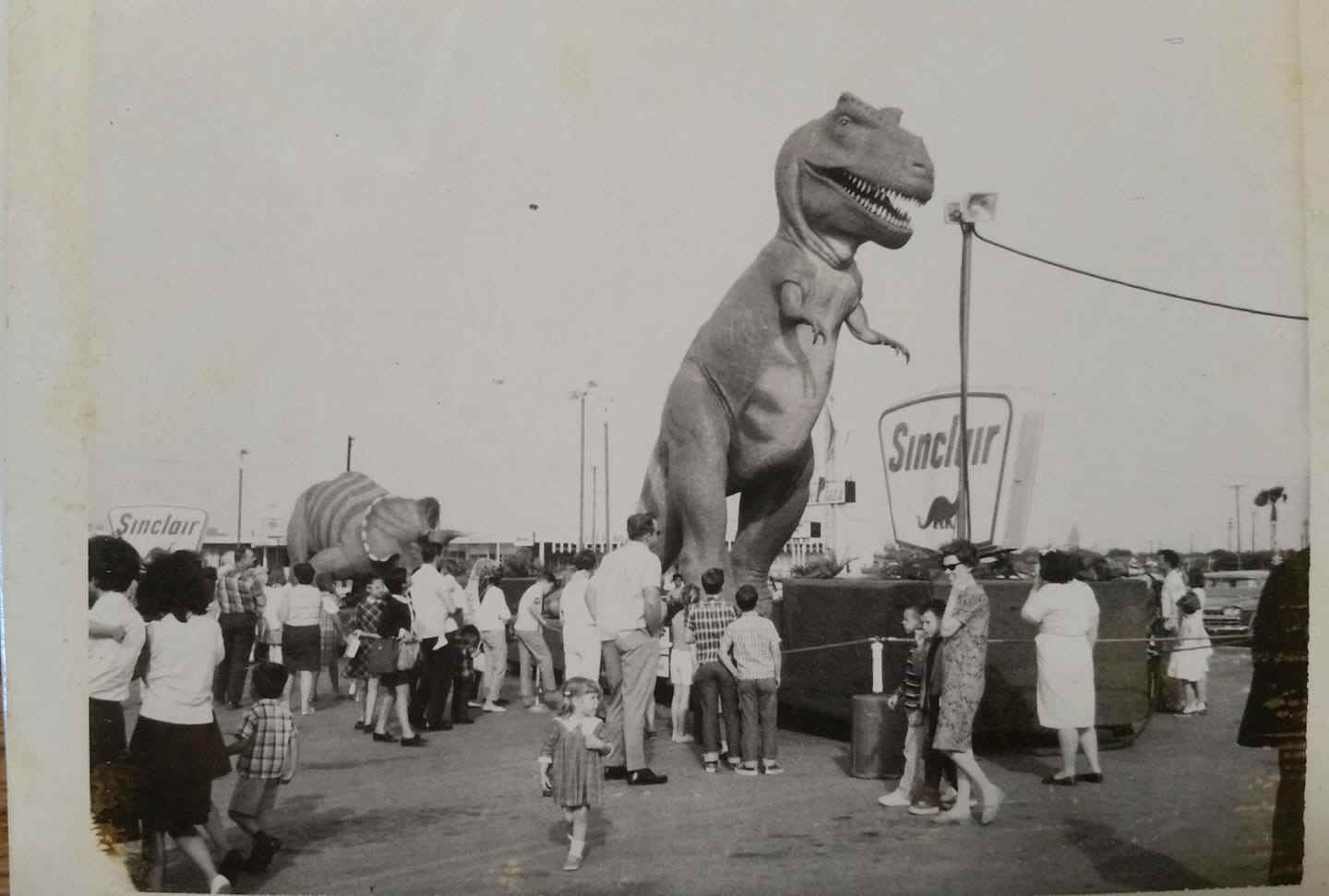 Photo #3. Aw, plastic molded dinosaur of some sort, these were about $1 or so back then, the real fun was watching the mold machine cast them, and when it opened, there is your dinosaur. The attendant would put them off to side for you, so greedy little hands would not get burned, took a few minutes to cool off. These smelled wonderful.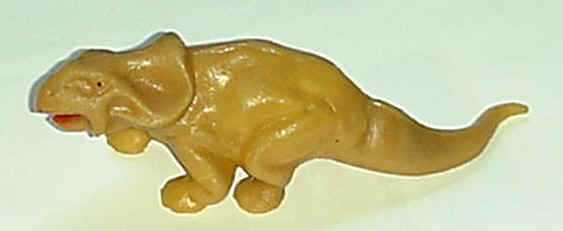 Photo #4. I have a big catalog had to drag down from attic of things you could trade your stamps and books for. About 160 pages, things that we never got, we ended up just low end stuff, basic crap. But boy, seeing these images in my book I have not looked at 30 something years (and sure as hell not sure why I even kept it, might be only one on planet) but flood of memories of not only things Texas Gold stamps offered, but S & H Green Stamps. The Texas Gold never, ever had ALL this stuff showing here, is in book, but only some...were at the store.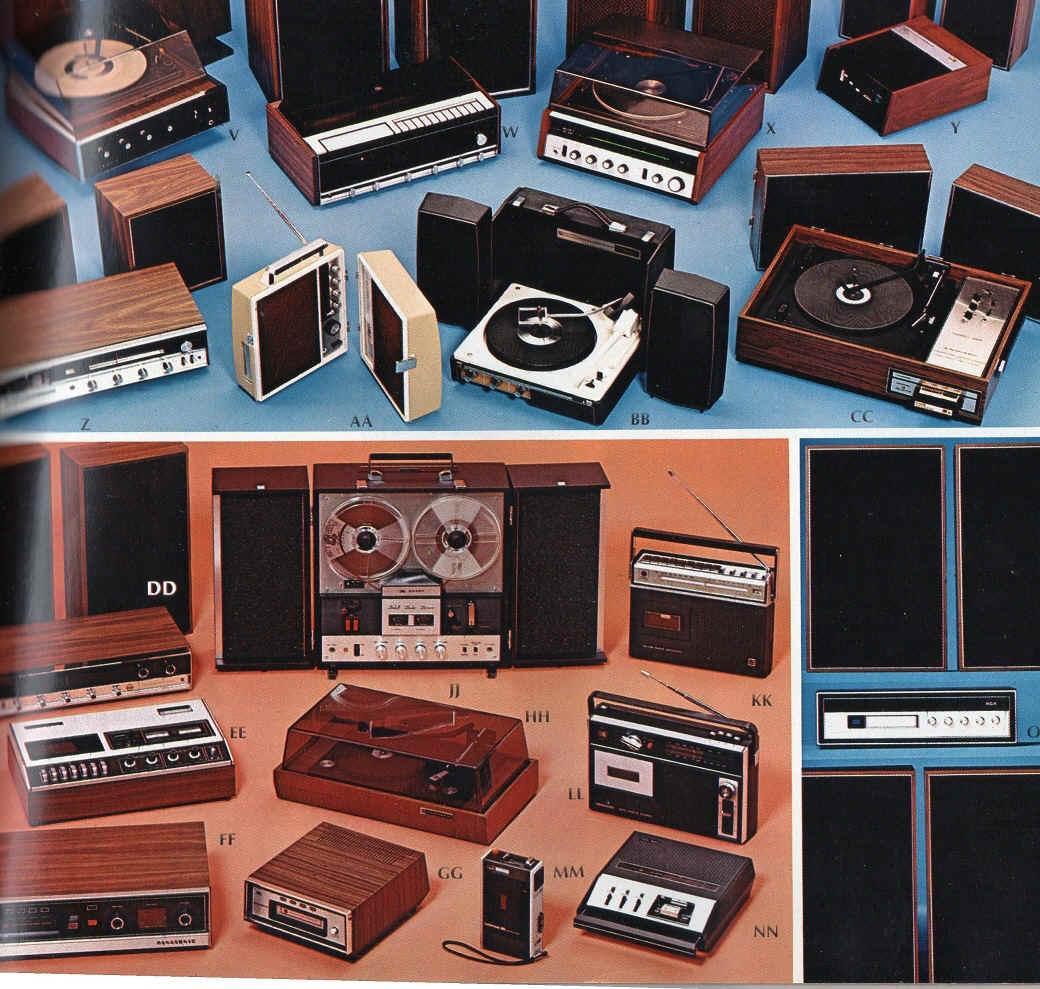 Photo #5. Well, when we had electricity and lived like almost normal people we HAD some cool stuff like this. Blender & toaster. Didn't need nor want Baconizer. Momma would have said 'cool your bacon in the cast iron pan, not some machine!' And I would agree. Seems everything kitchen appliance we had was drab olive color. Don't need no stinkin coffee pot either, just use the pot on stove. Ah, life would have been different I guess with some of these cool early 1970s gadgets.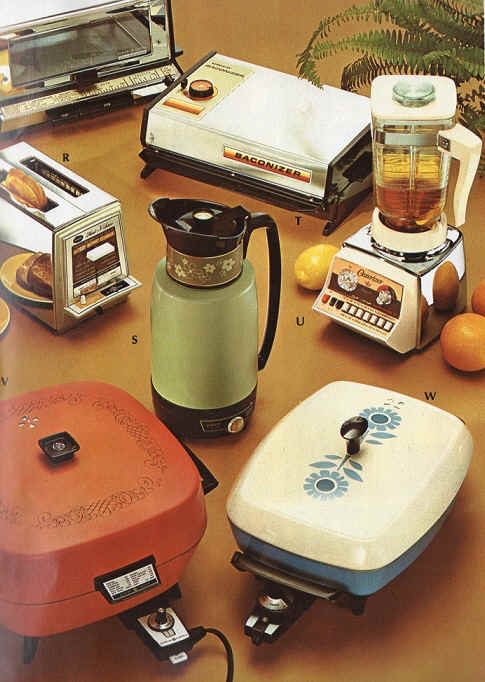 Photo #6. Yes you would need a billion Texas Gold Stamps to probably get one of these, but Texas Gold also offered ice boxes, televisions, couches, who was buying that stuff and how much crap did you have to buy to get all those stamps? We never bought NEW TV, my dad was friends with Mister Aldrich who put up the big Christmas displays off Doddridge behind Model Market on Alameda. So my dad could not only fix television sets, but Mister Aldrich also sold tvs' and my dad could buy them really CHEAP! Still, you look at the catalog here and think, 'man, if I buy another 10,000 tanks of gas for the Rambler, I can get that console RCA with 8 track player' sorry whole page can't fit on my scanner, these pages are something like 13" x 9.5".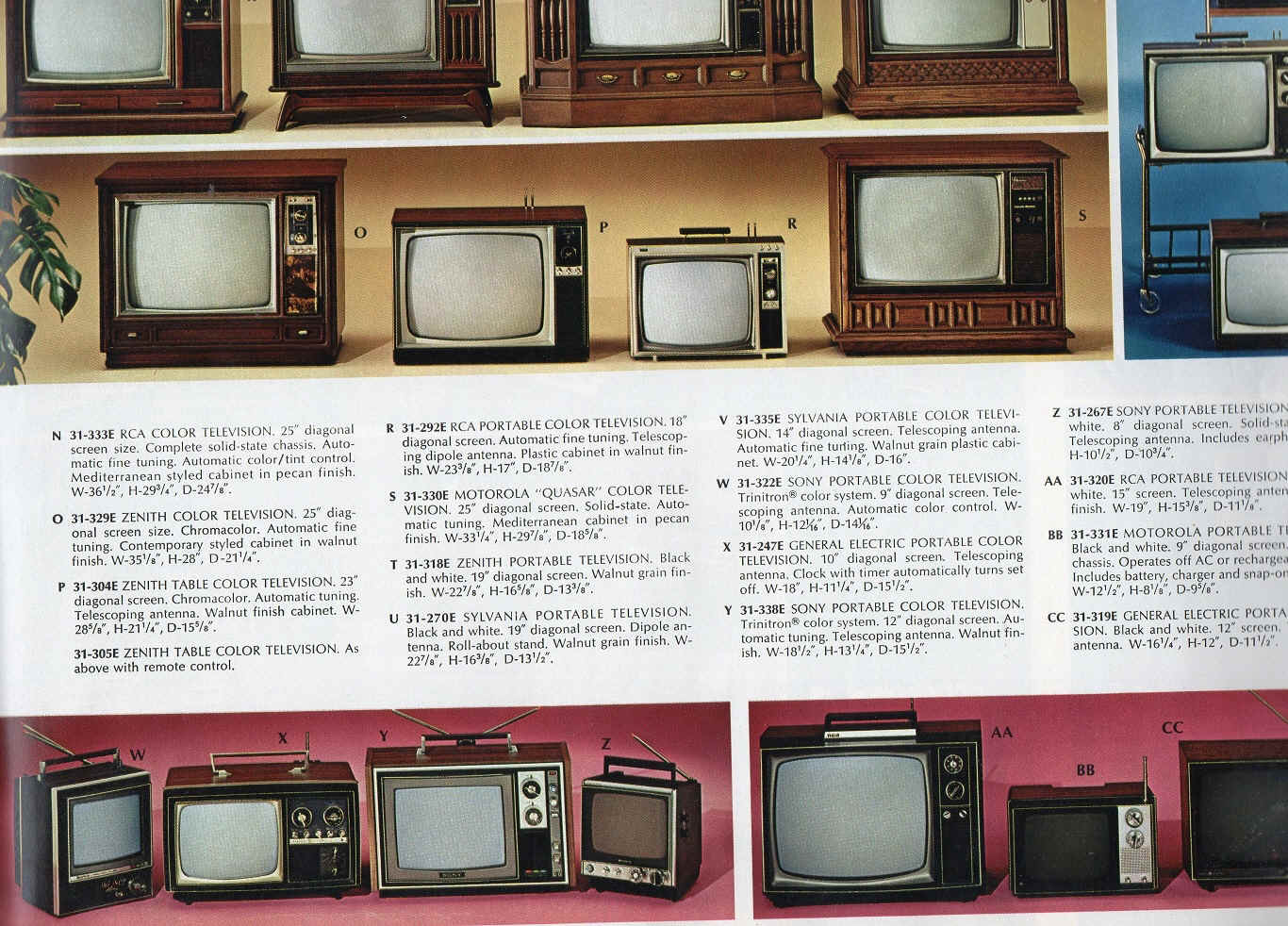 Photo #7 Texas Gold & S & H Green stamps, stay away from momma's boxes of these, to her, they really were Gold.
Photo #8. Backside of Parkdale Plaza, man, those Aldrich TV vans were everywhere in 1960s and 1970s, here photo bombing a photo decades before word photo bombing invented. "Drive Thru Banking" was still a novel idea back then. I think that is a 62 Buick, possibly 8 lug car behind the suits at Parkdale State Bank.