Upper Broadway US Post Office & The Blind Man.
A block & 1/2 from Cathedral when I went to school there was a US post office, corner of Antelope. We lived on Antelope but that was mile away back past crosstown. My dad mailed all his stuff from this location, as it was sandwiched between All American Motors on Water where he was working and well, Cathedral. As kids, this place was a adventure for brother Tommy & me. It was full service with a sort of like old cage, and glass where the clerks would stand, outside cement steps, and blocks and bushes to hide behind. So while my dad attended to business inside, we goofed off.
The post office had a unique smell about it. A mixture of ink, and industrial I guess. Hard to explain, but closest I can come to same smell is going in a printing shop now. You can smell the chemicals used to print.
Since this place was close to Cathedral, it was a frequent target of mine.
Was about 8 years old now, and everything here was a new discovery, Wilson Tower, 600 building, Driscoll Hotel, you name it. I especially loved the trash cans in this place, as people tossed all sorts of great things like magazines, flyers, and unopened letters that pitched cool things like 'stuff envelopes and get rich!' and 'bully kick sand in face, join Joe Weider weightlifting club!' things. I would never dig thru trash is someone was in foyer, would just look around innocently, wait until they leave then dive in quickly.
At night when the clerks had gone home it took on a eerie quietness. There was some click clack noises in back where mail sorted, and if a customer came in, their clop clop clop shoes echoed in the foyer when they would go to their metal post office box. Jingling of keys, but overall, silence.
Which brings me to this.
There was a old blind man who used to sell things in here. He had a little table and would stand behind it. Black, round John Lennon type glasses, only those glasses he wore were larger, rounder. One night my dad took me up there to mail some letters, place closed of course, so curtains drawn in clerks windows, and little jail like bars there, but the old man with suspenders standing there stoic.
My dad mailed his letters, walked back outside to our Rambler station wagon.
I stood there starting at the old man who was staring straight ahead. Was he alive? He was breathing, and I slowly crept up near him, checking him out.
His little table was about chest level, candies, pencils, rulers, just small amount of crap. He was not smiling, more of a frown as he often wore, and this was first time I had balls enough to sort of get close to him. I am sure he could sense me, as had been told blind people see with their ears by the nuns. A elevated height of awareness to make up for lack of sight you know.
The little table he was standing at was a bit more than eye level for me, so I slowly got closer, closer, closer, until I was right in front but slightly below it. He didn't flinch, nor move. What was he feeling? What was he thinking? I carefully reached up and picked a red pencil, and crept away.
His face didn't change, breathing rate normal, and I could not even hear MY own footsteps was so cat like. I was wearing shoes also. I got out to the car and got in and my dad was still sorting thru the bills and what not.
We drove home to old crappy house at 2009 Antelope & I got out & my late dad, Homer T Stakes Sr, noticed my "new" pencil. "Where did you get that?"
he questioned me. The way he asked it was what I remember most. I sheepishly said 'at the post office' I could have said 'I found it in trash' as was holding a few magazines and letters to open but he would have none of it. As dirt sh*t poor as were we he hated stealing, something later as a teen I would almost make a career of. But at this age...no. Not no but HELL NO. He said 'did you steal it from the blind man?' I said 'yes poppa' and he told me 'that is the only way that poor man makes a living' of which it was not, the old blind man, was doing it to raise funds for some group like Veterans of Foreign Wars, Disabled American Veterans, or even Lighthouse For The Blind which ironically.....was less than 200 yards from our house at Doss & Antelope, they were on Leopard. The damned pencil was only one cent, one penny.
I didn't sleep much that night & next night...my dad took me back up there.
The old man was standing there as usual, quiet, staring straight ahead except he was not seeing anything. Just darkness. My dad walked up to him and said 'here is a dime for my son who got a pencil' didn't say STEAL mind you, and the old blind man whispered 'thank you' without a expression on his face. Did he know it was a dime? Could he sense me scared near door? Did the nuns know I broke a Commandment? Why a dime instead of penny? My dad didn't tell me. And I did go to confession at Cathedral a week later & tell Monsignor Schmidt as I knelt on soft purple thing you kneel on in confessional that I stole something. Us Catholics can get away with a lot of stuff you know ha ha. And yes, I knew it was Monsignor Schmidt as you could see his outline thru little curtain in confessional, sort of like everyone knows Alfred Hitchcock's outline. Besides, I knew his voice & he smelled like cigar pipe & popcorn, duh. I do not know when the old blind man disappeared from the Upper Broadway Post Office. He had to be in 60s in 1960s, so was up there agewise. I have often thought about him in different life situations and how people handle their lives, good & bad, and things God will toss at you to see how YOU handle them. It didn't keep me from stealing as later on as teen, I had a 10 CB a week habit, any car that had CB antennea could get into & it was gone in seconds and I would resell. Also would steal 8 tracks from HEB next to Ayres theater, Dillards & Penneys in Padre Staples Mall & Globe on Ayres at SPID, sometimes walking out with 3 (slow day) to up to 10 (good day) from these places, then go sell them for $4 a tape at Zapata's Head Shop next to Tower Theater at Six Points, whereas he would resell them for $8-$10 a tape. So another story for another day, but the old, blind man, still sometimes haunts my memory 50 years later.
There is a lesson there & not sure ever completely learned it...
Photos #1 is the old post office itself, chances are the land on it worth more than post office and Corpus Christi does not really have a preservation of historial stuff so probably torn down by now. Photo #2 not uncommon for groups back then to rais money for their organization, to this day, I will never know what the old man was selling penny pencils, gum and rulers for.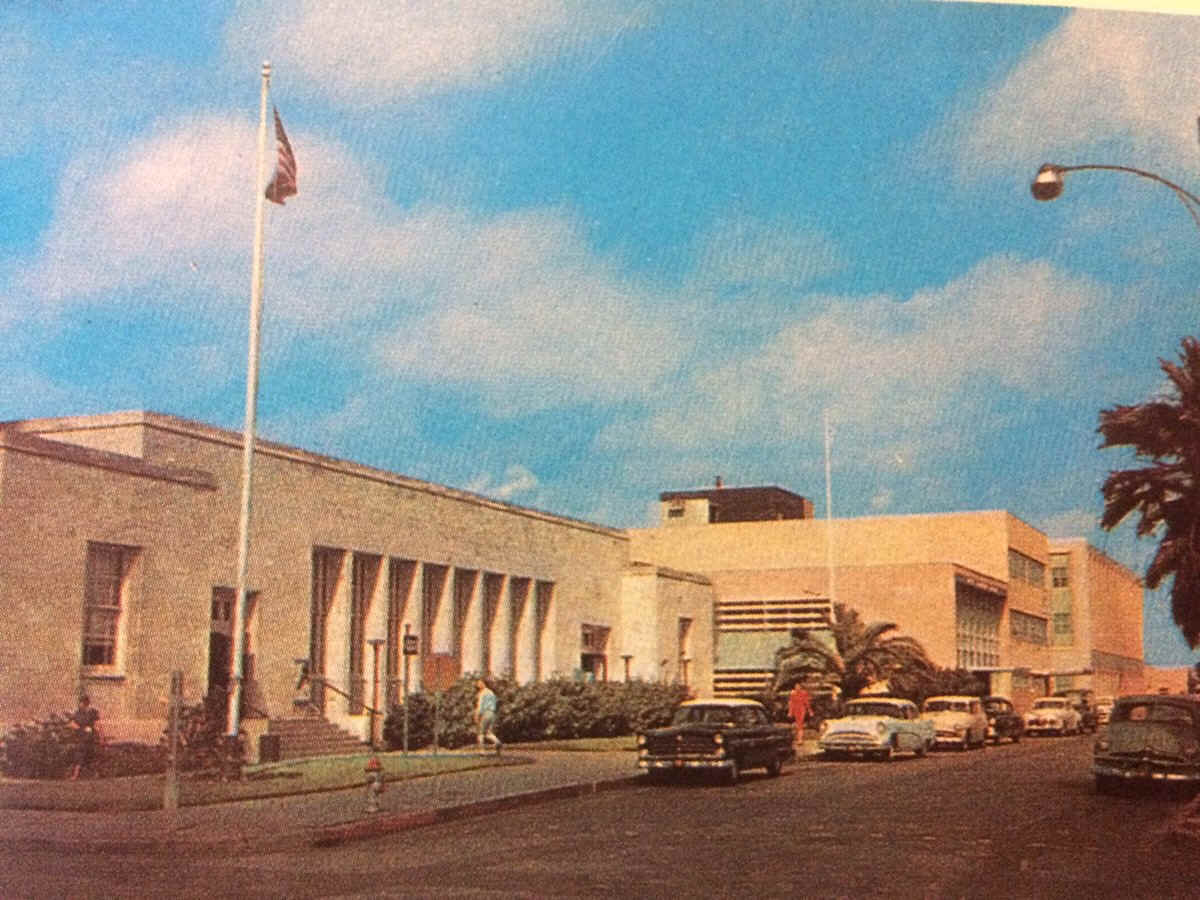 This is a new Nash automobile that was going to be raffled off for the Disabled Veterans, might be why I am fond of feeding homeless veterans on streets of Houston in recent years. Maybe the old blind man was a Veteran.