Corpus Christi Public Transportation Bus Service 1960s-70s
CORPUS CHRISTI BUS SERVICE: In the 1960s, we had these neat old busses in Corpus Christi that chugged around town on different routes, similar to what you see now. Most of them were like our old crappy house on Antelope, yup, no air condition. You want AC open window and there is usually breeze. The bus was not a necessity for our family, after all, we were 'car guys' so usually a abundance of cars at house, some ran, some didn't others make great dog house! But some of these busses with NO AC in 1960s, man, some of these people smelled like catfish left in sun on McGee beach. Of course I was no bed of roses either and pretty much I had my own ecosystem and ZIP Code of Dirt on me as I played HARD at Cathedral on money bars, swings and merry go round. Which sort of insured I had bench seat to myself to stink up rider home.
When you stepped onto the old Corpus Christi busses, there was a coin box in front of you. Drop your fare into it, and it falls on flat surface for the bus driver to see. When I was a kid (groan... here we go) bus drivers would actually make change for you! So the fare from Corpus Christi Cathedral (Leopard Street & NW corner of Carancahua) was a HUB. Seems all the busses stopped there in front of the bank. But the fare from here to my block of Doss & Antelope maybe mile away was 10 cents. We had two bus drivers I was really fond of as a kid. A heavy set older man who greeted people cheerily when they got on the bus and thanked them when they got off, unless they snuck out back door. These buses, and later models, had a back door about 3 seats on right side, so made it easier for folks in back to get out, not all crowd to front door to leave. This big fellow I used to sit in bus right behind him simply to watch him drive, and of course, all the traffic and cars, trucks in front of him for my short ride. I started riding the bus a little more after my dad left the Rambler dealership All American Motors on Water & I-37, and got different car job, so if I didn't ride my bike to school, I took the bus then.
The other fellow was a Mexican man with thin handlebar moustache I don't remember his name but all the bus drivers had a little name tag up above them. Near that was a roller thing sign with their routes, so they could change route, depending on what was given to them that day. This guy seemed to know where everyone his route needed to exit. There was only two busses that went out Leopard: Saxet Heights & Calallen. Saxet is Texas spelled backwards for you rookies. He would ask me how school was, but he had no time for nonsense like loud music, or kids poking or tossing crap at each other in back. One day, I forgot my Batman & Robin metal lunchbox (have you seen how much those mint condition metal lunches worth on ebay now?!?) but I forgot my lunchbox on the bus. I told momma when I walked to house maybe 100 yards and when my dad came home, we went to the Terminal which was on Hillcrest (in The Cut!) just over the I-37 bridge into the cut. And spoke to the fellow at lost & found. Yes they had it. But something happened have never forget rest of life. He said "I have your lunchbox here you must have not been hungry today!" I sheepishly look at him and said "No sir". He said "you didn't eat anything we did though it was good!" I got my lunchbox and walked out with poppa, thanking the man at lost & found, would later thank the bus driver with moustache too. In the car my dad said "why didn't you eat your lunch?"
I told him "momma makes me peanut butter AND butter sandwiches, they don't taste good" I had not touched my peanut butter and butter sandwich, which was hard as a rock, my thermos with chocolate milk, or a wrapped baggie with some stale chips either. I told my dad that none of the kids in the cafeteria (I didn't ask all of them, just those at my table) wanted to trade with me. Can't blame them peanut butter and butter sucks if you have ever had it, have had better food in CC Jail. But momma though she was doing a good thing putting butter in there. Bleah! Needless to say me not eating the nasty sandwich made with love and good intentions, made me not eat the chips that by noon, had gotten stale and the chocolate milk not cold, so simply went hungry, something was sort of used to anyways. My dad talked to momma, NOT letting here know about the uneaten food either, but talked to her and no more peanut butter AND butter sandwiches. At a later date, Monsignor Schmidt stepped in and Tommy & me would get free lunch card, now we be eating like the white man there: meatloaf, hamburgers, spaghetti and since Catholics, fish on Fridays, damn, I should have just moved into the basement cafeteria then.
On the Saxet Heights & some Calallen busses there was posters or ads, above windows but below the pull cord, one would pull to get bus driver to 'pull over at next stop' I got on bus one day, must have been about 7 or 8 and there is a soldier with WAR IS HELL on it. We never heard bad words except when poppa hit hand with wrench working on car. Never at Cathedral, HELL was only rarely talked about where bad people go. Yet here it was ABOVE me. Not below.
Can't tell you much about it but we were in Vietnam and every night the television showed men with blown off legs, arms, bandages, covered up, planes and copters throwing fire and chemicals. The poster had a man sitting down head bowed. Might still be out there fighting war in head like so many vets do sadly. I have never seen that poster again, but it did have a lasting effect on a kid.
A few times momma walk to corner of Doss & Antelope and watch me get across Leopard to the cement seat to catch bus as poppa had already gone to work hours earlier. A lasting image engrained in my mind is her standing there hands together smile on face. I would get on bus, pay fare, then quickly get to left/driver side of bus and wave at her. I often wondered what she did after I left. Chances are binged on As The World Turns & The Guiding Light though.
Well... other "hubs" that I remember and frequented were the big one next to Woolworths downtown, same thing, every bus stopped here. Staples & Leopard, both sides of staples, and a big one on Leopard NE corner in front of Pawn shop, boy, those pawn shop people made a lot of money with all the people there all the time. And of course the gazebo thing at Six Points where busses come at you from all angles like bad guys in Fortnite. If you got a transfer, it was a red little paper card and bus driver would hole punch it for you. I rarely got these since the 2 busses I took were straight shots down Leopard. The bus the CC Transit had most of was Molina, these things were nor stop and would crane neck like stork to see what bus came up over hill near 600 building ha ha was funny, people would all be standing there craning necks, if it was theirs, they all line up, if not, sulk back to chairs or under overhang. The other bus seemed to be lot of was Hillcrest.
And Ayres.
When I got a little older and we moved back to crappy old house 723 Doss (the 2009 Antelope house destroyed by Celia, but was still there huge hole in roof stark reminder) but after we got kicked out of 642 Naples, I was now fixing to be a teen. And I had a cassette player I had found while digging thru a Goodwill box near Incarnate Word Academy (more later) so would take a few tapes, Elton John, Styx, Paul MCCartney to name a few, with me, go catch Saxet Heights or Callallen bus headed "towards" town, get transfer at Staples then just pick one. Several of my favorites were one that went down Staples to McArdle, then to Ennis Joslin, turned around and came back same way.
There was not much out there then,, wheat fields, a house here or two. And some development near what would eventually be Padre Staples mall too. But to me, this was a nice escape to get away from the hellhole of home. Not trying to get away from parents at all, but just some freedom of being stuck in a world I really could not understand why we so dirt poor. The bus in the winter was warm inside, and in summer had air condition by now. I would listen to some tapes over and over, the route taking hours. Then get off at Staples and most times, walk home. There was another bus that went down Morgan also, long route way out off Old Brownsville Road (?) but it too, offered a nice escape for a few hours. Cheap too! But you get to certain point as teen I guess want to be left alone in thoughts, and some rebelliousness and independence. That was me.
A side note is the cars I specialize in with my business in Houston, American Motors used to make busses, that part of company was called American General & Corpus Christi along with many, many, cities used them in the 1970s. No, I have never owned one, nor want one even though AMC built.
And were quite modern for their time & a HUGE contract for American Motors.
Photo #1: Alta Vista Route 18 downtown Corpus Christi across from Lichtenstein's in 1960s. This was the Woolworth Hub. At the time, due to sheer demand, this hub was split for all the busses, so both sides of Chaparral @ Lawrence!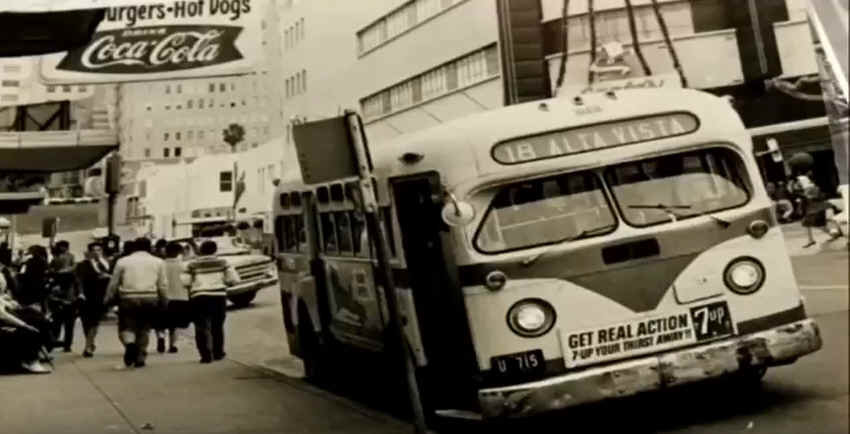 Photo #2, people crowd onto a bus at the Woolworth Hub, the hill where KZTV was back there too. This is corner of Lawrence & Chaparral. Sharp eyed viewers will notice Texas inspection sticker on PASSENGER side of windshield, these later moved to driver side.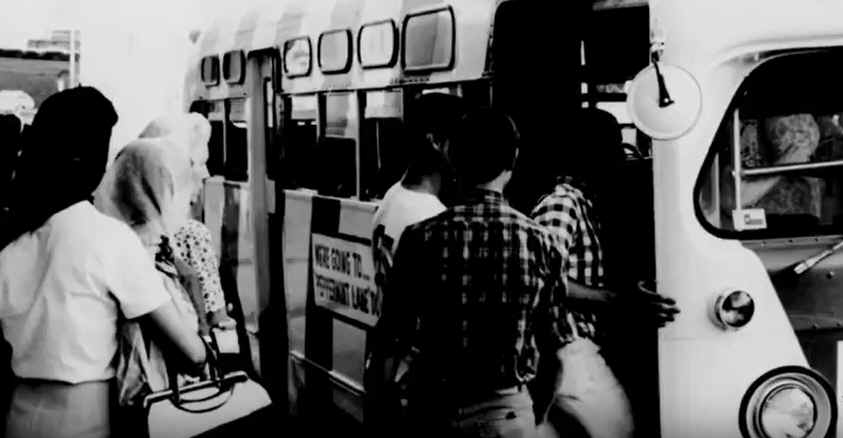 Photo #3, the Del Mar & La Armada bus was another besides Molina & Hillcrest usually packed. There is the coin thing bucket shown also you toss nickels and dimes into clearly visible thru window.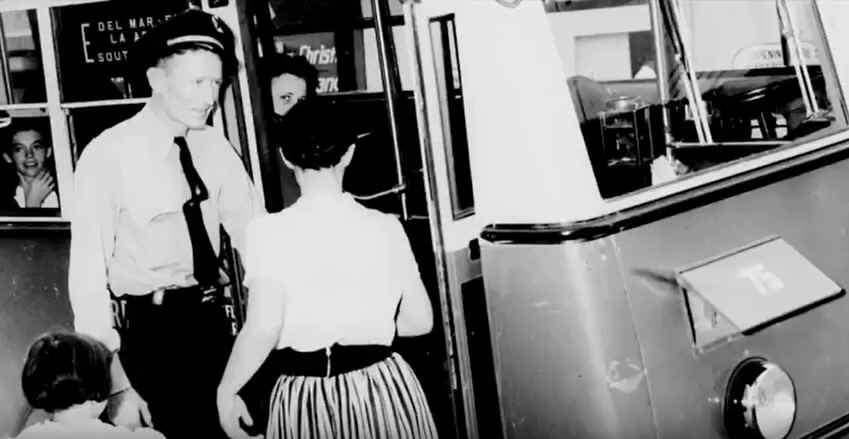 Photo #4 inside one of the 1960s busses looking forward, note the Butter Krust sign upper right towards back door. It was one of these signs that had WAR IS HELL on it I freaked out on. Not nighthawk or Mister bates freakout but still just same.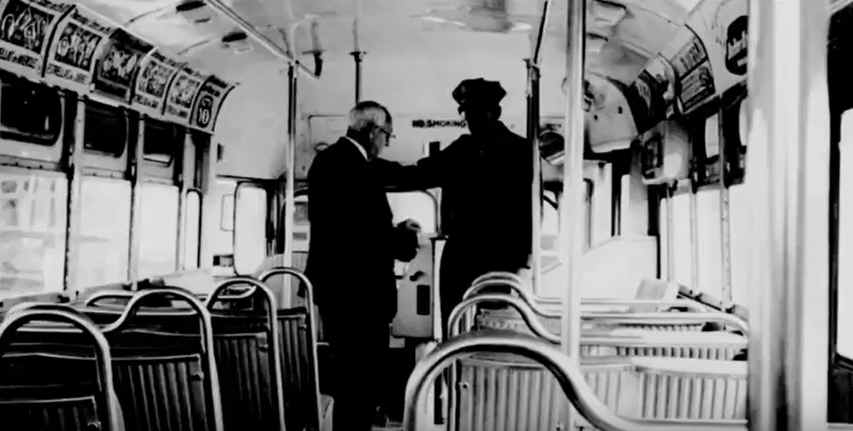 Photo #5 Butter Krust bus looked like well, Butter Krust bread bag. There were 2 or 3 of these special painted busses. Here with loads of kids going to Championship game if I recall, might have been W. B. Ray in 1960(?) or so. Note Fedway's in background.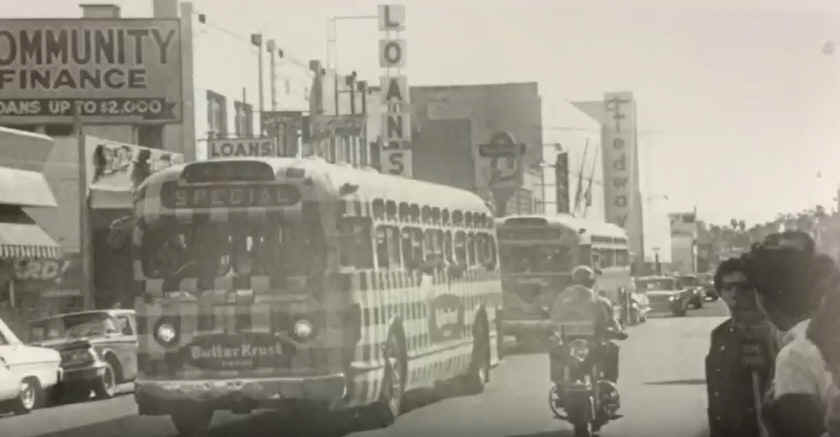 Photo #6. Here is one of the coin drop box to pay for Bus Fare. These were the neatest things. If you didn't have exact change, bus driver make change, keep fare and toss in the box, give you back remainder. I often wondered how much money these would hold. I didn't want to steal it, just wondered how much dinero in them as a kid. Ok, I wanted to steal the whole box, rip it out of floor and run down Leopard.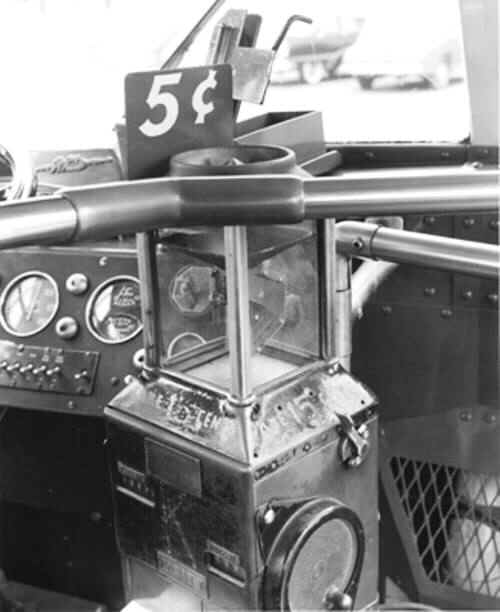 Photo #7. This is a aMC built bus by AM General who is STILL in business although parent company AMC long gone since 1988. This is a press photo from my collectionfor shareholders. Note the "Seattle" sign, those would spin from inside with a roller. Bus sporting Michigan tag and note the /| AM logo on front. Corpus Christi didn't have any of these 'extended' busses, just single units in 1970s.