Relampago!
Corpus Christi's ONLY Superhero; First Mexican American Superhero!
RELAMPAGO! Corpus Christi's Super Hero! Created by Judge Margarito C. Garza in 1977, was the first Mexican American superhero in the American comic book industry. A chance meeting with the judge at Al Newsstand downtown Corpus Christi (SE corner of Mesquite & Taylor behind Ritz, looked like old gas station with overhang) he introduced himself while guess what, we both looking at comics! I was maybe 9 or so. No, I was not in county jail. He gave me a business card of which I gave to my dad in the old Rambler station wagon as he had driven me up there to buy some comics since I had saved up some change, comics were 10 cents at time. Years later I would visit his place which was on Rickey road right behind a Circle K on McArdle, maybe 3/4s of a mile east of Airline. Reason to visit? Comic books his wooden house like warehouse was possibly Corpus Christi's first comic book store.
This was in 1970s.
Later, much later, I would sell him three of the rarest comic books ever produced, they were a three part series Spider Man, which DID NOT have the Approved By The Comics Code stamp all comic's do. Marvel pushed these out anyways, and they dealt with Norman Osborn who had a drug problem, shooting up heroin in the comic boo, a big no no back then, hell, probably now too.
But Marvel printed them anyways, and I happened to have a whole set of three where Spiderman battles Green Goblin. No stamp! He gave me top dollar for them, also bought a mess of Archie comics I had.
So the Good Judge, who was friendly as the day was long, was also extremely talented. And thought that a Mexican American super hero would do well, he really was ahead of his time, as later decades later, you would see things like Barbie, and other dolls, and super heroes from different ethnicities out there. The Justice League aka Super Friends cartoon introduced in 1981 El Dorado a Mexican super hero who uh, didn't really have much super powers, sort of waved his cape around himself and could disappear which came in handy when evil The Legion of Doom would try to take over the world, or put out the sun (really, turn sun out ha ha, boy that is like wiping your butt before you crap), or even worse, when Batman would jokingly yell 'IMMIGRATION!' whoa El Dorado could he disappear quicker than my cooks in kitchen in Houston when I yell that! So Relampago is spanish for "flash of lightning" and Relampago kept bad guys off Corpus Christi streets! Wow! The "cool factor" here was probably a 9. One was he was a brown super hero kids could relate to. Two, had a damned cool looking suit and cape. Three he was built like me in 1970s all muscle. Well sort of. Oh, just surfing muscles.
Publishers told poor Margarito the comic book here was "too obscure, too narrow" so they didn't want anything to do with it, you know, no MONEY in it. So Judge Garza SELF PUBLISHED it himself. I have heard about 1000 copies were made for the first book, but also 2500. Still hard to find, and 2 other comics about Relampago followed. The series only ran for three issues, and all three are extremely difficult to find this far down the road. Some places like Amazon show them, but never actually in stock. . Judge Garza created the character to give Mexican-American youth a hero of their own, fighting crime and embodying links to both Catholic and Mexican folklore.
Think about that for a moment, A Catholic Mexican Super Hero. Wow, imagine the possibilities, maybe Cathedral could have been his own Fortress of Solitude like Superman had in arctic. Inside the comic books, the stories and artwork are ALL about Corpus Christi, Texas barrios & ghettos and well-known local landmarks and businesses. Again, this was 1977 the year I tried to graduate W. B. Ray. You also had "guest appearances from Corpus Christi political figures & television newscasters" appear as characters.
Keep in mind Judge Margarito Garza WORKED with these people day in and out so knew them well. And could sketch them. The hardest issue to find is the one that deals with the legendary Giant Bird of Robstown, widely reported in Texas news media in 1977. Robstown Cottonpickers, bet that old huge bird nesting in that big water tank, where else would he have hid?
The good Judge died in 1995. At one point Richard Dominguez of Dallas, was going to try to write a crossover script' with his own Mexican character superhero El Gato teaming up with Relampago to fight crime. El Gato was another novelty and sold 5000 copies of the first run. Sadly Judge Garza died before they could collaborate on crime fighting issue darn it.
If any of you knew Judge Garza outside the courtroom, you knew he was a genuine good man, and world would be better place with more people like him.
If any of his relatives read this, I wish to tell them, thanks for influencing my life outlook Mister Garza with your rabid appreciation of comic books, and READING, when I was a kid. Just simply friendly conversation made huge and impressionable difference. I think there should be a Corpus Christi National Reading Day named after you. And even though our paths rarely crossed, you Judge Margarito Garza, not Relampago, were the REAL Super Hero. God Bless you my friend, rest in peace. Relampago will stay vigilant and as KCCT Radio used to bellow: Numero Uno De Corazon De La Hente! (rough for number one in the hearts of the people!)
Photos: Photo #1. Relampago looks like The Flash with those little lighting things on ears. "Either we march together as brothers, or fall alone as strangers!" Look closely, under name is "America's First Mexican American Super Hero" June 1977 Issue #2.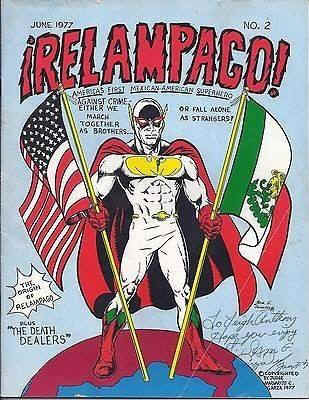 Photo #2: Relampago battled El Pajaro Grande! (the big bird! Pronounced pah-hah-row) in sleepy town of Robstown, Texas in 1977. Sure wished El Pajaro Grande would have grabbed me like that, threw me back at W. B. Ray high school so could graduate. ˇEstúpido vuelve a la escuela! (Stupid! Go Back To SCHOOL!) would have maybe been a 4th comic featuring me duh) The "big bird" was nationwide story back then. But so was fascination with why Elvis died 4 months before (Aug 77) the Judge released this final book, Series #3 in December 1977.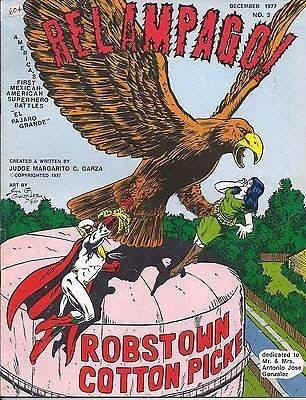 Photo #3 Relampago charges into gunfire probably in my old neighborhood at Doss & Antelope near Port & Leopard, was NO shortage of gunfire in our old hood. Every night sounded like New Years Eve. Well, Relampago would have STOPPED that. Here he yells at criminales before he busts them up in front of all things, Nueces County Courthouse, "No more crime in Corpus Christi amigos, tonight marks the coming of Relampago!" Go Relampago!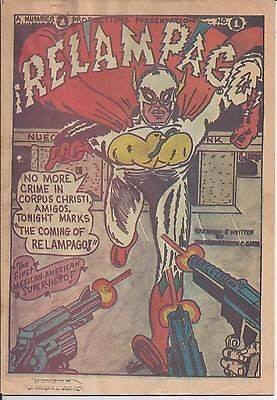 Photo #4. Relampago fixing to open can of whupass on bad guy. The guy fixing to taste a bit of Relampago's rampage looks like one of the guys who used to sell me weed in Corpus Christi. "For tonight evil doer, marks the coming of Relampago!" And the evil doer not only went to jail, but had to stick to soft foods like pancakes, and pudding at Sambos after he got out as Relampago knocked all bad guy's teeth out.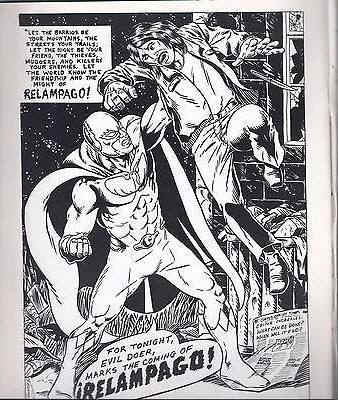 Photo #5. Artist concept of the Good Judge with Relampago watching over him. Dominguez, Richard Dominguez, artist and who drew El Gato later, drew this.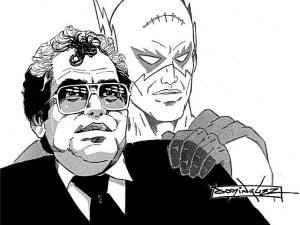 Photo #6. This is one of 3 Spider Man comic books with NO "Approved By Comics Book Code" seal that dealt with Green Goblin aka Osborn, shooting up heroin. The stamps appeared on all comics upper right. Hard to find, some of these expensive as hell (not Action Comics #1 where Superman makes his debut, sold for $3.2 MILLION dineros a few years ago!) but hard to find any of these three Spider Man unstamped ones. Harder to find Relampago!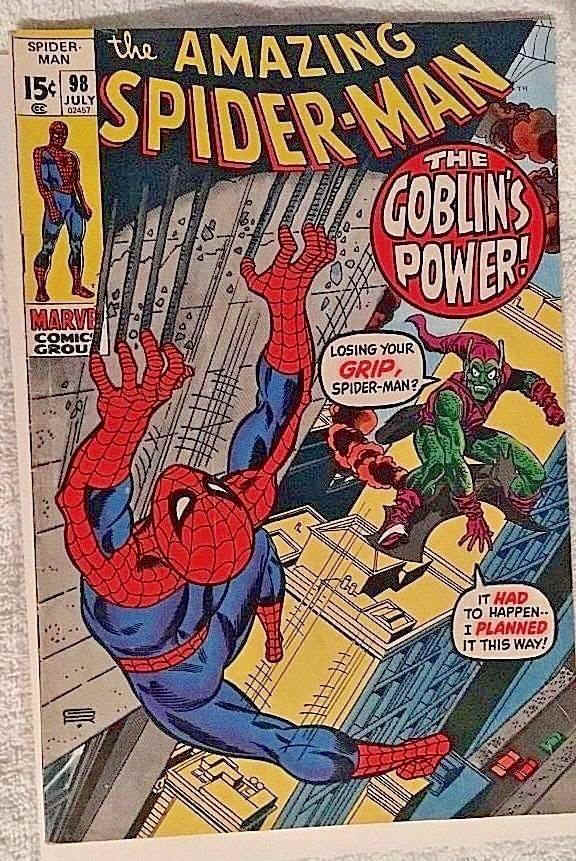 Photo #7. Hanna Barbera who wrote Super Friends and tons of other cartoons tried to toss in some diversity to Justice League, so El Dorado introduced. If you ever see me dressed up like this on Halloween feel free to kick my ass. Besides token brown dude, they also tossed in a black dude called "Black Vulcan" who threw lightning bolts; a asian dude called "Samurai" and a indian guy named well, 'Apache Chief'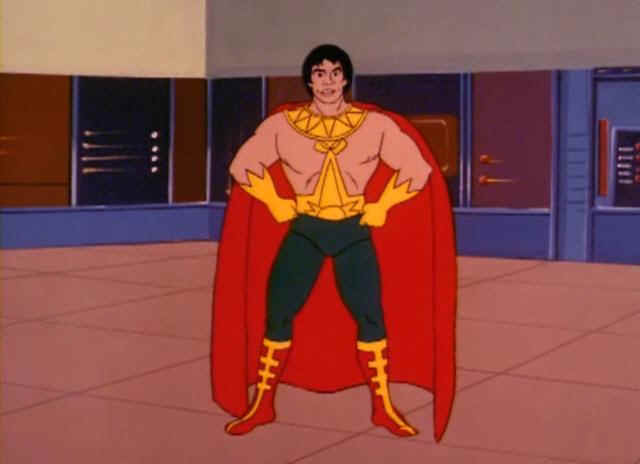 Photo #8. Newspaper clipping mentioning the big bird. Several said it was a pelican. Aw, those are CUTE though, not carrying away woman (or me back to Ray) much less nesting in big water tank, home of Robstown Cottonpickers. Click on it expand!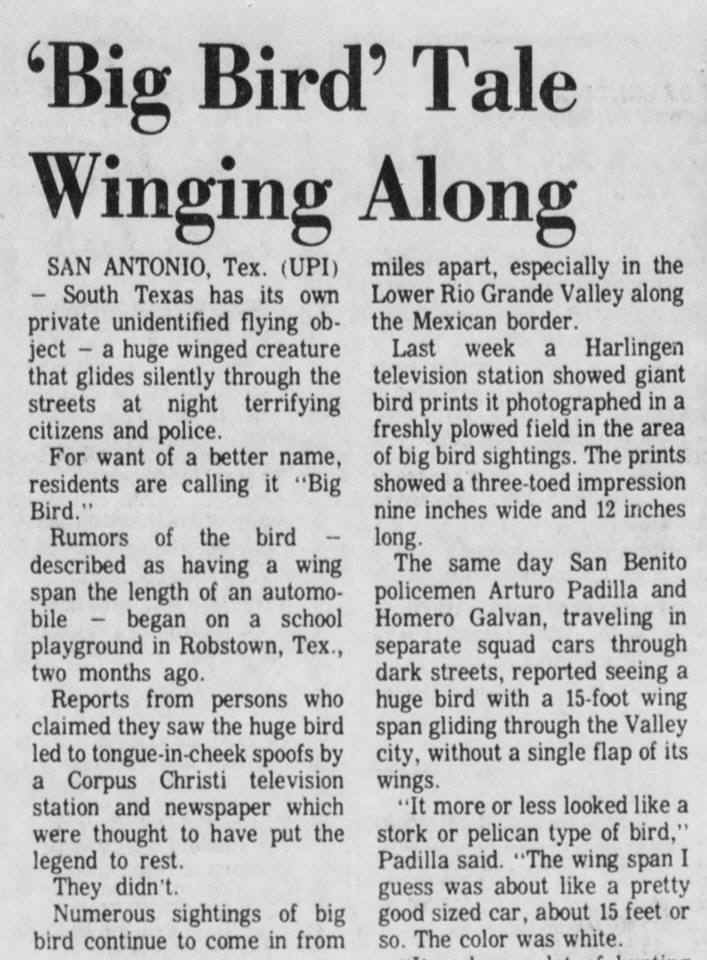 Photo #9 Several Indian tribes speak of centuries ago of a Thunderbird. Not the old crappy drive in movie we used to sneak into on Leopard. But huge bird that when appear, would signify death. I believe Hopi & Najavo have legends about it. I do not know the museum here but looks like a great pot of gumbo hanging there. Enough to feed Robstown!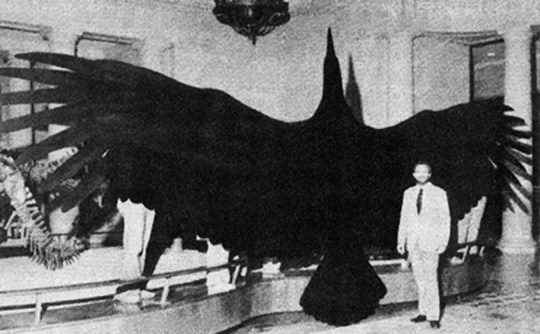 Photo #10. To make matters worse with Super Friends Justice League "integrated" characters who rarely appeared and seem to just hang around headquarters mopping, watching Wheel of Fortune, a LOT of fun was made of it. Apache Chief spoke english like well, on drugs, and his power was he could grow up to 50 feet high! Hell, let him build that damned new harbor bridge by himself. Black Vulcan besides being black, could toss lightning bolts. No black guy I know would wear that outfit either. He WAS however the only of the four to go on for many years with his own line of comics, so maybe outfit worked. The Japanese guy but spun like a tornado. Well, hell, I used to do that all night at White Rabbit, but didn't wear diapers like that. And El Dorado on the end, note how he got better haircut from Green Lantern (or maybe Apache Chief?) later, so not only looks thinner staying off enchaladas con crema at Panchos Buffet, but hair is presentable! This is one of the parody sites out there, so don't write me 'deer meester ette!' letters again. It shows that the Judge had it right all along!