Shotgun House 2009 Antelope

Shotgun House. What is one? Well, for us, it was HOME. 2009 Antelope was a real shotgun house, straight front to back, you walk thru each room going back. Front was living room, which part of it doubled as a bedroom against the south wall, then actual bedroom, small hallway with bathroom on one side, across that little hall a closet, then suddenly you in kitchen of which across from it was dining room. And in very back room, this was sort of our storage room. Then back door looking out to the Rabago's house 10 feet from fence, or turn head to west, there was Mister bates yard with bricks from the 1940s, 50s he never used, no fence, and look out back door like the Creedence Clearwater sogn goes, to the east towards Doss was out old rundown garage, but right next to it was a beautiful fig tree.

You will find shotgun houses in predominantly low income, aw hell, POOR areas of Corpus Christi but have seen them in other towns and cities thru years. Not much too them, but most of them were well built, and made of good wood. Wood floors too. Even with all the windows blown out on west side of our shotgun house, and stuff flying around, I honestly think it would have stood 175 mile a hour winds Hurricane Celia was hitting us with, until the 500+ pound fan came flying off Coca Cola next door and cratered hole in our roof.

Many of the shotgun houses are well kept by those folks who own them, unless you have damned 500 pound fan hit roof. My memories of our shotgun house were good, we had electricity, phone Mo-6-321, television, and my dad was hard working blue collar man. When I visited Corpus Christi last time I drove around showing my kids shotgun houses if they would get off their phones. My wife Paige rolls eyes as seen it each time, so try to do different routes.

A number of shotgun houses have add ons. That is owners build unto them. My dad did this with our little shotgun house, on front porch east side, built a deck. Was about 3 feet off ground, covered, could sit on benches outside with great breeze as usual coming down between our house and grand ma DeAlcala's house there. Or just sit there like John Cougar Mellencamp sings about in Little Pink Houses video 'God If Good with freeway running thru front yard' we would site and look at traffic up on I-37 hill. Go ahead, listen to the song.

https://www.youtube.com/watch?v=qOfkpu6749w

Or even sometimes battle mosquitoes, but that is what those drive in movie Pic's coils were for.

Funny how stuff works out, we were one step from being homeless or in ghetto, but it was a roof over our head. Home. Where the heart is. When you came into our house (pre Celia) you felt a warm comfortable feeling. We didn't have a lot, but what we did have worked for us. At a later date in 1980s after I sicced Corpus Christi Department of Health & Human Resources on my brother Tommy for living in squalor conditions with wife, kids, and my dad, they moved them to white houses duplexes behind Bill Miller Bar-B-Que on Leopard & Navigation. And from there, Tommy got on feet & moved to Hiawatha street to.... a shotgun house, he would eventually buy it! Circle broken, well at least before he passed away at age 60, but had gone full circle I guess. Home.

Photo #1. This is a hand drawing I did of our shotgun house 2009 Antelope facing Interstate 37. I do not know square footage but would have to guess maybe 800 sq feet? Honestly do not know. I find it absolutely astonishing that I can recall such detail including soap ball tree, yellow flower tree with big black bumblebees, turkish cap flower bush, and even the possums that lived in the bricks in Mister Bates yard.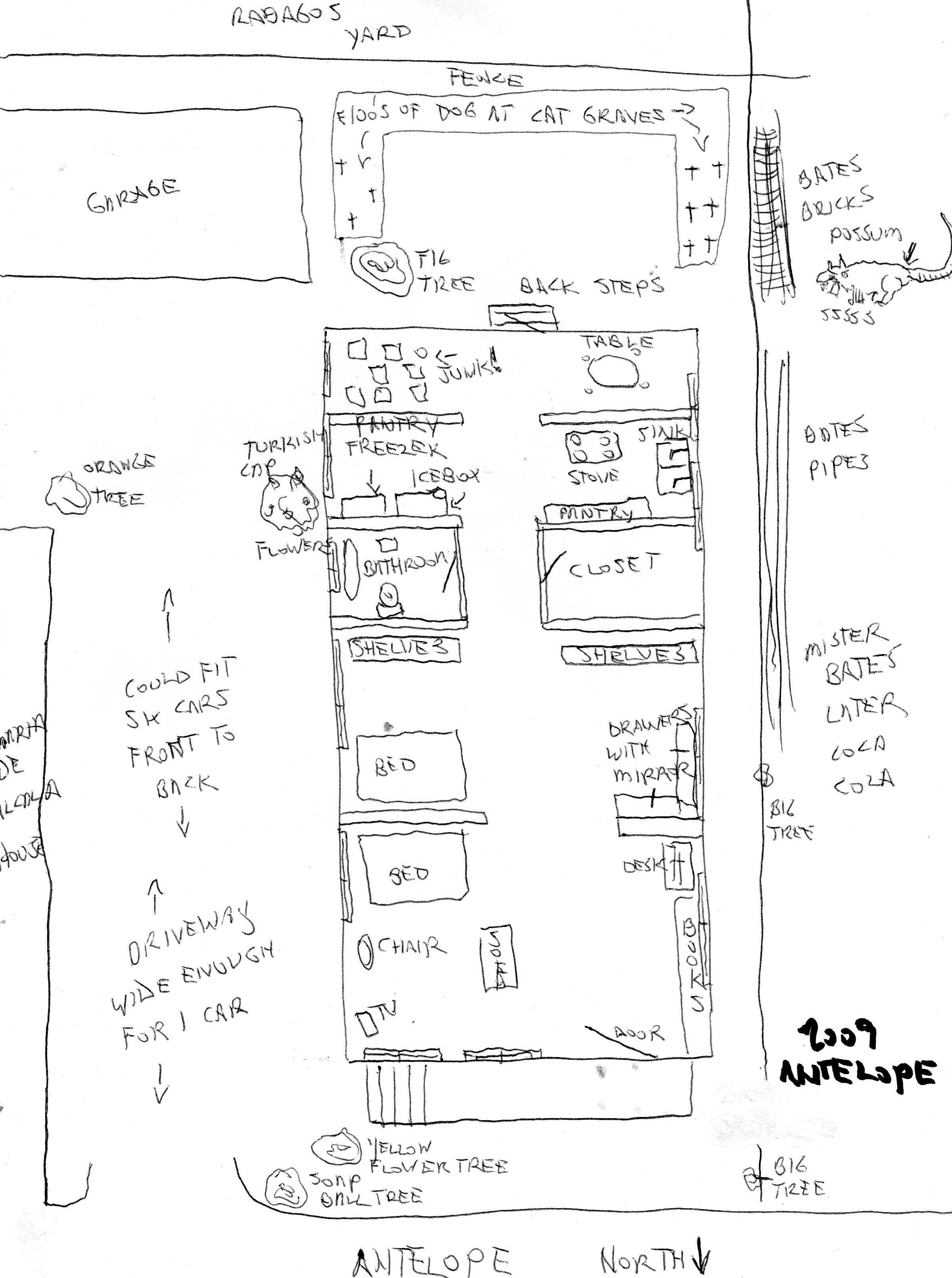 Photo #2. Our front porch, note a few boards behind my butt loose on porch. I'm the one with hat, this is JULY 1960 I was little over year old. Late brother Tommy standing in front of our screen door, there was another door behind it, check out the nautical themed curtains. Tommy probably hoping I would not swing that club and hit him in the nuts! OW!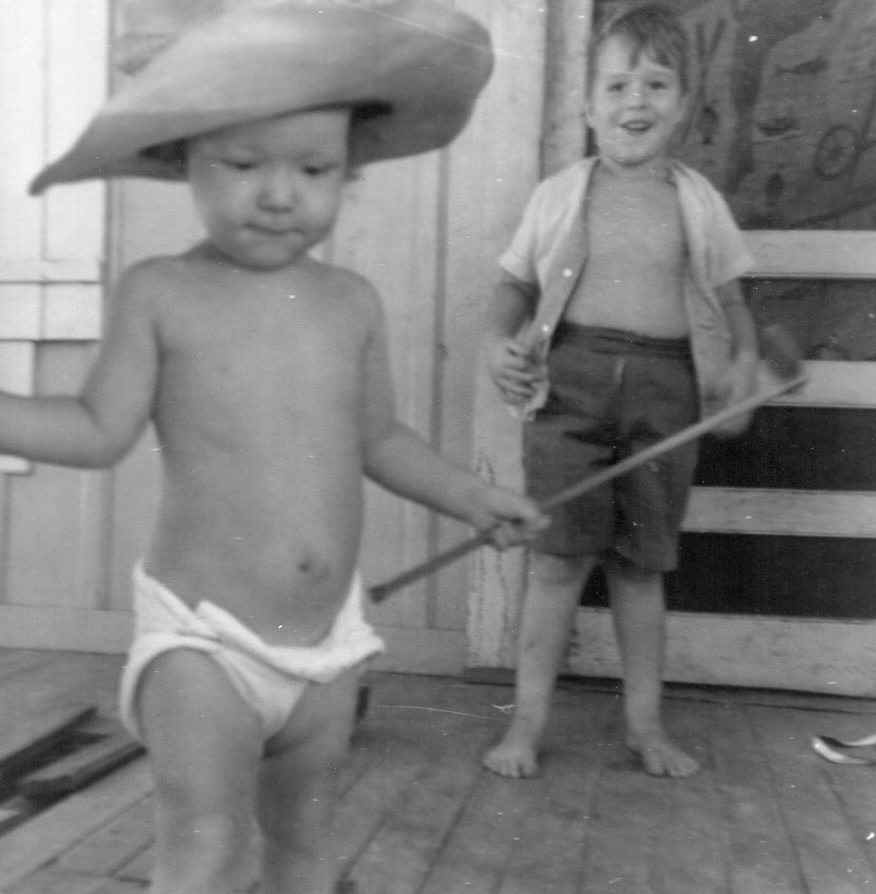 Photo #3. December 59 I was 9 months old here, our shotgun house just to right of Tommy. Grandma Maria D Alcala holding me, check out her face, and Tommy's face priceless. Most of the photos here have NEVER BEEN SEEN before. Not sure what I was fussing about.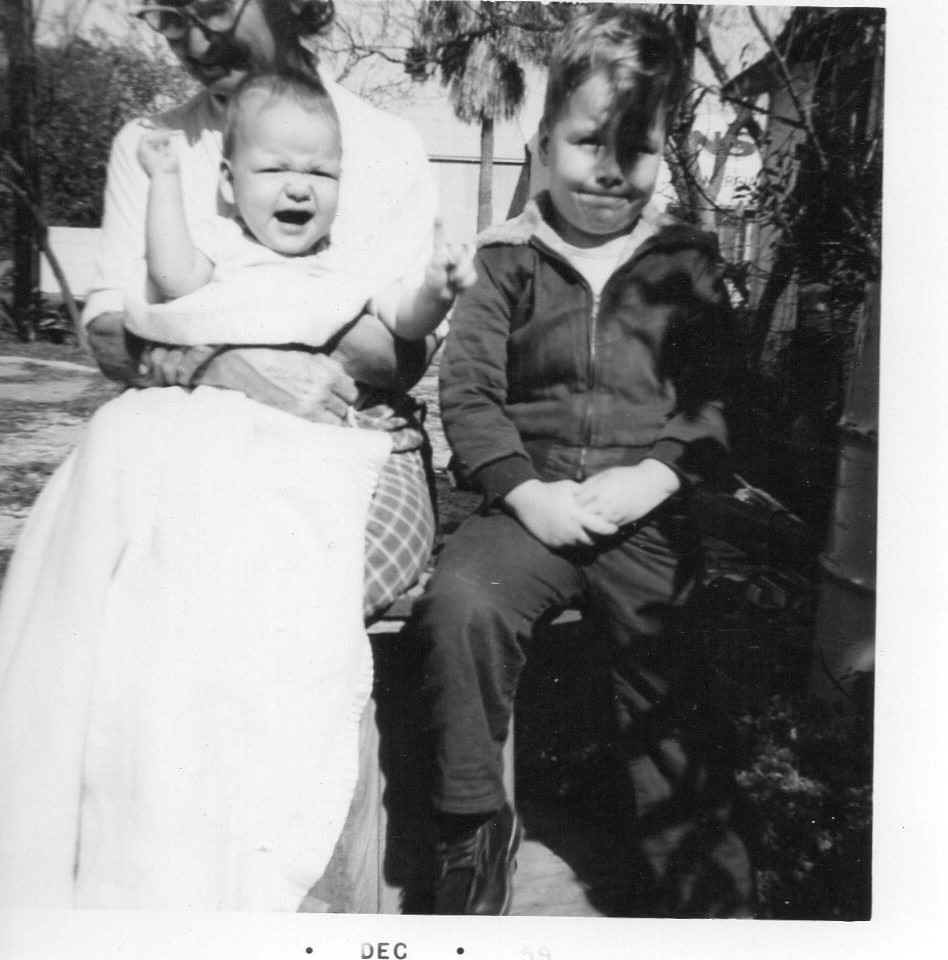 Photo #4. May 1959, I was 5 weeks old. Momma Sarah Stakes was awesome about writing dates, this is May 5th, 1959. I don't remember this photo of course, but I DO remember the boards on our shotgun house behind Tommy me & dad Homer T Stakes. These would later be painted white, and can be seen in several outside photos of our shotgun house, well, those photos not destroyed by hurricane Celia.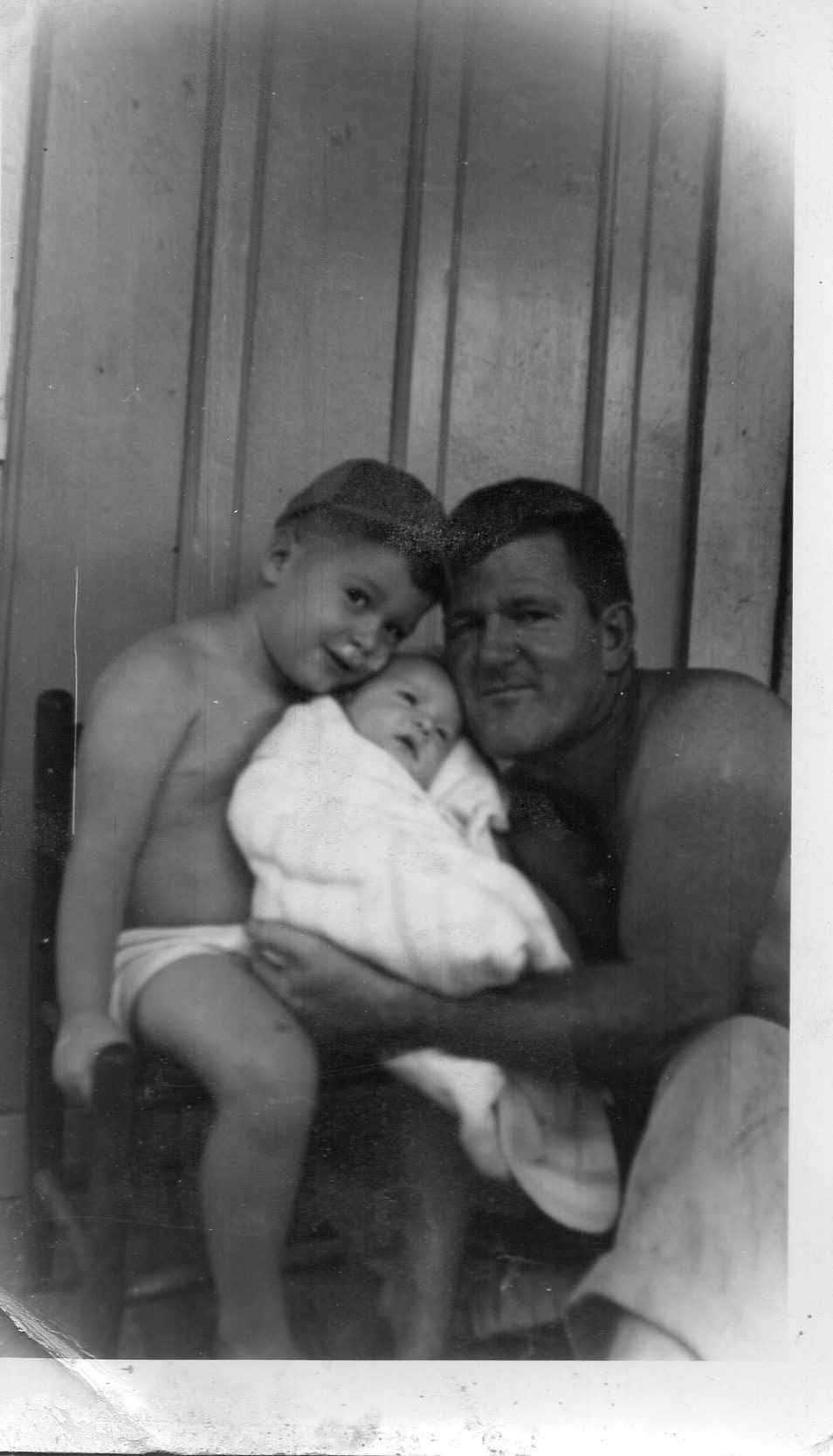 Photo #5 December 1959, so still less than year old. Looks by my dad's face and Tommy that I probably just downloaded a major file in my underwear. In our house... as seen in initial photo many of us shared a bed, had no choice you know. Eventually would work out Tommy & poppa in bed in living room, me & momma in 2nd room though. Sure would like to know what all I ate to get those two reactions, Chipotle was not around then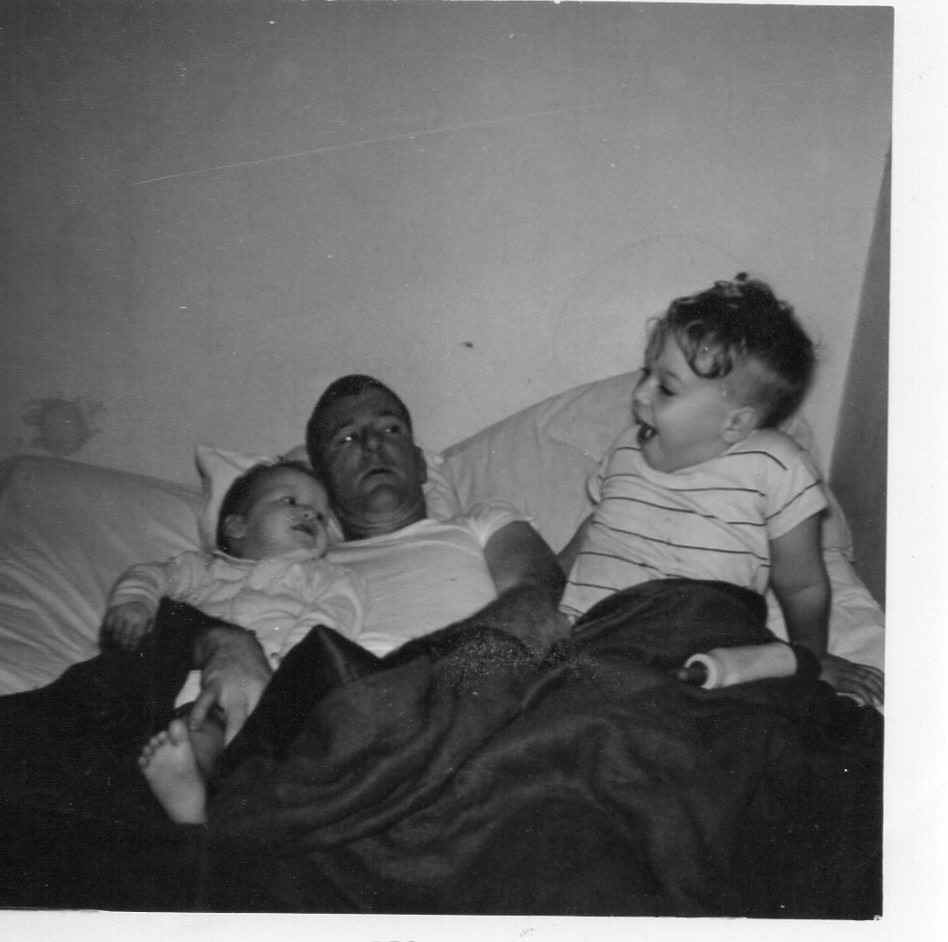 Photo #6. Rare photo May 22, 1958 of our front yard. Why rare, well no Interstate 37 yet. Tommy plays like any kid with water hose and across Antelope sign shows Security for some warehouse, of which about same year, this would be torn down and here comes I-37.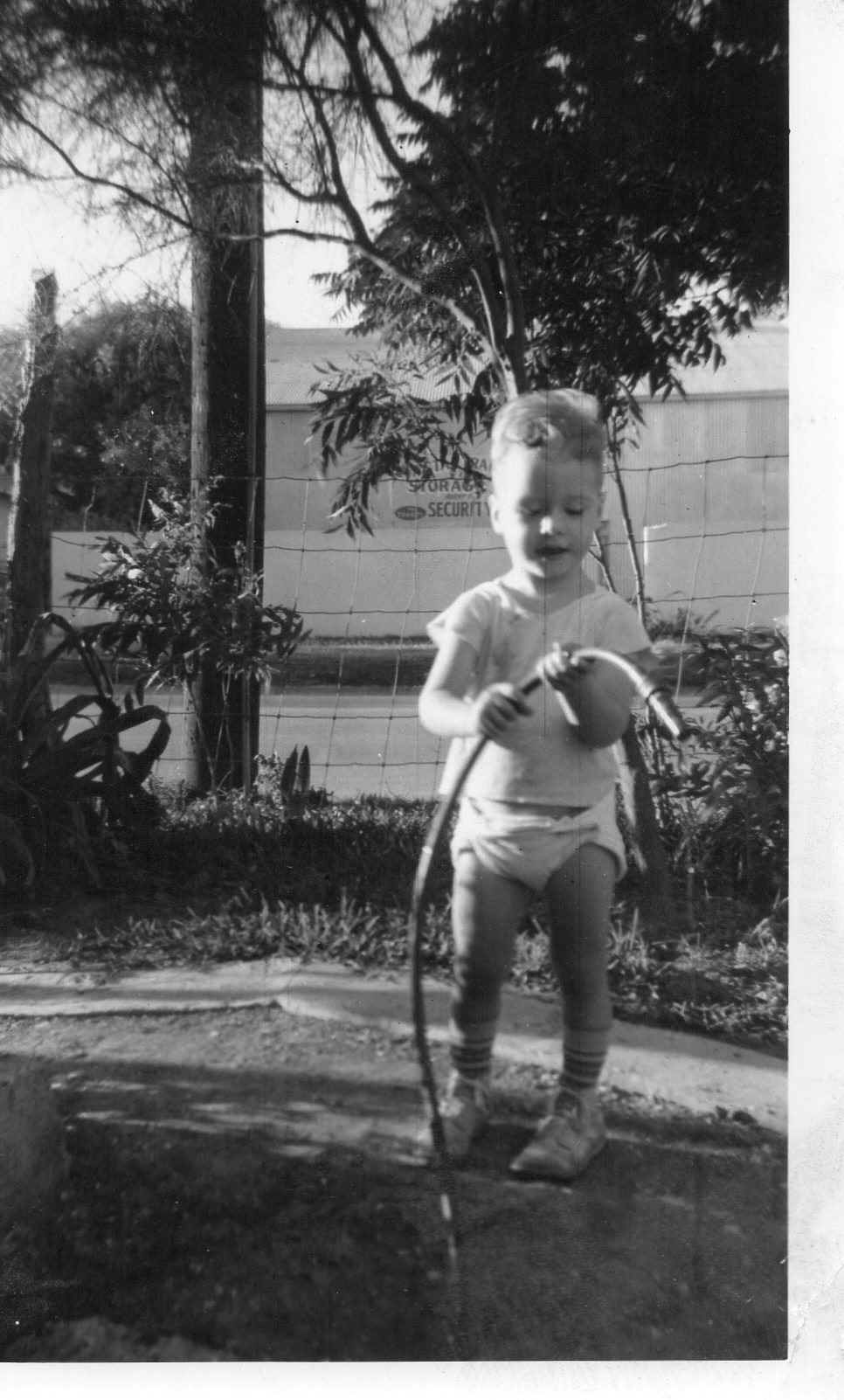 Photo #7. I guess this is before I was born, or hatched, maybe 1958. Tommy standing in back of a Dodge truck. And I never knew we had a Dodge truck. But in upper right, two things... our shotgun house showing "add on" back room, this would have been side with boxes and storage, opposite side had little table with 4 chairs to eat. In 1960s, while poor, we usually had beans, rice, vermicelli, but with a little ham, sausage, and other things, momma could cook up wonders!! The bush below bathroom window is the Turkish Caps flower bush, wow, I STILL 60 years later marvel about this hummingbird magnet bush, always a bunch of them critters around it!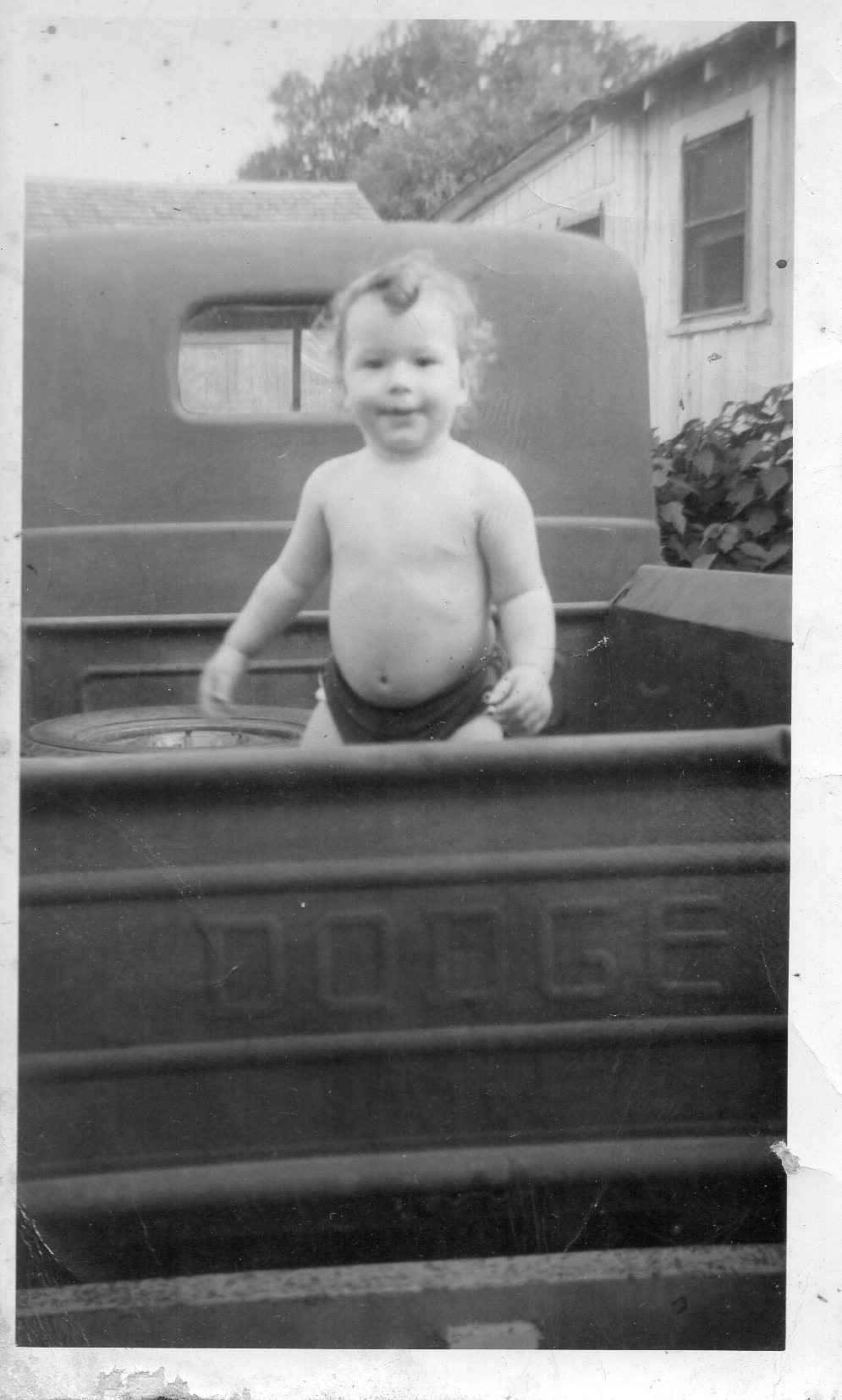 Photo #8. Home. Shotgun, now on Hiawatha, far removed from the cesspool of Doss & Leopard street. Sure, gangs, break ins and so forth, but fenced, got dog. This extremely rare photo is late brother Tommy, my son Noah who may or may not have learned to download a file in pampers at inopportune times, me and late poppa Homer T Stakes. He would later buy this house.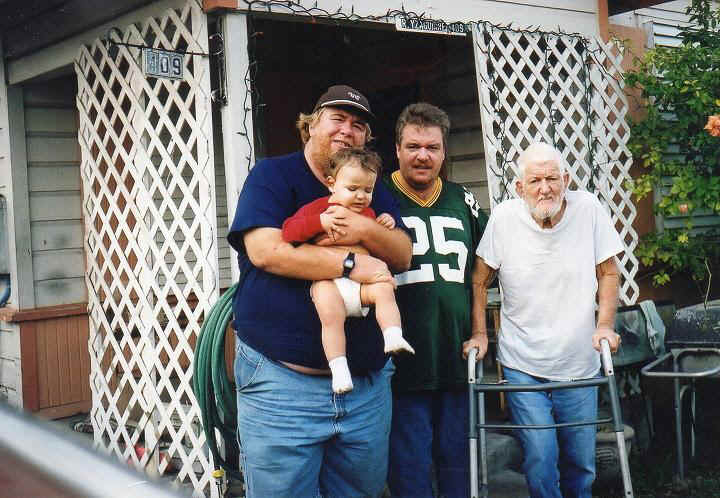 Photo #9. Don't squeeze him like a poo poo bug I yelled to Tommy as he held Noah. Behind Tommy... another shotgun house, and Tommy is leaning against a 1974 AMC Hornet & in front of him a 79 AMC Concord I had given my oldest daughter Jennifer earlier. Dammit I sure do miss the big guy.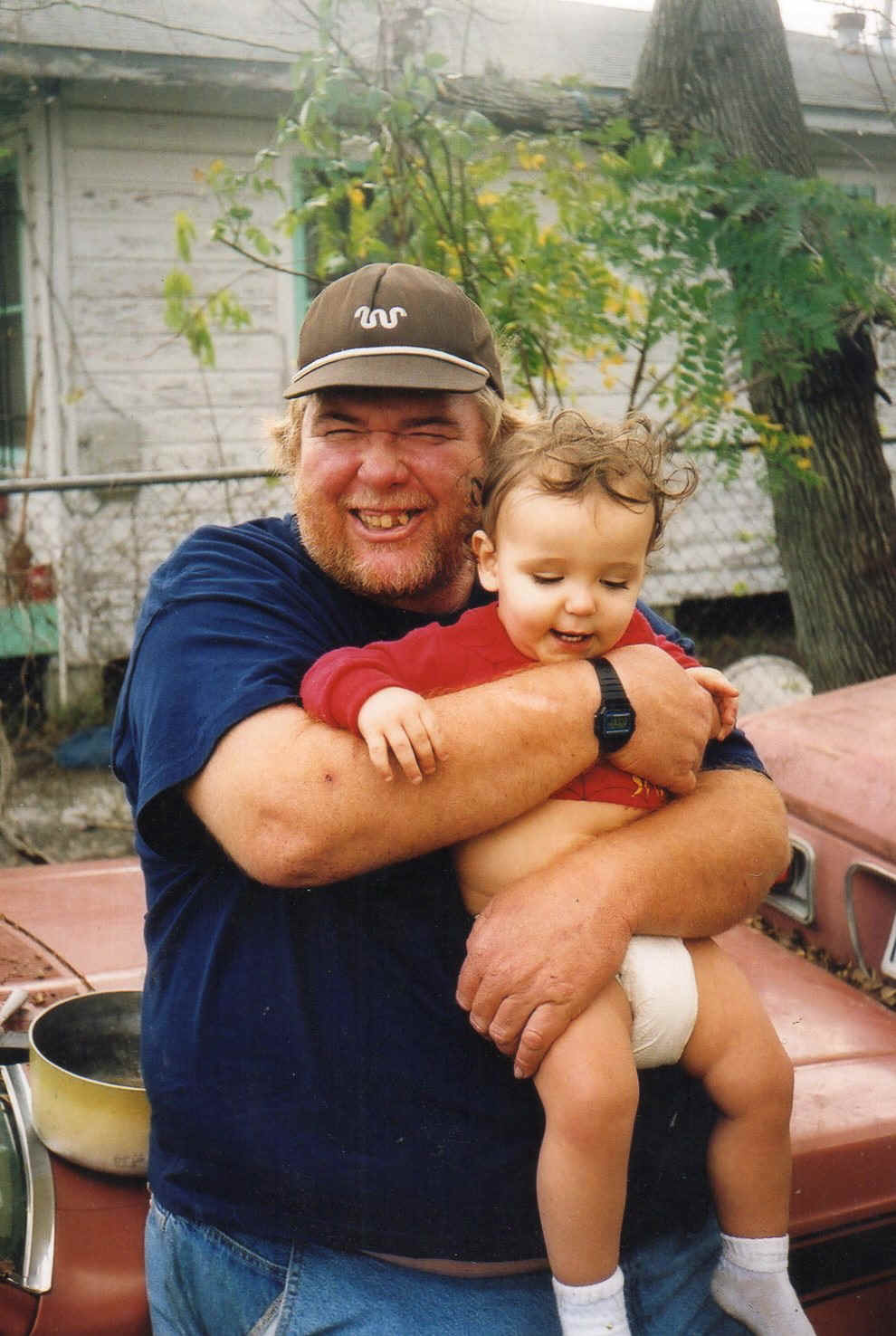 Photo #10. This is 1 block from where I grew up. And have already written about the 27/noise. But check out (ooh! old truck!.. sorry had a SQUIRREL! moment!) But look to upper right. That is Culberson Street. No one calls it Culberson street. The arrow points at 4 shotgun houses, that were just like ours. How do I know? One of my Cathedral friends liked in one, Tony Gomez & brother Ray. So I got to go to their house and visit. The old houses, like ours, all gone now. I don't have whole photo of our old shotgun house, but look "shotgun house" up online, lots of photos them. Straight front to back, small. AND HOME.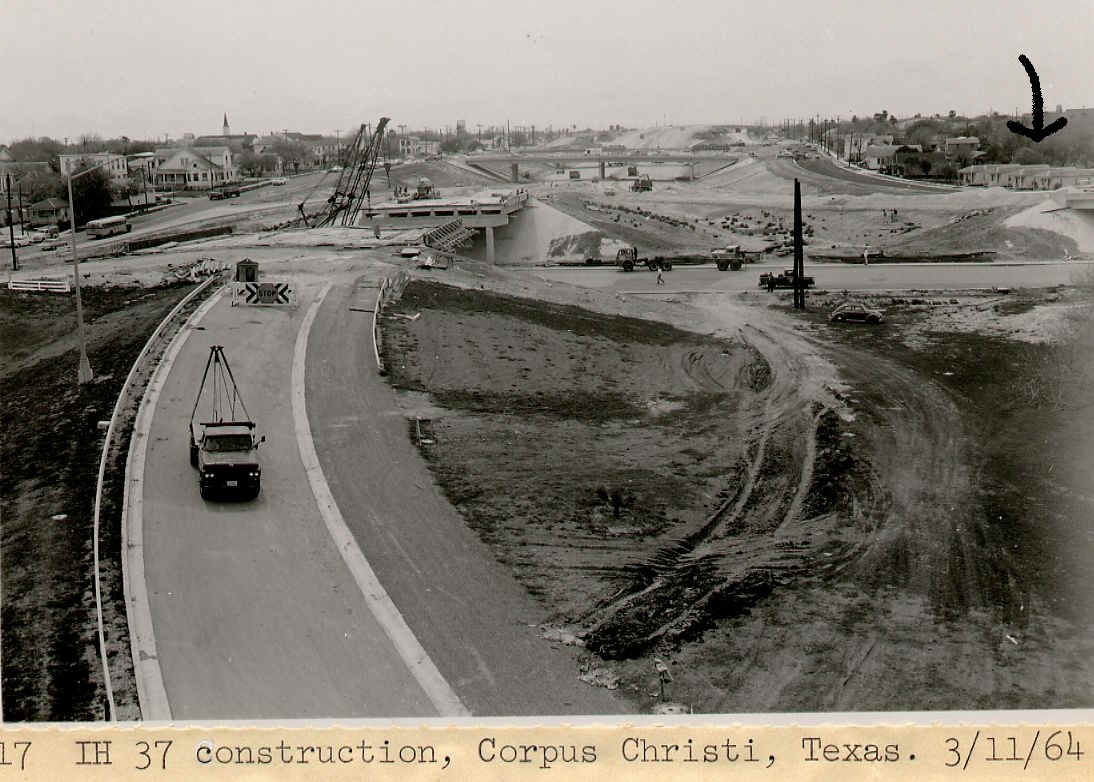 #11 Uncle PunkI mentioned my Uncle Punk (dad's side of family) in original post. There was a little bar next to Savage Elementary my uncle Punk used to frequent. Rodney Page said name however. Well, as I continue to plow thru 100s of photos I actually came across a photo of uncle Punk! Gruff but lovable guy, here he is scaring my late brother Tommy in 1958. I would not be hatched until 1959. He really liked Tommy over me would find out in 1960s. He saying something to Tommy, not sure who the other kids are, and that is side of old shotgun house 2009 Antelope standing in front of. The little bar, Savage elementary, the lift bridge, our 723 Doss house, our 2009 Antelope house, and of course Unclue Punk & brother Tommy all gone.