Walgreens Drug Store Downtown

Downtown Corpus Christi in 1960s/70s you had a nice array of places to eat.

Many stores had diners including Woolworths, W. T. Grants. I don't remember if Kresses had one but it was in the Forbidden Zone as were strips clubs and prostitutes north of Schatzell, so we were not allowed to go that way. Could go to La Retama library though. One place that had a diner similar to Hamlin Drugs over out Weber was of all places Walgreens, which was a few doors down from Center Theater, and about directly across from Zales. When you walked into this place the smell of cheeseburgers overtake you. Not sure if that was intentional venting on Walgreen's part or not, but worked.

There were little gates that swung open when you stepped on the mat, and they had a dome light on top one for ENTER, the other EXIT, not sure why they installed these as could push them open as a kid. Probably not supposed to do that either but uh, we did. The rows were parallel to store walls, and nicely kept with all the things a modern Walgreens seems to offer today as I write this. Laundry detergent, combs, hair brushes, toothpastes, even had really small toy section at back of one aisle, and all the legal drugs a pharmacist dressed in white waited behind counter to fill the order. You had other drugs, over counter stuff here lots of it too. Oh! Walgreens also had really small shopping baskets! Not your usual size shopping carts like at K-Mart, or even Woolworth down street, these little childs portion shopping baskets. Maybe why the small gates ENTER & EXIT, but that made no sense to us kids, as if you were exiting, as soon as you step on mat, gate swing open, and push cart thru. We never took cart out of the store though.

But the smell of drugs was usually drowned out by cheeseburgers, grilled cheese, patty melts. On one side near the grille was glass counters filled with things like Ronson lighters, Swisher Sweet cigars and other cigars, on the wall knick knacks and souvenir things like Welcome to Corpus Christi ashtrays, or photos of Harbor Bridge, even postcards. With limited room, the little diner had cakes, pies, on counter under glass cases like Grants & Woolworths did. Small row of stools, and across there only 4 booths. I believe the booths were later replaced, but unsure when, I do remember them in 1960s though. This place, like other small diners crammed into stores downtown in 1960s, filled up quickly for breakfast and lunch with suits.

Guys from the big buildings block over up on hill, Wilson Tower, 600 Building & Driscool Tower, chances are others came from some of the large buildings like next door Center Building or buildings in The Forbidden Zone too.

French fries were 25 cents so a big order I could split with late brother Tommy if we were hanging out downtown on bikes, or going to matinee at Center Theater next door. Was a bigger order anyways. Somewhere along the line Walgreens got all health conscious and one day the little diner was gone, replace with more pharmacy stuff, boo. So we didn't make this one of our 'downtown places to go' much, stayed in the perimeter, W. T. Grants, Fedways, Woolworths, The Toy Store, J. C. Penneys, and if feeling risky, would go into Litchensteins and look at the rich ladies. Funny how they got rid of popular little diner but continued to sell cigarettes, cigars, mice poison, bleach and other stuff...

Photo #1 small diner crammed in back of Walgreens cranked out a good array of food in 1960s downtown. I never did see the kitchen, but can tell you it was behind a wooden door with small glass window in it back in back near the sit down wooden phone booths.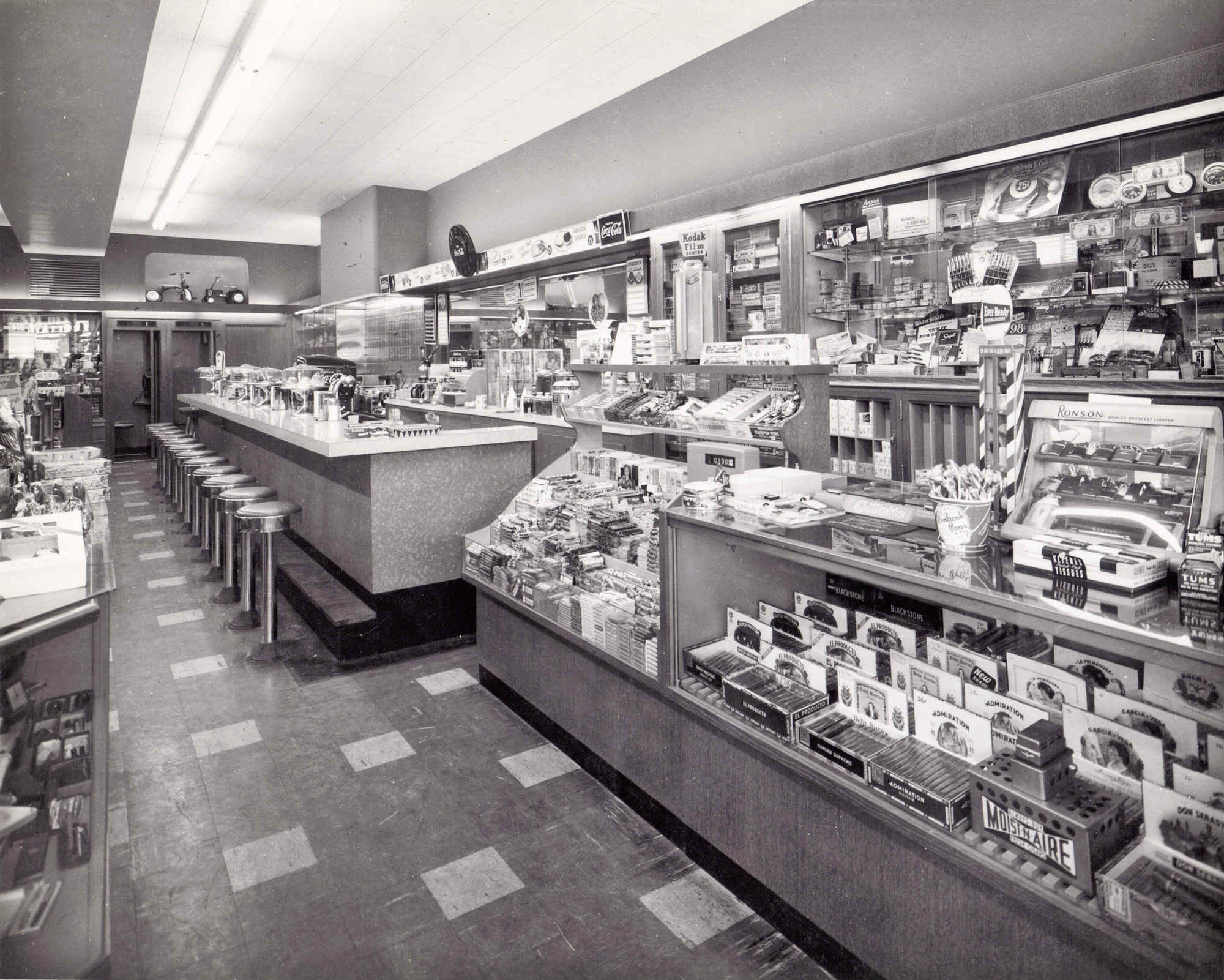 Photo #2 in front of Walgreen's next to Center theater in early 1980s. I do not remember when Walgreens shut down their downtown location as population gravitated west and towards south padre island drive and Way Out Weber.