Liquidating all press photos, literature, posters, see ebay link front of site
AMC NOS Books
AMC Posters & Press Kits & Decals!!
Obsolete items for reference & display with your classic AMC!!
I take paypal, checks and money orders. Shipping worldwide.
Questions, email me at eddie@planethoustonamx.com
FREE SHIPPING IN USA on all decals, a few dollars rest of world!
LAST CALL AMX @ ELKHART LAKE & AMX @ NURBURGRING POSTERS $19.99 EACH free shipping in USA. Am almost out of AMX @ MONTE CARLO poster
if you want one I do paypal eddie@planethoustonamx.com
or buy it now on ebay.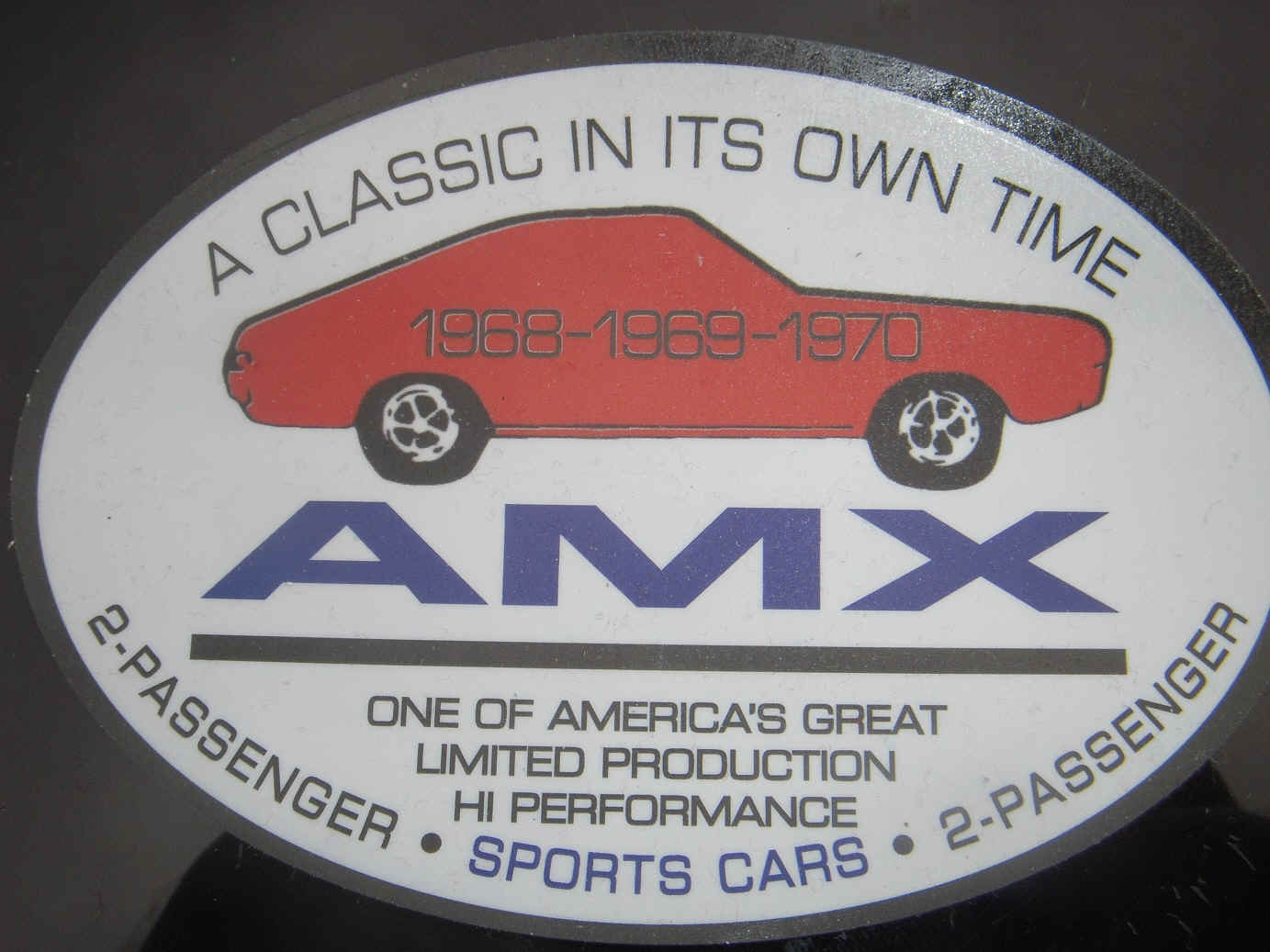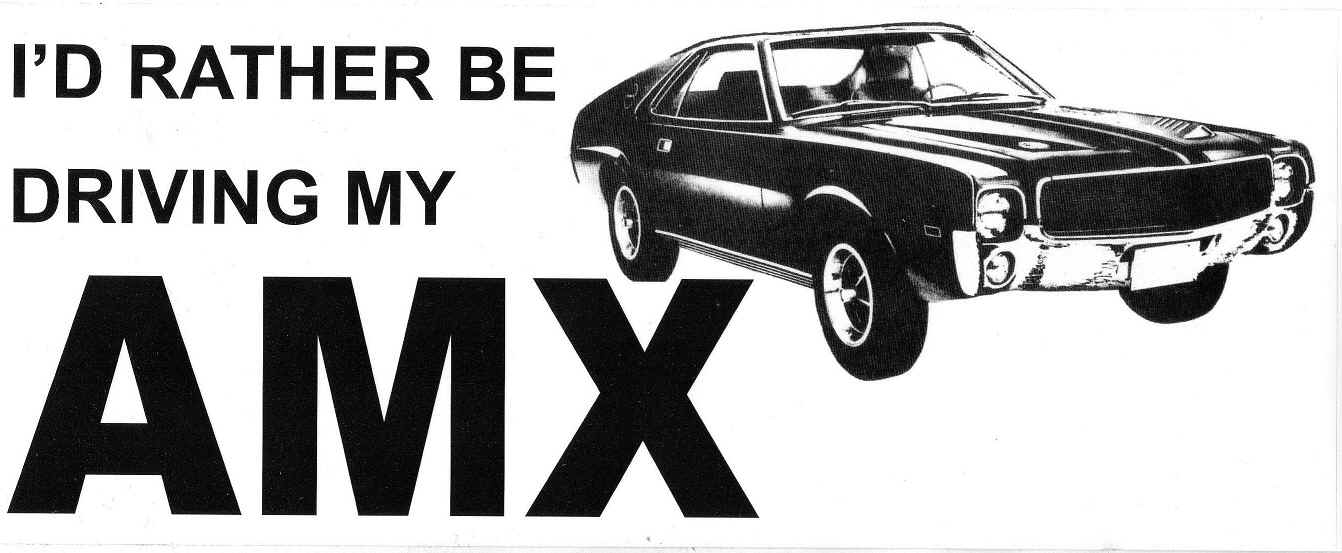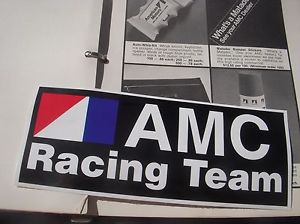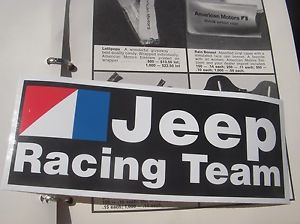 AMC AMX Two seater "A Classic In Its Own Time' 1975 inside window decal $4.00
Hay Javelin! 1967 orange and black bumper sticker $4.00
I'd Rather Be Driving My AMX vinyl 1970s bumper sticker emblem 9 1/4" x 3 1/2" $4.00
AMC Racing Team vinyl bumper sticker emblem 9" x 3 1/2" $4.00
AMC Jeep Racing Team vinyl bumper sticker emblem 9" x 3 1/2" $4.00
(all weather, UV protected, as shown in the AMC Merchandising Aids Dealers Book)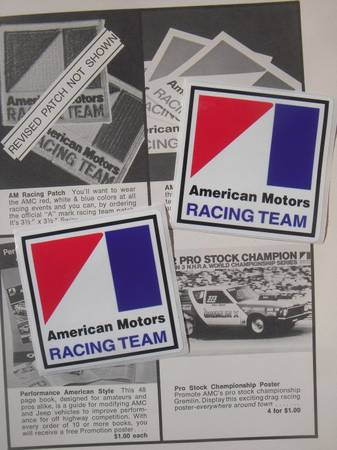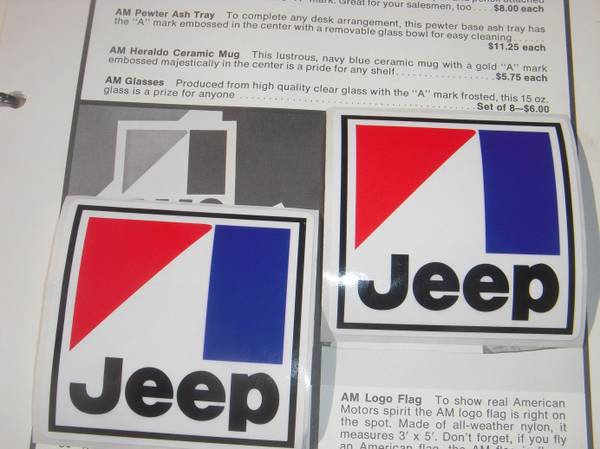 AMC Racing Team vinyl emblem decals 3" x 3" TWO for $4.00
AMC Jeep Dealer vinyl decals 3" x 3" TWO for $4.00

email me for paypal invoice eddie@planethoustonamx.com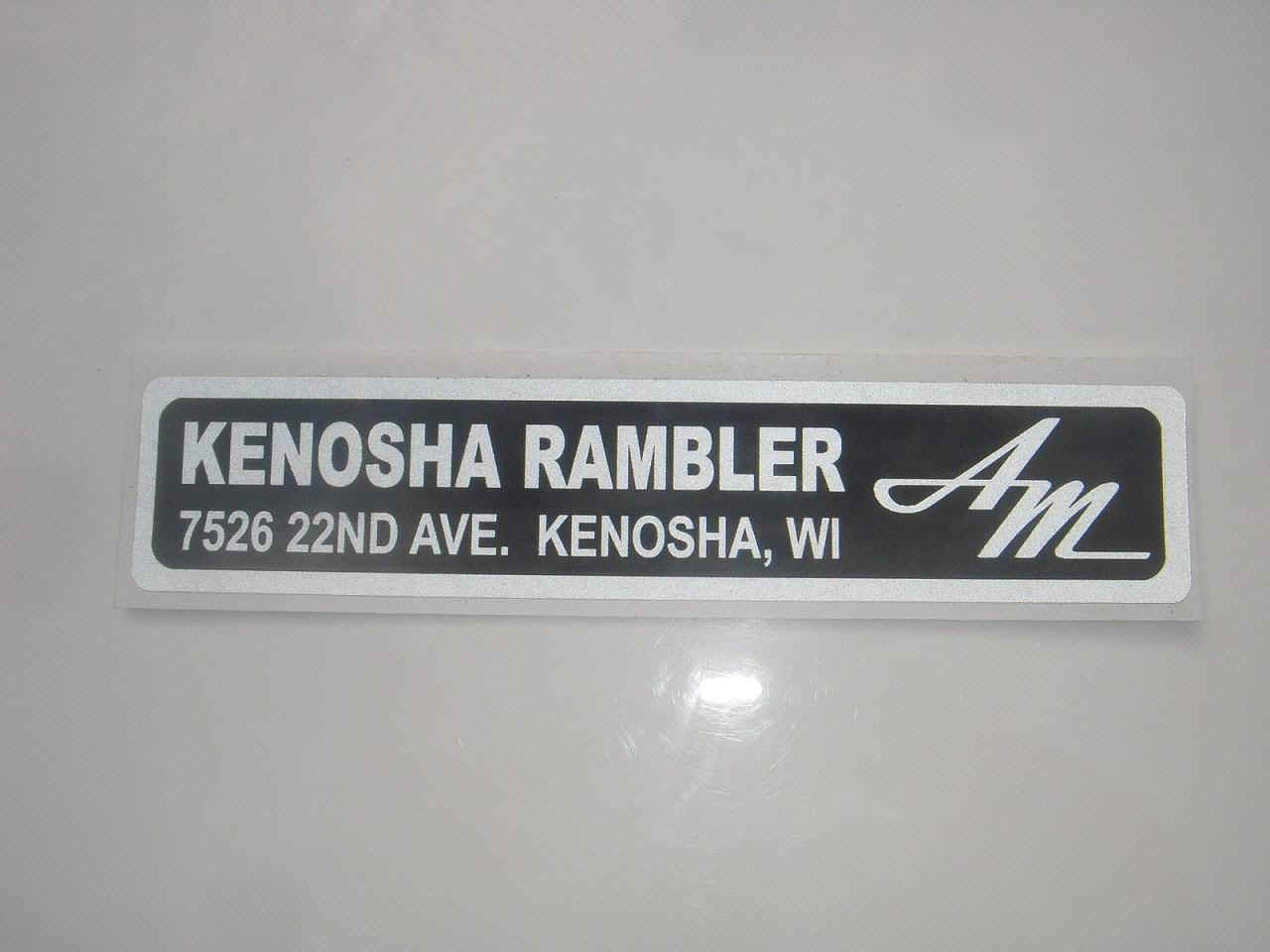 American Motors TOPEL AMC Dealership 3m reflective vinyl emblem 6" x 1 1/2" $4.00
Kenosha Rambler, Kenosha, WI Dealership 3M reflective vinyl emblem 6" x 1 1/2" $4.00
AMC Dealership UAW Flag Decal SOLD OUT
4"x 3" United States flag with small AMC logo and "I'm Proud To Be A American" decal brand new, never installed, super sticky long lasting 'clear' decal for interior glass. These originally were given out by AMC Dealers in 1970s and also UAW workers. Usually pasted on driver side 1/4 glass as shown installed. $2.50 each
email me for paypal invoice! eddie@planethoustonamx.com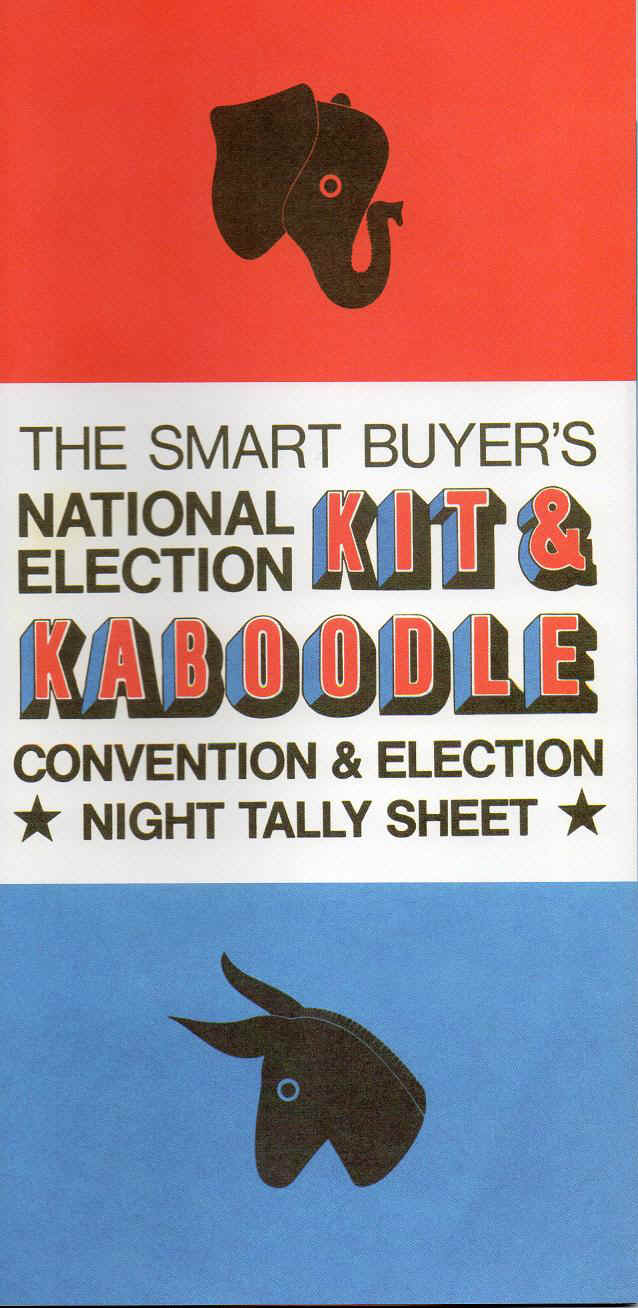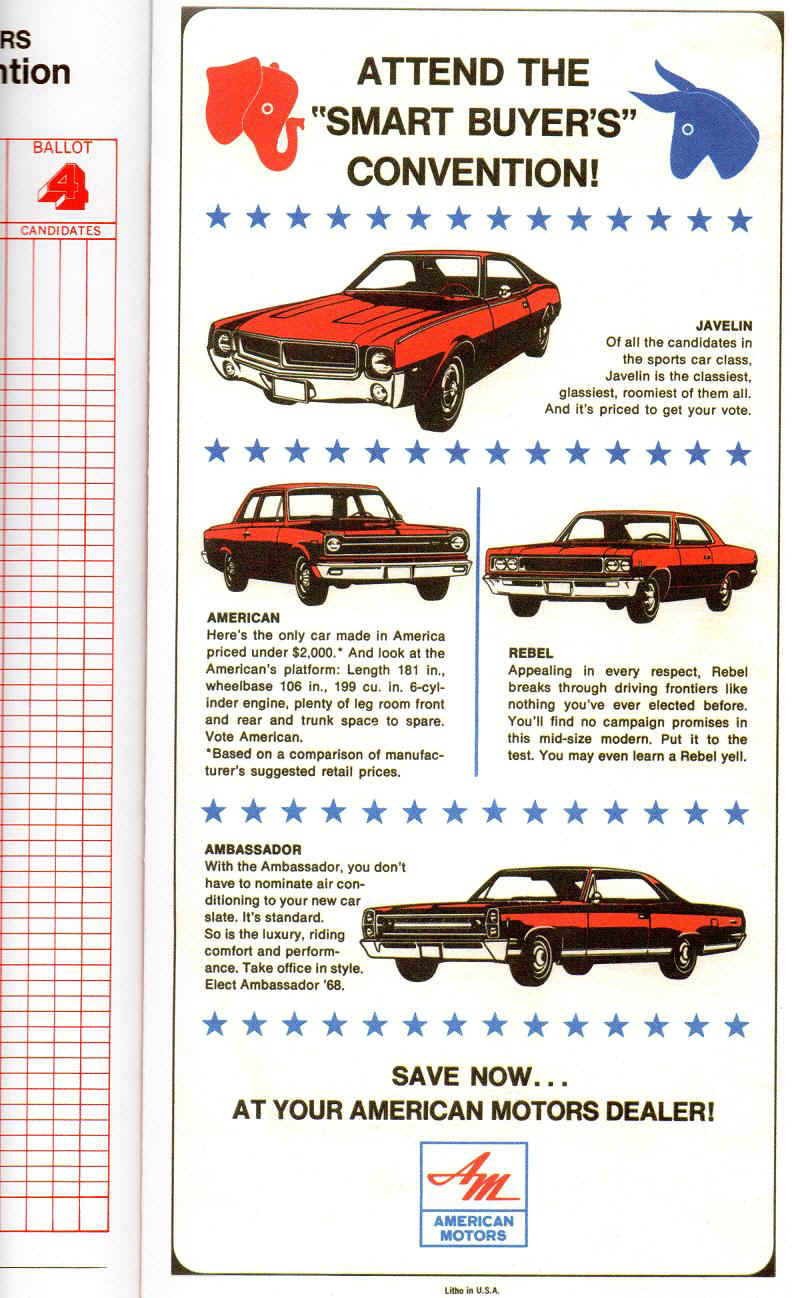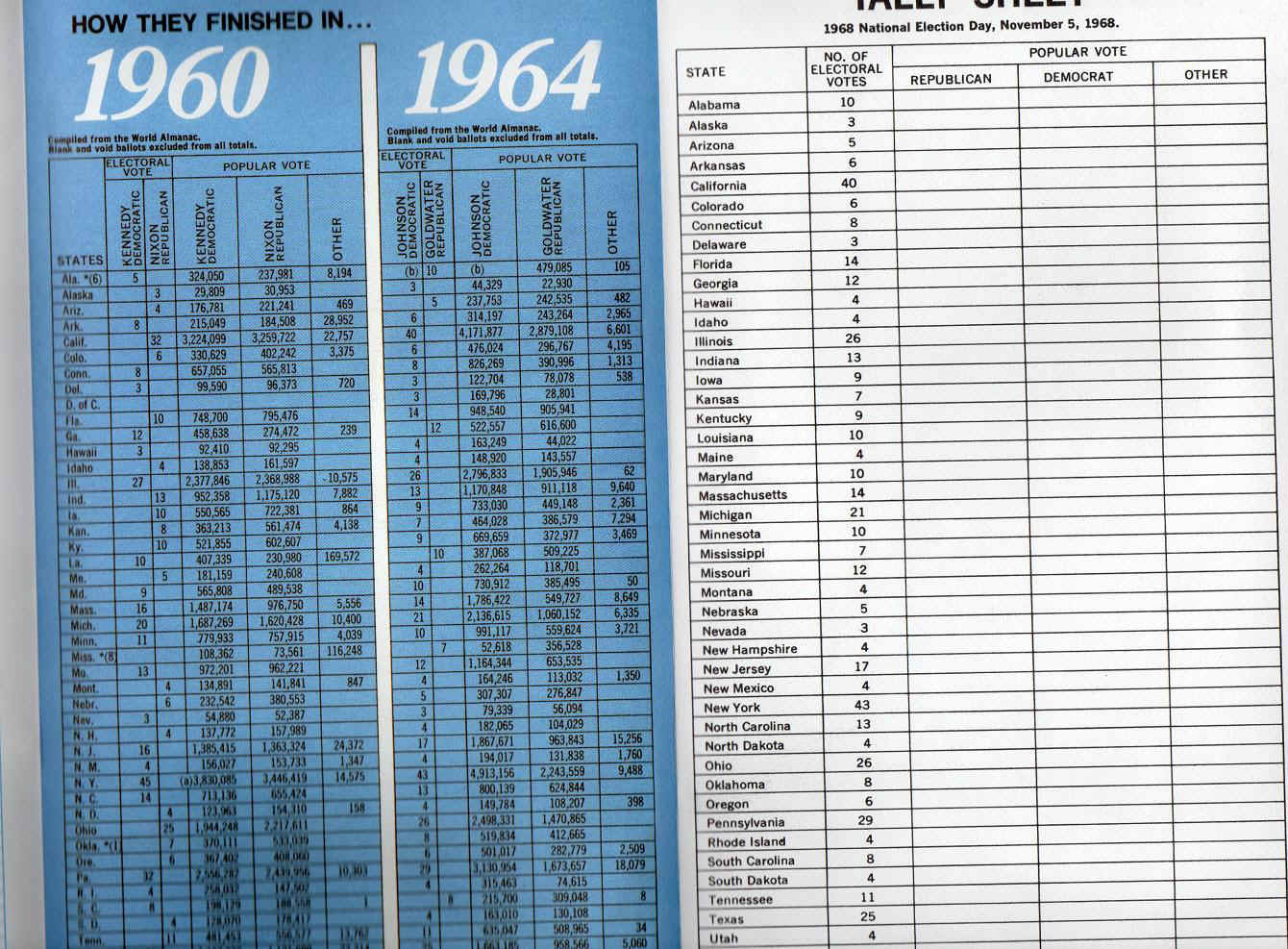 1968 AMC Voters Guide "The Kit & Kaboodle"
AMC Dealer's promotional "The Smart Buyer's National
Election Kit & Kaboodle Convention & Election Night Tally Sheet" for 1968. Hard, colorful flyer with Republicans & Democrats tally sheets; results 1960 and 1964 presidential elections, 1960 Kennedy/D; Nixon/R & 1964 Johnson/D & Goldwater/R & Other/I. Election Day November 5th, 1968. AMC's all new "Javelin", only car made in America under $2000 the American; the newly designed Rebel and top of line Ambassador. $5
====================
1968 AMC Trans Am Javelin booklet "Off To The Races!"
The little book talks about American Motors Javelin including it being 'The Cinderella Car of the 1968 Trans Am Racing Circuit' and has some great photos. In back shows the "new" 1969 (not 68) Javelin with MOD scoops, and how to order a red, white and blue AM Racing Jacket. There is a 68 T/A Sedan Racing schedule inside, and photos of legends George Follmer and Peter Revson and Jim Jeffords and Ron Kaplan of the JAVELIN RACING TEAM! It would be a excellent item for one's AMC or Javelin or Trans Am Racing Collection of memorabilia. $15
===================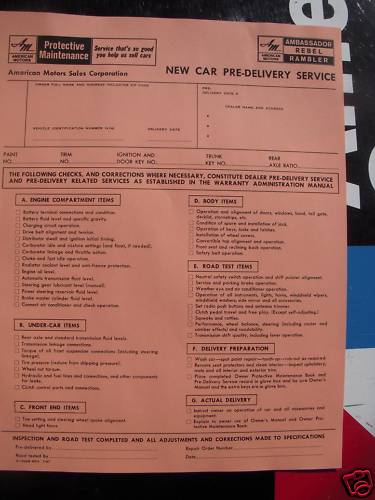 1967 1968 1969 NEW AMC Pre delivery blank form
for ALL 1967-69 AMC Vehicles. Before you picked up your NEW AMC Ambassador, AMX, American, Javelin, Marlin, Rebel, Rambler or Rogue & SC/Rambler at the dealership, they would go thru this list to insure everything is PERFECT when you pick up your pride & joy! Check carb linkage, rear axle levels, torque front suspension, clutch, head light focus, you name it, it is intense to insure that the vehicle was up to specs in the Warranty Administration Manual. This sheet is AM Dealer Copy (no carbon) and my suggestion would be to frame & display it with your classic 67-69 AMC at shows & events where it will rivet people's attention! $5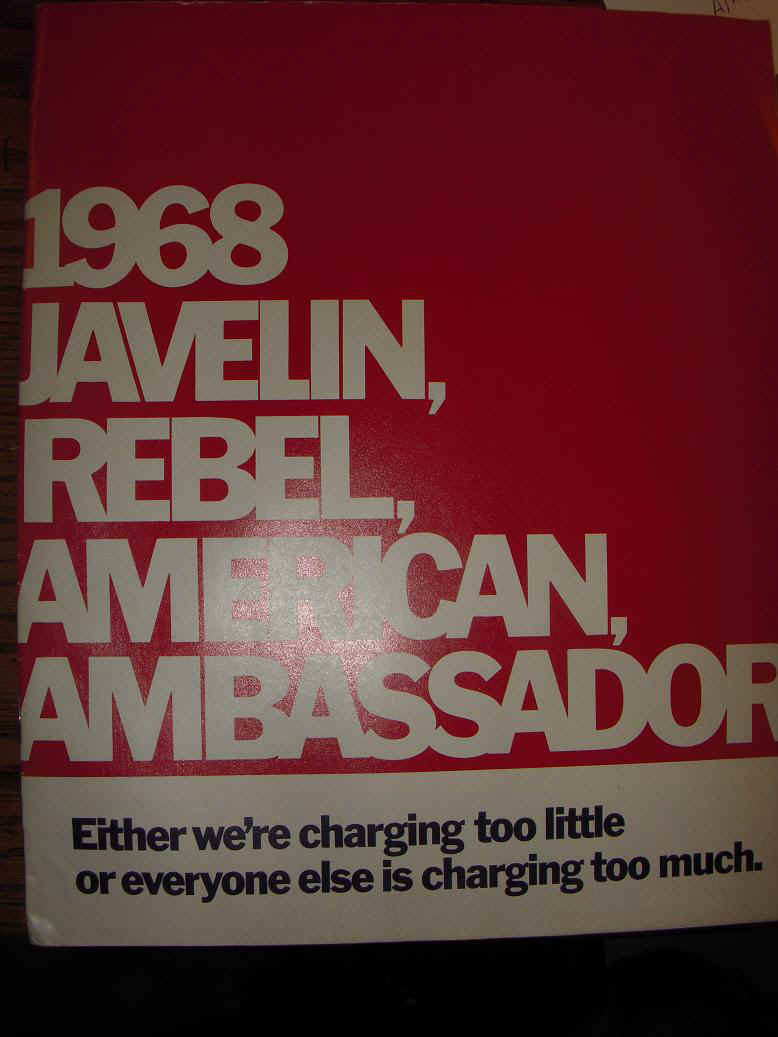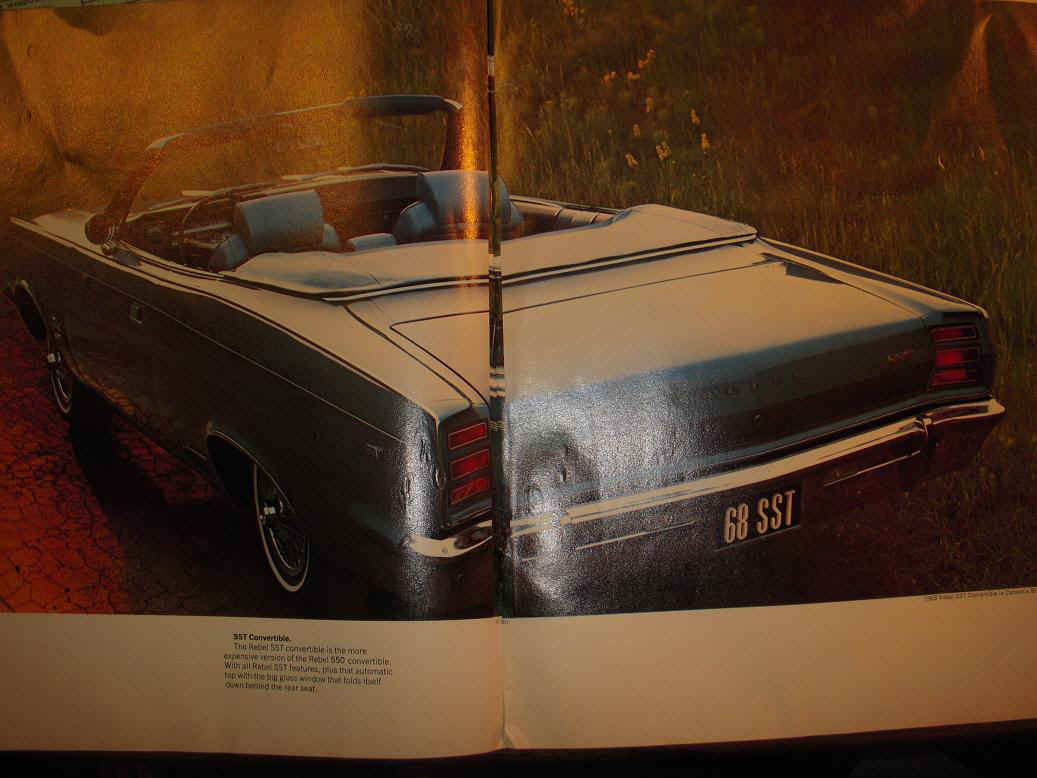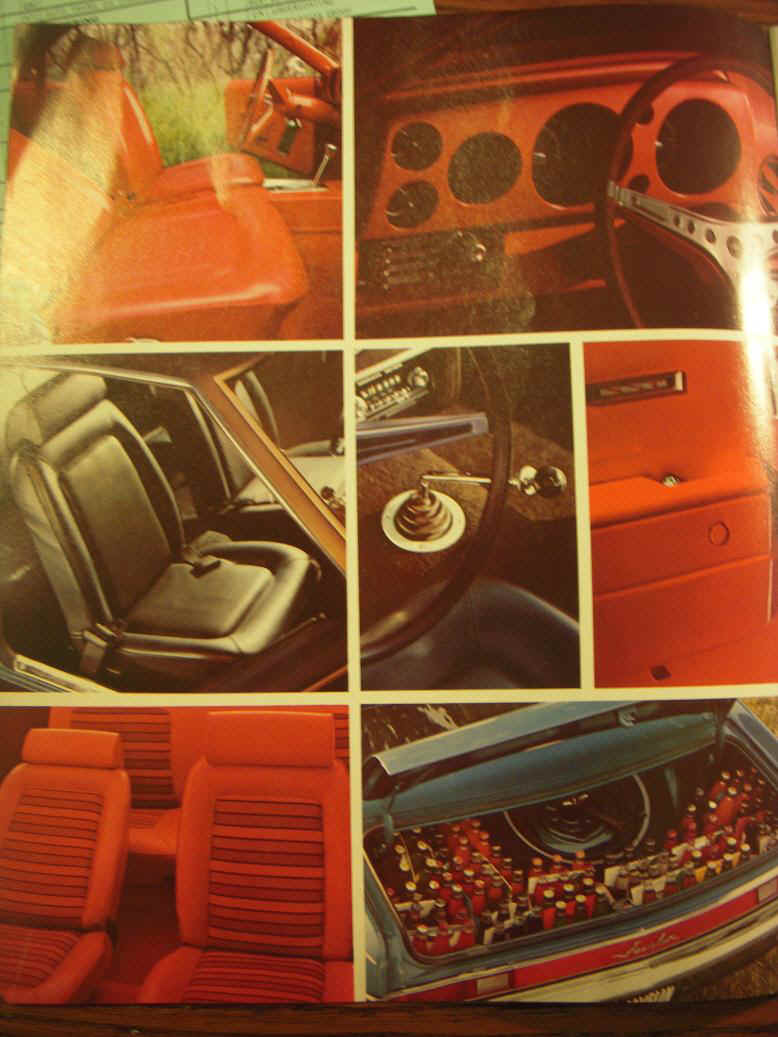 1968 Full line color catalog NO AMX
Printed July 1967. My favorite year of AMC's color catalogs, this NOS one has the dozens of wonderful photos of all your favorite models including the FIRST YEAR JAVELIN; the LAST YEAR AMC CONVERTIBLE/The Rebel; All Rambler models including wagons, 2dr and 4dr; also top of the line Ambassadors including their sub models like SST, DPL. About 42 pages jammed with Safety Features, Performance Selector, 5 year/50,000 mile warranty, Specifications chart, huge Options list, and well, there are the photos. My favorite is the centerfold, a two page spread of the Rebel convertible looking inside the car from a behind view, simply stunning. Only 823 last year Rebel convertibles were produced, and I have owned for 14 years the documented heaviest optioned off the assembly line of those 832 with 38 options. $15
====================
1968 Full line color catalog WITH AMX.
Printed January 1968...same as above except last pages have the new mid year 1968 AMX photo and information. Rare. $20
====================
1967-1969 Parkey Rambler Dealer Invoice
Three page CAR INVOICE blank from Parkey Rambler in Chicago, Illinois. This type was for 1965-1970 American Motors vehicles, there is a color front main page and two black and white copies so three pages. Really neat item for your collection should you decide to fill it out and frame to display with your classic AMC. $5.00
====================
1969 AMC "The Story of American Automobiles"
Released June 1969. It is loaded with 35-40 wonderful never before seen photos of the Kenosha factories East Line, West Line & Final Assembly Line building AMX, Javelin, Rambler and Rebel Series. The photos is what makes this booklet outstanding, from the superimposed Javelin xray on Dick Teague's mind, to the unknown AM workers shown in various stages of development from welding, test driving, installation of parts, clay modeling studios! It states it is about "The Story Of American Automobiles" make no mistake about it... it is *ALL* American Motors inside this neat little book!
Original AM Dealer Stamped:
VANCE & SONS AMC, 5602 Bellaire Blvd. Houston, Texas, Phone MO 6-3211 *almost sold out
====================
1969 AMC Merry Christmas songbook,
these are heavy, colorful and 4 pages. Has all traditional Christmas songs. Has holy baby Jesus, Virgin Mary and papa Joseph with angel appearing before them with the big star in background like a stained glass scene, on cover. Rare item from the late, great, John Slabe's collection; Slabe Rambler, of Little Falls, NY; but dealer Unstamped. Would make a very unusual item for one's American Motors, or Christmas memorabilia collection. $10
====================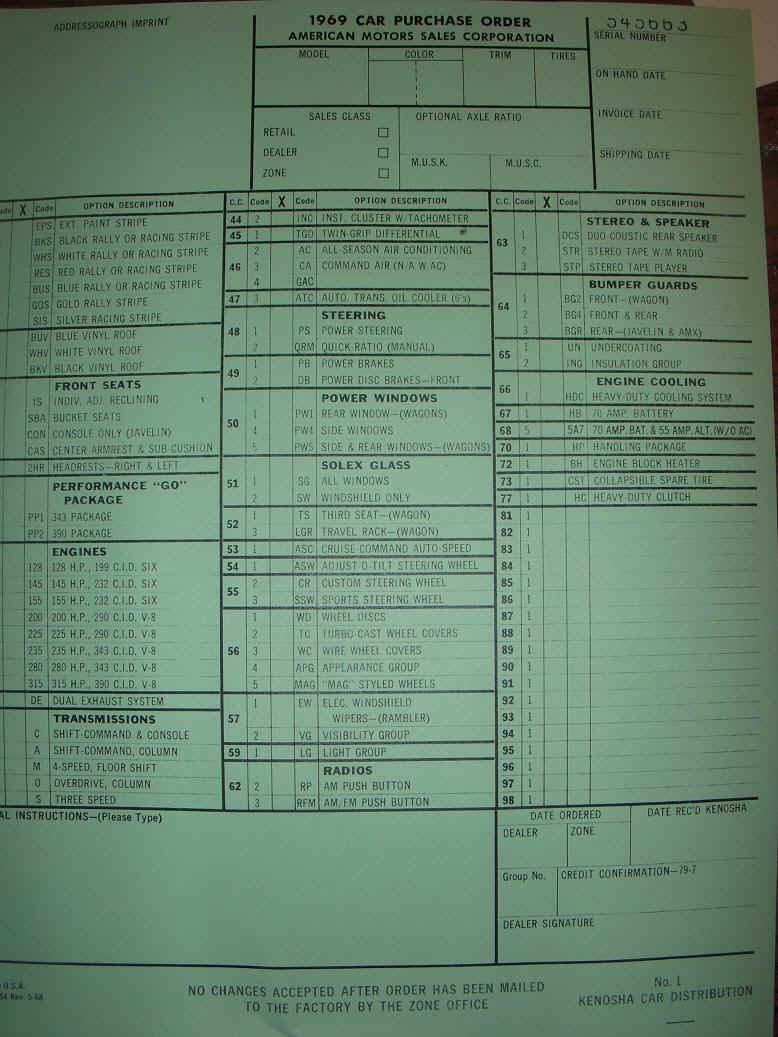 1969 AMC Car Purchase Order
for AM DEALERS. Engine, transmission, performance, paint strips, front seats, steering, power windows, solex glass, radios, stereos & speakers, bumper guards, engine cooling....This is what Dealer (and you!) filled out, sent to AM Zone, then onto Kenosha, WI where your car built. All BUILD CODES (IE: 44 Code 2 INC Instrument Cluster with tachometer & 53 Code 1 ASC is Automatic Speed Control) Priceless for *reference* or fill it out & display with your classic 1969 AMC Ambassador, AMX, Javelin, Rambler, Rebel at events! $5
====================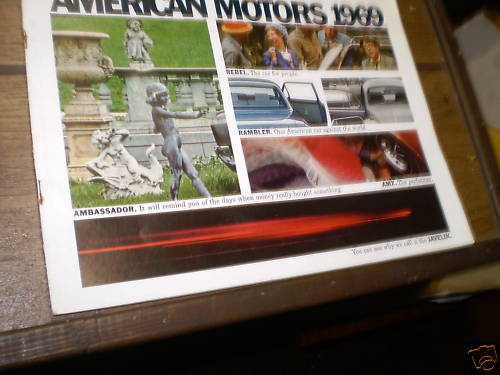 1969 Full line color catalog:
Ambassador, American, AMX, Rebel, Rambler all sub models inc. SST, DPL, wagons, four doors. $15/sold out
====================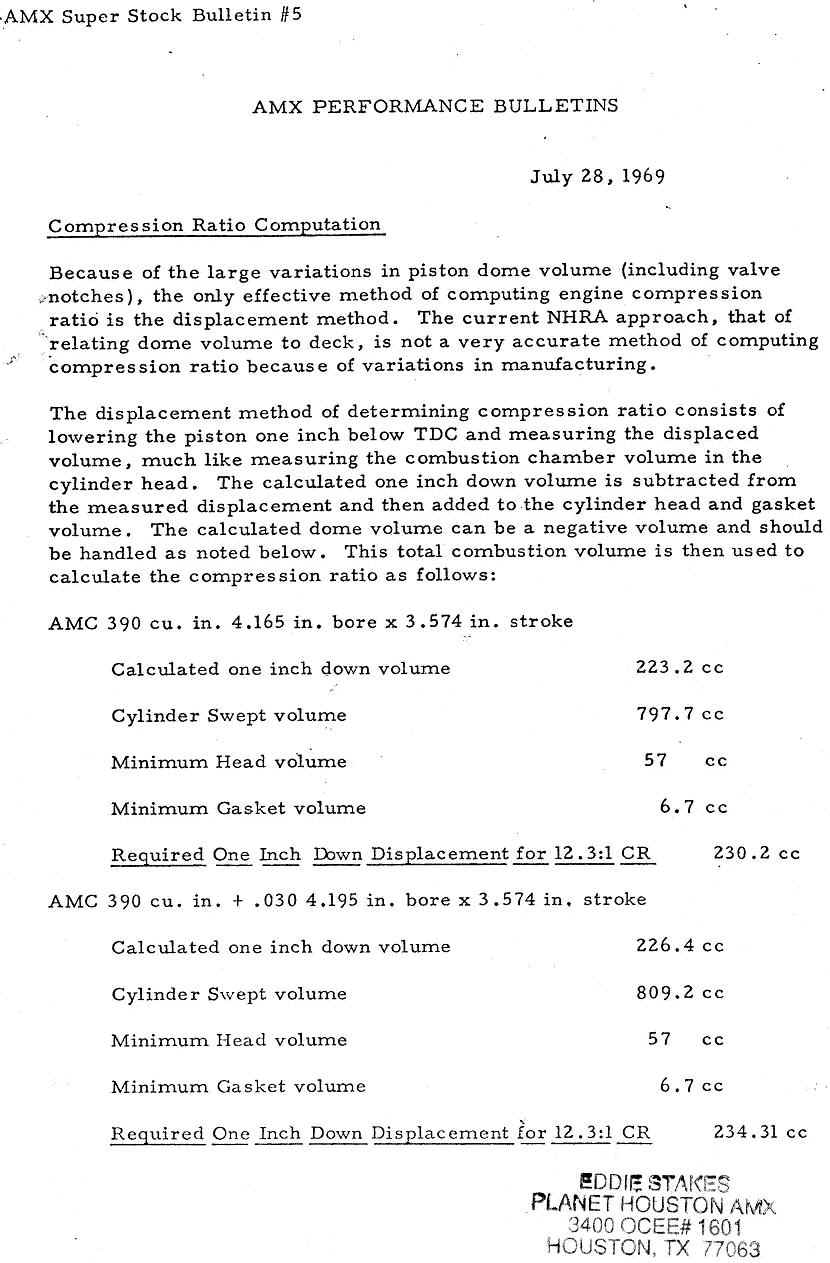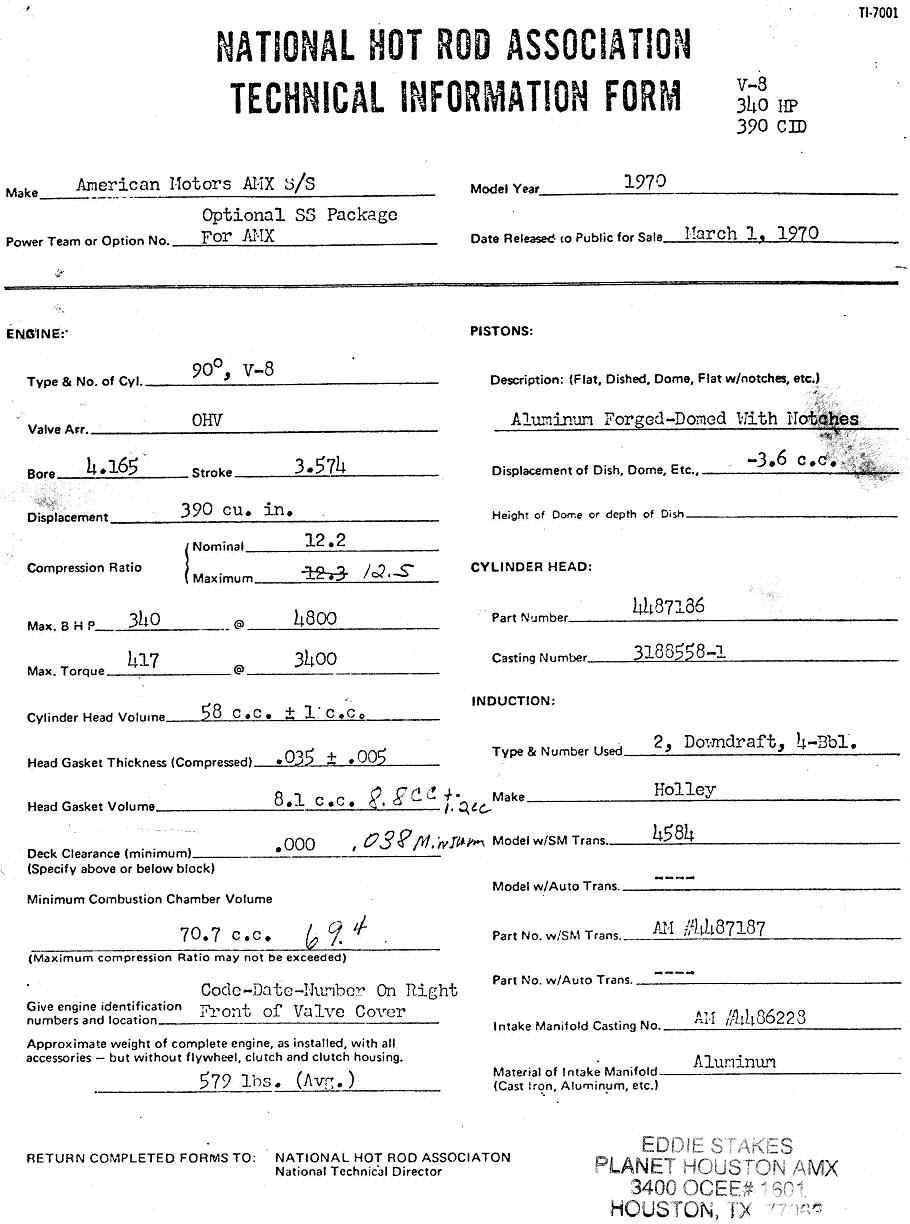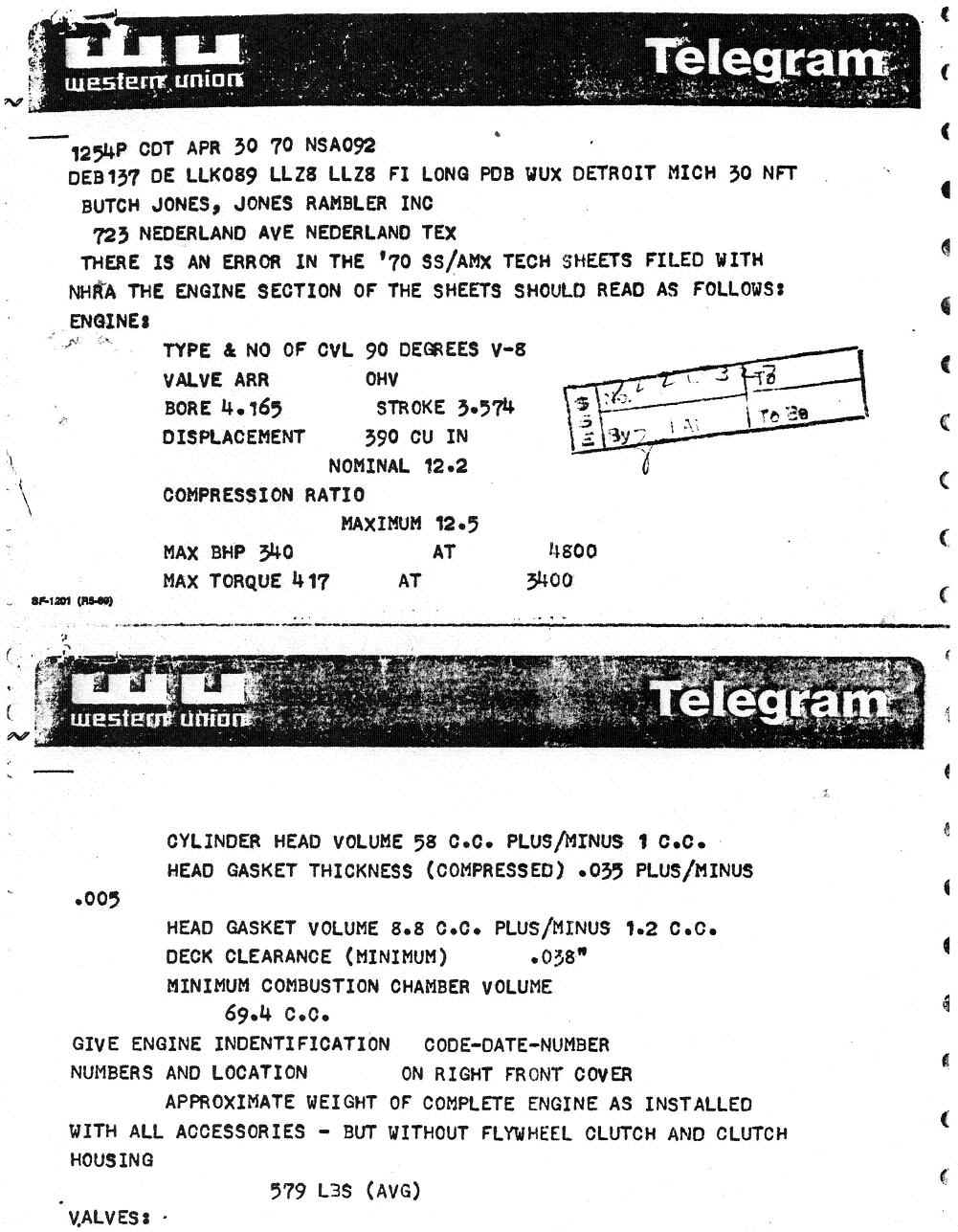 AMC 1969 thru 1970 Super Stock AMX Bulletins (SS/AMX)
1969 AMC Hurst Super Stock Bulletins A unparalleled part of AMC Racing history.20 pages of some of the rarest bulletins American Motors fired off. First released March 26th 1969, you also get the personal letter from Ed Flannigan AMC's Performance Specialist & Activities Director, and the NHRA updates memos, along with the WU telegrams. Flannigan's hotline number is scribbled on one memo. The bulletins include (but are not limited to) the following: front suspension; rear suspension, axle & tires; transmission; Crane Cam FAX; clutch & flywheel assembly; engine electrical; ram air induction system; oil pan (illustrated); break in procedure (from Hurst Performance); carburetor throttle linkage (for STR-11 crossram/illustrated); engine head gaskets; clutch housing, rear fender opening (illustrated showing where to alter wheelwells); rear axle perch spring fix/weld (illustrated); piston wrist pin failure; compression ratio computation (July 28, 1969); Update September 18, 1969 Scheifer Super Stock clutch/pressure plate update; Update October 10th,
1969 NHRA intake valve bulletin; April 3rd, 1970 Update to all SS/AMX Owners from Ed Flannigan AMC Performance Specialist & Activities Director; NHRA/National Hot Rod Association Technical Information Form (released March 1st, 1970) which one would fill out and return to NHRA (includes part numbers); Page 2 of above form; Seven (7) WU Telegrams with updates including head gaskets, cylinder head volume, error message, deck clearance and more. Also included is a American Motors Retail Price page with price of $5979.00 for Frost White P-72 SS/AMX or painted in AMC's racing colors of red, white and blue. VIN begins with a9m397x213560. Car sold as is, no warranty and not intended for street use. All equipment from 390, cold air hood scoop, Edelbrock cross ram, Lakewood, it is all here. This particular set are to Butch Jones, of Jones Rambler in Nederland, Texas, just east of Houston. This is from Super Stock #40, a car I know well. This set of AMC Super Stock Bulletins are copies of my yellowed and cracking originals found in my warehouse! Historical SS/AMX significance? $15
============================================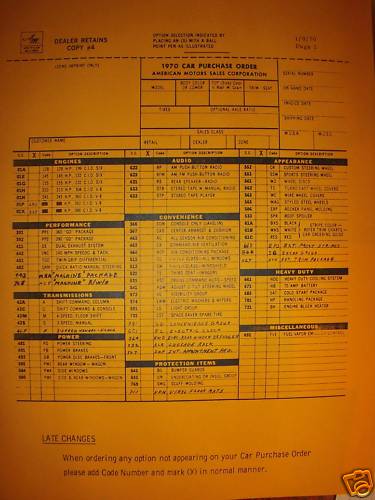 1970 AMC New Car Purchase Order Form
( orange dealer copy, no carbon) for one's classic 70 Ambassador, AMX, Hornet, Javelin & Rebel Machine. Has Build Sheet codes & CC's for reference. *Last Publication AMC offered January 9, 1970 (the first for 1970 was May 1969). Updated by Dealer with written in updates like Rebel Machine 443=MRM=Machine Package & 768=MCP=Machine Package red/white/blue; 532=RLR=Luggage Rack; 711=VPM=Vinyl Floor Mats; 610=EPS=Exterior Paint Stripes to name a few rare codes! *This little sheet is invaluable if you are trying to decode your AMC BUILD SHEET would be to frame and display it with your classic 1970 AMC at shows and events. $5
======================
1970 AMC Dealers Order Book all models inc Gremlin
Extremely rare 1970 AMC Dealers ORDER book for 1970. Has codes, fleet sales, bulletins, about 100 pages. All models Ambassador, AMX, Hornet, NEW 1970 1/2 Gremlin, Javelin & Rebel Machine. Has Build Sheet codes & CC's for reference. *Last Publication AMC offered January 9, 1970 (the first for 1970 was May 1969). Updated by Dealer with written in updates like Rebel Machine 443=MRM=Machine Package & 768=MCP=Machine Package red/white/blue; 532=RLR=Luggage Rack; 711=VPM=Vinyl Floor Mats; 610=EPS=Exterior Paint Stripes to name a few rare codes! This is a copy of my original/ Why does this still exist? These were thrown away by AM Dealers after that model yaer and I save stuff. It is a book you will NEVER see for sale anywhere else. Fleet sales, engines sizes, paints, trannies, 95% of AMC fans have never seen this book. Would make a excellent addition to one's collection. $20

======================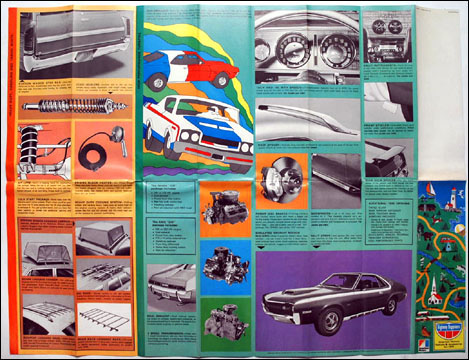 1970 Highway Happiness Group 15 Accessory "Road Map"
big 28 page thing folds out to huge road map. This was AMC's great marketing with playful, and friendly, approach. It folds out to 20x26 and is suitable for framing even though double sided. AMC loaded this with not only great photos and drawings of the cars themselves, but also comments about those items, some rare as hell like Trendsetter sidepipes! Everything from mirrors, bumper guards, cruise control, compass, tissue dispenser, tape players and radios, floor mats, rims and hub caps, air shocks and load leveler system, luggage racks, it is all here along with photos! You also have points of interest like Ambassador Lodge, AMX Heights, Hornet Haven, Javelin Junction, Rebel River to discover. $30
===================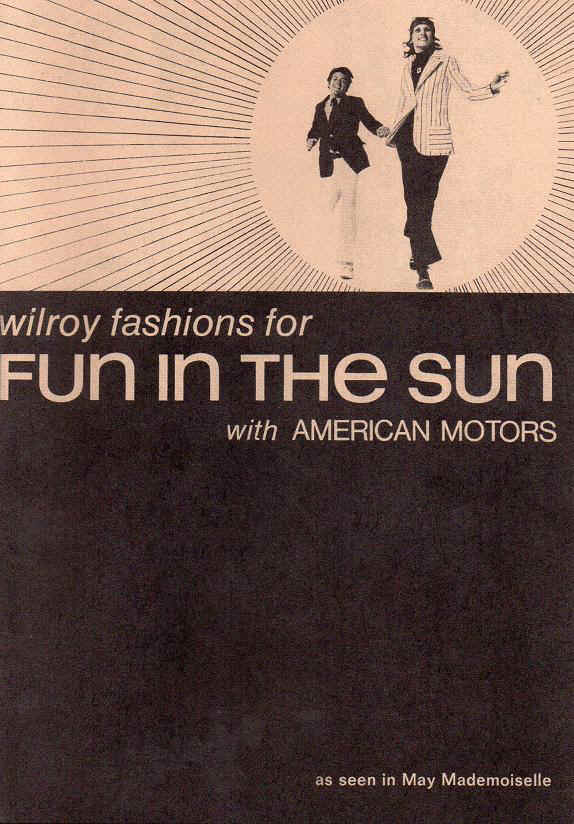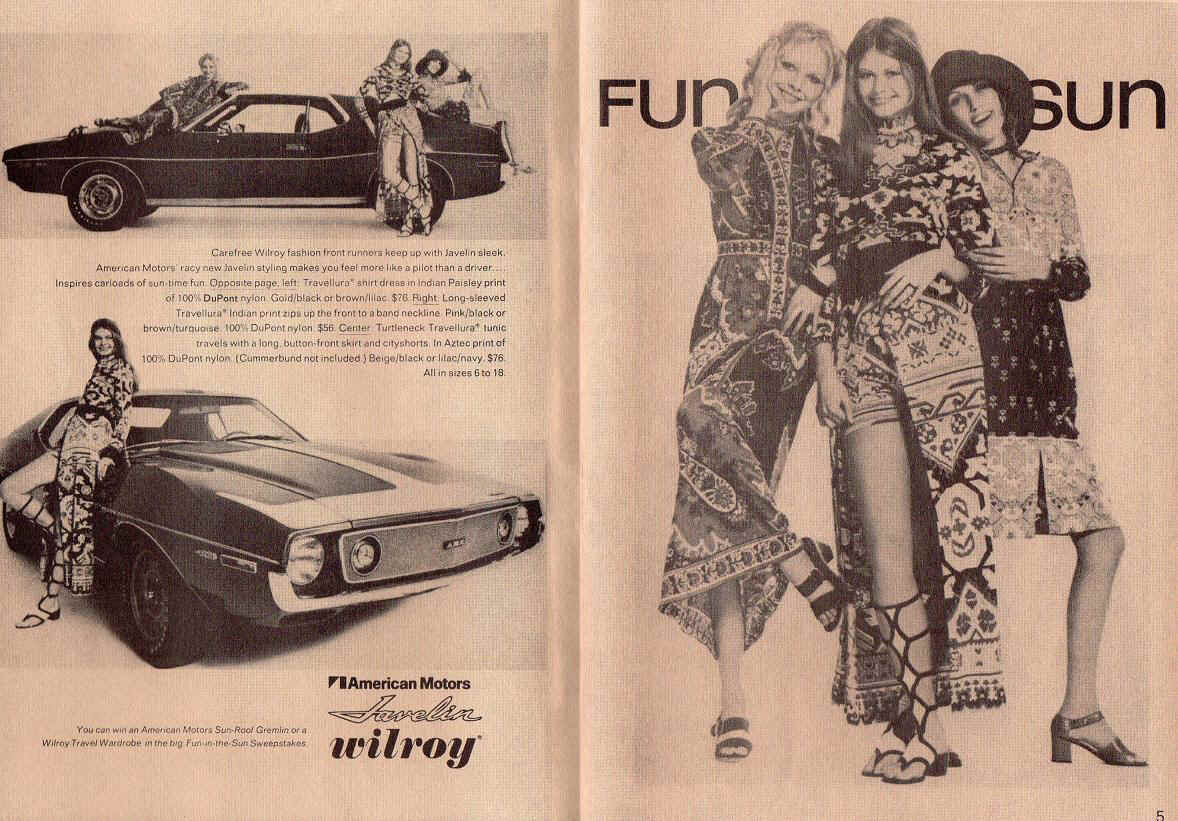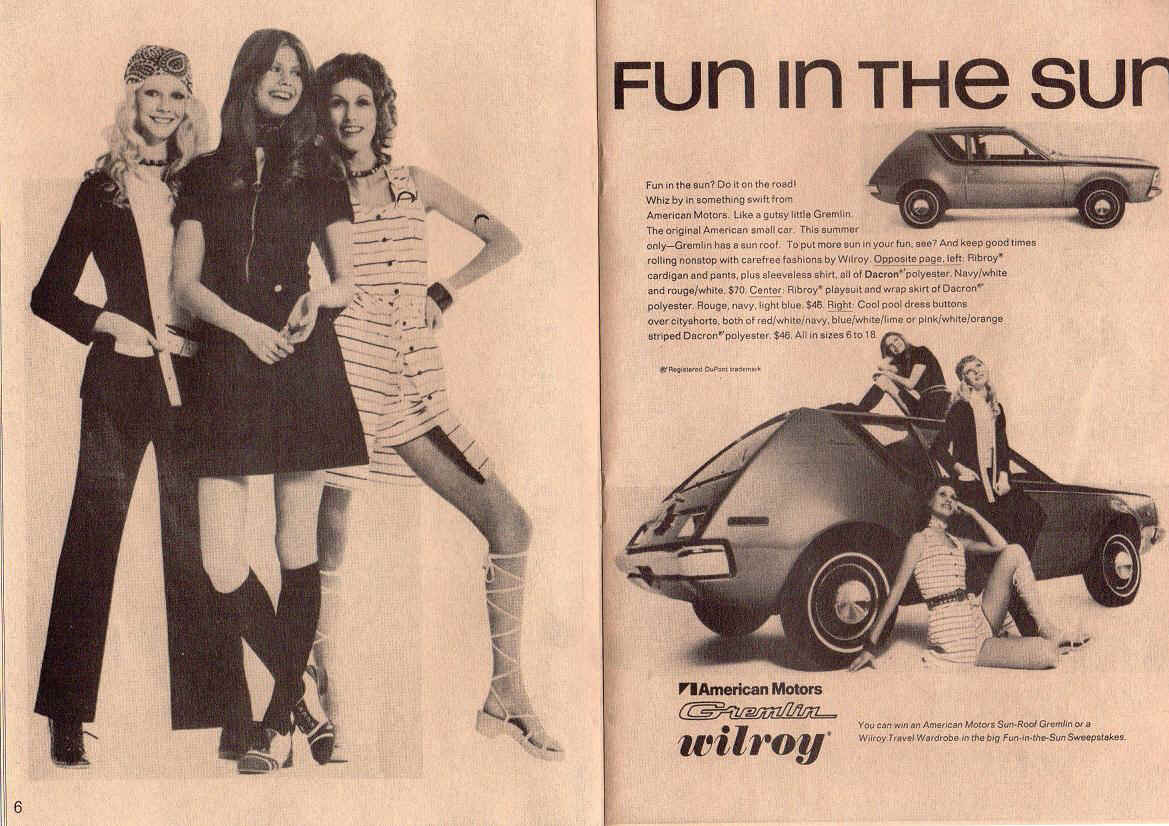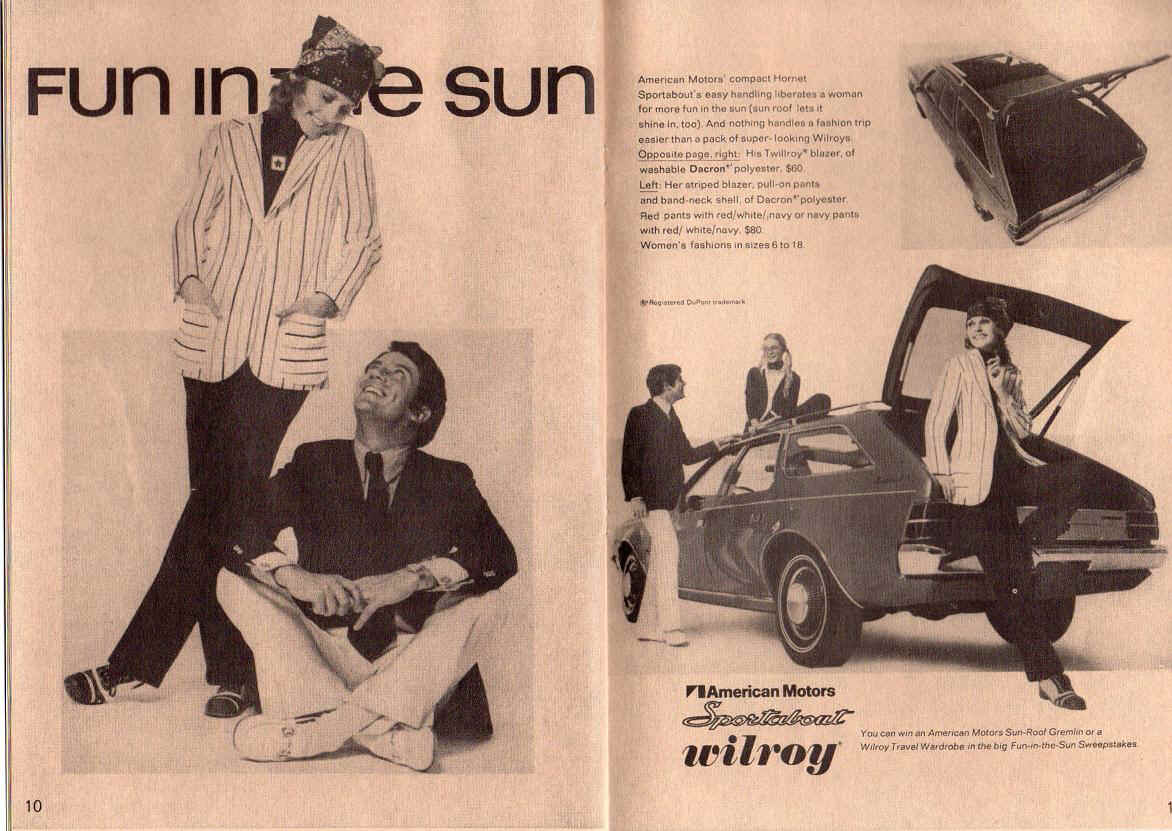 1970-1971 Wilroy Fashion's "Fun In The Sun With American Motors"
booklet showing New 1971 AMX 401, Gremlin., Hornet 2 door and Sportabout. And beautiful models showing off Wilroy Fashions new wardrobes. In the back is uncut coupon to send in (in 1971) to Wilroy Inc. 498 7th Ave, New York, NY. 10018 to win a 71 sunroof Gremlin; 1st 2 coupons drawn won, while next 10 got Traveller Wardrobes. High end designer fashions, some of the items featured are above $50, up to $100....in 1970 dollars when booklet printed. 15 pages. Rare item for one's collection whether you have a 71 AMC or not. "Wilroy's Fun In The Sun wardrobe & American Motors' swift, young cars hit the road together!" *I know absolutely nothing of Wilroy Fashions or their involvement with AMC, nor what happened to the vehicles pictured, nor who won the Gremlin(s). $10
=====================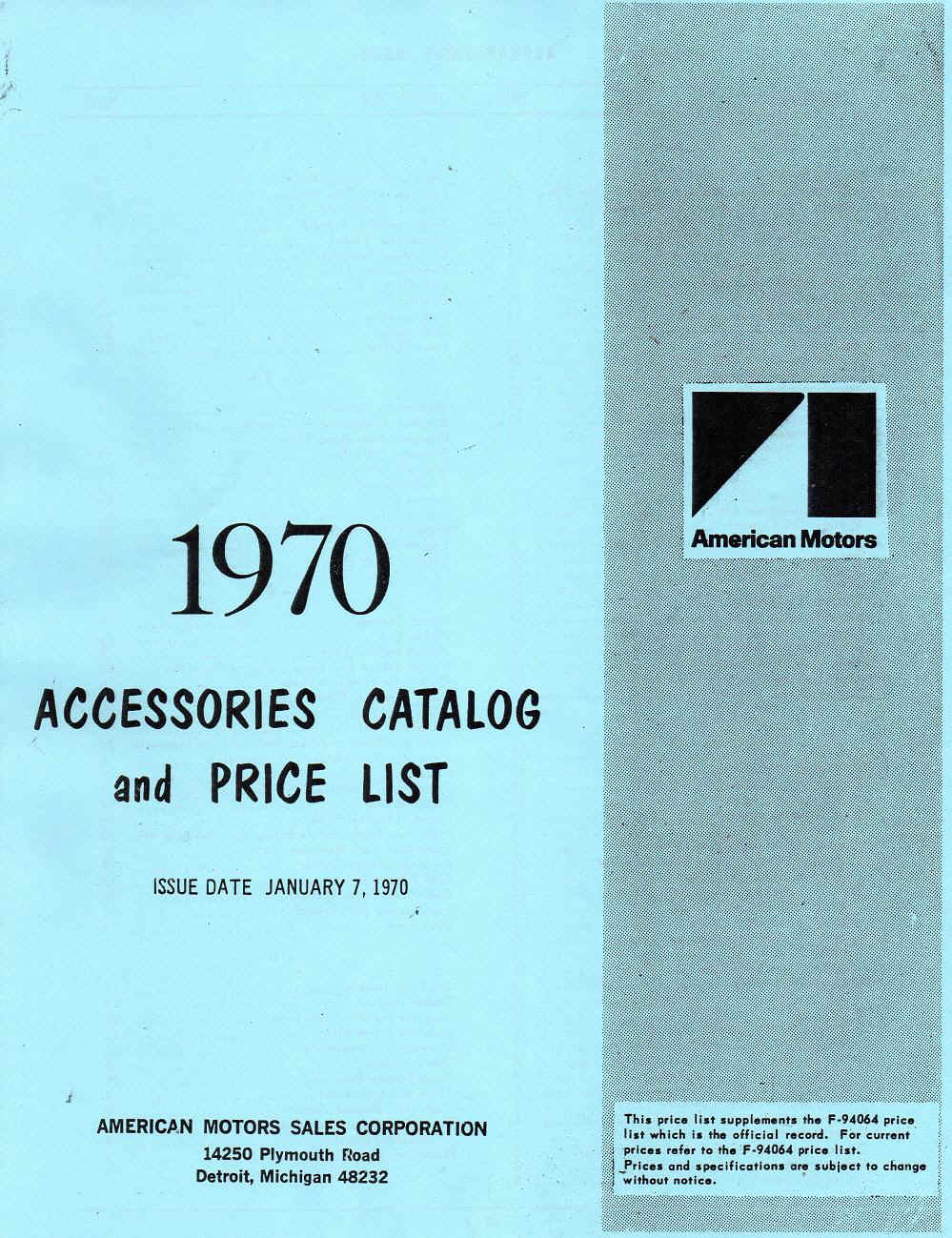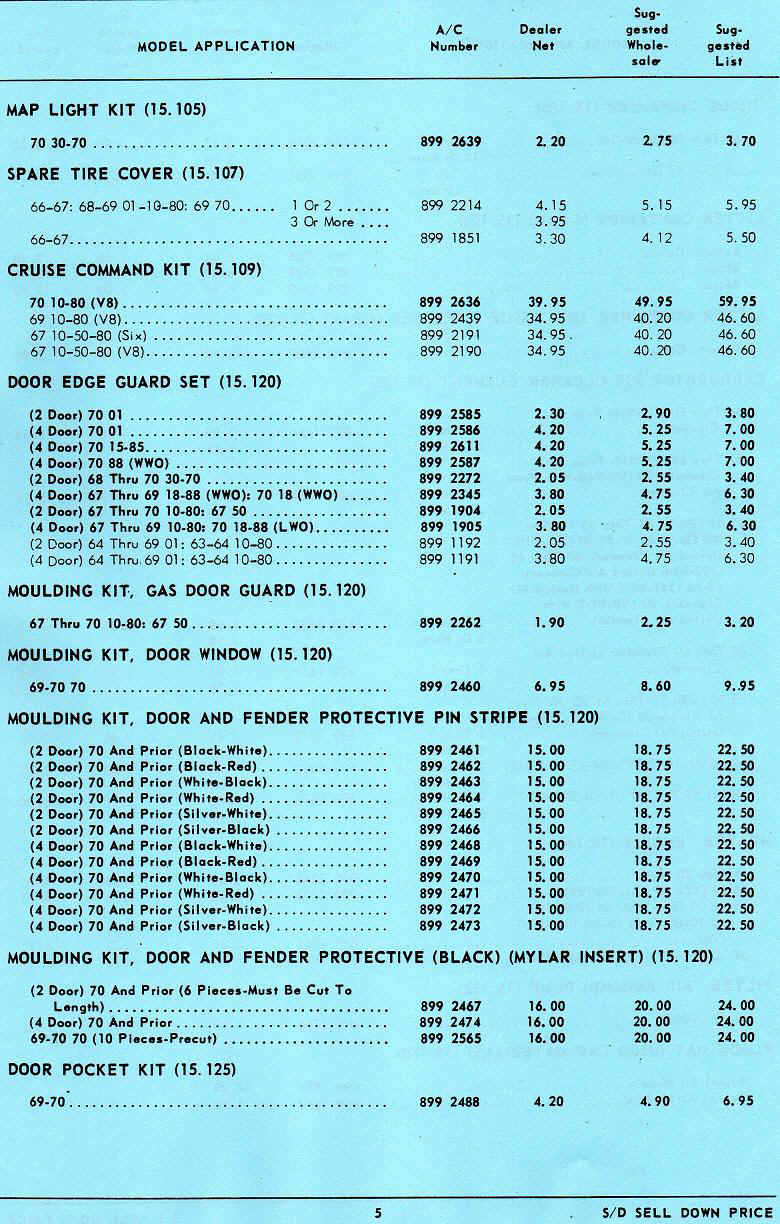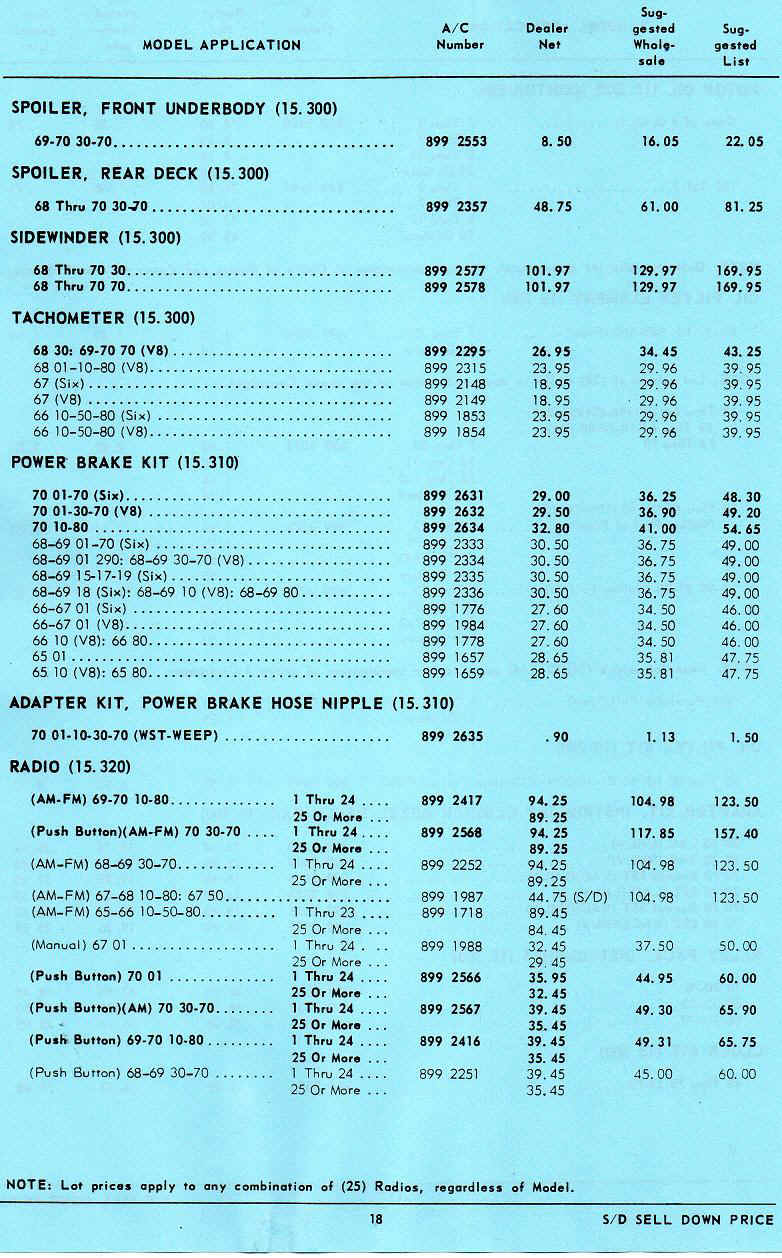 1970 Group 15 Accessory Catalog for Dealers
(not found in the 2500+ page Dealers Book, these were separate) The AMC Dealers Accessories and Price List was issued January 7th, 1970. In it, a dealer could QUICKLY look up anything for a 1970 AMC in the alphabetized 27 pages! AMC Part Numbers! AMC Group Numbers! Costs for "Dealer Net"! Suggested "wholesale" prices! Suggested "List" prices! Ever see a 70 AMX with a heated rear window? Only 56 of them built, but you could order it installed at the dealership; HERE IS PART NUMBERS. You will find things in here that many of you didn't know were available for 1970 from air conditioning kits, to brush top paint, compass, tissue dispenser, engine paint, mirrors, hubcaps, rims, floor mats, everything the dealership could offer from A to Z! INVALUABLE for reference purposes. $10
===================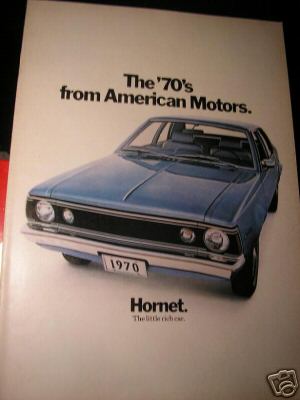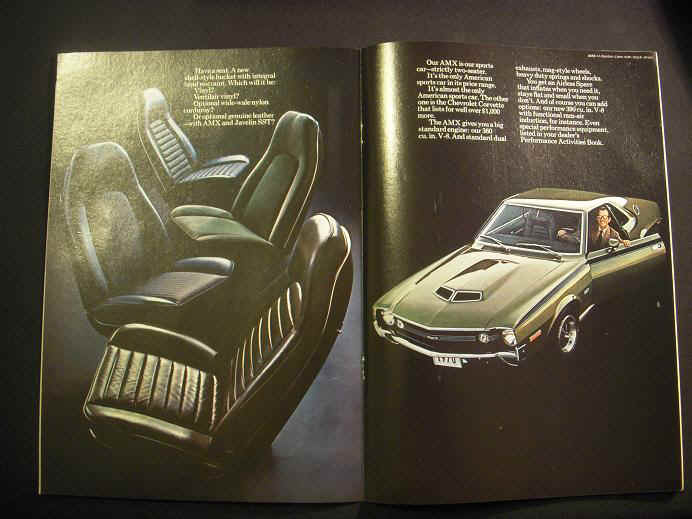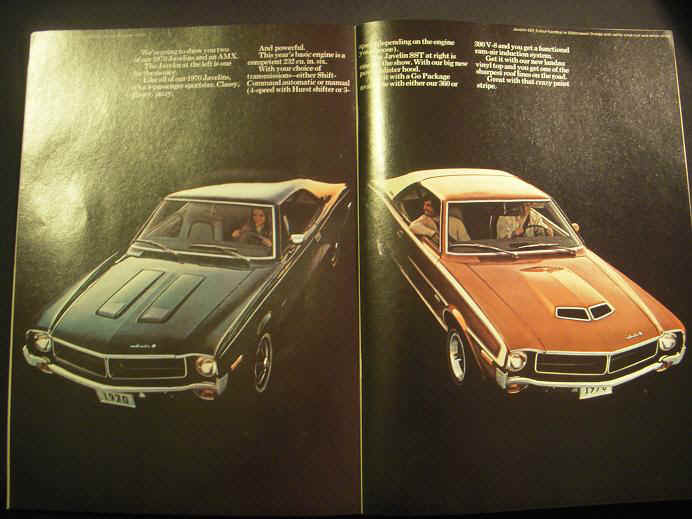 1970 Full line color catalog:
This one shows all the models for 1970 except Gremlin, of which was released April 1st, 1970, 3 months before the new 71 models would appear, and well into the model year. The NEW Hornet is prominently featured and would be the model, along with Gremlin, to carry AMC into the 70s. Also shown in full color are the LAST YEAR two seat AMX, the LAST YEAR flat fendered Javelins, the LAST YEAR Rebel, and of course the top of the line Ambassadors including all sub models like SST's are featured. Tons of options, accessories too make this a great addition for your collection, whether for reference or for display with your classic AMC at car shows and cruise nights.
=================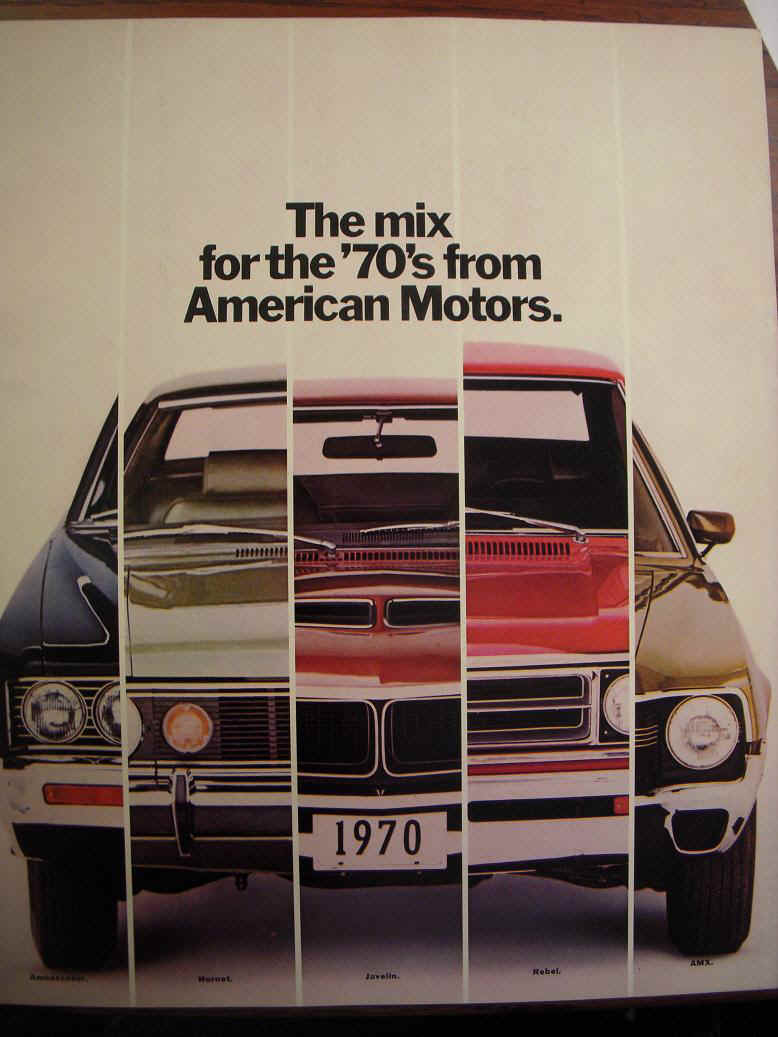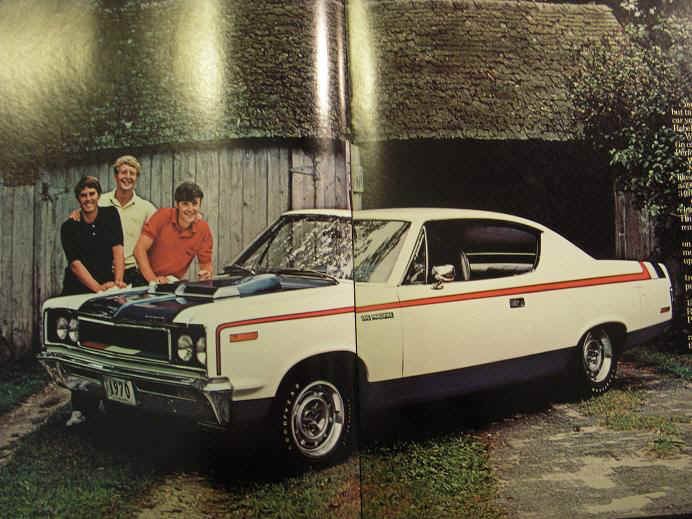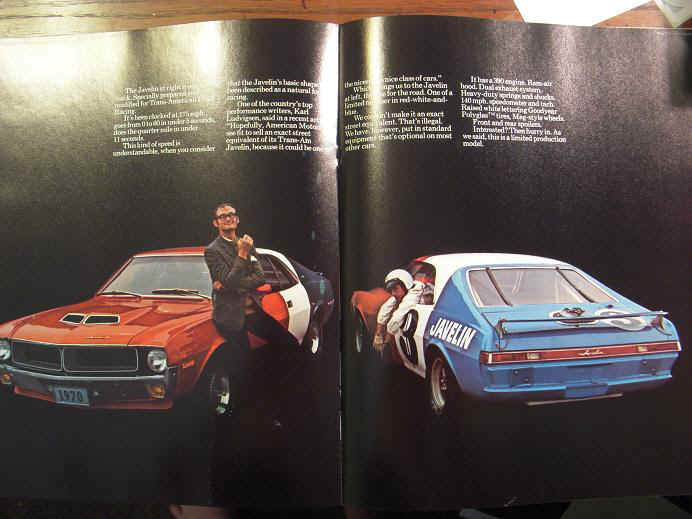 1970 Full line color catalog THE MIX
A significant year for American Motors, and this NOS color catalog. AMC was struggling in sales, and had just bought Jeep from Willys, and was retooling their plants for the new Gremlin and Hornet Series, discontinuing the Rebel line and two seat AMX, and reshaping the Javelin and AMX for 71. But 70 was significant for the introduction of the first year Hornet, which would carry AMC thru the 70s, and the Gremlin, which was one of the best selling AMCs ever. The Gremlin is NOT featured in this catalog as it was not introduced until April 1st (yup, April Fools Day) 1970 towards the end of the model year. What this 42 highly illustrated catalog has is the ONLY YEAR REBEL MACHINE, ONLY YEAR TRANS AM JAVELIN, Last year Rebel, FIRST YEAR Hornet, last year 'flat fendered Javelins, LAST YEAR TWO SEAT AMX, and not to be forgotten is the Ambassador top of the line! Tons of options, accessories and info for reference, and also great to display with your classic AMC at car show. $20 Sold out 2012
=====================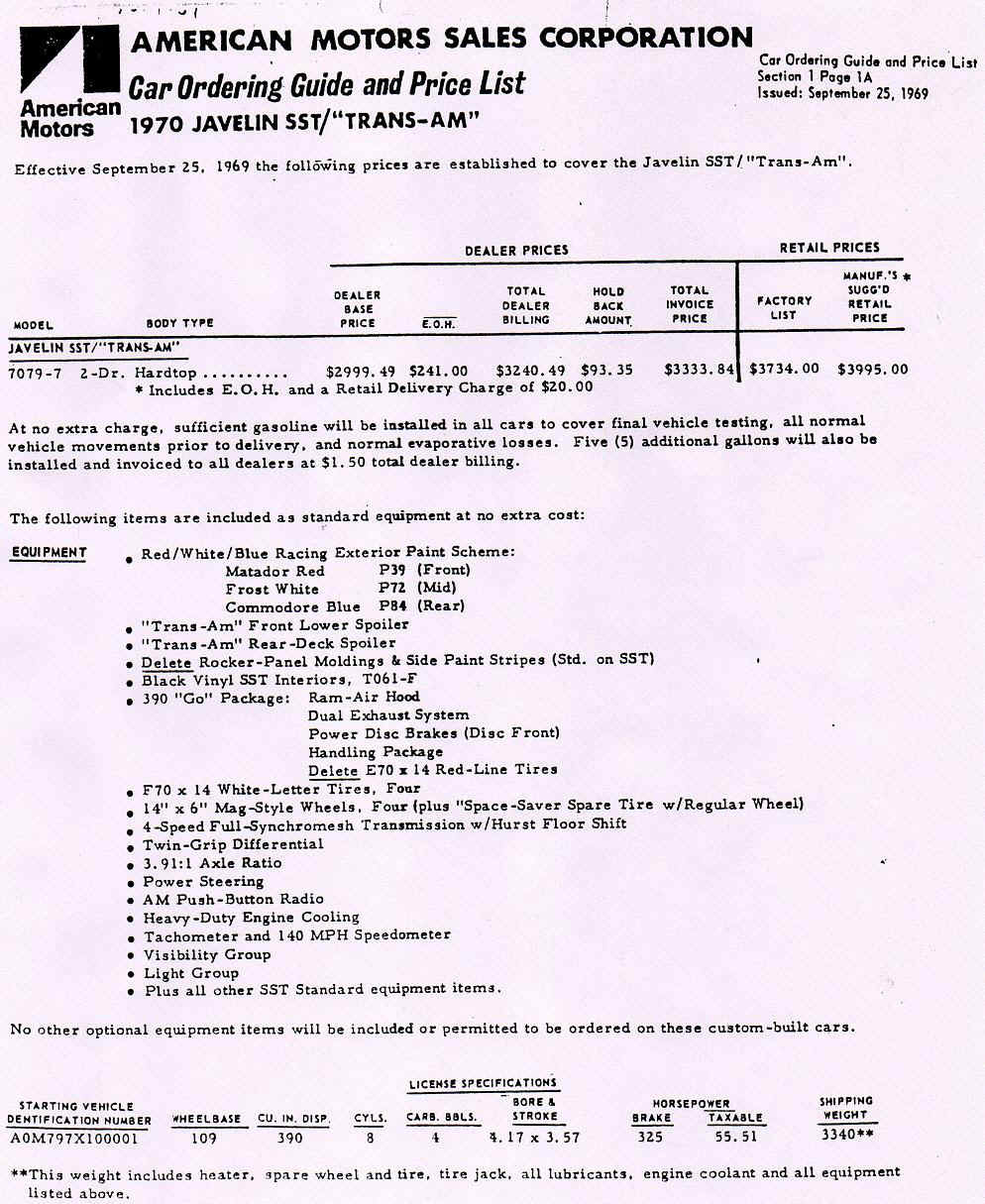 1970 AMC Trans Am Javelin Dealer Order Form
Dealer information sheet on the rare red, white and blue 1970 Trans Am Javelin
AMC offered for limited time in fall of 1969. Has Dealer Base Price $2995; EOM $241; Total Dealer Billing $3240.49; Hold Back Amount $93.35; Total Invoice $3333.84, Factory List
$3734.00 and MSRP or $3995.00. Five gallons of gas was also installed with dealer being billed $1.50 per gallon! Has Equipment List inc. Paints P39; P72, P84; (corporate r/w/b colors); Trans Am front lower spoiler and rear deck spoiler, 'delete' rocker panel moldings and side paint stripes; delete E70x14 tires and add F70x14 tires and much more. Great for reference or frame & display with your classic 1970 Javelin, whether a uber rare Trans Am, or even base.....SST or Mark Donohue Edition.$4
==================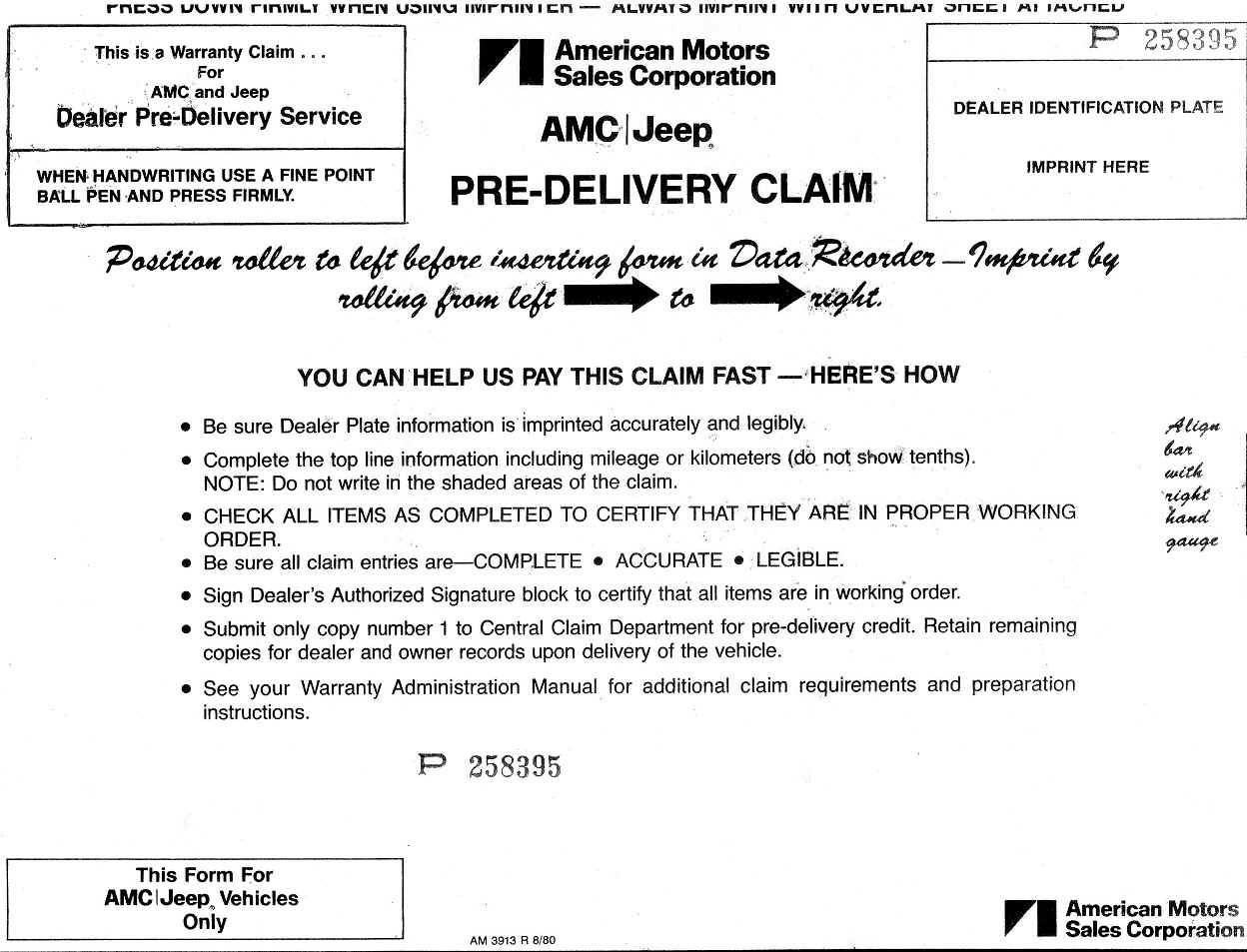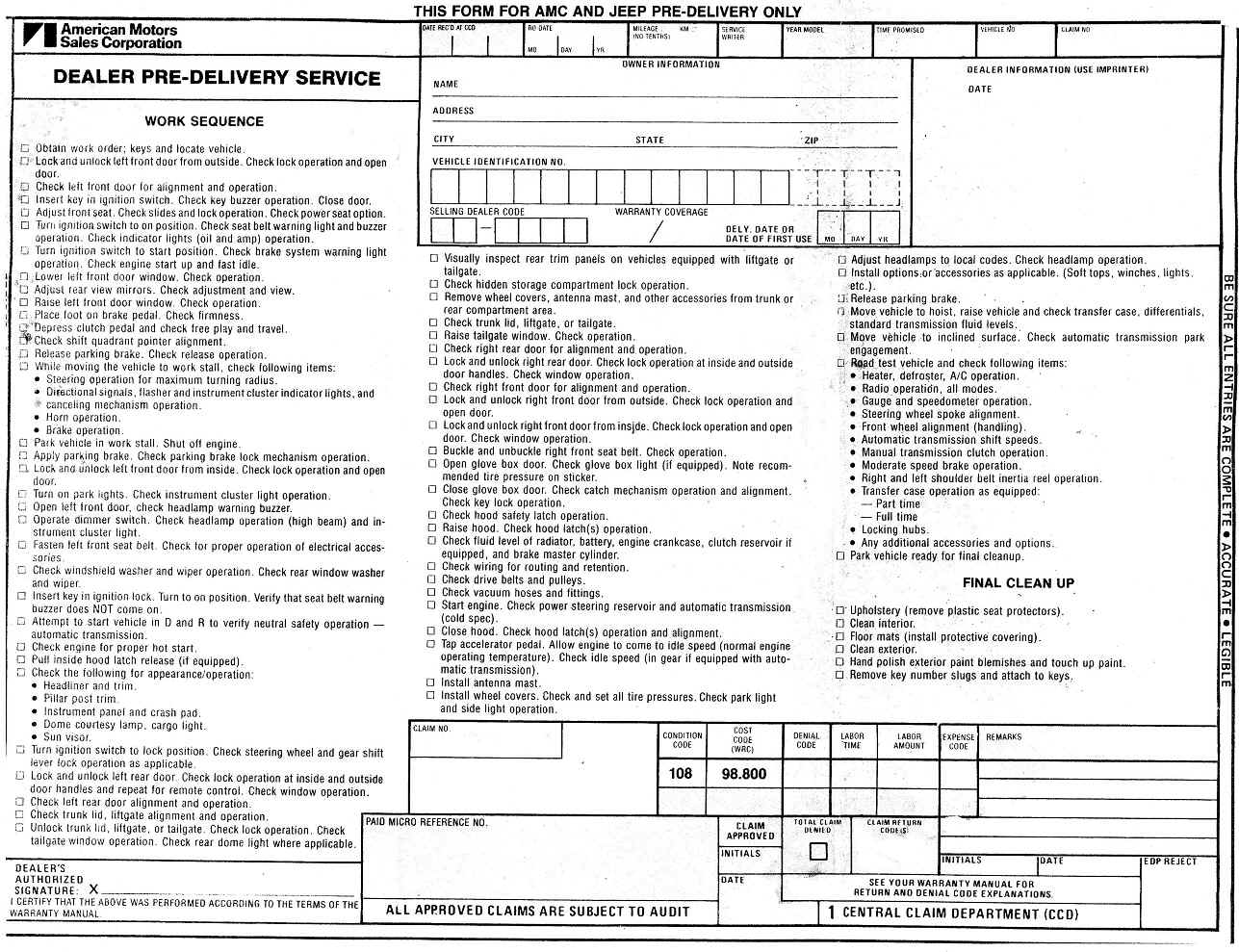 1970-1980 AMC & Jeep PRE DELIVERY CLAIM
for all American Motors vehicles. It is a rare copy of my original, two sheet. Huge checklist from check front door for alignment, adjust mirrors, check engine, antenna, install wheel covers, radio operation all modes, down to FINAL CLEAN UP of upholstery/remove plastic seat protectors, clean interior, hand polish exterior paint blemishes and touch up paint, remove key number slugs and attach to keys! UNSTAMPED from Dealer! For reference purposes it is priceless, or you could fill it out, frame it and display with your classic AMC or Jeep, $5
==================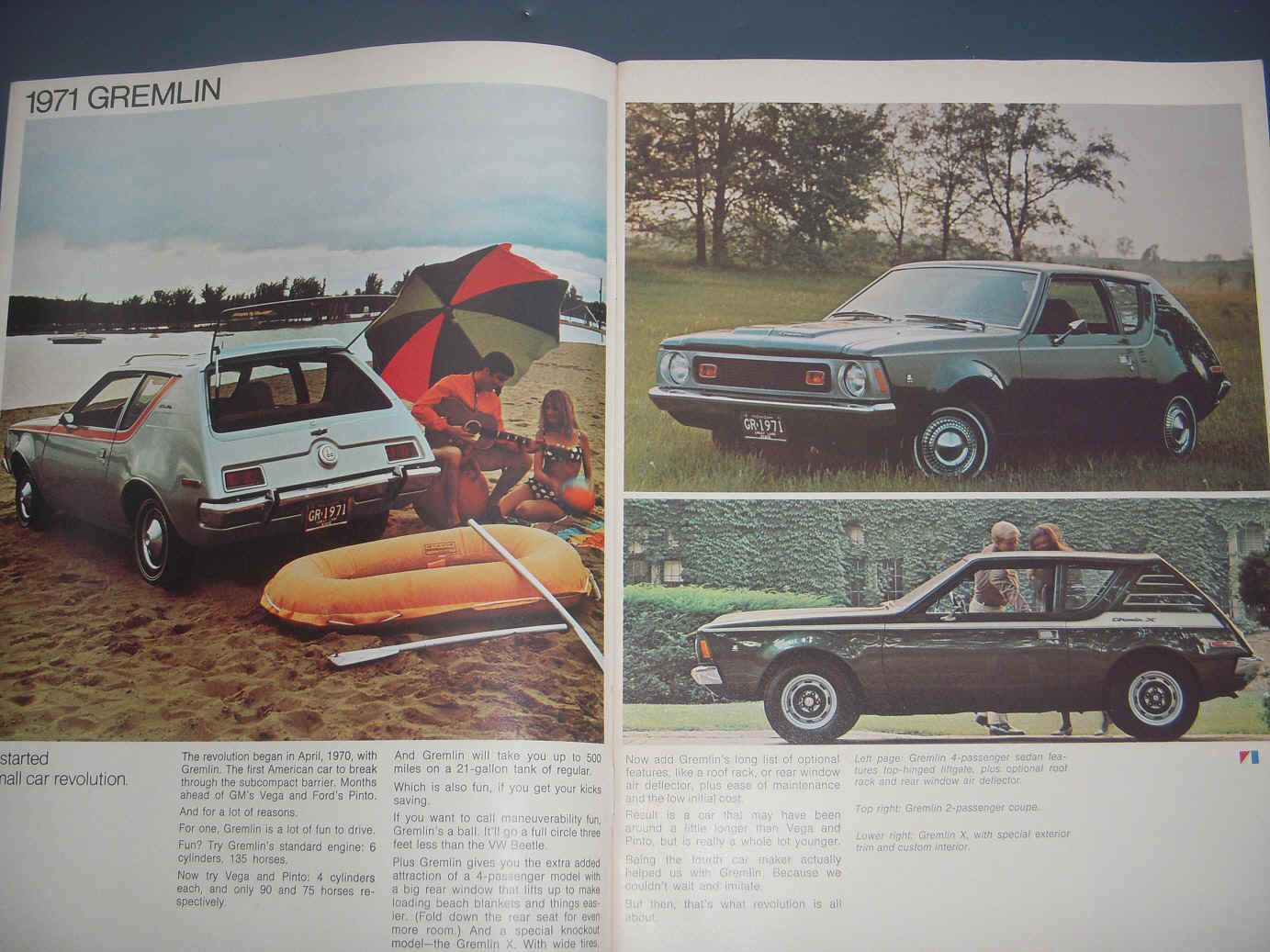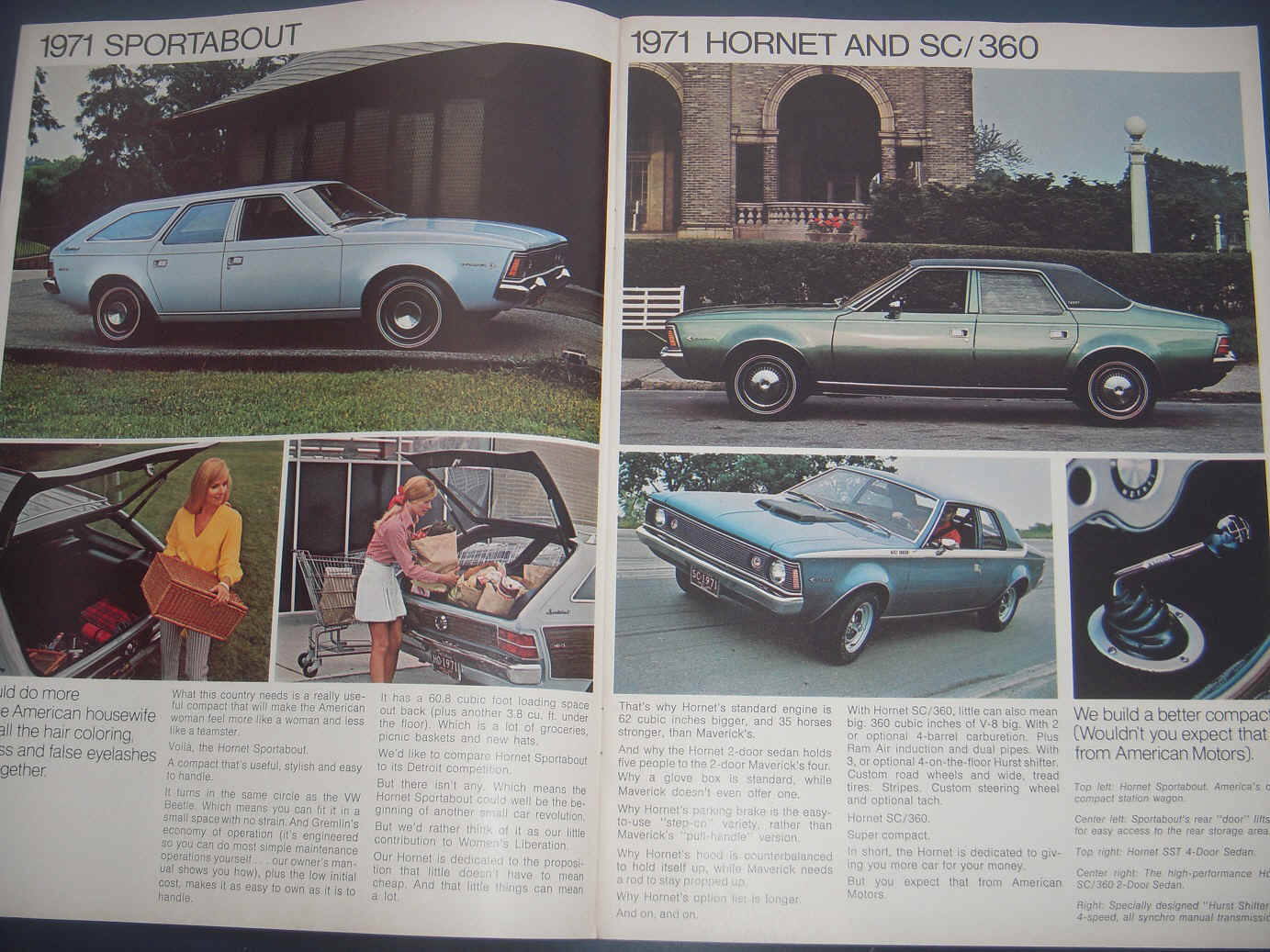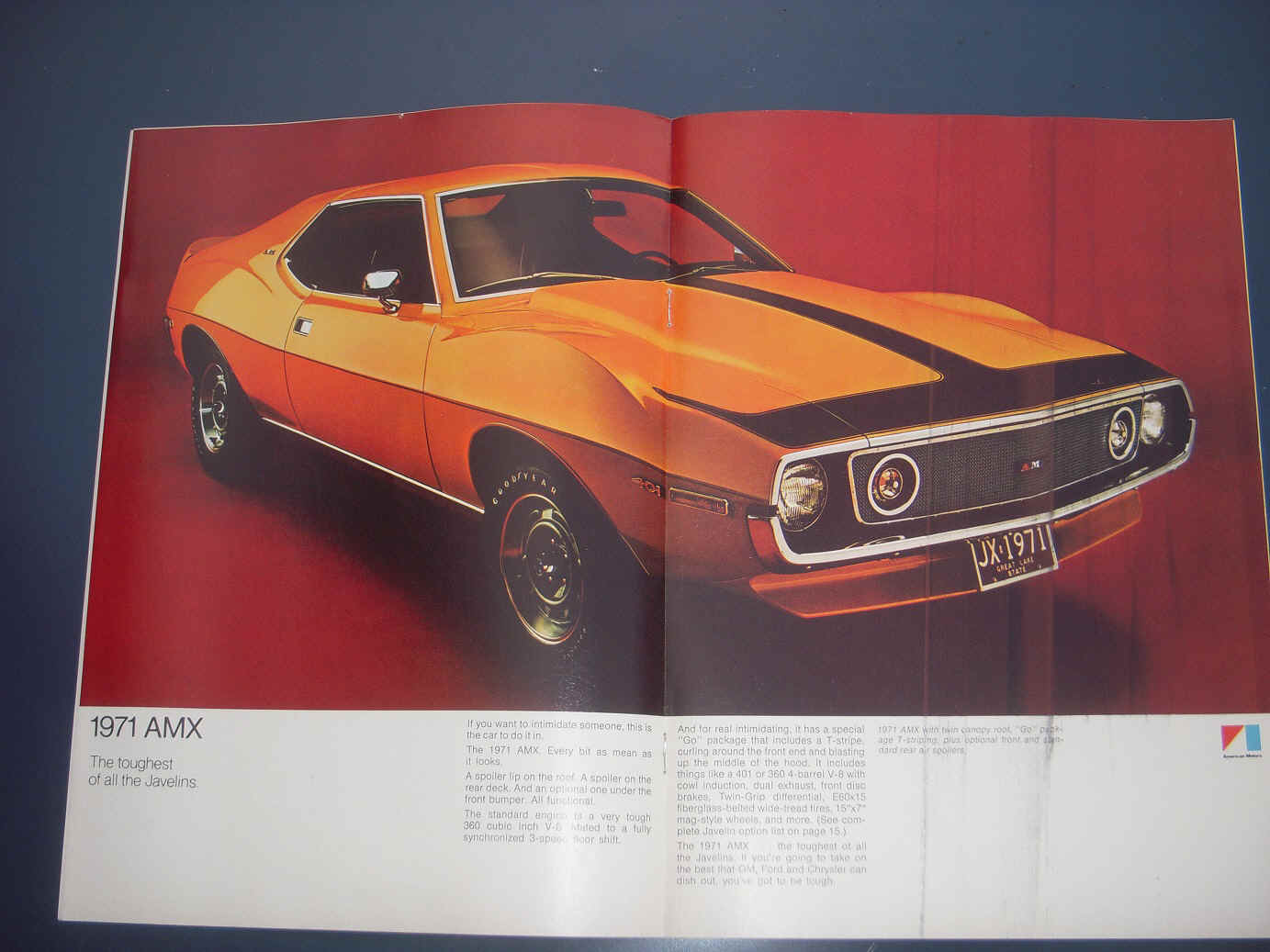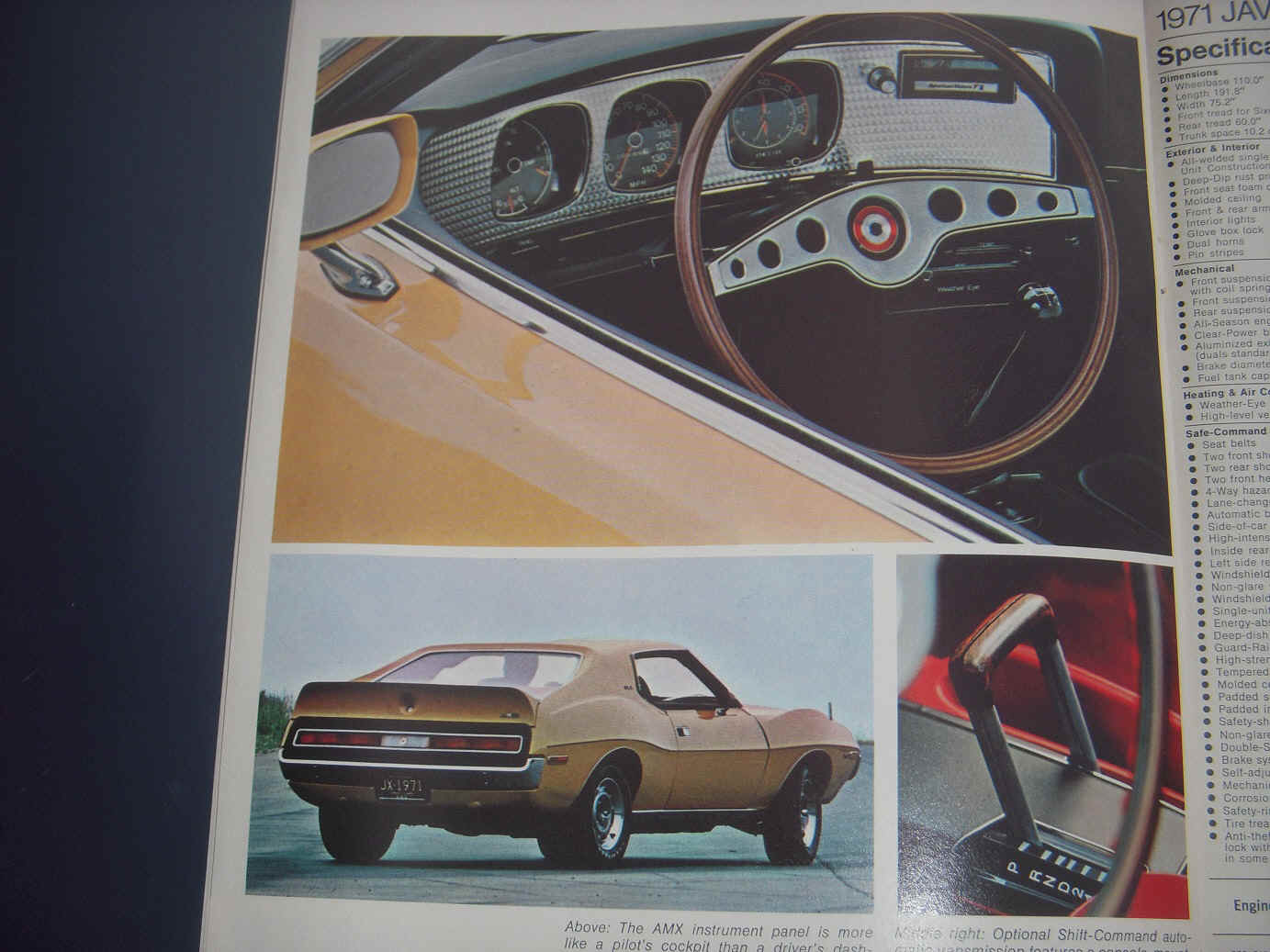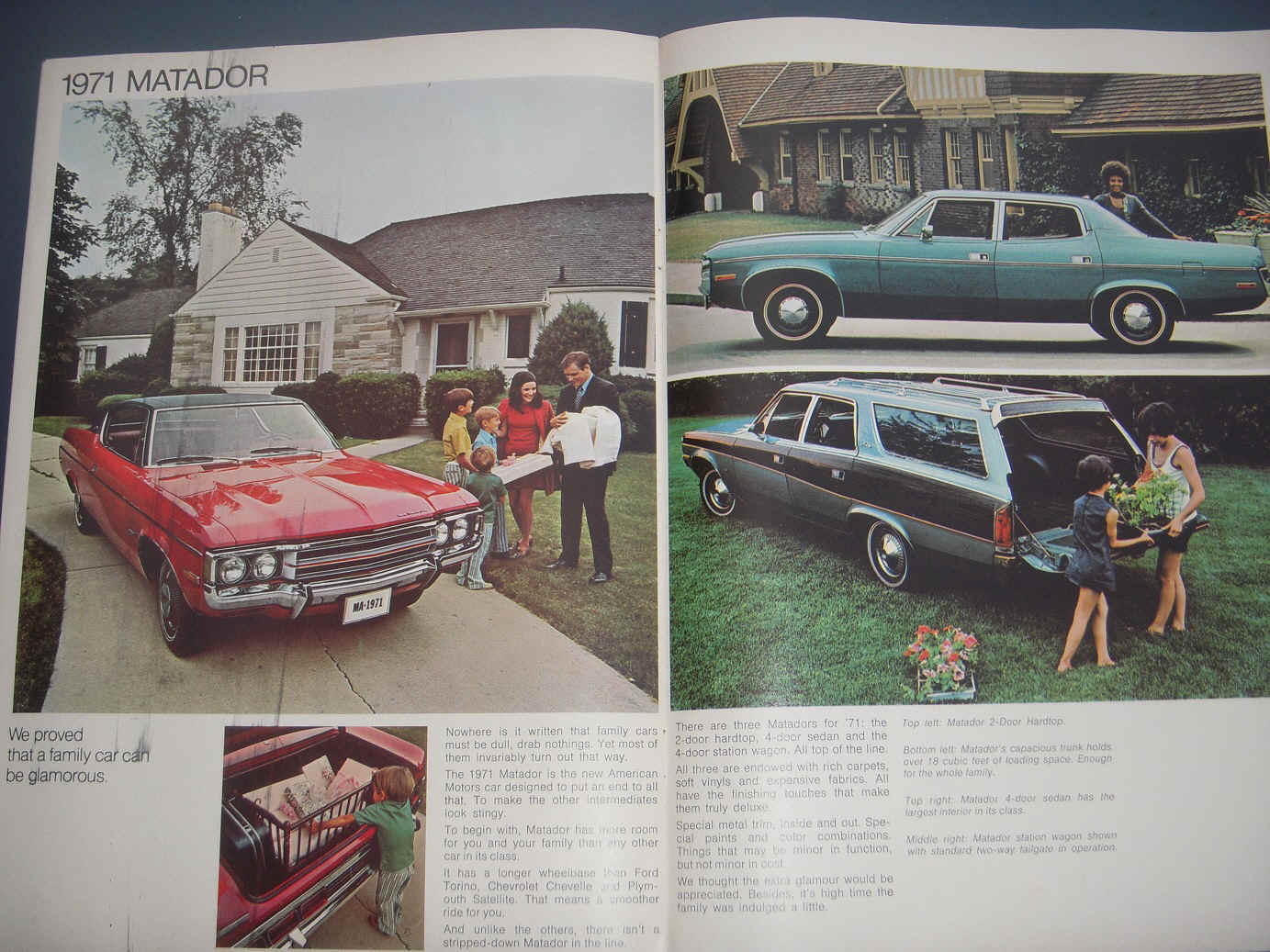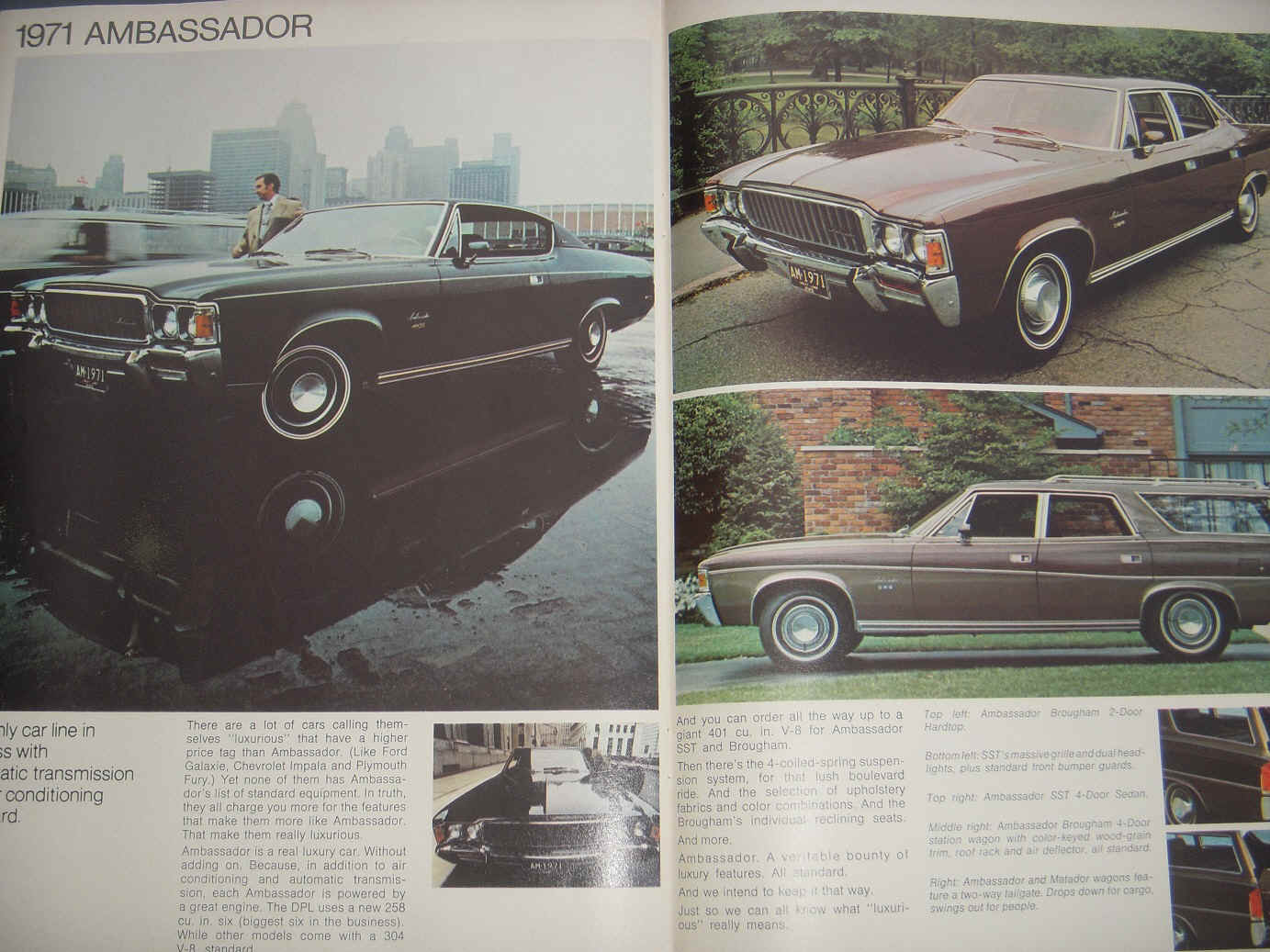 1971 Full line color catalog:
*Rare EARLY June 1970 Printing with extra "if you had to compete" text on cover!* NOS book has a beautiful photo of the SC/360 among other vehicles inside. That is a Mustard Yellow 401 AMX with "Machine" rims and a "T" stripe (this stripe never saw production; it was changed before cars made in Aug 1970) behind the AMX is a Hornet, Gremlin, Matador and Ambassador. All are featured inside in REAL FACTORY PHOTOS. This hard to find almost 40 year old NOS book would make a excellent addition to your collection whether you own a 1971 AMC or not. It was FIRST YEAR of NEW Matador; FIRST YEAR of NEW AMX & Javelin bodies; FIRST YEAR of NEW Gremlin (that would be featured in a AMC catalog); only year of Hornet SC/360! So quite impressive lineup. Only 2054 AMXs made in 1971, lowest production of 68-74; only 784 SC/360 Hornets produced. $15
=================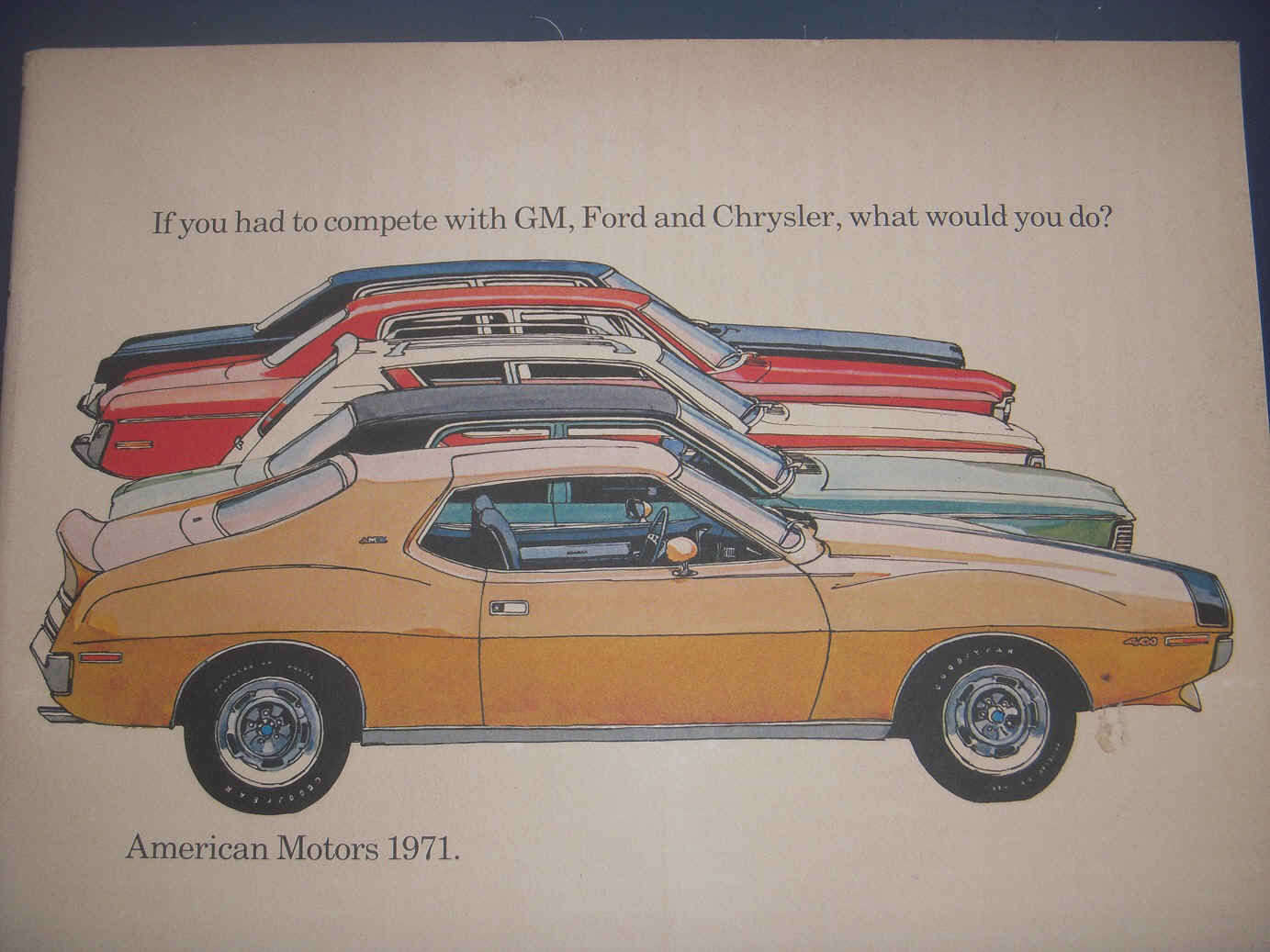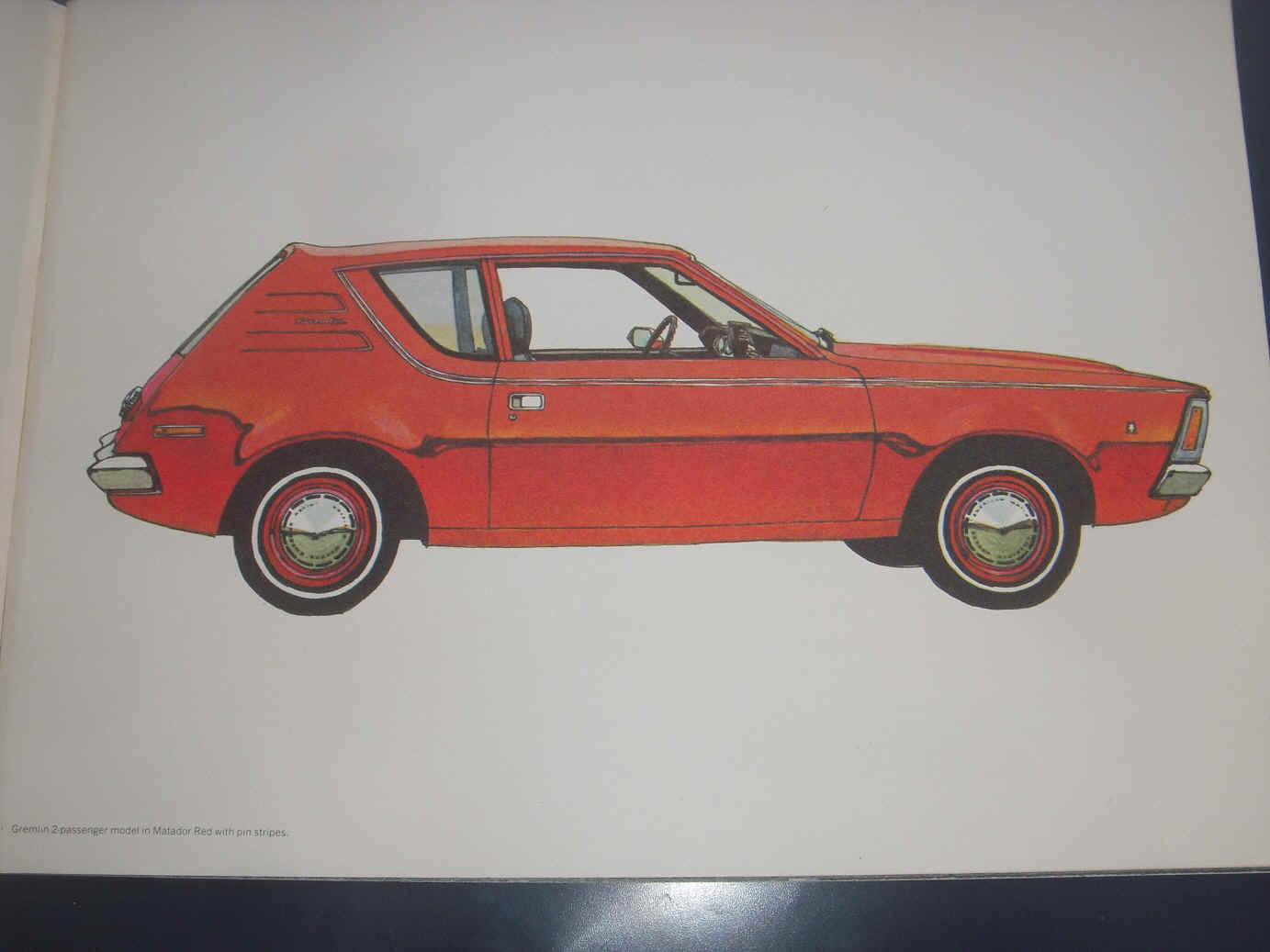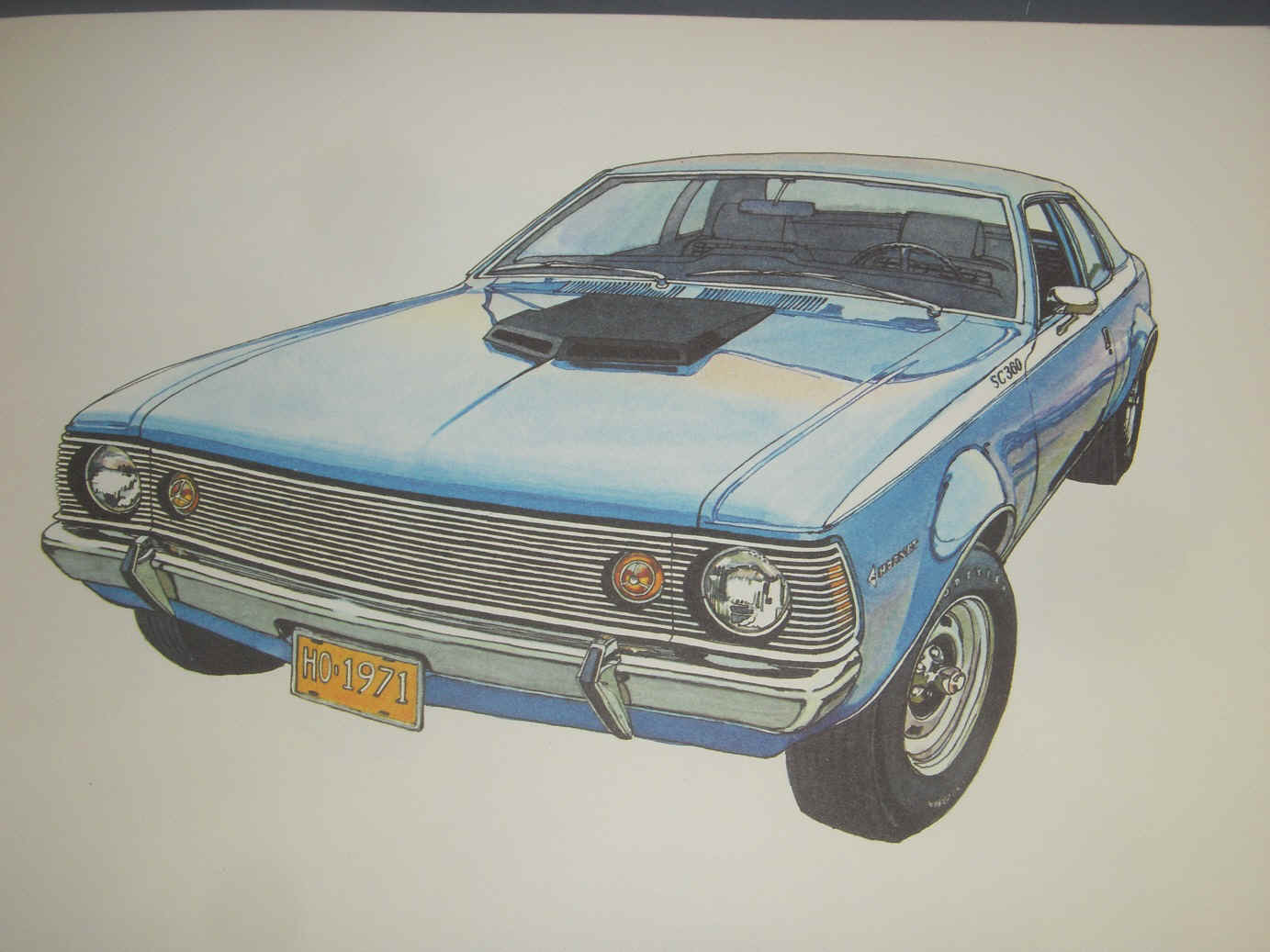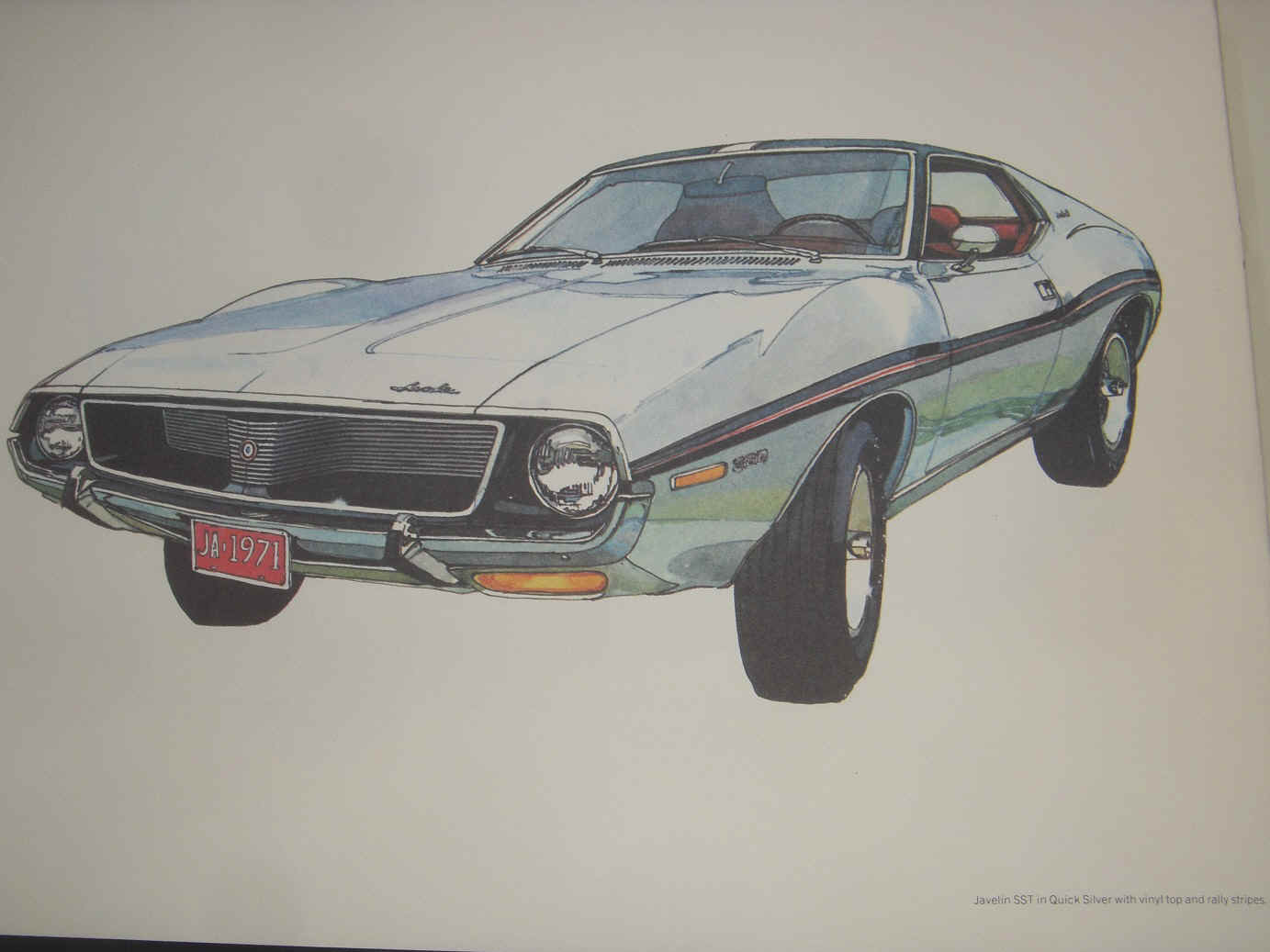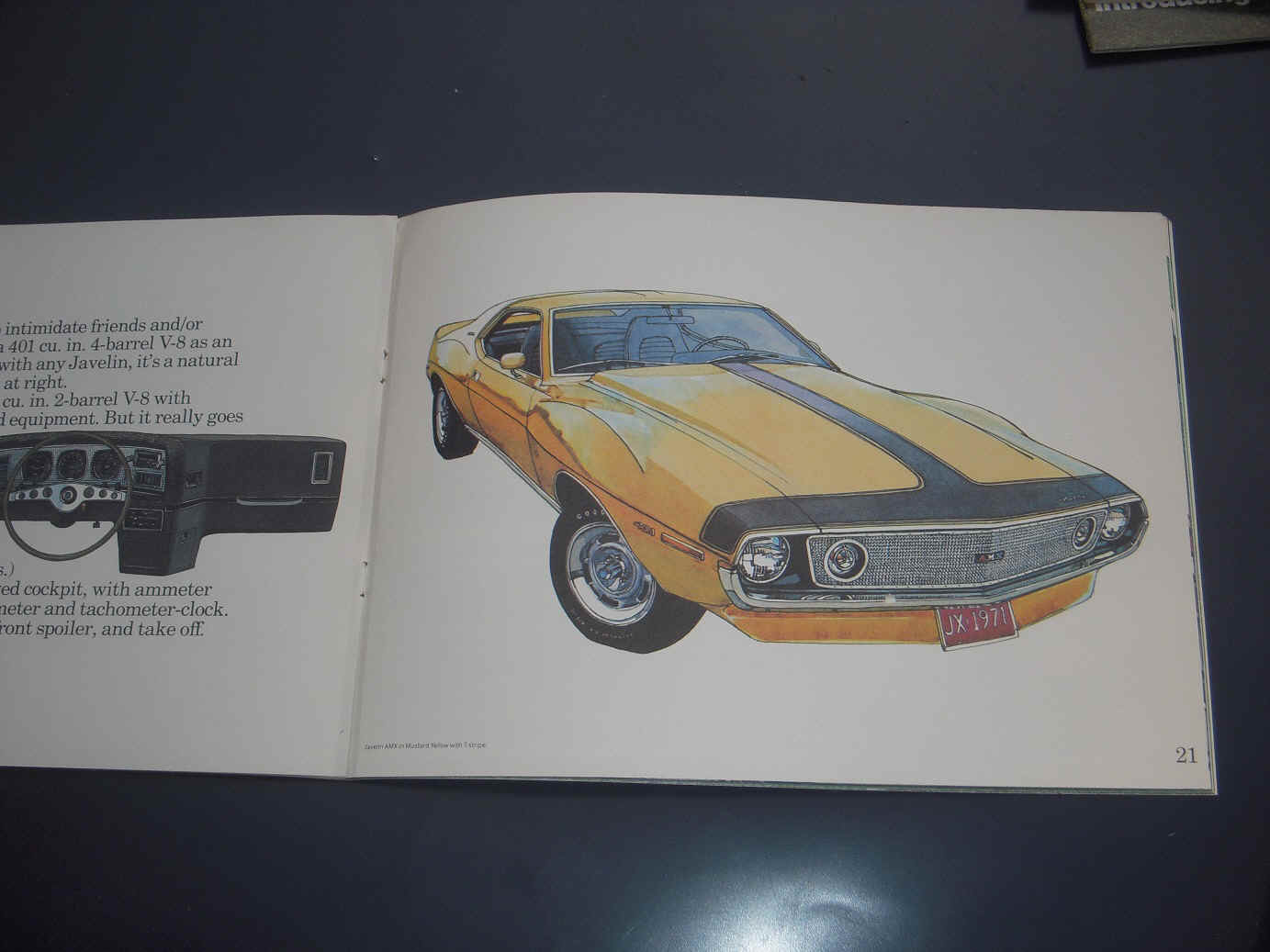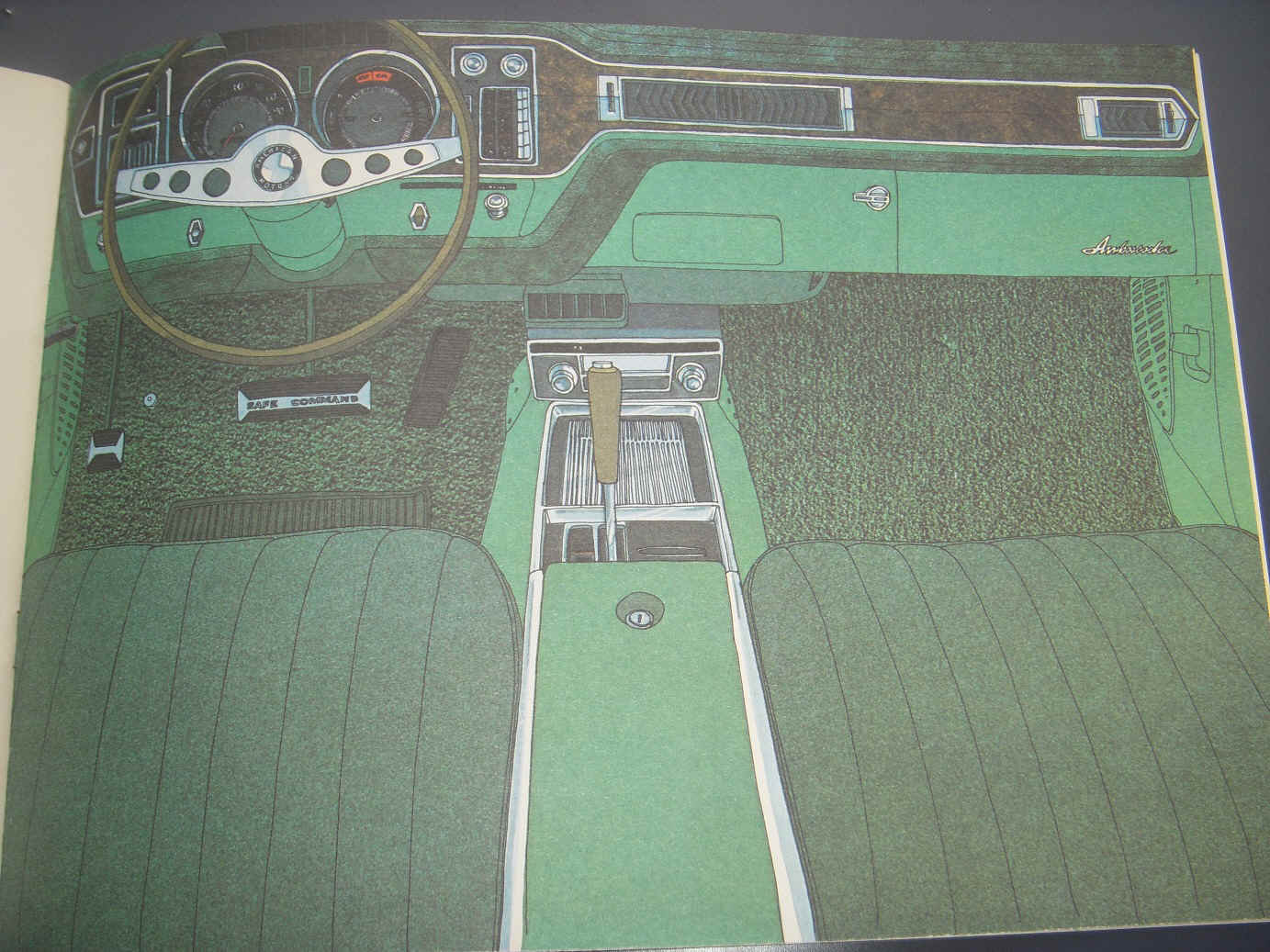 1971 Full line color WATERCOLOR catalog:
A 1971 color catalog featuring the new AMC lineup in watercolors! This is the harder of the two 1971 color catalogs to locate. All 1971 models are featured including the new first year restyled AMX, new restyled Javelin, first full year Gremlin, only year Hurst SC/360 Hornet, first year Matador Series, and of course the Ambassador. Great to add to your collection or for display with your classic AMC at car shows. $15
=================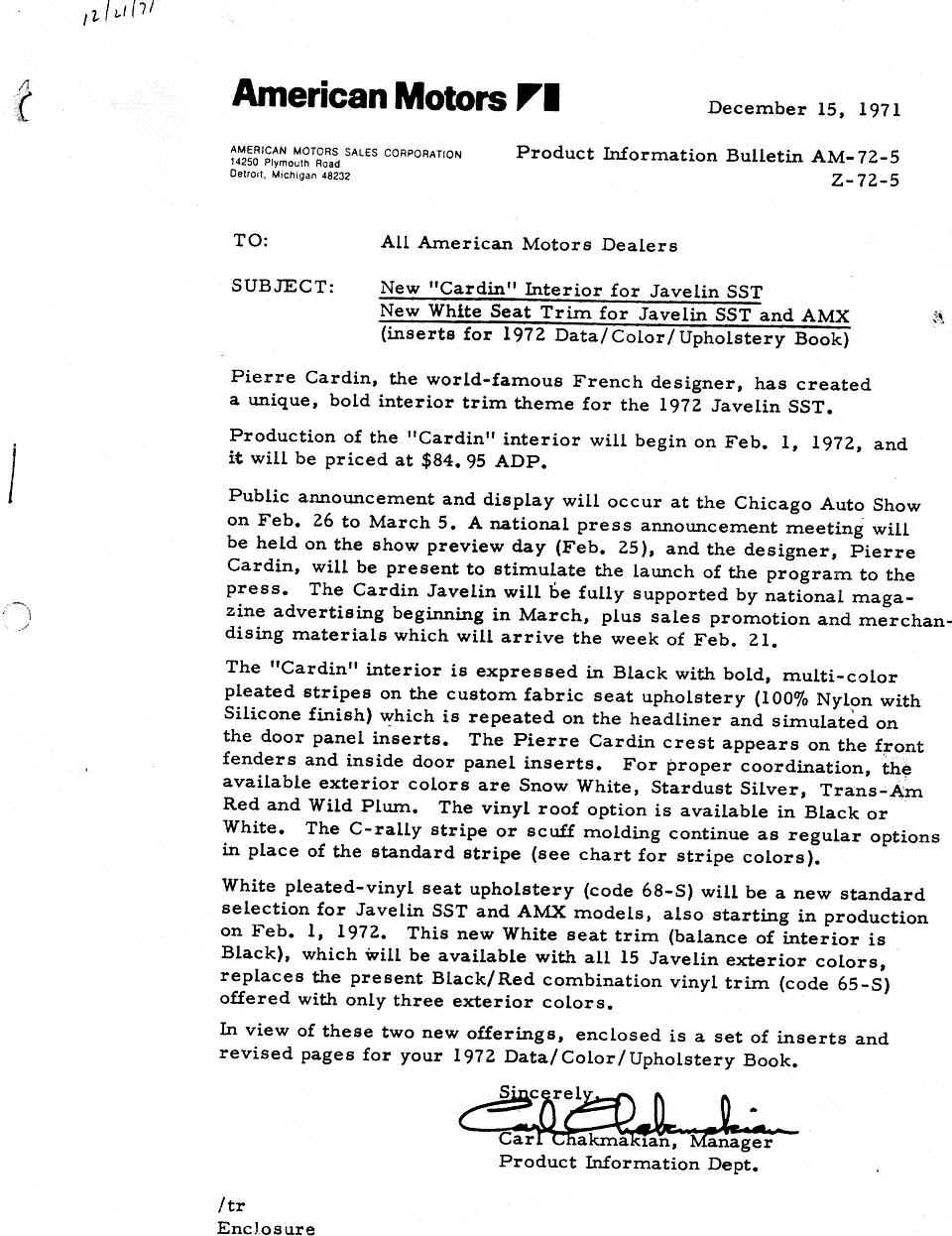 1971 AMC Pierre Cardin Javelin Press Release Memo
American Motors NEW Pierre Cardin Javelin & AMX Series introduction memo for AM Dealers from 1971. The new "designer series" American Motors cars would take auto world by storm with the Pierre Cardin AMX & Javelin Series; the Gucci Hornet Sportabout wagons, the Levis Editon Gremlin, Hornet & Concord Series & the Oleg Cassini Matadors. With about 4100 Pierre Cardin AMX & Javelins produced in 3 years, they are some of the neatest AMC offerings from 1970s. $4
===================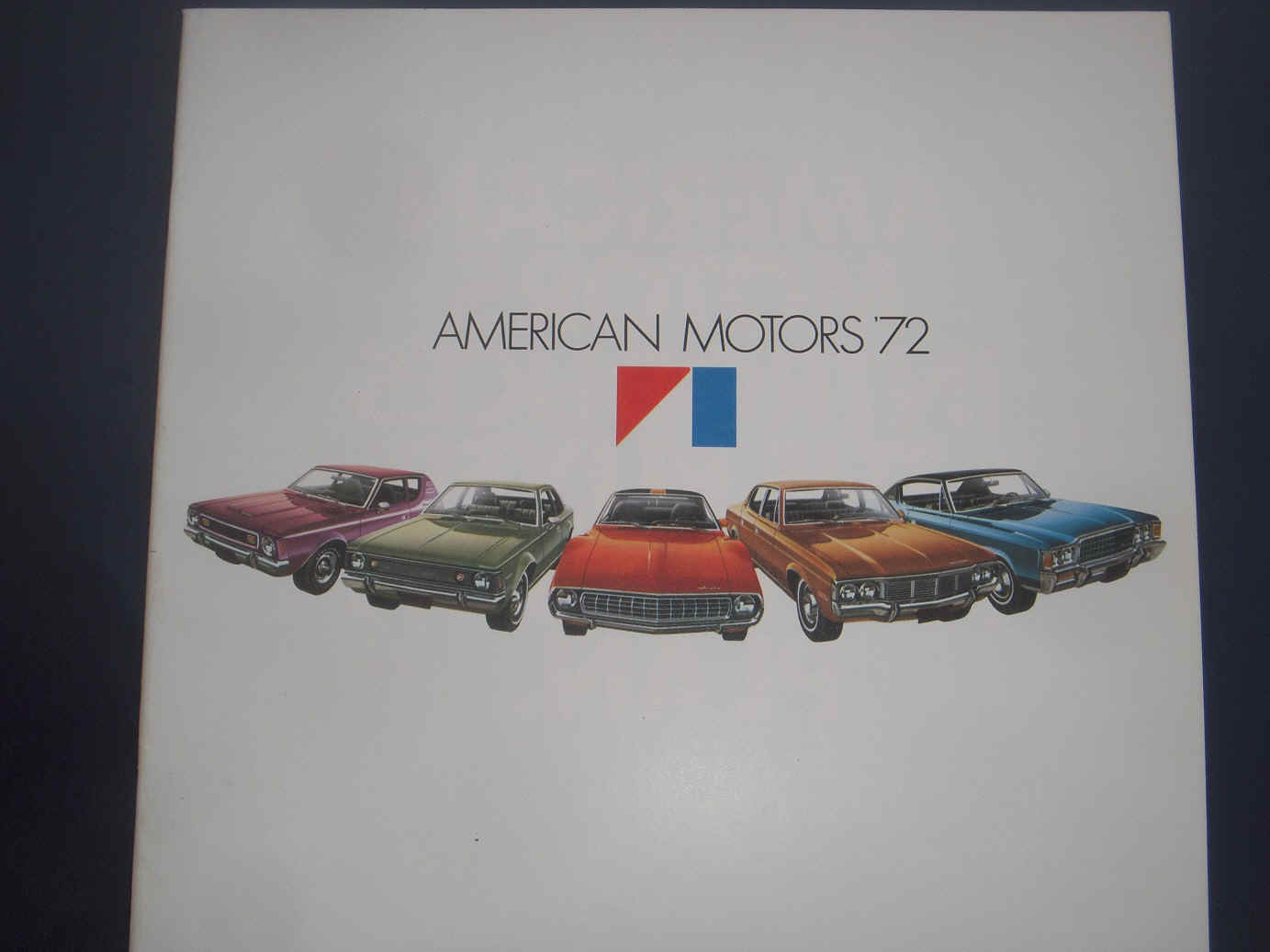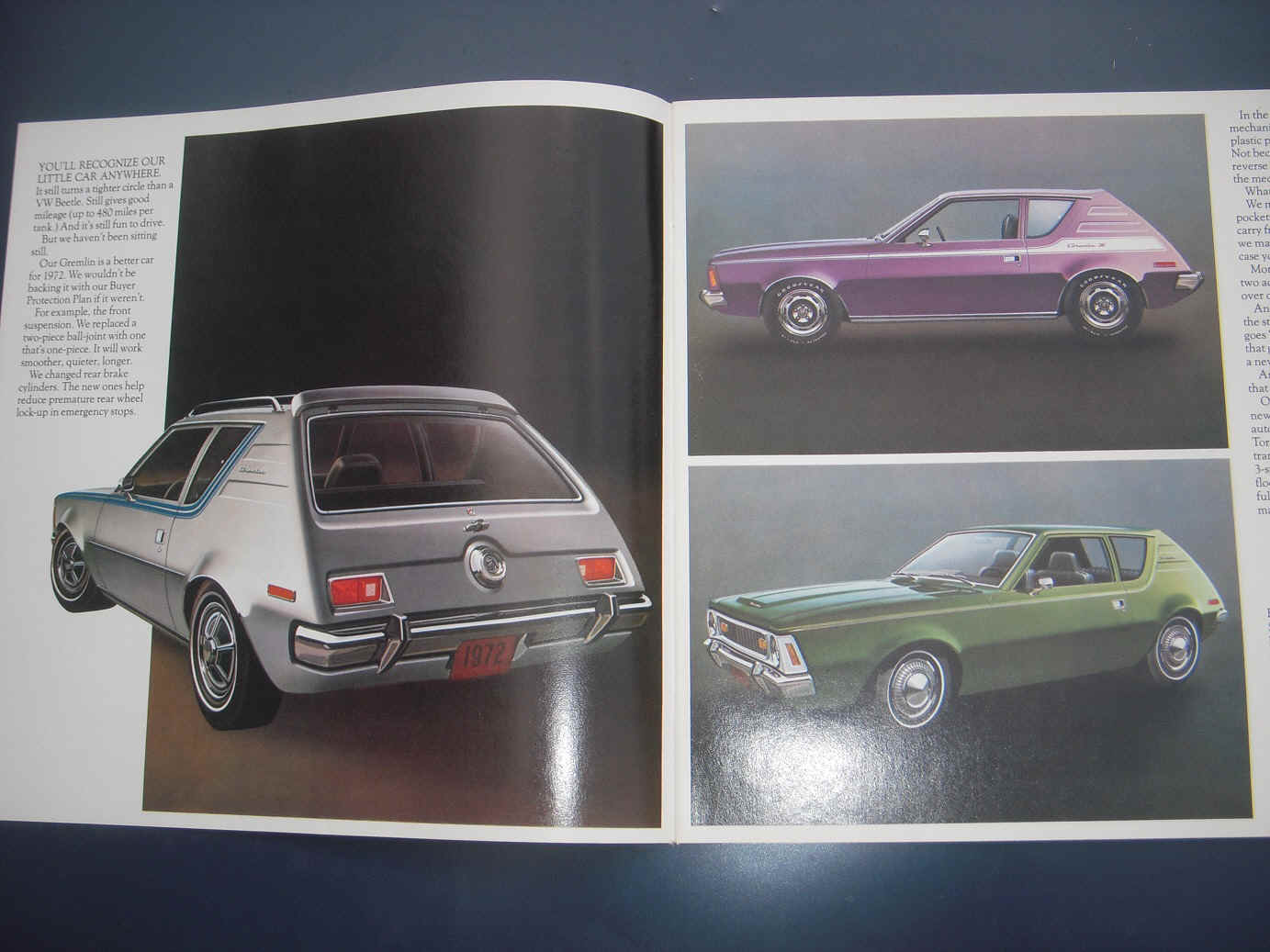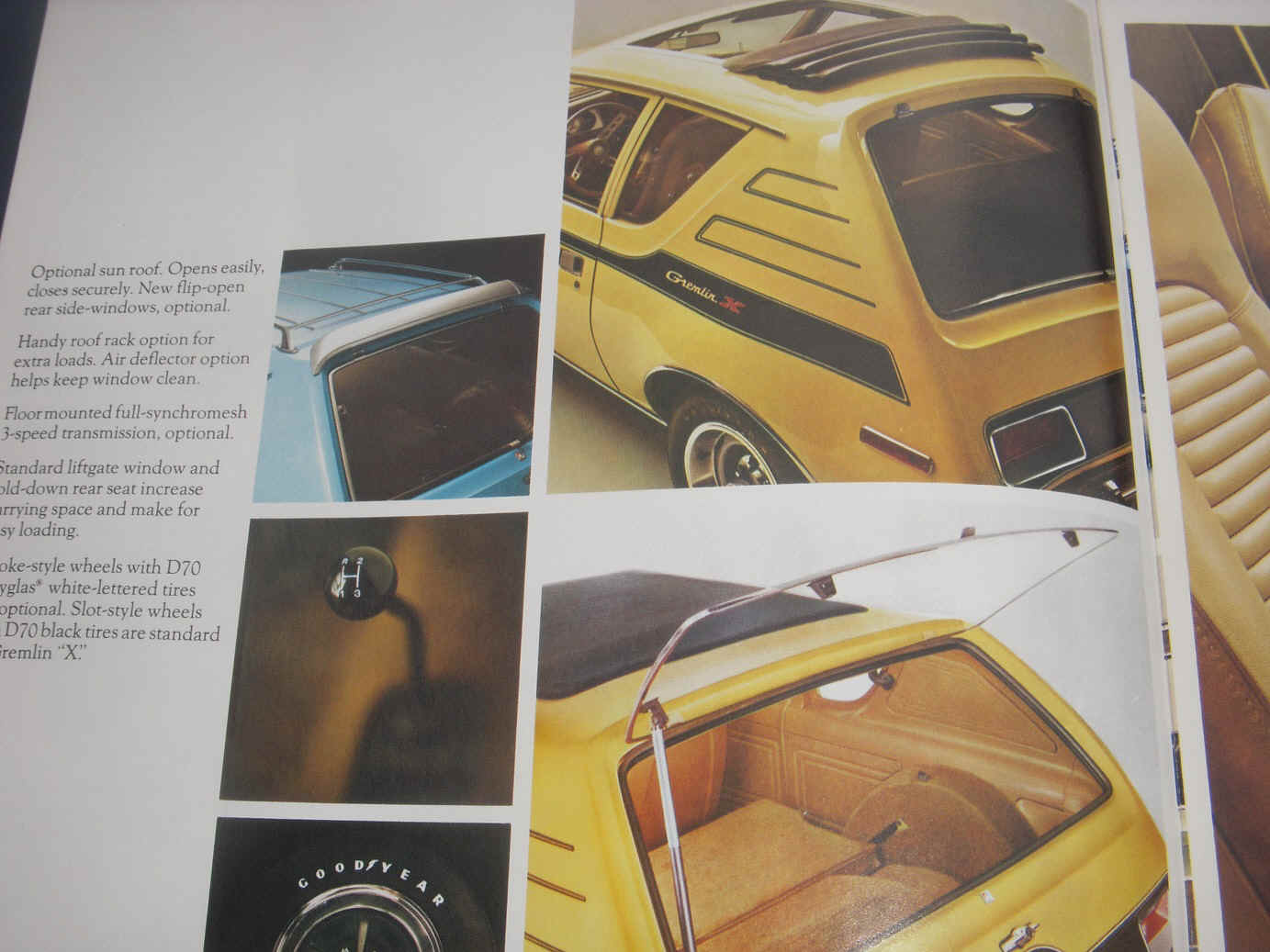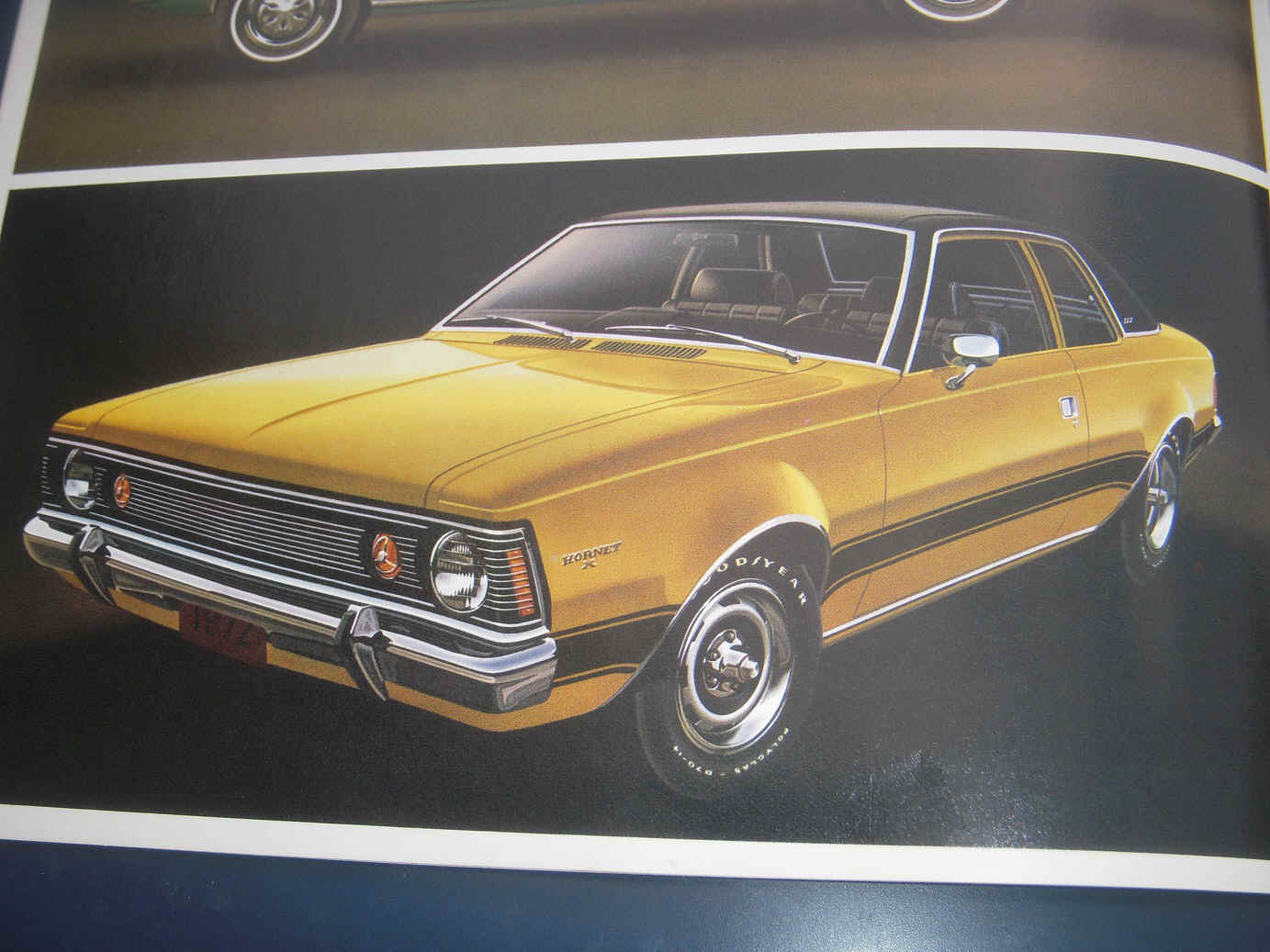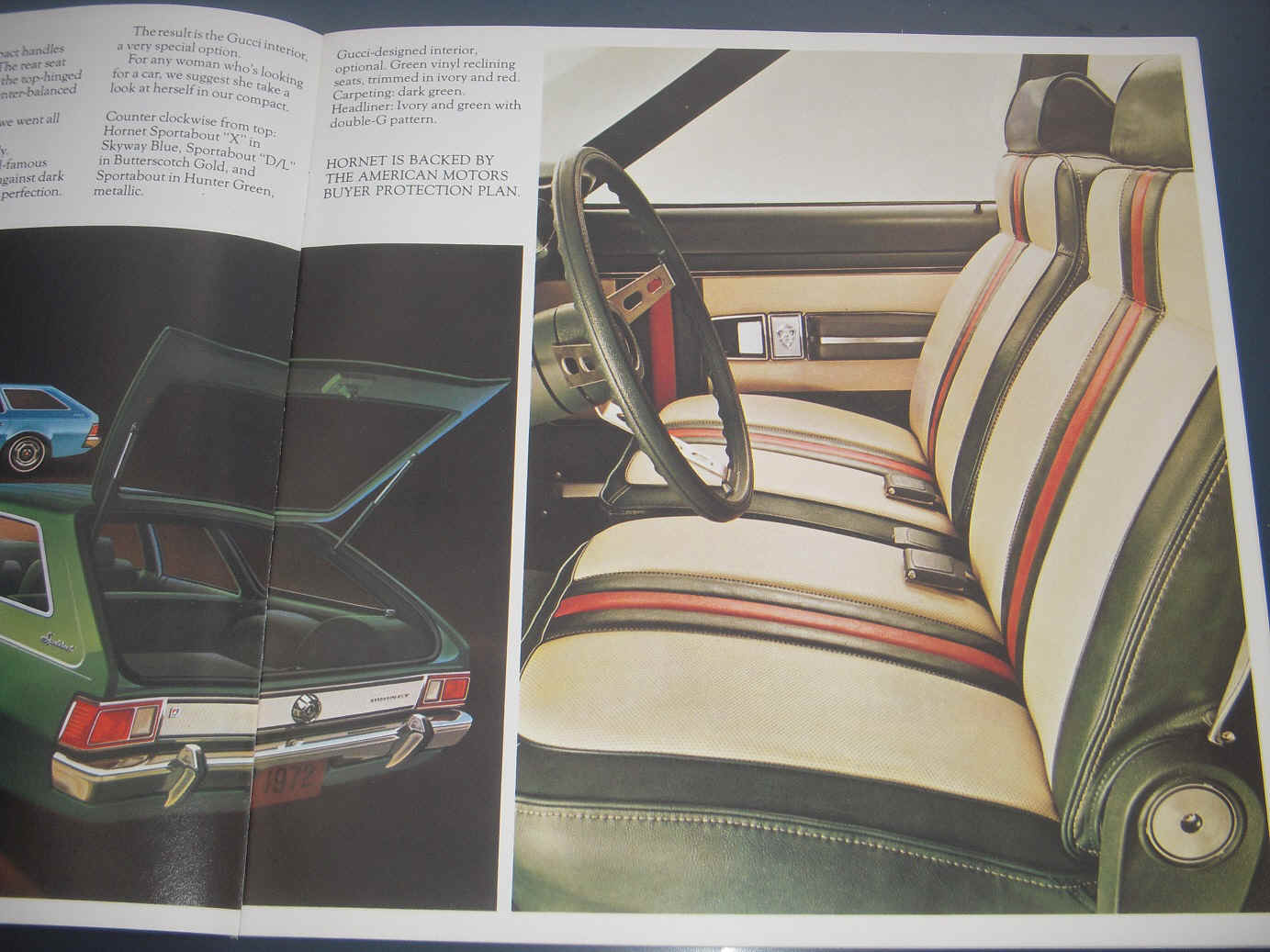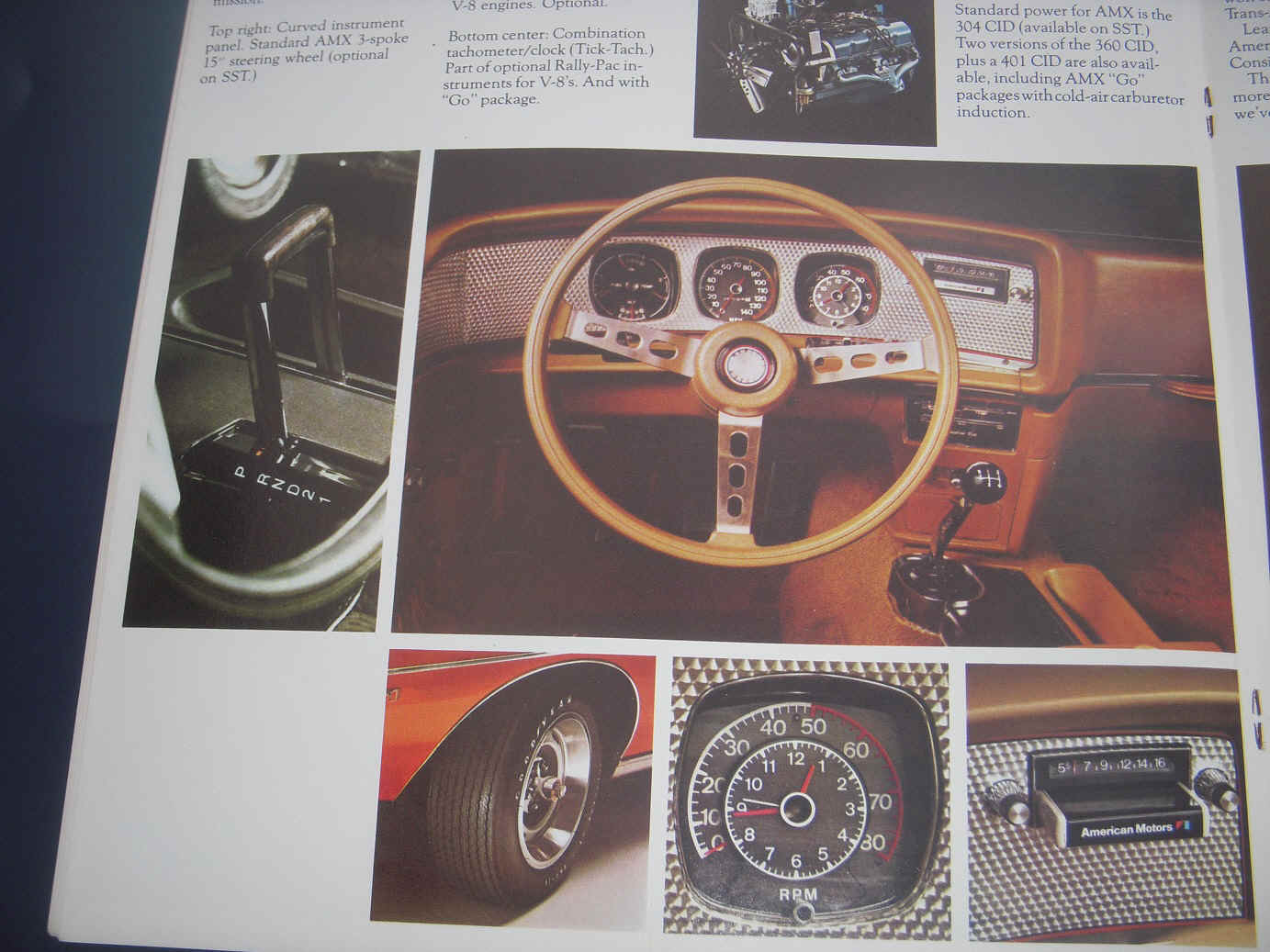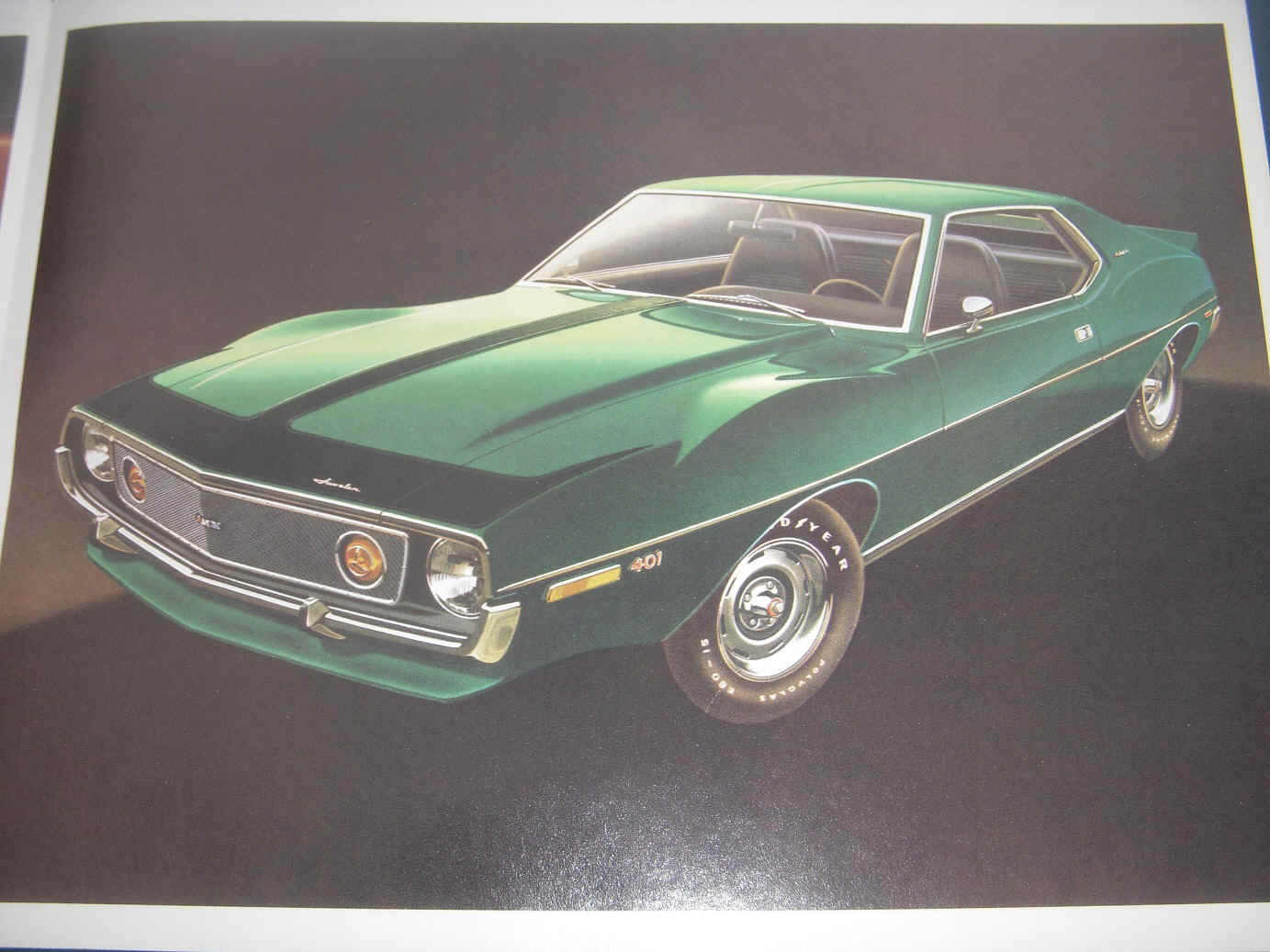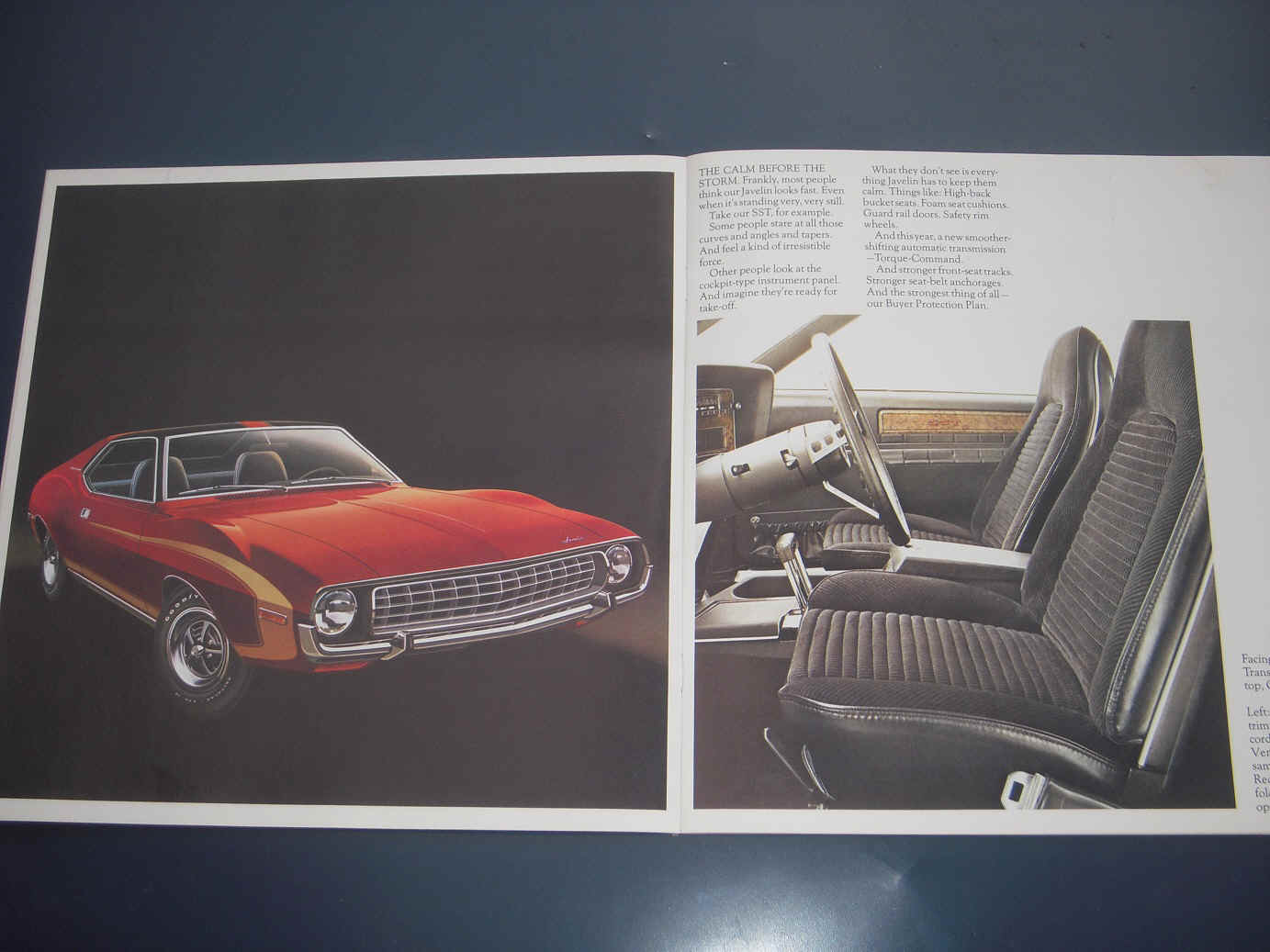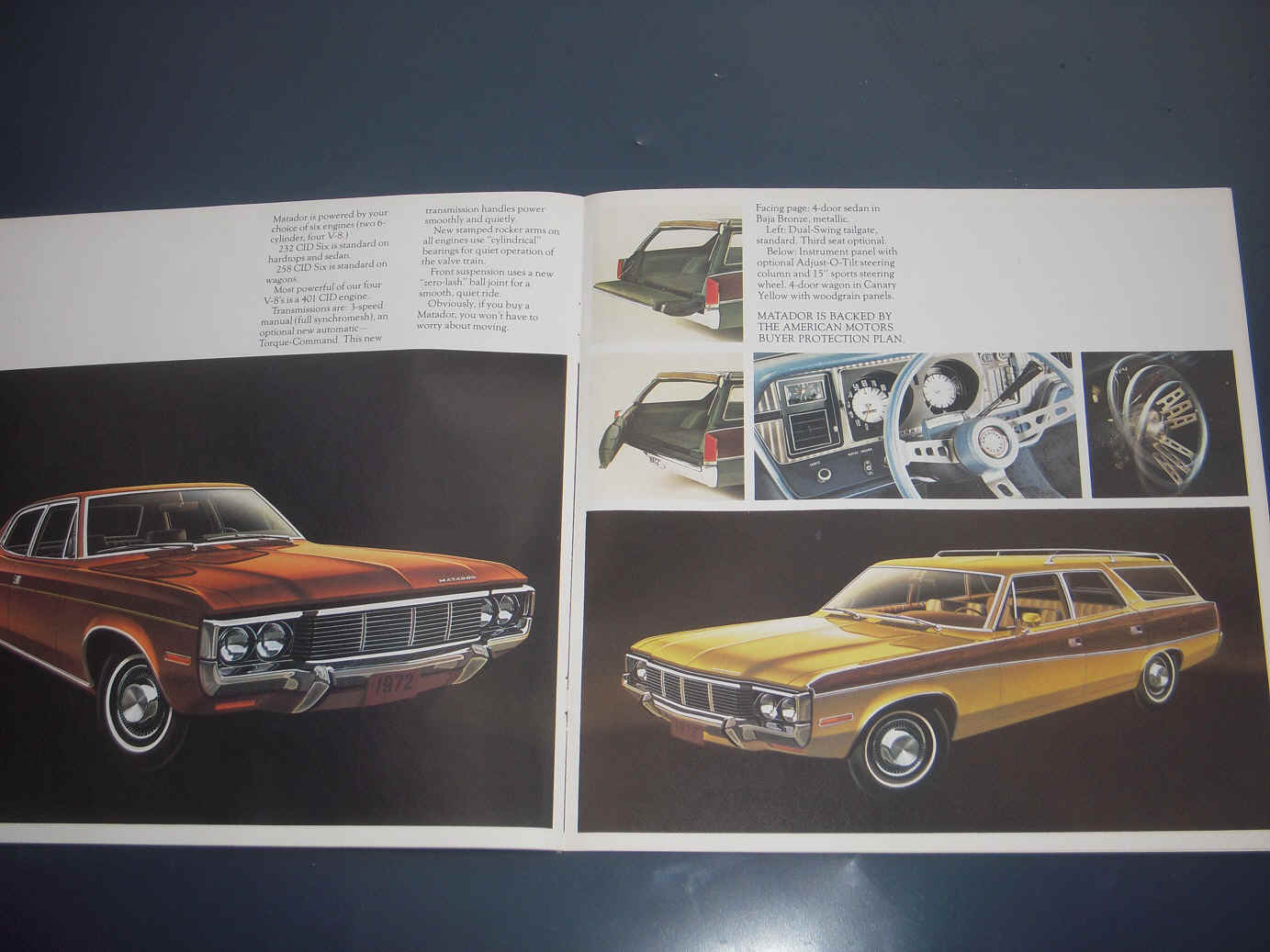 1972 Full line color catalog:
AMC introduced in 72 what many automakers did 10-20 years later, even now: the Buyer Protection Plan. It covered all their vehicles with 12 month/12000 mile warrant, SOMETHING UNHEARD OF IN 1972. This is a wonderful catalog full of 'uncluttered' photos, where the photos are of the cars, not with scenes in the background! The Gremlin shows off it's roof spoiler and length of roof sunroof! This is THE ONLY YEAR OF THE HORNET RALLYE X shown in Canary Yellow! AMC brought in well known designers like GUCCI to update some of the interiors on their vehicles with success; the Gucci Hornet shows off it's stunning beige, red/green striped interior in a FULL PAGE. A 'calm before the storm' Trans Am Red 72 Javelin lurks on yet another page; open the next and there is 'the storm' a Jolly Green 72 AMX 401; the interior is show on the opposite page with 4 speed with ultra rare console (I will buy all these you have) Rally Pack, and dash with 8 track. The Matador two door in silver with green vinyl top with 401 is shown, that is a very interesting photo. Top of the line Ambassadors are also featured in color, one 401 two door in Hunter green, another SST in Sparkling Burgundy. yet another two door Brougham in Cordoba Brown with 401V8; and a large photo of a 72 Ambassador SST station wagon that looks identical to my own 72 SST wagon is shown, other wagons and four doors are also featured, large specifications chart, options, performance bank, engines, trans, axles, tires and a color availability chart round this out. Bet you did not know the Gucci Hornets would only come in one of four colors! A wonderful addition for your collection, for reference, or to display with your classic AMC at car shows. $15
===================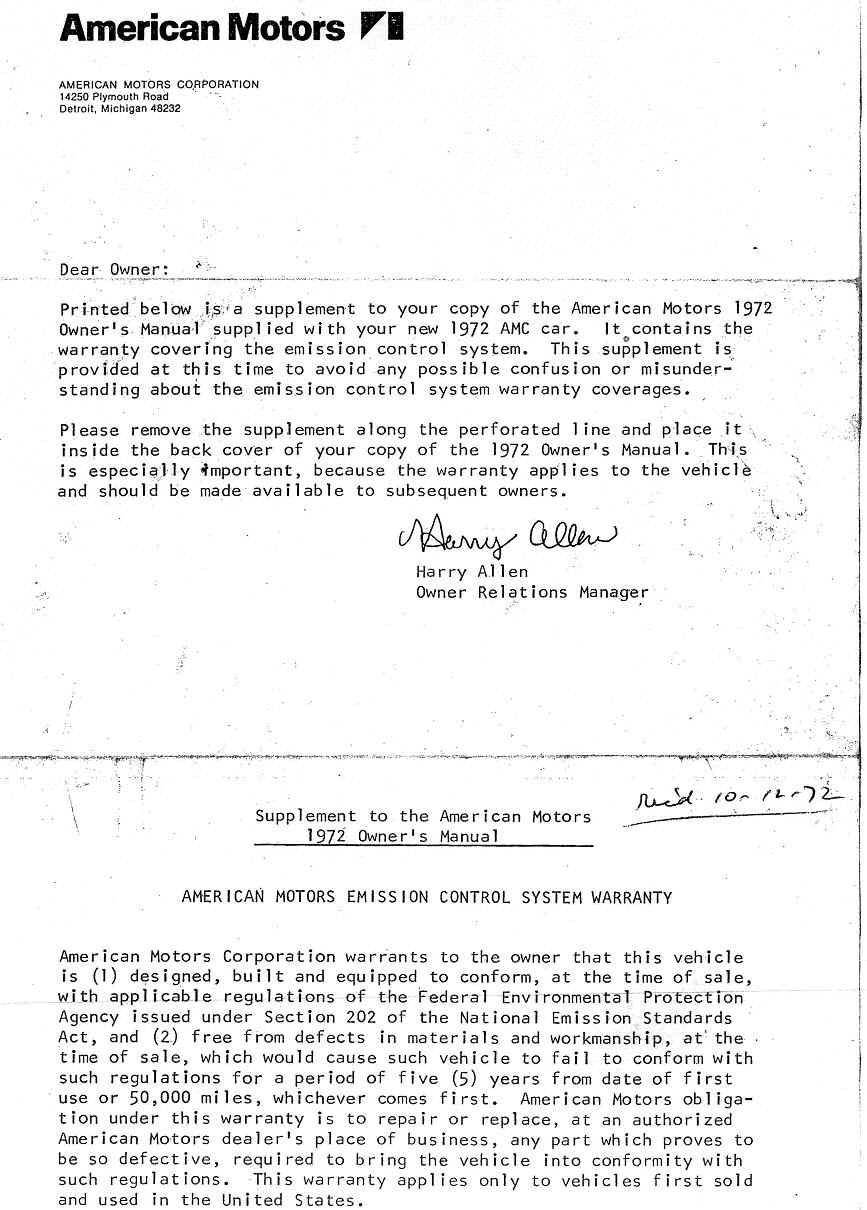 1972-1974 AMC Smog Emissions Bulletin
All models, this is a Supplement Bulletin from Harry Allen...Owner Relations Manager for AMC for 1972 models to "Owner" about American Motors Emission Control System Warranty. Most of these thrown away and forgotten in time. Here is your chance to have a copy for your collection and display. For all 1972, 73, 74 AMC models. $1.00
===================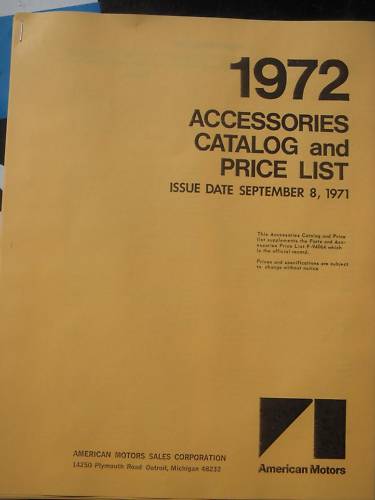 1972 Group 15 Accessory Catalog for Dealers
If you have the BIG 2500+ page 1967-72 AMC Dealer book, or same on CD/DVD I sell, what you won't have is the 1972 Supplement! Group 15 Accessories were always SEPERATE from dealer books as they changed yearly. Prices, part numbers, dealer list, dealer net for options & accessories like air condition, am, am/fm, am/8 track radios, heated rear glass, hubcaps, molded floor mats, bumper guards, very few of these survived dealerships AFTER THAT MODEL YEAR. All models Ambassador to Matador, 2dr, 4dr, wagons. Excellent for reference purposes, ID'ing parts or searching for rare obsolete stock. Insert into your big dealer book. $10
==================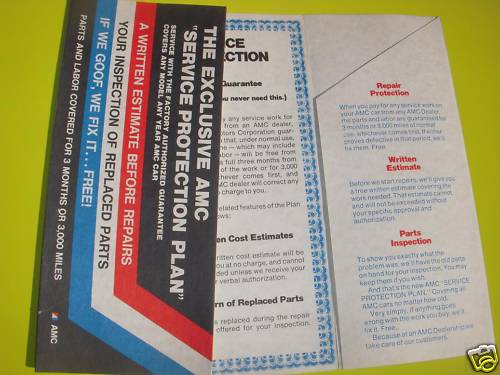 1972 thru 1979, AMC document pocket folder...all models!
Unstamped dealer issue, never. This POCKET FOLDER was used for one's Buyer Protection Plan. I highly suggest if you own a 72-79 AMC to put it with your factory literature on your open glovebox or front passenger seat when showing/displaying your car at shows and events! $8
===================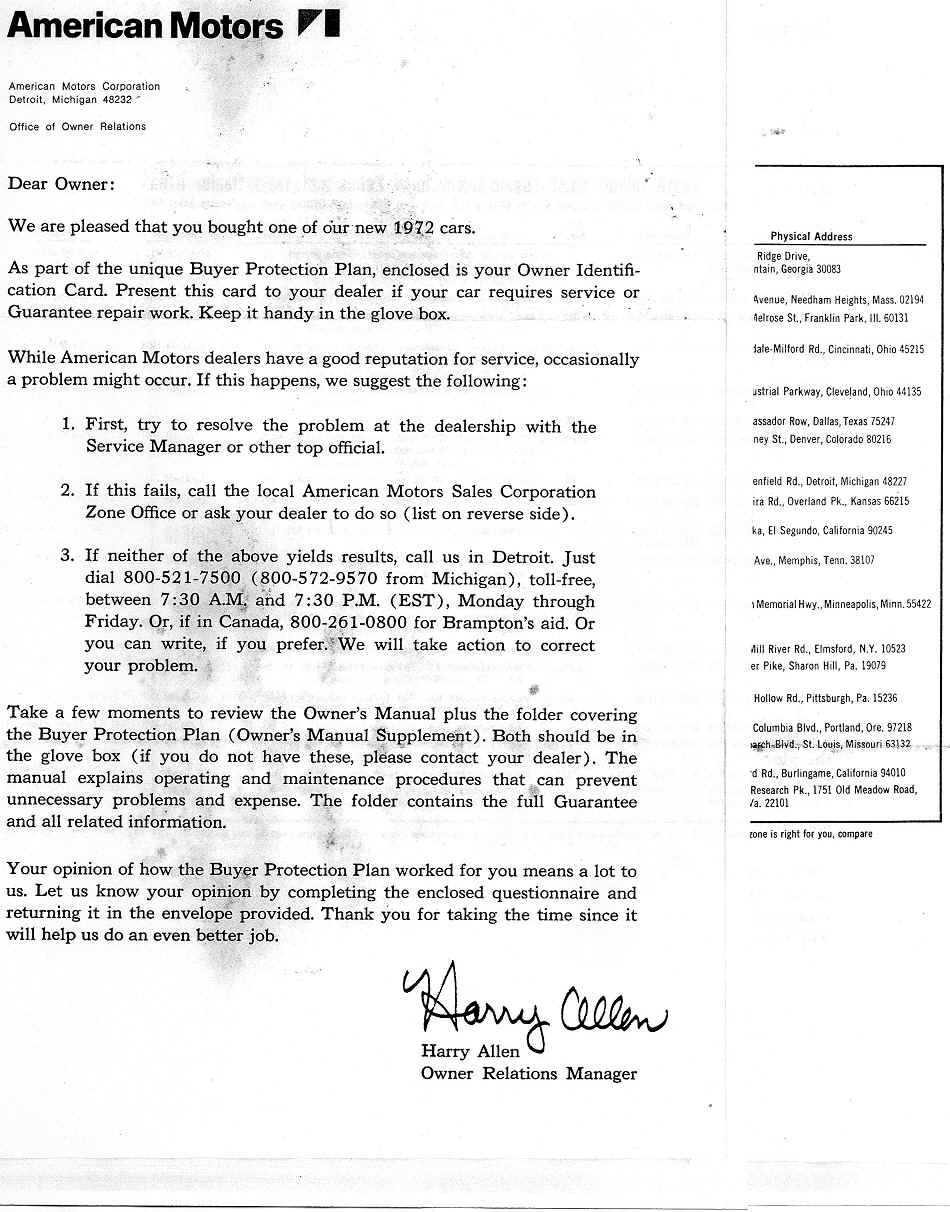 1972 AMC Buyer Protection Plan, two pages, includes list of AMC ZONES on second page! Neat to see the regions, good for display. $2
===================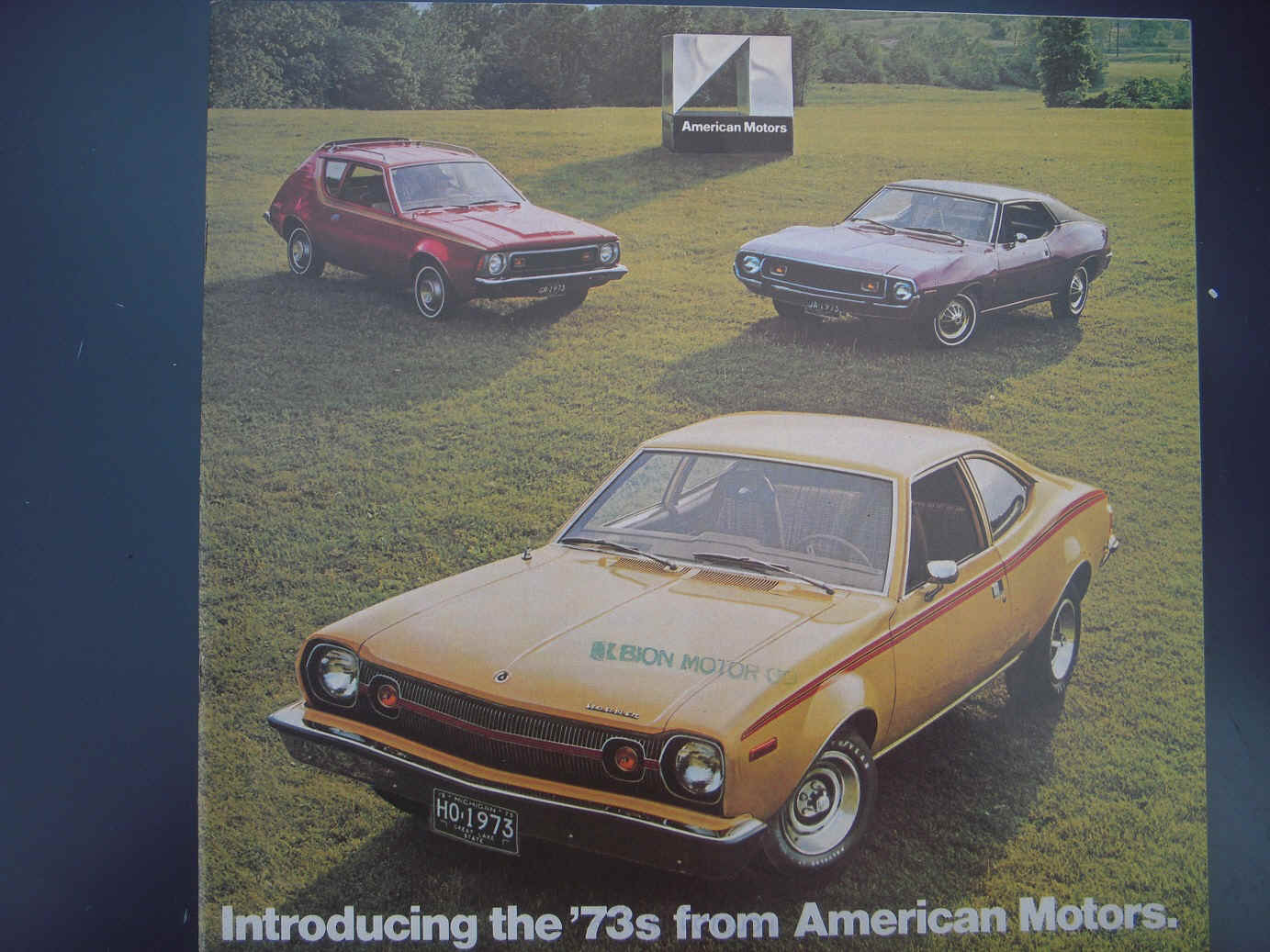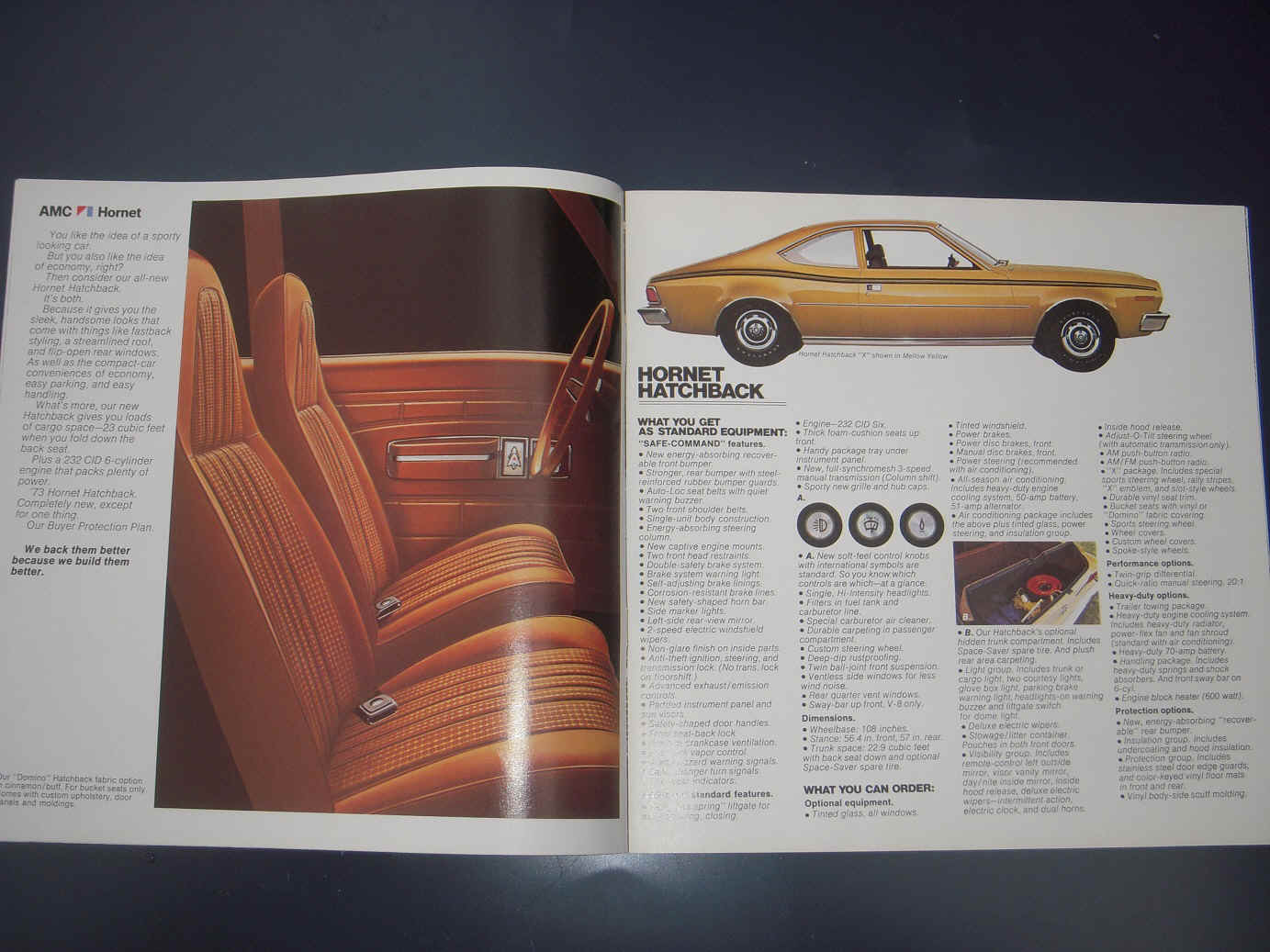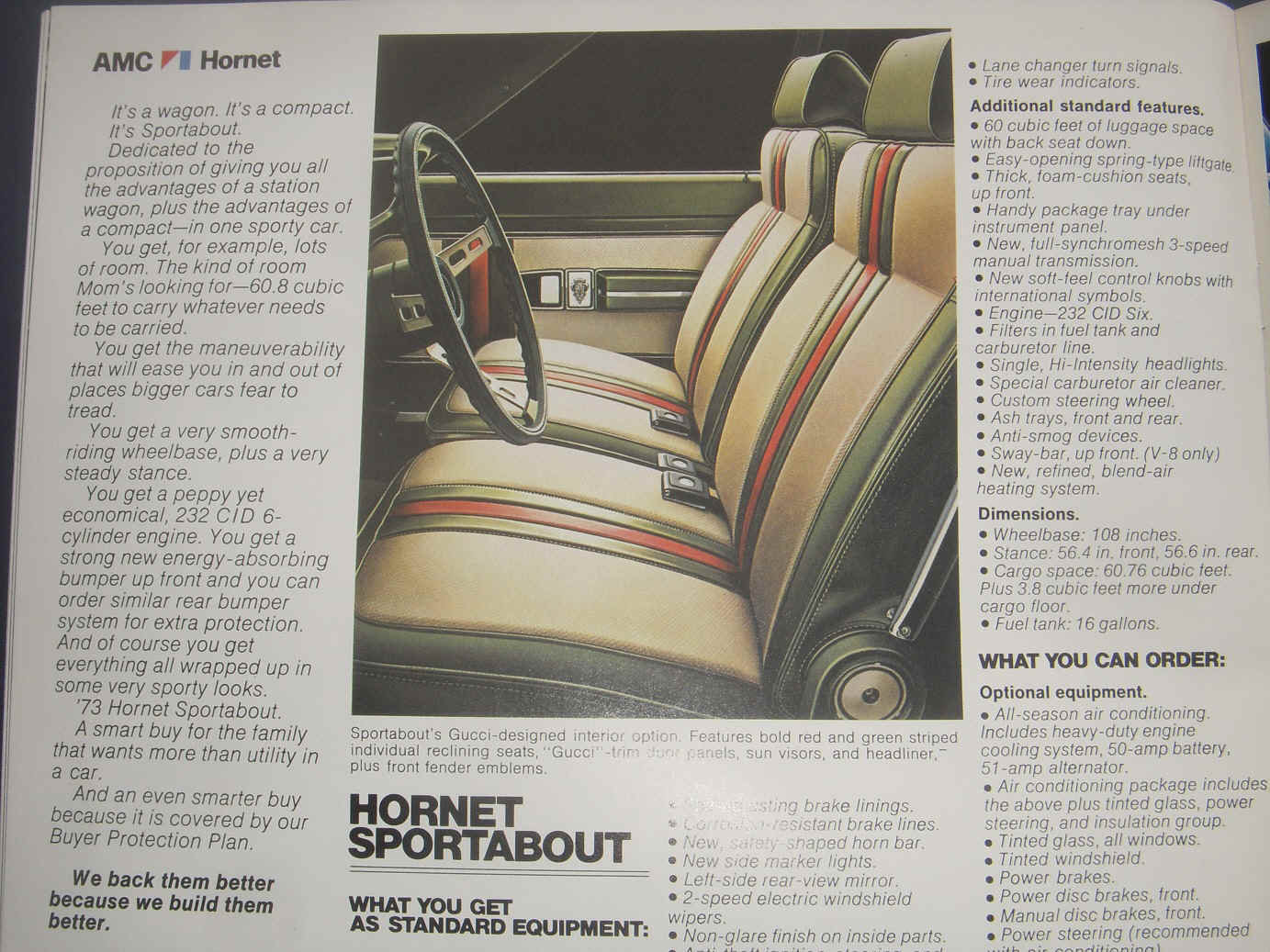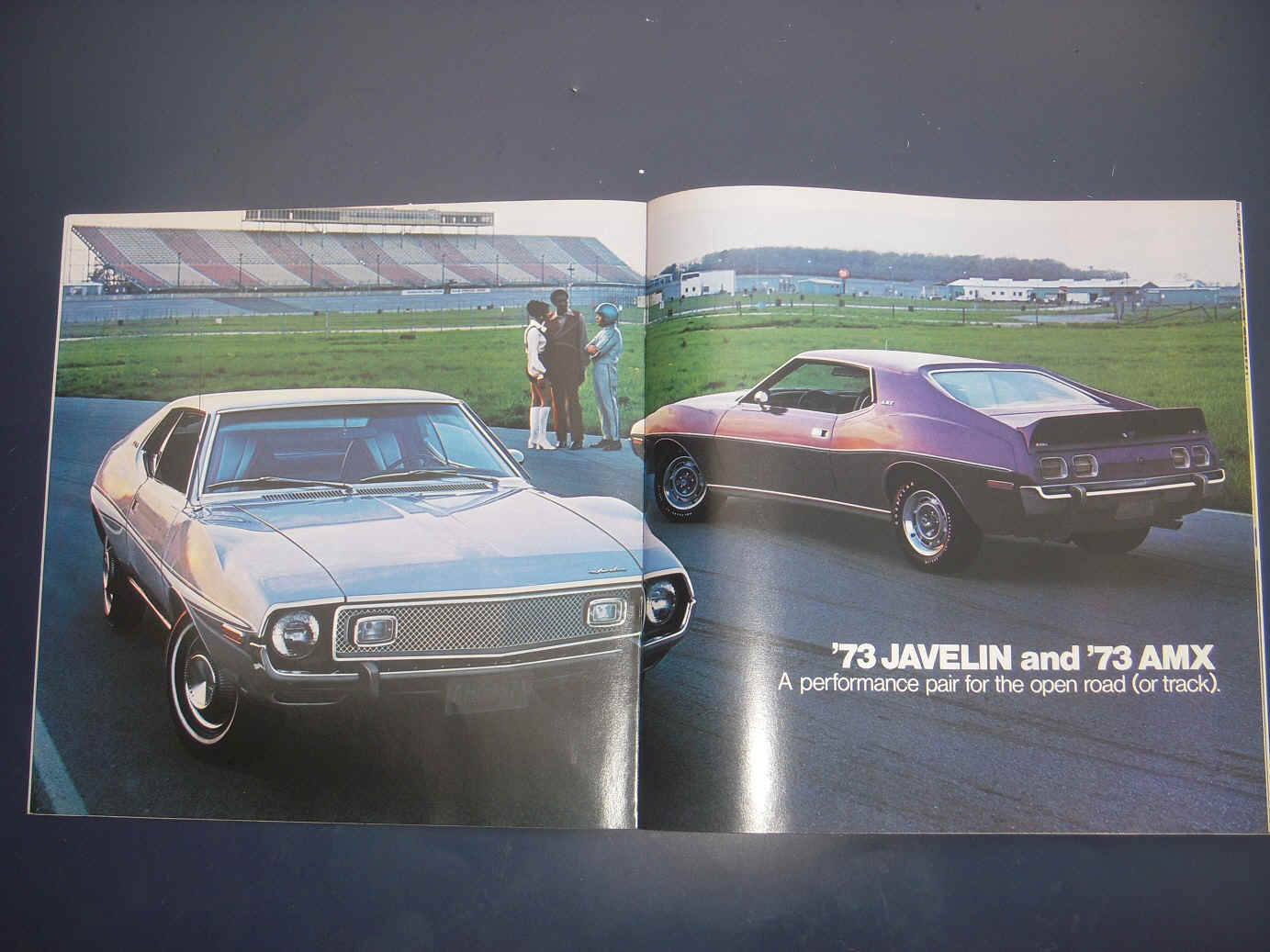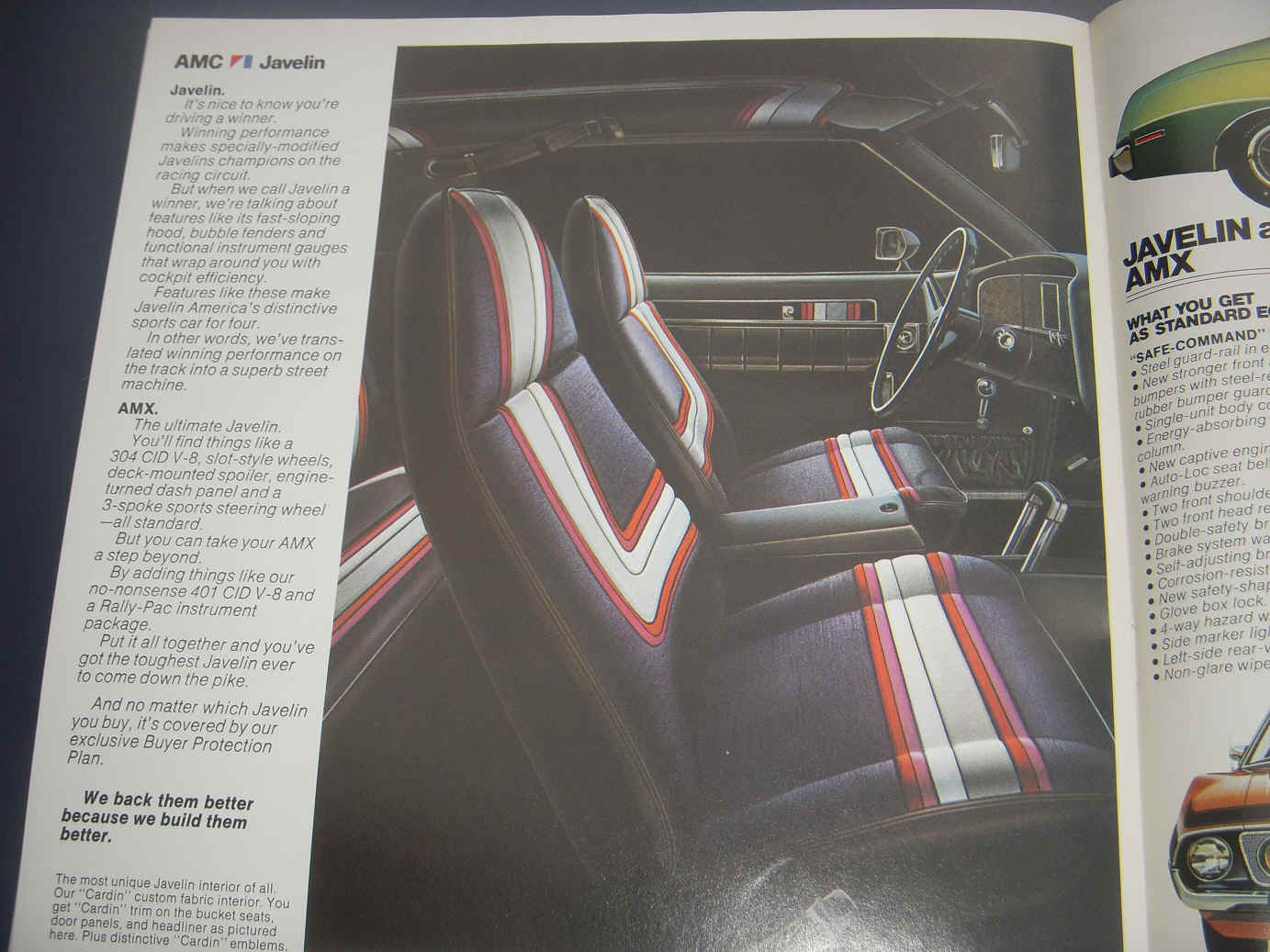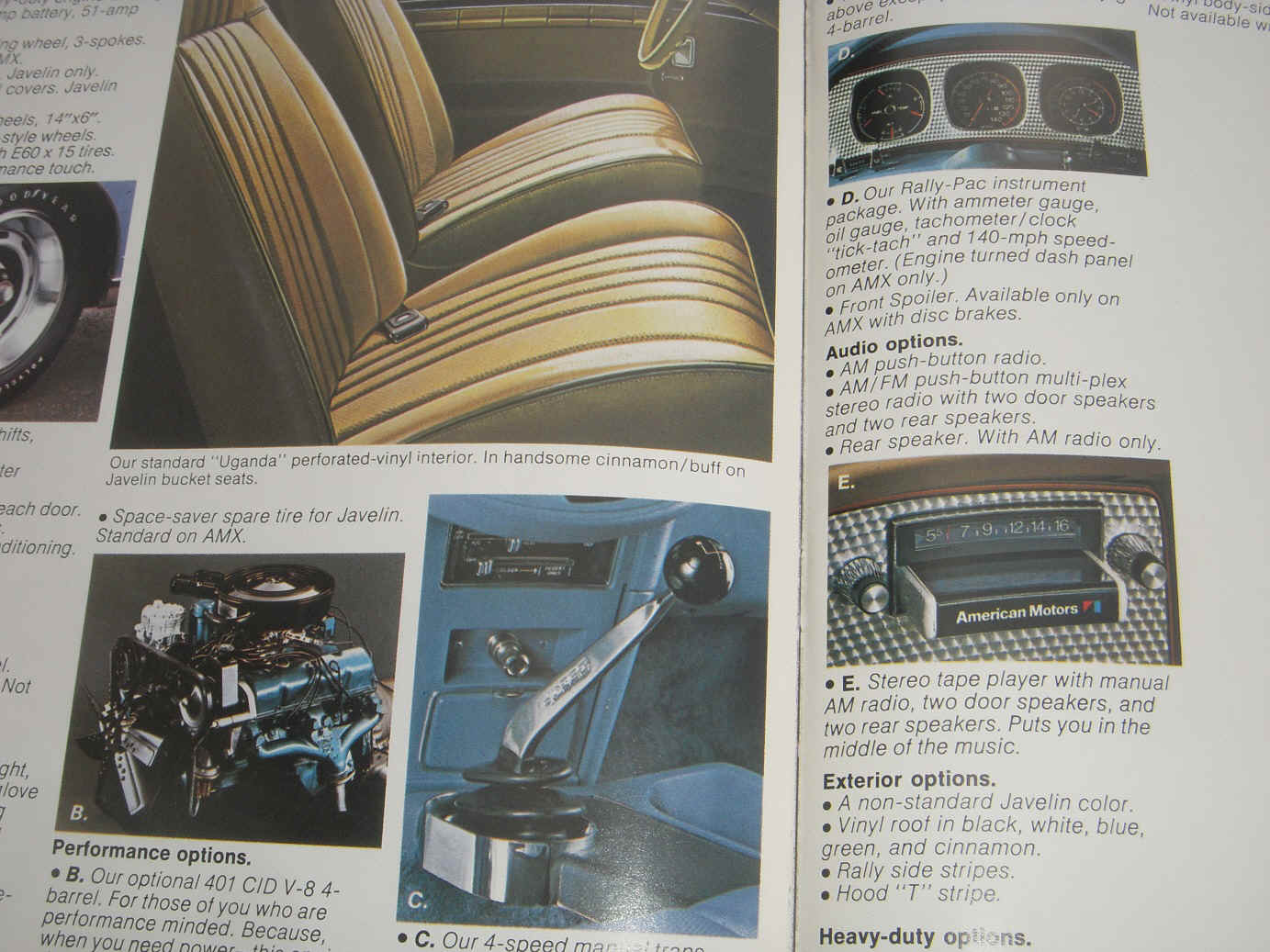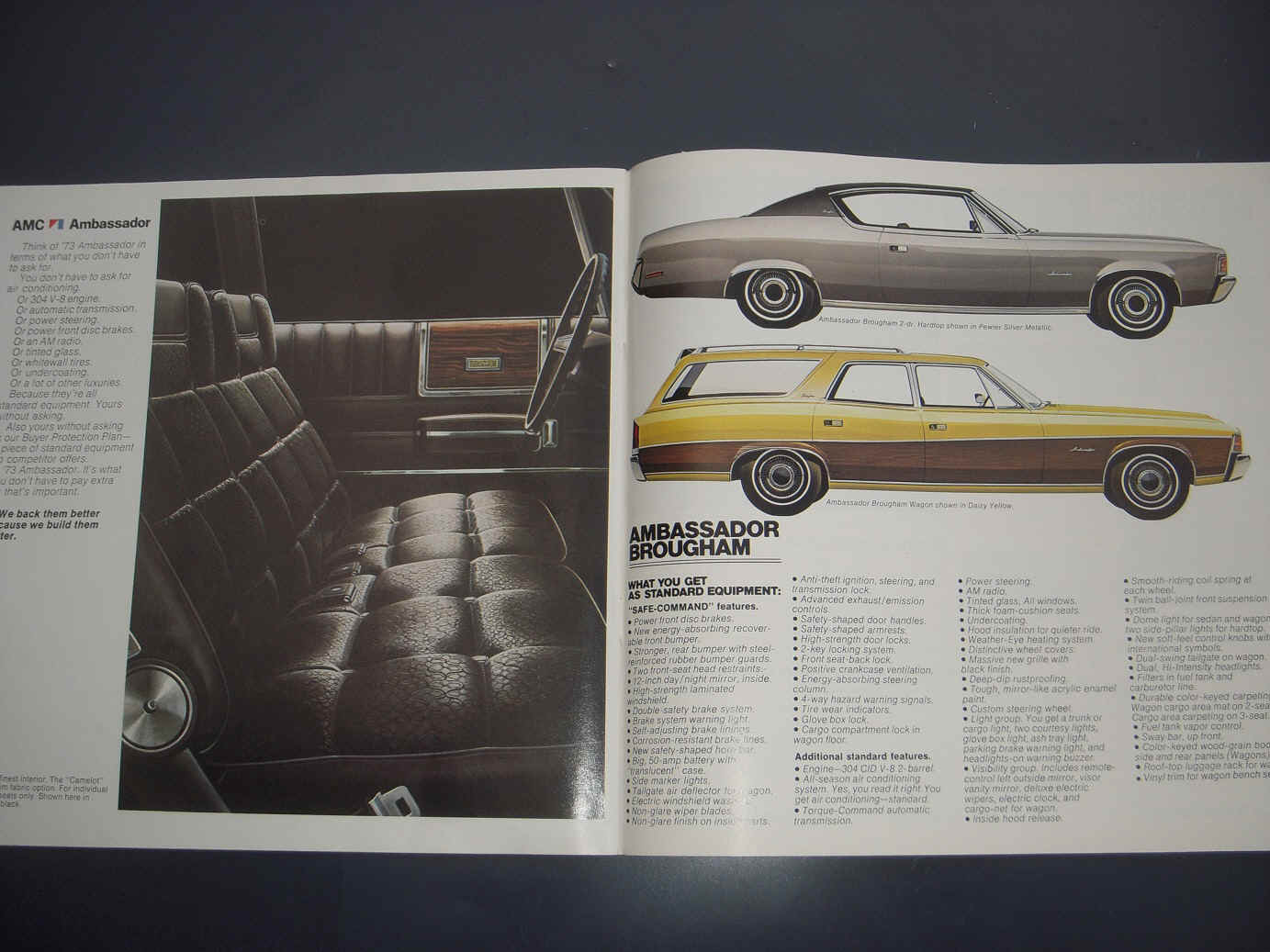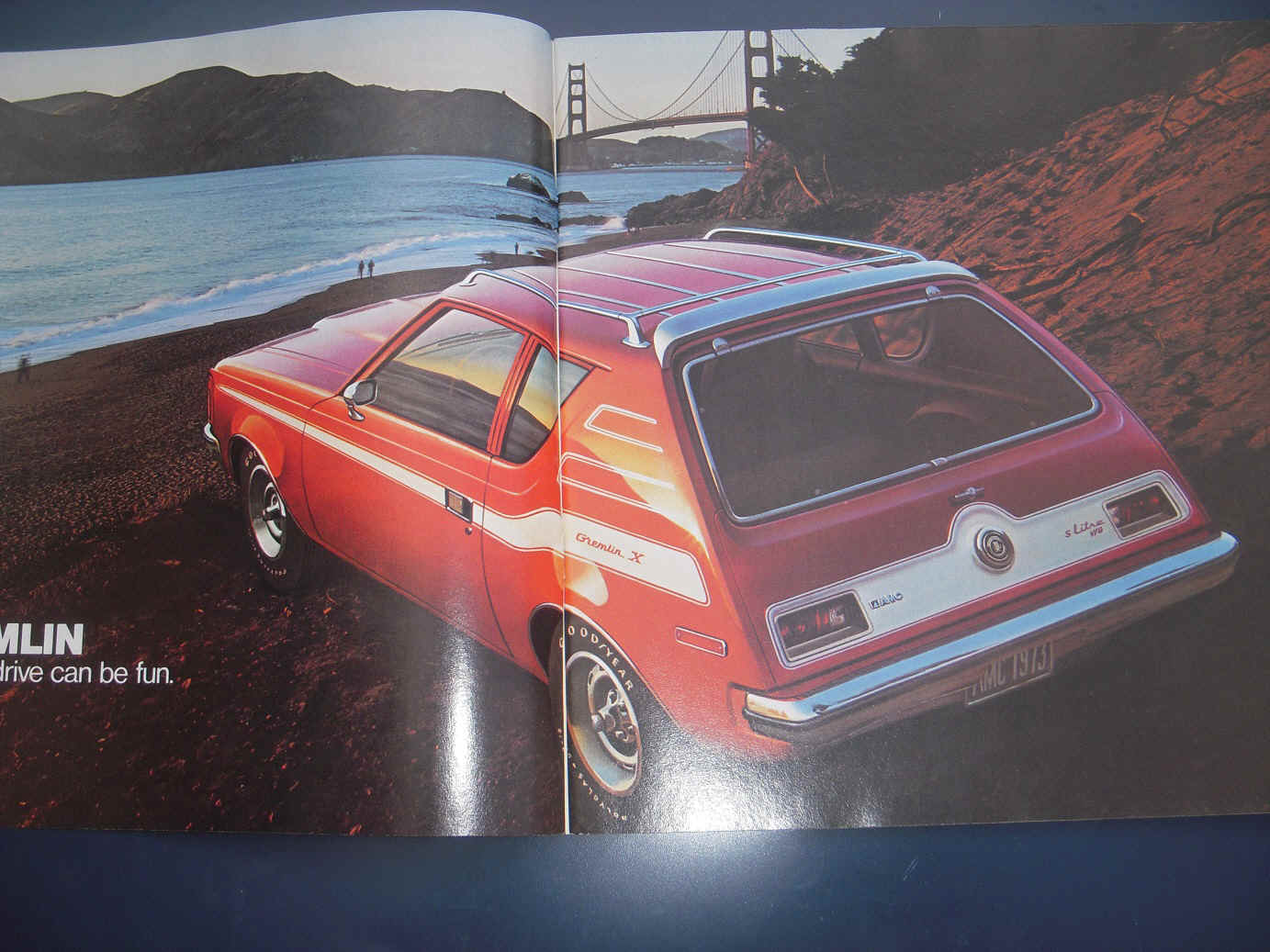 1973 Full line color catalog:
A NOS original 1973 AMC color catalog. A very significant catalog for your personal collection, and a very significant year for AMC: FIRST YEAR of new Hornet Hatchbacks; Gucci package and Levis packages for Gremlins and Hornets are featured; LAST YEAR for Matador two doors this body style; Of course the AMX and Javelin, and in a two page spread a silver Javelin and plum AMX are shown at a racetrack. The problem? Look closely.. The AMX has Rebel Machine rims (known as 15" styled road rims, these WERE available on any 70-72 AMX, Javelin, Matador or Ambassador), the AMX has only the upper portion of the rear bumper blacked out, the whole tailight panel was supposed to be blacked out indicating Go Pack, the car sports 70-72 hi back buckets, the Javelin has clear turns, which never made it to production. The AMX *is* a 72, the tail panel was airbrushed in, a common practise with aMC as shown in other catalogs. This catalog also has a NOS PAINT CHIP CHART with all your favorite 73 colors inside the back page, and shows what color was available on what, such as the Gucci Hornet was only available in Snow White, Grasshopper Green, Fairway Green, TallyHo Green, Pewter Silver and Fawn Beige. Tons of accessories and options are listed, tire specs, engine specs, trans/eng combos and so on, a nice piece for your collection or to display with your classic AMC or for reference historical purposes. $15
================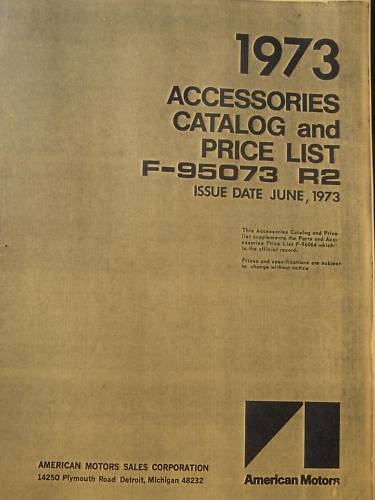 1973 Group 15 Accessory Catalog for Dealers
Group 15 ACCESSORIES! AMC dealer book 73 covers all Ambassador AMX Gremlin Hornet Javelin & Matador...... you might have the big Dealer Parts Book, but won't have the Supplement! These books tossed by AM Dealers after that year. Always kept seperate in Dealers books. Has prices, part numbers, dealer list, dealer net for options and accessories big and small like air condition, am, am/fm, am/8 track radios, heated rear glass, hubcaps, molded floor mats, bumper guards, few of these books survived AFTER THAT MODEL YEAR. Here is your chance to have a rare copy of my original. All models & AMC PART NUMBERS from Ambassador to Matador, 2dr, 4dr, wagons. Excellent for reference purposes, ID'ing parts or searching for rare obsolete stock. Insert into your big dealer book. $10
===================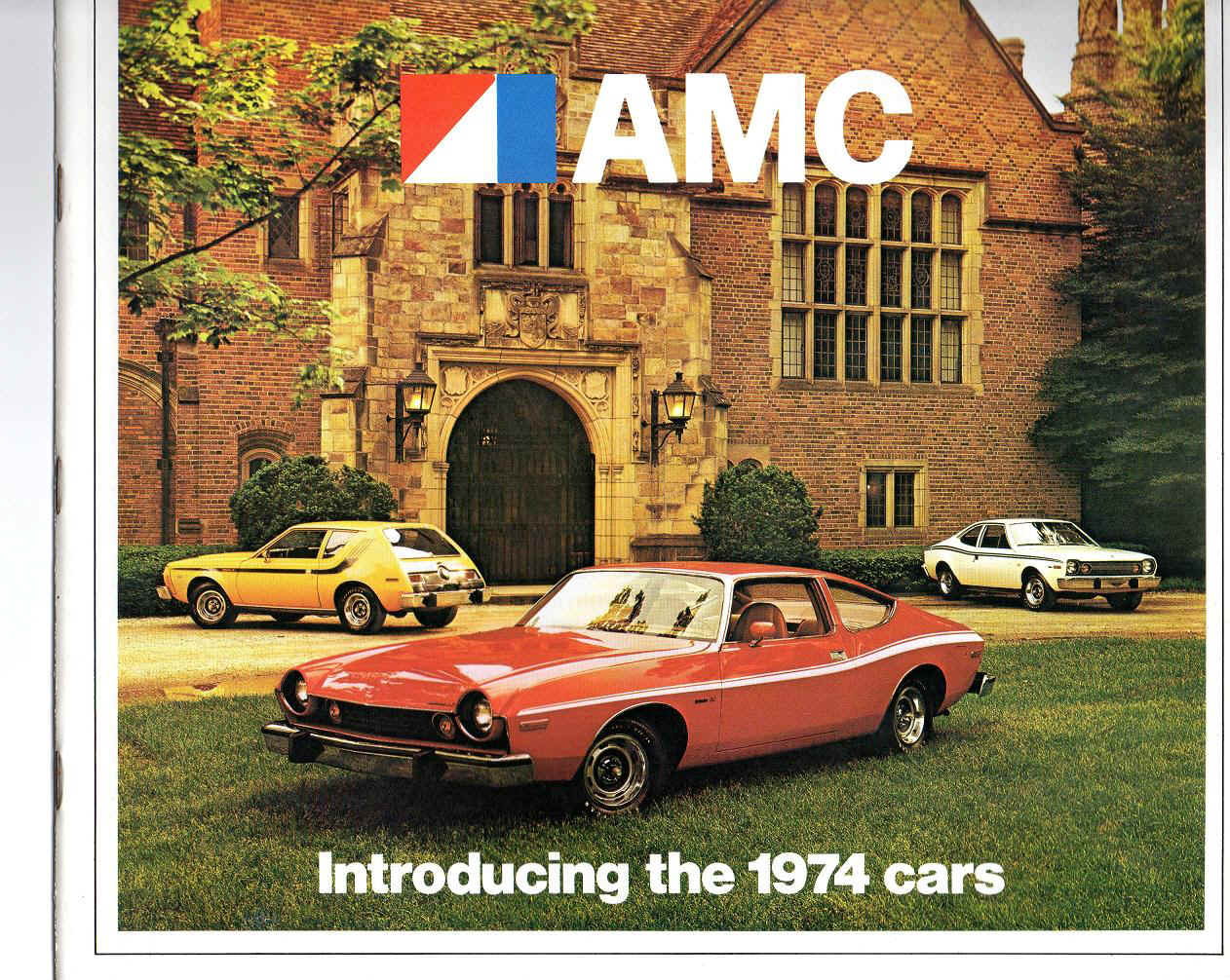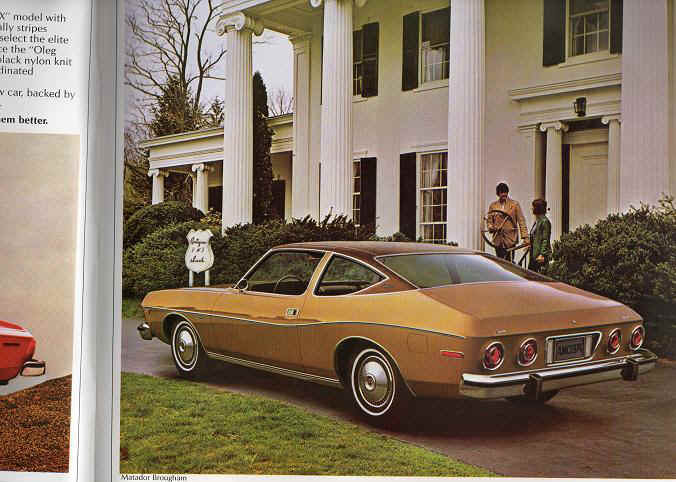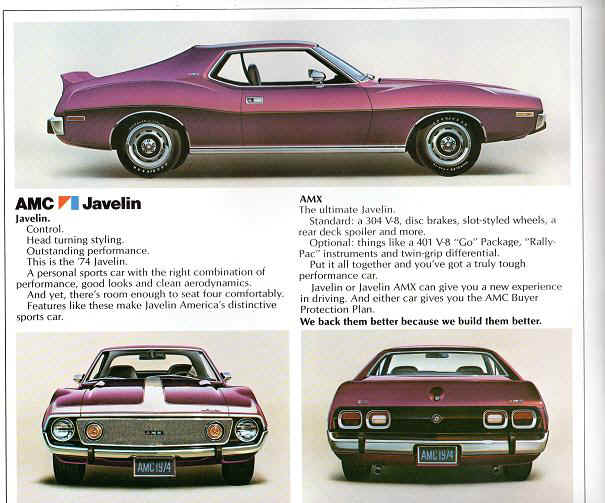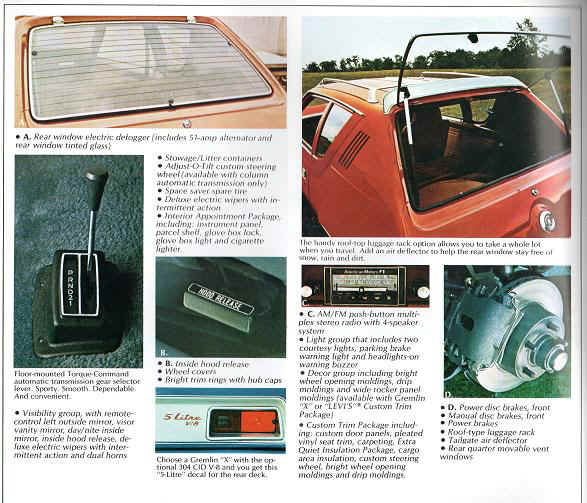 1974 Full line color catalog:
A historical year for American Motors. This was THE LAST YEAR for the Ambassador, the LAST YEAR for the AMX (AMXs would still be produced in Mexico by VAM under the Matador name, see my pix section) the LAST YEAR for the Javelin, the FIRST YEAR for the new Matador coupes. This significant year catalog shows in full blazing color Levi's Gremlin and Hornet, Oleg Cassini Matadors, Ambassador Broughams, Hornet Sportabout Wagons, station wagons, four doors, two doors, Gremlin V8s, Hornet hatchbacks including a wonderful two page photo of a red Hornet hatchback identical to the James Bond Man With The Golden Gun one, A striking white Javelin with gold sidestripe two page photo, a three shot angle photo of a plum metallic AMX, tons of options, accessories, original photos, a AMC Paint Chip chart in back, 74 Bravado vinyl covered roofs chart, 43 pages chocked full of wonderful things. $15
================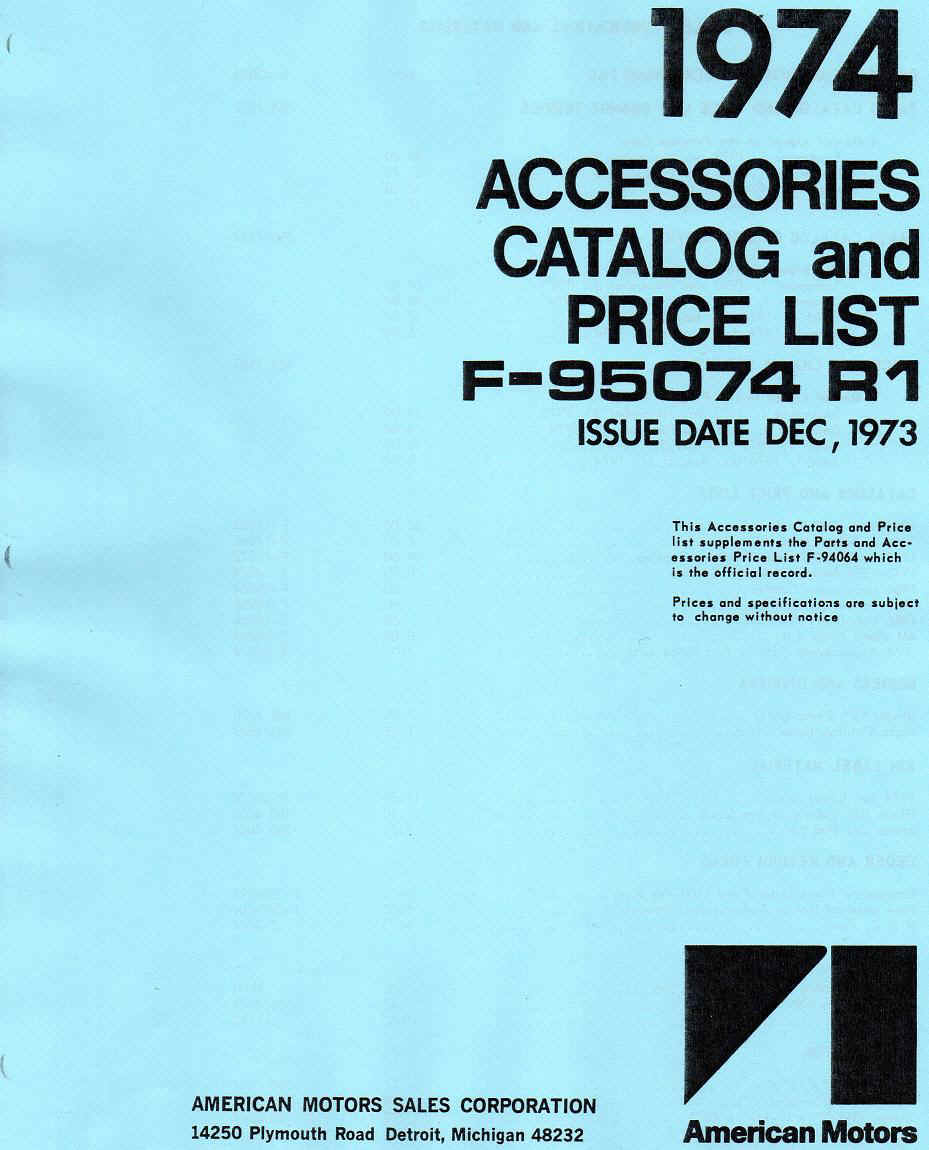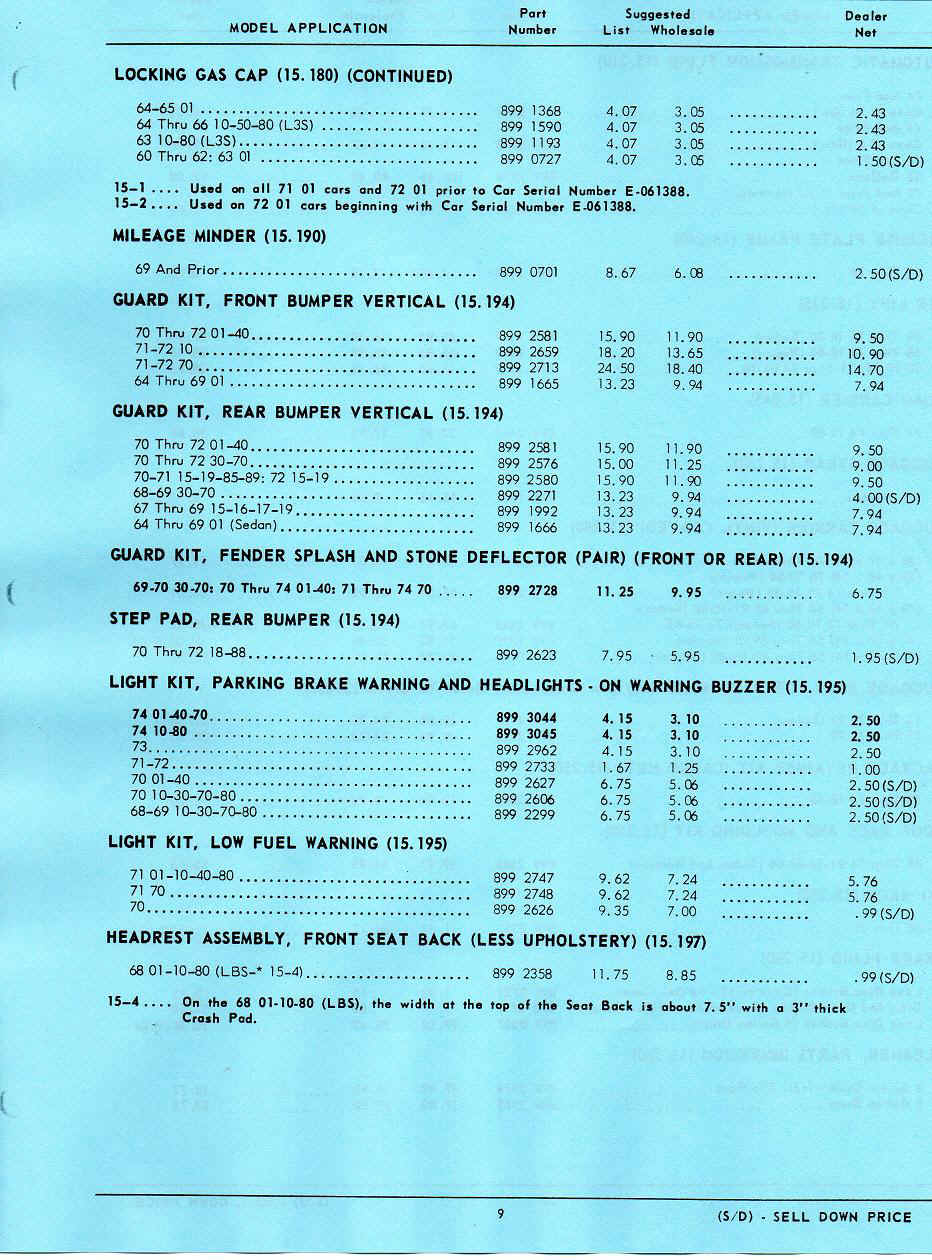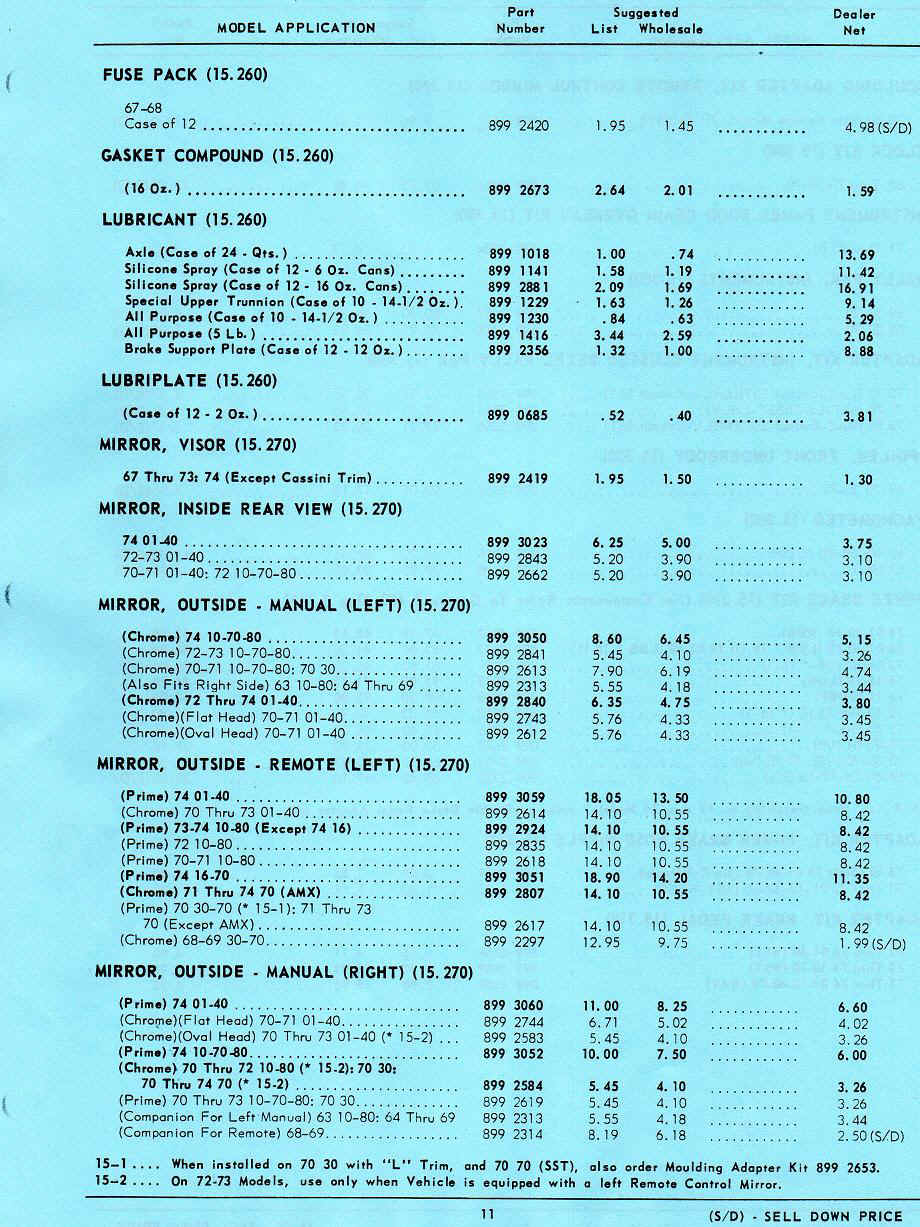 1974 AMC Dealers Accessories and Price List
was issued December 11th, 1973. Includes newer models like Gremlin, Hornet & Matador. This is how AMC nickle and dimed buyers effectively by selling you a huge number of ACCESSORIES like mirrors, hubcaps, tissue dispenses, radios, air conditioning kits, to brush top paint, compass, engine paint, floor mats, everything the dealership could offer from A to Z.. In it, a dealer could QUICKLY look up any option & accessory for 1974 back to about 1967! AMC Part Numbers! AMC Group Numbers! Costs for "Dealer Net"! Suggested "wholesale" prices! Suggested "List" prices! You will find things in here didn't know were available for American Motors as Accessories! Invaluable for reference. $10
===================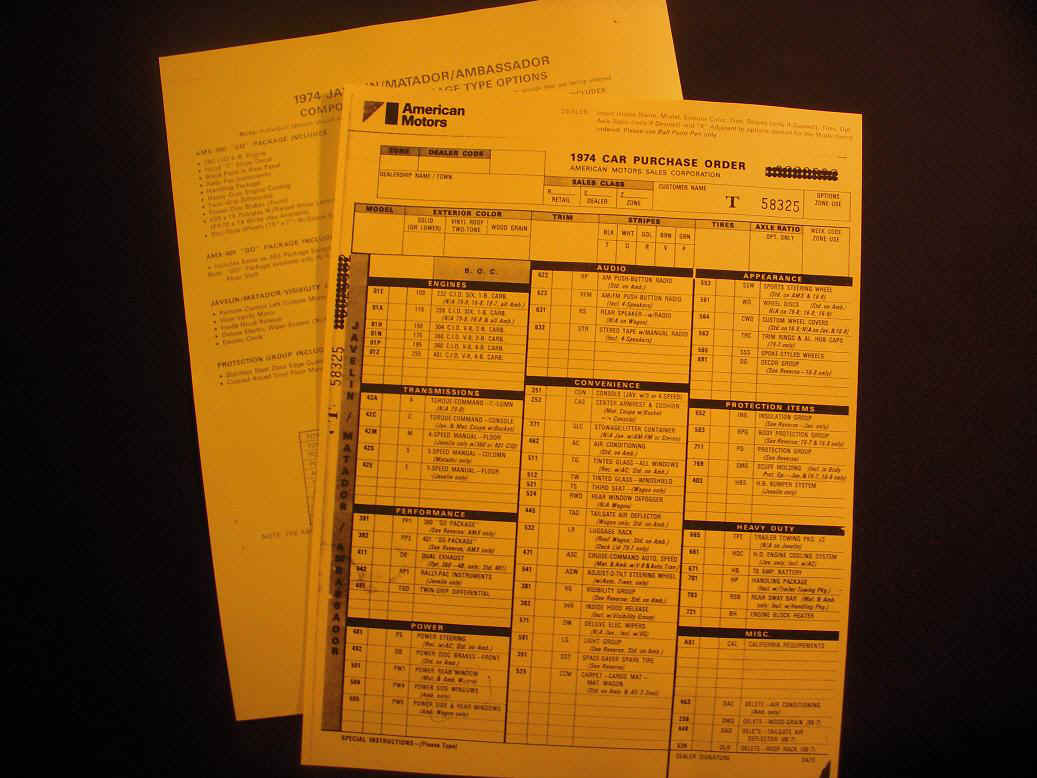 1974 AMC Car Purchase Order for AM DEALERS.
(2 Pages) Engine, transmission, performance,
audio, convienece, appearance, protection items, heavy duty, misc....all "Build Codes" (IE: 442 RP!= Rally Pack instruments/Javelin & 665 TP2= Tralier Towing Package) This is what Dealer (and you!) filled out, sent to AM Zone, then onto Kenosha, WI where your car built. Priceless for *reference* or display with your classic 1974
Ambassador, AMX, Gremlin, Hornet or new Matador at events! $5
===================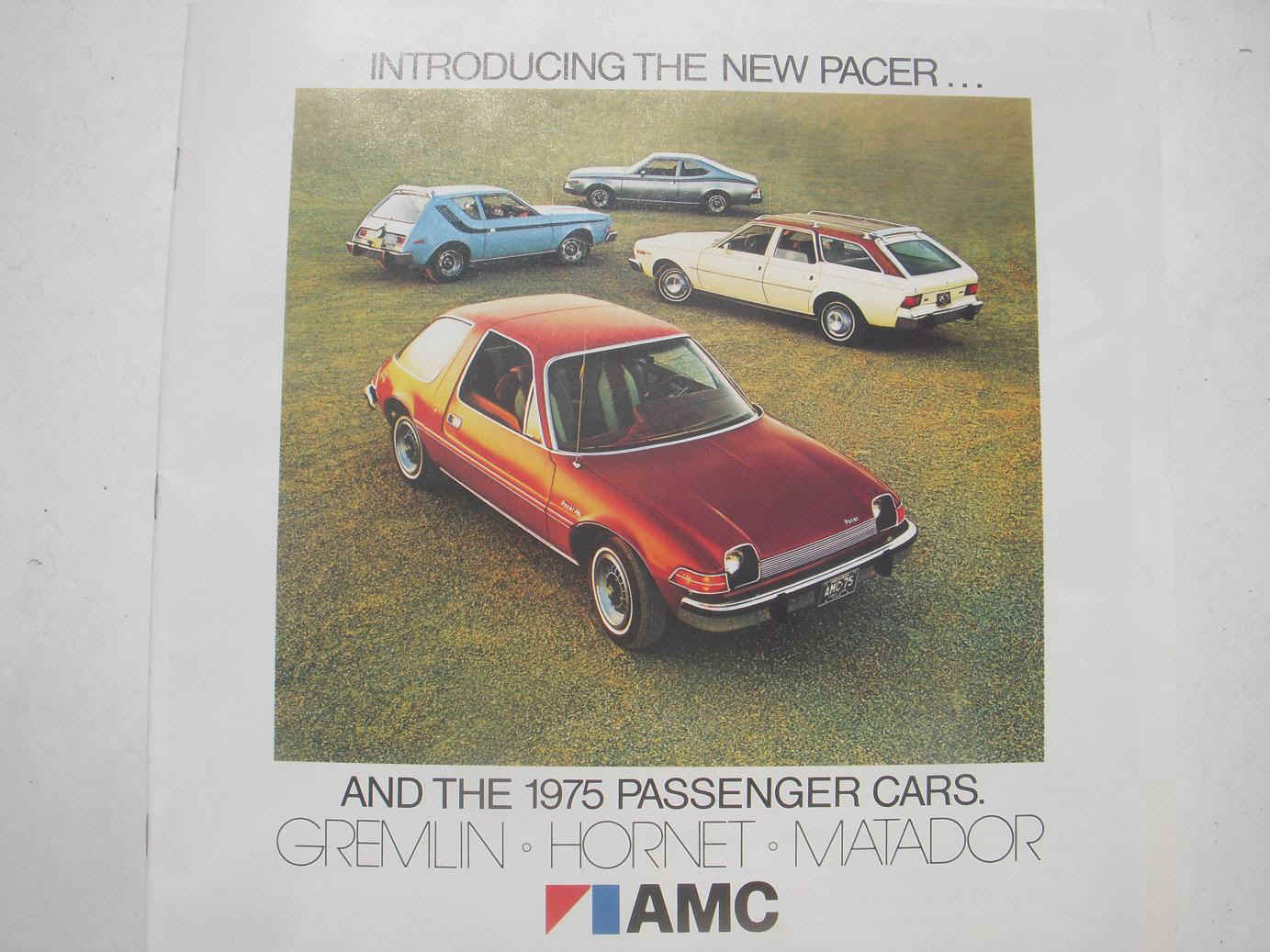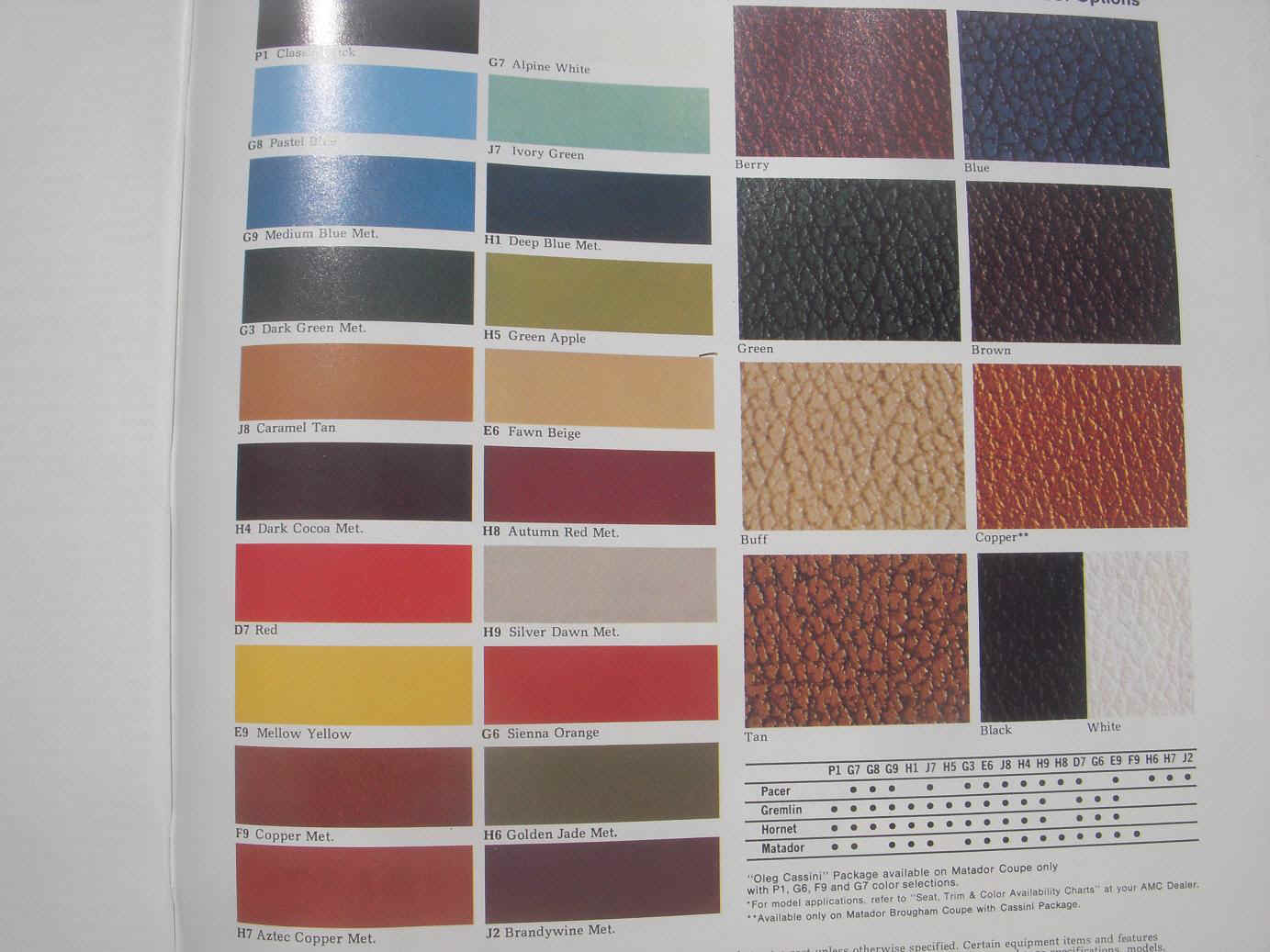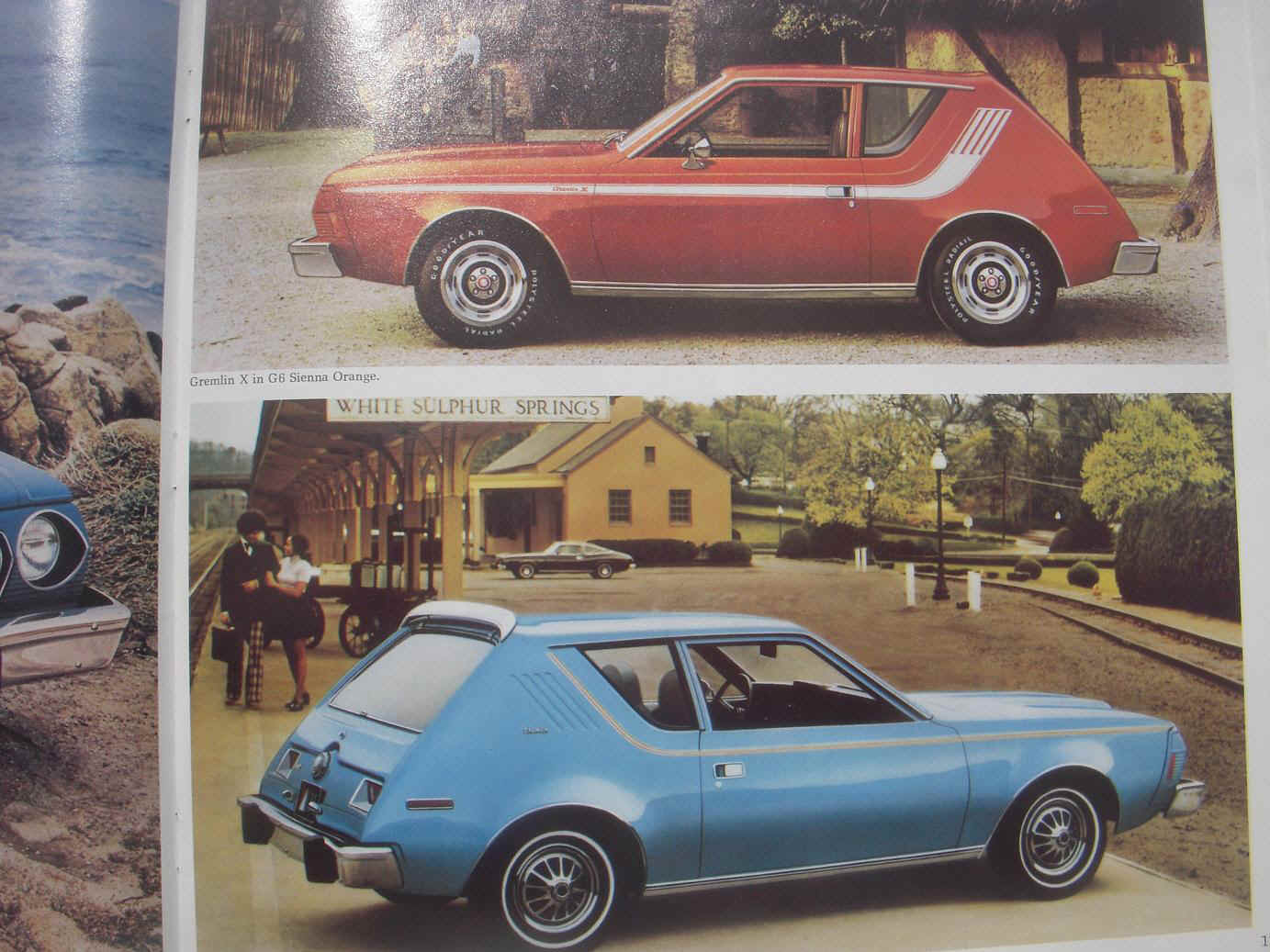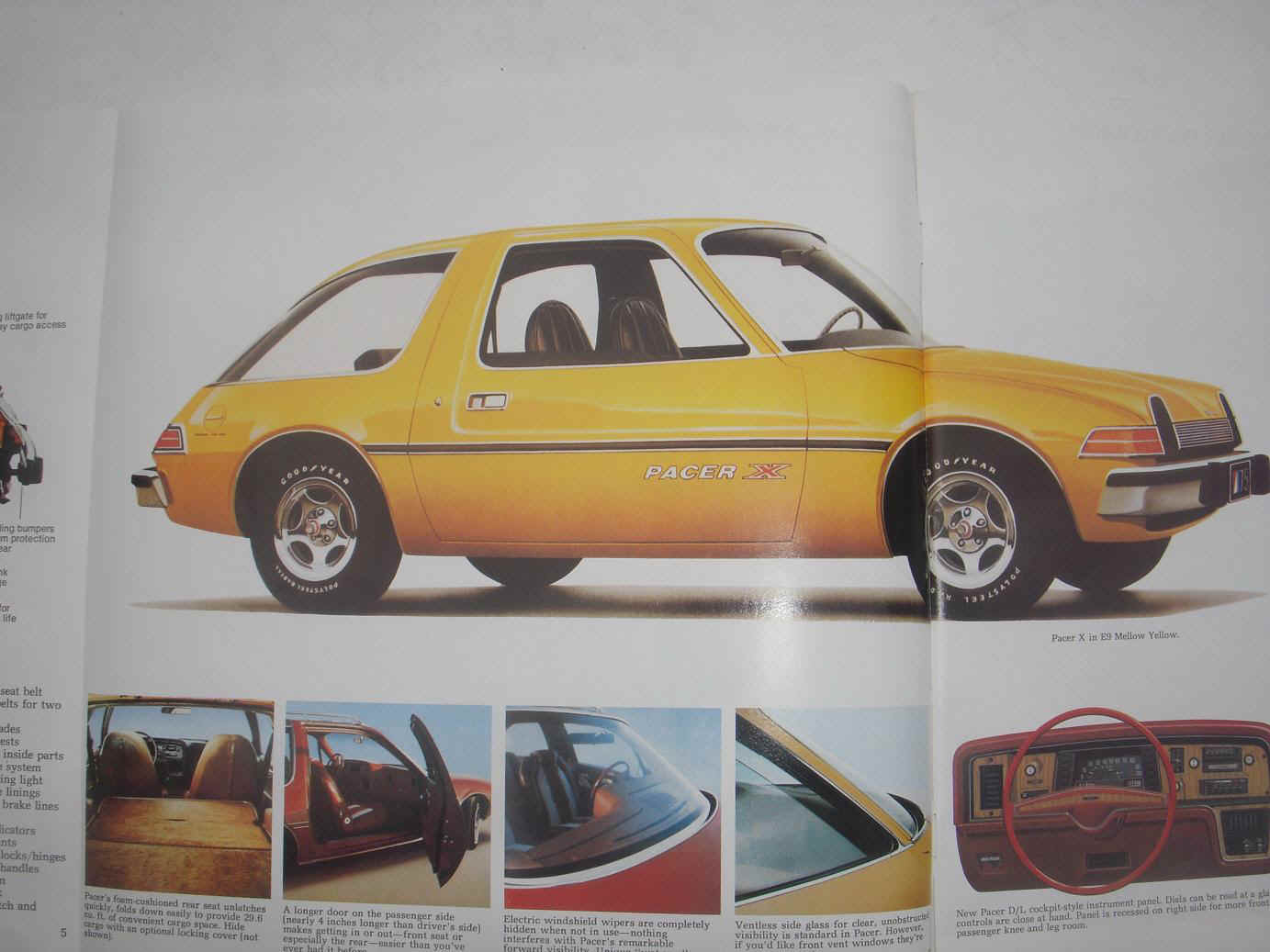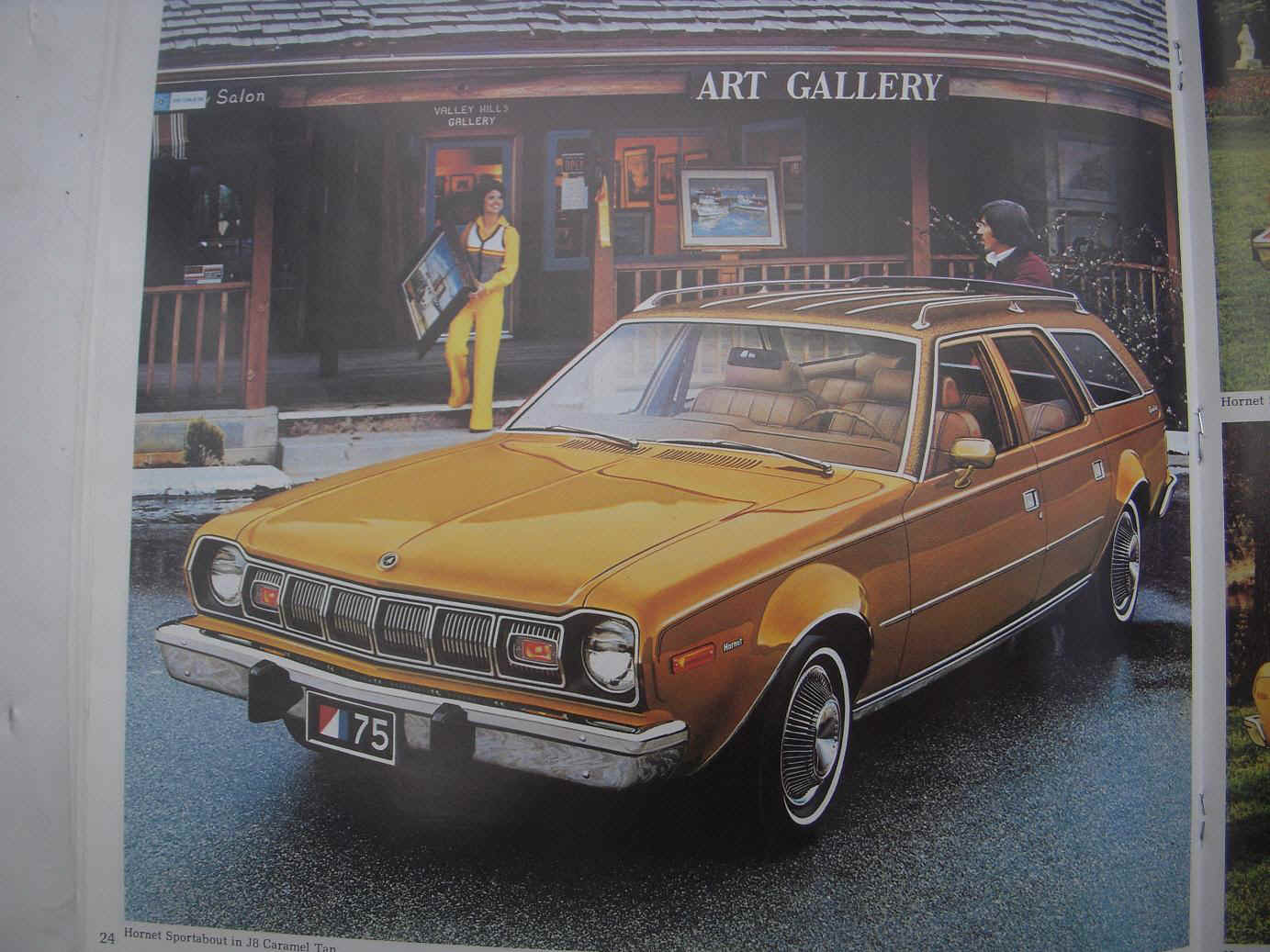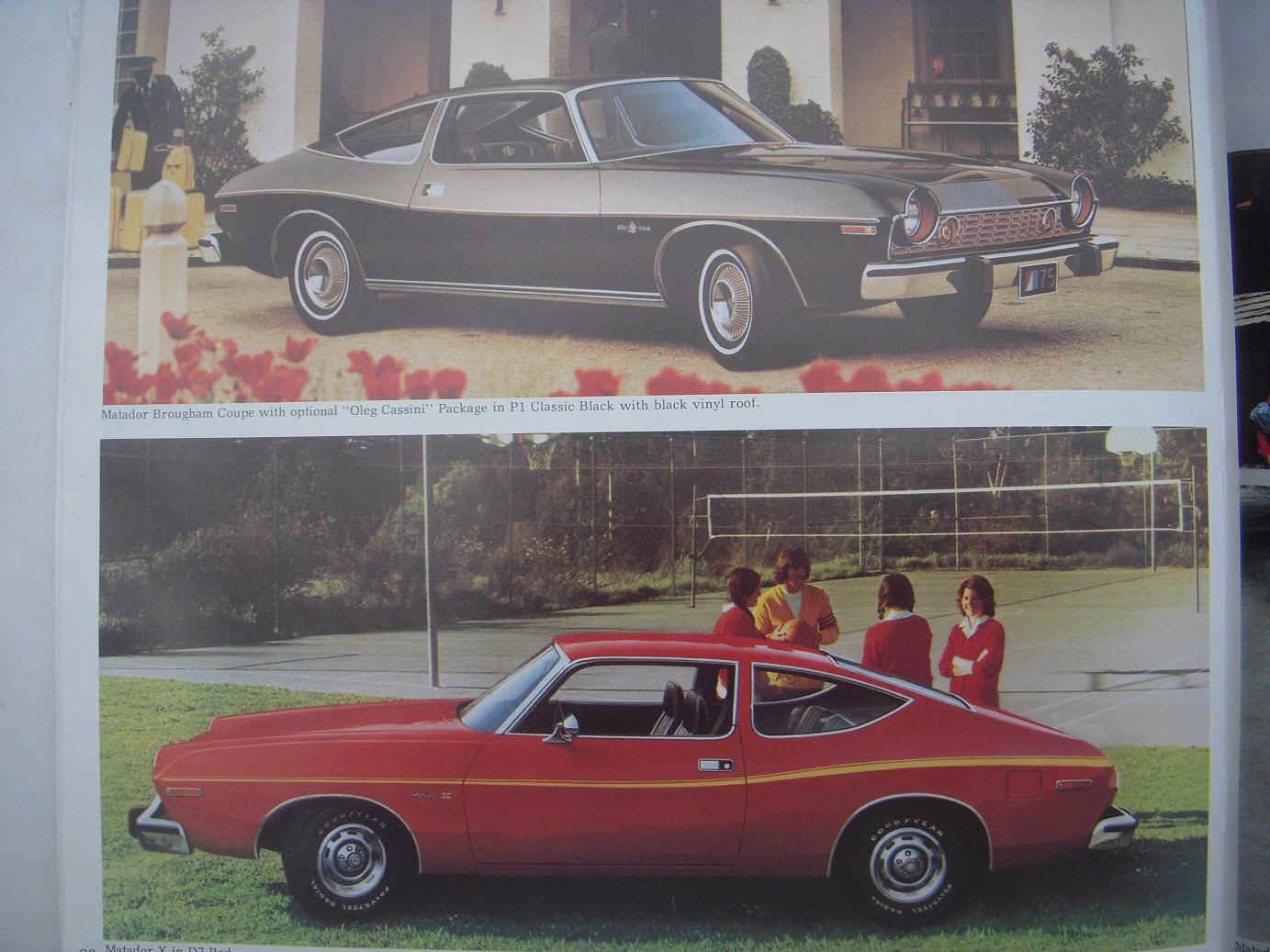 1975 Full line color catalog:
Introducing the NEW PACER for 1975. This has a very large four page foldout/POSTER with many options, accessories, and photos of AMCs all new Pacer for 1975. Also included in this 35+ page NOS color catalog is all Matadors including the coupes, wagons, four doors, Broughams, X editions and Oleg Cassini Editions, all Gremlins including Levi's Editions, X, and options like a photo of a Gremlin with vinyl roof (bet you have never seen one); all Hornet models including Sportabout, D/L, hatchbacks; a NOS original AMC Lustre Guard paint chip chart is included, and also the 9 Bravado Grain vinyl covered roof options, along with many specs, and of course, the great photos of the cars themselves. $15
===============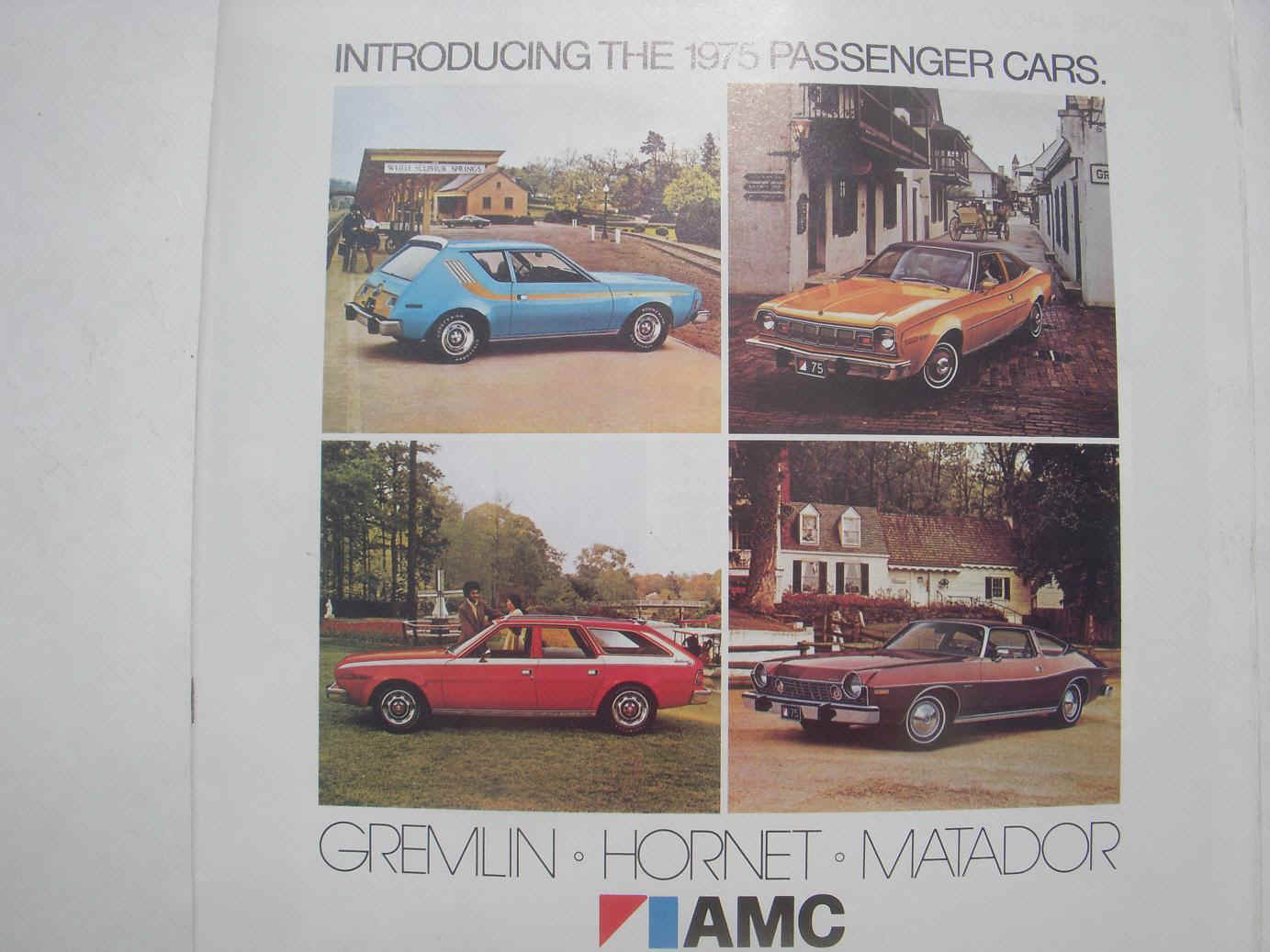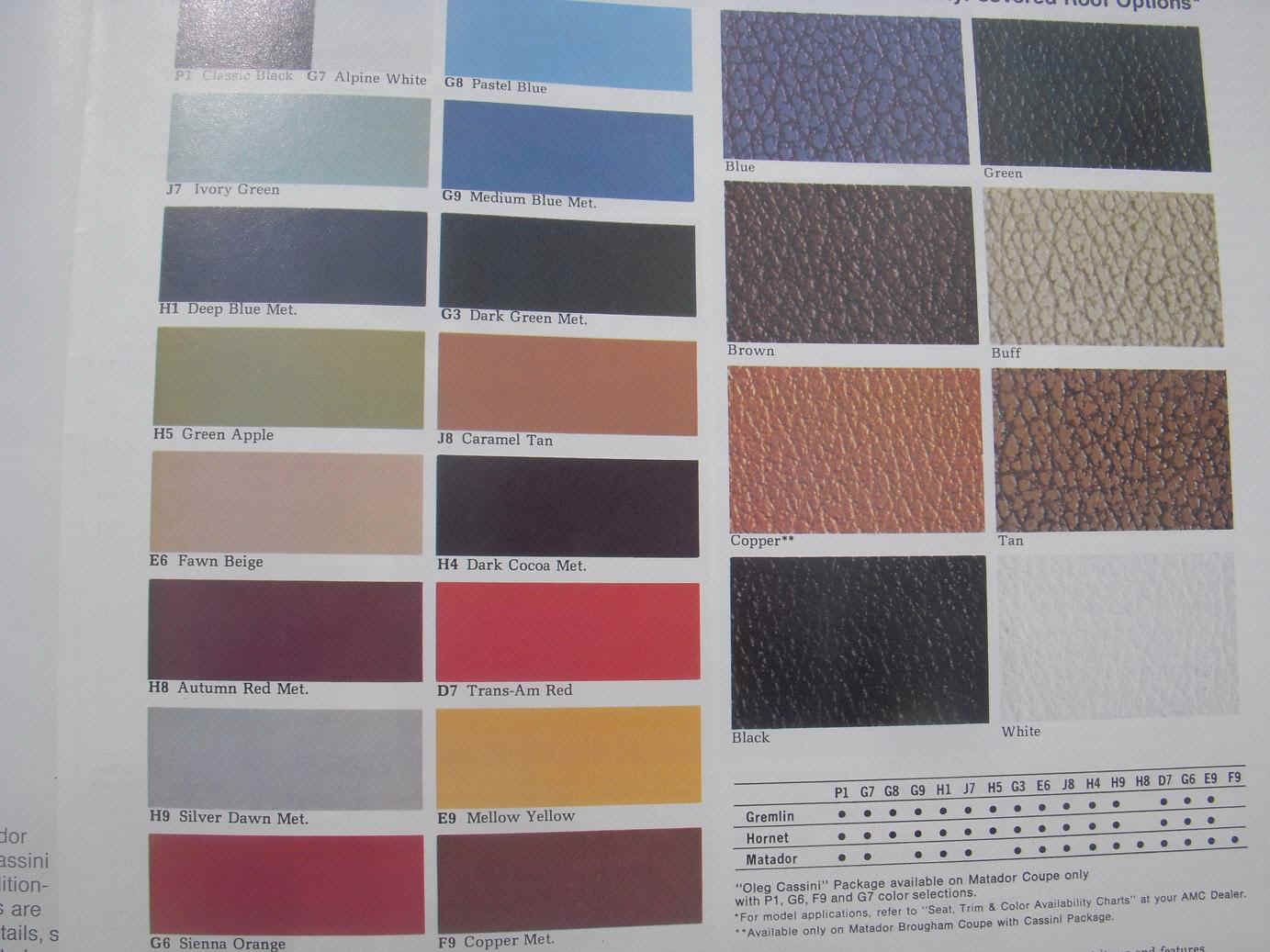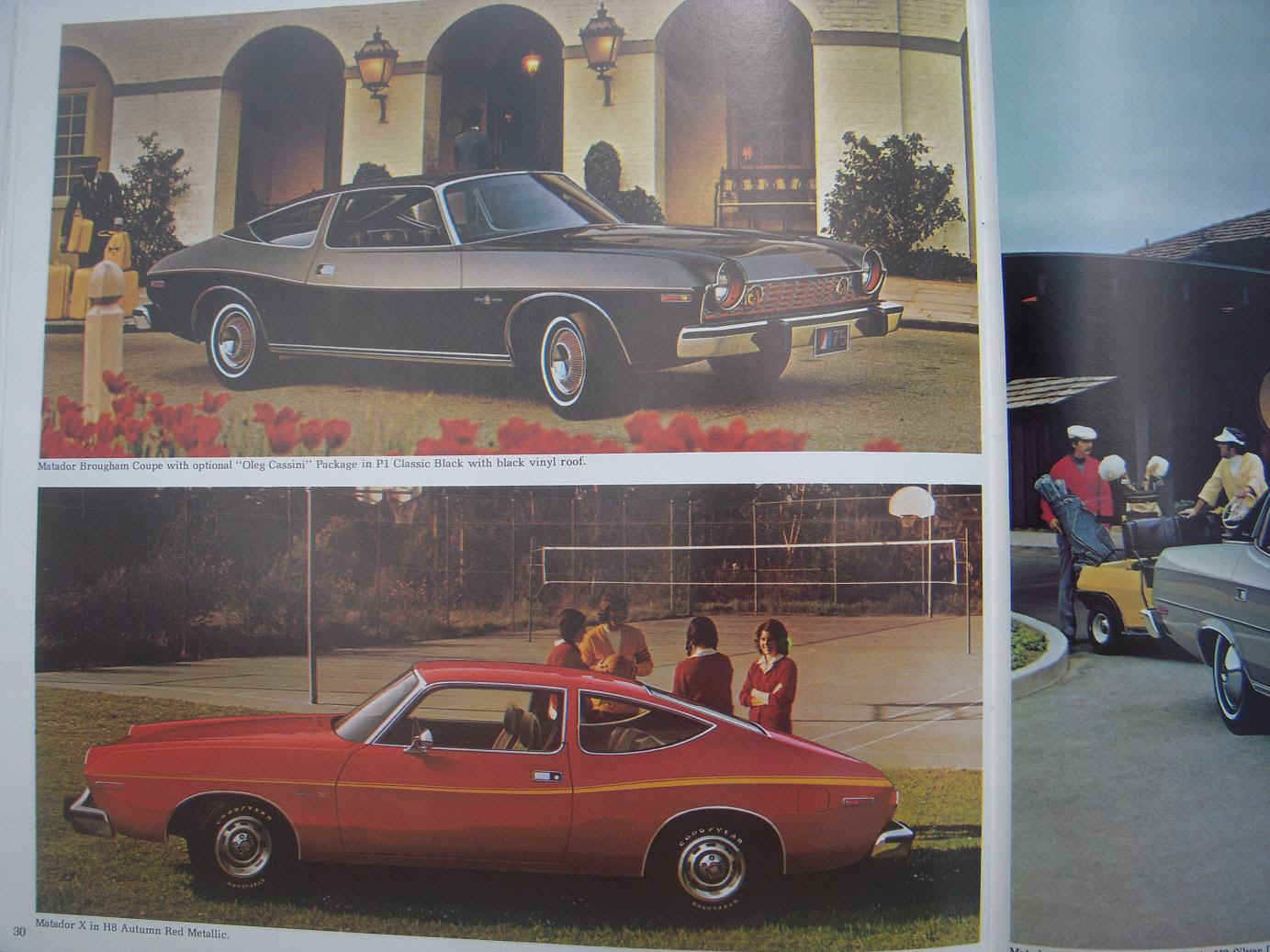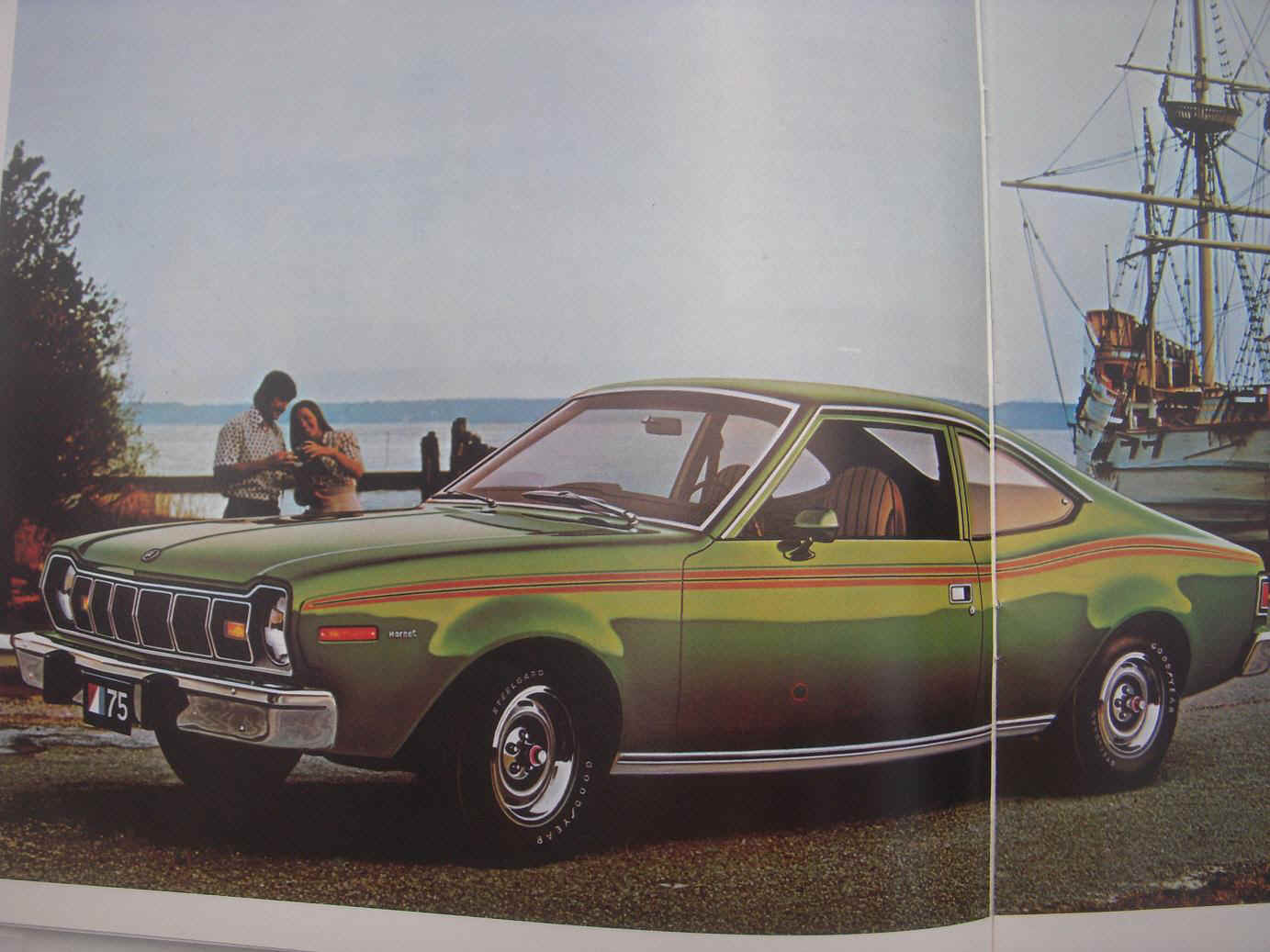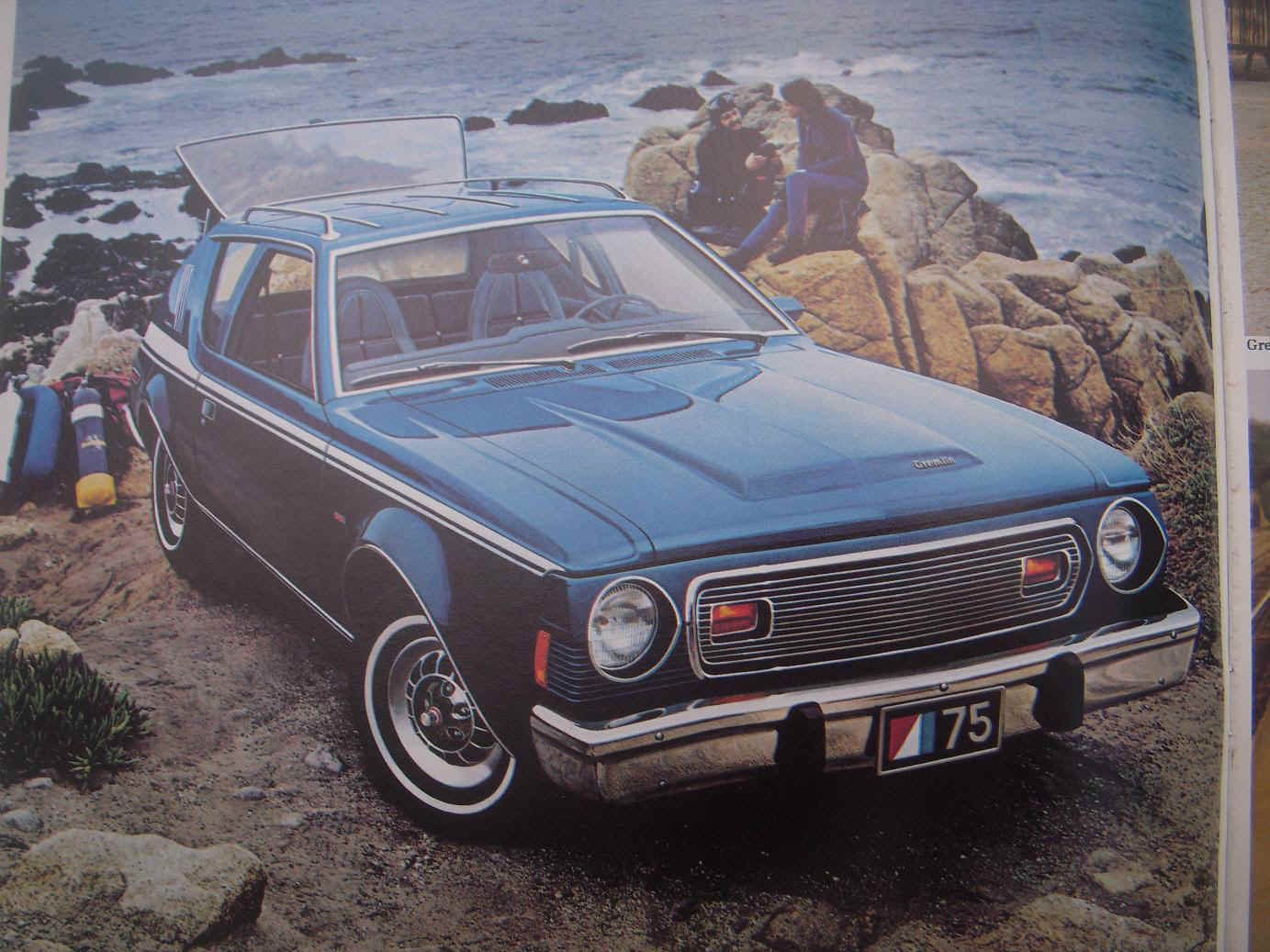 1975 Full line color catalog: *NO PACER*
Everything above EXCLUDING the new Pacer Series. July 1974 printing for release. The reason this one excluded the Pacer was that AMC asked for, and got, a extension from the federal Government to extend production of the 1974 models due to the changing emissions laws. So production of 1974s, which began Aug 1st, 1973 and was supposed to end July 18th, 1974, was pushed into end of November 1974! But AMC needed catalogs for dealers so quickly pushed these out with all Series except Pacer until October 1974 when the "new" catalogs....with Pacer....would appear. Rare book. $15
=================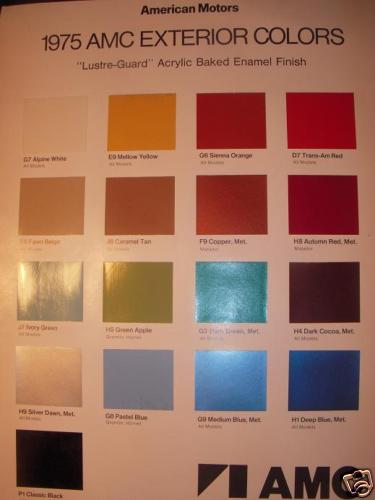 1975 Lustre Guard FULL LINE American Motors paint chart
with real squares of paint! TWO SIDED hard flyer with photos of the models on back! Green Apple, Pastel Blue, Mellow Yellow, they are all here in brilliant color. Warehouse stored since mid 1980s. Excellent addition for one's AMC collection, FRAME it & display it on either your opened glovebox or front seat at shows and events for added judging points or use directly for reference! $5
================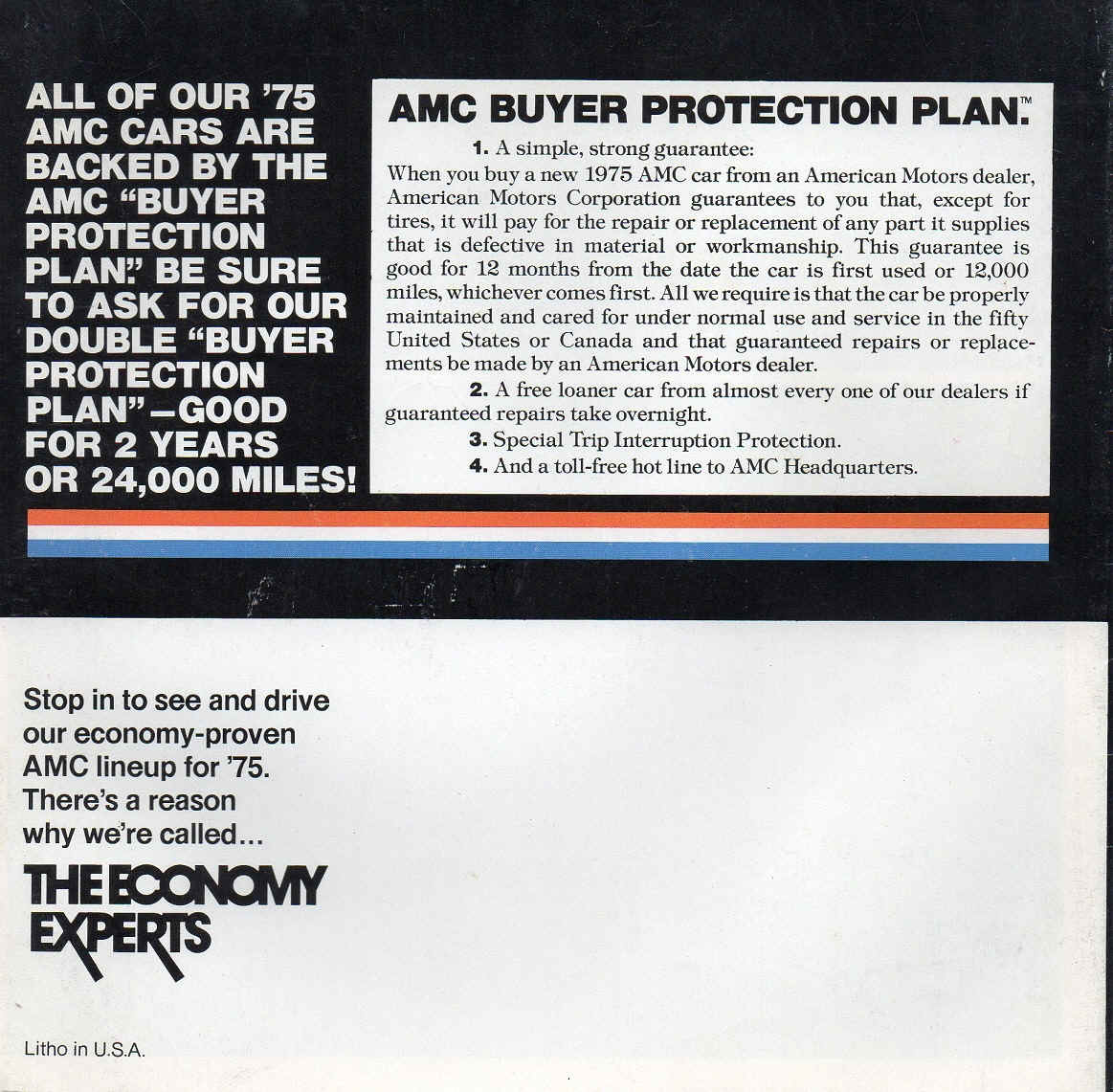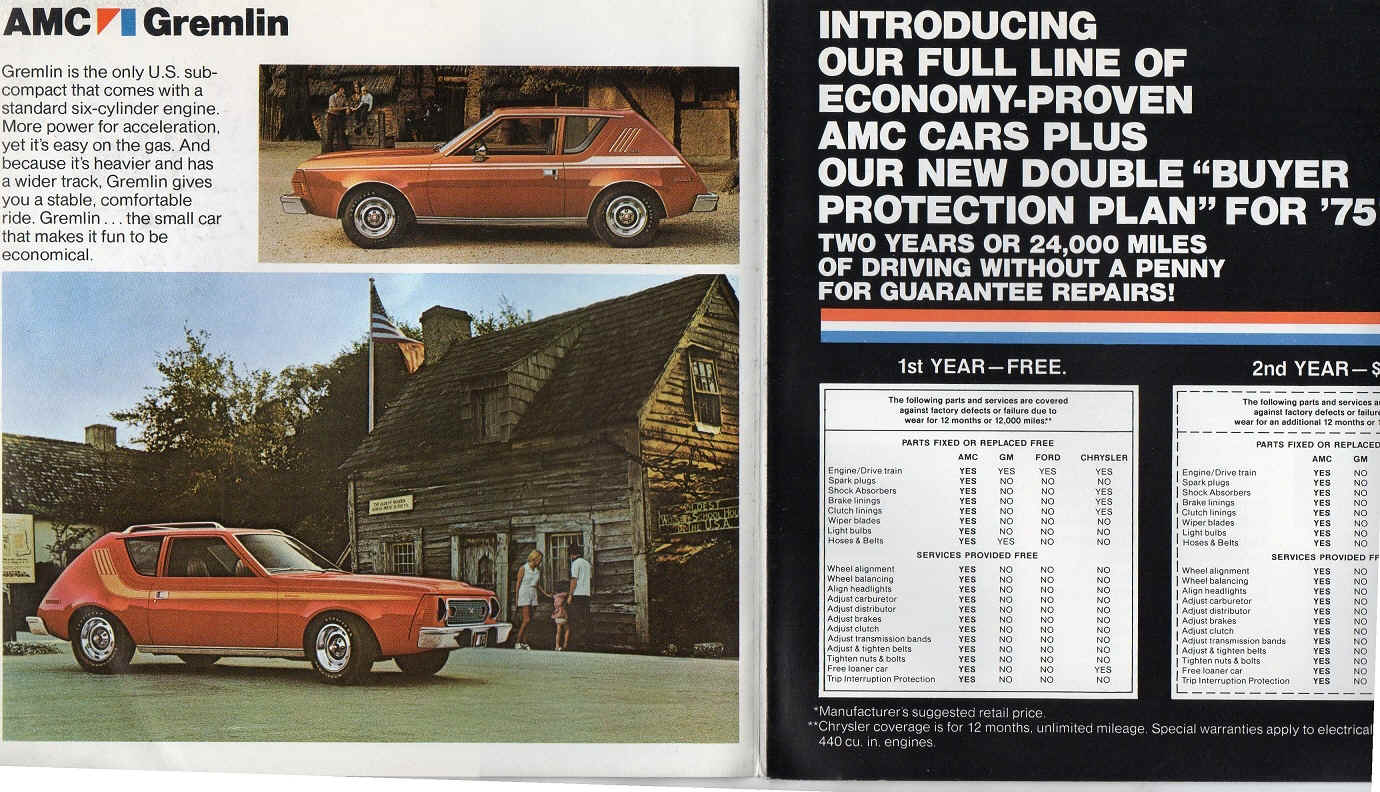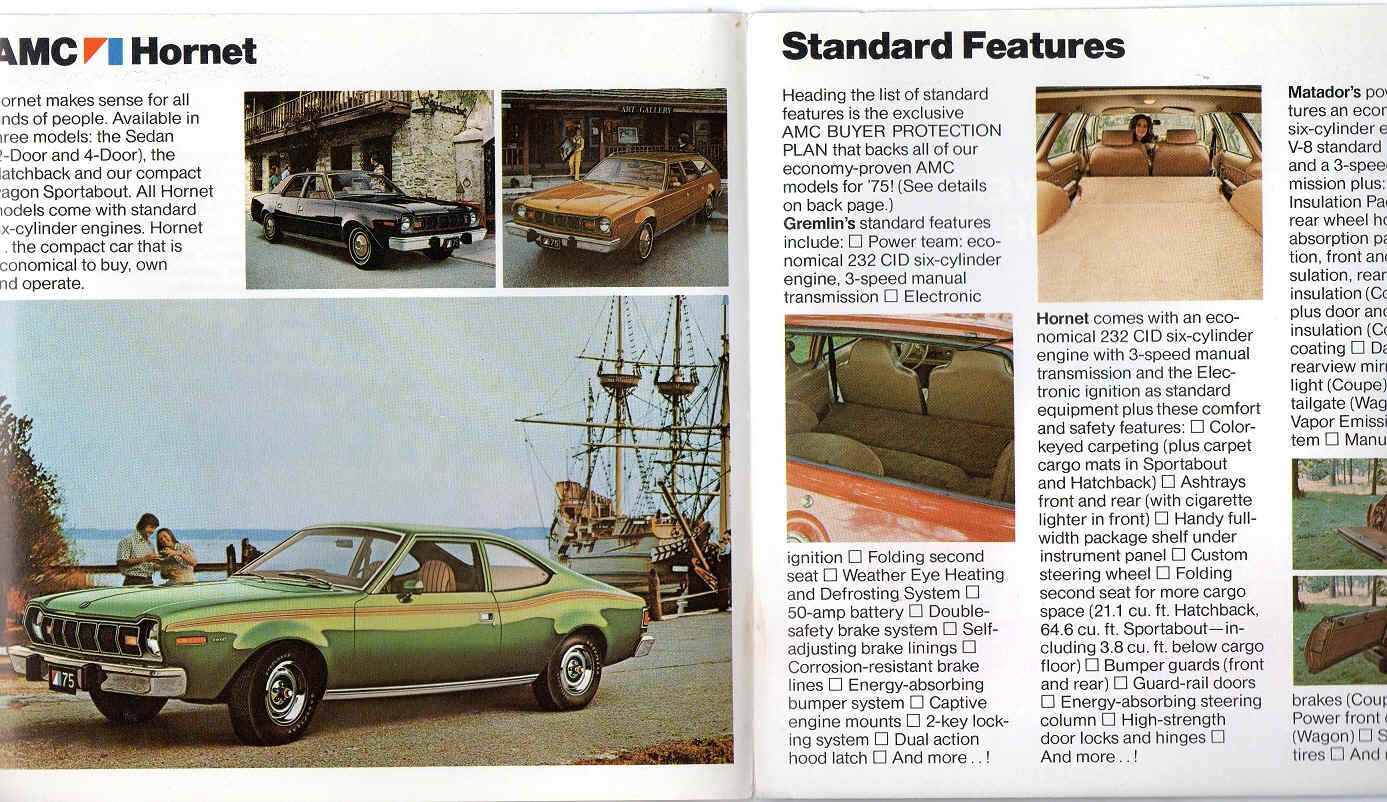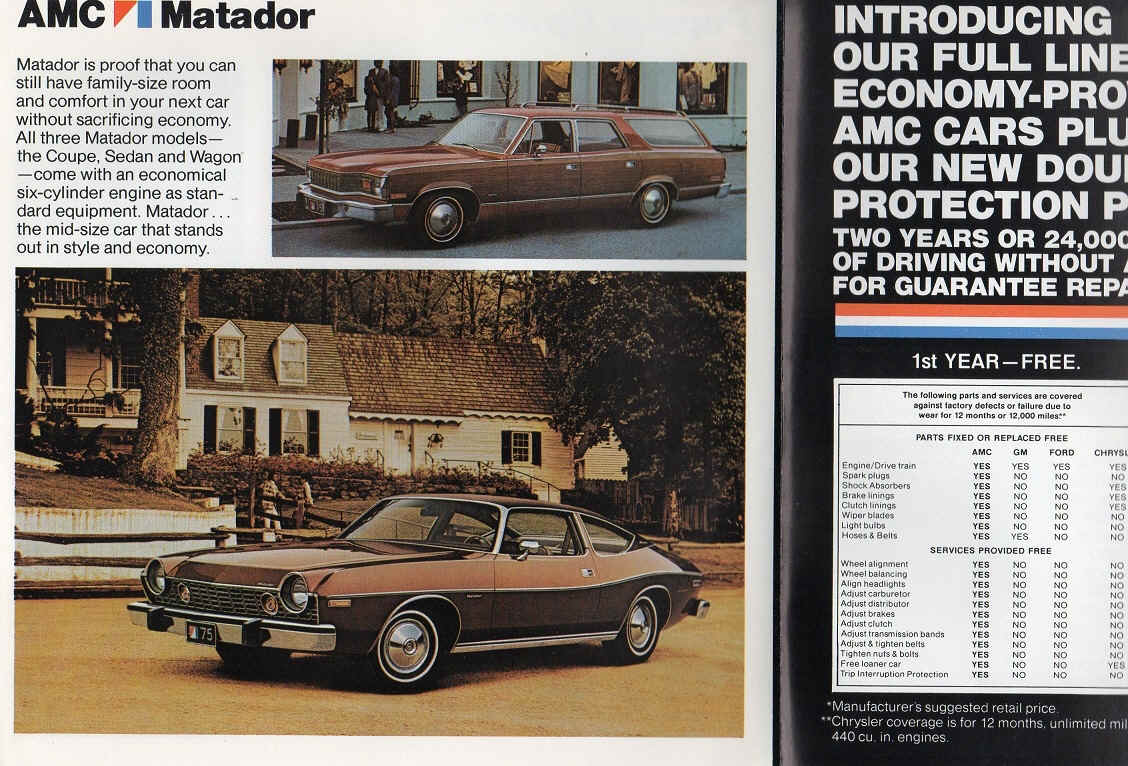 1975 AMC Buyer Protection Plan folder
folds out to a whopping 26 INCHES!! (opened one shown
top, the closed version at bottom). Has some beautiful photos of Gremlin, Hornet, and Matador and also a photo of the Levi's edition interiors available for Gremlin & Hornet. The BPP (buyer protection plan) was a great gimmick for AMC, it offers 2 years or 24K miles free while 2nd year was only $99 more on repairs. This rare little folder would make a excellent addition for one's AMC collection, display it on either your opened glovebox or front seat at shows and events for added judging points or use directly for reference! $5
==================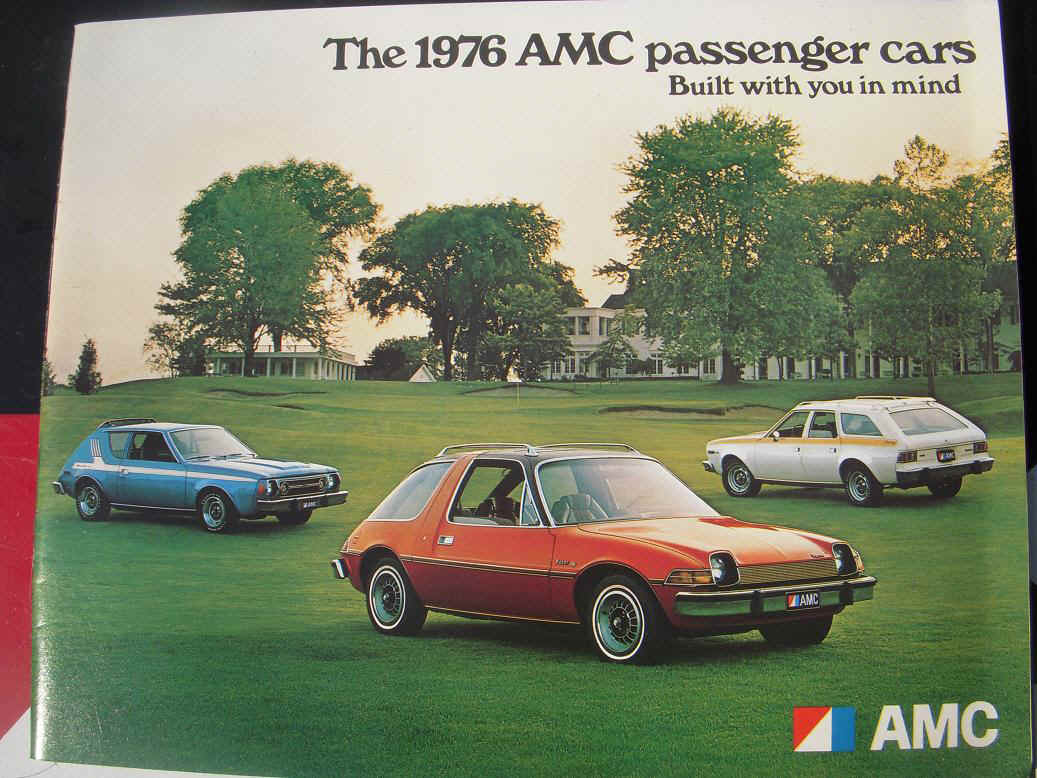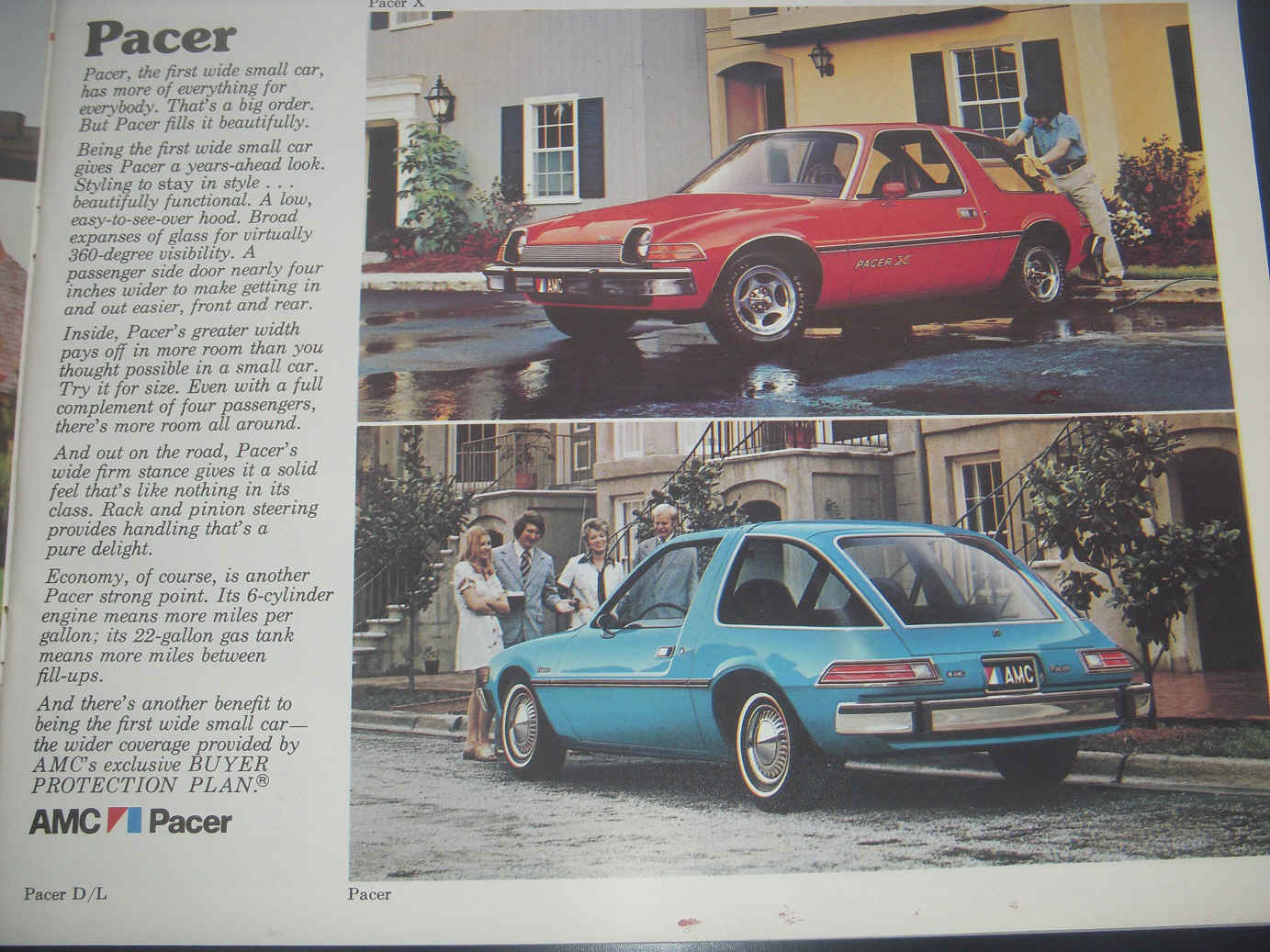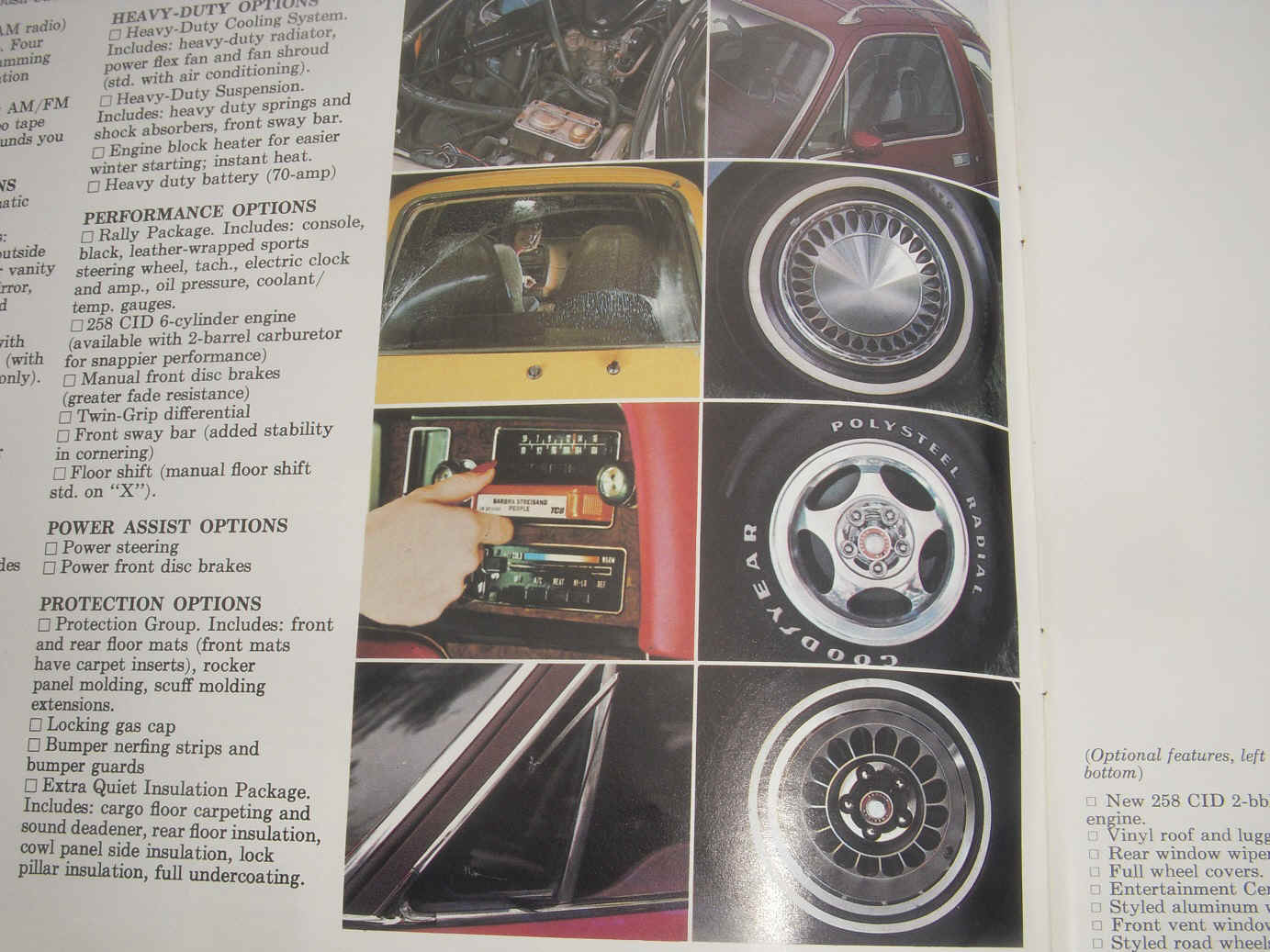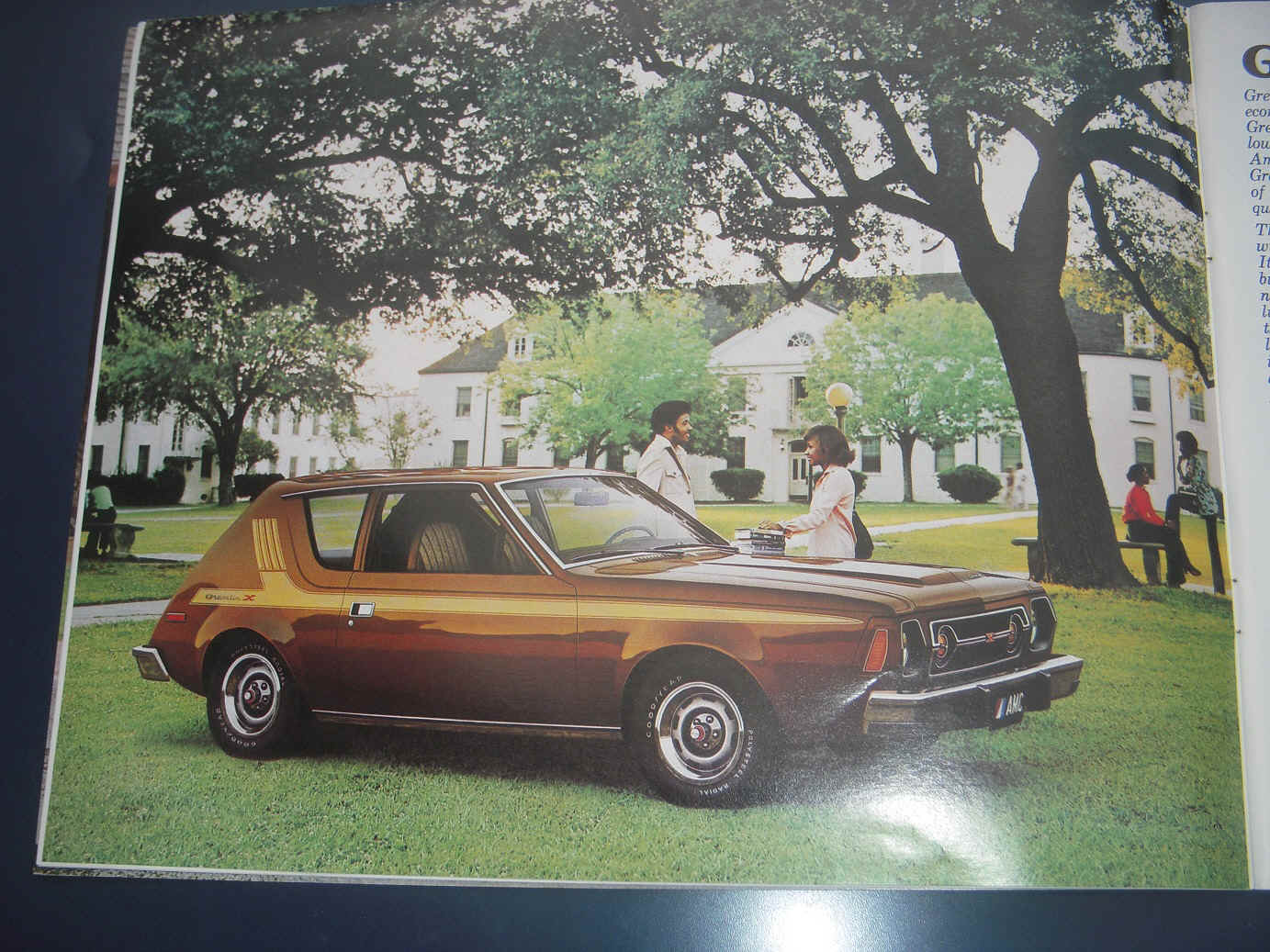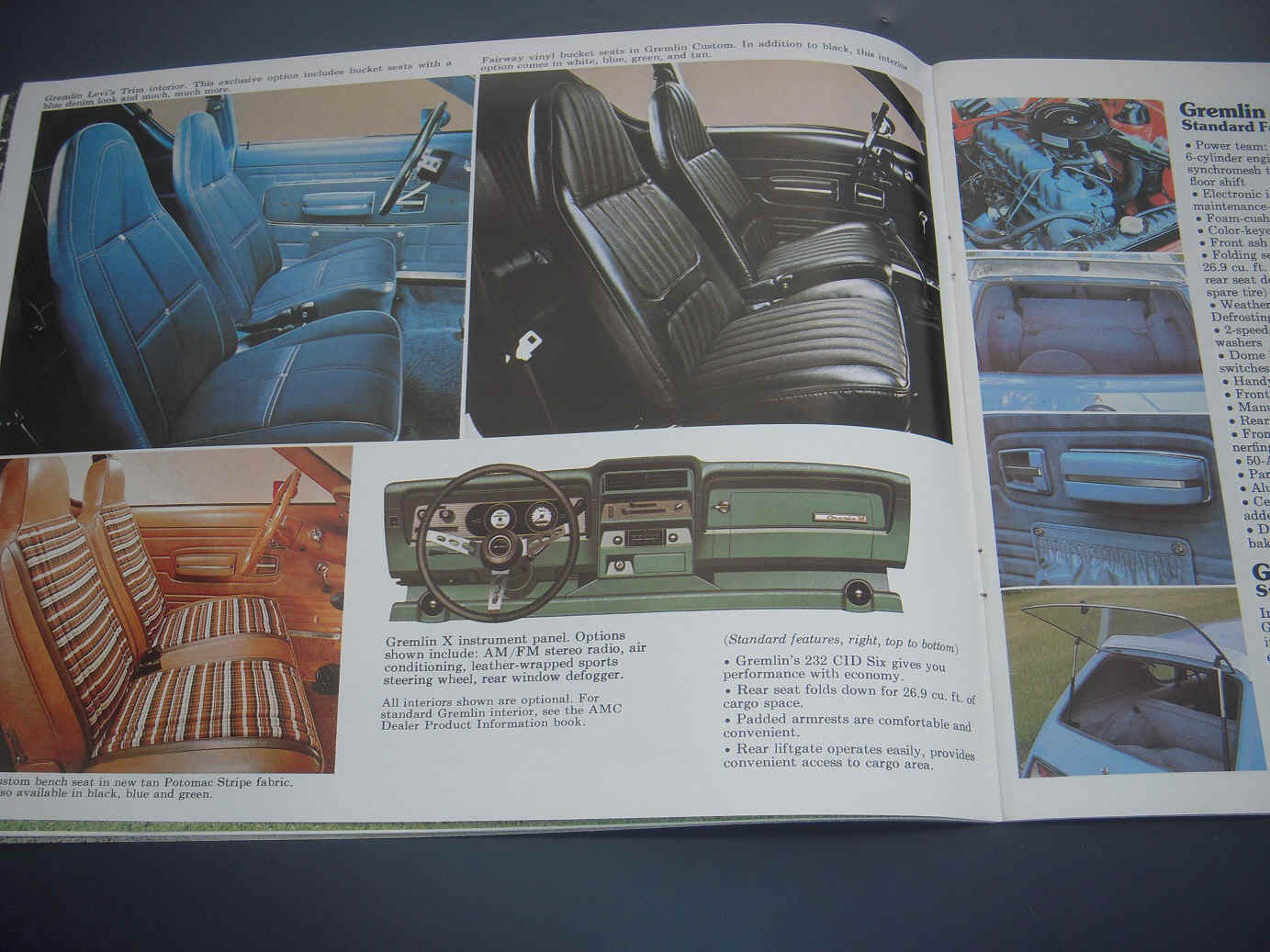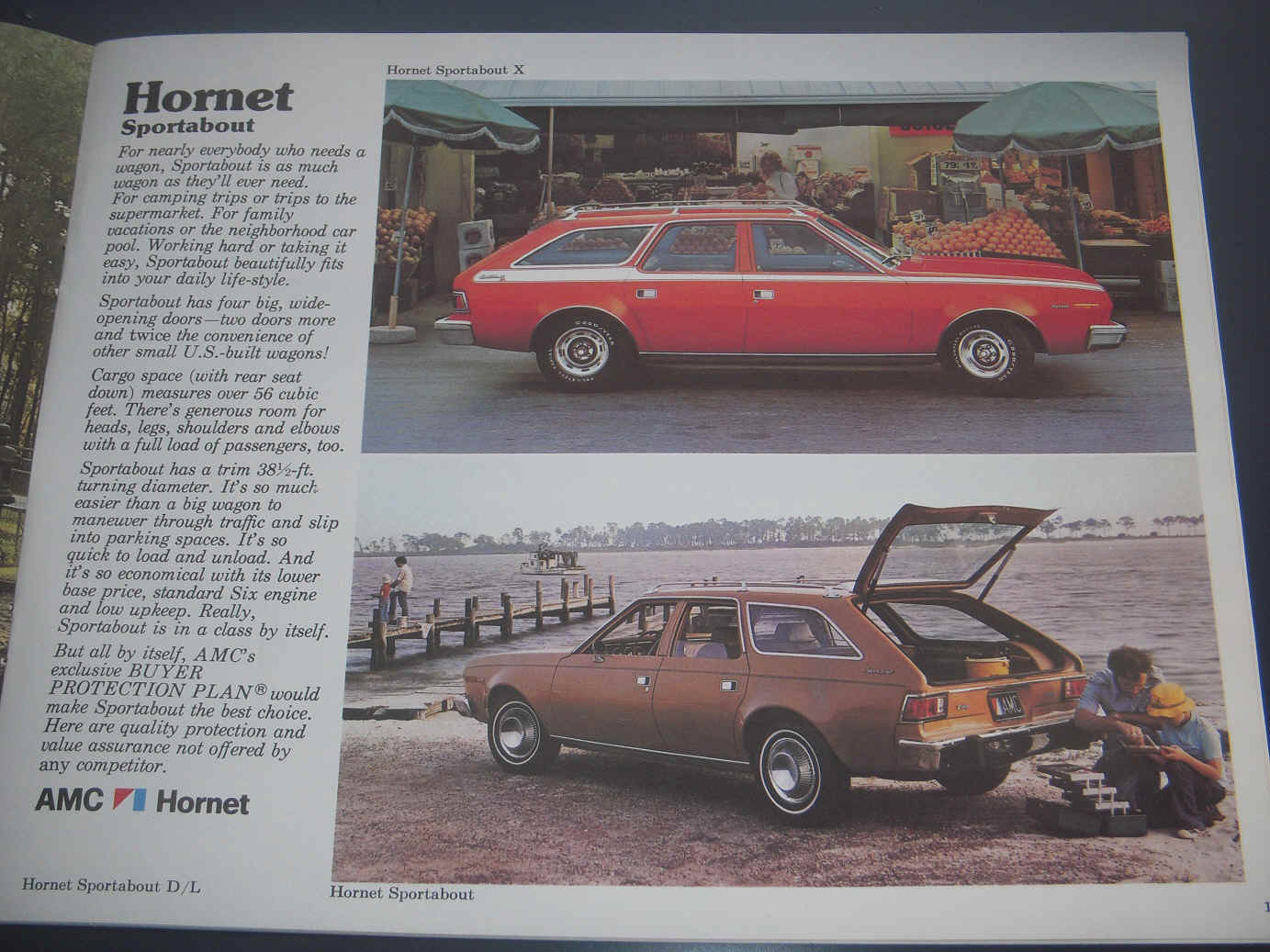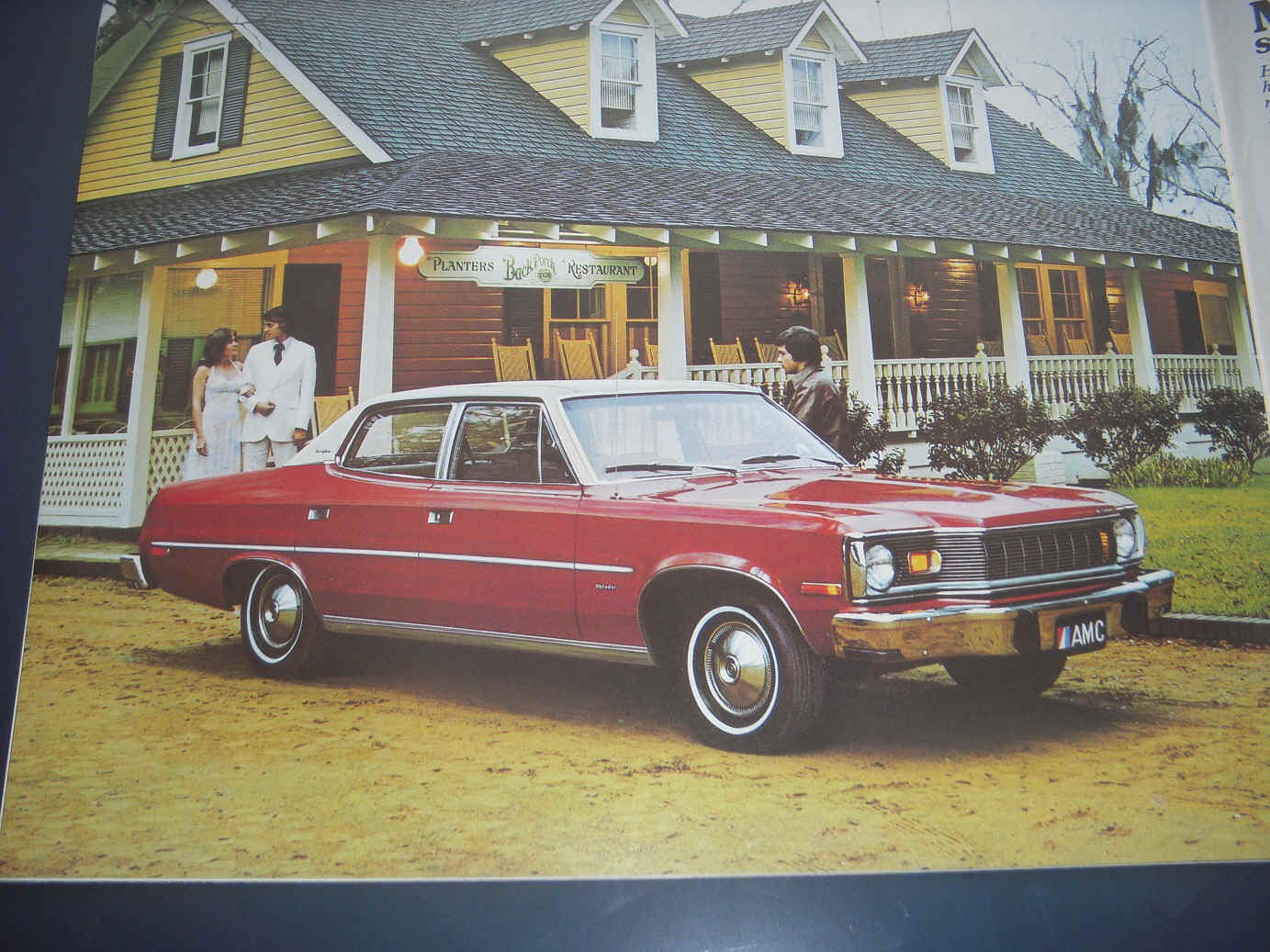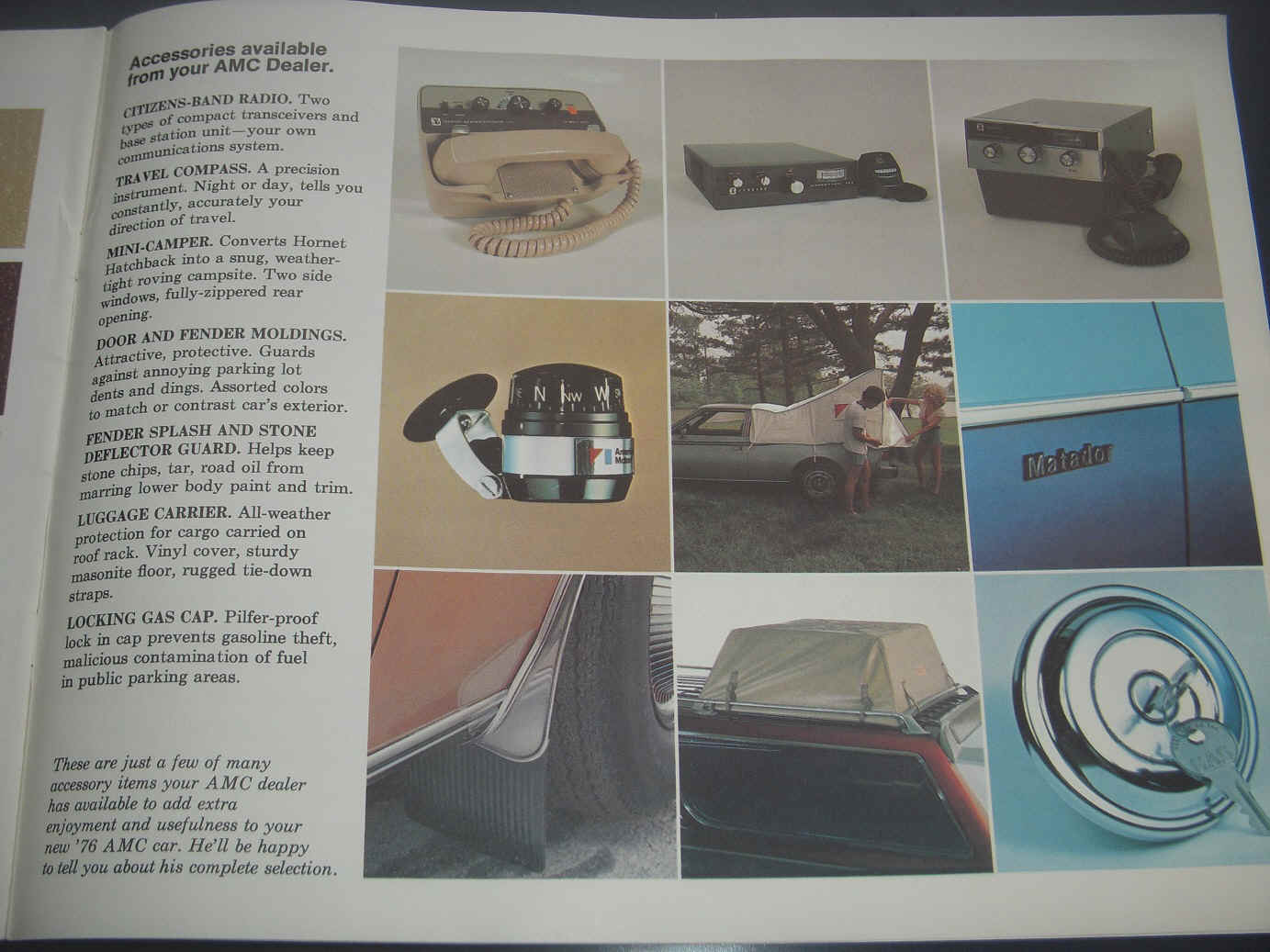 1976 Full line color catalog:
Gremlin, Hornet, Matador, Pacer, Has wonderful photos of all 76 models including Sportabout, X, D/L Series, Barcelona; great looking interior shots include Navajo, Levis and more! Back pages have lots of OPTIONS and GROUP 15 ACCESSORIES! Aluminum rims, compass, locking gas cap, you have to see the CB Radios and Phone photos! $12
================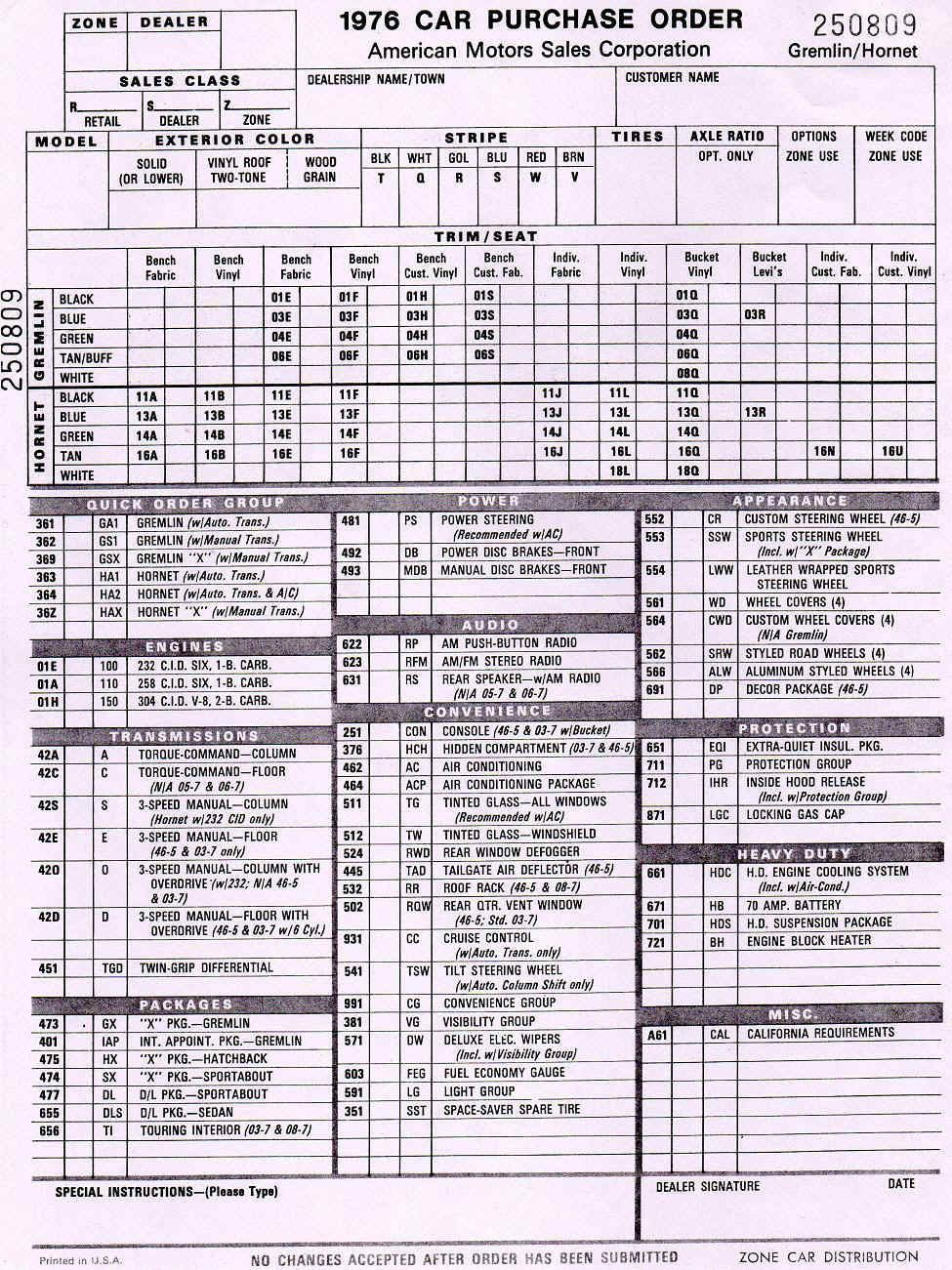 1976 AMC Dealers Order Form Gremlin Hornet Series
Zone Copy; for one's classic Gremlin & Hornet. Has Build Sheet codes (IE: 473=GX "X" package Gremlin; 351=Space Saver Spare; 554=LWW Leather wrapped Wheel, 566=ALW Aluminum Styled Wheels) stripes including Black=T; white=Q; gold=R; Blue=S; Red=W and Brown=V for instance. This little sheet is invaluable if you are trying to decode your AMC BUILD SHEET (most of these codes go back to 74 and up to 77) my recommendation would be to frame and display it with your classic Gremlin or Hornet at
shows and events! $4
====================
AMC Power Book: Rolling Thunder From American Motors (1977)
A reproduction copy of my original AMC Power Book, this is a 'how to' book for those AMC fans who like to do it themselves, articles like: 68 AMX; 69 Hurst SC/Rambler; 70 Hurst Rebel Machine; 290-401 Basic Performance Tips; CARS Magazine Project Super Javelin; 302 Trams Am Specifications; How To Build A Hot Stock 343; How To Build A Super Street 370; How To Build A 390 Enduro Motor; Pro Stock Engine Combinations; How To Blueprint 390 Heads; Grant's Blown Fuel Funny Rebel; AM Factory Speed Equipment Guide (Group 19 Illustrated w Part #'s). 50 pages. A copy of my original which will pay for itself the first time you use it. $15 free shipping in US, $2 to Canada, overseas slightly higher.
=====================


1977 Full line color catalog.
All your favorite model AMC vehicles for model year 1977. A interesting year as this was the LAST YEAR of the Hornet, which had carried AMC thru the 70s, including the top selling Gremlin, which is also featured, this was the ONLY YEAR of the Hornet AMX, of which no one knows how many were made (there is a 77 Hornet AMX Registry, se 'Registries' on my site; the Pacer; this was THE FIRST YEAR FOR Pacer wagons, and there are photos of those like the Yellow and Red ones; Vinyl roofs on Pacer, ever see one? There is a photo of that option, tons of options like CB radios, aluminum wheels, consoles, 'Hot Scotch' and "Levi's Editon" interiors along with the fabulous Barcelona interior, compasses, air compressors, ski racks, fender splash guards and of course a full color paint chip chart. $12/SOLD OUT
=================
1977 AMC Dealership Group 15 Accessories list.
Although many of the AM Part Numbers would be same for 1976 thru 1979. It's all here.....DESCRIPTION....APPLICATION......GROUP 15 ACCESSORY NUMBER.....also has Quantity ordered (it was for Dealers you know) DEALER NET! Radios including CBs by AMC Suppliers Johnson and Kraco; Antennas, speakers, American Air AC systems, Batteries, moldings, floor mats, locking gas caps, wheel covers, license frames, bumper guards, cooling system recovery, engine block heater, roof rack & moldings, vinyl luggage carrier, ski racks, compass, travel towing mirrors, air lifts, load carriers, and power disc brakes. All models with volumn discount for dealers: IE: Pacer AM/FM Stereo radio with tape player, order 1-4 they are $237.65, 7-19 $225.75; 20-34 units $213.90 and 35-up only $190.10 per radio! Excellent for reference. UNSTAMPED by Dealership. $5
================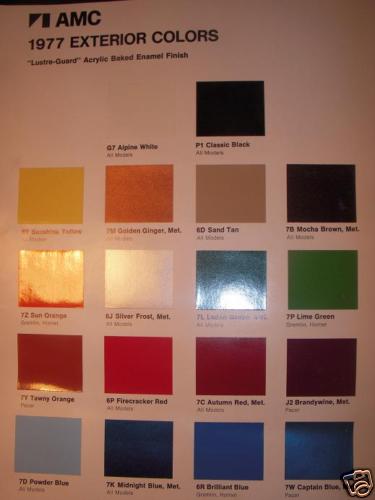 1977 Lustre Guard FULL LINE American Motors paint chart
with real squares of paint. Lime Green, Sun Orange, Powder Blue, they are all here in brilliant color. Warehouse stored since mid 1980s. Mocha Brown has tiny imperfection as shown. Excellent addition for one's AMC collection, FRAME it & display it on either your opened glovebox or front seat at shows and events for added judging points or use directly for reference! $5
================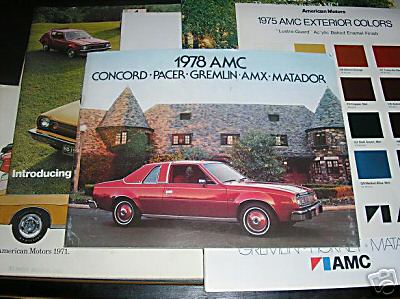 1978 Full line color catalog:
Another significant year catalog for American Motors: this is the FIRST YEAR of the NEW Concord; the LAST YEAR of the Gremlin, the LAST YEAR of the Matador, including Barcelonas and ONLY YEAR of the Barcelona four doors and wagons; the ONLY YEAR of the Concord AMX, the FIRST YEAR of the Pacer with 304V8, the ONLY YEAR of the Gremlin GT make this one for your collection as it is packed with photos, accessories list, options list, paint chip chart. $12
================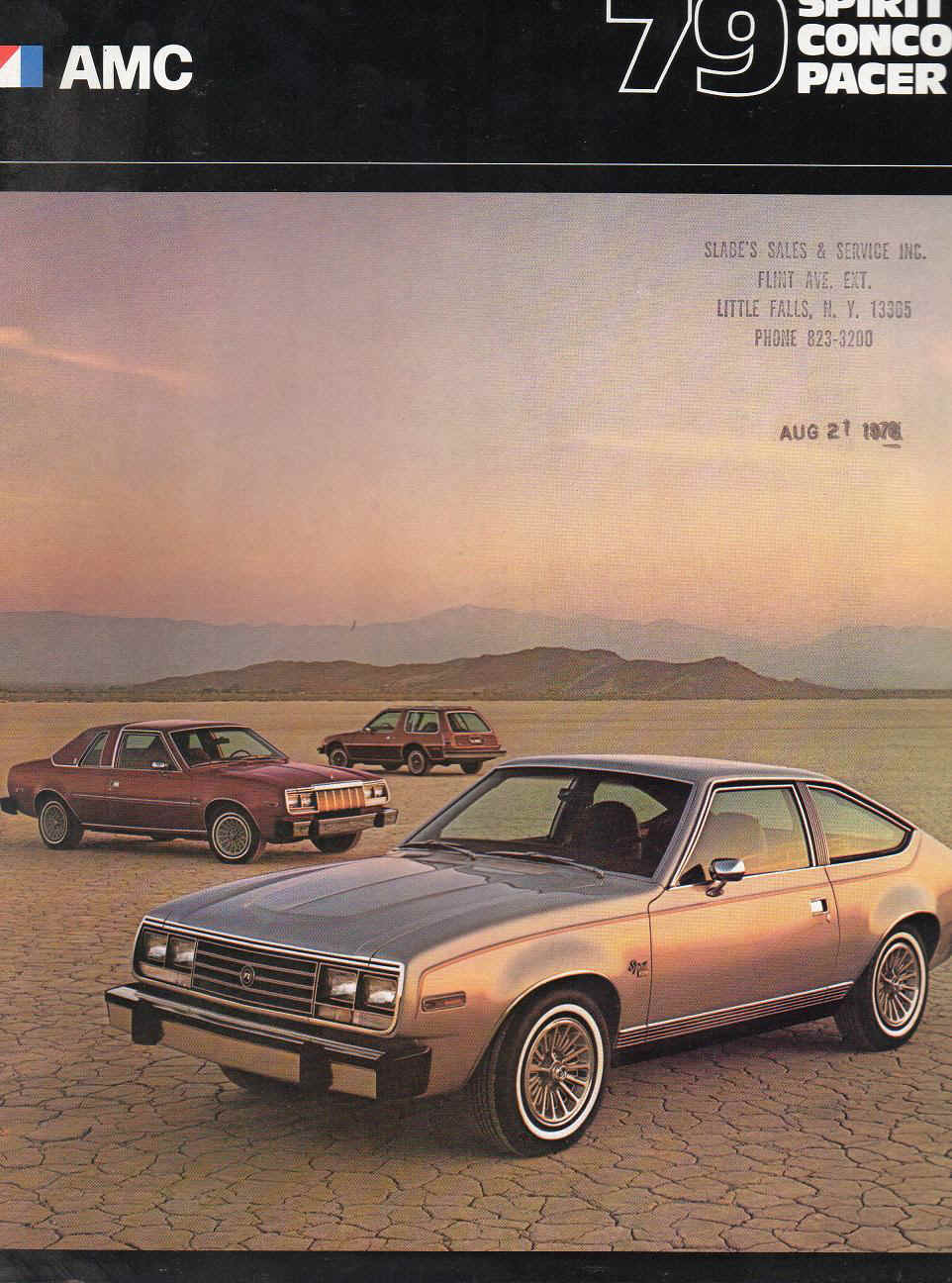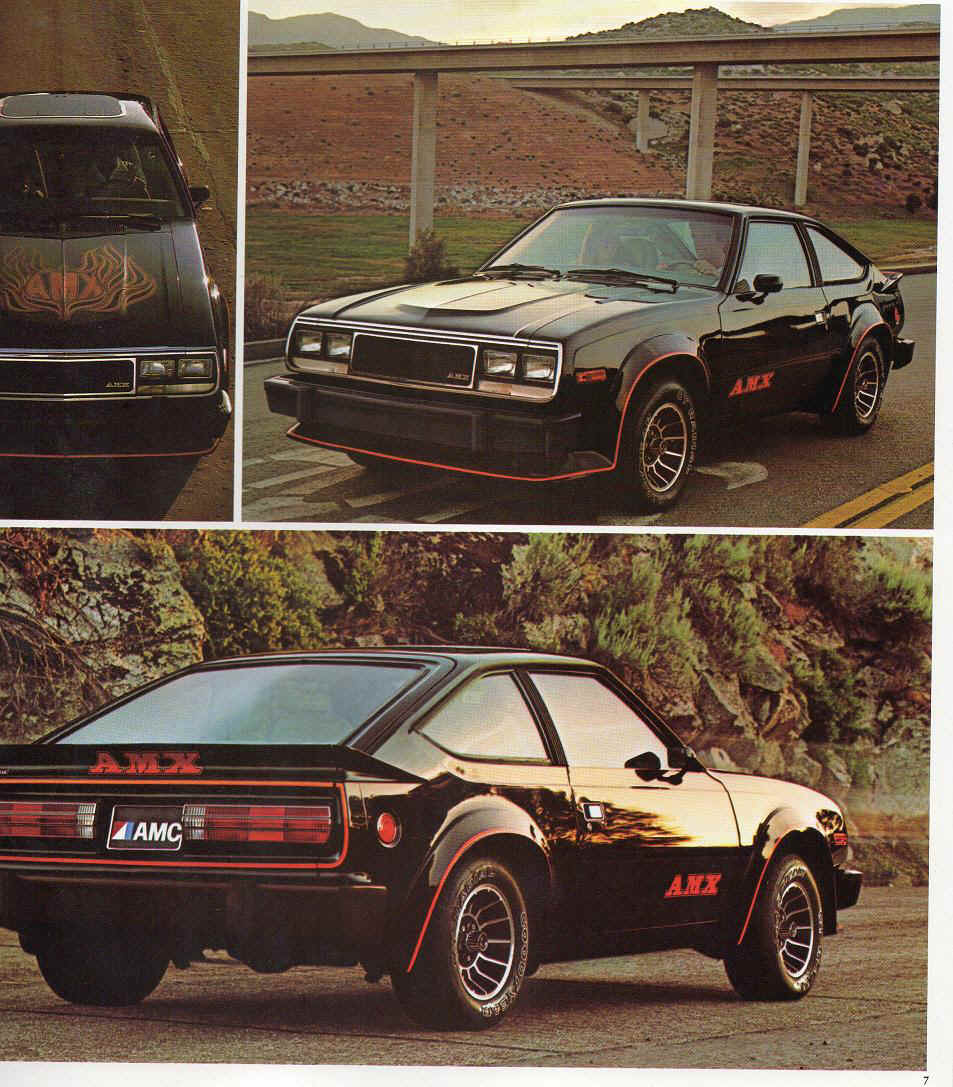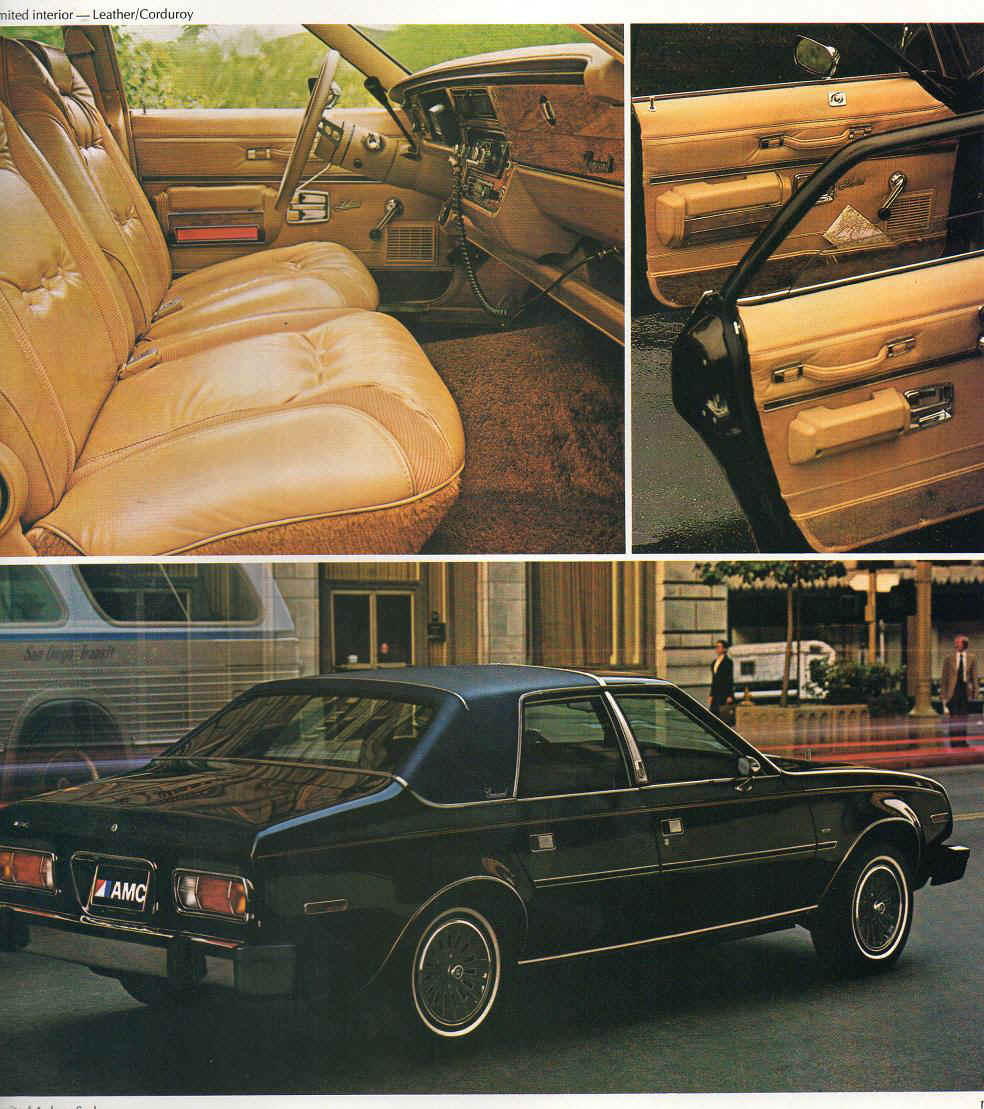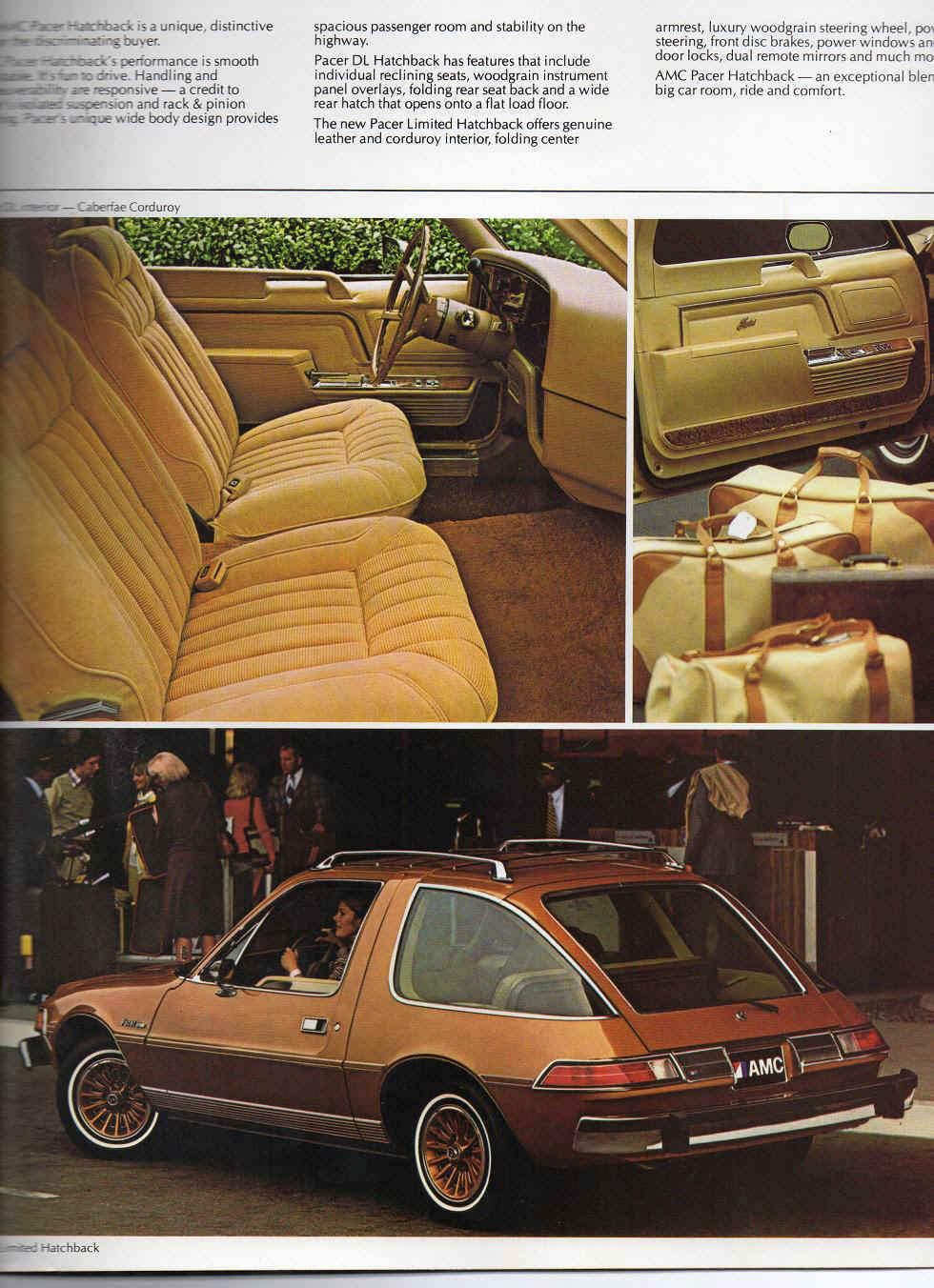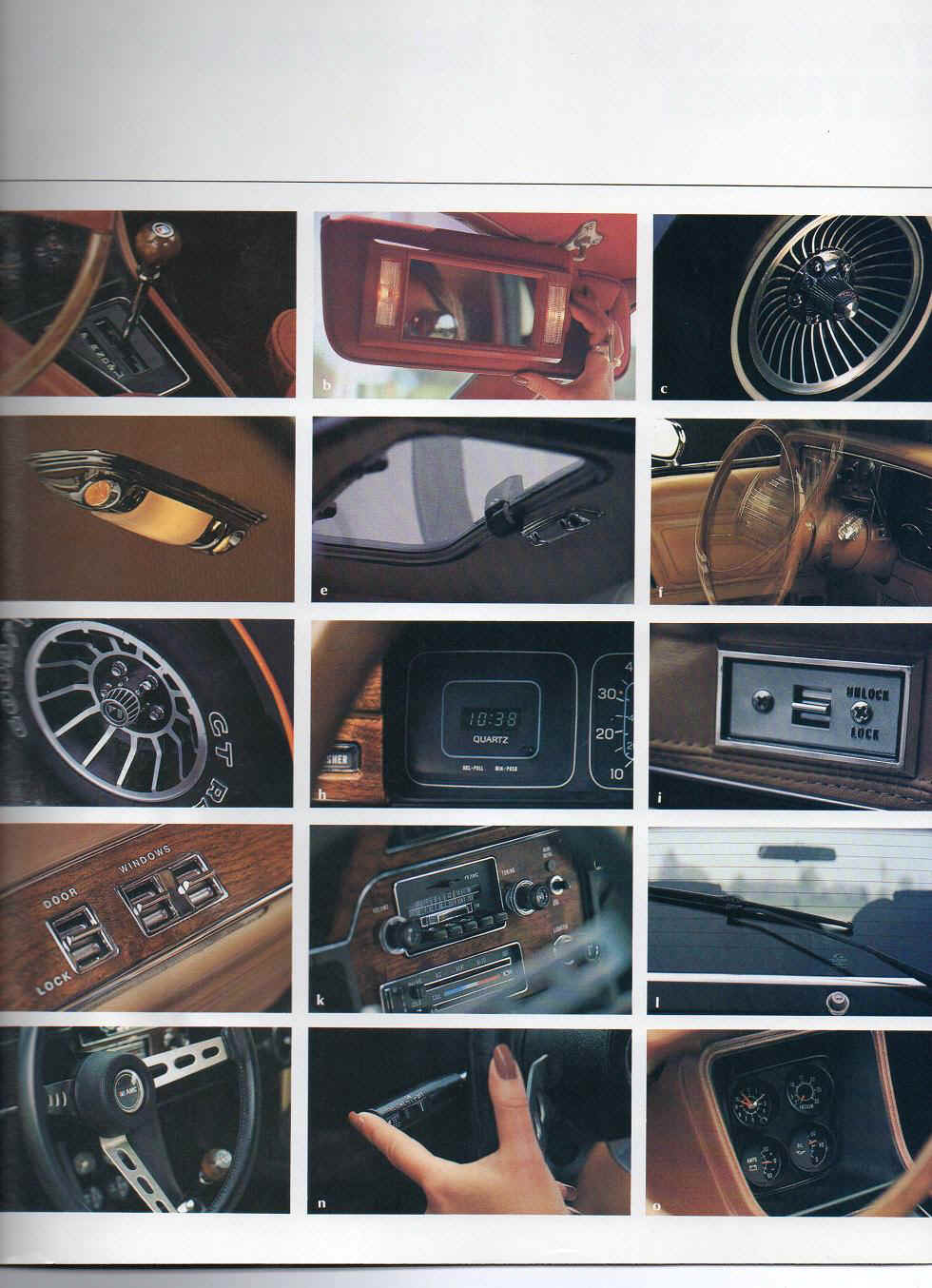 1979 Full line color catalog:
A NOS color catalog for model year 1979 from AMC. THE LAST YEAR FOR A AMC V8 IN THEIR VEHICLES. This was THE FIRST YEAR FOR THE SPIRIT, including the strange looking hybrid sedan, some call Kammback, which looks like a 1/2 Gremlin, 1/2 Spirit. The LAST YEAR V8 AMX is shown in it's full glory, as is the Pacer including the wagons, and the hot selling Concord models. All sub models are shown like D/L. One of the most beautiful stylish designs ever to roll out of Kenosha was the 73 Hornet hatchback. Later it would be replaced be the 78 Concord hatchback. 1979 was the LAST YEAR of that and it is a wonderful blue photo in here with the over the roof Targa band. Tons of options with photos in backlike sunroof, turbine rims, electric locks and windows, Rally Pack gauges, Leathergrip steering wheel, tilt, radios and more; also a large options list, standard features, specifications chart, and a AMC Paint Chip Chart. $12
=================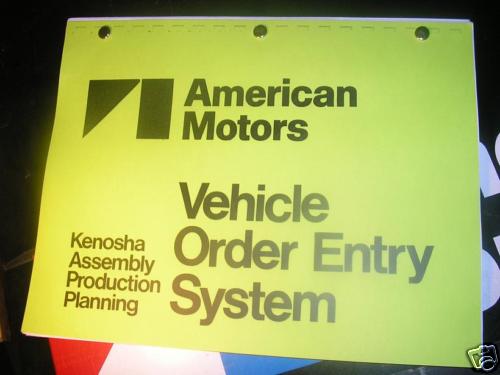 Kenosha Assembly Book: Corporate & Dealers (early 1980s)
Kenosha Assembly Book Follow the trail of how when one ordered a vehicle, how it was assembled...from raw materials ordered to middle of production changes, high rate/low rate, to how Chicago & Northwestern hauled by train your new AMC to other carriers like Chessie System, Missouri Pacific, Kansas City Southern, then onto the AMC Zones from Albany, NY, to Houston, TX to Miami FL to Seattle, WA and beyond, then onto trucking companies like Macks and United transports. You will find out how American Motors BUILT a car from the East/West Line to steering column, engine inspection, front axle, rear axle, to seat cushions, and more, at the Main plant or Lakefront! The only illustrations are many factory illustrations like you see here showing how simple...but complex....it was to build these great cars. You will learn more about how your AMC was built by this book than any other out
there. This book was for Corporate heads and Dealers ONLY, and is a book few people have seen and has a in depth behind the scenes of how AMC worked in the many departments. It is extremely fascinating no matter how much you know about AMC....few knew how AMC actually WORKED. About 100 pages with illustrations. Includes: Assembly Production Planning; Vehicle Distribution; Kenosha Vehicle Distribution; Kenosha Data Center; Assembly Production Planning: Scheduling control Broadcast (Frame-Trip-Final); Vehicle Shipping; Shipping destinations; Scheduling Control/Free Flow; Kenosha Data Center/Daily Manufacturing Update; Vendor Release. $15
===============

1980 AMC Full line color catalog: (Nov 79/NO AMX & PACER)
NO AMX OR PACER as both of these slow sellers had already been given the axe by AMC. FIRST YEAR EAGLE, also shown in full color are Spirit including sub models like Kammback, and Concord, inc. D/L editions. Full paint chip chart, options, ect. Same cover as below just no Pacer or AMX. $12
================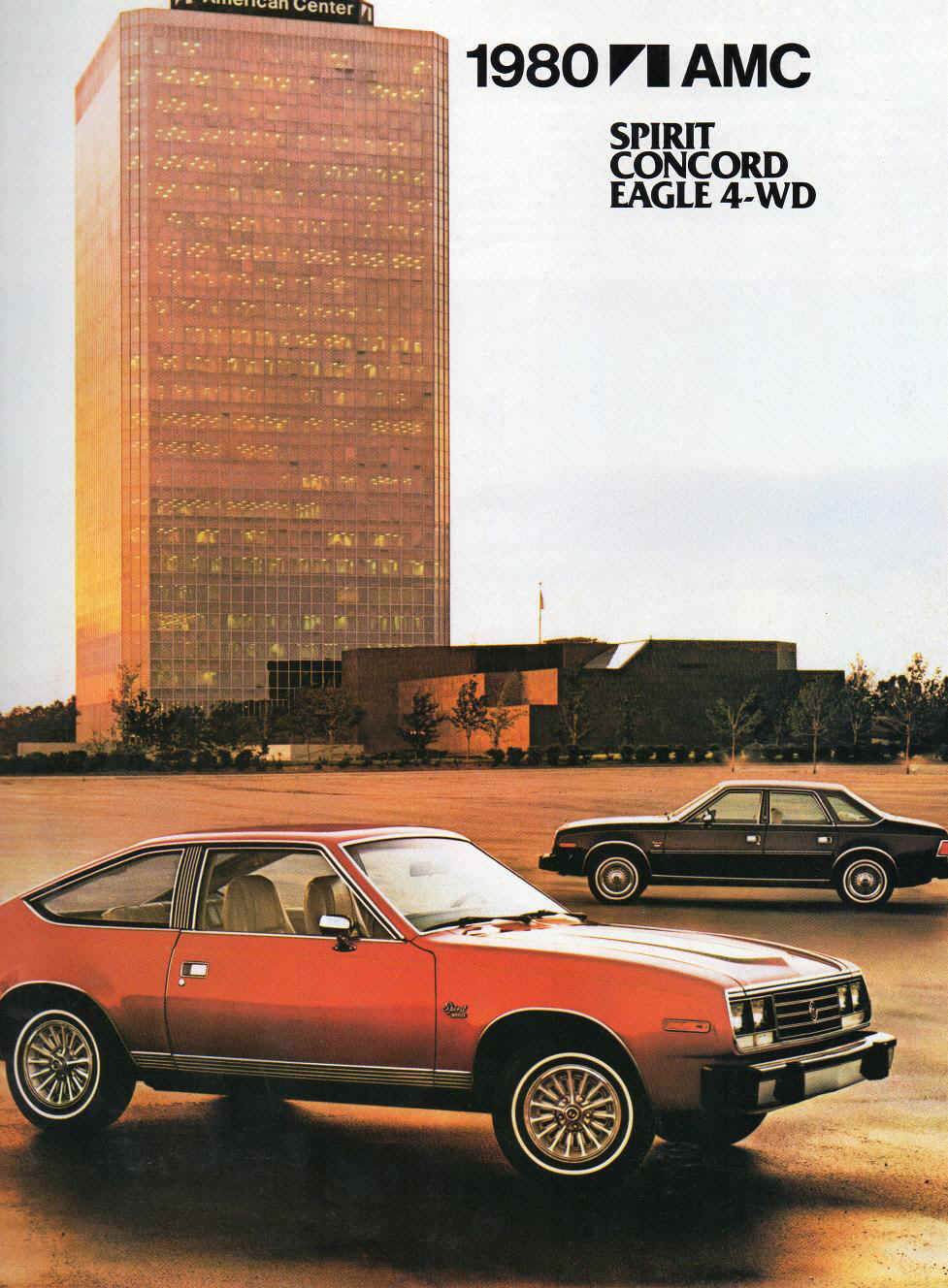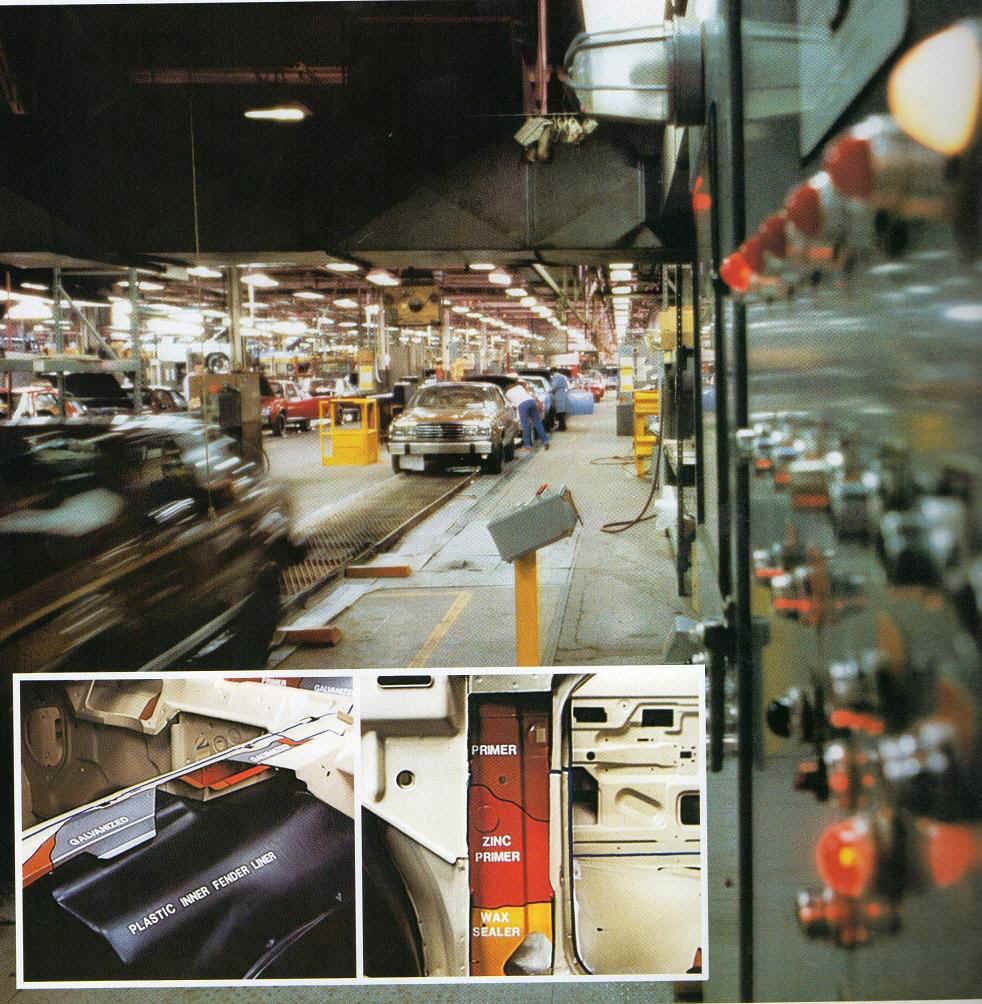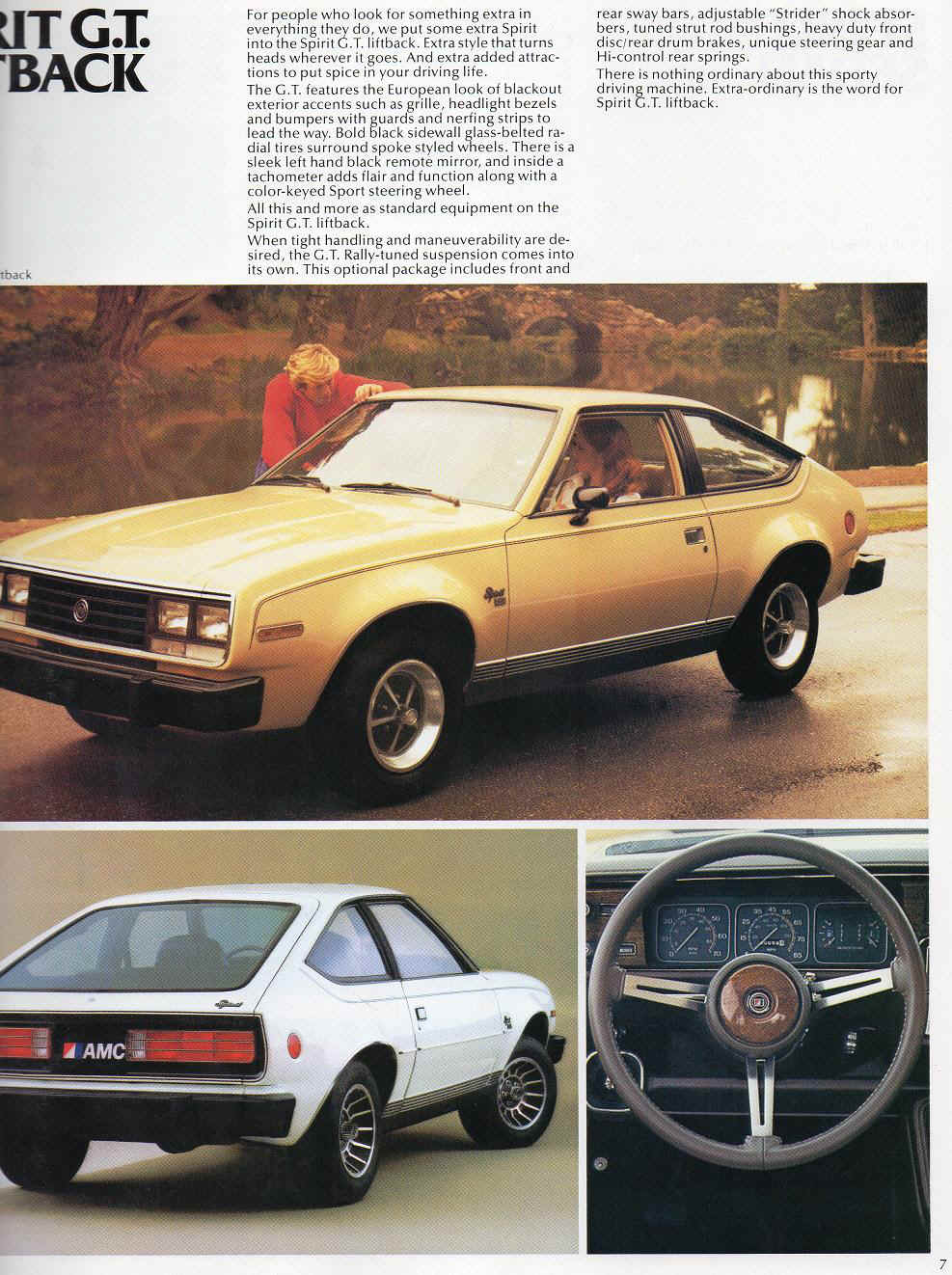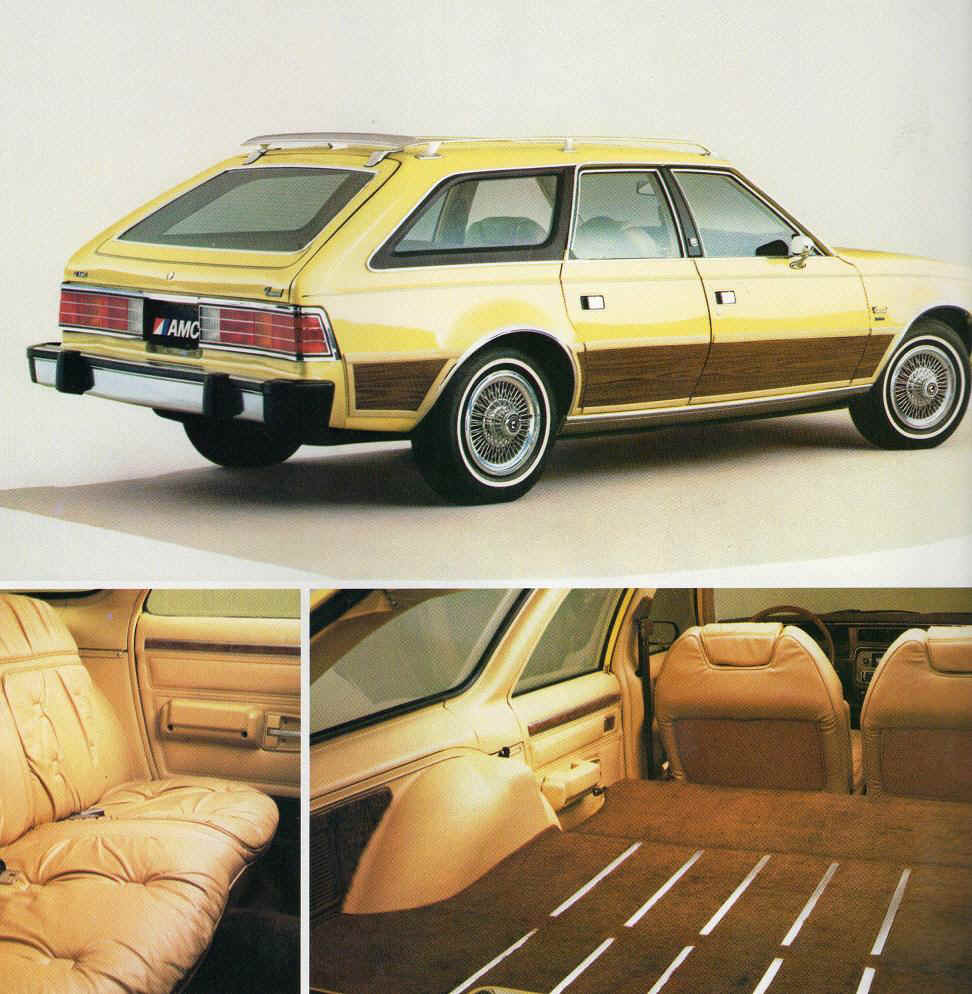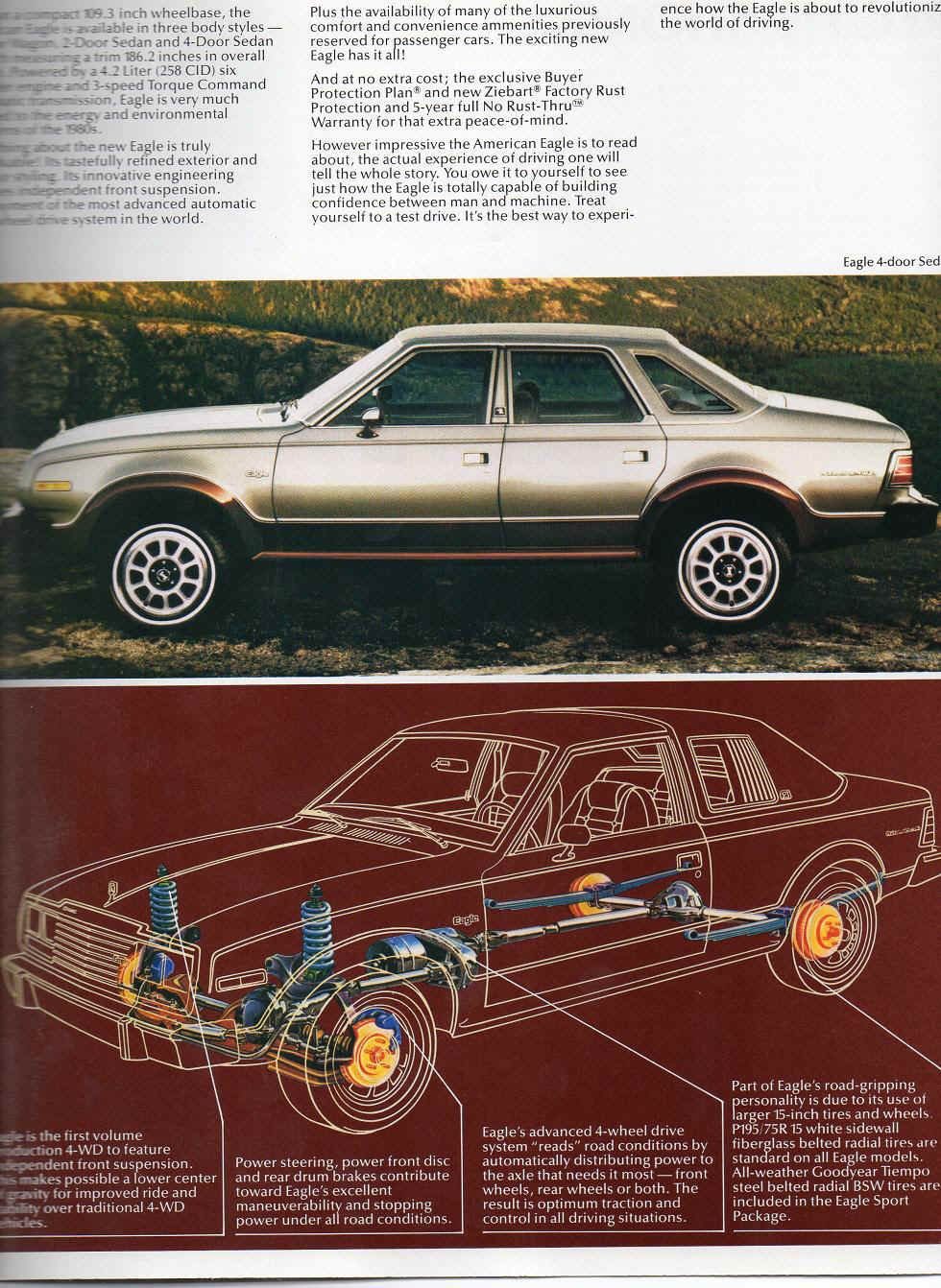 =================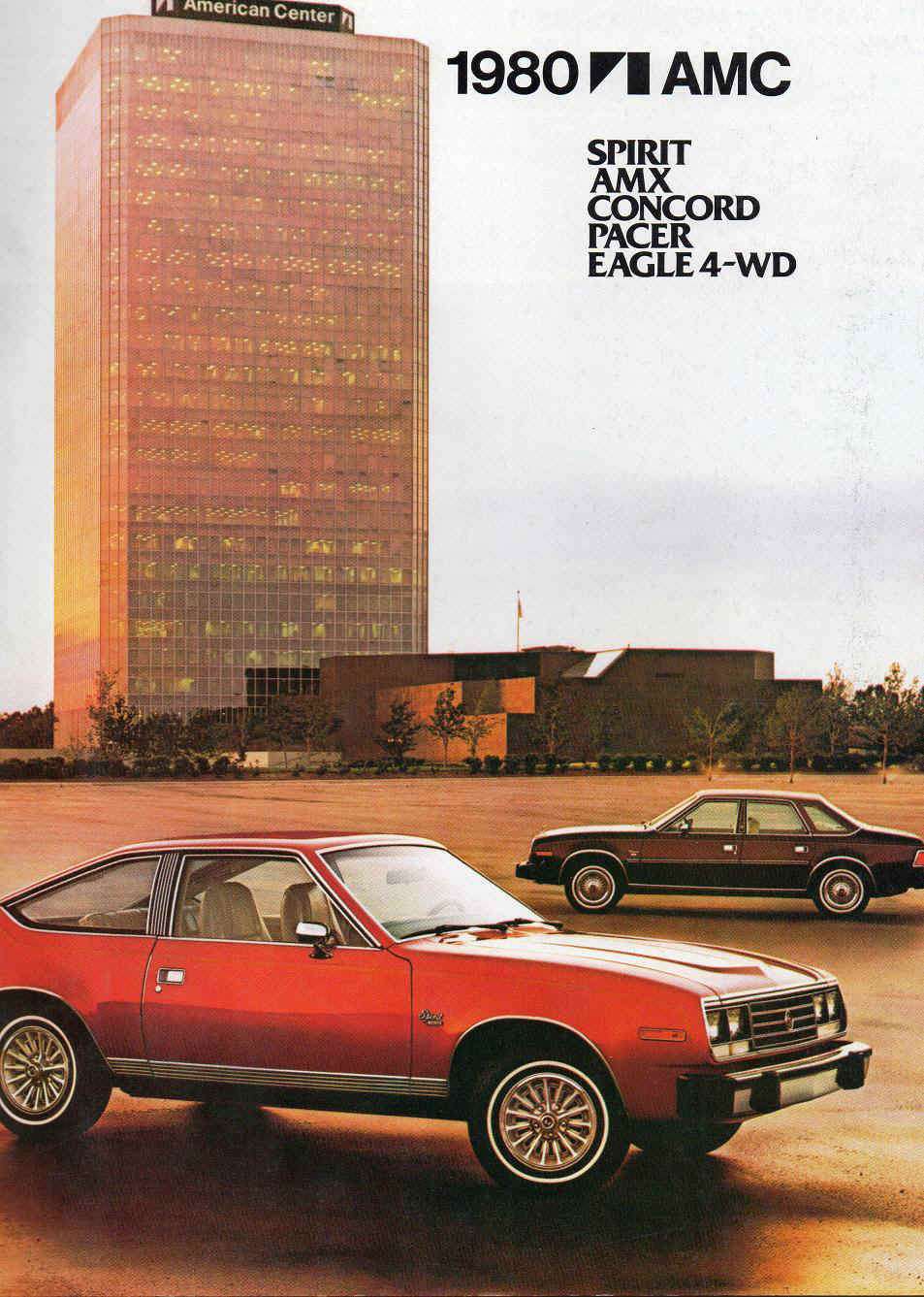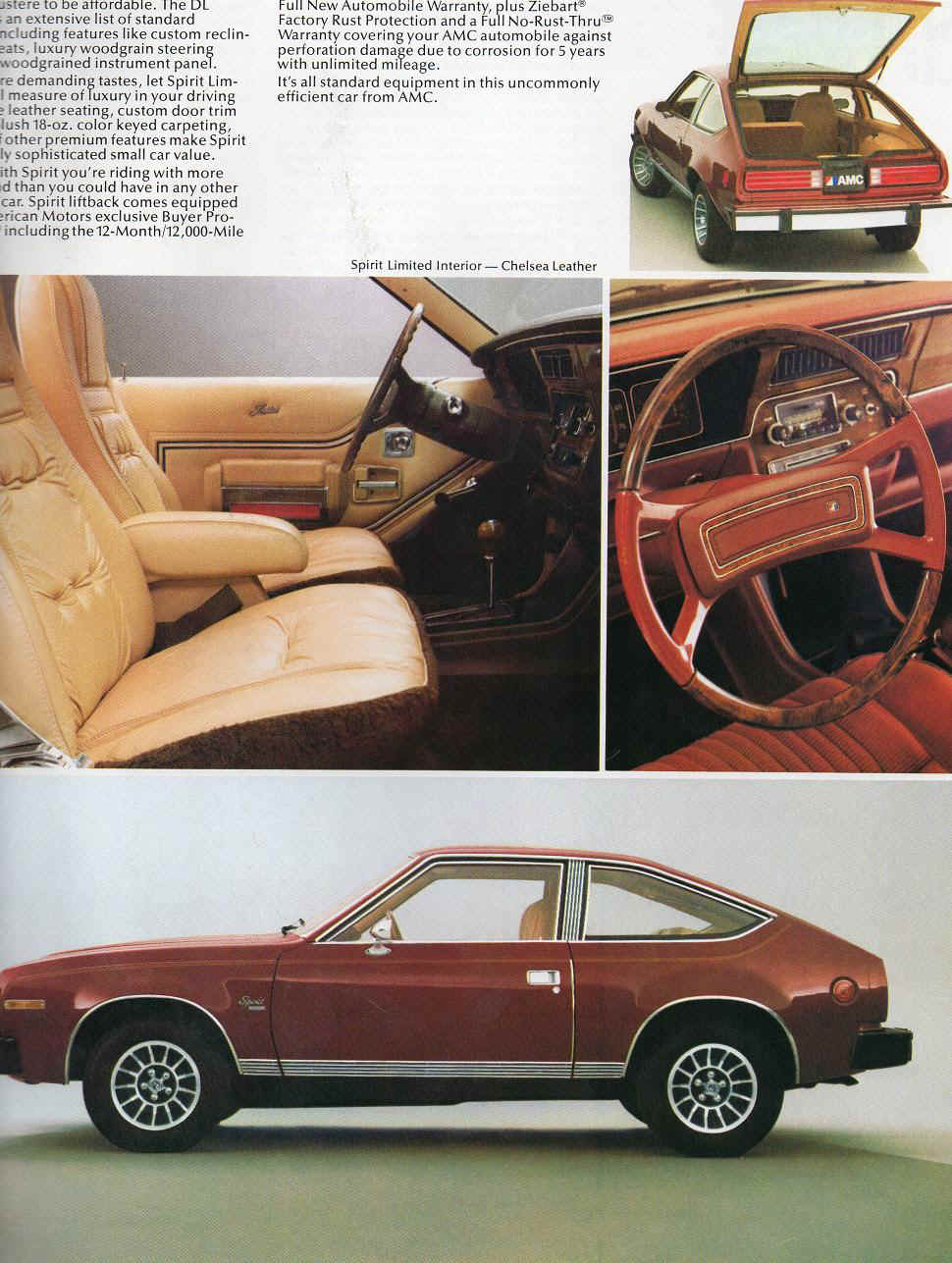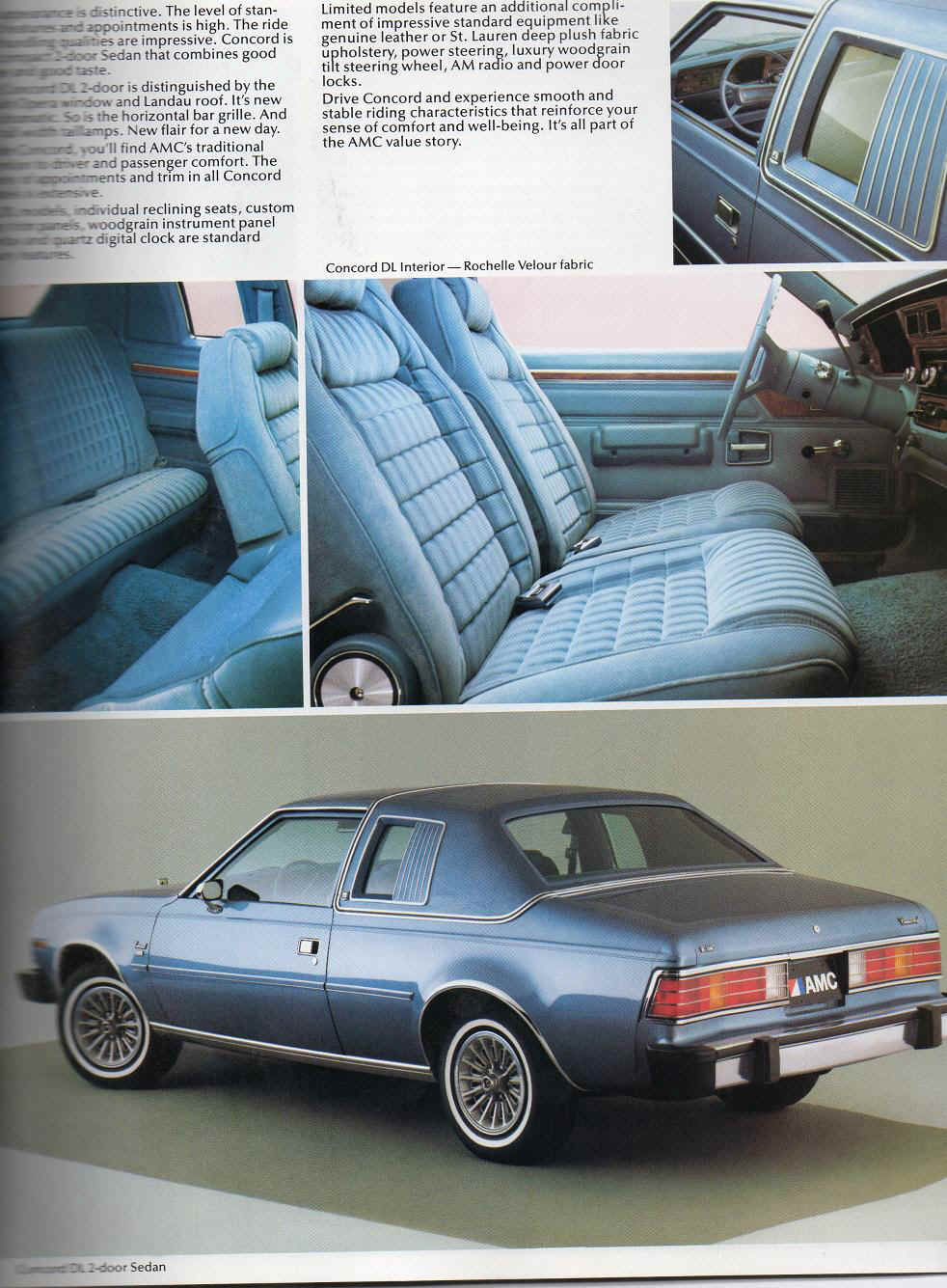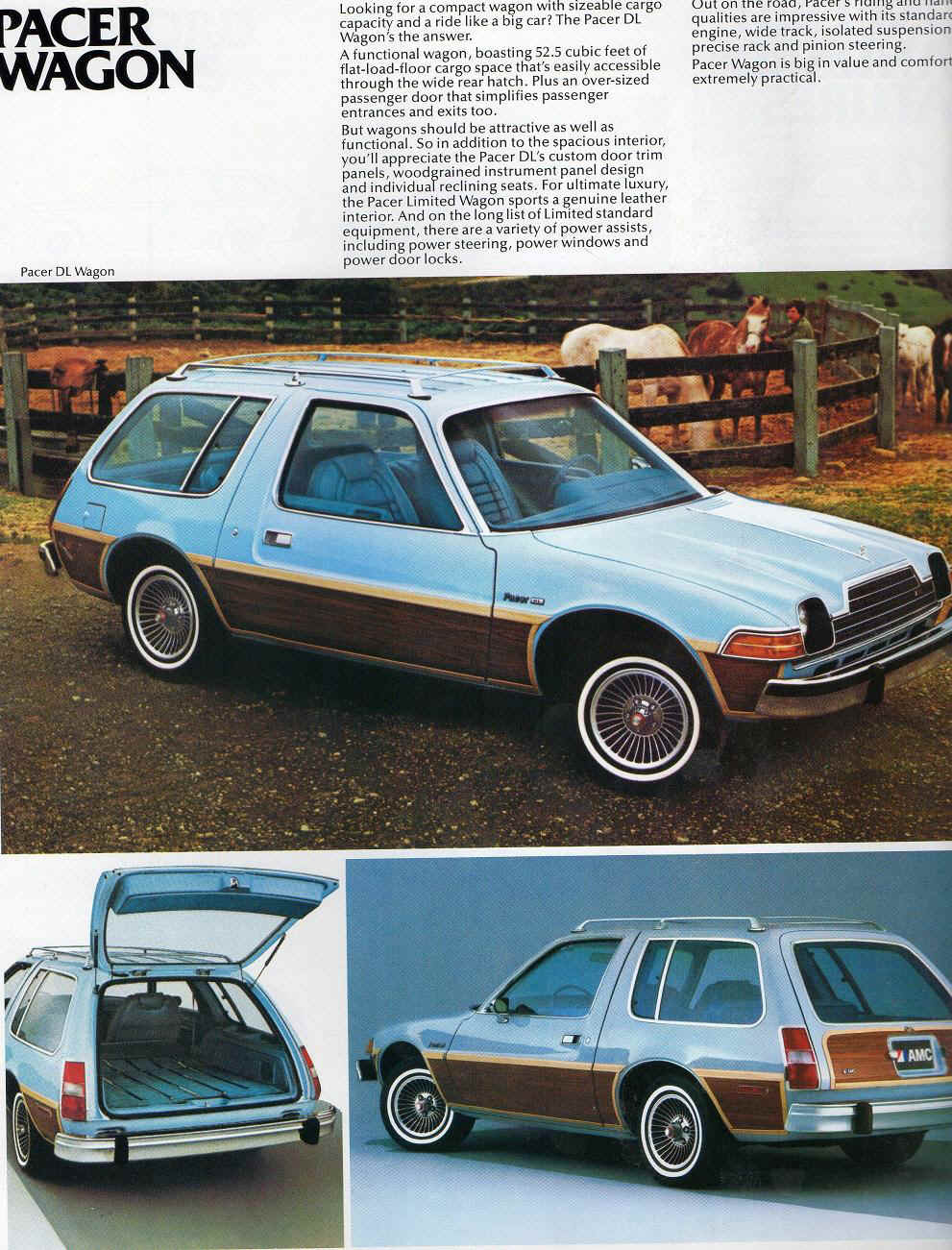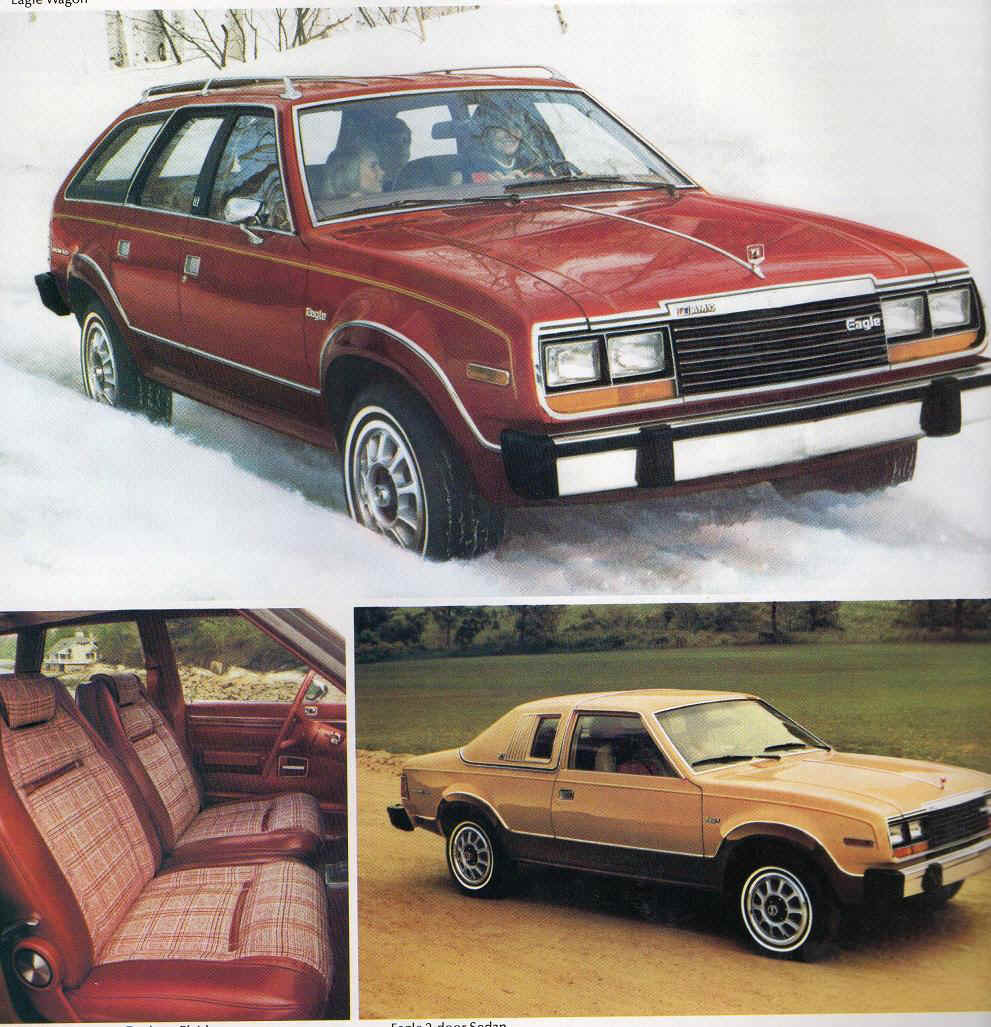 1980 AMC Full Line Color catalog. (Aug 79/WITH AMX & Pacer)
This one includes the slow selling Spirit AMX and Pacer models. Same as above but was released in August 1979, when the new models for 80 were introduced. A couple of months later the above catalog was brought out as AMC quit taking orders on the AMX (only 865 people bothered) and the dismal Pacer which had run it course and only 405 coupes and 1345 wagons were ordered. AMC chose smartly to attempt to focus on their hot selling Spirit, Concord and new Eagles. Get both to see their marketing strategy to stay afloat in 1980. $12
=================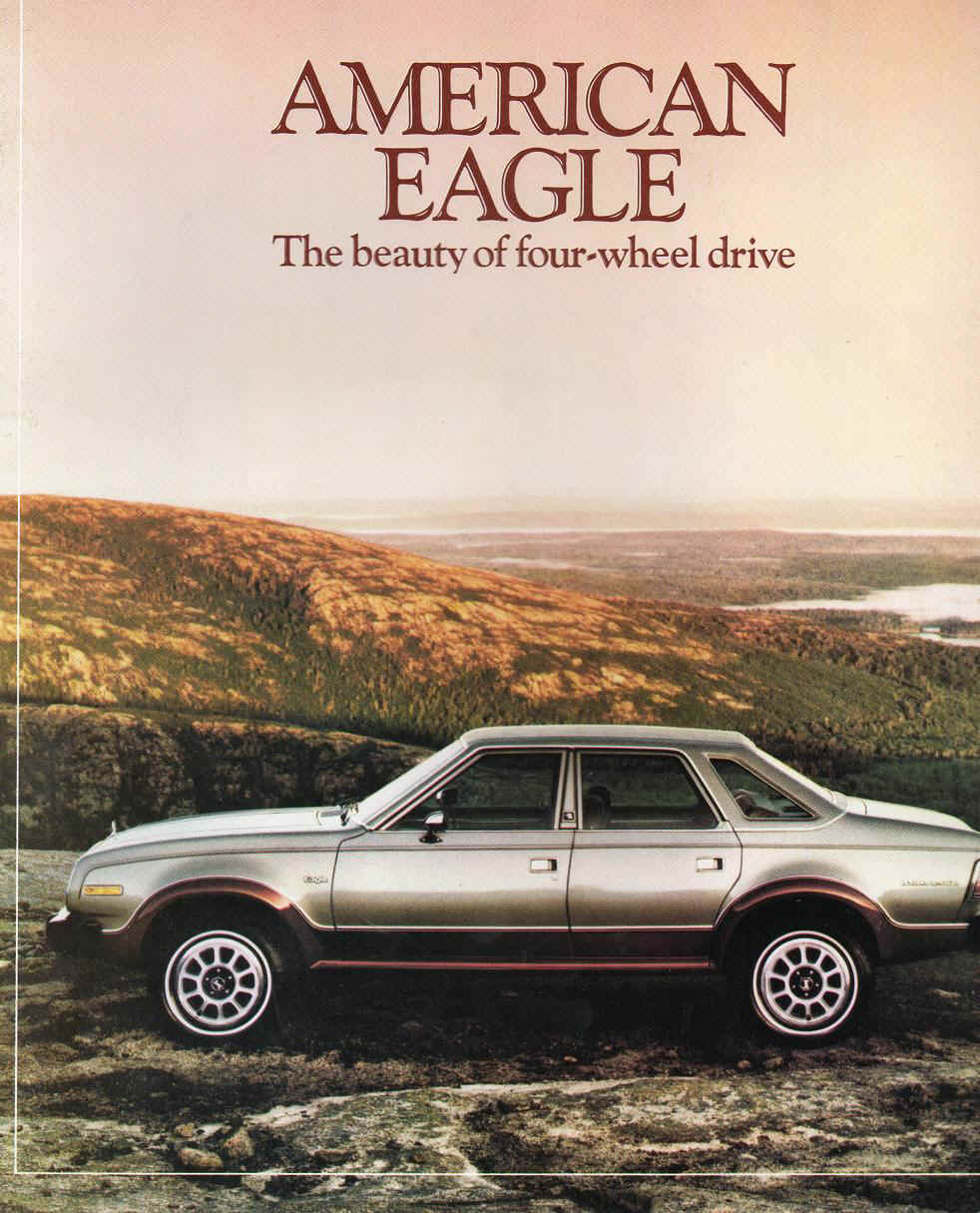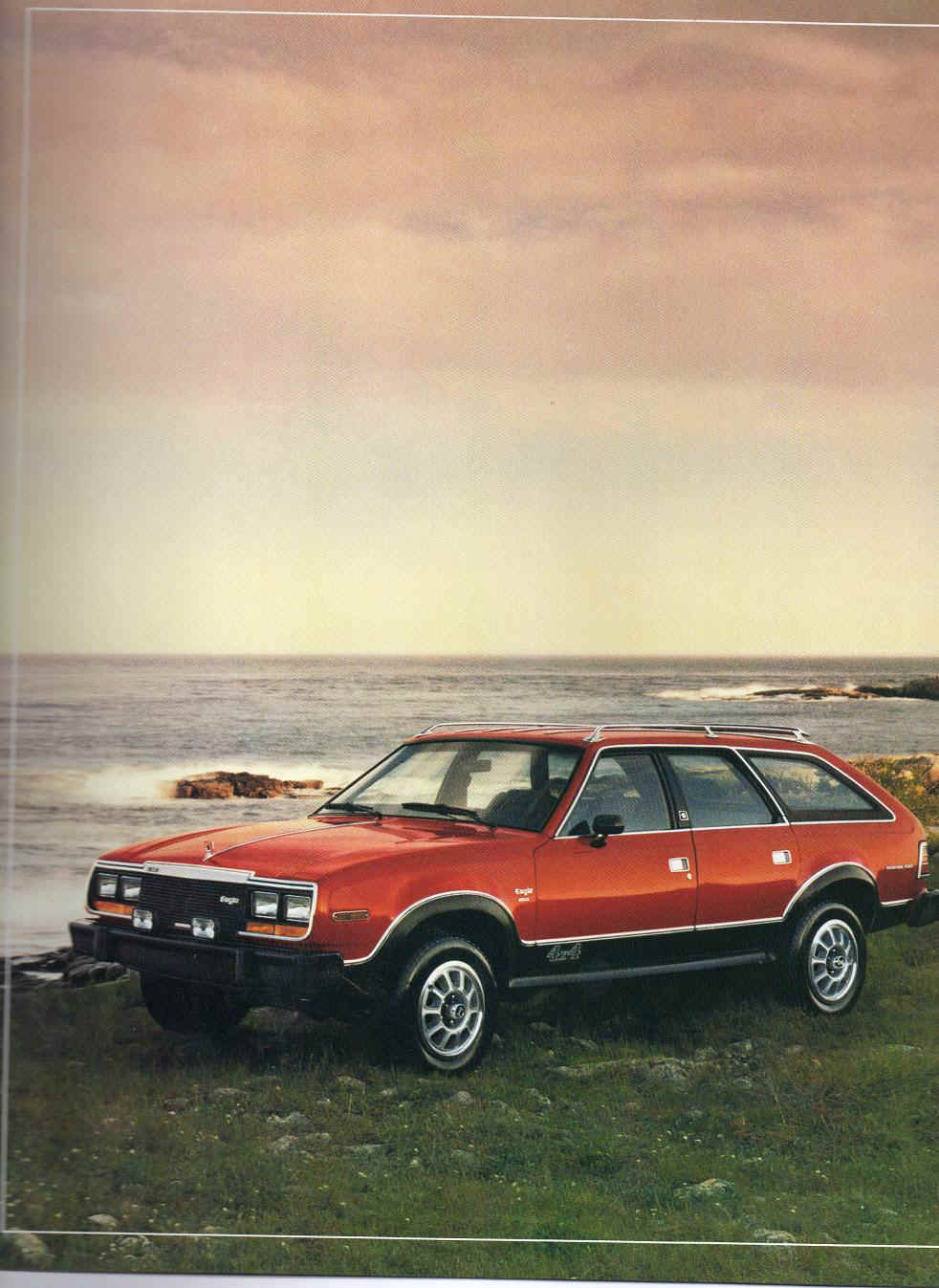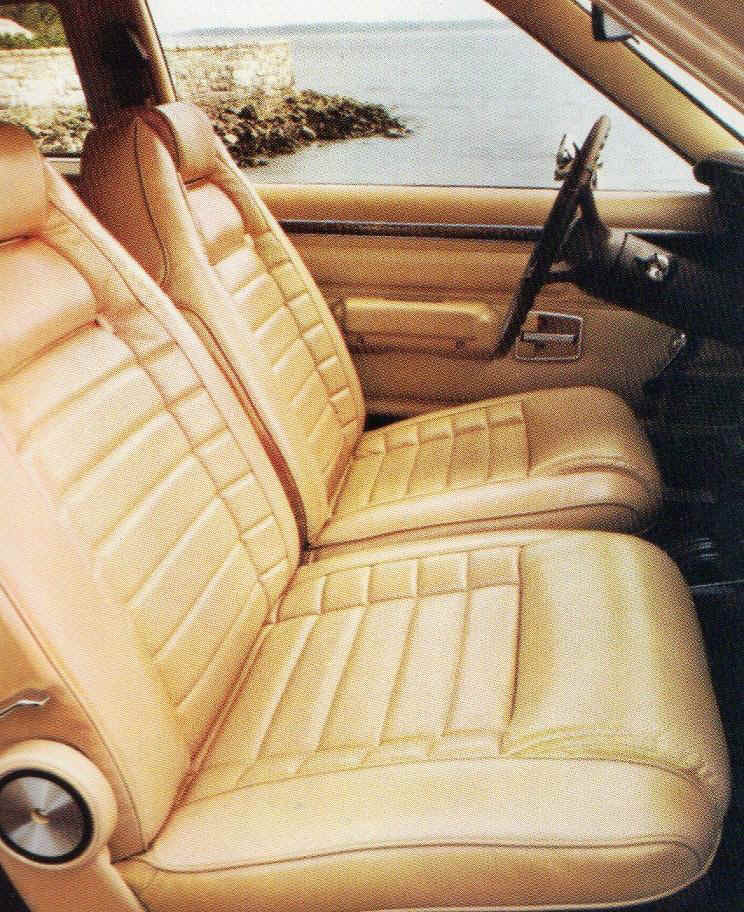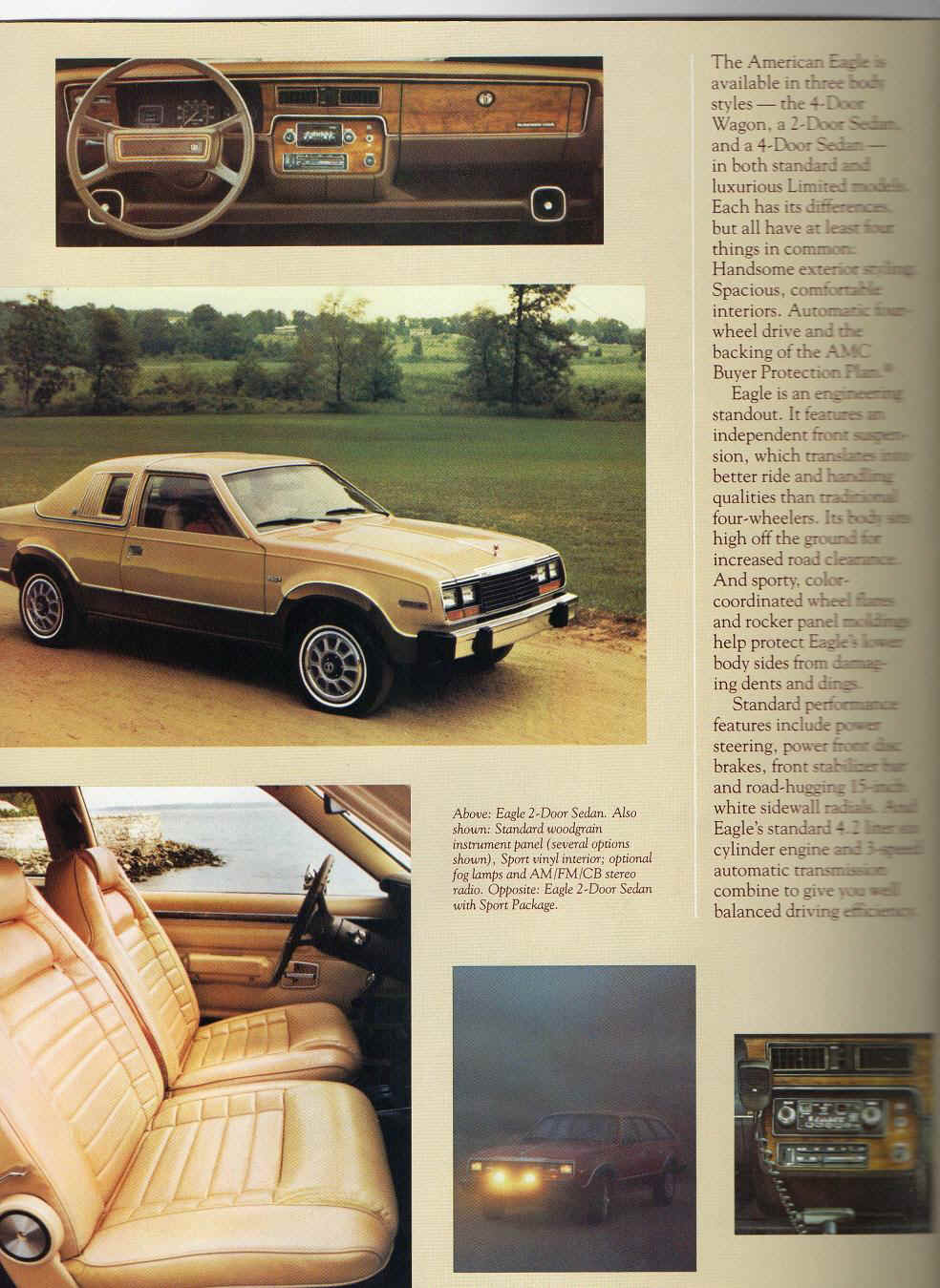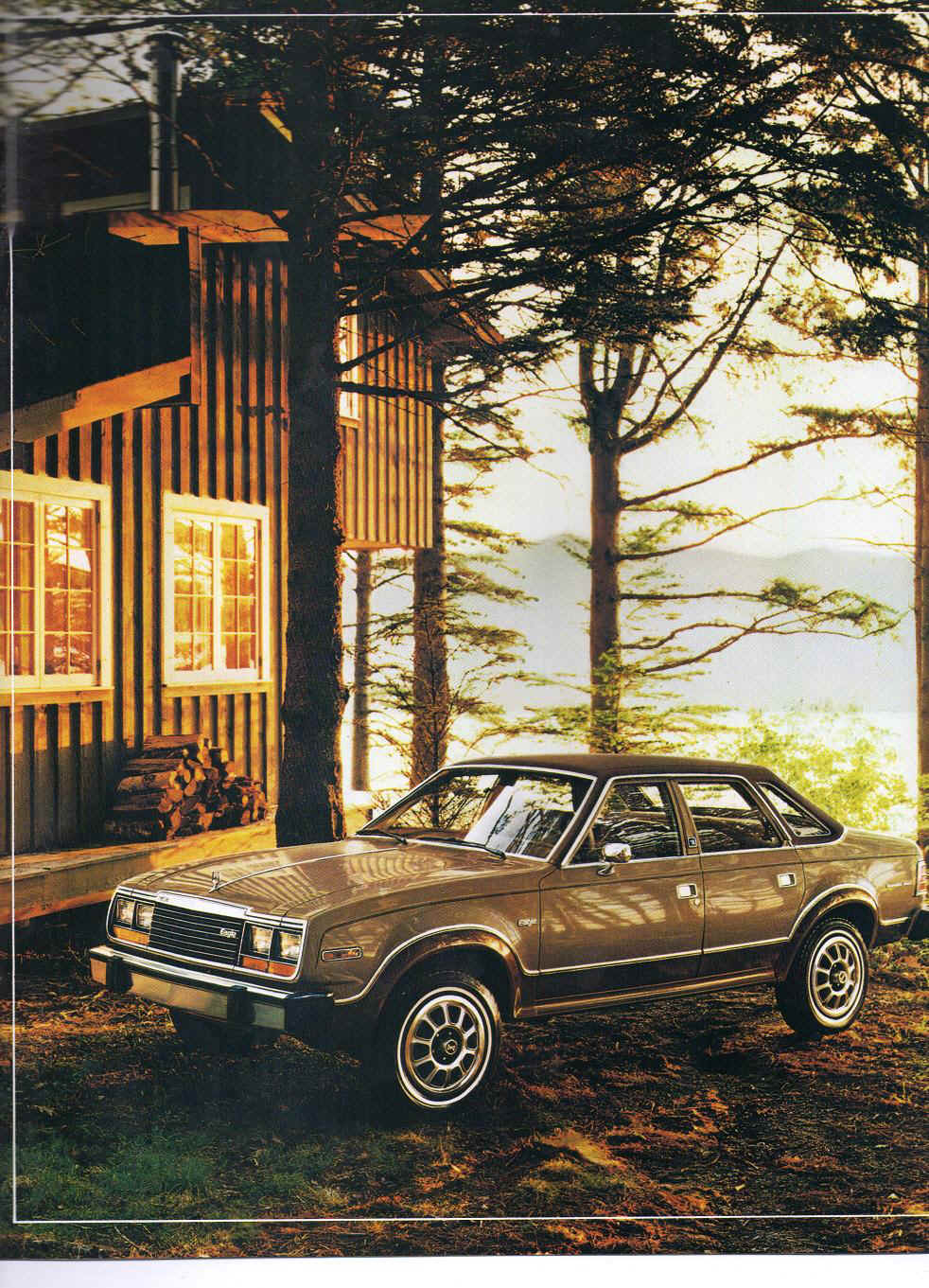 1980 Eagle only full line color catalog:
FIRST YEAR OF THE NEW 4X4 EAGLES. One of the hardest color catalogs to find, this catalog includes not only some awesome photos of the new car inside and out, but also a paint chip chart for exterior colors, specifications, diminsions, trailer towing recommendations, 12 month/1200 mile warranty, buyer protection plan, options and more. A reall ynice piece for your collection or for historical reference, or to display with your classic Eagle at car shows and cruise nights. **NOTE Subaru "stole" AMCs slogan in 1980 for their own use in 2003 'the beauty of four wheel drive' on the cover here. $12
================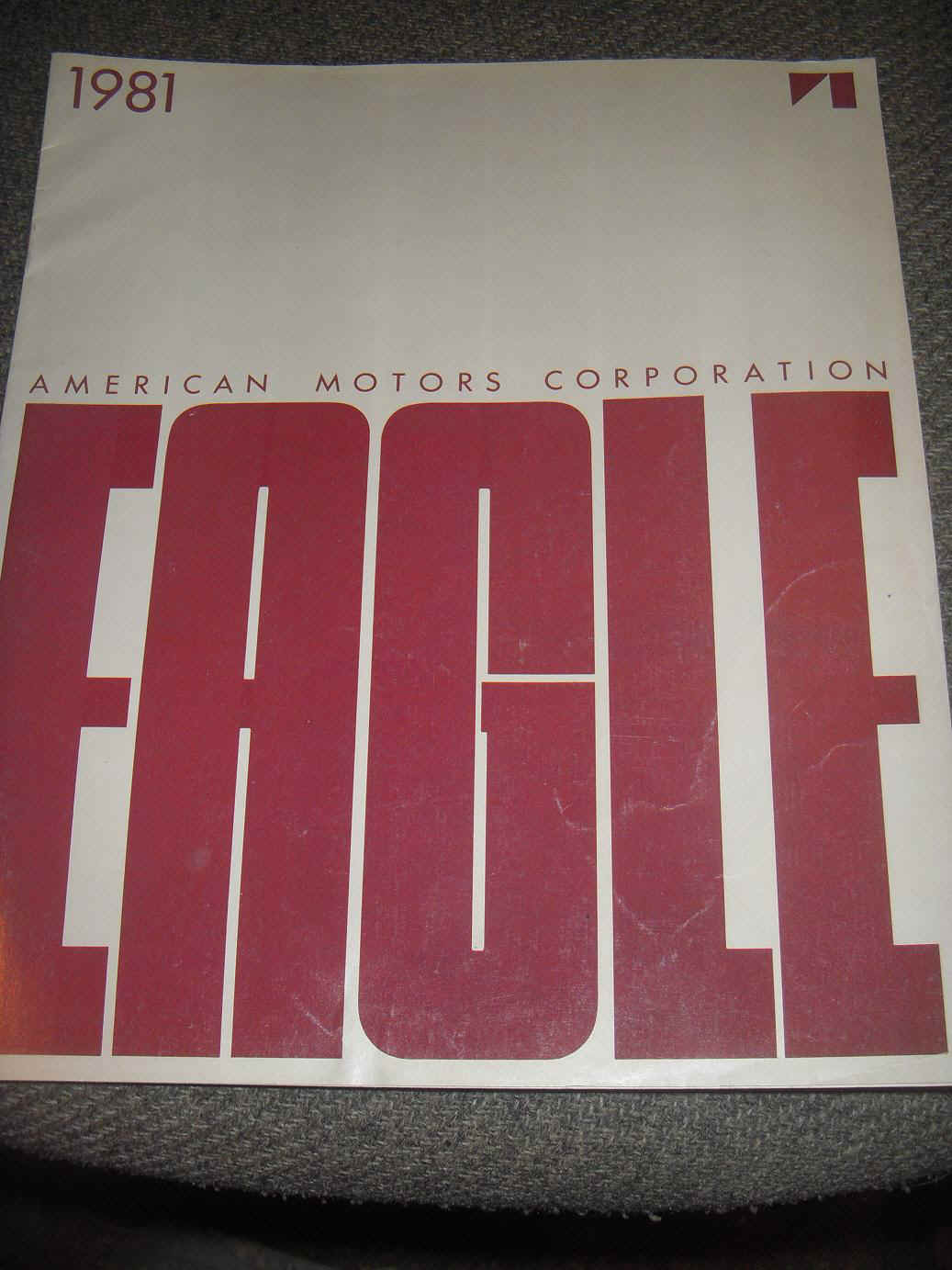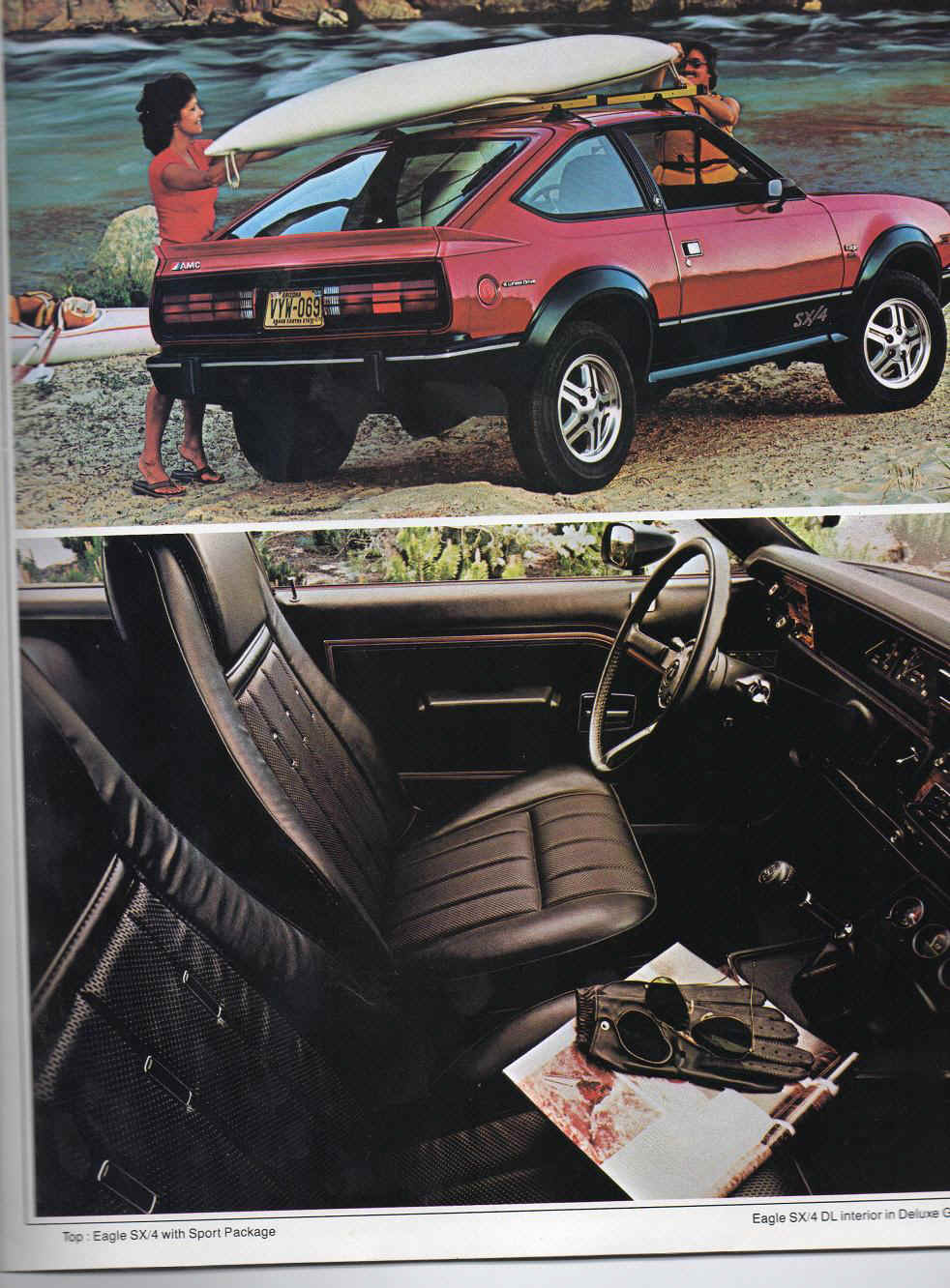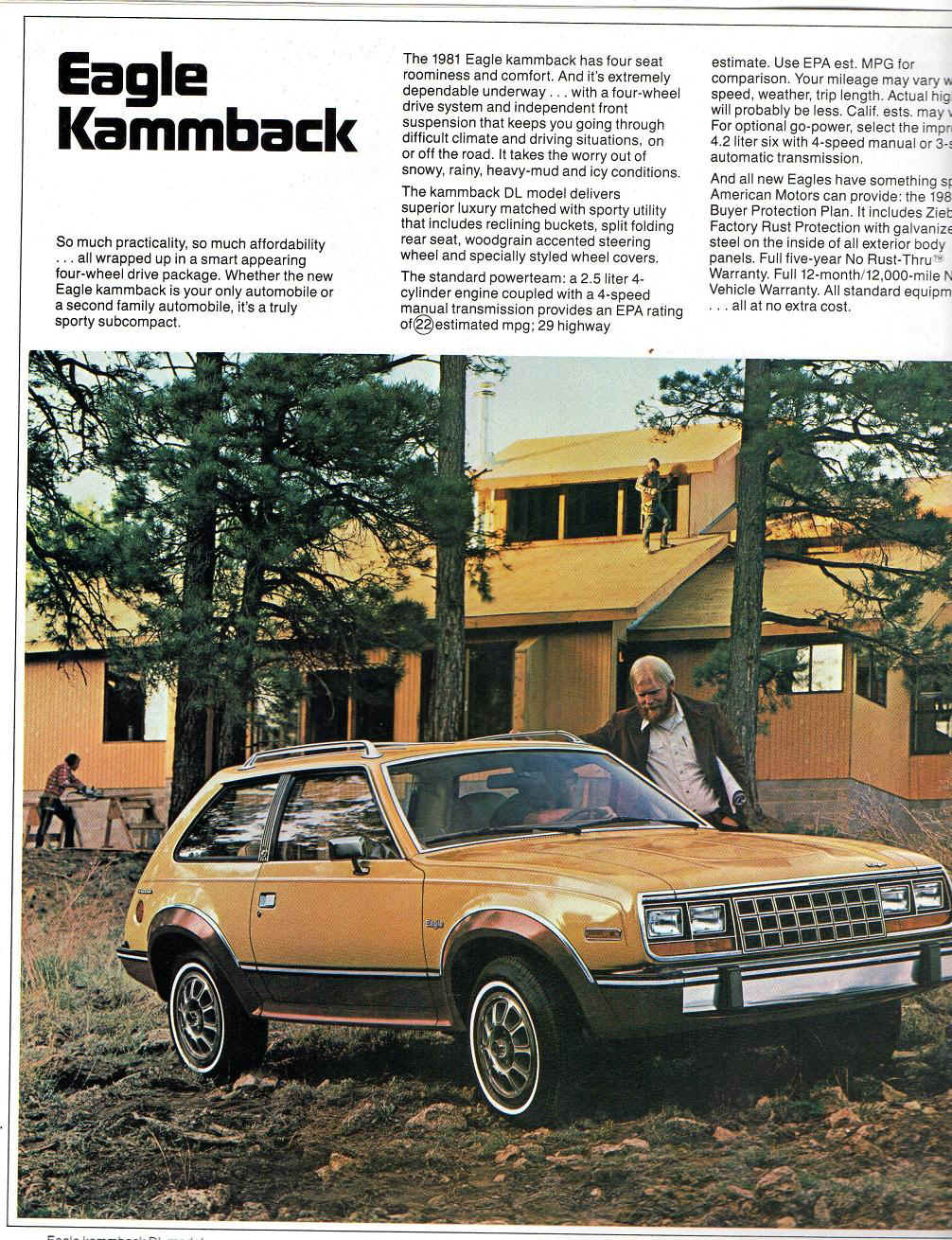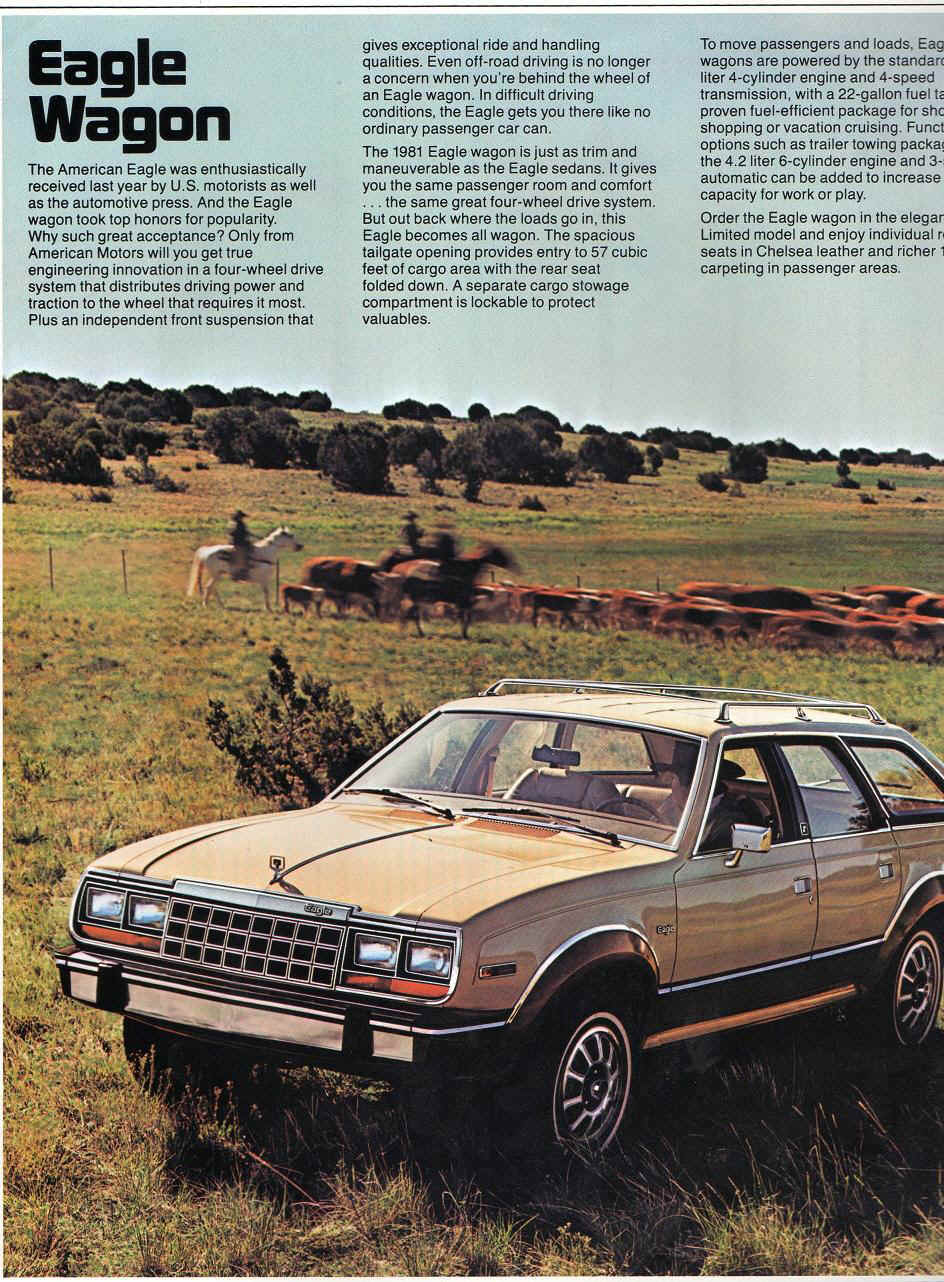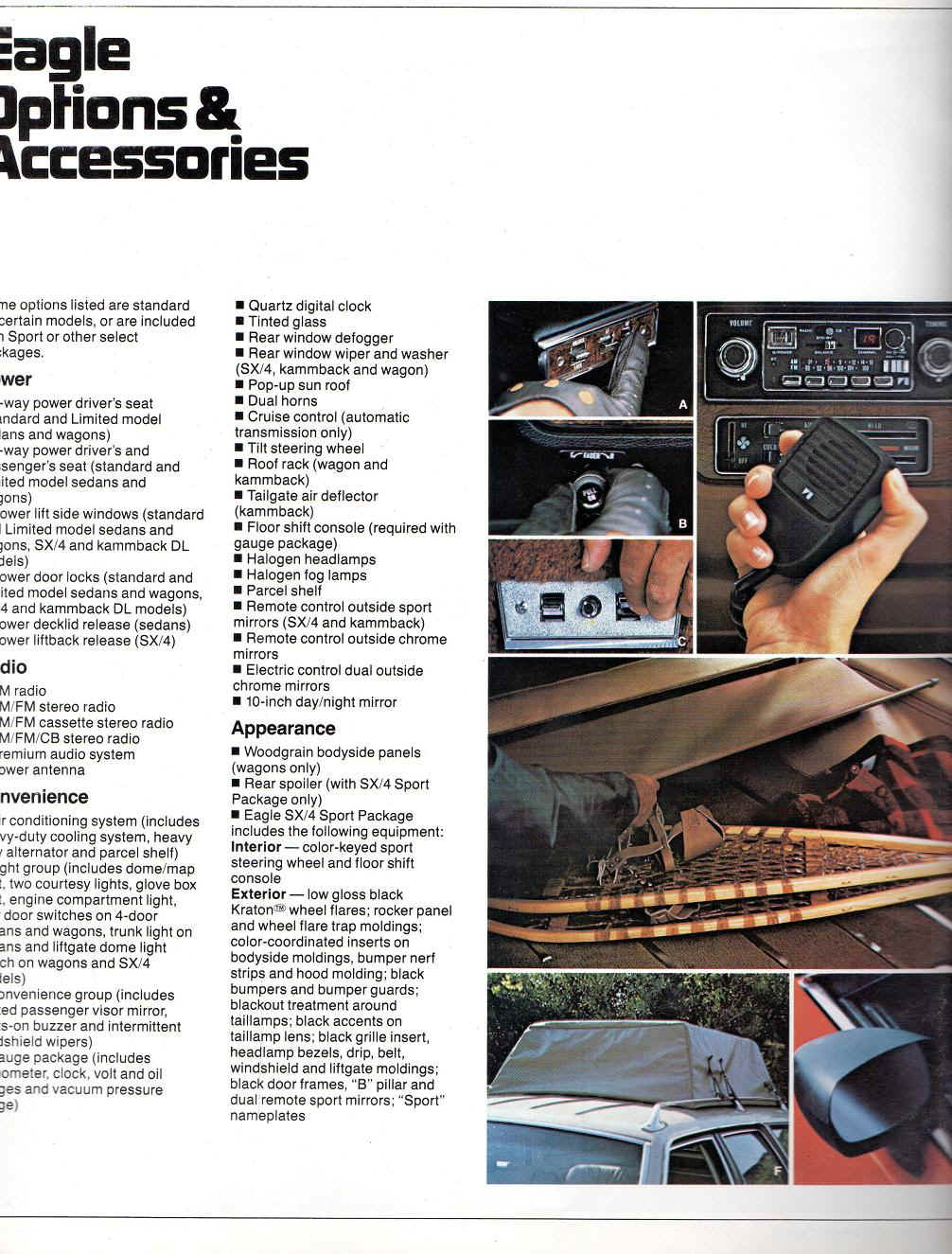 1981 Eagle only full line color catalog
NOS 1981 full Eagle line catalog includes great looking photos, options,
accessories and color chart. Don't let bland cover fool you, it is packed with color inside! A excellent NOS book for one's collection, or for reference or display proudly with their classic 4x4 Eagle at shows and events. $12
=================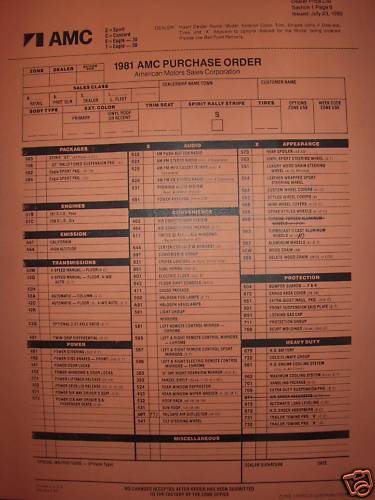 1981 AMC Dealership "Purchase Order" form
(no carbon) for release JULY 23RD 1980; Zone Copy, no carbon, includes all Build Sheet Codes. These can be cross referenced to 82 and 83. Includes several updates and discontinued items such as 501 was changed to 771 Tailgate Air Deflector; 566=turbine forged aluminum wheels was dropped (could not get them anymore!) and 971=air shock absorbers discontinued! Packages; engines, emissions, transmissions, power (like 6 way driver seat); audio (including power antenna); convenience (halogen headlamps, fog lights, sun roof); appearance (leather wrapped steering wheel, woodgrain sides); protection (cargo area cover, extra quiet insulation); heavy duty (cold climate group, rare load leveller) IT'S ALL HERE for your Dealer to fill out YOUR order and send to AMC Zone. $5
================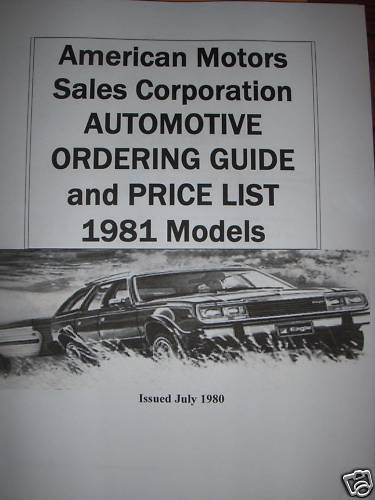 1981 AMC Dealers Order Guide & Price List;
Issued July 25th, 1980, to all American Motors Dealers, Features all BUILD CODES, Fleet Options, purchase order for Zone, Engines, Transmissions, Trim levels, tires, packages (Sport, ect), options (power: door locks, windows, liftback release, ect), Convienence: halogen fog lamps, roof rack, electric mirrors, tons more, two tone paint trims, CC's and CODES so the Dealer could order your new AMC. ***All prices, Dealer Billing & MSRP's***! While this book is for 1981 models, the Order Codes and CCs didn't change for 1980-83 so if you own a AMC in that time frame, this is a invaluable book for reference! $15
=================
1981 Concord & Spirit Full Line Color Catalog
sold out 2013
==================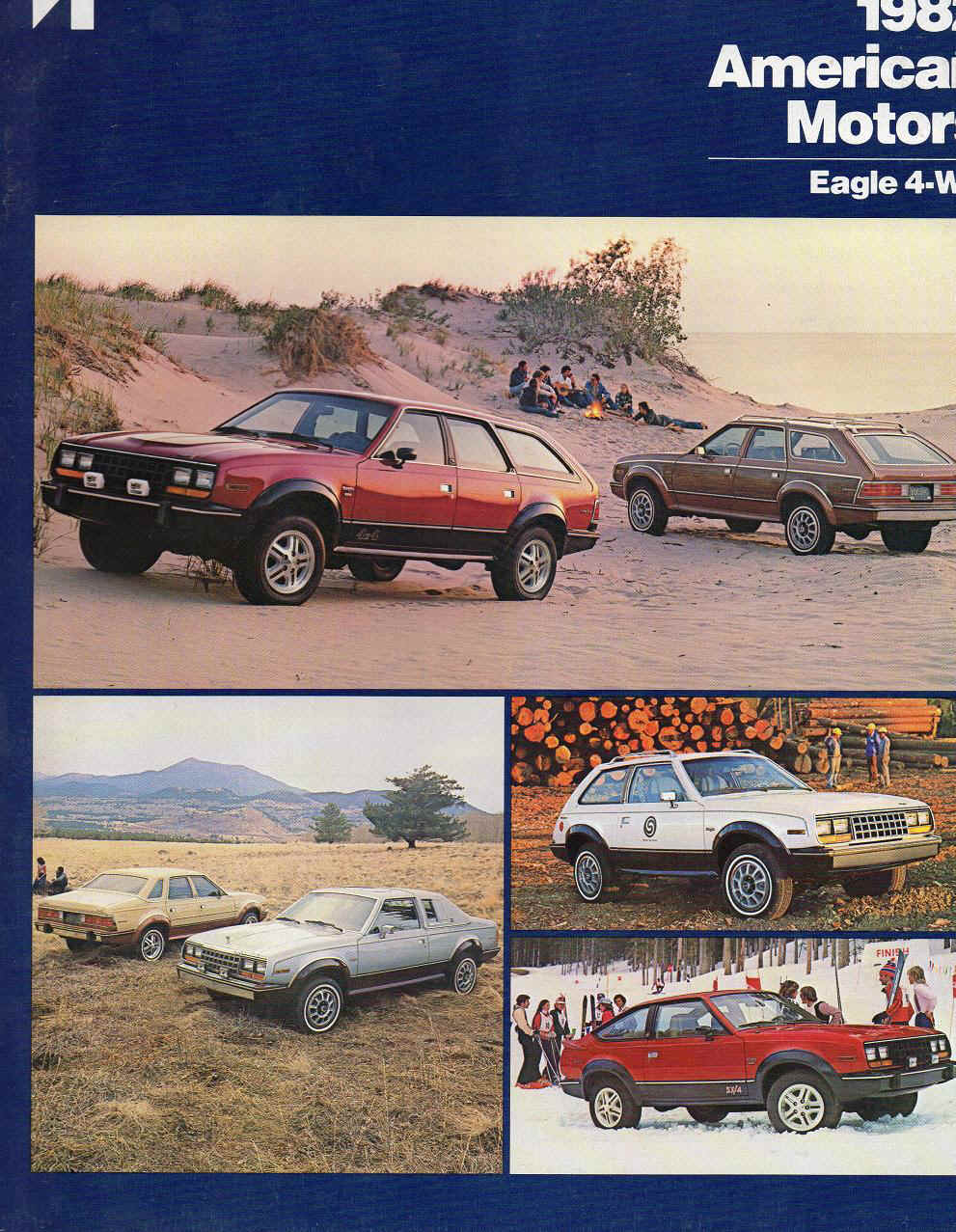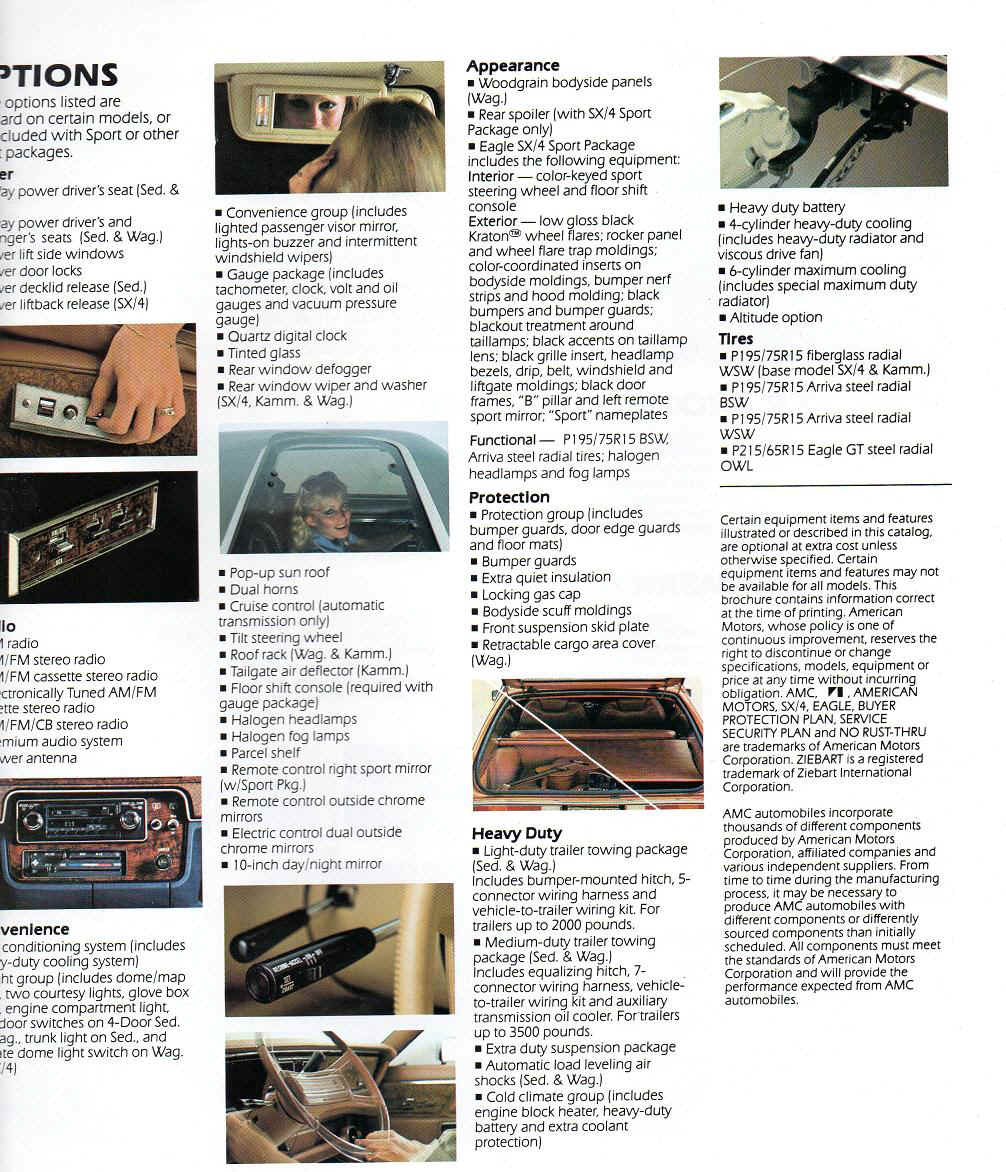 1982 Eagle Full Line four page catalog.
This is a interesting NOS brochure jammed packed with 1982 Eagle facts like standard features, options, engine, trans and axle availabilities, dimensions, capacities, buyer protection plan, and more, never seen one so small but filled with so much stuff. Has Ziebart info on the back also, along with some photos inside the pages. A really nice hard to find item for your personal collection, or for reference or to display with your classic AMC at car shows, swap meets, cruise nights too. $10

=================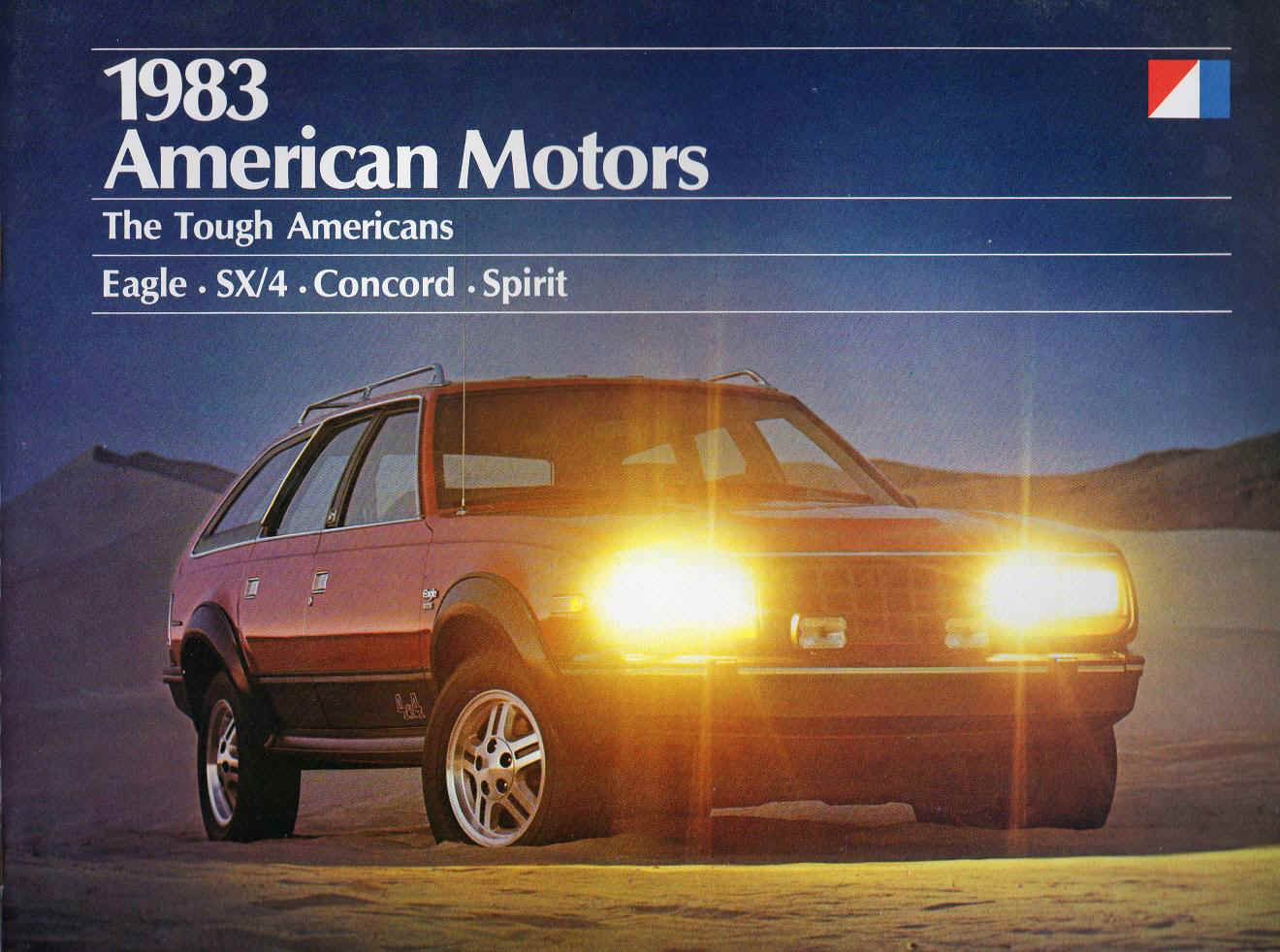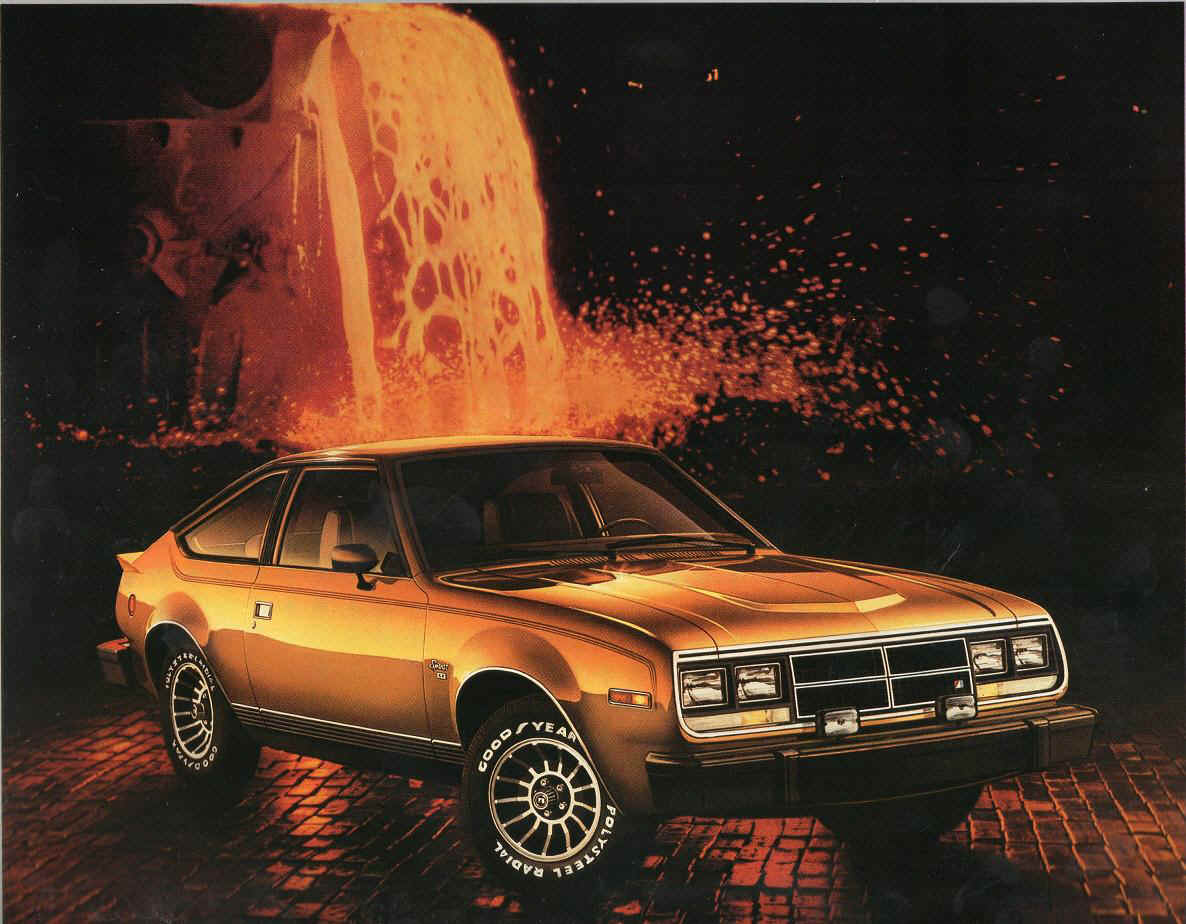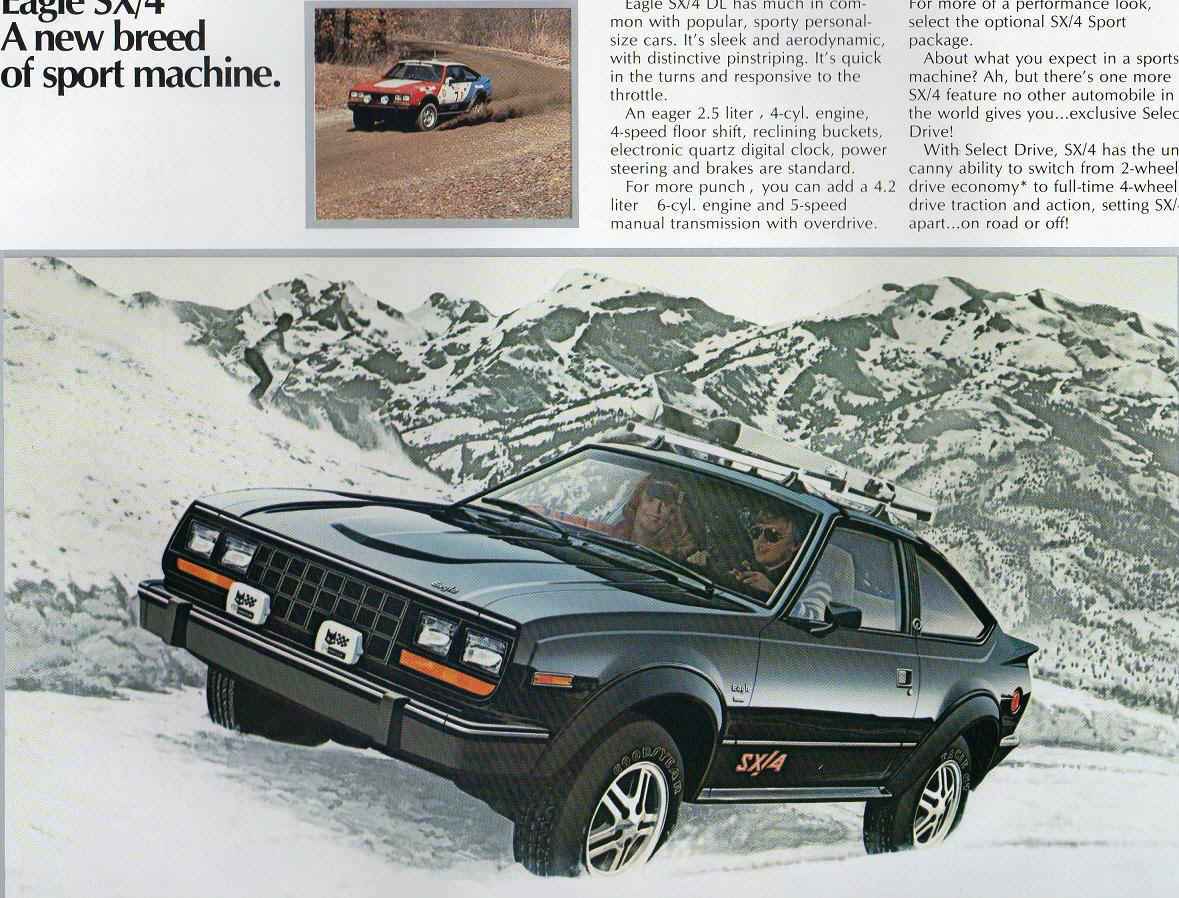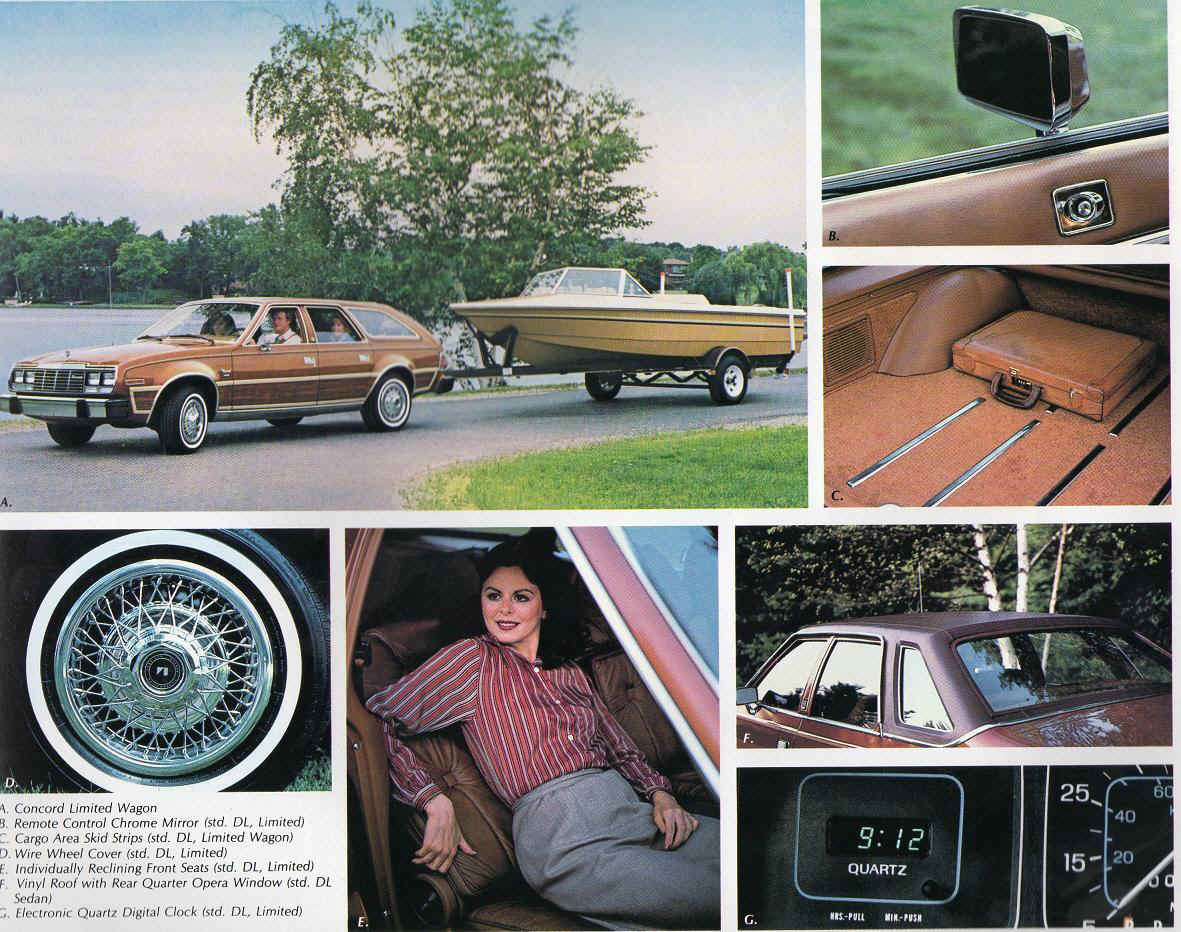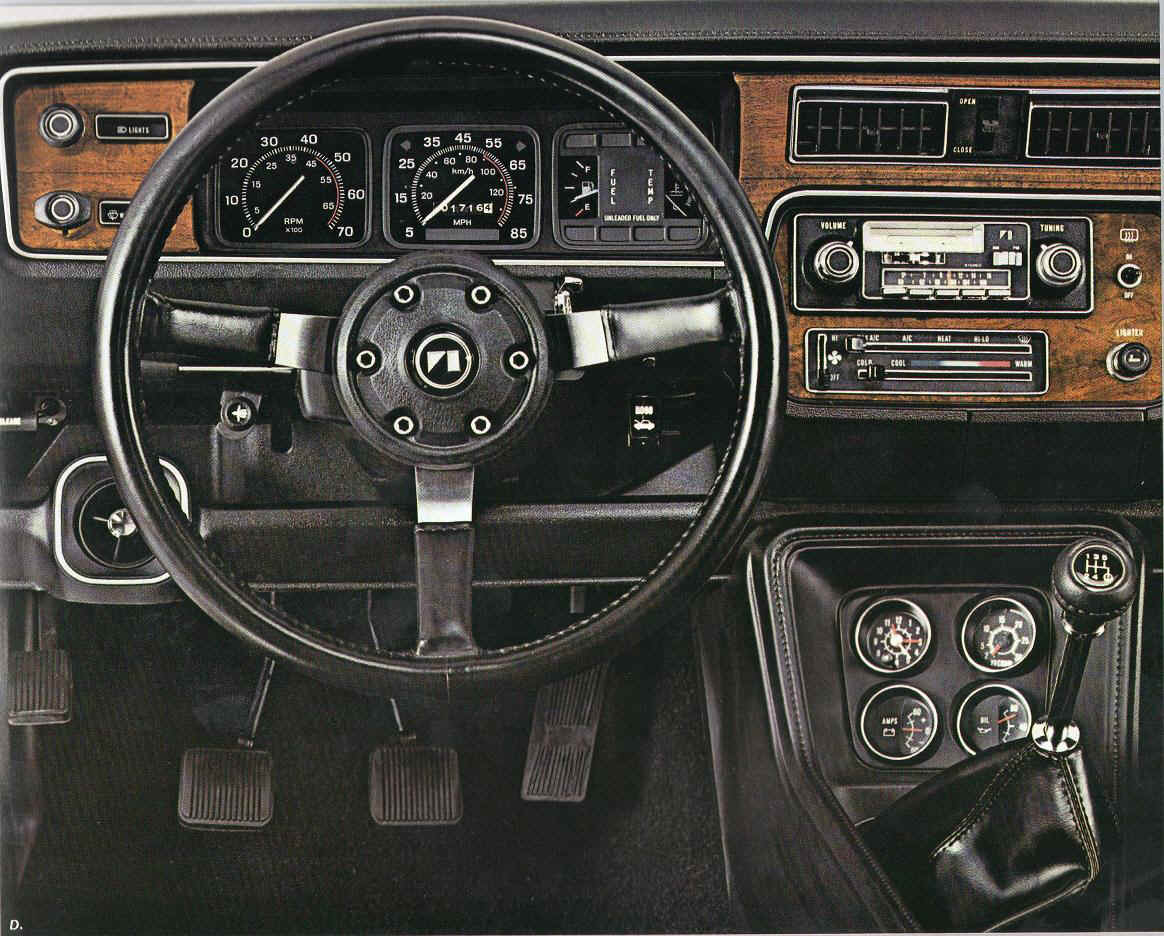 1983 AMC Full Line Color Catalog.
This is probably the best looking late model AMC NOS color catalog they put out. Hell, it was really the last time they would even have a damned 'full line' of vehicles. It is significant as AMC was falling apart but still proudly held their heads high and were churning out great models as America's Last Independent Automaker. The models included here are the hot selling 4X4 Eagle models including the wagons, four doors and the great looking SX/4 two door 4X4; The sister car which was a non 4X4, the Concord. This is THE LAST YEAR FOR THE CONCORD MODELS, which had been around since 1978. There is a AWESOME TWO PAGE FOLDOUT of the seldom seen Spirit GT! In black! Turbines! Spoiler! Sadly this would be the LAST YEAR of the Spirit also. There are some of the best catalog photos I personally have seen in ANY model year color catalog such as in 1968, 1977, 1973 to name a few years where the photography and stills were this nice. A large specifications chart, technical data chart, warranties, buyer protection plan, accessories, and a AMC Paint Chip Chart round out this 28 page color catalog. $12
AMC POSTERS &
PRESS KITS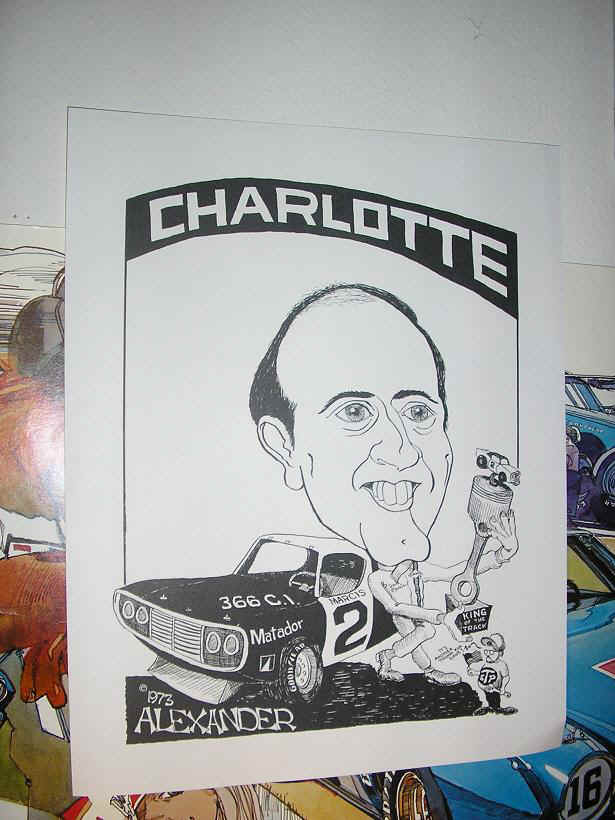 AMC NASCAR Matador Dave Marcis poster (1972-73)
Black and white 14" x 11" caricature of one of NASCAR'S greatest legends standing in front of the 1973 NASCAR Matador. Odd poster rarely seen thru the decades. $5.00 + $3.00 shipping in US; Canada, overseas, contact me.
=====================
This is a original ad from Americana magazine for the AMX Racing Posters. The red, white & blue jackets have been reproduced about $75. The model you are screwed on and if you can find one, they command $100/cheap to $250/high. The posters below have been featured in a LOT of automative magazines with high reviews, suitable for framing, digitally enhanced, great for man cave, garage, warehouse, office, dorm. This is the original ad from 1968: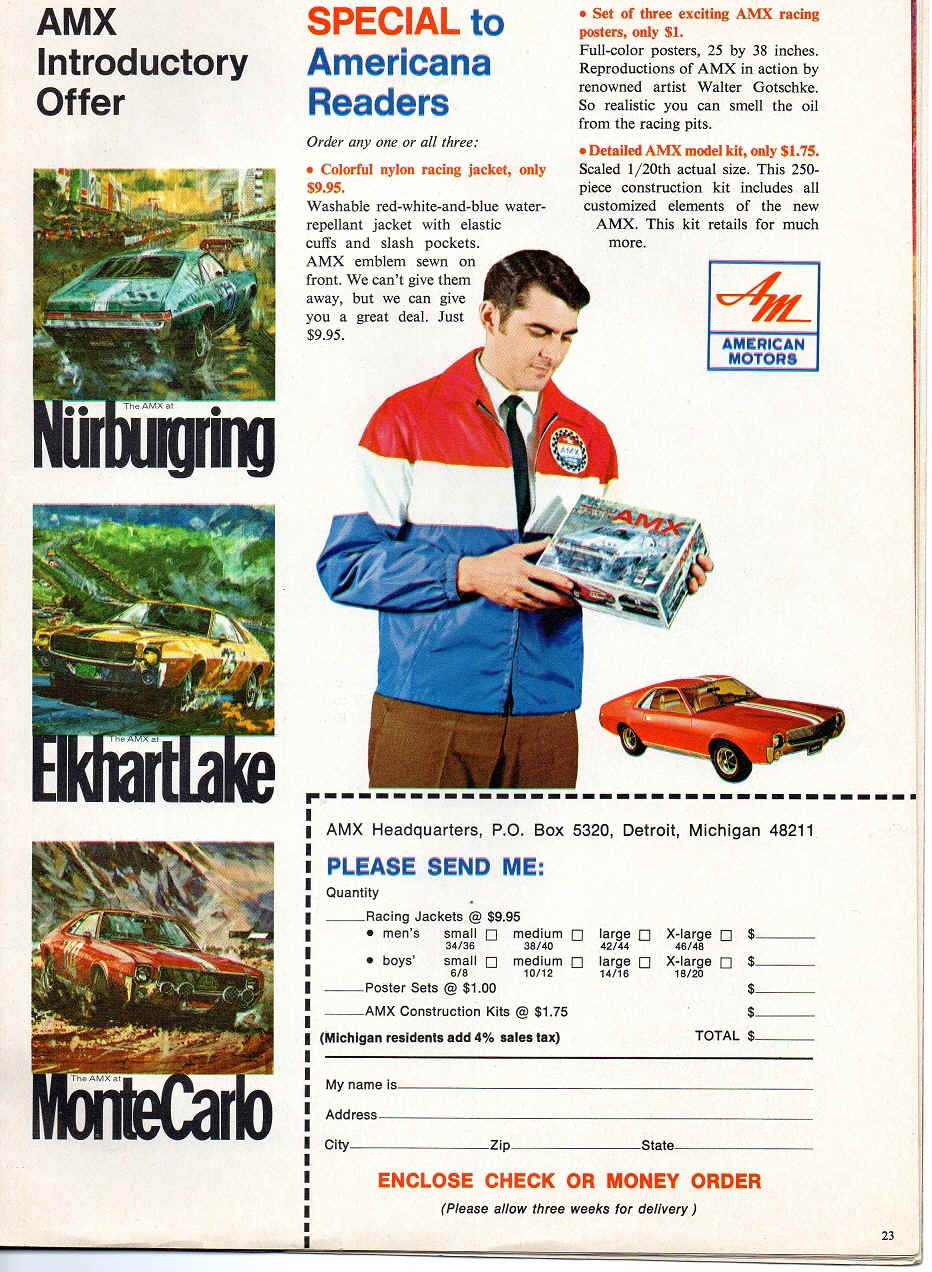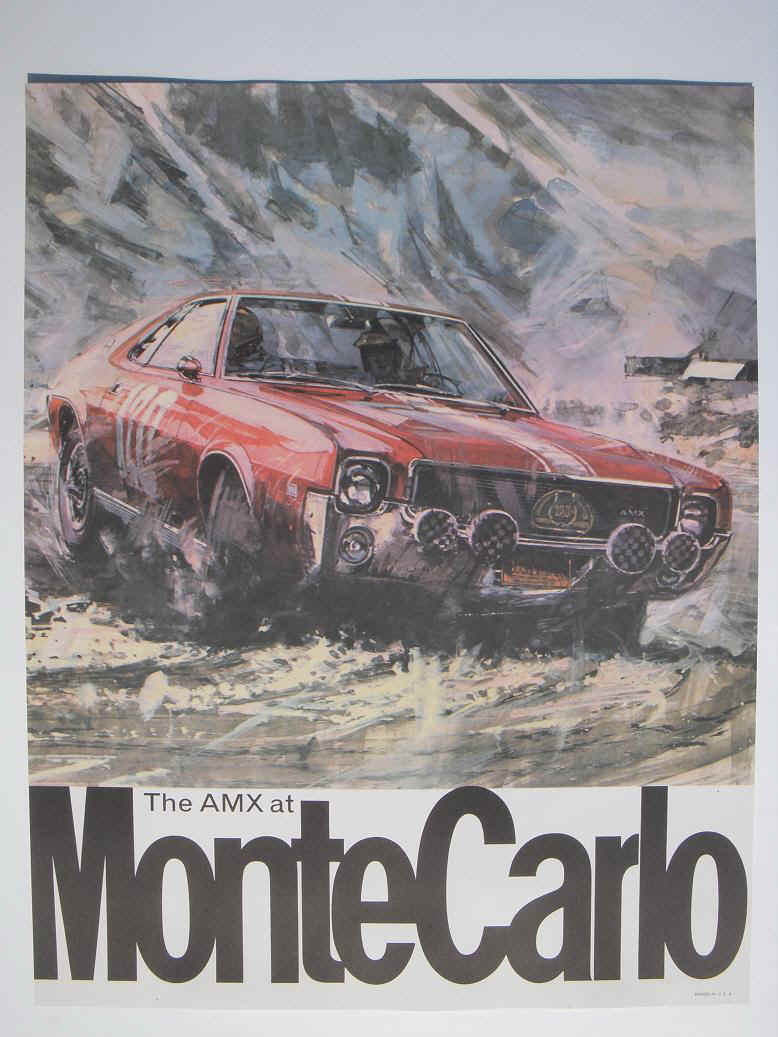 AMX @ Monte Carlo Dealership poster
Beautiful heavy stock poster, 18" x 23", released by American Motors shortly after the new two seat AMX made it's official debut in February 1968. This particular one: AMX @ Monte Carlo, was given out at AMC's auto show display's in US & Canada. The others you had to go specifically into your AMC dealership to get. Suitable for framing and the color is striking in the racing scene. $10.00 + $6.25 shipping in US; Canada, overseas, contact me.
=============================
last ones after 25+ years see top of page

The AMX @ Nurburgring Dealership Poster
LAST ONES

==============================

LAST ONES AFTER 25+ YEARS see top of page

The AMX @ Elkhart Lake Dealership Poster
LAST ONES

==============================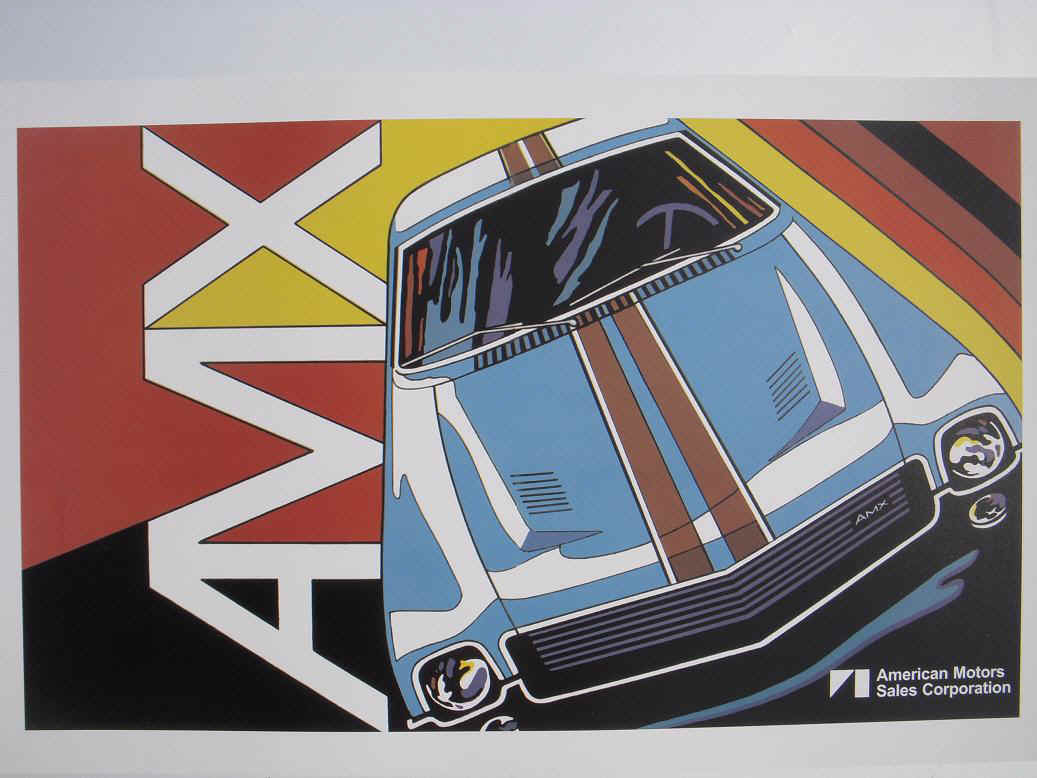 SOLD OUT!
AMX Peter Max (Dick Teague) Poster
To commemorate Chief Stylist legend Richard Teague retiring and honor his many years at AMC and his many projects, AMC released this poster in 1981. 15 1/2" x 24 1/4" heavy stock. The artwork was mentioned in a Bulletin by AMC as 'a full color poster sized reprint' and 'this poster is original art not available anywhere else' according to S. M. Sauro of Marketing, of whom you had to go thru his office in Southfield, Michigan to get one. It was mentioned that Peter Max had some influence on it, although I have never documented that, nor did I get to ask the artist himself at a signing here in Houston. But it has been known as the "Peter Max AMX' poster since 1981 nonetheless and would make a stunning addition to anyone's office, game room, dorm, warehouse, garage. $10.00 + $6.25 shipping in US; Canada, overseas, contact me.
============================]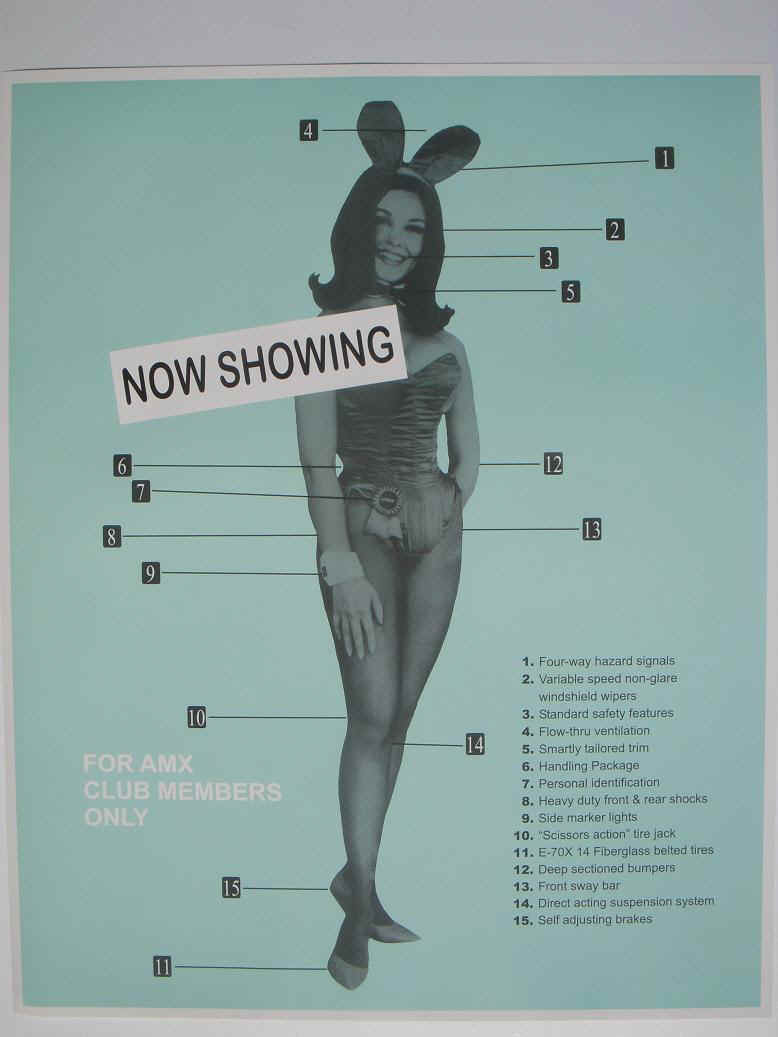 Mission AMX: AMC Playboy Bunny Club poster
AMX Playboy Bunny AM Dealers promotional poster 1968; From the wildly successful MISSION AMX campaign....Size: 20 1/2" X 16 1/2" suitable for framing, this wonderful poster enticed many a AMC Dealer at Playboy clubs thru out the US. It compares the Playboy Bunny with "new" AMX options and accessories. Not the "for AMX club members only" off to left. Comparisons like #13 'front sway bars' comparing it to the model's hips or her beautiful smile is #3 as 'standard safety features!'. Excellent and rather rare, item for one's collection. $10.00 + $6.25 shipping in US or Canada, overseas, contact me.
==========================
AMC Trans Am Javelin X Ray Mark Donohue poster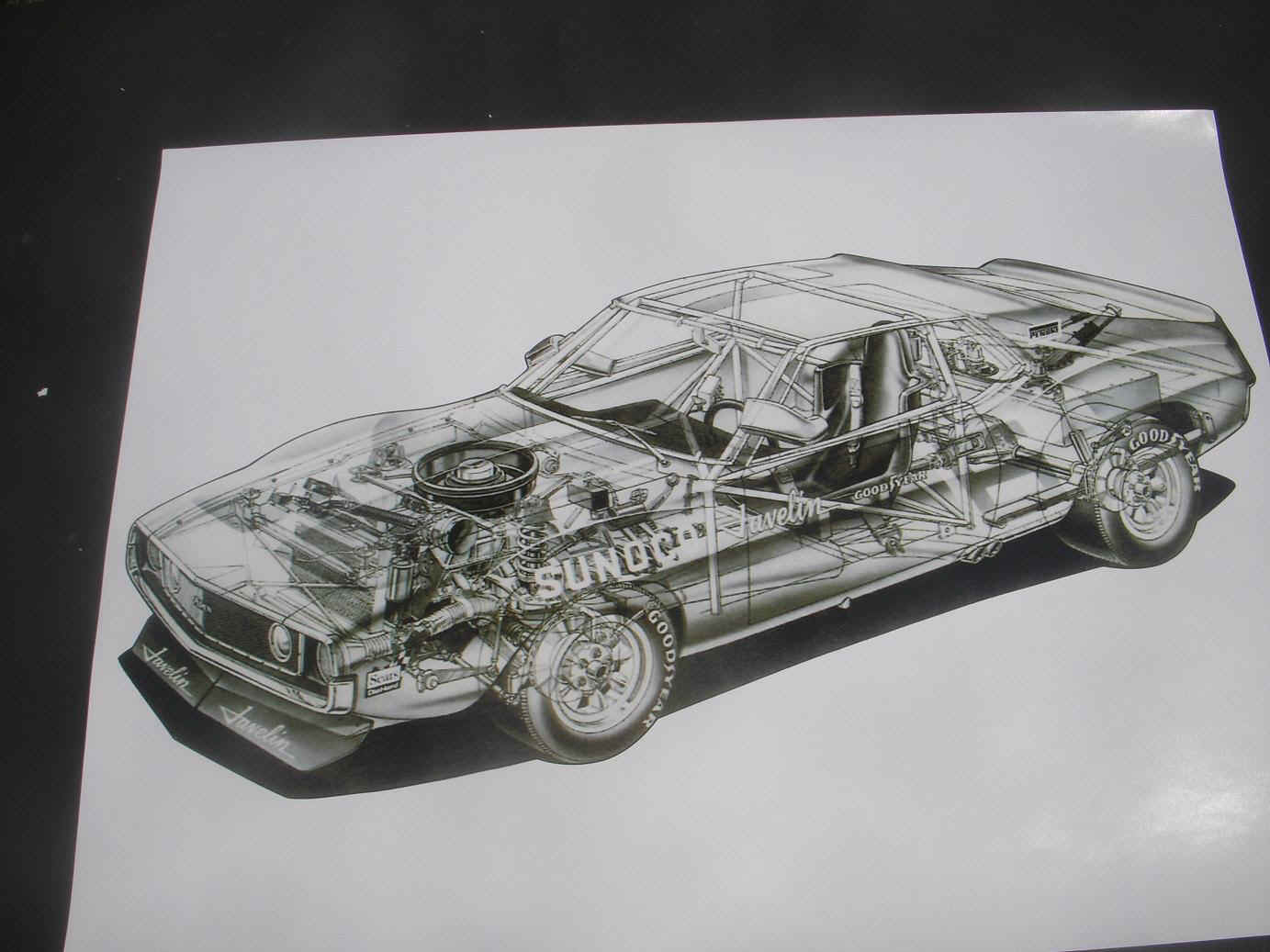 $10 + shipping
=========================
Hot Wheels AMX poster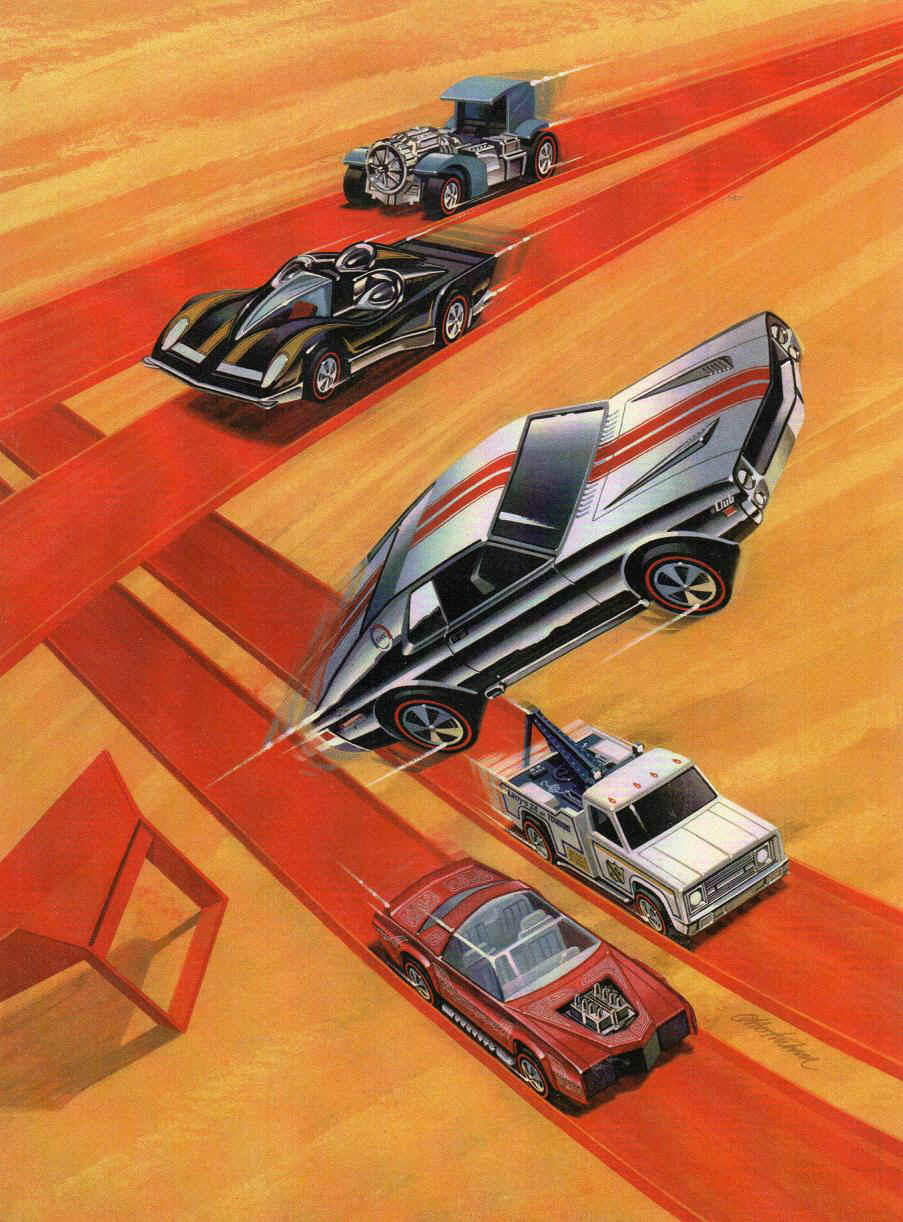 $10 + shipping
==========================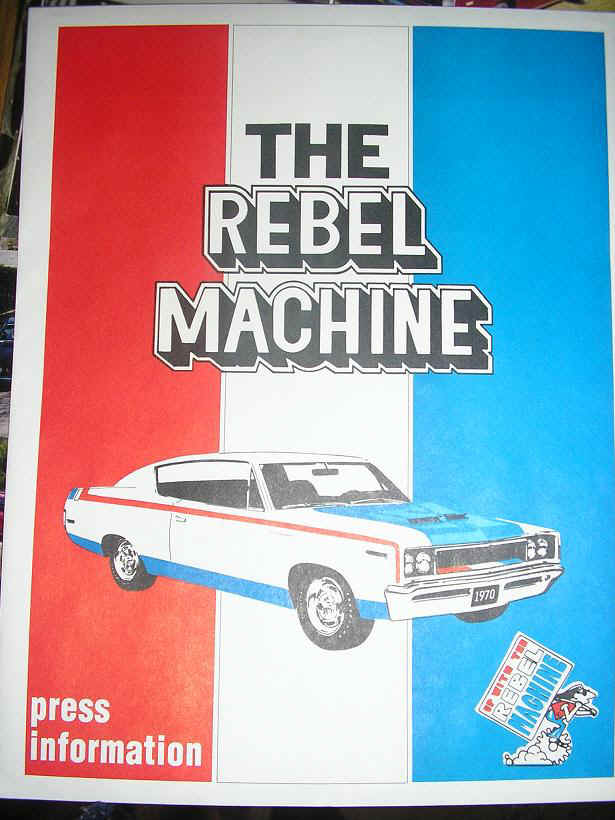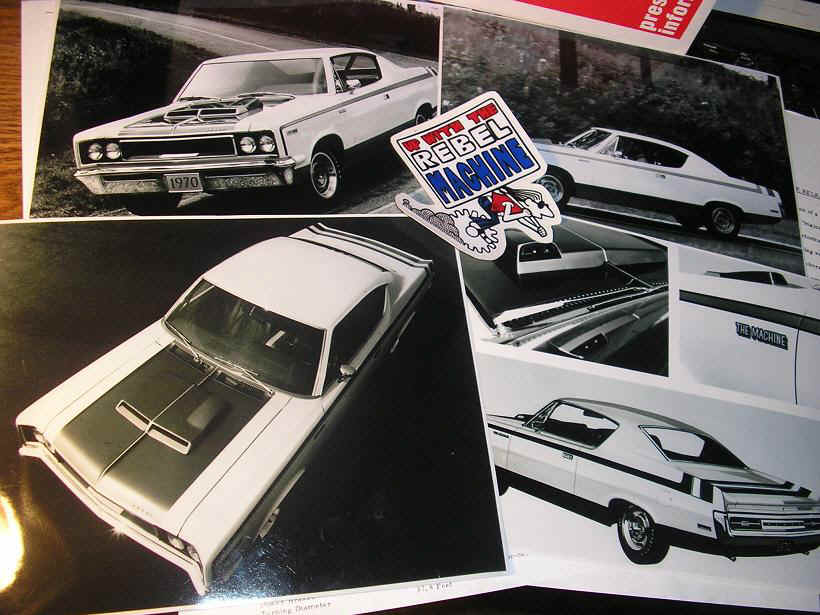 AMC Rebel Machine Press Kit (Oct 69 NHRA Release)
American Motors new "SuperCar" for 1970, this is a rare
1970 Rebel Machine"Press Kit" complete with: (1) hippie decal, (1) big 11" x 14"colorful folder,
(4) 8x10 glossy AMC photos, along with both press releases. 18 pieces total. Excellent item for one's collection whether you have a Machine or not. These were given to the media at the NHRA Nationals in Dallas, Texas, in October 1969. Not a bad place to make a Muscle Car debut. $25 + $7 shipping in US; Canada/overseas, contact me.
===========================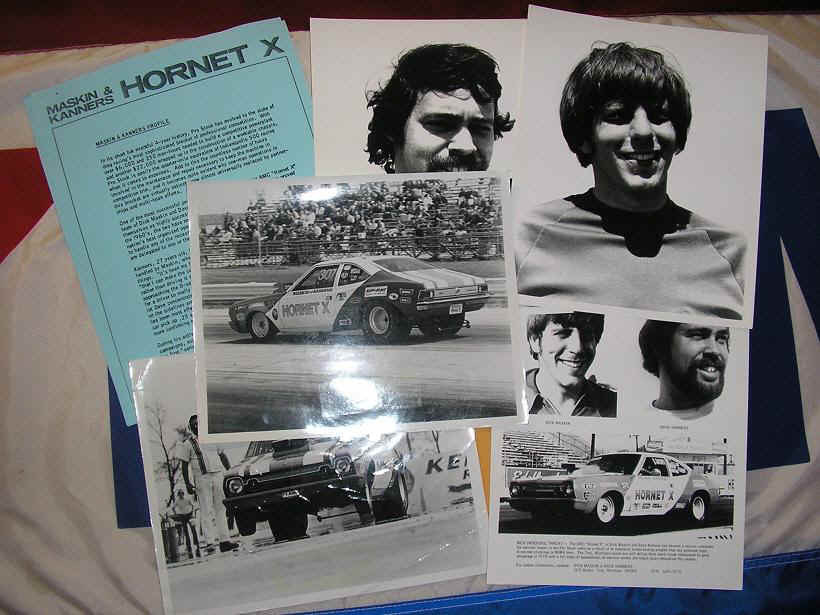 AMC Maskins & Kanners Pro Stock NHRA Hornet X Press Kit
*Dave Kanners passed away sadly in 2009 after battle with cancer. This is a set of five 8x10 Black & white photos, along with blue sheet press release given to media in early 1973. The photos were also available at dealers. $25 SOLD OUT SOLD OUT
==========================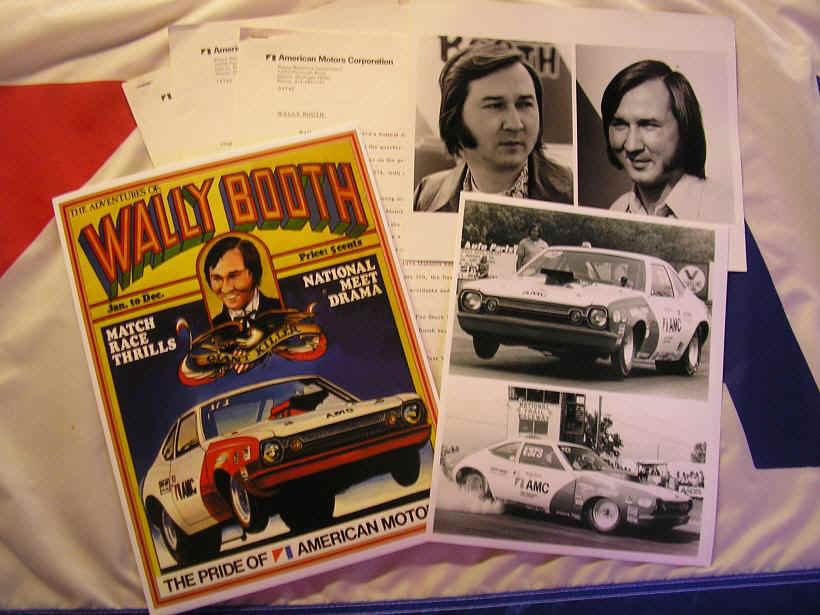 Wally Booth Pro Stock Hornet X NHRA Press Kit
The kit includes a extremely colorful cardboard pocket folder with the Hornet launching hard on front, with a photo of Wally smiling beneath a Eagle and 'Giant Killer'. Inside you have a bio on Wally Booth, two twin photos (4 photos split) one photo showing the new 1973 Booth/Arons Racing Hornet warming up the tires at National Trail Dragway, the other launching off the line. The other photos showed the intense Mr Booth at two different moments; one sizing up the competition; the other probably with a smirk after he shut them down. 8 x10 Pocket folder. 7 pages of history. Two great split photos.

Excellent item for your American Motors, Hornet, NHRA/drag or legendary Wally Booth COLLECTION! Few race fans, few AMC fans, ever got their hands on one of these. Limited production, get your hands on a holy grail of AMC Press Kits. $15 + shipping
===========================
I take paypal, checks and money orders. Shipping worldwide. Questions, email me at eddie@planethoustonamx.com

===========================