AMC VIN Numbers
Vehicle Identification
How to Decode your Classic AMC
Courtesy of Frank Swygert, Editor of American Motors Car Magazine
Edited by Eddie Stakes

---

Five numbering systems were used, each during specific years. Each will be discussed separately in chronological order. All years refer to model years, not calendar years. Prior to 1965 there is no way to tell if a car was originally equipped with a particular engine except by the availability in the model in question.
AMC assigned serial numbers as orders came in, not as the cars were actually assembled! Therefore, a car with a low serial number,"000001" for example, may not be the first one actually produced. Cars were assigned a "sequential assembly number" (see Unit Body Identification Plates) in the order they were produced. Conversely, the highest serialed car for a specific year will most likely NOT be the last one built. Such as The Last AMC ever built.
Actual assembly took place according to assembly line demands. This practice started at least in 1960, as that was the first appearance of the sequential assembly number, but may have been started earlier.
Serial numbers for early (prior to mid 1966) AMC vehicles will be found under the hood on a plate attached to the right (passenger side) wheel well panel. Later models have this number on the dash panel on the drivers side where it can be viewed from the outside through the windshield.
In 1968 the U.S. government instructed auto manufacturers to stamp the last six characters of the serial number in four other locations. This was to help identify stolen vehicles. One of those locations is behind the steering gear box on the frame rail. The other three locations were moved from year to year and known only to the manufacturer, who would supply this information upon request to law enforcement agencies. This is a photo of 60s crude VIN stamping under power steering box: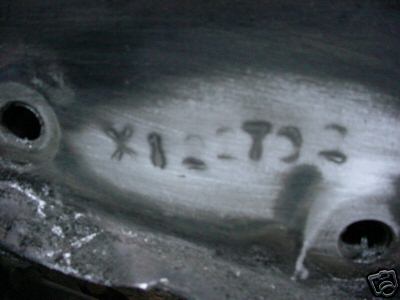 By 1974 AMC had invested in better cold chisel stamps for the VIN under steering box like this AMX.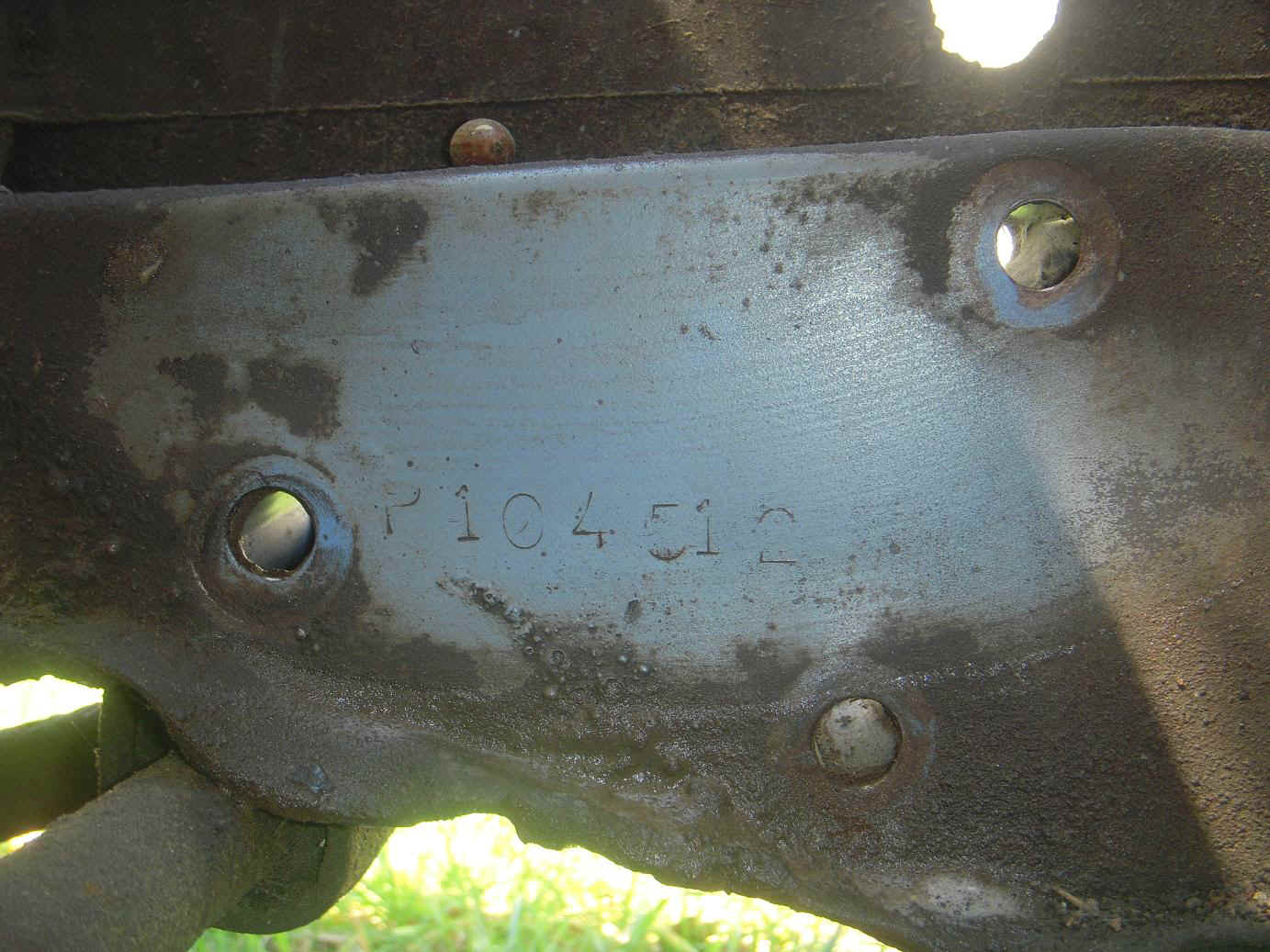 It is a urban legend that all AMC cars were stamped under the steering box. I have dismantled hundreds of them since 1970s and about a 70% ratio of finding evidence of a stamping. It was also something I documented as I tore thru hundreds of AMC vehicles at Houston pick a part yards also. So not all of them have crude stamping under box.
In 1968, a number of American Motors vehicles have not one...but TWO VIN tags; one on the passenger shock tower, the other on the front lower windshield of the driver side. It is believed that AMC stopped putting the under the hood plate on vehicles well into the 68 model year however, some have appeared on early 69 AMCs. Production had begun on the 68 models Aug 1st, 1967, and they appeared in showrooms about Sept 10th-13th, 1967.
This is location of the VIN until that cutoff time located on PASSENGER SIDE shock tower..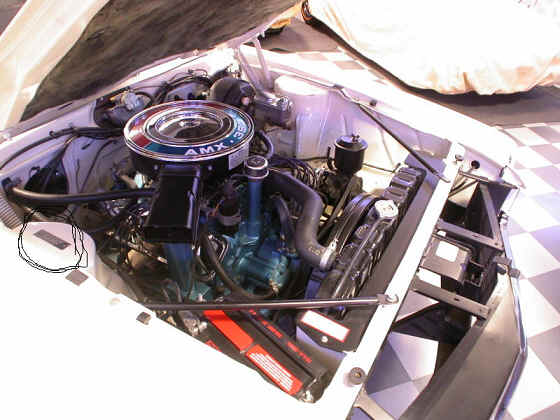 Before this 1968 AMC Ambassador was hauled off to scrap, I decided to take a photo of the TWO VIN plates together. The hastily made dash tag was bolted to dash metal frame itself. There was no cutout or inlet for this, AMC was just trying to comply with changing rules. The Ambassador also has tack welded long VIN on passenger shock tower. Most of the 1969 AMC dashes will have a small provision molded into the plastic for the 'new' T shaped (or L shaped) VIN. 1968 dashes DO NOT. But in that window of time 6-8 months Mar 68 thru about October 69, you will see VIN dash tags like this, stamped, bent and shoved in metal, held in by Rosette rivets on dash frames before AMC changed dash with small indention where VIN dash tag could slide in and be riveted.
In some AMC models built between February 1968 thru mid December 1969 you might have a VIN that was for lack of better term, shoved in the hole. That is, NOT attached to the dash at all just placed (wedged would be better word) between the metal dash frame and dash before the windshield was installed. Why I do not know but have always speculated that this was grey area after feds changed laws concerning VIN tag placement on US autos. I have owned a dozen or so like this, mostly Ambassador & Rebel Series. This is a tag from one of them. If someone one day can offer me some evidence why AMC just wedged a VIN tag in without rosette rivets would like to hear, so far, none of the AMC line workers I have interwived thru decades knew why either although one said "the dashes were not intended for a additional plate which was a mid year entry, the dash frames were pressed by outside supplier before the law changed" and I have to go with that. I just think AMC could have screwed it into something but there is not much, ok, no shelf in body line there to put it.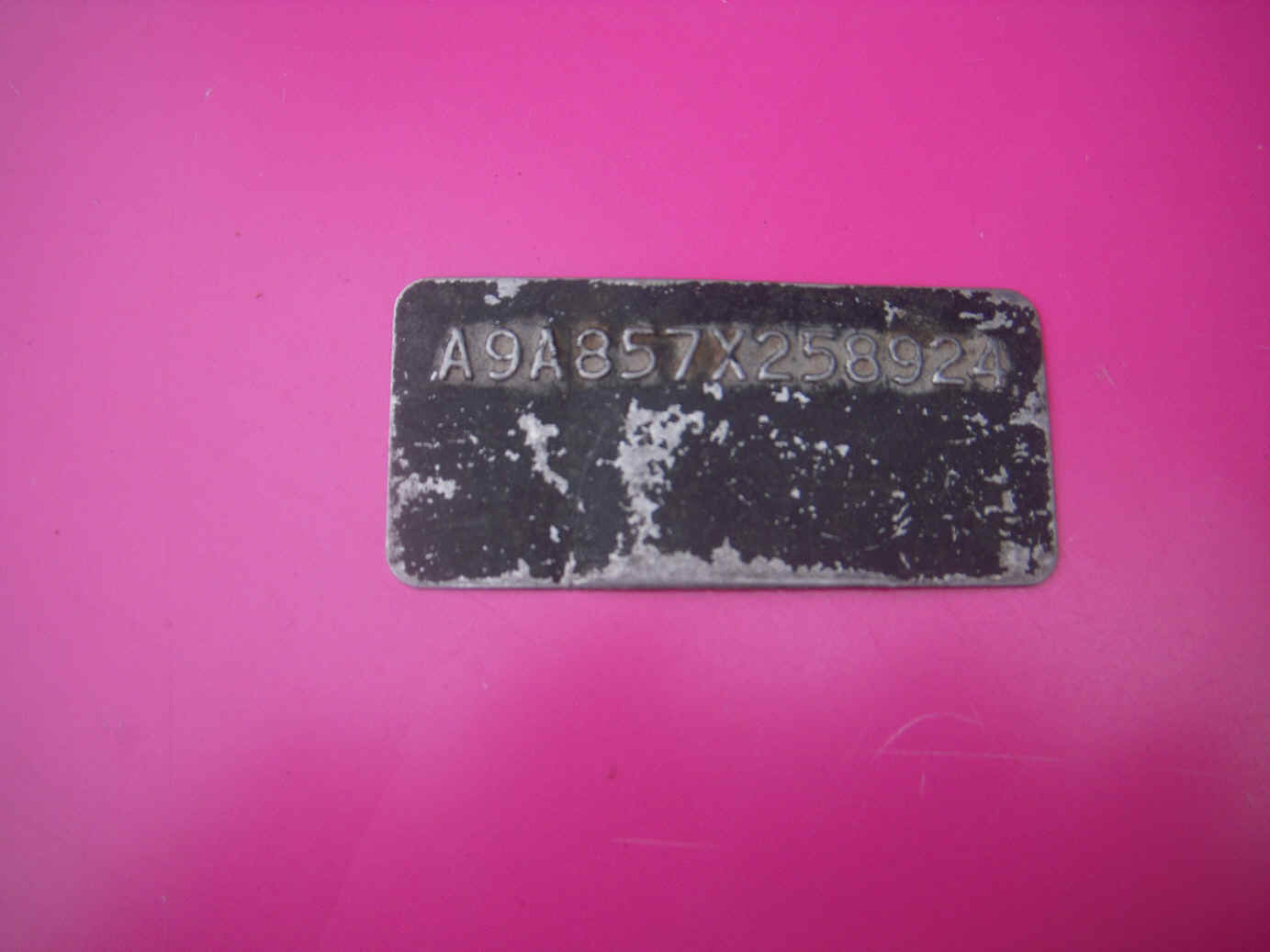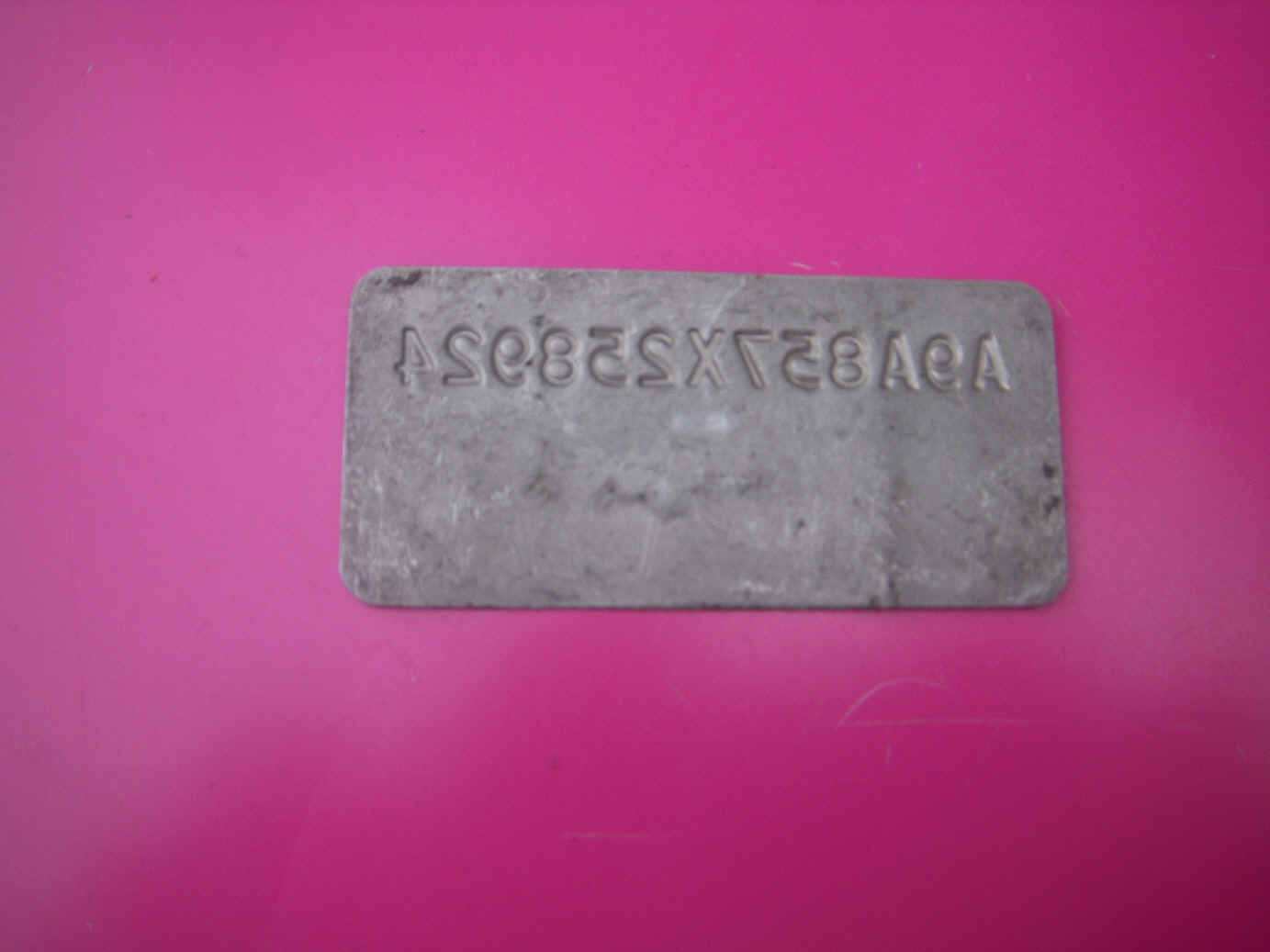 PS: for you AMC wonks, the above VIN tag was from a 1969 Ambassador 390 AMX engine (factory 390 4barrel!!) SST four door car. It was built the week of March 15th thru March 22nd, 1969. One of 2068 69 Ambassador SST four doors that got a AMX 390 engine (which featured the chrome valve covers, oil breather cap, air cleaner lid and brake master cylinder cover). This was a POLICE CAR I parted out at the Houston Pick A Part, would have loved to have gotten to it before it was hauled out there.
There is some evidence, although not much, that the VIN was also "hidden" in other areas of AMC vehicles. I have found 2 in the sloped floor pan area, while others have disputed this, it remains up in the air. So besides under the steering box (and not all are stamped there) always keep your eyes peeled for any tags or numbers inside the vehicle, especially under carpet area. Again.....in 1968 the Federal Government instructed US Auto Manufactures to stamp the last six digits of the serial (VIN) in four different locations. I (and others) are unsure if AMC actually did this. So with that in mind, here is a VIN I found stamped on the floor. It only had five digits on the 1968.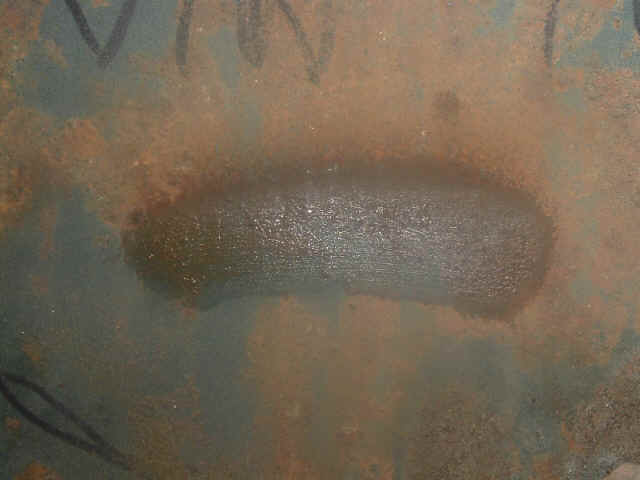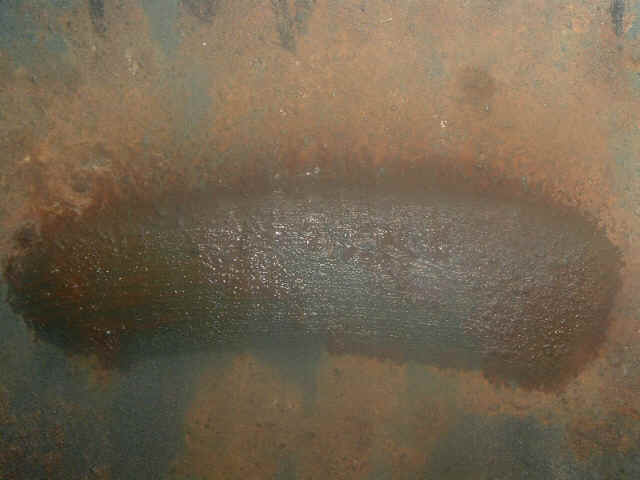 This photo shows a variety of VIN tags AMC used.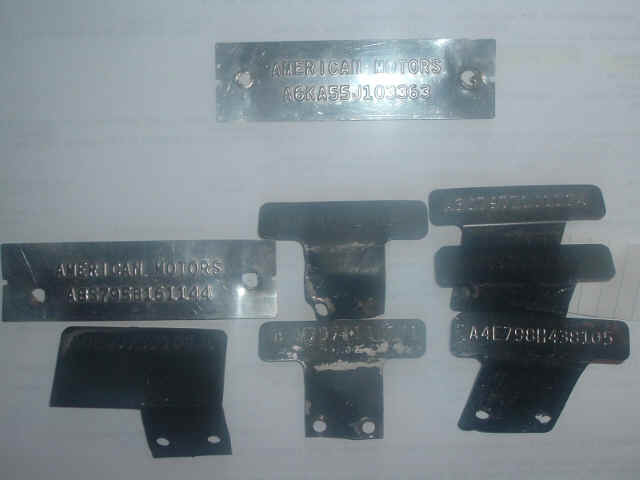 The upper one is for 1966. It will be the same thru March 1968 in the location shown above. The two on far left are both 1968; the upper is 68 base Javelin, the bottom AMX. The AMX one is sometimes called a mailbox. The two on the left, many times both of these will appear on same vehicle, due to it being a "running change". The middle ones are both 1969, and were not offset but centered now. I do not know when this occurred. The three on the right are from 1973 and 74 AMXs. The VIN's starting in late 68 production were riveted on, and this shows the top and bottom of the 'flower head' rivets AMC used. This is on a base 1970 Javelin. The rivets used were Rosette rivets...same type for AMC door trim tags
*These are easy to shear off and change. So if buying a car, it might be worth your while to not only pull steering box to see if any numbers there, but also crawl under dash to look at rivets if possible.
PLEASE NOTE: Numerous AMCs were slapped with only one rivet from factory under th dash, especially 71-74 models. I am not sure why but have owned numerous 71-74 AMXs & Javelins and I don't believe it was a Rosette rivet shortage, but DO believe it was simply because the VIN metal dash tag holes didn't line up with the plastic dash piece it was suppose to, so workers only used one rivet. Don't read too much into it, have seen this on well over 100 cars. Here is a example of unmolested 71 Javelin AMX dash pad with one rivet.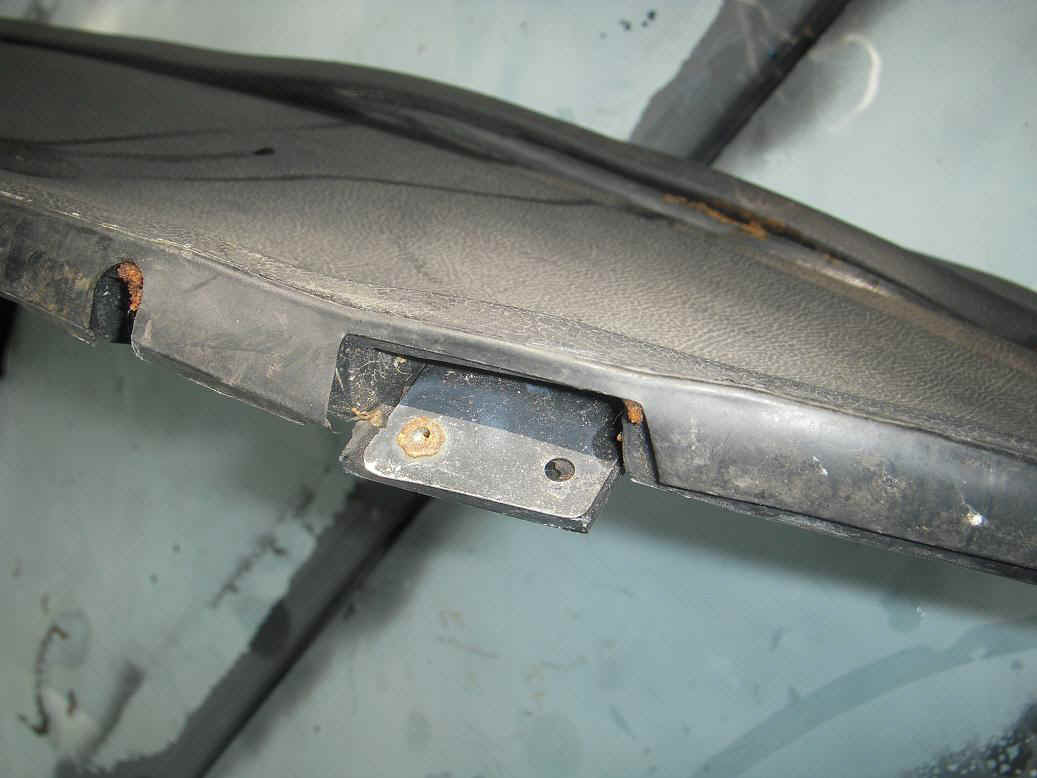 This is a 73 AMX Pierre Cardin, 360, 4speed (the Murder AMX for you wonks) I parted out. Some close up photos of the unmolested dash pad which had never been removed shows not only one Rosette rivet used, but looks like whoever had line duty that day 'forced' that one in and broke the plastic to boot. Again, not uncommon.

Several AMC's I have parted out have had the VIN stamped under the passenger side seat. (See above photos) Several have had the VIN stamped into the metal trim door tag. I was told by a AMC Historian this did not happen. So you have to prove them wrong sometimes. Here is a factory metal door trim tag with the VIN stamped in it for instance from a 1970 AMX I parted owned.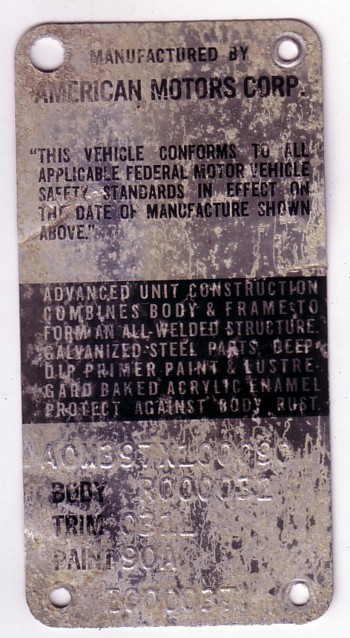 Regardless of what one may believe, AMC did indeed sometimes stamp the VIN in other places besides the shock tower and the upper windshield! Here is a small 5 digit tag under the back seat of early production Javelin with 13K miles.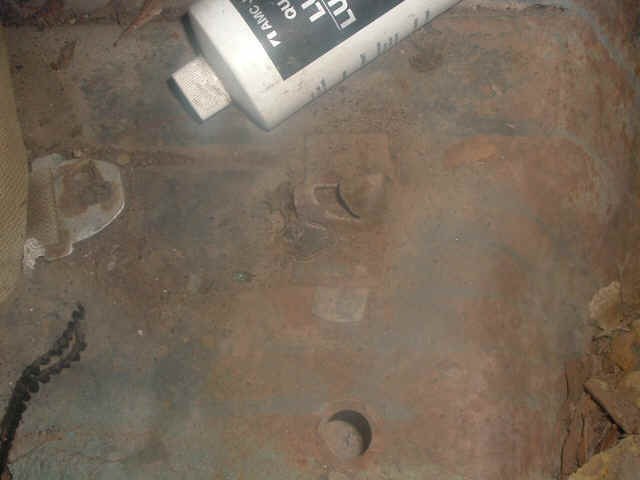 What is unusual is the metal seat retainer is welded on TOP of the tag. The tag reads 57880, which was last 5 digits of the VIN on this Rally Green 68 SST.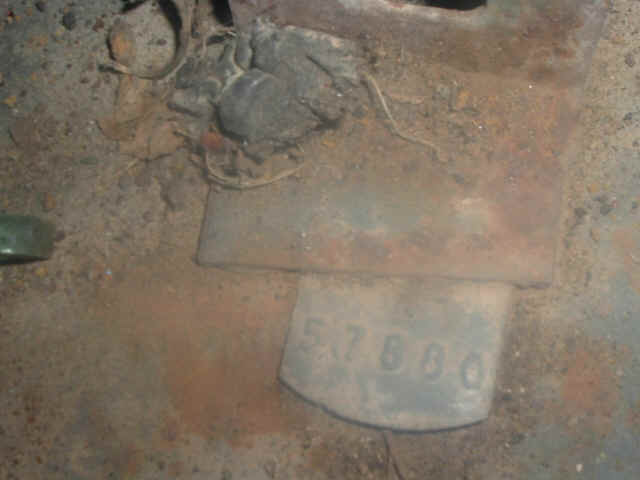 This 72 AMX is a early production prototype used for new changes for the 72 model, built in April 1971, well before the actual production began on Aug 1st, 1971 for the 72 models, it has a number of oddities like wood pieces in the dash and plaster parts, common when AMC was trying new things for upcoming model year. This 72 AMX has no VIN on the plastic door tag for instance.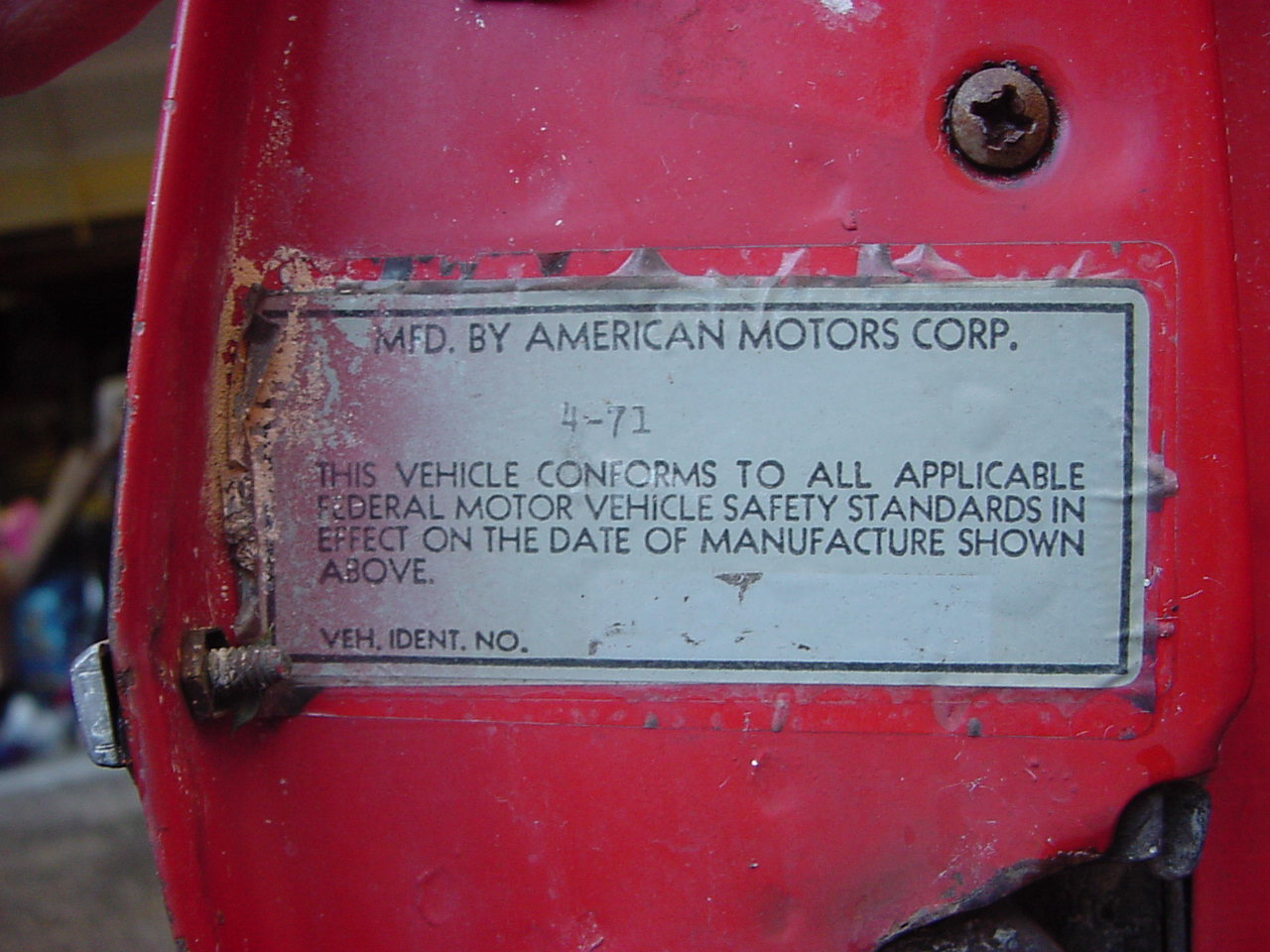 This 1968 AMX shows a misprint in the metal VIN tag, as AMC forgot the 3rd digit Trans Code.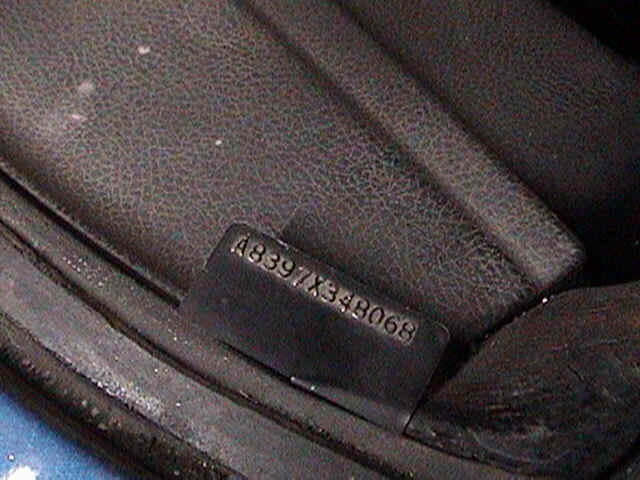 Note 1973 model year some of the last six digits did not begin with 100000, it began with 000000. I have owned over 20 early 73 series including this original owner 5th week of production, 1973 Hornet Sportabout 304V8 wagon. This causes some confusion as it appears to be only year AMC started the last six digit of VIN with zeros. NOT ALL 73 Series "last six digits" started with 000001.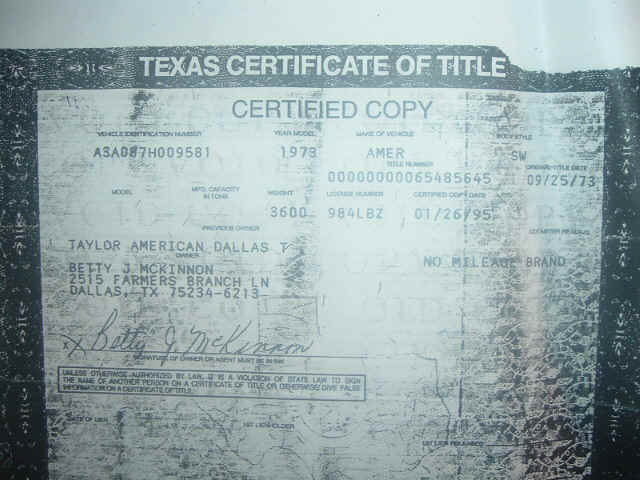 Due to AMC asking for, and receiving, a extension for 1974 production (production began Aug 1st, 1973 for the new 1974 models, it was supposed to stop July 15th, 1974, but ran into late November 1974) you see oddities with some 1974 models. Steel hoods on late build 74 AMXs come to mind; as do a number of 1974 AMCs painted 1975 colors. My 1974 Gremlin is a example in J7 Ivory Green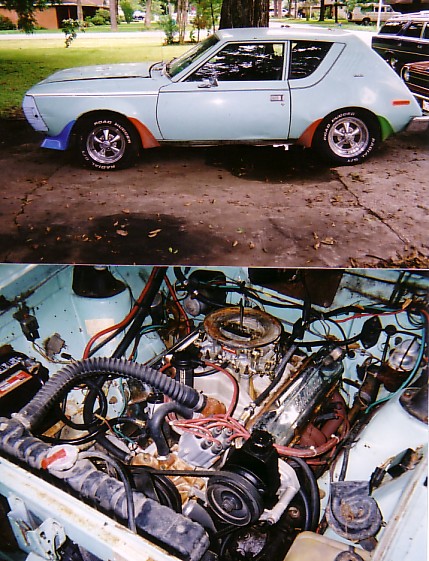 You will not find J7 in anything for 1974: color catalogs, brochures, paint charts. Here is another oddity from 1974; a pre-production Pacer with the VIN scribbled UNDER the plastic door VIN tag. It is a 1975 Pacer (last six digits are 104125; making it about 3rd week of production, but before Pacer formal interduction) but a oddball that might have been used for auto shows on the circuit.
This 1974 base AMX 304, AT would have been either one of the last, or the last AMX built in 1974 if not for extended 1974 production. A 1974 late build AMX recently was for sale in factory Alpine White, not a 1974, but 1975 color. Built July 27th, 1974! Bottom line is this: if your 1974 AMC was built between mid June 1974 thru end of production November 1975, there are all sorts of ODDITIES in that time window.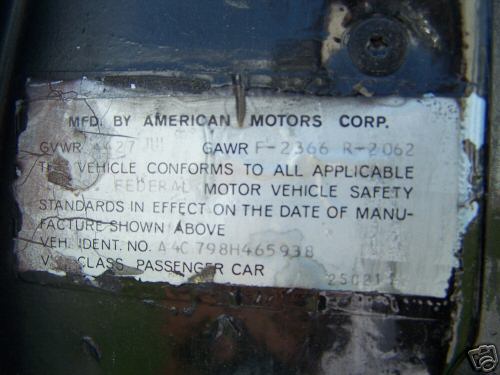 All AMC's left Kenosha or Brampton with a VIN. Not all states issued a title however; Maine, Mississippi and Alabama quickly come to mind. You also find cars that have LOST their VIN, so you have to go thru a hearing with that state to have a VIN issued. Most times this VIN will be riveted to the inner front door or upper roofrail for law enforcement to quickly ID the vehicle. This is a 1971 Javelin with a reassigned VIN from State of Illinois for example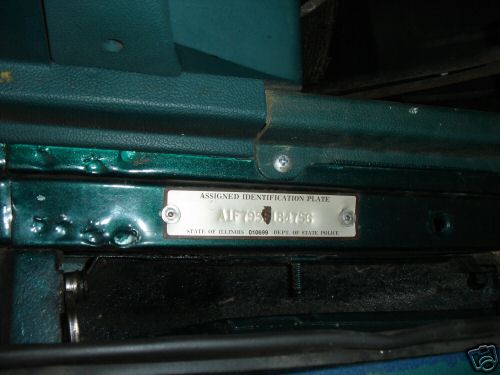 And finally....a few words from actual Kenosha assembly line workers: "I will also tell you this...Rich (a friend) worked the broadcast machine (actually a vintage form of telegraph) and I wouldn't put too much stake in vin numbers as AMC got sloppy with them. I was relief person for the i-panel job where I riveted the tags to the crash panels and I know firsthand they were not in sequence and most of the time, the tag was changed to match the car on the line as it was too much effort to change the sequence rather than put the car in the repair hole at the end of the line. As an aside, When Larry Tracy worked the I-panel assembly job, and had to type the tags out, he never got them correct! If he was off a number or letter, oh well. Most of the time, the repairmen in the hole would scratch with a punch to make it resemble what it was supposed to be rather than drop the panel entirely and put the proper options on the car, or we would call Rich and he would make a special broadcast for the car we built that time. I know this sounds hard to believe, but it it was standard behavior and accepted by all levels of management......the numbers matched the broadcast sheet by the time the car was done, but most of the time, the broadcast sheet and the car were not what they had originally been typed up to be in the planning dept! We all got lectured repeatedly on why the gov't had to 'have this done right' with the tags for ID purposes, but it went the way of the same lectures of "why do you have a brown stripe on one side of this Jav and a gold one on the other?" lectures. (answer - what's the dif? You can only see one side of the car at a time
anyhow!) Yes, life in the AMC plant was fun, especially after a few beers at lunch!" And a comment from a outside observer extremely familiar with American Motors, especially the UAW and management dealings: "This was in the late 60s to early 70s. I wouldn't say that AMC got sloppy -- the damned workers did! I won't say anything directly to anyone who worked at AMC, but they kept the company strapped into a contract agreement that forced them to pay 10 cents plus an hour more than any of the Big Three factories. The main reason I'll never say anything to a worker is that they didn't personally have much to do with it -- the union bosses did more than the individuals. Chrysler didn't know Kenosha costs more to operate than their other plants -- that's why they shut it down so quick -- they found out! They knew AMC gave them a good enough price to assemble the Omni/Horizon and Diplomat that one year, but didn't realize AMC wasn't making much by doing so. 10 cents an hour isn't much, until you multiply by 40 hours ($4.00), 50 weeks ($200), and the number of employees (5,000? just for easy math let's assume that number -- that's a million dollars!). The same people are doing it to GM now. GM is losing money, and the unions still aren't willing to make concessions. 30,000 jobs getting cut. Plants closing. A big part of the problem is GM's internal "good ol' boy" system -- to many execs making big bucks for occupying an office. They need major restructuring, and it will take bankruptcy to get the job done because to many people want to hang in those positions as long as possible. No one in the US corporate structure wants to do anything to keep the corporation going, it's all for one's self, to hell with the company after I'm gone!

The main thing that brought this up is I read an article a couple days ago about how the big three were complaining about unfair competition from overseas auto makers building plants in "right to work" states (meaning you can't be required to join the union to work... you probably knew that!!) that cost less to operate. DUH! GM has plants in those states too. The union idiots can't see that they are losing jobs by holding out. As wages go down, so will the cost of living. You can only charge for something what people will pay, so it has to! It takes it a 3-4 years to get that way though. All the cheap foreign goods coming in have already hurt the economy in many areas, I wonder how long it can keep on before we have to start levying tariffs again. I like the cheap prices for some things, but not losing all the small manufacturers we've been losing. There's a middle ground somewhere! Right now cost of many goods have come down, but people have to have jobs to afford the nicer things. It's gonna be painful over the next 10-20 years as things adjust."
---
1. 1955-1957
These serial numbers consisted of a facility/series code and a serial number of from four to six digits. The first number of each year was always rounded up to the nearest hundred by the factory. A three as the first digit in the model number indicates a Hudson model. Series 10 cars (Ramblers) did not have separate Nash and Hudson serial numbers. Starting numbers were not available for Metropolitan models.
Year Series Code Facility* Starting Serial No.
1955 10 D 1 205001
DC 2 15001
DKD 1 3701
40 K 1 635001
4KD 3 5401
KC 2 48101
KT 4 10501
340 W 1 1001
60 R 1 742901
6KD 3 4401
RC 2 23001
360 X 1 1001
XC 2 1001
80 V 1 1001
8KD 3 1001
VC 2 1001
380 Y 1 1001
YC 2 1001
1956 10 D 1 276101
DKD 1 5601
DKT 1 5401
40 K 1 649201
4KD 3 5701
KT 4 11101
340 W 1 8101
60 R 1 757901
6KD 3 4601
360 X 1 7601
80 V 1 11501
8KD 3 1101
380 Y 1 7201
50 U 1 1001
UKD 3 1001
UT 4 1001
350 Z 1 1001
1957 10 (6) D 1 276101
(V-8) A 1 1001
80 V 1 16501
380 Y 1 10501
360 KD 3 unk
* 1= Kenosha, WI; 2= El Segundo, CA; 3= Kenosha, Knock-down
for export; 4= Toronto, Canada

---
2. 1958 - Early 1966
These numbers are similar to the '55-'57 type and consist of one or two letters indicating the series/model and six digits which are the consecutive serial numbers. The first letter is for the series/model and the second letter indicates a knock-down export car ('K') or a car built at the Brampton, Canada plant ('T'). All with no second letter were assembled at the Kenosha main plant. The 1965 Marlin uses a series/model number instead of a letter. The export number may not contain six digits even though six are shown in the following chart. The first number of each year was rounded to the nearest hundred by the factory. There was no differentiation between L-head and OHV 195.6 (196) sixes (cast iron or aluminum). The 327 V8 was used in Series 80 only (until 1965), 250 only in Series 20, and the 287 only in Series 10 (until 1965) V8 models. All engine sizes and models were differentiated by serial number beginning in 1965. The engine size follows the Starting Serial Number in the list below beginning in 1964.
Year Series/Model Starting Serial No.
1958 01/American M1001
10/Rambler 6 D409001
20/Rebel A16001
80/Ambassador V27001
1959 01/American M32001
10/Rambler 6 D516001
20/Rebel A26101
80/Ambassador V41501
1960 01/American B100001
10/Rambler 6 C100001
20/Rebel A100001
80/Ambassador H100001
1961 01/American B221001; BK10701
10/Classic 6 C400001; CK10701
20/Classic 8 A118001
80/Ambassador H125001; HK10001
1962 01/American B375001; BK13001; BT100201
10/Classic 6 C625001; CK11501; CT206001
80/Ambassador H160001; HK10301
1963 01/American B515001; BK15001; BT110001
10/Classic 6 G100001; GK10001; GT220001
10/Classic 8 Z100001; ZK10001
80/Ambassador H210001; HK11001; HT330001
1964 01/American B650001; BK16001; BT115401
10/Classic 6 G500001; GK14001; GT239001 - 196
10/Classic 8 Z155001; ZK11001
80/Ambassador H255001; HK12001; HT333001
10/Typhoon Coupe L100001 - 232
1965 01/American P100001; PK100001 - 196
Q100001; QK100001 - 199
W100001; WK100001 - 232
PT500001 - 196
QT500001 - 199
WT500001 - 232
10/Classic 6 J100001; JK100001;JT500001 - 199
L150001; LK100001;LT500001 - 232
10/Classic 8 Z275001; ZK120001; ZT500001 - 287
U100001; UK100001 - 327
50/Marlin 6 2100001; 2K100001 - 232
50/Marlin 8 3100001; 3K100001 - 287
4100001; 4K100001 - 327
80/Ambassador 6 S100001; SK100001; ST500001 - 232/2V
80/Ambassador 8 E100001; EK100001; ET500001 - 287
H100001;HK100001;HT500001 - 327
1966 01/American 6* A100001; AK100001 - 199
B100001; BK100001 - 232
01/American 8* C100001; CK100001 - 290
D100001 - 290/4V
10/Classic 6 EK100001 - 199, export only
F100001; FK100001 - 232
G100001; GK100001 - 232/2V
10/Classic 8 H100001; HK100001 - 287
J100001; JK100001 - 327
K100001; KK100001 - 327/4V
50/Marlin 6 V100001; VK100001 - 232
S100001; SK100001 - 232/2V
50/Marlin 8 T100001; TK100001 - 287
W100001; WK100001 - 327
U100001; UK100001 - 327/4V
80/Ambassador 6 M100001; MK100001 - 232/2V
80/Ambassador 8 N100001; NK100001 - 287
P100001; PK100001 - 327
Q100001; QK100001 - 327/4V
*Includes Rogue.

---
3. Mid 1966-1980
As one can easily see, the code/number system was beginning to get rather cumbersome, not to mention the fact that AMC was planning on expanding it's product line - and they were running short of letters! To alleviate this problem, a new thirteen character numbering system was developed and implemented in the middle of the 1966 model year. Jeep also adopted this numbering system in 1971. The break down is as follows:
Character Number Translation
1 Company (A=AMC, J=Jeep)
2 Last digit of model year (6=1966)
3 Transmission Type
4 First digit of series no. (0=01)
5 Body Type
6 Group No. (trim level)
7 Engine Code
8-13 Sequential Serial Number. First for each model year is always
100001 for Kenosha and Toledo, 700001 for Canada.
All AMC export models were built at Kenosha.
Jeep numbers were slightly different while following the same general format. The third character indicates the transmission type and hand of drive, a two character series number was used in place of the series and body type (4 & 5), position six indicated the body type, seven the weight code, and eight the engine code. All Jeep final assembly was done at the Toledo plant. "CKD" stands for "Canada, Knock-Down". These vehicles were manufactured at a Canadian facility and then sent to Toledo for final assembly. The "DJ" series are export versions of the U.S. and Canada CJs. Some Jeep models may have a fourteenth character when necessary.

3- Transmission Types (AMC)
A- Automatic, Column Shift F- Four Speed Manual
C- Automatic, Floor Shift S- Three Speed Manual

4- Series (AMC)
0- American, Rogue, Hornet, Concord 5- Marlin
1- Classic, Rebel, Matador 6- Pacer
3- AMX, Eagle 4WD 7- Javelin
4- Gremlin, Spirit 8- Ambassador

5- Body Types (AMC)
2- 2dr Business Sedan 7- 2dr Convertible
5- 4dr Sedan 8- 4dr Station Wagon
6- 2dr Sedan 9- 2dr Hardtop Coupe

3- Transmission/Drive (Jeep) 4 & 5- Series/WB (Jeep)
A- Automatic/Left 14- Base Wagoneer/110
B- Automatic/Left (CKD) 15- Custom Wagoneer/110
F- Three Speed Manual/Left 25,26- Truck/120
G- Three Speed Manual/Right 45,46,47,48- Truck/132
J- Three Speed Manual/Left (CKD) 63- CJ-5 (CKD)/81
K- Three Speed Manual/Right (CKD) 64- CJ-6 (CKD)/101
M- Four Speed Manual/Left 65- DJ-5 (CKD)/81
N- Four Speed Manual/Right 66- DJ-6 (CKD)/101
O- Four Speed Manual/Left (CKD) 71- MD (Gov.)
P- Four Speed Manual/Right (CKD) 72- MDA (Gov.)
78- M-606 (Gov.)
83- CJ-5/84
84- CJ-6/104
85- DJ-5/84
86- DJ-6/104
87- Commando/104
88- Commando PU/104
89- Commando SW/104
93- CJ-7/93

6- Group Numbers (AMC)
1966-1969:
0- Base Model 5- Mid Model (440, 770, 990)
2- Ambassador 7- Top Model (Rogue, SST, AMX, Marlin)
1970:
0- Base Model 2- Base Ambassador
5- Javelin, DPL 7- SST, AMX
1971-1975:
5- Gremlin, Ambassador SST 7- Hornet (& SST), Javelin (& SST), Matador,
8- Javelin AMX, Matador X Ambassador, Ambassador Brougham
9- Matador Brougham P- Police Package
1976-1978:
3- Gremlin Base (76 only) 5- Gremlin (Custom 76, Base 77-78)
4- Gremlin Four Cylinder 7- Pacer, Concord, Matador, Gremlin(Custom 77-78)
9- AMX P- Police Package
1979-1980:
0- Base Model 5- D/L
7- Limited 9- AMX

6- Body Types (Jeep)
1- Thriftside Truck (step side) 6- Cab/Chassis (Truck)
2- Townside Truck 8- Bare Chassis (Truck)
3- Stakebed Truck F- Full Cab
4- 4 dr Wagon H- Half Cab
5- Open Body

7- Engine Codes (AMC)
Codes are valid only during certain years. Many codes were used to represent different size engines in different years. A series number following a year indicates for that series only.
Code - Engine Code - Engine
A - 199 1bbl, 1966-67 (01) B - 232 2bbl, 1966-67 (01)
199 1bbl, 1970 151 2bbl, 1980-83
258 1bbl, 1971-79 C - 290 2bbl, 1967 (01)
D - 290 4bbl, 1967 (01) 258 2bbl, 1976-87
E - 199 1bbl, 1966 (01) F - 232 1bbl, 1966-67 (10)
232 1bbl, 1967 (01) G - 232 2bbl, 1966-67 (10)
232 1bbl, 1970-79 232 2bbl, 1970
H - 287 2bbl, 1966 (10) 121 2bbl, 1977-79
290 2bbl, 1967 (10) J - 327 4bbl, 1966 (10)
290 2bbl, 1969 343 2bbl, 1967 (10)
304 2bbl, 1970-79 199 1bbl, 1968-69
K - 327 4bbl, 1966 (10) L - 232 1bbl, 1968-69
343 4bbl, 1967 (10) M - 232 2bbl, 1966-67 (80)
N - 287 2bbl, 1966 (80) 304 4bbl, 1970-71
290 2bbl, 1967 (80) P - 327 2bbl, 1966 (80)
360 2bbl, 1970-78 232 2bbl, 1967 (80)
Q - 327 4bbl, 1966 (80) 360 4bbl, 1970-77
343 4bbl, 1967 (80) R - 343 2bbl, 1967 (80)
T - 287 2bbl, 1966 (50) S - 232 2bbl, 1966 (50)
232 2bbl, 1967 (50) 232 1bbl, 1967 (50)
343 4bbl, 1968-69 343 2bbl, 1968-69
U - 327 4bbl, 1966 (50) V - 232 1bbl, 1966 (50)
290 2bbl, 1967 (50) 343 2bbl, 1967 (50)
W - 327 2bbl, 1966 (50) X - 390 4bbl, 1970
343 4bbl, 1967 (50) Y - 390 4bbl, 1970 (Machine)
343 4bbl, 1967 (50)
Z - 343 4bbl, *used on few cars
Z - 401 4bbl, 1971-77

7- Type/Weight Code (GVW, Jeep)
A- CJ-5,7/3750 T- CJ & DJ-5/3750
C- Custom Wagoneer/5600 U- Commando/4700
E- CJ-5,7/4150 V- Commando, CJ-6/3900
O- Base Wagoneer/5600 W- Truck/5000
P- DJ-5,6/3200 X- Truck/6000
R- CJ-6/4750 Y- Truck/7000
S- CJ-5/4500 Z- Truck/8000
8- Engine Codes (Jeep)
A- 258 2bbl N- 360 2bbl
B- 258 2bbl (low comp.) P- 360 4bbl
E- 232 2bbl R- 134 F-head
F- 232 2bbl (low comp.) T- 134 F-head (low comp.)
H- 304 2bbl Z- 401 4bbl

---
4. 1981-1989
In 1981, a seventeen character serial number was adopted. This number was used on all AMC, Jeep, and Renault products. All other cars sold in the U.S. (including imports) use this same format. All imported Renault info is not included (except for Medallion). Break-down is as follows (check digit, position 9, is listed last):
Character Number Translation
1 Country of Assembly
2 Company Name or Make
3 Vehicle Type
4 Engine Type
5 Transmission Type
6 First digit of series number
7 Body Style
8 Trim Level and/or Restraint System
(Trim/Gross Vehicle Weight [GVW] for Jeep)
9 Check Digit (last decoded item)
10 Model Year
11 Final Assembly Plant
12-17 Sequential Serial Number

1- Country of Assembly
1 or 4- United States 3- Mexico
2- Canada F- France

2- Company Name
A- American Motors (US) F- Renault
B- Jeep Corp. (Canada) J- Jeep Corp. (US)
C- American Motors (Canada) X- Renault
E- Eagle

3- Vehicle Type
C- Multi Purpose Vehicle
D- Incomplete Vehicle (chassis)
E- Left Hand Drive Export
M- Passenger Car
T- Truck
I- Passenger Car (R)

4- Engine Type. (R)= Renault only, (J)= Jeep only, (E)= Eagle only, (A)= AMC only.
The 5.9L V-8 (code N, used only in 1991 and earlier Grand Wagoneer) is the AMC 360.
A- 1.7L four (R) J- 3.0L V-6 (E)
B- 2.5L four (82-83, A, J) L- 4.0L six (89-90, J)
B- 2.1L turbo diesel (J) M- 4.0L six (87-88, J)
C- 4.2L six N- 5.9L V-8 (J)
D- 1.4L four TBI (R) U- 2.5L four (84-85, 1bbl)
E- 1.4L four MPI (CA only, R) V- 2.0L four (R)
E- 2.5L four (89-90 TBI, J) W- 2.8L six (84-86, J)
F- 2.2L four (R) Z- 2.5L four (88-89, TBI, E)
H- 2.5L four (85-88,TBI, J)

5- Transmission/Transfer Case Type. 2WD= 2 Wheel Drive, 4WD= 4 Wheel Drive, FT=Full
Time, PT= Part Time, ST= Selec-Trac (selectable 2/4WD), FWD= Front Wheel Drive,
CS= Column Shift, FS= Floor Shift, (M)= Medallion Only.
A- 3 Spd Auto CS 2WD K- 3 Spd Auto FS 4WD (ALL)
B- 3 Spd Auto FS PT 4WD L- 5 Spd Man FS PT 4WD
C- 3 Spd Auto CS ST 4WD M- 4 Spd Man FS PT 4WD
C- 3 Spd Auto FS FWD (R) M- 4 Spd Man FS FWD
D- 3 Spd Auto FS 2WD P- 4 Spd Auto CS PT 4WD
E- 3 Spd Auto CS PT 4WD P- 4 Spd Auto CS FWD
F- 5 Spd Man FS PT 4WD R- 4 Spd Auto FS PT 4WD
F- 4 Spd Auto FWD (M) T- 4 Spd Auto FS ST 4WD
G- 4 Spd Auto CS 2WD U- 4 Spd Auto FS 2WD
G- 4 Spd Man FS FT 4WD W- 5 Spd Man FWD
H- 4 Spd Man/ST 4WD
H- 5 Spd Man FWD (M)
J- 3 Spd Auto CS ST 4WD

6- Series. Only the first digit of the series number is used. Series were numbered 01 to
90. Some numbers were reused (indicated by "name/name"). Note that numbers are different
from previous years.
0- Hornet/Concord 5- SX/4 /Premier
1- Grand Wagoneer 6- Pacer/Commanche Truck
2- Full Size Pickup 7- Cherokee/Wagoneer (84-89)
3- Eagle 4WD (except SX/4) 8- CJ-7/Wrangler/YJ
4- Spirit 9- Alliance/Encore

7- Body Type
1 & 2- 2dr Utility Vehicle 7- Convertible/Open Utility Vehicle
3- 2dr Hatchback 8- Station Wagon
5- 4dr Sedan 9- 4dr Hatchback
6- 2dr Sedan

8- Trim Level/Restraint Type, Passenger cars only. M=Medallion only.
0- Base/Manual 9- Sport, LX/Manual
1- Type A Passive A- Base/Passive
2- Type B Passive B- ES/Passive (Deluxe/Manual, M)
3- L, Custom/Manual C- LX/Passive (Luxury/Manual, M)
4- Electronic/Manual D- Custom/Passive
5- DL/Manual E- Deluxe/Manual (7 passenger wagon, M)
6- Deluxe/Manual G- Deluxe/Passive
7- Limited, GTA, ES/Manual H- GTA/Passive
8- Luxury/Manual K- Sport/Passive

8- Trim Level/GVW Range, Jeep only (in US pounds).
1- Base (ALL)/4001-5000
2- Wrangler Sahara, Cherokee Pioneer/4001-5000
3- Wrangler Sport, Cherokee Chief/4001-5000
4- Wrangler & Cherokee Laredo, Wagoneer Limited/4001-5000
5- Wagoneer Base, Comanche Eliminator/4001-5000
6- Wagoneer Limited (1984-86)/4001-5000
7- Comanche X/4001-5000
8- Comanche XL/4001-5000
9- Comanche Comanche XLS, Cherokee Limited/4001-5000
A- CJ Series/3001-4000
C- Cherokee Chief, 6200
D- Cherokee Laredo, 6200
E- CJ Series/4001-5000
J- Wrangler Base, Cherokee Base/3001-4000, Comanche XLS/5001-6000
K- Wrangler Sport, Cherokee Base, Cherokee Pioneer/3001-4000
L- Cherokee Pioneer, Cherokee Laredo, Wrangler Laredo/3001-4000
M- Cherokee Laredo, Wrangler Sahara/3001-4000
N- Cherokee,Wagoneer,J-10 (full size 1/2 ton pickup)/6200, Grand Wagoneer,
J-10 (full size 1/2 ton pickup)/5001-6000
P- J-20 (full size 3/4 ton pickup)/6800, Comanche Pioneer/4001-5000
R- Comanche Pioneer/5001-6000
S- J-20 (full size 3/4 ton pickup)/7001-8000, Comanche Chief/4001-5000
T- Comanche Laredo/4001-5000
U- Comanche Laredo/5001-6000, Grand Wagoneer, J-10 (full size 1/2 ton
pickup)/6001-7000
Y- J-20 (full size 3/4 ton pickup)/8001-9000
10- Model Year Code. The letter "I" is not used to avoid confusion with the number "0".
B- 1981 E- 1984 H- 1987
C- 1982 F- 1985 J- 1988
D- 1983 G- 1986 K- 1989

11- Final Assembly Plant
B- Brampton (Ontario, Canada) T- Toledo (Ohio)
I- Bramalea (Ontario, Canada) 2- Mauberge (France)
K- Kenosha (Wisconsin) 5- Haven (France)

9- Check Digit
The check digit is used to verify that the serial number is an authentic factory number and none of the values have been changed to increase the value of the car or to sell it as a special model. Verification is tedious and must be accomplished mostly by hand. Any small mathematical error will throw the answer off, so be carefull and attempt verification several times (if possible have another party attempt) before deciding that the numbers have been tampered with. There are three steps in verifying the serial number:
NOTE: The following formula is for 1981-83 models only.
1. Write down the serial number with double spacing between each character. Assign each number in the serial it's numerical (face) value and each letter the value specified below, and write these numbers directly below their counterparts in the serial number.
A= 1 B= 2 C= 3 D= 4 E= 5 F= 6 G= 7 H= 8
J= 1 K= 2 L= 3 M= 4 N= 5 P= 7 R= 9 S= 2
T= 3 U= 4 V= 5 W= 6 X= 7 Y= 8 Z= 9
EXAMPLE: (Row 1) 1 X M D C 9 6 3 7 E K 2 5 4 8 1 3
(Row 2) 1 7 4 4 3 9 6 3 7 5 2 2 5 4 8 1 3
2. Now make a third row directly below the second by assigning each of the numbers in row 2 the values in the chart below. Mutiply row 2 by row 3 and make a fourth row with the products.
1= 8 2= 7 3= 6 4= 5 5= 4 6= 3 7= 2 8= 10 9= 0
10=9 11=8 12=7 13=6 14=5 15=4 16=3 17=2
EXAMPLE:
(Row 1) 1 X M D C 9 6 3 7 E K 2 5 4 8 1 3
(Row 2) 1 7 4 4 3 9 6 3 7 5 2 2 5 4 8 1 3
(Row 3) 8 2 5 5 6 0 3 6 2 4 7 7 4 5 10 8 6
(Row 4) 8 14 20 20 18 0 18 18 14 20 14 14 20 20 80 8 18
3. Now, add all of the numbers in row four together and divide (long division, not with a calculator!) by 11. The remainder should be equal to the check digit. If the remainder is 10, then the check digit will be X.
EXAMPLE: sum of Row 4= 324 324/11= 29 with 5 (check digit) remaining.
HINT: Always make sure that each row consists of 17 characters!
This information was published in AMC factory Technical Service Manuals (TSMs) until 1983. From 1984 on, service manuals were published following the format used for Renault vehicles. The check digit formula was changed after 1983 and the new formula was not available to the general public. This was, again, to prevent alteration of the serial number. By publishing this information, the original purpose was defeated anyway! Check digit information would be made available to law enforcement and insurance agencies from the factory on request.

---
5. 1990-1996
Formatting of the seventeen digit VIN was adjusted slightly beginning in 1990. Although AMC ceased to exist after 1987, the information below may assist those seeking later model engines to put in AMC vehicles. This information may only apply to trucks, multi-purpose vehicles, and sport utility vehicles (SUVs).
Character Number Translation
1 Country of Assembly
2 Company Name or Make
3 Vehicle Type
4 Gross Vehicle Weight
5 Model Line
6 Trim Level
7 Body Style
8 Engine
9 Check Digit (last decoded item)
10 Model Year
11 Final Assembly Plant
12-17 Sequential Serial Number

1- Country of Assembly
1- United States
2- Canada
3- Mexico

2- Company Name
J- Jeep Corp. (US)

3- Vehicle Type
4- Multi Purpose Vehicle

4- GVWR (Gross Vehicle Weight Range)
E- 3001-4000
F- 4001-5000
G- 5001-6000

5- Model Line
J- Cherokee, 4WD Y- Wrangler, 4WD
T- Cherokee, 2WD Z- Grand Cherokee, 4WD
X- Grand Cherokee, 2WD

6- Trim Level
1- S (YJ) 6- Renegade or Euro
2- Base 7- Limited
4- Sahara 8- Sport
5- Laredo

7- Body Style
7- 2dr Sport Utility (SUV)
8- 4dr Sport Utility (SUV)
9- 2dr Open Body

8- Engine Codes
E- 2.5L four (90 TBI) S- 4.0L six (91-01)
L- 4.0L six (90) Y- 5.2L V-8
P- 2.5L four (91-01 MPI) Z- 4.7L V-8

9- Check Digit. See explanation in 1981-89 section.

10- Model Year Code. The letters "O" and "Q" are not used to avoid confusion with the
number "0". The letter "U" is not used to avoid confushion with the letter "V".
L- 1990 R- 1994 W- 1998
M- 1991 S- 1995 X- 1999
N- 1992 T- 1996 Y- 2000
P- 1993 V- 1997 Z- 2001

11- Final Assembly Plant
C- Jefferson
L- Toledo #1
P- Toledo #2