AMC Ram Air
& Cowl Induction
more photos! more illustrations! Updated!
NEW Metal Ram Air & Cowl Induction Flapper Door!
The Ram Air system below is for the 1970 AMX and Javelin. Not all 1970 model AMX or Javelins came with this system. See PRODUCTION NUMBERS for 70 AMX. Not all Mark Donohue Javelins came with the forced air induction system either, although all 70 Trans Am Javelins did. This is a set of 70 AMX Ram Air DUMMY scoops. AMC Part Number 3616216 right & 3616217 left. Worth noting! Ram Air metal trim that covered the scoops was made by several companies for AMC...in 1969 (for 70 production) again in 1973 and finally in 1979. It is not uncommon to find the mounting tabs on one side (usually passenger side) do not align with the scoops or provisions in hood. I have a pair of NOS 2nd run trims (73 pressing) that do not line up to the scoops, and won't line up to the hood. This was usually because the mold the company used to produced these shrank. You simply slightly oblong the hole and mount them, as won't show when mounted & everything lines up.
The first "Ram Air" started appearing in 1968 thru Trendsetter Products who offered a "Frigid-Air" scoop system for AMX & Javelin. These were SOLD THRU AMC DEALERSHIPS like a number of performance items such as the Sidewinder exhausts shown, Mallory dual point ignitions, Doug's Headers, Edlebrock intake manifolds & more,
this is
complete TRENDSETTER/SIDEWINDER file
on my site: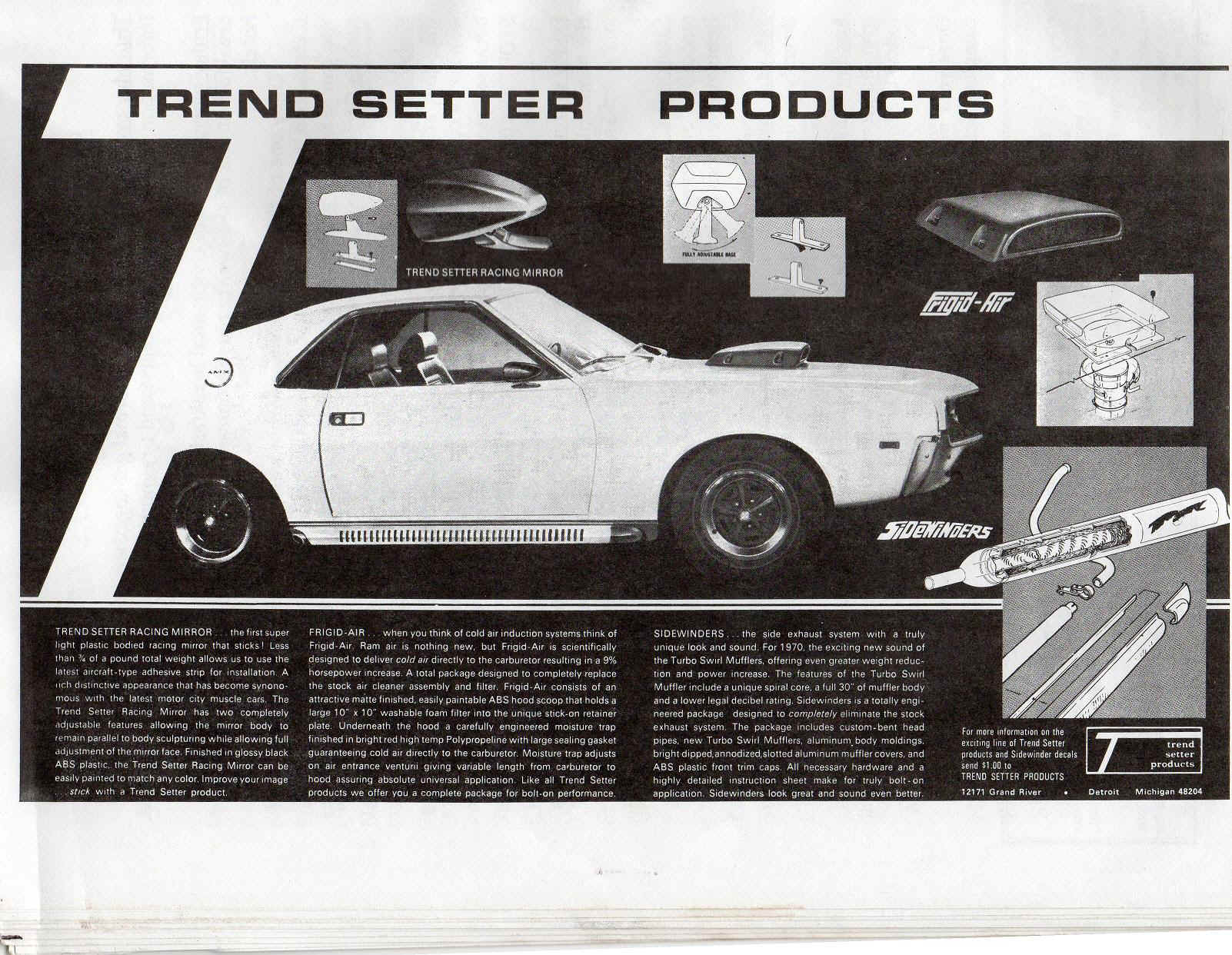 This is a Trendsetter Rai Air Scoop on a 1969 Javelin, this is original from 1969, BEFORE The Hurst SC/Ramblers received ram air mid year. It is one of less than a handful of AMXs or Javelins that got this treatment. The MOD twin fiberglass scoops are non functional and no 69 Javelin got "functional" Ram Air.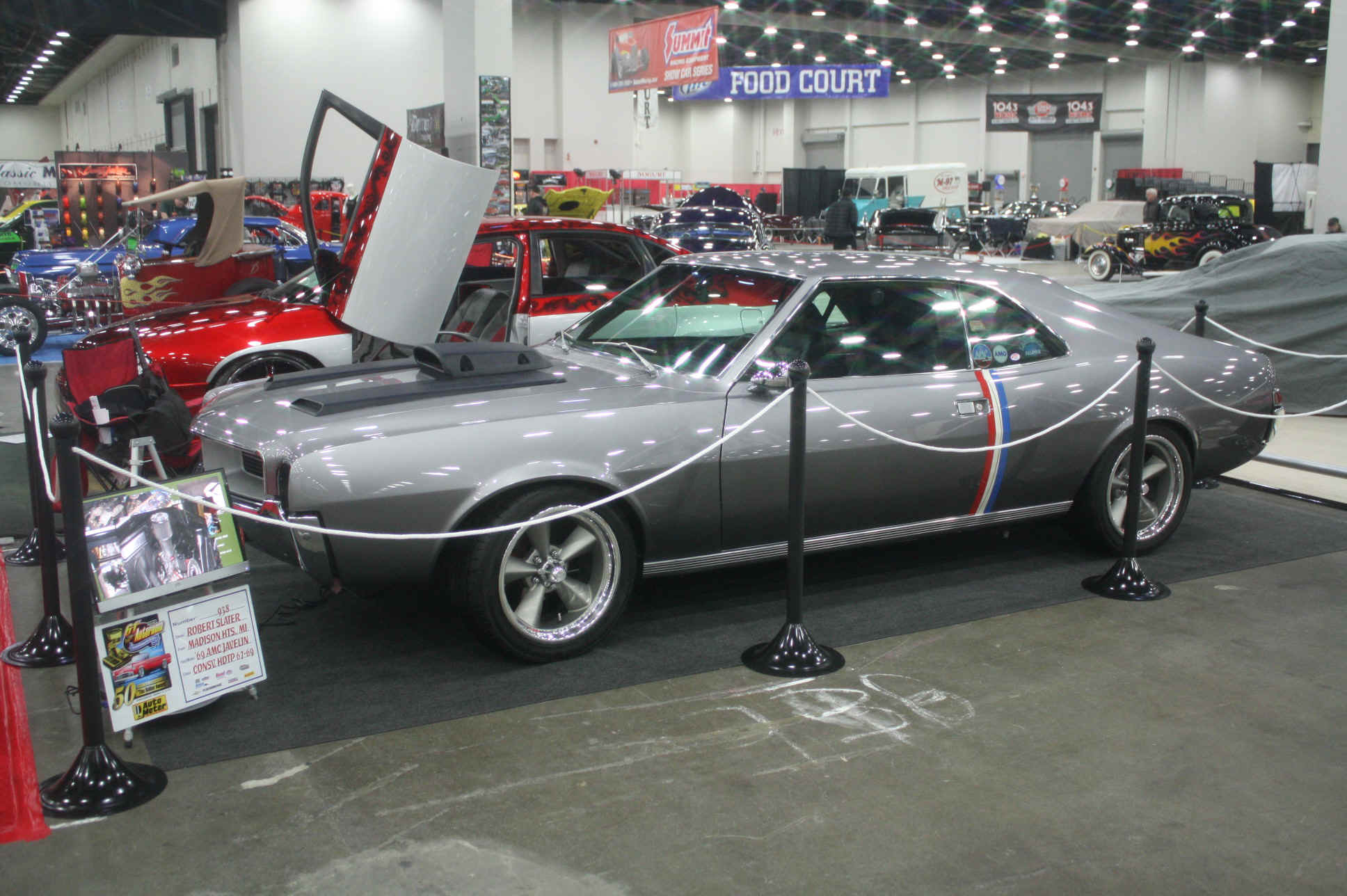 Few people opted for the Trendsetter ram air systems, and few exist although the Super stock 69 AMX scoops looked somewhat similiar. Not many people bought these scoops. The above is actual ad for the ram air scoop. Please keep in mind everyone & their dog was selling scoops, spoilers & 'performance products' back then, but FEW actually had AMC's blessing that garnished a AMC Part Number for ordering thru dealers!
A used complete (2 scoops, y duct, circle duct, vacuum actuator, inside flap & exterior seal) 70 Ram Air system commands $500+. You can however get reproduction parts for a lot less and most are just as good, or better than the 40+ year old originals. Both Ram Air chromes (moldings); both Ram Air scoops (baffles) the "Y" duct (front duct) have been reproduced. The circle duct has now (2006) been reproduced which is the most important part as it contains the flapper door and retainer and vacuum actuator (control). I may add that used original vac actuators command $200 or more. The vacuum actuator was a Ford item that was used on a variety of AMC Ram Air and Cowl Induction assemblies, although the rod is different, and sometimes the brace. The actuator is the same in my Machine as it is in my SC/360. On the SC/360 Hornet, this is a close up of the whole AMC Ram Air system. And a "bare bones" SC/360 Ram Air system.
It has been said that the Ram Air system for 1969 1/2 Hurst SC/Rambler, some 1970 AMX and Javelin, 1970 Rebel Machine, and some 1971 SC/360 Hornets produce a added 15-20 horsepower! It is a excellent, but difficult to locate item to add to your AMC if it did not come with it!
The vacuum actuators are different between the models, although the Rebel Machine & SC/360 Hornet share same rod length, and same was used on both models. AM Part Numbers:
69 Hurst SC/Rambler 3198690
70 Rebel Machine 3199613
70 AMX & Javelin 3198370
71 SC/360 Hornet 3199613
Here is several AMC Ram Air Vacuum Actuators. The one on far left is (top) 71-73 AMX from flapper assembly note rod. Same for 69 SC/Rambler, 70 Machine, 71 SC/360. 2nd, 3rd photos are 70 AMX & Javelin with original small mounting brace. Worth noting...check out the rivets on the brace to actuator, you will find some facing up....others facing down, not uncommon. 4th photo shows new reproductions 70 type, while last photo shows the new reproduction type for 69 SC/Rambler, 70 Rebel Machine, 71 SC/360 and 71-73 AMX flapper assembly. The actuators were reproduced by Mike at AMX-MGS but he unexpectedly died at early age in 2012 and no one seems to have them anymore as he was selling them to all the big box AMC vendors.
The below three pages is from the AM Dealer Parts Catalog and shows Group Numbers and Part Numbers for all fittings that went into the different models Ram Air & Cowl Induction "under the hood".
AMC Ram Air Group 12 Part Numbers
1970 AMX, Javelin & Rebel Machine Group Numbers Illustrated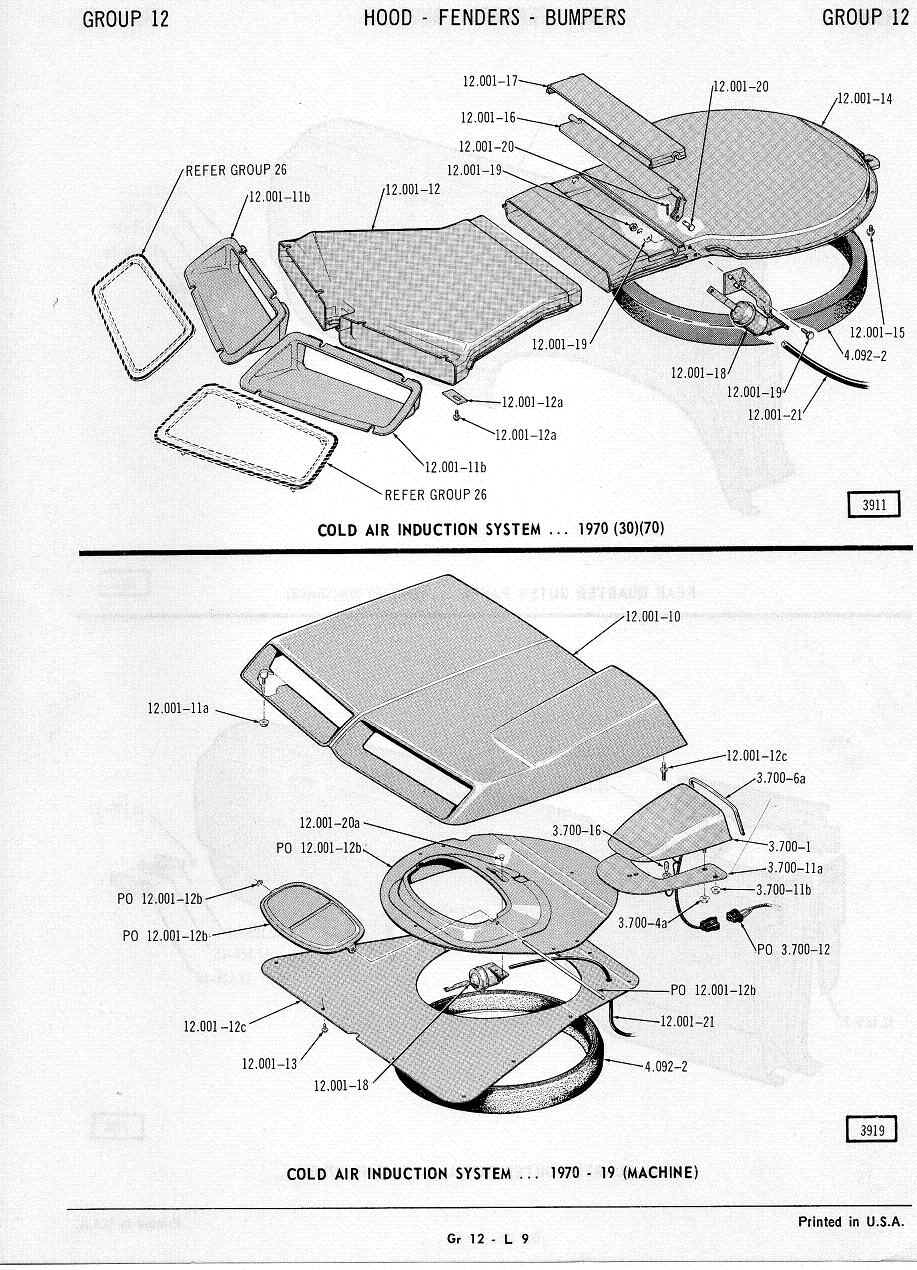 The Illustration below is from the 1970 AMC Technical Service Manual.
1970 AMX & Javelin Ram Air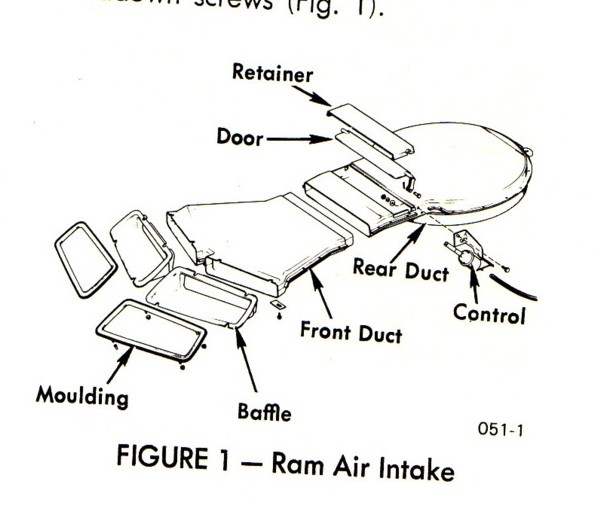 1970 Rebel Machine Ram Air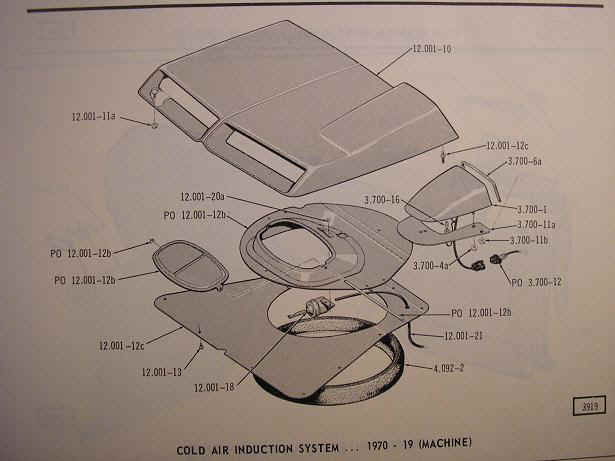 1971-73 AMX & Javelin Cowl Induction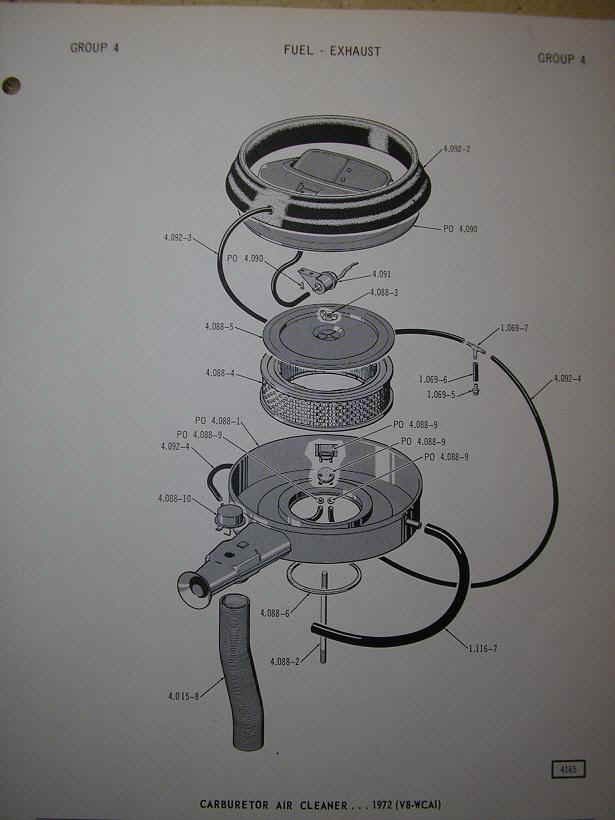 The 1971 thru 1973 AMX Cowl Induction System is a whole different bird. Air is not forced in from the front as the other models mentioned above are. It flows from behind . Just like some other vehicles of that era such as El Camino, Chevelle. In 1971 AMC introduced this cowl induction system on the new model AMX. This was A OPTION. There was a new air breather element also introduced, a dual snorkel setup as shown here. It is my understanding that these were used on functional cowl induction AMXs from Aug 70 thru Feb 71. The base engine for the new 71 AMX was a 360V8, in 1972 AMC dropped the base engine to a 304V8. You could not get functional cowl induction on a 304.
Before we go any further however, I have to explain the differences between the 71-74 AMX hoods! Trusty AMC assistants Noah on the left shows the triangular baffle AMC sandwiched between the upper fiberglass skin and the metal frame on a FUNCTIONAL hood, note the circular center for the FLAPPER to match up into. While Jacob shows you a same 71-74 AMX hood....NON FUNCTIONAL, same fiberglass upper skin and lower metal frame, just no triangular baffle to force air into the flapper. At the back, AMC simply added a "grate" for the air. This photo shows both functional and non functional side by side.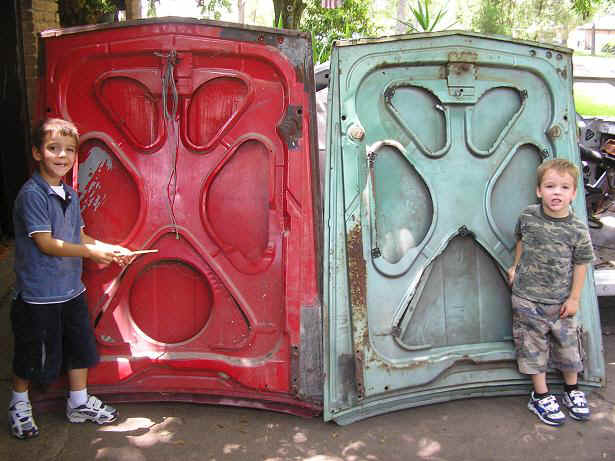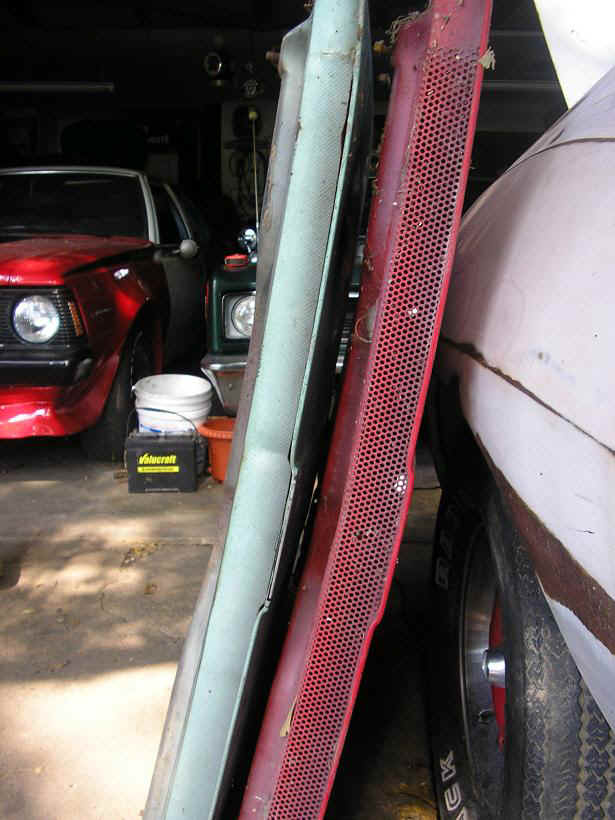 This is a close up of the fiberglass texture on both.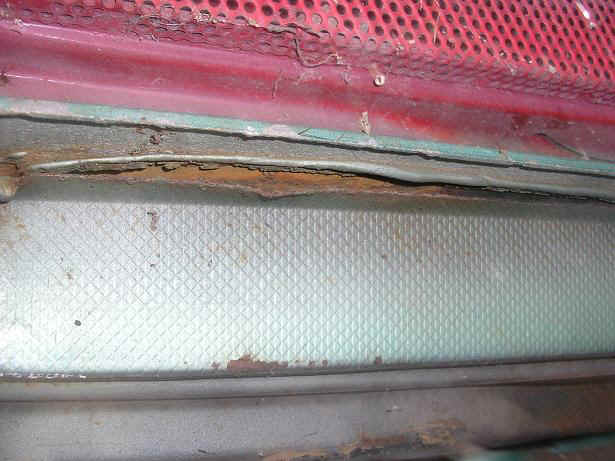 Note separation on the non functional hood. I may add that separation was common on these, front and back, after only 10-15 years, even more pronounced in areas with excessive heat. Easy to fix however. You need to inspect all hoods on the front however as if there is no stainless trim, the wind can easily get under the fiberglass and rip it completely off the skin while driving!

This is a very close up of the fiberglass, the grate appears to have been added (presumably along with the triangular baffle) while fiberglass was still wet. This is factory work from 1973.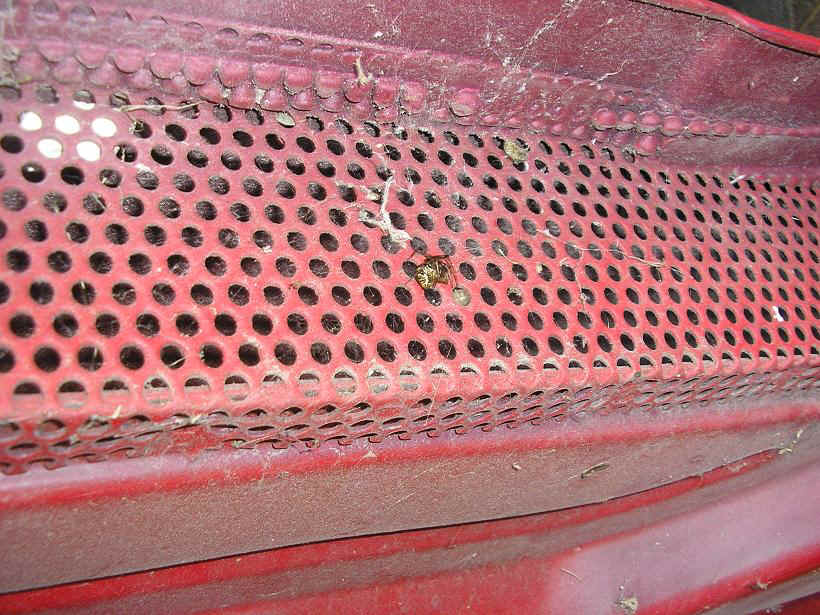 It may appear crude, but it was a musclecar, and extremely effective in the early 1970s. Still is.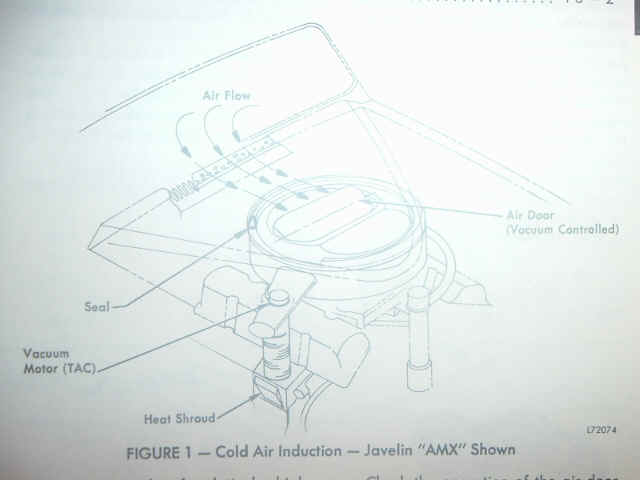 This is a photo of my new flapper, a original 71-73 assembly, and a SC/360 Ram Air setup, not shown under the scoop is a Rebel Machine Ram Air setup. So all three of four!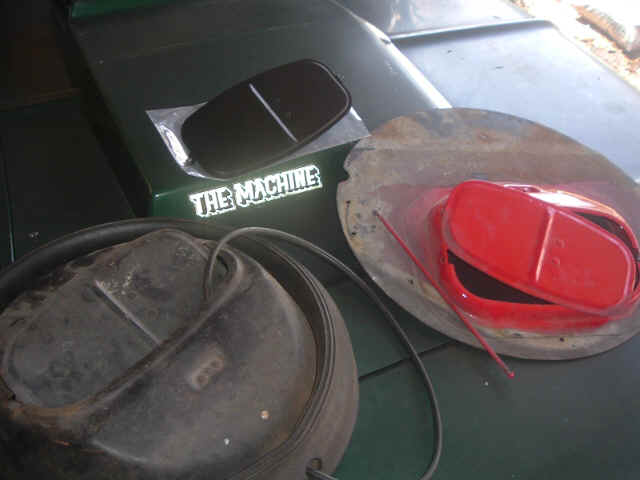 The Hurst SC/Ramblers had similar setup, this is a very early 69 1/2 SC/Rambler Ram Air.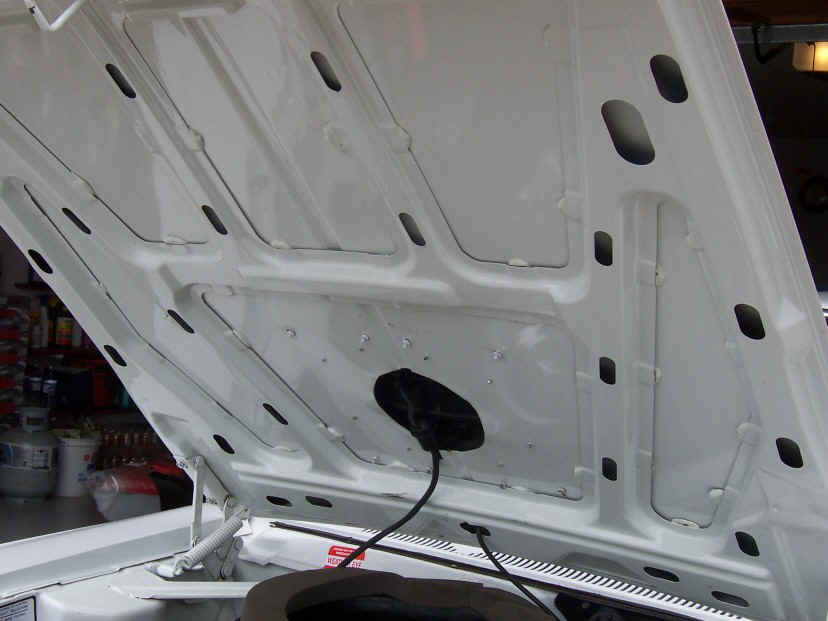 After early 1971, the AMXs that were LUCKY enough to get a "dual snorkle" functional cowl induction cars got a single snorkel setup with the flapper assembly as shown.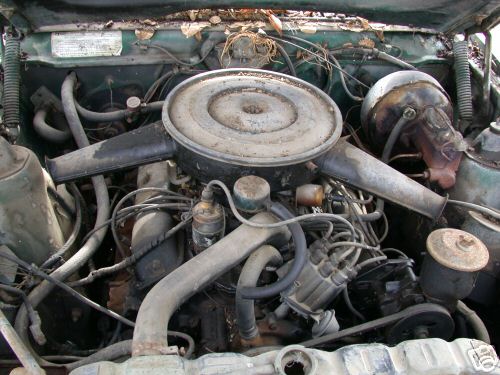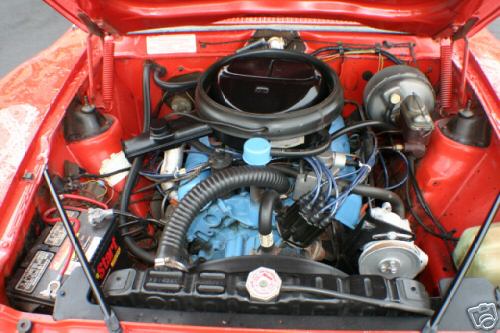 NOTE besides the base in early 71 having a extra snorkle, in\after Feb 71 build thru-73 the base had a emissions unit on the single snorkle as shown above.
This is a mint early 1971 "dual snorkle" base coveted by AMC collectors and seldom seen.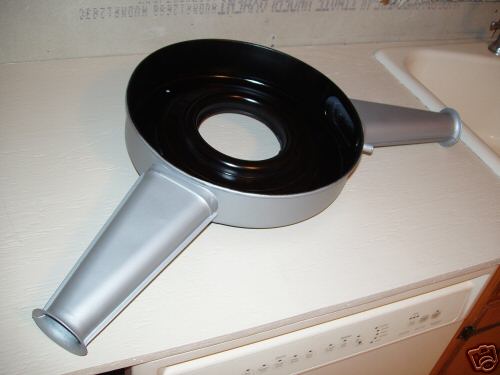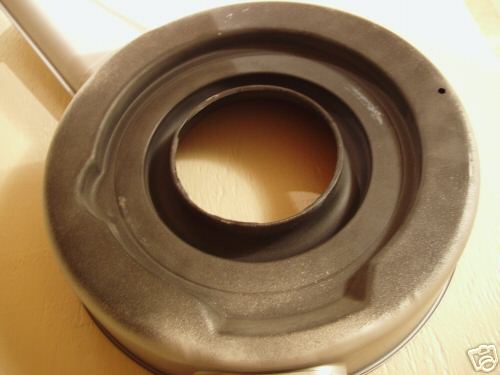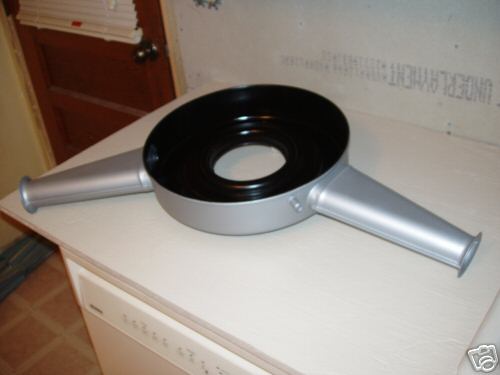 Right angle. Bottom showing drain hole. Left angle. Not all of them had a drain hole, if these were used on a 'non functional hood car' (Ambassador, AMX, Javelin, Matador) there would be no drain hole (not needed!) and it would have had large lid like this: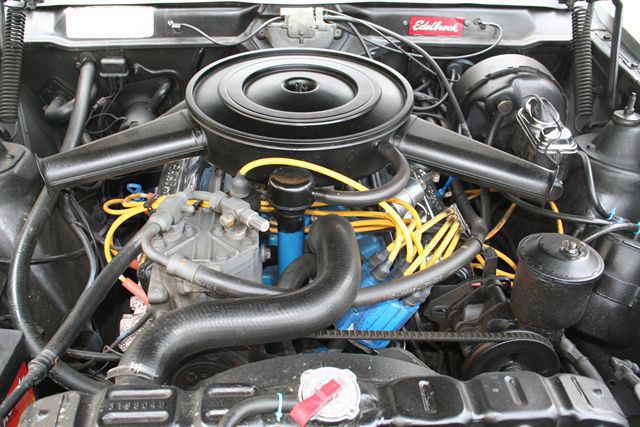 This type was only used for short production period and from what I have researched, August 1970 thru January 1971 production. These command over $500/low to $1100/high if found.
This is a factory lid.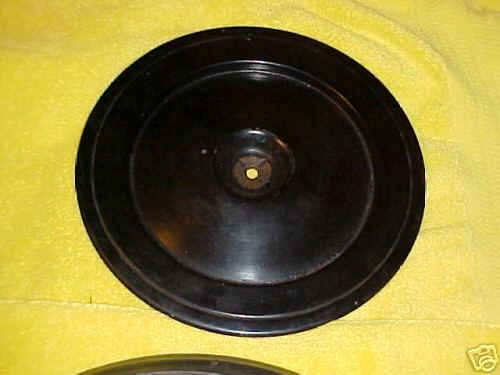 And this a NON DUAL complete unit with seal and flapper & base.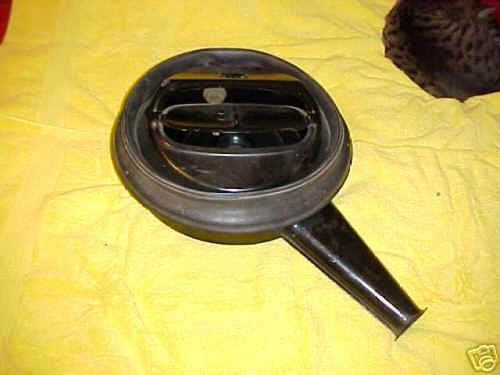 Unlike the Ram Air on 69 SC/Rambler, 70 AMX (and a few Javelins) and all 70 Rebel Machines, the 71-73 AMX flapper was same, however, small rivets held it in place where the others used a rod.
Here are a variety of angles on the upper flapper assembly. You can use most lower BASES for this upper piece. Just be sure the neck is right circumference as AMC used the Motorcraft/Autolite 4300 Series big carbs for the 71-74s, and therefore the neck (carb hole that sites on carb!) is wider; roughly 5 1/2 inches across. Most 4 barrel Holleys are same also. The cruddy base (note upper snorkel solenoid, 72-74) shown below you can find on ebay or AMC events, usually in the $25-$100 range for base w/wide neck like this. Detail it to go with upper flapper assembly and your classic 71-74 AMX (or Javelin) is in business.
No 1974 AMXs were produced with "functional" cowl induction.
To see if your 1971-73 AMX has a original cowl induction hood, simply look at the highest point of the hood facing the windshield as it will have a wire mesh. Lift up your hood and sandwiched between the fiberglass upper portion and the lower metal frame will be a triangular metal piece with the round hole cut into it to sit directly on top of the assembly. You could have Cowl Induction added to your Javelin at a AMC Dealership. This is mentioned in one of the Group 15 Accessory books. The upper flapper assembly is the toughest part to find, and commands over $400 when and if found. The 'shorty air breather lid' is NOT shown in this factory illustration. I wish to add that they interchange with several aftermarket brands on auto parts store shelves, and also the smaller air breather lid for 67-69 290 and 343/2V lids, and also 70-72 304/2V lids although different pattern imprinted on them, they work just fine and are a fraction of the cost of a original. My own guess and that is all it is, is that in the roughly 10,000 71-73 AMXs produced (see production figures) less than 2000 of these were equipped with Functional Cowl Induction. The upper seal interchanges with other models, it appears to be identical to my Machine and SC/360 Hornet. The difference? The 71-73 cowl rubber seal is PRESSED on the rim of the flapper assembly, whereas the Machine and SC/360 the seal simply lifts off. The lower dual snorkel base is also very difficult to obtain, being one year only and commands over $200. My suggestion as a alternative is to either attend some area Ford swap meets or contact a Ford vendor as many Mustangs from early 1980s-up had a very nice easily adaptable lower dual snorkel base you can use on your AMC and then use a shorty air lid. Either way, both systems are difficult to find but worth the price and addition to your classic AMC vehicle if found!
As seen in Hemmings Muscle Machines, this is the fiberglass SC/360 Hornet Ram Air scoop I reproduced. This photo shows dimensions of the scoop, which was a Rockwell designed scoop. After doing both 'cone' mount type and 'brace' type mount, I stuck with the brace type, (and it was Gremlin, Hornet, Concord and Spirit CUSTOMER REQUEST) as the cones, even on original, tend to splinter when drilled for the bolts to mount. The bigger issue with cone type mounts is that the screws used to hold them in will expand due to engine heat and therefore, crack the mounting cones. This was problem with original mounts in 1970-71. You can see the cones in the NOS scoop photos below. These two photos are of the new reproduction SC/360 fiberglass scoop with help from AMC assistants Noah & Jacob. More photos under PARTS.
This is a NOS never mounted 71 SC/360 Ram Air Scoop. Note the flat black over spray inside scoop and Rockwell tag and the cone mounts that tend to shatter. This file from
shows how to install your new SC/360 Ram Air scoop.
New Fiberglass Ram Air Domes: