1964-74 Javelin Rebel AMX American Rambler Ambassador Front Disc brake conversion
1. Safety first. Use all normal safety precautions.
2. Crack front wheel nuts loose, chock up rear wheels.
3. Jack up front end of car, support with jackstands. Remove front wheels, drum assembly.
4. Disconnect brake flexible line at frame by unscrewing hardline nut, then removing clip. Undo drum backing plate nuts and remove drum backing plate and all drum hardware in one assembly. Clean off spindle assembly
5. Place adapter plate on outside of spindle stub, with caliper opening to the rear and caliper mount nut welds facing inwards. Check to make sure bracket fits flat against stub. On 1-1/4" thick base stubs, rotate stub 180 degrees so it fits inside bracket. Tighten nuts to spec.
6. Place machined spacer on spindle stub with taper inwards to clear spindle fillet. If it fits loose, use LockTite Red to retain – if tight fit, heat spacer in oven to 450 degrees and place on stub.
7. Dry fit rotor onto spindle stub. Check for interference of rotor with lower ball joint. Some OEM pieces have a little "tongue" that hits the rotor; this must be ground back approximately 1/8". If all is well, clean and repack wheel bearings, install inner bearing in rotor. Install new seal. Assemble rotor onto spindle, tighten outer nut to spec, then secure with keeper, new cotter pin and Ranger dustcap. Install larger rings on rotor, these center the rims.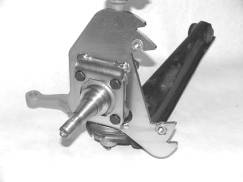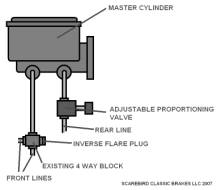 8. Wipe down rotor with alcohol, lacquer thinner or other cleaner to remove grease and oils.
9. Wash hands! Rotor must be squeaky clean
10. Assemble pads into caliper, lube contact points with silicone grease and slide assembly into caliper bracket, then screw in slide pins, tighten to 35 foot-pounds. Check fitment and rotate rotor to check clearance.
11. Measure optimal hose length with a piece of fuel line. We found routing the hose down from the caliper then up to the hardline, forming a "J" worked best. We used 1979 Seville front hydraulic hoses which are 15", but 12" may work better. Install hose with new copper crush washers.
12. Master cylinder and proportioning valve specs are quite varied. I would recommend 1968-74 Javelin or similar disc master cylinder for best performance match available in power and manual flavors. Try with original junction block first. If rears lock up excessively, install an adjustable proportioning valve in the line going to the rear. The large rings are for centering the stock rims on the rotors.
13. Bench bleed disc master cylinders, mount on car, then gravity bleed entire system first, and then pump bleed and test. Bed in pads by 30 slow stops from 30 MPH, with 30 seconds cooling between stops.
Part Application NAPA Wagner Raybestos
Rotor 1995-97 2WDRanger w/2 wheel ABS (48)86672 BD125469 66559(RGS)
Caliper, LH 1990 Celebrity front 442-2066 TQM25006 RC4233
Caliper, RH 1990 Celebrity front 442-2067 TQM25007 RC4234
Hoses 12" long 1979-90 Caprice front 36846 F106887 BH36846
Hoses 15" long 1979 Seville front 36845 F98912 BH36845
Oil Seal 1995-7 2WDRanger front 19223 BCA #9150S
Banjo Bolt 1990 Celebrity front 82703 DORMAN Part # 13940
Inner Bearing 1995-97 2WDRanger w/2 wheel ABS BR5 BCA A5
Outer Bearing 1969 Javelin BR2 BCA A2
Scarebird Classic Brakes LLC warrantees our product for 90 days after purchase against manufacturing defects. Scarebird Classic Brakes LLC is not responsible and held harmless for errors/damage/injury due to faulty installation or use of non-specified/inferior components or adaptation to non-OEM applications. If you do not agree to this, please send components back unused for refund. Scarebird Classic Brakes LLC reserves the right to change/delete components/applications without notice. Please do not hesitate to email us for latest specifications or technical inquiries. Contact: sales@scarebird.com Thank you.