AMC LOW FUEL WARNING SYSTEM
1970 and 1971
A rare little option for all 1970 and 1971 American Motors vehicles was the Low Fuel Warning system. On most of these vehicles, a small tiny rectangle was cutout in the middle of your fuel gauge, in the 1/2 way mark. Covered from behind with a small piece of red tape, this thing would flash furiously when the vehicle got down to TWO GALLONS OF GAS. On the 1971 AMX and Javelin, this red idiot light was in the row of lights in the panel. The small low fuel wiring harness is independent of the main warning harness. And the low fuel sending unit itself was placed behind the dash, and held on by one lonely screw. This is what a AMX or Javelin owner saw in 1970 when you got down to 2 gallons, of which was similiar for Ambassador, Rebel, Hornet & Gremlin Series. For 71 AMX & Javelin it had it's own designated idiot light. Discontinued after 1971 year.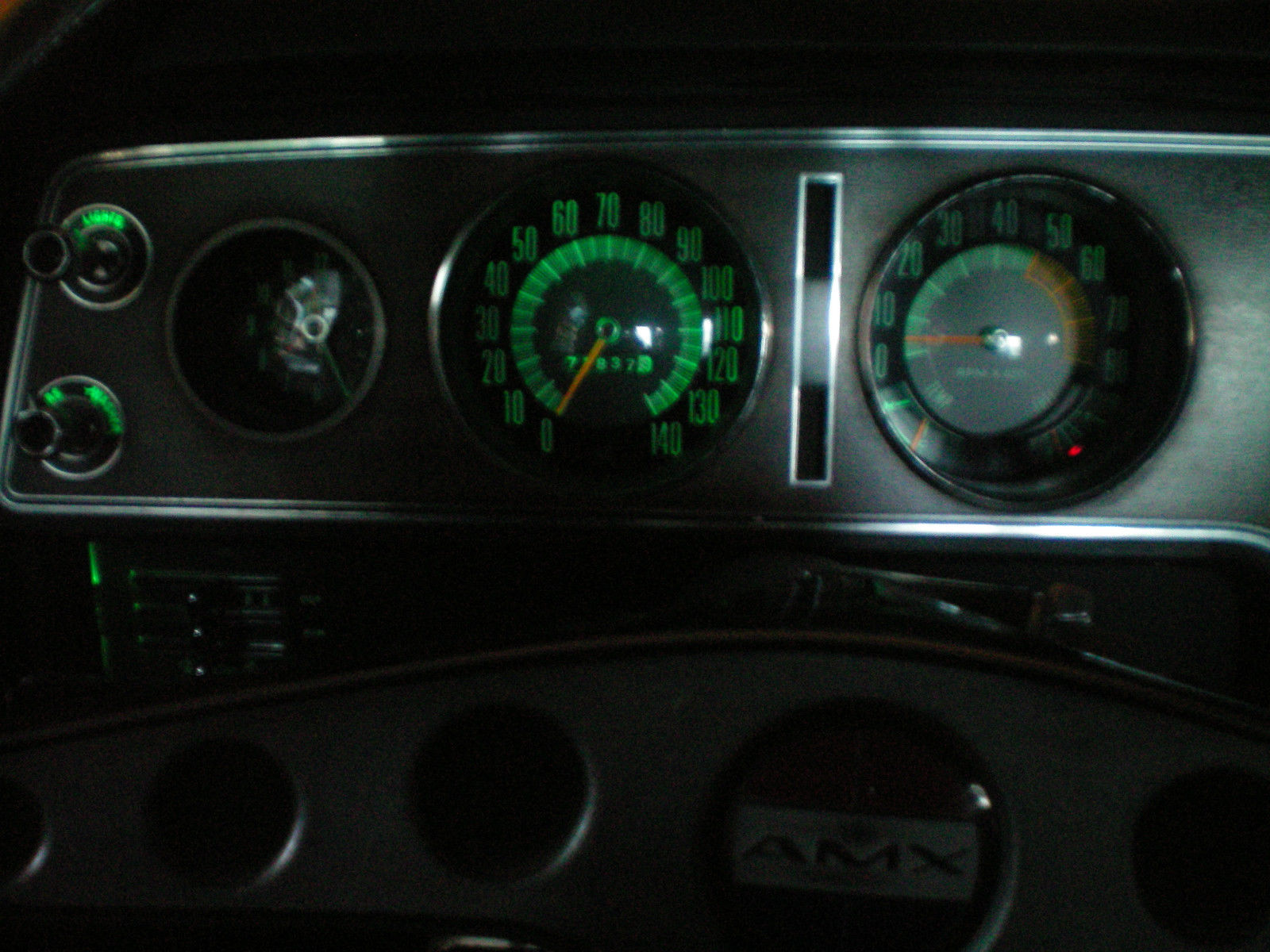 The Sending Unit is a Chrysler Item. however, as AMC did with many parts, they stamped their own AMC Part Number on it of 3636391. The AMC Low Fuel sending unit shown here is the piece that bolts behind the dash, and has to be bolted to metal to be grounded properly.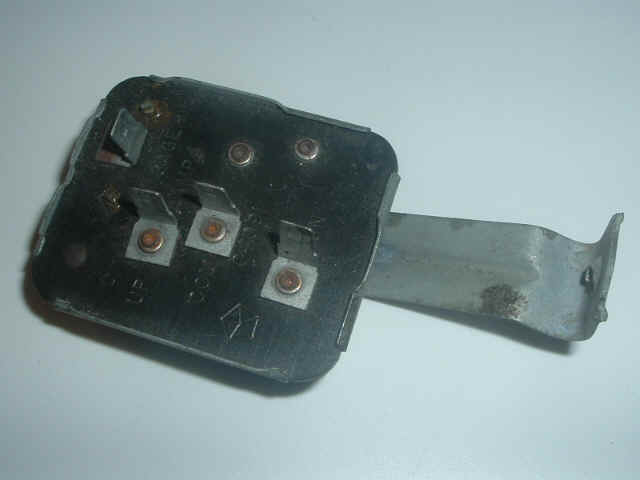 This is the actual little wiring harness.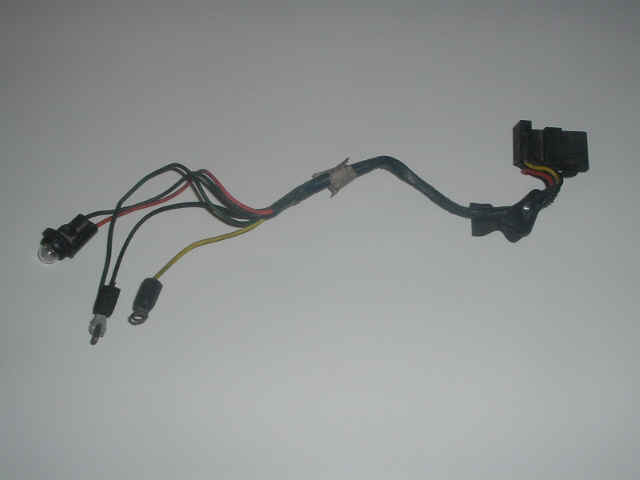 Here are the instructions for the AMC Low Fuel Warning System: Page 1 & Page 2
Factory Wiring Schematic: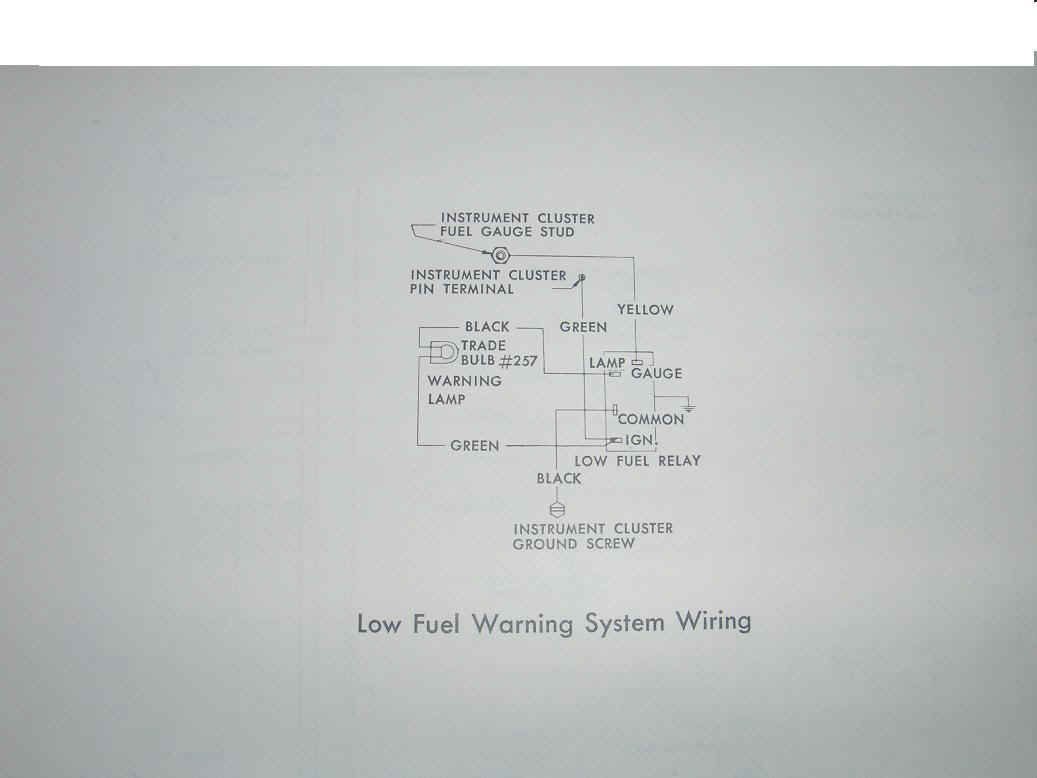 NOS 70-71 Low Fuel Warning System from AMC, complete with instructions.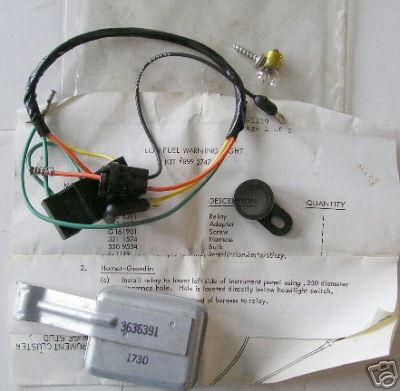 Original NOS from my collection; Group 15.195; AMC Part Number 8992626 (All 70-71 Series)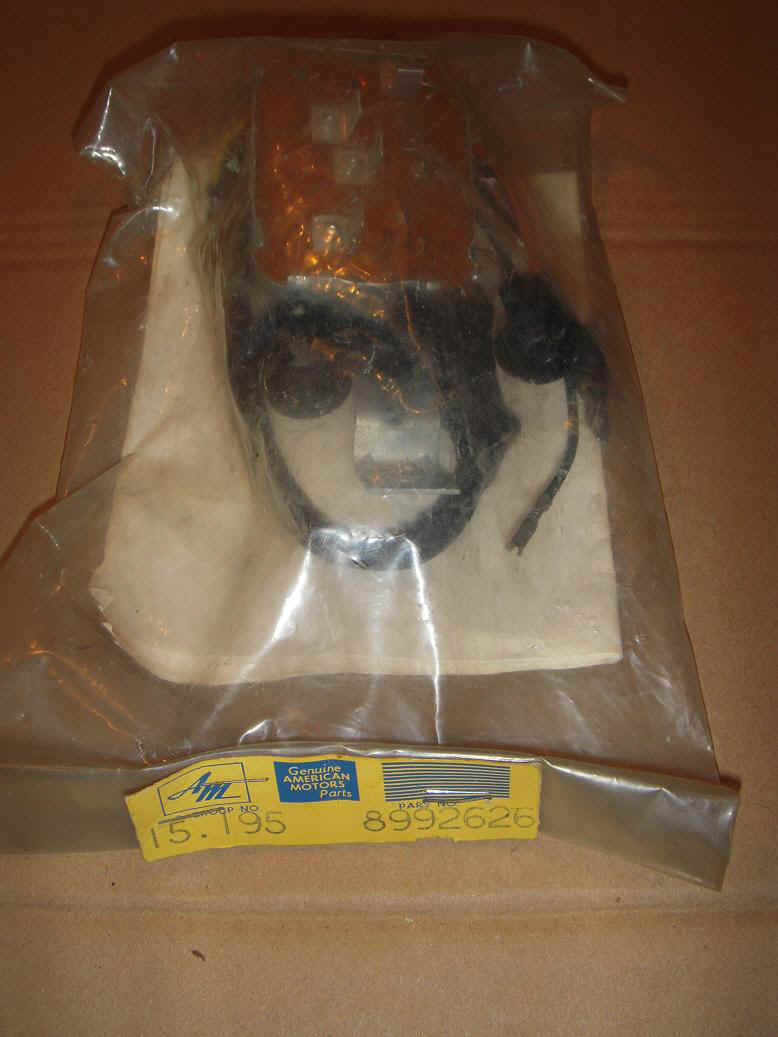 71 Hornet SC/360 Fuel Gauge with the Low Fuel Option shown.
AMC commonly put a piece of tape over (to prevent backlight from rest of cluster) on gauges when the vehicle owner didn't opt for this setup. This is a factory piece of tape covering the tiny cutout in circuit board: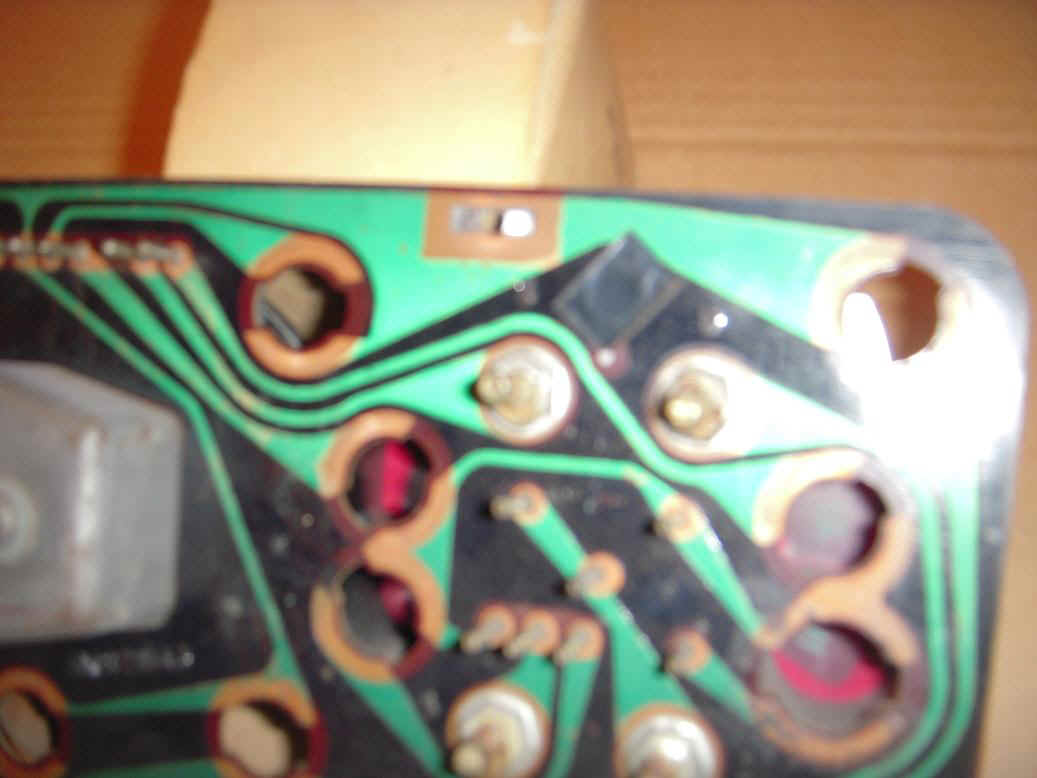 70 Javelin Low Fuel Option Front & Rear, note on the rear view the arrows pointing at the round plastic housing that clips onto the fuel gauge lower mount. This is same for all AMCs; the second arrow is the pin the green wire goes to.
70 Rebel Machine and Police & Taxi NOS unit from my collection with Low Fuel
I personally have always liked this option, as it came in really handy in the 1970s when I used to drive my 1970 Javelin to Padre Island almost every day. And the gas stations can be really far away too, (there are signs warning NO GAS FOR NEXT 55 MILES) and sometimes I would take a spare can in the trunk. Not the smartest thing to do, but it was 1978 and the trunk was filled with beer, and inside the car many times filled with Doritos, sandwiches, weed, and other provisions in case I stayed out there for a week or two, which was not uncommon for many of us camping on the beach.
The low fuel warning system can sometimes be found used on ebay, and usually in the $50 range for the harness, and sending unit...used only. You do not need to drill, or cut anything to install one. however, you might want to make sure your gas gauge has the little cutout as shown above before buying one of these. I believe that all 1971 AMXs and Javelins already have the small idiot light cover in the panel, even if the car did not come equipped with this option the small red cover is there.