AMC Metal Door Trim Tag & Rosette Rivets
New 68-76 AMC Metal Trim Door Tag BLANKS to replace your missing, painted over or corroded one:
On your AMC, this is a rectangular, vertical, riveted metal plate on the driver side door, about mid ways down. All AMCs had them. In 68, there were 4 mid colors: black, blue, green, brown. Black had been used since for 1964 for US. Brown for Canada. Due to changing federal government requirements the tag changed in 1968 to a dark green stripe; as did the text font and all the government standards dropped (which had threatened to overwhelm the small tag) to simply stating that "AMC had met all requirements from the Motor Vehicle safety Act of 1966" Cold Riveted in, this will give you some neat information about the car! AMC used Rosette Rivets. This close up of a 70 AMX Shadow tag shows the four Rosette rivets on corners. The digits, numbers and letters on your tag were reverse pressed by a Addressograph machine. Basically same machine used to make credit cards and dog tags.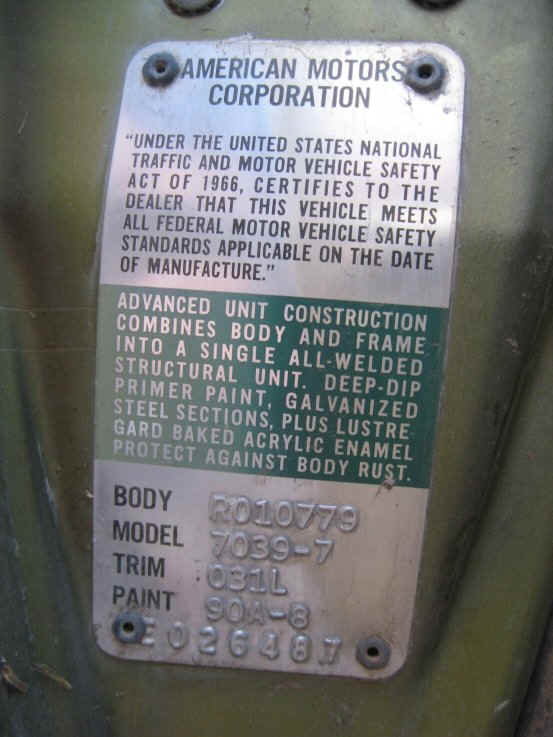 Rosette rivets were used by several automakers and are extremely difficult to find for one's correct AMC restoration. First photo shows a NOS AMC unstamped early door tag with correct 'black head' AMC Rosette rivets at different angles, second photo shows NOS Rosette AMC rivets with a new door tag I sell.
If you need some AMC NOS Rosette rivets for your classic AMC restoration, email me at eddiestakes@planethoustonamx.com as I have a limited supply left. Sold in sets of 4 only. SOLD OUT OF NOS ROSETTE RIVETS JUNE 2016
The SEQUENTIAL number applies TO THE BODY ONLY, NOT THE WHOLE CAR. It was to track running changes in that year model in design and engineering.....and a record of the body on the line. What you are looking at on the tag top to bottom:
BODY
MODEL
TRIM
PAINT
EAST OR WEST LINE
which is the series of numbers/letters on the bottom row.

The BODY NUMBER differs between body plants. Kenosha and Milwaukee main body plant numbers start with 000001. Kenosha Lake Front Plant bodies start with R000001. The Kenosha plant had TWO assembly lines, East & West. Cars built on these separate lines were given separate numbers and a E or W prefix. Canadian built cars had a C prefix.

The MODEL NUMBER: The first two digits are the YEAR. The last three digits of the model number are the SERIES, BODY STYLE, and TRIM LEVEL and *SHOULD* MATCH THE 4TH, 5TH, AND 6TH DIGITS OF THE VIN. (example=7039-7 would be 70 AMX)

The TRIM CODE: Trim code will tell you what type of interior you had, base, vinyl, corduroy, leather and so forth, you will find most under see PRODUCTION NUMBERS.

The PAINT CODE will tell you what color the car was originally. Some vehicles had two paint codes like P84/P82. This would have been a lower Commodore Blue with a upper Bayshore Blue top! This is my 74 AMX, a original Maxi Blue paint with white vinyl top (F2-WH) for instance with 2 paint code.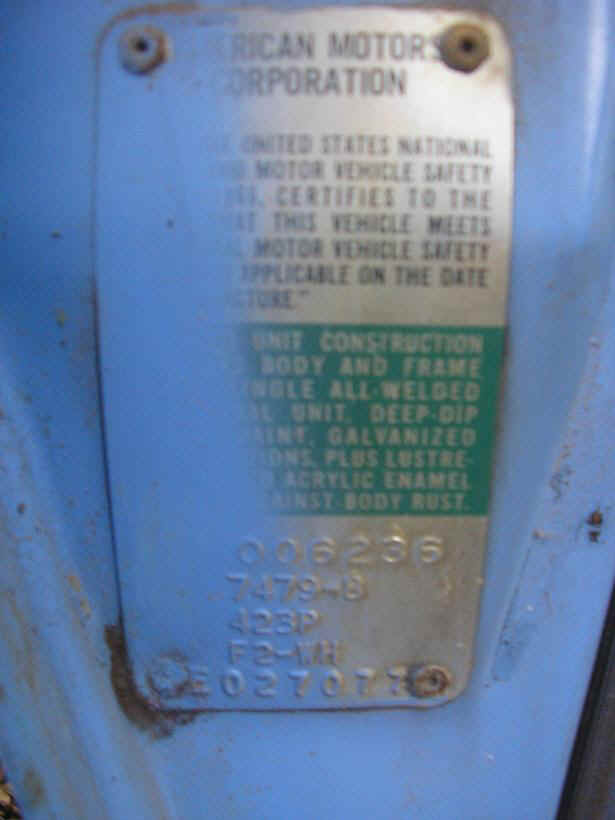 AMC had a variety of original AMC Paint Suppliers Rinshed Mason, Martin Senoir and DuPont to name a few. This is my huge PAINT CHART. Note they are PRINTABLE and armed with that you can take the page to your automotive paint supplier who can then mix up all you need.
The BOTTOM ROW of letter followed by numbers was the LINE NUMBER, commonly called
the CAR BUILD SEQUENCE BODY NUMBER.
This was usually off by a few weeks preceding the vehicle VIN. Read closely, as most of this history year wise was never found or documented and deciphered. E is East Line, W is West Line, the east line produced the smaller cars like Rambler, Gremlin, Hornet, Javelin & AMX, while the west line reserved for big cars of Ambassador, Matador & Rebel; however due to high demands of smaller cars like Gremlin & Hornet, the west line could quickly be adapted to produce smaller cars.

Here is a AMX (on left, note 6839-7 signifying a 68) and a Javelin Door Tag on the right, note Model is 6979-7 signifying a 69 SST. Look closely and you will see how the text changed from 68 to 69 at the top 1/2 of the tags. The words in the stripe also became more bold.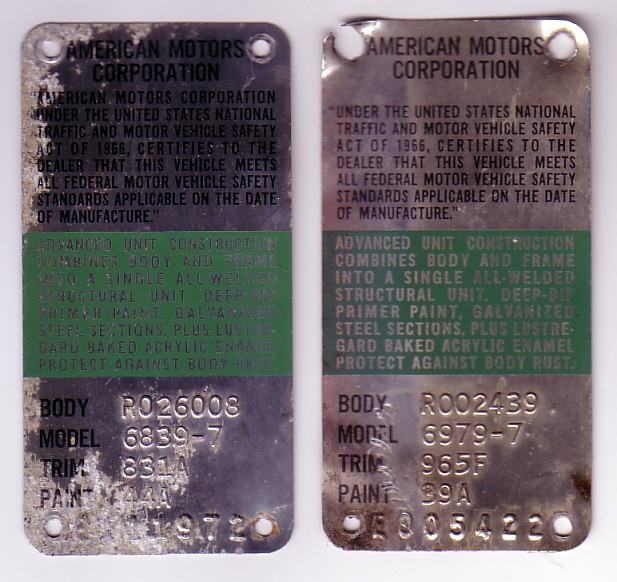 Here are three 68 AMX door tags from parted out AMXs. Note the center color difference. The center is blue stripe and has all the different standards the government required, and is a early 68, while other two show mid year build and changes to tag.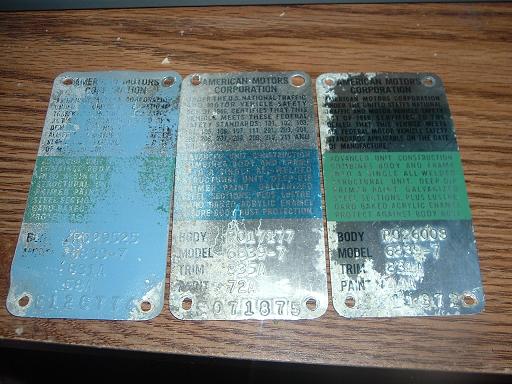 And YES, contrary to popular belief or what some AMC gurus will tell you, AMC did make mistakes. I have owned a number of typoed door tags, and some are outright goofy, like this original 1970 door tag.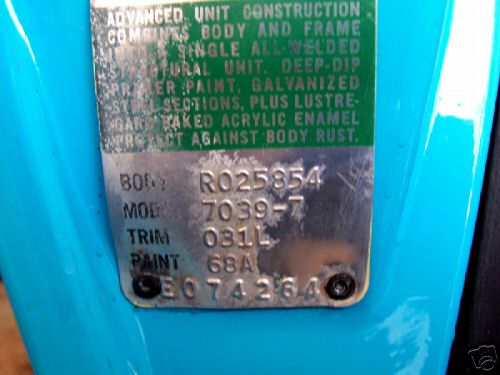 I bet you can't figure out what it is above? (There was no 68A paint color in 1970, This Big Bad Blue is a Big Bad Typo.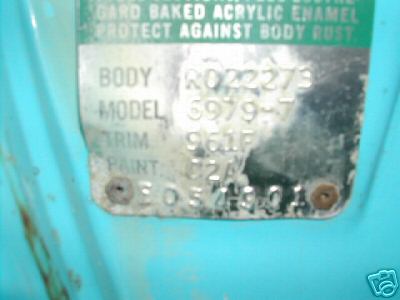 This one above is 82A type in paint code. Yes, another paint typo, not sure how it got painted correctly, but not uncommon.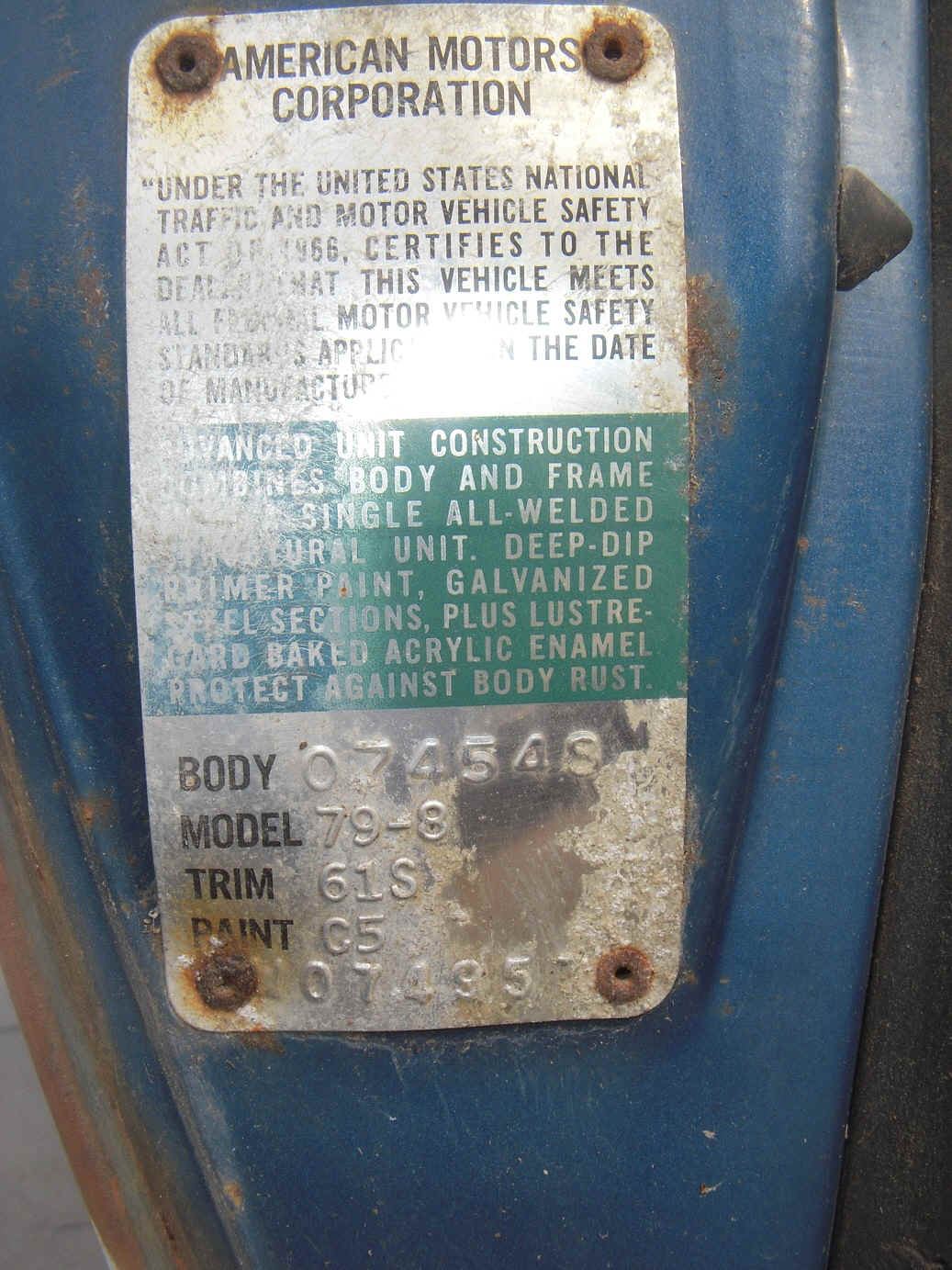 It is unusual to find these door trim tags screwed up from the factory, but the guys were HUMAN & mistakes were made. Above is my 72 AMX, note the Series is supposed to be 7279-8 but complete MISSING THE YEAR. So unisue, not RARE, just unique.
Above is a PRE PRODUCTION Rebel Machine door trim tag, note special stampings near top. This mule was built 8 weeks BEFORE the new 1960 models would starting goung down assembly line. Without just showing you the door triam tag the other photos are same car valve cover tag, sloppily put together hood tachometer, (it's what AMC did) and the actual VIN of the pre production Machine.
Hurst SC/Ramblers had four paint codes of 00, SPECIAL, SPEC, and 88A. Here is a fifth paint code for SC/Rambler never seen before. Shows 00A for a "A" paint scheme SC/Rambler.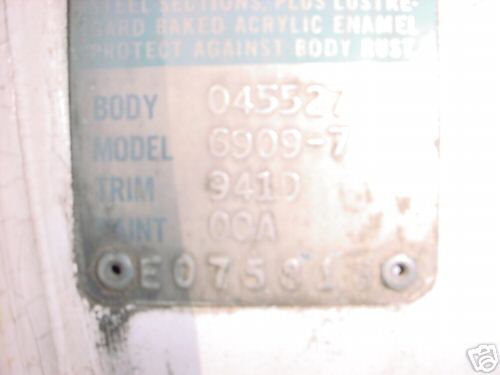 Here is one that I was bluntly told by one such "guru/blowhard", a few times, that AMC never did. This 70 AMX I bought in Corpus Christi, TX from my brother, who bought it from original owner. It was used for the GoodYear tire company magazine ads. The VIN is ALSO stamped on the door trim tag. It was the 90th car built, down the line, and the 32nd body, so it was first week of production in August 1969!
While this car has incorrect screws holding the door tag to the door on this super early 1970 Javelin was a few cars behind mine above. Mine being 100090, this Javelin 2 cars behind it at 100092. It too has the VIN stamped in the door trim tag, quite neat! This car was used as mentioned below in AMC freshly minted color catalogs for Dealers. Bittersweet Orange with vinyl top Javelin also saw postcard duty. This car is alive & well in PA in 2016. Bitter
So why did these cars have the VIN stamped into the door trim code? These were usually PRESS PHOTO cars that appeared in not only AMC Kenosha Studios (or early ads) but also AMC Dealership brochures. The 70 AMX I owned was used in the color catalogs, and photos before Goodyear. For you wonks, it is AMC AMX VIN A0M397X100090, Body Number R000032; Trim 031L, Paint 90A & Line Number E000037 (built 1st day of production Aug 1969, 390, 4speed, Golden Lime Metallic, Leather, was nicely optioned power steering, power brakes, air condition, Go Pack, Twin Grip, tinted glass, one of only 56 with heated rear window; sold it for $3000 years ago, was unrestoratble due to Corpus Christi salt air) seen in last photo 9in Corpus Christi behind me & family in 1994.
This door tag is from a AMX 1970 in Kuwait. Why the 00 paint code? The car is originally Shadow Mask with Matador Red, but the 00 in this instance was for Shadow Mask Delete under the hood.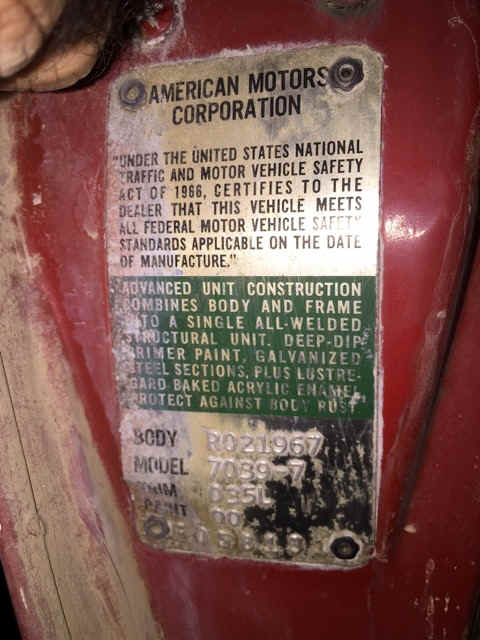 Should you ever need a used door tag, they command prices as cheap as $20, and as high as $700, the price will depend on the color of the vehicle and trim level. Should you ever need a new door tag pressed, note that Data Tags does reverse stamping (there are more reverse stampers in Hemmings) as original AMC did.
Pierre Cardin W code.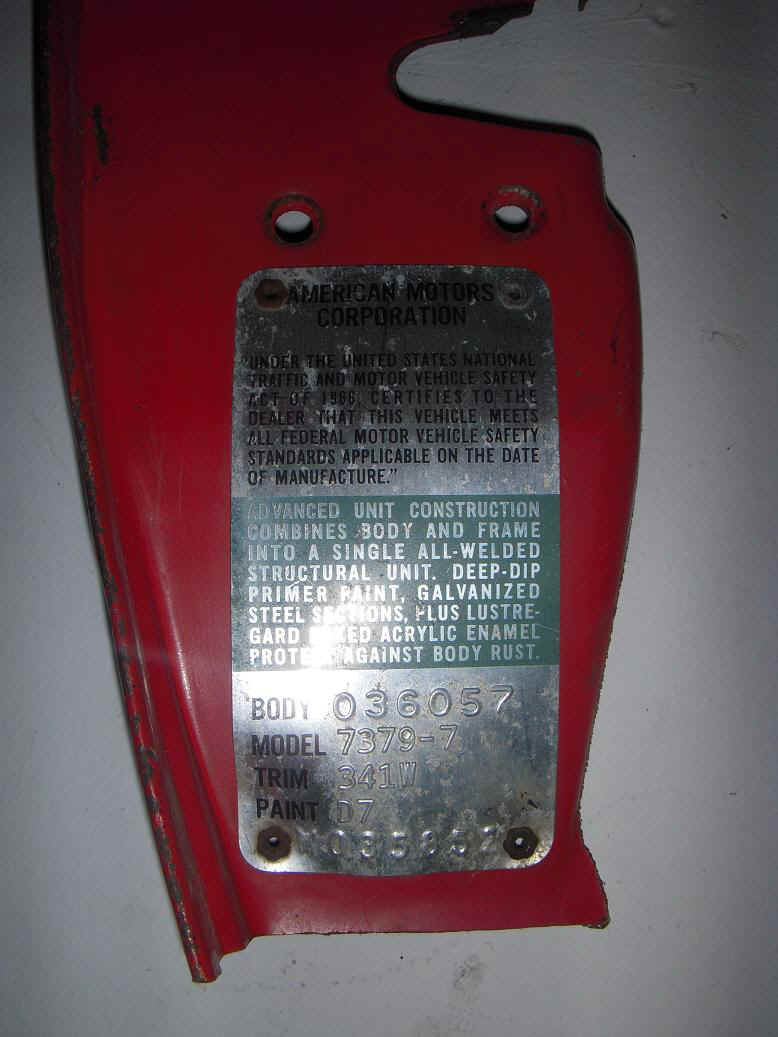 Really simple code as shown on this 73 Javelin Trans Am Red trim tag. All Pierre Cardin 72-74 AMX & Javelin will have a "W" in Trim Code.
00 as a paint code.
AMC used the "double zero" 00 paint code for a variety of vehicles, and for different reasons. Most are familiar with the 70 Trans Am Javelin having a 00 paint code. But it was used for other applications for other models including Rambler, Rebel, Javelin, AMX, Ambassador into the mid 1970s. This 70 AMX for instance had a 00 paint code for Shadow Mask engine bay delete.
That means while the upper Shadow was applied, the engine was left body color. Same 70 from front showing Shadow. My 71 Matador 2dr with 14K miles was a A7/00 paint code.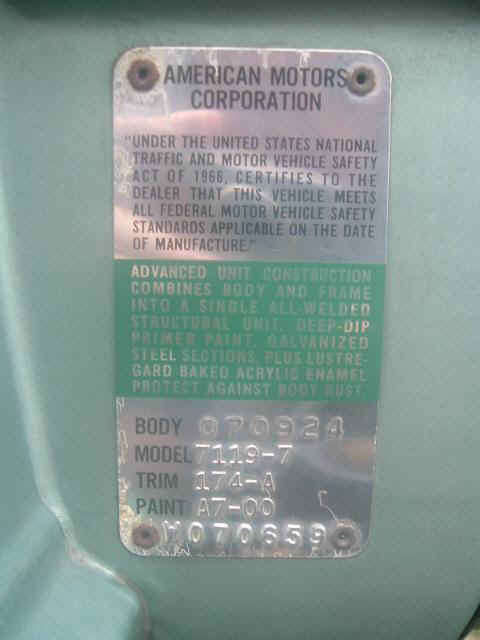 In this instance the 00 meant vinyl top delete. Special Order AMCs also had them including police, taxi, pink AMXs,
dealer promotion vehicles to name a few.
This 1968 AMX was a dealer promotional giveaway car in California and was painted a odd yellow it is one of a kind and sports a 00 paint code. As you see me repeat several times on my site, "rarity does not equate market value" when it comes to American Motors. This unmolested one of one 390/4spd 68 AMX sold for $6500 on ebay in summer of 2012.
Don't read too much into a 00 paint code, however, it is usually recommended to see if you can trace that vehicle's history, could have been a Dealer Giveaway car, Parade Car, or some special meaning behind it getting that code!
Many AMC door trim tags are stamped over the font as in this case, it is not unusual.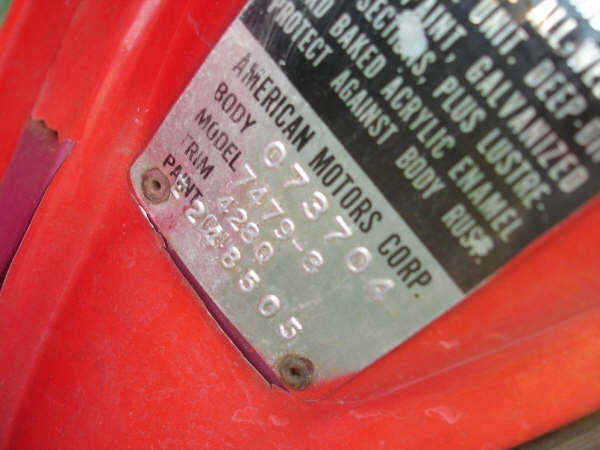 Side note: in 1974, AMC asked for, and got, a extention to continue production to take advantage of changing emissions laws. So while production started as usual August 1st, 1973, it was supposed to end mid July 1974. Instead production ended end of November 1974. So you have a LOT of oddities in this window from mid July 1974 thru November 1974 including steel hoods on AMXs, 1975 options on 74 models, but most glaring is 1974 models painted 1975 colors. Alpine White 74 AMX for instance or my own 74 Gremlin in J7 Jade Green. You will not see these running changes in any books, paint charts, anything, they just happened so always be on lookout for late 1974 oddities!
Seriously. Whenever you see some dumbass who has put on Home Depot rivets on their car it is BIG RED FLAG. If they were fucking stupid enough to do something like this, better than average you are looking at a whole slew of issues, from rebody, bad body work, franken-car. But amazingly you will see stuff like this on cars for sale, including ebay. Just steer clear of them, as some states can seize your vehicle, whether this or the VIN has been altered.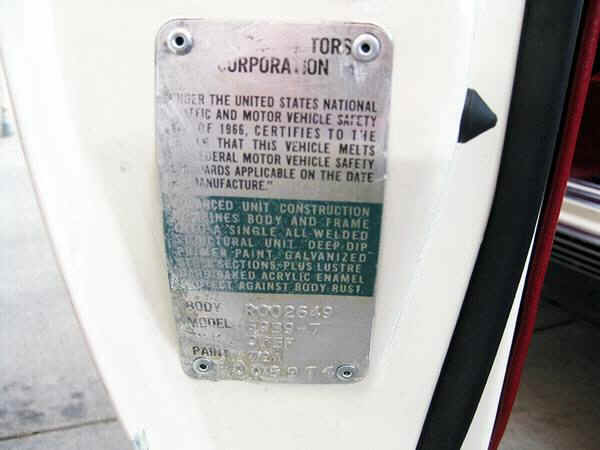 I will not waste your time about this, but AMC cars pop up for sale all the time "altered" in 2015 alone I had about 10 calls and emails from people who either bought something 'that just ain't right' or was considering buying a vehicle and thought something strange about it (besides the fudged door tag) and contacted me about it.
It gets even stupider. A SC/360 Hornet appeared on ebay with Home Depot rivets
Ebay NOS Rosette Rivet auction with door trim tag