AMC PAINT CHIP CHARTS
Valve covers are Rampart Red for some or all of these engines, pre 1967. Gold was used on some engines in 1967. Alamosa Aqua was used on most 68-71 AMC V8s. AMC Blue on many starting in late 1971. Many of the original suppliers paint charts below reflect running changes. Some California AMC engines red thru 1971 production year.
The 250 V-8 is believed to be the same gray as used on the 196 L-head engines
Different sources give different paint codes. Possibly used as dealer service paint of slightly different color. If in doubt, PRINT them and give to your auto paint supplier.
All 1971 California V-8's and AMC engines used in International Harvester vehicles were red in color to distinguish them from other engines on the assembly line as California engines required different emission controls. Note also that International Harvester painted their AMC engines red/orange starting in 1972 for Scout, Scout II, Travelall and smaller school buses. If you happen into a salvage yard or junk yard and see a IH anything from 1972-80, pop the hood and see if it is indeed a AMC power plant, which is totally different looking than IH's engines of the 345V8 and 392V8. If not sure, crawl under the engine and check the block size cast under either side underneath the motor mounts.
All 68-70 390 engines had the chrome dress up kit, regardless of model, Ambassador, AMX, Javelin, Rebel & Hurst SC/Rambler it was part of "AMX Package".
Engine paint, try Eastwood Products or the big AMC Vendors and search ebay. Not hard to find.
P1 (exterior) Black cars prior 1973 was a $54.00 surcharge even though regular paint code.

Interior notes:
AMC painted a vast majority of their interiors. Many times you can pull off a dash overlay, or pillar post or hard or soft molding only to discover it started it's life in Kenosha another color. You will commonly find AMC painted to match: red, tan, green, blue, silver interiors. This was done at the factory as it saved major costs instead of having those items molded in all these colors. You can take your interior paint code to just about any automotive paint store and they can mix you a batch. There are sprayers called Preval that are easy to use and leave a great coat, ask about them.
If you need Touch Up or spray can of your color, might I recommend Tower Paint. I have used them for years and recently, Nov 2010, got a spray can of Fawn Beige for my 74 Sportabout and the as usual, hit color dead on, can't tell spray from original Lustre Guard AMC paint!!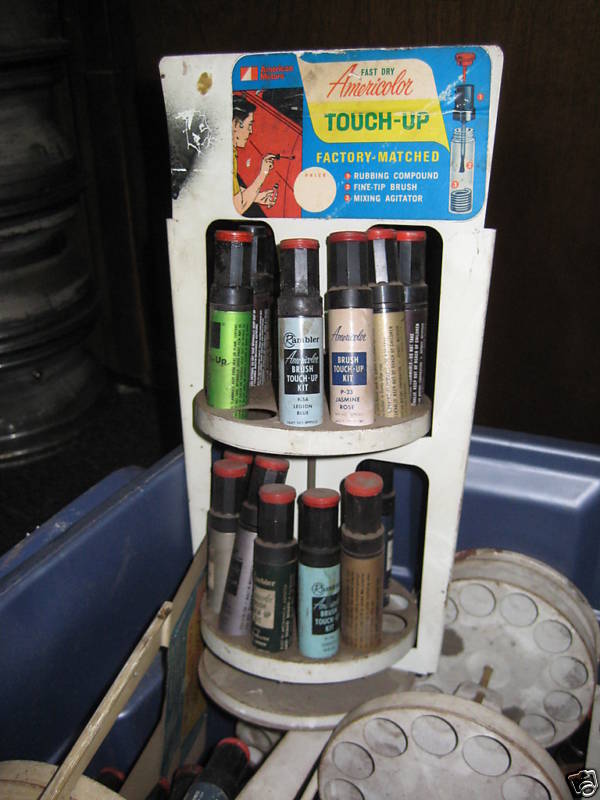 ========
Print my charts for free! Normally they print out very close to original colors, although this will depend on your printer. I have listed several paint sources for same model year as to compare codes; and shades, as AMC used a variety of different paint suppliers thru the years.
Armed with these codes, you can print them out and take to any local automotive paint supplier in your area for them and most can mix them up!!!!!! Good luck!!!
CODES for
MARTIN SENOUR PAINTS
This code is found immediately next to the paint color
A=Acrylic Lacquer
S=Synthol Enamel
*=Acrylic Enamel
Early charts include
Nash, Rambler, Hudson & Metropolitian Series Codes; Late charts may include Jeep, Renault Codes.

1954 PPG Ditzler
1955 PPG Ditzler
1956 PPG Ditzler
1957 PPG Ditzler inc Dinoc Woodgrain
1958 PPG Ditzler
1959 PPG Ditzler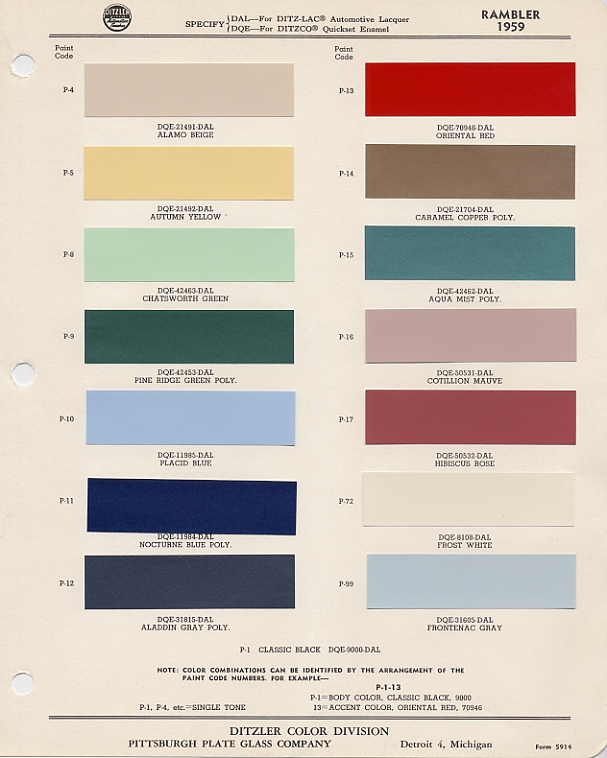 1960 PPG Ditzler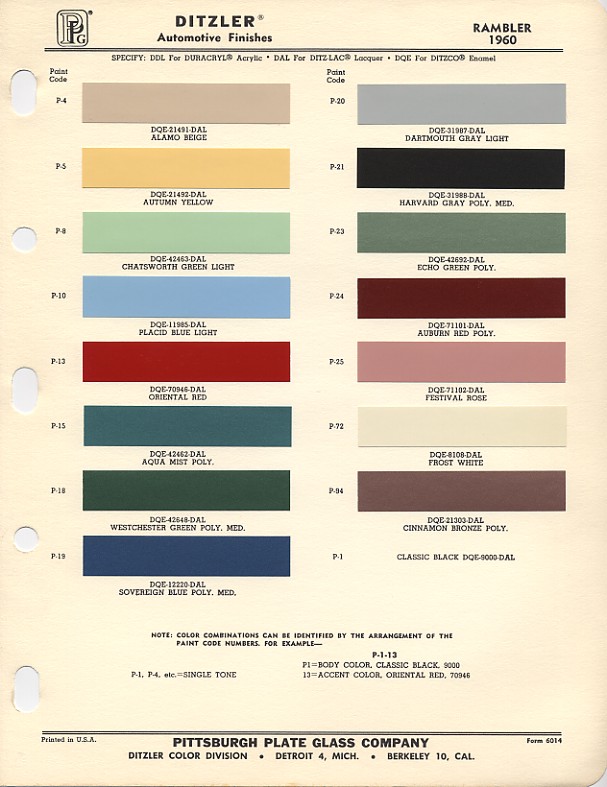 1961 PPG Ditzler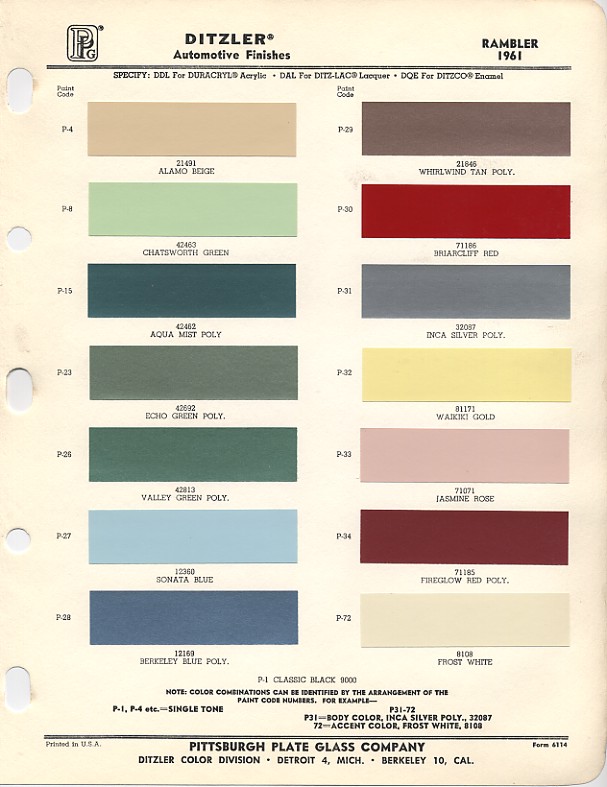 1962 PPG Ditzler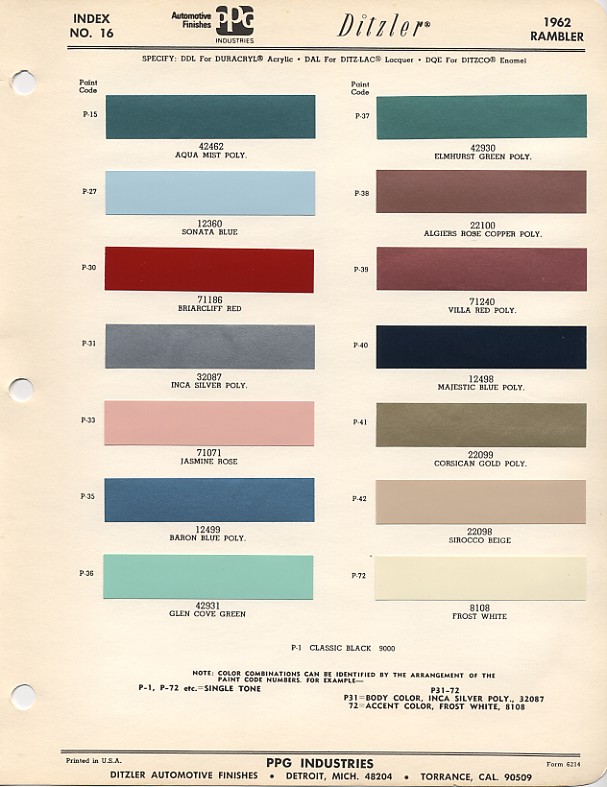 1963 PPG Ditzler inc interior
1964 PPG Ditzler inc interior, engine, dash
1965 PPG Ditzler inc interior, engine
1966 PPG Ditzler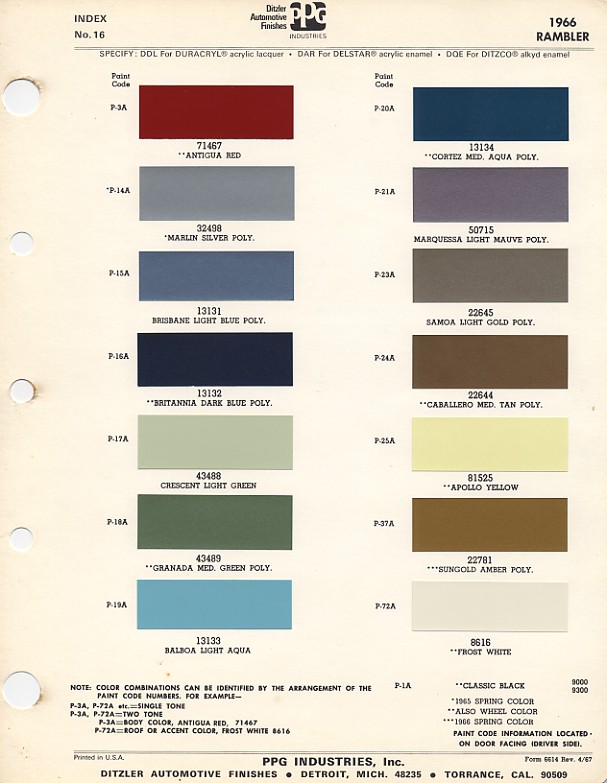 1967 PPG Ditzler inc interior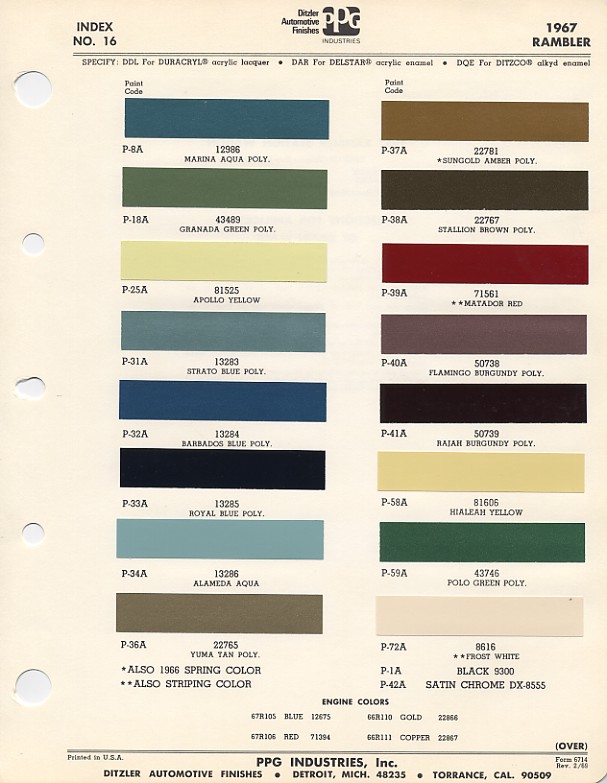 1968 Rinshed-Mason inc interior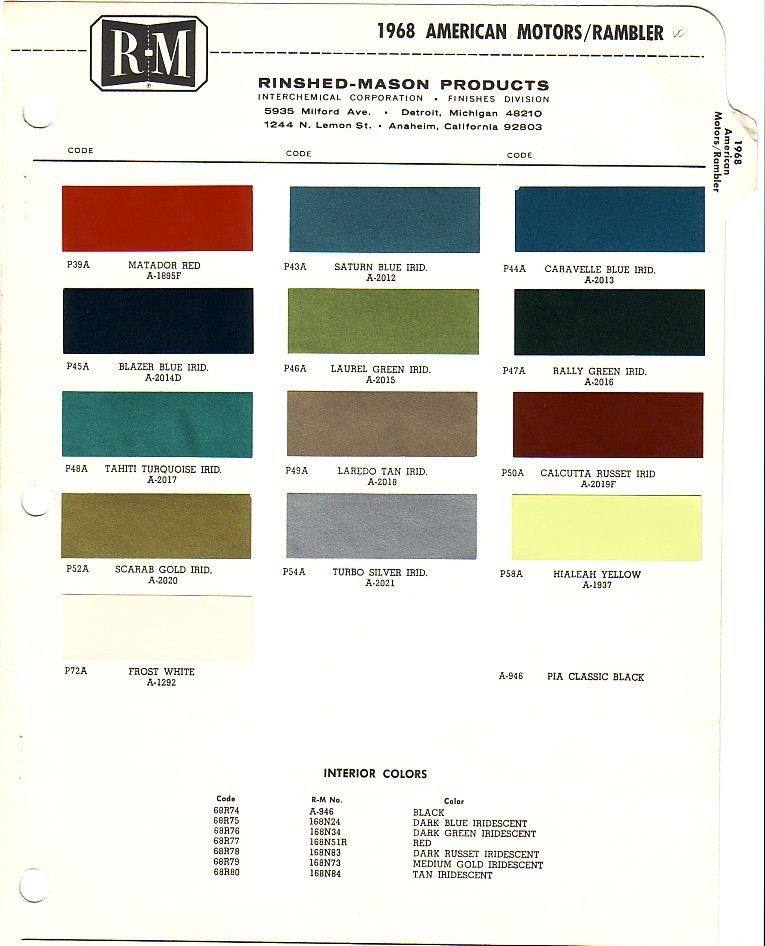 1968 PPG Ditzler inc interior
1969 Rinshed-Mason inc interior, SC/Rambler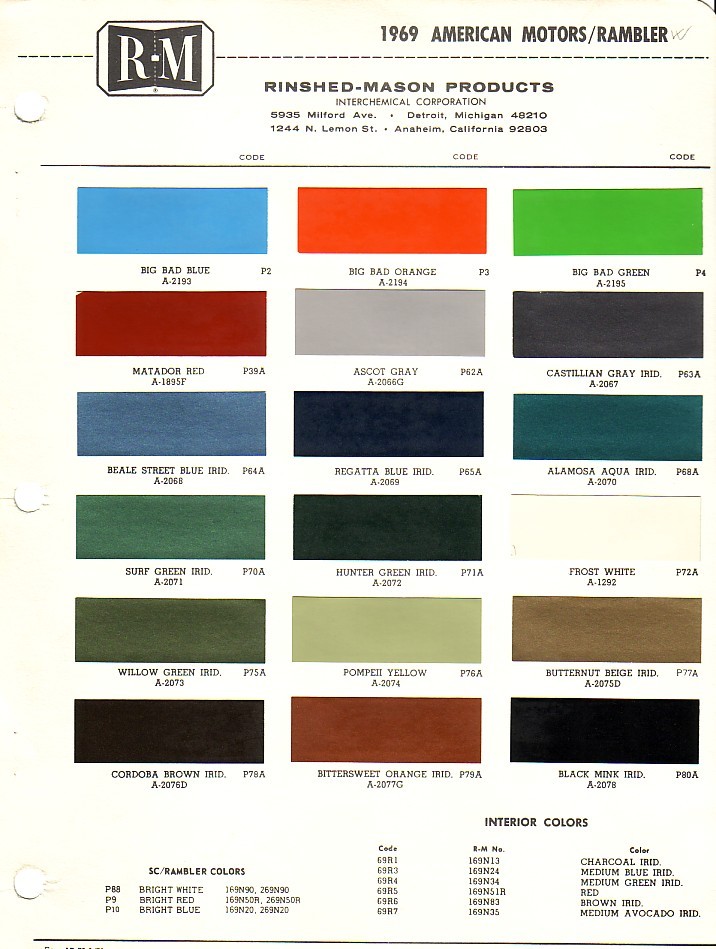 1969 Martin Senour Paints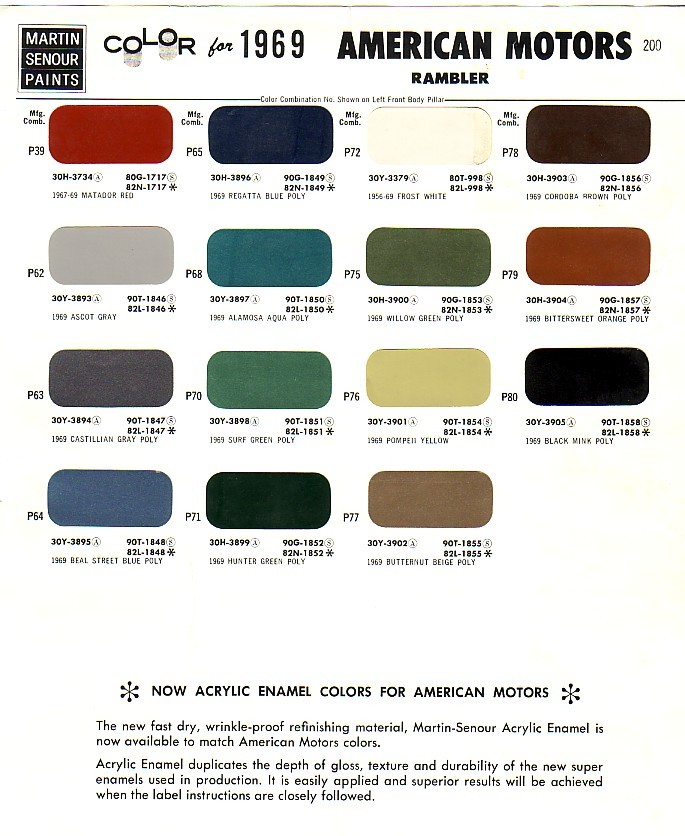 1970 Martin Senour Paints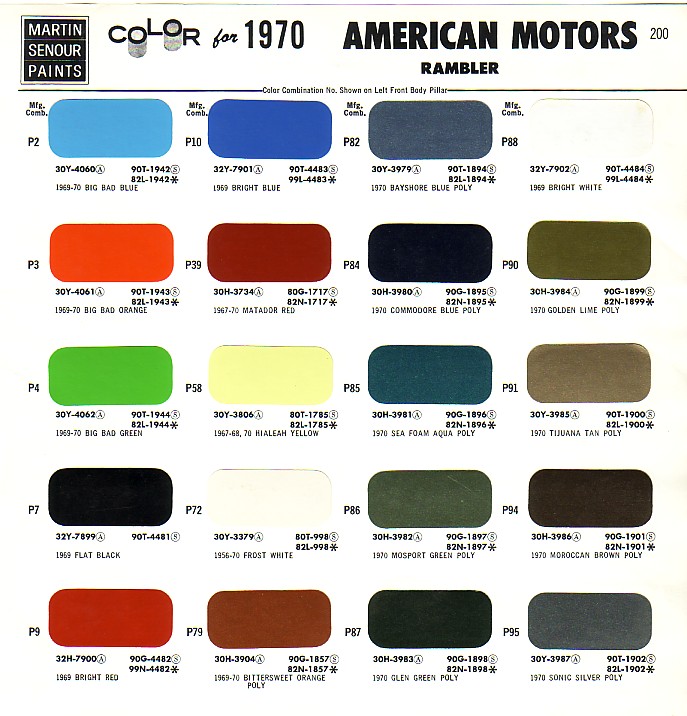 1970 DuPont inc interior
1970 Rinshed-Mason inc interior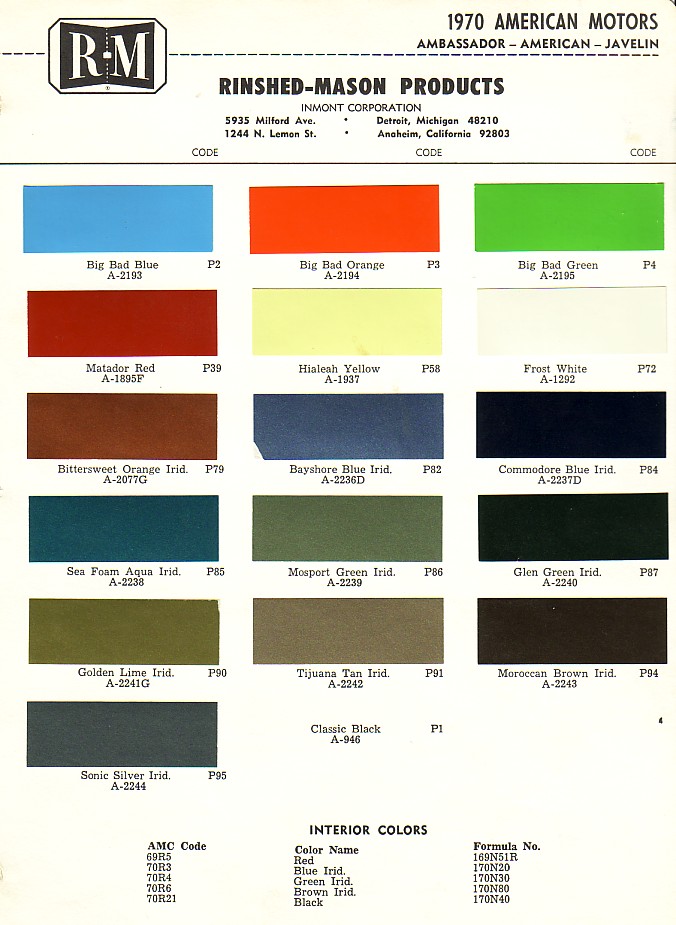 1971 Dupont inc interior
1971 Rinshed-Mason inc interior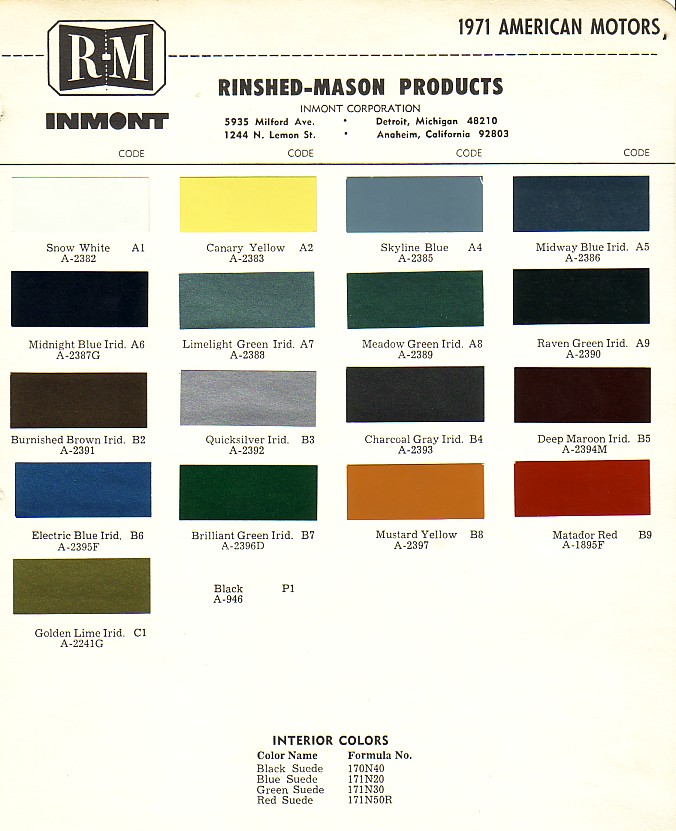 1971 Martin Senour Paints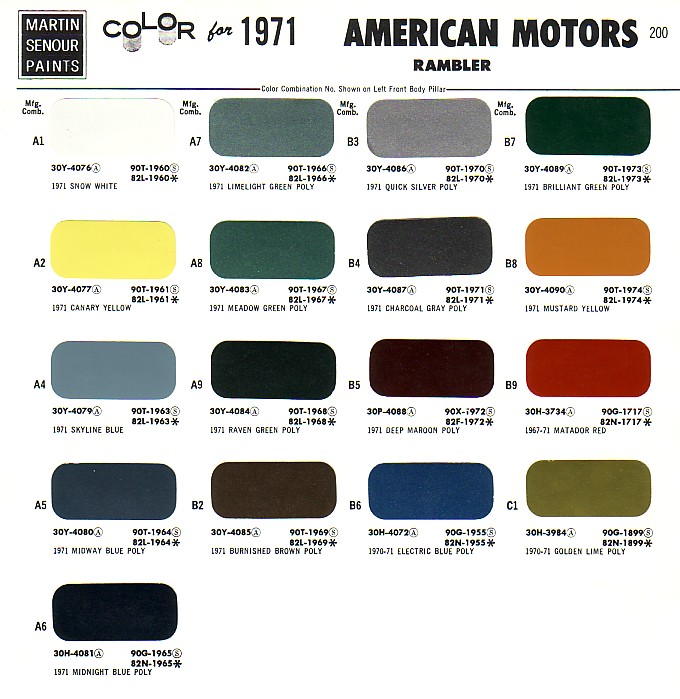 1972 Martin Senour Paints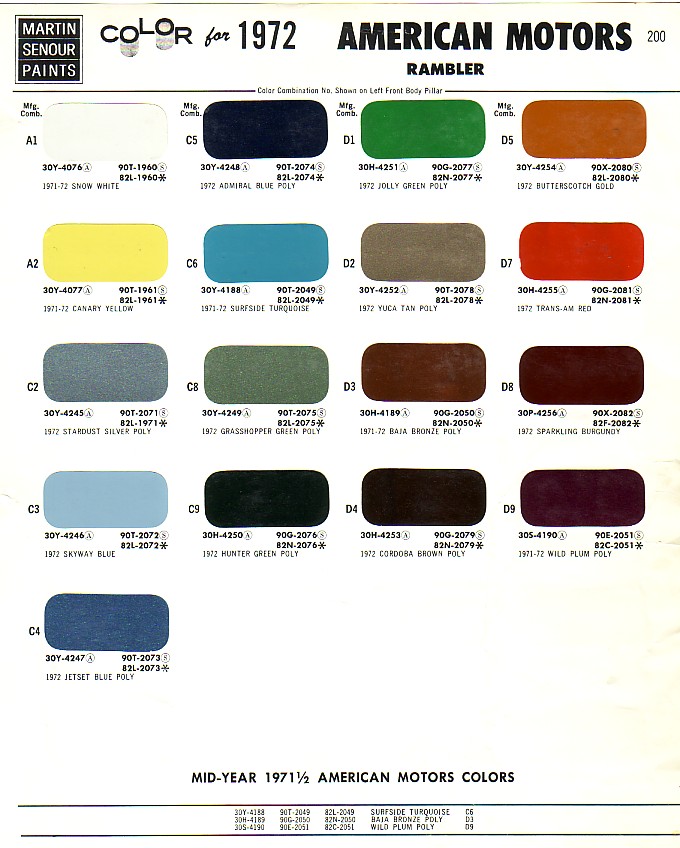 1972 DuPont inc interior
1973 AMC chart w/availability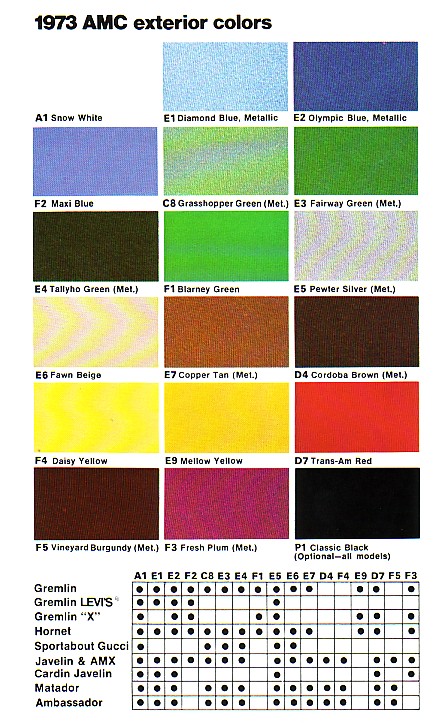 1973 PPG Ditzler Industries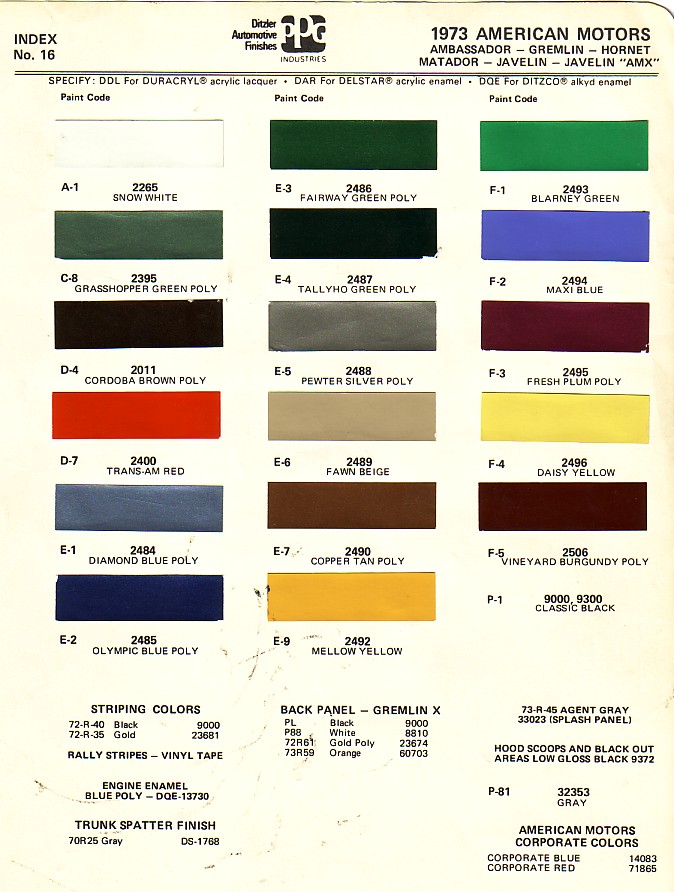 1973 Martin Senour Paints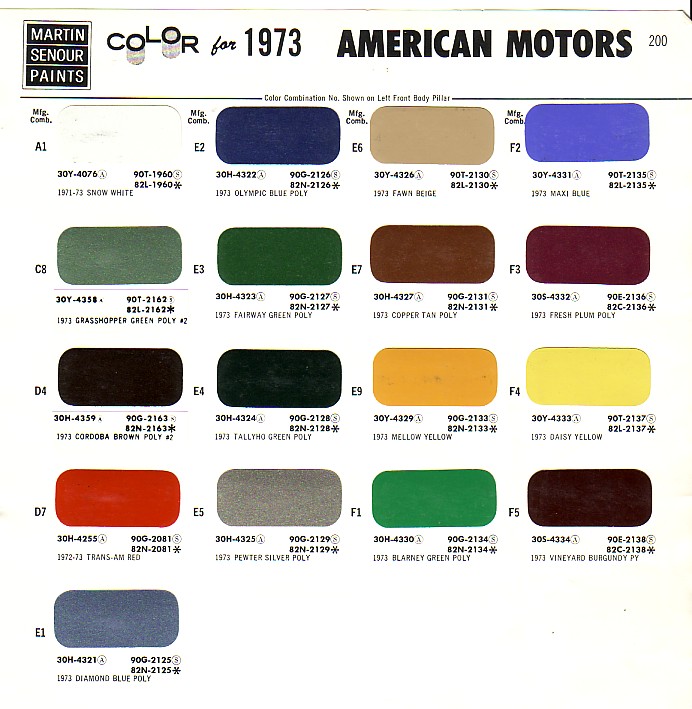 1973 DuPont inc. interior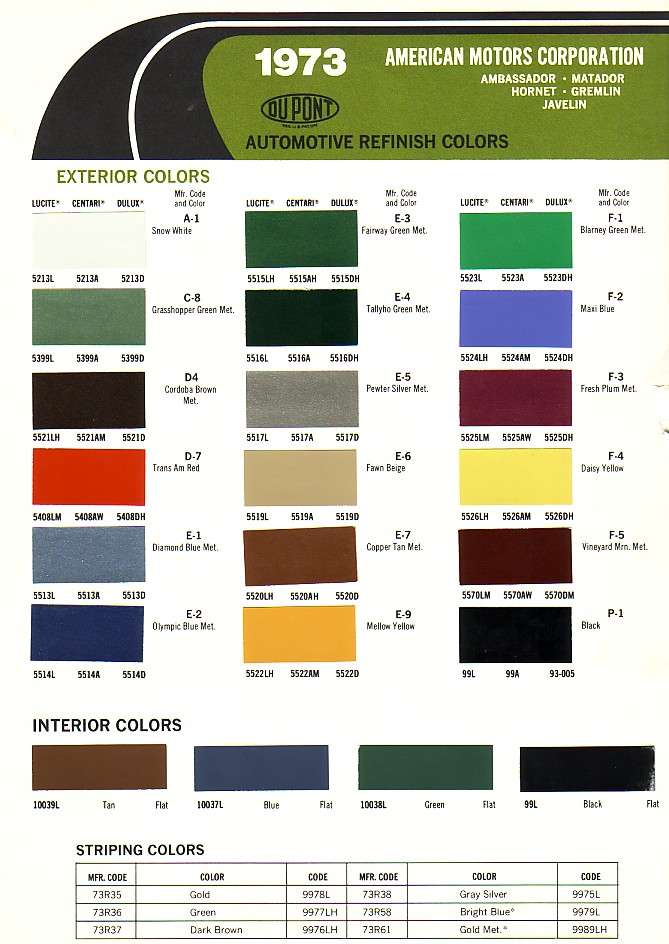 1974 AMC chart w/availability & int.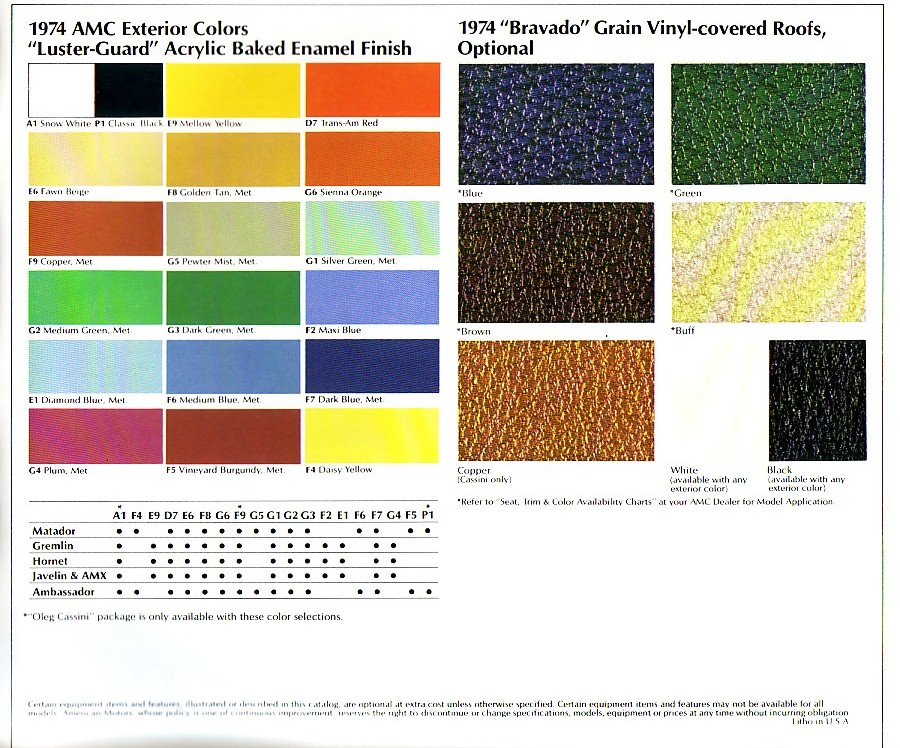 1974 Martin Senour Paints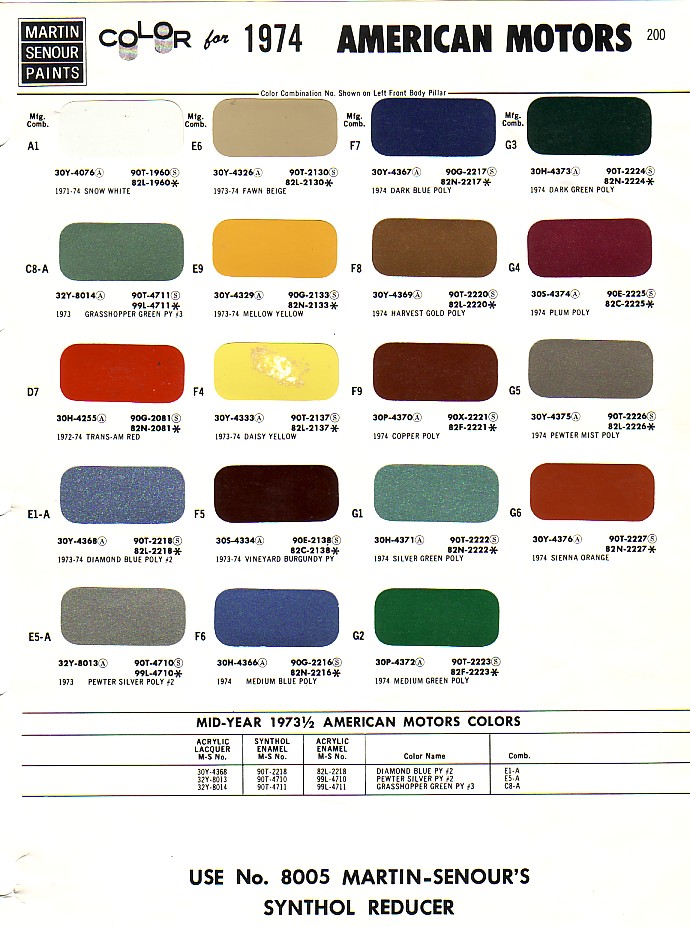 1974 PPG Ditzler Industries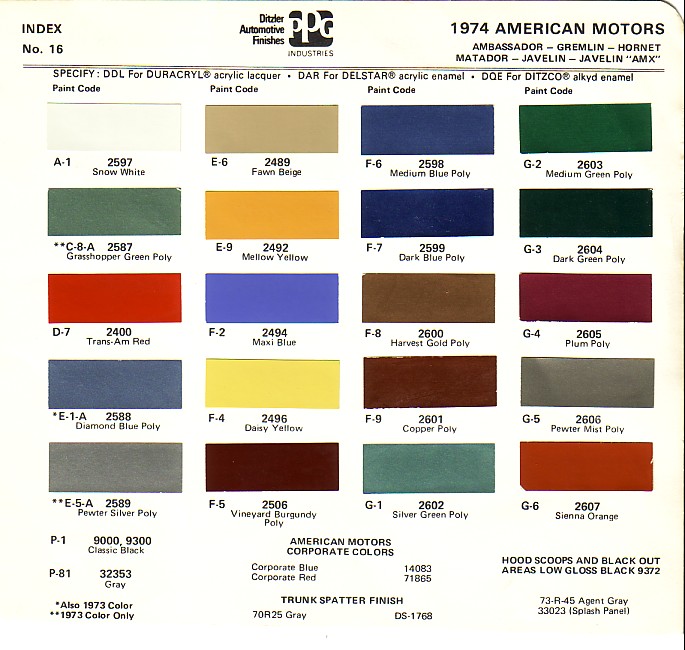 1975 AMC Lustre-Guard Paints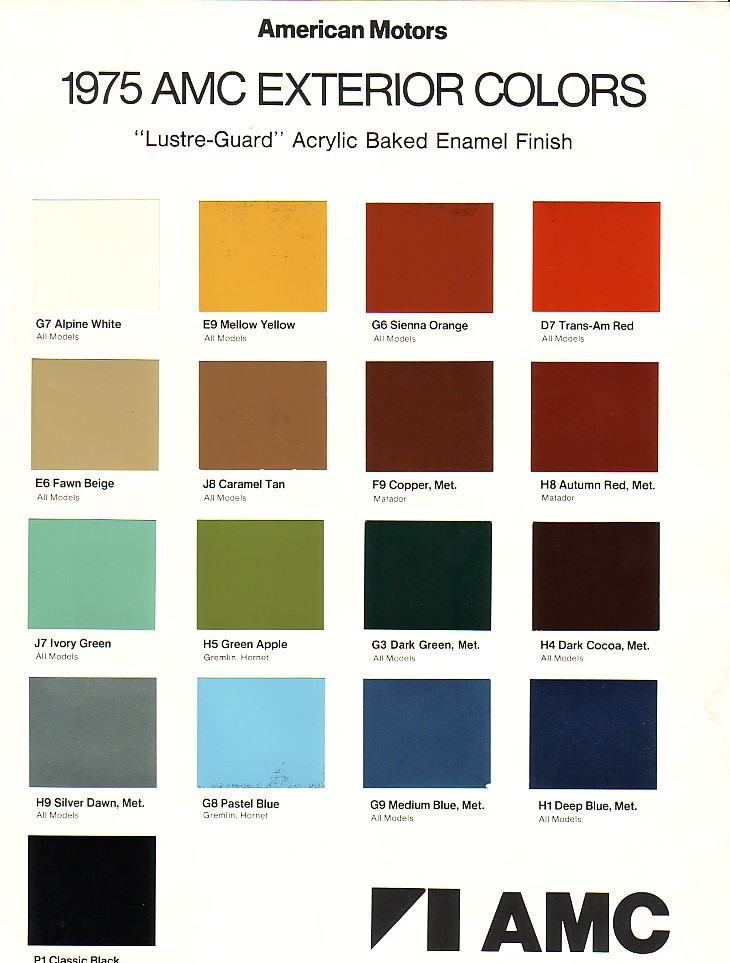 1975 AMC Paints w/availability & vinyl roofs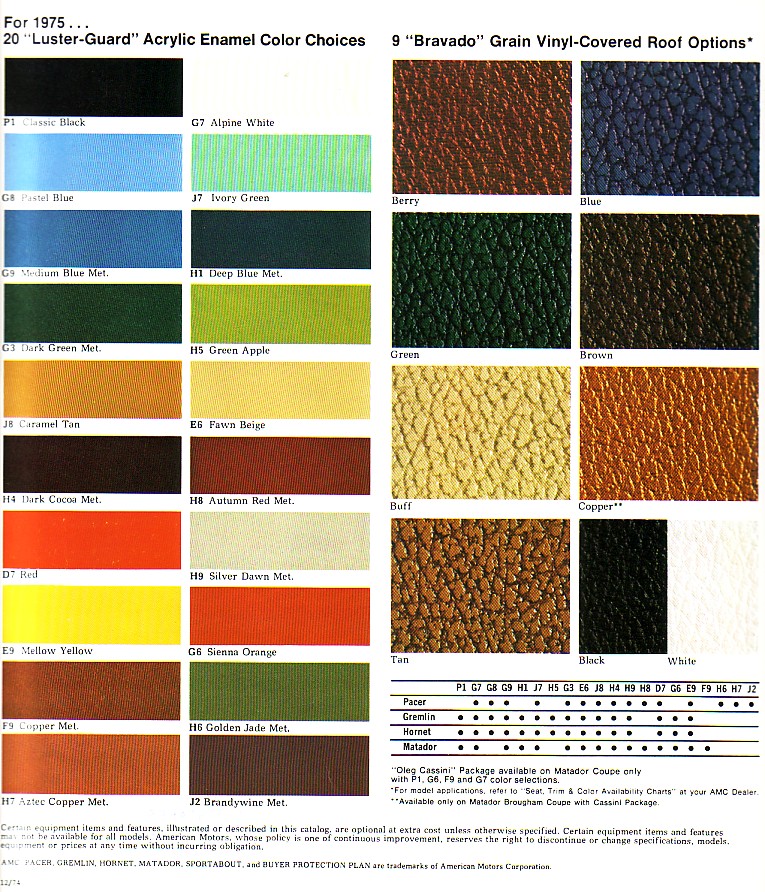 1976 Rinshed-Mason inc stripes, grills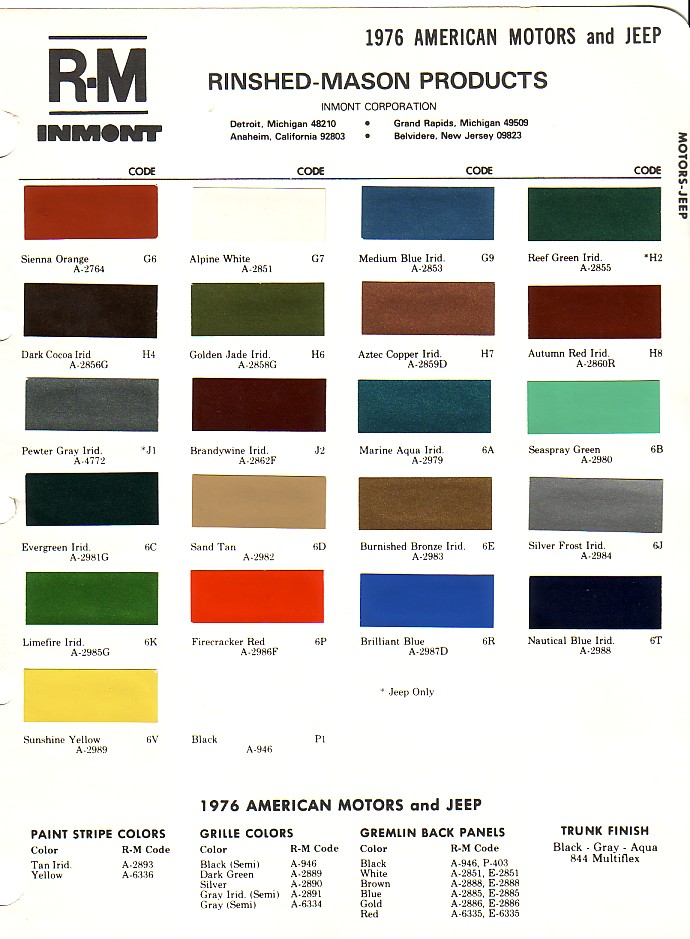 1976 Lustre-Guard inc. stripes, vinyl roofs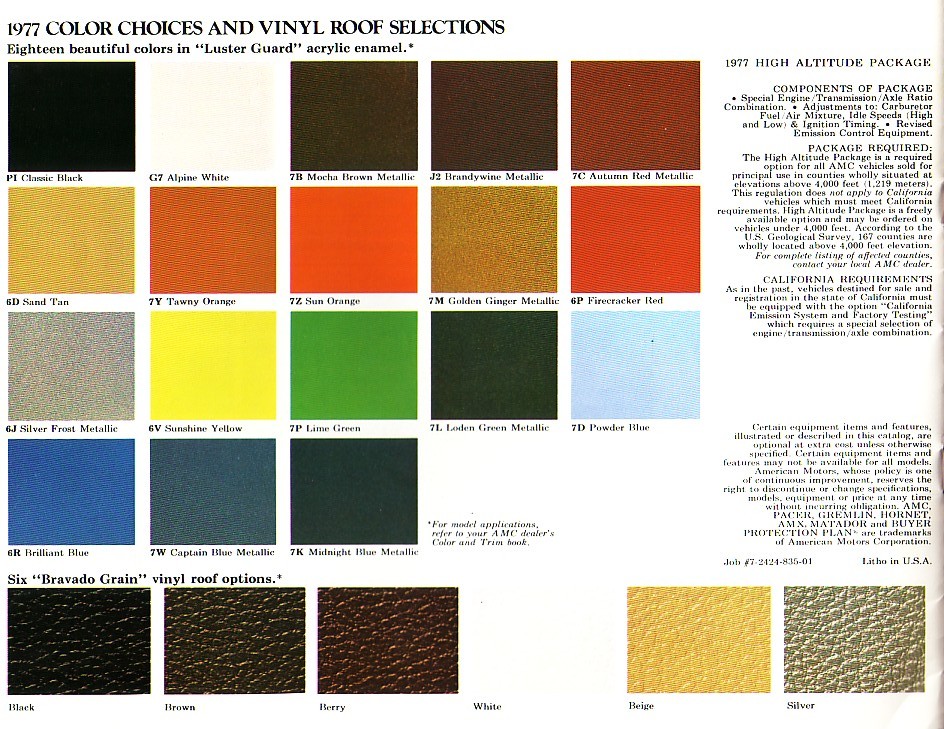 1977 AMC Lustre-Guard Paints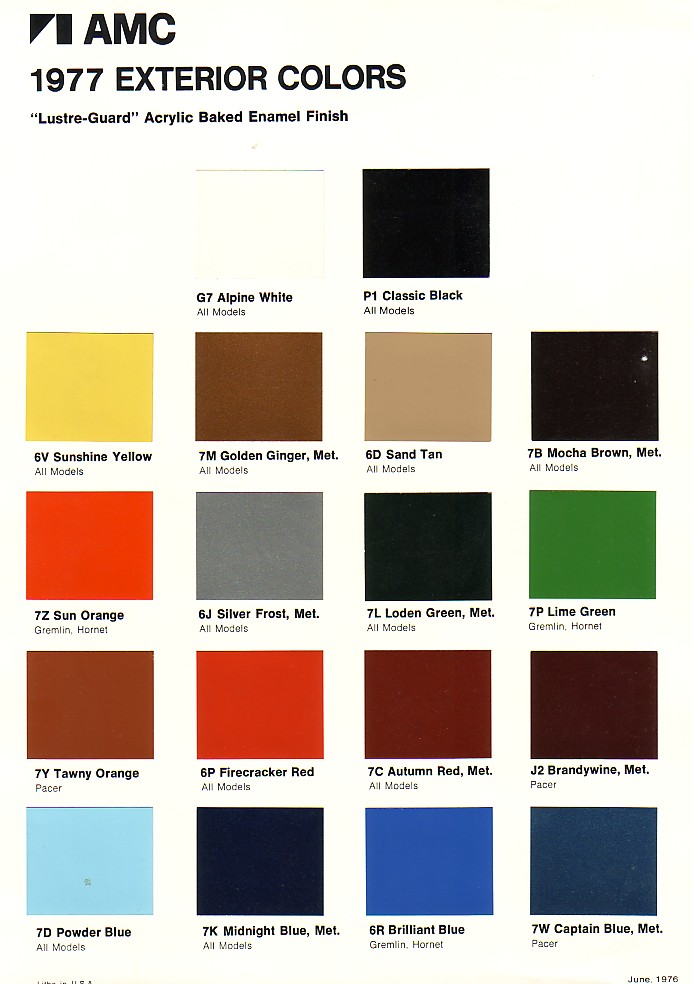 1977 AMC chart inc. vinyl roofs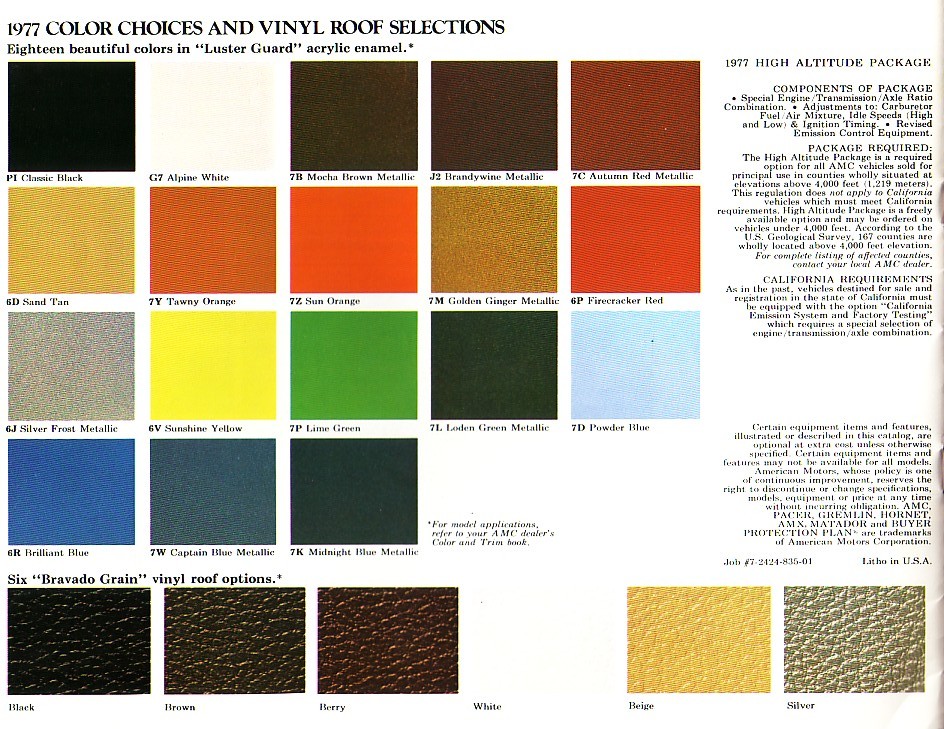 1978 Rinshed-Mason inc. stripes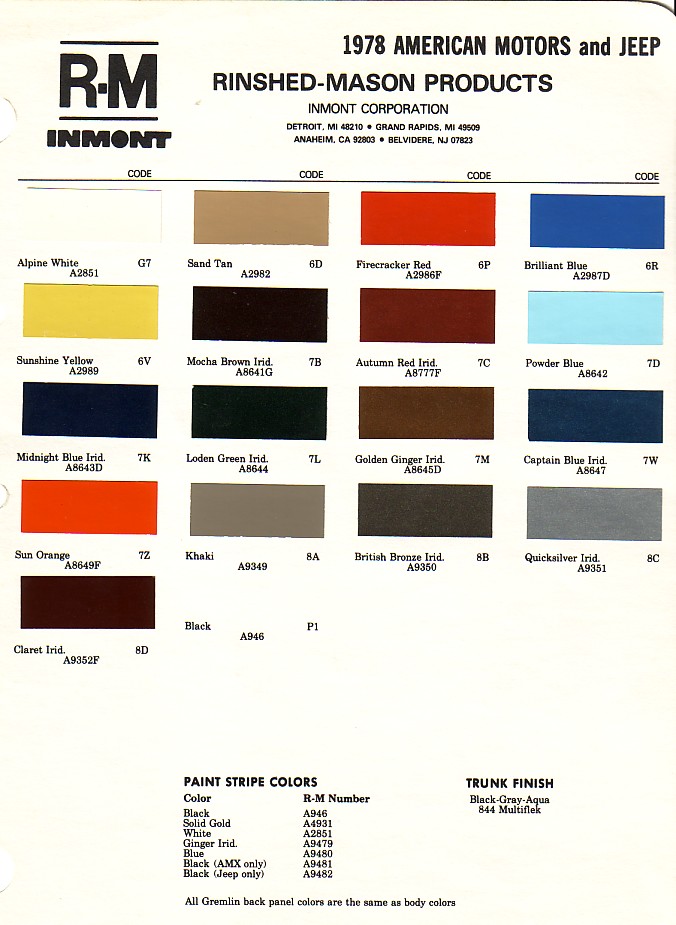 1979 Rinshed-Mason inc. stripes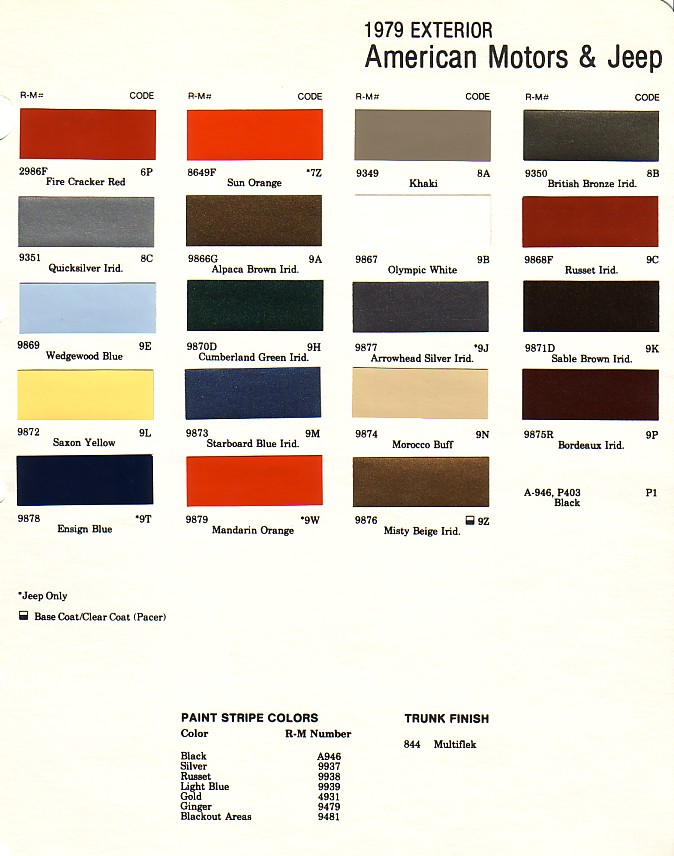 1979 AMC Seleccion De Colores

1980 Rinshed-Mason inc. stripes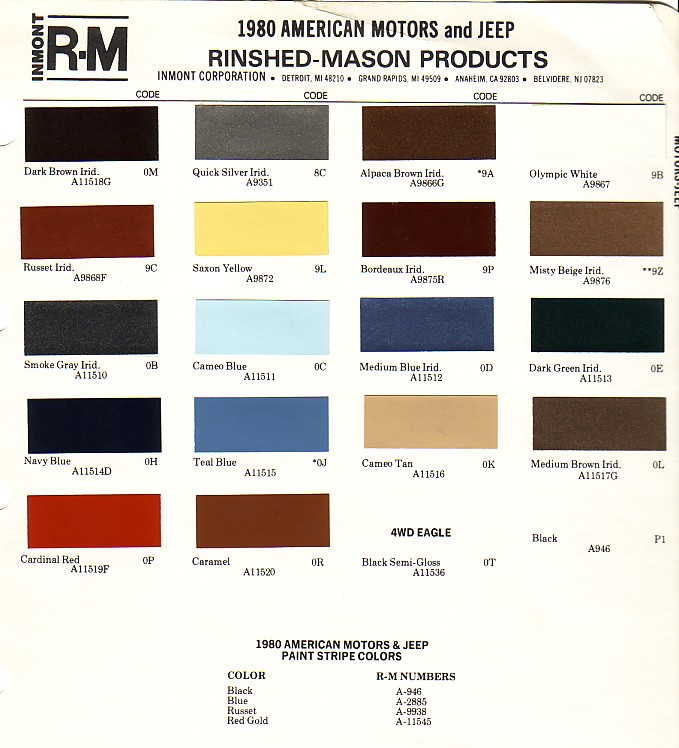 1980 AMC chart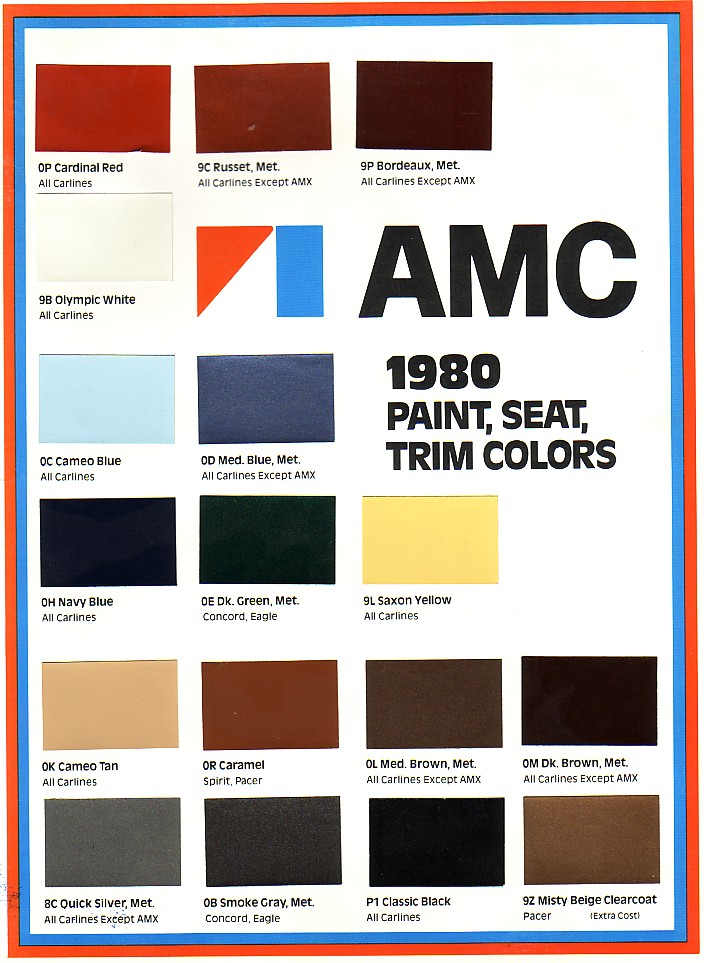 1981 Rinshed-Mason inc. stripes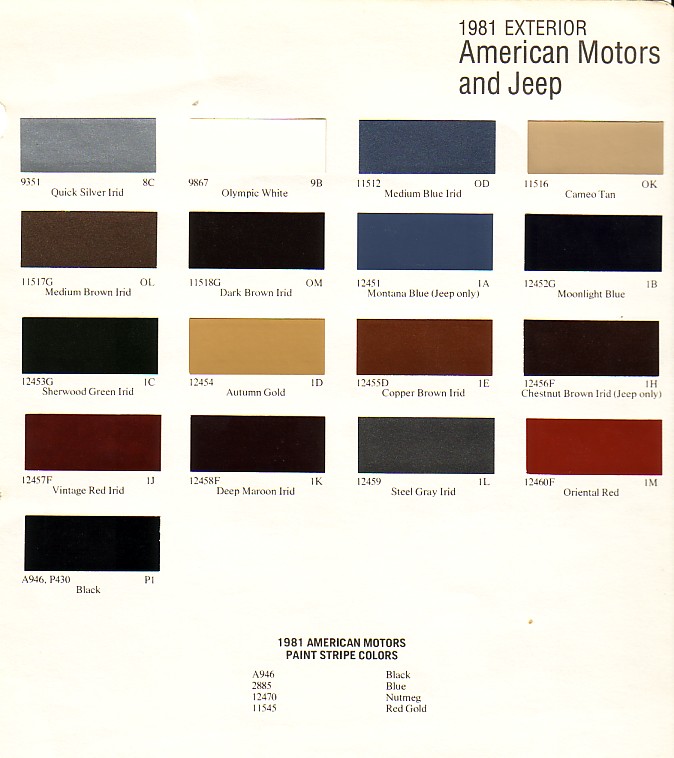 1982 AMC Paint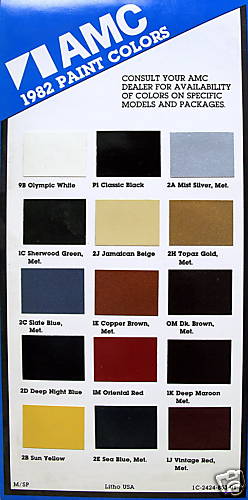 1983 AMC Paint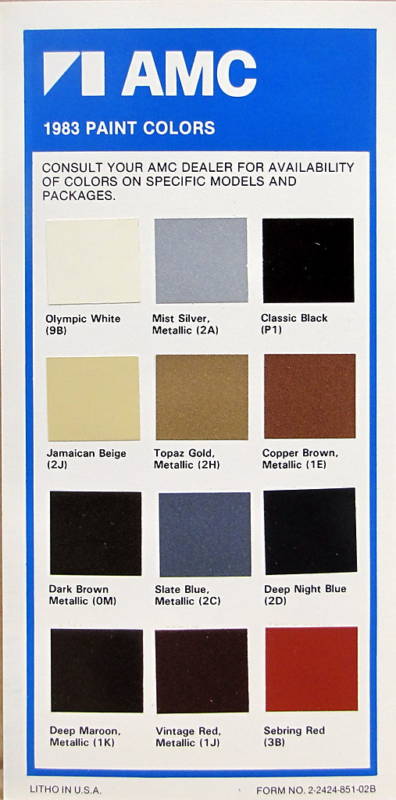 1982-84 PPG Ditzler inc. interior, roof
1985 PPG Ditzler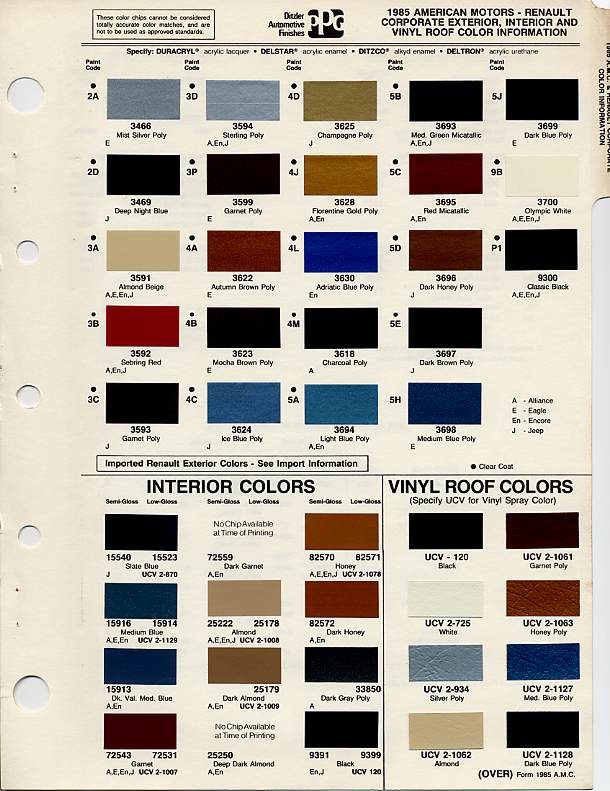 1986 PPG Ditzler inc interior, roof
1987 PPG Ditzler inc interior, roof
1988 PPG Ditzler