AMC Rally Pack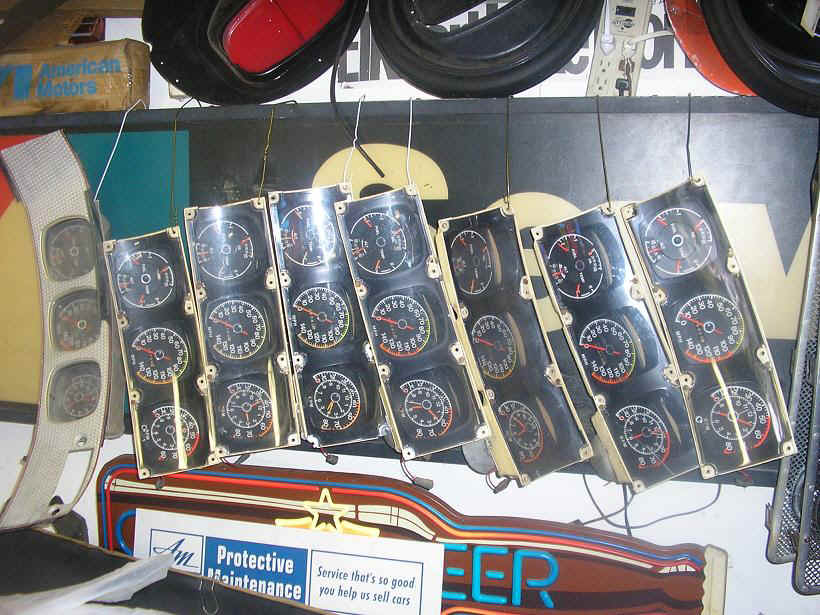 By Eddie Stakes
=============================================================================
One of the rarest options for American Motors AMX and Javelin for 1968 thru 1970 was the Rally Pack. Not to be confused with the Go Pack
The Rally Pack consisted of two gauges in the center of the dash. You could not have a Rally Pack installed if you had AC, (68-69) as the holes were the AC vents would be were used for Rally Pack. You could however have AC AND Rally Pack in 1970, but less than 1% of AMXs had this. The center piece, commonly called the center speaker cover (68-69) had a eyebrow for these two center of dash gauges,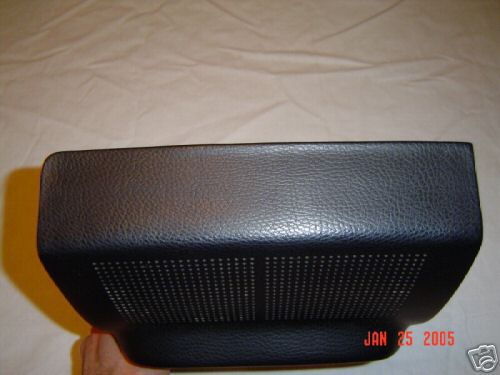 as shown in a variety of photos below.
No 68-70 AMXs or Javelins left Kenosha, Wisconsin with Rally Pack, this was a
DEALER INSTALLED ITEM ONLY.
Occasionally, there is some confusion as to how some of the very early 1968 Javelins were equipped with Rally Pack.
This is a example of a original owner (68 Javelin) car with a tachometer in the left position as seen in early 67 brochures.
Photos courtesy of Dennis Whitehead of Canada on his 69 Javelin. Here is a NOS AMC 68-70 Rally Pack for sale: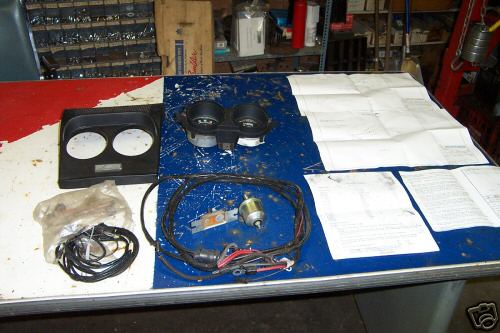 Note the factory tachometer in left position (1967-68 production)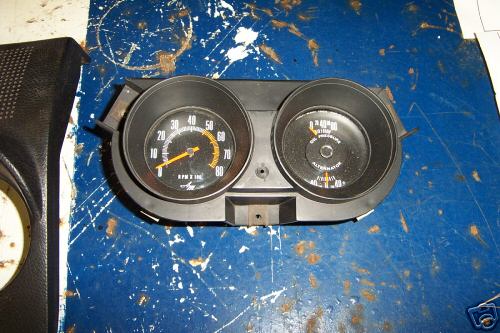 which would leave the far left of dash hole for the clock. The original NOS Javelin "hooded" overlay: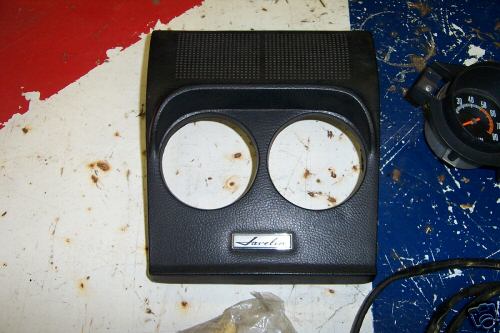 complete with emblem were sold only in black. The dealership would then paint them to match your interior. Original wiring harness, junction block, and sending units.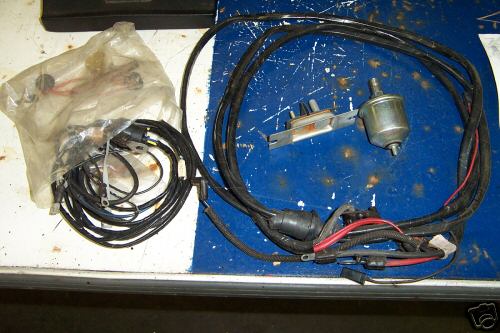 For 68 (Javelin) there would be two harnesses as shown, as the tach was wired seperately. NOS 68 Rally Pack Instruction sheet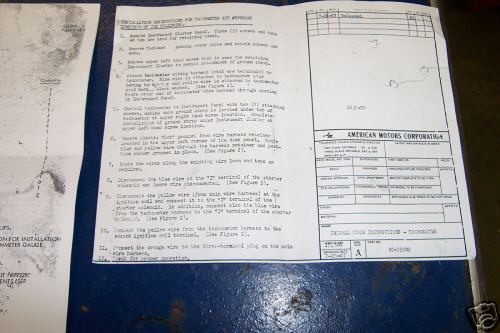 made it really easy to install. The AMX however, in 1968, would come with a clock and combination oil/amp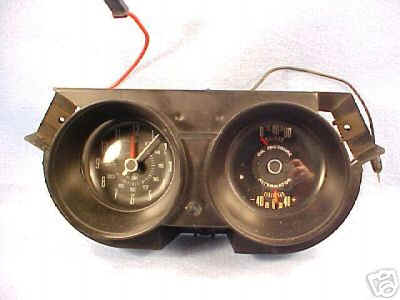 like this NOS "AMX" 1968 unit, as the AMX sported a small tachometer in the far left position. In 1969, when the AMX would change to a larger 140 mph speedometer and 8000RPM tach, a clock or a delete plate would be used in the far left, and in the Rally Pack itself, a new Vacuum Gauge and combo oil/amp.
==================================================
Contrary to popular belief and urban legend, these were not Group 19, but Group 15 which like the metal front spoilers I sell, were a Genuine AMC Accessory.
Here is the info direct from the AMC Accessories Catalog.
RALLY PACK, INSTRUMENTS (Group 15.300)
1970 30-70 AMC PN#8992601 Dealer Net $35.05 Suggested Wholesale $43.45 Suggested List $25.65
1969 30-70 AMC PN#8992457 Dealer Net $48.30 Suggested Wholesale $56.35 Suggested List $80.50
1968 30-70 AMC PN#8992318 Dealer Net $28.95 Suggested Wholesale $36.95 Suggested List $45.95
Adapter kit, instrument cluster bezel Rally Pack (15.300) (model year 1970)
70 30 LAC (LHLV) PN#8992558 Dealer Net $15.40 Suggested Wholesale $19.45 Suggested List $25.65
70 30 WAC (WHLV) PN#8992559 Dealer Net $15.40 Sugg Wholesale $19.25 Sugg List $25.65
70 70 Except SST (LAC)(LHLV) PN#8992554 Dealer Net $15.40 Sugg Wholesale $19.25 Sugg List $25.65
70-70 SST (LAC)(LHLV) PN#8992555 Dealer Net $15.40 Sugg Wholesale $19.25 Sugg List $25.65
70-70 Excpt SST (WAC)(WHLV) PN#8992556 Dealer Net $15.40 Sugg Wholesale $19.25 Sugg List $25.65
70-70 SST (WAC)(WHLV) PN#8992557 Dealer Net $15.40 Sugg Wholesale $19.25 Sugg List $25.65
CLOCK KIT (15.300)
68 thru 70 30-70 AMC PN#8992316 Dealer Net $18.40 Suggested Wholesale $23.50 Suggested List $29.45

In 1968 AMX a tachometer would appear in the FAR LEFT of the dash.
For 1968 Javelin, the tachometer sometimes appeared in the left hole, center dash.
No 68 AMXs or Javelins came with a 140 mph speedometer nor a 8K tachometer; this option did not appear until 1969 due to complaints from motorists the tiny tach in the 68 was difficult to read.
In the middle of the dash, if the car was optioned as such, the Rally Pack would have the clock on the left hole and the oil/amp in the right hole. The 1968 Rally Pack overlay was only available in black. you had to paint it yourself to match interior, or could have the dealer do it for you.
ALL 1968 equipped Rally Pack AMX (factory photo)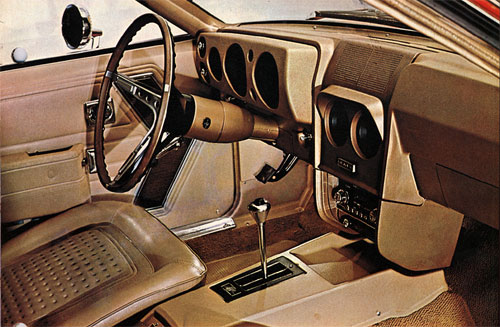 and Javelins (AMX serial added to this unit) shown in this photo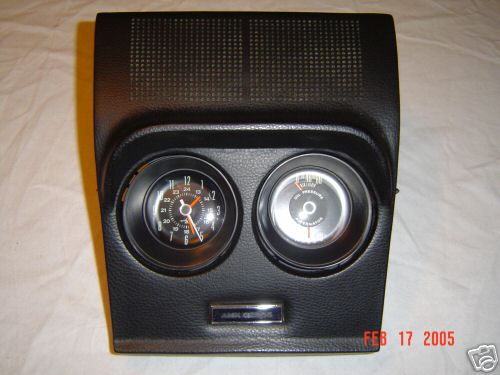 had a SOLID COLOR
hooded overlay center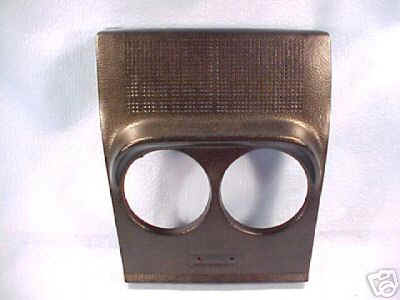 For 1969, this was changed. Partly due because too many complaints that the small 68 tachometer could not be read properly, and was too not well lit. So AMC added a larger, and new, 140mph speedometer, and 8000rpm tachometer as part of the Go Pack. But the optional Rally Pack ALSO changed. A NEW VACUUM gauge was now on the left, and the oil/amp remained in the right slot. Same hooded overlay, except for 1969, it was WOODGRAIN.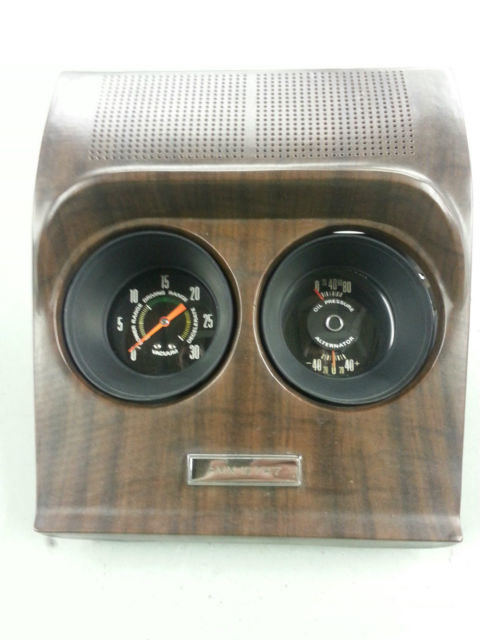 If....you opted for Rally Pack, and your car had Go Pack, this is what your 1969 gauges would have looked like, big silver faced 140 miles per hour speedometer, large 8000 RPM tachometer, vacuum gauge, combination oil & amp gauge & clock, along with 1969 woodgrain center eyebrow overlay. It is really too bad that AMC did not make all seen below, Go Pack *AND* Rally Pack....standard equipment in all AMX & Javelins.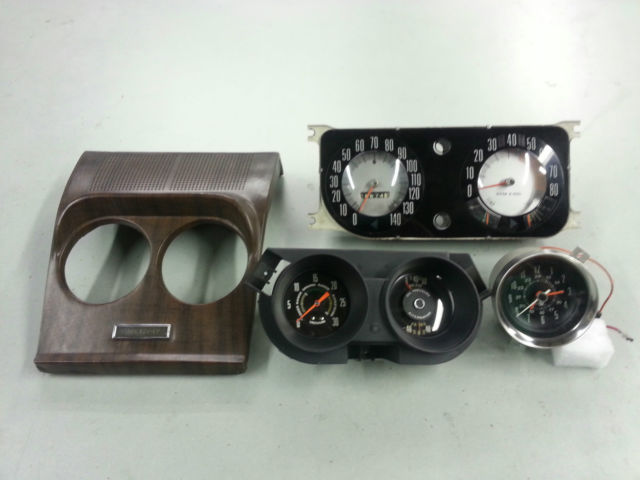 In 1970, the gauges remained the same, vacuum on left, oil/amp on right. It is my estimation that less than 1% of people opted for this ultra rare option in 1970. This is a original 70 Javelin with Rally Pack with NO AC.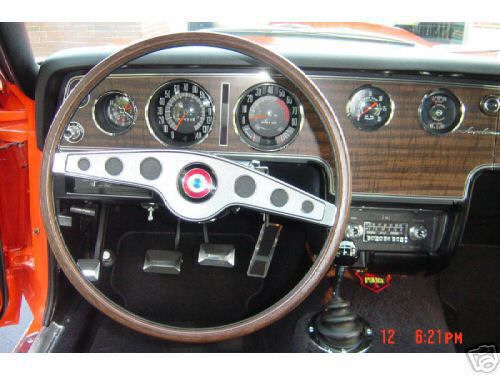 What was unusual about the 1970 Rally Pack is that it could come in two different versions on the AMX and Javelin! You had your standard NON AC overlay. Also had the AC overlay. Then you had the Rally Pack NO AC overlay. And finally the holy grail overlay with Rally Pack AND AC. For this, the small AMX emblem had to be moved and was smaller! Used overlays with gauges and wiring in year 2000 could command about $4000 alone. Again, for 1970, the base backing for the woodgrain overlays only came in black for Rally Pack. you would have to paint it yourself to match interior color, or have dealership do it if interior was saddle, tan, brown, blue, red.
However, while it is my understanding that Just Dashes on my Planet Houston Vendors List can now take *ANY* 68 solid color, or 69 woodgrain standard non Rally Pack center piece and convert it to Rally Pack.
And in the past several years, Mark Shuford of Florida has reproduced the woodgrain overlays for 1970 AMX, including the ultra rare Rally Pack w/AC mentioned above. Not only has he reproduced the overlays, but also reproduced the Rally Pack Oil/Amp gauge, the Vacuum gauge, and the wiring harnesses and junction block to install this rarest of options into your classic AMX or Javelin. Also reproducting the Javelin and AMX 70 dash overlays is PG Classic of Canada

In 1971 thru 1974, The Rally Pack would live on in the 1971-74 AMX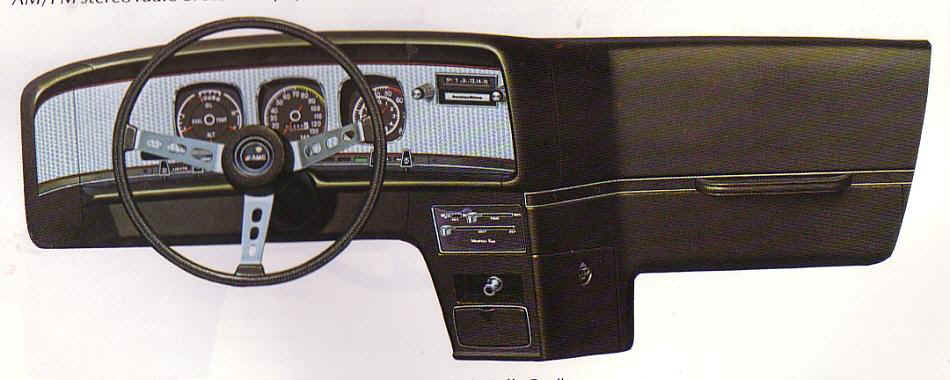 and optional on Javelins and would also resurface in other models such as Pacer, Gremlin, Hornet, Concord, Matador, Spirit and Eagle in later years!
This is a front, rear & close up of a 71-72 Rally Pack..
The tachometer was almost hidden behind a super imposed clock on these later versions, a horrible design, and hard to read. Of the many 71-74 AMXs and Javelin I have owned with Rally Pack, only two clocks have worked. Note that the circuit board on these is a big problem, as it is a thin flat, copper wire inside thinner plastic. Many of these break, and while they can easily be fixed, again, it is a pain in the ass to do, and to keep your dash lights working. This is a
REAR VIEW WIRING SCHEMATIC for the 1971-74 AMX & Javelin Rally Pack.
This is a close up of one of the lowest mile 71-74 Rally Pack gauges I have in stock, the photos unedited to show clarity in the needles, faces.
UPDATE 2014: there is a company that sells a "kit" of decals to redo your 71-74 gauge cluster, see Mistyer Heaterbox link below.
Update 2014: the clear plastic cover for 71-74 gauges can be cleaned up with over counter headlight plastic cleaner, however, the clear gauge cover for all 71-74 gauges was reproduced in 2013 if you wish to replace whole clear cover. About $60-$75 for one on ebay. ddfarmproducts is the seller.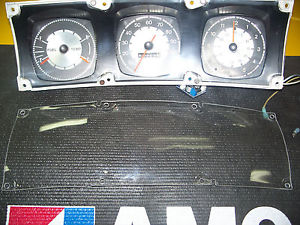 If you just need to repaint your gauges, here is a file in RESTORATION
I wrote on how to do it, which is easy for do it yourselfer.
Here is a 71-74 Rally Pack from my collection it is a LOW MILER unit. When buying a Rally Pack, watch for area around the ALT gauge in housing, many times these are melted! Thisa unit shows little wear but a little UV on needles closest to the door ATL, FUEL, TEMP, AMP. *Note the temperature REGULATOR shown in 5th photo near top, is unique to Rally Packs, will not interchange with normal gauge clusters. Note AM Part Number on tachometer 3632604. There were NO six cylinder tachometers made.
UPDATE 2013. A company in Canada has reproduced the circuit board for all 120mph/fuel/temp AMX & Javelin & 140mph/8K Rally Pack setups. You can contact them directly at Mister Heaterbox. First photo is for 71-74 RALLY PACK. Second photo is for 68-70 Go Pack.
Not shown here is the four gauge cluster Rally Pack that first appeared in 1975 and used for Pacer, then Hornet AMX, Gremlin GT, Concord AMX, Spirit GT & Spirit AMX, these are on floor hump center of lower dash.
It is important to note that much of the confusion between Go Pack and Rally Pack comes from the later 1971 thru 1974 AMX & Javelin Series, as the Go Pack featured the Rally Pack as STANDARD. It is also important to note that you could OPT OUT, that is, check off a box on the order form if you did not want Rally Pack Gauges in your later model AMX. I have owned over a dozen of these such cars.
So not ALL 1971-74 AMXs came with Rally Pack either as commonly thought
71-74 AMXs & Javelins FOR EXPORT overseas got a different type Rally Pack not available in the US with kilometer. Yes! You could get a Kilometer Speedometer in your AMX or Javelin Rally Pack, a number of these made for Export Markets: Canada, Europe. From my collection a NOS one. The 2nd photo is a original owner AMX in Austria.
Should you end up adding this rare option to your classic AMC (and please remember, Rally Pack would NOT appear on your build sheet) here are the ORIGINAL AMC INSTRUCTION SHEETS that were only available with the gauges. These will not appear in any technical service (shop) manual for 1968-70. Feel free to print them and use them. Good luck and have fun with your classic AMX or Javelin!
1968-1969 AMC Rally Pack Instructions
1970 AMC Rally Pack Instructions