Trendsetter & Sidewinder Instructions
Not just for AMX or Javelin, Sidewinders were marketed towards Gremlin owners too.
In 1960s, police would pull you over for "Excessive Noise" & many times issue you a citation, like this 70 AMX owner.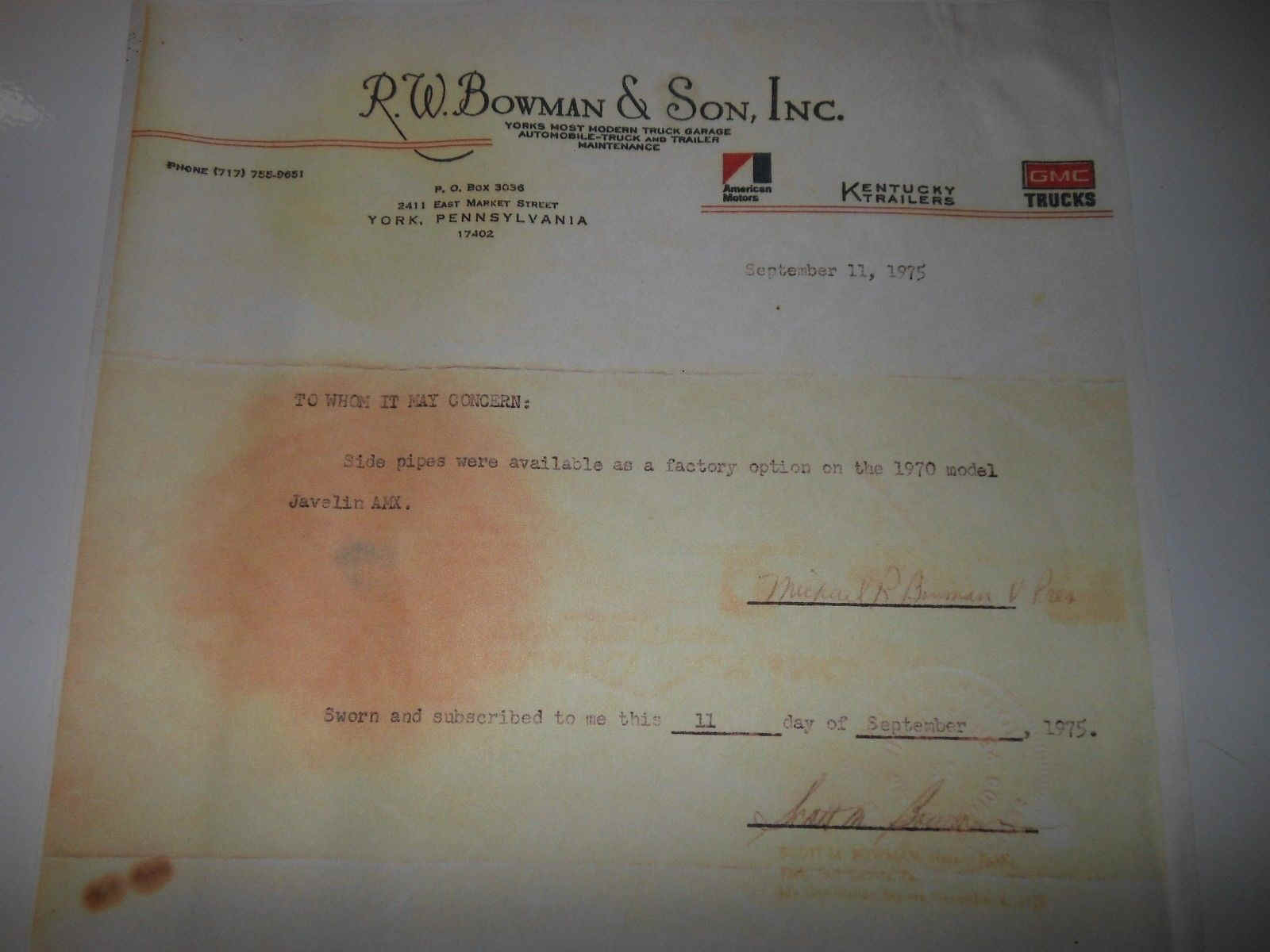 This is a uber rare Dealership letter, notarized, for POLICE so poor bastard could get a ticket dismissed. How cool is that a Dealer would go above and beyond duty to help customer? Trendsetter sidepipes WERE a authentic AMC Group 15 Accessory (NOT Group 19 Performance item) and like other aftermarket AMC supplier items, was even issued a AMC Part Number.
Contrary to what letter states,
NO AMX OR JAVELIN LEFT KENOSHA "FACTORY" WITH THESE INSTALLED, PERIOD.
Rare photo of Trendsetter ram air scoop from 1969. Known as a Frigid Air Scoop. First photo is restored, 2nd photo from 1969.
***The Sidewinder Trendsetter exhausts covers and systems WERE DISCONTINUED by Mike Bursaw in 2011. Several vendors like South Texas AMC, and APD still list them on their sites BUT NO ONE HAS THEM as they were all getting them from Mike.
Trendsetter Products had some great items for AMC in the late 1960s; they also sold a variety of products for other automakers. Several of the neat things they sold for American Motors was a Frigid-Air RAM AIR SCOOP two years before AMC would make production with the Power Blister (Ram Air) hood scoops on the 1970 Javelin and AMX. Not only did this Frigid Air consist of a scoop, but also included a car base called a 'moisture trap'. The bullet shaped racing Trend Setter Racing Mirror was less than one pound. While many folks might think 'what the hell is the big deal?' remember, this is 1968....almost FORTY YEARS AGO.
The Sidewinders are ORIGINAL AMERICAN MOTORS GROUP 15 ACCESSORIES. Like Edlebrock and other AMC suppliers, this setup had it's own AMC designated Part Number! You can find them in the BLUE SHEET GROUP 15 ACCESSORY DEALER BOOKS I sell.
1968-70 AMX AM PN#8992577 Dealer Net $101.97; Suggested Wholesale $129.97; Suggested List $169.95
68-74 Javelin AM PN#8992578 Dealer Net $011.97; Suggested Wholesale $129.97; Suggested List $169.95
Dana Fortin at Talermade Exhausts on my Vendors List can hook you up with the whole exhaust system. If you have ever heard a Sidewinder set of pipes, they are unforgettable and command attention when you pull up at cruise nights and car shows! And they were a American Motors Corporation Dealership Group 15 Accessory!
I have a set of ALL FOUR Tadco. Inc; 3537 Vinewood, Detroit, Michigan, 48208. PH#313-897-7706 (don't write or call they are long out of business up there) but here are all THREE INSTRUCTION SHEETS on file here for those of you who need or would like a set to print out free of charge. The 4th page is a original ad showing several trendsetter products. Have fun!