AMC Valve Cover ID
New valve cover tags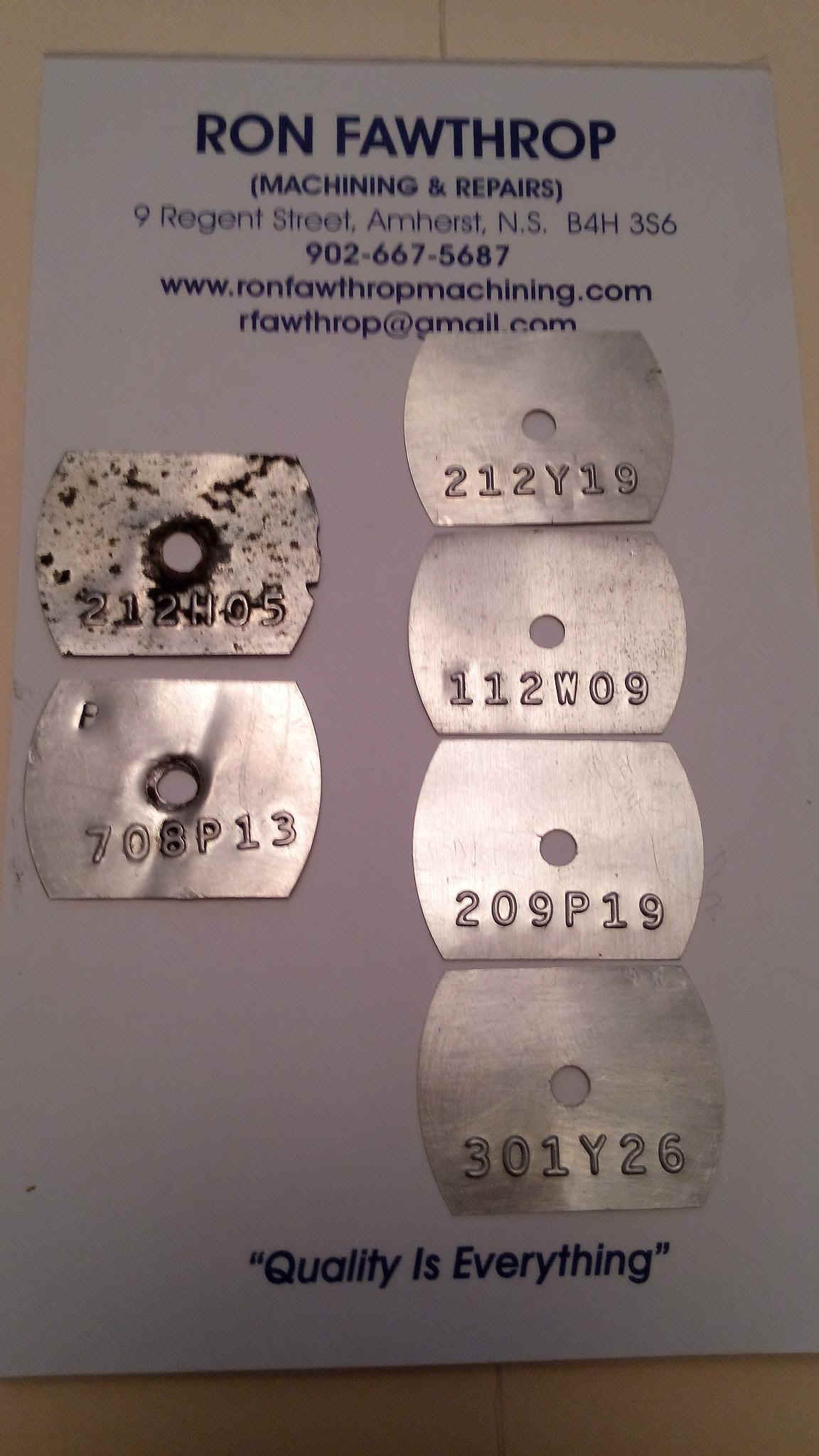 & carburetor tags now available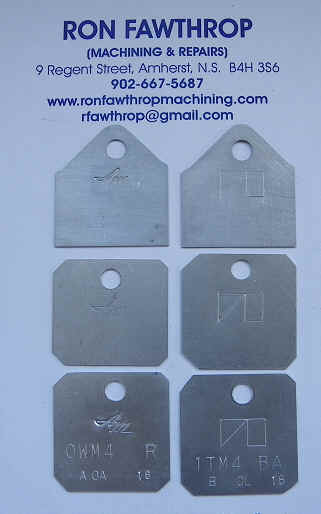 Using a variety of files here on my site to determine what to have stamped on your tag, or using your existing beat up tag, these care concourse correct.
On most, if not all AMC V8's, (thru the 70s) there will be a small thin metal tag
attached with a Phillips screw on the passenger side of the valve cover facing towards the
radiator. The engine code and engine build date will be here. THERE IS NO ID
NUMBER THAT CORRESPONDS TO THE BODY, SO IT IS VIRTUALLY IMPOSSIBLE TO
DETERMINE WHETHER A PARTICULAR ENGINE WAS ORIGINALLY INSTALLED IN A
PARTICULAR VEHICLE. Tags can be moved from engine to engine, like valve
covers can be moved from engine to engine. However, the "date" listed should
precede the car's build date by a few weeks. About in mid 1967, the CID
(cubic inch displacement) was was cast into the side of the block under the
motor mount bracket. Decoding your engine block click here.
Take a flashlight and look if you are unsure, it is
also cast on all those 304s, 360s and 401s commonly found in International
Harvester Scout, Scout II, Travel all and mini school buses from 1972 thru
roughly 1980. Those are all painted red, or orange. This is usually the best
way to ID a AMC block as they look all the same from above, and as I
mentioned before AMC NEVER MADE A BIG BLOCK. The 290 and 304 used smaller
valves, thin block webbing, and cast internals; the 343 and 360 used big
valves (2.02/1.62 or 1.68) thick webbing and a cast crank; the 390 and 401
used big valves, thick webbing and forged steel cranks. So with that in
mind, here are a breakdown on the numbers on your valve cover metal tag.
===============
The tag will break down as follows:
1st Digit is the YEAR
2nd & 3rd Digit is the MONTH
4th Digit matches 7th Digit of the VIN (engine size)*
5th & 6th Digits match DAY OF MONTH engine built
=================
FIRST DIGIT is YEAR
1=1968; 2=1969; 3=1970; 4=1971; 5=1972; 6=1973; 7=1974
Other early years:
1=1959; 2=1960=; 3=1961; 4=1962; 5=1963; 6=1964; 7=1965; 8=1966; 9=1967
Other later years:
8=1975; 9=1976; 1=1977; 2=1978; 3=1979; 0=1980
Final end run years:
1=1981 VIN Code B; 2=1982 VIN Code C; 3=1983 VIN Code D; 4=1984 VIN Code E
5=1985 VIN Code F; 6=1986 VIN Code G; 7=1987 VIN Code H; 8=1988 VIN Code J
For all VIN Codes Click Here.
=================
SECOND & THIRD DIGIT are MONTHS
01=Jan; 02-Feb; 03=Mar; 04=Apr; 05=May; 06=Jun;
07=Jul; 08=Aug; 09=Sep; 10=Oct; 11=Nov; 12=Dec
*Note production for the new models would begin in August, so the date could begin in 07-08.
FOURTH DIGIT MATCHES YOUR 7TH DIGIT OF VIN
*W=used for 390V8 4barrel in some Series; X=used for 390V8 in other Series.
*Z used for 343V8 Typhoon 4barrel

FIFTH & SIXTH DIGITS ARE DAY OF MONTH MANUFACTURED

Sometimes you also find other letters on the tag that signify any oversize
or undersize pieces AMC used:
B=Cylinder bore .010 oversize
M=Main bearings .010 undersize
P=Connecting rod bearings .010 undersize
C=Camshaft bore .010 undersize
PM=Mains & Rods .010 undersize
Here is a sample Valve Cover Tag:
Sample above shows a 390V8 built on November 19th, 1968
This is a example of several in my collection.
Cover "A" is 103N27
Translated: March 27th, 1968, 290V8 Typhoon
Cover "B" is 107W02
Translated: July 2nd, 1968, 390V8 four barrel
(*significant as this is 28 days before END of 1968 production!)
Cover "C" is 308Z24
Translated: August 24th, 1967, 343 Typhoon four barrel
*significant as this is the original valve cover tag off my 1968 Rebel convertible. The last six digits of my VIN are 183090. Ultra early car of only 823 made.

Cover "D" is 204W07
Translated: April 7th, 1969, 390 4barrel
Cover "E" is 206W23
Translated: June 23rd, 1969, 390V8 4barrel
Cover "F" is 206W10
Translated: June 10th, 1969, 390V8 4barrel