AMX Dash Serial Plaques: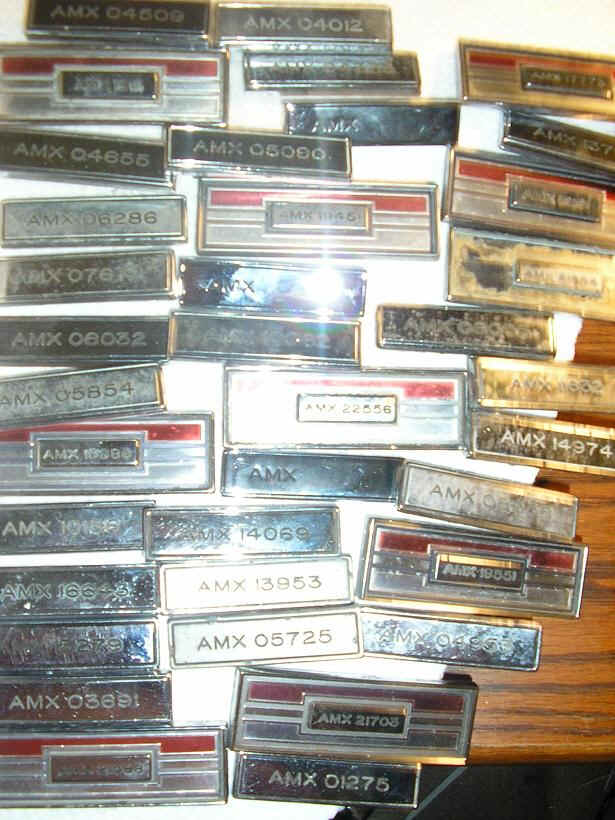 As unique as the cars themselves, every 68-70 AMX came with a dash plaque. However, to this day, there are conflicting reports on just how, what, why these came about. And why thousands more plaques were made than cars. AMC never did hit their production totals on the AMX. However, even to this day, you can still find AMX Dash Serials for sale on ebay and at many major AMC meets, they usually sell for about $50-$250, some a little more, depending on the low, high, number or rarity like if the number was #01968 for instance, or devil number #00666, or even a engine size like #00390. There is a lot of speculation here, and while conversations with those who worked at AMC has yielded some info thru the years, there is absolutely nothing set in stone regarding the dash plaque numbers.
No, your Dash Serial Number does in no way correspond to the vehicle
VIN, or Door Trim Tag or Build Sheet.
*AMX Blanks: I have two types of AMX blank dash plaques. Ok, three if you count 1970. For 1968-69 the AMX is offset to the left and there is NO numbers. I do not know how AMC would stamp/engrave the numbers in there, especially since this would have been used as a replacement on a vehicle that the original number was stolen or lost. Possibly they would send it out to be engraved? The other AMX blank has the letters AMX offset to left and numbers of 00000. Why? I have only seen one of these since the cars were new.
I have seen more of the "no number" ones at national AMC events for sale in the 70s and 80s. And I bought them all! The late Leeland Fanning of Kenosha used to find them at garage sales for instance. For 1970, the only AMX blank I have seen has the letters AMX offset to left and NO numbers, just flat. Quite rare, but no one has ever told me why if only 19,134 cars made, AMC had leftover "stamped" numbers, so why not issue one of those dead numbers to the vehicle (1970)?. It would seem that a dealer ordering one for a customer could just say "send me a 1968-69 dash plaque, AM Part Number 3624369 (early 68) 3624768 (from when AMC changed the number to middle of dash off glovebox thru all of 1969) or 3616304 (for 1970) and they would get one already engraved, no? So why blanks? Were blanks promotional items? I have never seen a blank on a car......only at meets or in private collections. So jury is still out as too many questions. My guess on these (and it is only speculation) is that the 1967-68 blanks with only AMX and no numbers....were discarded when the decision came down to move the dash plaque from the glovebox to the center of dash in 1968. Why? Simple, the glovebox numbers would not FIT in the middle of the dash radio speaker cover as the mounting tabs were too small....( 1/4 inch long) while the ones for the center of dash were over 1 inch long to fit thru the center piece. My guess is (and that is ALL it is) is that the blank 67-68 short mounts were either thrown away, stolen, or given to employees since employees were taking them (numbered ones) anyhows. This is a 67-68 blank 3624369 with AMX but no Serial from my collection. Front Rear
Another angle of front. Chrome Reflection.
Here is a production blank, that is was used on really early 68s; and a 70 blank. Front. Rear.
*AMX Numbers 15,001 thru 15,999: I have never seen a AMX Dash serial Number in the 15,000's, and it is my understanding that the box of them with 15,001 thru 15,999 was stolen. Possibly tossed. At least that is the story I have heard since being in hobby. If you have ever seen a 69 AMX, or any AMX with a 15,001 thru 15,999 dash serial number I would like to see it! And to this day, no one has ever sent me a photo of one and I have yet to see one at any (it would be on a 1969!) national AMC meet.
*1969 Hurst Super Stock AMX Numbers. The VIN's on the SS/AMX run from A9M397X213560 thru A9M397X213613 consecutively built. Their Dash Plaques run from AMX 12567 to AMX 12620.
*Six Digit AMX Dash Plaque. Only one made: AMX #36-24-35 in 1968 for Angela Dorian's pink AMX, which was her measurements; 1968 Playboy Playmate of the Year.
See Mission AMX.
I will pay handsomely for a 1967-1968 blank with AMX 00000 for my collection and for a 70 AMX blank with no numbers and any used 70 AMX one with number above 24,000.
Click here to see a part of my collection, and this is a very early "AMX" non numbered dash plaque.
Discontinued 68 AMX style glovebox blank unetched
AMX Dash Serial in 1968 Rally Pack cover.

In 70 the AMX dash plaque was moved to the glovebox.
Below is several other views, although there are some similarities in them.
=============================================================================
AMC had planned to put a small metal dash plaque on all the Javelin Series starting in September 1967
The little metal emblem had the new "Javelin" fancy script on it. Rear View. The original "plan" was to put a plaque in the AMX with the words AMX cast in it, as people in 1968 were already confusing the Javelin and AMX. Even noted auto writers and drive reports, so the car had a little bit of identity crisis from the start. The advertising firm of Wells, Rich & Green, based in New York were hired by AMC to promote, thru ads, the new Javelin, and AMX. It is believed CEO Mary Wells initially came up with the idea of numbering the AMXs, however, others point to Vice President of AMC Marketing R. W. MeNealy for this idea. This would give the new little AMX some identity from big brother Javelin. The Shelby's were numbered so why not AMX? But buyers like the exclusive and uniqueness of "having the only one". After the first run of the metal plaques with just "AMX" on them, a progressive number was added, the letters smaller too. AMC's goal was to produce 10,000 68 AMXs in the first year, so a five number serial would be used, starting with AMX #00001.
It is believed the plaques didn't make it to he Kenosha plant in time to be affixed to the first string of cars, and those cars were affixed the "AMX" plaque. But Director of Advertising, R. W. McNealy, held back the first numbered AMX Serials from #00001 thru as high as #00050. These were going to be used for celebrities and stars who bought a AMX, even though that car could have been the 250th one built, the dealership would affix that number to it. A example of this is here on my website: 1968 AMC AMX Angela Dorian (Victoria Vetri) Playboy Playmate of the Year receiving her keys to her new (and only one ever painted PINK from the factory, the AMX dash serial had her size of AMX #362335 on the dash) the gentleman giving her the keys is Vice President of Marketing R. W. MeNealy. But this means that the 1968 AMX 5002 (the second run of plaques had dropped the fifth digit) might have had the original serial removed and AMX #00005 affixed to it now.
Again, there is no connection to the VIN, build sheet, or door trim tag, nothing at all.
On top of this, when the main Kenosha plant was torn down and stripped in 1988, a number of plaques was found under machinery and cabinets. It is not known how many of the original "AMX" no numbered tags were made, but is generally thought to be almost 1000!!! You could also buy NOS dash serial numbers NOS thru your friendly AMC parts dealer in 1970s, and there are documented stories of how people bought AMX dash blanks, which were called "Customer To Engrave" replacements.
So it is generally thought that the 'first AMX' to get a 'numbered AMX' serial was somewhere in the 200-300 range, that is, the 200th to 300th AMX built. The early numbered AMX Dash Serials had short studs, and were put in the glovebox to the right. However, the highest AMX Dash Serial I have ever seen on a glovebox was #01490, almost #1500! AMC decided to put the AMX Dash Serial Number in the middle of the dash again for some reason and no one knows why, possibly more exposure as opposed to the lower glovebox. The AMX Dash Serial also then had longer mounts on back to go thru the radio speaker overlay in the middle of the dash. There, they would stay from whenever-1968 thru all of 1969, until AMC changed them, and moved them back again to the glovebox for model year 1970. The 1970 AMX had a totally different dash from 68-69 and also AMC changed the AMX Dash Serial Number too, it was now a small square for the number superimposed on a larger plaque, complete with red, and blue.
The AMX Dash Numbers were a real novelty for AMC plant workers, and hundreds of them ended up on walls, in their lockers, on lunchboxes, even in their non-AMX (but AMC built) vehicles on the dash! If you have ever spoken with AMC assembly line workers, these things traded hands like Pokemon cards.The highest AMX Dash Serial number I personally have ever seen is AMX #24002.
The "early" AMX Dash Serial Number in 1968 that was affixed to the glovebox is
AMC Part Number 3624369. It has short 1/8th inch mounts.
The AMX Dash Serial that was moved to the middle of dash in 1968 changed to
AMC Part Number 3624768. This AMC Part Number would be used thru the remaining of 1968 and all of 1969. It has one inch long mounts.
For 1970, the AMX Dash Serial AMC Part number changed to #3616304. It has short 1/8th inch mounts, as it is affixed to glovebox one again, however, glovebox and dash configuration had changed from 1968-69.
These are some photos from my personal collection of AMX Dash Numbers. The two on the upper left are "early" and short mount tabs. Both are NOS, taken out of the original bags only for this photo. I may add that the #00976 was bought in 1999 at a National Meet; almost 40 years since the last 68 AMX rolled down the line. Note the high 1970 AMX Dash Serial to the right. Photo #2 shows the backs of them and the mounting tabs that went from short, to long to short again.

68-70 AMX Dash Plaques FRONT

68-70 AMX Dash Plaques SIDE

68-70 AMX Dash Plaques REAR
Please note I buy AMX Dash Plaques if you have one for sale, let me know, will buy outright or trade up/down, plus or minus cash for it. I have never sold one in my collection dating back to 1983.
==================================Another View=================================
The original 68 cars came from the factory without a numbered dash plaque, but did have a similar plaque with the letters "AMX" cast into it. (You could not just inscribe the letters onto a blank plate-it is different). I have documented some cars made the week of Jan 20, 1968 as having numbered plaques on the glove box, and no "AMX" only plaque. There were 88 AMXs made up to Jan 27, so certainly no more than 88 cars had the "AMX" only plaque. Strangely, the "AMX" only plaque was on the center crashpad, as seen in the brochure. The numbered plaques appeared on the glovebox beginning in Jan., but I have no memo or letters to state that, or why the change. (Though the Javelin's plaque was on the glovebox from the beginning). There are a few cars out there that have both plaques on the car, but none are verified yet as coming from the factory that way. (And I have requested info on the cars from the owners, but none replied). The number moved from the glovebox back to the center crashpad somewhere around the week of Feb. 24. (Again, no memo, production letter, etc.) There were 423 AMXs made to that point, with an additional 346 AMXs made that week, for a total of 769. It is generally said the first 500 had the plaque on the glovebox. In general terms, that is perhaps true, but doubtful AMC stopped everything at exactly #500 and made the switch, plus what about those with the "AMX" plate? I believe the number to be on the later end of the weeks (#769) mainly because the survival rate of these glovebox cars is just too high (I believe I have listed well over 100).
AMC did not issue #1-100. They sent a memo to the dealers stating they are withholding these numbers for "Special Customers", such as giving a sports star his uniform number. A follow-up letter states they had zero takers on the offer. Playmate of the Year Angela Dorian had a "special" AMX number-her measurements. Can't remember off hand the lowest confirmed number I have listed, but pretty sure it is AMX-0010x, or one of the first 9 that had numbers. Two cars I might mention. Locally there was a car #00088. This was inscribed by a jeweler, from a close looking plaque. Haven't seen the car in years, but not authentic. There is also a car in Wisconsin with number 00003. This is confirmed by me as one of the first cars off the line, but should have the "AMX" plate. It was sold by AMC to an executive, so perhaps that number was used from the "reserved" 100. AMC once ran an add in a trade magazine about a guy who's car was stolen, and his crashpad and number were stolen. AMC happily responded to the guy's letter for help by sending him a new plaque with his number. Blank plaques were in the parts book, and I ordered one to put my wife's name on it back in the early 70s, but was not able to get it. I did buy a blank at the Kenosha meet, as did Ross Peterson, and the guy had boxes of numbers, most consecutive. You're right when you say they walked out the door at the factory. This guy easily had a couple 100, but only the 2 blanks (and a few "AMX" plates, but at over $100, I passed). However, it should be pointed out the whole factory did not have access to these numbers, only the dash assembly area. When the cars came down the line, the dashes were already assembled. (And one year I was at a AMC National Meet and a fellow showed me a VIN plate with MR. AMX or something like that inscribed on it. I believe those at the factory recognized the potential of this car when they made it). The numbers for 1968 run up to 06999. Wish I had my list so I could tell you the highest one I had listed, but do believe it was 069xx. One more item. The back mounting prongs for the glovebox tags are short, straight, and rounded ends. Those for the crashpad cars are long, tapered, pointed ends. The glovebox numbers are mounted with acorn speed nuts. The crashpad plaque has self retaining push on clips holding it in place. On a side note, Bruce Rambler and I have advertised on and off for a number of years (15+) for a Rallye Pak overlay without the holes, to be used on glovebox numbered cars. I have never found one, even not for sale, and last I knew, either did he. Be interesting to see what the dealers did for customers who had the early car and wanted the Rallye Pak.
For 1969, the crashpad was changed to woodgrain, but the dash plaque remained exactly the same as before. The numbers generally began with 07000 and ended with 16999. However, the car used for the 69 brochure had plaque #02433, definitely a 68 number. Could be a car kept by AMC for restyling. Had the complete 69 interior, but have not seen an underhood shot to determine actual year. Again, can't confirm earliest and latest numbers I have, but I did have a 69 290 4spd my brother totaled (with only 4,000 miles on it) back in the mid 70s, with number 164xx.
For 1970, the dash was redesigned, the number was redesigned with blue and red trim, and moved to the glovebox. Very different from earlier plaques. (And I have never seen or have heard of a blank one). The numbers began at 17000 and ended at , well, who knows, but I did own one of the 6 AMXs made in July, 70, and it's number was the highest I had seen, 24xxx. (This was possibly the last AMX made, as I have seen one other July car, with numbers way earlier than mine). I also owned the lowest 70 number I have seen, #17013. The brochure car had number 170xx, last 2 digits blocked by a glare.
Cosworth Vegas and Bricklins had numbers that were accurate, showing exactly what car was made in what order. (I believe Vettes and Shelby Mustangs had similar sequential numbers, only as part of their VIN. AMX VINs are shared by the whole car line). AMX numbers were not exactly haphazard, as they came in boxed sets. Generally, if the number of a car is higher than yours, the car was made after your car. An exception would be if the numbers were close together and came out of the same box. A higher number might have come out first. I once owned two 68 AMXs with sequential VIN, Body, Sequence, and dash plaque numbers. They were identical in every way, except one was auto, one 4 speed.
It's hard to put a lot of faith in dash numbers today, as every AMC show I've attended has had vendors selling numbers from parted out cars, priced from $25 to $75. It' too bad this could nave been a great feature of the cars if done right. (And I've never found out why AMC thought to do this, or who was responsible for the idea).
The second version is by Tom Benvie.