MY AMCS FOR SALE 2013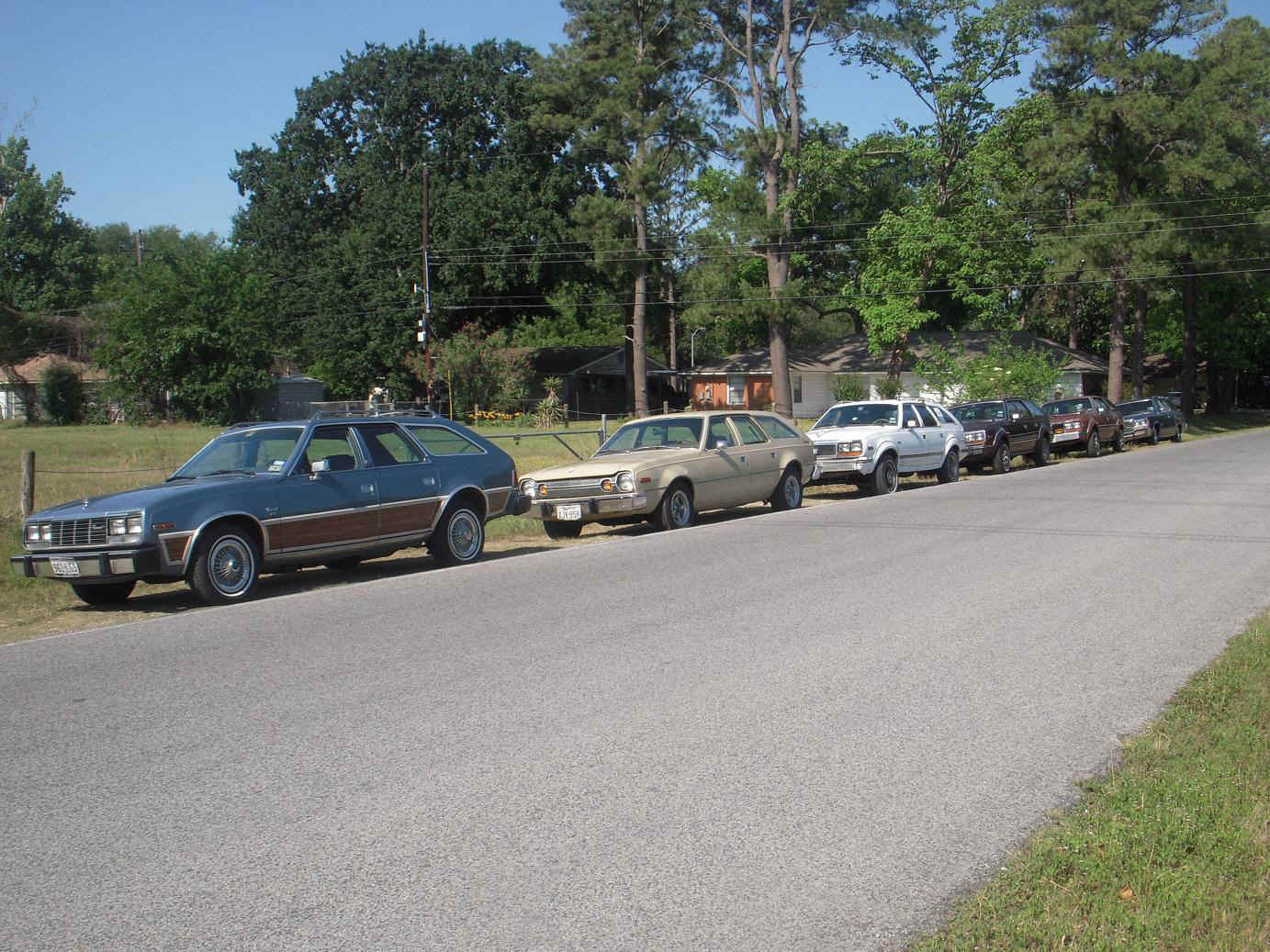 This is a list of some of my classic AMC vehicles in personal collection am putting up for sale. I don't want nor need 14 American Motors cars right now, not enough time in day to fool with them all. No, not a fire sale either, just too many spits in fire at moment.
OFFERS CONSIDERED. MONTHLY PAYMENTS AVAILABLE.
1969 AMC Javelin, 343cid/285hp, rare "base" (795 Series) edition, Big Bad Orange, MOD package with Breedlove roof spoiler, TWIN SCOOP DELETE OPTION, has simulated rocker panel moldings (not shown, but go with car) factory date coded Carter carb, date coded C-9 Blackstone radiator, Solex clear glass, power steering, new $800 Javelin grille, mint condition 69 door panels, originally sported a luggage rack (whereabouts unknown), console, vacuum wipers, factory rare 14x6 AMC Magnum 500 rims (1 has NOS blue cap), 343 frozen up however this engine has never been apart. Good condition 1 year only front bumper big bad trim, solid car with minor rust in 1/4s, nice trunk pan, pillars too. Only 941 Big Bad Orange Javelins produced in 1969, and only a handful were "base" 343/ATs. Note lack of drip rail trims & upper door trims. Note sloppy blackout over spray on hood latch brace & behind it. This is a UNMOLESTED ORIGINAL that has never been apart. Rear seat original, front cores are from my stock, incorrect blue but correct. Door panels incorrect blue but correct 69-only square wood grain, I paid $250 for this excellent set. $4000.00 SOLD $3500 to Peter Sandquist of Sweden
WATCH WALKAROUND ON YOUTUBE.COM>>>> http://www.youtube.com/watch?v=VNnP2X5now
1973 AMC AMX Pierre Cardin, 360 4barrel, Hurst 4speed, factory air condition, power steering, power brakes, heated rear window, twin grip 3:54 rear end, group 15 multiplex door speakers, tinted glass, Rally Pack, Go Pack, functional cowl induction hood, needs total restoration but complete. Has holes in roof, and lower 1/4s, cowl hood has rust near one hinge. Rockers apper fine. Trunk has some rust. The roof appears to be biggest issue and would have to be fiberglassed or replaced. No title, bill of sale. Title from Broadway Title Series $150, Title from State of Texas (Bonded) $250.. Interesing history. Only 4152 Pierre Cardin Javelins made between 1972-74 with most being Javelin Series...NOT AMX. There are (my estimate) less than 200 known to exist, and less than SIXTY documented known to exist. Few are "P" coded 360 4 barrel cars and only a HANDFUL are Hurst equipped making this a rare one indeed. To learn more about the Pierre Cardin designer series from AMC check out the
Pierre Cardin AMC Registry
1974 AMC Javelin, 304, AT, 98K, Power steering, power brakes, air condition, originally Sienna Orange with Black vinyl roof, tint glass, bumper guards, nicely optioned out, has moonroof. Runs strong, good 904, transmission, great brakes. Needs restoration including lower 1/4s behind wheel wells, paint, minor rust here and there, speedometer cable, general things, easy restoration on rare color combination. Bill of sale, no title, title was Texas title but lost. A great starter car that runs & stops and needs mostly cosmetics. Have some extras to go with this vehicle! $3000.00/make offer
DRIVE IT ON YOUTUBE.COM>>>>> http://www.youtube.com/watch?v=cmUH4K-XFwE
1974 AMC Javelin AMX package, built 304, AT, functional cowl induction hood, power steering, power brakes, Go Pack, Rally Pack including working tachometer, tilt steering wheel, excellent AMX interior items including inserts, overlay, dash, and door panels, Group 15 accessory door speakers, heater rear window defogger, tinted glass, bumper guards, runs strong, has rust in 1/4s and in trunk, most of money sunk into engine on this one. Patchwork chariot, blue fender, gold trunk, plum door, was a restoration project a fellow AMCer was building, originally 360V8/727. A body man's special, needing 1/4 work, some trunk work, seat recovered, grille, but dash, door panels concours. Dual exhaust, headers, loud & proud. Gas tank is not shown on car, it was off for cleaning for photos, but I do have correct gas tank & straps. Some original paperwork including warranty, the car was sold new in Texas in 1973 by Buckstaff Motor Company, Longview, Texas. Bill of sale, no title. $3000.00/make offer
DRIVE TEST IT ON YOUTUBE.COM>>>> http://www.youtube.com/watch?v=QRIat1IJvp0
1974 AMC Sportabout Wagon, 232-AT, ONE OWNER TEXAS TITLE, 79,000 miles, garaged it's life, 232-6, Automatic/column shift, Air condition, Power steering, front & rear bumper guards, tinted glass, AM radio (have different radio...will be switching this out to a factory AMC logoed AM/FM8 track radio) new BF Goodrich T/A radials & AMC aluminum mags ($1K), new tune up, Auto Zone battery, Fawn Beige "Lustre Guard" AMC paint, new windshield, all original seats, carpet, dash, door panels, front suspension rebuilt, Lustre Guard paint shines like when new. Factory ECONOMY VACUUM gauge, twin "X" sport mirrors. Chrome on bumpers super shiny. Everything works except AC as needs compressor. THIS CAR IS DRIVEN DAILY in Houston, Texas. It is a boon to drive, very quick for being a 232/904 Torqueflite setup, very light wagon. Solid. Would recommend replacing driver side door as has some rust inside bottom seam, visible from inside, not outside which is original paint, and also rear hatch....same original Lustre Guard original paint there, just has some minor rust inside lip. Rear hatches easy to find and interchange with Concord & Eagle. AC needs hose & compressor, I disconnected it as was making noise. Needs a few minor stainless trims of which I already have located some. Rest of car solid as a brick. Extremely dependable.....mechanically sound, as mentioned this is driven daily in Houston, Texas. Sold new at Archer AMC in Houston! *update aug 2011, new inspection sticker, license plates. UPDATE: In August 2011 I had windows professionally LIMOUSINE tinted. *New Texas license plate & inspection sticker good thru summer of 2012. New factory VACUUM GAUGE added. New upper door trim added April 2012. New AM/FM/Cassette radio with speakers added March 2012. Update July 2012, completely new brake system. $3500.00 update Jan 2013 mileage 82,000 current
DRIVE IT ON YOUTUBE.COM!!>>>>>>>>>>> http://www.youtube.com/watch?v=DuLkaY-8mds
DRIVE IT AGAIN ON YOUTUBE.COM 2012>>> http://www.youtube.com/watch?v=4kh_C6cGh3g
1977 Hornet AMX, 304 4 barrel, Heavily Optioned 83K mile original including: Automatic/floor, Cruise Control, power Steering, Power Brakes, Air Conditioning, Rally Pack, Heated Rear Window, Factory Aluminum Mags, Aluminum Edlebrock Performer intake, Solex tinted glass, bumper guards, center console, louvers, complete flair kit, spoiler, tachometer, 390 AMX satin valve covers, Texas car, solid. Original "Flaming Bee" large hood & smaller trunk decal DELETE car. Vehicle will run, however 390 AMX Carter carb leaks badly. Needs: Targa band, carburetor, front buckets recovered (cracked due to relentless Texas summers), carpet, one aluminum mag, AC under hood compressor, general restoration. Factory V8-H code car. Rare Alpine White. Unpainted original Lustre-Guard paint. Vehicle never been out of Texas since delivery to Mockingbird American AMC in Dallas in 1976. Only 26 "Alpine White" 1977 Hornet AMXs are known to exist in 2011 according to the 1977 Hornet AMX Registry, of which a dozen are "H" coder 304V8s like this one. No title, bill of sale only. Bonded title available or use Broadway Title for $150 title. $3000 SOLD. Sale pending, Seattle, Washington
1981 AMC Eagle, extremely rare 4 cylinder, 4speed, factory 29 MILES PER GALLON, don't have to worry about $4-$5 a gallon gas with this. Power Steering, Power Brakes, tint glass, factory roof rack delete car, right at 100K miles, have owned it 5+ years and driven weekly. New tires, battery. Factory air shocks on rear, AMC accessory only for 1980-81. AM/FM radio. AMX grille. Fog lamps. Delay wipers. Runs great, fun to shift, and winds up quick as has factory 3:54 rear end. Whole end to end rear end replaced 3 years ago, has rather new brakes also/ Copper with tan interior. Factory rare roof rack delete! Has minor rust bubbles on roof from humidity, minor dent or push in as shown, needs headliner cloth, all are easy fix stuff. ***YES you CAN drop in a Chevrolet V8 in this vehicle if you remove front trans axle. It would bolt up to the Chevy 4 speed transmission and has been done thru the years by fans who want to make a Eagle V8 wagon. SOLD $2000 & now in Ypsilanti, Michigan
DRIVE IT ON YOUTUBE.COM!!>>>>> http://www.youtube.com/watch?v=rKPPqAIlGLc

1982 AMC Concord DL WOODIE wagon, 258-6, AT. ORIGINAL OWNER TEXAS TITLE 39,000 MILES, Sold NEW at Vance & Sons AMC of Houston (Bellaire), top of the line offering from AMC "D/L" package; garaged it's whole life, 258-6, Automatic/column, Air Conditioning (cold), Power Steering, Power Disc Brakes, Tilt, Tint, Power Door Locks, Towing Package with factory "Load Leveller" under hood (air compressor) AM/FM radio, Delay Wipers, rare AMC logoed "spinner" hubcaps, bumper guards, new $1000 rebuilt 904 Torqueflite transmission, new Slate Blue AMC paint with Clear Coat, new battery & tune up. Factory ZIEBART rust proofing; still has original decal on door. Group 15 AMC logoed floor mats. Group 15 Door Edge Guards. Driven daily in Houston, Texas. Cold AC. hot heater. This car is a blast to drive, and never fails to get attention no matter where is taken. Would recommend new headliner as cloth AMC used is gone. Original fiberboard there, just 80-88 AMC headliners weren't best, light cloth. Note no original passenger side mirror....I have one I may install. Have roll of NOS Dinoc woodgrain for passenger rear door imperfection on woodgrain there. Have NOS air replacement hoses for load leveller system also. Driver door handle sticks sometimes, there is minor pitting on roof rack and hood ornament, which is common, carpet could be redyed, as excellent condition, just faded blue. Right turn signal does not cancel, have to do it by hand, works fine, has new Texas inspection sticker. Would be great Airstrem trailer or hauler with factory tow package. Have almost put 2000 miles on it....it is driven daily & has a tollway EZ tag! *update aug 2011, new Texas title, license plates & inspection sticker, WIFE is driving it daily, mileage up to 41,000. *Update October 2011. A new camshaft was installed October 2011, along with completely rebuild cylinder head, so whole upper engine is NEW at a cost of $1700.00. New front bushings installed July 2012. Mileage 45,000 July 2012, sorry, wife likes driving this one. $5500.00 mileage January 2013 currently 47,000 wife drive miles

DRIVE IT ON YOUTUBE.COM!!>>>>>>>>>>>>> http://www.youtube.com/watch?v=tehtg8qZM5s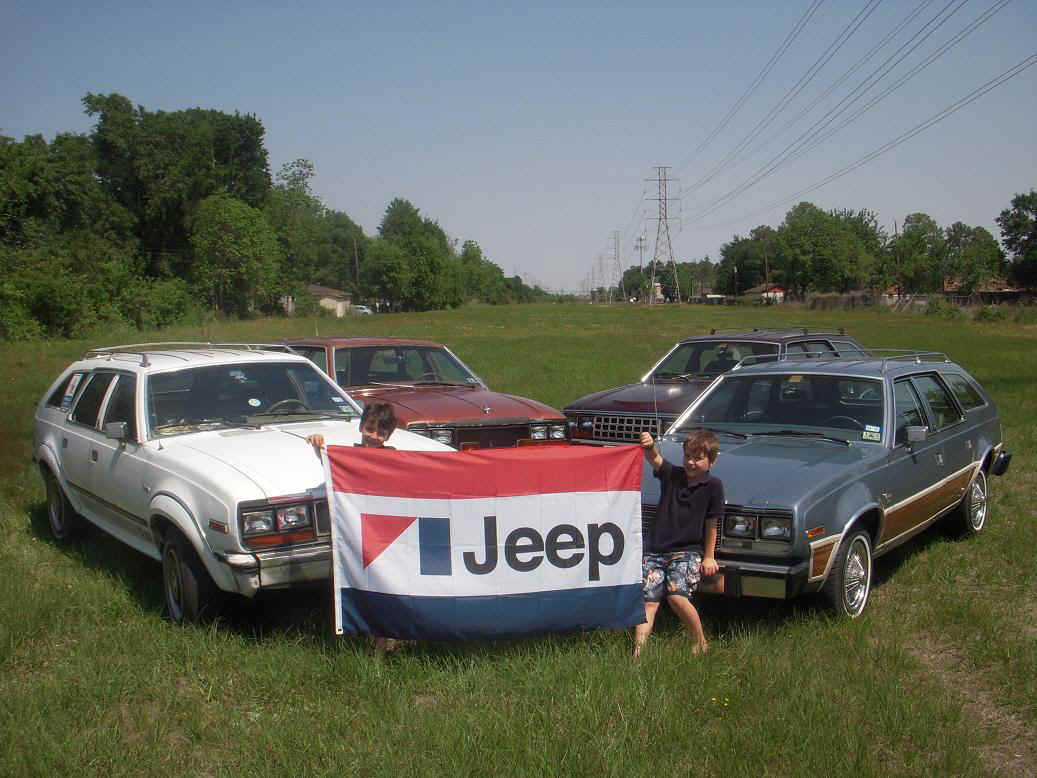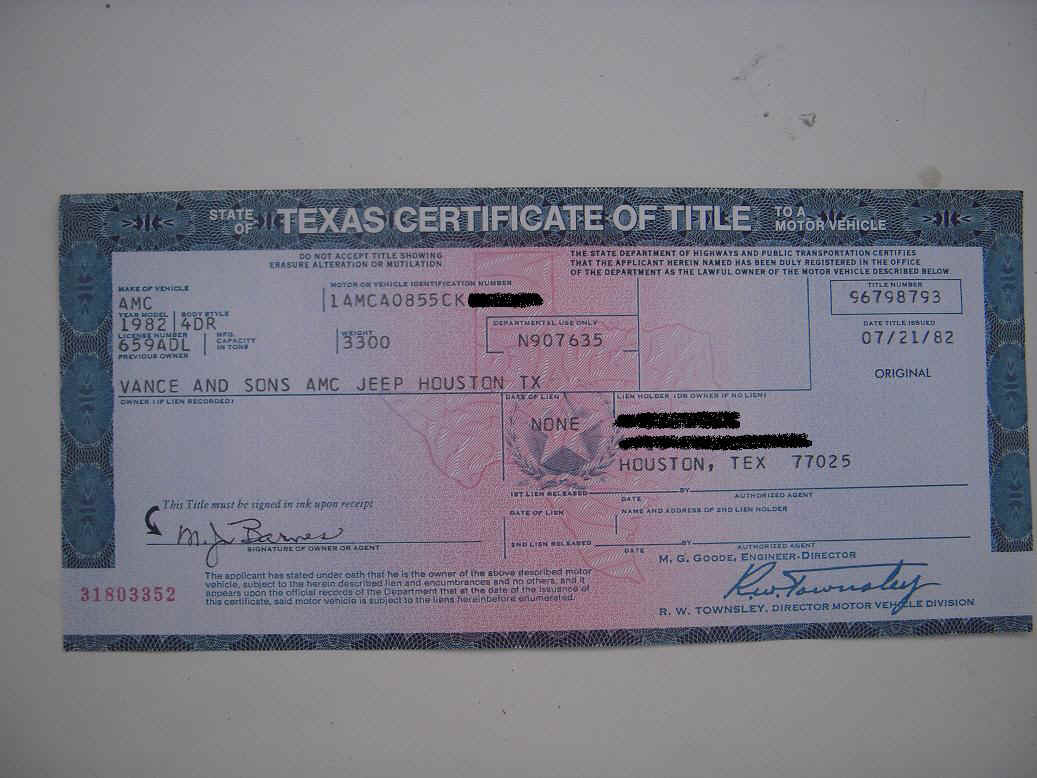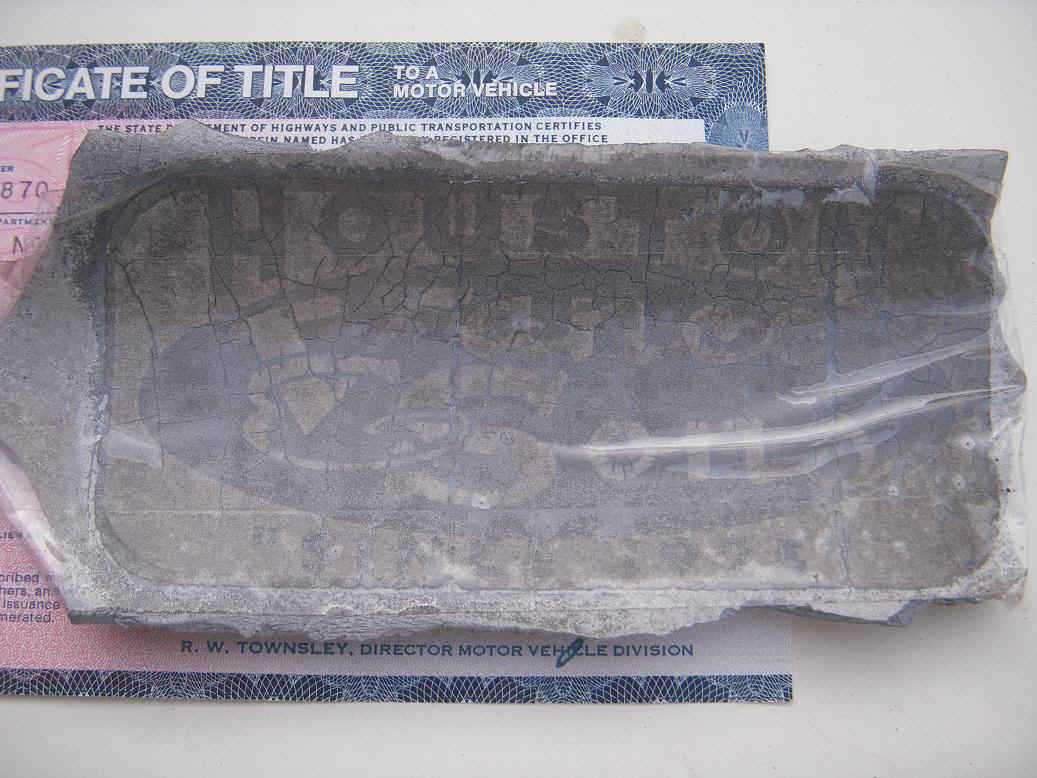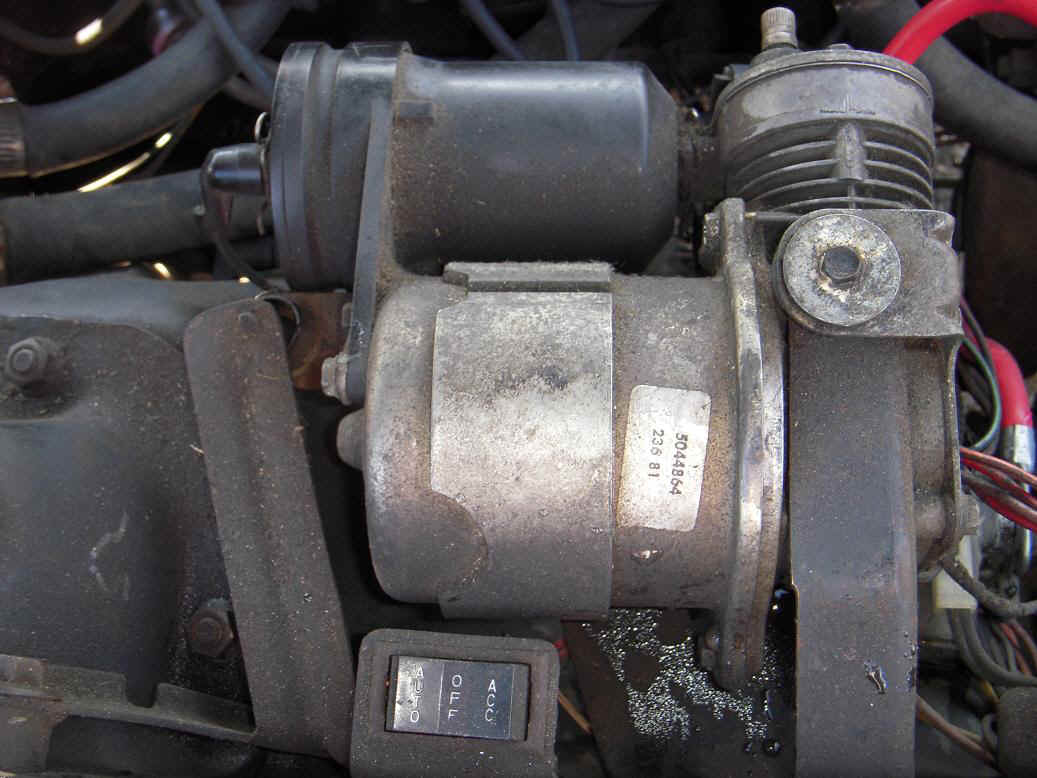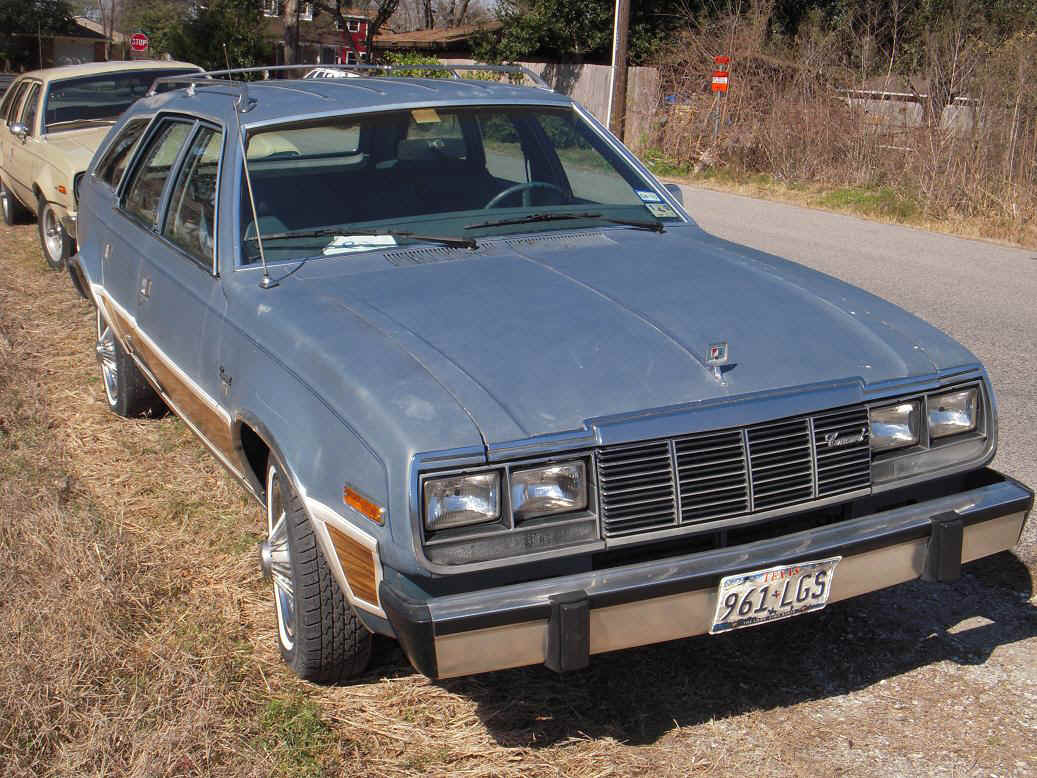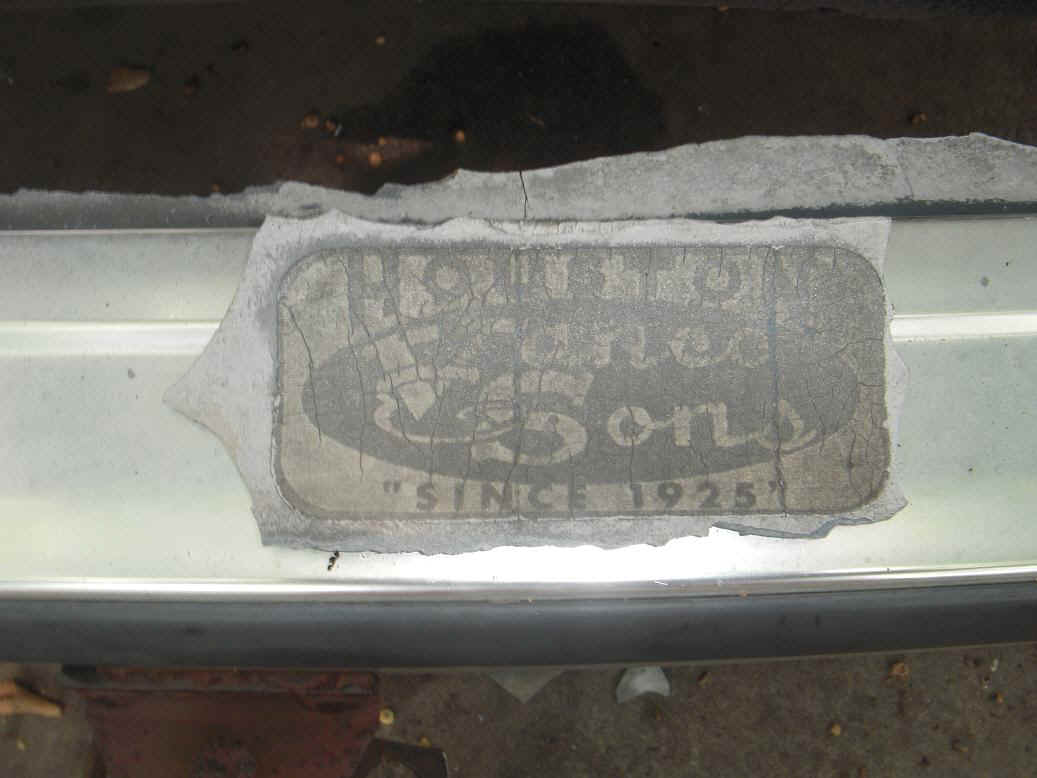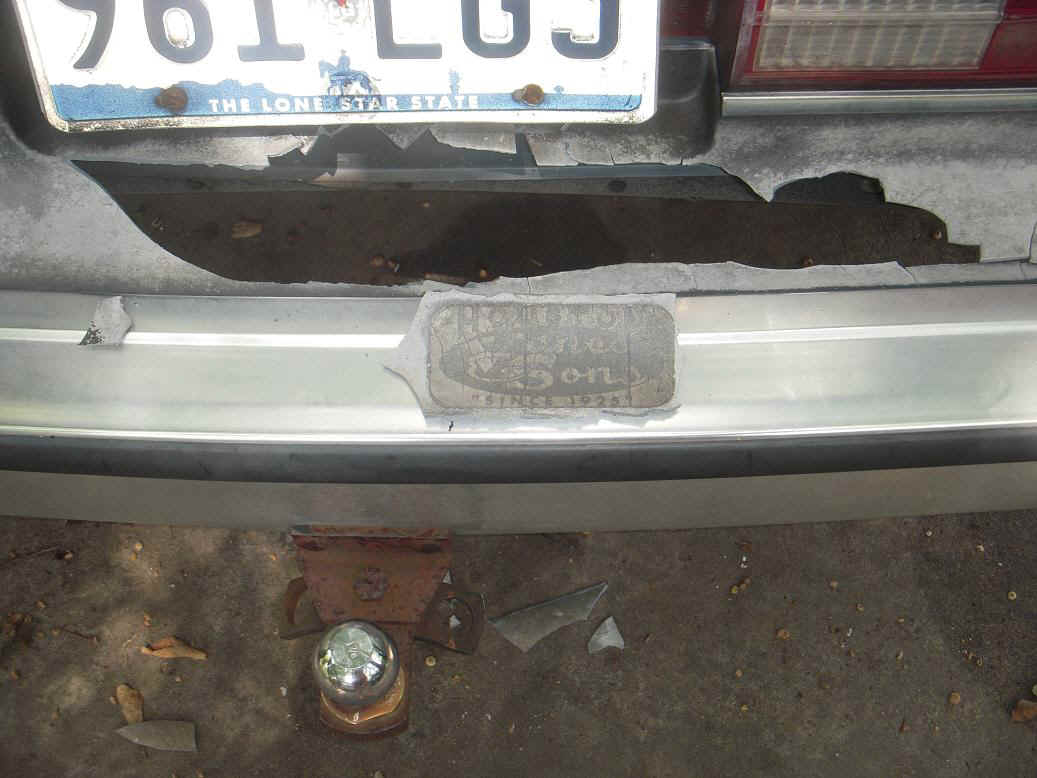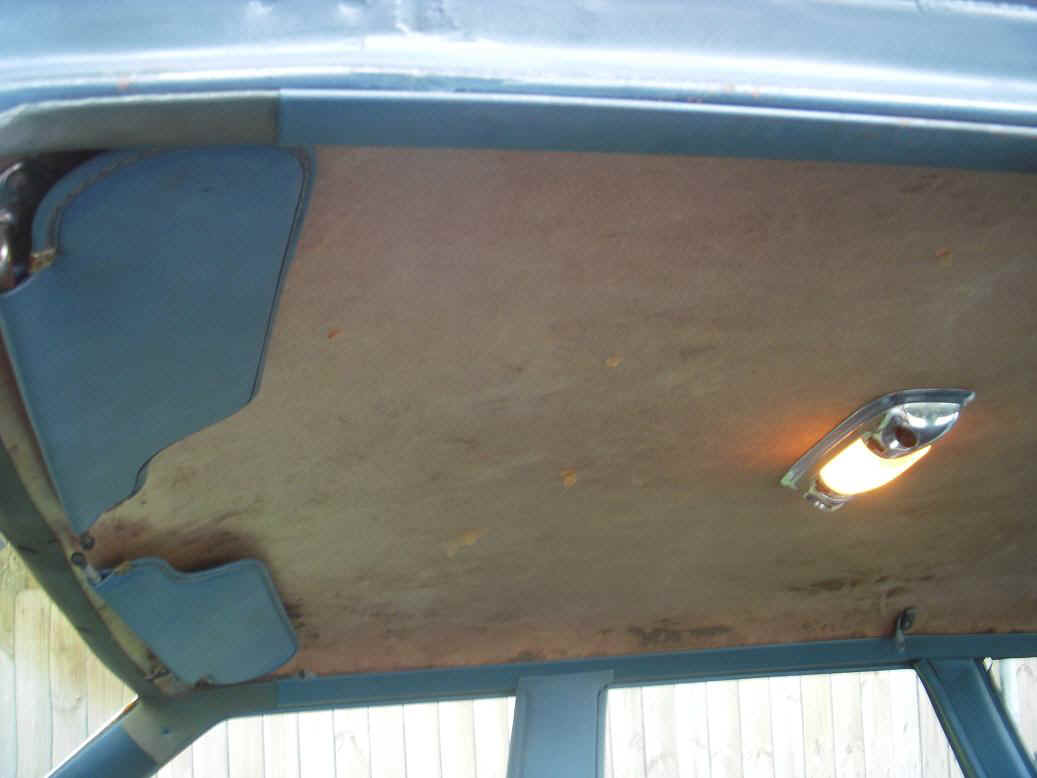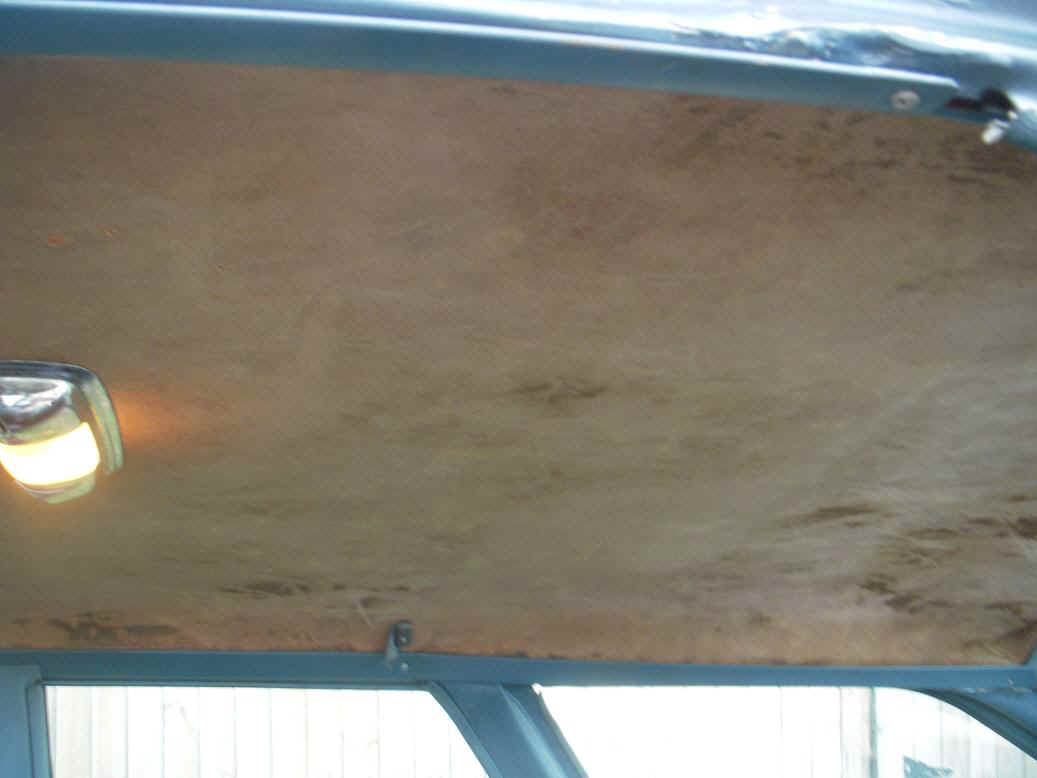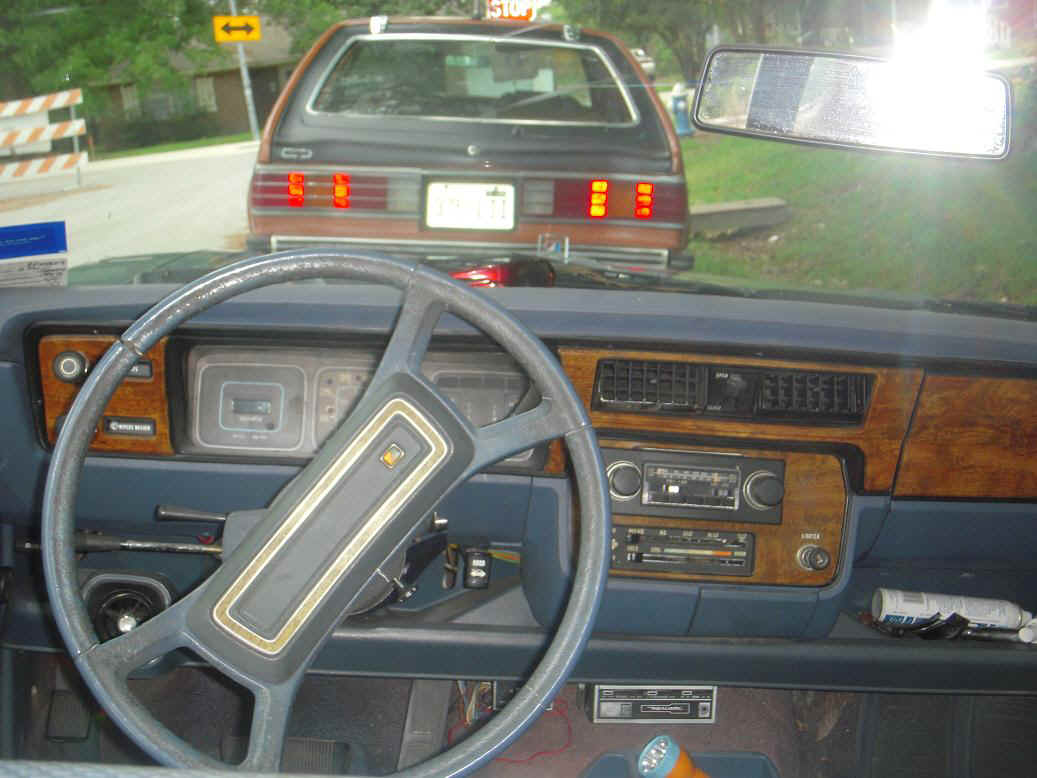 New upper engine rebuild @ cost of $1700 October 2011; new tires February 2012 $300; new door speakers February 2012 $40; new starter February 2012 $50. Note original AMC starter still wearing AMC decal, black paint with AMC aqua engine overspray!
Phone: 713-464-8225 days
Email me: eddiestakes@planethoustonamx.com
Auto Transport companies I recommend or have used thru the years:
RY Auto Transport; Grand Prairie, Texas PHONE 972-264-3977; FAX 972-642-7613
Jim Guinn, Nocona, Texas. PHONE 940- 389-8997 jjimsresto@aol.com Single Car Hauler

CSI Transports, Houston, Texas PHONE 713-451-1515 FAX 713-453-7889
Passport Transport, St. Louis, MO, TOLL FREE 800-325-4267; PHONE 314-878-5777; FAX 314-878-7295
Arrow Auto Transports; Louisville, TN; TOLL FREE 877-60-ARROW; PHONE 865-379-5535; FAX 865-681-9291
=============================================================================
CURRENTLY PARTING OUT: 1968 AMBASSADOR &
1974 AMX