Stakes' AMC Cars File #1
Photos, with comments, of many of the almost 400 American Motors cars have personally owned since buying first AMC, a 1970 Javelin, in 1976. I have been driving American Motors cars DAILY since 1976, you can see a number of them on youtube & facebook. No Ford, GM, Mopar, imports, never have owned one nor wanted one. In other words, I have never owned a non-AMC vehicle. These are in no certain order. All my cars are documented. As I go thru thousands of print photos, time permitting, will scan & load the photos here. If some cars appear multiple times it is because I might have owned it for many years, and shown at different shows, cruise nights, events.
Below: 68 AMC Rebel convertible "Machine" 832 produced, last year AMC would make a convertible, this is heaviest optioned one off assembly line with staggering 38 options. Base price was $2995 in 1967/68 but as optioned was a whopping $4500. Was a dealer push car for Vance & Sons AMC in Houston (Bellaire). Since no one was willing to pay $4500 for it in 68, and I don't blame them (you could have bought a Corvette for few dollars more) it sat at the dealership until 1971 when Vance & Sons Parts Manager bought it at 'his price' and I would buy it in 1986. It is the longest I have ever owned a AMC. Originally a 343 Typhoon, it sports a Los Angeles Police Interceptor 401 4 barrel since 1987, backed up with a 904 Torqueflite. See 68 PRODUCTION FIGURES.
This is the Rebel's Build Sheet .
Below: 1968 AMX The Red Death.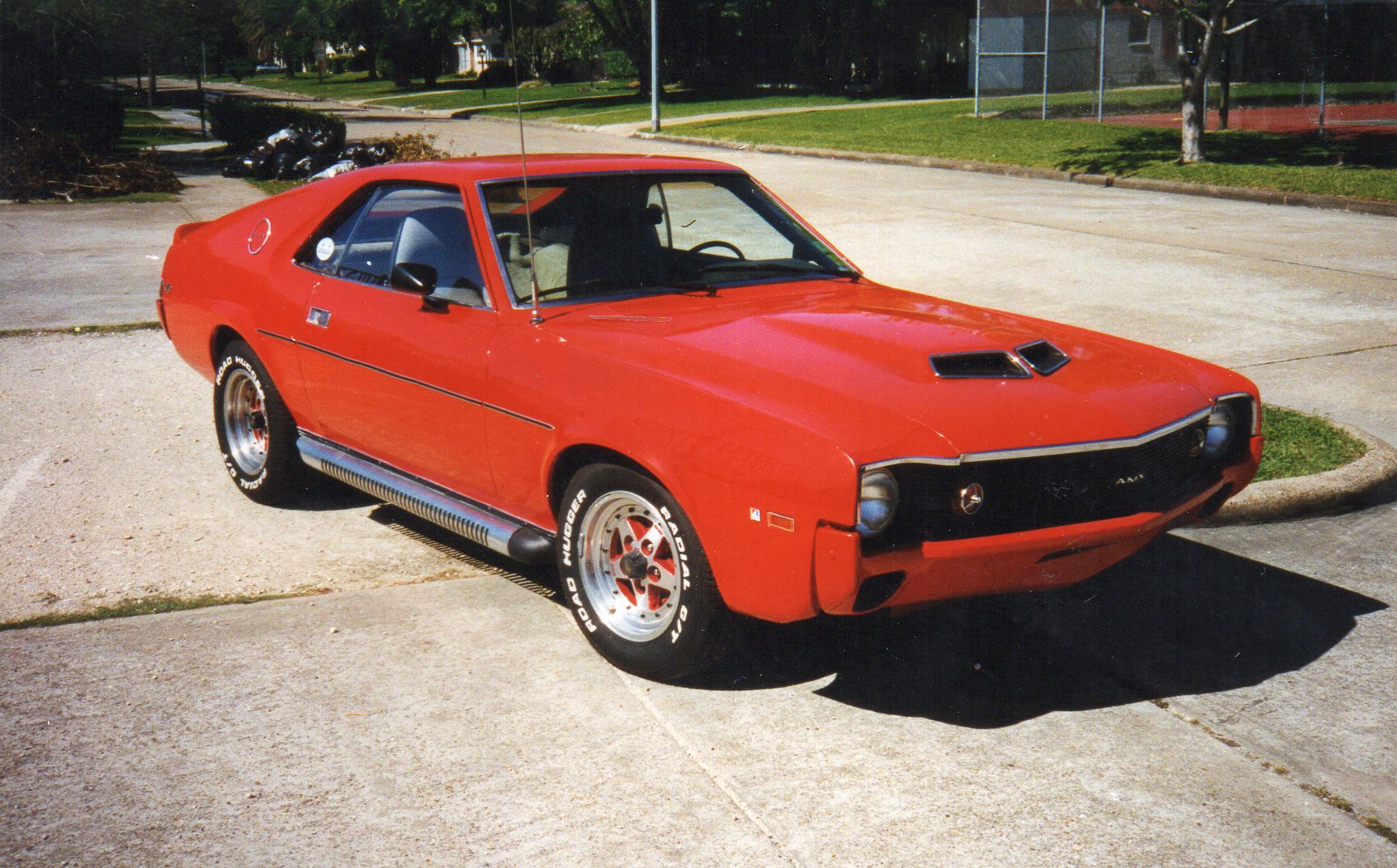 Row #1
Left to Right: 1. Three of my AMC wagons, a 69 SC/Rambler wagon, 72 Ambassador SST wagon & 82 Eagle wagon, photo taken for local news station for 4th of July promo. 2. 69 AMX, 390, 4speed with mom Sara Stakes & me in 1979. 3. 70 Javelin, 360, AT, dad Homer T Stakes showing me the ropes on a carburetor. Wished I had paid attention to all his AMC lessons, as I did really know it all, but later thru years would pay high price for not paying attention. This particular car I went thru 9 engines on. AMC engines were cheap and plentiful in 1970s, blow a engine, go to junkyard buy a 390 for $250 running. 4. 72 Ambassador Brougham, 360, AT, although mom never had a driver license nor learned to drive, she used to back this up down Antelope Street next to I-37 on the feeder road to Missouri Pacific railroad tracks before Port Avenue in Corpus Christi where we lived. Then drive back to house. Forward & backwards. No turns on Doss or Lester streets. 5. 70 Javelin 360, AT, this was the 1st AMC I ever owned, bought it from old black preacher man Mister Fawcett at Fawcett Auto Sales on Leopard street in 1976. It smoked when I bought it and mom though he screwed me for $600. I had paid for car with $1.75 a hour job. Car lasted me about 6 months before engine shot, here is brother Tommy (dad was off to side of photo) droppin a 343 Typhoon into it, circa 1977. Same car am working on in photo 3 above. But not paying attention. 6. 72 Javelin SST, this was FIRST 1972 Javelin off assembly line, sent to the oldest AMC Dealership in north America at the time, Geiman's of Monroe, Michigan. VIN was A2C797P100060. Jolly Green was bright and car was extremely loaded with options & accessories like PS, PDB, tilt, Rally Pack, function cowl hood, bumper guards, 3:54 twin grip, AM/FM, tint, real endless list. I moved to Houston & sold it to A. Neira in San Antonio for $350 but...he never picked it up. So was hauled to scrap by City of Corpus Christi. 7. 68 AMX, 390, 4speed, this car I painted myself. That is old girlfriend Debbie Thomas with me in front of Apartment 1602 at The Landing in Corpus Christi. I had bought this car from old man off SPID in CC for $400. Ran great, but didn't like Bittersweet Orange. You will see this car a few times in early photos here. Used to drive it to Houston monthly. 8. 68 AMX, 343, AT. I tried for 20 years to buy this car from original owner in CC. Eventually he let me have it for $600. Ran & drove great but Corpus sea air had done it in. Sold it for $1500 after doing whole interior. 9. 72 Ambassadot Brougham 9 passenger wagon, 360, AT, picked this up from original owner in Corpus for $600, was a great daily driver until gas prices started to rise. 10. 74 AMX, 304, 3speed, this car came out of Louisiana, not like this with all the lights. Look closely, Santa behind wheel, this photo appeared in numerous Houston television stations, you can see the car also on youtube lit up in Christmas Glory. 11. 78 Concord DL wagon, 258-6, AT, Sunshine Yellow, this will appear in another file at the AMC Nationals. Wife Paige shows off the cars original owner Sunshine Yellow Lustre Guard paint. On the car. Sold to guy in New Orleans for $2500, a few years later Karrina hit.
Row #2
Left to Right: 1. 82 Concord DL wagon, this loaded out wagon was AMC's top of line model for 1982. Sold new in Houston at Vance & Sons AMC, I bought from original owner with 39K miles. It was being driven daily by wife in 2014 still. 2 & 3. 69 Big Bad Orange Javelin sold new in Lawton, was a 343 Typhoon, AT, and a"base" edition. No upper door trims, no roofrail trims, and while a MOD Javelin, also a scoop delete car, buit did have the simulated exhausts and Breedlove roof spoiler. I sold it to fellow in Sweden for $3500, shown being towed by my 82 Eagle to get pick up by auto transport, then to container place near Hobby airport. 941 Big Bad Orange Javelins made in 1969, but few were 'base' 795 Series 343-4barrel ones. 4. 68 Ambassador SST, 290, AT, this is a original owner car no one wanted. While 4 door and wagons were a lot of AMC's 'bread & butter' cars keeping them in business, there is no market for them. This 56K mile car sold for $200. Rusty on bottom, I parted it out on spot, mostly for the obsolete mint condition interior which interchanges with many Ambassador, Marlin, Reble & Matador. The art guy cut off front clip to paint sort of like those Mustang front clips you see hanging on walls. 5. 74 AMX, 304, AT. This is the Alaskan AMX I bougth locally. Was in craigslist for $1500. Not sure how it got to Texas nor care, but good to surrender a lot of parts and was parting it out in 2014. The previous owner bought it because 'the seller told him it was a 401' of which he never checked block. 6. 74 Javelin, 304, AT. I bought this one from a guy who was getting married and needed money for engagement ring. How fucked up is that, have to sell Rambler to buy ring, she better look like Jessica Alba or family rich. Or maybe she was already pregnant. The 304 was orange engine so obviously from California as was only state to use orange engines from AMC. 7, 8, 9, 10: 73 AMX, 360, 4speed, this is the infamous MURDER AMX. So follow me on this. I bought this in 1980s as guy who owned it used to rent rooms on east Houston, and some kids used to keep other tenants awake with all partying going on, He kicked them out. 3 years later they came back to even score & trapped him in garage. Capped his ass, tossed in trunk & dumped him in White Oak Bayou. The guys were busted 3 weeks later working on car in Pasadena. Car has 3 BIG caliber bullet holes in it, bigger than a Greek procotologists fingers,and the guys got 40 year terms. That is short for Texas much less Harris County, as we are the Death Penalty Capital of World and proud of it, need to put away scums like that. Anyways, I bought car from widow, and was really spooked by it as it had 'smell of death' in it, so quickly unloaded it. Ironically I would own it AGAIN in 2013 when people I sold it to sold it back to me. 11. 75 Gremlin, 258-6, 3speed. Bought this car from original lady owner in Woodlands, Texas for $600. It STILL had a 1970s bag of cement in back with Don Knotts smiling face on it, had turned to big 40 pound brick due to humidity, but this is what AMC did at dealers was put bag od cement in back to stabilize the Gremlins at 'speeds above 60mph' so besides putting in ACME bag of cement, they would also put in full sized spare with tire cover. I drove this car few years, then sold for $1500 ro Ross G in San Francisco who flew in, I picked him up at Bush airport, and he drove it home!
Row #3
Left to Right: 1 & 2. 78 Pacer 304V8 wagon, bought this from original owner in Corpus Christi, had been on her to sell it to me since late 1980s. If you ever have a chance to drive a V8 Pacer they are extremely FAST. The photo next to it is same car turned into a panel van. Too bad AMC make a panel van, they would have sold well. 3. 60 Rambler truck. This car was given to me by original owner. Started life in Kenosha as a wagon, but in 1962 was hit hard and totalled. Not wanting to scrap a good running car, he customized it. He showed up on doorstep one day and asked if I wanted it, free. Sure. The bed was all wood from 1960s, amazingly it had withstood test of time. 4. 71 Javelin, 304, AT, this car's engine dumped in favor of a Mopar 383 after I sold it. I had chance to buy it back but rarely do I buy back my cars unless it is a 'sympathy buy'. 5. 74 AMX, 304, AT, I will never know why AMC dumped a shitload of 304 AMXs onto market in last year 1974, 1884 of them built. It might have to do with it being a discontinued model (same for 74 Ambassador) so AMC emptied out the parts bins. This was a good running, driving car. 6. 74 Javelin, 304, 3speed, a local sold this to me for $1500 as he no longer interested. Ran good, drove, just that yellow was like hearing my ex wife Blair Witch whine about something. I redid interior, added spoiler and aligned front end and sold it for $2500 it is now running around in Green Bay, Wisconsin where people appreciate Packer Yellow. 7. 77 Matador Barcelona coupe bought from original owner locally for $600, drove it to Houston Austorama and won 1st place in class, it was that clean, 42K mile car. Would later be used in the World Premier of Blast From The Past movie in Houston. Also shown in another file. 8. 73 Ambassador Ex houston Police Vice car. 360, AT. Bought from fellow who bought it from Houston Police after it was retired in 1970s. Was nicely optioned for a vice or undercover car. 9. 69 Javelin, was a former drag car sporting a 360, AT. Nice flairs, I bought both of this guy's cars in Cut & Shoot, Texas. The president of the Bricklin Club, Jim Wajda was in town to pick up his new enclosed 16 foot car trailer he bought for $10K, and we went and had ribs for lunch. He didn't want to take the trailer back up to Michigan empty so he bought my Javelin. 10. 79 AMC Concord, this was a 30K low mile 4 door beauty I bought for daughter Jennifer on right. Son Jason on left he is probably not a Orlando Magic fan after Houston kicked the shit out of Shaq's team sweeping them in NBA Finals. I'm shown with kids at airport in Corpus Christi. Less than year later ex wife called to tell me 'they are not driving the car as transmission went out' so drove my AMX down for weekend, and checked car out. It was 2 quarts low on transmission fluid. 11. 74 AMX, 304, 3speed. This might be the last AMX built by AMC. Here, go take a look. I am baffled by it, no one has ever seen one this color of J7 Jade Green, nor one built November 1974, basically a 1975 AMX.
Row #4
Left to Right: 1. Three Ram Airs, 71 SC/360 Hornet, 68 Rebel convertible Machine & 69 Hurst SC/Rambler wagon. While I do restore a number of cars to stock perfection, sometimes it is like Monster Garage on crack and Jaegermeister around here "creating things" that I believe AMC should have done. 2. Gang Gardens apartments at 3400 Ocee in southwest Houston. If there is ever a nuclear war, this fucking shitpile apartments hopefully would be first targeted. They used to stuff apartments with illegals in a effort to say they are 90% capacity. With that you have a lot of crime, drugs, hell, a poor Pizza Hut guy was killed for $14 and none of the pizza places for miles around would deliver to this place after that. This photo taken after new rookie cop told me to move my cars off the street. So did. Later veteran cop told me that it's ok to put my cars on street they safer! Foreground back: 68 Rebel 401 convertible Machine, 68 AMX, 390, 4spd, The Red Death, 70 AMX, 390, 4speed, 70 Javelin, 360, AT, big bad blue, 74 Javelin, 258-6, AT tan, and 75 Hornet Sportabout green/green, 232, 3speed column. 3. 70 Mark Donohue Javelin 360, AT ready for Houston ISCA 5 star Autorama at Astrodome complex. Look closely there are 5 AMC in this photo. 4. 68 AMX The Red Death at one of the American Motors Club of Houston Autorama displays. Note to anyone who shows. If you are stupid enough to display rare models, Group 15 Accessories, anyting with your car, expect people to touch them. The three little hand built models on floor near my car were grabbed by kids and adults alike, had to replace tires and one pillar post broken. Don't put shit near your car expecting people to have a hands off. 5. 69 Javelin, 390, AT, bought this locally from Rick Moldonado who is a Sheriff. He had two identical Javelins like this, white, black top, red interio,r, both 390s. Not sure what happened to other, but this car was a blast to drive. 6. 68 AMX The Red Death. Houston floods. And barely above sea level, you can flush your toilet in Kansas and Houston will flood. I had just driven back from Corpus Christi and went inside to take a nap. It rained, and rained, and woke up 2 hours later and found this. 7. 72 Javelin 304, AT at a Mexican car lot on Shepard. Paige in background and didn't look happy. Hell, she not fat either like Adele but dress made her look fat, maybe I said that dress didn't make her look fat so pissed. I picked this $1500 car up for $1100 cash. Drove for 2 months and turned for $2200. 8. 69 AMX, 343, AT, bought this in Houston for $1500, neede whole interioe but solid. 9. 70 AMX, 390, 4spd. I was on this guy's ass to sell me this car for 10 years. Finally he lost job and opportunity knocked, hate to make a dollar off someone's misery but Obama been doing same for almost 8 years. Gt this one home, evaluated it, turned it. 10. 74 Gremlin, 258-6, AT, bought this in SW Houston, the owners were going to donate it to Houston Can Academy. No drive gear, but ran fine, cold AC, picked up for $300, fixed trans, detailed interior & engine and sold for $1200. 11. 67 Ambassador SST, 343, AT, bought this for $400 in Victoria, TX. Took Greyhound bus down to pick up, drive home. Got on highway and overheated, steam everywhere. Would not start. Stuck out thumb to hitchhike, big Mexican laborer picked me up. No cell phones those days so thought this guy was going to cornhole me, then throw body in field. Dropped me off in Rosenberg, waited at Mexican food place for El Centro bus headed to Houston. I'm a imposing guy with long red hair and was wearing my trenchcoat. Got on the Mexican Greyhound/El Centro bus and everyone just stopped and stared thinking I was 'La Migra' (immigration). Found seat sat down, watched Mexican movie didn't fucking understand but laughed when everyone else did like I did know what fucking Hermalinda-linda and Cantinflas was saying. No, only know nasty spanish words. Dropped off downtown Houston, caught cab, next day rented truck, trailer, hauled Ambo home, never had issue with it again. And didn't get cornholed.
Row #5
Left to Right: 1. 75 Matador, 360, AT. This was a nice car until crackhead who owned it got pissed off his meth dealer cheated him on some rock and decided to take hammer to car. Look closely, while no glass broke, not one piece of car was untouched, almost like a Texas hailstorm grapefruit size had hit it. 2. 73 AMX just out of paint shop. 360, AT bought this from police storage lot for $400, painted it sold for $1500. 3. 68 Ambassador SST, 343, AT, picked up for $200, ran, drove, stopped, and had cold AC. Ugly though as original paint had faded. Would later paint and sell to lady in Austin for $1200 who drove it like I did, daily. 4. 70 AMX, 390, 4spd, this was a body, no engine or transmission, and a original P1 black car, I would estimate less than 50 were painted black of 4116 made in 1970. AMC would tag you for $56 if you wanted a black car even though regular production color. I drug to warehouse, sat on for years deciding what to do, then sold it for $1000. 5. Speaking of black, this was a 68 AMX that was totalled out in Beaumont, Texas I picked up for $800, it had new 343, AT and what had happened was owner was turning into 7-11 and caught culvert, ripping most of front suspension out. Was major bitch to get this onto trailer, took whole day. Took to my shop, new fender, suspension, and put on frame straightener (ok, unibody straightener) and painted 6 coats Frost White as opposed to black. It's shown with my late dad Homer Stakes at Houston Autorama, took 2nd in class.Sold for $4400 to Keith rumbo in San Antonio who might still have it. 6. 69 AMX known as "The Catfish AMX" this was a customer of mine at Dirty's Restaurant, a lot of AMC guys would stop in seeing one of my cars parked out front, so come in for cold beer. This custom front end I used to kid him how could car breathe. David Troxall did the custom work, and I eventually bought the car from him. 7. 68 AMX, 390, AT, this car a customer told me about, so went out, and it took 3 tries before bought for $1500. The car lot wanted $2100 but no calls from Auto Trader ads. 8. 71 AMX, 360, AT, a extremely loaded out car picked up for $1500, was Matador Red. Front end almost touched ground. Fixed it up some, then got distracted from the other 15 AMXs and Javelins I had same time so sold it. Saw it on ebay for $2500 in barn in Indiana several years later. 9 & 10. 78 Pacer woodie wagon, this was a old, black, preacher mans car, he was original owner, a boon to talk to, I had to watch my fucking language. Two cars that should never be painted 'Fawn Beige' are 71-74 AMXs and Javelins or Pacers as they look like big rolling penises. Then they will ask you to be in gay pride parade. Well, this one got lowered, frenched, limoed, and you can see how it looked afterwards. Huge crowd pleaser no matter where it went. The Pacer was used in a national tax return commercial, of which was on english and spanish language stations, see it on youtube. (or search www.youtube.com for "stakes amc pacer" 11. My two oldest AMCers, Jennifer & Jason. Nothing AMC here to see, just good happy photo, no cussing like Chef Ramsay.
Row #6
Left to Right: 1, 2, 3, 4, 5: 72 AMX Special Order. Owned this one for many years, bought from wife of Ohio Zone Manager. Wife Paige was drunk one night and was driving it home from Scoreboard Sports Bar where I was working. Hit Buffalo Bayou bridge on Blalock, in Memorial area, there are no lights, two lane blacktop and LOTS of curves. Lucky she not injured, but walked away and called me from house 'honey, the car won't start' didn't tell me half fucking car missing. Ironically I took same route home down Memorial in my red, white & blue 70 Donohue Javelin on way home, I would have driven right over her on bridge and not known she down in bayou if she had just missed abutment by 3 feet. 3 feet, she into Buffalo Bayou. Dark. No one know. It was towed to Houston Police lot so next day I went to go pick it up thinking, ok, battery dead. Could not believe it as car had just won multiple awards in class weeks before. Had to deside whether to fix or scrap a 42K mile car. Fixed it back up, frame machine, the works. It is shown in photo 1 & 5 AFTER the wreck, hats off to Excel Frame & Front End in Houston for beautiful redo. Car is now in Chicago. Please do NOT drink & drive. 6. 69 AMX, 343, 4speed, I have never cared for a number of colors AMC did in 1960s comparing them to Ray Charles & Stevie Wonder picking them out. Or lining up babies at Gerber's Test Facility & looking in daipers, AMC execs saying 'that's it!'. This car found in Houston in back yard, I got it running, driving and started driving it daily. A 343/4speed is a perfect balance to weight ratio for a 68-69 AMX. 7. Origially Commodore Blue this 68 AMX was a 290, 4speed. Only 525 produced, no one wanted a 290V8 when new, no one wants them now, sent two RUNNING 290 V8s to scrap in 2014, search youtube for 'parting out ambassador' to hear one run. Go figure, zero calls for $300 engine after 3 years. Anyways, I decided to paint this white, and had a 70 AMX stripe kit in warehouse so put that on it. Sold car for $2500, fellow flew in from Butte, Montana and drove it home. 15+ years later it was on ebay, it sold for $5500, nice car I may add. 8. 68 AMX, 390, AT. Bought for $1500, of all places, in 5th Ward near downtown Houston. Great place to buy crack, not AMC anything, and easily get a cap in your ass. I got this car running, driving, painted and sold to Kenoshan several years later. Was a quick car, but no options or accessories, I think a key and title were options on it. 9. 69 AMX, 390, AT. This car was under 15 feet of water in Channelview during Allison, then took another swipe with Cat 5 hurricane Rita. Would have been a stunning car when new, Laredo Tan with Red interior. Few salvagable parts on it, it is also shown in my AMC CARS IN BARNS/ROTTING RAMBLERS file. 10. 68 AMX, 390, AT, sitting since Reagan president, same thing, this was sitting next to the previous car you just looked at, almost like a frozen drag race. Dragged it home, parted it out. 11. 73 AMX, 401, AT, 1420 73 AMXs made with a 401, and few made in this color. Bought for $400 as guy was going to drag it to scrap yard "while scrap prices high" but I gave him $100 more than scrap yard. Parted out.
Row #7
Left to Right: 1. 74 Matador coupe in Brilliant Green, a 304V8 car, nicely optioned and rare console with bucket seats. It had been sitting forlornly on side of road near Sealy, Texas with for sale $500 sign for months. Sort of felt sorry for it. So bought it. It's in the state of MA now. 2. 77 Matador Barcelona, picked this up in SW Houston from original owner. Her name was Miss Rust but no rust on car, but she could no longer drive it due to big ass fenders bumping into everything. Her and husband bought it new at Archer AMC in Houston, it had never been out of Houston, about 28K miles when I bought it. Shown on truck fixing to head to the late Steven Green AMC collection in Yonkers, NY. I sold it for $3400 but not before it kicked some serious ass in local auto shows. Any white trash family would love to take out plush front seat of these Barcelona coupes & use as couch in trailer. 3. 68 Javelin, 360, 4speed, picked this up in Conroe, TX for $800, but engine bad. Note the AM Dealer installed American Air system in center of dash. 4. 74 Javelin, 304, AT. You didn't get that round, purdee mouth eatin square meals boy. So don't leave keys in door, duh. Nothing special here except was a Diamond Blue Metallic car originally, one of AMC's better colors but seldom used. I honestly do not remember if I bought this or not as looked at 3 different cars that day for sale. If I did buy it, I put in driveway and told Paige 'honey, look what followed me home can I keep it?' 5. 77 Gremlin, 360, AT. If you ever have driven a Gremlin with a factory 304, you probably soiled yourself. This one had a AMX 73 360V8 in it so about 290hp. Bought for $1200. I also bought the AMX the engine in it came out of. 6. 67 Rebel 770, 290V8, AT. A sympathy buy, this car had been in Auto Trader so damned long & no one wanted it that Auto Trader started charging the seller weekly after 2 years. So gave them $500 for it. Ran, drove good just no one wants four door and wagon AMCs sadly. They are great cars, just can't fucking give them away, which to me, is a shame, as I love 4door & wagons. 7. 70 Javelin, 360, AT, big bad blue, big brother Tommy on left, Paige in center showing some leg, (she was 23 at time & hot, still hot but now just hot flashes) and dad Homer Stakes on right. I fixed this car up really nice and gave it to my dad for 61st birthday, as mom had passed away a year or two earlier & he was in dumps. They were married 37 years. So my dad, who worked for AMC 18 years, got in this car, took my girlfriend Paige, and proceed to go by Stakes' family members (relatives that are not in Texas prisons) houses where he would park out in front, sit on rim blow horn, then when they look out window, light up tires leaving cloud of smoke. And of course speed off. He liked this car a hell of a lot, drove it for 2 years then wanted to trade me for the 70 Chinese Embassy Rebel I bought from the nest of spies here in Houston. Good trade. 8. 62 Rambler, some kind of six cylinder, and had cold AC. A fellow who worked at Exxon near where I was living saw my AMCs on street near Exxon daily while going to work. He stopped one day and asked if I wanted a free AMC. I sort of stop at anything pre-1967 but this thing ran, drove, stopped. So gave him $100 even though he wanted to give it to me free. I ended up selling it for $500 after driving it for 6 months. I gained a whole new respect for Rambler models after this little car. 9. 73 Javelin, 258-6, AT, bought this from lady who her and husband were moving to Alabama. $400, it ran, drove but needed brakes. I drove this one for 5-6 years while as prices 'high' not like 2014 high but high for time. Two negs is Fawn Beige so looks like big rolling bulging penis. Then that is that goofy side stripe, least favorite of all AMC stripes. I got rid of both the color and stripe. And added front spoiler to cool the 'powerful' six. 10. 70 Mark Donohue Javelin, 360, AT. Picked this up by accident in Dallas. Didn't need much at all and was really dependable. And quick for having a boat anchor Borg Warner M12. 11. 62 Rambler, 195.6 AT, this cute as bug Rambler picked up in east Houston from old lady. I know zero about the 'oil bath' except have been involved in some but not with cars usually strip club. Look at the upside down oil filter and tell me that does not confuse the hell out of you. I never got to drive it, but sold it a few months later to local who is restoring it.
Row #8