1973 AMX by Eddie Stakes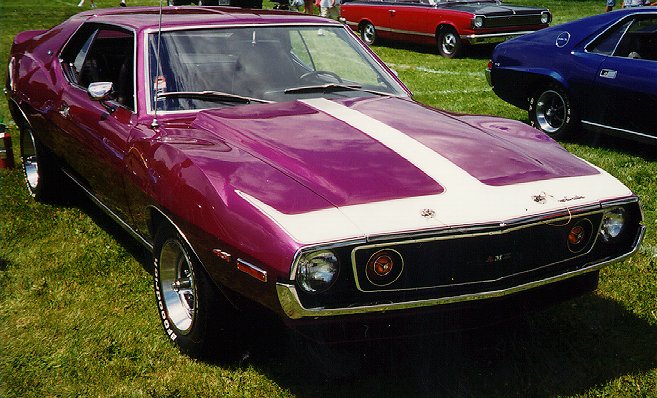 This is a 73 AMX I picked up here in Houston. Nice car was originally a loaded 360, AT with Wild Plum paint.
You yanquis up north would kill for a body like this, us Texans are used to little or no rust. This is what a restored Wild Plum AMX looks like. It is one of American Motors most beautiful colors, whether on a AMX, Gremlin, Hornet, Javelin. Officially it was called FRESH PLUM. AMCers know it as WILD PLUM...as that is what AMC called it in 1972. For 1973 the name was officially changed to FRESH PLUM. Then for 1974 it was simply called PLUM! And by 1975 it was gone altogether. You will find most of American Motors Paint Chip Charts in my PRODUCTION/TECH file. But in 1973, of the 18 colors AMC offered, you could only get FRESH PLUM/WILD PLUM on 6 models. That was was 6 of 10 different models AMC had out: Gremlin; but NOT on Levis Gremlin.....but YES on Gremlin X! Regular Hornet but not Sportabout Gucci. Both Javelin and AMX were offered in F3, but you could not get this color on Matador or Ambassador for some reason. And of course, Yes it was available on Cardin Javelins.
Anyways, this 73 AMX started it's life out in Plum. I'm slowly putting it back together, however there have been some roadblocks like I shut my warehouse down right after I bought this. Developers bought the property and as I write this, have already razed the building(s) over there. I left behind about a dozen engines and twin grips, no place to put them and dragged everything to my huose, so garage, office, back room, side of house down fenceline is packed as I sell this stuff off. If I had gotten the 'one month to move dammit!' notice in a year it would have been no problem would have had something built here on property but this caught me with my red, white and blue stained AMC logoed panties down. So best I move the stuff as opposed to getting it flooded, as many items have never seen rain or have not gotten wet since 1985!! So I am moving this car back and forth. And of course school starting, and hurricanes to deal with!
Here is some photos of my slave labor (labour if you are Canadian eh) they work cheap and can easily push this roller back and forth. To get them pushing I dangle a Hot Wheels car in front of them, works great. Will work for peanut butter sandwiches also.
But as I roll along trying to balance life, restoration, kids, bills, and more AMCs coming and going, this neat little 73 will have it;s own page here, sort of a pictorial as I go thru it. Like all my cars, if it gets finished you will see it at shows. If not, then obviously something else captured my damned short attention span.
Hopefully like 95% of my site, someone will learn something and it might make the difference between doing a car right, wrong, or just plain having FUN with them! So here are photos as I go along. Start date May 2007.
Passenger rear view, body has been taken down and totally stripped. You yanquis kill for shit like this. Not my toes there, but almost 40 year old floorpan with no rust. This is passenger side floorpan. Many cars up north rot in the troughs. We don't see that down here however, sort of spoiled. This one has two pinholes and some leaves. Worth noting here is the watershields AMC stapled to the troughs. On the 71-74 AMX and Javelin it is a six piece set. You can see some of several original pieces here, it is the black gray long strip and towards front of photo the foldover piece. Nice front angle view of stripped down car. I would remove the bumper braces also. Driver side floorpan reveals original wiring harness for factory installed but that is the only wiring left in the car as I proceed. One day although it will never happen, would love to see someone reproduce the cowl. This area commonly rots no matter where you live, this one is exceptional. Another common rust area is back sill panel. This one was extremely nice with no rot, only 2-5 tiny pinholes easily fixed. The surface rust you see on the car is from the rain we have had here summer 2007, comes right off and of zero concern as work moves along quickly, weather permitting. I would normally be doing this in warehouse but warehouse shutdown July 2007 as developers bought land and kicked everyone out and built McMansions. Too bad as lots of people, including me, got fucked on the deal, leaving behind dozens of engines and twin grips. This is what my painter, providing he has not gotten deported again, will see. Ironically one of my AMXs was "seized" by INS when they raided the place years ago. I had to take AMC friend of mine (will work for NOS parts) and I cut lock, put all my parts in the AMX, hooked up battery and lights, and drove home down I-10, there was no glass in car and the bondo dust flying out of it made it look like it was on fire. But I got it home. This is a set of reproduction rubber trough waterseal kit I sell. Check my ebay auctions here. This shows a original set against my new ones I sell, probably why they have sold well. Complete with original staples and block end piece. This is the ear piece. And a back angled view of same. Note here how AMC would fold over the extra piece in front. I have seen this on every AMX & Javelin I have went thru. This is original build sheet I found with the car under lower back seat. This is what 99% of you folks will find. Just shit piece that will fall part in hand. Leave it alone like I did with this one, sort of like not disturbing a grave. Original AMC Part Number under back seat. This would let line workers know what went where. Front seats redone and this is now the back seats. Hanging fenders can be a real bitch, but like any vehicle, after you get over initial anger and frustration it is not hard to do! The 73 is light enough that it can be moved by hand, and my two boys can push it back and forth if I dangle Hot Wheels in front of it. Another front angle, bumper braces were removed afterwards. A passenger side view shows fenders lined up well, and hood will be going on soon. I elected to install hood, trunk and spoiler, and doors when having it painted. I usually leave off all those but time, and space, is not on my side here. This is how I like to take a car down so you can see what you got. I had just hung steering column here (factory Adjust-O-Tilt!!) but have not hung heaterbox, not bolted down upper braces, will leave it like this for painters. Extremely nice floorpan if you can get past my parts, this is driver side floorpan, and will make a AMCer happy for decades to come. If you ever remove the 'drip rail molding' stainless trim that runs along roof rail, you will find some interesting factory cut lines. Note I have almost sealed the original 1/4 panel cut line to the right of the drip rail V. If you race AMCs many times this area breaks seam due to torque. This is something mentioned in restoration file, this is original rain drain hole, which AMXs and Javelins had on either lower side of pillar post. The cars barely got out of Kenosha and this had already filled up with dust and plugged. Under side of a trough shows solid as rock Texas car. Front floor and firewall. Another angle shot of back floorpan shows vehicle is solid. Rocker panels a Canadian would give a case of Moosehead and Lebatts Blue for. I will be removing the small clips for paint. Here goes the dash, I needed this part installed so the vehicle could be pushed and pulled around paint shop.
Due to Hurricane Ike September 13th,, 2008 all work was stopped on this vehicle. It is for sale for $2500 which includes some nice reproduction parts tossed in. There is no front bumper, grille, and cowl hood, engine or trans although I have spare cowl hood to toss in. Seats were used in another project, but have many items to put car back together. So good, solid body with extras.