New MOD Simulated Rocker Moldings for 68-74 Javelin & 70 AMX
Back in a Hemmings Muscle Machines article 5-9 years ago I commented about how technology has continued to expand and with it, many new reproduction items have flooded the market in last 15 years (1990-2005) than past 30+ yeas combined. We have seen new aluminum heads, now Crane heads, Edlebrock intakes, V8 Crown timing chain covers, 68-70 AMX door glass, AMX 70 grilles, 68-69 passenger side mirrors & remote and non remote driver side round ribbed mirrors; 70-74 rectangle head mirrors both primered and chrome, 68-69 tail light lenses and chrome housings; 70 tail light lense and chrome housings; new complete suspension kits; new disc brake setups for front and rear; ram air systems; all sorts of emblems; strip kits, weather strips, and a huge amount of fiberglass items quickly come to mind.
I started reproducing a number of items myself back in 2003 and they have sold well like Rally Pack clock knob, ignition switch bezel and various weather strips and spoilers.
Sometimes something comes onto the market that you just say "didn't see that coming".
I recently bought a set of new reproduction MOD simulated exhaust moldings for my 69 Big Bad Orange Javelin. This is one of those items you never thought you would see reproduced. The MOD Javelin package consisted of twin fiberglass non functional hood scoops.....fake simulated side exhaust rocker moldings, and a Breedlove over the top roof spoiler. However...while you could get the MOD package on any 69-70 Javelin (was never option on 68-70 AMX) you could also opt out of some of the three things. For instance my 69 BBO Javelin didn't come with scoops (I have added them since). Another MOD Javelin I owned had regular rocker covers. While I sell 69 Order Forms, this would have to have been written in as a delete, otherwise AMC would have added all 3 items.
A fellow in Canada named Tim Hendy at Regmit Reproductions recently reproduced the side simulated exhaust rocker moldings. Keep in mind that when any good reproduction item comes out, the prices or remaining used.....and or NOS ones goes to hell, it is like holding Enron or AIG stock. A set of used ones could easily command $500-$800 and only if you ever found them. 70 AMX simulated rockers even more expensive....again....only if found.
I bought a set of Hendy's MOD Javelin (will buy a set of AMX ones later) Simulated Rocker Panels and am throughly impressed by the detail in attention given to them. They are same gauge metal, the drain holes placed well, as are mounting holes. The only difference is the slats, that is the horizontal lines one will either use tape or paint, are slightly smaller.
The kit comes with decals to stick in the slats, and instruction sheet and clips. The clips, while not original, will also not rot like original clips did. I recommend if you DO use original type clips to soak them in POR-15 before installing in rockers. The little metal clips otherwise work just fine. And won't ever rust.
I also recommend that you make a paper template like I did and paint the slats, they will last longer. Tape is fine, however due to proximity to ground tape won't last long. The original MOD rocker moldings were made in Sarnia, Ontario, Canada for AMC (am trying to remember the name of company) and the MOD rockers were sloppily sprayed so some slats got hit, others shorted, it was never uniform, due to high volume facility.
While I believe these reproduction MOD simulated exhausts are limited production, I highly recommend them. No, I do not stock or sell them, and they are not the PG Classics 70 AMX ones either. Different metal, different countries stamping them and shows. The MOD Javelin panels can be used on any 68-74 Javelin including the 71-74 AMX Javelin as my Special Order 72 AMX shows here. They look GREAT on any Javelin.
I will do a review eventually on the 70 AMX rocker moldings also, when I buy some & time permitting, in meantime, check Hendy's ebay auctions HERE as it appears only place he is offering them at this time. Just one of the neatest and nicest reproduction products to come into the market in recent years! You can also email Tim Hendy at Regmit Reproductions for questions at: kenoshajunky@hotmail.com
By far one my favoriteTOP 10 Reproduction items to come into the hobby in 20 years.
Click on photos below for high resolution comparison pix.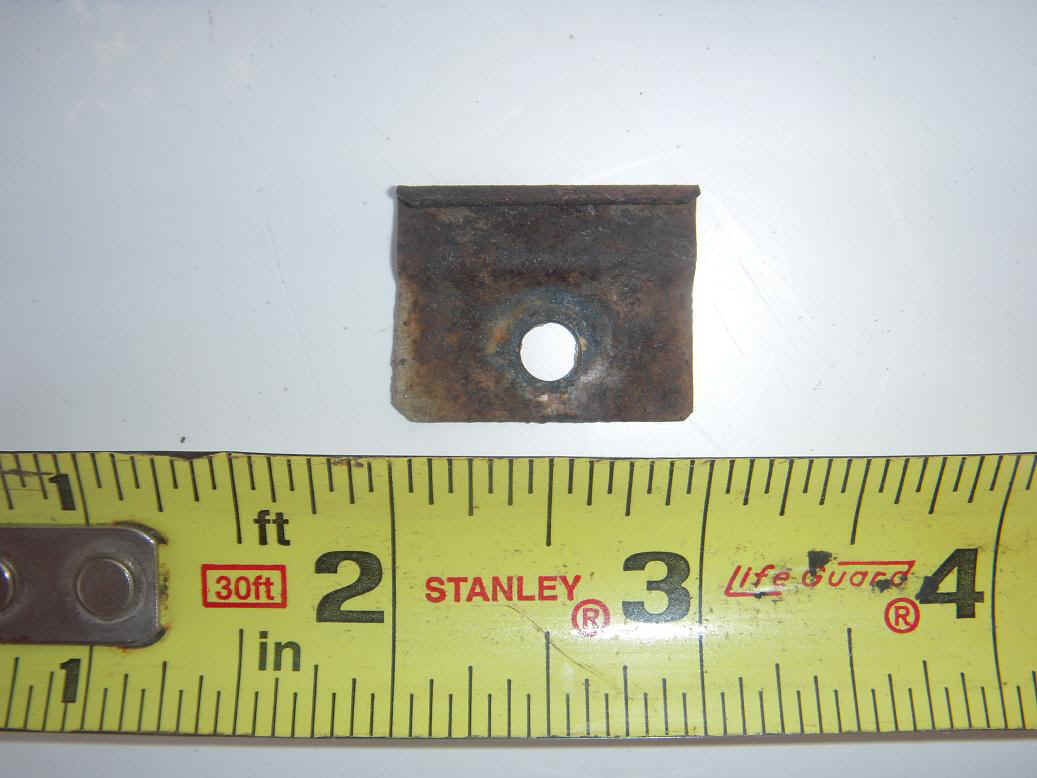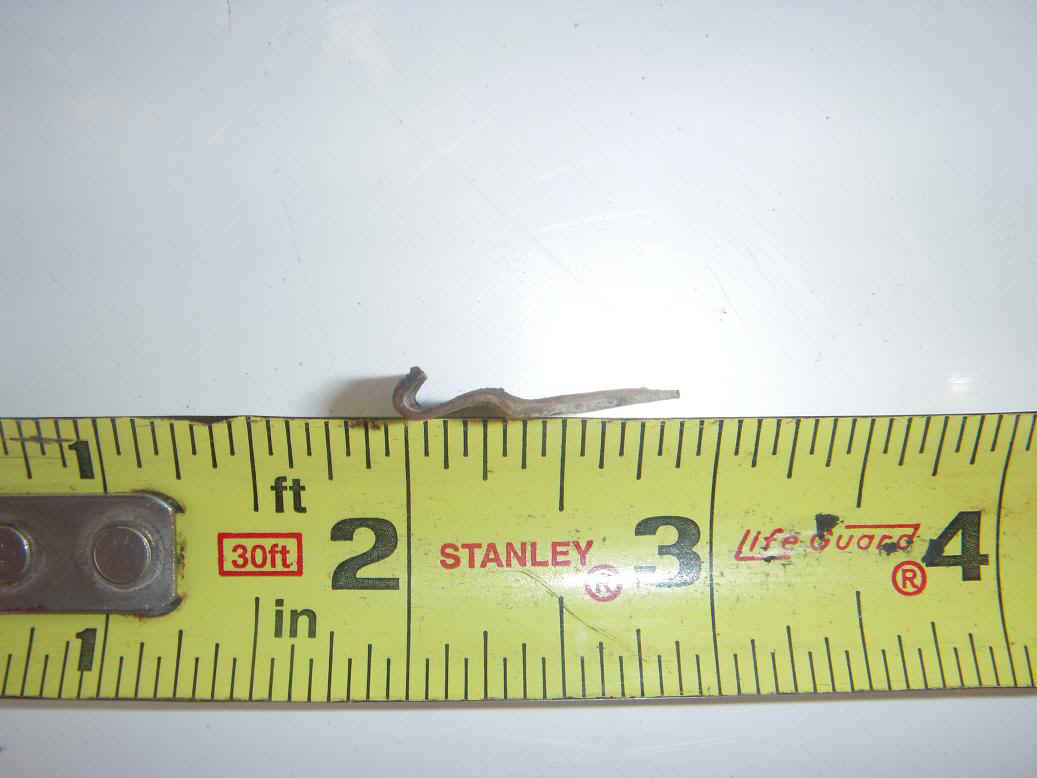 Original clips not unique to MOD simulated rocker panels, these were used on a variety of AMC rocker panels. The problem is they were untreated. Same with rocker panels, there is no undercoating on ANY AMC except 1980 up AMCs that were factory Ziebarted! So rust on rust on rockers for early models.
Do not let original holes scare you if you had MOD rockers. Not uncommon to find "extra" holes like this. Wait until you remove your interior Javelin sail panels to see how AMC used shears, hacksaw and pliers to install and cut metal on inside. I mentioned this as one of my top 3 biggest hack jobs in a 1985 article...along with the 77 AMX Targa roof band. However, with the 77 AMX Targa band, the company AMC solicited in Milwaukee to install the 'AMX Package' on those: roof band, 9 piece flair kit and louvers....did have trouble and with the Targa, extra holes drilled. The bigger issue with those was that they did not fill all of them with putty, so when it would rain, or wash car, water seep in from UNDER the Targa band directly onto your new headliner. So not uncommon to find many extra holes under a 1977 AMX built between August 1976 thru January 1977.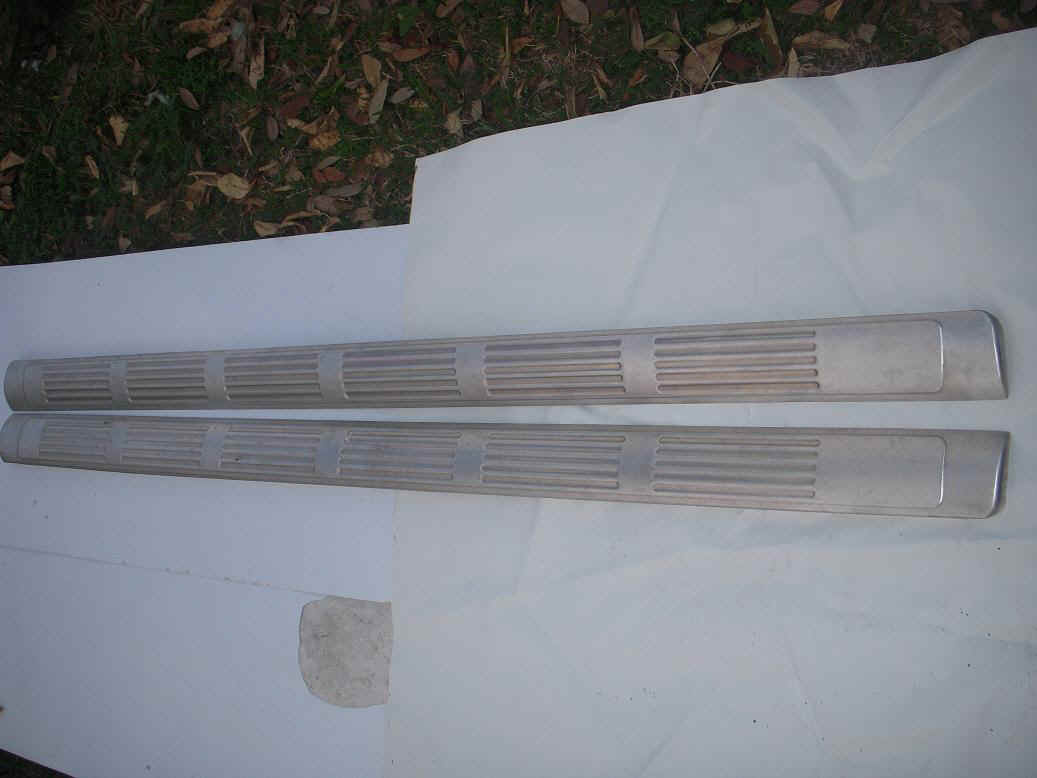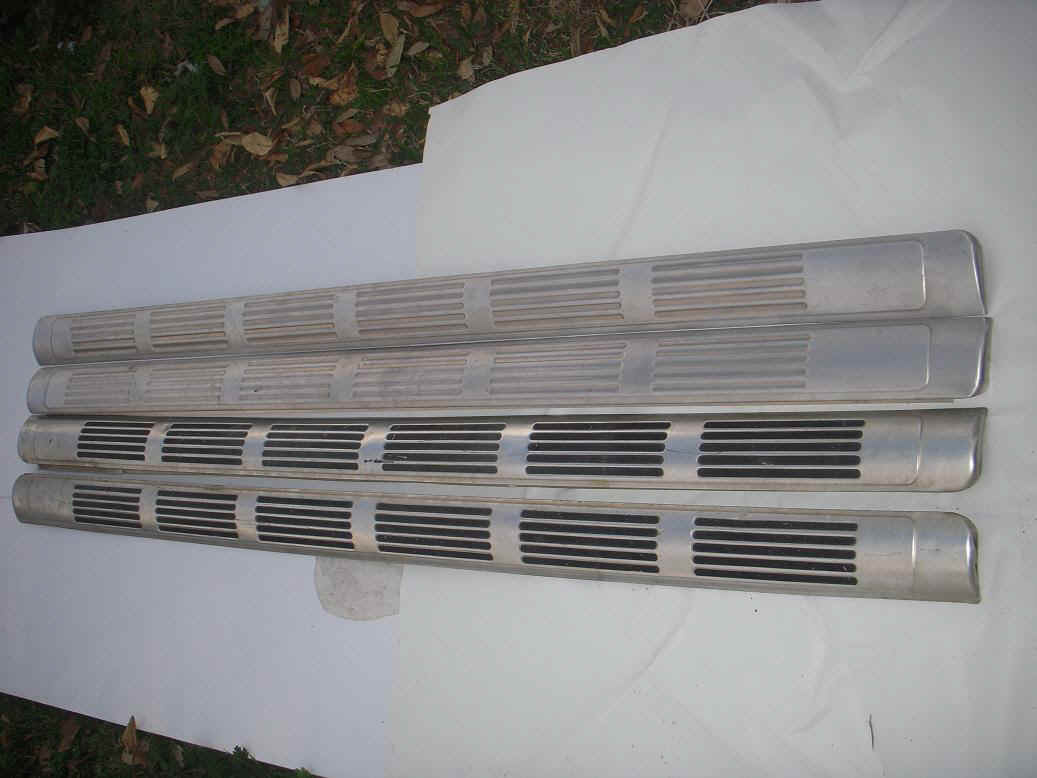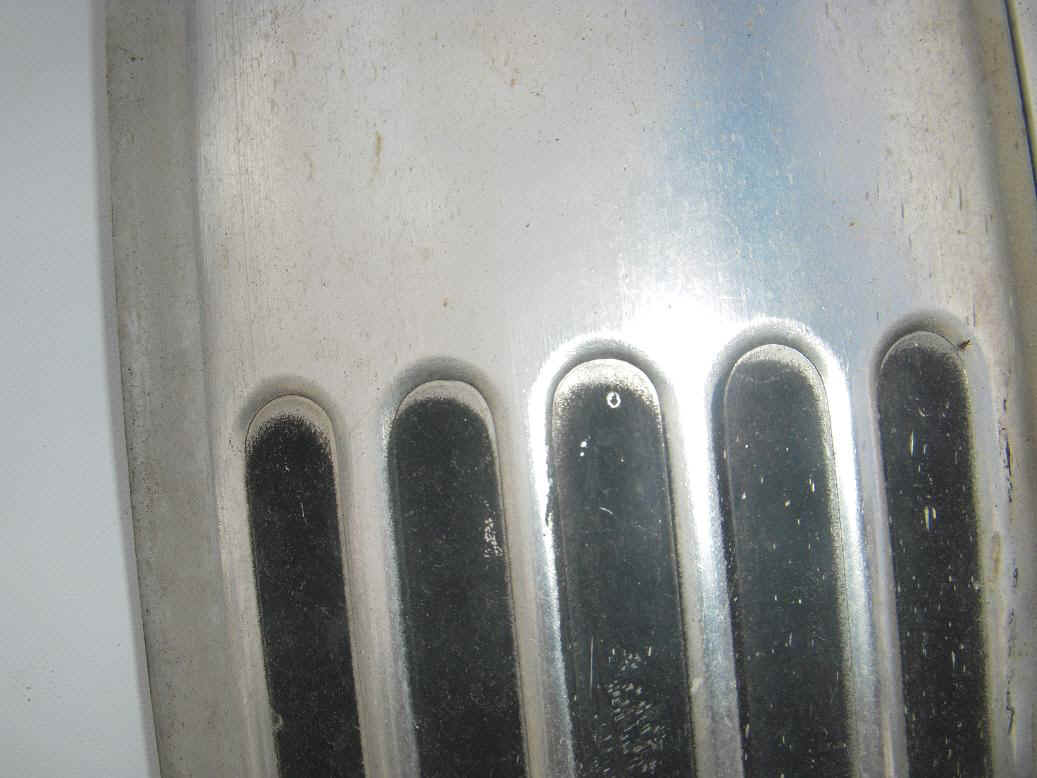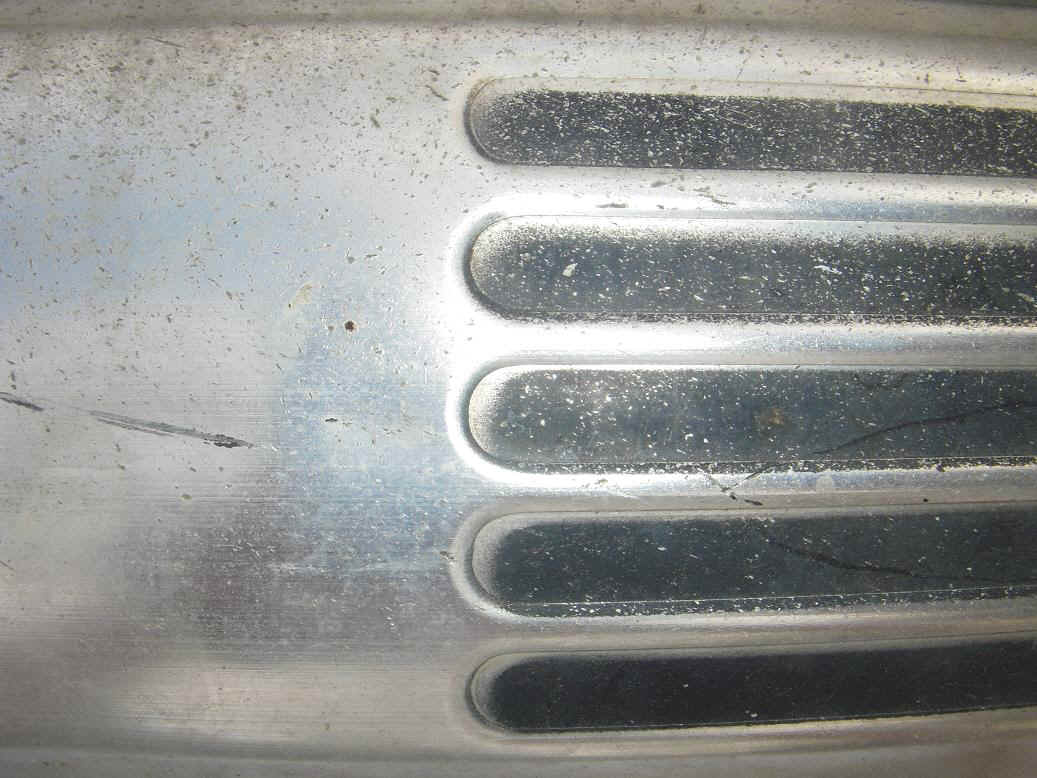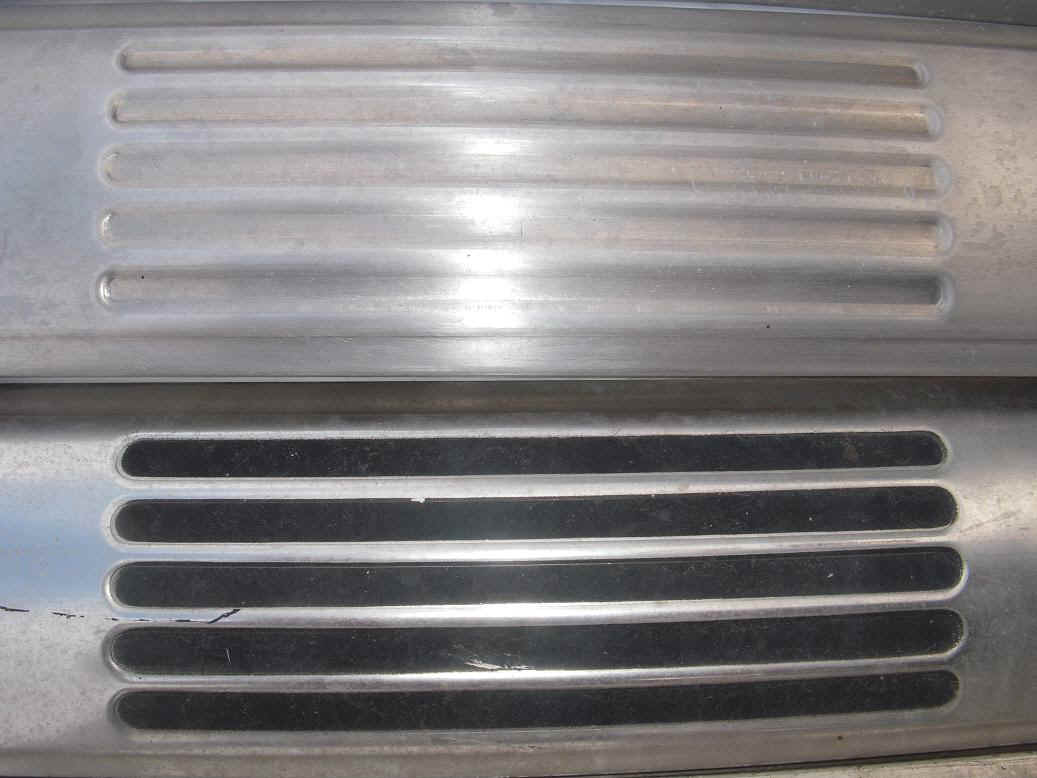 The new simulated exhaust (Javelin) rocker moldings are shown unpainted, my originals are used for comparison. Remember, the originals had plastic template cover unceremoniously tossed on them, and a sprayer hit them wherever as shown here. The original ones are off my unmolested base 1969 Big Bad Orange Javelin before restoration.
Note sharp edges, watch your fingers. Excellent bend and stamping.
Drain & Bend lines, included with this set were vinyl decals. Also instruction sheet.
Set of stainless steel clips come with new set, a original clip shown for comparison.
Painted & installed the simulated exhaust is a stunning addition to your Javelin.
The AMX ones can easily be modified for one's Gremlin or Hornet Series also. It is old school trick from 1970s, don't make me repeat myself on this one. Who didn't do it?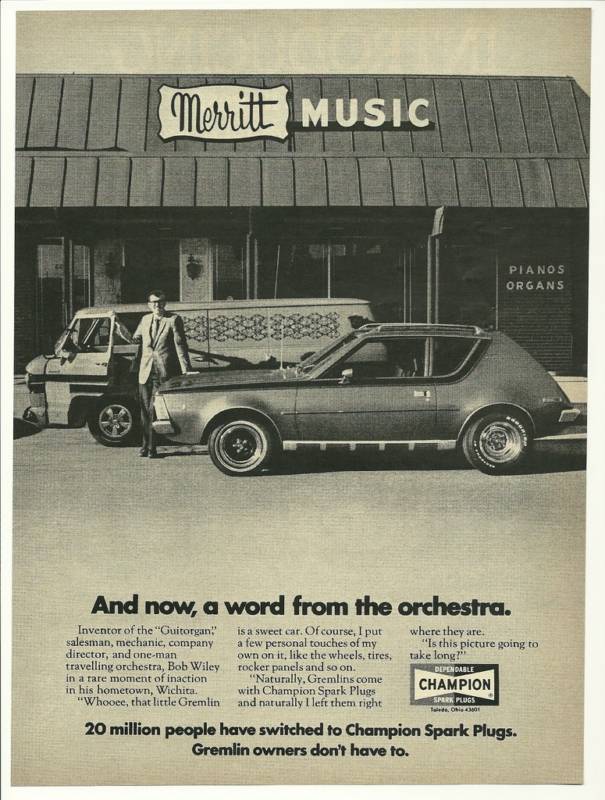 You have seen me use MOD simulated exhausts on some of my fleet thru years like the 1972 Special Order AMX which was used for the Johnny Lightning "coin" photo. They really make a 71-74 AMX or Javelin stand out.
Pros & Cons:
CONS: Not for everyone, some will still prefer trendsetters
Edges sharper than originals, but easily sanded down.
Nice gesture making this a "kit" but I prefer original clips, about $2-$4 each, and dipped in POR-15.
Nice gesture by seller part 2 on including vinyl decals, but paint your set and thank me later.
PROS: Make Javelin look like speeding when sitting still.
Get rid of your bland faceless soulless rocker moldings AMC shoved down there.
Won't leave lifelong burn scar like Trendsetters do when leg hits them getting in/out of car.
Easy to install for novice or pro AMC fan on any 68-74 Javelin.
Back to Restoration Back to Home