AMX & Javelin Restoration, Restify, Renew, Custom
More files & photos!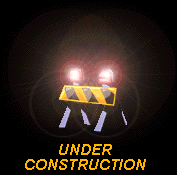 This page is not a "you better do it like this or you are a idiot" page. It is geared to all those American Motors fans who want to simply improve their car, and in many times, taking it to the next level, whether for local or national car shows. You will finding a number of people commenting on here as time goes on so you will have a variety of opinions and options when restoring your AMX or Javelin, regardless of how YOU want to fix it up; this page is nothing more than tips that might help one make a educated decision. As with all the cars AMC built, your individual results will vary!
Project 69 AMX Restoration by Legendary Collector Cars
AMX & Javelin Rust Areas
Photos of 68-74 common rust areas. American Motors rustproofed their vehicles, however, how well a 1960s or 70s car rusts depends on a whole slew of factors! For instance here in Houston a car with a vinyl top will rust under the vinyl top as it is a big sponge with the constant humidity over 60%. A car in the 'rust belt' states loses 1/4 panels, floorpans, and troughs. Cars stored inside out of weather might not show much rust, whether a daily driver with 150,000 miles or a 14,000 mile vehicle. So lots of factors determine rust. There are some great patch panels available for AMX & Javelin like floorpans and 1/4 patch panels. Also available are fiberglass items like trunk lids, doors, hoods, bumpers to help with restoration. Also available is POR-15 which I have used on some of my cars and stops rust, and it never comes back. Rust sucks, and can be extremely difficult to get rid of on any car. So with that in mind, you will have to make a choice whether to turn your restoration into a money pit...a fight you might never win, or try to find another example of same vehicle with less rust that can make sure you enjoy the car for many years to come instead of fighting a losing battle with a rust bucket. This is a 1968 Javelin SST 343 Typhoon I parted out, and what better way to show "common rust areas" on a AMX or Javelin than by photos. You could then know where to look whether buying a car, or your own car simply double check as not all rust is visible, like in the sill panel and rockers.
I may add that there are known "factory defects" in AMX & Javelin when it comes to rust. The three common rust pockets are: 1. quarter panels. Driver side 1/4 panel Passenger side 1/4 panel
Inner wheelwell passenger side This area rusts as it traps dirt and other items inside the pocket either side inside the trunk: Inner 1/4 trunk pocket passenger side Forward rear wheel well Driver side On 71-74 Javelin and AMXs, I recommend highly if you plan on keeping your wheel well moldings, to run a line of POR-15 under it BEFORE remounting them, if you use them at all. Those stainless are the leading causes of rust along wheelwells as they trap road debris between sheetmetal and trim. 2. Sill panel, this is the panel that runs between your trunk lid and rear glass. If you crawl up and look at it inside the trunk, you will see two holes. Basically this is a small oven, and the temp change and humidity would get in there and rot it. There is no reproduction of this difficult to find item. 3. Pillar posts. On either side of the lower pillar post (passenger side) a the bottom of your windshield lies a tiny rain drain hole. Driver side with vinyl trapment. The vehicles didn't even leave Kenosha and that had filled up with dust and dirt. There is no reproduction pillar posts. I recommend sealing this hole unless you wish to later fix this area. This is a AMX too far gone.
Other areas of high concern should be:
Troughs: Especially northern cars or areas roads were salted in winters. These photos show a Javelin with 38,000 original miles from Texas. No sale. Perfect troughs however. Trough passenger side.
Whole trough passenger side view. Trough driver side. Whole trough driver side
New Trough kits & repair section.
Wiper motor. Always look for rust around the drain hole at the bottom of the wiper motor, whether the vehicle is vacuum or electric dose not matter, rain, water, leaves, bugs and debris commonly fell thru the cowl here and accumulated. Rockers Driver side The rocker panels on both sides should be thoroughly inspected. They are basically tubes and since close to ground, were exposed to salt, sand, and water. Rocker panel clips. All 68-74 AMX and Javelin had rocker panels except the 70 Trans Am Javelin. These clips were galvanized and as time goes on, rusted. Note that this is a generally rust free Texas car, however, this clip is fixing to take out the whole rocker panel spreading rust.
Sill panel upper The Sill Panel is the panel that runs horizontically between the rear glass and the trunk lid. I highly recommend you pay especially close attention to this troublesome area! Crawl in the trunk and look upwards at it, and poke around with flashlight. This piece usually held moisture like a sponge. No replacements available.
Trunk pan The trunk pans is usually the most neglected area, and is also prone to rust, especially the areas toward the rear with the welds below the tail lights. Pay extra close attention to the Tail light inner sockets as usually below them rust would form. And on the 73-74 models, few have escaped this problem as AMC sealed the lamps on with foam, so basically you had wet sponge between the housings and sheetmetal! Tail lights and lower valance behind the bumpers. While this tailight panel shows no rust, note the bottom frame rail. This is caused by humidity in this part of the country, other areas by salt. *Update...this item was reproduced in 2011.
Front floorpans should always be inspected, and should you find problems you will also like to know that these have been expertly reproduced.
Floorpan behind seats is another troublesome watch area, more so in northern cars. The reason why is this area hung closest to the ground. And if you had any sort of leaks inside the vehicle thru the years, it would end up right behind the seats in the lowest possible point. Lower radiator support While not a huge concern, no replacement is available for a 68-70 and 71-74. And many people have commonly made the mistake of thinking this flimsy tin lower support was what they could tow a car with. And it is tack welded on. Factory welds This particular photo shows under the driver side fender towards from cowl. Note the triangular brace. This is a major area of rust on northern cars. Factory weld lines While not a major concern or point of interest, these areas should be inspected before painting. This is a passenger side upper 1/4 panel weld line. The roofrail on all 68-74 AMX and Javelin Series should be inspected thoroughly, especially if the 68-74 Javelin or 71-74 AMX ever sported any type of vinyl roof. Roofrail outer lip shown here poses no problem with the stainless molding removed. However, this 68 AMX shows signs of life near the Gulf Coast here in Texas. AMX roofrail outer lip
Inner 1/4 glass rail Rarely do you see this extensive rust unless it is a vehicle sitting outside, windows down for years, but worth showing a photo of, as this area would be covered up by a panel otherwise.
Hood lip and corners The 68 AMX has a defect in the hood that causes it to bow downward. This was corrected by 69. It does not cause it to rust, however, special attention needs to be shown in this area for 68-69 and into 70. Steel hoods for 71-74 are more apt to rust like this than cowl induction hoods. Fiberglass hoods are now available for all 68-69 AMXs, 70 AMX and Javelin and 71-74 AMX and Javelin.
Armrests. The armrests AMC used in 68-70 AMX & Javelin (and 68-71 Ambassador, Rebel & 71 Matador) are boxy type. Very prone to curling on top and pulling away at bottom, and also on the bottom very prone to breaking the center mount. These are held in by three long Phillips type screws. They are not easy to fix, especially in areas where heat (like here in Texas) shortened their life when new. Years ago, in the 80s, Barbara Szyjko or Willow Lane Coachworks in GA reproduced them, however, as nice as they were the bottom was closed. And the bottom serves as a vent with flap for air to flow thru the vehicle. In 2006, Mick McNeice of Canada has been restoring these and offers them at a very reasonable price. Note his craftsmanship on the plastic backing. To contact Mike, click on my
Planet Houston Vendors List. Follow this set front & back:
Armrest 1 Armrest 2 Armrest 3 Armrest 4 Armrest 5 Armrest 6
AMX Javelin 68-69 Passenger Side Mirror Template Printable. (Not To Scale) Courtesy of Steve Lusich. Use this to install your Group 15 Accessory AMX and Javelin passenger side mirror. These great looking round, ribbed mirrors were reproduced in 2007 and can commonly be found on ebay for about $175. Few people opted for them in 68-69, but now everyone can add a great Group 15 Accessory to their 68-69! Since I have been hammered by people asking what the dimensions are for the mirror template, here are two more photos to help you mount your new mirror. Note, like other Group 15 Accessories, AMC left it to the Dealer or new owner WHERE to mount this item, therefore NO actual inches or metrics shown in factory template above. AMC compasses, tissue dispensers come to mind for "dealer/owner" mounting discretion. Most were in general sightline and NOT parallel with driver side mirror if opted, whether Kenosha installed, dealer installed or owner installed. In other words, they usually didn't line up equally from driver to passenger side mount wise. Like Rebel. Like Ambassador. Like Rambler pre 69. With that in mind, here are some dimensions off a unmolested 1969 Big Bad Orange Javelin I'm going thru that had a Kenosha installed passenger mirror to help you mount your "new" chrome mirror. Photo 1 Photo 2. If you put a measuring tape from top lip of door you go down 1 1/2 inches. Then horizontally you have 13 1/4" to FIRST hole (front hole) for screw in mirror measured forward to the 'bottom of measuring tape' where it meets the slant in front of door. The upper part of same tape will be roughly 12" while bottom reads 13 1/4" at front slant.
Electrical Wiper Schematic for 1968 thru 1970 AMX/Javelin. Please note that the electric wiper switch back is different for Rebel and Ambassador Series. It is IDENTICAL from the front, however the plugs on back are different and won't work. You commonly see people put them on ebay as 'amx/javelin electric wiper switch' when it fact it is for reb/amb and will not work! To view the differences see your AMC Technical Service Manual (shop manual) page 4-35 ELECTRICAL which shows the differences. Speaking of wipers, AMC was the last automaker to use crappy vacuum wipers on their vehicles. You could get them thru the end of production July 1971. I have never understood why AMC was paying a UAW autoworker lots of money to configure a contraption that was only going to fit a 1971 AMX or Javelin with vacuum wipers. The dash is unique to those cars, so the wiper switch and washer switch would also have to be really unique. Electric wipers were only a few dollars, so why bother and how much money did AMC waste on making a contraption like this? It is a mystery to me, but here is one of two I have ever had in stock, a 1971 AMX & Javelin Vacuum Wiper & Washer setup. Front & Back! These and most other switches, were made for AMC by supplier INDAK.

68-70 AMX Door Window Tract Illustration. If you have a 68-70 AMX or Javelin the door glass will pop out eventually, as they were epoxyed into place and the two tracts seem to battle each other when rolling up and down. This factory inside the door illustration lets you know where this Lego system of parts goes. If you must go back with this system (I do on my cars) you can get super strong epoxy at any automobile glass place in your area. May I suggest you clean out the tracts first and make sure they are not broken on the ends as they are simply pot metal. Alternatives is some vendors sell a kit that bolts the two tracts together so they don't battle it out when rolling window up and down. Another alternative is the door glass itself was reproduced several years ago and has holes drilled it it towards bottom to actually attach the glass to the tract like the 71-74 AMXs had.

Rebel Machine Rims. The AMC name for them is 15 inch styled steel wheels. They were part of standard equipment on the 1970 Rebel Machine. However, you could get them on any 1970 Ambassador, AMX, or Javelin. In 1971-72, they could be had on on Ambassador, AMX, Javelin and now Matador. While finding a set of these rims almost 40 years later is a chore, and good rims command $400-$600 per rim, you need to know that the trim ring was pressed on by AMC. So it is a Catch 22. If you try to remove the trim ring, you risk damaging or destroying it and no replacements are available, although there are some Chevy 15" inch rings that snap on which look close. If you do NOT remove the trim ring underneath it will be a large amount of dirt and dust that has accumulated thru the years, no matter how the rim was taken care of. This causes a
ring of rust on the rims which could cause collapse of compromise the structural integrity of the rim itself!! This is a photo of one such rim that the trim ring has been removed. While it can be sand blaseted and the rim repaired/fixed, note the rust ring where the trim ring once was. There is a fellow who restores these specific types of rims on my VENDORS LIST. Look up Jeffery Thomas on there, give him a shout, as he also not only restores these, but he also usually has some for sale.
Trim rings: For those of you who are looking for replacement trims rings for 8 slot 14" & 15" AMC rims, JEGS sells some really nice ones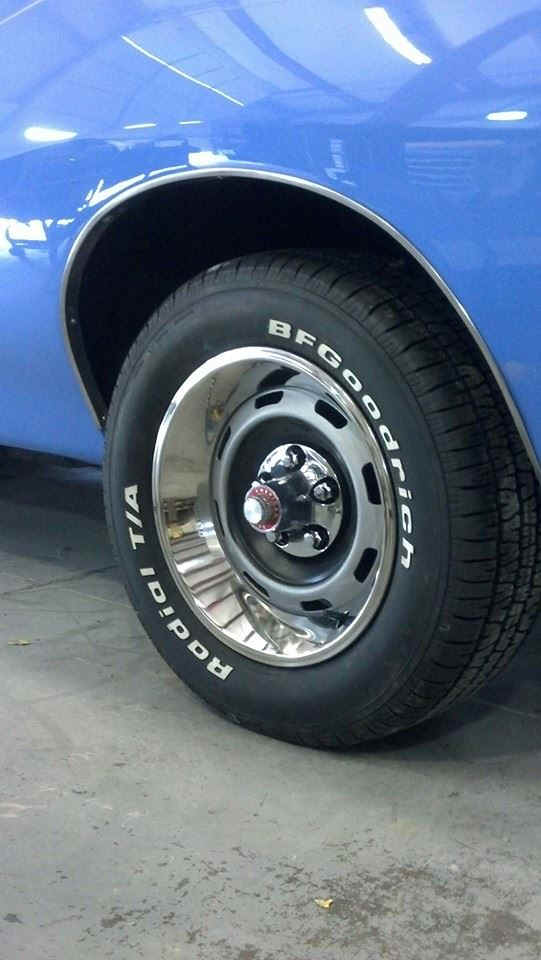 Air Guard System. This is your smog emissions system for manual transmissions starting in 1968. Also shown is the PVC setup for all 290, 343, and 390 two barrels. This will help you route your lines properly, or for those who wish to hook up smog equipment on their AMC. Air Guard. PVC setup.
AMX 68-70 Sail Panels. A number of AMX;s built in 1967 (60 AMXs built up to Dec 31st, 67) thru their introduction in February 68 didn't have shoulder harnesses. Some did, others did not. You will see brochures & drive reports of this era reflect this. The mounting hole in the 1/4 panel was moved in early 69 production however, but no one has ever told me why, which leads me to guess it was federally mandated change, or customers complained about it being uncomfortable in the early cars. And there were a number of changes AMC listened to their customers and responded to concerns, like the hard to read tachometer in 68 for instance. And hooded overlay. But this running change has always baffled me. Since this file is photo heavy, best way to show difference is by photos! This is a pair of ORIGINAL USED AMX Sail Panels. The 1967-68-to early 69 one is on the bottom, note the harness hole. The Early 69-all of 70 is on top. both original. This is a pair of my NEW reproductions. Note shoulder harness hole; the Early 1967-68-Early-59 one is on bottom; the early-69-all 1970 on top. I reproduced these with original grain in 2005, and sell them on ebay. They do not have the thin sheet of aluminum pressed behind them, but fit great, and you can get them with no hole, 67-68/early 69 hole near 1/4 glass; or early 69-thru all 70 hole in middle. This is a photo of a pair.
Below is a set installed in a 1970 AMX, note how far back shoulder harness hole is.
First photo NO HOLE drilled for early 68 AMX; 2nd photo is 1968 once AMC started installing shoulder harness, this was used into 69 production and last photo is 1970, note how far back.
Side note: A number of early 68 Javelins built in 1967 did not have shoulder harnesses, and a plug, either metal or plastic was used in the sail panel. I do not know why but believe that Javelins built after Jan 1st, 1968 all had shoulder harness seat belt straps. Possibly due to federal requirements. Here is a Javelin sail panel with factory plug, this was is metal. The 68-70 Javelin sail panels have never been reproduced.
This is another set of early AMC Javelin sail panels with no shoulder harnesses. This set pulled from a 5600 mile early production Javelin I parted out as had been in a fire. Why do I document things like this? Because of AMC's continuous RUNNING CHANGES, that is what might be on one car in line might not be same for car immediately behind it. I like to call it 'pulling what was in the parts bins' that day, but it was more like changing suppliers, strikes, and a whole variety of factors that made these cars unique. You will find a variety of shades in vinyl and molded pieces, changes from loop cut to cut pile carpet, ribbed headliners to flat headliners, big grain vinyl to small grain vinyl in same year, same month, even cars built sesquential order!
With the Javelin Series, the sail panels were molded plastic, with AMX they were cardboard. Compare this to all 70 AMX & Javelin dashes...if you have ever looked behind in the molded plastic, it is 'pre cut' for Rally Pack and Air Condition so factory could easily change just face while base remained universal. Same for 71-74 AMX & Javelin lower door panels, all are pre cut from behind for Multiplex radio front speakers, few ordered this, but at least pre cut knockouts there if factory ordered or dealer installed. Could waste whole day on this subject from package shelfs punched out for heater blowers or 71-74 dash overlay bases with pre punched AC holes.....AMC was thinking ahead!
Upper and lower radiator kit, this is the hard rubber seal shown here that is stapled to the baffle. The other similar and thicker one is stapled to the lower radiator support. Upper, this, fatter, lower. You can use heavy duty staple gun i may add (Home Depot type) to do stapling. Both are commonly forgotten during restoration, although some cars did not have them to begin with. Mine come with original staples and flat spread clips just like originals.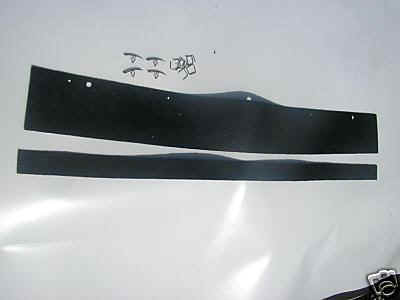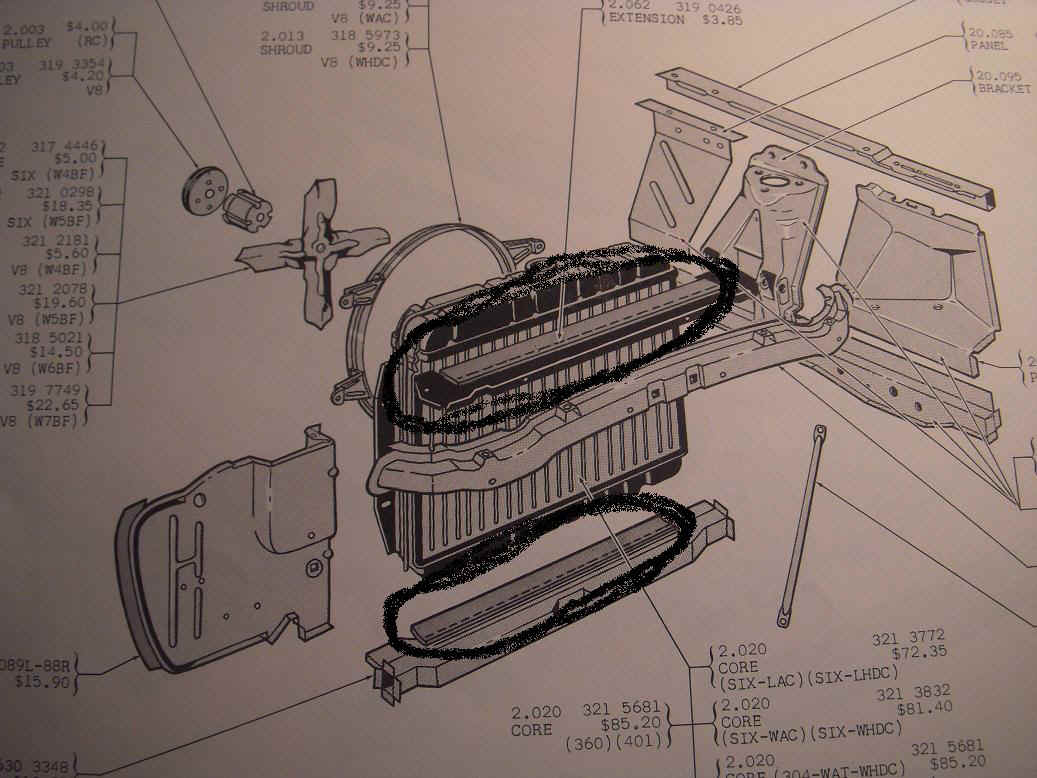 AMC forged steel crankshafts vs cast crankshafts. I get this a lot and a picture is worth 1000 words. The photo is courtesy of BJ Builds A Engine. Forged has a line, cast does not! Forged were cast by Holmes Foundry, in Canada. You can find a variety of AMC ENGINE BOOKS here, including BJ's.
AMC Go-Pack & Clock Restoration. A relatively new item in a sea of restoration items for the 68-70 AMX & Javelin is decals to restore the often faded faces of your 68-70 clock, 69 silver faced tachometer, 70 tachometer, and the fuel and temp gauges along with 140 miles per hour face. For more information, contact Mark Parks on my VENDORS list. You can also find his wares on ebay.
AMC Gauges: painting needles. It's easy to repaint your speedo, tack, fuel, temp and other gauge needles.
AMC 1970 Heated Rear Window Schematic. Not that you have one, only 56 AMXs in 1970 had one. I do not know how many Javelins left Kenosha with this option in 1970. I may add you could have this installed at your friendly American Motors Dealership also. This WAS NOT a option in 1968-69 on AMX and Javelin. 1970 only. And it was a grid of wires in the glass. Whiele the 71-74 AMX and Javelin rear glass is shorter, AMC used same grid for 71-72, and for 73, the rear window defroster was a fan in the rear package shelf below the window, in which this same setup was used for 73-74 Ambassador & Matador & 75-78 Matador.
AMC Paint. Click Here> AMC PAINT CHARTS 1954-1988.
Shadow Mask Paint. Click here> 70 AMX SHADOW MASK.
AMC Mirrors Compare 70-83 rectangular head mirrors, including length of cable, neck and casting numbers. Rule of thumb whether 68-69 round head mirrors or 70-74 retangular head mirrors, if cable is SHORT it is NOT for AMX & Javelin but for Ambassador, American, Rebel & Matador.
AMX 68-69 Go Pack Stripes: The dimensions of the 1968, 1969 AMX stripes are as follows: The two main stripes are 4" wide and are separated by 1-1/2", measured off the centerline of the hood. Use the center line of the hood and go 3/4" to either side for placement of the 4" wide stripes. On the outer sides of the 4" wide stripes, there is a 1/4" wide stripe which is placed 1/4" from the outer side each 4" wide stripe. The best stripes I personally have used in my restorations come from Alfano's Performance in Kensoah & Phoenix Graphix in Arizona, both on my VENDORS list.
AMC deviations & AMC Suppliers. Possibly the biggest question(s) I get is why difference in cars built possibly days apart. AMC used a wide variety of suppliers. A simple way to look at this is AMC Paint Suppliers.A look thru any AMC Annual Report thru the years to stockholders verifies this. And what was in the parts bins that day might not have been in the parts bins a month before. This also has been confirmed by many former AMC line workers. It is not that aMC was not consistent....they were! However, if the line slowed down or stopped for any reason, everyone loses money and heads would roll. Then you would have to face angry stockholders to explain why you ran out of something. One of my favorites is the red, rear lenses for 68-69 AMX & Javelin. While all the brochures show dark lens, there were in fact 3-4 shades of red plastic used. The lenses, and housings, were all made in Canada. I bought out the last remaining stash of NOS 68-69 housing/lens/emblem combinations known in 1988. There were 189 of them, some were dated 3-70, some 8-70 meaning they were pressed in March 70 and August 70. All were lighter than previously thought. All had been remaining stock from a Sarnia, Ontario, AMC dealership. Here is a variety of NOS AMC rear reflector lenses, and some combinations complete three piece as AMC sold them, undrilled from behind. The 68-69 panel itself is AMC part number 4485312 Group 26.039 for Javelin and 4485313 Grp. 26.039 for AMX. A single NOS lens. This is my favorite as the one NOS lens on the left, and all the combos are NOS. The far right is excellent used. This one shows a number of the NOS 68-69 Javelin combos, again, undrilled for mounting on the rear. Note light red. It is why you find oddities like several different grains of vinyl on same series. Here are two different red, rear lenses, same part number, different shades. Lens #1 Lens #2. Or different Ram Air seals on SC/Rambler. This continued into the 80s. This is three different Eagle SX/4 decals.....all made within a 3 year span by AMC. All AMC part number 3741517. Note the differences in open faced, closed face, and rounded vs squared edges on the letters. Radios? AMC used Ford Philco; Motorola, RCA, Mitsubishi to name a few radios. I could go on and on about interior colors, molded soft and hard items. The bottom line is this. You will find deviations in many aspects of American Motors. Even low mile original cars. Don't read too much into it. AMC didn't they sold someone a car.
Ill Fitting Parts. Don't be led to believe that just because it is NOS (new old stock) it fits right. That's bullshit. AMC used, as mentioned above, a huge numbers of suppliers and whoever had the lowest bid got the job. So you have NOS items in bag you go to try to install and they break, snap, or fit awkwardly on the vehicle. NOS dash items come to mind, mostly because they were molded, however, grilles also quickly come to mind, as while most were plastic inject molded, even if same company did them repeatedly, the molds could only be used for X amount of pressings before they sag. Think of it like Jo-Han models. The molds could only be used for limited time before the car no longer looked right or pieces fit as they should. Another ill fitting part (I could write a whole manuscript for 1970 AMX & Javelin ALONE) is the Ram Air trims. The passenger side never did fit right, even out of bag. So the mounting holes where usually oversize and/or slotted to make them fit. That is passenger side. This is driver side, appears fine. The ram air hood is original and off a low mile 70 Javelin I parted out in late 1970s. Note the difference hole sizes for the mounts! So you take a NOS pair of Ram Air trim out of factory bags (3616215 left and 3616214 right) and note while the left will almost fit; the right is totally off mark. Driver side 'almost fits'. Factory AMC Parts sold by American Motors! The 'dummy ram air scoops' (not all 70 AMXs had factory Ram Air, and many Javelins also sported these) are AMC part number 3616216 right and 3616217 left. While the left scoop snugly fits in the trim, the right won't fit at all. Again, this is attributed to whoever the supplier was to AMC in the early 1980s. What to do? Resize the hole like the Dealership did.
A matched set of 1970 Javelin front turn signal housings mismatched. The wiring harness had never been altered when I parted this car out, and one side had plug, the other had different plug. So unwrapped both wiring pieces, both sides to main harness, nothing unusual, and the smaller of the plug side had sauder at main harness.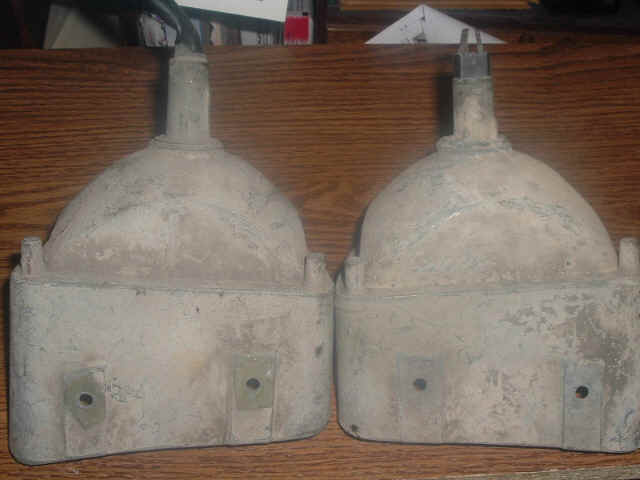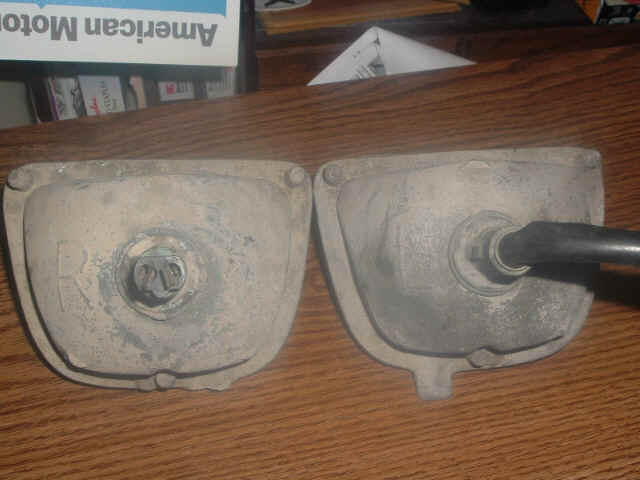 This is a original "ground" behind dashes of 68-70 AMX & Javelin. There were several of these behind your dash, thin, copper pieces supposed to ground it to dash frame. Not only did they sometimes fail to ground, they also didn't provide a good ground if they did.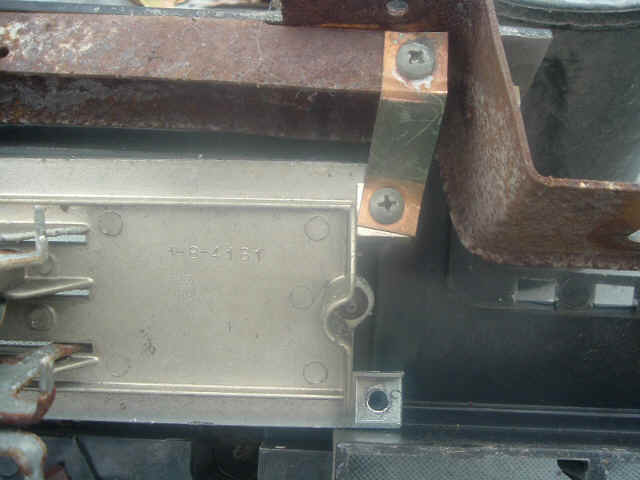 AMC SUPPLIERS parts etching. No! It is not like American Motors 1000s of suppliers just stopped using the old AMC script magically in 1970. The old AM fancy stlye script contined to be case on back of many parts. AMC was trying to update it's image with new Amark /| emblem, however the parts themselves contined to be cast on back with old AMC script. I have found parts on AMC cars are late at 1979 with AM fancy logo on back! Which brings me to this. AMC also HAND ETCHED a number of parts. These are 1/4 panel door interior pieces from a 1974 AMX. Note the crude "L & R" (left & right) etched in them, what a pain in ass to do this to 1000s of parts, some overpaid UAW sitting there day in and out. Depends on how many Schlitz, Blatz of Strohs guy had at lunch at Freedies across from 50th street factory would depend how nice the etch was. In the last photo, the two round holes, ALL 1971-1974 AMX & Javelin interior 1.4 door panels were pressed with these "just in case" these are hold for rear ashtray placement!
Myths & Weird Stuff. This could be titled true or false to test AMCers knowledge. However, usually better to just shove vintage photos on there.
All AMXs & Javelins came with shoulder harnesses. False. Many of the early production 68 AMXs did not have a shoulder harness. It was not into late production AMC started adding them, somewhere I believe in July 68. However I do not know a established timeline, but have seen early 1967 (built before Jan 1st, 1968 and well before release date of Feb 28th 1968) AMXs with no hole provision for shoulder harness. The hole was later moved back in early 1969 production on the AMX....several inches from the 1/4 glass. I do not know if this was federally mandated due to safety concerns or because of customers complaints of being just damned uncomfortable. I have reproduced all three however in cardboard, they are nice, and are NO HOLE, 68-early 69, and early 69-thru all of 1970. Look in here to view.
The early Javelin, which came out many months before AMX....had optional shoulder harnesses. This is a November 1967 built AMC Javelin SST....and note the plugs in the sail panels. Front & Back. This was a Go Pack car.
Super Stock AMXs didn't have wipers. Sure am tired of this one. False. Yes they did. But they would later get a block off plate. This is a exclusive photo I sell (of many!) but shows Shirley Shahan working on her car (another myth that H. L. and crew did all the work) but working on the 390 of the Drag On Lady in Nevada in 1969.
Note the electric wiper motor. Want to go back further? Let's go to Hurst Research in 1969 as they put together the Super Stock AMXs. Yup, there is another damned electric wiper motor.
Crane Heads were stamped. True. The Crane heads for the Super Stock AMXs were indeed stamped as they had been modified by Crane. They were regular production heads worked over. Here are 1969 and 1970 heads.
1971 Javelin & AMXs have oddities only found on 1971. True. And to name a few right off the bat: Last year vacuum wipers, one of the ugliest configurations you will ever see. Low Fuel Warning System. While this was only used in 1970 and 1971, it was dropped for 1972 on ALL AMCs. Black dash knobs. Strange and goofy hidden ashtray and cigar lighter. Base Javelins have no hood trim or "J" fender trim. T-top indented roof line, howeve this was carried into 1972 until AMC flattened roof out for 73. Back to the ashtray thing. Whoever designed this was a non smoker. You had to open door, then fiddle around to find lighter and ashtray, all the while putting your new AMX into a concrete pillar. This is a 1971 and 1972-74 dash glovebox center housing. The later is on top, the 71-only is on the bottom. This is a closeup of 71 glovebox opened and closed. Note in the opened position the last thing the poor fellow saw as he ran his Javelin off the bridge while trying to put out his smoke was this contraption. I could go on, but this is only things off top of head I could think of unique to 1971!
AMC Made Shit Fit. True. I could share dozens of stories and photos here, but this is one of my favorites. The 70 AMX & Javelin dash is possibly one of the biggest pieces of crap ever put on a American Motors car. Even up to last minute AMC was having problems with it. So you have glovebox locks that don't hold; and glovebox will fly open when accelerating. The small U shaped woodgrain around the glovebox lock would fall off at dealerships. Before the cars even got out of Kenosha the crash pads (eyebrows) were curling! And the woodgrain overlays were bucking above the tachometer and sometimes even the speedometer. Here is a really low mile 1970 dash assembly from a Javelin i parted out in early 1980s. The crash pad had never been removed. Note the shaved "make it fit dammit" grind areas around the holes on the dash frame to make the dash pad fit closer to the dash. Amazing. I have had a number of 1970s AMXs and Javelins with this! Close up #1.....Close up #2. Ever talk to line workers? The stories are hilarious. My favorite is the Sportabout wagon that had disc brakes on one side front and drum on the other. There is another myth here.....however....

AMC Molded their parts in all the correct colors. False. I have parted out cars and restored ultra low mile AMCs with less than 4000 miles on them, making notes of colors, oddities (this is how this file came about I guess) and things that might help others. If you noted, the green 70 Javelin dash from early production A0C797x190116 Nov 69 build) the dash started it's life as black. AMC then painted it green to match rest of interior.
This is a 1970 Javelin red dash that started it's life also black, but was painted red in December 69. You will find a myriad of colors when you disassemble the vehicle. They were painted to match that car's interior amd the workers would use whatever was in the parts bin that day. The line had to keep rolling or stockholders and others heads would roll. It is why you see some deviations in colors on some low mile survivor AMCs. It is not because of fading with time, it is because it was slightly off color when new. Oh, did I mention the ill fitting 70 AMX & Javelin dash would not line up the the defrsoter ducts AMC used from 68-69 so AMC simply shoved small spacers in there to cover up the holes. Yup, that is the small spacers shown in front of the upper defroster ducts. I believe this is how many AMC fans, myself included have come to love American Motors and all it's quirks.
AMC Used Steel Hoods on Late Production AMXs. True. This one is still being debated however there has been 5-7 late production AMXs documented know with steel hoods. Built after production would have ended July 30th, 1974...you have a whole array of oddites here. AMC ran out of 360V8s. They had been selling them to Bricklin and also International Harvester and simply could not keep up with demand. It's why Bricklin shifted to Ford 351s in 1975. You have 1975 AMC colors on 1974 cars. There is nothing that shows this except that car's paint code. You will not find it in any literature, brochures, anything, except one day you see a 74 AMC painted something like J7 Jade Green.
What happend was AMC asked for, and got, a extension to continue production on 1974 models due to the changing laws with emissions. So production whihc began on Aug 1st, 1973 for 1974 models, and should have stopped in end of July 1974....ran into end of November 1975. This also pushed back Pacer introduction slightly and AMC had to do a lot of mods concerning plants as no longer was Ambassador, AMX (except 1975 Matador AMX in Mexico/VAM built) and Javelin being produced. I do not know if buyers of 1974 AMXs that got steel hoods in lieu of fiberglass non cowl induction hoods got a discount....or voucher that they could later get a regular hood once production caught up and possibly more hoods stamped. Why I do not know. Many of the late production AMXs I have seen were bare bones editions...304 two barrel, some even three speed standards with no options. Some of the running changes and extensions in production are fully covered in letter to shareholders however.
AMC NEW Simulated Exhaust Rocker Moldings for 68-74 Javelin & 70 AMX
AMC Door Handle Breakage & Fixing Problem (Concord, Eagle, Gremlin, Hornet, Spirit Series)
AMC Woodgrain Repair (exterior doors, fenders, quarter panel)
AMC "AM" & "AMC" emblems. AMC had 4 different suppliers of their AM and AMC emblems (that I have found) from mid 1960s thru EOP. Windsor Products most people are familiar with as AMC bought that company to produce not only emblems but many interior moldings and plastic parts, in 1973, and saved them a ton of money instead of farming out to have the items made. The most common emblems are the 73-up type rectangular ones with AMC. In the top two rows are the square metal 1x1 emblems; there were two types, the silver/gold/white and the red/white/blue. The silver/gold/white type were used from (roughly!) 1966 thru 1969 and the r/w/b blue ones from 68 thru 69 although some made it only early production 1970 AMCs even though AMC had new corporate logo. Some say the s/w/g type was used only for Ambassador, Marlin and Rebel, which is not correct. The second row is what was used for 1970 and 1971, with some of these rolling over into early 72 production. These, like the metal gold/silver/white ones are metal with double stick tape on back. The 3rd row shows a lone 1972 emblem this looked like 70-71 except is plastic and has a clear bubble over logo. It was only used for 1972 and is probably the most difficult to find. 4th row shows the new plastic rectangular AMC emblem.....this was used into the mid 1980s. Bottom two rows show a similar emblem although chrome plastic...this was used for mostly Renault; but some Renault and AMCs by then also had plastic stick on decal inside back glass. The 1x1 66-69 r/w/b, the 70-71 1x1s, along with the 73-up long type were reproduced in 2009, but are Made In China. The originals were made in US and Canada. On NOS (new old stock, or OEM) you had either a black, white, green or no pull tape covering the double stick tape. It's 3M. Some have VHB on back, which means those were last run late 1970s. The second photo shows even more.....including some of the various AMC bags, boxes and packages these came in. I also wish to add that you will find "imperfections" on original NOS/OEM emblems made by AMC Suppliers Univac & Windsor. The last photo shows common sloppiness.....it is a set of NOS first run (AMC did three runs) of 401V8 emblems. Note the paint on the 1, and the rough edges around the 4 as the mold used to make them deteriorated with time! And these of course were then passed off to dealers. Bottom line THEY WERE NOT PERFECT when made 40 years ago!
Last photos are some of the new emblems, Made in USA, I have reproduced.
AMC AMX & Javelin Dash Gauge Wiring Troubleshooting
Tachometer Wiring. 1968-70 AMX & Javelin. 1971-74 AMX & Javelin.
Fusebox Wiring. Fuse Panel diagram
1970-71 Low Fuel Warning Instructions diagram
1968-70 factory air conditioning wiring diagram
1968 thru 1970 floor shift automatic Shift Command Wiring diagram
Disc Brake Interchange (1965-71 4 piston Bendix to 1972-up 1 piston Kelsey Hayes) or new Scarebird Brake Setup
Altenator Interchange (1965-1973/74 Motorola to Delco)
Ambassador Rebel Matador trunk Jack photo 1 photo2
AMX Javelin trunk jack with or without Spacesaver photo 1 Note that while the 68-70 AMX & Javelin came with B. F. Goodrich Spacesaver tire, later 71-74 AMX & Javelin could come with either: B. F. Goodrich spacesaver; Goodyear Spacesaver or Goodyear full size spare inflated tire. The Space Savers were sloppily painted orange with runs underneath. In 1970 due to Federal change of law, a release valve was installed next to valve stem, so looks like double valve stem. This was because too many of the inflatable spares were exploding mostly due to over filling of air. If you used your Space Saver you can't put it back into original compact shape. If you needed a replacment Space Saver, the replacements from AM Dealer were black in color not orange.
One of the neatest products I came across and use religiously is something called Dyn-O-Mat. Just about every place you will every display your vehicle when finished will require you to have something under your car. While your car won't leak, it is the show's rules and regs you have to follow, just like having your + cable disconnected from battery, or gas tank cap taped with duct tape, having a fire extinguisher these are just 3 I can think of. Some judges will NOT ALLOW YOU ON THE FIELD if no fire extinguisher, and some shows, like ISCA, are tough on you if battery cable on, ro gas cap not taped, it could cost you a crap load of points. The Dyn-O-Mat is leak resistant and made of polypropylene, so it retains 100% of anything that might drip on it. Again, when showing, you have to usually have SOMETHING, cardboard, carpet, anything to protect the pavilion or area floor. So I recommend you check out Dyn-O-Mat, you can call them at 561-747-2307 or visit them on the web at www.dynomat.com
AMX Javelin 68-70 front bumper diagram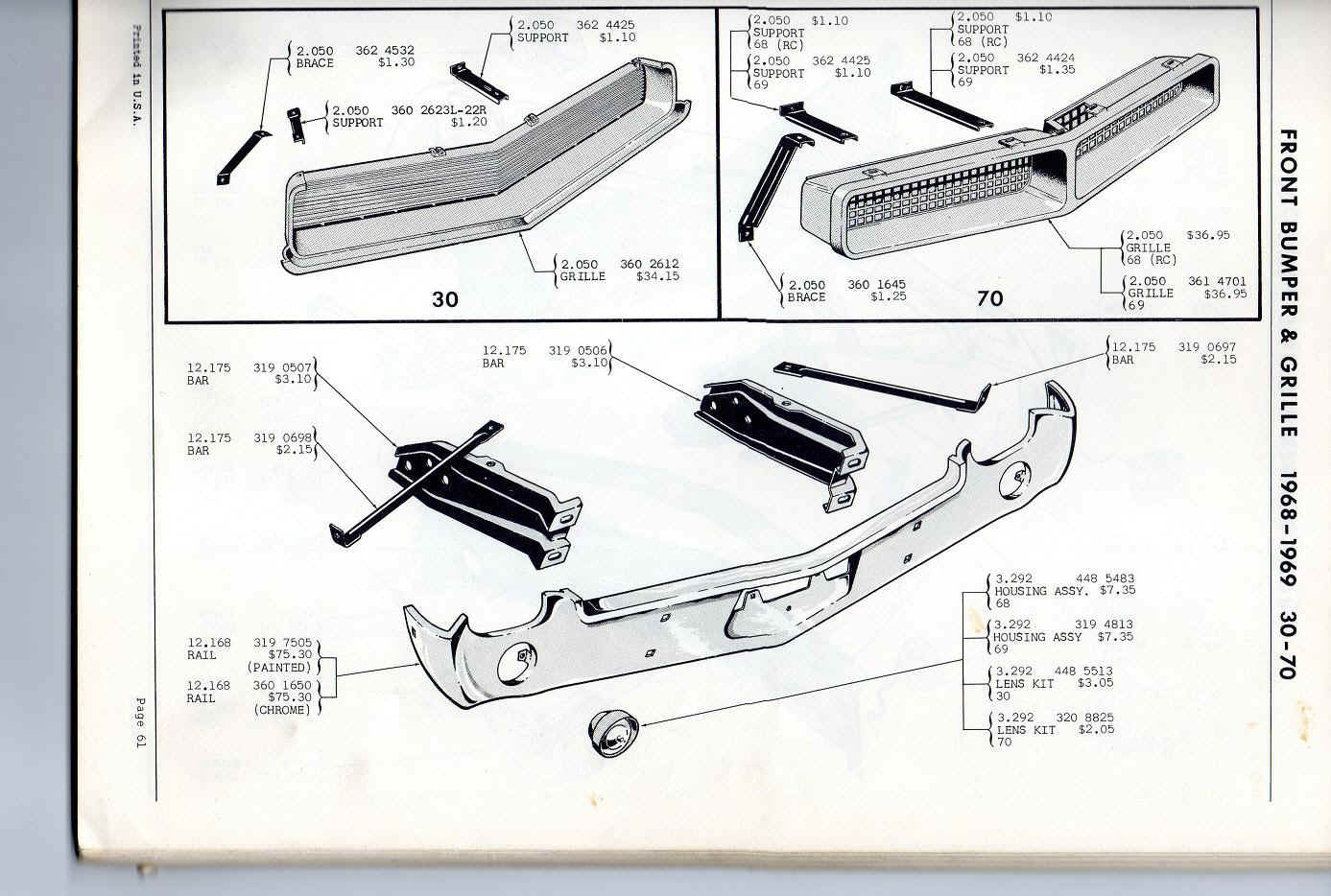 AMX Javelin rear bumper diagram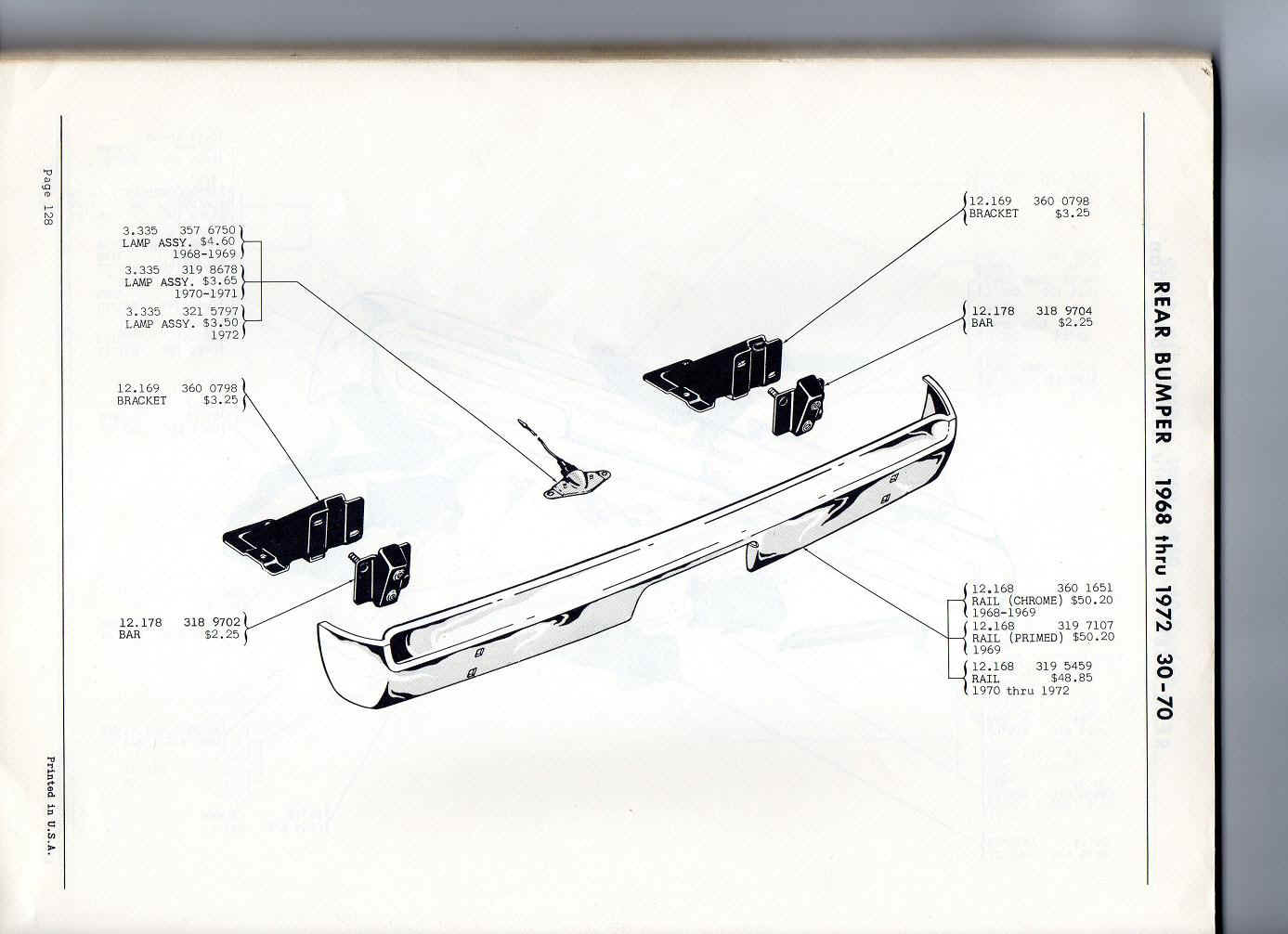 68-70 Engine Decals. This is a template showing where your decals would have been located on 68-70.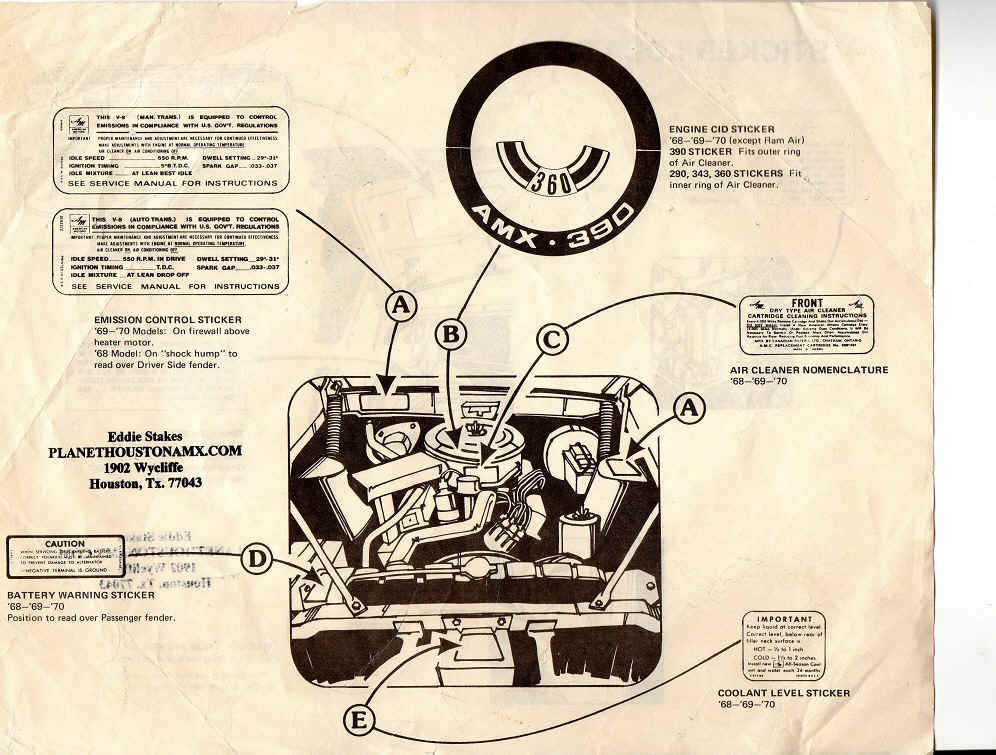 Other Decals, this is where other factory decals would have been located on your car.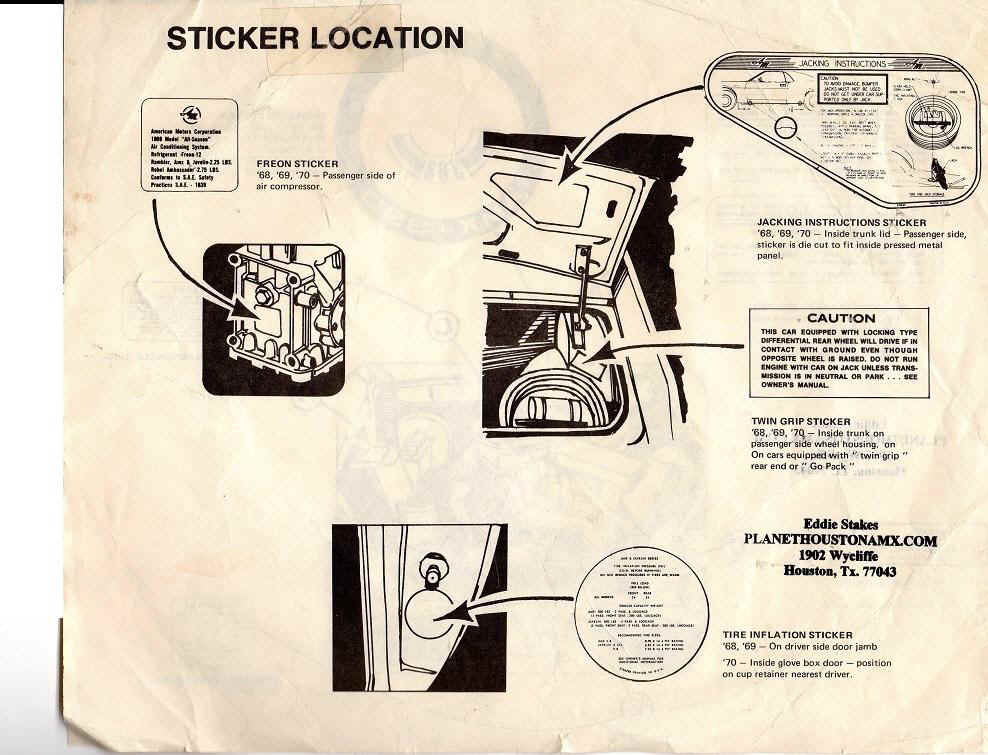 AMC Engine Detailing 68-69-70...Detailing Your Engine For Show a NOS AC and smog belt shown below, note Gates stamping along with old AM logo; this old style AM logo was on items used into mid 1970s even though AM change to new style logo in 1970.
AMC New Valve Cover tags. If you would like a concourse correct valve cover tag with era dates, year, month, vin, date Ron Fawthrop is now reprodcuing them with any codes you need. This is a photo of his work and contact information, tell him I sent you, his contact into in the photo.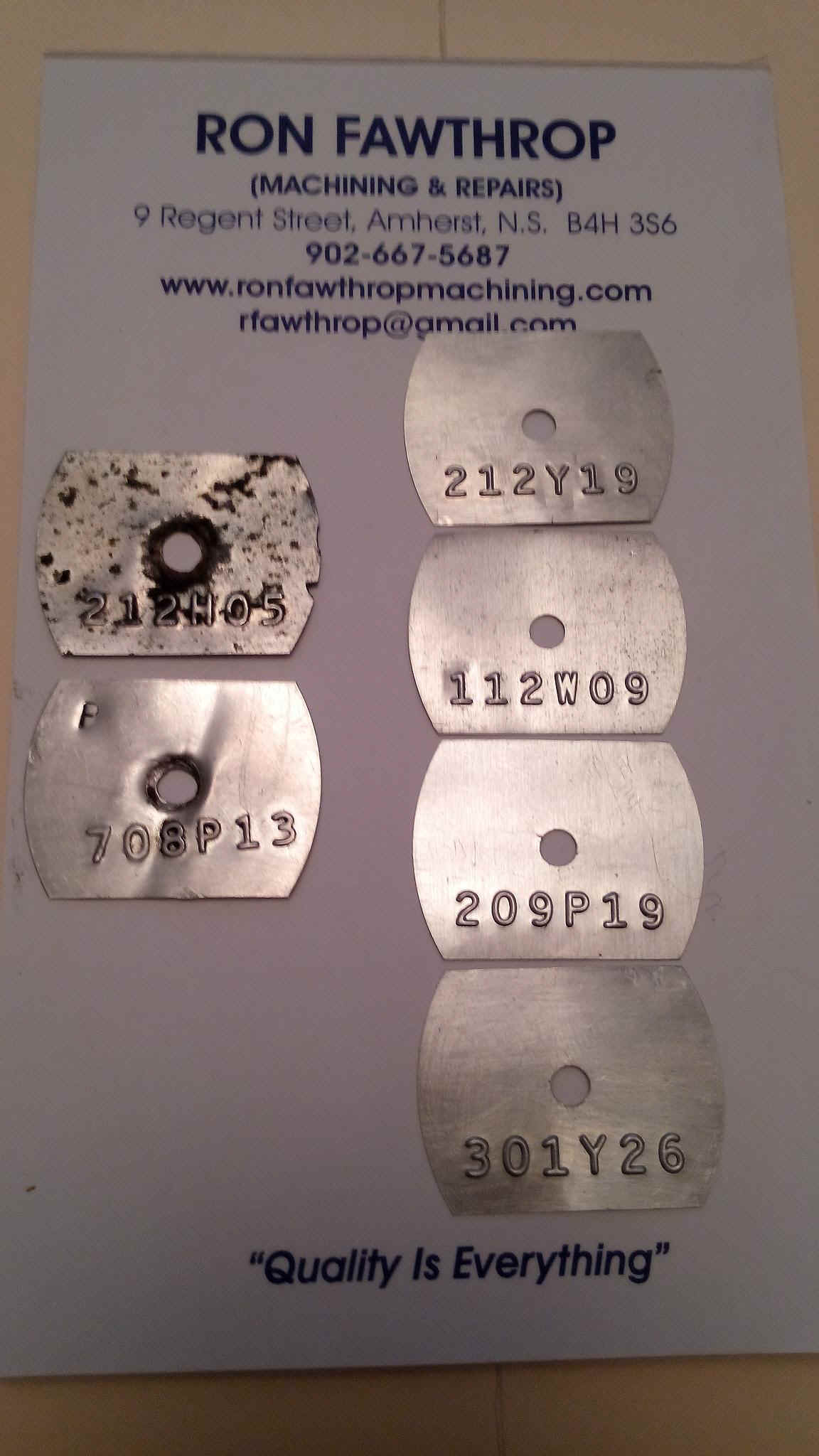 Blackout Behind Grilles. I often get asked the question about whether AMC painted behind the grille on the 68-70 AMX or Javelin. Yes they did on light colored cars, and rather shoddily too, often simply spraying over the latch and around horns and supports. Here are some photos (I got more from other unmolested AMXS & Javelins and will add them as time permits) but here are a few from low miler unmolested 69 Big Bad Orange MOD Javelin.
71-74 Gauge Overlays. The 71-74 AMX & Javelin gauge overlays, Rally Pack or not were molded plastic with thin tin over them with plastic chrome glued into the inserts around gauges. AMC used several different types of hard & soft glues to keep in the plastic surrounds. What is neat is to see how whoever it was that day putting these together had a light, or heavy hand. Here are some photos of the glue, I have found black, white and blue adhesives, with white being most common. I have reproduced the machined type 71-74 AMX overlays, woodgrain Javelin type and also the 71-74 machined door panel inserts. These are heavy vinyl, not metal. If you buy one, please be careful with it like you would a stripe kit. Here are simple instructions for applying them: Starting at one side you simply peel back the paper backing slowly. And pay special attention to areas around AC holes (if it is AC cut) and thin areas around gauges and radio hole. The small screw holes easily drop out and one can use toothpick to remove them. When installing, you have to have whole cluster out of car, and also have to remove the three chrome plastic rings around gauge holes. May I recommend when you put your rings back in to use silicone or JB Weld or other heavy adhesive as AMC did. When installed....your silver perimeter linne (on Javelin) and red perimeter line (on AMX) will still show. You can use a Testor's red paint pen found at hobby shops to bring out the red on your AMX red line.
All 1971 thru 1974 dasg gauges overlays were cut for air condition, whether you needed it or not. If not, they AMC would put thin foam over the AC vents like seen below, then glue the metal woodgrain Javelin 71-74 or silver Javelin base edition, or machined metal AMX overlays over your base. AMC was really forward thinking on stuff like this "just in case" besides all the overlays being cut for factory AC 'just in case' you will find all 70 AMX & Javelin overlays cut for Rally Pack AND factory AC holes "just in case" & 71-74 doors cut for front speakers with knockout hole at front lower, "just in case" along with door panels have cutout lines behind them "just in case" really endless list of "just in case" items made just in case customer ordered someting. Why? With limited resources, why piss away money or two different pressings when you can use same piece & just cover it up if customer didn't order that option or accessory! Quite brilliant. Here is factory foam covering 71-74 AC holes, the metal overlay covers the foam in your dash.
AMX 68-70 Rear speakers. A Group 15 Accessory on the 68-70 AMX with AM/FM and AM/8 Track radios was twin rear speakers in the rear panel. I sell both regular panel and the heavy duty T panel. *BOTH* of them have precut holes for speakers, and are precision cut in same material and precut holes to hang.
In 2007 I reproduced the speaker braces. These originally were painted LOW GLOSS BLACK from factory. The speakers were tinny 4 inch Japanese speakers. This is a set of originals including covers
Here are a few photos showing correct clips and installation which will help you.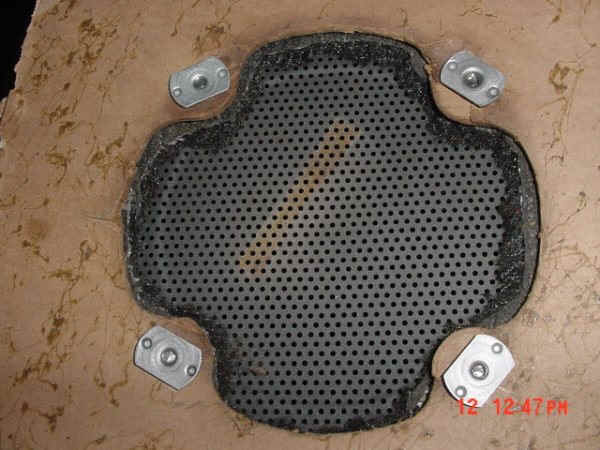 The originals speakers sounded like shit when new. There are several alternatives here. If you want your originals reconed, contact Jackson Speaker Service, 3921 Pine Crest Ct, Jackson, MI. 49203. Another alternative is
S&M Electro-Tech which sells almost exact replacement speakers for the AMX. Yes another alternative and one I recommend is new Pioneer Speaker #TS-D402P of which fit great, but sound awesome and come with speaker grates.
Online Car Stereo stocks them although a search on ebay you can also find them. Modern sound. Note that should you use the Pioneers, they are heavier than the original Japanese ones. I would recommend reinforcing your divider or t-panel because of the extra weight. But it is worth it.
Rear view showing differences of 67-69 dash ignition switches between the Ambassador/Rebel Series to the AMX/Javelin/Rambler Series. Hard to find ignition switch, but note differences, they look same up from but back totally different.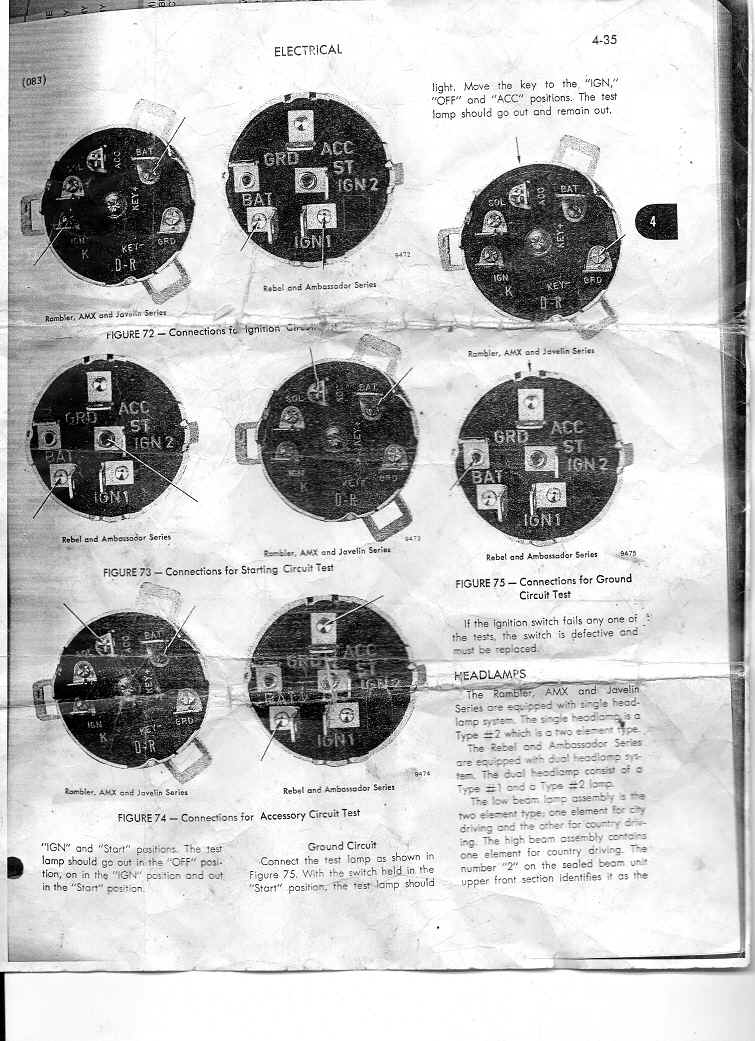 This is back of a 68-70 AMX & Javelin clock, showing how to wire it. Basic unless you have never done one.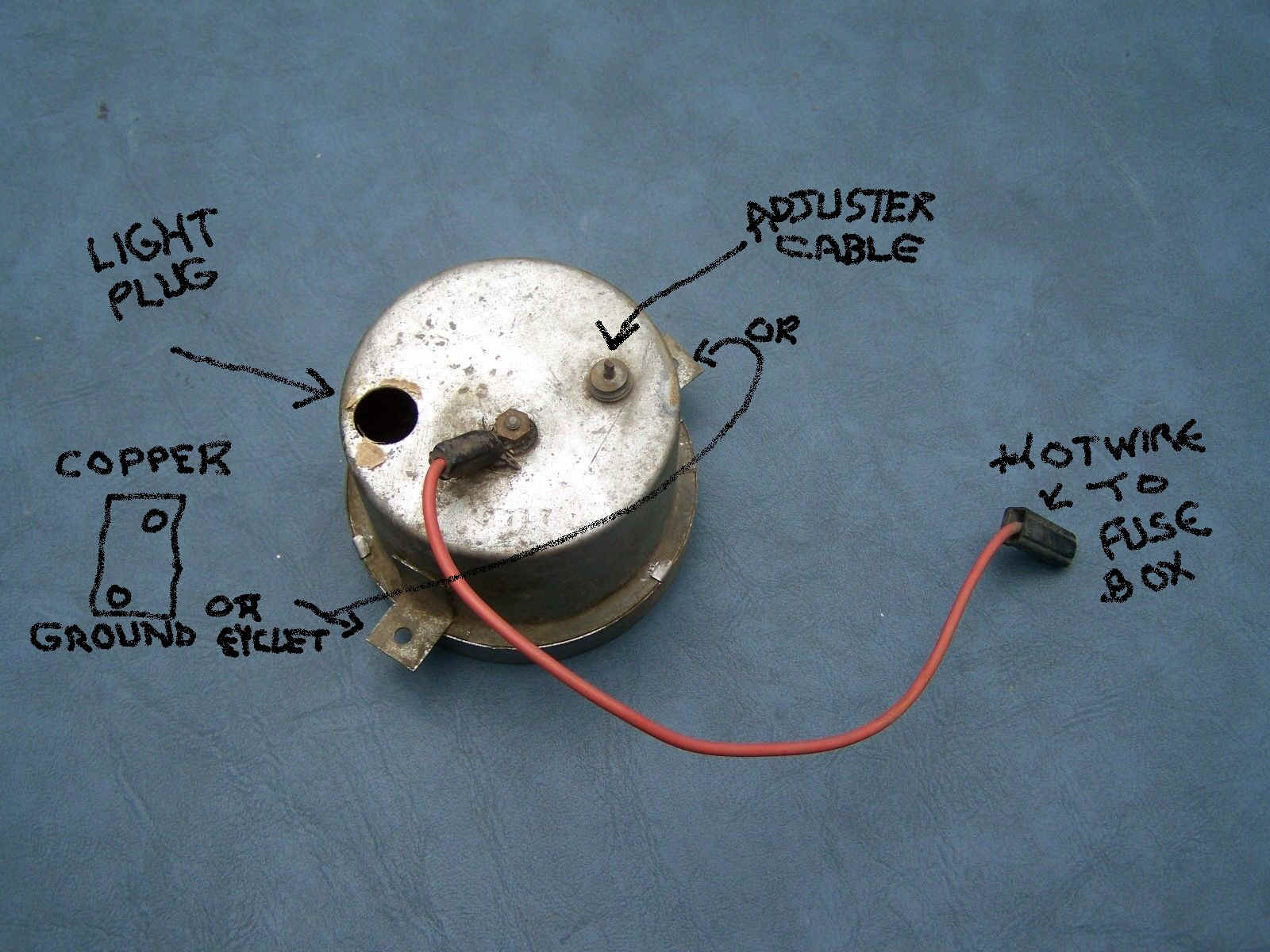 AMC was kings of 'WHAT IF?' stuff. For instance, when pressing a part, sheetmetal or plastic, they would go 'what if?' a customer ordered a Group 15 accessory for that car or wanted something installed, odering that piece on order form, or at dealer later. Sometimes the companies got screwed up and well, forgot to stamp stuff. A good example of both is this mint set of 71-74 passenger interior 1/4 panels. The two holes in first photo is 'in case' a customer ordered a ashtray for the car, simply puch holes out and install in seconds. If no ashtray ordered, no harm no foul. However on same door panels, you will notice scribbly RH and LH (right hand & lweft hand) on them, where heat guy did work of Windsor Plastics (A AMC company) that while stamping in the part number and grou number, didn't stamp in which side these go to.
73 AMX the hurricane ike amx