SC/360 Hornet Registry
SC/360 For Sale Aug 2021 (mine)
Runs Great, one of 3 Meadow Green ones known to exist, only 206 produced 360/2V, only 187 made Automatic, Loaded, Businessman's Muscle Car, Needs restoration on solid Texas car. $8000.00 email me eddie@planethoustonamx.com but first go look thru photos at MY AMCS FOR SALE here with more description:
My AMCs For Sale or Hemmings Motor News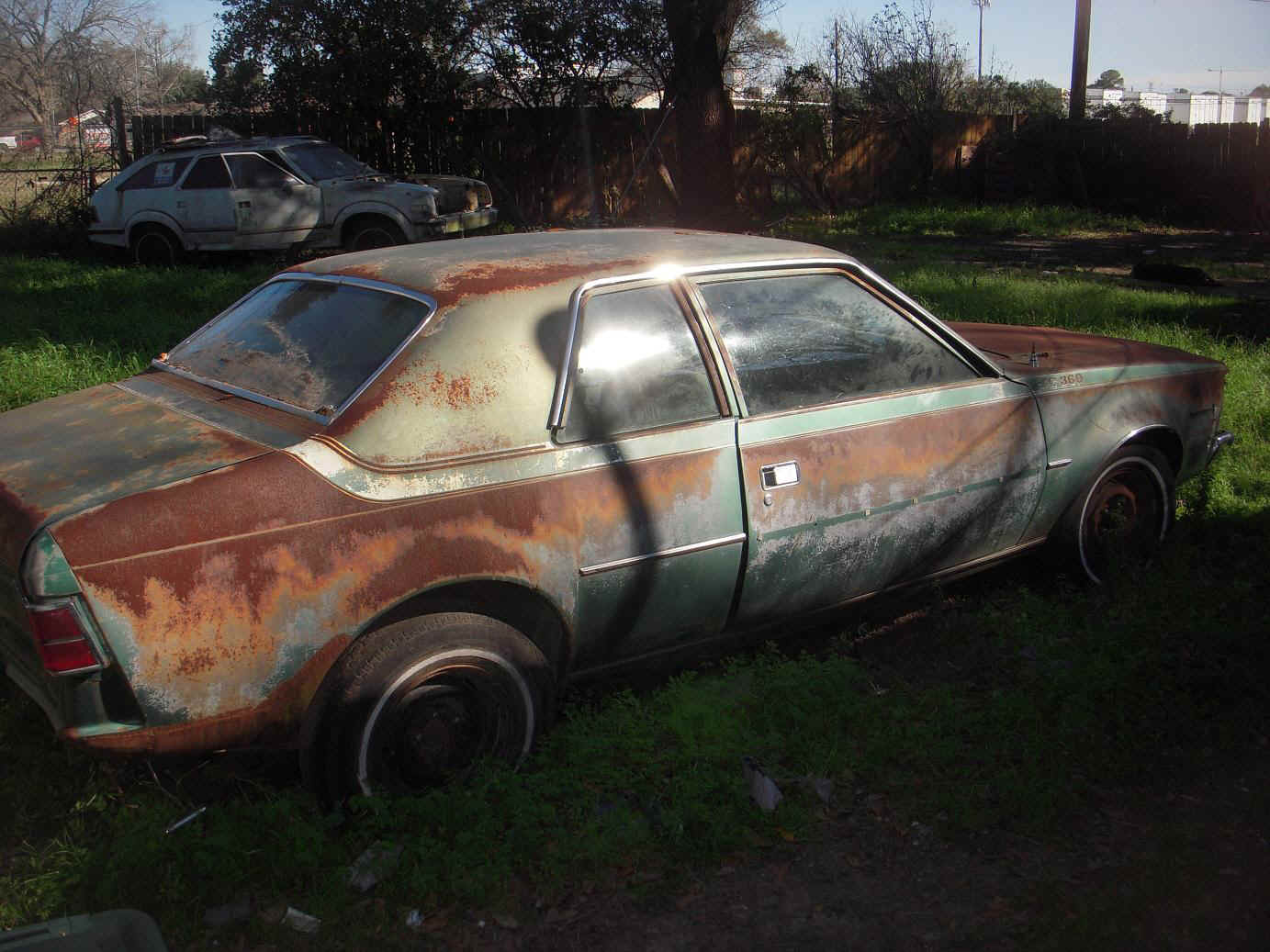 Just sold $15,000 January 2020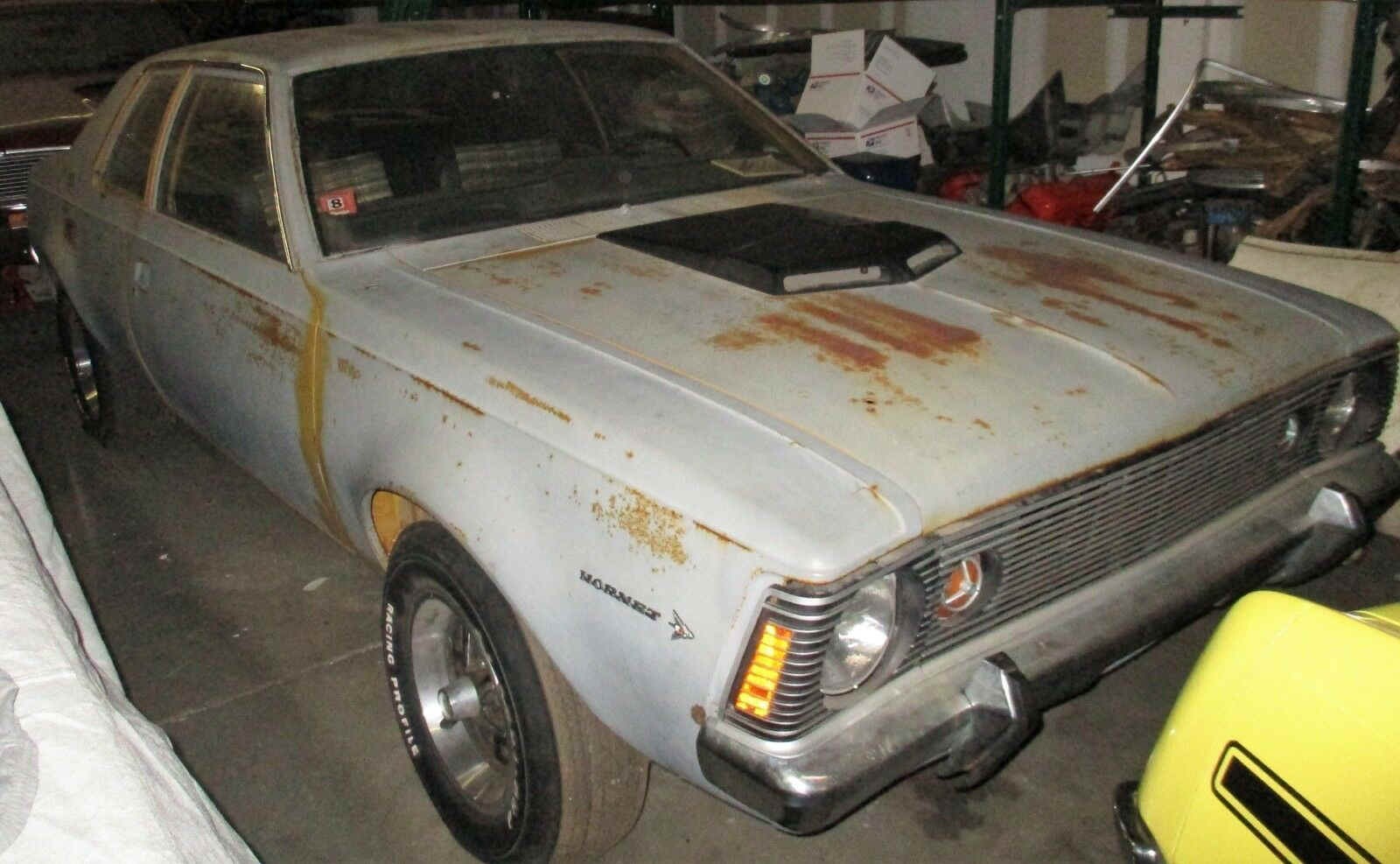 SC/360 Hornet no sale on ebay $16K Febuary 2019
New Arrival Terry Steinhelfer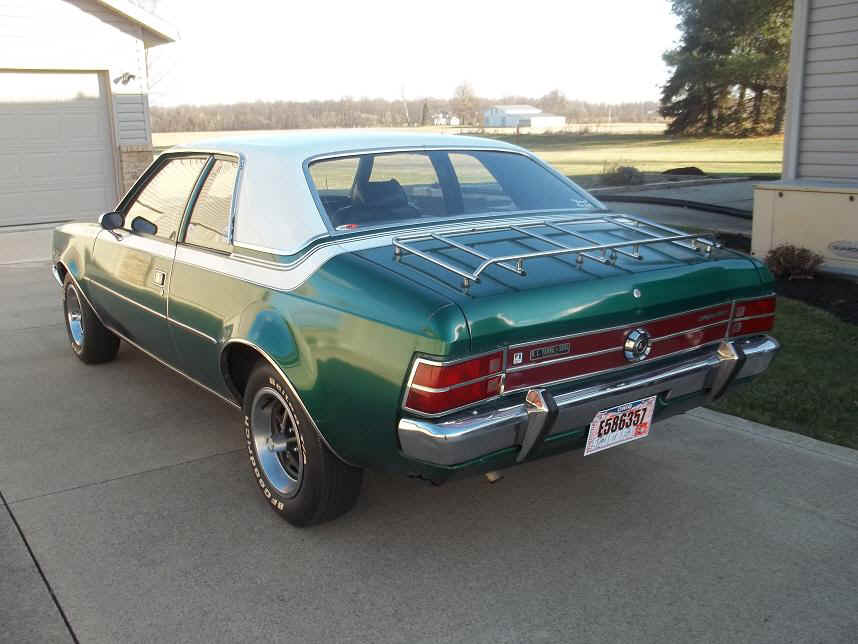 SC/360 in Quicksilver Metallic undergoing restoration August 2016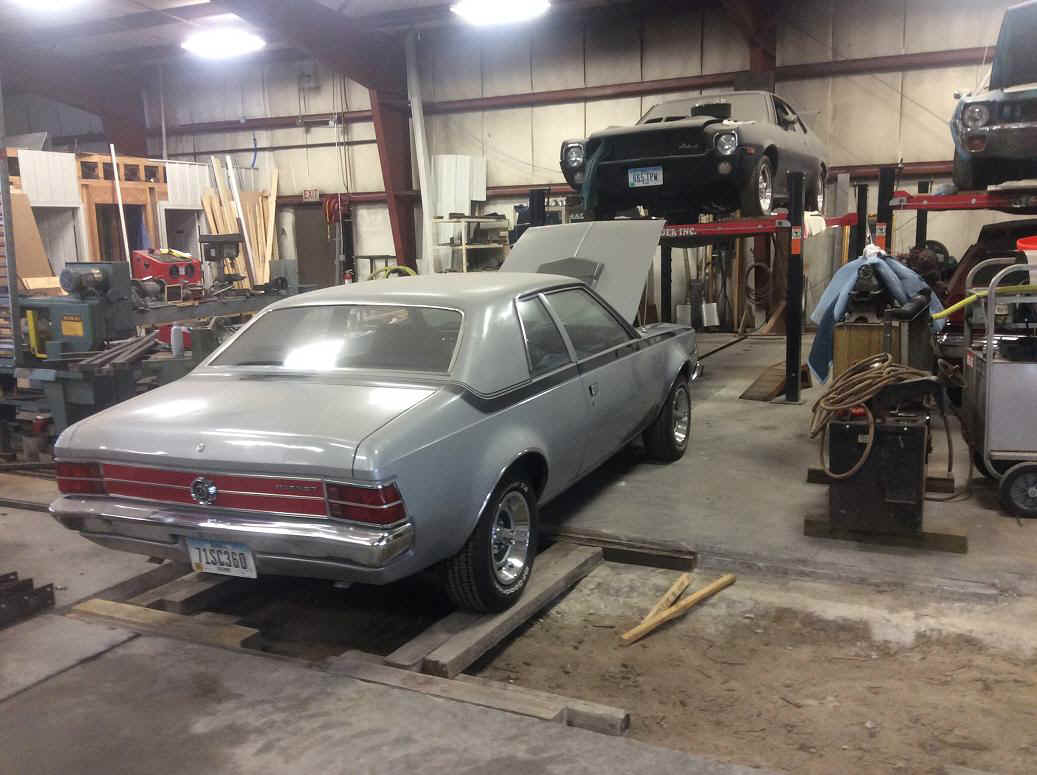 Ernie M of AL is the new owner of this nice SC/360 bought off ebay Spring 2016
Car below was for sale April 2015, which appeared in my free AMC CLASSIFIEDS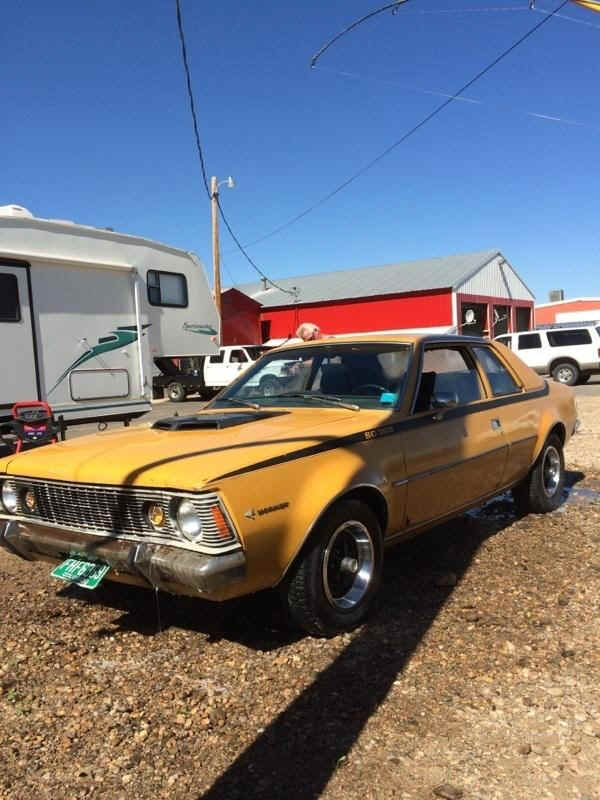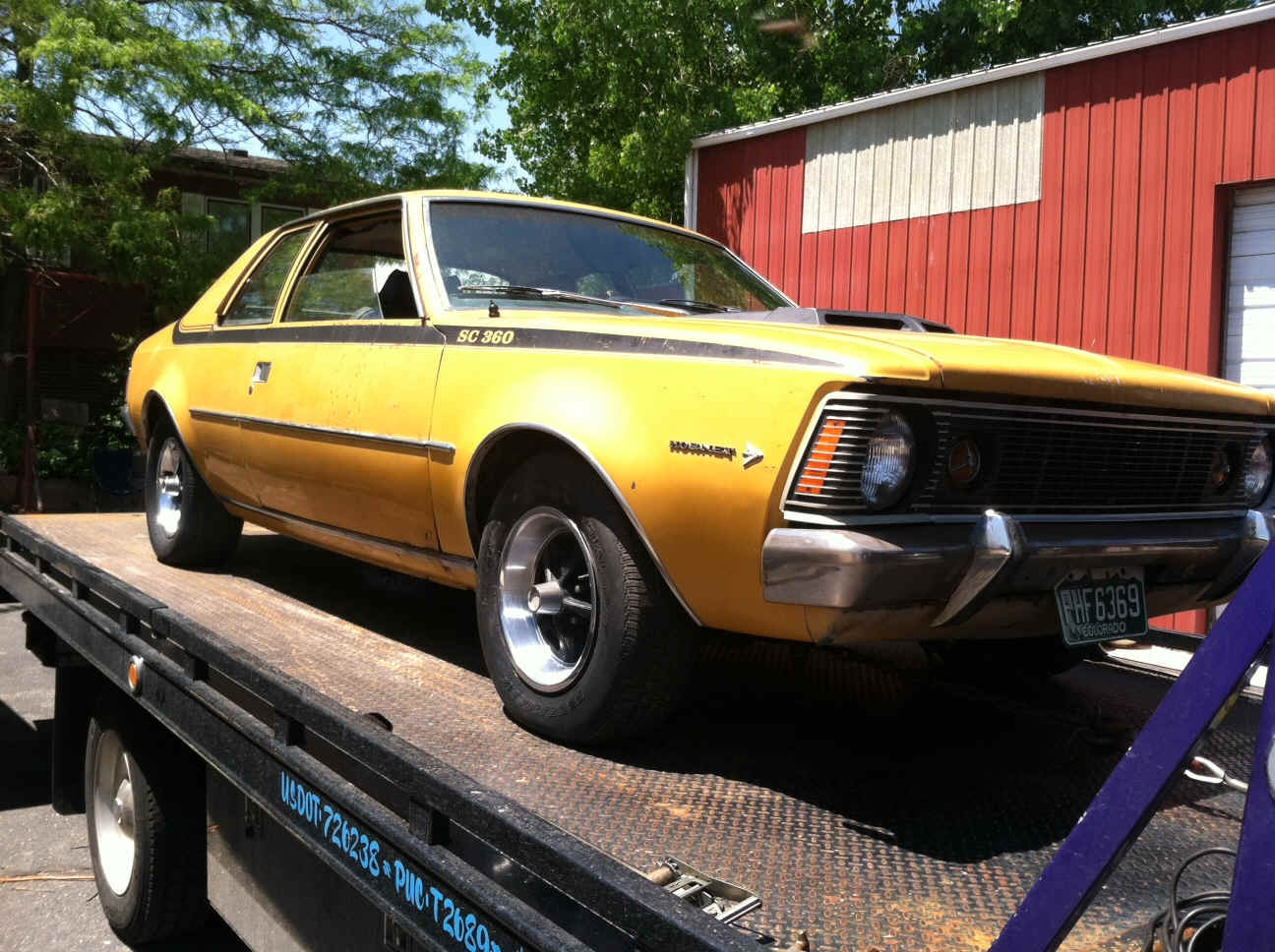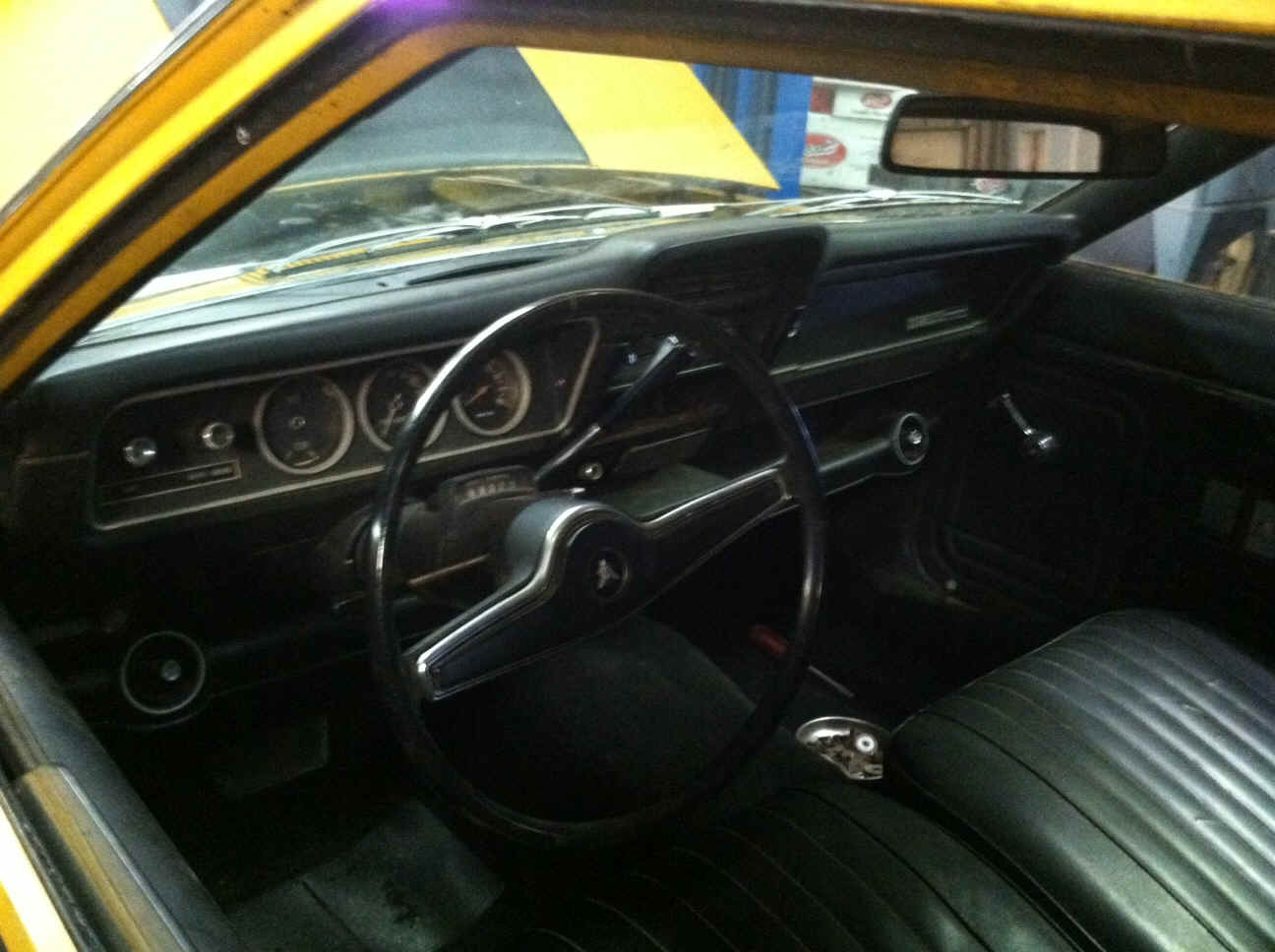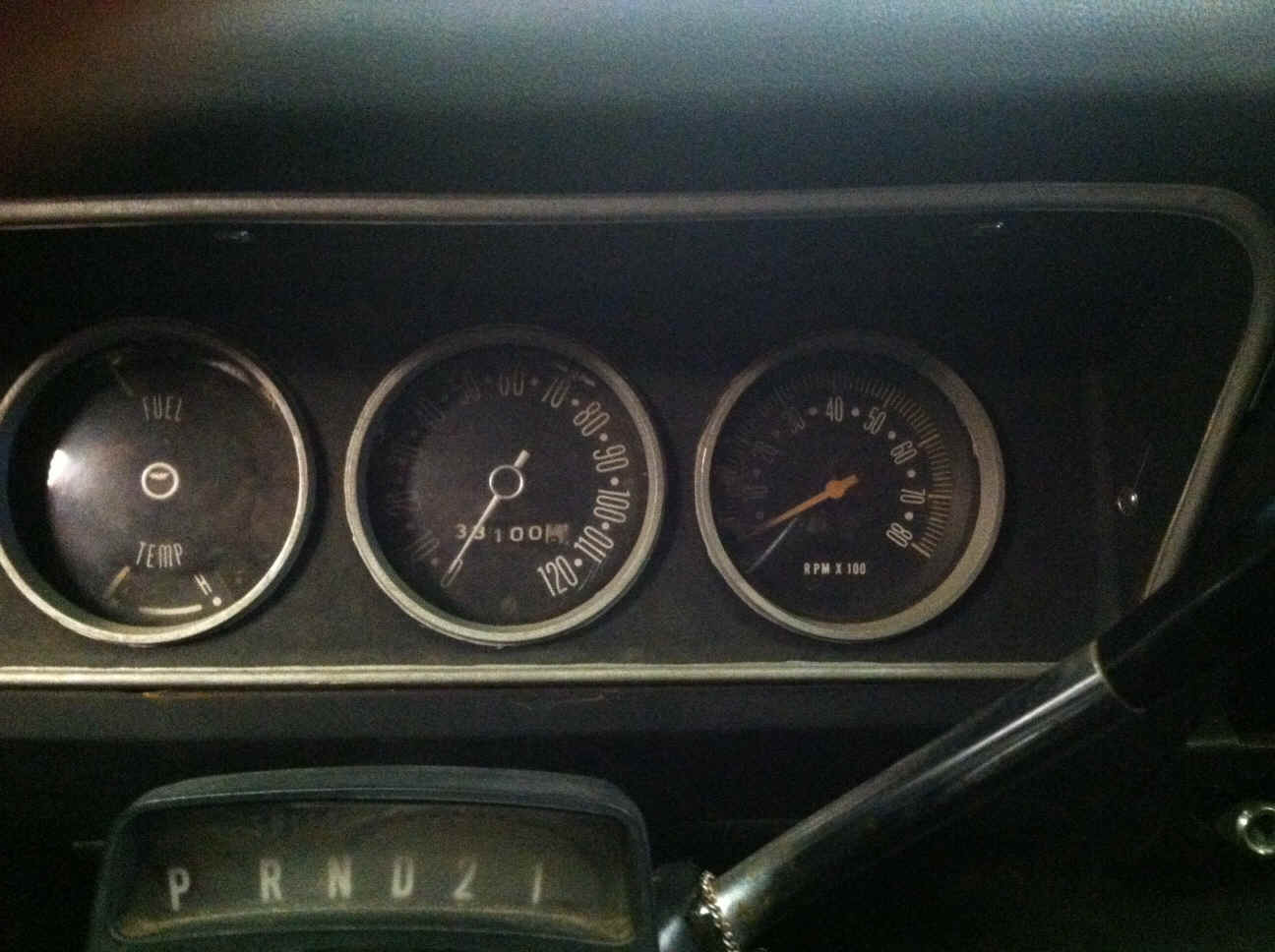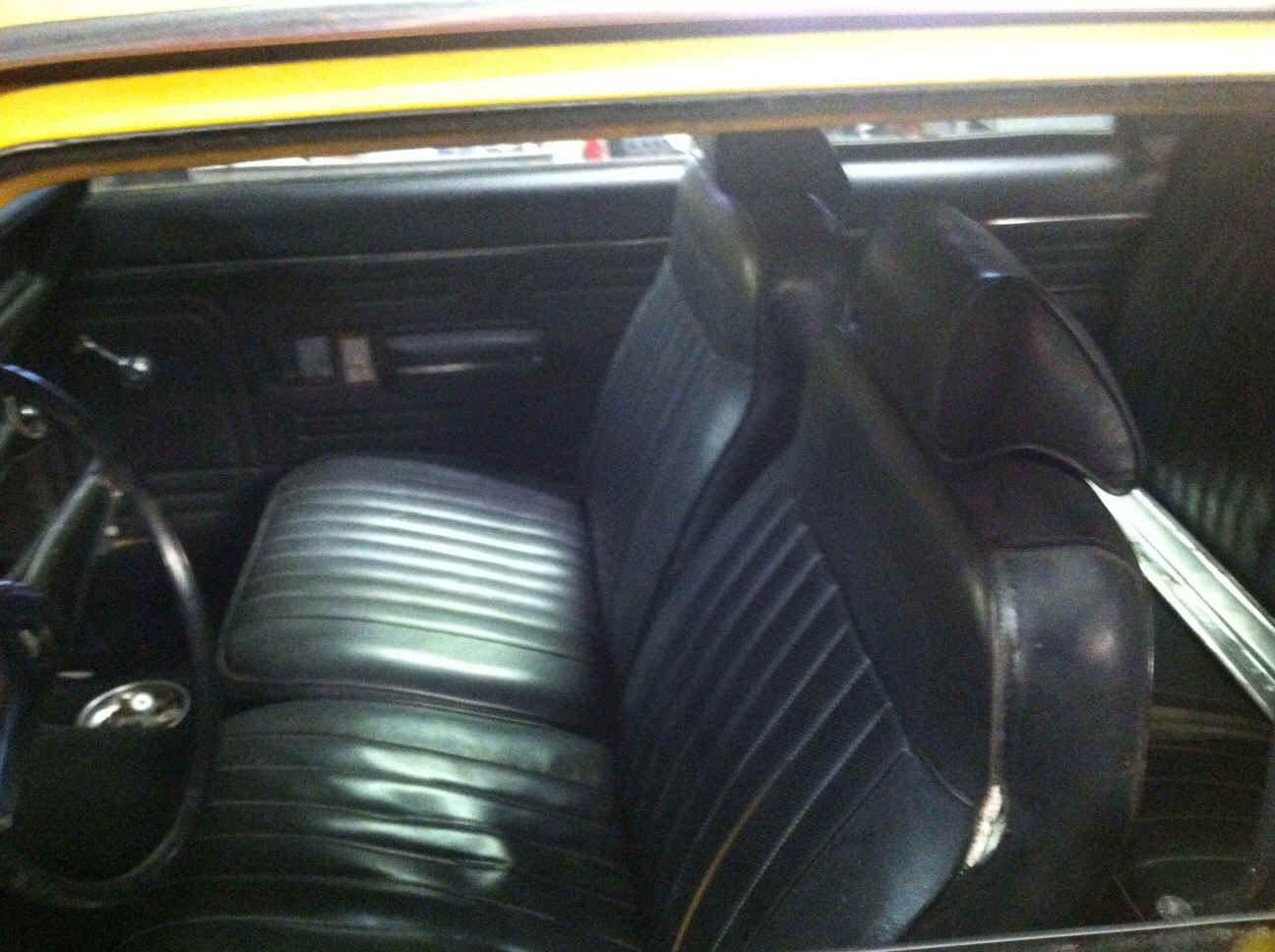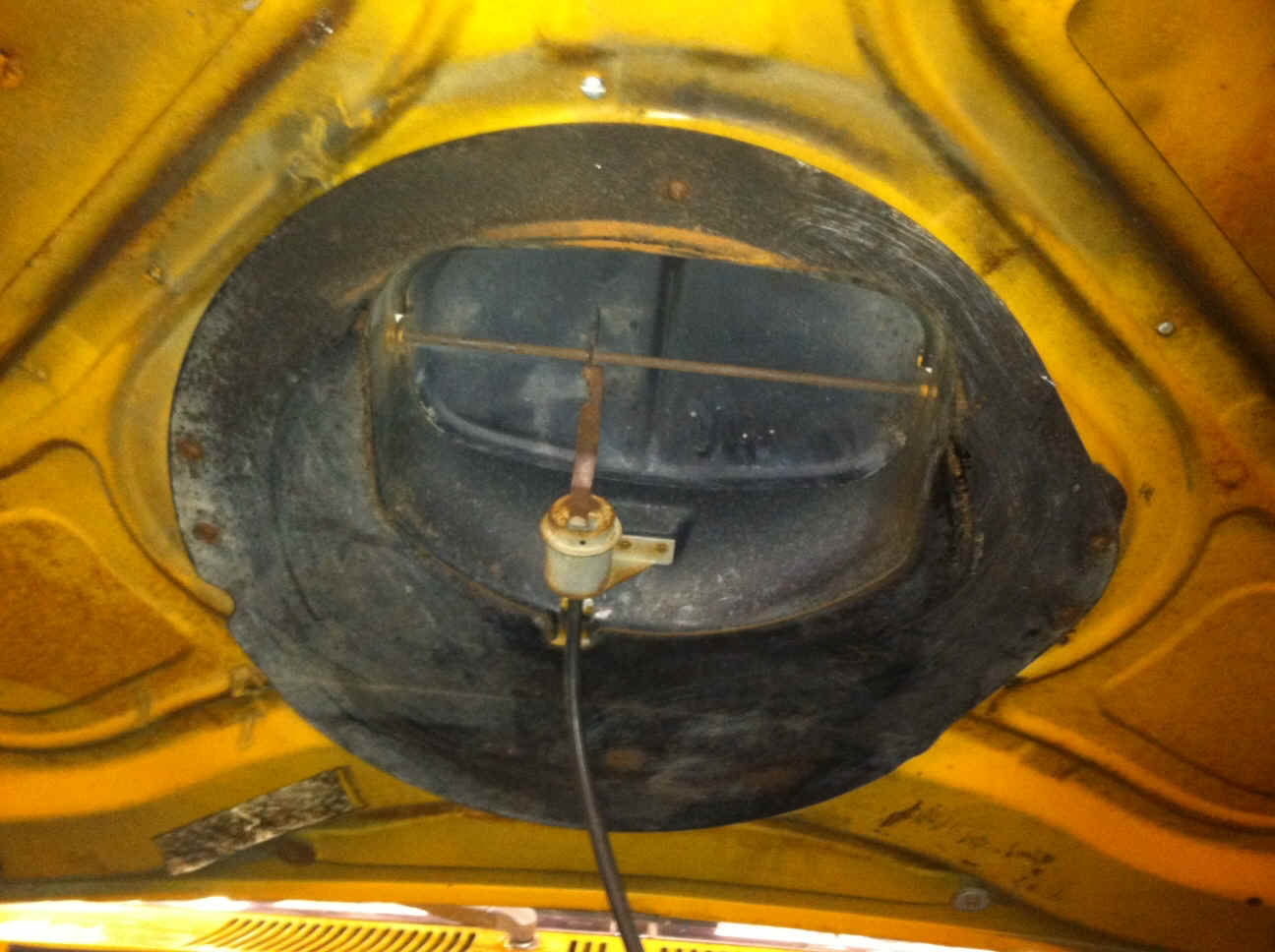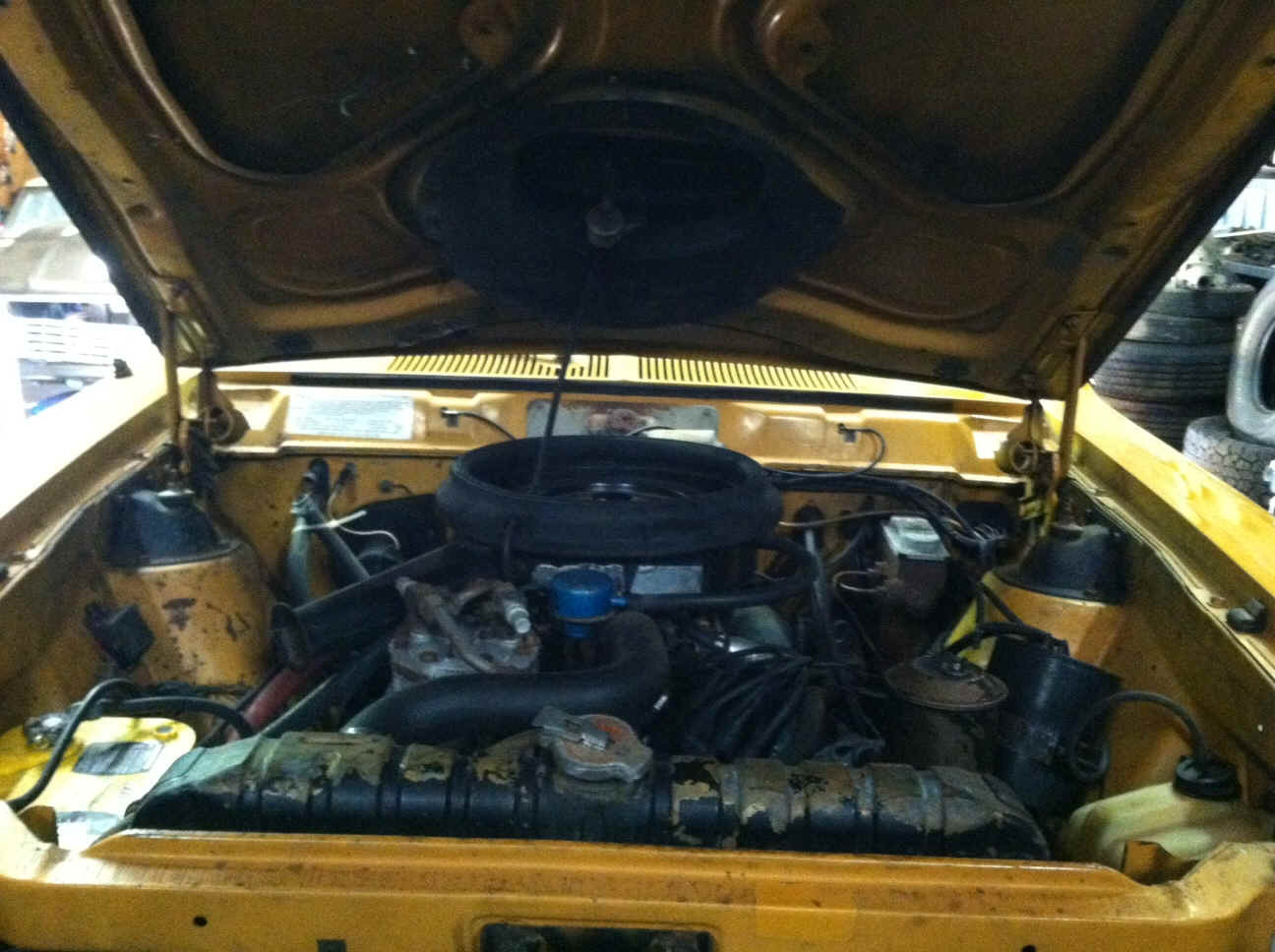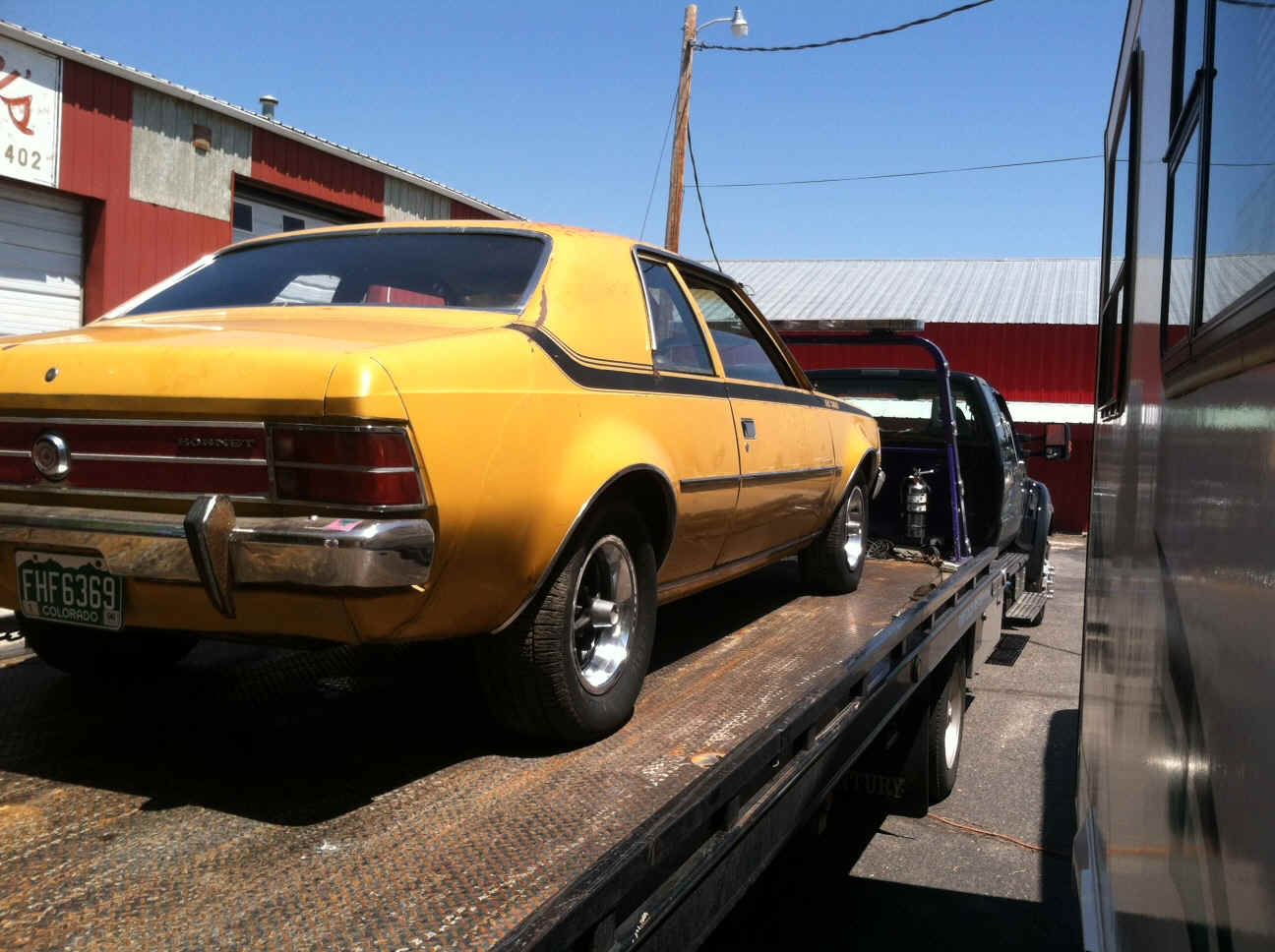 Recent 71 SC/360 sales (2014-current):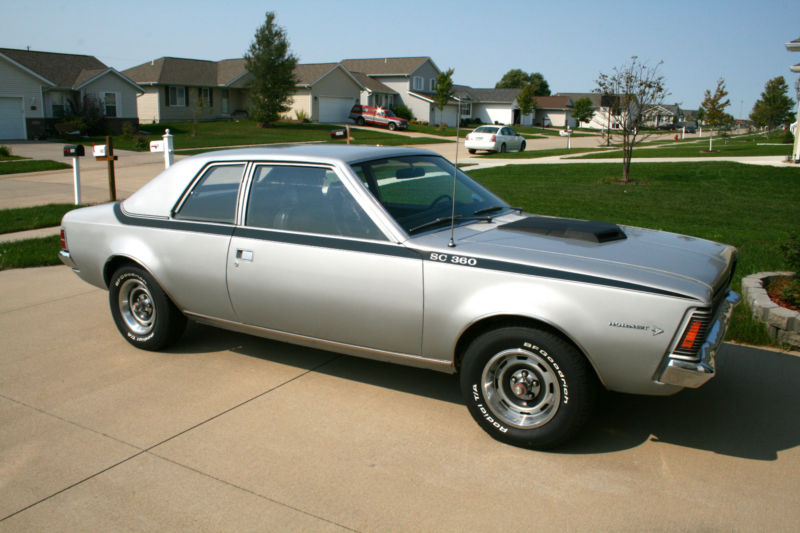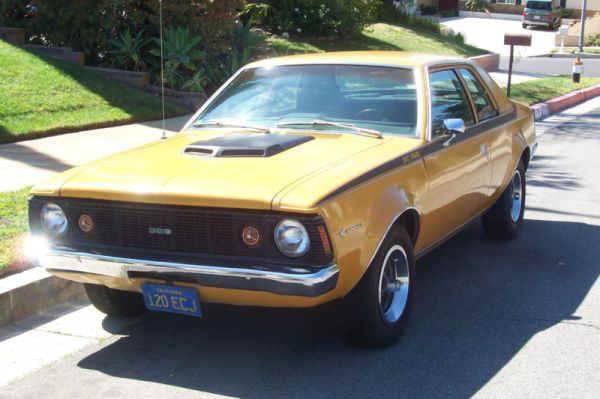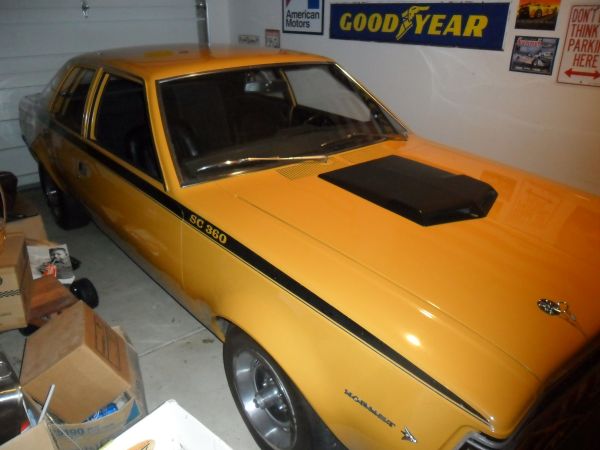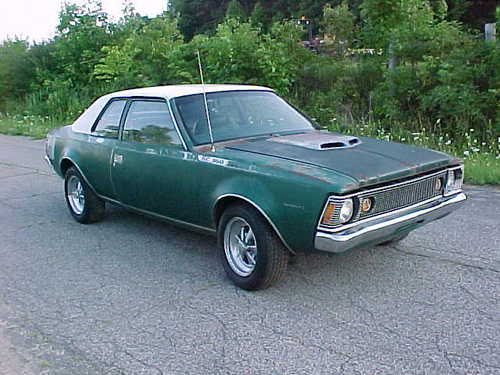 Quicksilver 71 SC/360 $10,500
Mustard Yellow 71 SC/360 for sale on ebay 2-28-13 ($7100)
Mustard Yellow 71 SC/360 $11,000
Brilliant Green/White 71 SC/360 $6500
=====================================
Found Autumn 2014: The lost Ed Hooper SC/360. Solid TX/OK car, one of 187 made, and one of 2 known to exist this color. Photo is of it being delivered by auto transport to my driveway at night.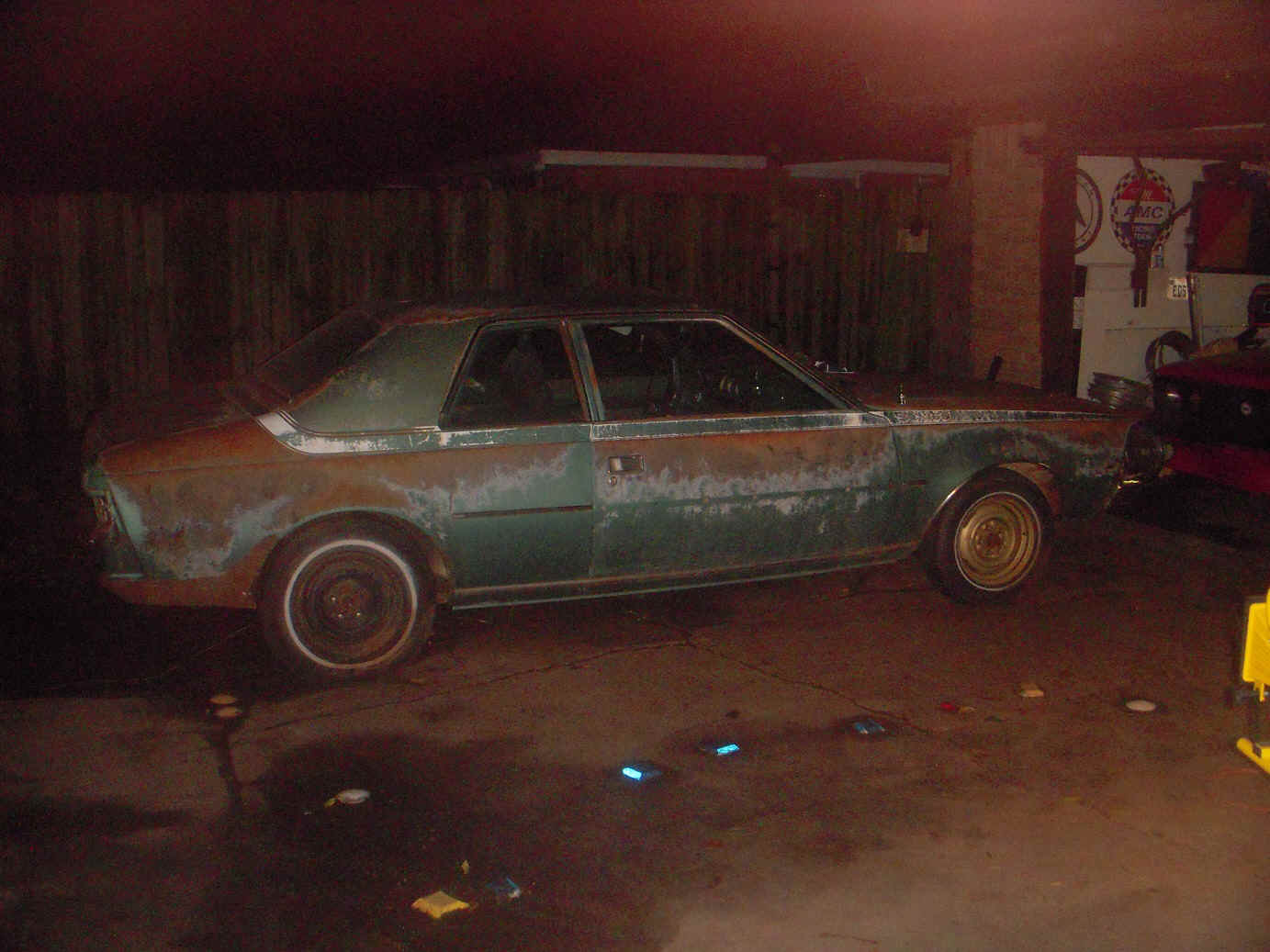 4th of July 2012 my SC/360 was featured again on Houston, Texas, KPRC Channel 2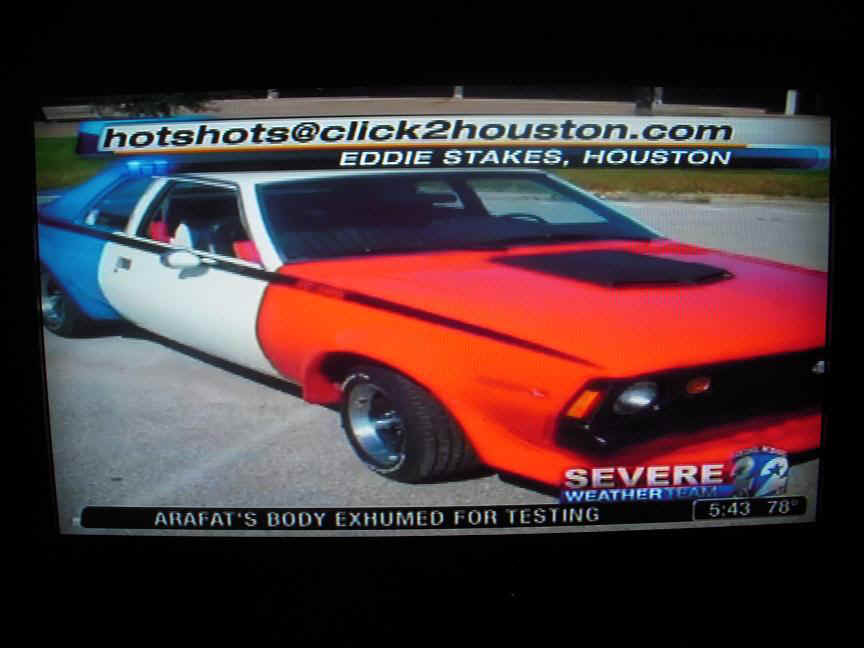 Click here to see the broadcast on youtube.com
http://www.youtube.com/watch?v=3MRVs-o0qw8&feature=youtu.be
New SC/360 Items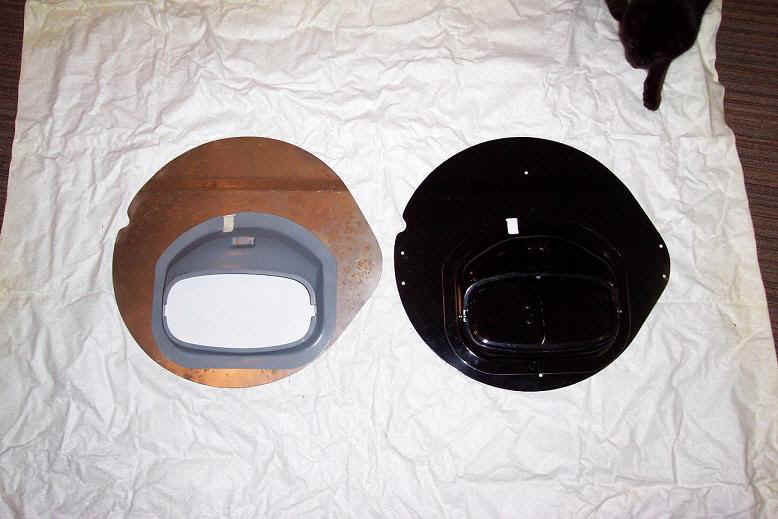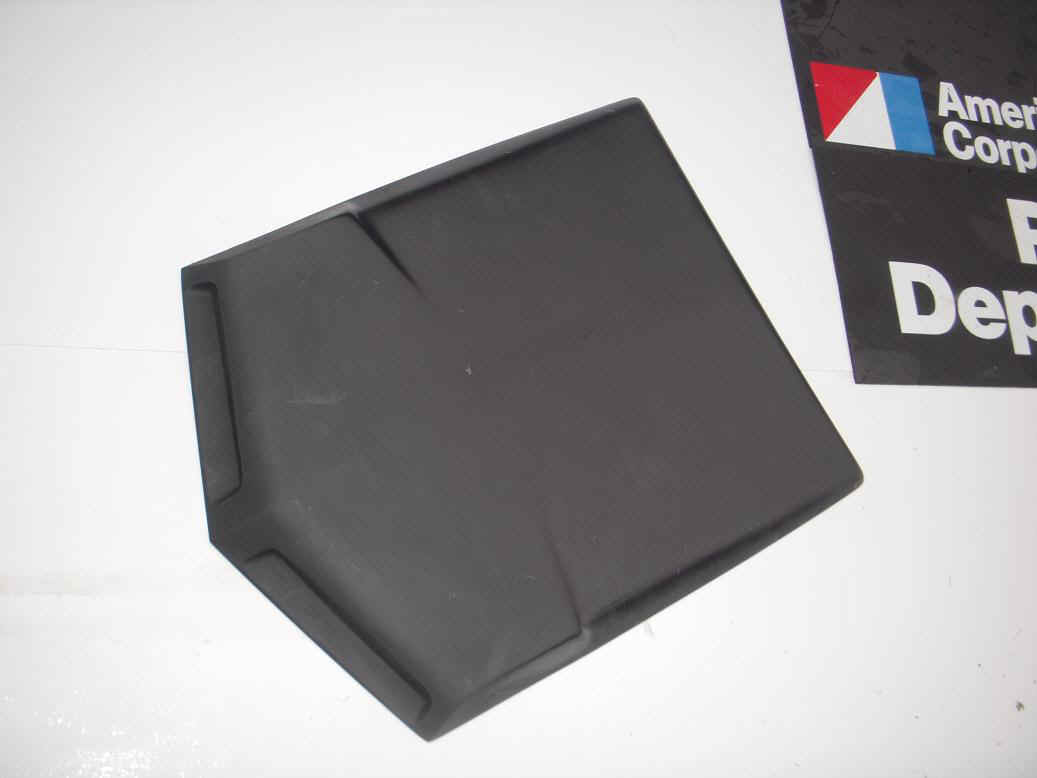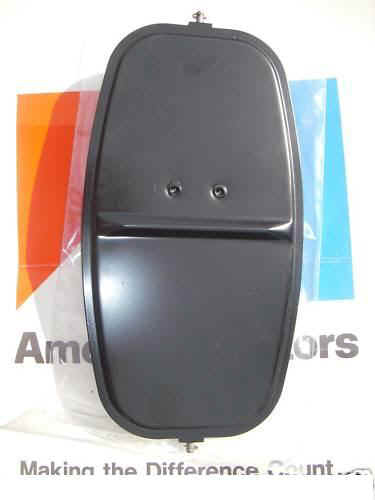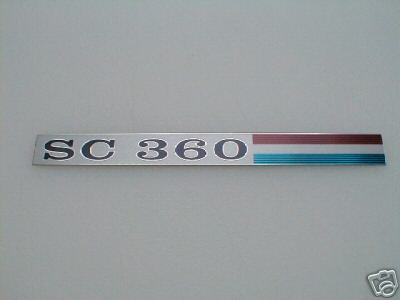 For the ram air dome please call Steve at 561-213-4848. For the Ram Airt scoop & ram air metal flap with rod, you can contact me to see if in stock, 713-464-8825. On the SC/360 glovebox overlay piece, I have two styles, original & custom for sale.

NEW SC/360 Hornet metal glovebox LIMITED P[RODUCTION emblems
Stock type $30
Want one or two? Email me eddie@planethoustonamx.com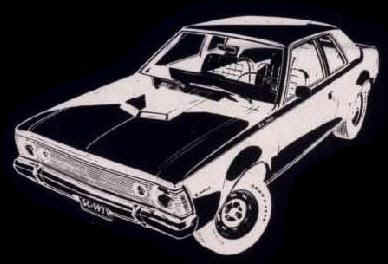 Estimated survivors in 2015: 113-127 vehicles.
Cars known to exist currently: 130 (2019)
As Featured In Hemming's Muscle Machines
The NUMBERS:
TOTAL PRODUCTION IN 1971: 784 (planned production by AMC was 10,000 units)
206 2-barrel, with 187 being automatic and 19 three speed standard.
578 were 4-barrel, with 249 automatic, 23 3/speed, and 306 4/speed standard.
1971 AMC Hornet Production Figures
Body 7106-0 (base) 2dr Factory Price $2174.00 Shipping Weight 2654 lbs Production total 19,395
Body 7105-0 (base) 4dr Factory Price $2234.00 Shipping Weight 2731 lbs Production total 10,403
Body 7106-7 (SST) 2dr Factory Price $2324.00 Shipping Weight 2732 lbs Production total 8,600
Body 7105-7 (SST) 4dr Factory Price $2274.00 Shipping Weight 2691 lbs Production total 10,651
Body 7108-7 (SST) 4dr Wagon Factory Price $2594.00 Shipping Weight 2827 lbs Production total 73,471
Body 7106-1 (SC/360) 2dr Factory Price $2663.00 Shipping Weight 3300 lbs. Production total 784
Vehicles appeared in AMC Dealerships showrooms in October 1970.
Production began for 1971 AMC vehicles August 1st, 1970.
Production ended for 1971 AMC vehicles July 30th, 1971.
TOTAL MODEL YEAR PRODUCTION (all AMC models) 244,758
TOTAL CALENDAR YEAR PRODUCTION (all AMC models) 256,963
TOTAL PRODUCTION OF HORNET SERIES 123,304 Units
You can't "fake" a 71 SC/360 due to that 6th digit in the VIN. (see production above).
Not ALL SC/360 Hornets had Go Pack, nor Ram Air systems. The Ram Air scoop
was designed by Rockwell Corporation; the same people who design and build aircrafts. I estimate of the 784 SC/360s produced, roughly 1/2 of them had this Ram Air feature. SC stood for 'SUPER COUPE' the 360 was the 360 AMC cid/285 hp engine. The ONLY way to distinguish the SC/360 from other production Hornets is the 6th digit of the VIN, which is a one (1). Like AMX, there is nothing in the VIN or Door Trim Tag to determine if the car had Ram Air, nor Go Pack.
This is a original...NOS SC/360 Ram Air scoop in my personal collection:
When Rockwell painted these the matte black, they were only concerned with paint coverage on the areas that would be visible when it was mounted. (As with earlier AMC scoops Rockwell didn't make including non functional scoops like 69 Javelin MOD scoops). Over-spray on the rest of the piece wasn't important. The black specks you see on the Rockwell sticker are from over-spray. The Rockwell sticker is approximately 3 3/8" x 1 1/8". The number code at the bottom is raised numbers. The number code is about 1/8" high.The cracking on the stanchions was apparently "fresh" from the factory and did not come from use.
SC/360 Ram Air System of a functional SC/360 Hornet; Note flapper and vacuum actuator in the upper innards of the hood. This would be the last year American Motors would use "Ram Air" in any production vehicle. (Cowl Induction would only be offered in the 72-73 AMX) The bare unit shows dome and offset oval baffle. The same "dome" appeared in 69 SC/Rambler & 70 Rebel Machine.
Some SC/360's featured the Group 15 Accessory Low Fuel Warning System, although all 71 Hornets did have the small cutout in center of fuel gauge for flashing red light, not all received this as it was a option.
The SC/360 was never offered with AMC's formidable most powerful first year production engine, the 330hp 401V8 in 1971 sadly. No 304V8 available either. Not to say people have not done this to this great sedan body AMC built from 1970 thru 1976. This is Ron Gibson's SC/401 Hornet.
The SC/360 was never considered by AMC for a carryover "Hornet Machine Package". There was a carryover 1971 Matador Machine with 68 produced.

The only original ad AMC ever produced for the 71 SC/360.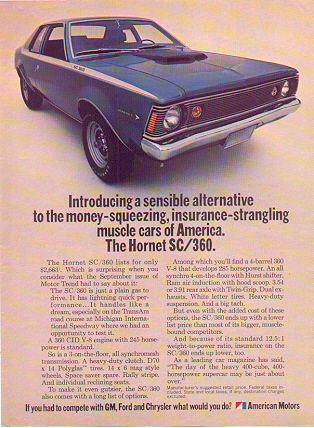 While Hornet sales were solid with a total Calendar Year Production of 123,304 Hornets made, not much, if any marketing was directed at the SC/360; as Musclecar sales were slowing down dramatically across the board for US car companies. Personally, I believe if AMC had marketed this car a little better, it would have sold a little better! I compare it to Pontiac's Grand Am in 1977, when X amount were scheduled for production, but less than 1500 made when the rear spoiler machine broke, Pontiac stopped production abruptly. It also didn't help the cause that AMC could not give away the slow selling 70 Rebel Machine, nor 70 AMX; over 1000 70 AMXs were still on Dealers lots in July 1970, one month before the NEW 1971 models would begin production. The 70 Javelin saw production drop to only 1/2 of what 1969 had been. And there was a strike in 1970 that cost AMC production of a whopping 36,000 vehicles. And insurance was already cracking down on 'big horsepower' mentioned in AMC's ad above.

1971 SC/360 AMC Press Release photo in black & white. This is the ONLY Press Release photo ever offered of this rare vehicle! Complete with slinky chick model!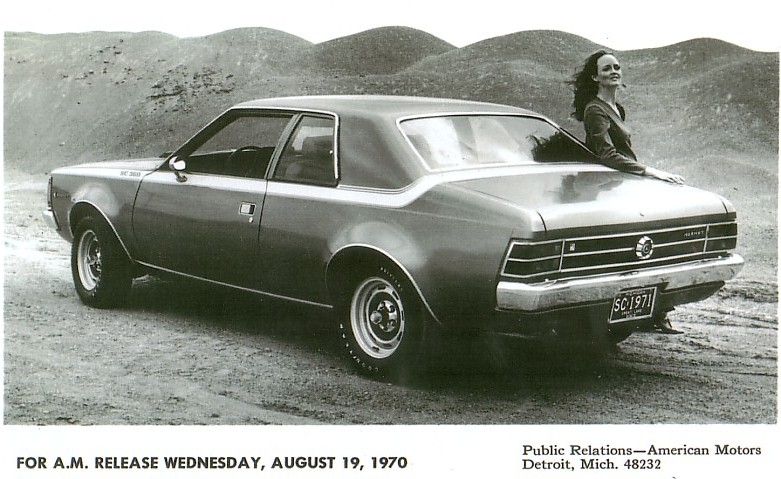 These are several extremely rare COLOR Press Release photos (Early September 1970 photos) of the new
1971 SC/360 with model. These rare AMC color press photos never appeared in ANY AMC literature or releases sadly; ending up on AMC's Marketing Department cutting room floor. Note manufacturers license plate) and a side angle of same vehicle less model. The last one is a Unreleased Press Pix of the new 71 SC/360, taken same shoot in hills as above. I do not know if same car as in color photos, chances are it was. Black & white photos were used by AMC 95% of time since they showed up best in media.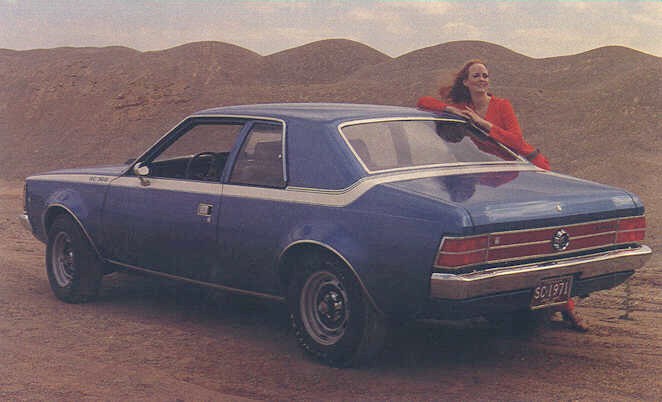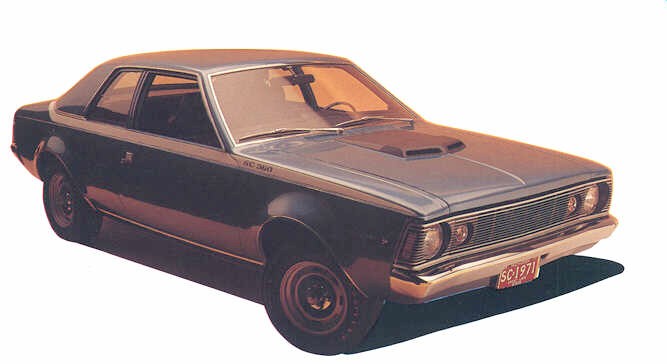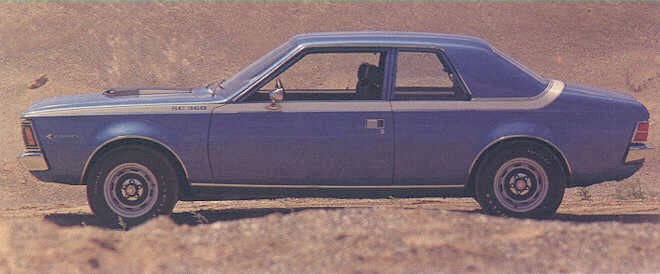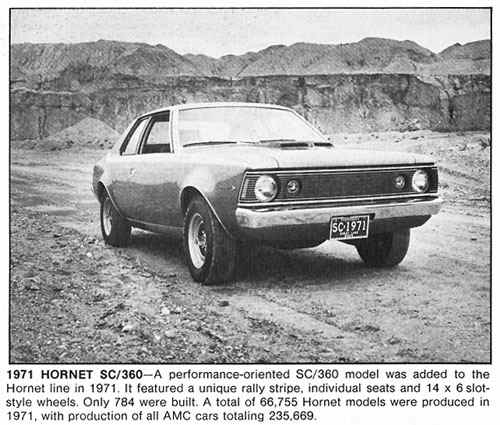 Original AMC Dealership lighted sign showing the SC/360 in Electric Blue.
Original SC/360 Window Sticker & unknown flyer. Factory Dealers Catalog Group 26 stripe kit illustration.
Your Hornet began as wonderful ideas back in 1966 and 1967 with AMC's "Project IV" tour of the US with actual prototypes. Besides the AMX, you had Cavalier, AMX II and Vixen: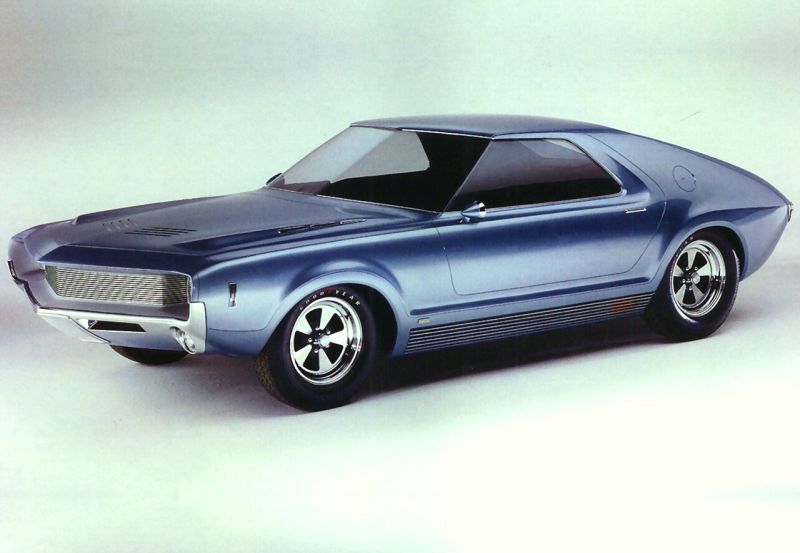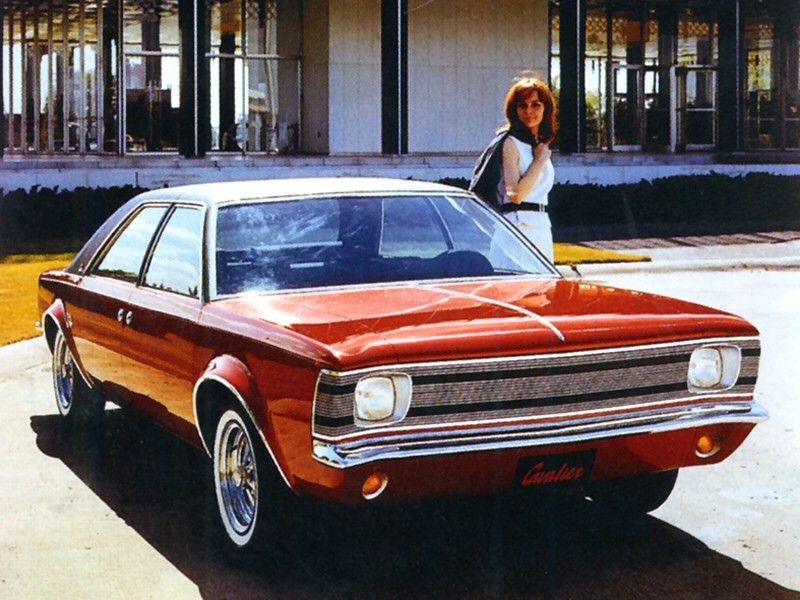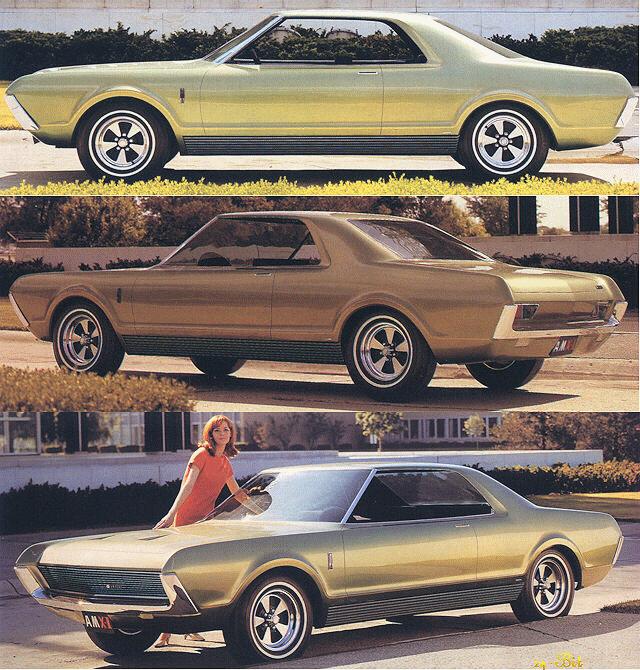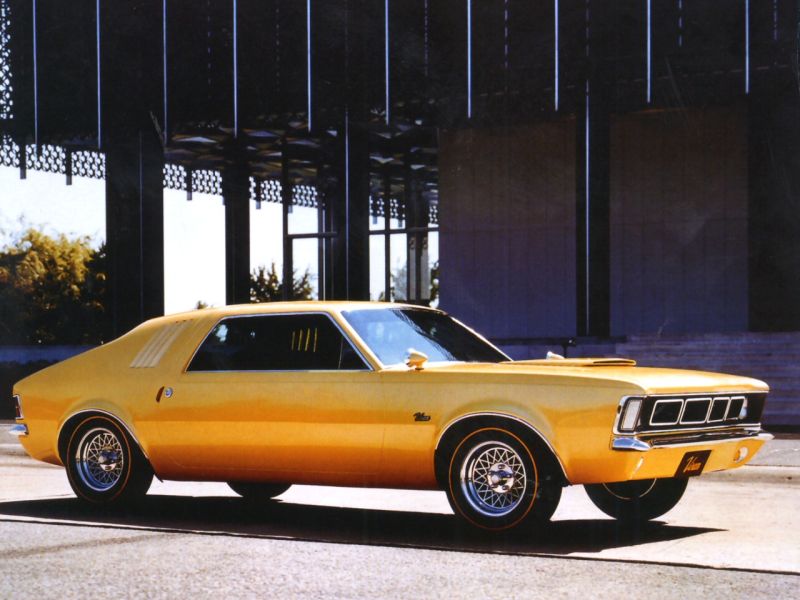 The AMX prototype most are familiar with. The Cavalier was ahead of time with interchangeable body panels, which would reduce tooling costs; the fenders interchanged with 1/4 panels suicide doors interchanged! The AMX II was a modified fastback which had red, yellow and green tailights so cars behind would know of driver's intentions; and the doors would lock automatically when key turned! The Vixen, it featured a recessed concave rear glass flowing into the deck. And because of it's non reflective shape and position, the glass appeared to be invisible from both inside...and outside. The vents on the landau type roof angled back at 45 degrees to give the driver wider rear vision. While these cars were being shown......the work was already underway on real production cars! And while this didn't lean to actual production cars in 67-68, the design was already underway for the new 1970 Hornet to be stamped in summer of 1969.
Free bumper stickers were available at your Friendly American Motors Dealerships. One is a big band aid with little "bee" mascot AMC was using for Hornet: "I Got Stung & I Love It!" while other is a Peter Max psychedelic "Truth, Love & Beauty" MOD bumper sticker. Both quite rare as they were made in paper back then. These are from my collection.
American Motors originall intended to call the SC/360 "Hornet Hustler" or "Hustler Hornet" A last minute change of heart by AMC's Marketing Department changed it to SC/360. You can still find some NOS SC/360 items (stripe kits especially!) with "Hustler Hornet" stamped on them next to AMC Part & Group Numbers. Some AMC Dealers had to abruptly change their ads like Dick Holland Motors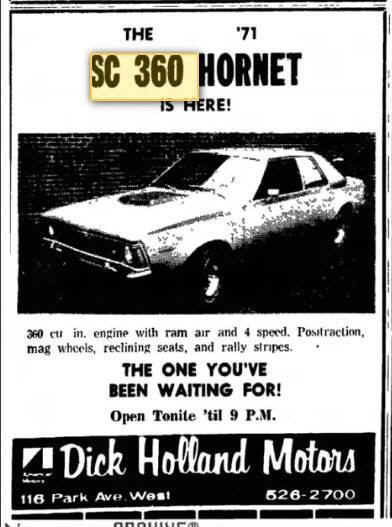 1971 HORNET OPTIONS & PRICES:
Go Pack $199.00 including: four barrel carb, Ram Air induction system,
dual exhausts, handling package, tachometer, Polyglas white letter tires.
This also included the flattened hood scoop.
Automatic Shift Command floor mount transmission $200.00
Three Speed manual floor shift trans $32.00
Shift Command column shift automatic $238.00
Twin Grip rear end $43.00
70 amp battery $14.00
Dual exhausts $31.00
Engine block heater $12.00
Heavy duty cooling system w/ heavy duty radiator, powerflex fan & shroud $16.00
Cold start package $18.00
Power brakes $45.00
Power front disc brakes $84.00
Power steering $111.00
Air conditioning $399.00
Front bumper guards $9.00
Rear bumper guards $11.00
Tinted glass, all windows $40.00
Tinted windshield $30.00
Headlight delay system $23.00
Rear deck luggage rack $32.00
Body side scuff molding $32.00
AM push button radio $67.00
AM/FM push button radio $224.00
Custom steering wheel $14.00
Rim-Blow steering wheel $37.00
Tachometer (non Go Pack cars) $50.00
Visibility Group $47.00
Light Group $29.00
Electric Wipers no/VS $22.00
Undercoating $18.00
Undercoating & hood insulation $22.00
Styled steel wheels $46.00
Clock $50.00
1971 EXTERIOR PAINT Options
A1=snow white
A4=skyline blue
A6=midnight blue metallic
A8=meadow green metallic
B2=burnish brown metallic
B4=charcoal grey metallic
B6=electric blue metallic
B8=mustard yellow
C1=golden lime metallic
D3=baja bronze
P1=black
A2=canary yellow
A5=midway blue metallic
A7=limelight green metallic
A9=raven green metallic
B3=quicksilver metallic
B5=deep maroon metallic
B7=brilliant green metallic
B9=matador red
C6=surfside turquoise
D9=wild plum
P81=gray

INTERIOR TRIM CODES
T141-D black vinyl
T141-C black fabric
T141-V serape black
T143-D blue vinyl
T143-V serape blue
T143-C blue fabric
T144-D green vinyl
T144-V serape green
T144-C green fabric
T145-D red vinyl
T145-V serape red
T145-C red fabric
My mission is to research these rare vehicles as much as possible to learn why these cars did not sell as planned (although 71 was a tough transition year for AMC); I also want to find out if any, Hurst's involvement and development of these cars. What was AMC's marketing strategy with this car, and why marketing was so limited if a run of 10,000 units planned. Why do the known black cars have differences than other production colors (just like 78 AMXs do).
So YOUR INPUT IS EXTREMELY VALUABLE to all American Motors SC/360 Owners!
Please register your sc/360 hornet!
What I will need from you...
1. Metal door tag information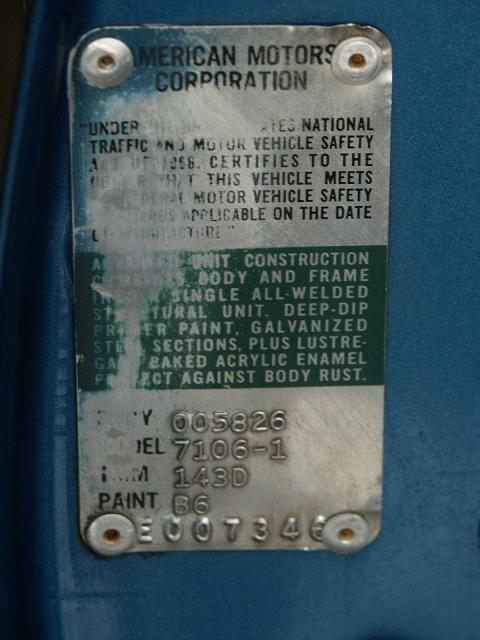 this will be located inside the driver side door, and the information will be listed as follows below:
Body: (When it went down the line)
Model (all will be 7106-1)
Trim: (interior color)
Paint: (exterior color)
Line number is the very bottom series of numbers and letters between the rivets showing east or west line Kenosha build. (All should be East!)
2. Plastic build date tag information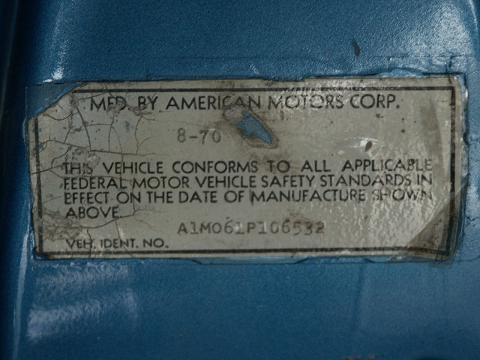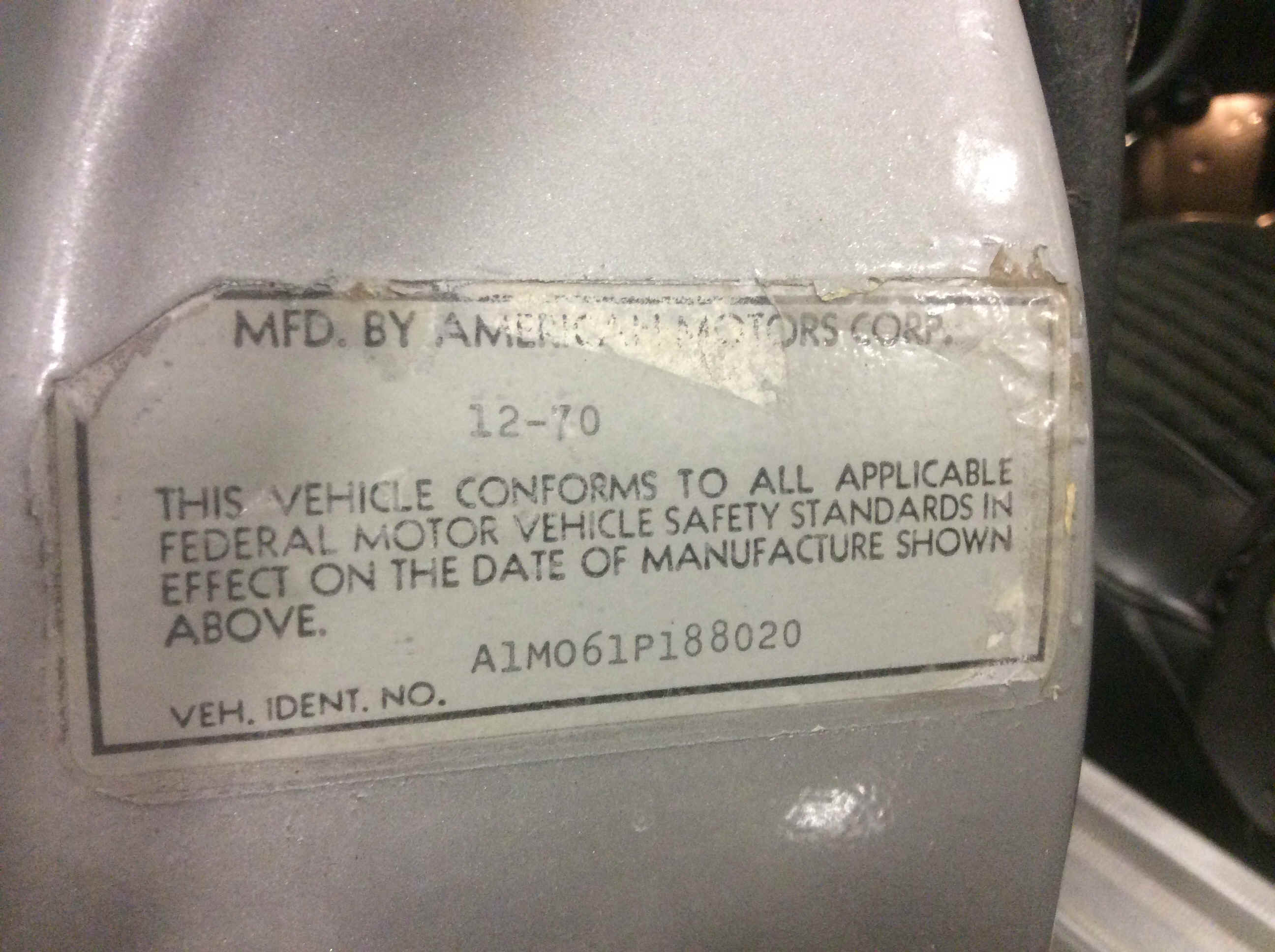 I would also like your plastic build date above this tag on the driver side door, such as 'September 70' This tag is always found directly above the metal driver side door tag.
3. VIN in driver side of dash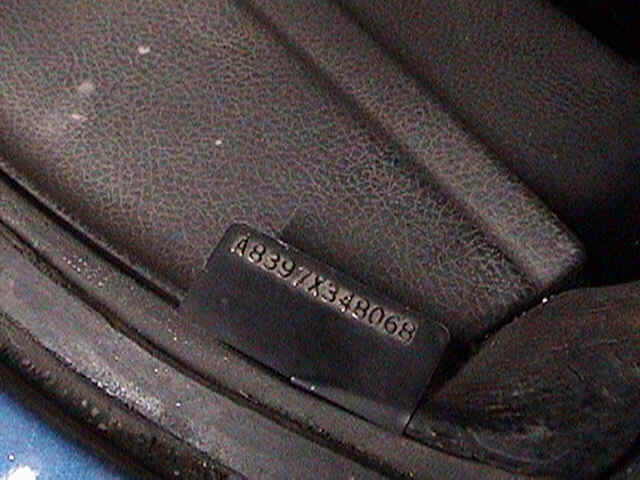 The VIN not only appears on your plastic door tag, but all have a metal VIN plate (in case your plastic door tag is long gone) but the VIN will be right beneath the windshield on the driver side lower front.
4. Your complete name, mailing address for my records.
5. A few good, clear jpeg photos of your vehicle like many cars below.
The information you provide will not be shared with anyone. Period.
SC/360 PHOTO GALLERY

New kid on the block, Jesus R. 2019 beautiful WHITE SC/360 Hornet!
John J with his new 71 SC/360 Hornet!
71 SC/360 B7 Brilliant Green Poly
The late, great, Bob Ripley drove this car from Seattle to Kenosha for the super AMC National Homecoming meet. Bob sat with Paige & me at the AMO banquet, and when time came to give out award for "long distance" several people stood up to claim it. Even Florida backed off when they found out he had driven 2200 miles from Seattle! Bob, it was a pleasure meeting you, and God bless you.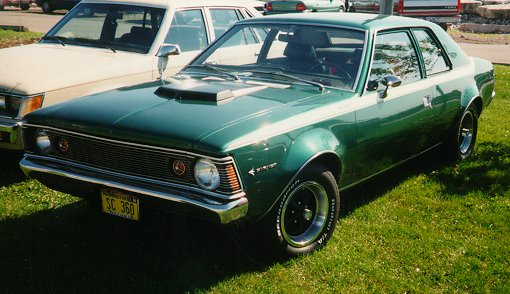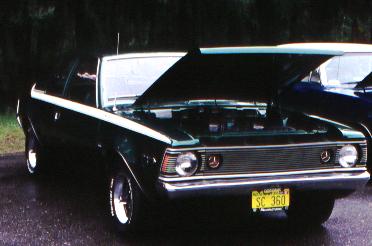 71 SC/360 B6 Electric Blue
Original non Ram Air & engine bay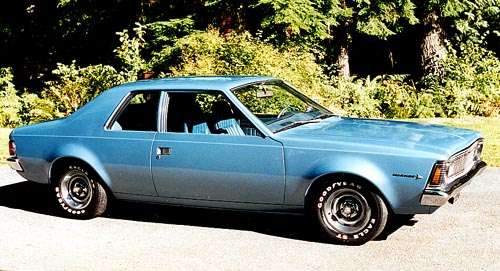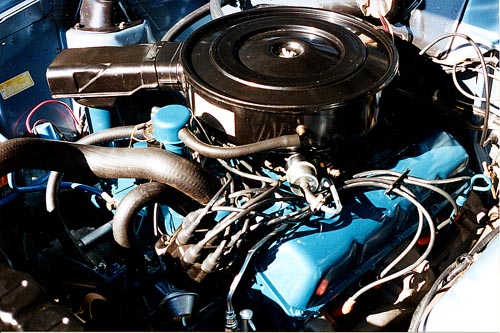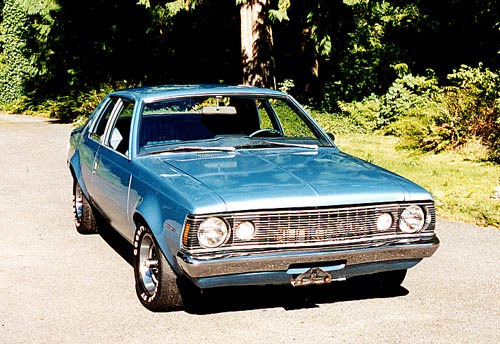 71 SC/360 B8 Mustard Yellow
photo I took at AMC Nationals, Kenosha, WI in 1994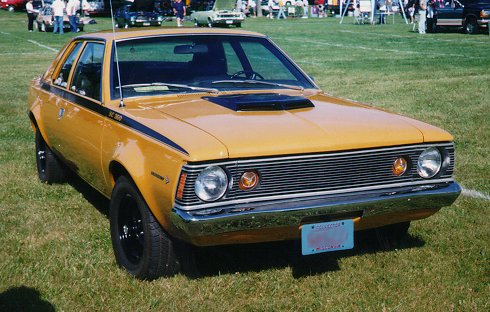 71 SC/360 B6 Electric Blue Poly.
Only 249 made with 360cid/290hp AT/column shift.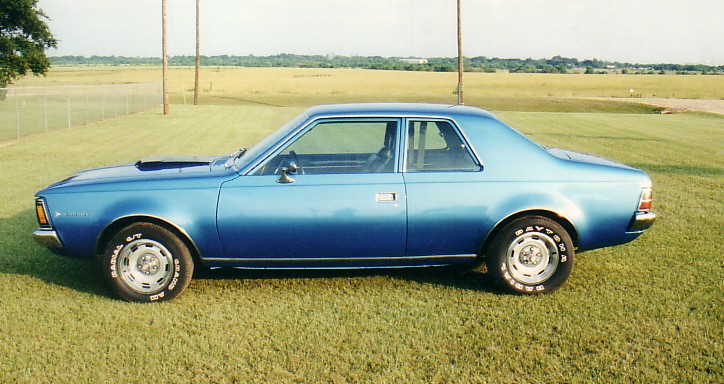 71 SC/360 B9 Matador Red
is raced regularly in PA. Car is a consistent 13 second car, dead stock.
Blaine Hertzog's car is also a automatic..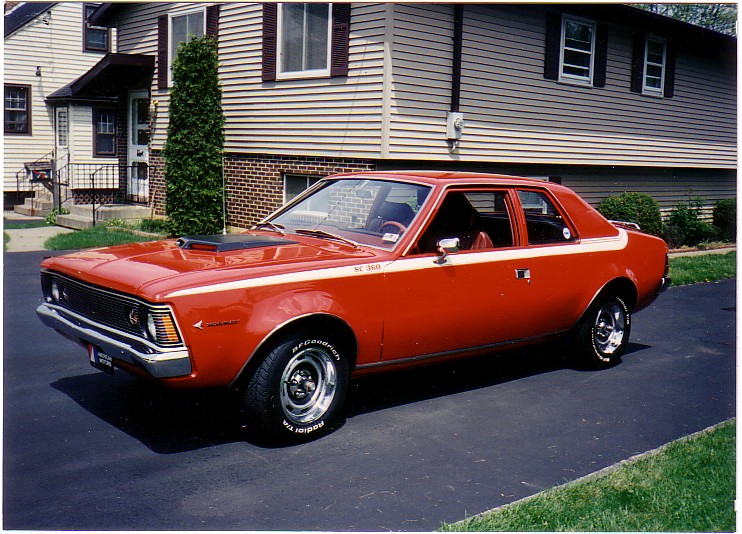 71 SC/360 B6 Electric Blue
on the show field in Kenosha, Wisconsin for the 1998 Homecoming.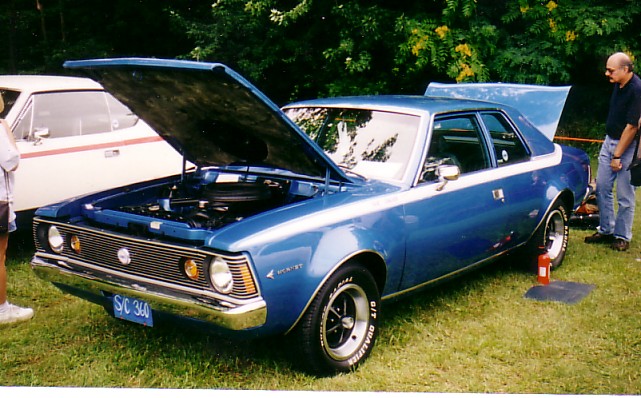 71 SC/360 P1 Classic Black
is one of the rarest colors! Black cars have some differences not found on regular production colors. Black paint was a $56 OPTION more than a "regular" production color. This one is owned by Robert & Jeannine Glen of Canada. They bought it NEW in 1971, and stored until the 1990s! Also shown leading a Kenosha parade below!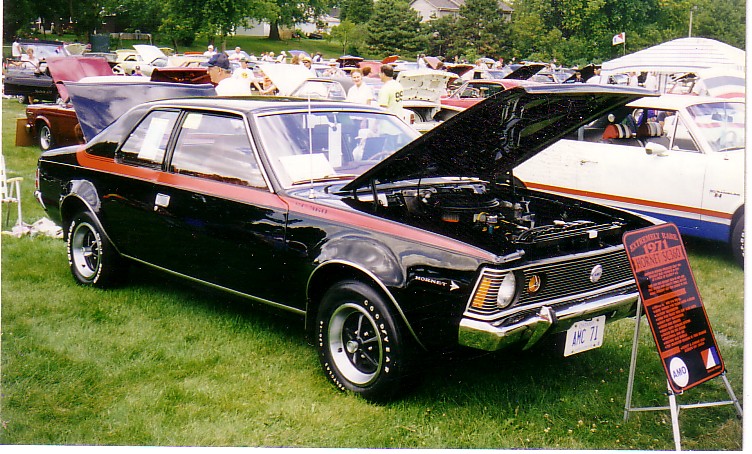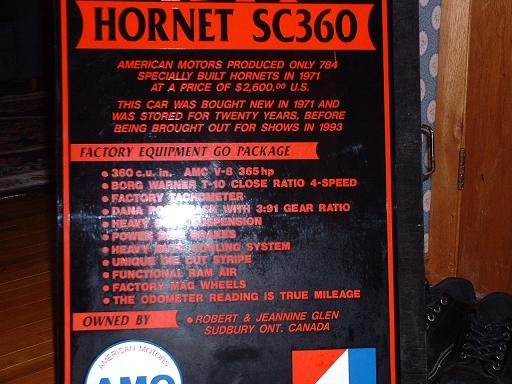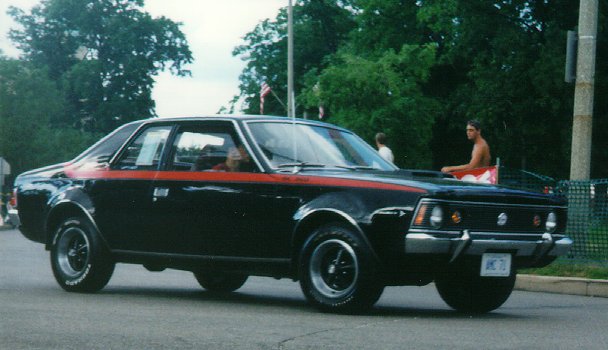 71 SC/360 B8 Mustard Yellow
sits proudly on the Kenosha, Wisconsin Homecoming Field. This car was
running 12 second 1/4 miles at Union Grove the next day.


71 SC/360 A7 Limelight Green
is proudly owned by Kim Jokinen of Finland It is one of about a dozen known to have been exported to Scandanavia. Note "clear" turn signals usually found on Export AMCs. Besides factory Ram Air, this vehicle also sports Power steering and power brakes, along with electric wipers.
appeared on ebay. This California SC/360 sports a rear luggage rack. This vehicle is missing the painted metal housing between the taillights. Interior photo shows is had a unusual pattern on the door panels. Note Rim Blow Steering Wheel unique only to AMC 1970-1971 models.

Angry Bees wrecking havoc at the dragstrip upon brand X!
owned by Jay Houston turns 12.80 at 109mph at the dragstrip. Note different design on the door panel than the Mustard Yellow SC/360 a few photos above.

SC/360 Electric Blue B6
is owned by William Taylor. This interior glows with white seats.
SC/360 Matador Red B9 & B2 Burnished Brown
Gordy Chilson's garage, which looks like many a AMC dealership did in the early 1970s. Gordy is known for the huge MAC meets he puts on in Lawrenceville, PA each year. Burnished Brown is one of the rarest production colors AMC offered in 1971. The Matador Red SC/360 shows bland, bare bones no nonsense muscle with 8000RPM tachometer, no AC, no radio, just the basics.
SC/360 Mustard Yellow B8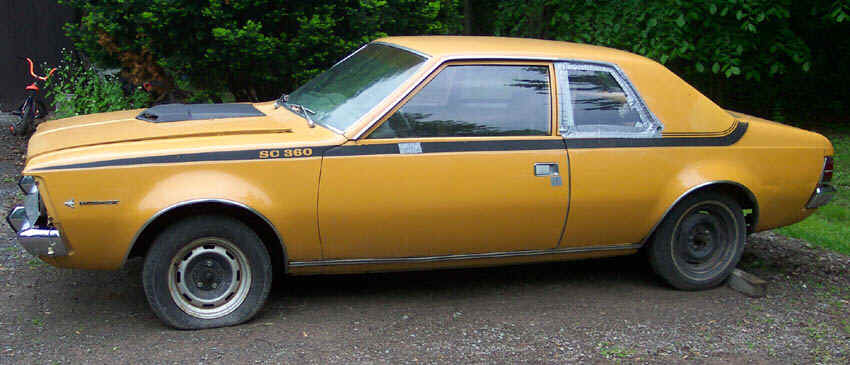 quietly awaits restoration. Note the duct tape around the 1/4 windows. This was a common problem with the 1/4 glass which opened and were held closed by a small clamp. For the 1970-72 Hornet Series sedans, several models came with this option, but AMC sealed them shut due to leakage in 73. This is owned by Joe Roberts. I understand it is/was for sale.
SC/360 Electric Blue B6
owned by Charles Shaw. Charles' car is a beautiful example of a 'unassuming' Hornet waiting to kick some serious tail.
(**Eugene Collum, please resend me your photos as they were accidentally deleted!**)
Eugene Collum's SC/360 is unusual in the fact that is is a heavily optioned out unit. While it is a column shift AT (a $238 option) his SC/360 also sports the following: Go-Pack, Power Steering, Power Drum Brakes, Tinted Glass/All, Air Conditioning, Electric Wipers, AM Radio, Undercoating, Trunk Mounted Luggage Rack, Twin Grip, Front Bumper Guards, Heavy Duty Cooling.
SC/360 Golden Lime Metallic C1.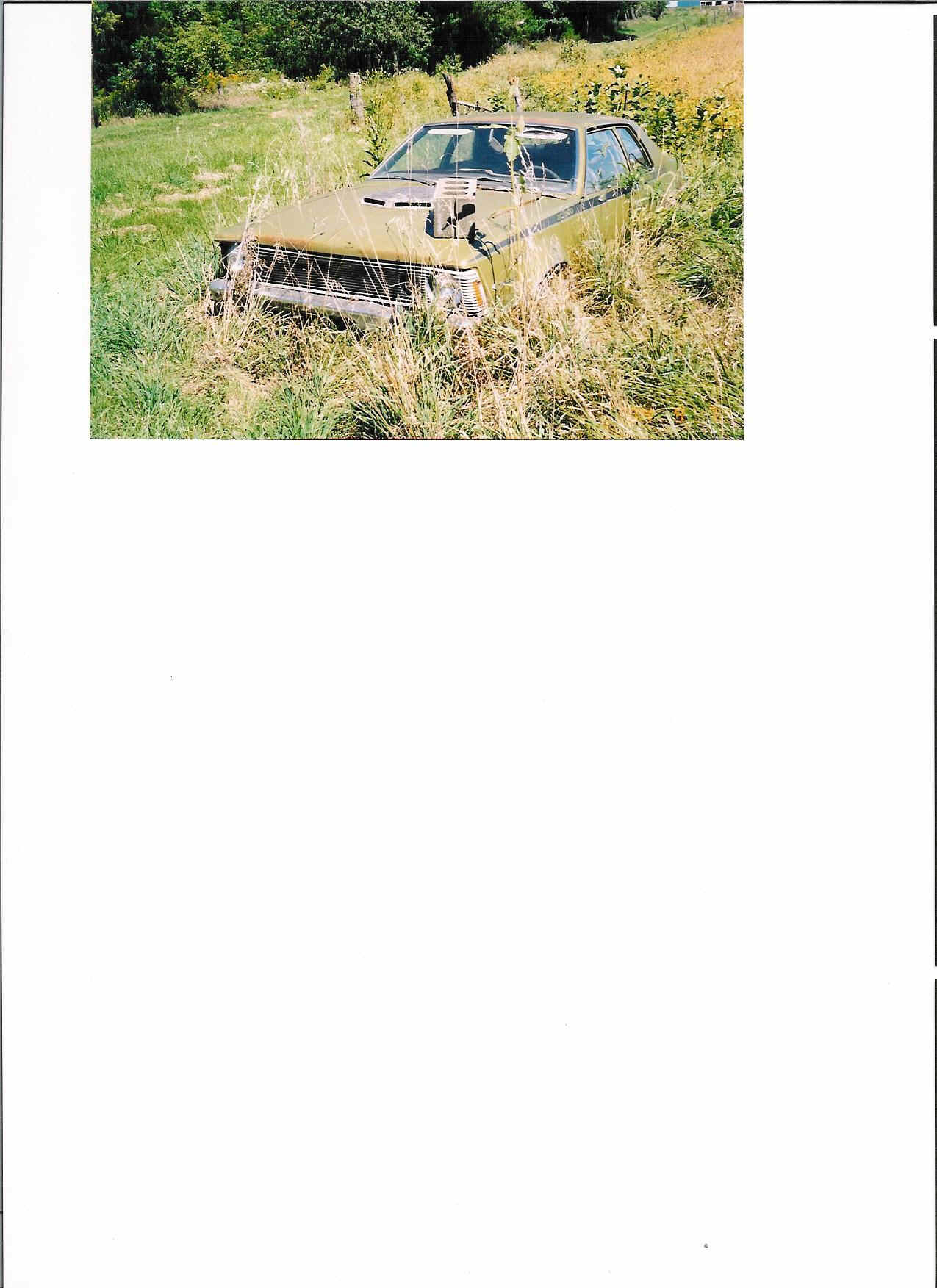 Mike Shay's SC/360 has seen better times that sitting in the weeds abandoned, but Mike is fixing to go completely thru it! Golden Lime Metallic was WIDELY USED in 1970, and was a carry over color into 1971.
SC/360 Electric Blue Irid. B6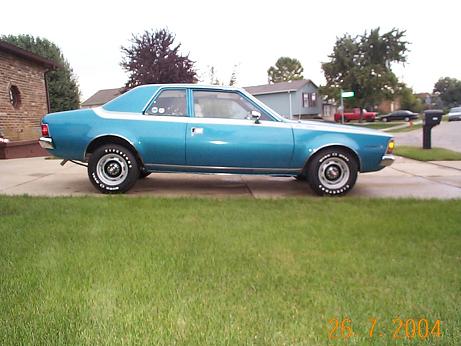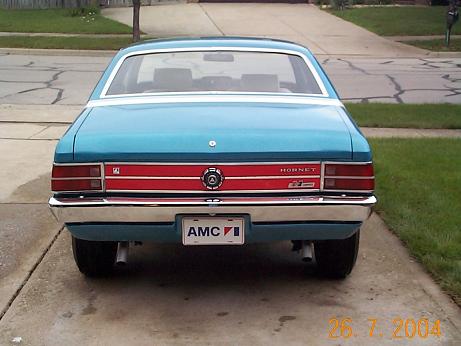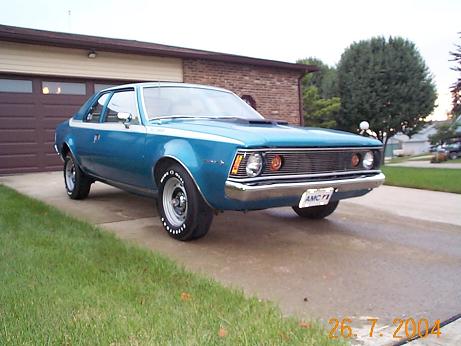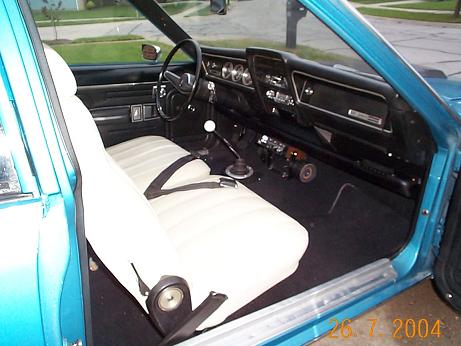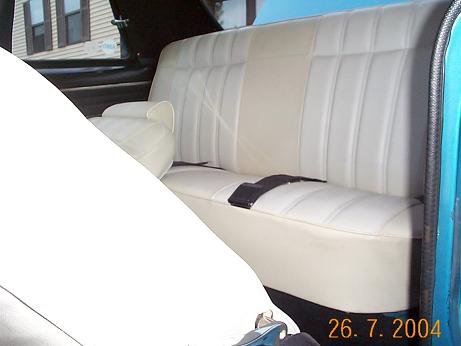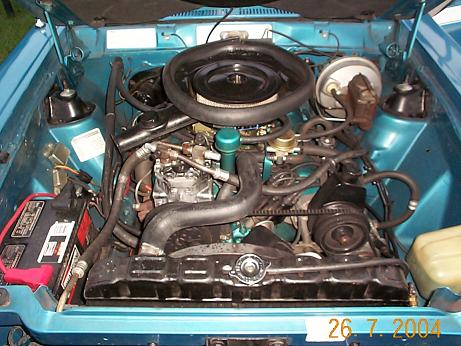 William Taylor's SC/360 is a beautiful example. Here are some neat photos of his pride and joy in blue. This rear panel is what many a muscle car owner saw after a green light.
SC/360 Matador Red B9
Larry Allen's SC/360 shows red centerpiece with non locking gas cap and Hurst Equipped emblem near it!
SC/360 Canary Yellow A2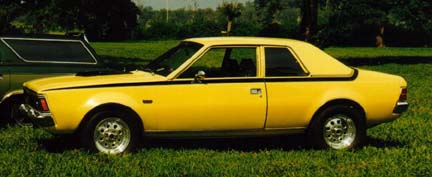 SC/360 Electric Blue Irid. B6
Above blue SC/360 sold on ebay for $11,000. The photos are worth showing as they were taken at some really great angles, and also are crisp and clear with detail.
SC/360 Electric Blue Irid B6
Another nice looking SC/360, also in Electric Blue, sold on ebay for $9000.
SC/360 Drag Car
Thomas Johnson's SC/360 is a former drag car showing duty at tracks in the upper midwest, especially Minnesota and Iowa. It sports a vintage, red, white ands blue AMC Corporate paint scheme.
SC/360 Brilliant Green & White Roof B7-A1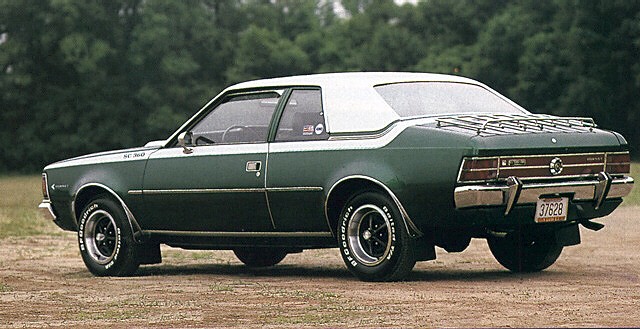 This SC/360 features some great options of rear bumper guards, white roof, (would have 2 paint codes B7-A1) and rear luggage rack. Note locking gas cap and wheel trim rings.This is a "business man's musclecar".
SC/360 Burnished Brown Irid. B2
This beautiful Burnished Brown SC/360 was recently put on ebay; sold for $13K.
SC/360 Matador Red B9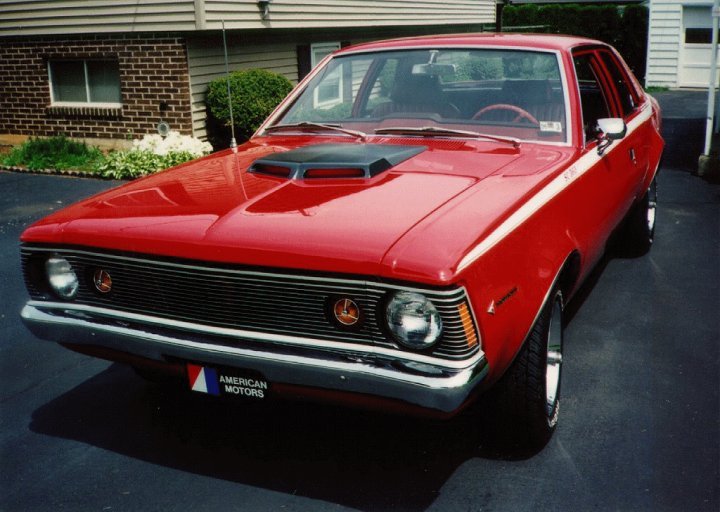 SC/360 Snow White A1
Eugene's SC/360 needs restoration, and is a Frost White car. I understand that he owner will be restoring it in the near future! Lots of projects in background!
SC/360 Brilliant Green B7
Jerry Tucker's SC/360 awaits restoration with other vintage AMC iron in NY. I have always liked the VIN photo with the dead hornets inside a Hornet!
(photos courtesy of Joe Roberts)
SC/360 Electric Blue Irid. B6
Above is a very nice SC/360 that was on ebay in August 2007. It sold for $19K and was extremely detailed. It is SC/360 #6143, nice to see such detail, especially in seats, door panels and under carriage, check out the original literature.
SC/360 Mustard Yellow B8
Possibly one of the rarest (they are ALL rare) SC/360s is this one that appeared on ebay in August 2007 with a Buy It Now of $11K. It is one of 19 made with 3spd. However, the fellow was getting bombarded with questions and he called me, so I told him I would reply on ebay itself. Free you know! My reply was this:
"Hi it was a pleasure talking to you this morning. Your car is one of 4 known to exist of 19 produced. In case you get any questions concerning this vehicle: Your car is a NON GO PACK car. Go Pack was a $199 option. The 3speed manual was a $32 option. Your AC was $399, and extremely unusual to see a standard car with AC! Power brakes $45. A tach was a $50 OPTION on non Go Pack cars. Here, someone opted for clock, Neat! Power steering $111. Electric wipers part of Visibility Group:$47. If non Vis Group $22. Mustard Yellow paint one of the more popular colors in 1971. Eh: Priceless! AM Radio: $67. Not all SC/360 Hornets have small SC/360 badge on glovebox. All SC/360 Hornets had red tail center section. Feel free to use any information off my 1971 SC/360 Registry for your auction at www.planethoustonamx.com Good luck with your SC/360! Eddie Stakes"

It is one of 4 of the 19 known to exist. What I found fascinating was it was a original Amarillo car. But it is a Non Go Pack, Non Rally Pack, Non Ram Air...but someone opted for AC, PS and PBD, go figure! And didn't upgrade from dinky three speed! This is amazing, and almost makes me believe that this is one of those cars AMC simply "threw" out to dealerships (my opted out Rebel is a example) but AMC was known for tossing cars to dealerships without actual order, mostly to garner public interest. Dealer bought at discount price, but car might have also sat there for years too. This one had original title, but I would like to find out if it was actually ordered by customer this way, or shoved onto Courtesy American!

SC/360 Electric Blue B6
This was one of the many SC/360 Hornet exported to Scandinavia, this particular one was for sale in Sweden. If you would like to even try to read the original ad for it click here. No one has ever explained why so many SC/360 Hornets ended up in Sweden, Finland and Norway.
SC/360 Drag car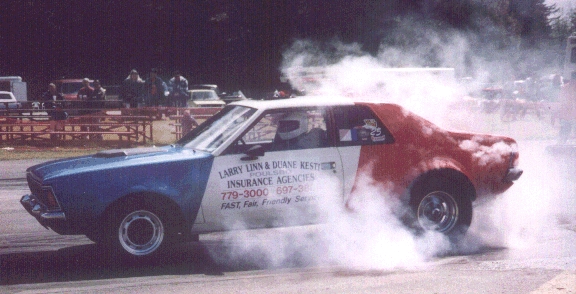 Sponsored by Larry Linn's Insurance Agency, and proudly wearing American Motors red, white and blue coporate colors, wasting a set of drag slicks!
SC/360 Matador Red B9 *this car was for sale, SOLD for $6500
Unrestored Matador Red SC/360 Hornet is a original four speed, and red on red! Has date coded radiator, dealer tag on back, check out the original seats and that bright red AMC steering wheel, this would be a great start for someone wanting a rare car.
SC/360 Mustard Yellow B8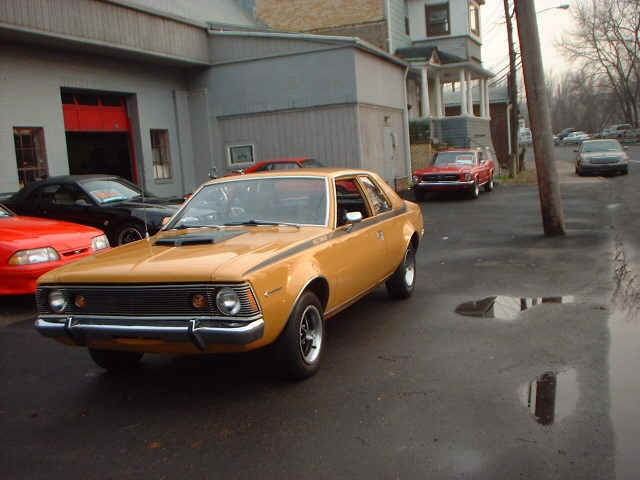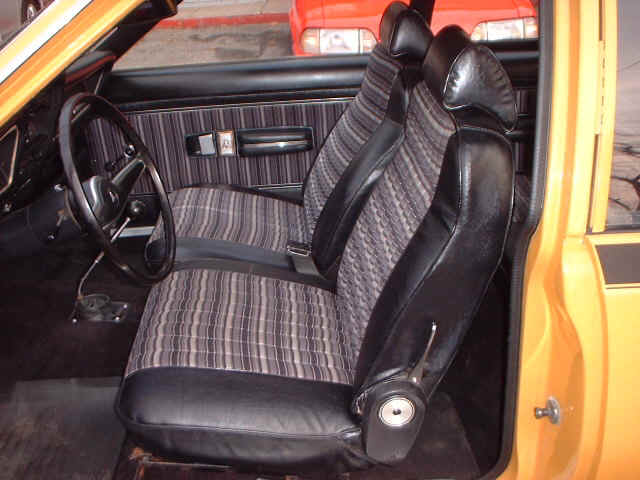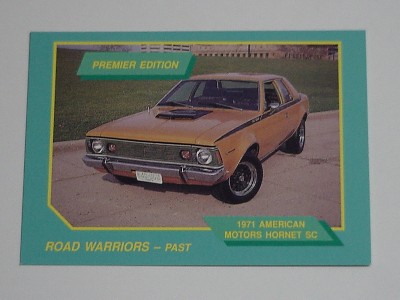 Art's SC/360 looks familiar because back in 1990s it was used on collectible Muscle Car trading cards called "Road Warriors"!
SC/360 Brilliant Green B7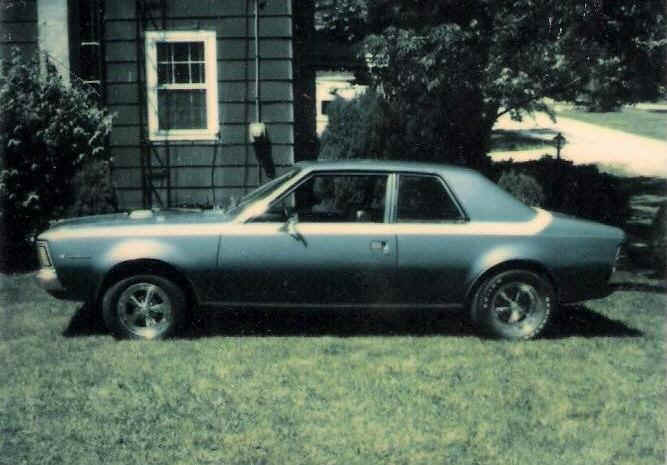 Bill Kimbler's vintage 1970s photo of his car looks great, he has owned the car since Nixon Adminstration!

SC/360 Brilliant Green B7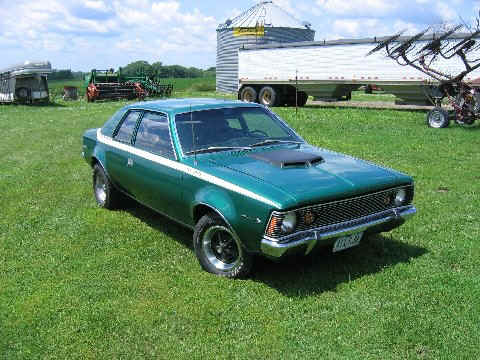 Steve Lee's was driven daily for years, while he was in high school, but has now put it away slowly restoring it!
SC/360 Golden Lime Metallic C1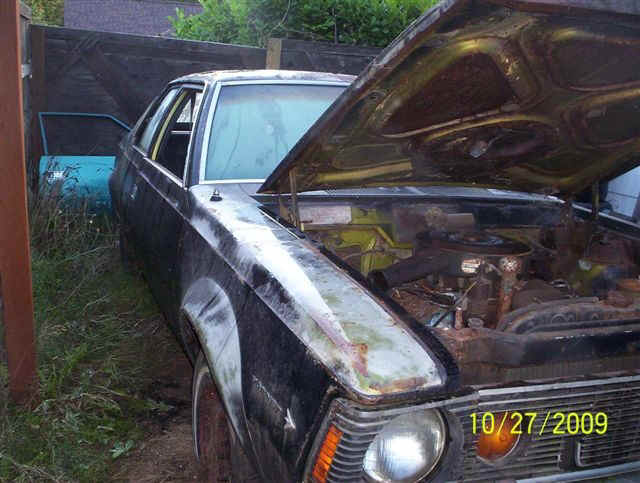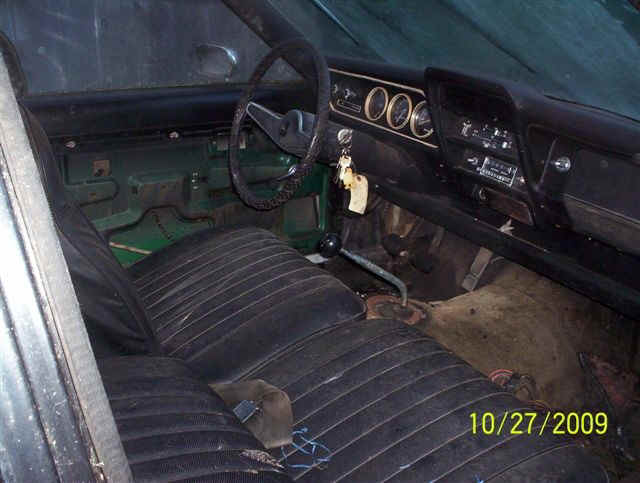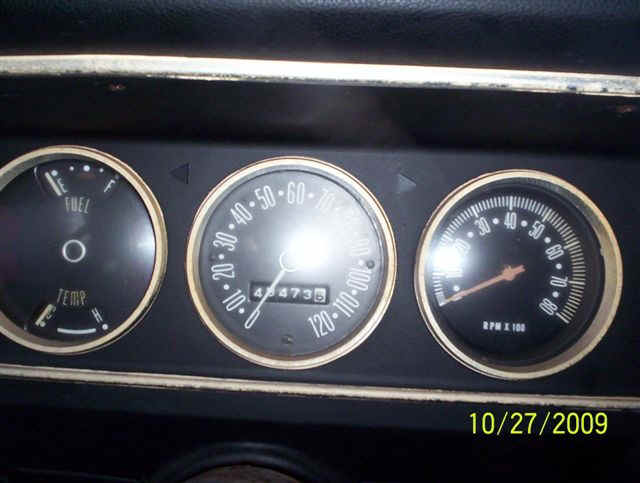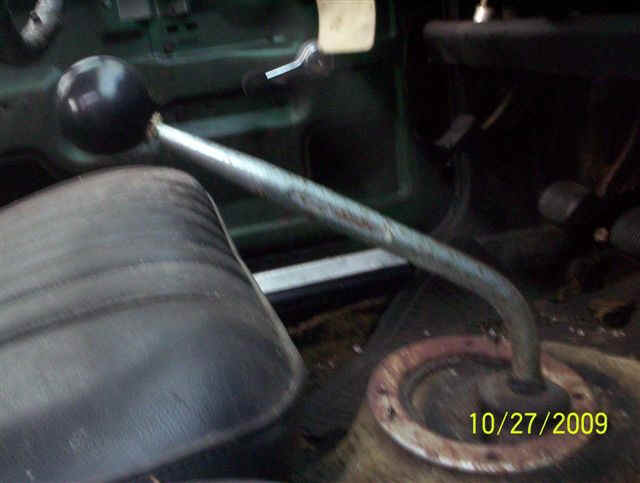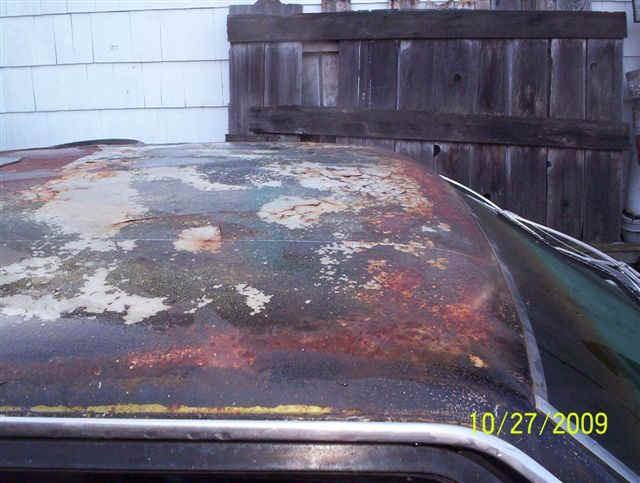 Frank A's SC/360 was found sitting as you see it, parked in 1975 by original owner. It has 43,000 on the ticker and Frank will be giving this bee a restoration to bring it out to it's former Golden Lime Glory.
SC/360 Brilliant Green Metallic B7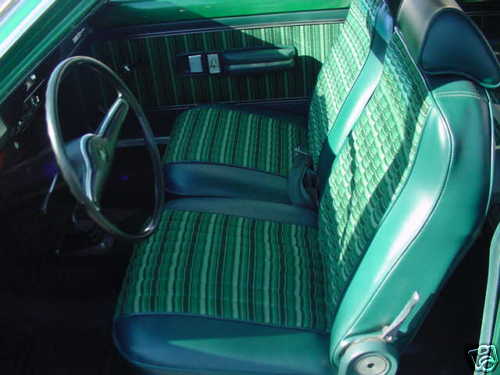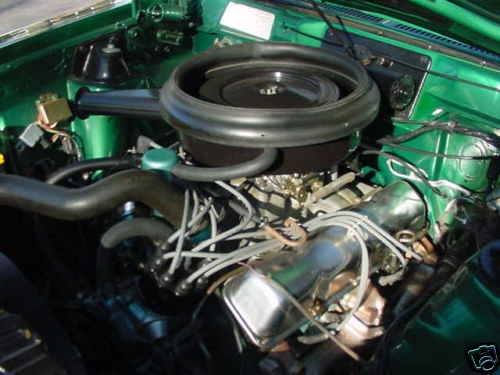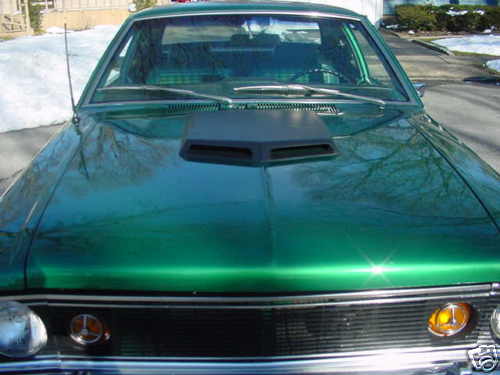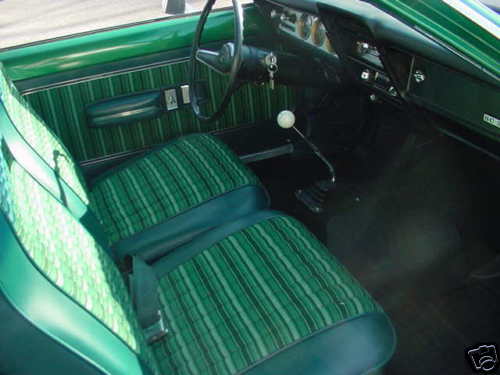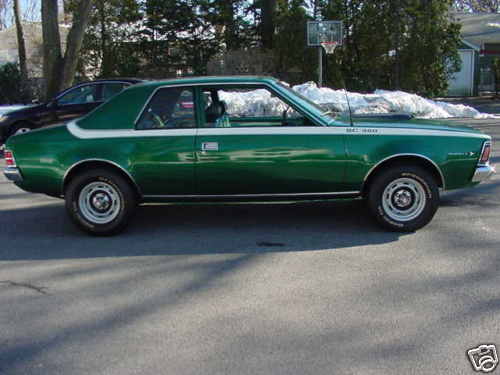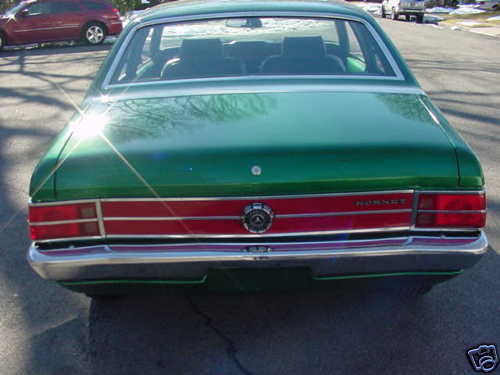 This beauty appeared on Ebay early March 2010. It is #1315 and up in New York and a beautiful example in a seldom seen color. Check out the snow in the background!
SC/360 Meadow Green Project recently appeared in 2015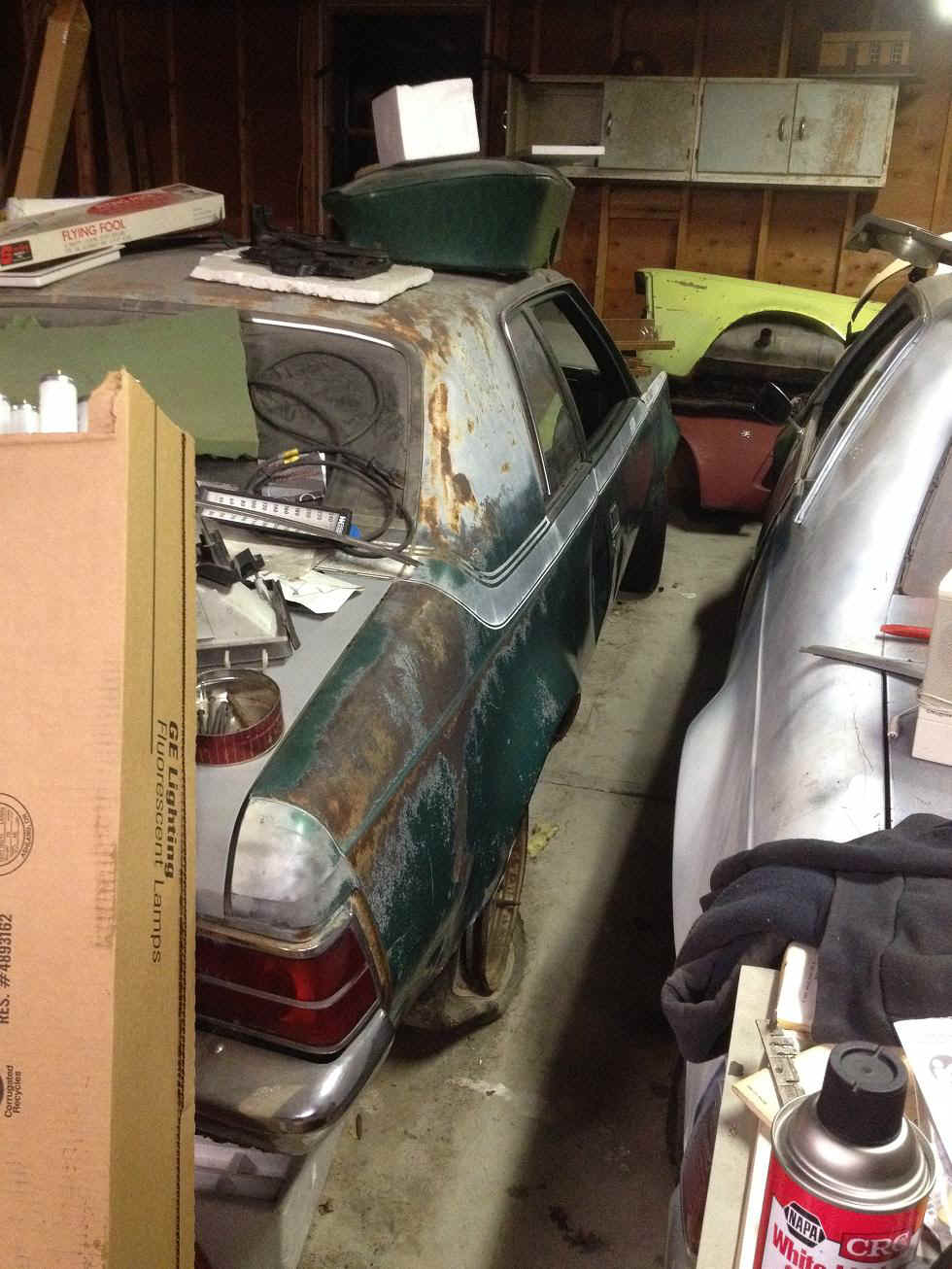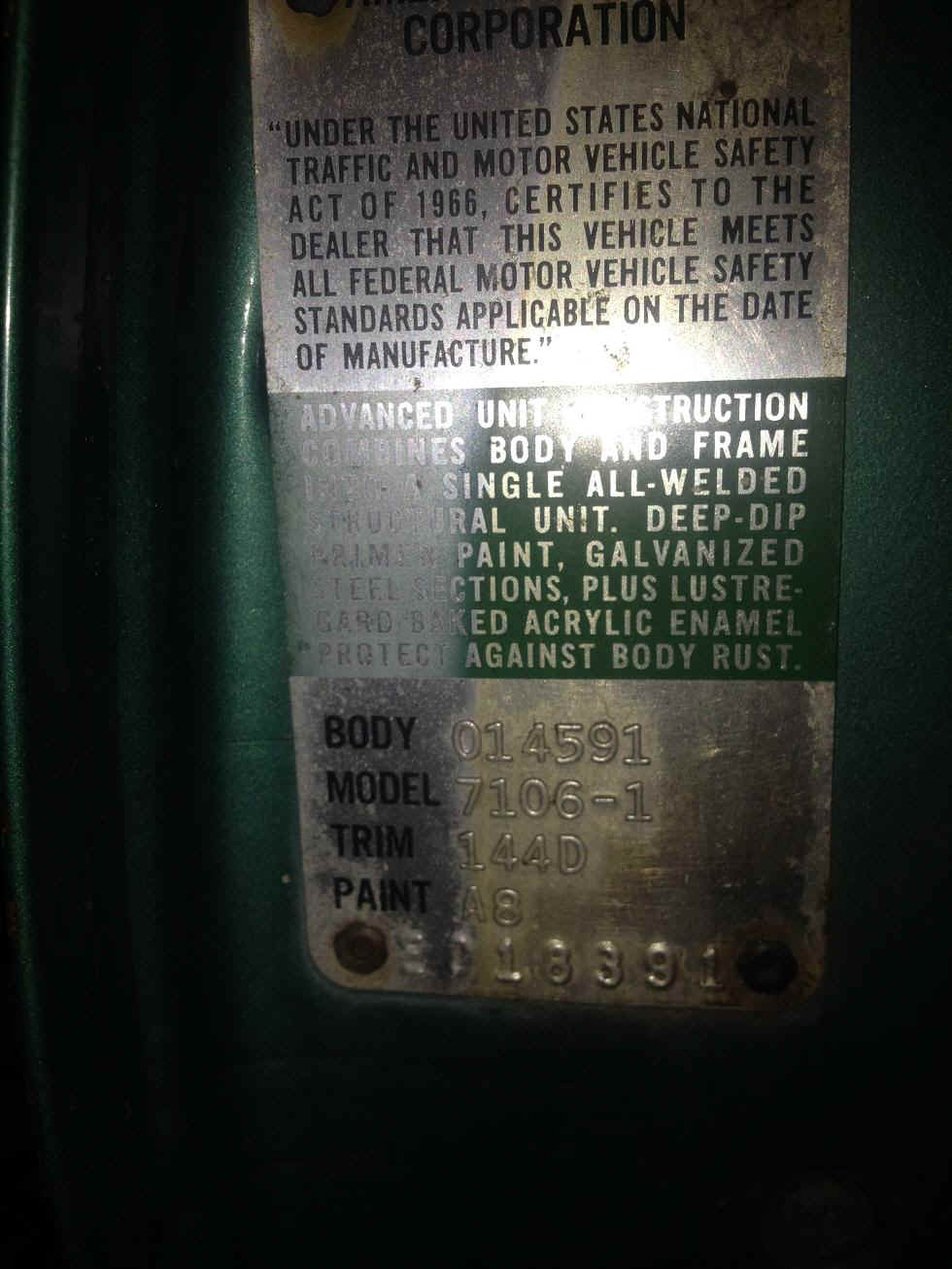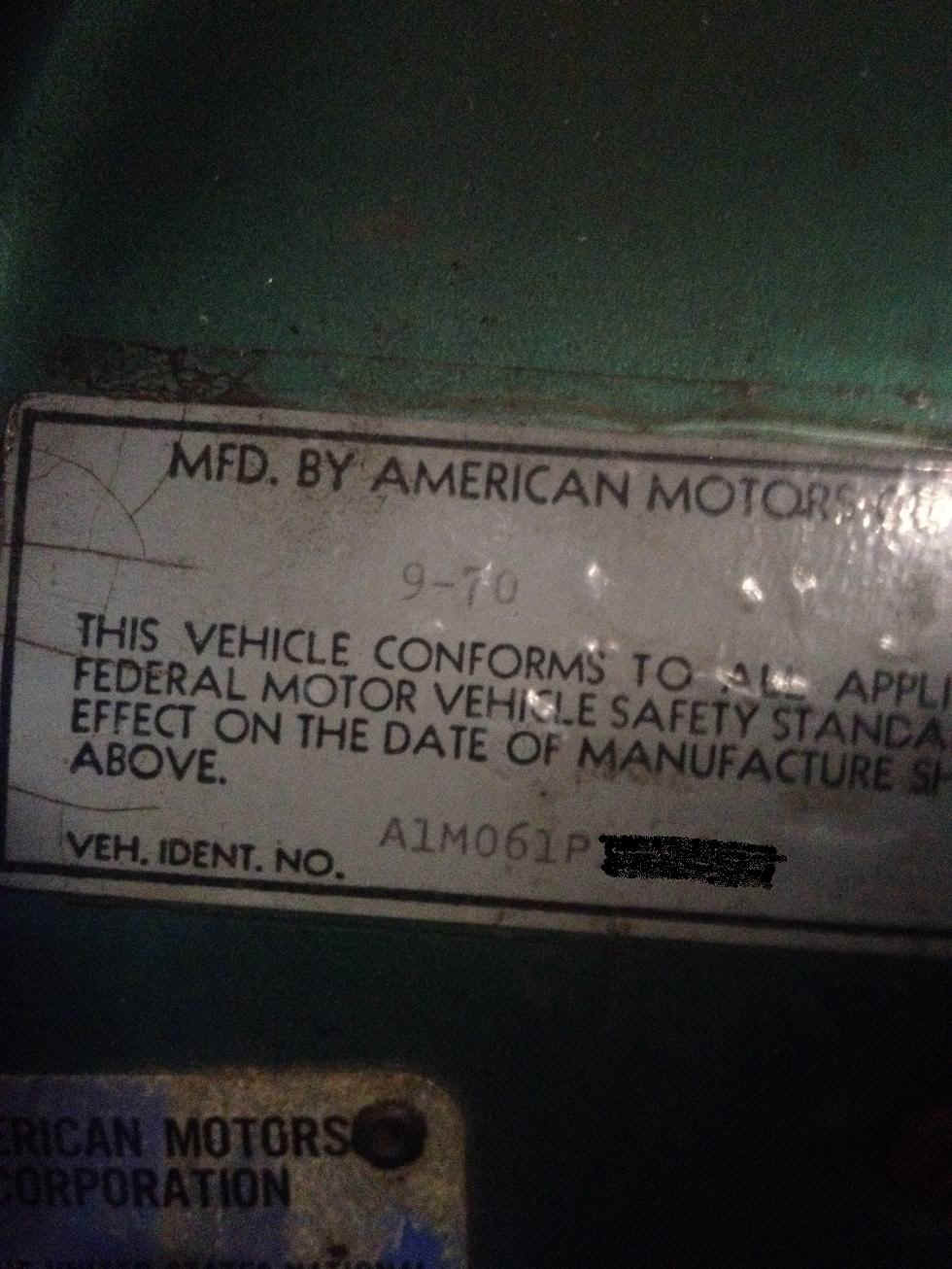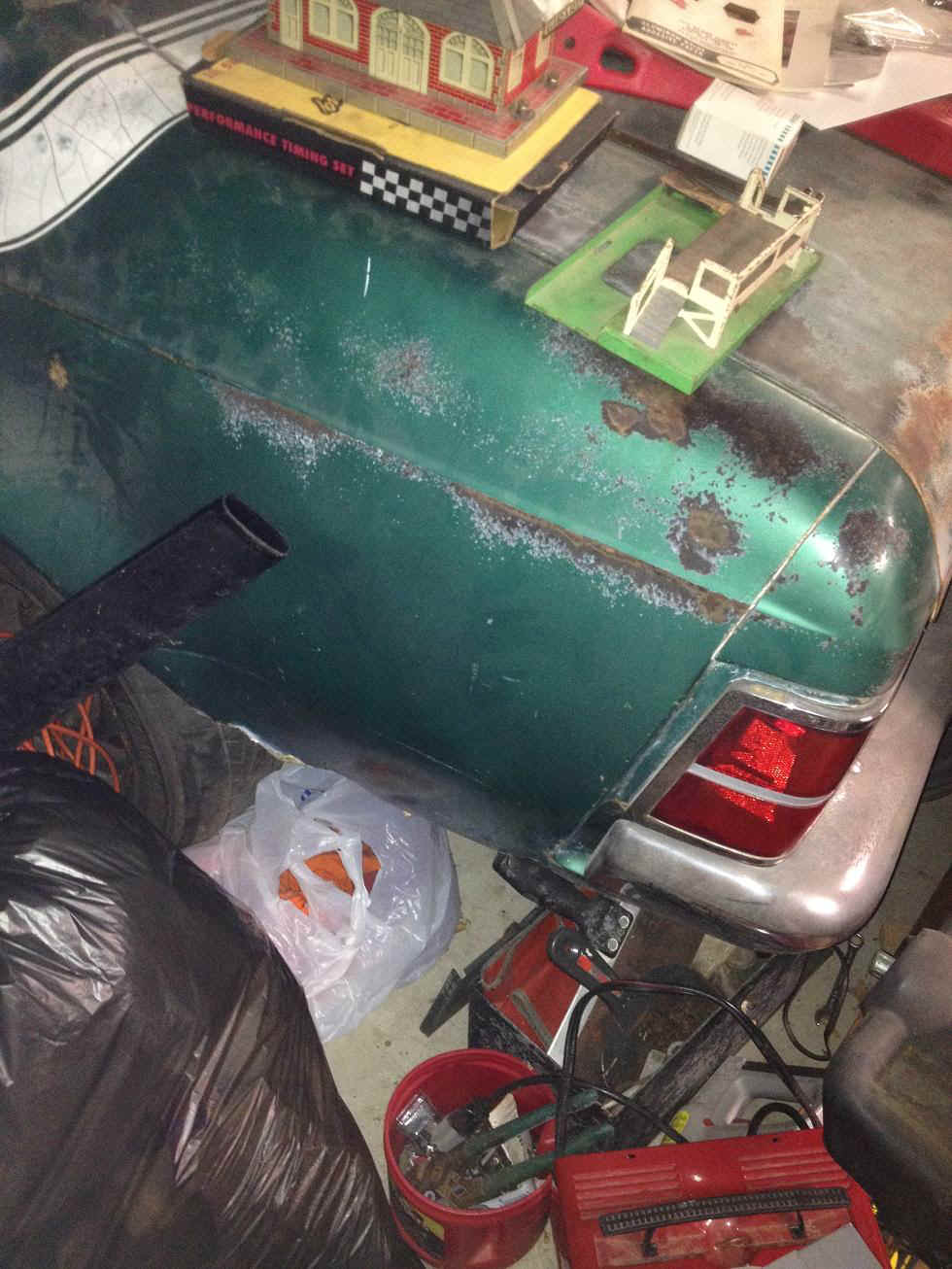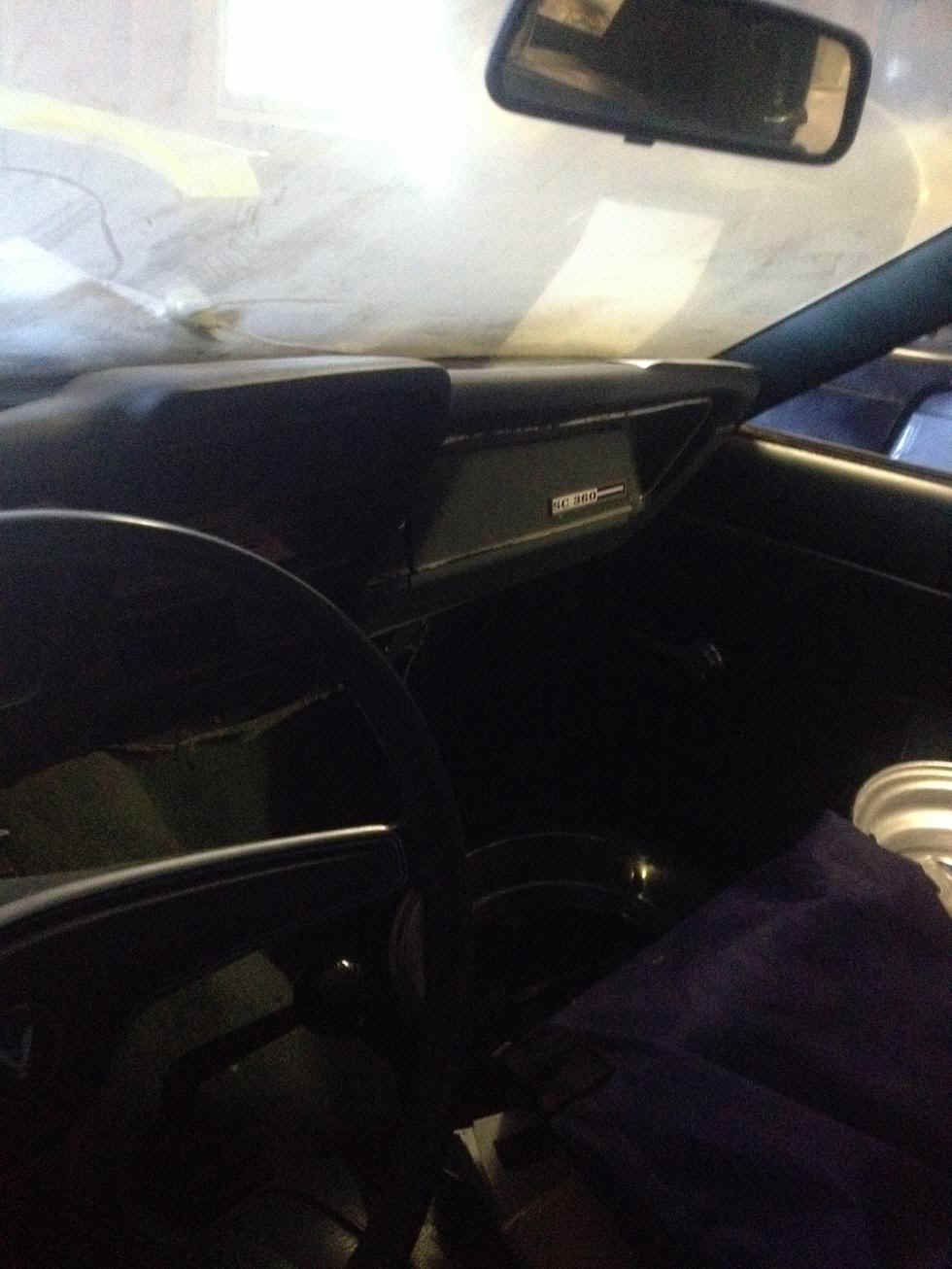 This is not the Ed Hooper SC/360 but same color and recently surfaced about same time as the Hooper car in Oklahoma. This SC/360 project is in California.
SC/360 Electric Blue Project surfaced in late 2014 and is undergoing restoration, only 53,000 miles
SC/360 in Mustard Yellow was for sale in 2015 unknown fate
Chris Simmons SC/360 is coming along quite nicely and will be ready shortly to blow away competition in it's class at a variety of meets!
Greydon Hicks had 3 SC/360s at one time, quite a feat considering how few out there. One of his appeared on ebay in the spring of 2015 and sold for $16,000, a beautiful Brilliant Green example.
New SC/360 owner Ernie M picked up the former Nevland SC/360 off ebay..Nevland bought it NEW at Theis Rambler INC Carrington N.D on 7/19/71
New owner Terry S. SC/360 Hornet sports a white roof! And Group 15 factory installed luggage rack!
Another one restored!
Barn find! This Odd Canary Yellow with Green interior SC/360 found in late 2016 in Arkansas. The owner indicated he may want to sell it as it sits, sharp eyed AMCers will notice the original ROCKWELL decal under the ram air scoop visible in 1st photo.
REGISTERED SURVIVORS
If your information is incomplete or needs changing or updating please email me eddie@planethoustonamx.com me the changes!

#0000, Body 023867, Trim 145V, Paint B9, Line #E030506
Door tag build date October 70
Owner Rick J.
#0025 Body 013543 Trim 144D Paint B7
Door Tag Build Date unk Line #E017095
Owner John J
#0032, Body 013140, Trim 141-D, Paint C1, line E016615
door tag build date September 1970
Owner Jim La B.
#0037, Body unk Trim 141-V, Paint B8, line unk
door tag build date unk
Owner William B.
#0165, Body unk, Trim, Unk, Paint C1; Line #unk
Door tag build date unk
Owner Frank A.
#0252, Body 029410, Trim 144-D, Paint D7, Line 037326
Door tag build date unk
Owner unk.
#0842, Body 025318, Trim 141D, Paint B6, Line #E032397
Door Tag built date October 1970
Owner Terry L
#0892, Body 000213; Trim 141D; Paint B7; Line #E001922
Door tag build date August 1970
Owner Steve L.
#1315, Body unk, Trim 144-V, Paint B7, line unk
door tag build ate unk
Owner Glen O.
#1315, Body unk, Trim unk, Paint, unk, line unk
door tag build date unk
Owner Bert K.
*trying to determine current ownership
#1448, Body unk, Trim 144-D, Paint A2, line unk
door tag build date unk
Owner Leroy L.
#2899, Body 014591, Trim 144D, Paint A8, Line #E018391
Door Tag build date September 1970
Owner Chris F
#2902, Body unk, Trim 144-D, Paint A8, line unk
door tag build date unk
Owner Kurt S.
#2904, Body 016078, Trim 141-D, Paint B2, line E020235
door tag build date unk
Owner Gordy C.
#2914, Body unk, Trim unk, Paint B7, line unk
door tag build date unk
Owner Carl C.
#2916, Body unk, Trim T141-D, Paint A9, line unk
door tag build date unk
Owner Wayne K.
#3311; Body 044146; Trim 141D; Paint C1; Line #E055811
Door tag build date unk
Owner Jeff T
#3351, Body #3840, Trim 141-V, Paint B3, Line #E067694
Door tag build date unk
Owner pending
#3640, Body 038936, Trim 141-D, Paint B6, Line E049220
Door tag build date unk
Owner Michael R.
#3844, Body 006436, Trim 141-D, Paint B6, line E007813
door tag build date unk
Owner William T.
#3851, Body 009100, Trim 143-D, Paint B6, line E011598
door tag build date 07-71(?)
Owner Ernie M.
#3852, Body unk, Trim T143-D, Paint B6, line unk
door tag build date unk
Owner John K.
#3856 Body 010326, Trim T144-V, Paint B7 line unk
door tag build date September 1970
Owner Terry S.
#3857, Body unk, Trim 141-D, Paint B8, line unk
door tag build date unk
Owner John R.
#3859 Body unk, Trim unk, paint Mustard Yellow, Line unk
Owner Eric W.

#3860, Body unk, Trim unk, Paint unk, Line unk,
Door tag build date unk
Owner Mpower
#3918, Body unk, Trim 141-V, Paint B8, line unk
door tag build date unk
Owner Crist S.
*currently trying to determine ownership
#3918, Body 024405, Trim T141-V, Paint B8, line E031132
door tag build October 70
Owner Owner Mads P. (Denmark)
#4006, Body unk, Trim 145-V, Paint P1, line unk
door tag build date unk
Owner Edward B.
#4078, Body unk, Trim unk, Paint/yellow, Line unk
Door tag build date unk
Owner Peter S.
#4906, Body unk, Trim T145-V, Paint 00-B9, line unk
door tag build date unk
Owner Justin L.
#4993 Body unk, Trim T-145-V, Paint B9 line unk,
door tag build date unk
Owner Blaine H.
#4996 Body unk, trim unk, paint, unk, line unk
door tag build date unk
Owner Shannon H.
#5204, Body 061492, Trim 141-D, Paint B7, Line E020961
Door tag build September 1970
Owner Edward B.
#5401, Body 014187 Trim 144V Paint A8 Line E017957
Door tag build September 1970
Owner Eddie S.
#5564, Body unk, Trim unk, Paint/blue, Line unk
Door tag build date unk
Owner Ralph P.
#5568, Body unk, Trim 145-V, Paint B9, line unk
door tag build date unk
Owner Richard K.
#5610, Body unk, Trim 141-D, Paint B8, line unk
door tag build date unk
Owner Steve G.
#5808, Body 026941, Trim 145-D, Paint B3, Line E035637
Door tag build date unk
Owner Royce D.
#5810 Body 024654, Trim T141-V, Paint C1, line E031473
door tag build date unk
Owner Mark C.
#6139, Body 017673, Trim 143-D, Paint A5, line E022300
door tag build date unk
Owner Eddie S.
#6143, Body 017030, Trim 143-B, Paint B6, Line E020601
Owner Unk.
#6146, Body unk, Trim 143-D, Paint B6, line unk
door tag build date unk
Owner Ron M.
#615K, Body unk, Trim 141-D, Paint C1, Line unk
Door tag build date unk
Owner Mike S.
#6152 Body, unk, Trim unk, paint B9, line unk
door tag build date unk
Owner Larry A.
#6181, Body unk, Trim 143-D, Paint B6, line unk
door tag build date unk
Owner Steven M.
#6358, Body Unk, Trim T-141, Paint B2, line unk
door tag build unk
Owner XXX-XXX
#6366, Body 065925, Trim 141-V, Paint B6, line unk
door tag build date unk
Owner Edward B.
#6369, Body 066134, Trim 141D, Paint B6, Line #E082830
Door Tag build date March 1971
Owner Greydon H.
#6376, Body 066154, Trim 141-D, Paint C1, Line E082792
Door tag build date March 1971
Owner Clyde H.
#6498 Body 046604 Trim 144V Paint A7
Door tag build date unk E059023
Owner Kim J.
#6499 Body 048625 Trim 141V, Paint B8 line unk
Owner Hakan F.
#6507, Body unk, Trim 141-D, Paint A1, Line 006958
Door tag build date unk
Owner unk.
#6530, Body unk, Trim 141-D, Paint B3, line unk
door tag build date unk
Owner Jerry M.
#6532, Body 005826, Trim 143-D, Paint B6, line E007346
door tag build date August 1970
Owner Charles S.
#6544. Body 005853, Trim 143D, Paint B6, Line #E006993
Door Tag Build Date August 1970
Owner Chris S
#6557, Body 007729, Trim 141-D, Paint B8, line E009578
door tag build date unk
Owner Scot J.
#6563, Body 010239, Trim 141-D, Paint B8, line E012754
door tag build date Sept 1970
Owner Joe R.
#6614, Body unk, Trim, unk, Paint/green, Line unk
Door tag build date unk
Owner Ron L.
#7050 Body xxxxxx, Trim XXXX, Paint B6, Line #xxxxxx
Door tag Build Date xxxxx
Owner Craig S. Brisbane, Australia
*only SC/360 in Australia
#7055, Body unk, Trim 141-D, Paint B8, line unk
door tag build date unk
Owner Rod S.
#7579, Body 059473, Trim 141-D, Paint B6, line unk
door tag build date September 1970
Owner Robert K.
#7717, Body unk, Trim 144-D, Paint A7, line unk
door tag build date unk
Owner Jim L.

#7723 Body 0200300, Trim 140-D, Paint B8, Line E023501
Owner Unk
#7924, Body unk, Trim 141-D, Paint B2, Line 060934
Door tag build date unk
Owner Bob G.
#7726, body 013774, Trim 141-D, Paint xx, Line E003074
Owner Barney B. & Randy
#8020, Body unk, Trim T141-D, Paint B3, line unk
door tag build date unk
Owner Duane H.
#8023, Body 046449, Trim 144-D, Paint B7, l#E0588793
door tag build date December 1970
Owner Bob R.
#8207, Body 027802, Trim 143-V, Paint B6, Line E035372
Door tag build date unk
Owner Allen S.
#8270, Body unk, Trim unk, Paint Unk, Line Unk
door tag build date unk
Owner Jay H.
#8823, Body unk, Trim 145-V, Paint A1, Line unk
Door tag build date unk
Owner David B.
#8832, Body unk, Trim T141-D, Paint B6 line unk
door tag build date unk
Owner Jim D.
#8833, Body unk, Trim 143-D, Paint B6, line unk
door tag build date unk
Owner Doug V.
#8837, Body 013910, Trim T141-D, Paint B8, line E017588
door tag build date unk
Owner Terry R..
#8841, Body & other information pending
Owner Austin
#9164, Body 012831, Trim 141-V, Paint A1, Line E016448
Door tag build date unk
Owner Trace A.
#9168, Body unk, Trim 141-V, Paint B8, line unk
door tag build date unk
Owner Doug V.
#9170, Body 014805, Trim 141-V, Paint B9 line E018629
Door tag build date unk
Owner Gordy C.
#9278, Body unk, Trim T141-D, Paint B6, line unk
door tag build date unk
Owner Steve G.
#9851, Body 025000, Trim 141-D, Paint B8, Line E032518
Door tag build date unk
Owner Eugene C.
#992?, Body unk, Trim unk, Paint/purple, Line unk
Door tag build date unk
Owner Ralph P.
#9986, Body unk, Trim 143-D, Paint B6, line unk
door tag build date unk
Owner Alex McL.


For More On Hornets Visit

ARCTICBOY
This is my own 1971 SC/360 Hornet; the only SC/360 "Medium Blue Metallic" known to exist.
This car is heavily customized. It sports a 1977 Hornet AMX ground effects kit, 88 Fiero rear spoiler close up rear view angle and is painted in AMC's classic red, white and blue. It is a original Hurst equipped car, Go Pack, four barrel, four speed, Twin Grip 3:54 rear, and functional Ram Air! Engine bay of my car. My car, while far from stock, is how I want it. This car also sports ultra rare Hurst mirrors, Rebel Machine rims, which the official name is AMC 15 inch styled steel rims. My car sports massive 27560R15s on the rear and 23560R15s on the front. These 'Machine' rims were a OPTION on all Ambassador, AMX, Javelin, Rebel and Matador from 1970-72. Not a option on Gremlin or Hornet Series however. For those of you looking for items, the rims in excellent shape command $2000-$3000 a set and are extremely difficult to find. A big problem with these 'Machine' rims is that the trim ring is pressed on. So if you remove the trim ring, chances are you destroy it. If you destroy the trim ring, there is a very close 15 inch Chevrolet trim ring that looks stock and clips on. If you do not remove it, most times there is a ring of rust where dust and mud have settled in behind it, and this weakens the rim and can compromise the integrity of the rim, making it dangerous! For several years now however, Jeffery Thomas has been restoring Machine rims. Jeffery is listed on my Planet Houston Vendors List. The Hurst mirrors were used on Hurst SC/Ramblers and Hurst/Olds in 1969. Used, they can command $600 to $1200 each. They have also been reproduced, and are available from Mike Lewis on my Planet Houston Vendors List This interesting photobelow was taken around Christmas 2004 and shows my SC/360 Hornet, Rebel convertible 'Machine, and SC/Rambler wagon. A Ram Air Trio!
My SC/360 has seen duty in 4th of July parades and Veterans Day Parades in Houston. It was featured on Channel 2 News short segment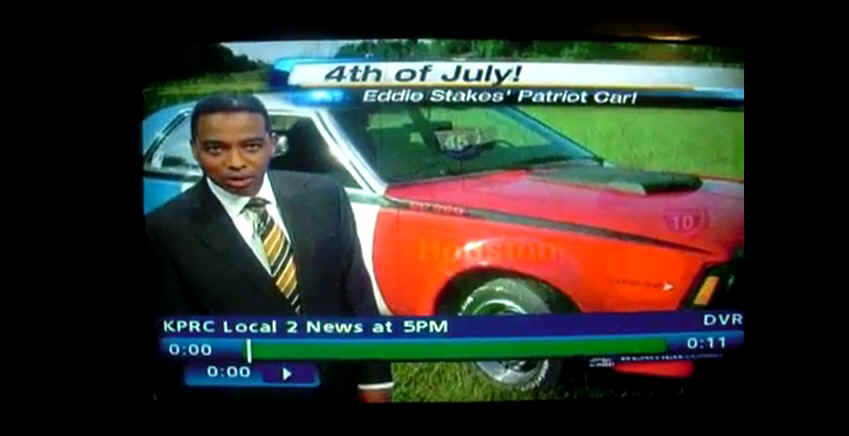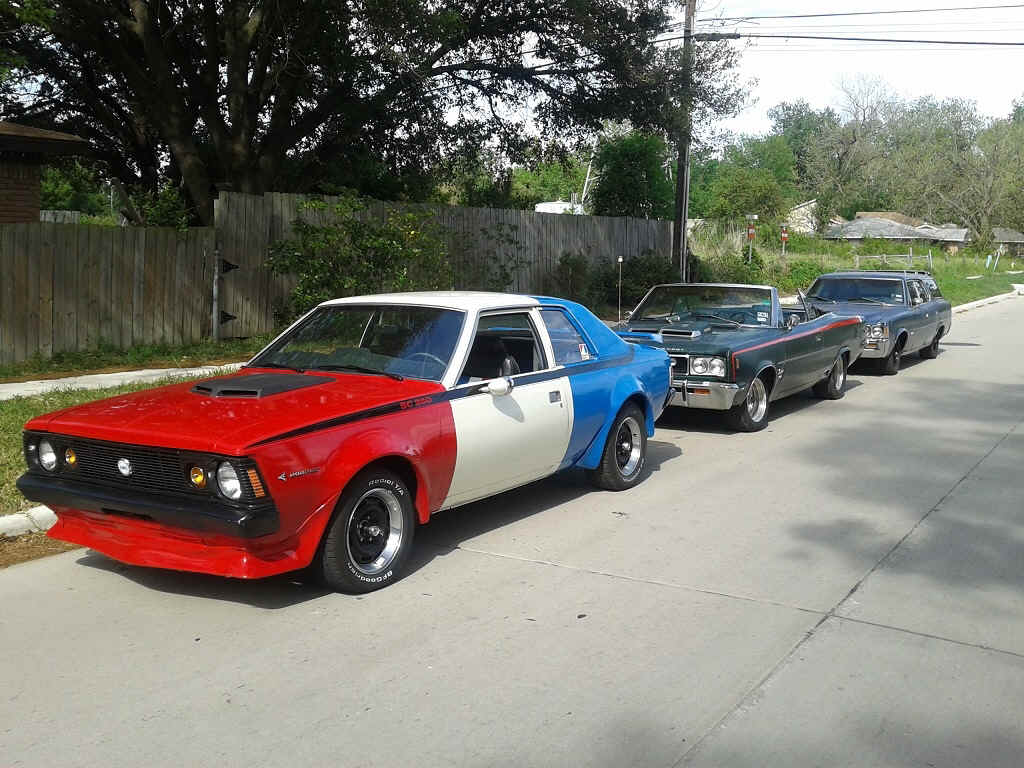 This is the youtube LINK
https://www.youtube.com/watch?v=iKr6b4tEZl4
I also did a SC/360 TEST DRIVE several years ago, can't believe how small son Noah is in video!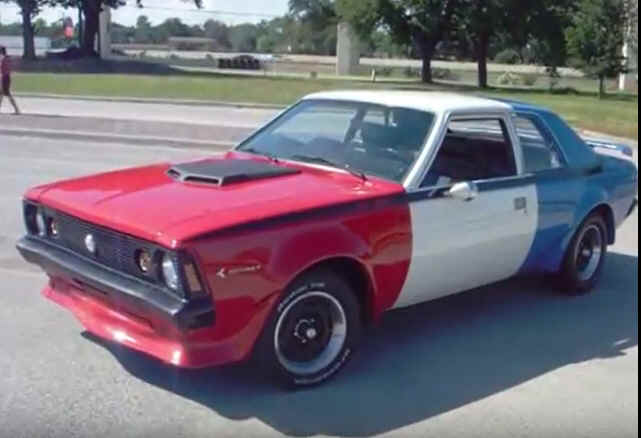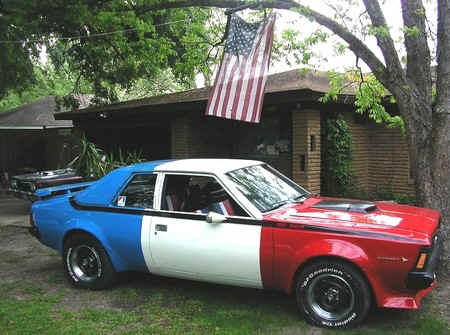 And this is the SC/360 DRIVE TEST video
https://www.youtube.com/watch?v=tbgduy8CCoA&t=3s
SC/360 Hornets had items that you could find on many regular production Hornet Series from 1970 thru 1972. Base, SST & Sportabout. One one these was the "BEE" emblem! Above is how it appeared on the fender side by side with the classic old style script "Hornet" emblem. The "bee" and the old style font "hornet" script emblems both have been reproduced, about $25-$35 each piece. A locking gas cap was a option. Most Hornets got non locking caps. The "bee" slides to one side for access with the key, as keyhole is hidden. You can still find these brand new NOS at national meets and on ebay for about $65-$100. The SC/360 Hornets had a painted red rear panel between the tail lights. This had the old style Hornet emblem shown above mounted near the passenger tail light on the panel. On my SC/360, a Hurst SC emblem also is present. Not all SC/360s came with Ram Air. Above is a formidable looking view of my SC/360 scoop. The photo at the show is from the 2001 AMO AMC Nationals in Houston.
Miscellaneous Photos
71 SC/360 in B-8 Mustard Yellow; Road Warriors Trading Card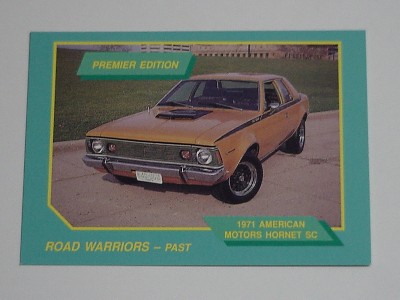 HL & Shirley Shahan's Hornet Drag Car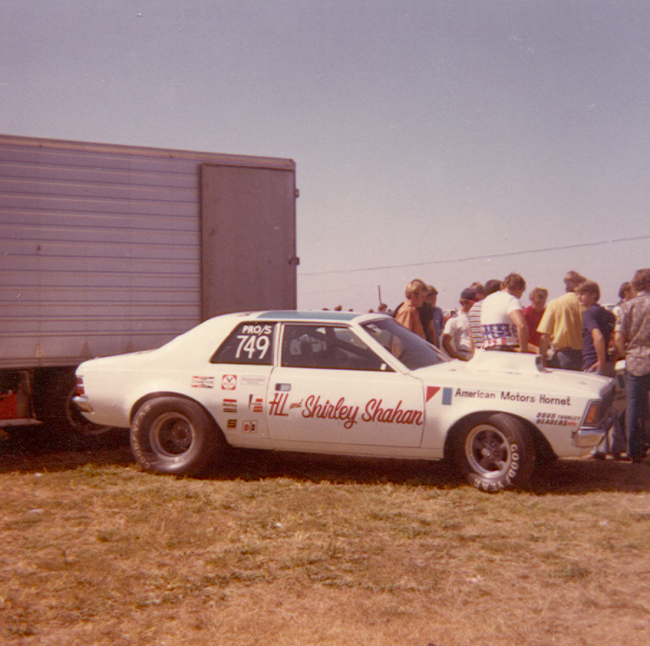 This car still exists (2010) and is in a private collection in Canada!
Swedish Hornet Drag Car!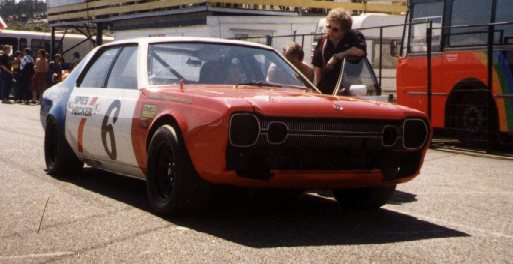 Unknown Hornet Drag Car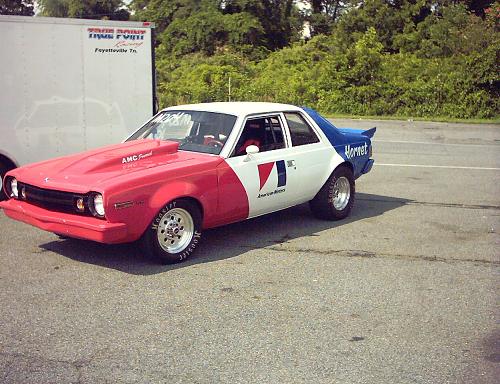 Jeff Turner's Hornet Drag Car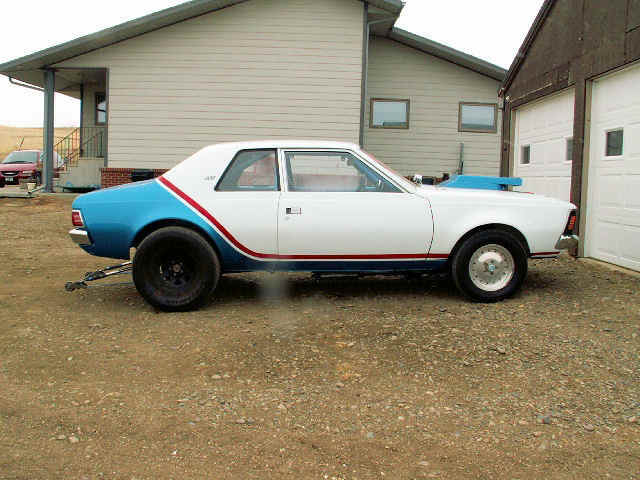 Hornet Sedan Jo-Han model funny car "The Green Hornet" (rare)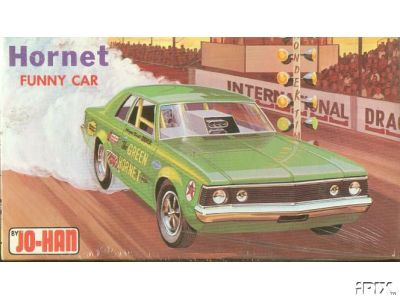 Hornet Sedan "THE STINGER" model funny car by Jo-Han (rare)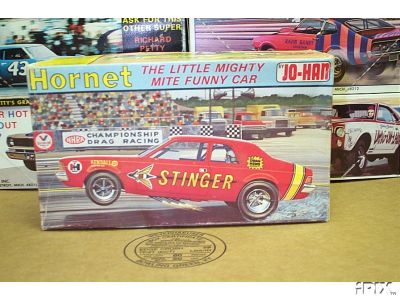 AMC Dealers Accessory Tent Kit
which was sold for the 73-77 Hornet and 78-80 Concord Hatchbacks. This factory photo shows a white 77 AMX with tent. The photo on right is from New York Auto Show in 1973 and AMC had this all new Hornet hatchback gussied up with new Ten.....Real Group 15 Accessory, sometimes seen at National AMC meets.
1971 AM Dealers Selling Kit,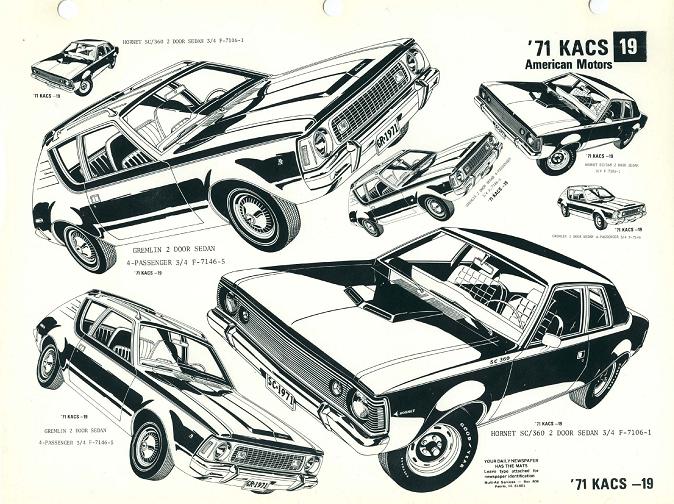 here is what I jokingly refer to as GREMLIN & SC360 MADNESS!!
These dealership kits were used by dealers to cut and paste the photos of cars for their own ads!
Cars know to have once existed and are no longer with us:

A1M061P146181 Body 021701 Trim 143V, Paint B6 E027741 Unknown

A1M061P106558, Body unk. Mustard Yellow with black int. 3.91 Twingrip, HD cooling, light package, AM radio, spoke rims, rim blow wheel, manual drum brakes, manual steering. Scrapped at 43,562 miles.
Last Known Owner Kirk Neprud

Cars sold whereabouts unknown
A1F061N162389, Body unk, Trim 141-D, Paint B2, line unk
door tag build date Oct 1970
Last Known Owner Richard Hanson
Comments on above car:

In the "for what it's worth"department, I noticed in going through your SC 360 website, that you have a listing for SC 360's no longer with us. I once owned one of these beauties, bought it new in November, 1970. I traded it a
couple of years later, much to my regret, and do not know for sure where the car is today. However, if you are interested in listing it as no longer around, the information is above, and; This car was manufactured in October, 1970, as I ordered it special and got it in 2 weeks and 2 days from the date of order. The date I picked it up
from the dealer in Illinois was November 2, 1970. This was a great little car and ran very fast, even though it was only a 2-barrel 3 speed manual with a single exhaust. I do not have the original price sticker, but the
bill of sale info says the list price was $2820.40. The only options this car had was a radio and an engine block heater. It came from the factory with the 14" x 6" spoke style wheels, which it was not supposed to have, and
was not on the price sticker. Any way, I thoroughly enjoyed your SC 360 site - Keep up the good work! A vintage photo of it at my house in Jan. 1971,
note the snow tires.....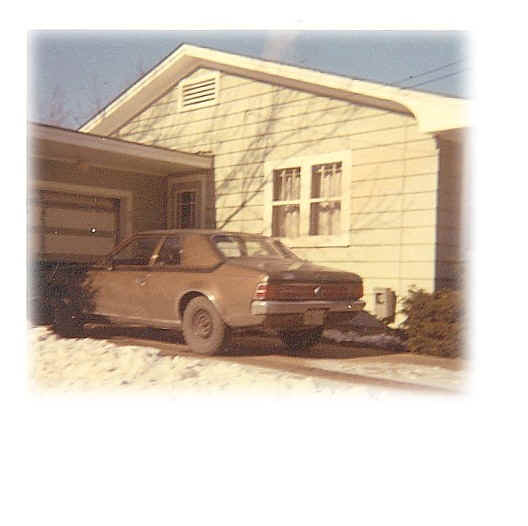 From Kirk Neprud above: What a great website, the sC/360 section is really nice. I enjoyed seeing the pictures and have spent hours decoding VIN's and Data Info. It is interesting to see what different types of colors and
options were out there. I really miss the 360 I had, I still have a title, picture, and many parts from the car in the hopes that I may have another SC one day. I bought mine in 1976 and owned it until 1985 when it was scrapped.
A black vinyl roof was added at some point.
======================================
Hi Eddie my name is Robert H Glen from Canada and I believe there was some kind of misunderstanding regarding our SC-360. It is the Black car that was on your Website. Well here is some information on the car. I purchased it new in 1970 and had quite the wait for it to arrive also I was required to put down a substantial deposit to have it ordered as the dealer would not bring one to just have on the lot. The car is P-1 Black with a red stripe, red interior 360cu/in 4bbl, Borg Warner T-10 P series 4-speed, dana posi with 3;91 gears (highest from the
factory), Ram Air, Manual steering, H.D. cooling system, Power assist front disc brakes, Optional Magnum 500 wheels, Front bumperettes the only luxury option is a AM Radio. This car has never been winter driven in fact it has very seldom been driven at all as the car has only 9,384 original miles it has been stored for most of its life and only travels to shows in a fully enclosed trailer. As you seem to be able to track down AMC parts I am trying to locate two (or 4) original Good Year D-70x14 tires with raised white letters in Good or better condition if you are able to assist it would be greatly appreciated. I will try to get the use of digital camera to provide you with a
picture of the car if you wish Thank you in advance
Robert H Glen
PS: I have corrected the information and Robert's beautiful black car can be seen a photo above.
======================================
David Bauldry of Ontario, Canada's SC/360 is Frost White with Red interior, also sports the potent 360V8 four barrel, four speed, Go Pack, 3:91 Twin Grip, Magnum 500s, power front disc brakes, power steering, bumper guards, tinted windshield, AM radio, Rim Blow steering wheel, and is a 34,000 original mile car.
=======================================
Hi Eddie My name is Bob Glen you already have my Black SC in your registry but I also purchased a project SC car last year and here is the information for the registry Vin #A1M061P227924 Door tag info Body 060934 Model 7106-1 Trim 141D Paint B2 The car has the 360 4bbl, 4speed, power steering, drum brakes, AM radio, magnum 500 wheels, HD Cooling system Body is burnished brown with a black stripe and black interior. At present the car is slowly being restored and will be used as a weekend driver as I intend to keep it stock. I purchased it from an elderly gent who purchased it new and only drove it in the summer actually it was his wife who did most of
driving and the the car would be stored in the car port during the winter. I will send pictures when I have something worth sending also for the lost but not forgotten cars A friend of mine Jerry Wilson purchased a used SC in 1973 and had the car for only about three years, He moved from Sudbury Ontario to Thunder Bay Ontario and had the car stored in a garage for the winter and the garage burned to the ground and the car was lost, this car had a 360 4bbl 4-speed and was mustard yellow however it no longer is with us. If you require any more info please do not hesitate to contact me. P.S. on your last E-Mail you advised that I may be hearing from one of the people who had been in contact with you but so far nothing also is there a difference between the radio in a 71 and 72 hornet if so what?
==================================
I corresponded with you several months about my old SC 360. I made a visit to my farm in Illinois and took a picture and came up with the following information. It is a sure-nough SC360. But I knew that it was because I bought it new. And I also had a 1968 AMX and a 1968 Javelin.
SER # A1M061P13615K
Body 016837
Mod 7106-1
Trim 141D
Paint C1
This little car was really a screamer. I had a little cam and carb work done on it. I never met a 396 that it could not suck up the tail pipe. It ran very well against the Chrysler big blocks and the 340's. It ever outran a 327-350 horser. No top end, tho. Probably a good thing as it handled like a tractor. My mother stuck the thing in a snowdrift while I was in the service and blew the engine. They replaced it with a 304. It was never the same again. I lost interest and it has just sat on the farm since it was last driven in 1974. Some folks always suggest that I restore it, but I have restored other cars and realize this one would take too much money for too little return. Anyway, add one more to your registry.
Mike Shay
======================================
I own a 1971 AMC Hornet SC/360. Actually, this is the second time I have owned this car. The first time I bought it was in the summer of 1978. I drove it for a couple of years before selling it in 1980 to my little brother, who hab a 1972 Javelin with a 343 engine. In 1994 I bought it back from him, and it was a mess. His girlfriends son had gotten his Javelin, and decided he needed some parts, so he stole the carburator, the distributor, and the spare tire(he didn't have a key to the car, so he took a prybar to the trunk lock and also the left rear quarter panel/trunk lid.) I am just now starting to restore the car. One question I have is, did the distributor have single or dual vacuum? The car has the hood scoop and ram air, so I am thinking it must have had the dual vacuum distributor. I am sending you information on the car to join your registry. The VIN is A1A061E236376, the plastic sticker says 3-71 in the upper left corner, E792 in the upper right corner, and A1A061P236376 on the bottom. The metal door tag says body:066154, model 7106-1, trim 141D, paint C1, and at the bottom E082792. Another question I have is, did the car come with single, or dual exhaust? It has a single exhaust now, but there are brackets on both sides for a dual system. Where can I find exhaust parts for it, as Walker Exhaust doesn't list anything for it, and the current system is junk. Also I would love to get a reproduced window sticker for it, (not just a sample). The car was originally sold by Donohue Motors in Freeport, Illinois. Clyde Hull.
========================================
Ebay SC/360 HORNET BEE Attack December 2004:

Not sure what these odds are on this, but there were three of these rare cars on ebay all at once. Yet in Janaury 2005 there were 4 Rebel Machines on ebay at the same time! Quite a spectacle!

SC/360 #1 in SOUTH DAKOTA. This was the roughest of the SC/360s.
It has lots of potential however. Sold for $1086.00. Total "hits" on the auction was 4348.
SC/360 #2 in NORTH DAKOTA.
Joe Nevland's SC/360. He was the founder of the SC/360 Registry in the late 1980s. He passed it onto me in 2001. The high bidder of this car consulted me extensively before bidding. This SC/360 sold for $12,100. Total "hits" of the auction was 5063.
SC/360 #3 in ILLINOIS.
This was the Jimmy Wright car of Sealy, Texas which sold for $3000 in 2003 after he had it for sale, heavily advertised for $5000, for well over a year. This SC/360 sold for $10,900. Total "hits" of the auction was 7078.
SC/360 #4 in CALIFORNIA
was faxed to me from Los Angeles for sale for $2000. Neat little car that was complete and with tons of potential and a rather rare color to boot! I passed on it but made a phone call and it quickly sold.
In June 2004, these two SC/360s appeared as a pair for sale on ebay, with a 'Buy It Now' price of $4000. One car has no title, and both are very rough. The white one is probably not salvageable sadly. There were 13 bids, however, bidding stopped at $1526.00 due to the conditions of the cars. The sellers ebay name was swinedog73. The phone number listed in the auction in New Jersey was #609-668-2999. I never received a reply. Here are some photos of both cars however I took off the auction while it was still in progress. Green SC/360
(note 77 AMX overlay and gauges w/tach) & White SC/360
Sad to see them in this condition, but the alternative is that they are no longer with us! So hopefully someone can fix up the green one, and make a drag car or parts car out of the whitey. I do not know what ever happened to them.

Special Thanks to Joseph Nevland who turned the SC/360 Registry he founded over to me in 2001
WTF!!
==============================