Big Tree After Hurricane Harvey
Goose Island State Park July 2018
Rockport, Texas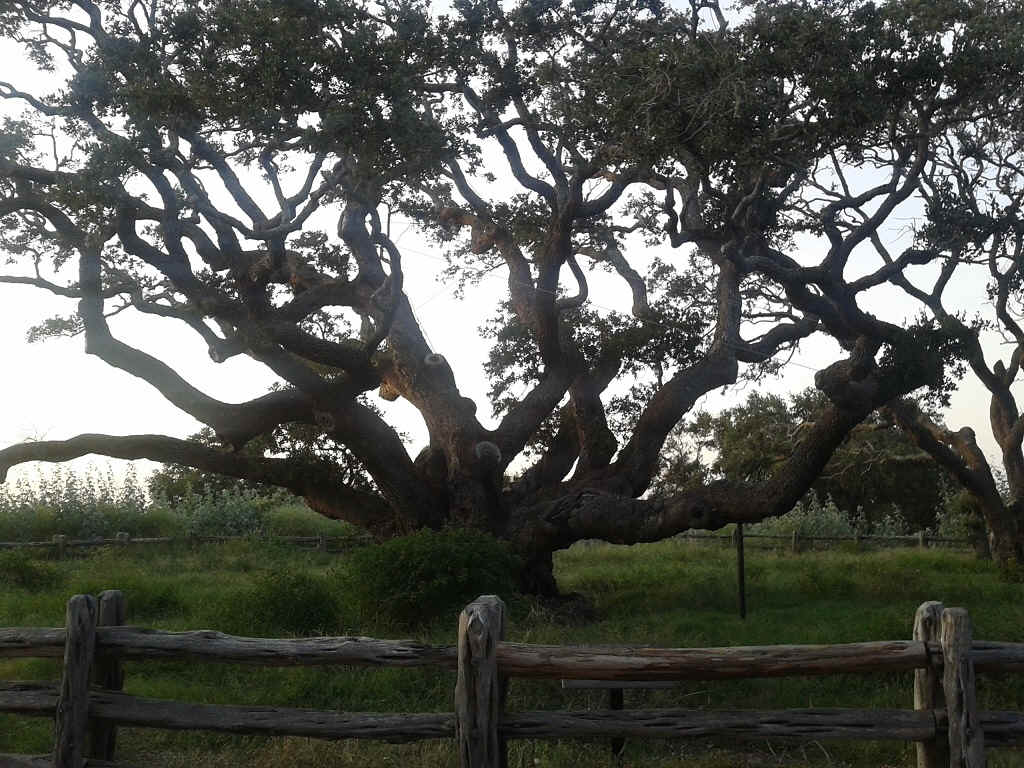 Big Tree. Big Tree is sick. And over 1000 years old. A recent quick road trip to Corpus Christi from Houston had me wondering how my old, ancient, friend Big Tree is doing. Big Tree is just up road from CC at Goose Island State Park. Hurricane Harvey a Category 4 storm, flattened Rockport, and surrounding area Aug 2017. And Big Tree & his little family was right in path of sustained 130 mile a hour winds. Not good, as compare to say 80 year old man skateboarding or surfing, stuff gonna break. So coming down Hiway 59, we stopped at Bucee's outside Wharton. It is not a issue stopping there, it is eventually LEAVING, hard to get out of the place without spending most of budget! It was 97 degrees when we left Houston with a 'feels like temp of 109'. At Refugio I decided to turn left onto FM 774 where the beautiful little white church is, and head east. Didn't let wife & kids know what going on. Driving east on 774 the old 1950s road is still smoother than 'new 2018 Ocean Drive repaved' I would find out. Nice bunch of cows out here, wife didn't like me telling stories about how as teens we would go up to fences on Weber, Holly, and other outskirts like Calallen, Annaville, and the cows would come moseying up to fence, then PUNCH them in face, they run off, MRRRRHRRR all pissed off, kicking legs while us teens laughed at dumb old cow. I would not do that now, as that is where chocolate milk, ice cream come from and nothing like vengeful old cow.

Turning into the Goose Island State Park off Hiway 35, park, and headed thru the small maze of tiny roads, I kept saying in my head Oh My God, before one actually slipped out. All these beautiful old trees, there were fallen ones, and many, many a year later with no crowns, no leaves, just beat to sheer hell by Harvey. The broken trees were not only haunting but sort of scary of the force I guess of Harvey, looked like a old Uriah Heep album cover.

Getting to Big Tree, I was first out of car. Wife said 'why didn't you say you coming here' as my boys never seen it. The silence is beyond eerie here.There were no laughing gulls, no sparrows, arctic terns, no blue jays, mocking birds, no lapping of water on small beach near there. The Saharan dust cloud made it even more spooky. But the silence made my ears pop. The last time I was here 20 or so years ago, lots of LIFE out here, and all the critters, bugs, even cicadas, let you know. The only signs of life were some big cutter fire ants, and so we picked up a few and dropped them into the dirt devil little funnel like pits. you know what those are, they have little funnels in soft dirt, something falls in, they toss dirt of the bug or ant since can't get out, and then drag them under to munch on them.

No one else around. Just us. Only sounds of our flip flops, or slaps made any noise. I walked up to small wooden fence that is around perimeter and said 'Hi big guy, how are you doing? He said 'not too good Eddie, I feel like a prize fighter in 15th round after Harvey' I told him 'we got hit pretty hard up in Houston, and still recovering year later, but it was all flooding, not wind like you' He said 'I heard about that, 50 inches of rain some areas up there' I told him 'well how are YOU doing, look a little frazzled!' 'Yes, I lost a lot of limbs, but nothing I can't handle, you know I have seen hundreds of hurricanes in my life, but Harvey was a bad one' I told him 'I thought of you when they showed trajectory, and wished I had some superpower like Fantastic 4 Sue Storm or the daughter in The Incredibles as they have force field I could have put above you'. He said 'well, now you talking crap like last time you here, your superpower is restoring old AMC cars!' 'Well, yes, not really a superpower, but still doing it ha ha'. He said 'who are the kids?' I said 'these are my latest spawns, don't worry, they won't crawl on your limbs like other ones I had!'. Awkward silence here again. He said 'who is the pretty lady, same one from last time you told me she won't shut the hell up talking?' I sheepishly said 'uh, yes, she hasn't shut up the whole trip down here either Mister Tree'. Even more awkward silence, now with glare from the old lady to boot.

Looking at Big Tree, I slowly walked around the perimeter. I wanted to cry.Seems like a really old friend you hate to see in that condition. I understand the metal bars holding up some of his massive branches as we have some in Houston like that. But the wires strung thru out branches like spider webs reminded me of a skier who fell down mountain and in in hospital in traction. You know Big Tree has seen a war on doorstep between Confederates & Union at Lamar, he remembers when Indianola was capital of Texas a few miles from him. Before Christopher Columbus discovered America he was already hundreds of years old. He can tell you about cannibal Indians who used to eat each other like they were at Shakey's or Pancho's buffet, some streets in Corpus Christi a few miles down road named after them: Karankawa & Tancahua if I recall. Gunpowder was first being used when he was a kid, a little sapling, printed money first being used, big war with England with Norwegians & William The Conqueror, you had religions splitting, and over here just quiet with a occasional settler coming thru. He has had fires near and on him, black men hung from branches, white and brown men hung there too, mostly outlaws. Sometimes the salty water would come way up there, and hard for a oak to drink that. And the hurricanes, lots of them, you just hold tight & hope for best. But Harvey was different.

Harvey pretty much scored direct hit as a Category 4 hurricane on Rockport, Lama, Copono Bay, not to say other areas (ugh, like us here in Houston) affected but the wind speed was 140-150+ in this area, and as hardy as Live Oak trees are, many of them fell like soldiers in war. $198 BILLION dollars in damage and 91 people killed. You can't put a total on something like a one thousand year old oak tree I guess, but just simply saddening. Big Tree his actual stats are: Trunk circumference: 35 feet 1.75 inches or 10.71 meters, Average trunk diameter: 11 feet 2.25 inches or 3.41 meters, Crown spread: 89 feet or 27.1 meters, Height: 44 feet or 13.4 meters

My son Noah took this short 2:40 minute video as he slowly walked around Big Tree. https://www.youtube.com/watch?v=4d_KJhl8jOw

In it clearly visible are the missing limbs, the missing leaves, but Big Tree put on gallant face for us, sort of like a fat dude holding his breath in at beach speedo when pretty girl walks by. Worked for me but knew he was in pain. And really nothing I personally could do for my old friend. Some of his family also suffered, all those 'smaller big trees' around him his family here you know he just happens to be the poppa. He is in good care, there is a group tending to his needs, sawed off some broken limbs so won't get infected, giving him nutrients, fresh water am guessing, whatever arborists do. I told him 'you know there is a blood red full moon tonight don't you?' He said 'sure have seen a lot of them, eclipses too, and many, comets, shooting stars, the space station flies over too, easily visible, even seen some UFOs it is so dark out here, but I could use the rest you know'. I said 'what, you seen some UFOs?'.

He said 'old loudmouthed car guy with the wife that won't shut up, I tell you what you can do for me'. 'It is lonely out here and I am feeling a little down a year later trying to get my strength back, will you tell people to come visit me? I love visitors. And I am only 39 miles from your hometown Corpus Christi you know. That is roughly the circumference of Loop 610 in Houston' I said 'wait, how the hell do you know that??!' He said 'I know everything and full of wisdom and knowledge after a thousand years on this planet. I even have my own website you know!' 'No, didn't know but do now. Mister Big Tree do you have wifi? I will send friends and family to you Mister Big Tree, it was nothing short of a pleasure talking to you, God Bless You & siblings here, ya'll will be around longer than anyone on this planet today, get well' He said 'thanks my old loudmouthed car AMC friend from Houston with wife that continually keeps breaking the silence here, I will see you NEXT time you come down, don't be such a stranger' I smiled & said: 'Goodnight Big Tree it really HAS been a pleasure seeing you again, & I prayed heavily for those in the path of Hurricane Harvey including you my ancient friend, and here is to hoping your limbs last another 1000+ years, and egrets, pelicans, and storks, once again grace your limbs in coming days'

Ever read the little plaque there? "Welcome to my home. I am a live oak tree and I am very old. I have seen spring return more than a thousand times. I can remember hundreds of hurricanes, most I'd rather forget, but I withstood. There was a big fire once. I hate fires. Around me are my offspring. We are an old-dune woodland community. We provide shelter and acorns for squirrels, jays, raccoons, bobwhite, deer, javelina, and most other members of our community. For most of my life I belonged only to myself. Now I belong to you, or so I'm told. Humpf! Branch breakers and root tramplers the lot of you. Some years ago someone came and patched my cracks, trimmed my dead branches, killed my pests and healed my fungus rots. Was that you? I'm feeling much better, thank you. I am tired now. You may leave me in peace when you are ready to go. Please leave my home as you found it. I have important things to do. The seasons are changing again and I must get ready."

With that, I slowly walked away, the Saharan sunset was nothing short of spectacular thru his majestic, stony silence of limbs. Wife & kids had wandered off to little bay, and a full, blood red moon was rising, quite fitting, seeing sunset thru his limbs, and moon rising same time. Yes, God IS truly Good. Now ya'll go visit the big fellow!

This is a short video son Noah took of Big Tree who put on a gallant face for the camera. https://www.youtube.com/watch?v=4d_KJhl8jOw
some of Big Tree's family in background, Saharan Dust Cloud visible with sunset. Yes, put this in here twice, it is worth seeing again.

Photos: Free free to share these, use them for screen savers, desktop, however you may wish!

Photo #1 Big Tree as you first walk up to him. If you have never seen him it really is quite breathtaking, made even more so knowing this fellow has been around more than 1000 years.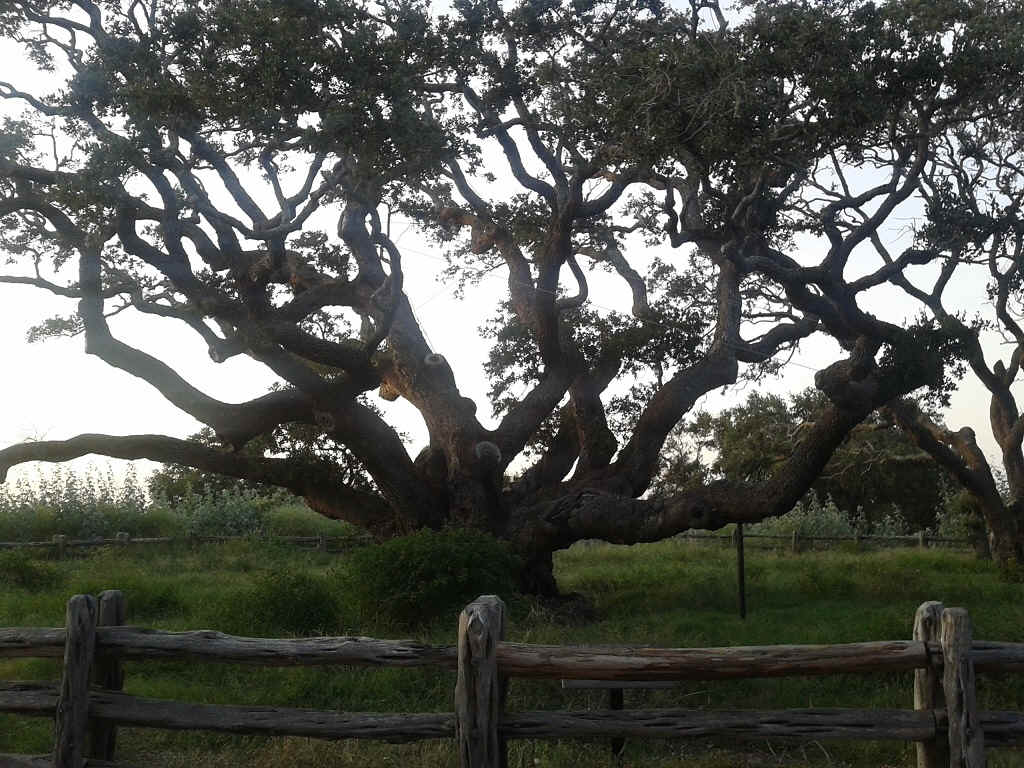 Photo #2. Side angle facing west as sun slowly sets over another hot, summer Texas day. The hue is Saharan Dust from Africa that blows over Atlantic seems like every year, this year sort of bad, but makes for some spectacular sunsets, especially with this old fellow in foreground!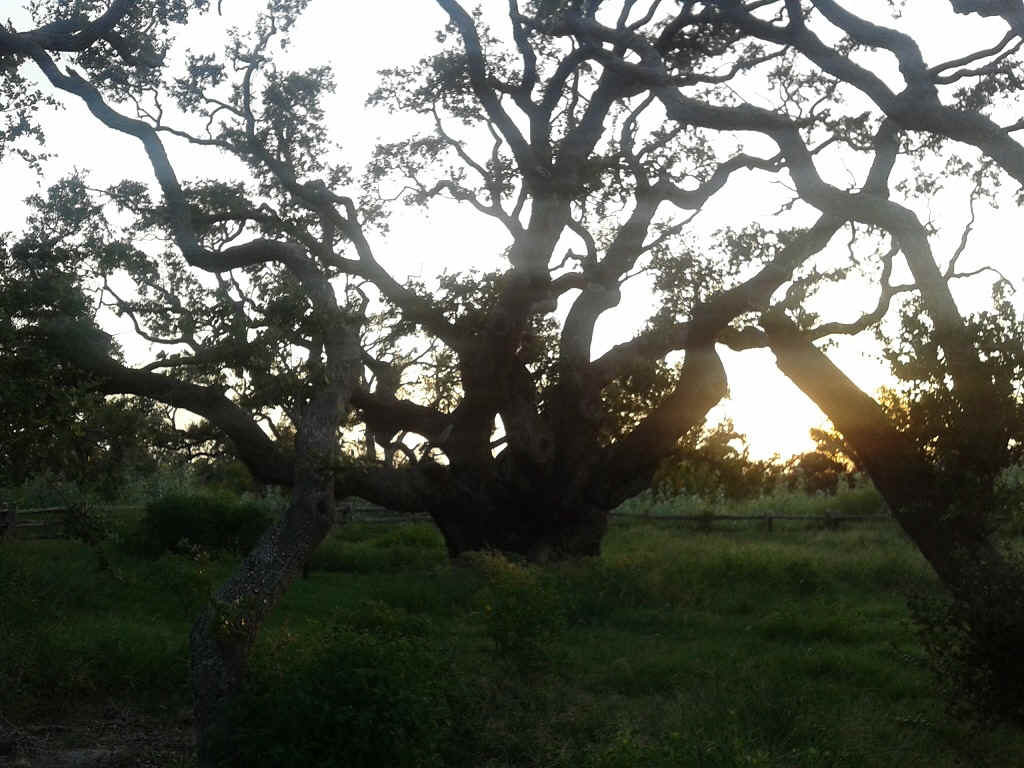 Photo #3: National Weather Service shows Wind Speed bullseye of devastation around Big Tree and Rockport. I still could not really comprehend how many branches and trees down while driving along the little roads to go see Big Tree,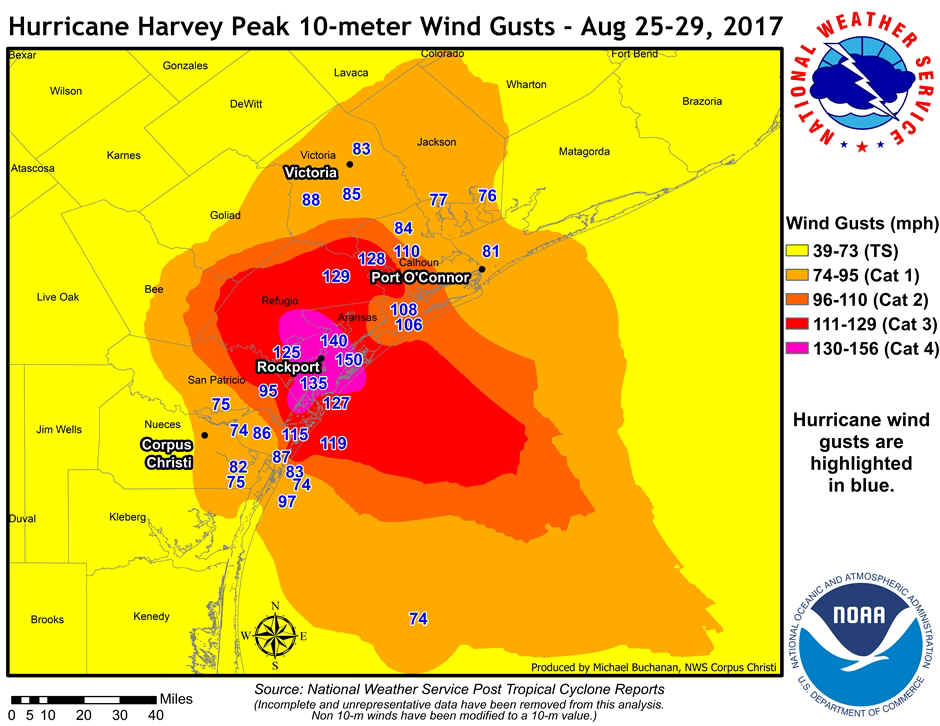 Photo #4. You have to have a real appreciation for life on this planet when you stare at something as majestic as this. This photo taken with my crappy 10 year old cell phone. Turned out amazingly well for age. Sort of like Big Tree, knows all about age!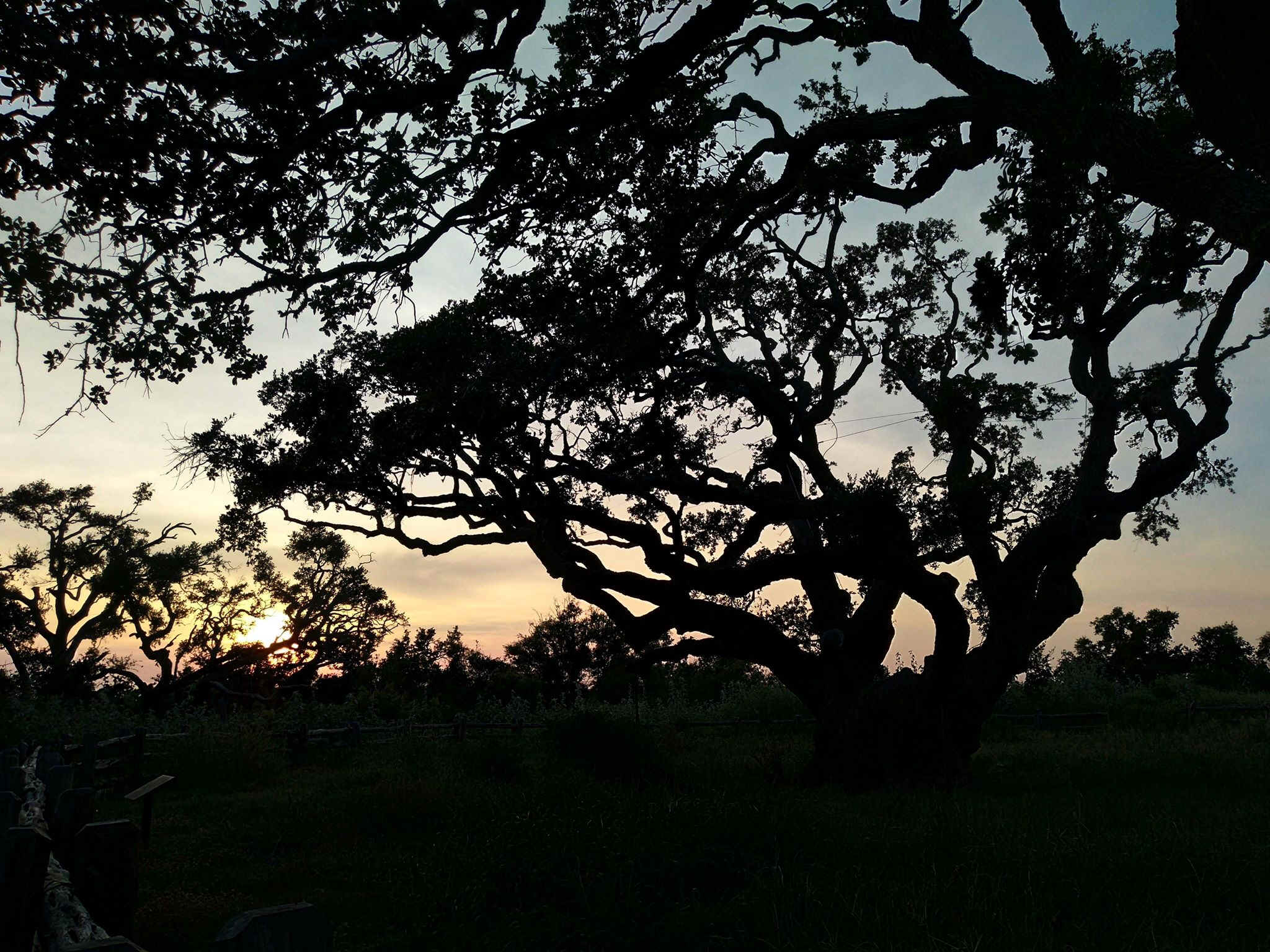 Photo #5. Blood Red full moon coming up over bay in this photo. The water is still, there are a few birds flying above moon, the next morning I purposely got up early to watch moon set from hotel balcony on SPID, yes, was captivating!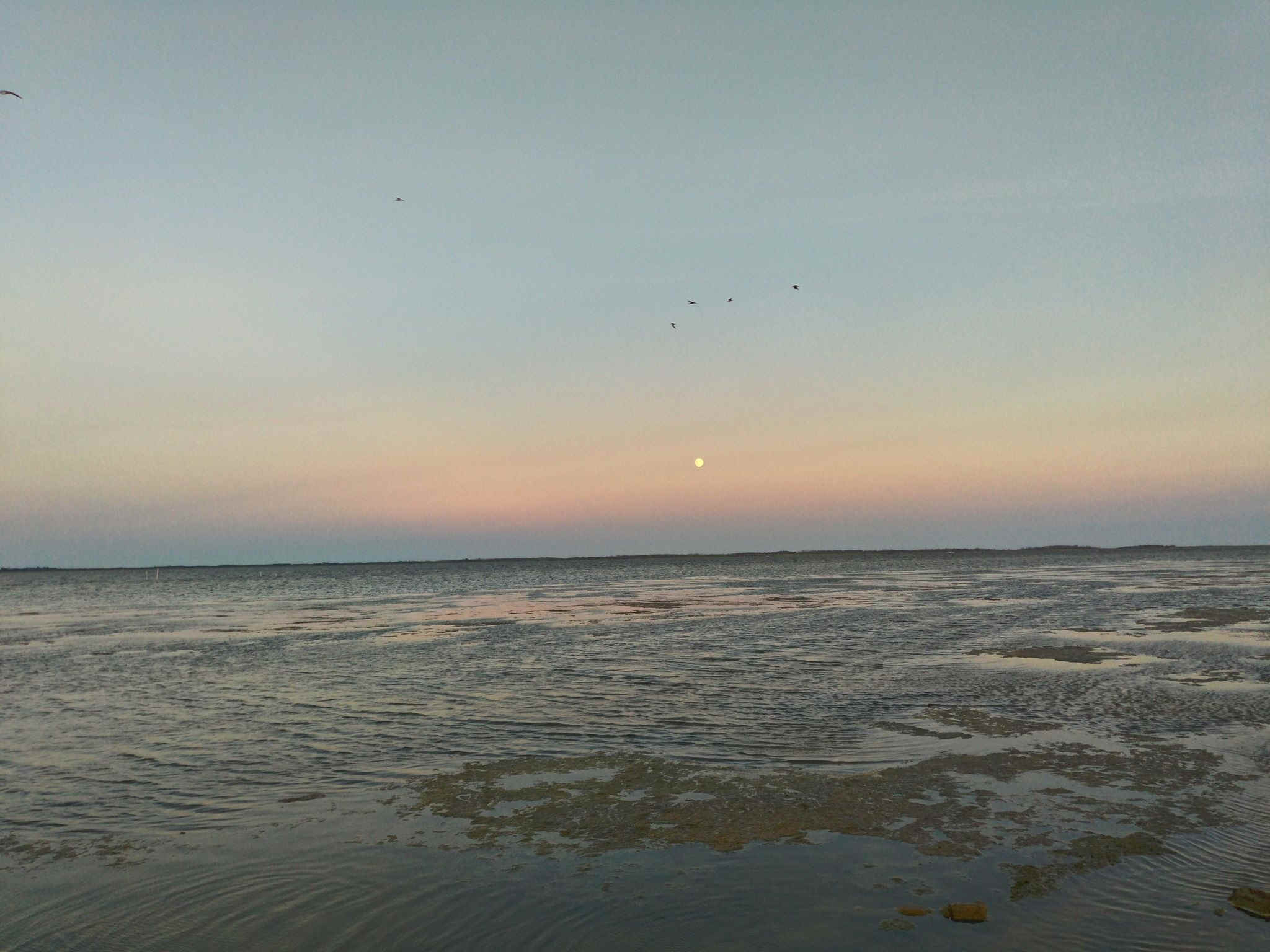 Photo #6. Blood Red full moon over Corpus Christi had to edit out some of hotel wall next door & enlarge, surreal, was worth waking up early...well that and the Whataburger coffee helped.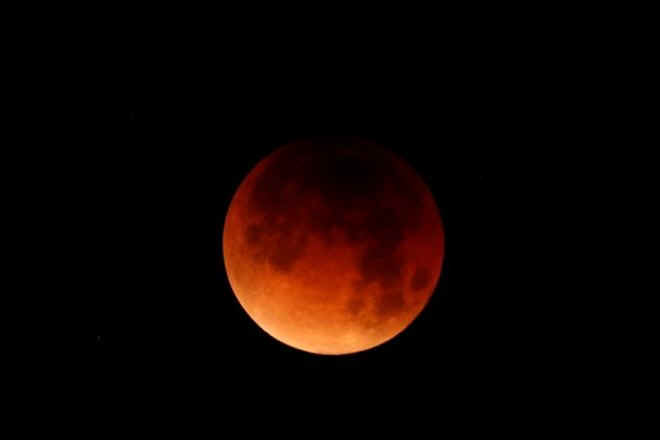 Photo #7. Eternal as Big Tree, this is my late brother Tommy Stakes with wife Maria in front of Big Tree 25 years ago about 1993. They were married 27-28 years before Tommy passed away at young age of 60.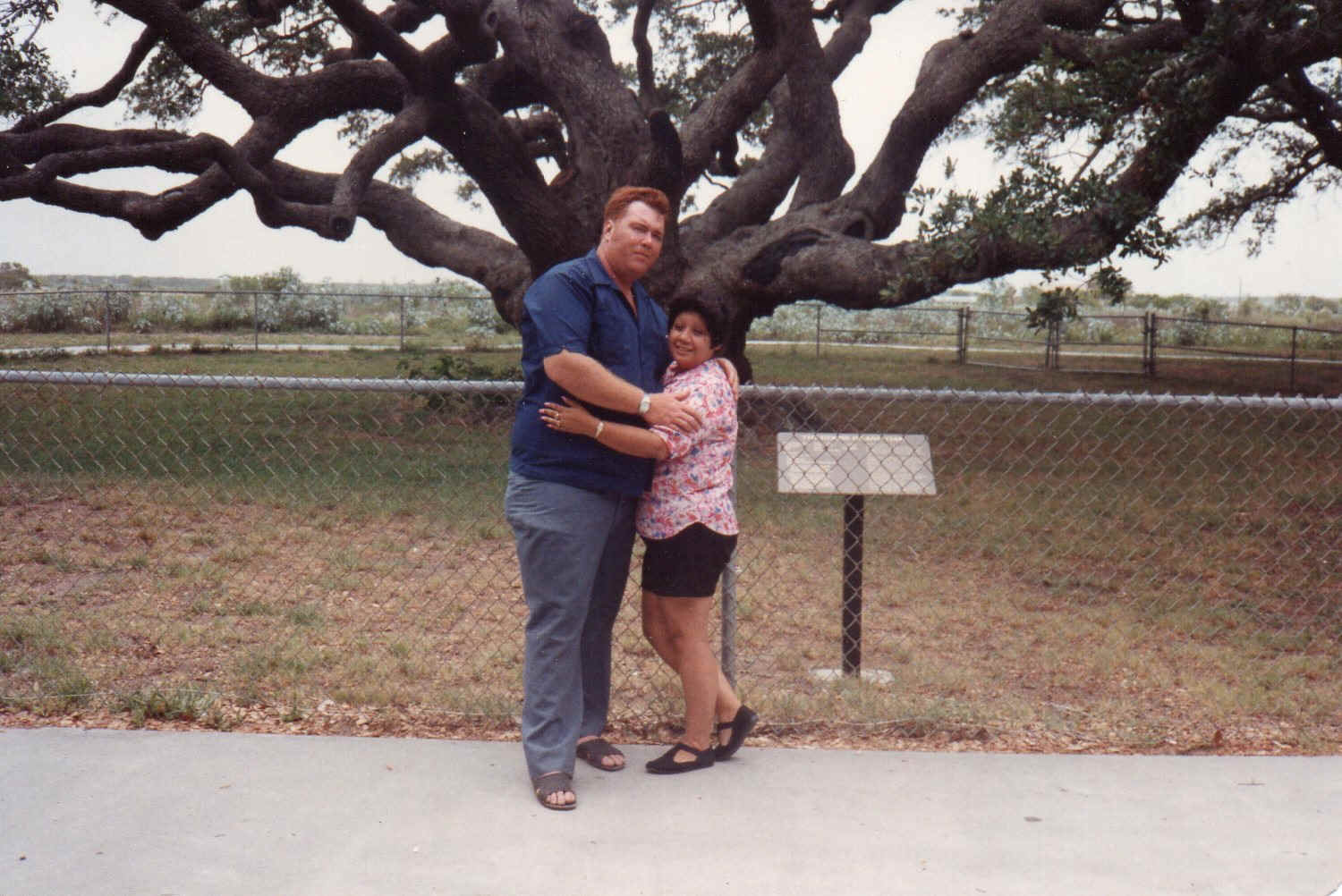 Big Tree's Official Website is:
https://tpwd.texas.gov/state-parks/goose-island/the-big-tree