The Landing Apartments Corpus Christi Texas Poker Games circa 1980-82
The Landing Apartments on Weber circa 1980-82. This place had more drugs than Walgreens, and nothing says Happy Birthday to me than a pound of weed! (photo 1). The crowd at Landing was younger, and tended to party a lot. My apartment #4302, was a place we had a lot of parties, sometimes 2-4 a week.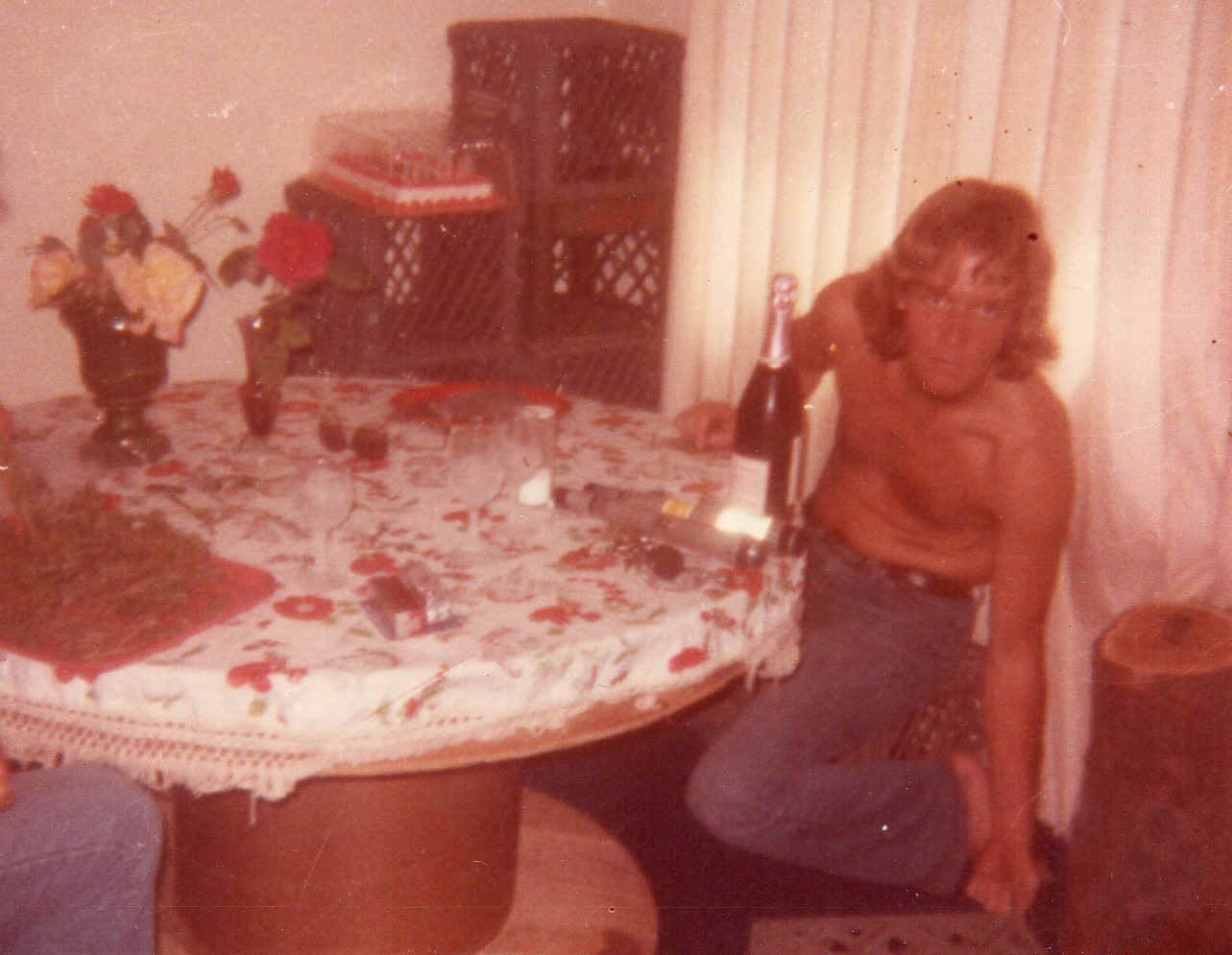 Played a LOT of cards, sometimes would lose whole rent in one night, rent for my 'efficency' was $325 at the time. If you can get past the large amount of marijuana on the table (ha ha I can't what the holy hell was Ithinking?) you will notice two CPL meter scoops in front of me, this is what CPL gave us meter readers so would not have to go in yard with bad dogs. My beautiful chairs, ok, milk crates behind me, and the table is a CPL spool used for cable. Thanks CPL! Oh, weed is legal in some states now, and damned near any concert you might go to people smoking it. I am not inditing or endorsing anything, and hope to God the statutes of limitations has run out since 1980. A pound of weed was $100-$125, good, Mexican stuff. Now you have all the stupid 'designer names' of weed where it is sold legally. Back then we had 'consimilla' (duh, means with seeds!) and C-Bo, which was the Columbian crap that washed up in bales we used to find on Padre Island, let it dry out good, and was smokable, but sometimes leave a headache since had been floating in salt water! Some of you old hippies on here can attest to that.
Photo #1 shows a number of us sitting around table, for such a spartan lifestyle, work at day, party at night, I had some great friends who I still remain friends with to this day. I don't know why people would throw the finger when I tried to take photo of them with my little disposable camera. Not sure anyone remembers what a disposable camera is. Wait, even I am throwing the finger in one photo.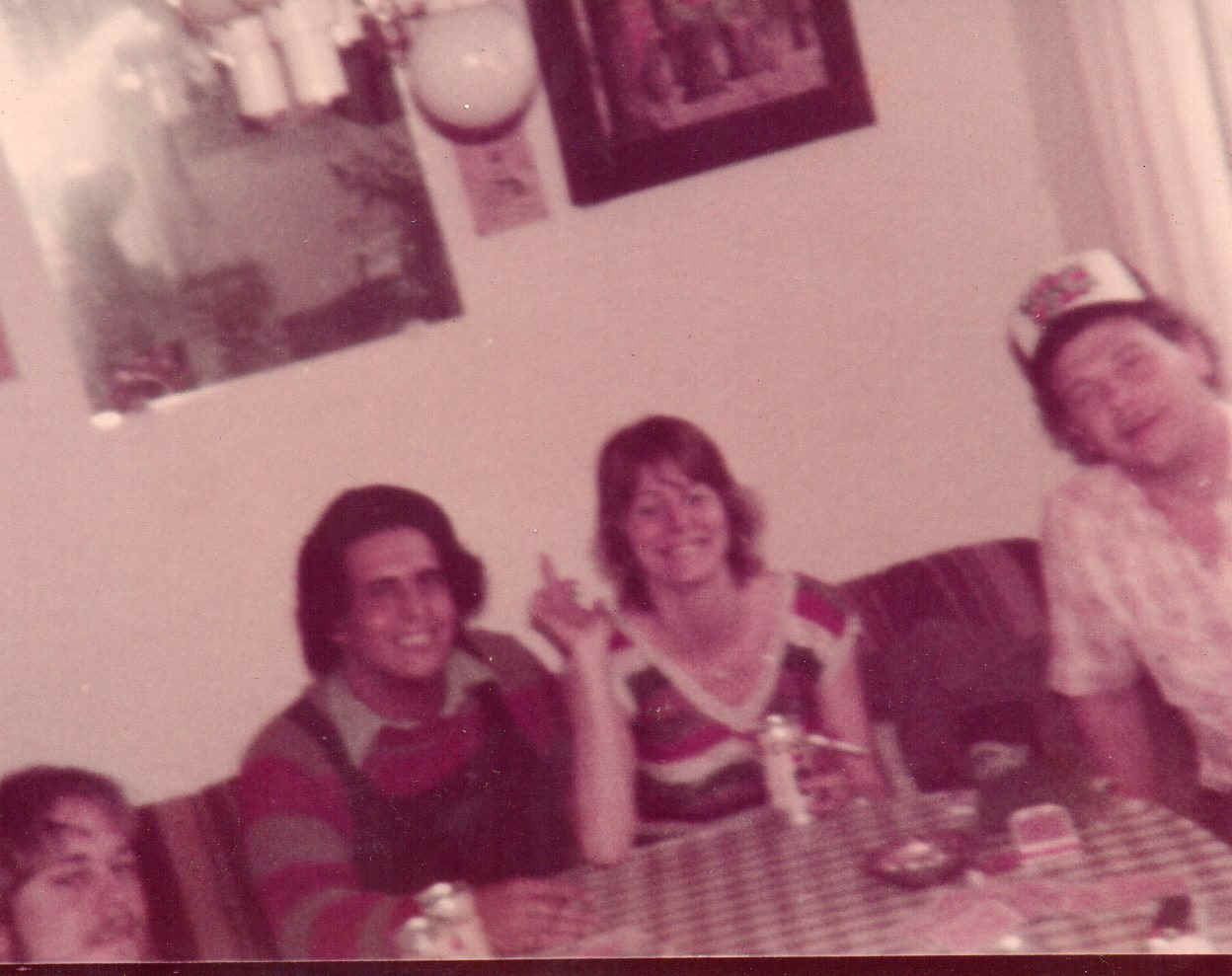 We never had any trouble at The Landing, and there were a number of Corpus Christi Police that lived there, also Nueces County deputies. But no one screwed with anyone. Never any fights at pool, or the hospitality place near main pool, which was in center of complex and really close to my front door.
Photo #2 shows me with long hair, and someone who probably had weed, note my old surfboard in background, looks like times might have been tough smashnig seeds to get high on the tray, there are 3 people throwing the bird in this photo. And afer one would get buzzed, some good fruit on table from HEB. I wonder why HEB never let ME do a commercial. Would have done wonders for Snickers, Doritos and other munchies.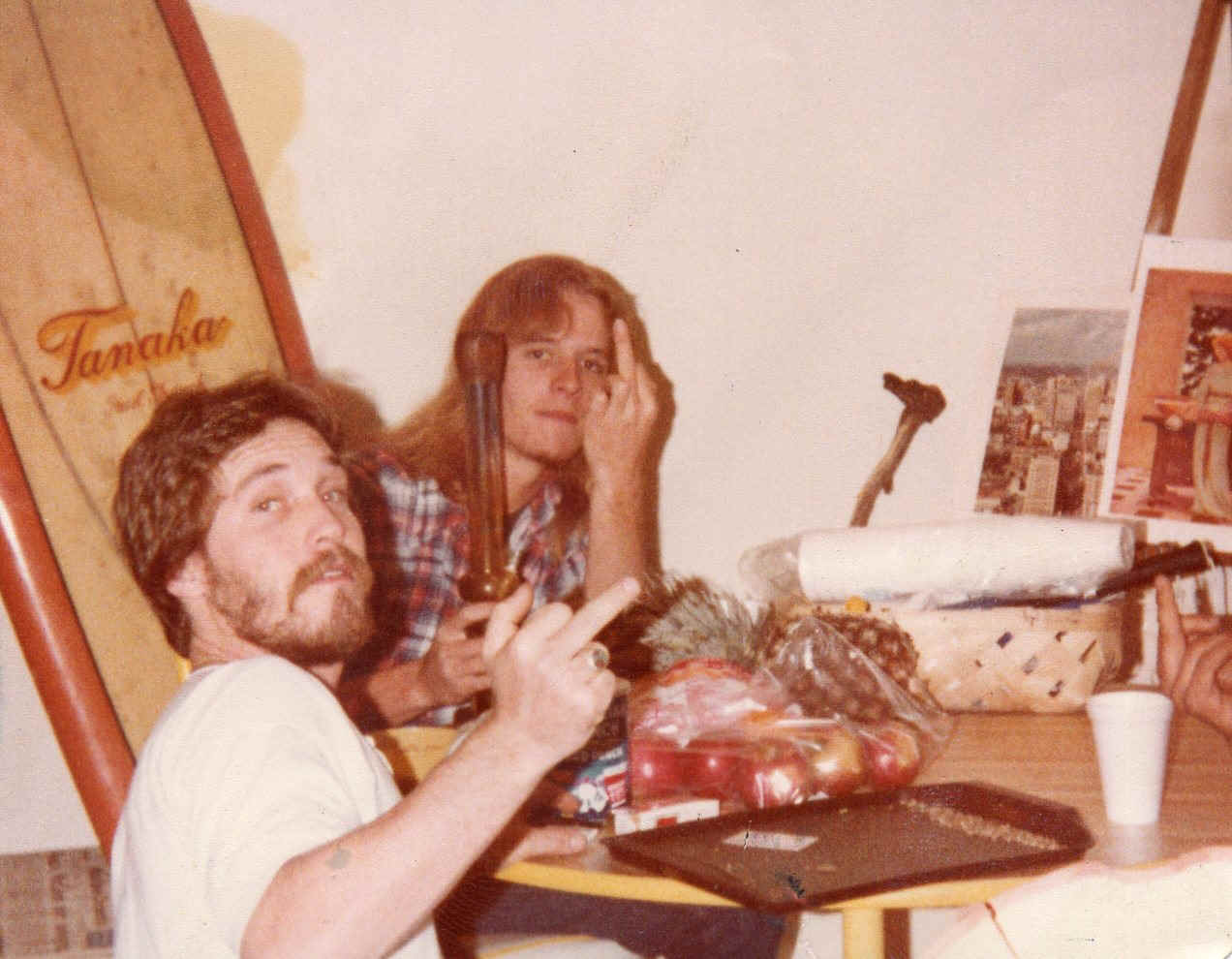 Photo #3 Hey it is my best friend Junior who slept with my wife and caused divorce on left. Stayed friends believe it or not, even with messy divorce with kids. Ok, without going into details most of the guys here did, but another story for another day. The fellow covering his face was Brian Pharr. He was a small stature guy, really nice but never sobered up. Both his parents were alkies and lived near Hamlin pharmacy where old Handy Andy was corner of Weber & Staples. Brian worked at the car wash across from Carroll High School on Weber. Sometimes he would cash check, feel lucky and come over to play poker and I (gee, or someone!) would win his whole check, then lend him money back. Sadly, Brian was leaving the bar near Thurman Fondren on SPID one night and decided to cross SPID to go to Grand Daddys east side of SPID and was hit and killed by 3-4 cars. After that, THEN City of Corpus Christi decided to put that little lame barrier fences up between lanes. He was a good kid, and when his parents went out of town, he invited those of us he trusted in his parents house over. It was like playing Wheres Waldo looking for booze hidden in house! Seriously, pint of vodka in laundry detergent box? What? Brian, look I found bourbon in Cheerios box! So we never had to buy booze when he invited us over.. last I heard he left his wife and many kids in San Diego, had stroke, moved to Flour Bluff. Brian behind him died on SPID crossing damned freeway going from one bar to another. Not sure what happened to Judge on far right in photo.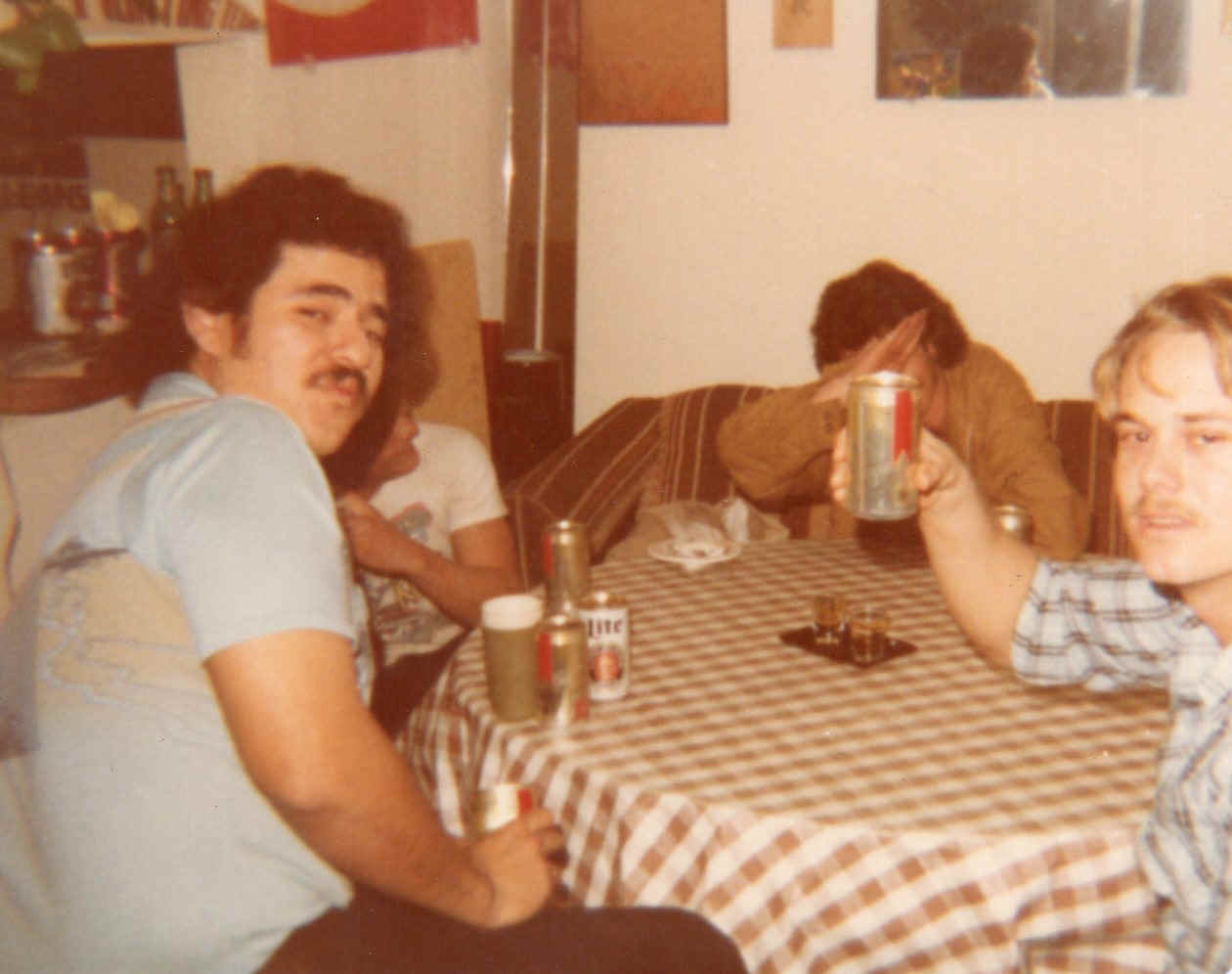 The next two photos, #4 & #5, one is of me next to my 68 AMC Javelin at The Landing across street from my apartment. Behind the building where I am at is the main pool. I often wondered who got those neat apartments that FACED the pool, but they probably didn't have 'efficency' like I did. The photo after this is old girlfriend Debbie, who was a good cook & lived with me on and off for awhile at The Landing. That was her Ford Fairlaine standing next to, don't remember what year it is.
The last several photos show the party going on in my #4302 apartment. Again, was a different time, many years ago, and never caused any trouble, no one ever got busted. Many times I would let people stay over if they had too much to drink, I had good couch, and nice soft, mattresses rolled up in one closet, they just had to walk past me & girlfriend naked in bed though to get to bathroom, so everyone turned their heads. Next morning, if Brian worked I would give him ride to work, other guys, we would either have super breakfast Debbie made, or just go down to the Whataburger at Weber & SPID before heading seperate ways.
I believe I lived at The Landing for about 2 years, then moved to some place farther down Weber at Saratoga that was 3 bedroom, was nice but leaked like a siv when it rained, and was painted a horrible green. Lived there for about 6 months but got kicked out for me parking repeatedly where not supposed to and maintainence man claimed I chased him. So evicted and Rick & me moved to the apartments behind Padre Staples Mall, Kings something or another, this was big place, he was working at Charcos, and I was working at Crystal Confectionary. Gone were the great poker games, playing not only for shots of tequila, but also real money, lots of real money, and the partying sort of got left behind at The Landing. Still had that red bong there shown in number of photos, brought with me when moved to Houston, but it broke shortly thereafter. Not mentioned is that across the street from The Landing was a great bar called Doctor Livingstons, super happy hour with ribs, shrimp, cheap beer, and some good bands too, just walk across street from The Landing, maybe 200 yards to get to! Home some not offended, but it is some awesome memories from a long, long time ago in my hometown! PS: I still have my surfboard in Houston. And if floods here.
The infamous Landing Apartment #4302 shown on left! Note the vertical numbers I changed when I moved in, it was not until 2013 decades later they changed them back ha ha! My 68 AMX & old girlfriend Debbie Thomas standing there about 1981 or 1982