Dogs Attack Coyote West Houston near Addicks Dam
On April 15th, 2016, Biblical flooding hit Houston, with the Addicks Dam at capacity. Many critters displaced by the flooding. You might want to check out
the WYCLIFFE FLOODING file also.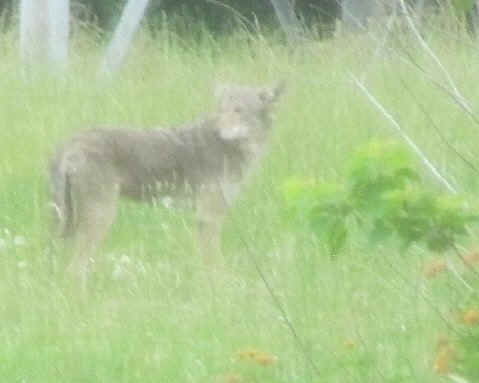 On January 19th, 2015, 10:00am I was walking my dogs in the Centerpoint Easement behind house. There is abandoned well on Timber Oak City of Houston owns. My dogs startled a large coyote sleeping in the high weeds and chased it into the fenced area of the big blue water tank where all hell broke loose. My pit bull Chewey, was trying to take out the coyotes back legs while Ashoaka the lab, was concentrating on the coyotes face. I hate fucking coyotes, but realize they were here first in this wilderness area in west Houston near Addicks dam. The old lady who used to leve next to me said 'I seen them since 1959' of which they go down the easement towards and back from I-10. Not often, but you will know when they are in neighborhood.
In 2010 I shot and killed two of them, it is said coyotes do not hunt alone but damned if there was 10-15 of them outside in middle of street whooping and holwing up a storm so much woke me up, saw them, grabbed gun and started rapid firing from my back yard. I have also went into the field in middle of night/morning when dogs go beserk knowing there must be one around. I do not know what law is concerning killing them but 95% of time they run off. Even in DAY.
The incident Jan 19th, 2015 I had both sons with me, so all six of us (no gun) were in the fenced in area when hell broke loose, the coyote was desperately trying to get away running along fence line, but my dogs were attacking it. And it was trying to fight back. As the coyote crawled under the fence to the big fenced in business on Brittmoore which backs up to the field, but Chewy bit it's back legs as it was howling and hobbled off both dogs in frenzy.
Noah had tried to bust up the fight with a large stick to no avail. Jacob stayed near open gate. I didn't know what the hell to do. Ashoaka got bit on face but is fine as has shots. The coyote got away badly injured. There is a huge, and I mean huge pile of thorny underbrush on that abandoned property and we thought it might be coyote den, so have next that evening when we let dogs out I had my 38 with me just in case. Not that I would shoot little bastard coyote pups but turn them into the wildlife place down I-10.
The next evening about 5:00pm the dogs in neighborhood started freaking out again. I walked into back yard and was face to face with a BIGGER coyote which ran in front of a lady's Toyota she had to put on brakes to not hit it, this one about 50 pounds and mangy, looked like chupacabra and only 10 feet from my back fence. So ran inside, told boys and the chase was on. This one headed north down easement towards Shadow Wood, my son Noah 20 or so yards behind it with golf club. I took a call phone photo of it below, not very clear as was running.
The first arrow was Polly's husband, the 2nd arrow the coyote and 3rd arrow son Noah.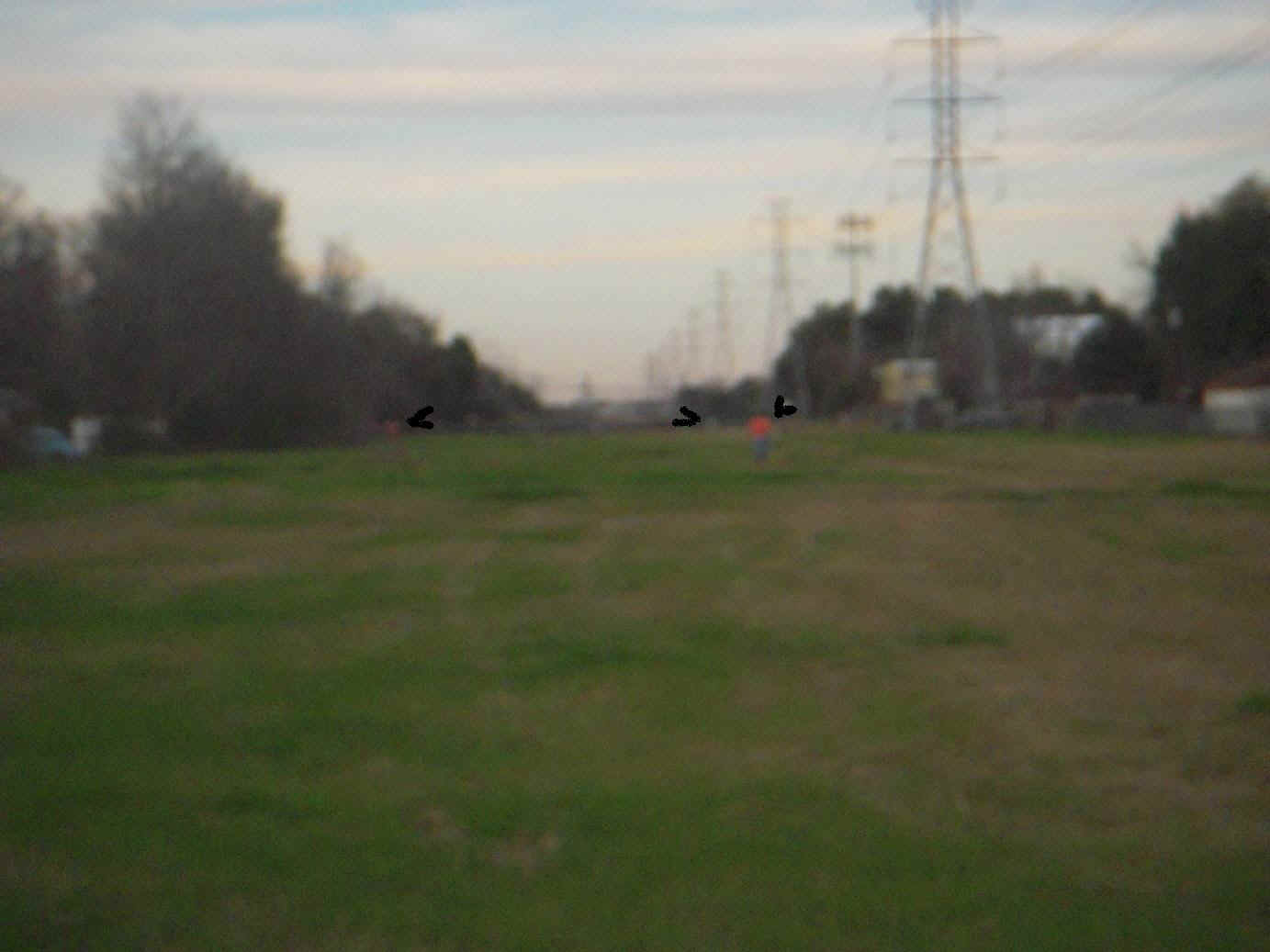 What was scary about this second incident was that Polly's husband who roams around sometimes in neighborhood as he has dementia and alzheimers, the coyote headed straight towards him behind his house....then veered off when he raised his hands. As the coyote crossed Shadow Wood, there was a little girl with her puppy in easement on other side of street, and coyote turned left and headed towards Wycliffe luckily, but Noah was on it's trail and hed had my 9 iron. I was now in one of my classic cars with Jacob and we tore down Wycliffe only to see Noah the coyote had disappeared, turing down Sherwood Forest, probably headed back over the Addicks Dam.
A few nights later dogs in neighborhood started howling again. Wycliffe dogs, Timber Oak dogs, they all have a certain bark when coyotes are around, not normal bark. My dogs were standing on back fence and sure enough a big coyote was trucking down the easement, this one appeared to be larger than other ones seen previouly. It was about 1:30am. I had camera and snapped a photo but didn't turn out wekk although can see glow from flash in eyes.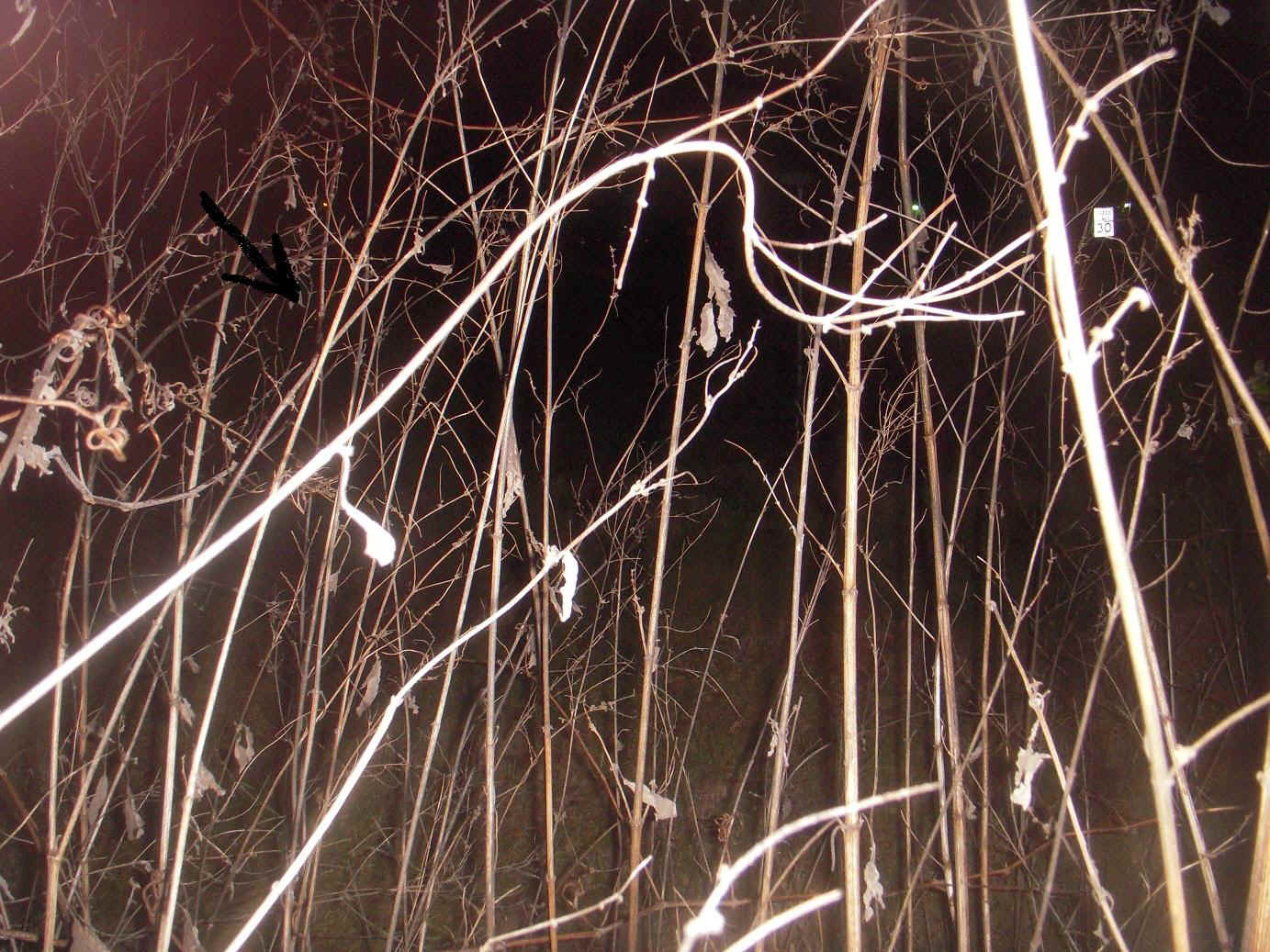 I have taken photos of all sorts of wildlife back in the easement, have caught dozens of turtles, of which we take and put on other side of dam, have taken photos of deer, seen coons, possums, rats big enough a Cajun would make gumbo out of, armadillos which can;t run very fast, and these coyotes. (See bottom of this page)
There have been a LOT of people's pets disappear in this area for years and most recently, a neighbor's small Pekinese "Coco" disappeared, while another neighbor found remains of 1/2 eaten pet cat. I walk for health reasons all hours of night and have seen coyotes walking down middle of road like they own it, they see me, go another way, and they are part of the neighborhood. But you have to watch them nonetheless.
Please do NOT leave pet food out. Don't let your small children play unsupervised out front after dark. Watch your pets.
I have also told a number of neighbors about this incident and several came out with flashlights a few nights later when they saw me & boys out there near tanks with flashlights, so a number of neighbors are aware although a number of newer residents didn't know coyotes are running around the hood.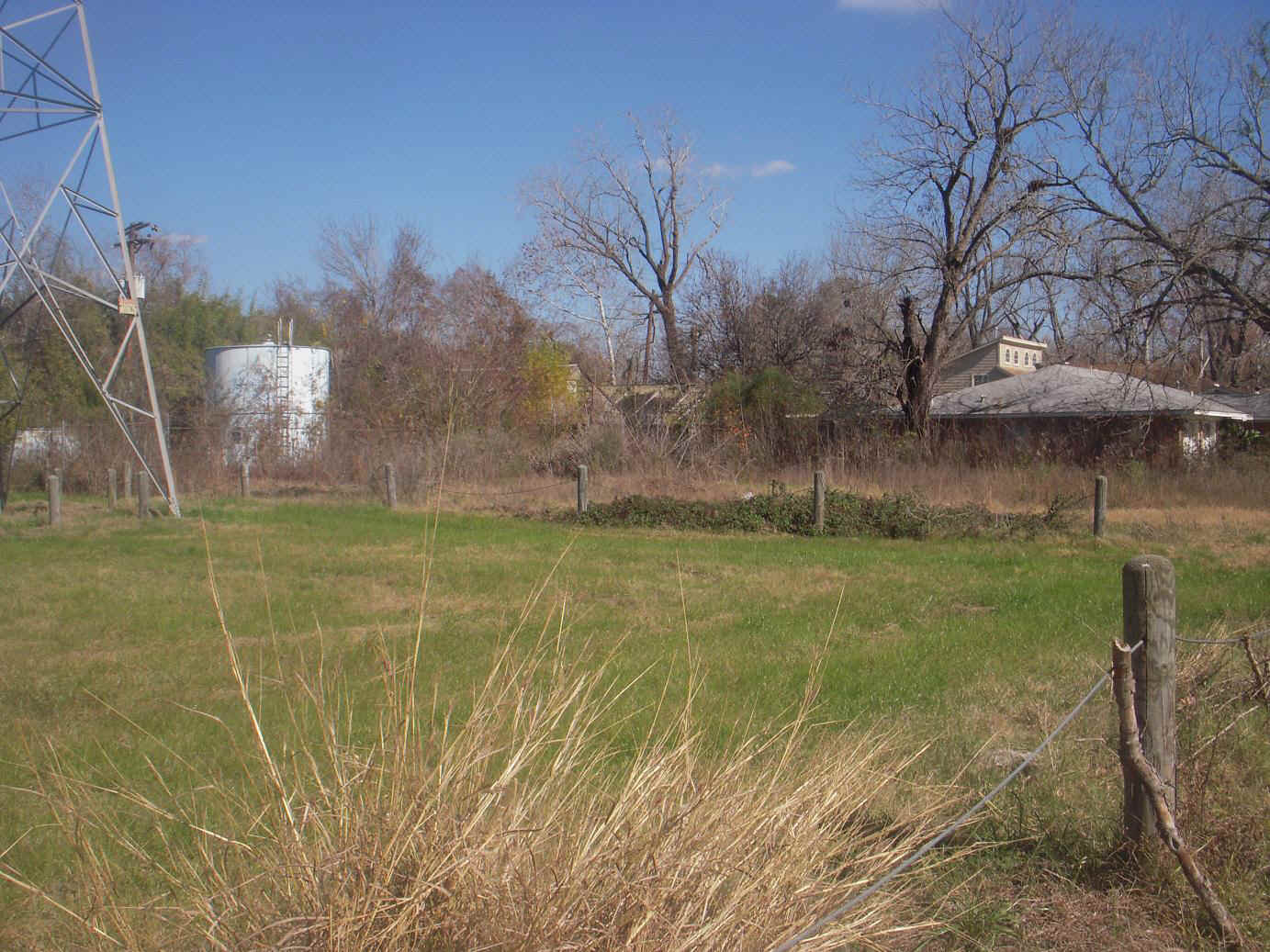 Above is the abandoned tank area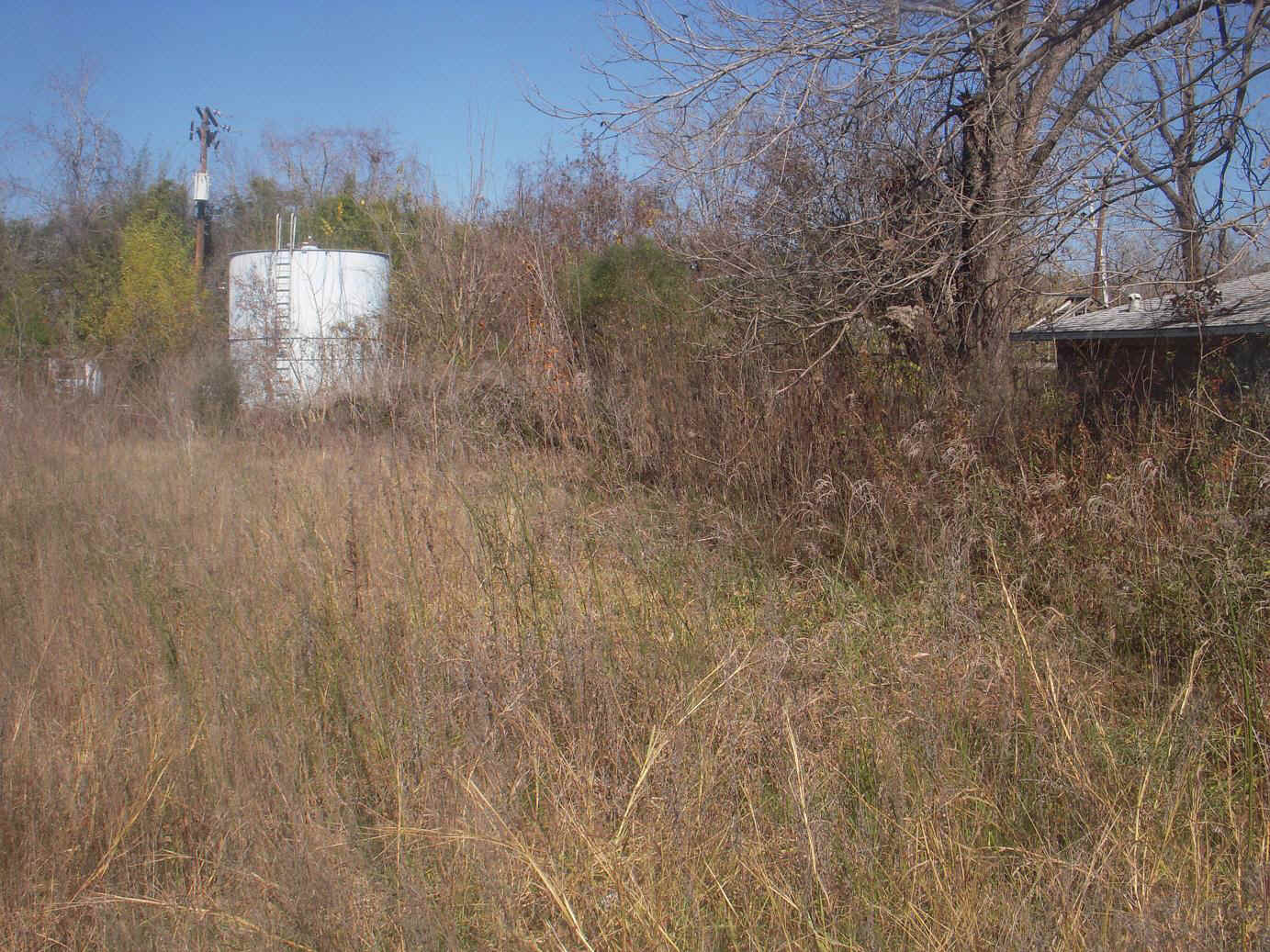 Close up of large overgrowth on property which is owned by City of Houston. It has not been cut since 2008.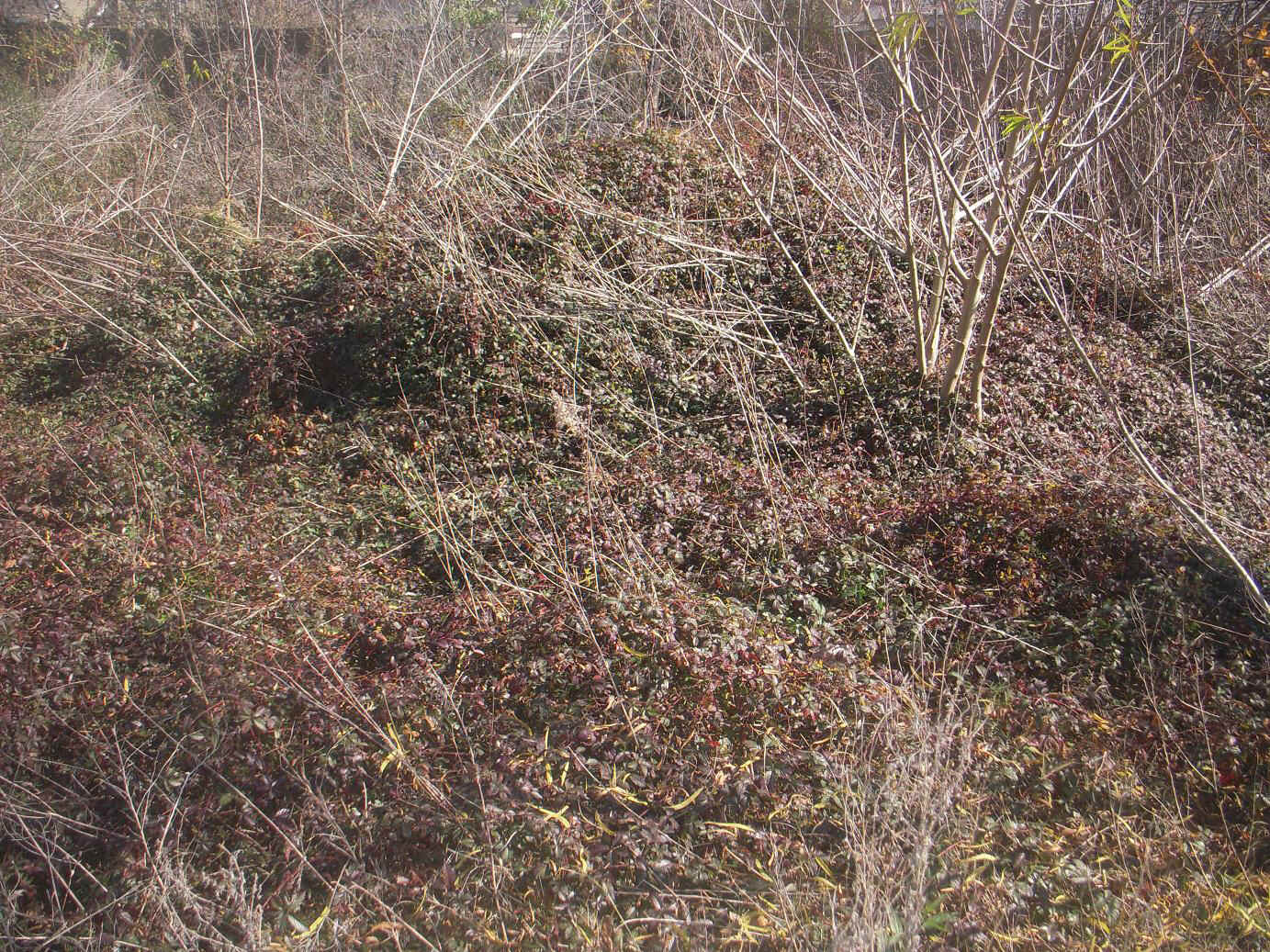 This is the large, and I mean, LARGE almost 5 feet high bramble bush of thorns and shurbbery we thought maybe a den as dogs kept looking in it.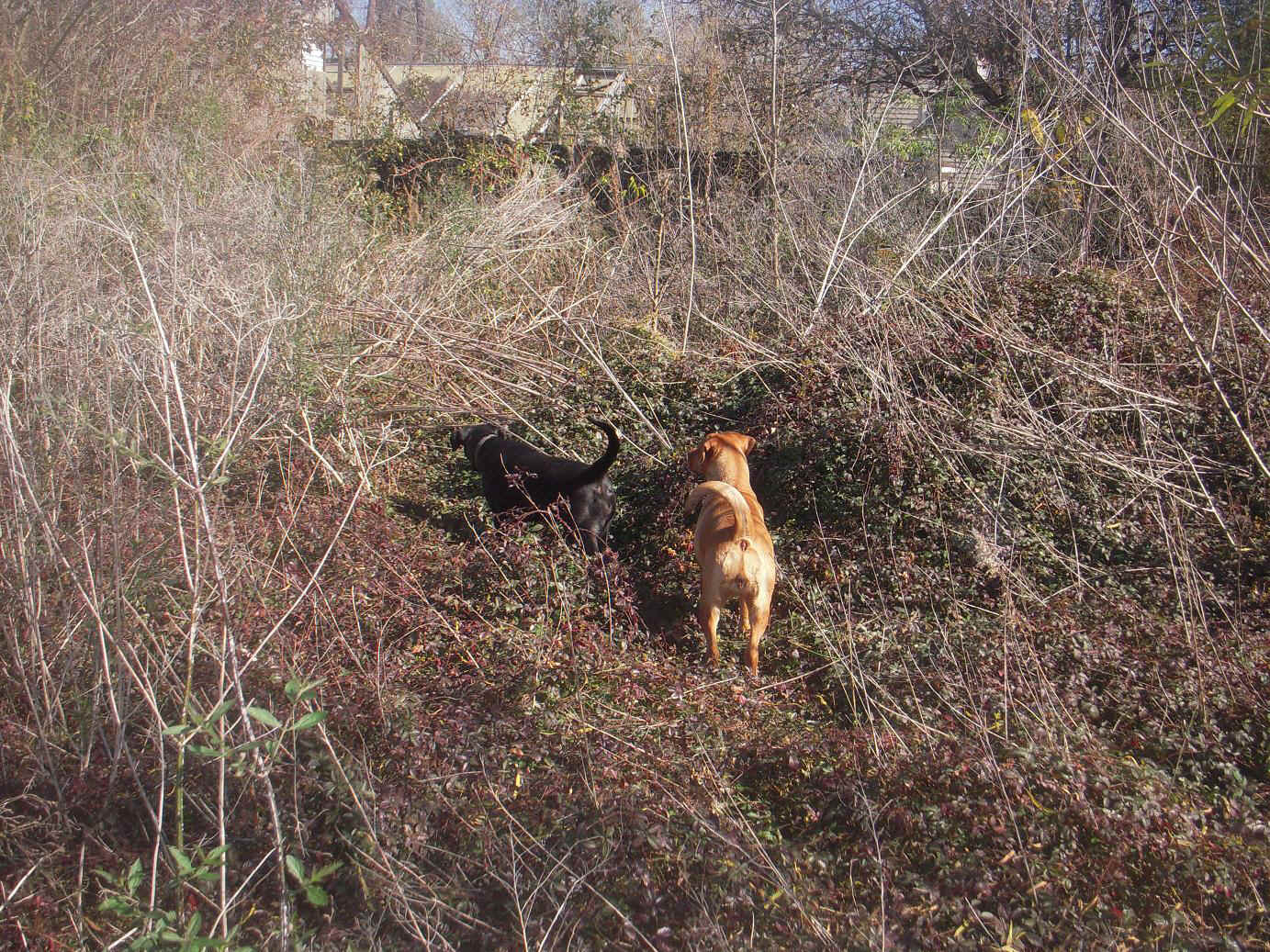 Chewy & Ashoaka look in the large bramble bush, this is where the coyote sprange from when dogs found it sleeping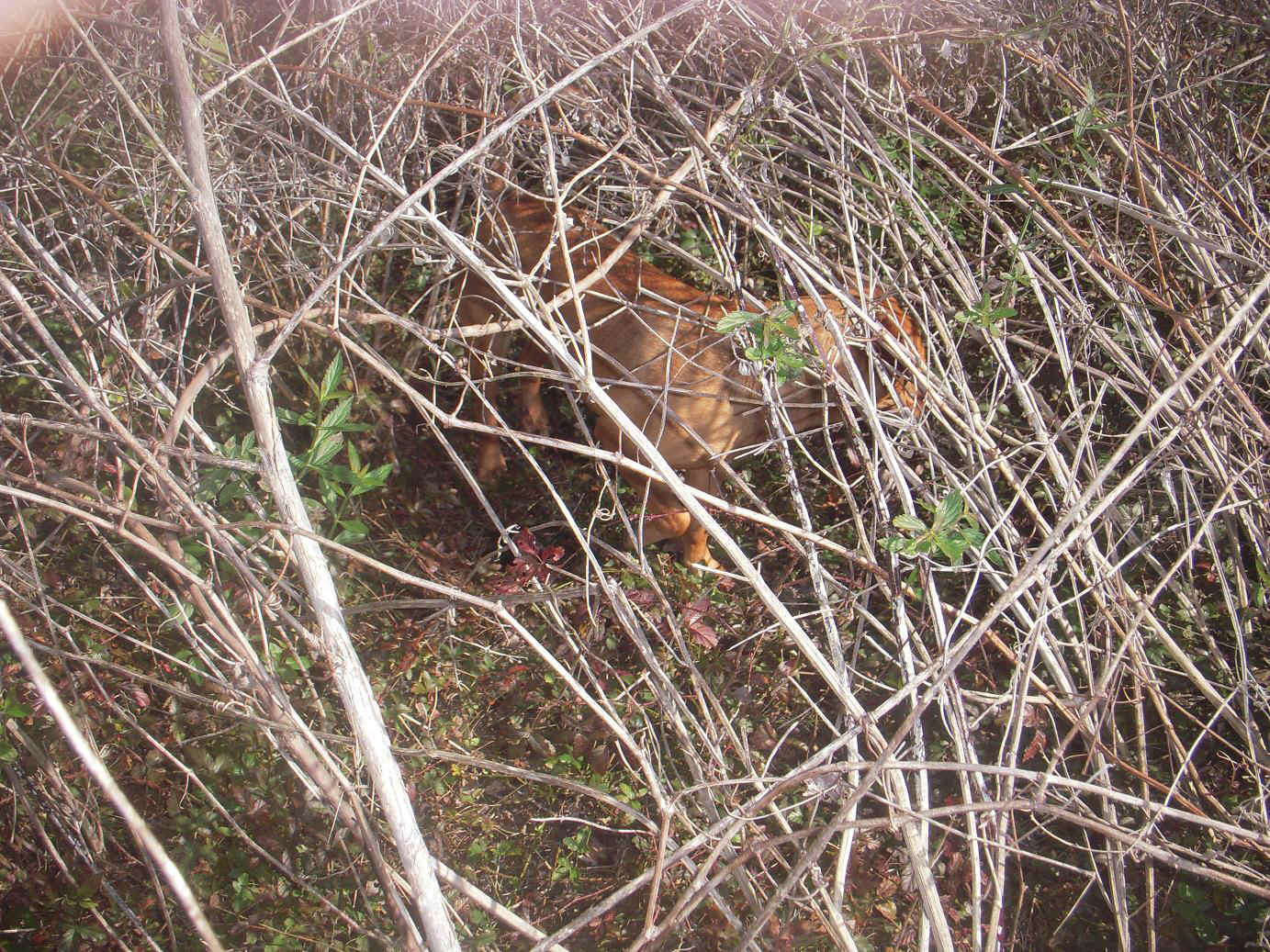 Chewy in the cave!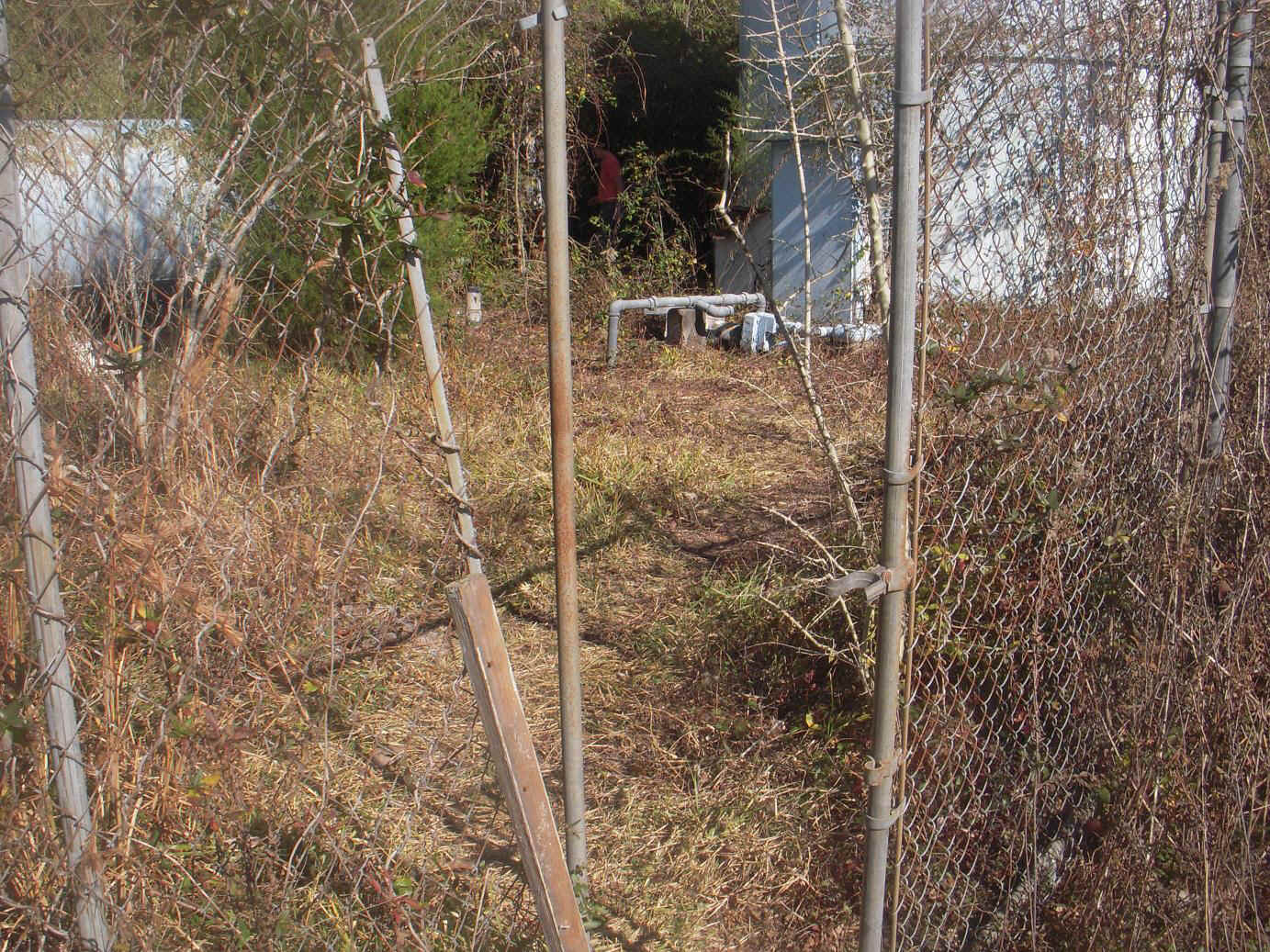 Abandoned water well eyesore, the gate has been broken for years, in 2015 a man was standing on top of the big blue tank doing some survey!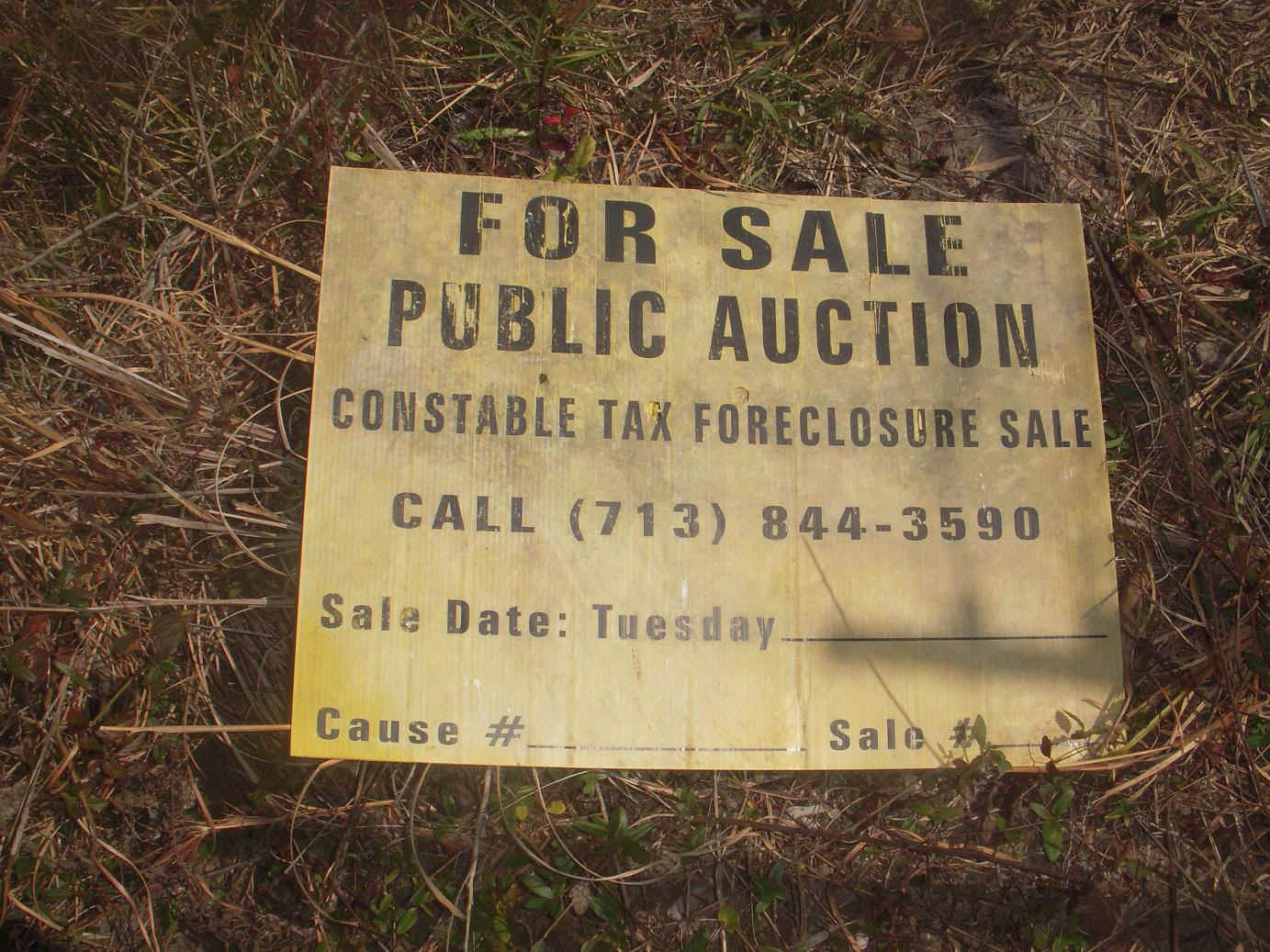 The homeless in the neighborhood love this sign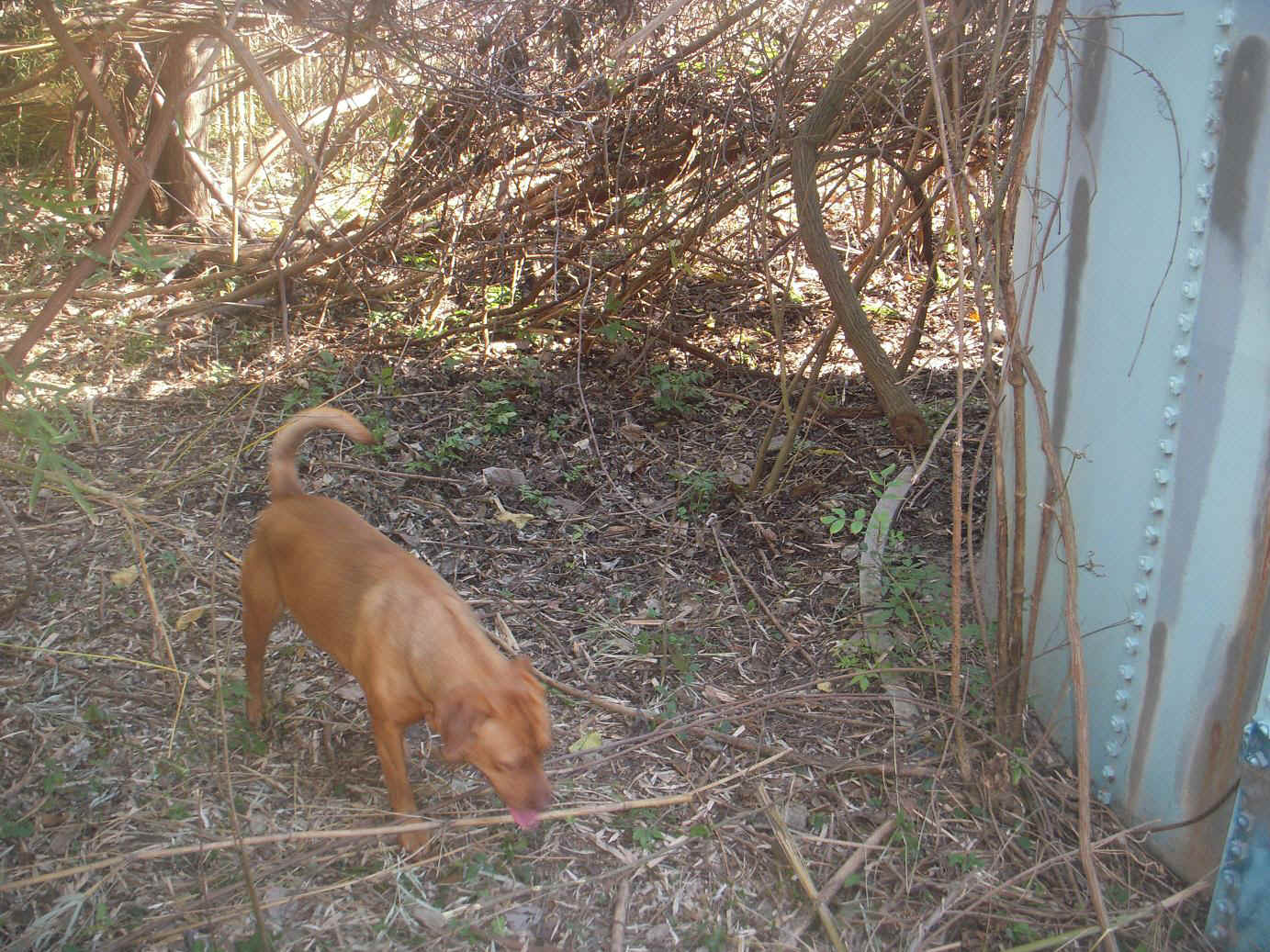 Chewy surveys where the fight took place, the coyote injured, escaped under fence to Roc Carbon field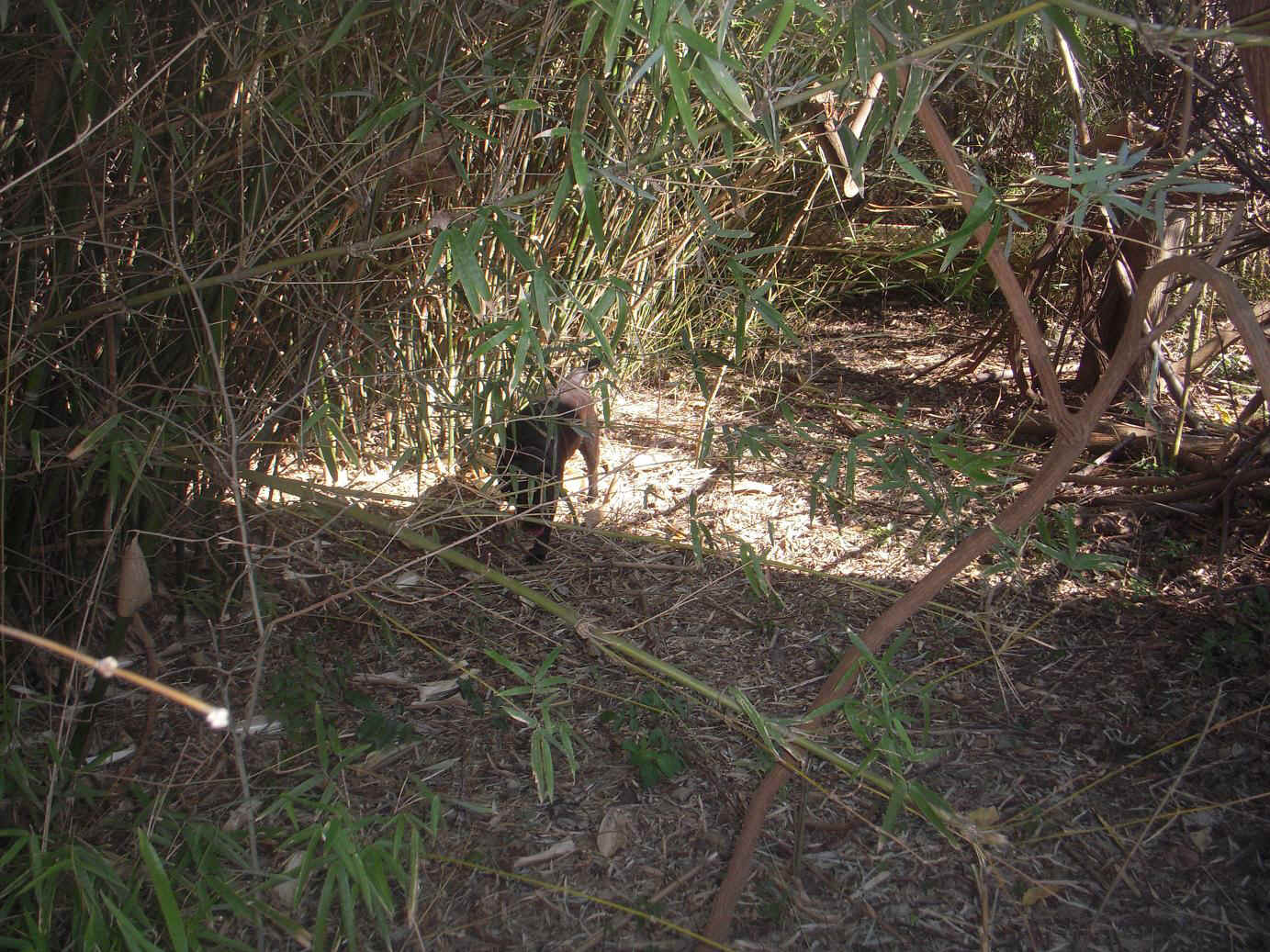 Thick vines & bamboo in the enclosed area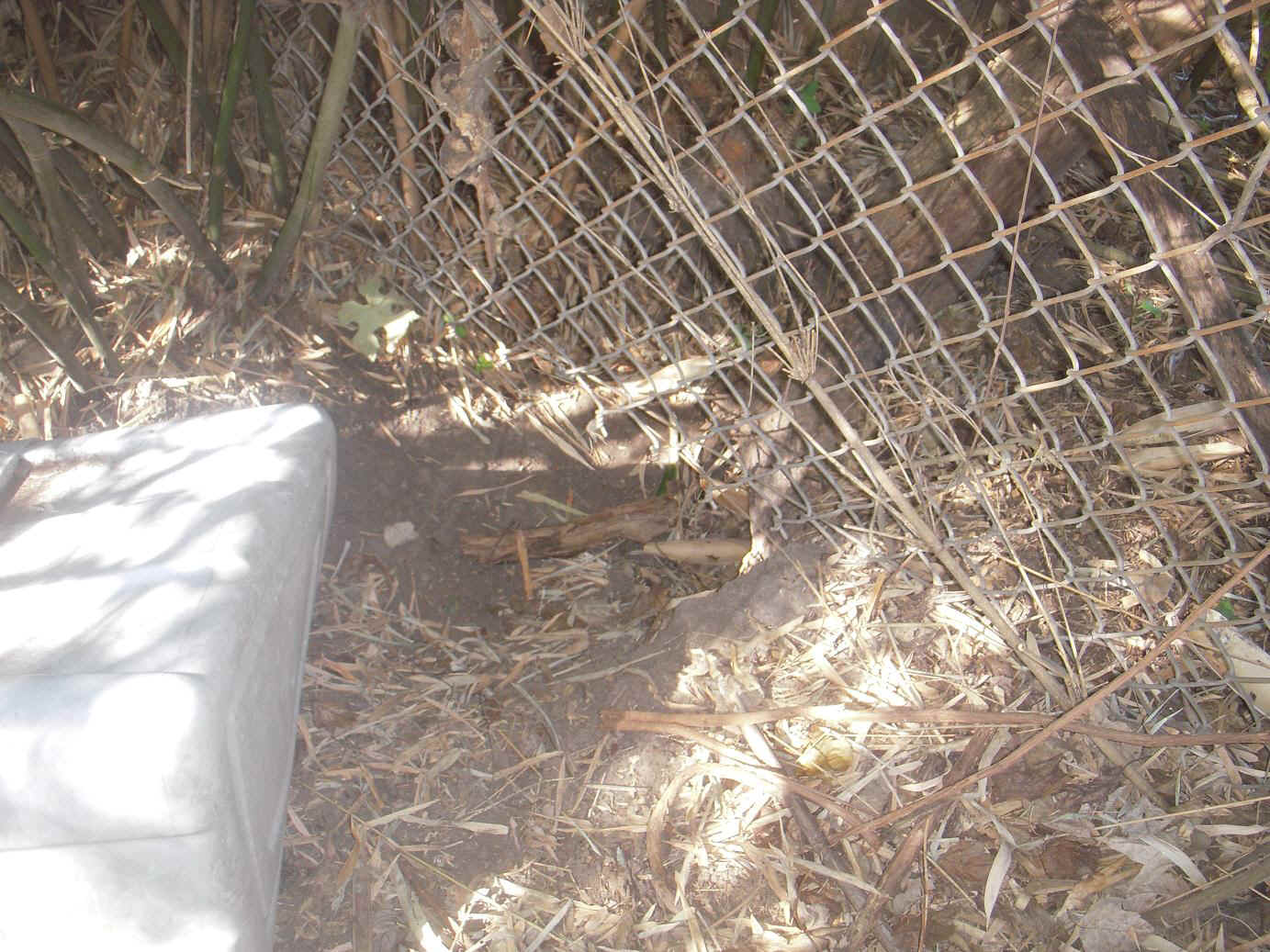 This is large hole wild animals have dug into Roc Carbon fenced area & where coyote eventually escaped my dogs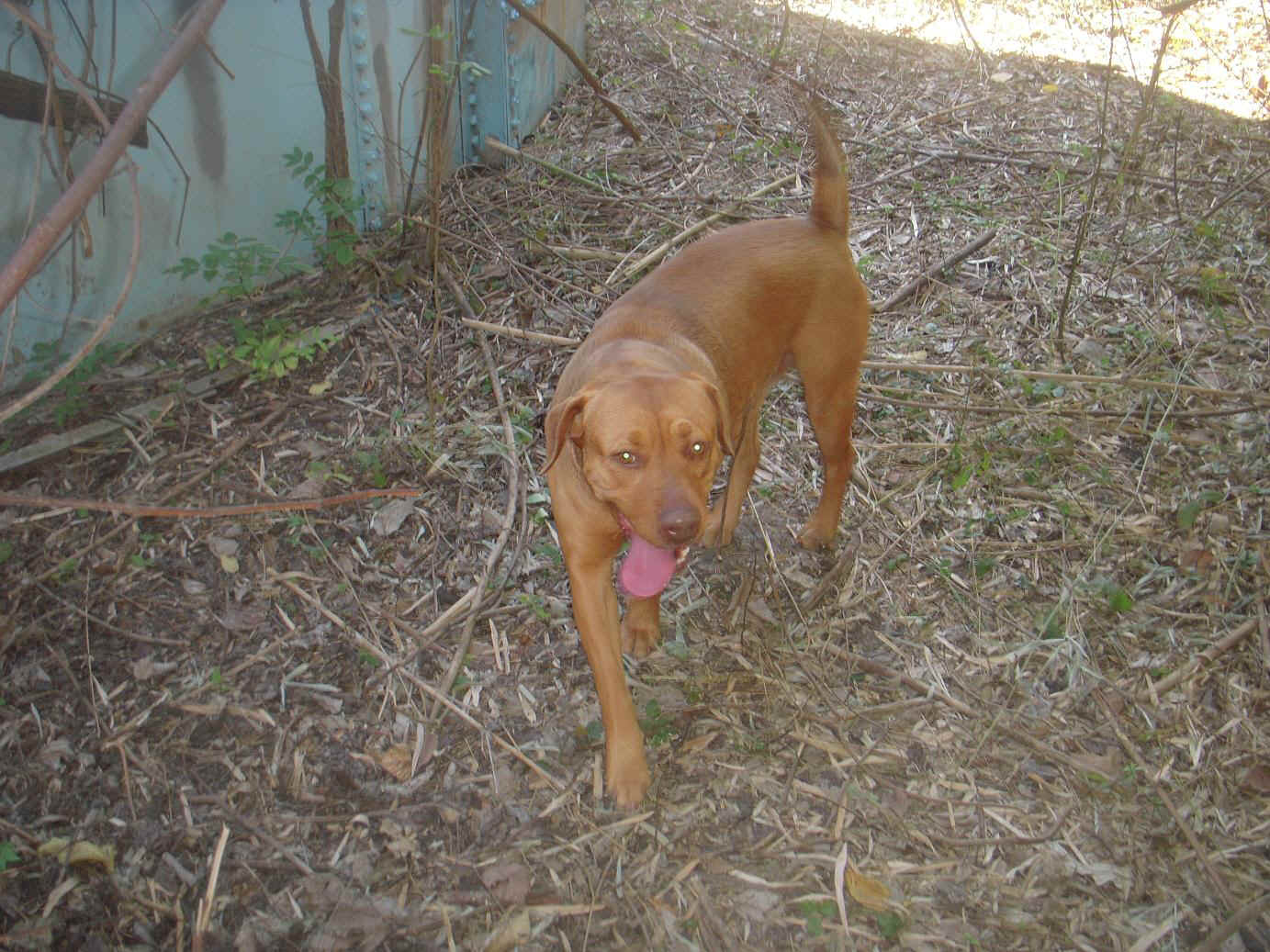 Chewy surveys the area aftermath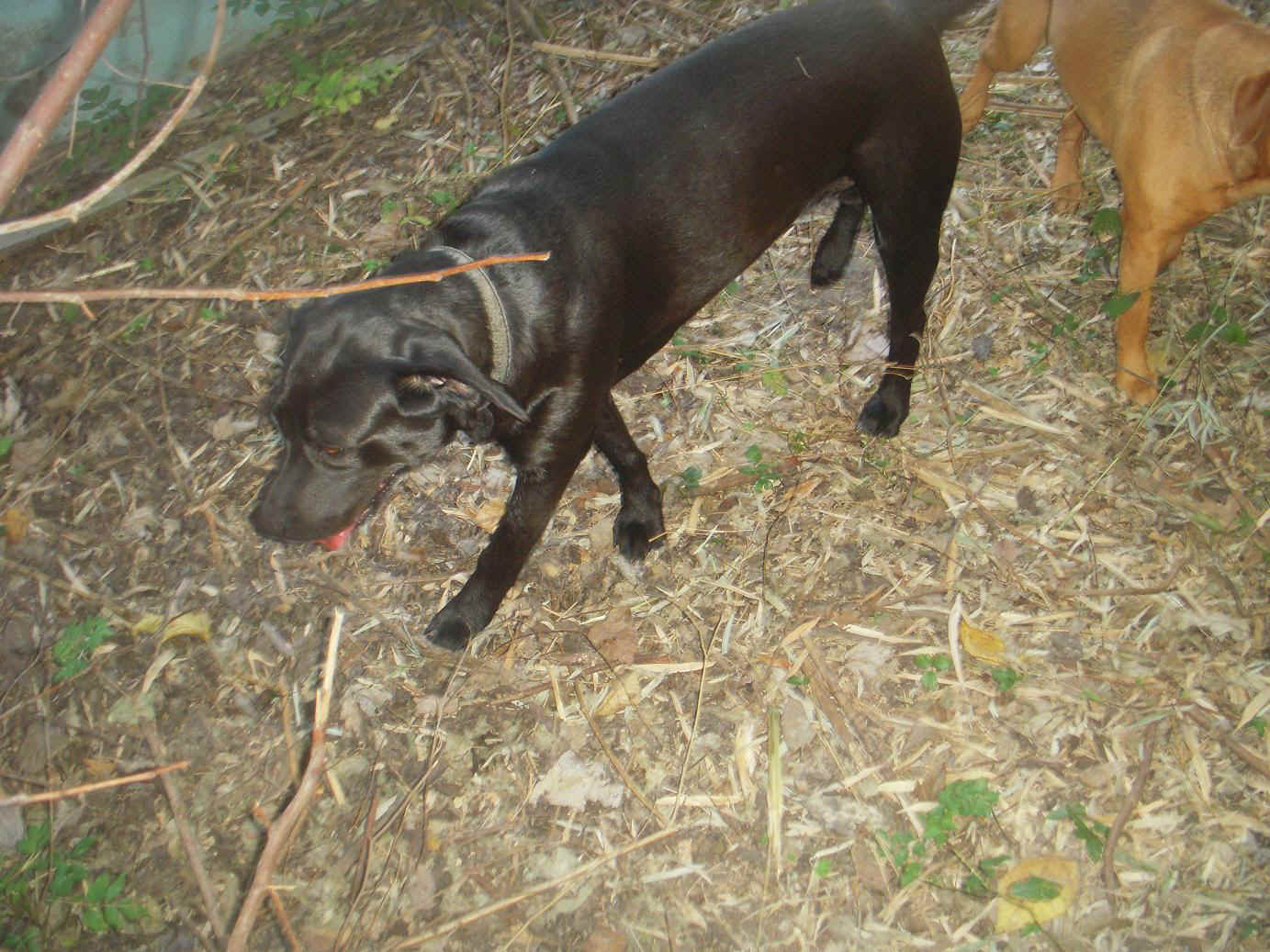 Ashoaka shows off bloody mouth where coyote bit her face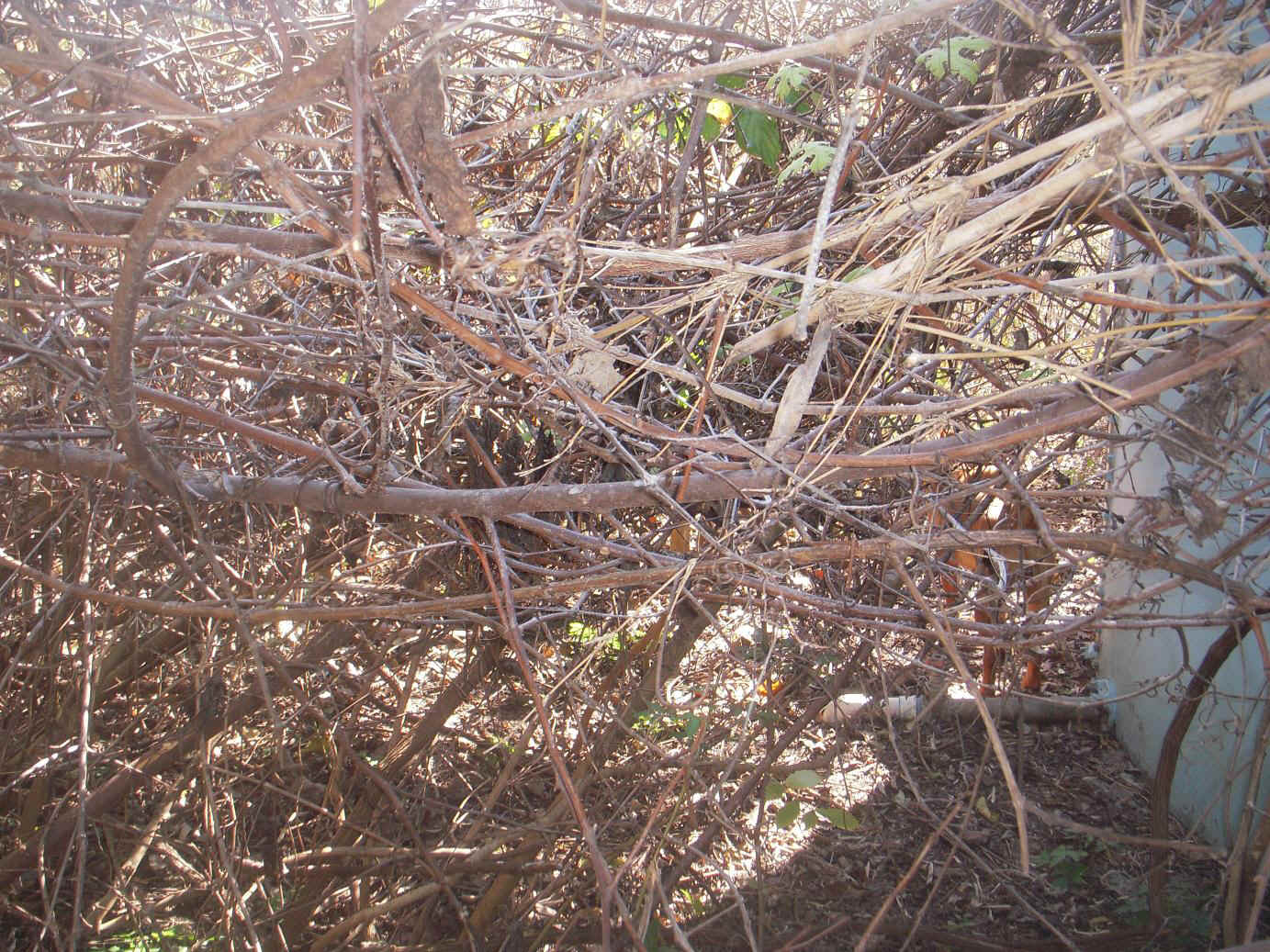 Beind the tank are decades old vines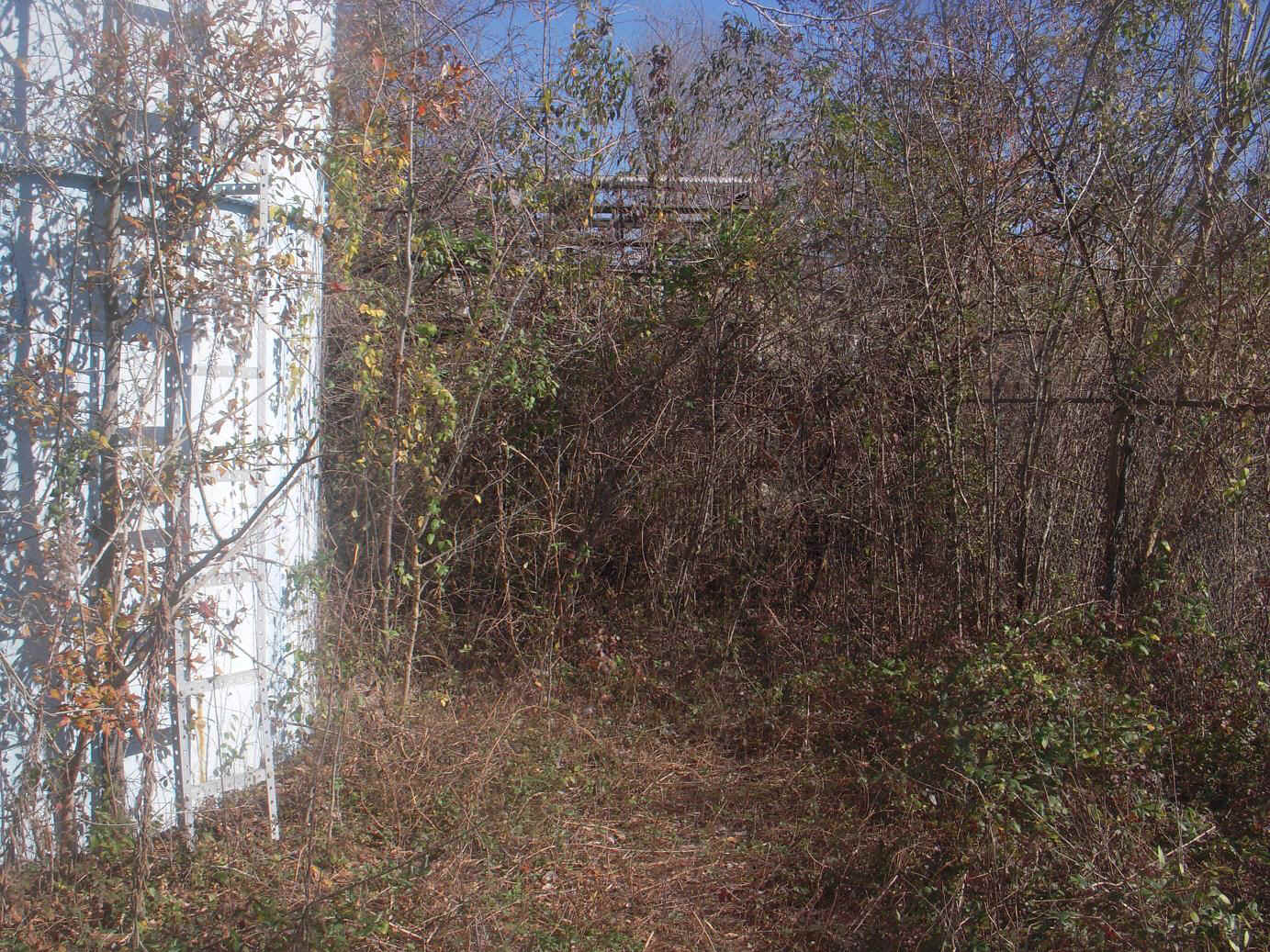 Front of tank in fenced area where fight took place, the coyote ran several times around this tank trying to escape tag team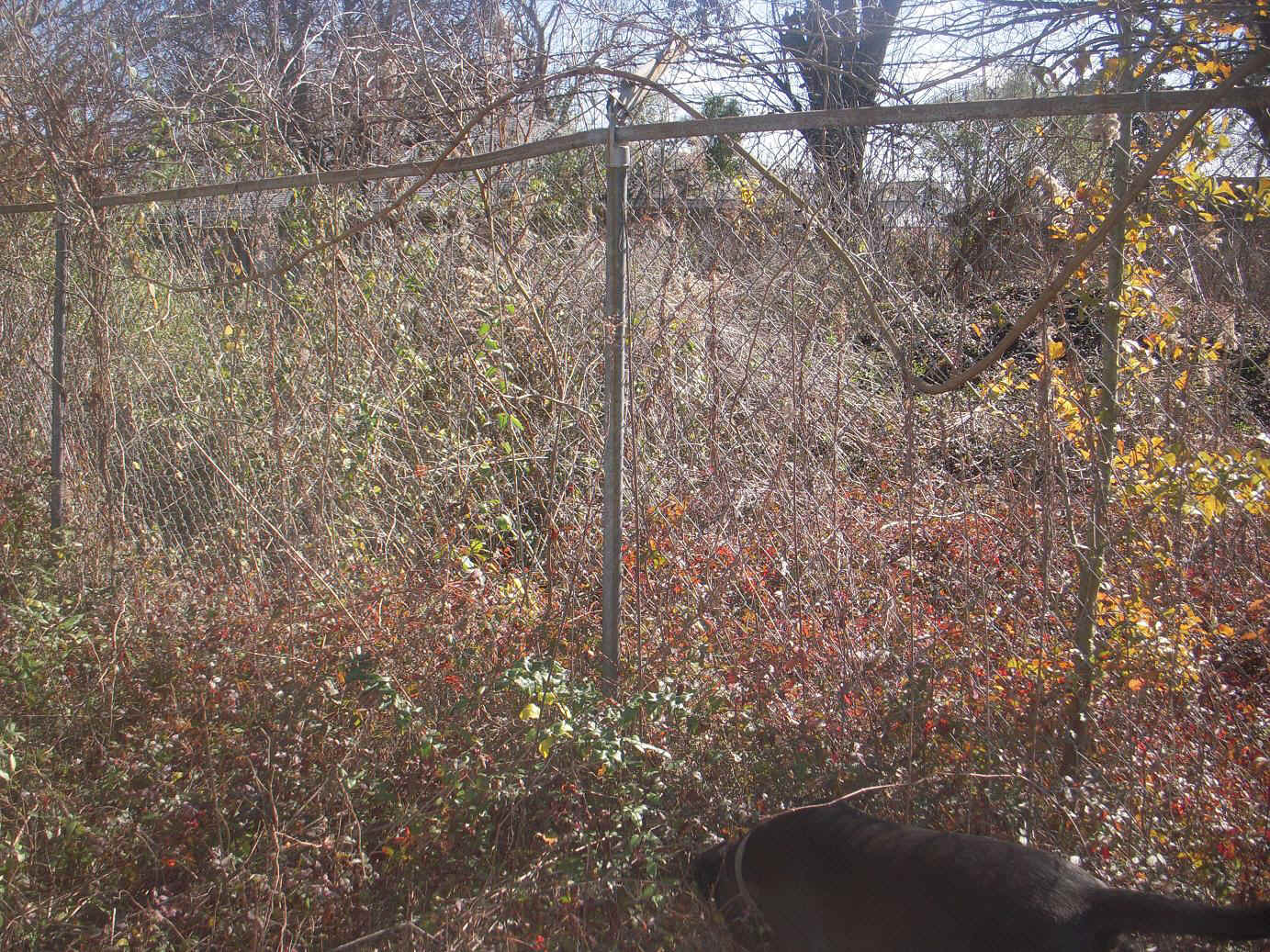 Behind fence facing Timber Oak.
The Centerpoint easement (used to be Houston Power & Light) appears in a lot of my photos. This is a photo of my 68 AMC rebel convertible 'Machine' with the abandoned water blue tank just off to left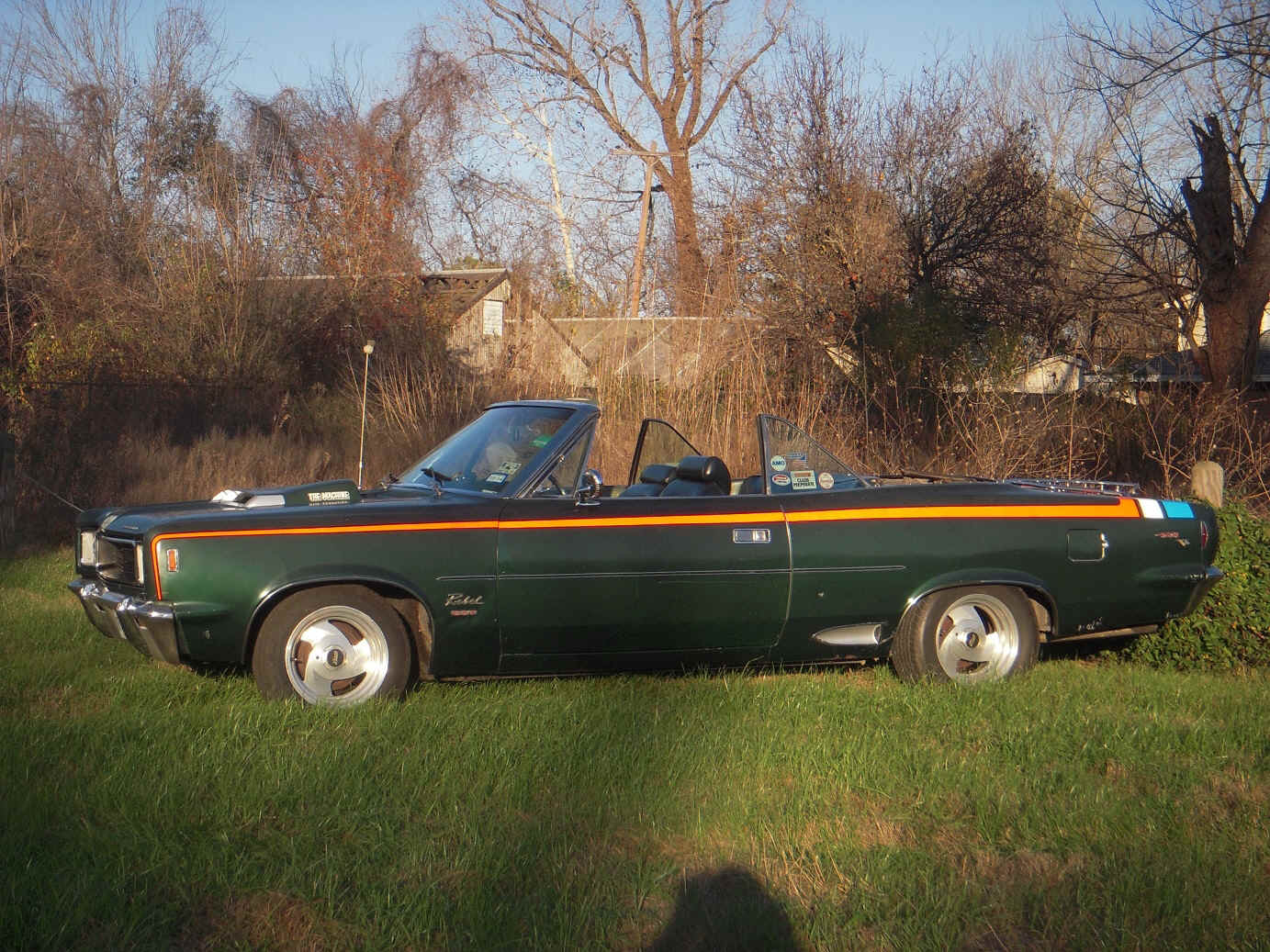 There is a abundance of critters in the easment due to proximity to the dam. Any turtle we catch (DOZENS of them) we take and put over the dam. There are just two I bothered to take photos of, hope they didn't become coyote fajitas.
I catch a number of snakes, it's ok if coyotes eat them and I should cut heads off, but I only kill venomous ones, these are two big 5 footers, one of them was in neighbor's back yard she called, me I went to catch, and unless they are poisonous, I LET THEM LIVE.
We see deer in the easement, again, behind the Addicks dam is full of them. This is a whole slew of deer in back, dogs were barking like crazy. Coyotes do eat deer.
We have not seen any coyotes since these 3 incidents, but I have told a number of neighbors on Timber Oak to please be careful walking small dogs, and don't leave pet food out. And City of Houston never responded to 311 calls to please cut the now 10+ foot high weeds in the abandoned well lot.