Droke Brothers AMC Javelin XP Package
Released in 1969 for AMC Javelin, the "kit" by Droke Brothers of Downey California consisted of a W30 Ols looking set of twin ram air fiberglass scoops, of which could be made functional, a rear flat spoiler which also untilzed flat 1/4 panel extensions, a real wood steering wheel, 4 racing type whels, and XP emblems. Available thru your friendly American Motors dealers, no one knows how many of these were sold, but there are about 5 Javelins with this unique setup known to exist.
============================
This is from the memo to AM Dealers & Prospects:
"An ALL NEW mid year prestige package is now available to ALL JAVELIN buers from DLR Engineering. The XP dress up kit adds a distinctive new look to a already sporty coupe. As a dealer installed option, the XP Kit gives the JAVELIN that low, sleek, race car look that is in keeping with the modern day automotive design. Included in the XP Kit are:
FIBERGLASS HOOD--with functional air intakes when unblocked, or when left covered continues to add to a low and wide hood scoop treatment.
FIBERGLASS SPOILER--complete with rear fender end caps, this addition not only adds to the appeal of the JAVELIN, but also is functional at increased speeds and winds. As with the hood, the spoiler combination flows with the original JAVELIN body lines.
RACING TYPE WHEELS--five wheels add lustre and overall appearance of the XP Package.
ALL WOOD STEERING WHEEL--makes driving a pleasure with the sure grip and handling and comfortable, smooth feel of the road. A racing designed wheel insures quality and beauty to the drivers compartment.
XP EMBLEMS--add distinction to the XP Kit, setting it apart from all other sports type automobiles, a sure indication of the discriminate buyer.
The XP Kit is available from AMERICAN MOTORS DEALERS only. Designed and produced by:
DLR Engineering, 7938 Firestone Blvd, Dept. J, Downey, CA, 90241. (213) 923-1338
============================
This is actual Dealers Memo: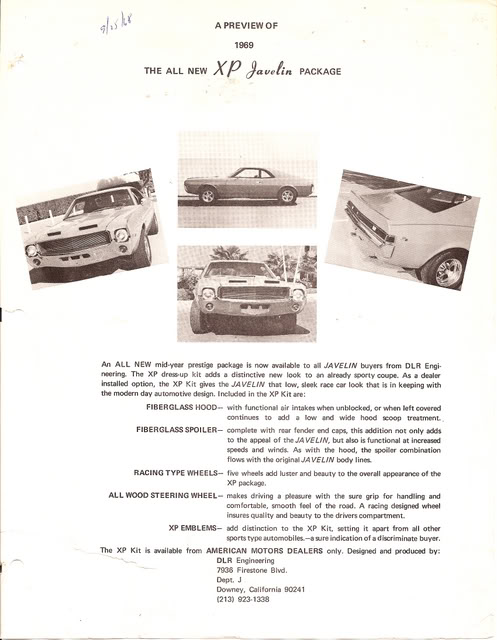 This is some photos I took in 1980s at a AMC Nationals NAMDRA meet in Union Grove of a XP Javelin.
Note in 2nd photo the AMC red, white & blue shorts guy is wearing. Those also were available at friendly AMC dealership...you could get shirt, pants long, shorts like this, and for ladies, halter tops. Made famous by AMC NASCAR Matador programs in 1972. The twin Ram Air scoops are available and were used on 69 MOD Javelin. Not same length, but close in appearance. No one has ever reproduced the cool 3 piece spoiler.