Ernie Stettner W. B. Ray High School, Corpus Christi, Texas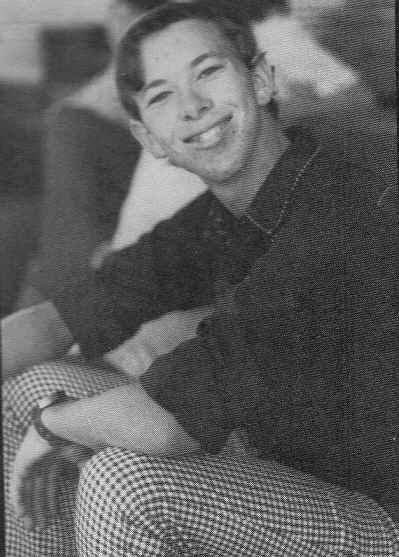 Ernie Stettner fell 30 feet thru the W B Ray high school gym roof in Corpus Christi in 1975 & hit floor about 15 feet from me with a THUUUP. Before I get to that, the back story.
This was my first year at W. B. Ray high school. We had been living at 642 Naples (Staples & Naples) for 3 years, courtesy of a car friend of my dad, Homer, who had a car lot on Leopard Lloyd Remple autos. Hurricane Celia had been tough for us at the old houses at 2009 Antelope & 723 Doss, the Antelope shotgun house destroyed during hurricane when 500lb fan blew off Coca Cola next door, flew about 50 yards and into our roof while we were hiding under bed. So we had to make run to grandma's house next door dodging rocks from Coca Cola's roof that hit like bullets, and had destroyed all west side door glass in our cars parked between houses, and also all windows facing west on both houses, we learned that tape is worthless against hurricanes when it comes to glass.
We got a free big long, trailer from Senator Tower like thousands others did after hurricane. So before hurricane we did have a phone and electricity, afterwards with trailer, still, but trailer ONLY. But the trailer was for use only one year, with option to buy, and sadly, dad passed so it was hauled off. Then we had to go back living in grandma's house, no electricity, no hot water, just gas, and outdoor shower. But Lloyd let us live in the 642 Naples house for $300 a month, bargain, to try to help us out.
Big brother Tommy got to go to Ray no issues was in district in the Remple house 642 Naples. But Lloyd realized he could rent house for more, so told my dad $600 a month, so we had to move out, could not afford it. Back to stone age living in grandma's house, by now she was in nursing home off Fig street, both legs amputated due to gangrene. No utilities, we had to do homework by Coleman lanterns and also anything cold bought at stores, was put in big Igloo ice chests, the ice blocks bought from off Agnes street. I tried to go to Miller, but there was a LOT of fights and drugs. Something had to give. The CCISD district would not issue a transfer for me, so fate sort of sealed or was it? My mom & dad talked to Danny Hernandez father whose big family lived at 610 Naples, asking if 'we could use their address' for all correspondence for Ray. Mister Hernandez said by all means, he had known our family from Cathedral since 1st graders!
So for a timeframe, Tommy got to graduate from W. B. Ray. Then here we go, I did one semester at Miller, but using the Hernandez address (of which I will always be grateful to their family for) I got to go to Ray! So my dad would leave about 6:45am drive me up to Ray from our house off Doss & Antelope, drop me off, then make his way to his job at George Young Toyota on South Padre Island Drive. I would catch a series of buses home. I never knew what route he took to the Toyota dealership, which was near K-Mart on SPID, but speculated either Carroll Lane or Weber.
I had now been to more schools than our whole family: Cathedral grades 1-6; CC Academy 7th; Incarnate Word Academy 8th; St Josephs 9th; Miller 1 semester 10th, then Ray 10th-thru my attempted graduation in 12th. At W. B.
Ray, this was GREAT, big, clean school, no fights, only drugs were in back parking lot and you had to know the guys.
I didn't personally know Ernie Stettner except from hallway encounters as not in my grade...however, his brother George Stettner sat next to me in homeroom because of our names, me with STA, him STE prefixes. But no one really 'talked' in homeroom, really just there to get ready for day, maybe finish up homework from night before, there was air condition a luxury I didn't have at home, and Coach Kemp was one of the nicest and neatest teachers at Ray, who had a wonderful sense of humor. Coach Kemp didn't care what we did in homeroom, but did encourage us to study!
I always though Ernie and brother George were 'kickers' we had a number of cliques at Ray in 1970s, kickers, jocks, debbies, surfers, and brainiacs, a term for what many call nerds now. But Ernie hung out with guys with cowboy hats it seemed at the 3rd ramp, so just assumed he was a kicker, nothing wrong with that either as W. B. Ray mascot is a Texan, and caricature from a comic strip way back when, cool mascot "Fighting Texans!" But I hung with different crowd in back east parking lot, we more into old cars, and what the waves were doing at Padre, 3 rows at 3 feet, ad nauseum. The 3rd ramp was close to cafeteria at Ray.
Ernie NEVER was NOT smiling though, you know when you pass people between classes in hallways, stairs, he always had a perpetual smile on face, a grin, and said "hi" to everyone. That was about my experience with him.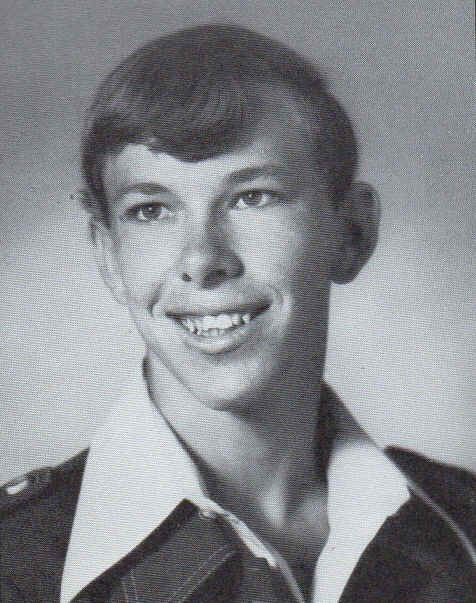 Never had a actual conversation with him. Barley talked to his brother, different worlds I guess.
We had some good pep rallies when I was at Academy out on Lantana, but none at Incarnate Word nor St Josephs. So the Ray gym was always packed for Ray Pep Rallies. Quite a large school, and hundreds of people, teachers, cheerleaders, band loud, hard to find place to sit. Our schedule for 1975 opponents were: Galveston Ball; Laredo Nixon; Robstown, Carroll, Moody, Beeville, Alice; Miller, Kingsville & King.
Everyone hated Miller, the arch rival nemesis of Ray, both founded in about 1950. To make it worse, this was Homecoming and wanted to beat the living hell out of Miller. I can't tell you what Miller's record way in 1975, but Ray was doing ok.
At the pep rally, the exciting atmosphere was punctuated by the band playing K. C. & Sunshine band songs, the cheerleaders getting crowd fired up, the beefy football players all sitting in rows on north side of gym. The game would be October 26th, but this was day before. All the football coaches, McCord, Valdez, Haynes, Kemp, Harrison and Harper over there clapping hands.
The drill team, the Tex-Anns, lively in uniforms off to east side, close to the football team. I was not dating anyone, girls were new to me except the ones I would see in Playboy & Penthouse magazines.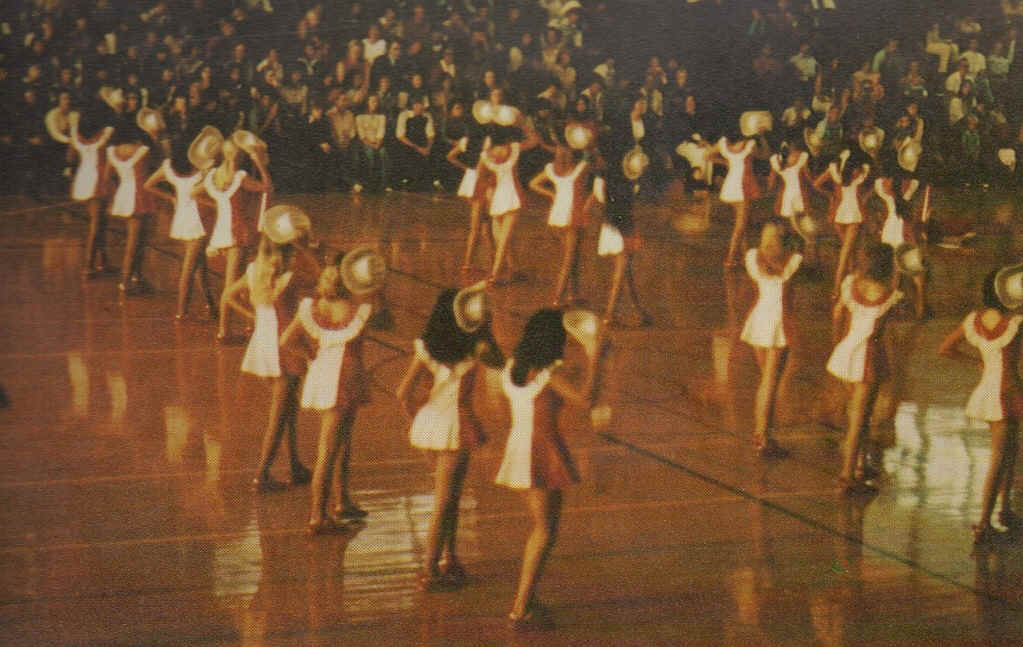 The Booster Club was sitting next to band on opposite side across gym from me, this is the 1975 Crew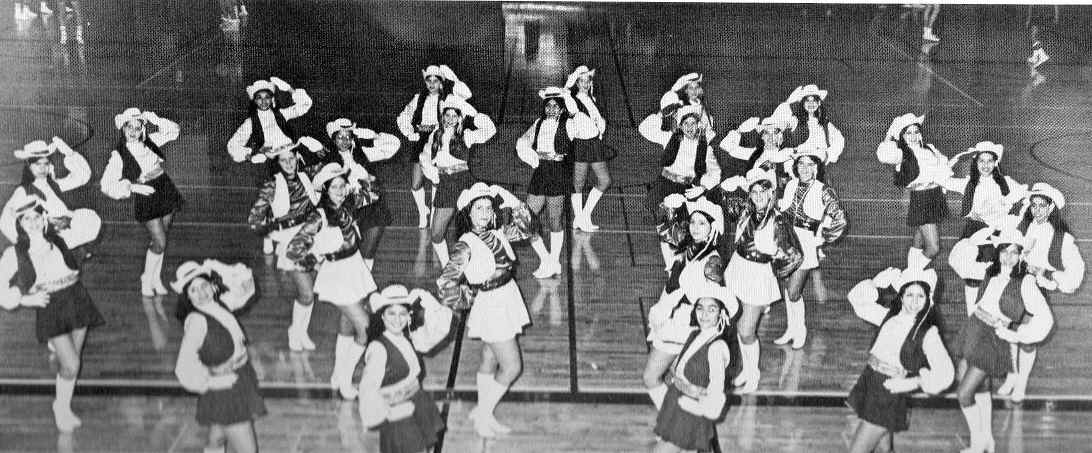 There was a estimated 1600+ people packed in the gym for this occasion.
The gym was more than decorated for the Miller rivalry, lots of red, white team colors, balloons, streamers, confetti. The atmosphere was nothing short of electric, us bottom dweller freshmen had never seen anything like this even though Ray had already 4-2-1 record.
Everyone was chanting at top of lungs MAKE THEM EAT THOSE YELLOW BALLOONS, MAKE THEM EAT THOSE YELLOW BALLOONS! As cheerleaders had the gym floor, and Tex Anns waved their pom poms. I was sitting maybe 6 rows up on west side of gym taking it all in, and noticed with all the yellow balloons falling suddenly there was some ceiling tile, a small metal few pieces, then man.
In....a.....time......before oh my god was a exclamation of surprise I said Oh My God to friend Emilio Guiterrez sitting next to me. The man falling was at a 45 degree angle upside down, so head facing downwards, and it seemed like slow motion frame by frame. He appeared to have boots on or heavy shoes, maybe steel toes. About 10 feet above floor he appeared to put his arms in front of his face. Everyone was still chanting MAKE THEM EAT THOSE YELLOW BALLOONS! The fellow, along with the sheetmetal, skinny 2x4 looking beams and tiles, just missed a tall cheerleader I believe her name was Kimmy Scholls, who had run across floor, oblivious while doing energetic cartwheels, and she might have gotten hit by something, just not man or metal.
They unforgiving Ray gym floor you could hear the sickening THUUUUPPP! As the man hit the floor.
The balloons were still falling, some football players jumped up, possibly to help, the band quit playing, then dead silence as the man lay on the floor, a few more pieces of fiber like tile fell. Then there were a few screams, then a lot of muffled crying as it set in that someone had just fallen 30 or so feet. Speaking for myself, I could not believe what was going on right in front of me. It is a scene that has played over and over like a bad 8 track tape in my mind for years. I honestly believe many people thought that this was part of pep rally...perhaps a Buccaneer Miller mannequin? Part of the pep rally?
The man (I call him the man as no one knew who it was) lay motionless as coaches, and others like teachers ran over. Someone got on mike and asked people to leave. School dismissed for the day. Emilio & me drove to Sonic on Ayres a few miles away, but neither hungry, so we just got sodas. Calls over KRIS & KEYS radios coming in asking for blood donors. But it was too late.
Ernie Stettner was dead. I found this out from fellow Texan at Sonic. This is where I found out who it was and told Emilio "hey, I know that guy!" of which I really didn't just knew him from saying hi a lot. I would find out later that Ernie had somehow survived the fall, rushed to P&S hospital on Weber, hence, the call for blood for transfusions, but didn't survive the night due to injuries. So fellow Texan at Sonic was wrong, but at this stage didn't matter, as there was (in a number of our minds) no one could have survived a fall like that onto the unmoving, hardwood gym floor.
My dad cried three times in his 78 years of life I saw. One was when actress Jayne Mansfield died. The other was when he saw news Ernie Stettner died, and lastly, when momma died in 1988. I never asked him why he shed tears for Ernie, but it was probably my old Navy veteran dad, something triggered him that day, but I didn't ask.
W. B. Ray battled Miller to a 20-20 tie. The band was not as loud at Miller stadium, the cheers same, just hard to gather enthusiasm. I went, as only 5 blocks from my old crappy house, but the usual festive Ray cheering, when score, for cheerleaders, sing along with bands, nah, just not into it. But the football players played for Ernie & dedicated the game, maybe season to him. In the hallways at Ray in the few weeks afterwards, everyone tried to get back to sense of normalcy. But in back of mind you could still see the sadness, especially with many faculty who I guess knew Ernie. Seems everyone was sort of just going thru the motions of getting from class to class. Kimmy the cheerleader who almost got hit by Ernie falling by millimeters, is shown on right, she was Homecoming Queen, bittersweet and in tears.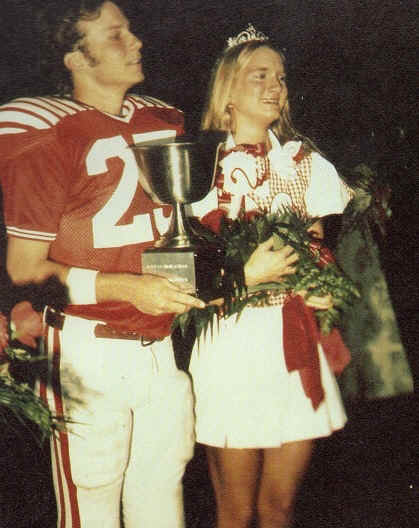 I never knew what to say to his brother Ernie who sat next to me in homeroom. What do you say to someone who just lost a brother in tragic accident like this? I might have said something stupid like "dude, sorry about your brother you, your family and him are in my prayers at Cathedral' or something I just do not remember.
The W. B. Ray Senior Council on page 191 of the 1976 yearbook had this to say:
"The W. B. Ray student body, faculty, parents have all been thru a very unexpected tragedy. Early in our lives we are forced to realize how short life truly is. If life can be taken away so quickly, we must all realize to live it to the fullest extent."
"We will never forget Ernie Stettner. Memories remain in our hearts forever.
But life must go on. If we dwell on death, the joys of living are diminished."
"Ernie was participating in something he believed important. He was happy through his support for his school."
"We should focus our attitudes into making our lives more meaningful for ourselves & others. Thus to pay our tribute to Ernie, let us continue our activities with the same spirit Ernie had. Thru every student's participation, Ernie's spirit will be with us forever."
The Stettners lived somewhere off Staples. I would quickly find out Mister & Mrs Stettner lived off 1317 Ray Drive because of the amount of visitors they were getting, word spread and everyone wanted to convey sympathies. I sort of knew the area since momma had coaxed actor Chill Wills into tickets to see Planet Of The Apes world premier at National Twin fancy new theater on Staples & Carroll, but I had only started driving 'legally' so when I would go out cruising in my 1970 AMC Javelin, would turn down Ray street, (not Texan Trail in front of school, this is about 4 blocks away) and make sign of the cross as us Catholics tend to do when passing a church, but I just did it to have Jesus bless the family & Ernie. I never spoke the the Stettners, and after Ray, never saw George again. But thru years played that scene over and over wondering what if.