Fake SS/AMX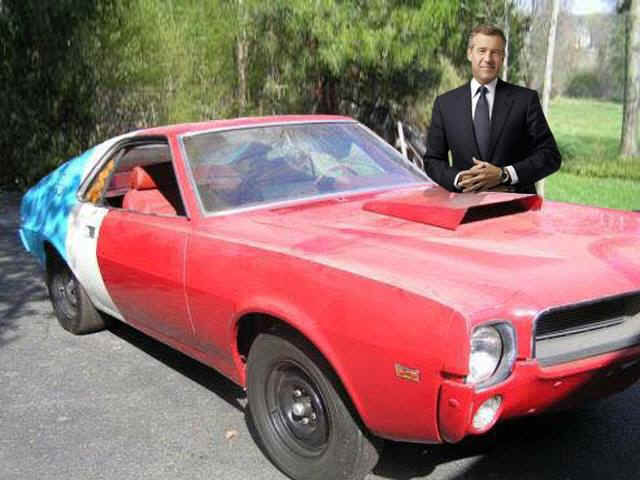 Brian Williams sez "Benvie said it is real and I saw him build it so is must be real"
If you are going to fake a AMC, don't fake a SC/360 Hornet, that is like counterfeiting a roll of pennies. Fake a Super Stock AMX, that's where Madoff Dollars at! Like changing of seasons (at least in some areas of country) this old AMX pops up on ebay every 2-3 years for sale in modern AMC phishing expedition. Same photos. Same CAPS TEXT. Same 'look it has Group 19 stuff so must be a SS/AMX'. I do not know the seller nor care. But years ago there was big thread on some of the AMC online sites (and archived) about the legitimacy of this car....which had been MISREPRESENTED as a 'real' SS/AMX for dozens of years.
This is the text of Ebay auction 220877806278 which appeared again in October 2011:
1969 AMX SUPER STOCK CAR. 390 CROSS RAM DUAL CARB SETUP 4 SPEED. HAS CORRECT STEEL HOOD AND SCOOP. HAS CORRECT HEATER AND RADIO DELETE PLATES. HAS NOT RUN IN YEARS BUT IS COMPLETER AND ALL THERE, BEEN STORED INSIDE FOR LAST 30 YEARS OR SO. CAR DOES NOT FALL INTO THE 55? NUMBERS LISTED AS FACTORY. WAS RACED AT NEW ENGLAND DRAGWAY. NUMBERS ON HEADS, INTAKE AND DELETE PLATES ARE CORRECT FOR A FACTORY CAR. NEEDS TO BE RESTORED, NO ROT TO REPLACE AT ALL. GOOD LUCK AND THANKS FOR LOOKING. LOW RESERVE, YOU COULD NOT BUY AN AMX BODYOF THIS QUALITY, MOTOR, CROSS RAM , MALLORY SETUP AND ALL THE SS PARTS FOR WHAT THE RESERVE IS. WE CAN HELP WITH SHIPPING. BUYER RESPONSIBLE FOR ALL SHIPPING COST. CAN'T CHANGE THE SELLING AREA, WE WIL SELL OVERSEAS.
This was my comments on the vehicle when someone mentioned I had bashed previous owner Tom Benvie, who had made the statements over period of decades, about legitimacy of this particular car. My comments NOT aimed squarely at Benvie.
"There are more red flags here than Russian red army May day parade. So not bashing original, past or current owner. Just represent the vehicle for what it is, not what you wished it was, or guess it is or what someone's uncle told you it was, or what Zak heard on the EVP on Ghost Adventures when it glowed and sounded 'like' "Super Stock AMX" and Aaron said 'did you hear that?'"
"Hi Dave, no one bashing Benvie, it is just this car was repeatedly thru a long time period, really long time frame, called a legitimate SS/AMX. And it wasn't and still is not. It would be like someone calling a Camaro a Yenko or Baldwin Motion or a run of mill Mustang a Shelby without any evidence. You have to authenticate stuff, nothing more. Pretty decals on 1/4 glass from being class champ means car was raced, and was at one time probably class champ in it's division. Not taking away anything from the car or past owners! So not on Benvie's ass at all.

One thing I (and others, lots of others) griped about last time was if....you make a claim....just like court of law you need evidence. This car is the usual phishing expedition that surfaces every few years to see if someone can unload to unsuspecting buyer. Burden of proof."
There was a long......thread on the old AMX files (order a CD-ROM of the archives from Ralph Ausmann) about this car where Tom, who owned the car since 1970s, claimed it was a legitimate SS/AMX. After being pressed by me and others repeatedly to offer shred of proof (nice little decals on window and Group 19 parts don't cut it) he backtracked in one of the probably only times he has ever admitted being WRONG about something. Uh, maybe car is not really a SS/AMX, duh, but it looks like one! Yes, and Chaz Bono looks like a guy also but still has a taco.
Is the car a racecar? Sure. Does it have a neat racing history, sure. Is it a Super Stock AMX? Uh, no. But whoever owns it now represents it as one. I hope they didn't buy it on words and not bit of proof this is what Benvie claimed it was for many years before backing off those claims. As now whoever owns it is stuck with a AMX with some cool Group 19 parts. But if there is a dollar to be made out there, I give these folks credit for trying to get top dollar as opposed to the dumbasses who tried to fake a SC/360 what the hell were you thinking there.
Side note: dealers were encouraged to paint their AMC race cars, regardless of model, AMX, Javelin, Rebel, Gremlin, Hornet, any of them, but encouraged to paint them in AMC's Corporate colors or red, white and blue. 1967 Memo. In 1970 AMC published a memo encouraging dealers to paint their own Trans Am Javelins. Page 1 Page 2. From the Mark Donohue Javelin (or Not?) file.
You might also want to look thru numerous files on my site including PRESS PHOTOS and
AMC RACING, HELL DRIVERS & COPS! file to see even more red, white & blue cars.
I hope this car finds a good home, but really would just like to see it represented for what it was (gee, like Chaz Bono!) not what someone told them it was. With that in mind, I bothered to take all the photos off the auction and post them here, or....if you don't want to see them, don't blame you, as the car like atomic watch keeping time, the car, WILL eventually reappear on ebay again on schedule in 2-3 years, same Bat Description, same Bat Photos, looking for someone who has not done AMC Homework.
Note to seller. Making it a "private listing" on ebay only raises MORE Soviet Red Flags.
Note to anyone interested in buying this car and want to ask me about it, please read all above. I don't want to repeat myself every few years about this car. You will have to ask seller to authenticate all the claims about this vehicle, not me, my comments about it are well known. Again. And yes, I hope the car ends up with someone who can appreciate a neat old AMX dealer sponsoned race car that ain't a Super Stock AMX.
If you really want to see how far back the bullshit goes...into the 1990s this car was STILL being called a Super Stock AMX by Benvie, and a
number of AMC people called him out on it.
At least when I am wrong I will admit it. Too bad the current owner is stuck with it in 2011 still trying to sell it as 'possibly super stock amx' on ebay. Personally I would have asked for a unconditional refund due to misrepresentation. This car unfortunately is stuck in limbo and will see it pop up again on ebay, set your atomic watches, May 13th, 2013.
++++++++++++++++++++++++++++++++++++++++++++
Back to Home Back to Just Stuff