Hertz Rent A AMX
Not a lot known about Hertz Rent A AMXs, although 3 of them known to still exist. What is unclear is how many were pressed into duty by Hertz Rent A Car program in 1960s. Hertz did have a number of American Motors vehicles in their stables however, but mostly Ambassador & Rebel Series. I have never heard of, nor seen a Hertz Javelin buy would love to document one.
The Hertz relationship with Ford is pretty well known as in 1966 Shelby American produced 2,378 GT 350s. Of those, 100 were made exclusively for Hertz Rent-A-Car and Lemans stripes. The only difference between the rental cars and production cars was the beefed-up three-speed transmissions in the former. The cars were shipped to major cities and rented. There were many stories - some true - that these cars were rented for the weekend, raced on the track and returned on Monday morning - they were known as 'Rent-a-Racers.'Among the special features built into the cars were high rise intake manifold, headers, functioning cooling ducts, solid high lifter revving engine, finned aluminum oil pan, oversize rear brakes, shocks and sway bars. Read more here. In 2013 Penske got together with Hertz and made a limited run of Hertz "Rent A Racers", see 2nd photo.
But enough of the Fords, Corvettes, and other high powered Rent A Racers. In 2015 a Hertz AMX surfaced. A interesting car, 343 Typhoon, Automatic, nicely optioned and big Bad Orange, one of 284 big bad orange 69 AMXs produced. AMC sometimes printed special instructions on Build Sheets & this one happened to still be legible.
Build Sheet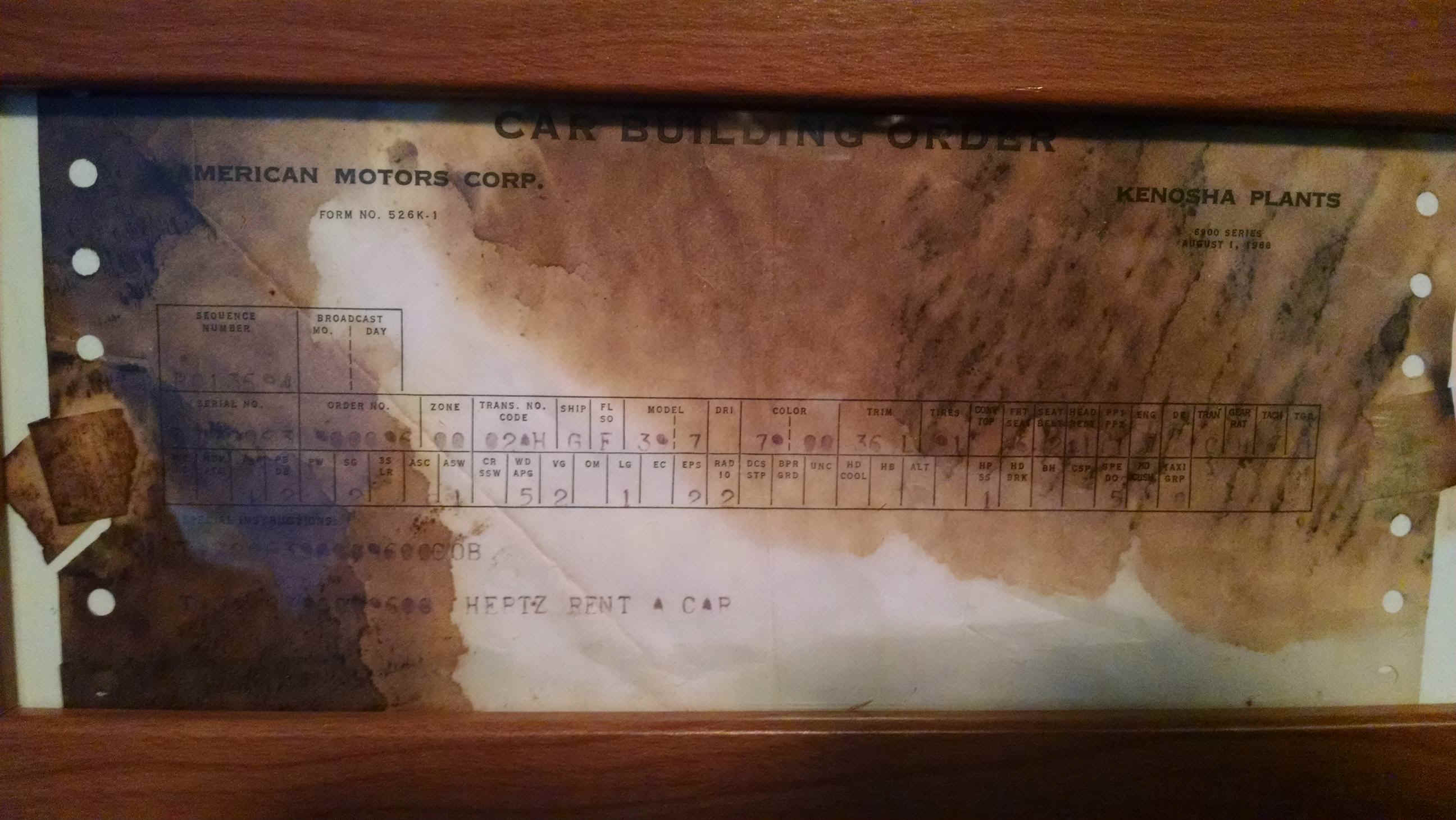 I have original owners manuals, Dealer Issue cards, and other "fleet related items" in my collection, such as the Church of Jesus Latter Day Saints Ambassador manual. It, was a fleet car, much like this AMX would have been. I have a dedicated file for AMC Police, Fire, Taxi & Fleet vehicles which was a very important aspect of American Motors getting contracts for fleet vehicles. I do not know however if AMC "specially built" these cars for Hertz Rent A Car or where part of just "AMC Package" of vehicles sold to Hertz. To me, it would seem AMC would have milked this publicity for all worth! But it appears that possibly the cars were 'specially built' and then sent to dealerships where Hertz had bought them. So probably not built in sequence, and again, very little, if anything to document them. Did AMC load them with Group 19
parts? Why Automatics when 4 speeds tended to turn better ETs? Not that Hertz wanted to hear you were wasting their cars at tracks on weekend....
This is a customer of mine who owns one and is documenting it's restoration
Hopefully as time goes on, we will know more about some of these AMC rental cars.....