Legendary Ed Shaver
Hot Wheels AMX
Ed Shaver's AMX in pink in UK after Hot Wheels Team. These rare never before seen family photos are courtesy of Bryan C. of Northampton, England.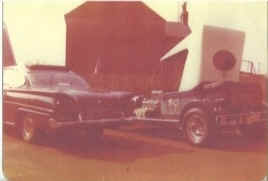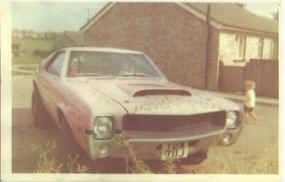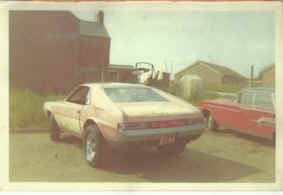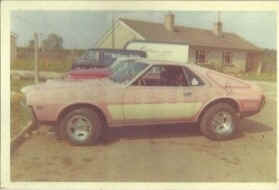 "Hi Eddie. My dad has just found some pictures of the Ed Shaver AMX in it's later years when it was pink. This is how I remember it. You can see it outside our house along with my mums 60 impala, my dads boss's model T and again with the replacement fir the impala which was a 64 ford Capri. I thought you may like to see how it looked after it's racing career. As far as I'm aware, it was swapped with another one which Ed took back to the states. I understand it eventually went back itself and met a sad end. Suppose that's the way most go."
Note UK license plate of TDW(?) 7IIJ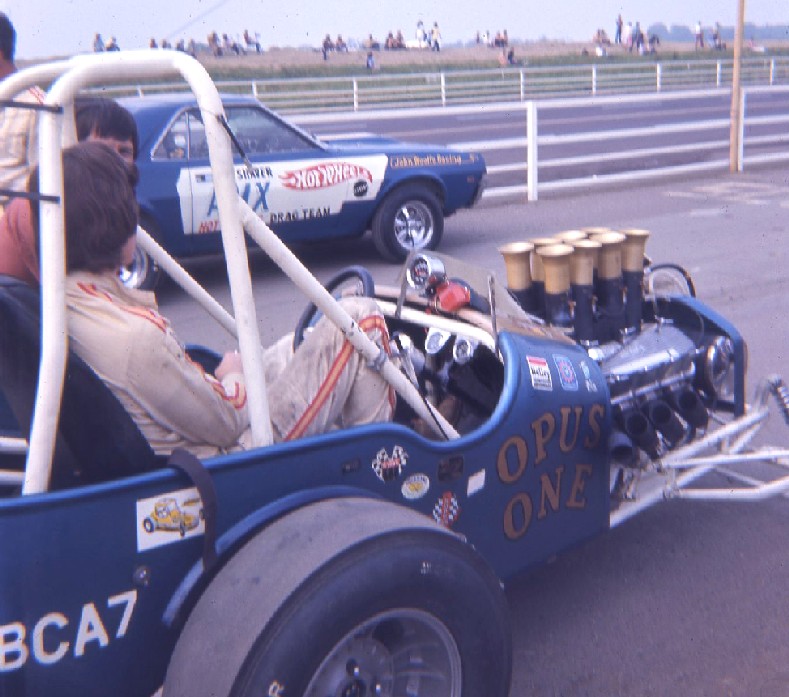 Opus One lining up in England against the Ed Shaver AMX in this vintage photo.
The monster hood scoop that was higher than roofline on the AMX was taken down after a few runs as was a distraction. Ya think? The smaller scoop replaced it for 1971 season.
Above the Mattel Hot Wheels announcement in UK that Hot Wheels was going to sponsor British Drag Racing. A flyer from Mattel announced to world (and rabid UK racing fans!) Hot Wheels was in it to win it, note the common racing jargon for nor racing fans. Compare it to American football where not everyone knows the calls from referees.
Ed Shaver was a US Serviceman based in the UK and his Hot Wheels sponsored AMX is probably THE most desirable Hot Wheels "AMC" product ever made, and is sought after by collectors and AMC fans alike....but few exist. The record I know of a Ed Shaver Hot Wheels Custom AMX is $7000. Not bad when you consider I believe the record price for a Hot Wheels car is $75,000 for a Volkswagen Beach Bomb in Magenta. Never seen or heard of the Ed Shaver Hot Wheels AMX? Few people have. It is unknown whether the Ed Shaver Custom AMX (the real car!) was a Super Stock AMX. (I don't believe it was; see more down below). The car's whereabouts are unknown although many believe it is still in England. One source in the 1990s had said it was in a basement covered up, but that claim was never substantiated or proven. However, upon more of my research in 2005-2006, another well placed source told me that the car was in Nebraska, however the barn it was in burned down to the ground, car inside. I tend to lean towards the second version, simply because the fellow was associated with racing. Ed Shaver however, retired here in Texas a few miles south of me in Houston. Sadly, he passed away in 2000.
You won't find a Ed Shaver Custom AMX (Mattel's Hot Wheels name for them) for sale. Anywhere. Only high dollar collectors have them, so no swap meets, no ebay, won't happen. However, as many Hot Wheels Collectors Guides mention.....90% of the value of this car is is it is still in original blister pack...as the decals are most of the value. The actual Ed Shaver Hot Wheels AMX (1:64th scale) was generally given away at meets where the Hot Wheels Team would appear. You could also send in cereal tops to get one, along with proof of purchases although I do not know what type of cereal!
You can get a decal set however and create your own using a Metallic Blue original Hot Wheels. Warning, the John Woolfe Racing decal is illegible on the reproductions. Looks nice but could never pass it off a a "out of package" original one
However, there IS a place that sells the decal set so you can make your own Ed Shaver
Click HERE to get your decal set from Toy Car Collector.com
You can also find them on ebay with simple search of 'Ed Shaver AMX'
The regular Mattel Hot Wheel's Custom AMX 6267 only appeared in 1969 on shelves. However, with a variety of colors, it was pressed, and sold, well into 1971, similar to what you see with the past with Playing Mantis. Sadly Playing Mantis
WENT OUT OF BUSINESS and was sucked up by TOMICA
IN 2011. Playing Mantis, Hot Wheels, Green Light, all of them, usually make one mold, & different combinations, with it, until mold no longer good. On a side note if YOU are interested in getting YOUR American Motors vehicle made into a small miniature diecast, where it will live in infamy, Johnny Lightning HAD a awesome program called 'Your Car Is The Star'!
The 1969 Hot Wheels Custom AMX appeared in the following stock colors on shelves:
Metallic Orange Metallic Green Metallic Olive Metallic Blue Metallic Red Metallic Brown Metallic Gold
Metallic Lavender Metallic Lime Metallic Purple Metallic Aqua Metallic Light Blue Metallic Magenta
There are a number of good Hot Wheels Price Guides out there on shelves at places like Barnes & Nobles. However, it is virtually impossible to give a accurate price on most as they will tell you. If the Hot Wheels is MIB (mint in box) expect to pay $200-$450 for it. Out of blister pack they commonly sell as cheap as $20 and as high as $200, depending on condition, as if out of box, many were played with. We used to put bottle rockets in them them down the track with a 'turbo boost'. Amazingly well built I still have many of my original Hot wheels from 1968-69

This is one of my curio cabinets loaded with Hot Wheels many of the ones on the top shalf are mine from when a 10 year old boy. Some of the others are more recent including Johnny Lightning, Pilen, Juguinsa, Green Light to name a few. Have lots more in attic, some in cases.
The Ed Shaver Hot Wheels Racing Team AMX is THE "Holy Grail" for many Hot wheels collectors but *ALL* AMC miniature collectors, and AMC fans.
My original Ed Shaver Hot Wheels AMX in unopened blister pack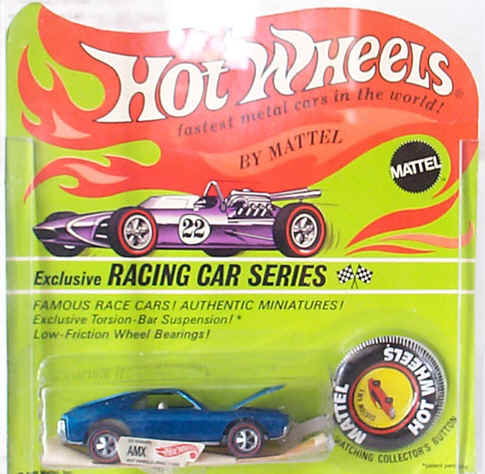 A close up of the car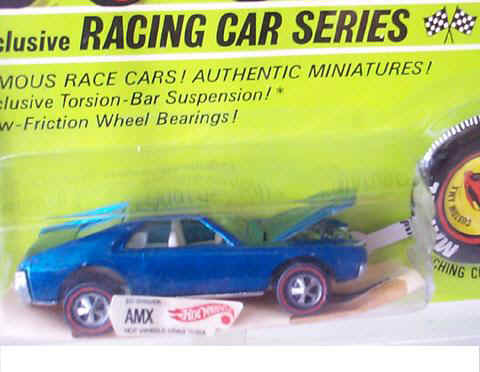 These were sold as shown, with the decal set you would add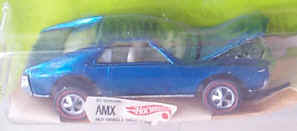 How many of you have legendary Ed Shaver's AUTOGRAPH?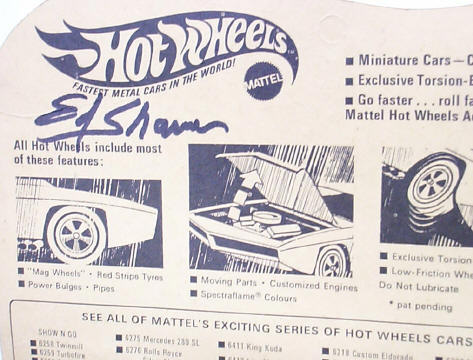 This is a Ed Shaver out of the blister package.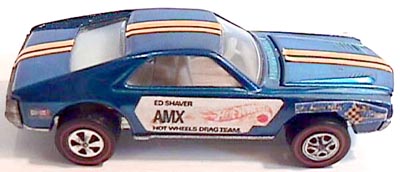 Photos below are courtesy of David Riswick at John Woolfe Racing/UK.
This is the whole Hot Wheels/John Woolfe/Ed Shaver Racing Team in UK.Note the Interior of the AMX. That is Ex US Serviceman Ed Shaver behind the wheel.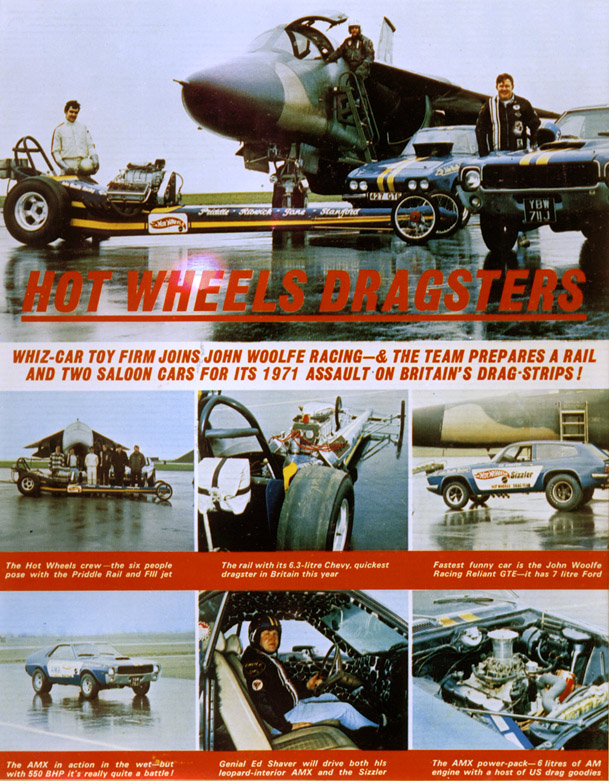 In the background is Ed Shaver's "Road Legal" AMX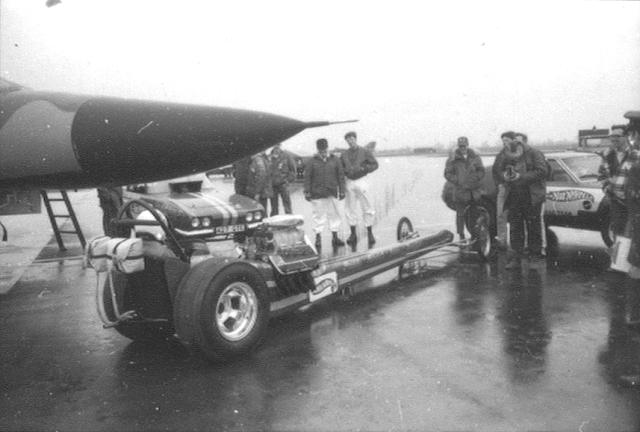 powered by a 390" 550 bhp American Motors V8 fitted with Venolia pistons, Crower cam, 4 barrel Holley carb and Dougs headers.This 'photo shoot had been arranged primarily to announce the sponsorship deal with Mattel's Hot Wheels.
Awesome shot of the Ed Shaver Hot Wheels Drag Team launching at the dragstrip in London.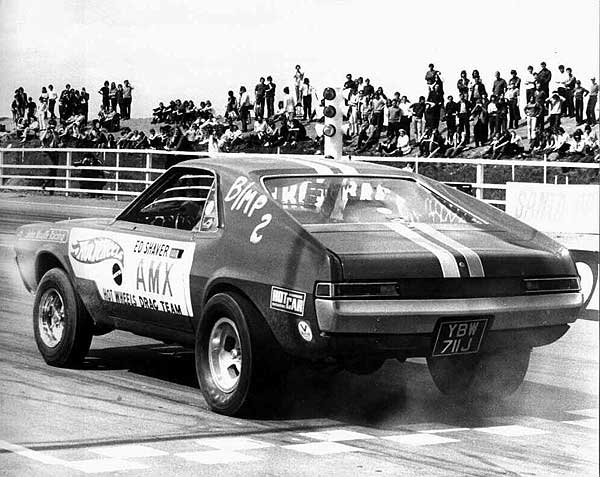 The Hot Wheels Drag Team "Sizzler"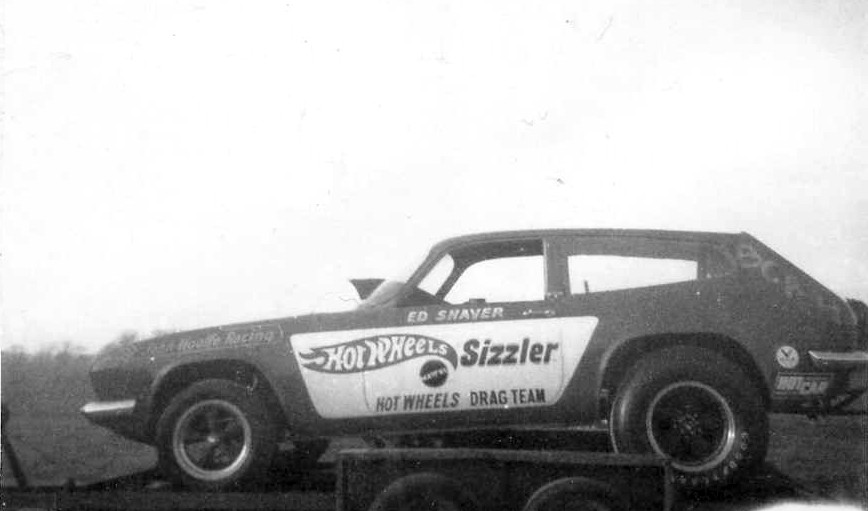 May 1971 color photo of the team in England.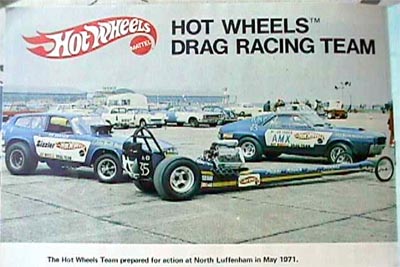 In June 2005, a ultra rare Ed Shaver Hot wheels AMX appeared on ebay.com. This is the info I pulled from the auction.
==========================================================================
Winning bid: US $1,338.00
Seller: sheer--terror

( 965

)
Feedback Score: 965
Positive Feedback: 99.9%
Ended: Jun-13-05 16:56:21 PDT
Start Time: Jun-06-05 16:56:21 PDT
History: 17 bids (US $9.99 starting bid)
Wining Bidder: ibyredlinebp

(

760)
I have decided to sell my entire redline collection which means 200 near mint/mint redlines coming up for sale. I will just be listing 5 cars this week to see how things go. This hobby tends to slow down during the summer so if the auctions go well more will be listed, if not i will hold off until after labor day. Up for bids is a Ed Shaver Custom AMX. The car is in mint condition with one original sticker. I purchased this car a few years ago from an auction in the United Kingdom. I guarantee the sticker to be 100% original.There is some glue residue on the front fenders where it appears the rest of the stickers must have come off at some point. I will include a printout of the original auction to the winning bidder. Just because my cars are for sale does not mean my integrity goes with it. Everything comes with a money back guarantee if your not happy. Check my feedback and bid with confidence.Satisfaction guaranteed on all purchases. Winning bidder to pay by money order/cashiers check within 10 days of auction end. I also accept payments through www.bidpay.com. Shipping is $5.00, multiple wins always combined.GOOD LUCK!!!!!

====================================================================
In 2013 another NOS in blister pack Ed Shaver Hot Wheels popped up on ebay & sold for $3200.00USD.
====================================================================
Finally. Ed Shaver spent his final days here in Texas just south of me in Houston. Paul Nokes sent me this information about Ed and the Shaver AMX, for historical purposes for my website. Big hats off to Paul and thanks!
What follows are the facts that I know about the car from which the
Hot Wheels AMX model was derived. The original AMX was not an SS, in fact
it was a stock 390 AMX bought in Las Vegas Nevada and sponsored at the drag
strip there by Commerce Auto Body. I have a photo of the car as it existed
at that time. Ed was stationed at Nellis AFB with the F-111 aircraft and
was transferred to Upper Heyford, England when the Wing of 111s was moved to
the UK. When the AMX was sent to England, it already had a glass Javelin
hood and glass front and rear bumpers. Other than that, nothing else was
removed from the car (it still had the heater, radio, etc).
The car was painted blue with yellow stripes when it became part of
the Hot Wheels team along with the Reliant and the fuelie. Ed campaigned the
AMX for about two years and the "put it out to pasture" by having it custom
painted (base pink with designs), had the interior gutted and covered in red
and black cloth and the 390/4 speed was replaced with a 290 and automatic.
The shift linkage for the trans was a direct link with no neutral safety
switch etc, thus it was a reverse pattern and a "feel-your-gear" situation.
The car was converted to a "show car" essentially. The rear wheel wells
were also cut out and made larger and the the center of the hood was cut
open and a red plexiglass panel was inserted so you could look down and see
the engine and chrome air cleaner.
I traded a stock 68 AMX 343 auto (turbo silver metallic) and some
cash for the show car. I then brought it back to Omaha Nebraska in 1972 and
stored it while I went to Vietnam for a year. I came back in 1973 and drove
the car on occasion during the following two years. The paint began to
crack and split and due to the multiple designs could not be easily
repaired.
In 1974 my first child came along and I put the AMX up for sale and
sold it to a guy here in Omaha. He sanded the car down and repainted it an
off-red color and shortly thereafter was working on it in his driveway and
inadvertently slipped the trans into reverse (remember the pattern was
reversed and no detents to know what gear you were in) and the car rolled
into the street and was broad-sided by a truck rendering the car a total
loss. It was sold as-is to another AMX car owner near Omaha who kept it as
a parts car.
While I was in Hawaii (1979 to 82) I was informed that the barn the
car was stored in was burned to the ground along with what was left of the
AMX. So the car is now in AMX heaven.
I have communicated with Dave Riswick (now in Hawaii) and as time
allows, I intend to scan the photos that I have of the car and make them
available to Dave for some work that he is doing about Ed. I have a B/W
photo of the car in Vegas, B/Ws of the car on the runway at Upper Heyford in
the rain, and the Custom Car magazine with the article and pictures of the
car as it was "put out to pasture". I have color shots of the car in a park
here in Omaha. As I get copies made, you will notice that the license plate
shown on the car on the drag strip (YBW 711J) is the same on the car in the
magazine article. For reference, in England the county that Ed and I lived
in was Oxfordshire and the county designation was BW. The 711 was an
incremental number as cars were registered and the letter J specified the
year of the registration. The J was for 1968 if I remember correctly.
I did not know that Ed had passed away until about three years ago
when someone called and informed me. I did not know his where-abouts in the
later years. As for AMXs, as AJ probably told you I have a 69 500 Special
that I bought in Hawaii. It was brought over from So California with
several others and we have restored it and have been showing it for about
ten years now. Photos are on eBay from Last Fling til Spring car shows. I
also have a 68 290 4 Speed with A/C (66K miles), a 68 390 4 Speed with 43K
miles, a 68 with 343 4 Speed with 78K miles, and an orphan 1974 Bricklin
that I just finished. ~Paul Nokes
================================================
Just came across your web page. I lived three doors from Ed in England . I was involved in road racing so we had a common interest. I also knew John Wolfe of John Wolfe Racing, who was killed at LeMans in one of the first Porsche 917s. The last racing motor in Ed's AMX was actually a 401 cid. When it was converted bact to street use and the auto installed i did a [temporary] shifter for it made out of a Ford Cortina Estate hand brake lever. The interior rework was done at the Aston Martin factory in Newport Pagnell. Even though the car was a 68 it had a 1971 english plate. Most of the time the AMX travelled on my trailer towed by my Land Rover He and i remained good friends to the very end. John Cummins, Kearney Motorsports Services

John, above, hand built a stunning tribute Ed Shaver Hot Wheels AMX and sells them off his site at
SCARY CUSTOMS.

Here are a few photos to drool over, and would make a excellent addition to anyone's collection.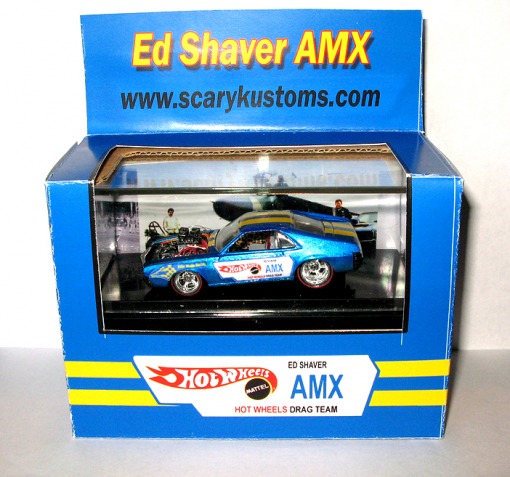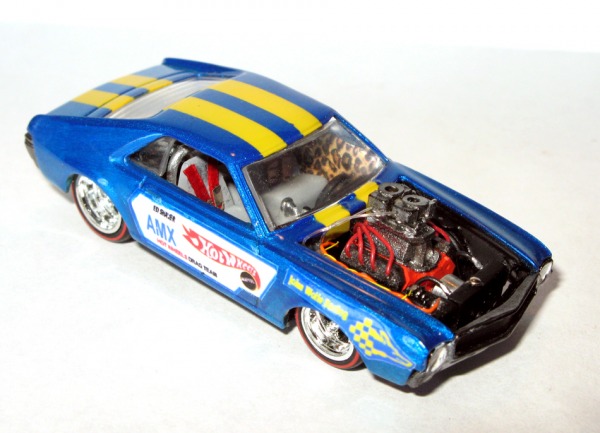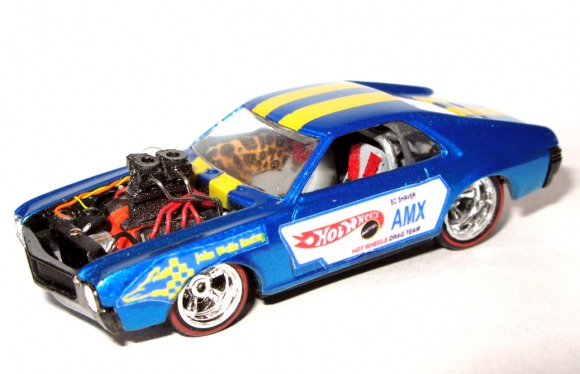 Sadly Ed passed away on May 14 2000 after open heart surgery. Ed became part of the Hot Wheels Racing team in the Early Seventies and went on to drive many cars over the years including the Reliant Whistler and the Metronome Bond Bug finishing up in the rear engined Vauxhall Funny Car.
Ed Shaver 1944-2000.