Houston Record Breaking Flood Memorial Day 2015 May 25th
Some numbers on the record breaking flood Memorial Day, May 25th, 2015 in Houston, Texas: 12,000 lightning strikes recorded in 15 minutes; 11 inches of rain in only SIX HOURS; White Oak Bayou rose 20 feet in less than hour; 500+ water rescues across city; 1st ever Houston Flash Flood Emergency, all bayous out of banks, all freeways shut down (I-45, 288, I-10, Hiway 59) 4000+ homes damaged or destroyed, almost 1000 flooded vehicles wreckers have pulled from roadways, abandoned by owners as water rose quickly and roadway & nowhere to go. A slow moving storm that had devasted Austin, Bastrop and points west of Houston, inched toward Houston, then slowed down. As it did, more rain rushed up from gulf into it. Super cells just sat on top of city, some parts fared better than others, but none spared. We didn't get any water in the house, but was surprised at how QUICKLY the water rose and flooded streets. I have some photos below taken off images on tv, we never lost power, buit 100,000 people did. I have a short, boring video on youtube also, it is right after the main line inched east of us as was pounding Sugarland, mid town, down town with 9 to 11 inches in some areas. We got 9 where I live, others got more. The Rockets played Golden State this night at Toyota Center but after game, everyone 20,000+ fans, players, all stuck as could not go anywhere, all the freeways under water, and most of this area near downtown, hit really hard. This photo tells the tale of a historic flooding event in Houston, 11 inches in many places in less than SIX HOURS. This city is 32 feet above sea level and built on a clay foundation and coupled with the massive amount of cement, no place for rain to go.
Houston is larger than Rhode Island state, so when you look at this image, you see who WIDESPREAD the flooding was.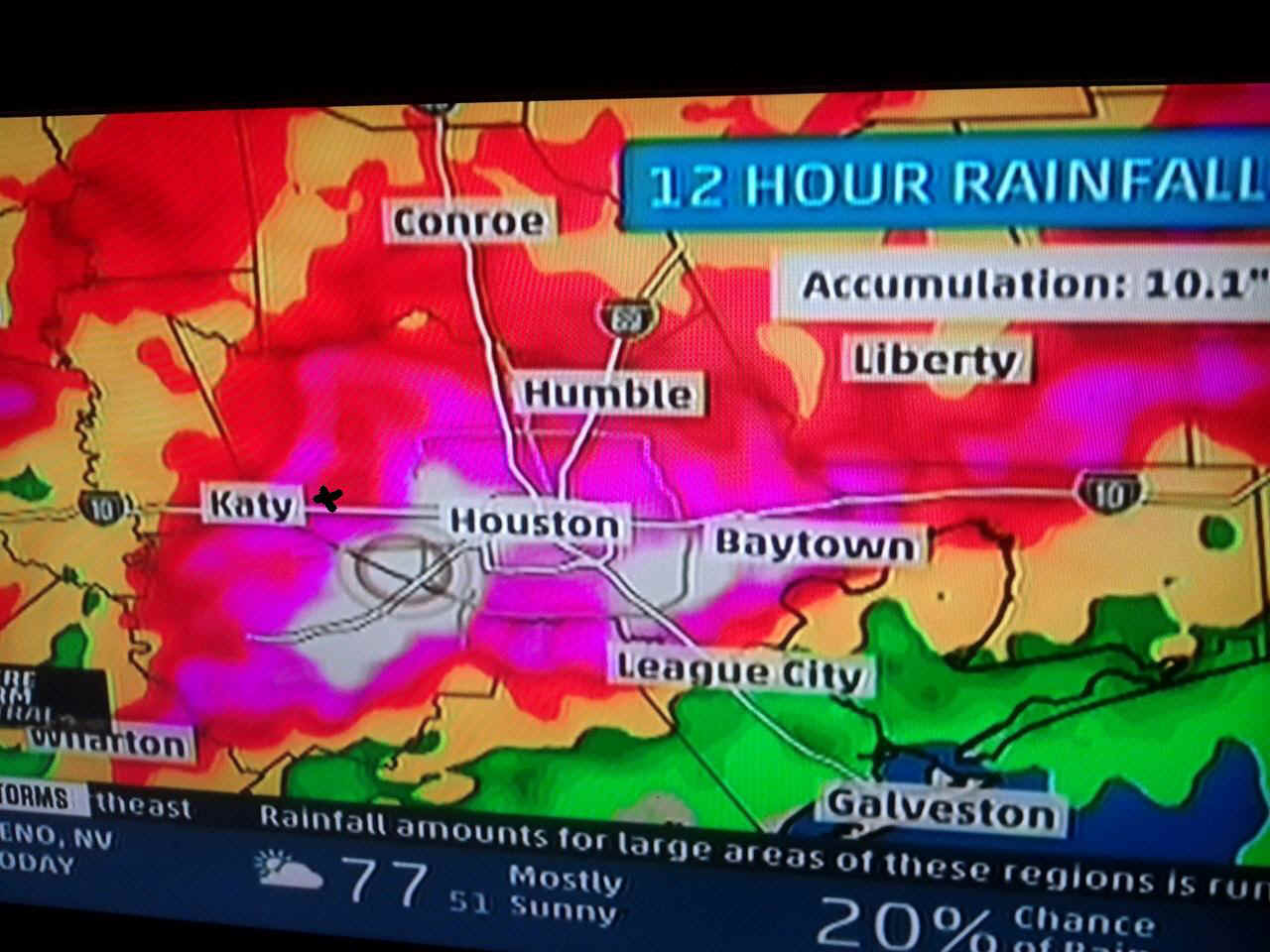 Harris County Flood Control estimated ONE HUNDRED SIXTY TWO BILLION GALLONS OF WATER fell in Houston overnight!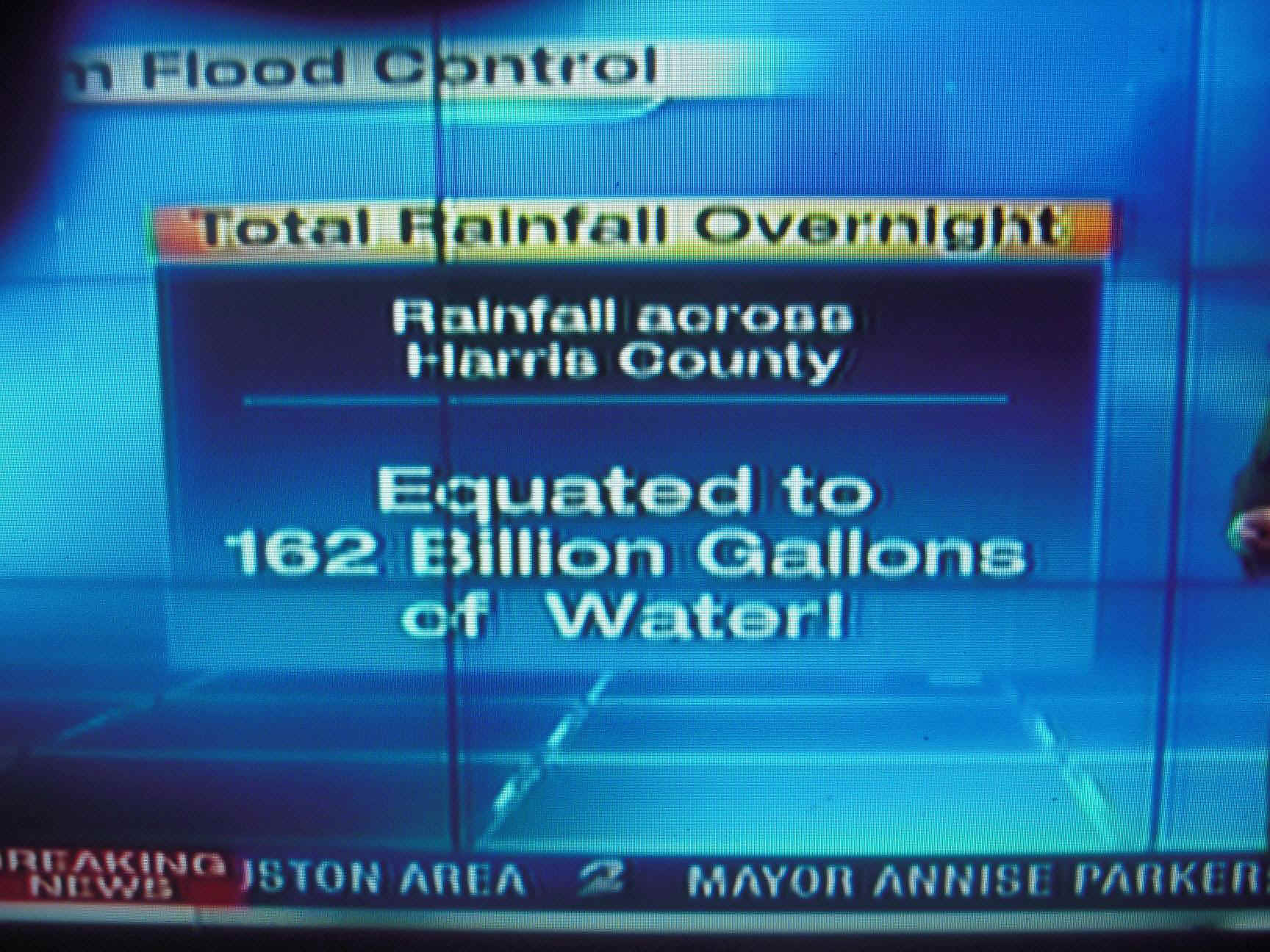 There are some of the images captured from television of this historic catatrophic event.
A series of doppler images. The guy at Weather Channel said "this will be catastrophic event" and "he has never seen 4 WARNING BOXES flashing at once super imposed on top of each other"
Dr. Greg Forbes of Weather Channel commented on the sheer numbers. ELEVEN INCHES IN SIX HOURS. No city can handle that. We live behind the right of the black bar with the 11.0 inches on it, and we are TWO BLOCKS from the Addicks Satsuma dam, which is earthen type.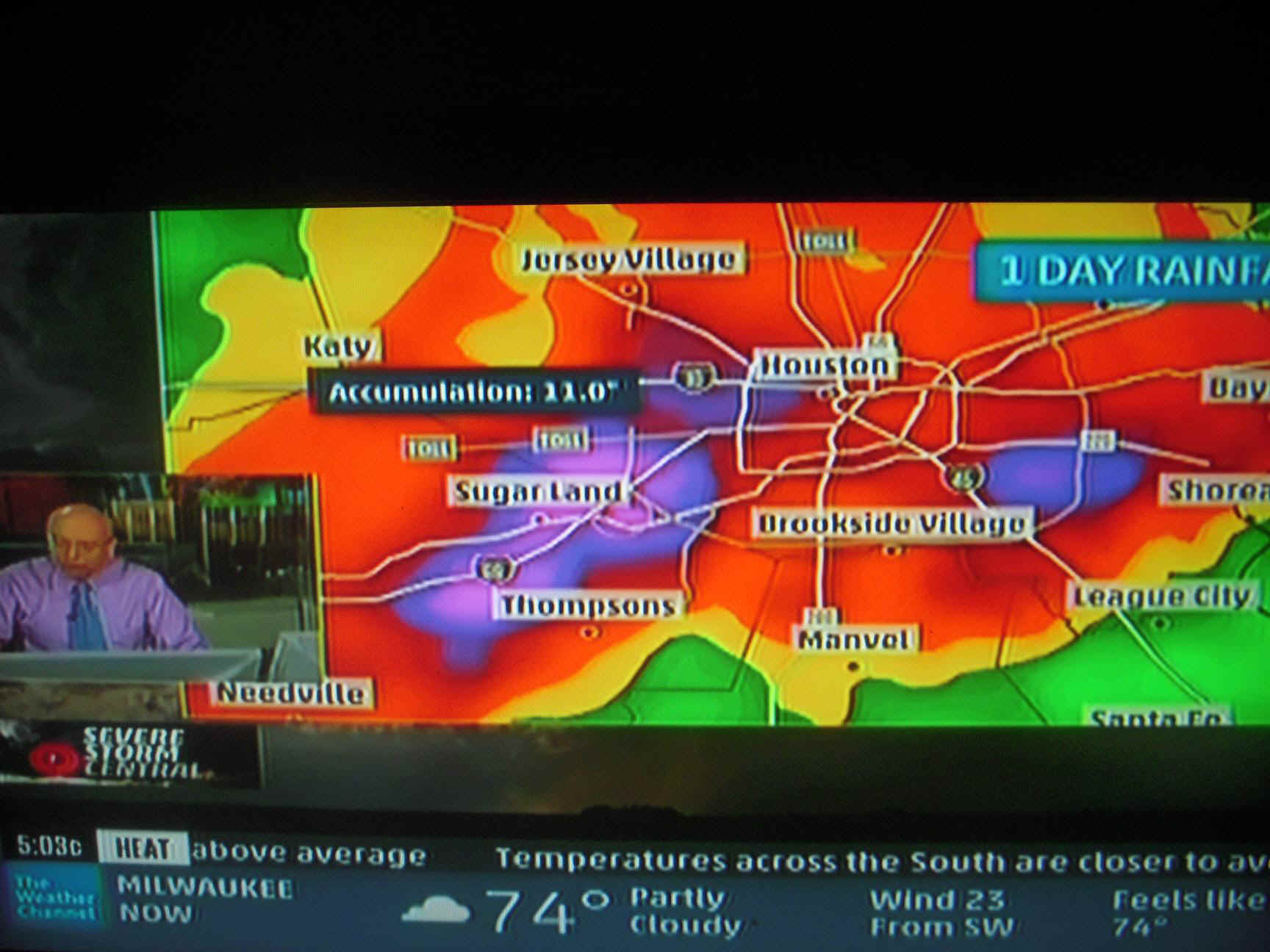 If you look closely, this is Highway 290 under construction, which causes even more flooding. It is 1 1/2 feet of water already and rising, these people have no place to go.
Midtown near Shepard, Jeeps & 4 wheel drives no match for rising water.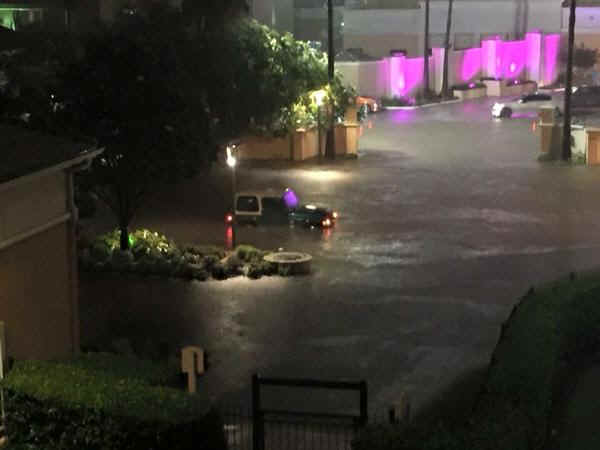 Farther down below you will see this scene as the xsun comes up at I-45 & North Main. The water here rose 10 feet in minute and people had to jump for lives.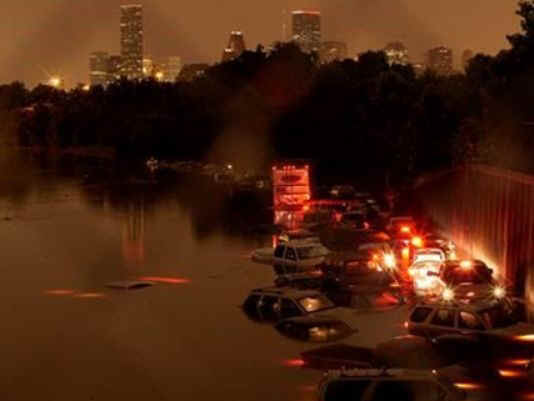 Bissonett & Fondren, instinctively people try to get into parking lots, but those flood also, as did stores.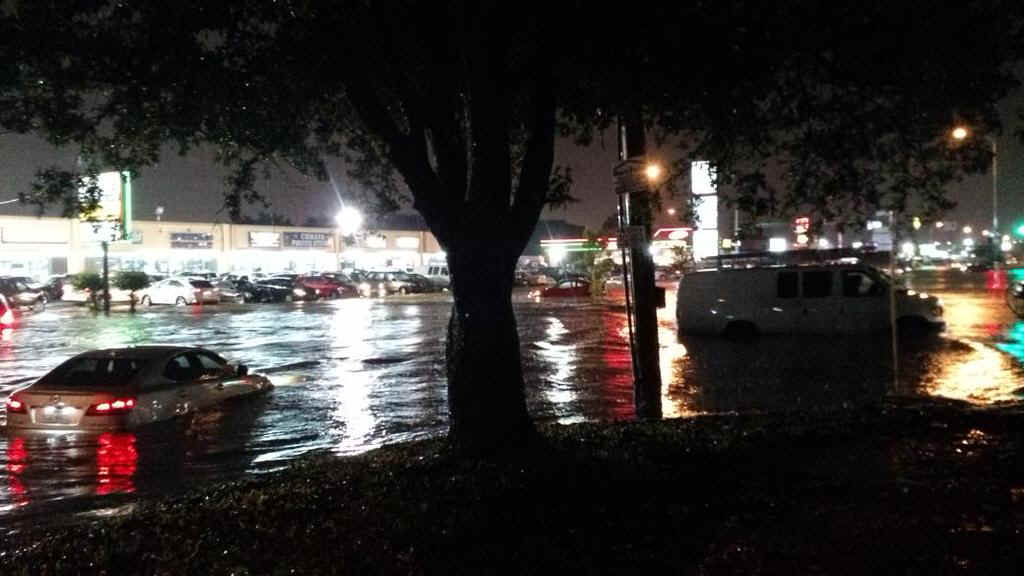 This is Interstate 10 between downtown and Loop 610. Last time this flooded 800 cars & 18 wheelers were lost. These cars all went underwater, but no one died.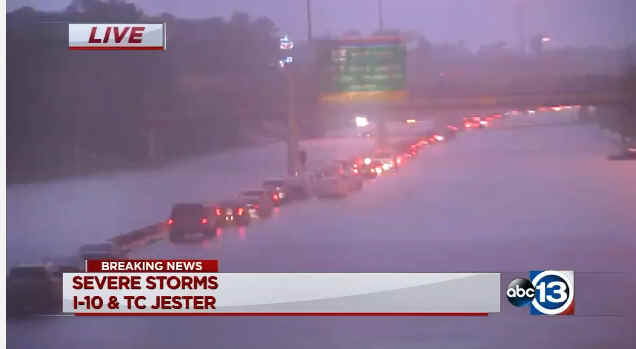 Dwight Howard of Houston Rockets says hi to fans after the game vs Golden State in the NBA Western Conference Finals, the crowd (whihc was probably drunk) told to stay there in Toyota Center, but many did go to cars, but could not go anywhere as downtown flooded, and I-10, I-45 both shtu down so no place to drive.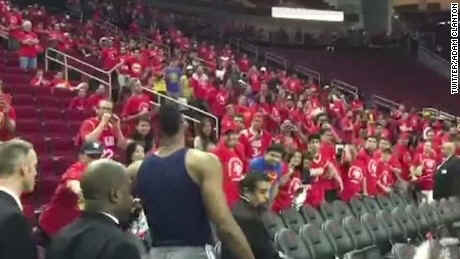 This is my back yard with a 73 Pierre Cardin AMX & 74 Javelin in background, the yard filled up 10 minutes, and had over 3 inches of sitting water...just like that.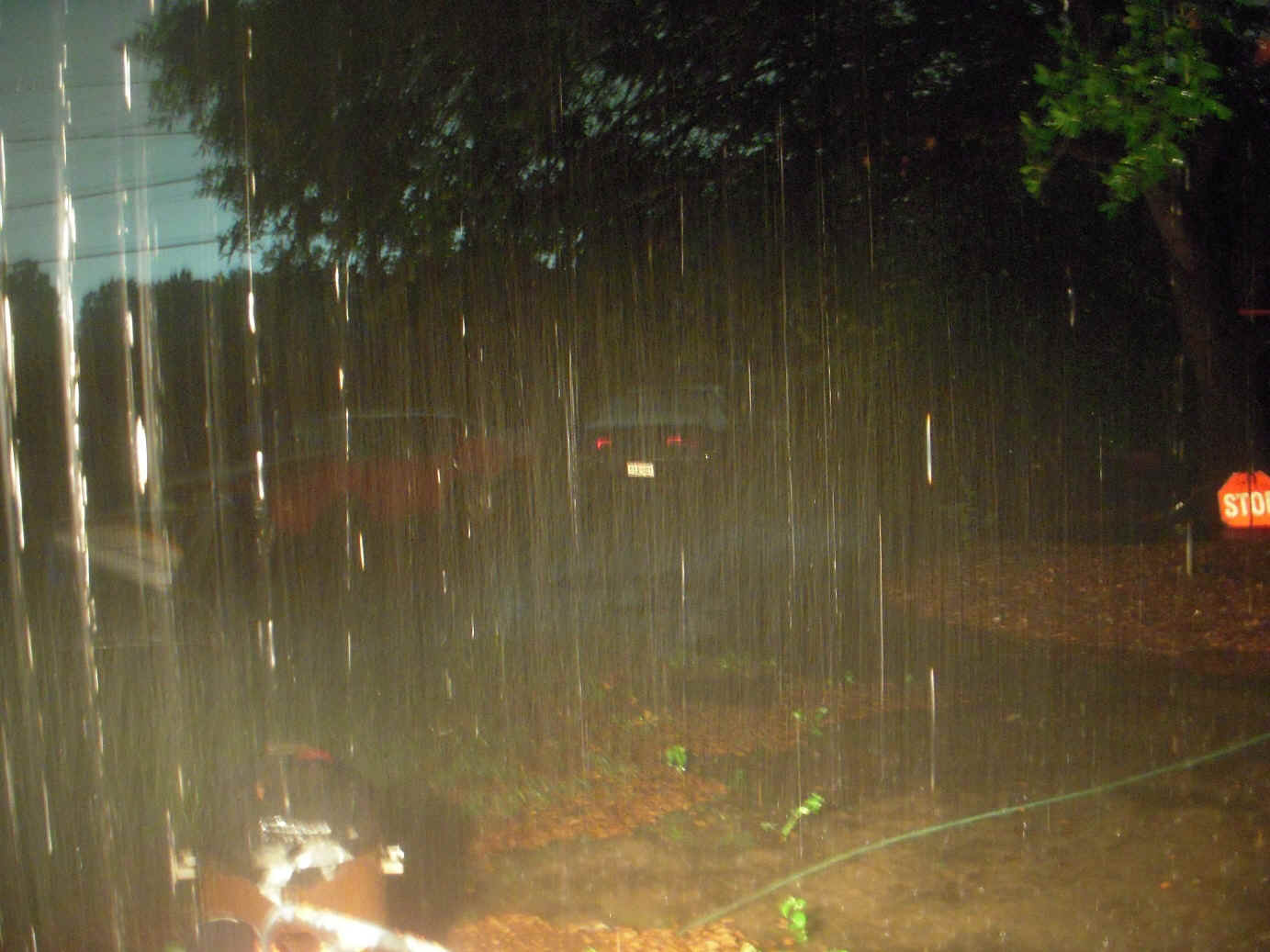 When it starts raining like this you worry. And pace back and forth, front to back door to check to see how quickly it may or may not be rising. This photo was taken 30 minutes later than above, and levels were still same, water not rising into back door. There is a Wal Mart basket there I don't know how it got there either.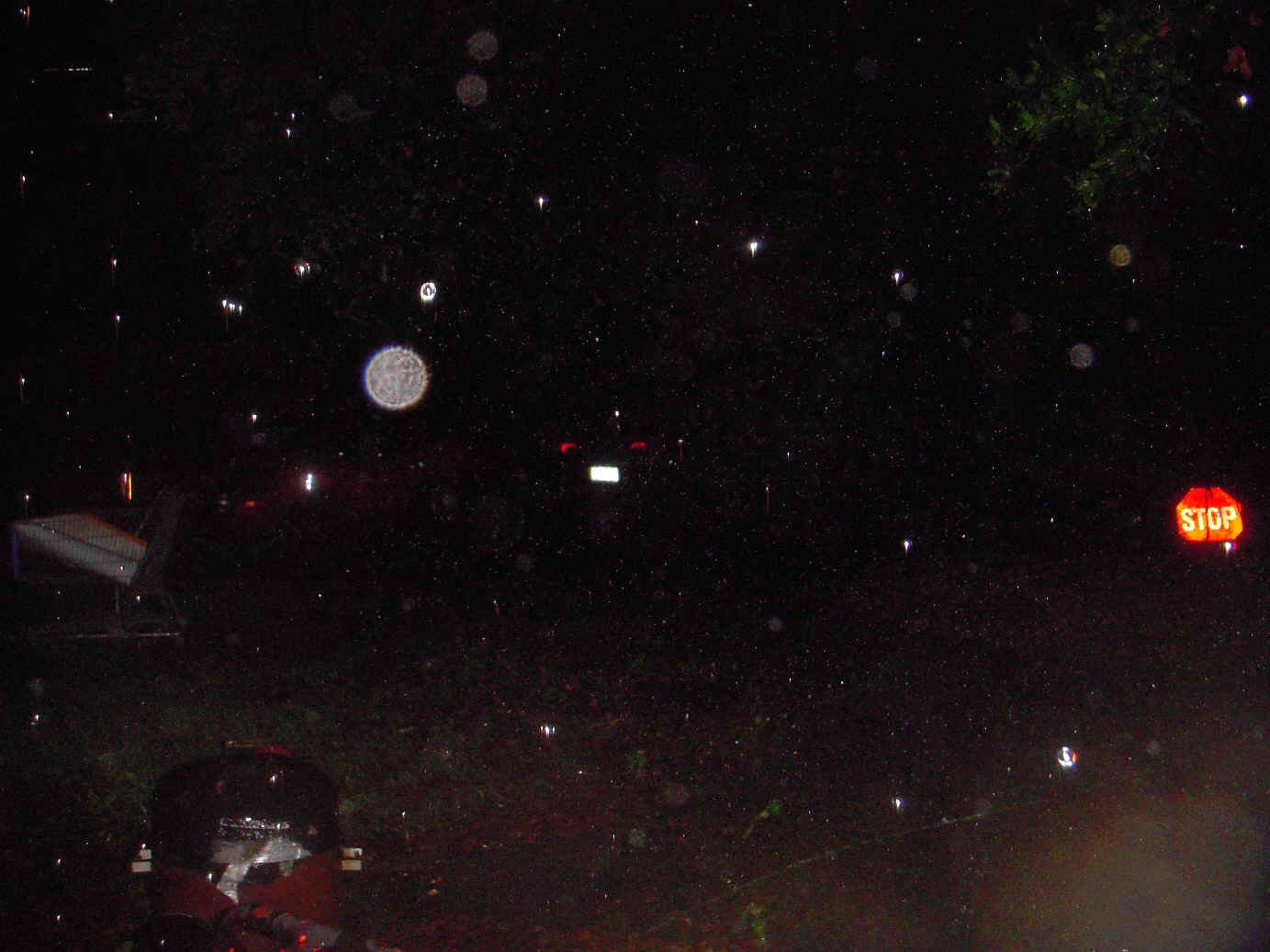 Front yard facing street, ditches filled up in minutes with this rain, was falling at 2 inches a hour.
Hour after above photo taken, ok, ditch is holding it's own, but still raining like hell. This will be the ultimate test for the side new street Timber Oak to see if it can handle this much runoff. Bulletins flashing on television now.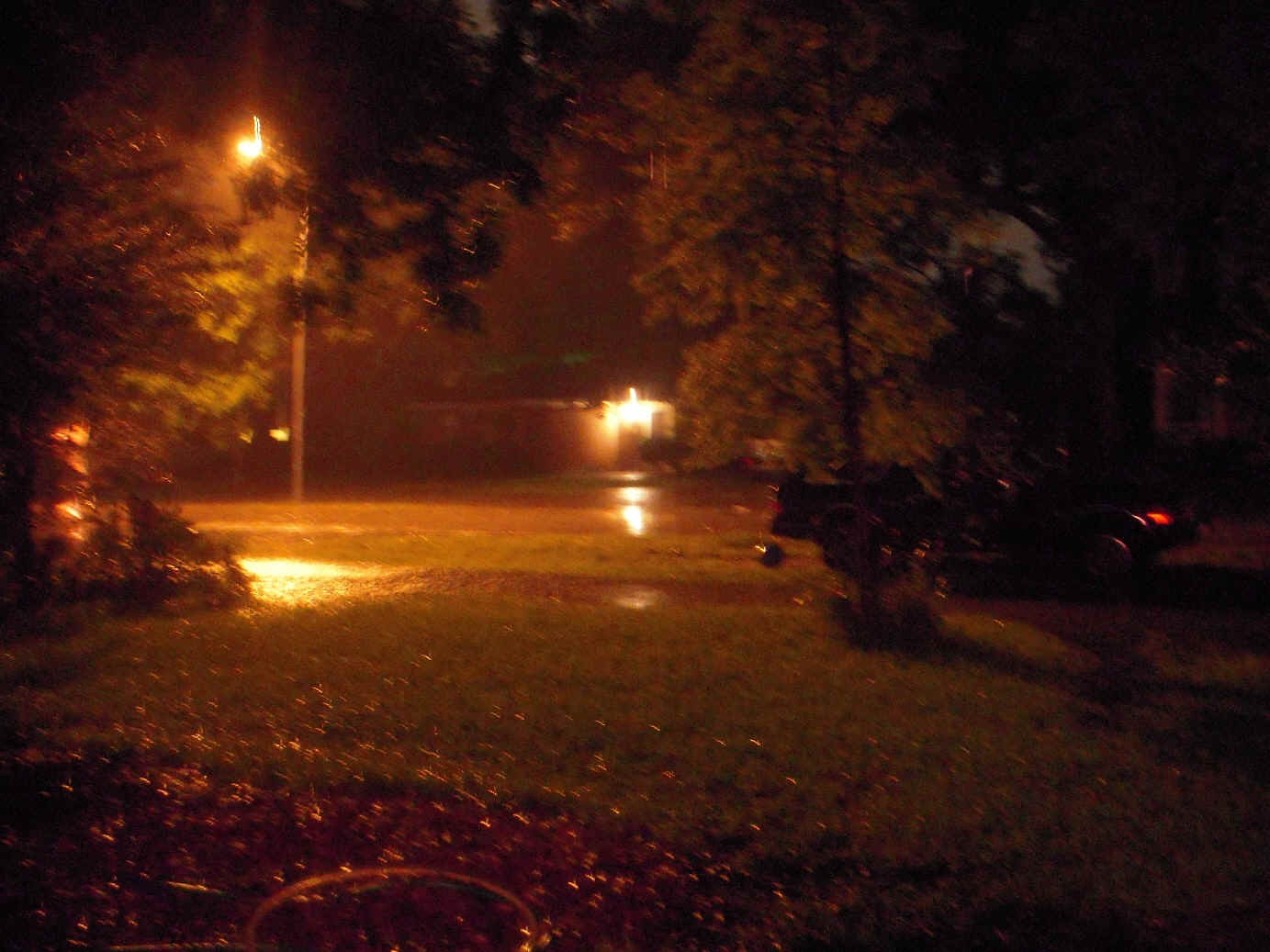 Buffalo Bayou near downtown rose 20 feet in a hour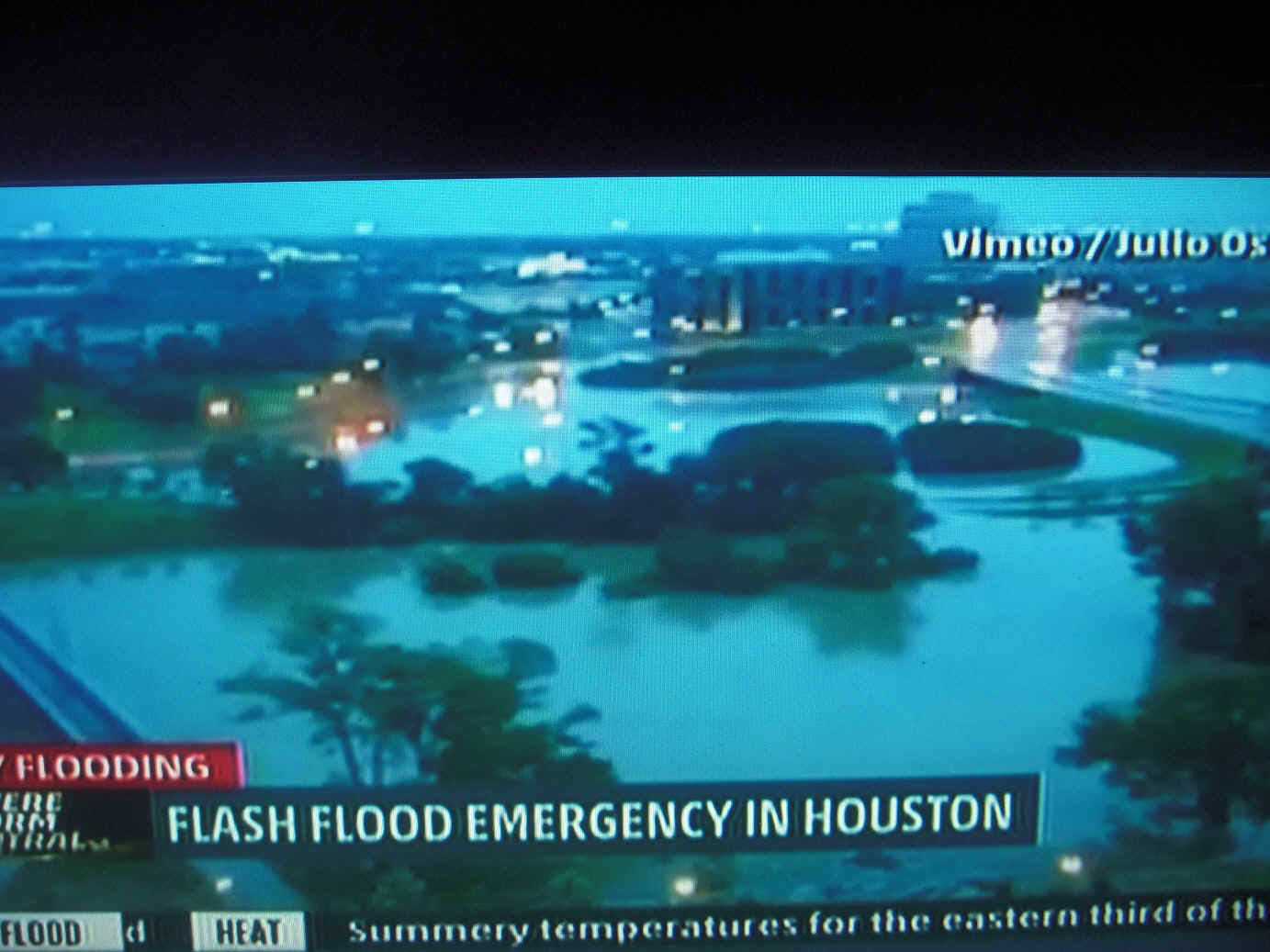 Interstate 45, the water from White Oak Bayou came up with vengence and not shown here is the cars underwater.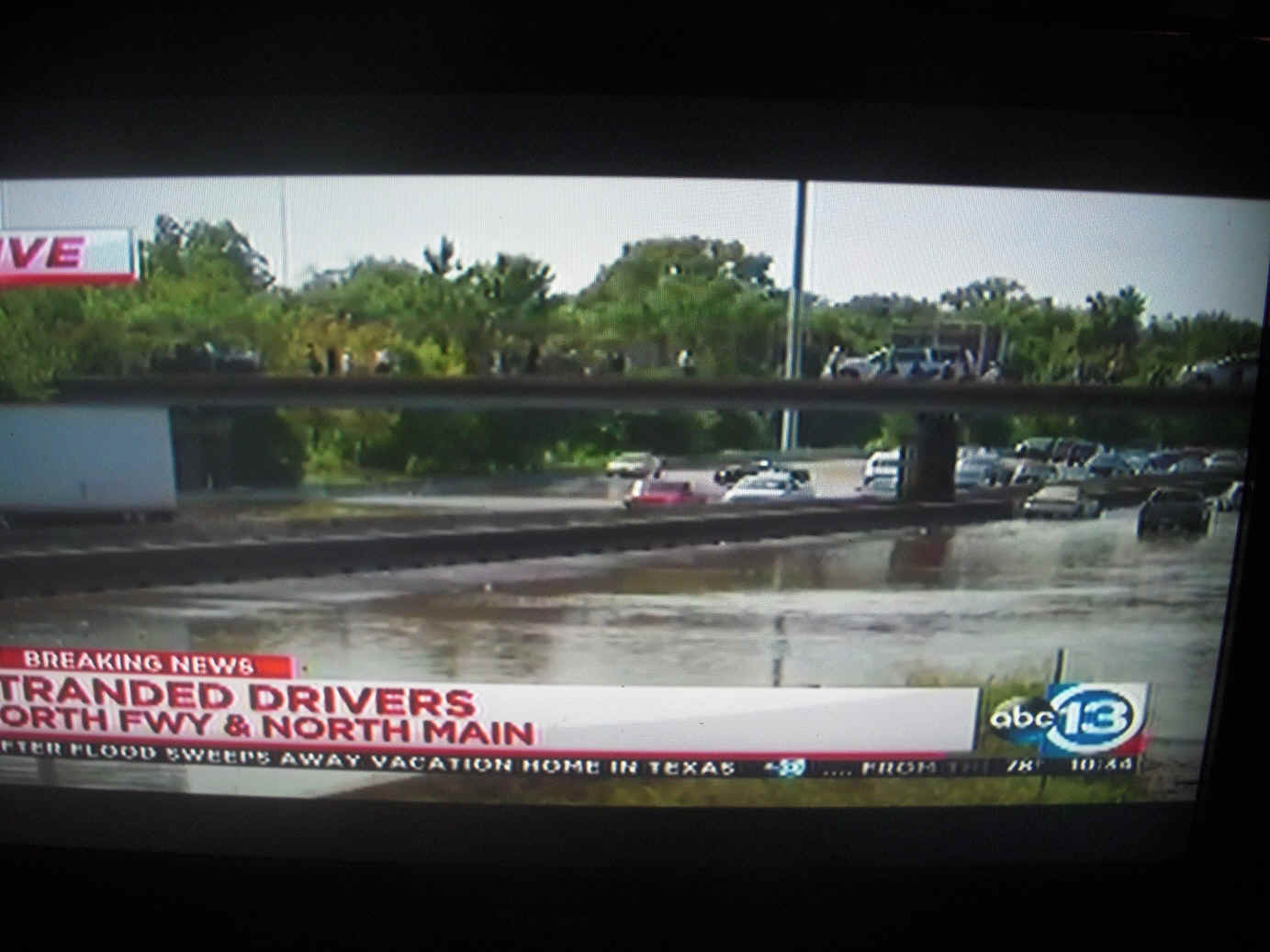 These are some of the cars the owners had to quickly scramble to save their lives, as the water in this corridor came up so quickly people were crawling out of sunroofs, and swimming to side, some were jumping from car to car. The water here was over 15 FIFTEEN feet....and that happened in less than hour.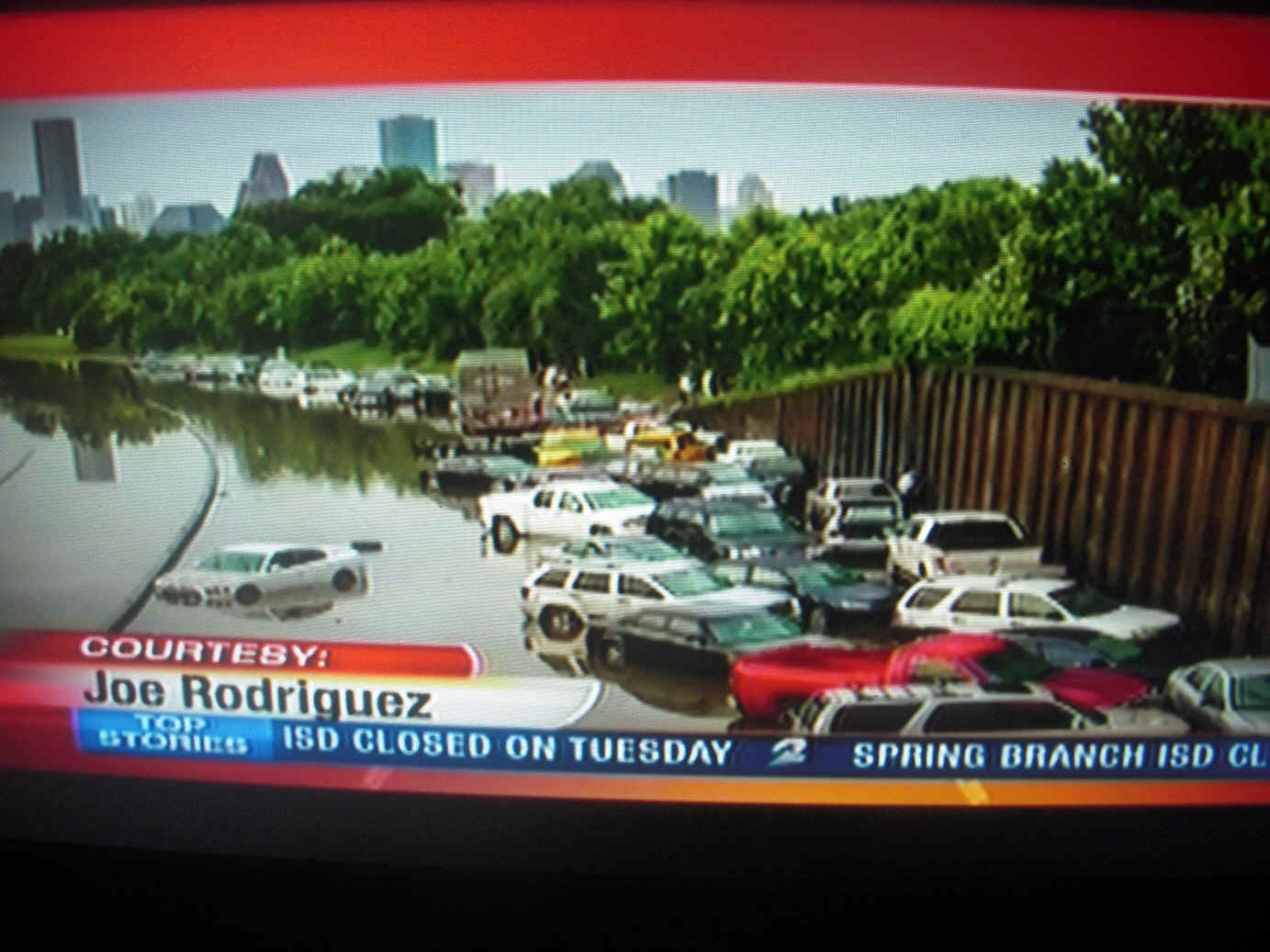 Memorial Drive overpass, this is Buffalo Bayou way out of banks
This is a short, not very good video that was not my camera recording the water flooding the new street Timber Oak during this storm. This street flooded in less than 30 minutes. Granted we had been having rain for a month, but was surprised to see this flood since it is connected to new Katy Viaduct. https://www.youtube.com/watch?v=IELYHmSk2BQ