How to pull off a successful AMC event......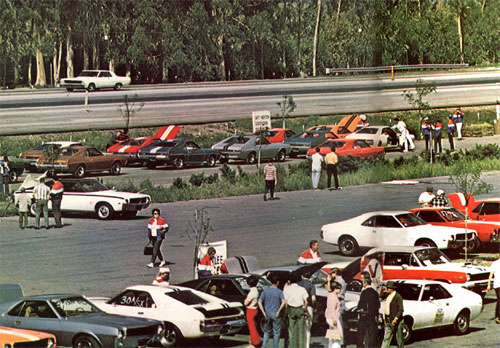 Want to do a AMC meet? Here are a lot of successful tips that might help you make it a event that people will remember, and want to return annually. Not everything is covered here, but since I put on a mess of regionals here in Texas in 1990s, (and founded the former AMC SouthWest Regional) and had a hand in a AMO National meet here in 2001, figured this might help others who want to put together a meet.
=============
1. High on the list and possibly most important is exposure. Plan way ahead.
For a Regional, find a location and possibly host hotel and secure it. You
may/may not need a contract, most times not, as the location is usually more
than happy to have the extra business....ONLY if they have room. Small
venues not good as this might crowd out regular patrons day of event, which
you don't want to do. Talk to the manager(s) and find out about a date and
how many people possibly expected. Locations that are good are hotels/motels
with good sized parking lots, and might have extra stuff to do for attendees
and guests like pool, game rooms, bars, restaurants.

2. I mentioned "plan way ahead" above and this too could easily be the #1
factor that dooms many events. You simply don't let everyone know 'there's
going to be a meet' 2-3 months in advance! First, at least a YEAR before
planned dated event, check your area calendar to see what other regional or
area events might conflict with your meet's date. Years ago with little
forethought, not one, but two AMC meets were held here in Texas.....one was
the weekend of the big NASCAR event at Fort Worth Texas World Speedway. AMC
people are old car people and needless to say that instantly affected
attendance as many people had planned...and bought tickets for, that meet
well in advance. The other meet was held last week of May. This one was
doomed because if you had kids, or were in school, not only was this in same
week as Memorial Day (and not a lot of bosses symphathetic to letting
employees off Memorial Day, then same week Friday for car meet!) this hurt,
along with it being hectic last week of school, and Finals Week if in higher
education! Few people. So try to see what planned before you set date same
weekend....

3. There are only about 12 weekends in summer. The above becomes more
important because you only have limited window to place meet. Even in areas
of country like Houston here where show season is year round, meets from
September thru March do not fare as well because any old car fan with
kids.....finds it difficult to adjust their schedule during the school year
to trailer, or drive, to events. Bluntly....meets planned during school season
eliminates many families. Meets in winter just dumb idea unless you are in area
of country that has no winter. Very tough to please everyone you know and there is
only limited window to pull this off. So check to see first if any AMC Regionals, or
AMC National events in your region first, then mixed make big meets or events
like the NASCAR event mentioned in #2. It could easily make or break your event.

4. Exposure revisited. Once a meet date and location is set....QUICKLY put
together a flyer with times, dates, locations, classes, and especially
contact information. It should include host contacts names, phone numbers and
area codes, email and if you have one, website. Burn stamps and send a flyer
to all national AMC rags of AMO, NAMDRA and AMCRC asking them that even
though it might not be a "sanctioned event" (by their organization) if they
have room in their newsletter or website to help the cause, please publish
it. They benefit too, you know from this exposure factor! Send copies of
your 'AMC Flyer' to many different national auto magazines and publications
like Hemmings Motor News, Cars & Parts, Old Cars Weekly...AT LEAST 8-9
MONTHS IN ADVANCE as it is called "run of press" and they get tons of
requests like that and the longer you wait, the less chance...or room....you
will have of seeing it published. Feel free to send copies to many of the
AMC & Rambler chapters located in my LINKS section!

5. Don't rely on only internet. I can't tell you how many meet's attendance
suffer due to only relying on internet. The internet is a great tool to help
you. However, there are thousands of AMCers *not* on the internet. Or
members of national or regional AMC or Rambler chapters. Mentioned on my
site somewhere is that when I would use my personal mailing list to 'mail
out' (US post office) flyers, of the 1100+ people, less than 200 of them
were paid members of any of the three national AMC clubs or paid members of
the three Texas AMC chapters! So you have 900+ AMCers whose only link to
anything AMC would have been a flyer they
got....one..time....a....year.....letting them know of the event! Works
great believe me and brings out a load of 'closet' AMCers happy to show
their AMC. If you are on the internet, or possibly your chapter has a
website, put the information on there ASAP, and update it as need be. You
can also find a array of AMC online sites to also post your information on
their websites; I have a collection of them under AMC ONLINE on my site.

6. Sponsors. You need them. If you can find someone to offset the costs of
putting on a show, this helps. Sponsors can donate money, time, door prizes,
goodie bag items, even the location. Put together a nice AMC flyer asking
for donations and send it to many of the "area" vendors on my Planet Houston
VENDORS list. If you have any old car magazines in your area, approach them.
I used to go to Auto Trader and they would happily donate boxes of month old
Classic Car Trader, and put a $5 coupon in each book! So you now have
hundreds of Classic Car Trader books to give out free at event. Another ploy
is I used to go to Dollar Stores in my area and buy auto related items for
door prizes and goodie bags. Tire cleaner, NASCAR night lights, valve cover
tips, tools, engine cleaner, shammies, armor all, the list rather endless
when it comes to stuff in Dollar Stores and people appreciate winning
stuff...especially if for their cars. If a "main sponsor" is found, consider
having their company on the plaques, and of course, if you are doing
t-shirts, their name would be at top of list on back. Another alternative is
to give all sponsors framed plaques with "Certificate of Appreciation" for
their sponsorship.
7. Vendors. Your car is never "done". Even if you have done $70K rotisserie there is
always something new, or NOS, that will catch your eye you want to add to
your car. And why not? There have been many, many wonderful reproductions
come onto the market in last 20 years, stuff that many of us never imagined would
be reproduced back in 1980s. And the trend shows no signs of slowing down with
people "optioning out" their classic AMC with things the car might not have came
with originally like heated rear glass, compass, AM/FM radio, passenger side
mirror, bumper guards, engine size emblems, the list goes on. Make every attempt
to bring out the VENDORS to your meet. It will greatly increase attendance and
traffic! Because everyone needs parts. If you have AMCers in your area with
lots of used parts, ask them to vend, or if you have nationally known vendors,
see if they can come and support the event. People who normally would NOT
bother to come to event WILL come if they know there will be a swap meet
with vendors...which will inspire them to finish their car if the parts are found or
upgrade their restored vehicle. Take it from a vendor who has worked many
Texas, Louisiana and Oklahoma meets....if the vendor(s) can schedule your meet
into their schedule....not only will you increase awareness but attendance
significantly.

8. Tshirts & plaques. Many people who attend events want to come away with
something to commemorate that event. It could be a small metal dash plaque
or tshirt. If doing a tshirt, I have learned that if you do a good design,
it will sell out. Most of the shirts sold will be in this order: XL, Large,
2XL, medium, with small and 3XL trailing, but still worth doing a few in the
"run" of shirts. But the bulk should be XL and L. Remember any left unsold
can be sold later to benefit the chapter/club hosting the event. This can be
said of other items that may be left over from event.

9. Raising funds. To host a meet costs money, even if it is a free 'show &
shine' event. Granted, you don't have to use any of the advise here, but
believe me, if you want it to be successful and well attended, consider it.
If in a chapter, usually you have X amount of funds, mostly dues, to work
with, don't be afraid of running them down in account as it will be built
back up with pre registrations (if any), registrations day of event, and
other means like members joining the host chapter day of show. I used to buy
case of bottled water and popular sodas at Sams and Costco, and we would ice
them down and sell them for 50 cents to $1.00 each at meet, with proceeds
benefiting the chapter. Needless to say if hot day, you can rake $100-$400
in sales. Your tshirt sales, bumper stickers and decals, dash plaques, all
will bring money back into the chapter!

10. Trophys. This is a tough one, as many people like trophies, others don't.
And every meet I have ever done....you really do not know who and what is
going to show up.....until the "show day". Even with pre registrations and
cancellations, still is tricky. My suggestion would be have a FIRST, SECOND
and THIRD place trophy for each CLASS. Keep it simple here, you really don't
want a class for every year, model. I would recommend: AMC class 1958-69,
Rambler Class 1954-1969, AMX stock class 1968-70, AMX non stock class
1968-70, Javelin stock class, 1968-70, Javelin non stock class 1968-70;
1971-74 AMX/Javelin stock, 1971-74,AMX non stock; AMC stock 1970-88; AMC non
stock 1970-88. A suggestion here is that we always used to make the small
metal plaques, and have extras, and that way we could bust up a class if
there was many in one class. In other words, you have "X" amount of trophies,
and can affix the small metal plaques on front for that class AFTER you have
judged the vehicles and added/subtracted from that class. What does this mean?
For instance let's say you have a rash of 71-74 Javelins & AMXs show up but
few 68-70 Javelins. Bust the class up like ISCA does. Since the small metal
plaques are not stuck to the trophy yet, use some of the earlier Javelin trophies
for now, larger 71-74 class. And yes, sometimes you have to mail the winners
their awards, no big deal.
Sometimes you might have 30
Gremlins/Hornets/Concord show up for instance as there was a lot more of
them produced than AMX. So maybe you want to have a
Gremlin/Hornet/Concord/Spirit/Eagle class, or have five awards for that
respective class. You could also fiddle with a Hurst class which would
include SC/Ramblers, Rebel Machines, SS/AMXs and SC/360s for instance, or
even a Racecar Class or Jeep class. I can tell you the bulk of vehicles will
be AMXs and Javelins and has been at every AMC event I have attended or
sponsored or hosted. You don't have to have a "1st, 2nd, 3rd' either and can
expand it to 4th and 5th if need be. Consider a lone trophy for possibly
main sponsor like 'Planet Houston Award' or 'Harris County Sherriff Award'
for instance, maybe even a Hard Luck Award and Long Distance and People's
Choice Award. Just thoughts and people like to be recognized for their
effort on their cars.

11. Charity. A suggestion is to have a charity organization named that you
will donate a portion of the proceeds of the event to. Ronald McDonald
House, Houston Food Pantry, there are many that would like a small shot in
the arm. It could be $100, or it could be $1500, depends on how much your
club wishes to donate. It is all appreciated from any reputable charity. And
people are more apt to join local club, buy sodas, tshirts and other things
if they know that your club will donate some of that for good cause. And of
course you get some more good exposure for your chapter.

I have probably missed some things here to help you have a successful AMC
event. The biggest keys are the exposure factor and never giving short
notice. I remember going to national AMC events that while at host
hotel....people would be calling in their reservations to the NEXT YEAR
event in another part of country's host hotel! Communication, everyone has
to be on same page who has a hand in the event. Not every meet goes off as
planned, there are many things one can't plan on like weather. But if you
make sure no conflicting events in your area same weekend YOUR event
planned, this is big plus. Don't be afraid to solicit friends and family and fellow
AMCers companies they work for either, many of these companies will
be happy to donate key chains, bumper stickers, pencils, rulers, car stuff,
coupons and gift certificates, one year our main sponsor was a roofing
company, it's all good. Solicit vendors and get them to commit to attending.
If you plan well ahead, you will do good. And remember, everyone is a volunteer
and not paid to help set up event, call people, mail outs, lick stamps, put up signs,
judge, sell sodas, park cars in class, pick up trash, no, you do it because of the sheer
love of cars, so the more help the better and keep in mind that everyone is donating their
time, effort, expertise, everything, to help make sure everyone that shows
up has a great time, remembers the event and wants more next year!

More ideas? Email them to me!

eddie@planethoustonamx.com