Hurricane Ike's Strike Galveston/Houston Texas September 12th-13th, 2008
Ike's path of destruction Radar Loops.
Eastern Cuba Sept 7th-8th, 2008 (Cuban radar)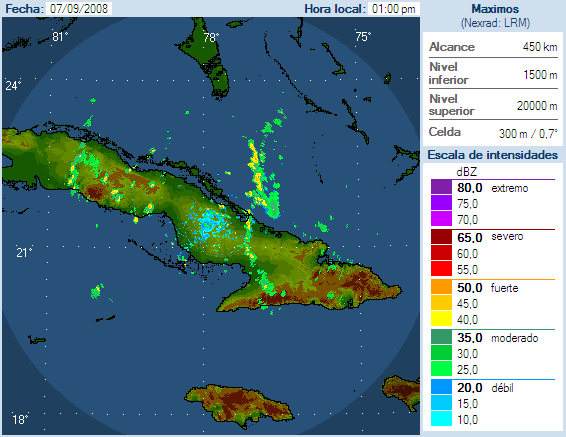 Over Mainland Cuba Sept 8th-9th (Cuban radar)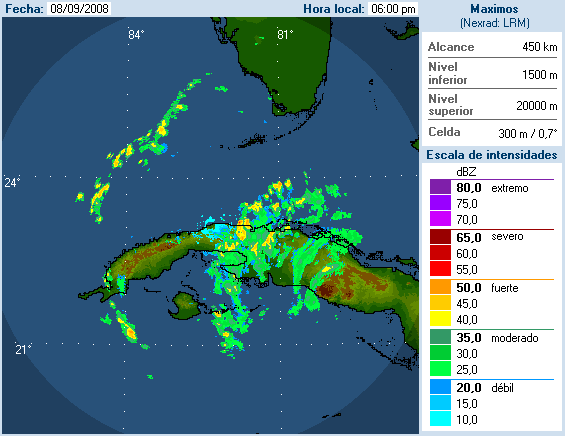 Western Cuba Sept 8th-9th (Cuban radar)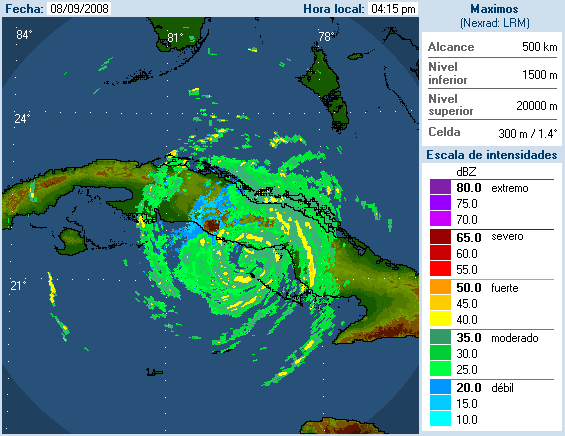 Off coast of Galveston (long loop/national weather service/US)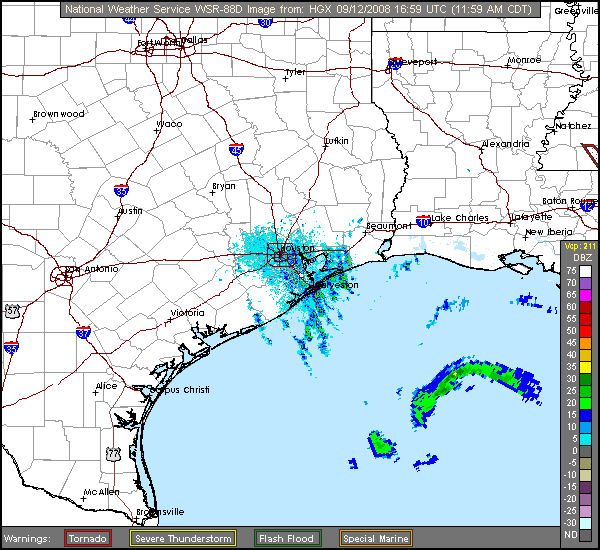 Close up of Galveston/Houston landfall Sept 12th-13th 2008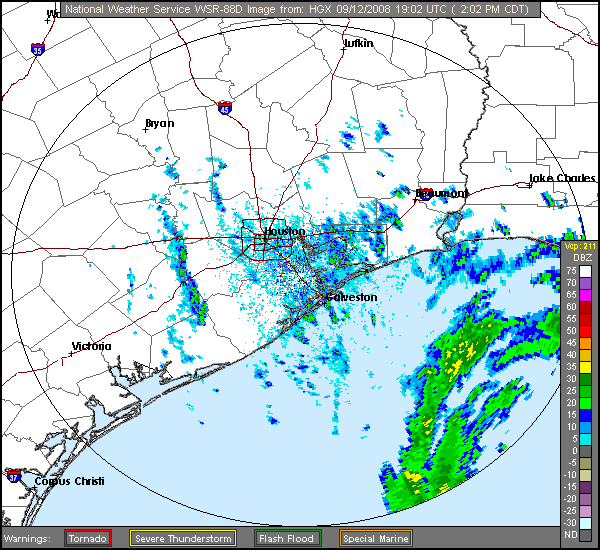 I don't know where to start but will have a number of photos here from our street. You can see some videos here of Houston & Galveston and there are over 9000 posted on www.youtube.com if you search for 'hurricane ike' on there. I'll leave it at that. I am going to add that hurricane Ike was one of the strangest hurricanes I have ever been in (16 so far as a lifelong Texan) as there was a 9 foot storm surge in Galveston area before a drop of rain even fell, catching a lot of people off guard. I had never heard of a official telling people that if they stayed, they better have a 'waterproof will' either. And the winds. Ike had a windfield LARGER that Katrina and Rita in 2005. Hurricane Ike if superimposed over Texas.....WOULD HAVE COVERED 92% OF THE STATE. Quite amazing. There are a number of places 50-60 miles from me that only exist on maps before September 13th now like Gilchrist, Bolivar, Surfside and Crystal beach, washed away to slabs by Ike's massive storm surge. The winds in Ike above 500 feet were clocked at 130-140mph, so people in larger buildings say, 15 floors or more were also told to get out.
Hopefully those folks will rebuild and get on with their lives, even in Galveston which hit extensively also. The tropical storm force winds extended 250 miles from center, while hurricane force winds were 100 miles from center, and hurricane itself was measured at over 600 miles wide. Lost in a lot of this is the Turks, and Caocos (sic) islands caught Ike in the Bahamas a week before Houston/Galveston with Cat 4 strength, then moved across the whole island into Gulf, we can say 'thanks Cuba' for that as it disrupted Ike before it hit Texas.
Here is Ike's path of destruction
I assure you there is not much of a difference between a Cat 1 to Cat 2 to a Cat 2 to Cat 3 hurricane. The damage will be the same regardless.
With some of that said, here is how we rode out hurricane Ike in west Houston, about 50-60 miles from Galveston.
I had already boarded up the house September 10th as the forecasts all called for Ike to hit Matagorda down to Corpus Christi area...south of us, which would have put us in the dirty side of hurricane, not that there is a good side to any hurricane, it is just you never want to be in the 'northeast quadrant' which is most powerful. I was the only one on our block who had pulled out all the boards from hurricane Rita (here is my Hurricane Rita file from 2005) Houston vs Hurricane Rita and drove around and it felt strange as no one else had boards up...only me. The city crew working on Timber Oak on the side of my house waved several times and said 'good work, you ready for hurricane!' several times in different languages to me as they saw me putting up boards over all the windows, those are all precut and since I had used several boards for dog house, had to go stand in line at Home Depot to buy several more sheets. Before hurricanes plywood is in short supply and I was lucky to have just arrived right as another 18 wheeler had with a full load; that load would be sold before I left the store a hour later, most sheets $12-$17 a board. I loaded the plywood inside my 82 Eagle wagon and left hatch open with plywood hanging out while pushing down on front of boards to keep them in car while driving home. The house looked like fortress when done and my concern was with Ike coming in south of us, that means winds coming in from North East to due East.
For those of you never in a hurricane, days before a hurricane lands it is brutally HOT as the hurricane sucks all the moisture out of the air, so hot and dry. And calm. Eerily calm day and night and almost spooky knowing a couple of hundred miles away is something that can easily change your life forever and destroy everything you and loved one's own no matter how rich or poor or protected.
After picking up Noah & Jacob at school we went back to Home Depot, for more supplies, then Wal Mart like cases of water, and dry foods one stocks up on. The best (and worst) thing about stocking up for hurricanes is good: you get to eat a lot of crap you normally would not like Little Debbies, Pop Tarts, Count Chocula, peanuts from places I have never heard of, muffins with stuff that may/may not be moving or alive. Bad is well, see above. I did lose 11 pounds from hurricane however, probably not due to the MRE meals either but will get to those later.
The boys had never seen a hurricane, being 5 & 7 years old. They knew something up with all the activity and dad constantly watching any movement in the forecast track of Ike, which nudged a few miles east in track daily. Good for us, bad for Galveston however. Much of Houston shut down before Friday Sept 12th to allow people to leave as many areas were already under mandatory evacuations, especially Texas coast and northwest of that. So it was to allow people to evacuate by ZIP codes to avoid the debacle one saw in hurricane Rita in the file above.
There were more people who died in hurricane Rita evacuation than with Ike's strike. Think about it.
Suggestion time here: since the idiots at Centerpoint Energy that run the Houston grid on electricity think it is easier to take a hurricane hit...then fix damage after storm! No kidding, this was their response. Why not bury many of the cables instead of having 19th century technology (telephone poles) all over the place; if the lines were buried like in many winter northern cites or even new subdivisions here in Houston, you WOULD NOT HAVE HAD 4 MILLION PEOPLE WITH NO POWER. Another alternative if they insist on having millions of electric wires and poles gerrymandered all over the 10,000 square miles of Houston is TURN OFF POWER BEFORE HURRICANE. If you shut down the grid, you eliminate thousands of fuses blowing, really simple! Yes, you will still have transformers go down and poles and wires go down but you won't have all the damned "line fuses" blowing out all over southeast Texas.
One more suggestion, ok, two: I would suggest that Texas have a 'tax free weekend' or whole week the first week of hurricane season in June, so people can stock up on things they might need later like chain saws, boards and such. This would eliminate those lines around buildings before a hurricane gets in area. The other suggestion is back to Centerpoint is to have crews trim trees and branches in February thru June all over their service area. Why? Because much of the damage was from wind blowing trees into lines and poles. This would have made a big impact on how many people would have still had power after Ike.
to be continued with photos......
Galvestonians who decided to stay.....died.....story from AP Oct 5th, 2008.
Scenes from out neighborhood: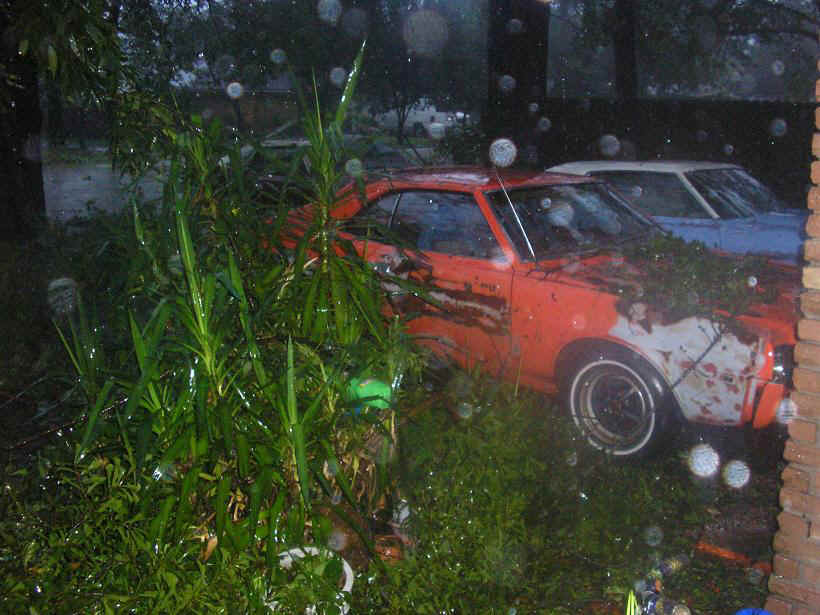 This is looking out front door about 7:00am, wind is still about 40mph+ with sheets of rain, but eye is now north about 50 miles near Conroe.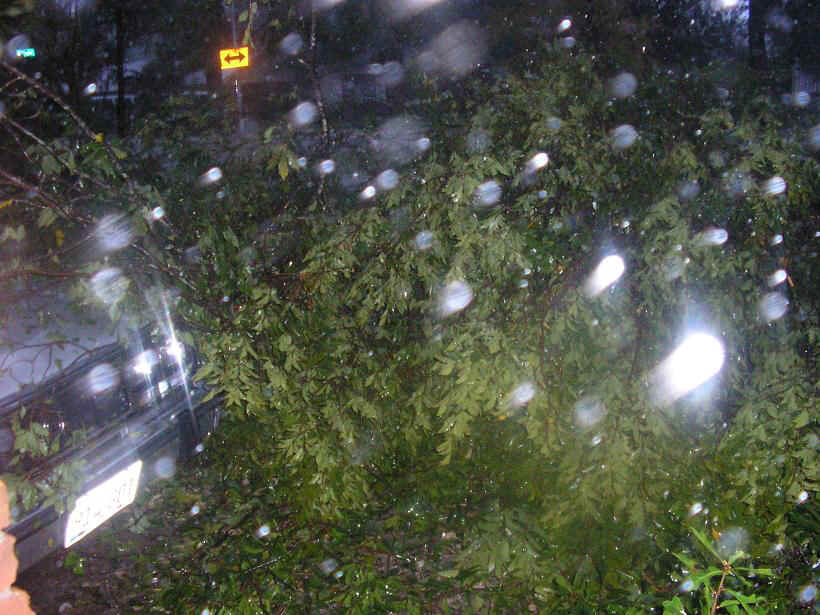 A gust of over 70mph come sin with a squall line. There is no power so can't determine when these will hit. The estimate on where eye was is by how wind direction had changed from NE, to due north, to now west.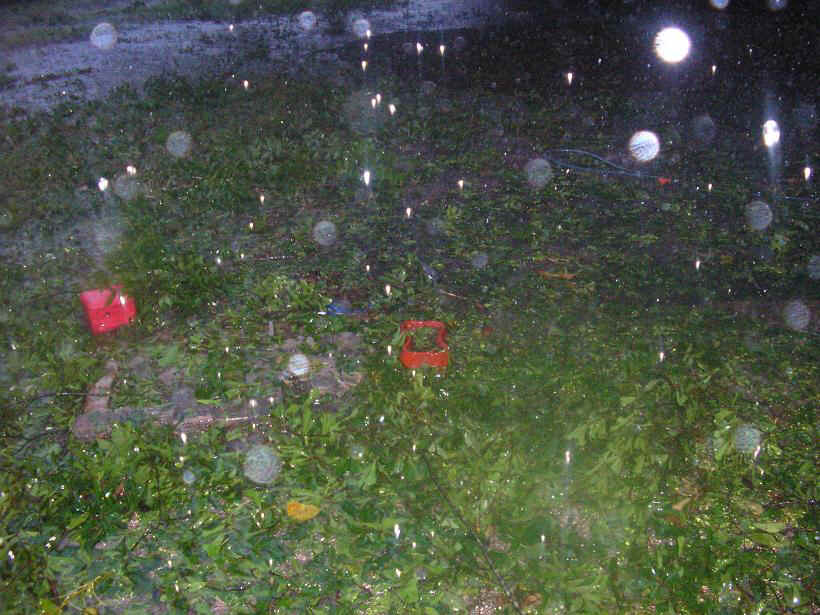 Back yard flooded, not bad, but this was more of a windstorm than rain storm.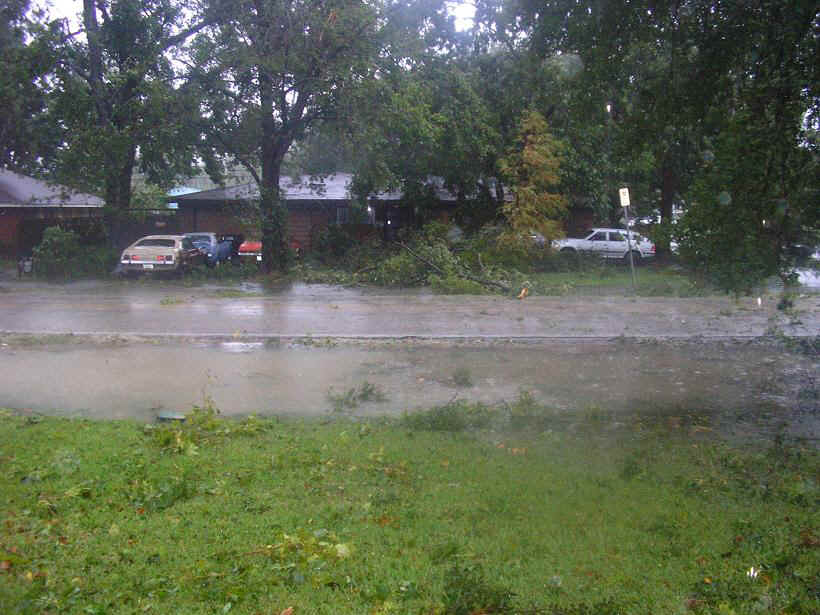 View of house from across street shows lots of limbs down.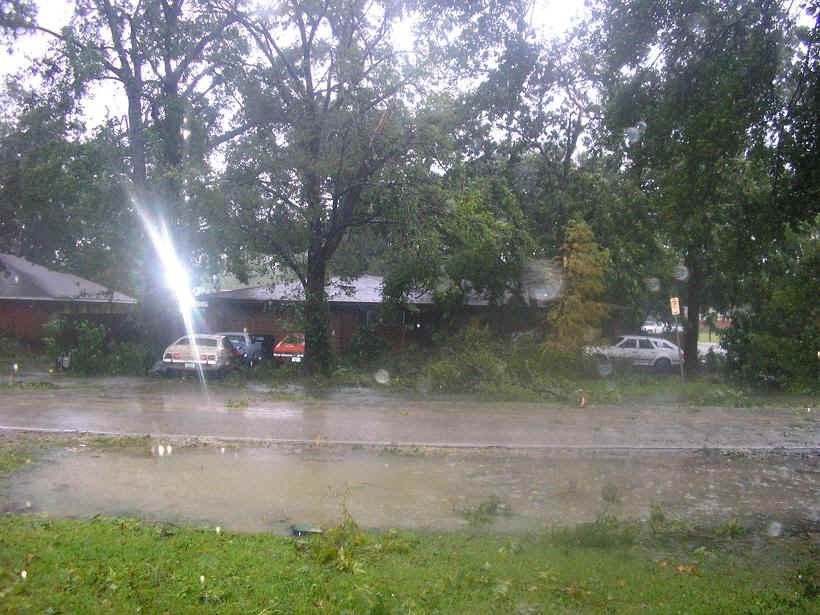 As I was taking this photo a transformer decided to blow on Timber Oak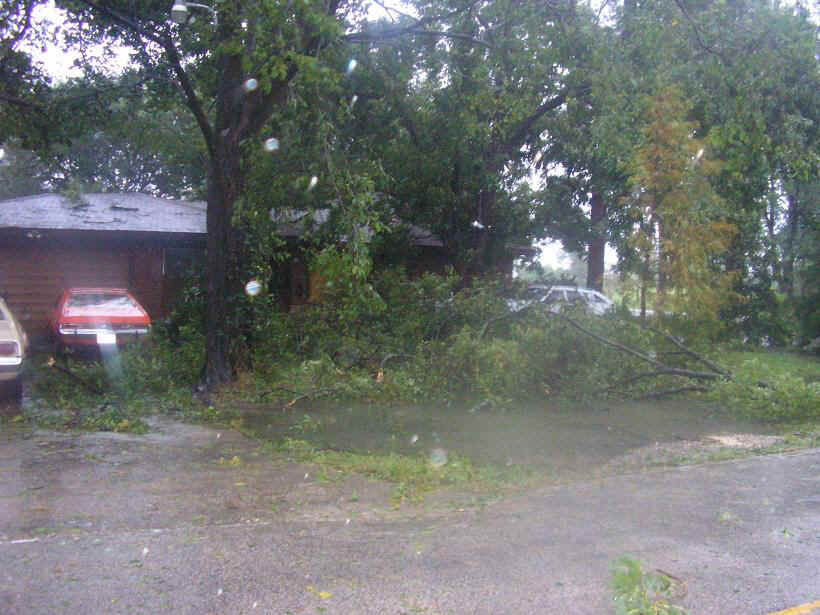 Front yard about 8:00am, the eye had moved thru only 3 hours earlier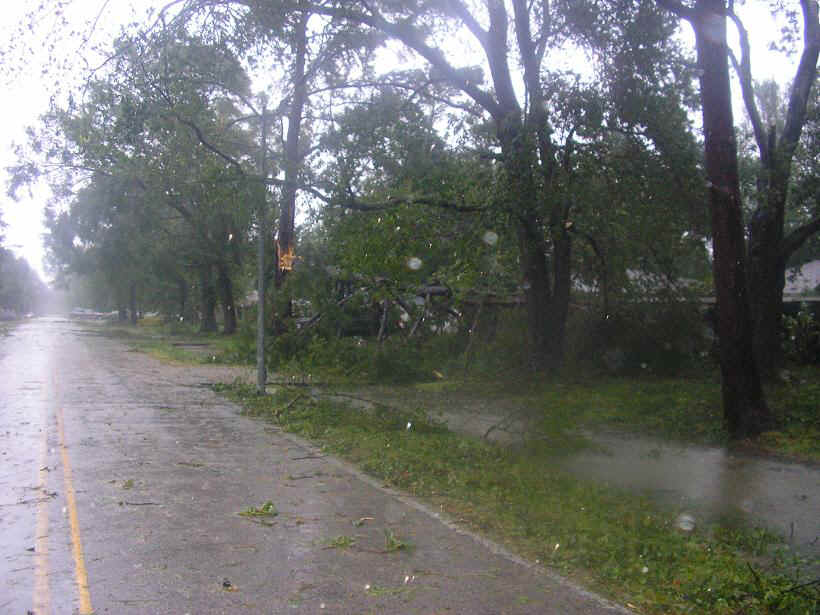 Looking north on Wycliffe shows tons of trees down, rain still heavy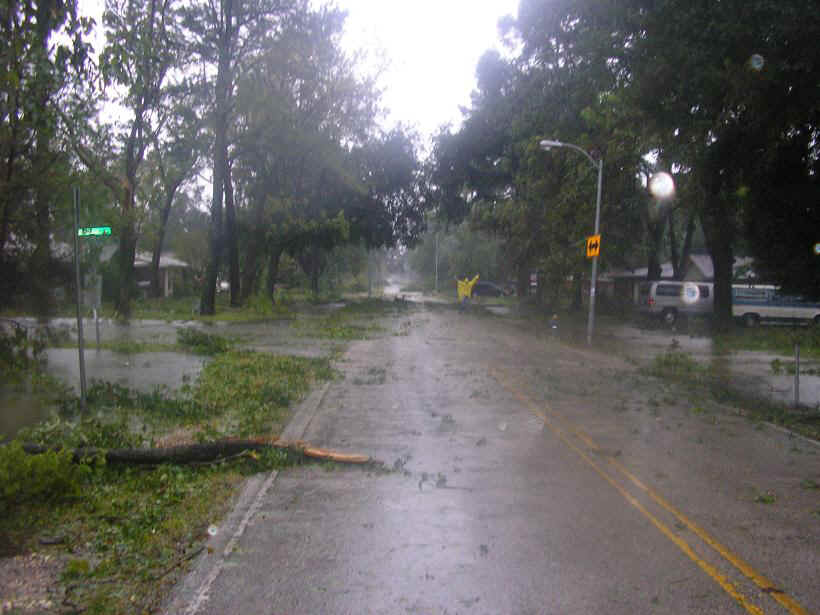 Looking south on Wycliffe, neighbor Joe waves, good to see I'm not only one out in this mess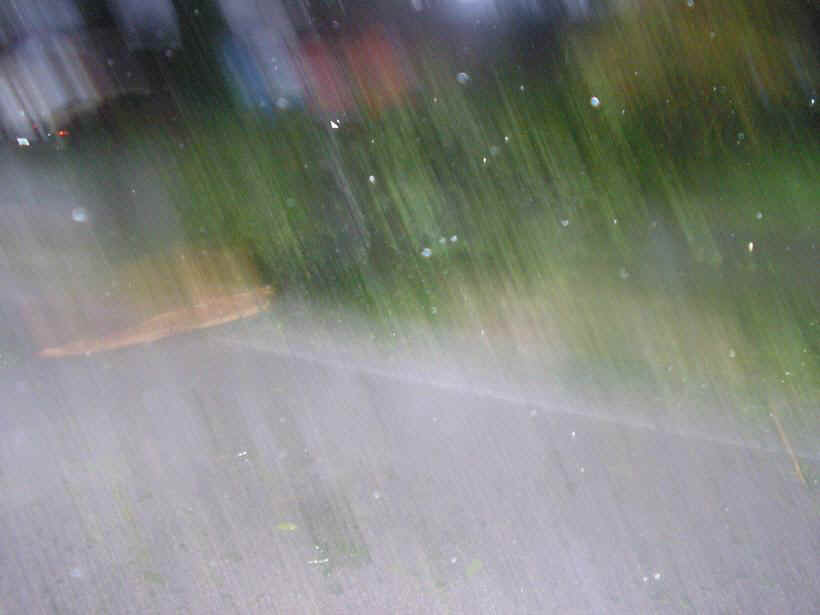 This is a hurricane force gust that almost knocked me off my feet, probably 70+ mph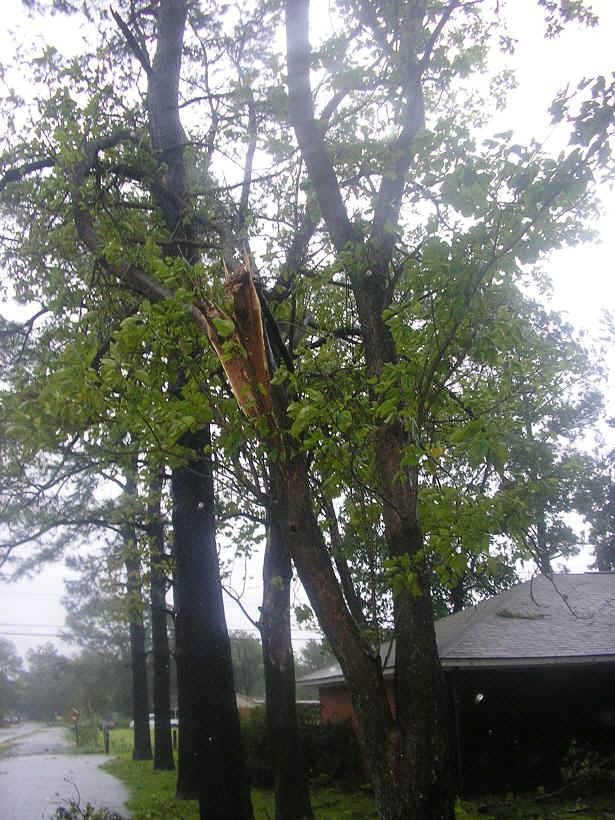 Looking east on Timer Oak showing flooding and large tree in old lady's yard, there was huge beehive in it too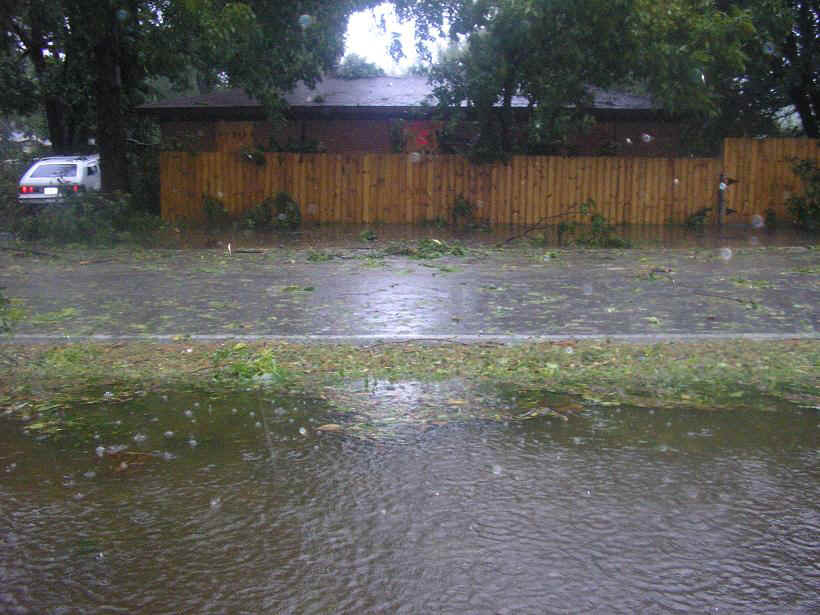 Looking north at my house, can't believe my fence I built suffered no damage. The white 82 Eagle, along with wife's 88 Eagle, were parked next to house in SW corner as winds were forecast to come from NE, so you always try to park vehicles opposite from wind. Not that it matters as with hurricane, winds will be coming at you from opposite direction anyhows after eye moves thru, but the front part of hurricane usually more stronger.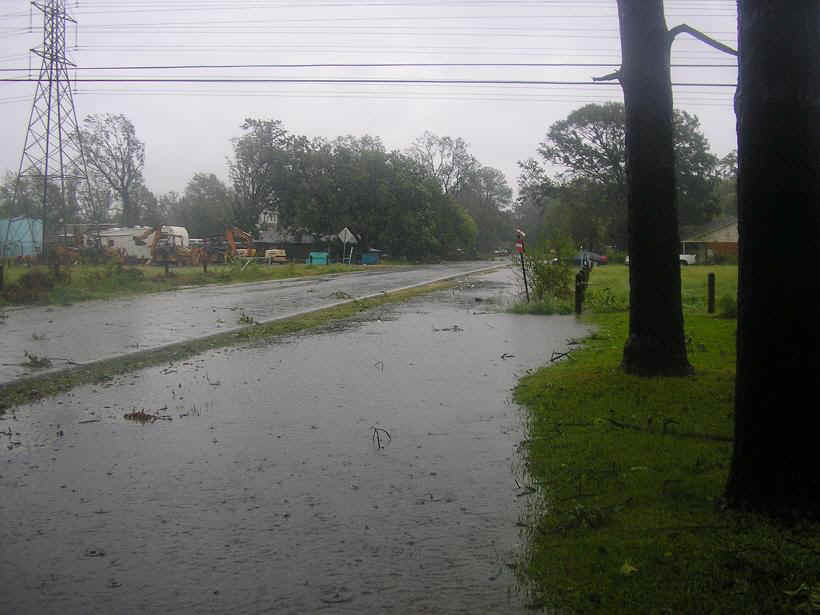 Looking east down Timber Oak, those big transmission towers, there were hundreds of them down all over. This one was knocked down in hurricane Alicia in 1983, but didn't fall with Ike. It looks like it is slightly leaning however if you look at it dead on from different angle. I understand Reliant is supposed to replace them all with either cement poles or steel poles capable of withstanding 125+ mph winds. Note Skid O Cans knocked over at construction site, the kids wanted to go see what 'fell' out of them.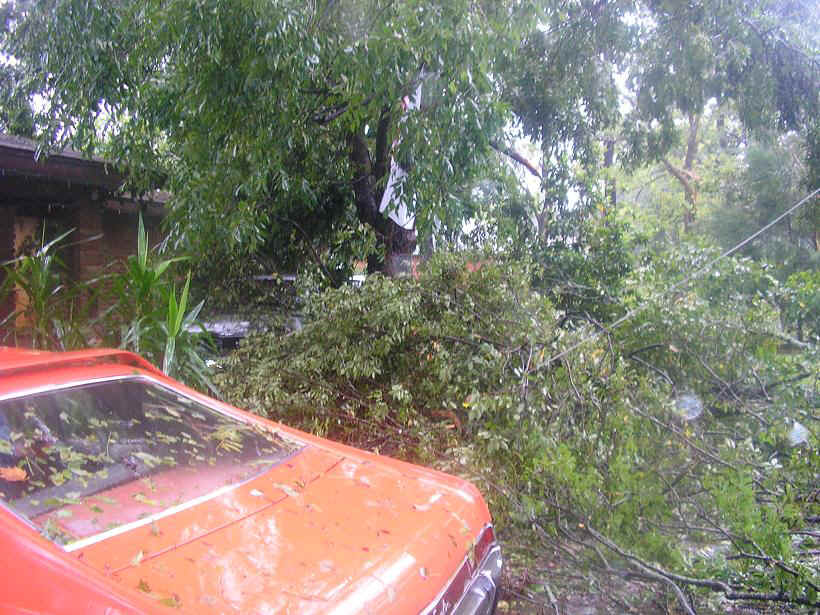 Big Bad Orange "MOD" Javelin I had just got in a week before Ike. No damage, but you can see wires and trees down and Paige's Eagle got cracked windshield out of large limb hitting it.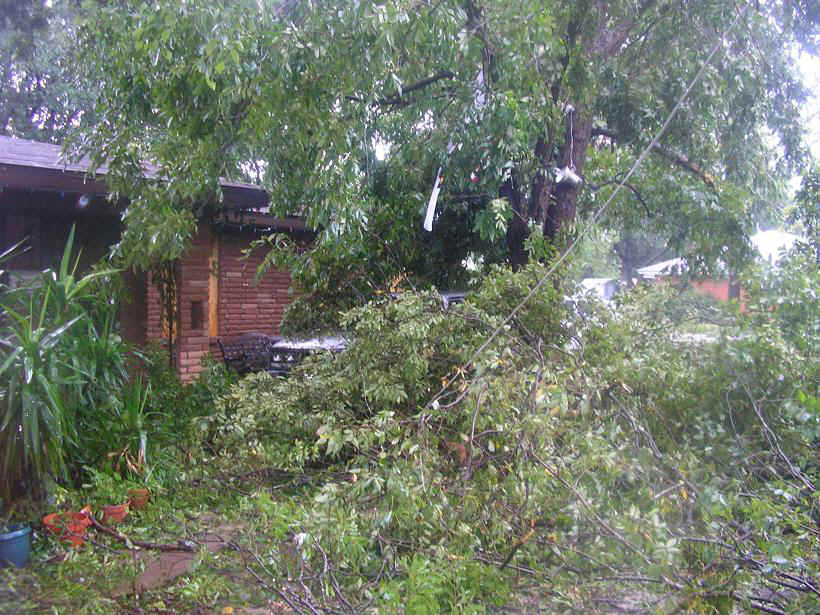 Closer shot of above showing the 88 Eagle barely visible.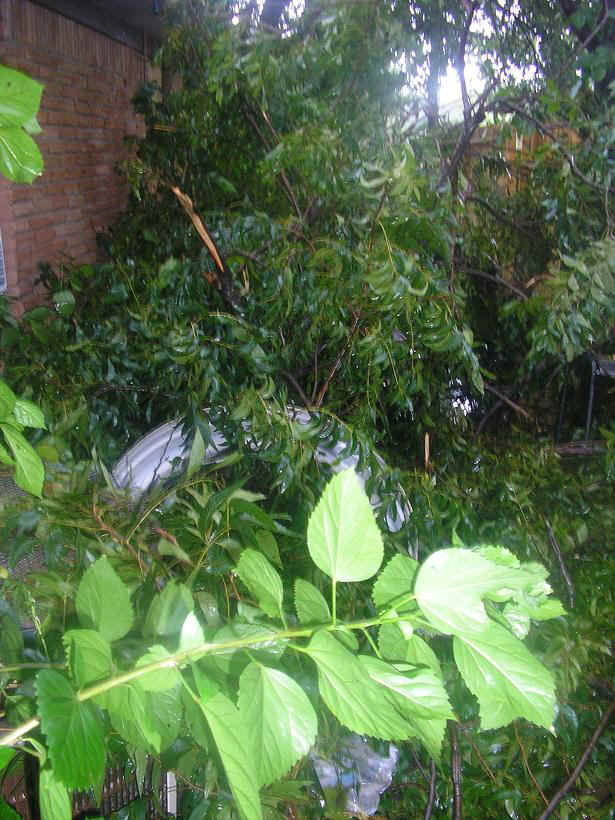 About 4:30am as Ike hit the coast, we had some really LARGE limbs snap off our pecan trees. One of them we got really lucky with, as when it broke, the wind blew it where it hit corner of house, knocking hole in roof. If wind didn't blow it, it would have hit right above Noah & Jacob's bunk bed in front room and Noah was asleep in top bunk, only a few few from where it would have come thru.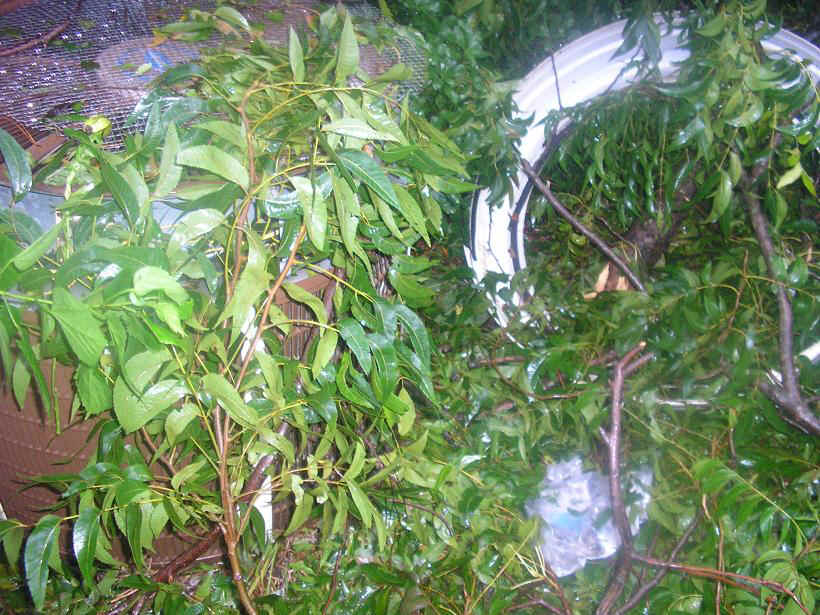 The above mentioned limb hit side of roof then demolished our air conditioner. The noise of the limb hitting house, coupled with the metal getting blasted, was really unnerving. I looked out the porthole in the window but could not see anything as electricity was out everywhere. All you could see is occasional transformer eerie blue green glow from exploding, but could not even see across street, but could see tree outlines if looking at angry sky.

Hole in roof at edge is about size of closed fist. The pecan limb that hit here was over 15 feet long and about 200-350 lbs.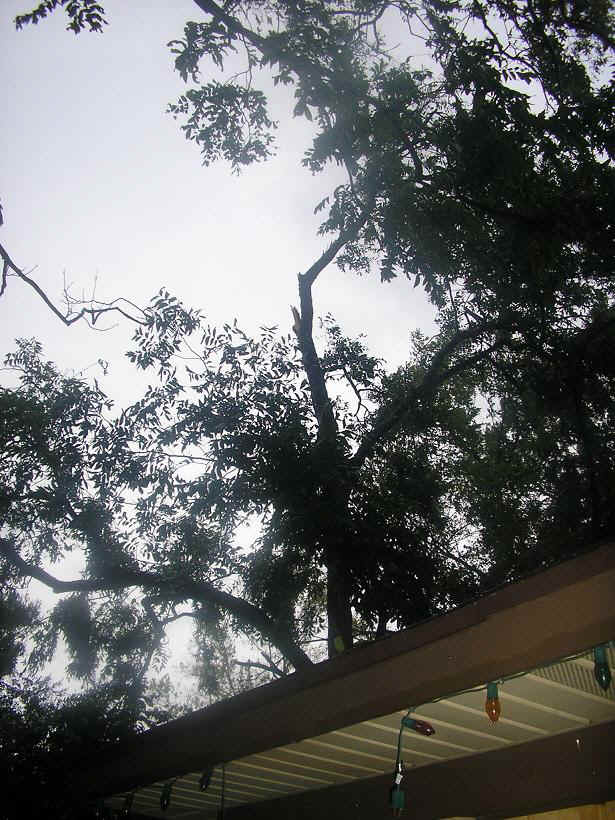 The limb itself snapped from here, and we lost some major canopy when this big limb fell and hit house and AC.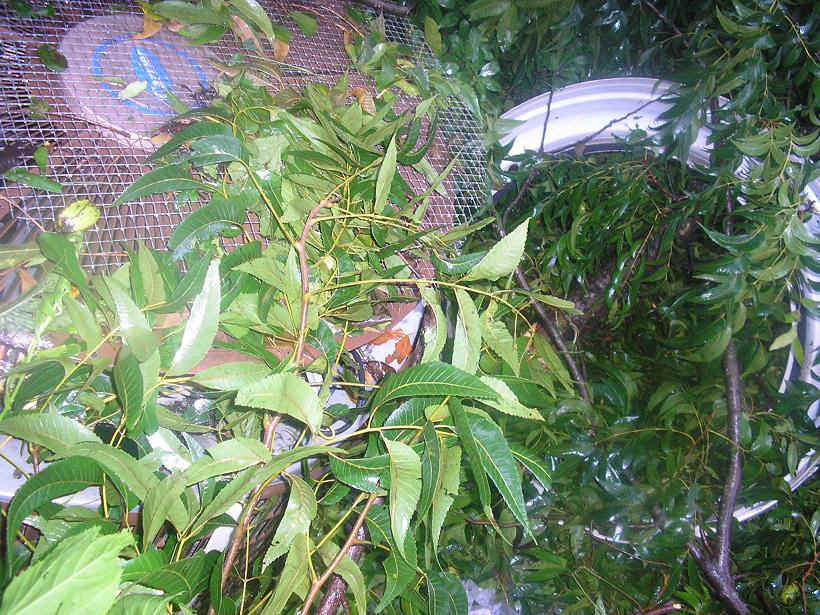 Ring from Ac blown off and bent really bad and fan inside knocked at angle.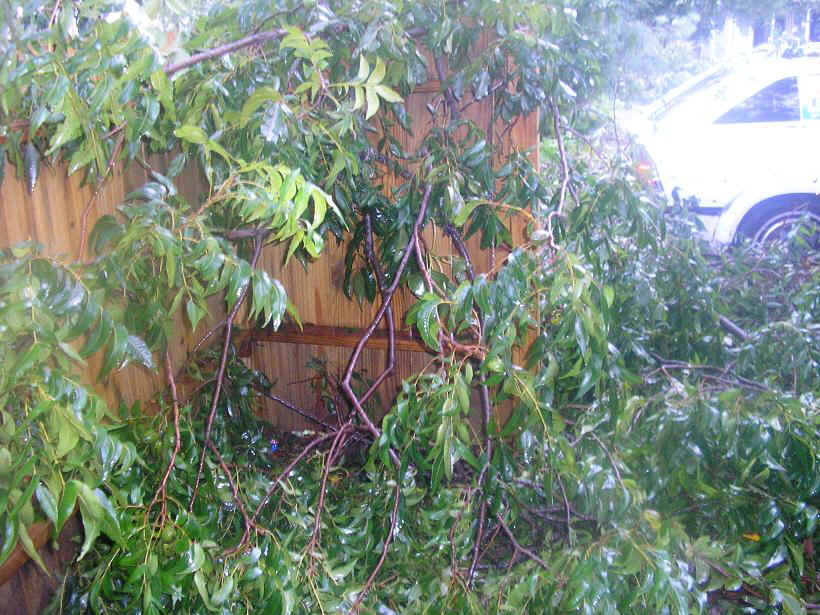 Behind side fence facing west, mess of same pecan tree limbs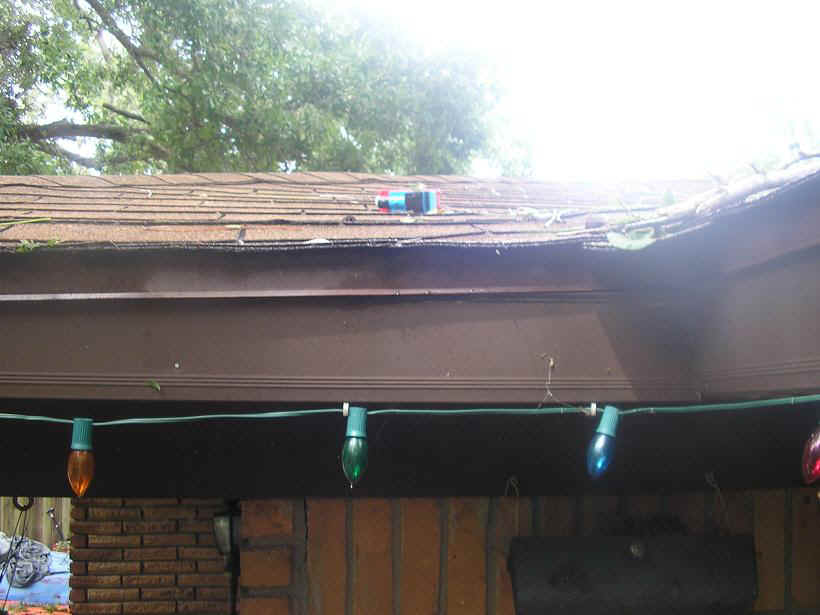 Thomas the Tank Engine was tossed on the roof weeks before hurricane Ike. Thomas is one tough son of a bitch and held his own.....never moving.....in 100+ mph winds and fierce rain bands. If I was Thomas, next time Mayor Top Em Hat asks him to pull a load of gondolas, I would tell the mayor to kiss my diesel ass.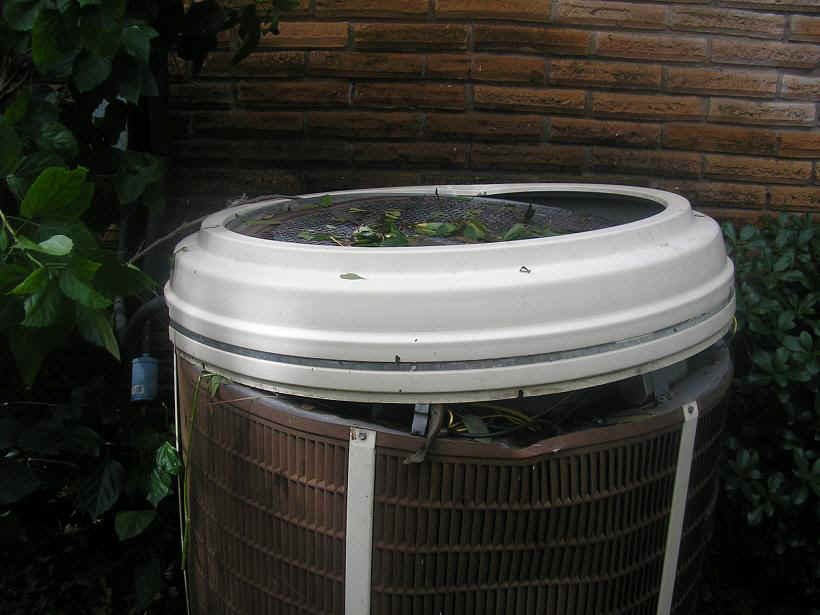 I put the upper ring and great back on our beat up AC, here is shows hit from that big limb, which I had already cut into smaller pieces and pulled to curb as cleanup began.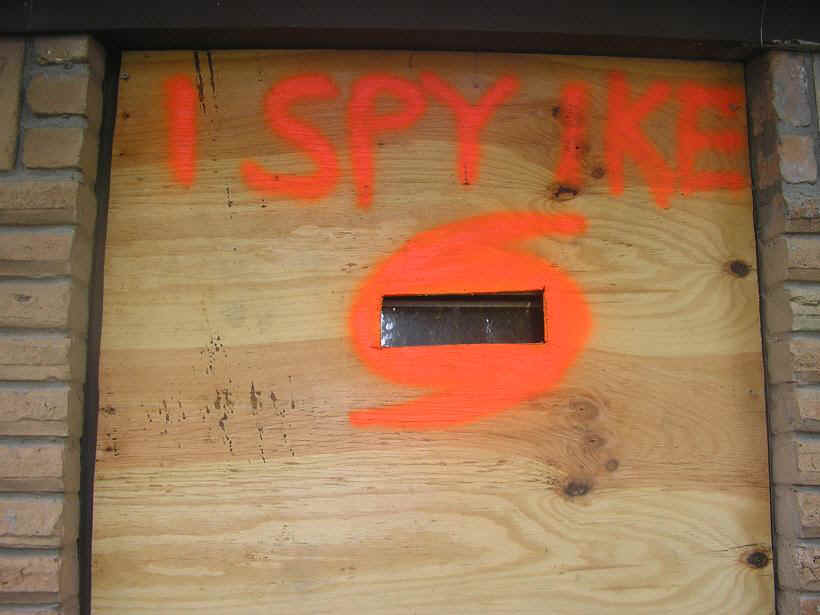 This was my window to world when Ike hit, thru it, I could see mighty pine trees bending at 45 degree angles and snapping. Hurricanes sounds will never change and it tears at your fabric and soul to hear those winds, hreeeeeeeessheessssss......and hear limbs and poles crack.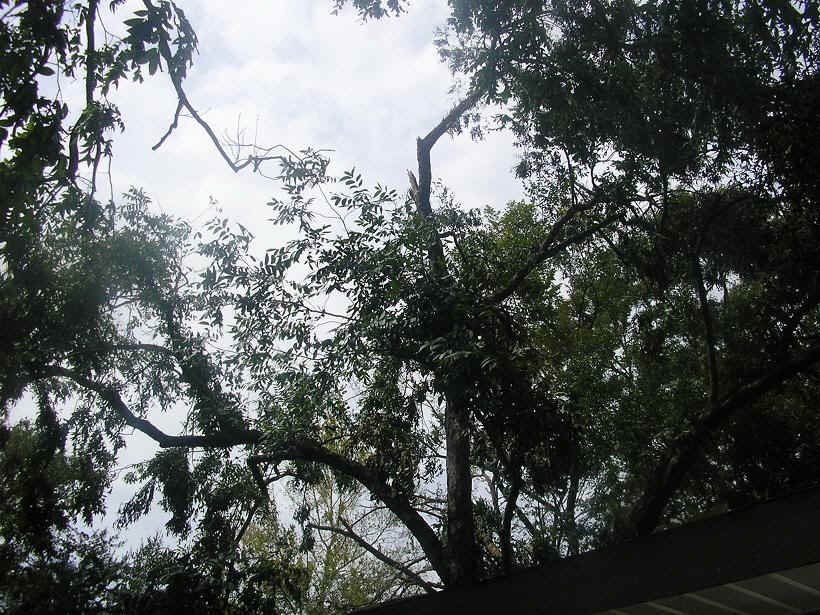 This is better photo of the big limbs that dropped from our front pecan tree (we have three of them)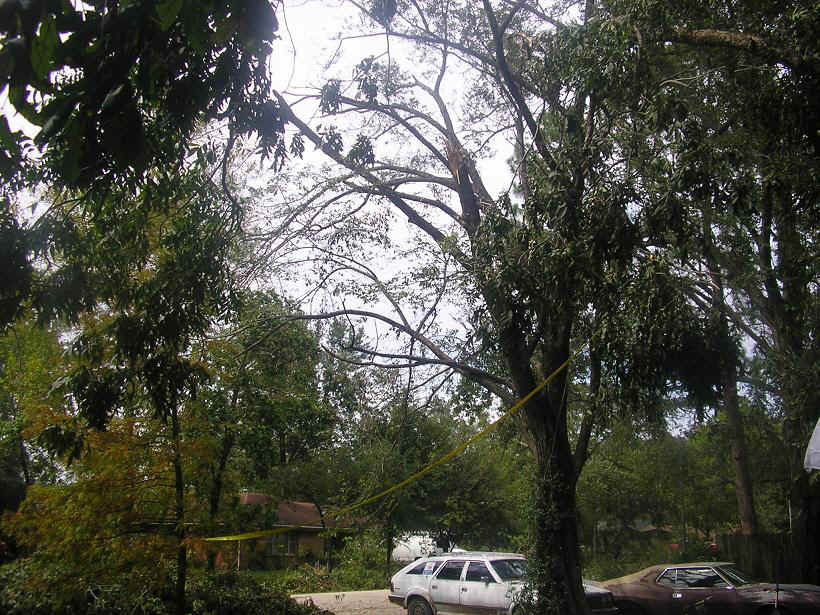 The elm fared no better and lost even bigger limbs, if you look closely, you will see a branch that was over 10 inches wide that fell, taking my 'trailer park lights) that is what Paige calls them, with it. You can also see jumble of wires in trees from the lights.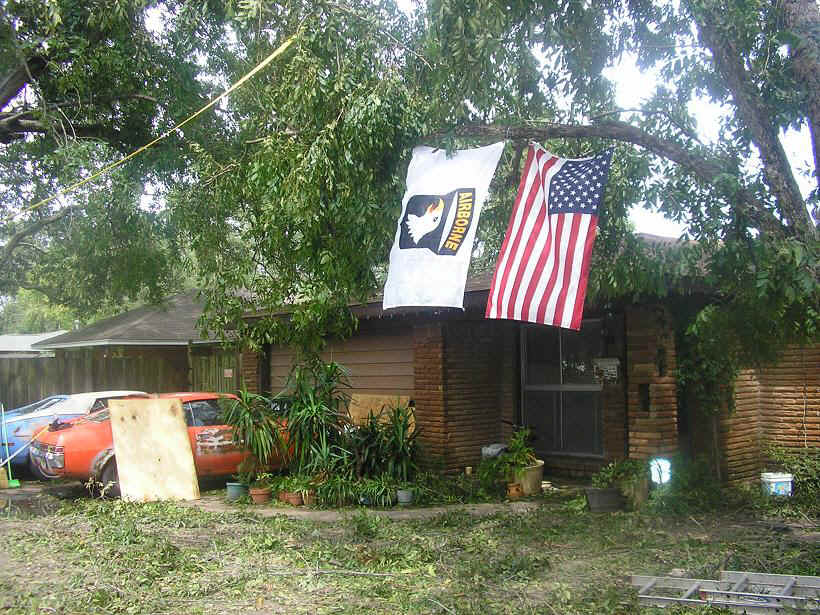 Cleanup begins with boards coming off windows, and chain saw. American and Airborne flags proudly held their ground in Ike's assault.

We lost about 400-500 pounds of pecans, they would have been ready about two weeks later after Ike. There was no way to save this round of crops however. Shelled pecans sell for $9-$10 A POUND at stores.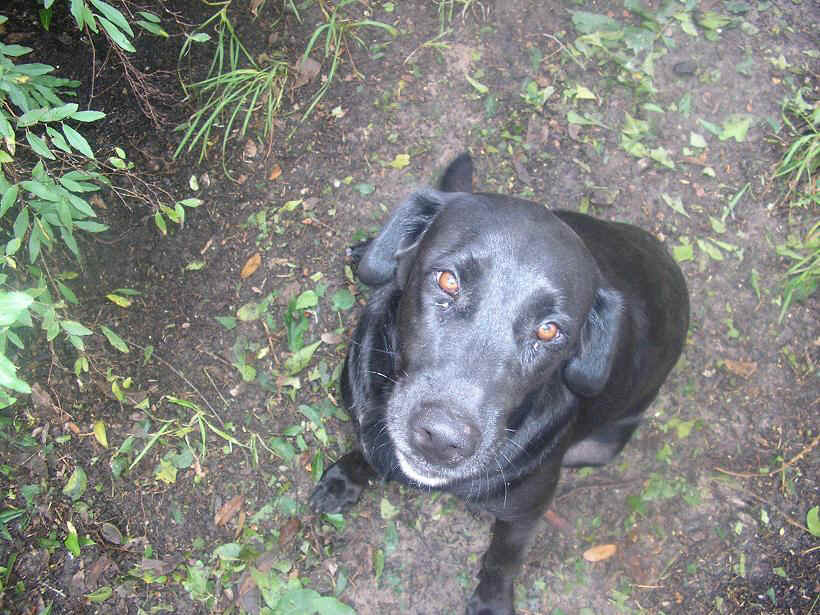 Cookie stayed outside in the hurricane, and has a big doghouse, big enough for kids, maybe 4 or 5 of them, to play in so she was fine, the house was secured solidly with Rebel Machine and Rally AMC rims.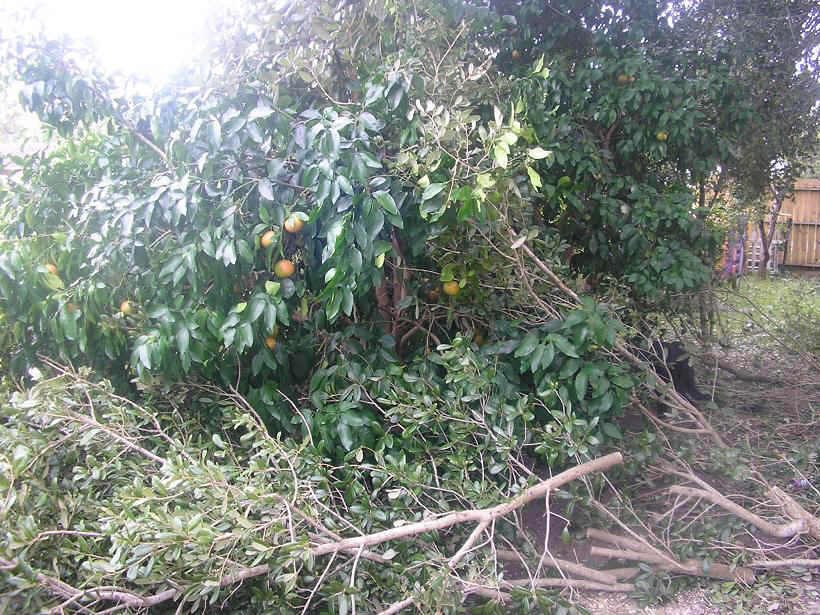 I lost only ONE grapefruit in hurricane, showing how fickle Ike was. Most of the wind was higher than ground level. So will have about 500+ big ass Pride of the Valley ruby red sweet grapefruits coming, of which I give most of them away to neighbors and friends.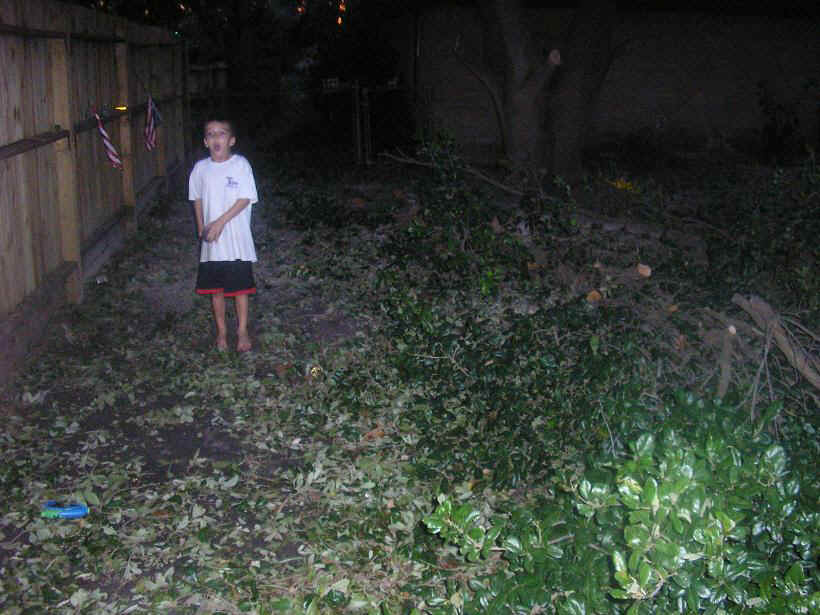 Not sure what happened with Noah here, he had either: A: saw the full moon after a hurricane (this was taken the evening Ike hit, all the destruction was early morning) or B: stepped on a nail (after hurricanes, people advised to get tetenus shots as nails are EVERYWHERE) or :C: he simply farted.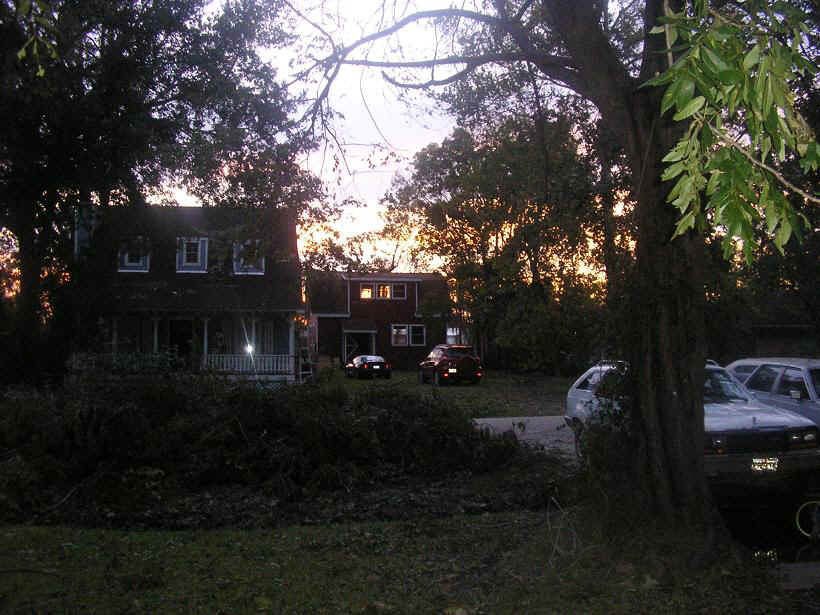 After a hurricane, the only sounds you hear are chainsaws. There are no planes flying around, no traffic, ambulances, nothing, extremely eerily quiet. This is looking west at neighbor Donna's house, we would see many stunning sunsets like this in weeks to come. This was taken September 13th and Ike was now up near Dallas after hitting Galveston and Houston in the early morning.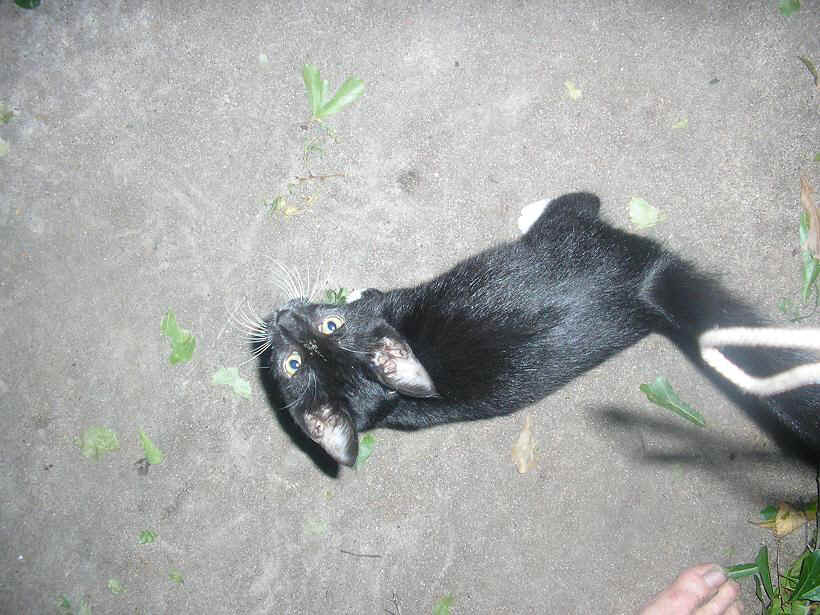 Paige calls this cat Roxie, I call it 'Annoyo' because it is so damned annoying. It is a small stray abandoned me and boys found weeks ago while hunting froggies. The cat crawled up under on of the Eagles and stayed there during hurricane.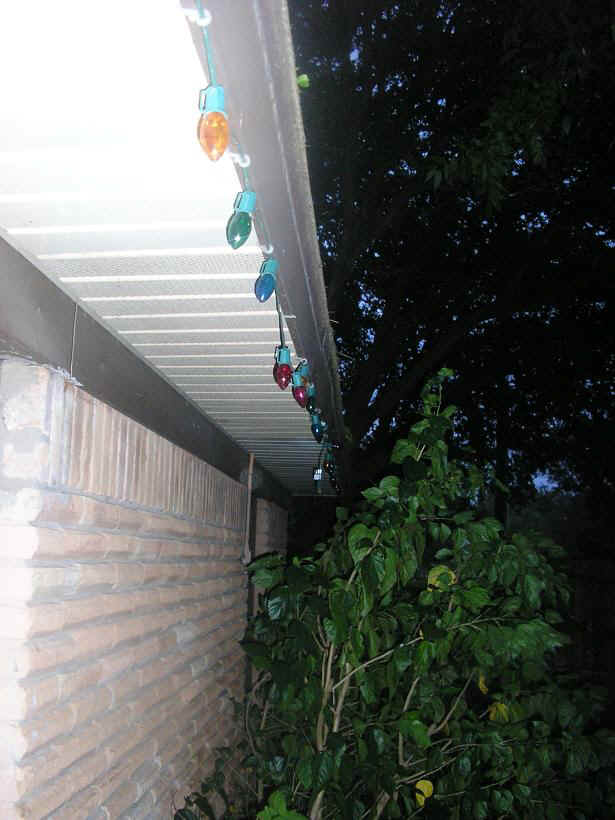 I didn't lose any Christmas lights so won't have to put them up come November. Hell, didn't take them down last Christmas now that I think about it, and don't remember why.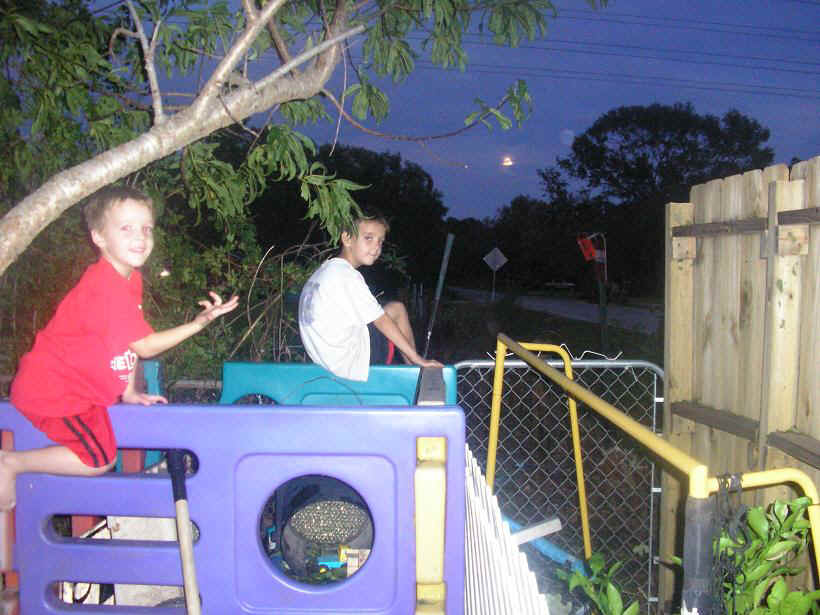 The boys enjoy sitting outside as night falls after the hurricane. Note the full moon in background. Not sure this was blessing or not, as it provided the only light for most of Houston which 4+ million people had no power. Or you could use light from it to swat the huge "swamp mosquitos" that have no fear that get blown in after a hurricane.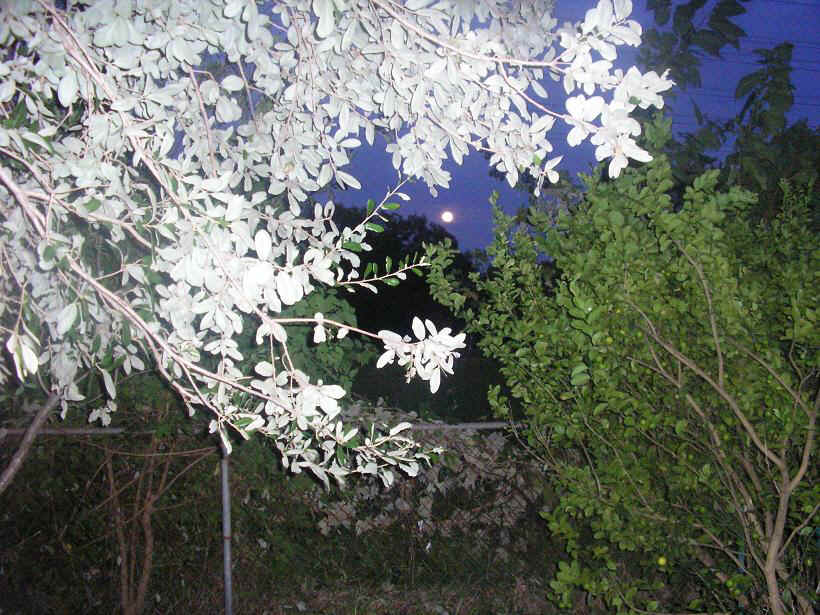 Full moon as seen thru some of my citrus trees, the Mexican lime tree on right lost only a few limes, of which I would eat anyways in coming days as no electricity, phone, internet, anything, so would squeeze them in sun tea.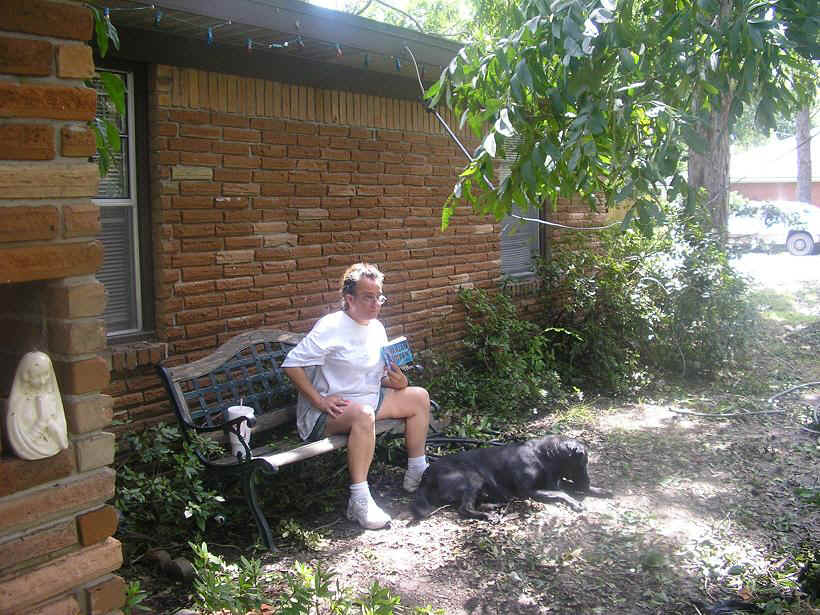 Paige takes a break from hauling big limbs out to street, and reads a book. She would have 12 days to catch up on reading books since no power.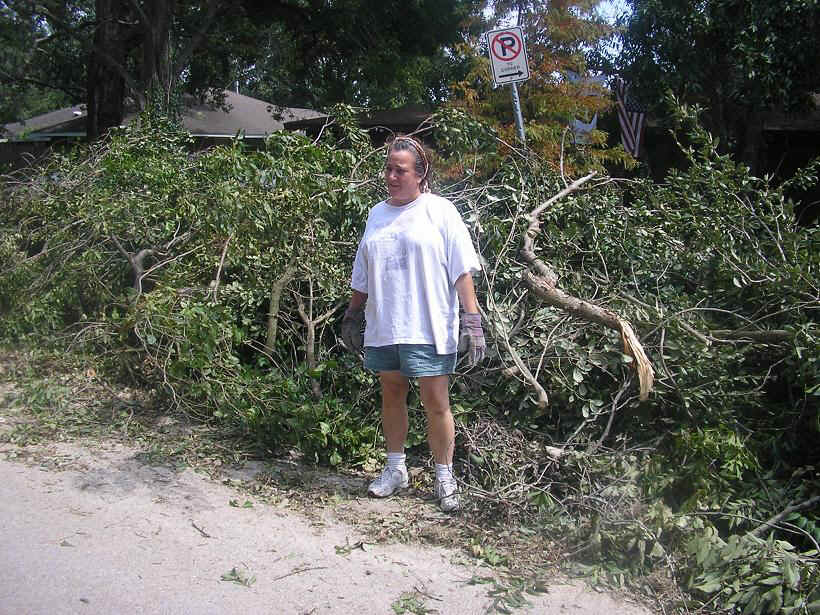 Using my dollar store gloves, Paige continues to haul debris to the street. I didn't know she was capable of manual labor so looks like when we get caught up, I will have her tar the roof, do new tile in bathrooms and pour me a new cement driveway, and I will pay her $2.18 a hour.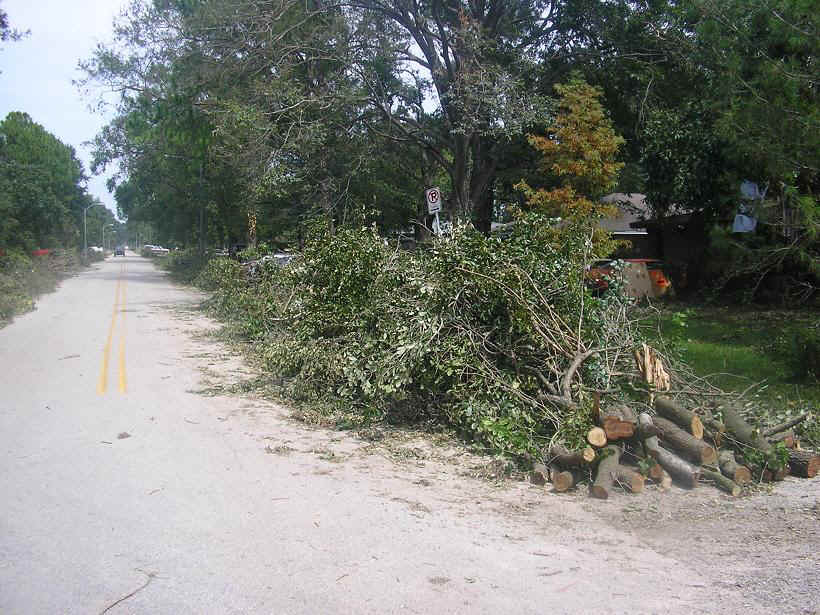 The debris from down trees grows on Wycliffe, making the road only one lane.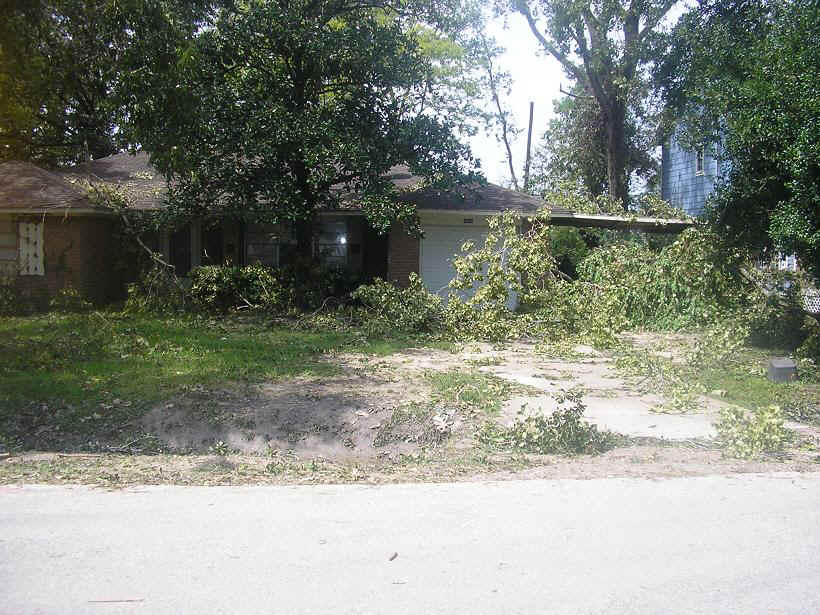 Neighbor's house with carport gone and some major limbs down. The house next to this had a 5000+ lb tree go thru roof, but I could not get behind house to get photo.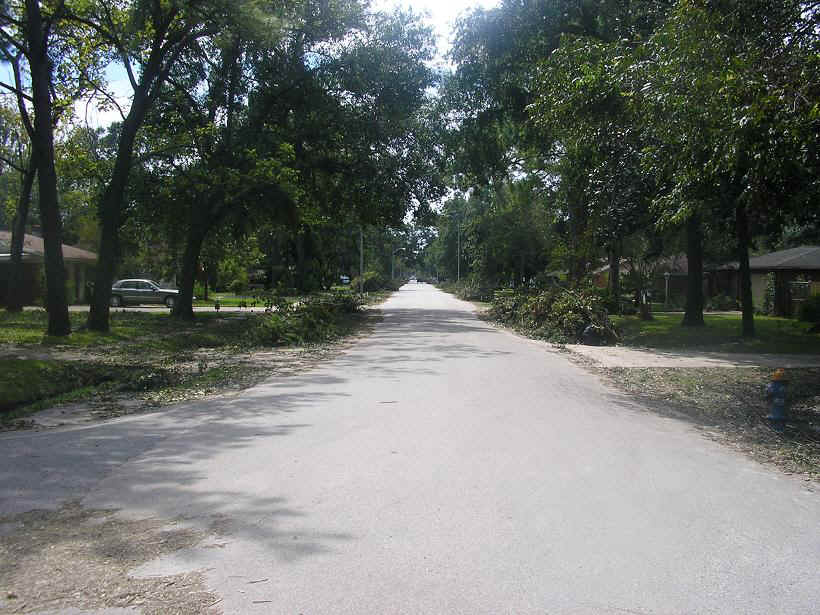 Looking south on Wycliffe, this don't look bad but would change quickly as more people who evacuated came home in coming days and started cleaning up.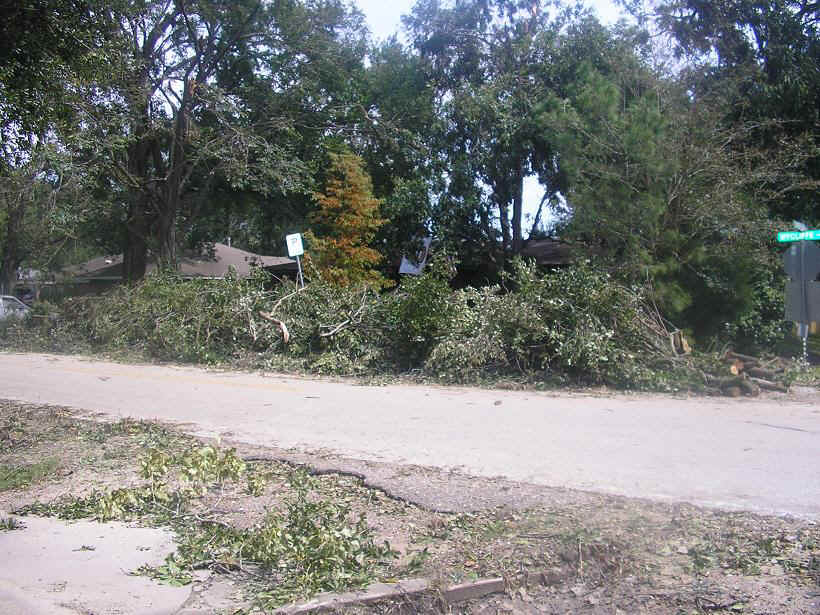 Our house behind our downed trees, over 6000 POUNDS of them. The wall was almost 7 feet tall and about 30 yards long. A policeman stopped by and asked if I would not put any more debris out there as since I was on corner, it was creating a blind spot, something I would realize in coming week as I saw a few near misses when people pulled out from Timber Oak into path of cars coming south on Wycliffe.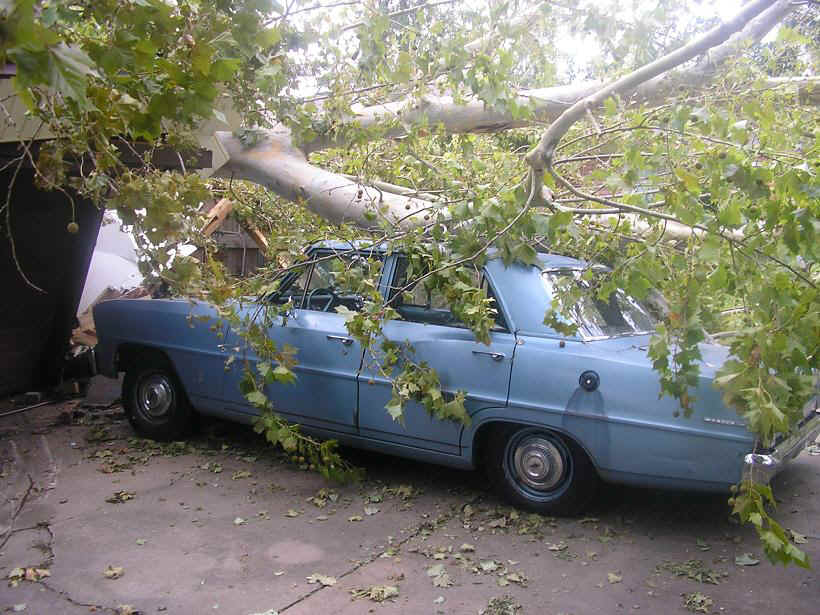 Neighbor had just bought this Nova before Ike and while I was putting up boards on my windows September 9th and 10th, days BEFORE Ike would hit, he was driving his new Nova up and down the street working bugs out of it.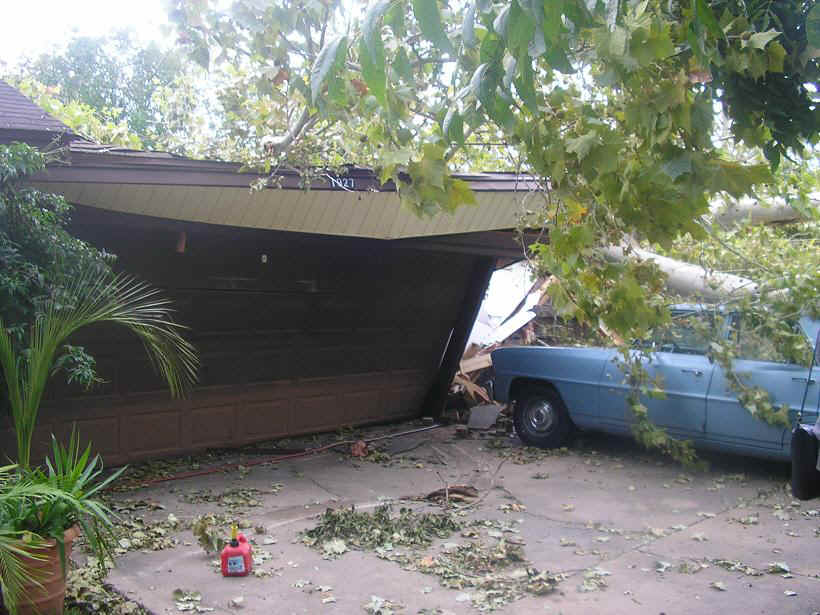 The tree is over 10,000 pounds and like many others on our stree, a crane had to be called in to remove it. The tree went thru house, kitchen and garage and about 6:00am as Ike blew in, the gas and water erupted inside house when lines broke. He had to run outside and shut off water and gas at meters before house blew up. His wife was hysterical as this was happening as should be. The house looks like a total loss, and not sure what they will do.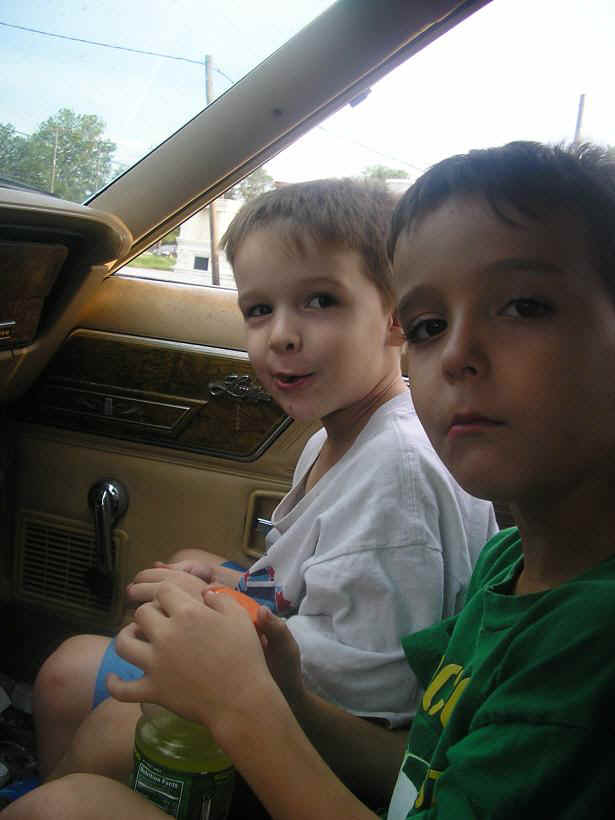 Noah & Jacob ride around in the 82 Eagle after I got all the debris off it, we simply rode around neighborhood looking at damage to houses. The Citgo was open but no electricity, but was selling stuff, so we bought hot Gatorade, while others rushed in to buy cases of beer for coming days of no power...simply to wash down all the food one quickly bar b ques after a hurricane in effort to not waste it.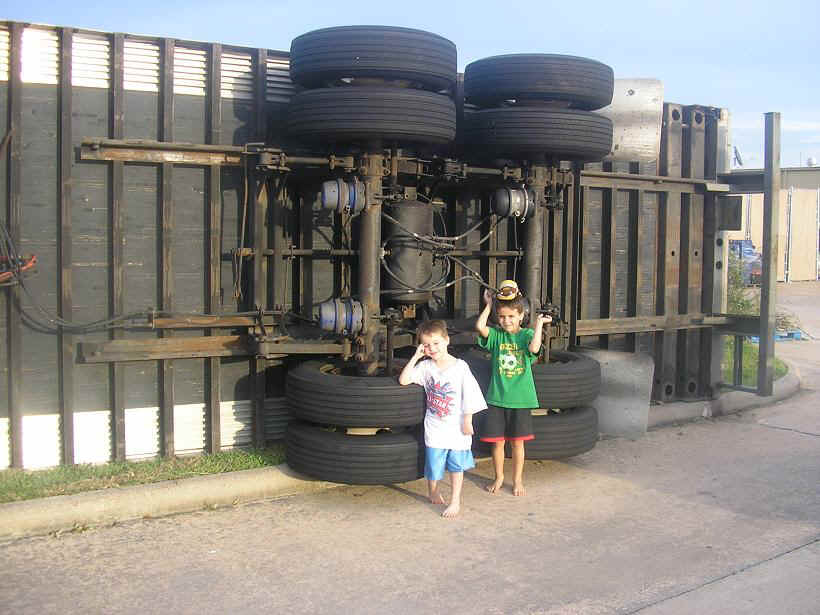 18 wheeler on Brittmoore a block away, there were lots of these though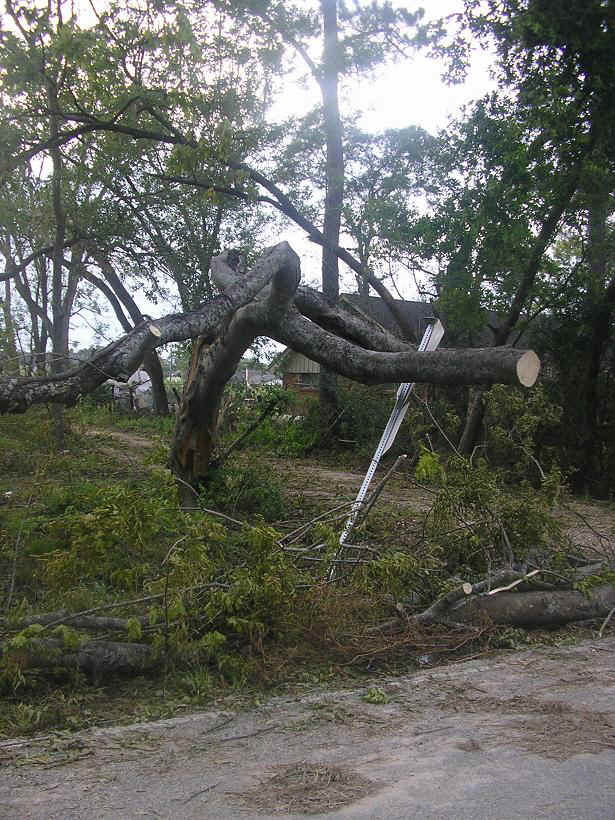 Big tree down in neighbor's yard, took out school sign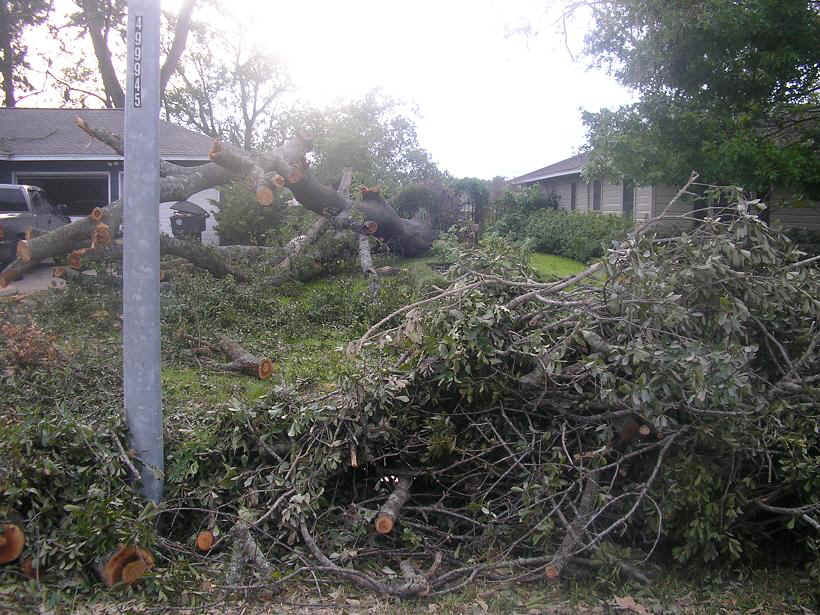 Bigger tree down in neighbor's yard, this was another 8000+ tree, crane had to be called in, and cost the people thousands of dollars to have it uprooted, and moved.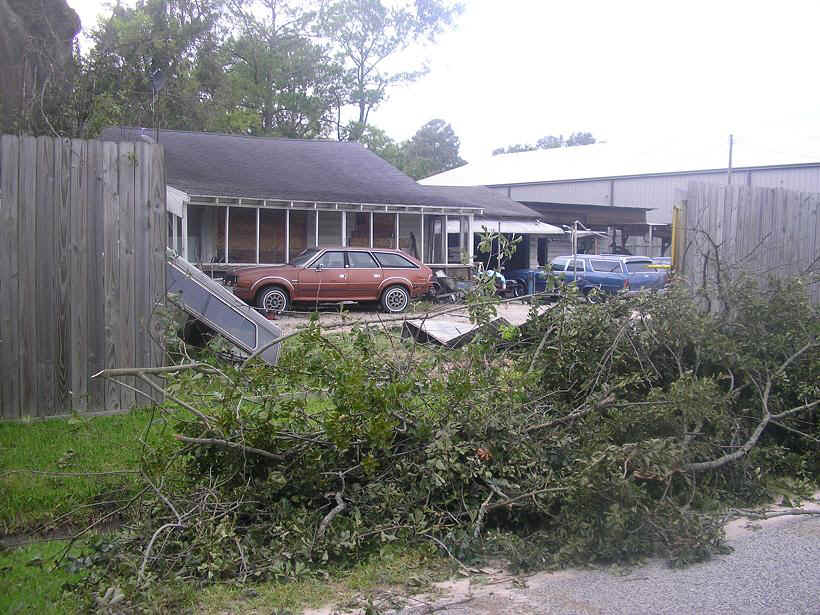 My 81 Eagle and 72 Ambassador sitting at Phillip's Auto Repair a block over; my 81 Eagle needed a rear end, and Tom Morrison up in of all places, Maine, had shipped me down one (end to end, not cheap) as I had been looking for 6 months for a 3:54 geared one. The Eagle almost got smashed by a tree that fell. My Ambassador has some good dents in roof from carport that collapsed, then blew away, during Ike.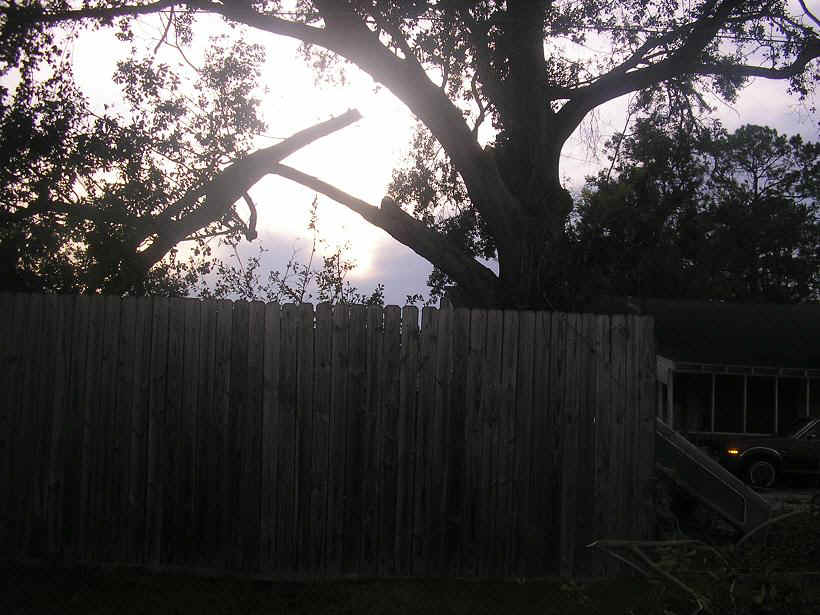 Here is the tree, it took out a 8 foot fence and a car on other side of fence, again, lucky for me wind came in from due north otherwise my Eagle would look like the Nova in above photos.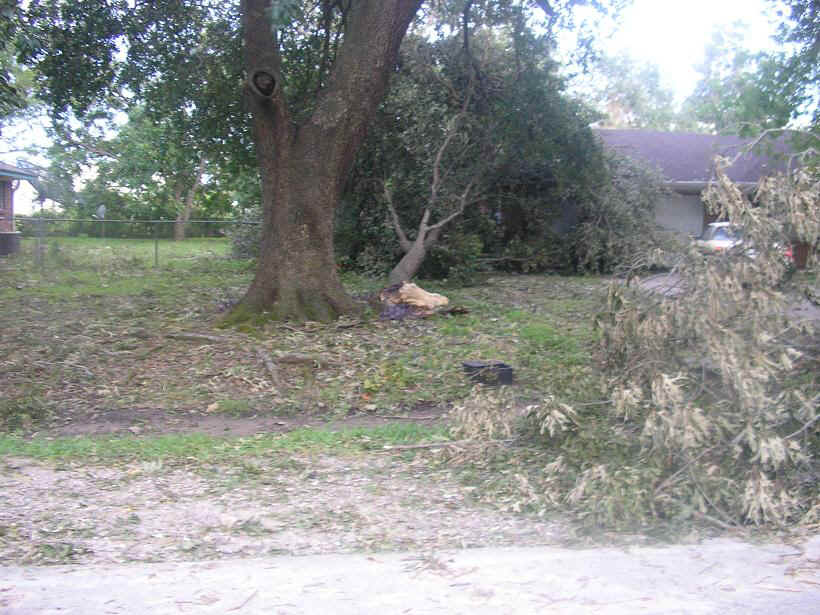 Here is a large limb, about 700 pounds.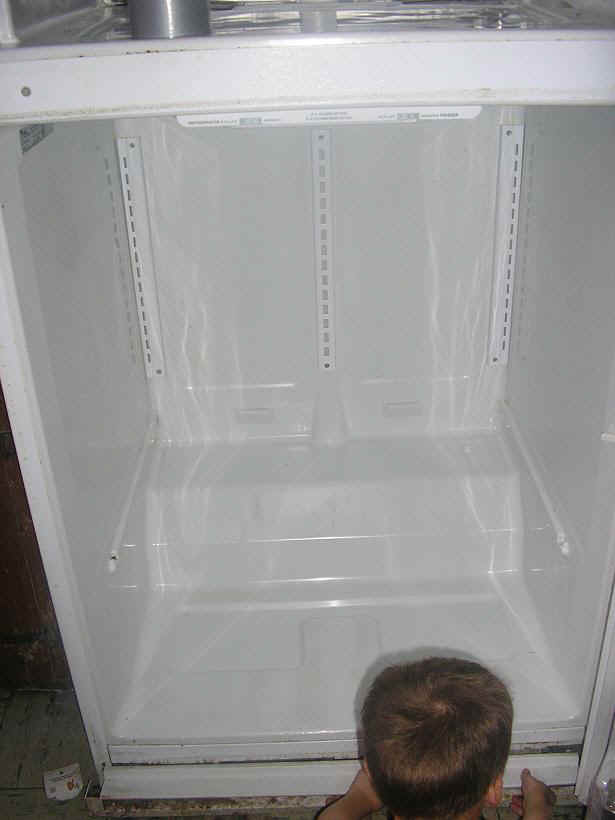 Jacob inspects the inside of our Kelvinator refrigerator. I told the boys that when the lights go out after hurricane, they stay off some time. So we started eating stuff before it went bad, but still had to toss out hundreds of dollars worth of food. Funny how the big trash cans are all dragged out to curb after hurricane filled with rotting things. Then you get the big black flies. Not regular flies, BIG black flies (moscones slang in spanish) that have a feast on the rotting stuff and of course breed in it.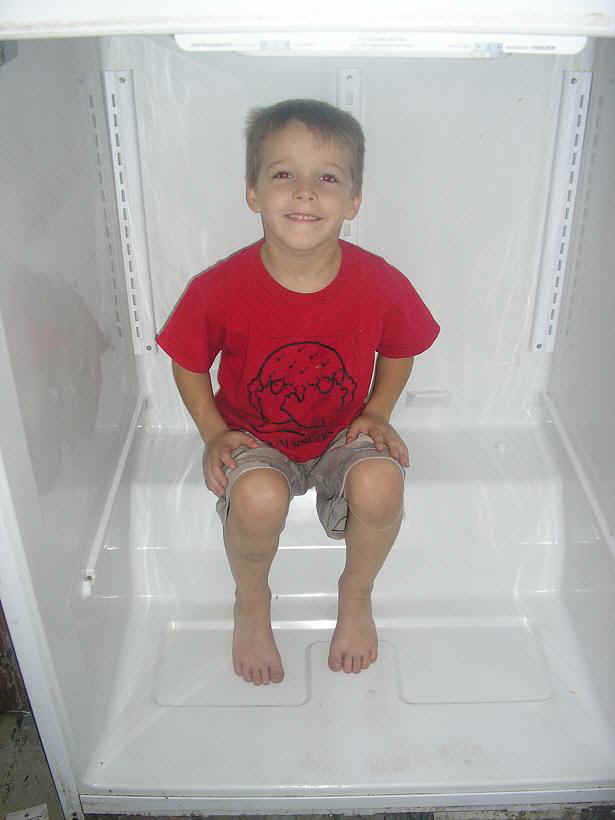 Jacob, 5 in this photo, enjoyed helping me clean out the fridge. When we got thru, it shined like a marble in a goat's ass. Too bad we had nothing to put in it for 2 weeks. We ended up eating lots of FEMA MRE's and pop tarts and other dry crap I had loaded up on at Sam's days before storm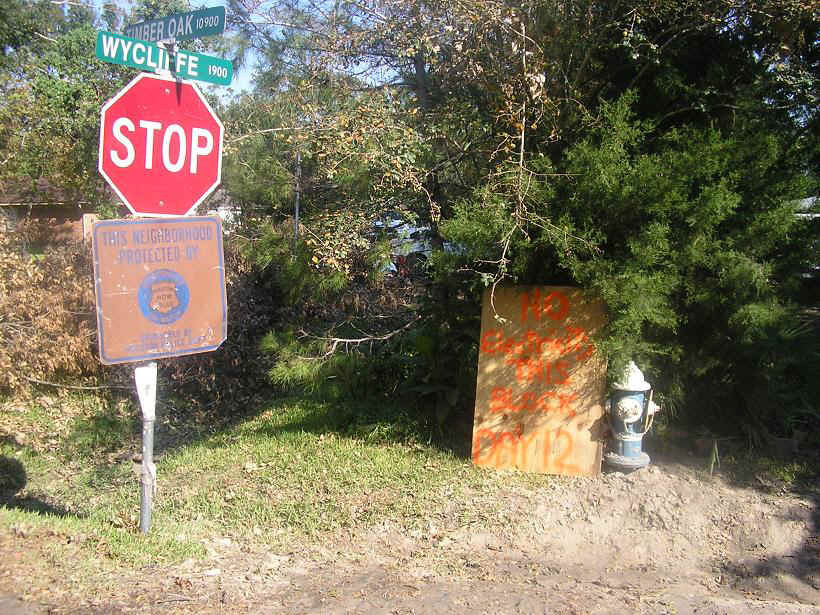 Two streets over, they never lost power. One street over, they had power next day. But Wycliffe. Timber Oak, and most of Upland didn't and it was like this over hundreds of square miles all the way to Louisiana! On some streets next door neighbors; one had power, the other not, while streets, one had power on one side, the other didn't, mostly due to the crappy 19th century technology telephone poles and wires gerrymandered all over Houston in this 21st century.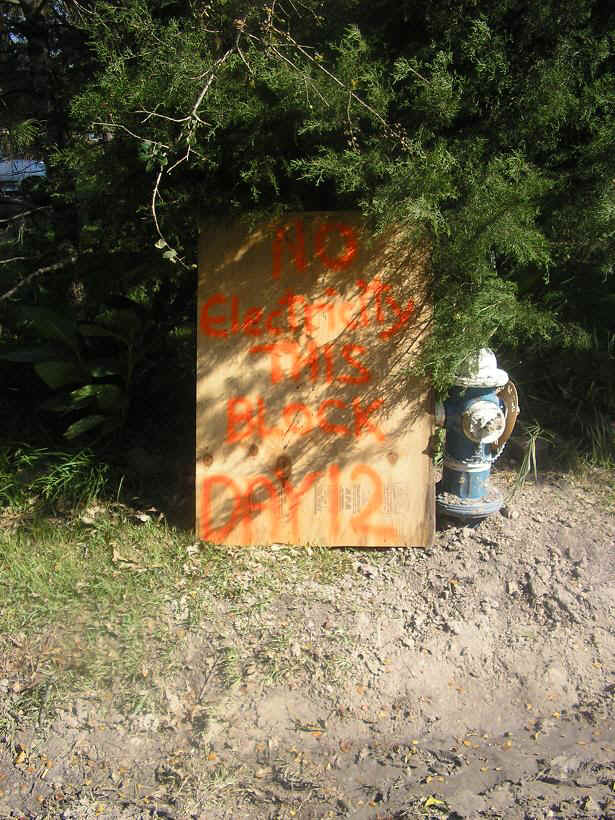 We had a fleet of electrical workers come down street, and fix line fuses after I put out this sign ON THE TWELFTH DAY of no power. We had power that evening at 5:21pm. Across the street however they would not have lights until next day.
Back to Just Stuff Back to home