1970 AMC Mark Donohue Javelin...
or is it? Donosizing 70 Javelins
Rosette rivets $100; New Door tag $30, Rear spoiler $300. Ram Air Y duct $150, ram air trim $250, vacuum actuator $250, circle duct $500. Ram Air hood $750. Making a Donohue Javelin for under $1500....priceless!
AMC offered a package called the Mark Donohue Javelin in 1970. Buy a rear spoiler, door tag and there, you have one too. The problem is everyone made them, myself included, well after 1970. Even AMC made more than the 2501 'officially' produced in 1970. You could walk into your friendly AMC dealership and ask for a Ram Air hood, and ducktail spoiler. Big deal. And even AM Dealers thought they were nothing special just a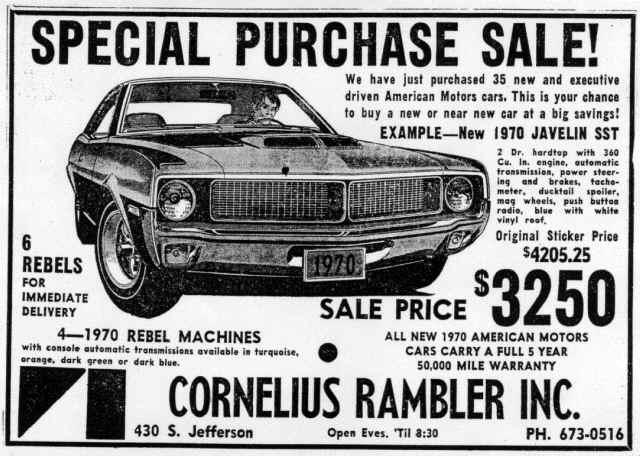 "Javelin with ducktail spoiler" Not uncommon as had seen this happen before with Hurst SC/Rambler, not all dealers were notified of the new model. Some dealers did call them a Mark Donohue Special as this East Bay Rambler ad shows: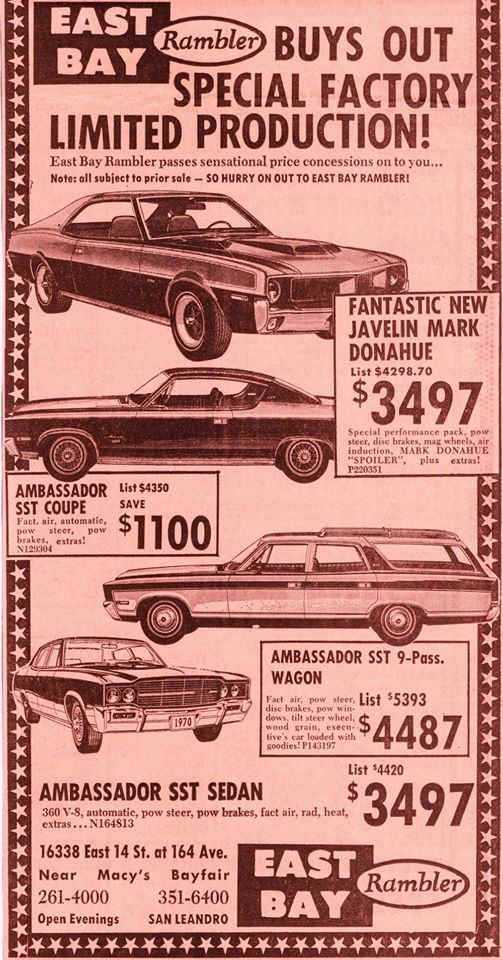 **Note misspelling of Don"A"hue which was common.
It was AMC's effort to try to capitalize on their racing efforts which while the AMC Team was doing well at the tracks, but sales of the 1970 Javelin was tanking, selling only about 1/2 of the total from 1969, and the 1970 AMX had run it's course and would cease production due to slow sales.
Compare production figures of total 69 Javelin of 40675 to 1970 Javelin of 28210.
You will find a majority of 1970 Mark Donohue Javelins have no authentication behind them. And there is no way to prove it without a window sticker or dealer order form or other original paper trail. There is nothing on the

build sheet that will show a Donohue is anything different than a regular Javelin. No, nothing in the VIN. And not in the metal door tag. Not all Mark Donohue Javelins came with Ram Air either. And contrary to urban legend, not all were SST editions. And a majority of them were 360s with a few 390s and 304s tossed in.
It's commonly "thought" at least by some AMCers that "all Donohue Javelins were built between December 1969 thru April 1970. This is urban legend bullshit someone croaked about in 1980s and has floated around since as 'fact'. There are cars built outside that window. There were 28210 1970 Javelins built; with 19714 being SST's, the rest base models. Of those, 855 were six cylinder, 9331 304V8s, 6798 360V8 and 2730 390V8. This includes all Javelins sans the 100 T/A Javelins. Remember AMC began production August 1st, 69 for the 70 models and stopped July 30th, 1970. (Although there was a shutdown of some plants, see below). Some believe only 360 and 390 Donohues were made, yet there are two known 304 4 barrel "M" code Donohue Javelins known to exist. And some jump up and down stating there were no column shift Donohue Javelins made, yet there are some really well known cars that have been authenticated like this 17,000 original example here shown in this early 1990's article and many AMCers have seen it at national meets.
AMC gave their "blessing" for the dealerships to "make" Trans Am and Mark Donohue Javelins.
Original AMC Dealer Memo by E. B. Brogan, AMC;s Marketing Director authorizing dealerships to MAKE THEIR OWN.....at the DEALERSHIP.
American Motors was in financial trouble (as usual) in 1970 for a variety of reasons, they suffered a 2nd quarter loss of $10 million dollars (in 1970 dollars!!!) or 41 cents per share. A massive labor strike in which production of 36,000 vehicles was lost. No cars being built, see Production Totals. In the First Quarter alone, AMC lost a whopping $15.6 million dollars, resulting in a neat loss in the first 1/2 of the fiscal year of a stunning $25 million dollars. These losses had no benefit of tax credit. The AFL-CIO strike crippled AMC and plants were closed for five weeks in the fall. Besides the 36,000 vehicles lost, AMC also lost $23 million and more importantly, momentum in the market at a really critical time. Imagine that. Let's say each lost car of the 36,000 was a 1970 Javelin for $4000. That is $1.4 million in 1970 dollars. Let's say each lost car was top of the line Ambassador at $5000. That is a staggering $1.8 million dollars. AMC had just paid $40 Mil for Willys for Jeep rights, but the strike is what stands out, along with slow car sales, sans the new Hornet which dealerships were having trouble keeping in stock; and later in the calendar year the Gremlin (shown at debut at NY Autoshow April 1st, 1970)
Also contrary to popular belief of what some will repeat over and over enough to try to get others to believe, (including themselves sort of like a Enron defense) AMC would get creative and bend the rules for customers to make a sale, this includes

small and large dealerships. If a customer walked in and wanted a Trans Am Javelin, well, make him one. And make more money for salesmen, dealership and AMC.

This is not urban legends, this is fact to possibly dispel some of the rumors surrounding the Mark Donohue Javelin. From Annual Reports to stockholders showing AMC taking a beating to in house memos directing dealerships to build one if they wanted.
There *WAS* a

Mark Donohue Registry for those who wish to try to authenticate their cars. It went belly up in 2011. There IS a
Trans Am Javelin Registry but we are focusing on trying to authenticate Donohues, not Trans Am Javelins. The problem therein lies with this. You have to PROVE it first. A article I wrote in 1990 called "Did They Or Didn't They?" speculated on the Mark Donohue Javelin, and how many made in 1970, and afterwards. I have made over a dozen. I know of dozens more created long after the fact. My point DECADES ago....and now...is that many more Donohue Javelins were 'made' than 2501. By owners. By me. By dealerships. By anyone who wanted 'the look'.
Yes, it is a 'spoiler package'. It was a 'image' AMC was selling. Unfortunately years later there is no way to actually document one. Yes,

AMC had 'special blocks' they used. Yes, AMC would do anything for a sale. Yes, you could get one made at a dealership or just buy the stuff and do it yourself. You still can 40+ years later. Yes, you commonly see more 70 Donohue Javelins NOW than when new. Yes, Donohues were made outside the stupid window someone speculated at years ago. Yes, column shift cars were made. Yes, 304 four barrel cars were made. No, not having drill marks for emblem on the right side of your trunk lid under spoiler don't mean anything, you can change trunk lids from any 68-74 AMX and Javelin you know. A point I made in the early 1990's was this: less than 1% of 70 AMXs had Rally Pack. Now that the Rally Pack overlays and gauges have been reproduced, it is not uncommon to go to some of the larger AMC National meets and see more than that 1% all there. How is that? Duh!
Here is a date coded 1970 American Motors Dealer Order Form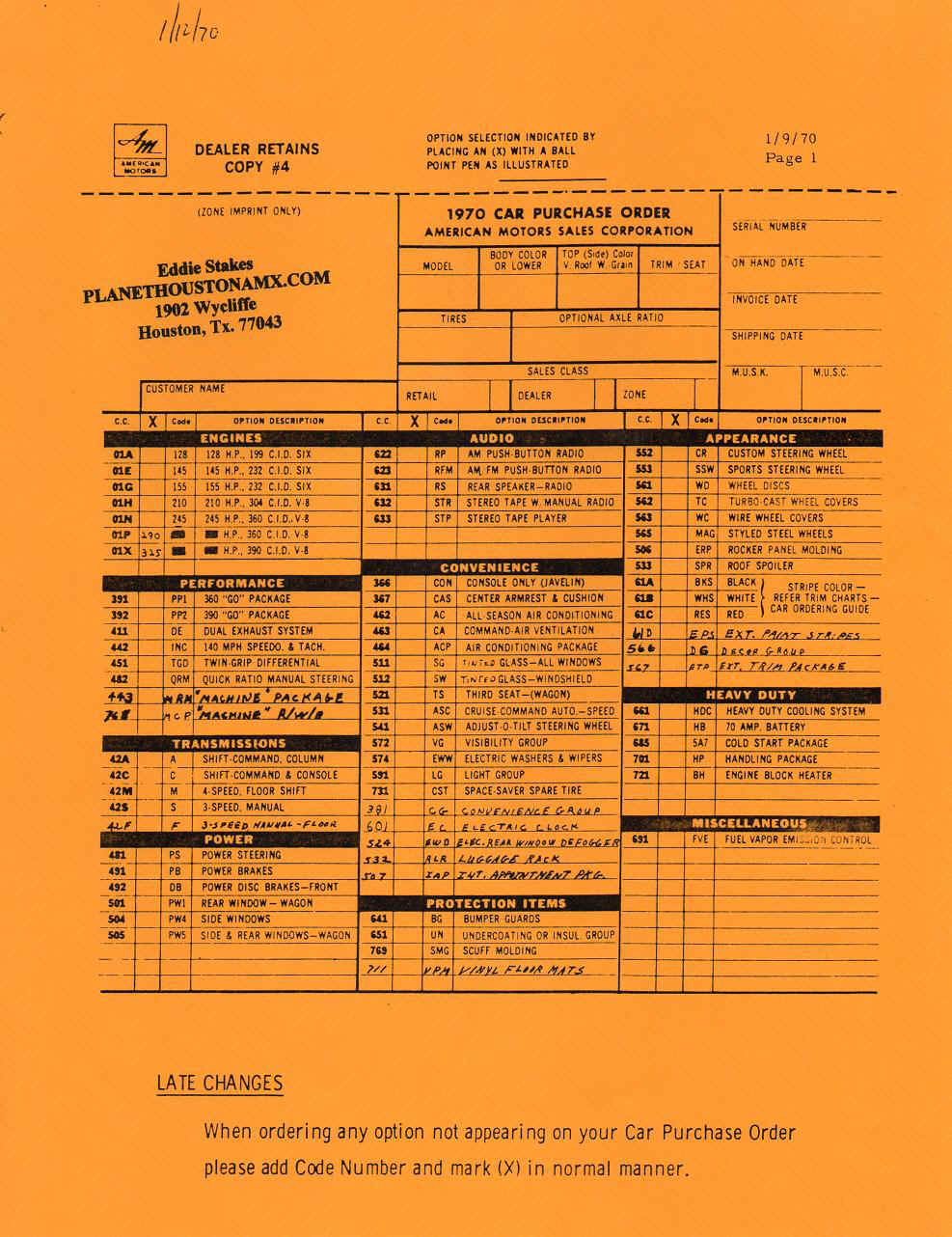 Original 1970 American Motors Trans Am Javelin Order Form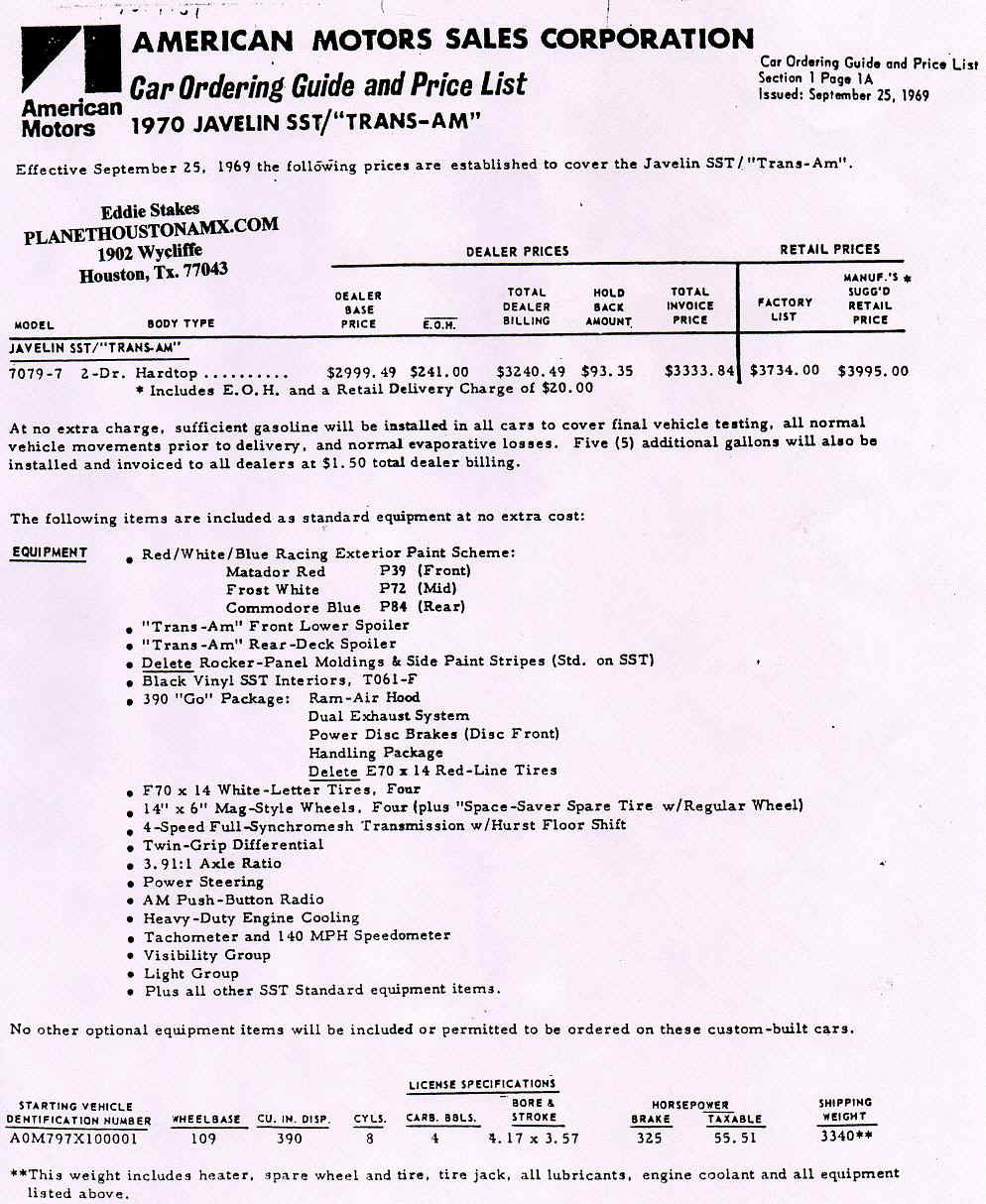 Note total price of $3995.00, deleted rocker panel moldings, and 'no other optional equipment items will be included or permitted to be ordered on these custom built cars."
AMC also had many, many, running changes in production, some of them documented, most are not. The PP1 & PPS are 'Power Pack 1 & Powere Pack 2 packages. Why this is included here is the date, right in middle of Mark Donohue production. Not mentioned here but in other memos is the wheelwell pinstripe discontinued BEFORE production brgan August, 1st, 1969. The pinstrips on wheelwells appears in some press photos but was left on cutting room floor. Another memo states that you CAN'T have a MOD roof spoiler on a Mark Donohue Edition Javelin as it 'interferes with wind flow' I have never seen a AM Dealers memo or bulletin on the arrival and production of the new Mark Donohue Javelin.
Is it A Donohue or was it spiffed up Buick like the Shell Houston Open Golf Tourney cars here each year? Sponsored by Buick, they have "add ons" like spoilers, fog lamps, special rims, and of course the decals. So the golf pros all drive them free during the week, and afterwards Buick puts them up for sale at a discount. You do not know whose car you get, could be Gary Player's; Vijay Singh's, even Tiger Woods. But you get a Buick 'with add ons' which is my point with the Donohue Javelins.
Hopefully one day there will be some facts and comprehensive documentation behind the Mark Donohue

Javelin, instead of boast like "I know but do you?" and "I have these documents but uh, can't find them" and other silliness one sees on some online sites without zero to back it up. Anyone can pull up part numbers, SCCA dates, and make it look like they have some sort of facts and case. Put it out there, show the names, dates and in other words.....PROVE IT. Otherwise it is just speculation.

No, nothing has changed since I wrote that 'Did They Or Didn't They?" article about 1970 Javelins with Ducktail spoilers. There on occasion is some posturing by some 'gurus' (who have been wrong on many things before, as I have too on occasion, but at least I will admit it) they have this and that. Again, nothing except talk without the walk. No, ASC in the Build Sheet is 'automatic speed control' not sure where that crap came from in 1990s though.

Maybe one day when less than a dozen 1970 Javelins are left in the world someone will come out with authentication, actual AMC memos and directives, not talk on a scab amc forum website, so those who love these cars, regardless of whether they are or are not a authentic Donohue, can move on. Until that happens, and it has never happened in almost 50 years, the Mark Donohue Javelin will be mired in controversy as THE easiest AMC Musclecar to fake, period. And those that have usually do it for the money.

So how did a production vehicle end up wearing a legendary racer's name? AMC had to make 2500 of them, available to customers, if AMC wanted to compete in SCCA racing. You could get them in any production color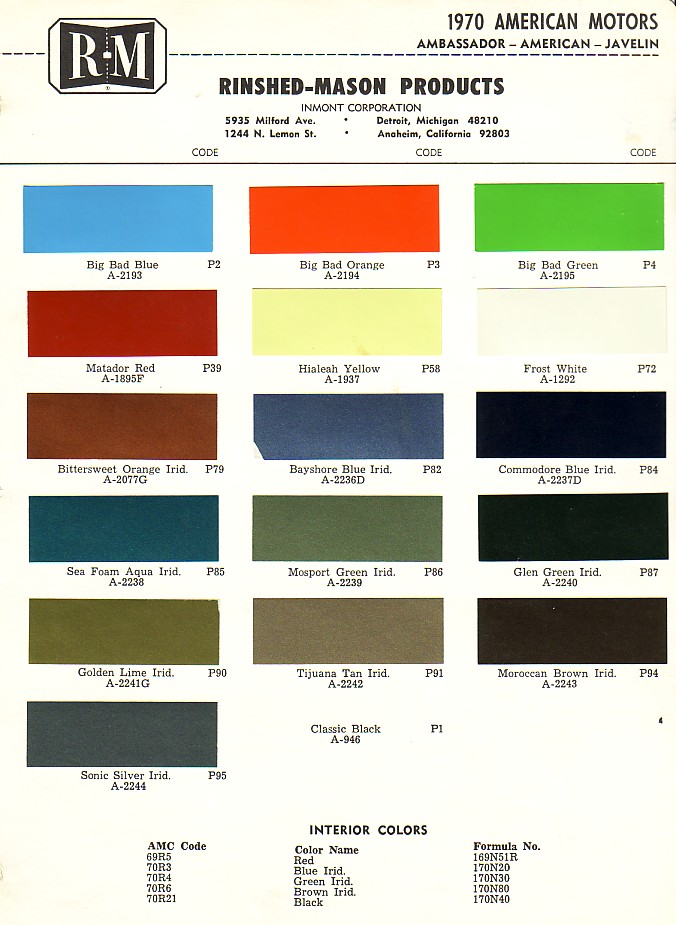 and with any regular options, including power steering, power brakes, tinted glass, tilt wheel, Twin Grip, air condition, there was a very large options and accessories list. Not to mention any add ons you could easily get from your friendly AMC dealership added to your Javelin!
And Mark Donohue, "Captain Nice" as he was known/....and this wonderful Javelin, deserve better. To learn more about the legendary Mark Donohue, visit Unfair Advantage Racing.
As for Mark Donohue Javelins, they are one of the most recognizable Javelins ever built and highly collectible if it is the real deal and can be authenticated. This file is not to take away from Mark's glorious legacy he had with American Motors in the time he was there, nor to take away anything from the actual Mark Donohue Javelins that were produced in Kenosha or Bob's Rambler Farm either. Or of those who collect and restore these neat cars. Both (Kenosha built & Dealer built) are collectible and a rare year. But in the land of ebay and craigslist and even AMC meets I have seen more Mark Donohue Javelins out there than the 2501 'actually' made in 1969-70. And not only have Rosette rivets, metal trim door tags, and front spoilers and all ram air components been reproduced, this has made it a hell of a lot easier to manufacture a Donohue in 2011 than it was in say, 1987. And some see the $$$ adding crap like this as opposed to it just being a old 1970 Javelin if they are looking to sell so many times $$$ motivates them to Donosize their Javelin. I accept any 1970 Javelin for what it is...a unique and rare piece of automotive US history.
If you would like to buy for your collection some rare photos of Trans Am, Mark Donohue or Javelins, please see extensive
PRESS PHOTOS.
In late 2011 Diego Rosenberg wrote a comprehensive article about Mark Donohue Javelins for
STREET LEGAL TV.
Side note #1. Luggage racks were NOT a option on Mark Donohue Javelins. However starting in Jan 2, 1970 (midway thru production as production began August 1st, 1969 on 70 models) you could get a luggage rack "factory installed" in Kenosha! Before this date, only dealer installed in other words. Memo to dealers.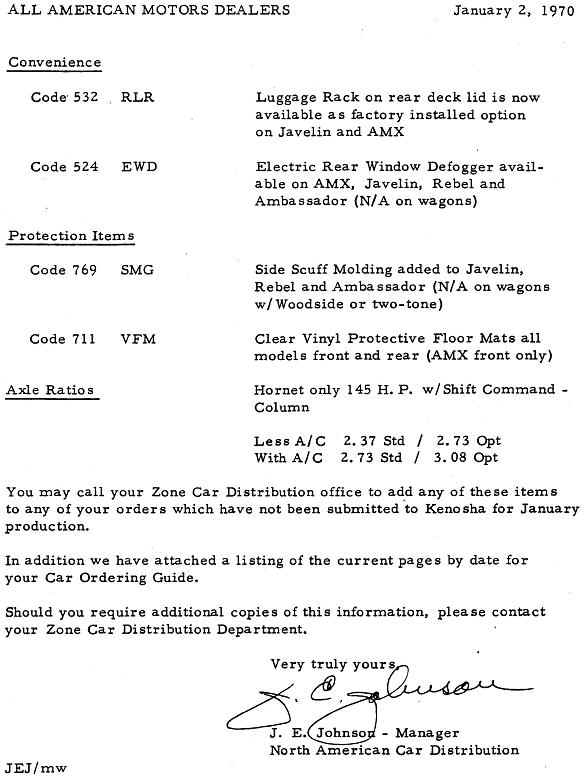 Side note #2. Early in production the axe was given to 1970 Javelin wheelwell stripes. These were really gay looking and I do not believe ANY 1970 Javelins rolled off assembly line with these, although some are seen in some uber early ads and press photos of the 'new' 70 Javelin. While the AMC memo is dated October 4th, 1969, I have never documented a 1970 Javelin with these goofy wheel well stripes. Step forward to prove me wrong if you will. You will NOT find these memos in any expensive 1970 Data Book either.
Lastly. Of all the 1968 thru 1974 AMXs & Javelins built, only 28,210 new 1970 Javelins were produced. The 1970 Javelin has the HIGHEST RATE OF CANNIBALISM of all 1968 thru 1974 AMXs & Javelins, as many, many, people parted them out in 1970s & 1980s for the 'one year only' parts to use on 1970 AMX. I would estimate less than 1500 1970 Javelins remain. Too bad, they are a beautiful car, warts & all.