Hopefully one day there will be some facts and comprehensive documentation behind the Mark Donohue

Javelin, instead of boast like "I know but do you?" and "I have these documents but uh, can't find them" and other silliness one sees on some online sites without zero to back it up. Anyone can pull up part numbers, SCCA dates, and make it look like they have some sort of facts and case. Put it out there, show the names, dates and in other words.....PROVE IT. Otherwise it is just speculation.

No, nothing has changed since I wrote that 'Did They Or Didn't They?" article about 1970 Javelins with Ducktail spoilers. There on occasion is some posturing by some 'gurus' (who have been wrong on many things before, as I have too on occasion, but at least I will admit it) they have this and that. Again, nothing except talk without the walk. No, ASC in the Build Sheet is 'automatic speed control' not sure where that crap came from in 1990s though.

Maybe one day when less than a dozen 1970 Javelins are left in the world someone will come out with authentication, actual AMC memos and directives, not talk on a scab amc forum website, so those who love these cars, regardless of whether they are or are not a authentic Donohue, can move on. Until that happens, and it has never happened in almost 50 years, the Mark Donohue Javelin will be mired in controversy as THE easiest AMC Musclecar to fake, period. And those that have usually do it for the money.

So how did a production vehicle end up wearing a legendary racer's name? AMC had to make 2500 of them, available to customers, if AMC wanted to compete in SCCA racing. You could get them in any production color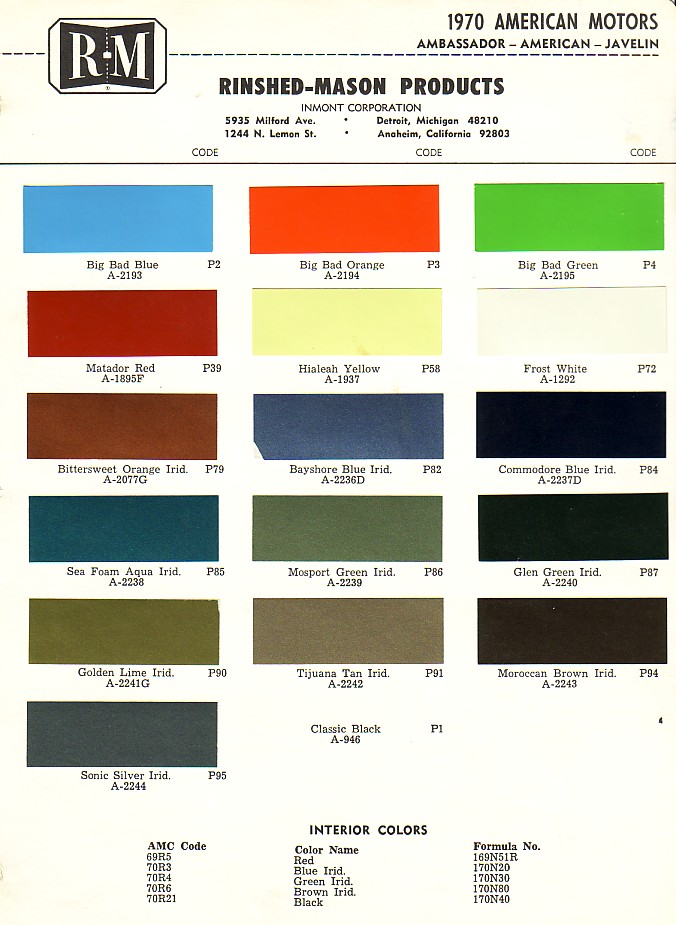 and with any regular options, including power steering, power brakes, tinted glass, tilt wheel, Twin Grip, air condition, there was a very large options and accessories list. Not to mention any add ons you could easily get from your friendly AMC dealership added to your Javelin!
And Mark Donohue, "Captain Nice" as he was known/....and this wonderful Javelin, deserve better. To learn more about the legendary Mark Donohue, visit Unfair Advantage Racing.
As for Mark Donohue Javelins, they are one of the most recognizable Javelins ever built and highly collectible if it is the real deal and can be authenticated. This file is not to take away from Mark's glorious legacy he had with American Motors in the time he was there, nor to take away anything from the actual Mark Donohue Javelins that were produced in Kenosha or Bob's Rambler Farm either. Or of those who collect and restore these neat cars. Both (Kenosha built & Dealer built) are collectible and a rare year. But in the land of ebay and craigslist and even AMC meets I have seen more Mark Donohue Javelins out there than the 2501 'actually' made in 1969-70. And not only have Rosette rivets, metal trim door tags, and front spoilers and all ram air components been reproduced, this has made it a hell of a lot easier to manufacture a Donohue in 2011 than it was in say, 1987. And some see the $$$ adding crap like this as opposed to it just being a old 1970 Javelin if they are looking to sell so many times $$$ motivates them to Donosize their Javelin. I accept any 1970 Javelin for what it is...a unique and rare piece of automotive US history.
If you would like to buy for your collection some rare photos of Trans Am, Mark Donohue or Javelins, please see extensive
PRESS PHOTOS.
In late 2011 Diego Rosenberg wrote a comprehensive article about Mark Donohue Javelins for
STREET LEGAL TV.
Side note #1. Luggage racks were NOT a option on Mark Donohue Javelins. However starting in Jan 2, 1970 (midway thru production as production began August 1st, 1969 on 70 models) you could get a luggage rack "factory installed" in Kenosha! Before this date, only dealer installed in other words. Memo to dealers.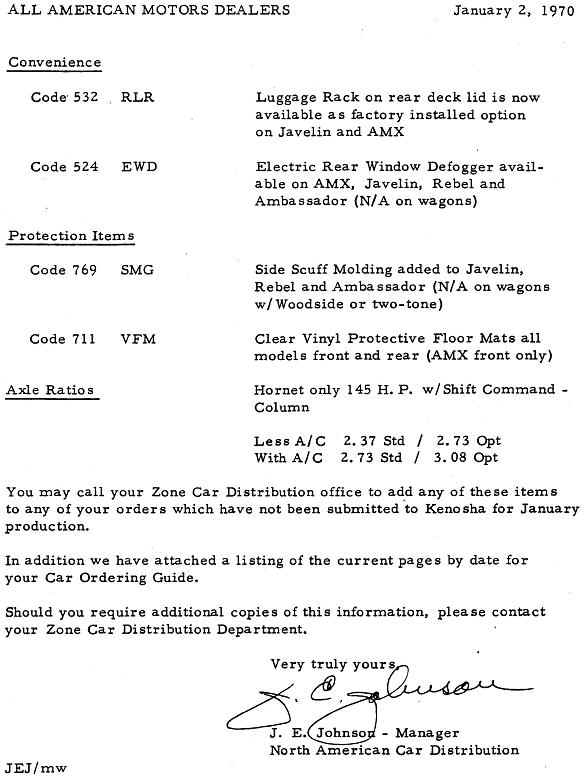 Side note #2. Early in production the axe was given to 1970 Javelin wheelwell stripes. These were really gay looking and I do not believe ANY 1970 Javelins rolled off assembly line with these, although some are seen in some uber early ads and press photos of the 'new' 70 Javelin. While the AMC memo is dated October 4th, 1969, I have never documented a 1970 Javelin with these goofy wheel well stripes. Step forward to prove me wrong if you will. You will NOT find these memos in any expensive 1970 Data Book either.
In the summer of 2015 a really nice article appeared in a a muscl car magazine. The article was full of flaws unfortunately. This was my letter to the editors.
Hi xxxx, thought would comment on the Donohue article. First, nice car. Here we go! Of the 28210 1970 Javelins produced (8496 7079-5 base series & 19714 7079-7 SST series) the 1970 Javelins the highest cannibalized of all 1968 thru 1974 AMX & Javelin models due to many one year only parts people used them for donors in 70s/80s, and even now even though there are a number of things reproduced, items such as the ram air hood, front bumper are demand items for 70 AMX. Always has been. This is off my HOW MANY AMCS LEFT file on my site.
"The HIGHEST RATE of canibalism lies with two models however, 1970 Javelin (even 390 cars) and 1974 AMXs. Even in the 1970s and 1980s everyone was parting out good 1970 Javelins to get the rare one year only 70 parts for their AMXs. On the 1974 AMX & Javelin models, no one wants a 304 AMX, never have." I like a 304 AMX, but also realize there is zero market for 304 cars. And AMC built a crap load of 304 AMXs in 1974 as discontinuation models, that is, build them (like 74 Ambassador also) which had been given axe, so use up the parts.
In 2014 I parted out two 74 AMXs ok, three of them, all with 304V8s. One of them a running driving car could not sell for $2500. See the PARTING OUT AMX file for photos. I left the 304s in them, not one all for the engine/trans combo for only $100. And why would someone drop a $15000-$20000 restoration into a H code 304 car when it might be worth on a good day, $10K ? Even 50 years later!"
It's too bad because the 70 Javelin is a great car! And was my first AMC almost 400 AMCs ago. AMC dealers also seemed confused as to spelling Mark Donohue's name as you can see by the ads here off my site. DonAhue not uncommon but that is Marlo, old Phil's wife. The Donohue package was not $1000 more either see ads. $3250.00 & $3497.00. In 1970s dollars. Not all Mark Donohue Javelins had "Go Pack' either. I do not know where this myth comes from.
The article mentions power windows. The confusion here is that there were three pressings of AMC doors from 68-74. Somewhere in summer of 68, AMC 'though about' adding 'power windows/locks' on AMX & Javelin. So door design changed and they ARE stamped for this Group 15 Accessory, but not one of them left Kenosha with power windows or locks. It was left on cutting room floor. So all of them after that date did have the cutout, just none got them. See photo #3.
The stamping is smaller for earlier years, again, I have never seen a memo, bulletin, anything as to why this never saw production.
I am guessing that due to the problems AMC had with cars that did get electric windows like Ambassador & Rebel, they nixed it. It was not the motors, as AMC used American Bosch motors those are indestructible and will even work under water. The problem was AMC's LEGO like contraption in the doors with these motors that were pain in the arse, sometimes had to 'help them up or down' you know.
There were two types of vinyl roof offered for 1970 Javelins including Donohue, the full type and landau type or 1/2 type. See photo #4 of customer's car. There are more than 1 documented Mark Donohue Javelins with column shift out there, and several "M" code 304 4 barrel ones also. Too bad AMC didn't keep better records on some of these would make my life easier.
I have a Mark Donohue file on my site also. Have been waiting since 1980s for someone to prove me wrong. Sigh.
Most important of all. And "in their own words" to shareholders Roy D Chapin, Chairman of AMC. "measured in terms of moves to expand and diversify our company (AMC) or in terms of market attention accorded a new product, it might well rank as the most eventful three months in the company's history."
And 'the financial results present a different picture, with a net loss for the 2nd quarter of $10 million, or 41 cents a share. This, added to the strike affected first quarter, in which we incurred a loss of $15.6 million, resulted in a net loss for the first 1/2 of the fiscal year of more than $25 million. The losses are stated without benefit of any tax credit, in accordance with our established reporting policy."
"The factors which adversely affected our first half financial position were: The strike which closed our plants for five weeks last fall (the beginning of 70 production Aug 69 mentioned a number of times on my site). In terms of lost sales and profit, we estimate its cost at 36,000 vehicles and $23 million, plus interruption of our momentum in the market place at a critical time. A industry wide cost squeeze, lower profit sales mix, a depressed automobile market, and the one time cost incurred in the 2nd quarter which was associated with the combining two large organizations, American Motors & Jeep Corporation" You can see the amount of ZEROS in production of 1970 on my site here due to the strike mentioned above.http://www.planethoustonamx.com/main/70_amc_production.htm
55124. 40675. 28210. That is how many AMC Javelins made, base & SST, in 1968, 1969, and 1970. Thanks for listening, again, nice Javelin article! Eddie Stakes
713-464-8825 days www.planethoustonamx.com
A real Mark Donohue Javelin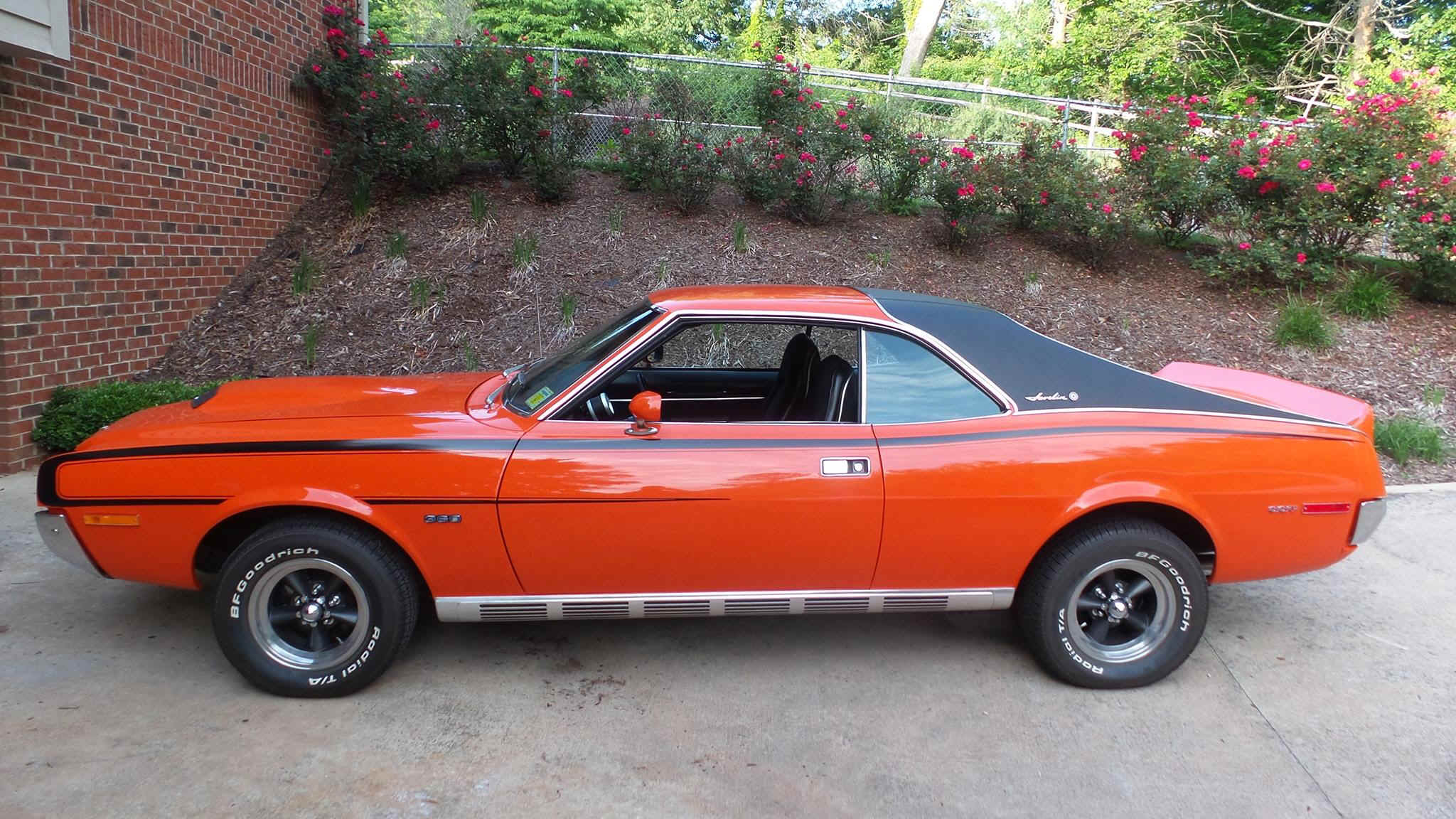 Not ONE AMX or Javelin ever got "power windows" or "power locks" however starting in summer 68 the doors WERE STAMPED FOR THEM. The article claimed that the vehicle 'came with factory' electric windows'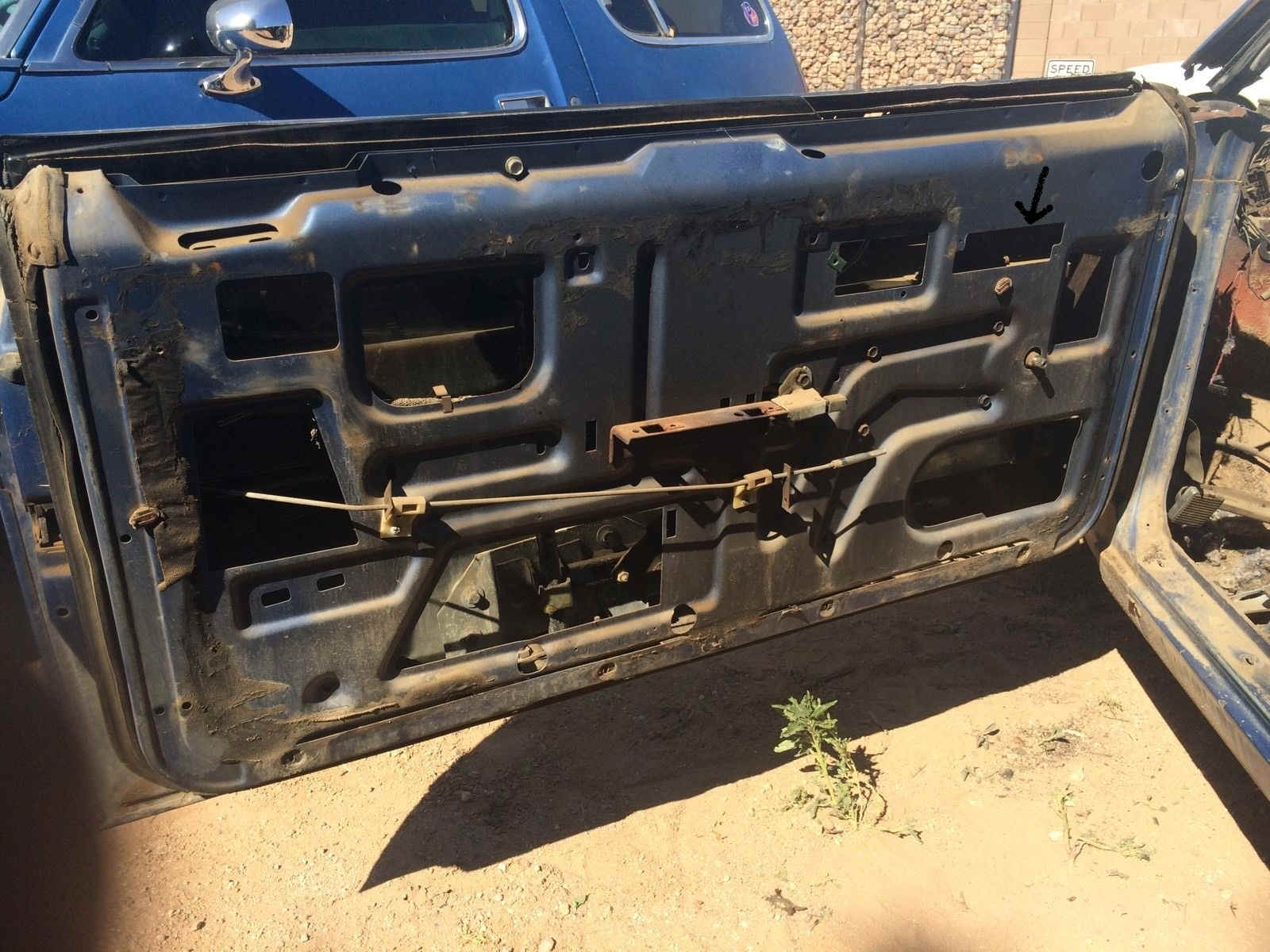 AMC Dealer original ad with a 'Javelin with duck tail spoiler' we not sure what the hell it is.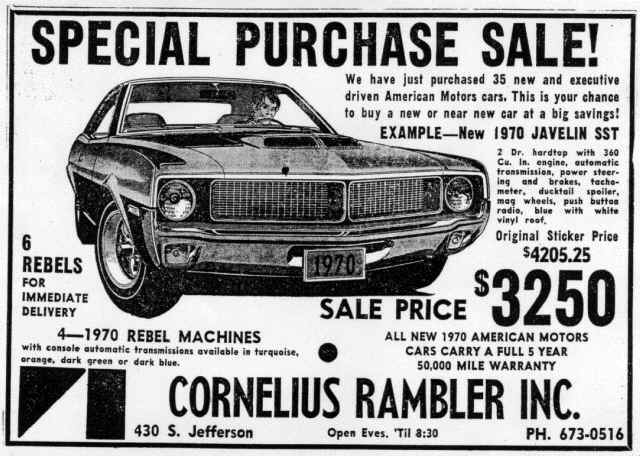 And when AMC Dealers did get name of the car right IT USUALLY WAS MIS-SPELLED as DonAhue, not Donohue! This continues into today. I bought new Hurst Hertitage book? Guess what, DonAhue.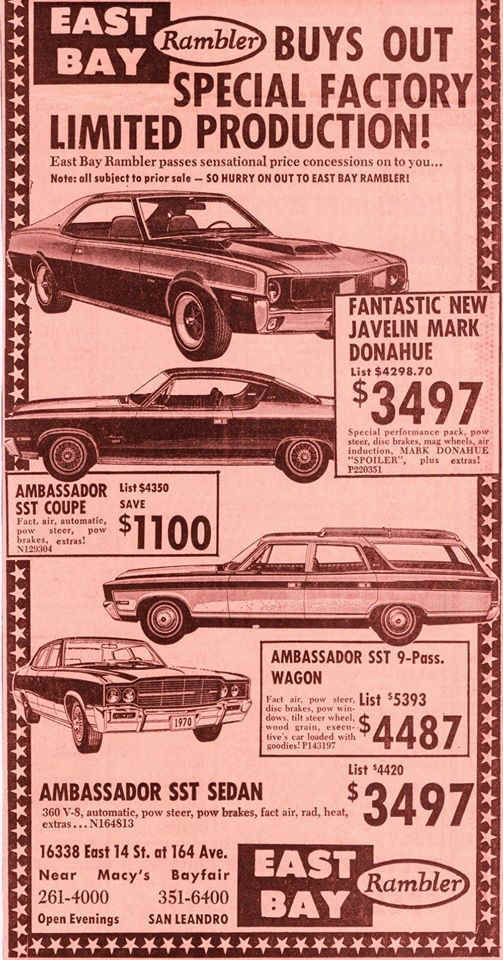 Never got a reply.