Matador Machine 1971
1971 from American Motors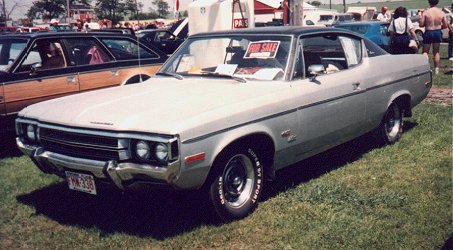 Here is a photo I took in 1988 of the only known Matador Machine at a NAMDRA AMC Nationals in Kenosha:
One of AMC's rarest muscle cars...most AMCers never heard of one. AMC's brilliant advertising department had a funny slogan for the new Matador body style in 1971 with "The Nicest Car You've Never Seen!" as the public was caught off guard by this new model, which replaced the Rebel Series (1957-1970). They also had the full lineup for 1971 touting "what would you do if you had to compete with Ford, GM & Chrysler?" plastered in the front of new AMC Dealer catalogs
...this printing with "the extra words" is a extremely early printing from July 1970....the second printing of these catalogs in October 1970, deleted the bottom text.

Many parts were shared with Ambassador Series platform however, so tooling was kept at a minimum, which was important, as AMC was in financial trouble in 1970 for a number of reasons, including a general strike that cost them production of 36,000 cars; slow selling 1970 models still on dealership lots (exceptions were new Hornet Series and late intro April/1970 Gremlin) and the acquisition of Jeep from Willys Corporation for $40 million, a lot of money in 1970. So only cars really moving were AMC's Bread & Butter models like Hornet, Gremlin & Ambassador.
1970 was AMC's last year for the Rebel, including Machine, shown here at Detroit Auto Show Winter 1969. Including mighty Rebel Machine. Deciding to go out with a bang, and more importantly, lure people into showrooms, on that "intermediate" series, 'new AM Supercar' was introduced at the NHRA Nationals in Dallas, Texas, 1969 . American Motors was enjoying success with several racing programs, notable Trans Am, with Mark Donohue
driving for Team Penske. So performance activities would hopefully draw many younger buyers onto lots, and into showrooms, which would translate into sales. I have a large number of AMC photos for sale, which shows a nice array of American Motors performance activities in the 60s/70s. For some great Nash, Rambler and AMC Dealerships.
So how, or why, did a Matador Machine come into existence if the previous year, the Rebel Machine sold only 1936 (or 2306, depends on who you talk to) units? It seems, that customers were still interested in a intermediate muscle car from AMC. So AMC offered a performance package called "Go Machine" for those who were willing to take them up on it. There was no printed ads for this.
The "Go-Machine" was a $373 option on Matador hardtops with the 360V8 and $461 with the 401V8; which included, 4V carb, dual exhausts, handling package, power discs, E60X15 Polyglas tires w/raised white letters, 15X7 styled steel wheels (Machine rims) and spacesaver spare. No scoop or stripe kit as seen in my original photo below. Remember, after the initial 1000 1970 Rebel Machines were built in white with the r/w/b stripe kit, you could get a Machine in ANY regular production color, including the last year Big Bad colors. This is mentioned in the Rebel Machine Press Kit from 1969.

There was 68 of these made according to some literature I have. Some put the figure at 50, others, 43. AMC's Production shows only 43 1971 Matador 2 doors made with a 401...however, as mentioned, the 360V8 was also used.
AMC Production Totals from 1971:
7119-7 Series.

It is still one of the rarest American Motors musclecars ever built.


At the time, the vehicle was owned by longtime AMCer and vendor Pat Wnek who is listed on my vendors list. He sold it to Dominic Silvestri, who sold it to Dan ??, who sold it to Brad Denning who rotisseried it. It is currently in Canada in private collection in Canada.

It is the real deal and this car is rather well known. As is it's travels! I passed on this car for sale in 1990 for $2000. You can add a extra zero (or more!) to that figure now after this car was on a rotisserie with a ground up restoration. No, it is not the original color but that is not the point. The point is that this car was saved. There is possibly another Matador Machine in Colorado still in existence (2008). In 2011 yet another might have been documented in Indiana. I do not know if the Collier Motors Matador is a Go Machine vehicle, chances are it is being s Z code car. (Also search YouTube for "Last AMC Dealership" it is the light yellow car in some of the videos at Collier Motors)

I would love to see a 1973 NASCAR Matador package, which was available to AMC buyers who bought same 2 door body style in 1973, which was the last year of this particular wonderful body. What a neat piece of AMC history. John Rosa has some neat tidbits on his site about this car and it's travels and restoration.

And THIS is the finished product:
This car is currently in the Fred Phillips Collection in Canada. Fred owns a formidable collection of American Motors cars, many of them one of a kind like this Matador Machine. Also in his collection is the 1966 AMX, commonly called the Vignale AMX; the 1969 AMX II; a new addition besides the Matador Machine is the Bonanza SS/AMX many remember in the CHiPs episode with Ponch & Jon; he also owns the Air America
James Garner Baja 4X4 Hurst SC/Rambler....one of a dozen 4x4 SC/Ramblers made.
This was the actual Ebay Auction in 2005 of the 1971 Matador Machine.
================================================================
Did AMC have a Go Machine Package in 1972?
Well, on my way out to buy a 81 Eagle I stumbled across yet another AMC, a 1972 Matador w/ "Go Machine package?" and what is unique about it is not only is it a factory Z coded 401/4barrel monster, (TOTAL PRODUCTION 71) but it was the first year American Motors hooked up the 360 and 401 engines with the new Chrysler Torqueflite 727, which is a indestructible trannie and any of you who have ever driven a AMC 72-74 401/727 can easily testify, you can chirp the gears at 70 miles per hour; and blister a set of tires off at a stoplight! Gone was the boat anchor Borg Warner M11-M12 used in 1971 if you had a 360 or 401. This took performance to a higher level.
This Z code 72 Matador two door sold new at Vance & Sons AMC in Houston, Texas! I would later buy out this dealership's inventory. Many of my cars are/were from Vance & Sons, and to see many of their vehicles, showroom, engine repair bay, and other aspects of this neat dealership which had been around since 1912, click here, which is my AMC Dealerships Section of the website.
I am not sure whether the "Go Machine" package was offered in 1972 considering it didn't sell worth a crap in 1971 with only 68 made. I have never seen anything about a 1972 Go Machine package offered, but remember, not even all dealers knew about it in 1971. There are a lot of cars AMC built like this though, many dealers didn't know of a Hurst SC/Rambler when new! And my Badger Javelin file has numerous 'national' and 'regional' promotional cars few ever heard of. Many cars flew under radar with AMC and there is *NO* bulletins, paper trail, ads, nothing about them. There was only 71.....1972 Matador 2drs made with a 401. See 72 Production Figures. Regardless, this was one of 2 only known Yuca Tan 72 Matador 401 known to exist in 2005. The car was heavily optioned, which is unusual.
Bottom line is that there is nothing in the VIN, Build Sheet to authenticate a Matador Machine, only possibly be listed in the window sticker.
=====================================================
American Motors was heavily promoting and advertising their performance capabilities with NASCAR, Trans Am & NHRA and had just won Trans Am in 1971, and 1972, so a performance image was reflected in much of their adverting.

Photo Tour Press Photos!
The options on my 1972 Matador include the following: (original prices from AMC shown)
401V8 four barrel $89.00
Torque Command Automatic (727 Torqflite) $305.00
Dual Exhausts $31.00
Heavy Duty Cooling System $16.00
All Season Air Conditioning $377.00
Center Armrest Cushion $54.00
Front Disc Brakes $50.00
Power Disc Brakes $81.00
AM/FM Multiplex Stereo $230.00
Power Steering $11.00
Electric Clock $17.00
Front Bucket Seats $136.00
15 inch styled 8 slot rims $136.00
Tinted Glass All Windows $42.00
Tinted Windshield $35.00
more to come.....
These are some photos I took of the Z code 1972 Matador when I got it home. It was a 56K original car, original paint too. Block turned over easily, but would not start, the seller told me it "used to be the fastest car in Liberty County" which is NE of Houston. I found it odd that it was column shift automatic without console, but did have fold down center armrest between mint original seats. I sold it for $2600 as I simply had too many projects at the time. Ironically a good AMC friend of mine from down in valley, Warren barber who has always had a soft spot for 71-73 Matadors and has a beautiful black 71 and a yuca tan 72, had saw my ad and came by as he was attending University of Houston at the time, and looked car over. He liked it, and month later called me back up from valley and asked if I still had it as he wanted it, but car was gone. His VIN on his own Yuca Tan 72 Matador Z code 401 car......was one digit off from mine, that means they were one behind other in Kenosha West Line being built, how neat.
I was asked by a interested party if I had found a Build Sheet in this vehicle. I did not remove the rear seat, nor the passenger side turtle back bucket, but did remove the driver side shell and found this original sheet. The gibberish on it I do not understand but it could be a seat/inspector for AMC in 1971/72 personal notes. You do find stuff like this in chalk, crayon, and sometimes.
21A Robert(?)
19-7
765
S5 (or 55)
DM
R.A.D. 3

To this day, no one knows if a Matador Machine package was carried over into 1972.
I would estimate of the 1971 Matador Machines built, (only 68 of them) maybe 3 or 4 survive. Of the 1972 "401" Z-code Matador 2 doors built (only 71 of them) maybe 3 survive. Most were cannibalized for their drive trains. And I have never seen the NASCAR package AMC had for Matador sedans for 1973.
====================================
Below is my 1971 Matador with 14,000 miles I sold on ebay for $2650. It is currently in Marietta, Georgia. I drove this vehicle only 208 miles in the time I owned it from 1993 to 2006. Longest road trip was to the AMC Nationals here in Houston shown in first photo. Note the original owner traded in a Rambler for this to Bill Whiten Rambler of Birmingham. The car had less than 15,000 miles on it when I sold it, and new owner flew into Houston, I picked him up at airport and he drove home.
My 71 Matador above has zero to do with a Matador Machine. I included these photos here simply because I owned the above 71 Matador for damned long time and enjoyed it while in my possession, but never seemed to do anything with it. And no one knew what the hell it was when taken to meets. But AMC had a image problem on their hands with new 1971 Matador. Great car, image problem. Some writers at time called it a next generation 'machne' while others said it was rehashed Rebel from 1970, of which it basically was. They are fine cars, just (to me) one of the many great AMC cars that fall thru the cracks as time goes on. I personally think it is a awesome body style though.
In 2013 another 71 Matador Machine surfaced, this one is a 360 4 barrel, Hurst 4 speed car. That would make 3 known to exist.