**On October 19th, 2010, just 3 months after finally selling her Pink AMX (see photos at bottom) Angela shot her boyfriend in chest in LA and was jailed with a ONE MILLION DOLLAR BOND for Attempted Murder. Her boyfriend is expected to survive, and Angela, aka Victoria Vetri aka Angela Rathgeb was released, and is out on bond as of October 25th. If convicted she could get life in prison. Angela is 66 years old, 5'6" & 110lbs I guess this proves if you sell your AMC you CAN go nuts.
MISSION AMX:
American Motors & Playboy Team Up......
The Beautiful Angela Dorian/Victoria Vetri.....&
Pink AMXs!
Mission AMX: AMC had dealer meetings in 9 cities in the US from Feb 15-22nd 1968 at Playboy clubs; Guy Hadsall Jr the National Merchandising Manager was in charge of the meetings, which was to introduce AMC Dealers to the NEW AMX. The original American Motors flyers states: "the meeting guide poster is guaranteed to turn your audience on! Being in charge of the meeting, you'll have the FIRST opportunity to see it, and get in the proper frame of mind. Very simply instructions on it's use are all that is needed. Simply display it in sight of everyone and happily run-down the swinging new features of the car that are provocatively present in numbered call outs."

There was a film and record originally for presentation. Those instructions read (worth noting AMC's great marketing) "Two for the Road: This AMX features film will sustain the stimulating meeting environment this meeting guide poster will cause....That's a PROMISE!"

The second film states: "One Of A Kind! This is a fast moving, different type of marketing presentation that should shake some of the cobwebs loose. The film looks closely at the YOUTH MARKET, who they are, where they are, and how to reach them!
Boldly pronounced on the brochure to get dealers "up" is printed....
Now go ahead and take the first look, hang it up and have a swinging meeting!
Are you FEELING GROOVY yet?
Need a scotch?
LETS SELL SOME CARS!!

The Players:
Legendary automotive designer Dick Teague with Playboy Bunny Camelle & Chuck Hosper.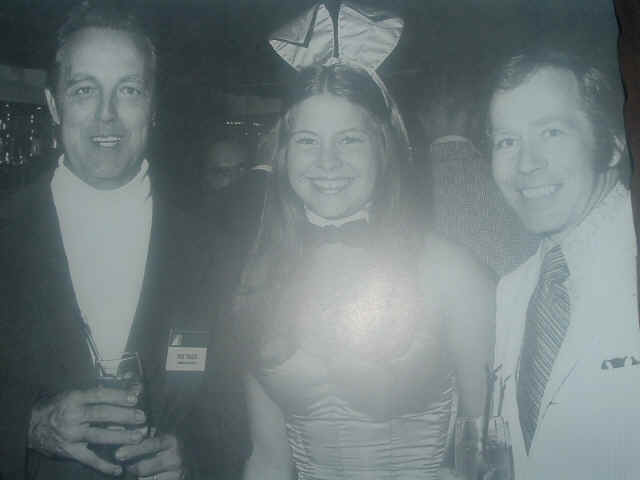 The Bunny. Angela Dorian aka Victoria Vetri receiving the keys to her brand new Playboy Pink AMX.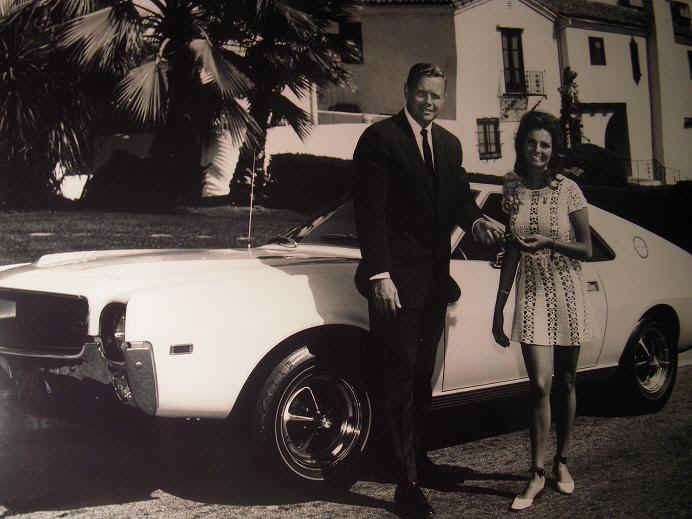 Angela stated "she was still searching for 'the ideal man' when she got the keys from American Motors' vice president of marketing services R. W. McNealy in this photo. Angela got the car for being chosen Playmate of the Year by the readers of Playboy magazine. The AMX Dash Plaque reads 362435, (her measurements!) and is the only 68-70 AMX to have a six digit dash number. Signed in the contract was a Pink AMX was to be made available at each location for the tour to pick up Angela at the airport and for display at the club.*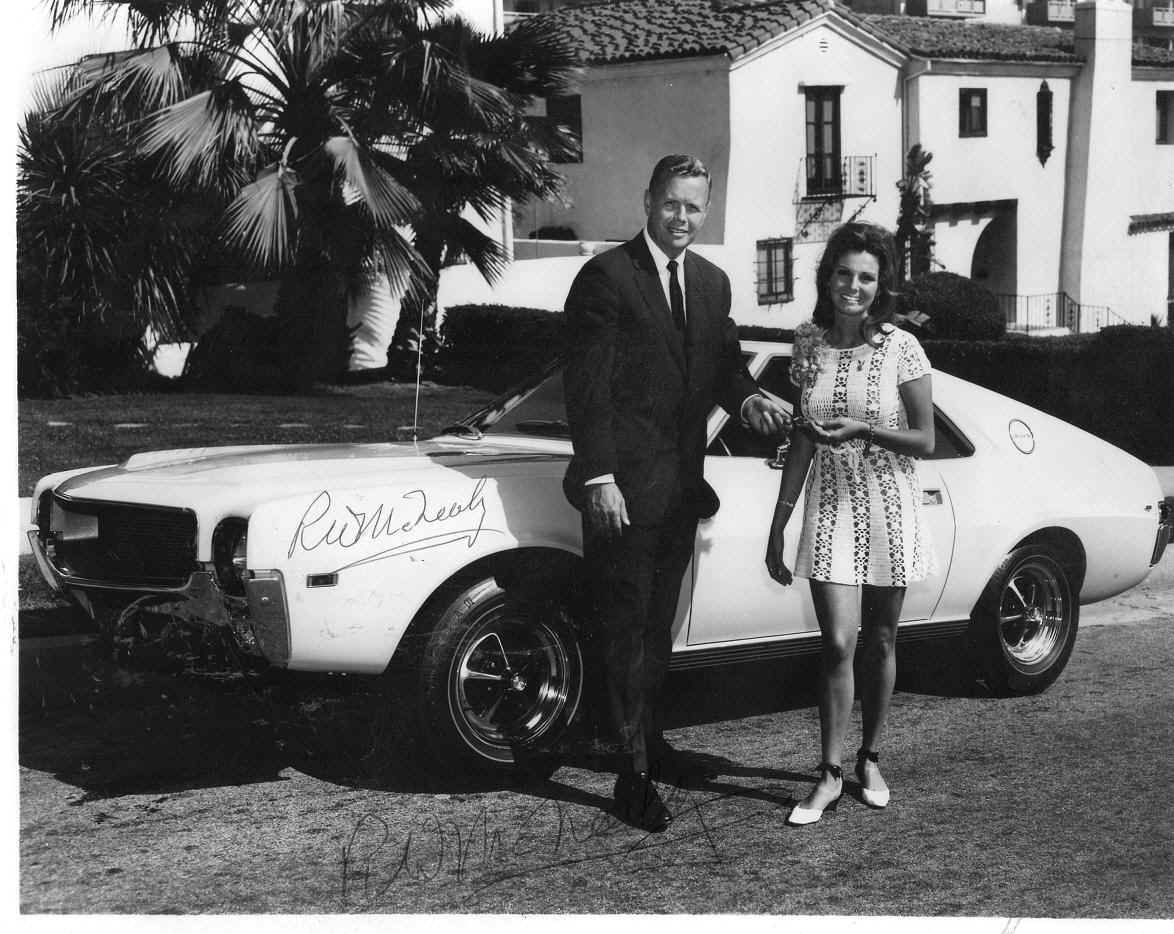 Above signed by R. W. McNealy not once but twice. Asked him to sign it on fender where it could be seen!
The Poster.
The Playboy Bunny AMX poster comparing AMC features to bunny options.
If you would like a copy of above poster, $10 + $8 shipping in USA, slightly more overseas, email me directly eddie@planethoustonamx.com
for more I do paypal also.
The Kit.
This series of ultra rare photos shows the American Motors complete kit they used at the Dealership Meetings. How rare is it? Since 1969, I have only ever seen two.
The Magazine.
Playboy readers voted Angela Dorian Playmate Of The Year, however, before that, she was a Playmate of the Month. September 1967 is the one you want, as it has a great article about Angela Dorian, who would later call herself Victoria Vetri. This is the actual article. Kids & Prudes Hide Your Eyes.
The Centerfold.
The beautiful Angela Dorian, Playboy Playmate of the Month.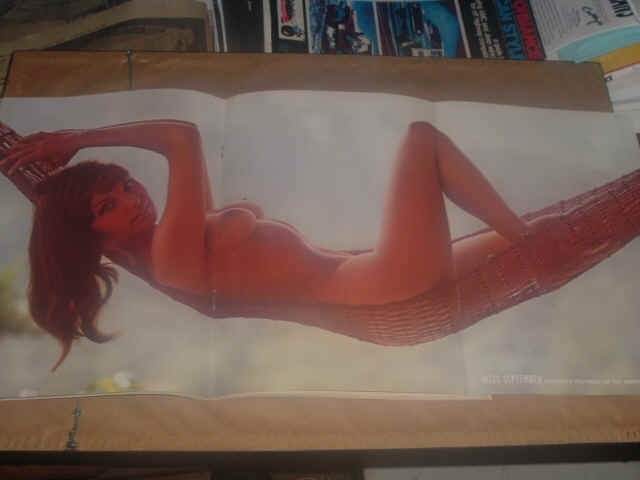 The Cover.
What you Got By Joining.
If you became a Playboy Club Member, you got a subscription to VIP Magazine, Playboy stir sticks, ashtray, discount on Playboy's famous drinks at their clubs, tie tacks, key chain and various memorabilia. Here are some photos of a actual kit! Quite rare if you ever see this stuff 40+ years later.
The Locations.
There were 19 Playboy Clubs.....Atlanta, Baltimore, Boston, Chicago, Cincinnati, Denver, Detroit, Jamaica, Kansas City, Lake Geneva, London, Los Angeles, Miami, Montreal, New Orleans, New York, Phoenix, St. Louis and San Francisco. These were the places to see and be seen, and were always packed with celebrities.
Barbara McNair, Stewart Rose, Janet Evens, Bobby Wick, Bobbi Hill, Jerry Collins, Beverly Sanders and Vic Perry were just some of the headliners....on one weekend! Many of these featured psychedelic discos where the dancing and booze and bunnys went all night. Not all Playboy Clubs had this type discos. I would have given a right arm to work in one of these places. In the latter three photos, you have just a smattering of stars that would drop in: actress Wendy Wagner & Jim Mitchum, Sammy Davis Jr, & Tiny Tim; keyholders at St Louis shown is Tom Smothers & musician John Hartford, and in LA Beatles George Harrison is fixing to autograph bunny's Astrid's something!
The relationship between Playboy Magazine and American Motors would be a good one, lasting well into the late 1980s. However, it is great to know some of AMC's marketing techniques including having their "meetings" at Playboy mansions across the US, would not only boost their image, but also target the younger generation "youth market" with their new musclecar. This in turn would lead to a better image, and would sell more Javelins, Rogues and Rebels.
Your invitation is waiting to the Playboy Club:
In the world of American Motors, you will not find anything more rare than this. A Genuine Vintage New York City Playboy Club Invitation for "MISSION AMX" that was sent to American Motors Dealerships and Sales Personnel. The Event was held at THE PLAYBOY CLUB on 5 East 59th Street in New York City on March 29, 1968. The Key that is included here admission to this event in the Penthouse. The Invite Letter is sent from "Bunny Cindy". "Your Presence is requested for this "special groovy meeting." "In addition to some very imnportant business you should know, there's going to be music, fun, and lots of action". Trifold on embossed Playboy Logo Letterhead. Photo of Cindy is in Black & White. The cutout key is on heavier stock paper. Measures 7" x 2.5". No Envelope. . Excellent Condition. Most of the hardcore AMC folks know os the "Playmate Pink" AMXs that were painted at the factory. Once was distributed to Playboy Playmate of the of the years back in 1968, Angela Dorian. who was the September Playmate. This material pre-dates all of that by several months. In fact, this is real early AMX sales promotion as the musclecar was only introduced to the public a month earlier on February 24th. American Motors actually has a sales-promotion contract with Playboy to market the AMX musclecar. The New York City Event was part of that marketing effort. Very little, if anything at all, still exists about the Playboy-AMC AMX promotion effort.
Pink AMXs
According to David Simon, Victoria Vetri's AMX was "the only one painted pink at the factory". However, Bill McNealy when asked "how many pink AMXs were built" said "a number of them". Ironically is that in a interview with Victoria Vetri in 1982, she also mentions other pink AMXs. Quote: "the picture from Playboy magazine of me sitting on the fender of a pink AMX is NOT my car, it was still being put together at the factory when this photo was taken."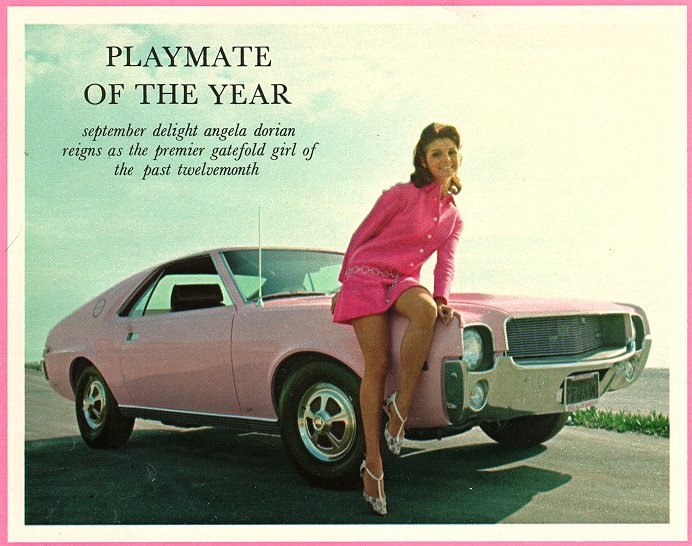 Vetri: "I hate the color pink. When I was in Hollywood, it didn't matter where I drove the little AMX, studio, market, wherever, it took me a little longer to reach my destination than if I would drive one of my other cars. Police would even pull me over, not for ticket, but for a autograph., and this happened once a week." Most people just would ask if I was 'Playmate Of The Year' and that was end of it, however a few times I would be followed for great lengths and it would get ugly. I decided after making "When Dinosaurs Ruled The earth" I would have the car painted as to not stand out like sore thumb. It was painted brown, then grey, and later black, to which it remains to this day." "My car is a base AMX, 290V8 automatic, but also nicely optioned with air condition, power steering and brakes, tilt column, AM/8Track, fully tinted windows and bumper guards. Originally it had Magnum 500 chrome 1968 rims, but I changed them to slot dish mags. It's one of only 484 in that 290/AT combination. I have never offered it for sale and drive it regularly and it has about 95K miles on it. One day I will probably have it repainted pink however." McNealy: "The Mission AMX program was a real success exposure wise. There were 19 Playboy Clubs and the center piece to them was having a pink colored AMX there in the lobby. Most of them were base 290s, but I believe there were several 390 cars. And some of the cars possibly were pulled off (AM) dealer's lots and given a through pink paint job. But we had to have pink colored cars for the promotion, as Playboy demanded it as it was a continuation of their theme of "Playmate Pink" cars given to their Playmate of the Year starting in 1964 with a 1964 1/2 Mustang, (Donna Michelle); then a Sumbeam Tiger in 1965 (Jo Collins); 1966 Charger (Allison Parks); 1967 Plymouth Barracuda (Lisa Baker)."
Below: R. W. McNealy signed my Playboy Press photo of him and Angela Dorian not once, but TWICE. He signed in on bottom, and I asked if he could sign the fender where it shows! Probably only time I didn't have a Sharpie for autograph.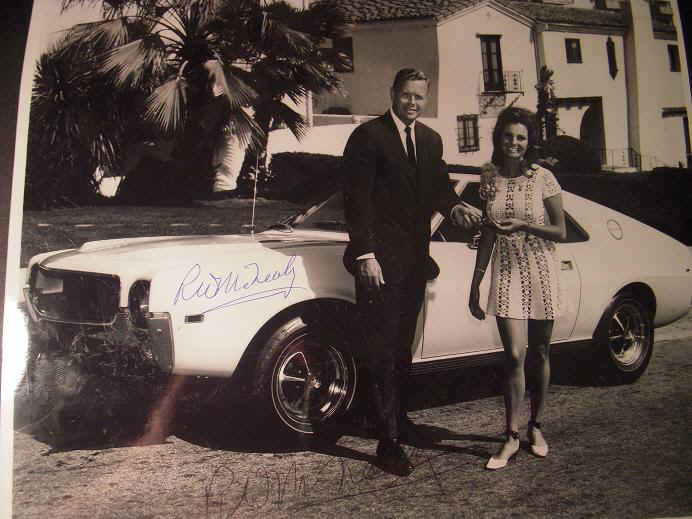 Angela in a new AMX provided to her when on tour as Playmate Of The Year. These were regular production colors and provided by area dealerships. At each location the Playmate went on tour, a new AMX was waiting, and not pink cars, but culled from local dealer stock. Note the headrest in this photo, which not all AMXs got, especially early ones.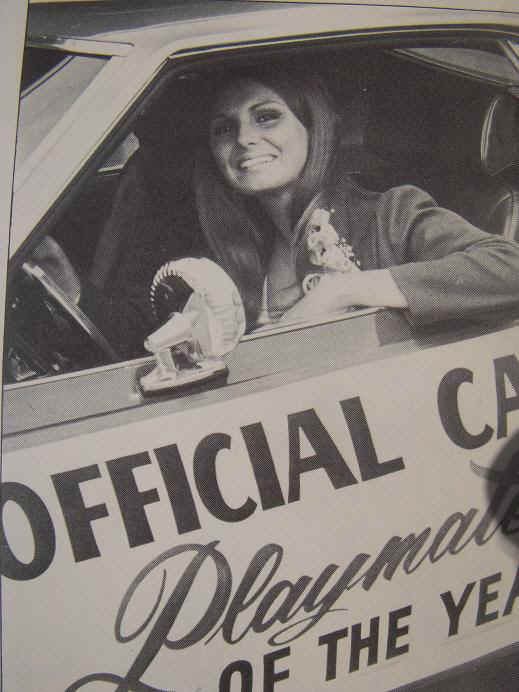 Courtesy Angela Dorian/Victoria Vetri: Angela's original State of California Registration car for her Pink AMX. Worth noting is many states put down RAMB; or AMER or JAVE for the 'make' of car, something I have written extensively about. Here it shows her AMX as a RAMAM! Note also PLAYMATE next to her name on the original State card!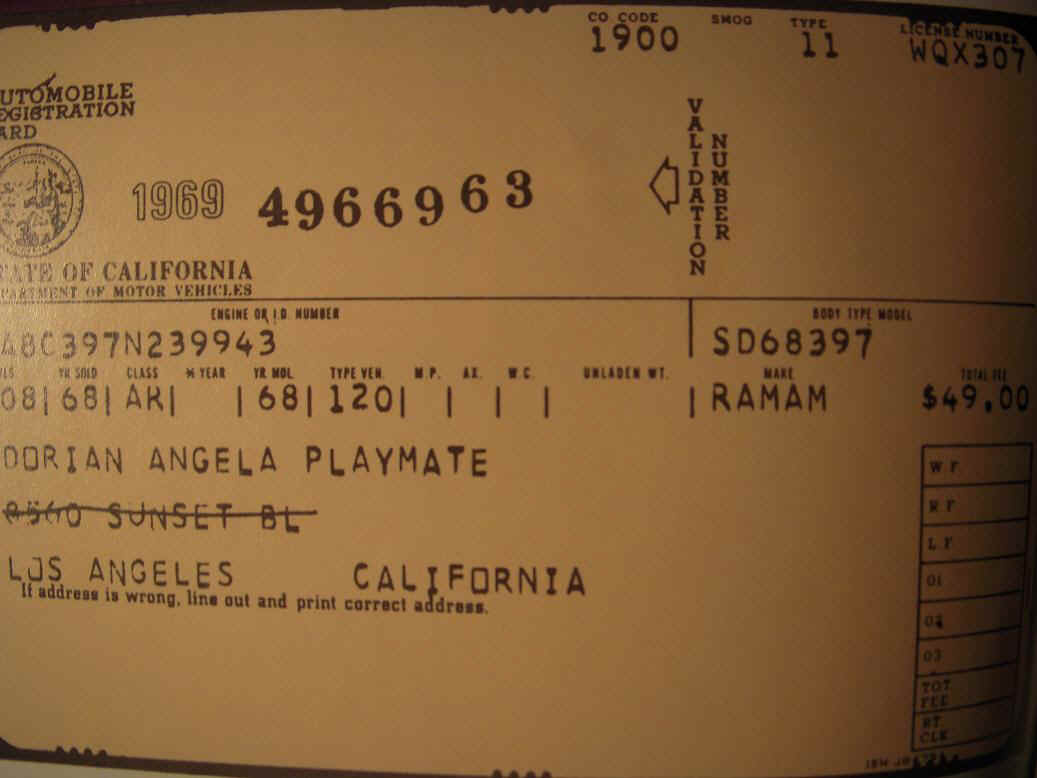 Victoria in her AMX in Los Angeles in 1969, note license plate same WQX307 as in her registration above. While this is 1969, the car is still at this point pink!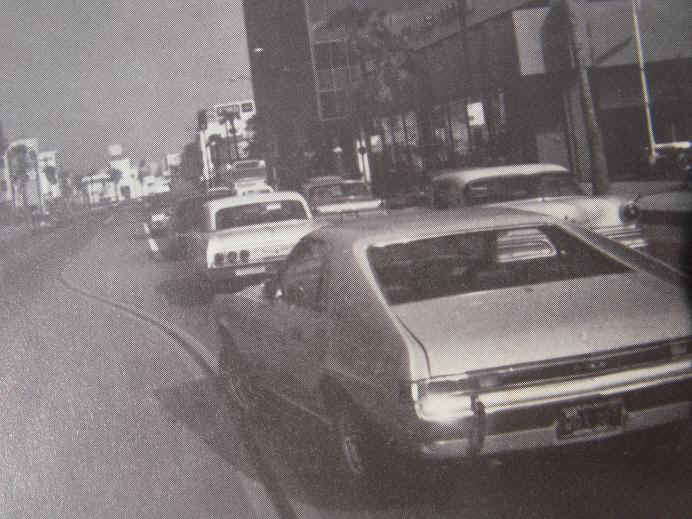 Victoria is met at the airport by Playboy reps who in turn would hand over the keys to a new AMX (not pink!) to the Playmate of the Year as she went on tour throughout the country. This particular AMX was a loaded, 390V8 in Matador Red. The two Playboy reps presenting her flowers and keys at the Denver airport are unknown.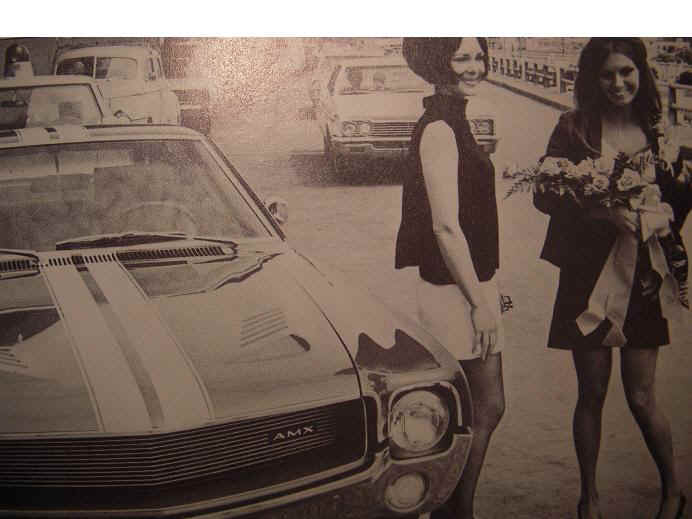 Victoria stands proudly in front of her 1968 pink AMX, now Classic Black. She is one of the very few original owners of their PINK cars given to them by Playboy!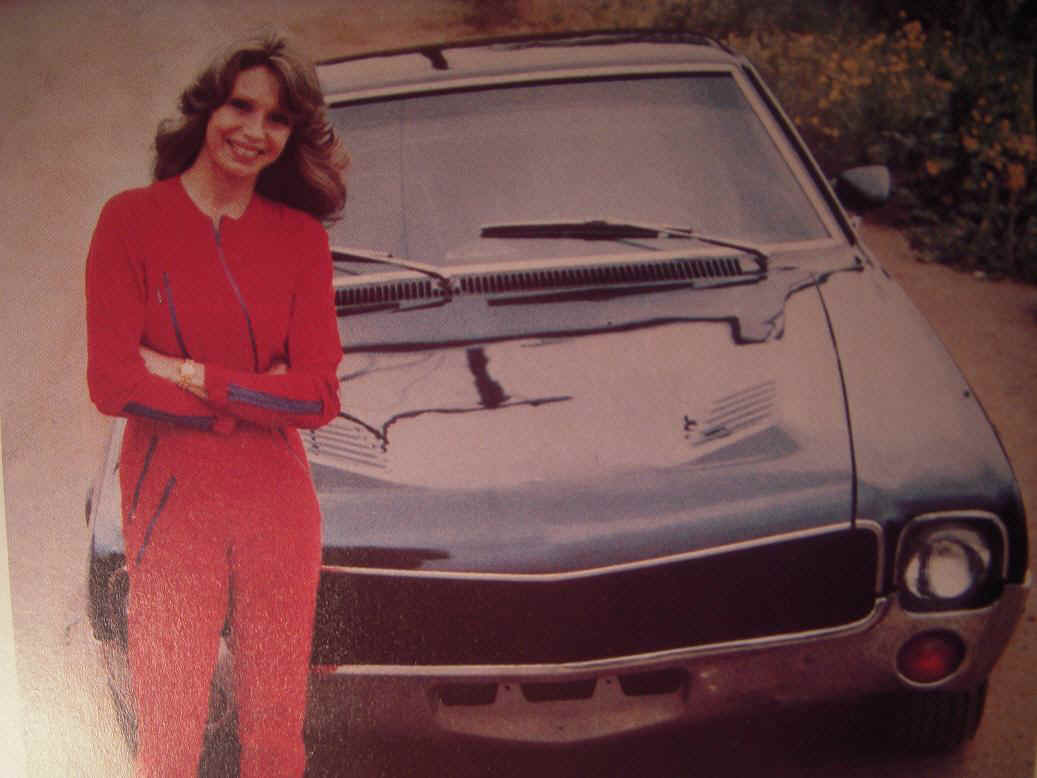 In the Summer of 2010.....Victoria Vetri's car surfaced on ebay. Needing a restoration, but there it is. My concern was about Victoria's health! "Dear marinaautoupholstery,
Hi, my name is Eddie Stakes and I have some great photos of Angela, and this car, on my site at planethoustonamx.com feel free to use any of them if you wish for your auction. My main question is this though...is Angela ok healthwise? I never thought she would get rid of her baby there. Someone asked me is she died which never crossed my mind. Thanks and good luck with the AMX, I don't think there is a AMC fan out there that does not remember this car, much less Angela Dorian....aka Victoria Vetri!"
The seller replied:
To: eddiestakes@planethoustonamx.com
Sent: Tuesday, July 27, 2010 3:13 PM
Subject: Re: eddiestakes has sent a question about item #260640537060, ending on Jul-31-10 17:01:00 PDT - AMC : AMX
"Hey Eddie,
I did see your site mate, that's where some of the info came from...I guess she is ok, my boss spoke to her on Saturday and they were laughing away. I'm looking forward to the day it is restored and we can get new photos of her and the car...Cheers, Tony Rackley The Car Guru "giving good carma"
So that is good to know! Here are photos of Angela/Victoria's car condition wise in July 2010:
You would see more Pink AMXs in later years, but not affiliated with Playboy.
These were "Regional Dealership Promotions."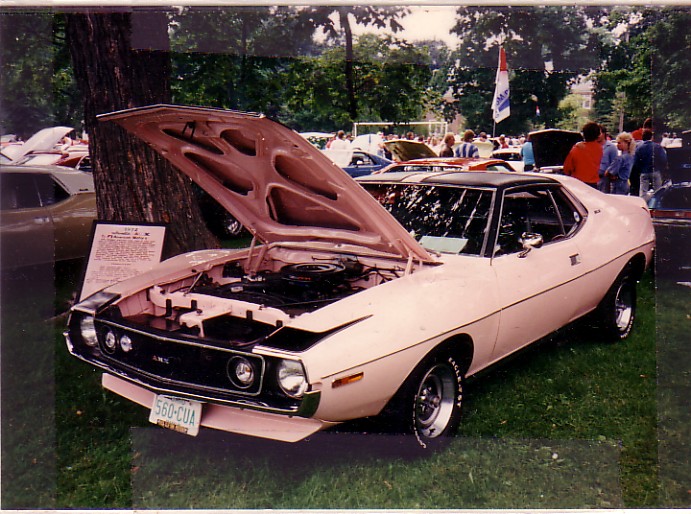 Order Victoria Vetri/Angela Dorian
Photos & Posters....