Randall Rambler & Jeep, Mesa, Arizona
Randall 401-XR Gremlin, Hornet & Pacer, Javelin
Randall Rambler (later Randall AMC) was one of the earliest franchised AMC dealerships to modify American Motors cars. Based in Mesa, Arizona, their legacy is godlike with AMC "Performance" fans who not only enjoyed building up their new-gen AMC V8 (290, 343, 390...later 304, 360, 401) for maximum performance, but also customizing it to boot. Most notable are the Gremlin, Hornet & Pacers Randall built. Randall's jumped into the performance game EARLY in 1967 and is considered, along with Allen, Topel and a handful of other AMC Dealerships to be the "Royal Pontiac" or "Yenko Chevrolet" or "Nickey Chevrolet" or "Tasca Ford" to name a few dealerships remembered for their formidable buildup of their marques. Bluntly, Randall AMC was AMC's Fred Gibbs and quickly built a reputation as a "High Performance American Motors Dealership".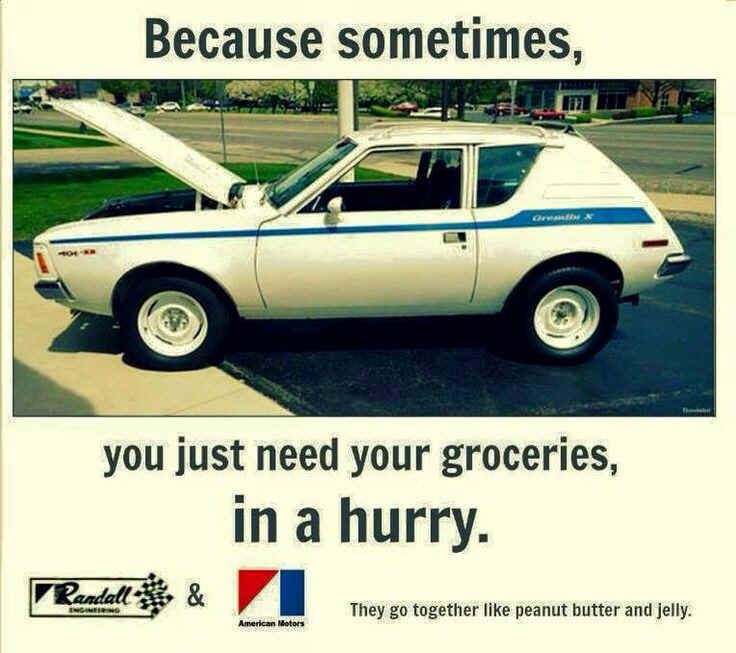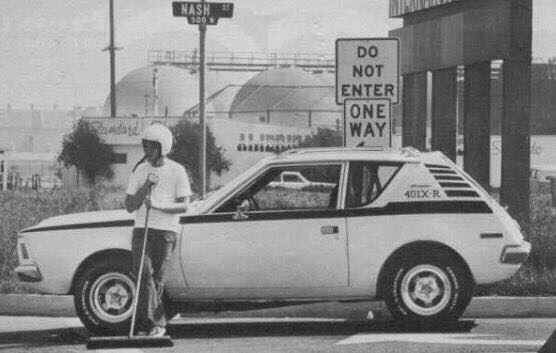 AMC Randall Ad. This was a dealership ad, not American Motors.
Word spread quickly since AMC was making inroads into various forms of racing, Trans Am, SCCA, NASCAR and Randall AMC put together a "speed bible" to help others maximize performance on strip and street and track. This "Randall Rambler & Jeep" speed bible featuring engine tuning, high performance parts, engine blueprinting and engine specifications quickly became a hot seller with AMC fans as word spread. This appeared in 1968, written by Mike Warren, they are obsolete, and last one I saw for sale was in Kenosha at a AMC National meet in 1984.
The late Carl Chakmakian, AMC's Performance Activities Director, had given his blessing to aftermarket speed equipment manufacturers in a memo, and AMC's Group 19 performance part of dealer's catalog.....was now growing as more items and suppliers came aboard. With AMC making headway into various high performance activities after a abrupt turnaround a few years earlier with Thomas J Coupe's comments (with introduction of new 64 Rambler Typhoon) of "the only race we care about is human race" and "AMC does not support performance" AMC was The Ones To Watch.
The legendary Gremlin 401 XR were converted 304V8 Gremlins, Automatic or 4 speed, and for under $3000....you had a pocket rocket that could trip the 1/4 mile in mid to low 13 ET's. The weight of a Gremlin was 2900 lbs and the price of a conversion Gremlin 401 XR was in the $3500 range, while a "base" (232, 3speed, stripper version) was in the $2200 range in 1972, compare that to say a 72 AMX for $3190 with a 360V8 or $3500 for a 401 powered AMX.......so basically a 72 Randall Gremlin 401-XR would set you back about same as a 72 AMX 401/AT....except the Randall Gremlin would blow doors off the AMX.
I have only seen one actual Randall Gremlin 401 XR since new, it is believed 20-25 were made. I have never seen a Randall Hornet or Randall Pacer although I have Randall Pacer photos elsewhere on my site, have never seen one up close. Never have seen the Javelin Randall campaigned either except in photos. Wonder if it still exists?
With the Randall Pacer.....a actual flair kit was sold for the car, again, no one knows how many made, or sold. American Motors got wind of Randall AMC dropping in 401's into the Pacer though and sent a team of executives from Detroit to investigate and were so impressed...the Pacer now could be had in coupe or wagon form, with AMC's new 304V8, of which if you have ever seen a Pacer with a V8 in it, you will marvel HOW it was done, as it was a true 'Cab Forward' design in mid 1970s, and there is no room under the fold forward hood, so quite engineering feat.
There is no real way that I am aware of to positively ID a Randall Gremlin, but it falls into same "dealer built" category many, many AMC vehicles do that were either Kenosha built for a region, a certain dealership, promotion or otherwise. And that list is endless, some well known like Mark Donohue & Trans Am Javelins, to lesser know like Rebel Raiders,
(Raider Drive Away) Rebel Yellow Jackets, Star Spangled SC/Ramblers, Rebel Mariner and Rebel Westerners & Briarcliffes, Badger Javelins, Pink AMXs, even
P-38 Lightning Gremlins which started here in Houston, Texas, then spread to other dealerships Spirit of 76 Gremlins or my own Continental Airlines Gremlin ...believe me, there were many more AM Dealer Specials, and all will never be known sadly.
Back To Randall's, which was based out of Mesa, Arizona, Donnie over at Gremlinx.com has a few photos in his facebook page of actual Randall 401XR Gremlins. There were also some write ups in various auto rags in 1972 including Car craft of these obscure might mites.
(this is not from 1966, it is whole catalog from 1973)