Brian Pharr, Corpus Christi, Texas Rest In Peace
This is a short file dedicated to a old friend, Brian Pharr of Corpus Christi, Texas. Some good memories and funny photos so read on. I do not remember where I met Brian, but it probably had to do with buying some weed. Brian & me both smoked a lot of weed in 70s/early 80s. Brian was as short fellow, small in stature and gained name with my buddies of 'Chiquito Brian' (little brian) which if sober, he hated, if drunk, liked. We all had his back. He worked at a car wash on Weber Road in Corpus Christi, and lived with parents off Weber near Staples.
I had just gotten a divorce from ex wife Cindy Stakes, and got kicked out of shit welfare apartments on Kostoryz road so had to move to another place not subsized, so chose The Landing on Weber, sort of new, hip, and young people, not people on deathbed place like fed housing where was at. Was one block from Doctor Livingston's bar also. You will see my apartment appear in a number of photos here about Brian. Why? It is because of all the friends I had in early 1980s, I was about only one THAT DIDN'T LIVE AT FUCKING HOME.
Plus I was 1 miles from South Padre Isle Drive and 10 minutes to Padre itself. Brian many times would get off work and walk over, with beer from HEB. Sometimes I drink, other times not. My place however was where we seemed to gather, phone always ringing and we ended up playing poker at night 3-4 times a week. Since we were all friends, we would get drunk and see who had fucked my ex wife the night before. Ok, who did Cindy last night? Sometimes Judge raise his hand and laughed, Bob S might have looked down then started laughing but that might have just been the weed, Bob P would be gentleman and say 'well we went out last night' to which everyone would roar laughing knowing he probably still smelled like her. Brian never did her that I know of but was fun to sit around with friends to see who played Gumby on my ex wife Pokie that week, then we all do more shots.
Brian's parents were both chronic alkies. Good people, just never stopped drinking. When they went out of town for few days, Brian would call me, my girlfriend Debbie and some other 'regulars' over like Judge Barrow, Bob Shaw, Bob Perry to "spend the night" at his parents house. This was fun as his parents hid bottles of booze from each other so it was instant 'Wheres Waldo" of fucking booze when we headed over, we would find it in food pantry behind peas, between mattresses, in garage behind oil, and sometimes we would drink it, other times not. His parents would not remember anyways he would tell us. And the freezer was full of more frozen food than I had seen even at HEB. Whoops, there is hidden bottle of Stoli in here too! Debbie & me got the parents bedroom, but with clause, Brian said we had to clean it next day as it was like bad Gallagher show with Ron Jeremy, there was cum on ceiling fan, on mirror, in keyhole on door, so we had to clean up out mess of wad. And Debbie would cook breakfast for all the hungover drunks next morning, then most of us head to Padre to start drinking again.
Brian hated having his photo taken so only have few photos of him. And all of him drunk. He also had a temper, but never amounted to anything. I can't remember how many times Brian cashed his car wash check, then came over, and we got into poker night and I wiped him out of would 'lend him his money back' until payday, and he was always 100% guarantee he would pay it back which he did. He was honest as the day is long. I may add that when HE took all our money on poker night, he was a little bitch about it, waving it around, gloating, and would call himself a cab for ride home.
He spent a lot of time at my place unless Debbie wanted to be alone with me, otherwise Brian, and others we hung out, watched MTV, smoked weed, went to the pool there at Landing.
Most of these photos are from 1982.
Brian left a bar one night on the eastbound SPID (South Padre Island Drive) just east of Weber next to Thurman Fondren Glass Company where my brother & dad Homer T Staeks both worked, it's my understanding he got kicked out the bar, so decided to cross SPID to Granddaddies bar on westbound lane of SPID. If he just walked ONE fucking block to Weber, crossed under then back up other side to bar he would still be alive I guess. He was 26 years old, never knew what hit him when car plowed into him on SPID when he stumbled into traffic. Ironically after this incident City of Corpus Christi put up fence on median so people would not risk playing game of Frogger. It runs from Ayres to Airline.
Brian was a really good guy, no way to describe him, honest, hard working, but bitter at what life tossed him, being short, never getting any pussy he used to complain to me a lot about that, and I told him go buy a Penthouse magazine and read it single handedly, or go buy a girl downtown, as most had all their teeth. He liked rock and liked two songs I remember on by Judas Priest called Dreamer Deceiver/Call The Priest & was big fan of Scorpions.
Here is DREAMER DEICEIVER
https://www.youtube.com/watch?v=GjMizl3qQGE
So with that in mind, here are some photos, with descriptions, of The Life of Brian. Brian I am humbled and honored to have called you a friend and didn't really mind giving you countless rides home when you drunk, in my AMX. I hope you have found peace in Jesus arms.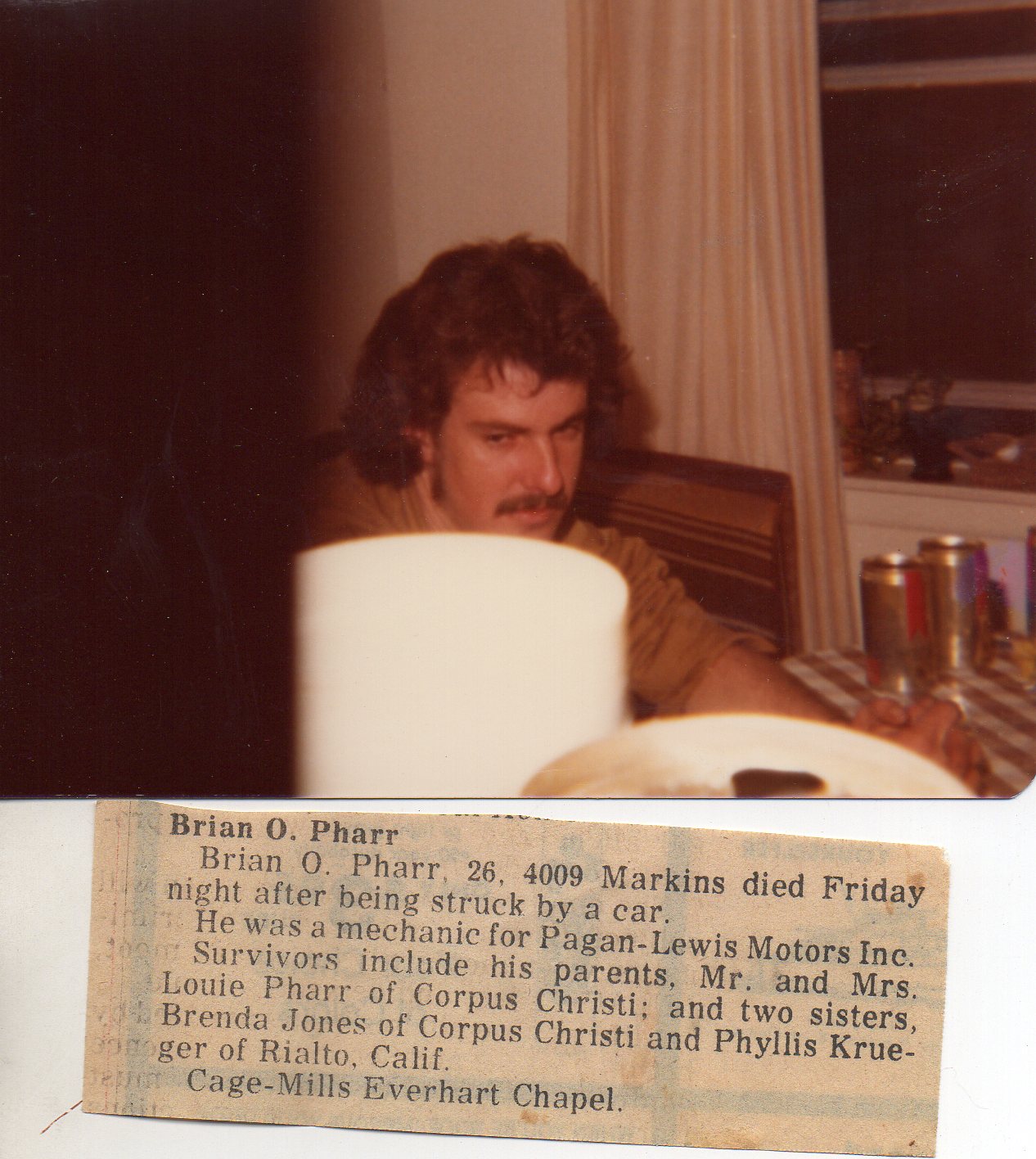 Don't take my motherfucker picture Eddie dammit. Ok, go ahead I can't reach you except with projectile vomit!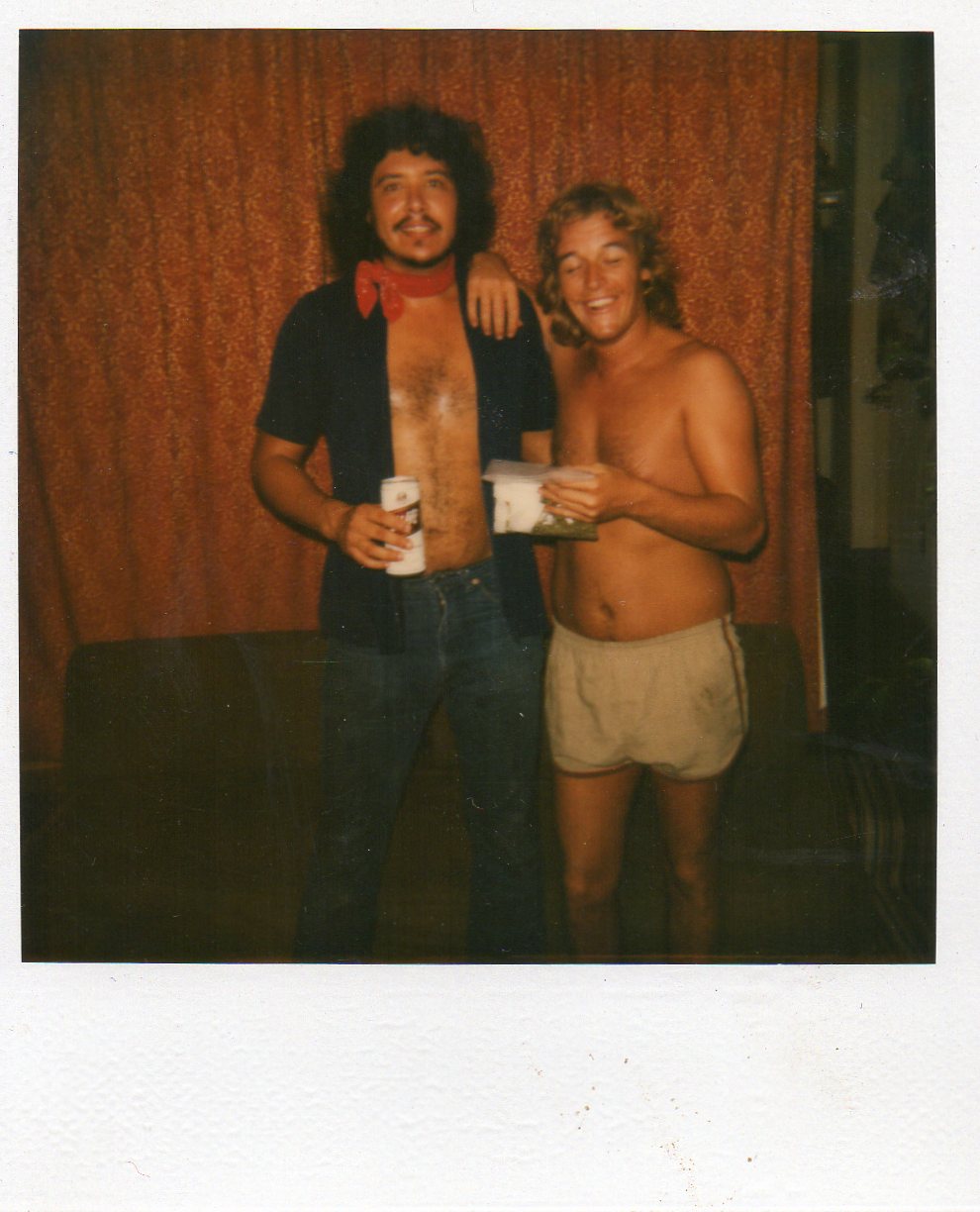 Emilio Gutierrez & me celebrating a bag of weed. And Schlitz. Brian would come by later for poker.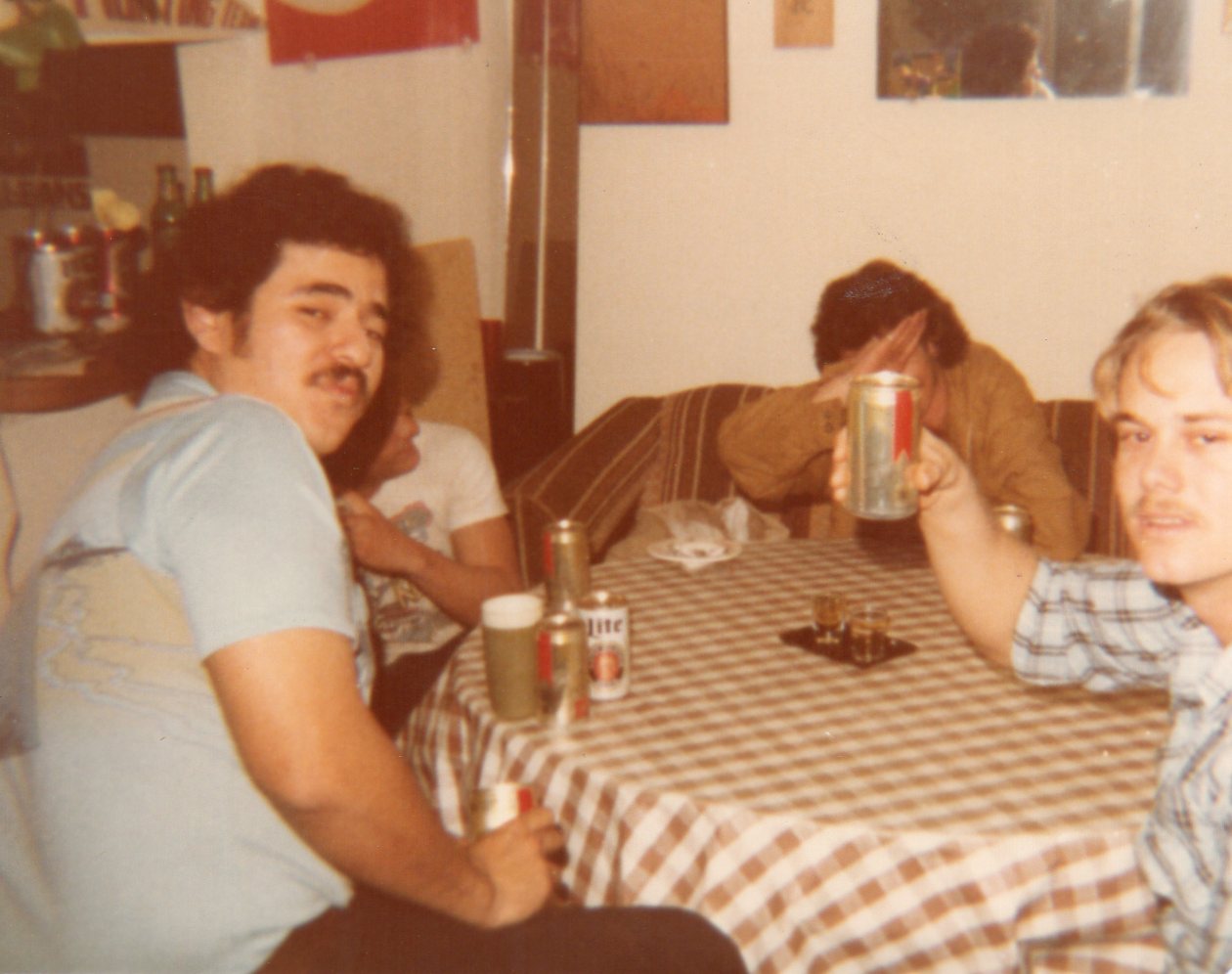 Left to right, Emilio Rabago (hey my best friend who slept with my wife Cindy Stakes! I am Catholic so I forgive people) not sure who behind Emilio, Brian with hand up he hated photos being taken, and Judge Barrow on right. Note this next hand was for shots of tequila on table. We didn't fuck around, easy to go thru 1-3 bottles a night.
My girlfriend Debbie Thomas in early 1980s. Brian liked to get hugs from her as his eyes were smack dab in front of 38 double D's. She is mentioned way above. The Landing apartment 4302 is to the left of photo. Having them stand side by side was like guitarists of Styx Tommy Shaw & James Young towering over him. I regret I do not have a photo of Debbie & Brian side by side.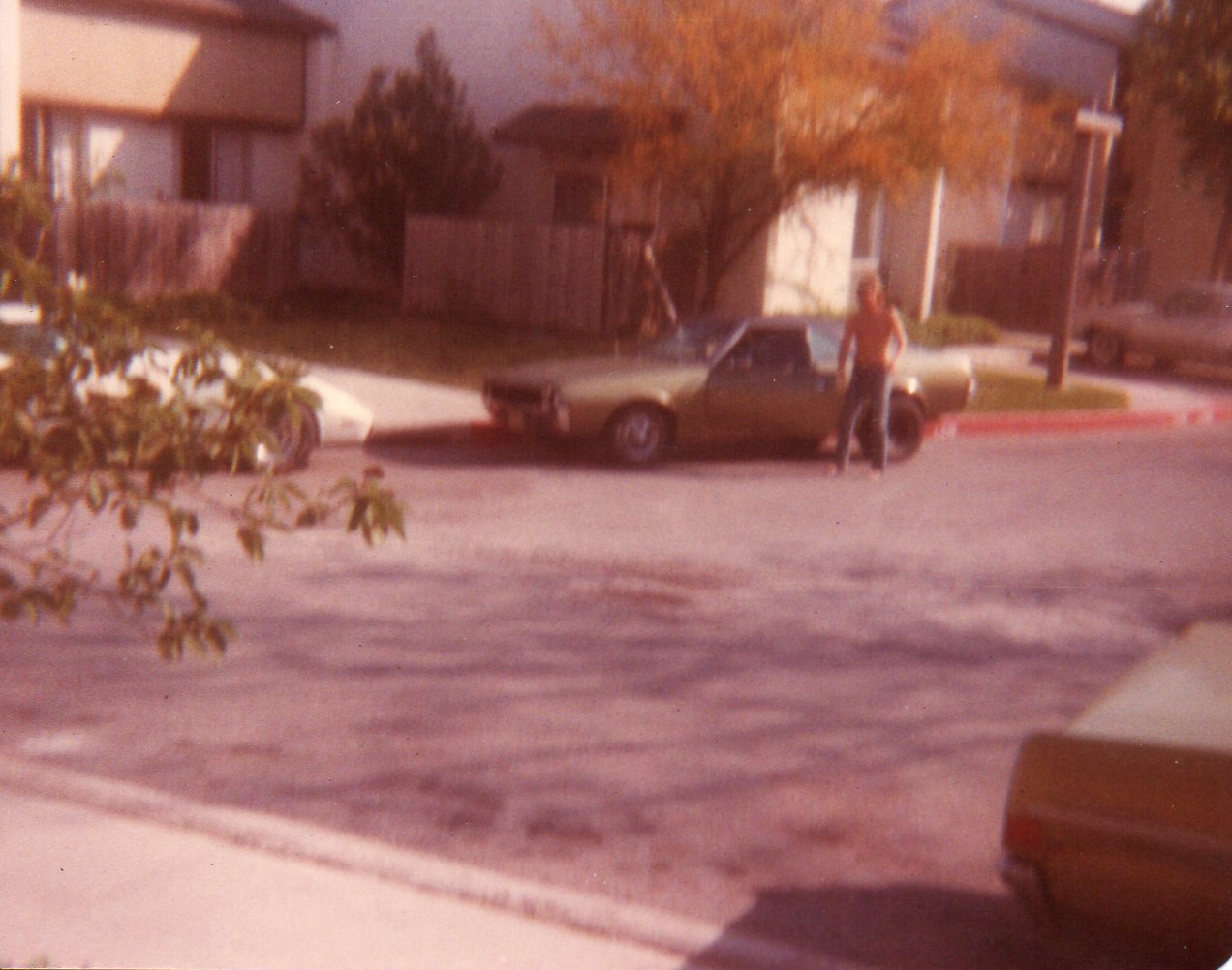 Another angle of the apartment, there were plenty of spaces for my AMXs, Javelins and friends cars for poker night, movie night or MTV night. Brian didn't drive as his license was taken away by State of Texas so more room for my cars.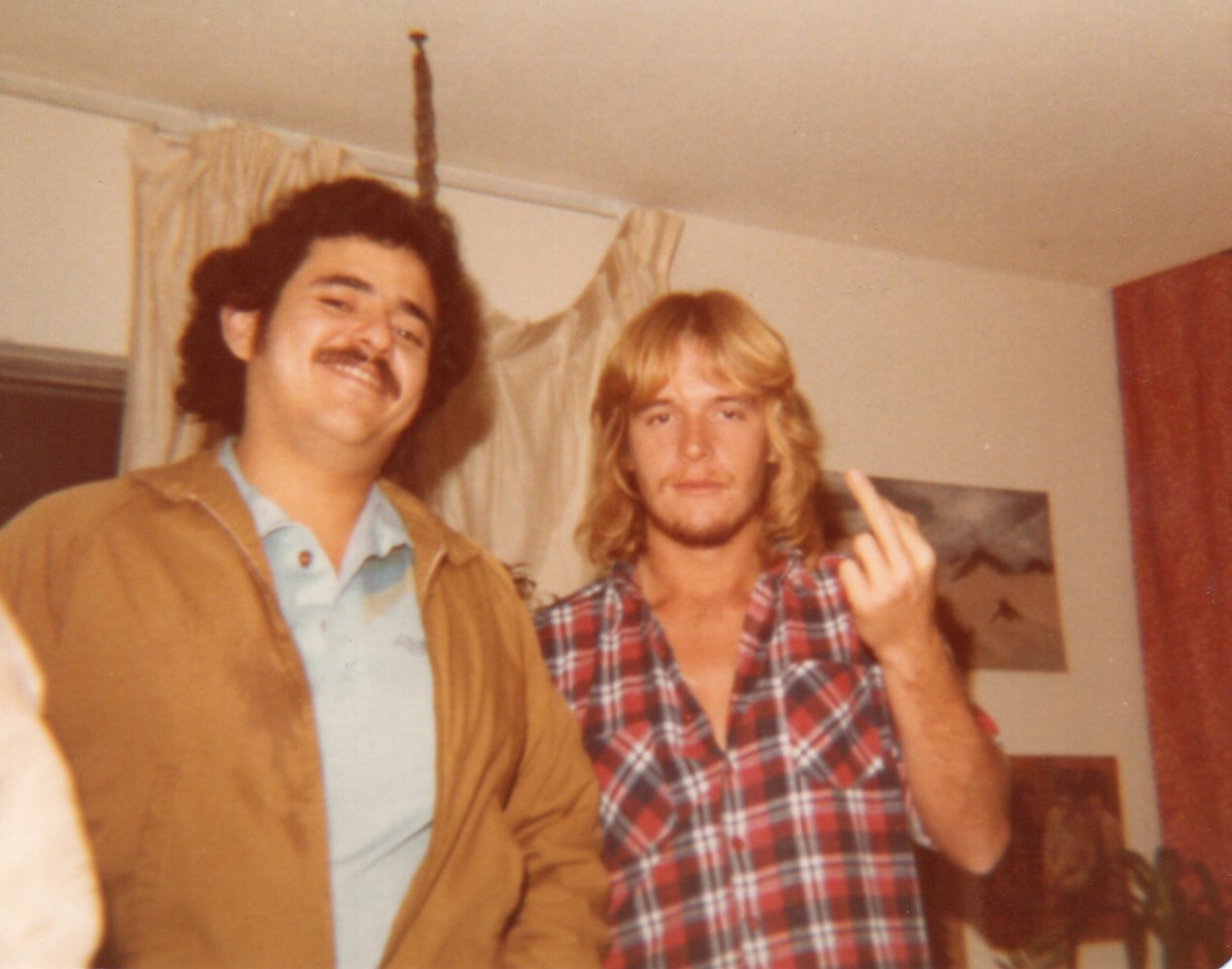 Emilio Rabago (hey my best friend who wrecked my marriage 3 years earlier sleeping with my loose wife!) Emilio stopped by my apartment from time to time, not like Brian and other 'regulars' though. If he stopped by admission was weed or beer. Sometimes we had 7 people playing poker, 5 of them slept with my ex yikes in the land before aids.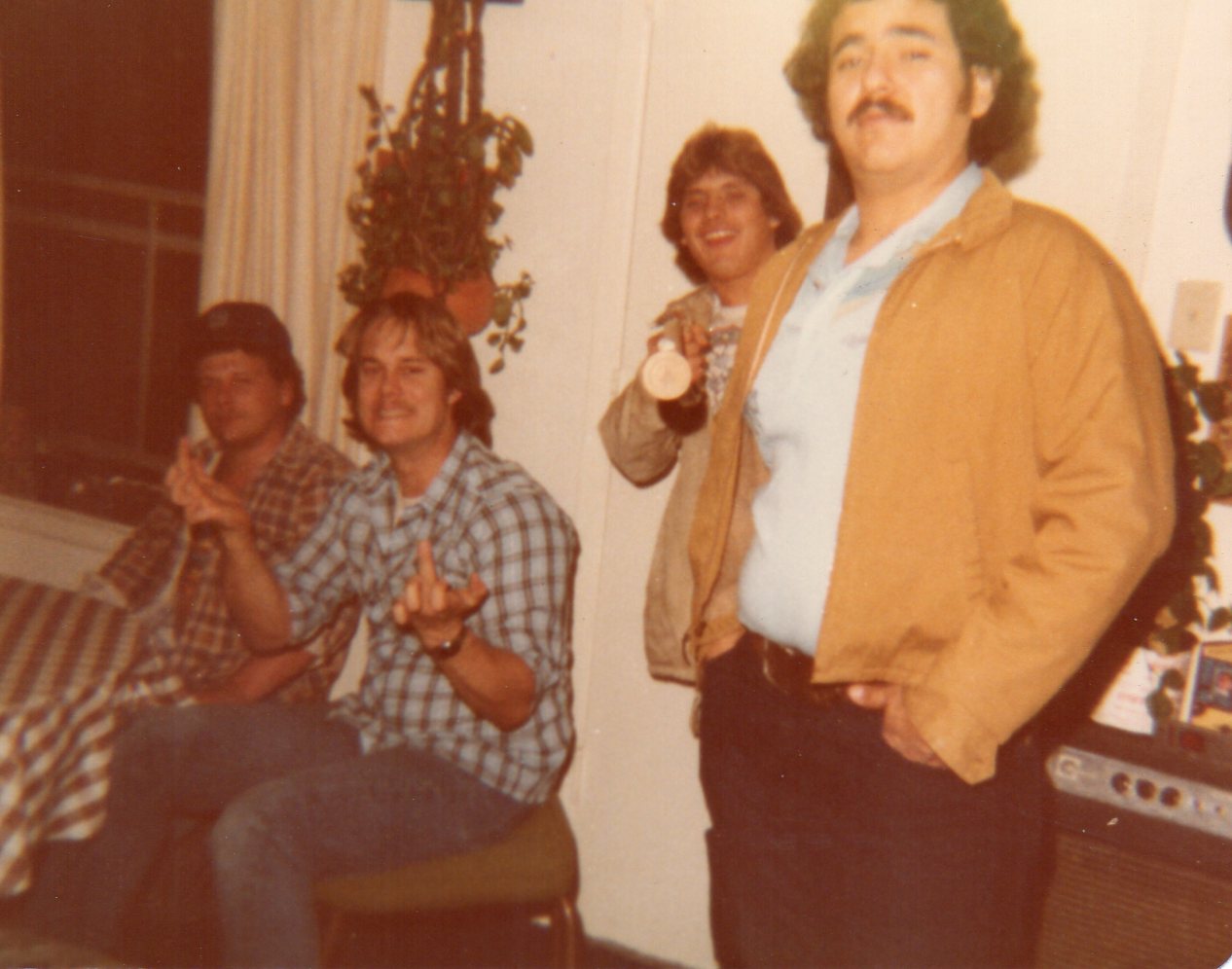 Mug shot of guy on left, don't remember who he is, Judge shooting finger, guy behind Emilio think his name was Randy, and Emilio on right. Everyone stoned as shit. You had to really know someone to get into my apartment, so unknown guy was someone's good friend or relative.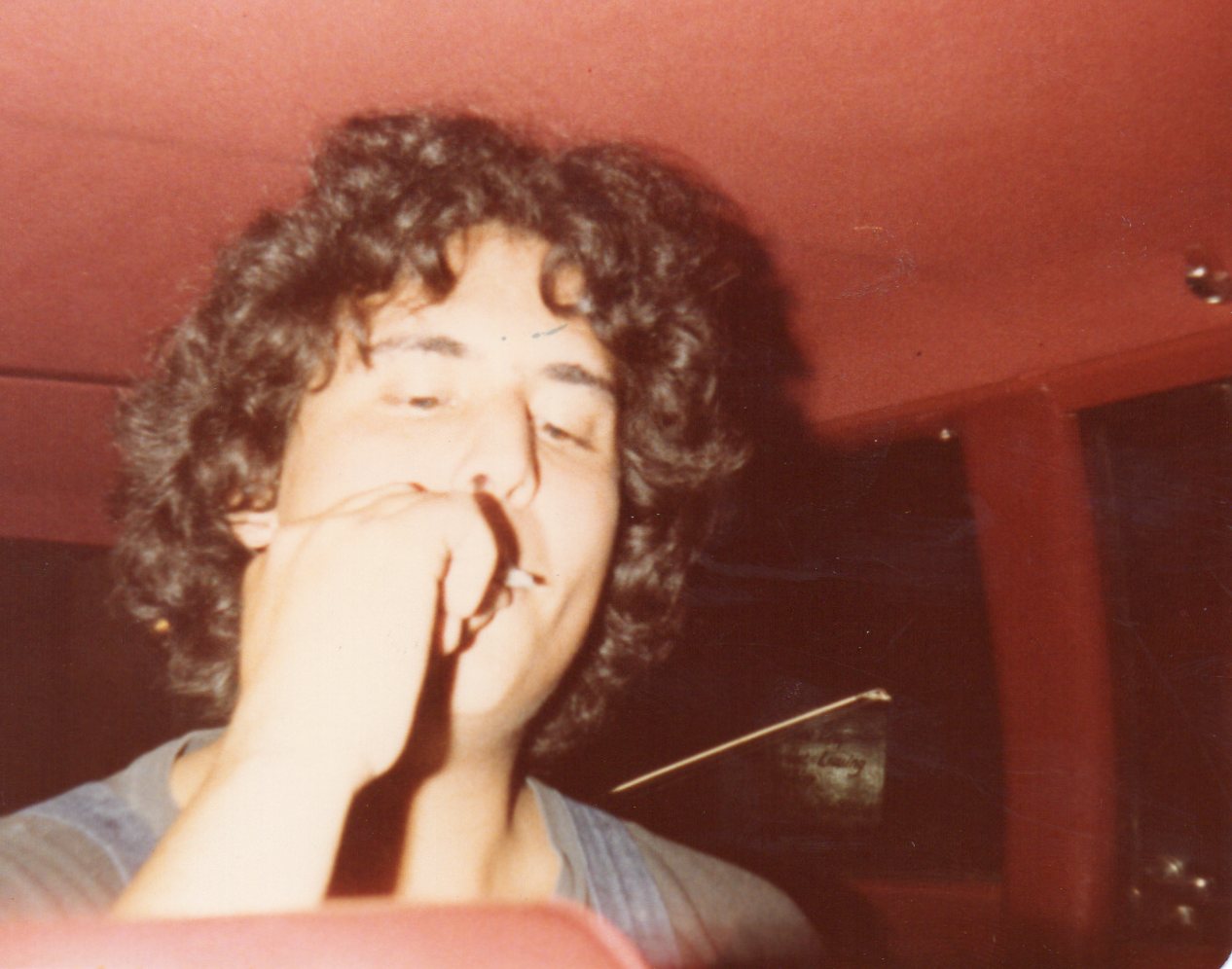 Bob Shaw hitting a roach, sometimes before payday we all would suffer, clean out ashtrays in cars.
Debbie Thomas gave me this bong for Christmas, nothing says love like a ceramic bong for Christmas. Bob Shaw makes use of it in 2nd photo. Brian liked this old bong so much offered to buy it from me.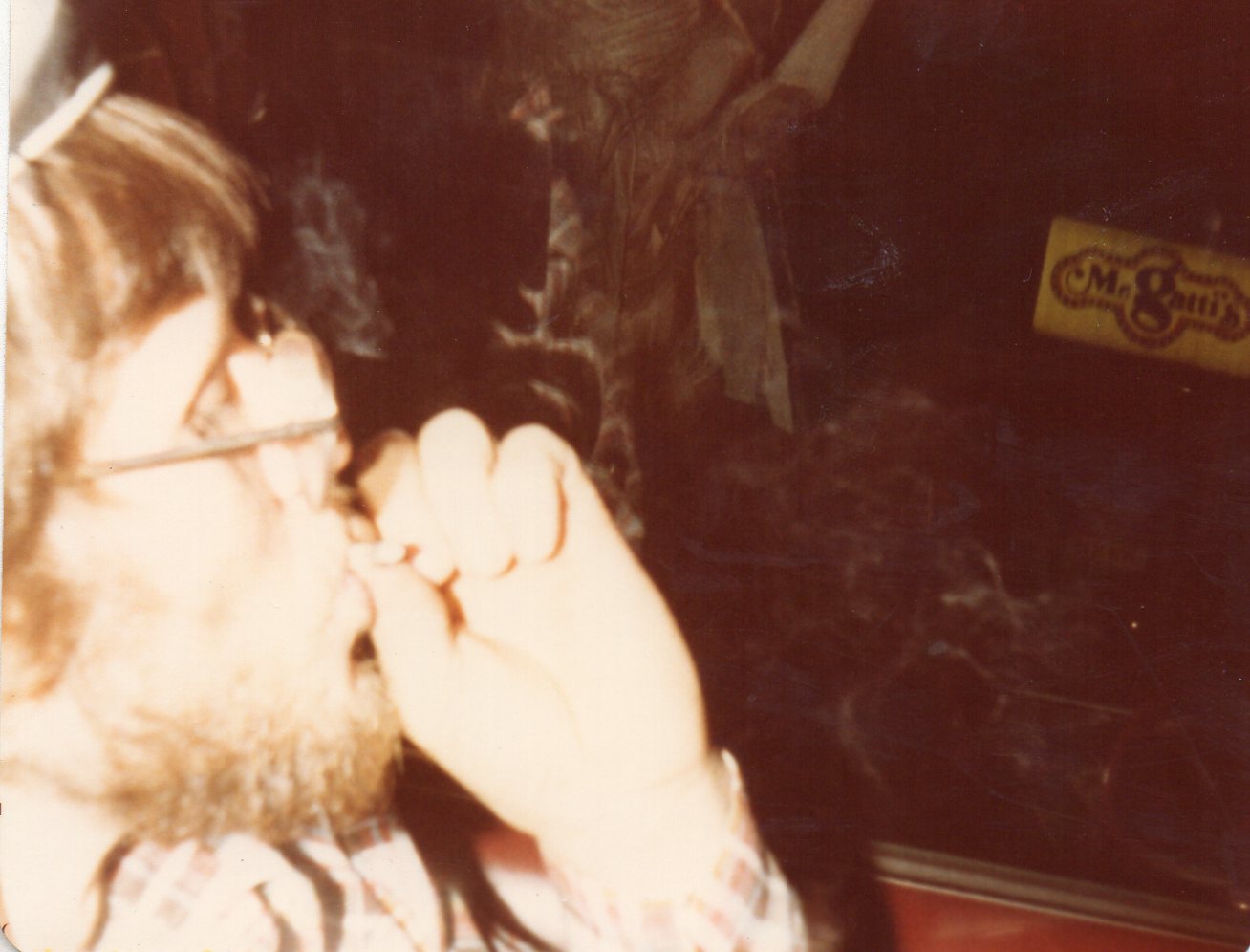 Wayne at one time my room mate for year, shows off what he spent some oil field money on. This was on patio. He was as short as Brian but worked offshore. Great to have semi privacy two weeks he gone, then come back two weeks in.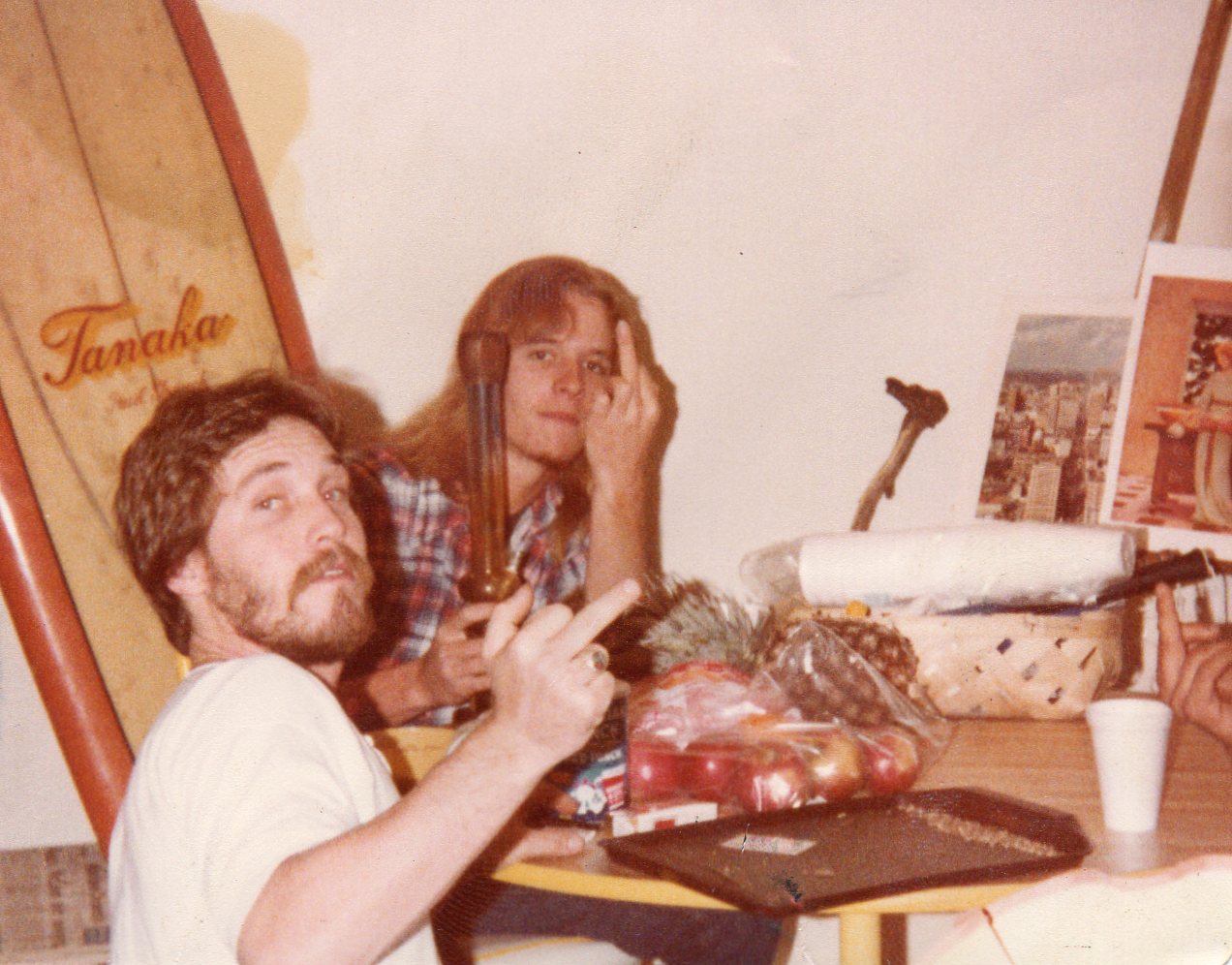 Surfboards, fresh fruit, weed and bong. I don't remember this guy's name, that is me on right, but was not uncommon for a number of us to hit Padre Island en masse. Surfboards (yea, 3 rows at 3 feet) weed, beer. Brian didn't surf, but loved Padre Island. sometimes 4-5 of us spend night at Padre, build campfire, swim and drink beer & just have good time.
Brian is off to left in photo leg showing, that is a pound of good Mexican weed there. The "kings table" shown which was a cable spool everyone played poker on, and 'chairs' milk cartons in back. I got this pound of weed for $120.00 as a gift. So my apartment was busy for a week with friends stopping by to play poker and check it out. Mandatory was people had to bring beer or munchies. That is a big AMC cake in background from brother. These are two 'spy scopes' I used to read meters for Central Power & Light in front of me. These sent a few dogs to dog heaven.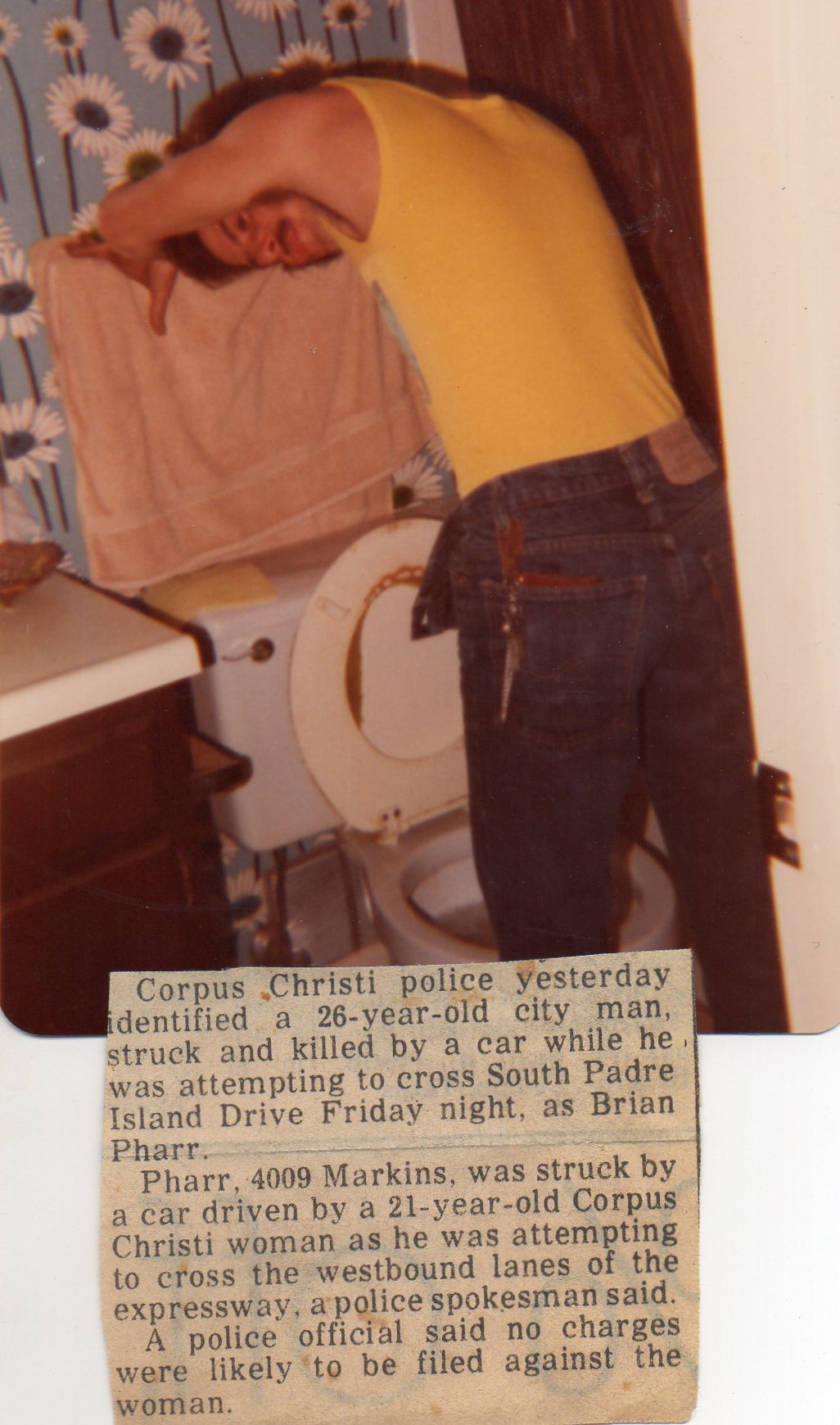 Brian taking a piss at my apartment. "Dammit Eddie, I hate my photo being taken!!" Well, glad I took photos of him, as he is gone now. God bless the kid. With that, here is Brian's fasvorite song:
LADY STARLIGHT by The Scorpions
https://www.youtube.com/watch?v=wawqyudnRZ8