Tammy Lynn Evans Rest In Peace
Sunrise December 15th, 1958
Sunset January 6th, 2011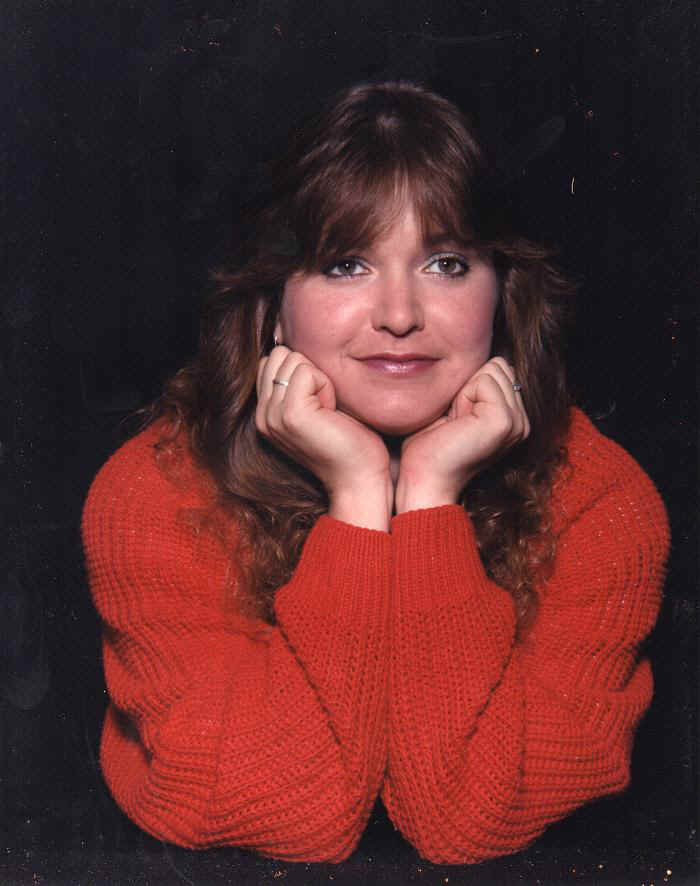 Tammy Lynn Evans, of Fort Smith, Arkansas passed away January 6th, 2011
after battling the effects of Huntington's Disease she was a young 53 years old.
To those people who crossed paths with Tammy thru the years, they will remember a warm, loving, caring person with a super sense of humor. She had a healthy deep laugh that could set off a crowd in a bar. She was easy to talk to, and listen to...her many regulars at the number of restaurants and bars she worked at realized this and she would be the ear they would lean on.
I don't honestly remember how we met, but we spent six years together. She was a good house keeper, great cook who could toss together a meal for just the 2 of us, or for others we would invite over for playing cards! Her beautiful green eyes were captivating as was her large smile. She hailed from Fort Smith, Arkansas and I met her in Houston, Texas after I moved here in 1983 from Corpus Christi, Texas. She knew and loved my family, and my two kids. She was great with children I may add, a real natural, should have been a teacher.
I had to look up Huntington's Disease and I always thought cancer, (of which my mom, Sarah Stakes died from in 1988) followed by Alzheimer's (which my dad, Homer T Stakes had when he passed in 2005) was the worst diseases out there. You can add Huntington's to this short list. It is genetic and passed on in genes from parents.
That being said, below are some of the HAPPY PHOTOS I took of Tammy while we were together in 1980s. I have SIX YEARS OF MEMORIES with this wonderful woman, and thought others who remember her would smile seeing her again. There are hundreds, if not thousands, of people who loved her as she was a real magnetic personality and crossed paths with many people on her shifts at Dirtys, Mommas Cafe and other places she worked. That says a lot about you when people would wait and pass open tables so they could be seated in Tammy's section! Hopefully many of you will see these photos and remember her like this, a caring, loving, super friendly personality who was simply a joy to be around and could change the atmosphere in any room by just being there.
This photo Was found in 2016 so added to site while updating my site. After a tough weekend at a AMC Swap Meet selling parts in San Antonio in repressive heat, took showers, and headed back to Houston with truck & trailer. This is many years before the word selfie was invented!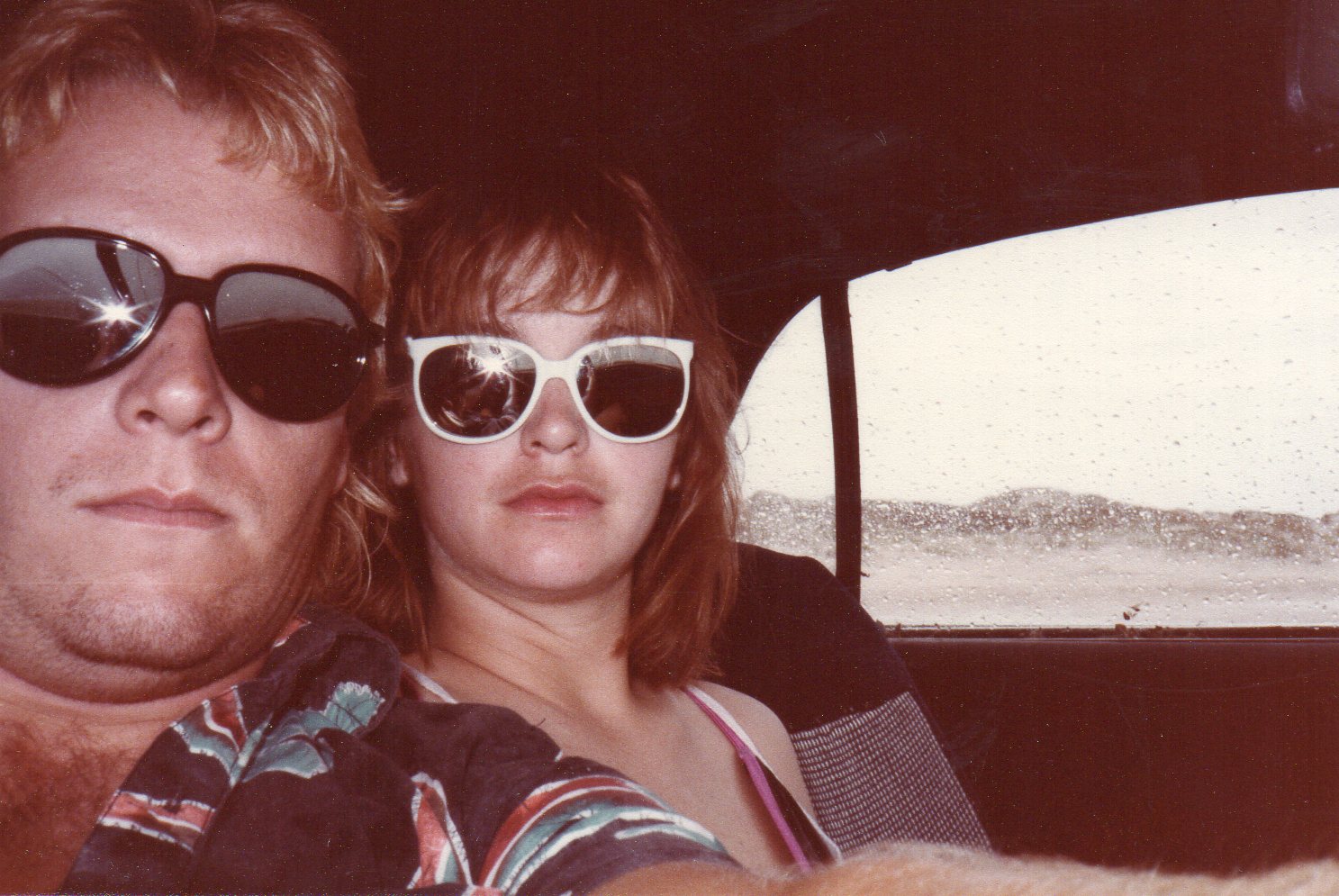 ===================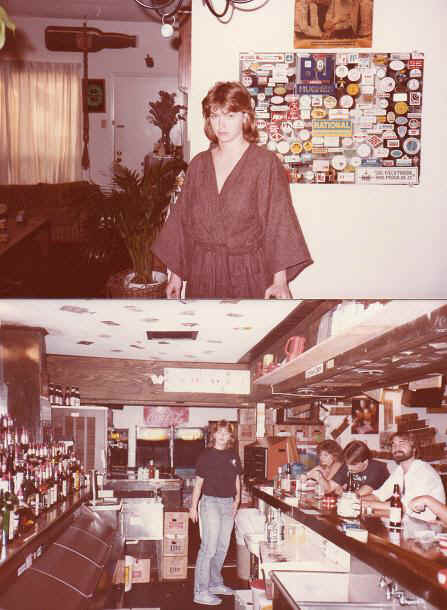 Top pic: At our apartment at Ella Lee & Westheimer, Houston, Texas, 1984
Bottom pic: Behind the bar at Dirty's Chimney Rock & Richmond 1984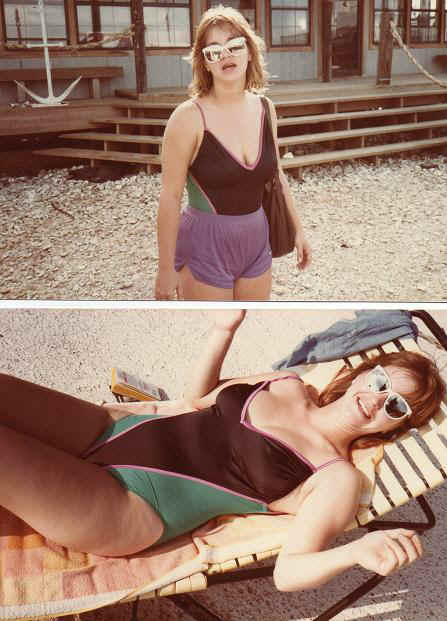 Top pic: At Kemah, Texas buying fresh seafood from Vietnamese boats
Bottom pic: At the pool, 1984 or 1985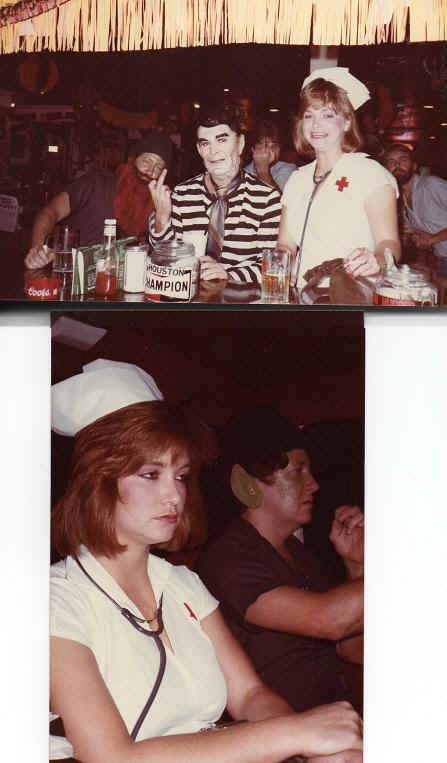 Top pic: "Nurse Turbo" at Dirty's Halloween party (me in Reagan mask)
Bottom pic: Same Halloween party year unknown, possibly 1984, or 1985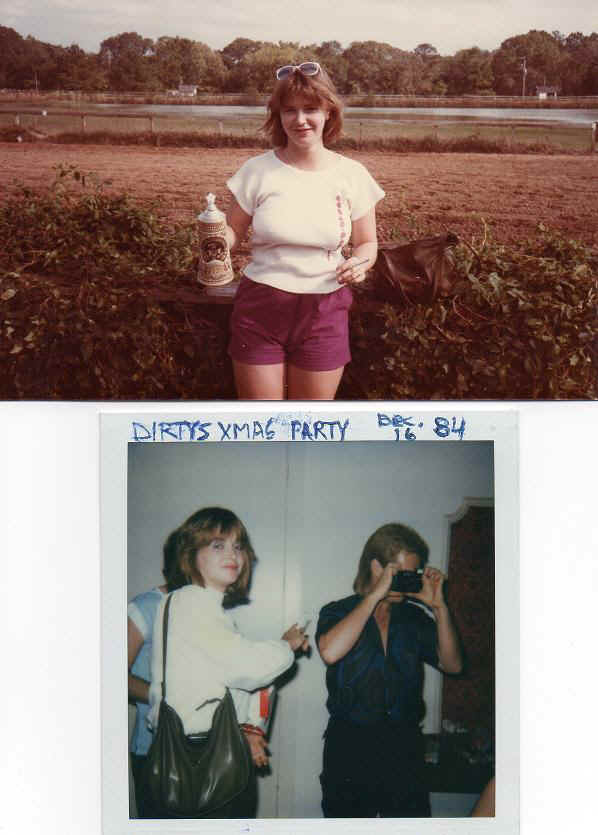 Top pic: Renaissance Festival, Plantersville, Texas
Bottom pic: Dirty's Christmas party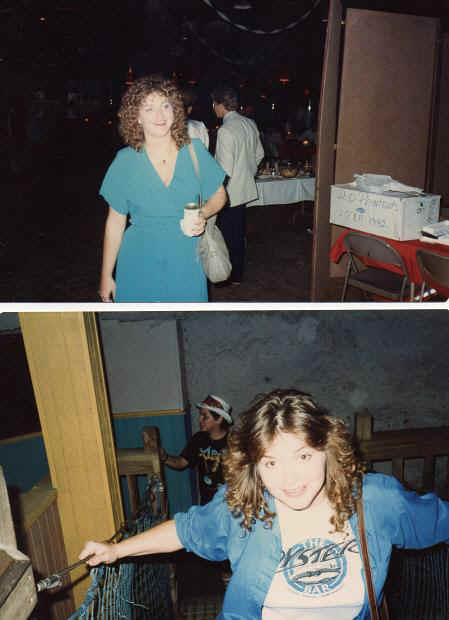 Top pic: unknown, possibly Brian & Lisa Hadden's wedding
Bottom pic: Happy for no reason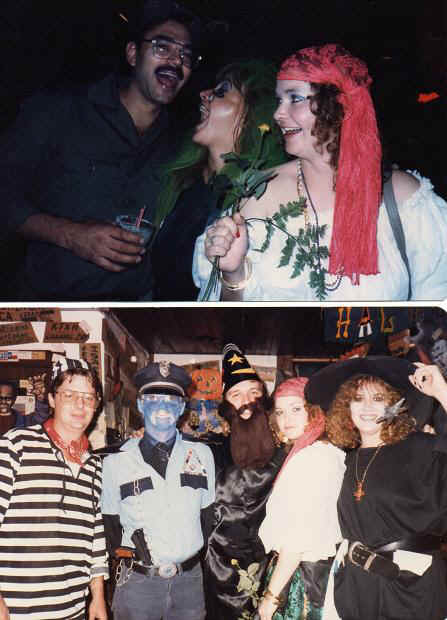 Top pic: Sam & Tammy at a Halloween party
Bottom pic: Brian Hadden, Keith Zuber, Tammy Evans, & Madeline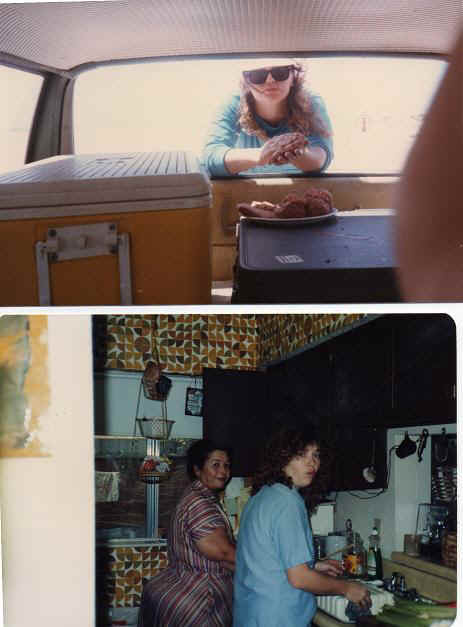 Top pic: Tammy making sandburgers, Padre Island, 1985
Bottom photo, mom Sara Stakes & Tammy preparing Thanksgiving dinner 1985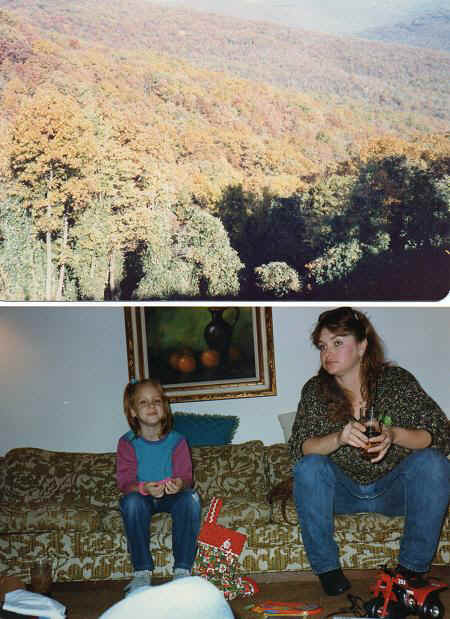 Top pic: Tammy's beloved Ozark mountain range in Arkansas on road trip to see her dad 1984-85
Bottom pic: my oldest daughter, Jennifer Stakes with Tammy about 1985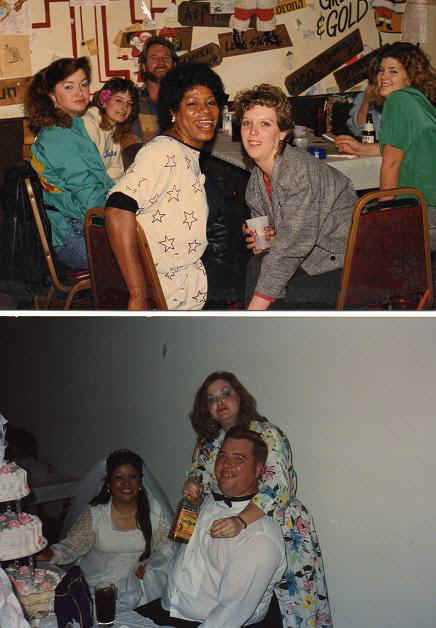 Top pic: some of the Dirty's crew probably fixing to do a shot of something, Tuaca was big deal
Bottom pic: Bride Maria & my brother Tommy Stakes on wedding day clowning with Tammy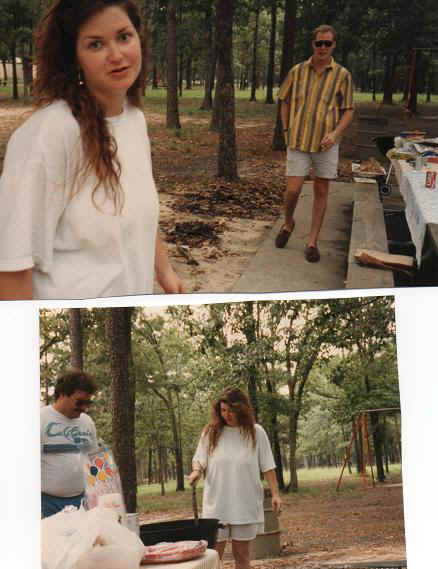 Top above pics: Memorial Park cookout with regulars from Dirty's, Tammy manning one of the 5 grilles
if anyone who reads this remembers Dirty's Restaurant, I took TONS of photos of customers and staff whole wall plastered with them, so always carried camera with me, this drove her nuts!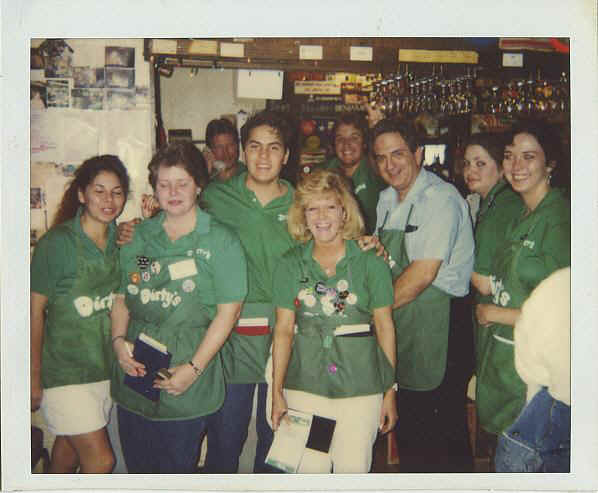 Above: Crew of Dirty's Restaurant circa 1986. This is the text off my CLUB section: "This was one of the closest knit crews I have ever had the pleasure of working with. Amazingly I can still name almost all of them in this photo. Left to right: Pat, Patty, Craig on back with phone (and probably sneaking a Stoli Kazi) Billy, the little blonde I don't remember her name but she answered to 'ho' me in back, (and she also had some choice names for me) Scooter the manager, Tammy Lynn Evans, and I don't remember the girl on far right. Note photos on wall, I was spending my own money to plaster the place with these, but it all came back in tips."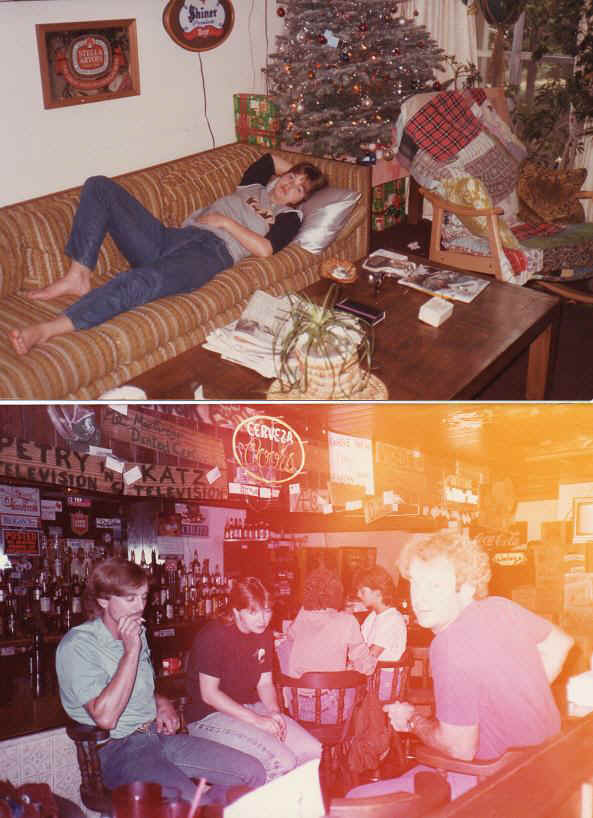 Top pic: Tammy relaxing after a tough double shift around Christmas 1984
Bottom pic: Fellow bartender Ed Vance, Tammy & Larry Mayo. Larry was the manager at Dirty's who hired me, later hiring Tammy. Ed was my barback from Corpus Christi I told him to move up to Houston, which he did in 83, as there was little if any, bar jobs in Corpus Christi. Ed would be a bartender here also. Tammy loathed me snapping photos all the damned time at inopportune moments. Glad I did.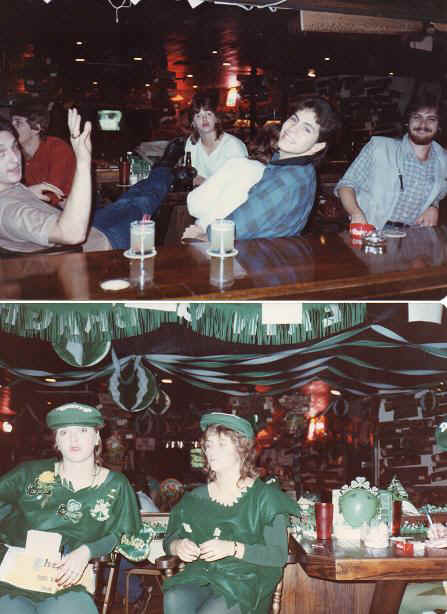 Top pic: Good Dirty's regular Vince, Tammy in background (another SURPRISE! photo) and Billy Perry, the gentleman on right I don't remember his name but he worked at the Chevy dealership on Hiway 59 1/2 mile down.
Bottom pic: Dirty's restaurant dolled up for St. Patricks day, the waitresses all wore this green crap, and the berets were also sold by this place. Tammy (SURPRISE!) is startled by my annoying camera, while Pam let boredom set in, as early into shift, customers plow in after 7pm.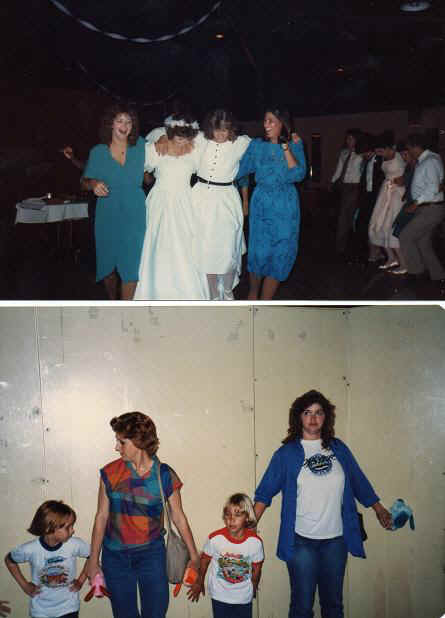 Top pic: Lisa Hadden's wedding, she married Bryan Hadden, who we all knew thru a mutual friend Billy Jolly, Tammy on left, Lisa next to her, I don't remember Lisa's friends both on right. The name of the hall was 'Dancing Cocktails' which is still in existence in Houston. Tammy loved to dance.
Bottom pic: My ex wife Cindy Stakes, daughter Jennifer Stakes & son Jason Stakes with Tammy at Astroworld in Houston.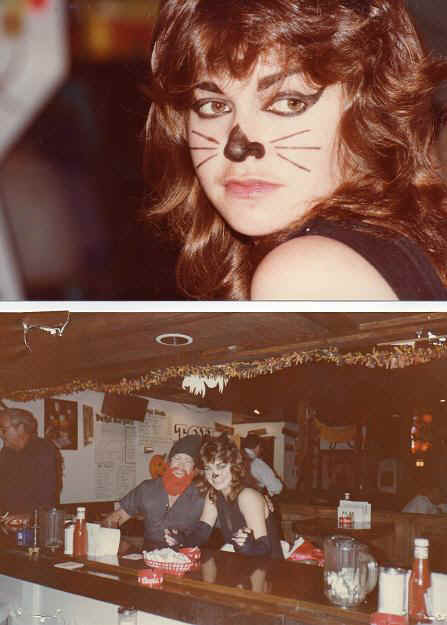 Top pic: Tammy looked stunning in her cat outfit for Halloween. This was especially useful when her customers were guys, easy way to triple tip earnings.
Bottom pic: My old room mate, Billy Jolly with Tammy at Dirty's bar. This must have been a early photo as the walls were not plastered with photos I had been taking of customers, and no crayon drawings from kids either. You could not beat Heineken for $1 on tap. Note huge paper menus on wall behind Billy & Tammy. Later, all three of use would share a apartment in Woodlake Square in Houston. I believe both of these photos are from 1983.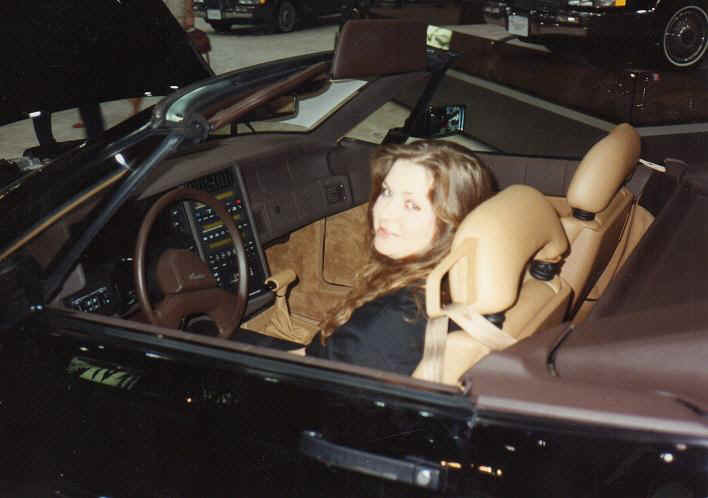 Tammy Evans at Houston Autorama in brand new Cadillac Allante circa 1987.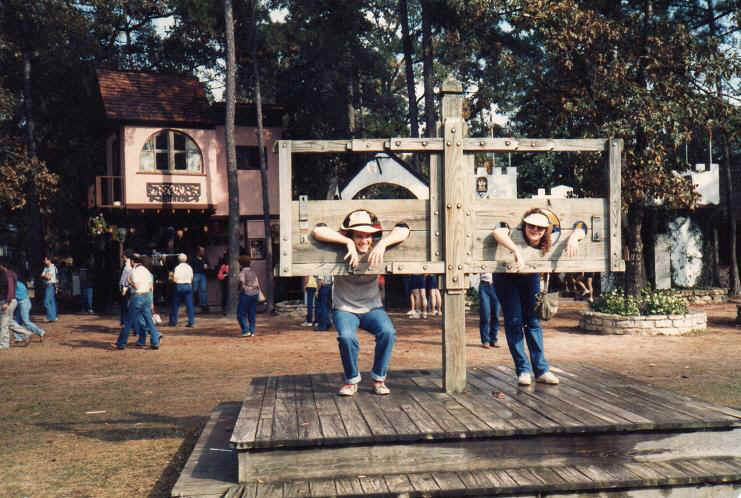 Me & Tammy at Renaissance Festival, in Plantersville, Texas north of Houston. This is what happens if you don't buy big turkey leg and beer at King's Feast.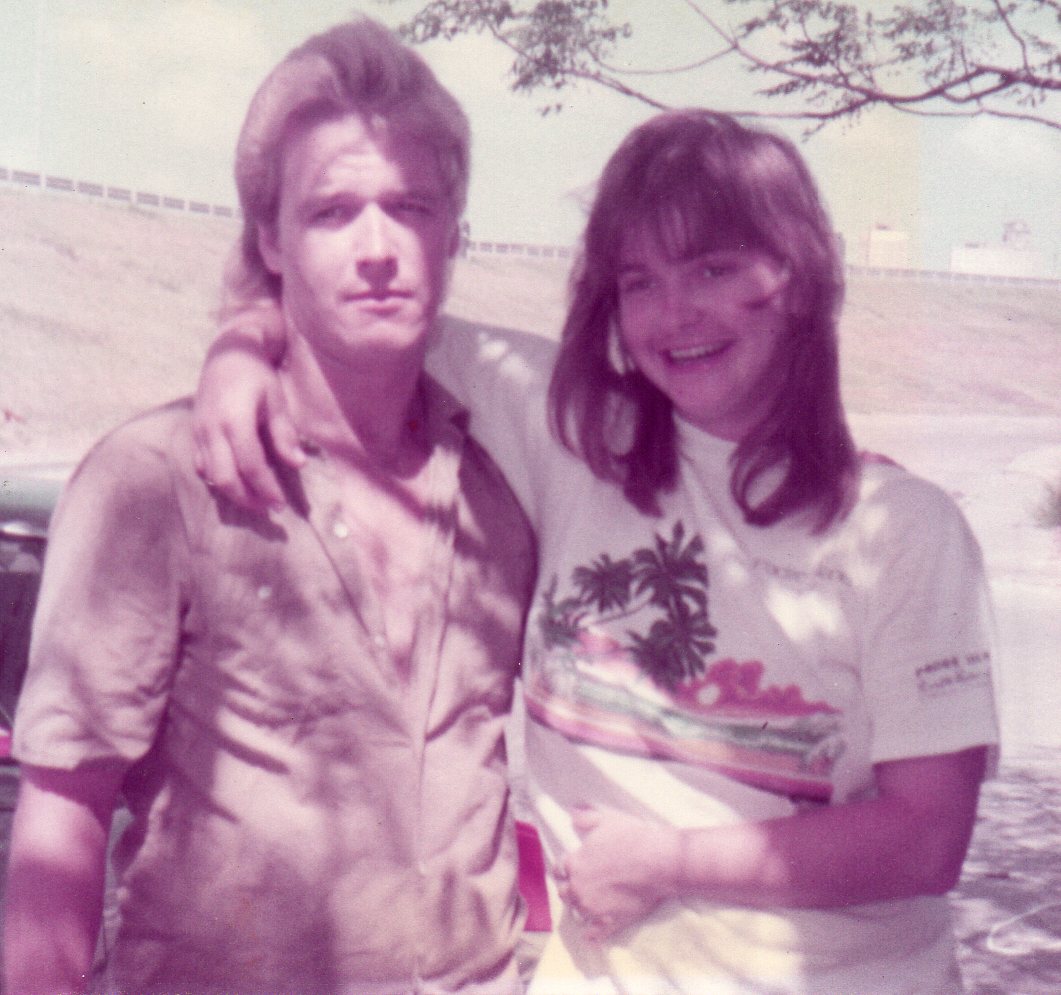 A wickedly beautiful toothy smile, this is Tammy & me in Corpus Christi, Texas at old home I grew up at next to I-37. Downtown Corpus Christi including Wilson Tower & 600 Building in background, we had stopped by to visit my mom & dad, driving down from Houston, I believe 1984. Tammy even had on her Padre Island shirt. I do not know who took this photo, possibly mom or brother Tommy Stakes.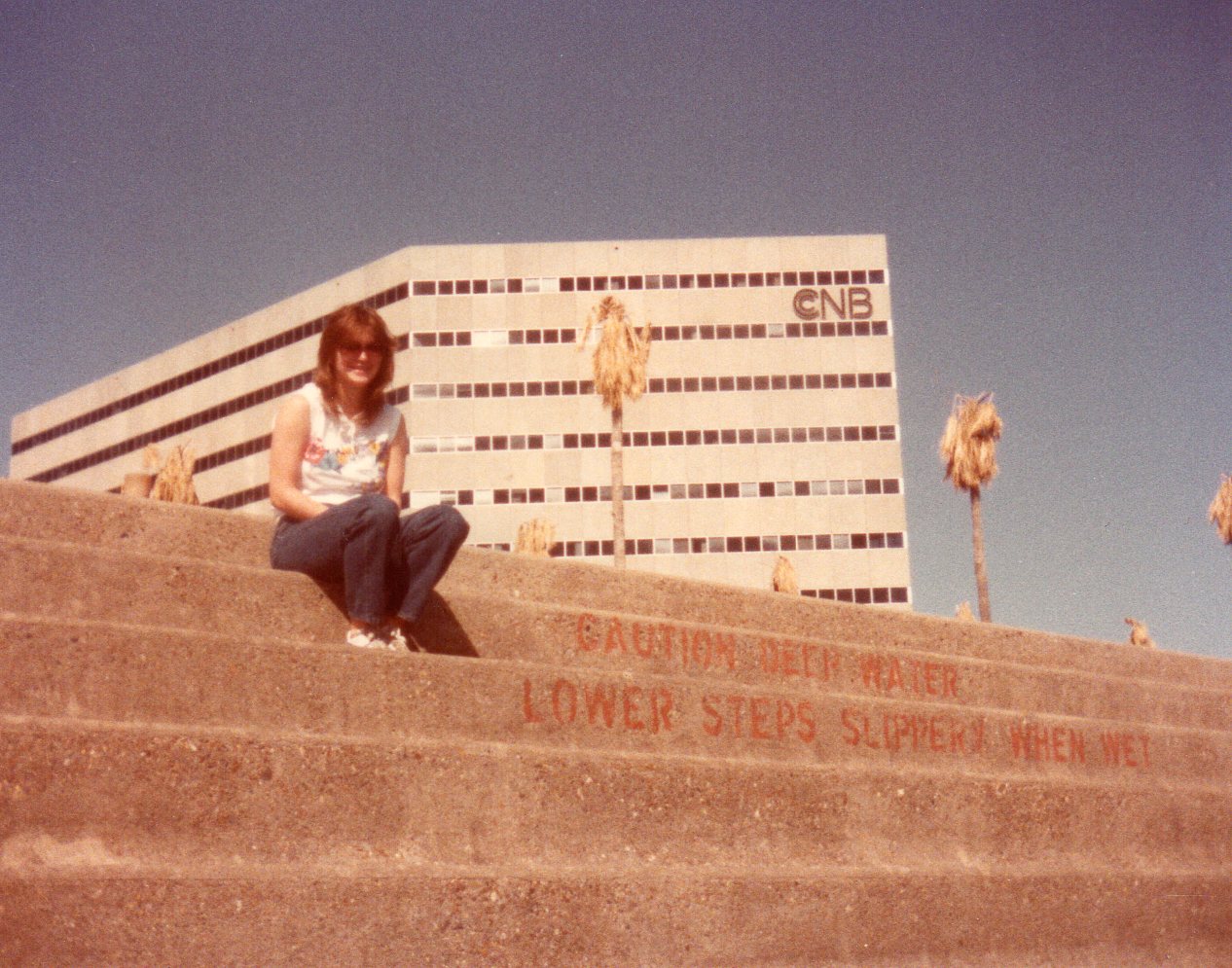 Tammy on the steps in Corpus Christi, 1984. Corpus had a huge freeze that winter and many palm trees died. This is on bay front near T-heads. Tammy was laughing in the photo as a flyby seagull had just missed here with a big green & white pizza size poop!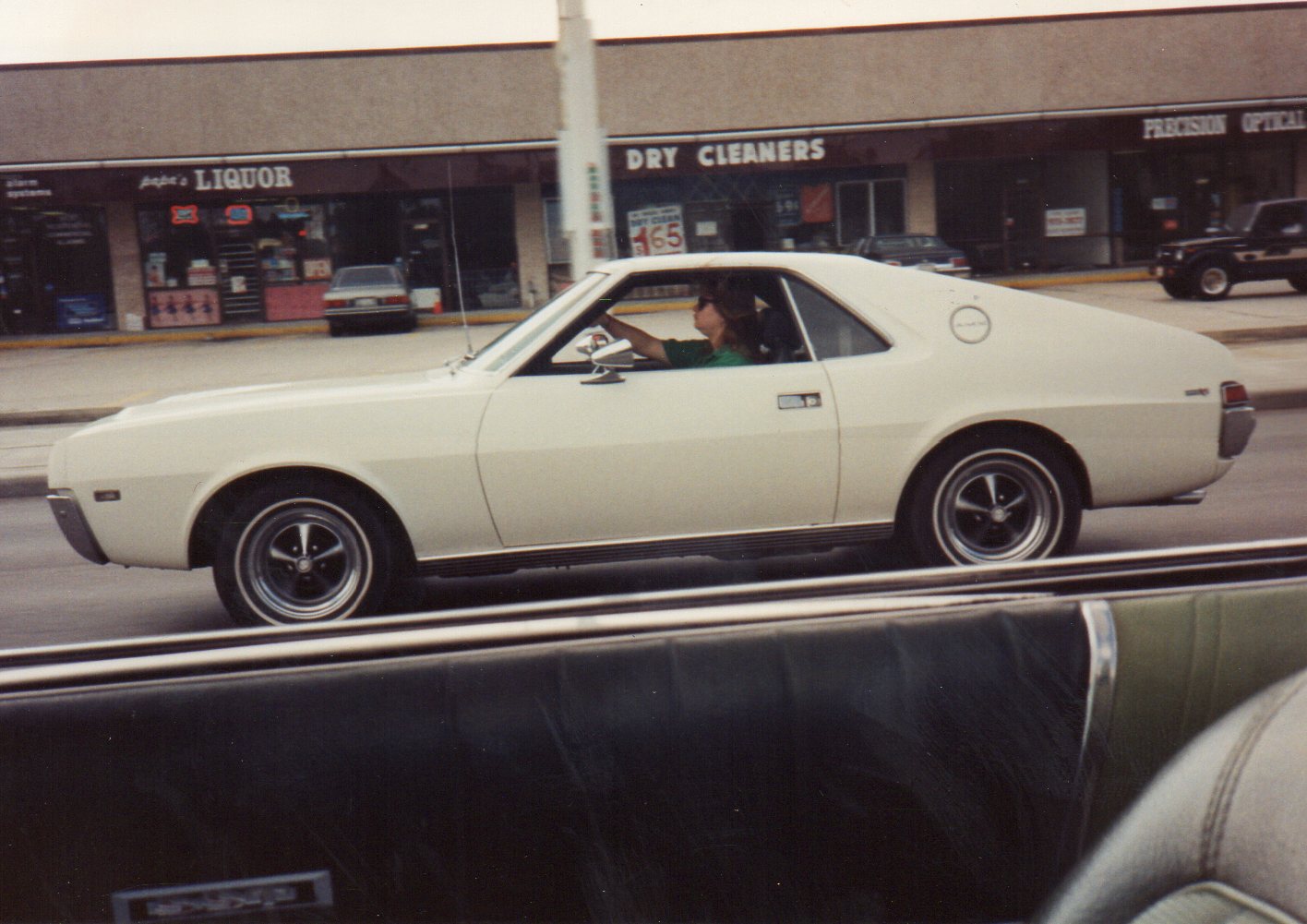 Tammy on way to work in a 1968 American Motors AMX two seater. She enjoyed driving my classic AMC cars, and a beautiful woman behind wheel of beautiful car would attract a lot of attention on The Strip in Houston, Westheimer Road, of which this photo was taken just west of Fondren. The car I'm driving is my 68 AMC Rebel convertible 'Machine' we took different cars to work that day at Dirty's as she was going to be getting off work 4 hours before I was and she didn't want to hang around to wait for the to do bank and clean up bar. She used to joke that the 3 most common things she would hear when driving these AMC cars is "is your car for sale?" and "who makes it?' and "do you want to race?"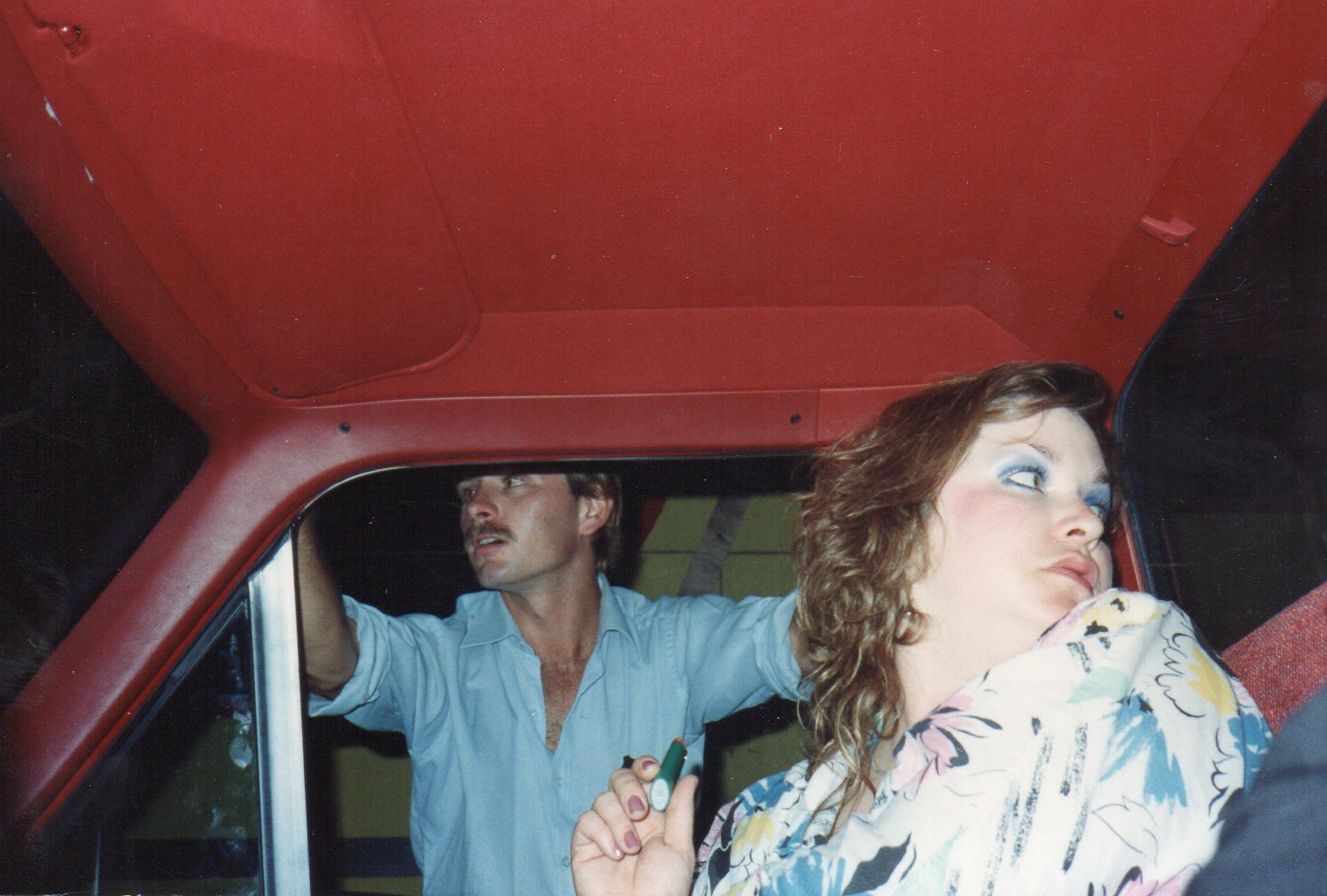 This funny photo was Randy F who was my brother's Best Man at his wedding in 1980s standing outside our rental truck in Corpus Christi on Leopard Street. Across from La Terraza(sic) night club which is a ballroom, they decided to have some hooch. This is about 2 block from Corpus Christi Police Station duh. Probably didn't help I illumuniated whole cab with flashbulb either.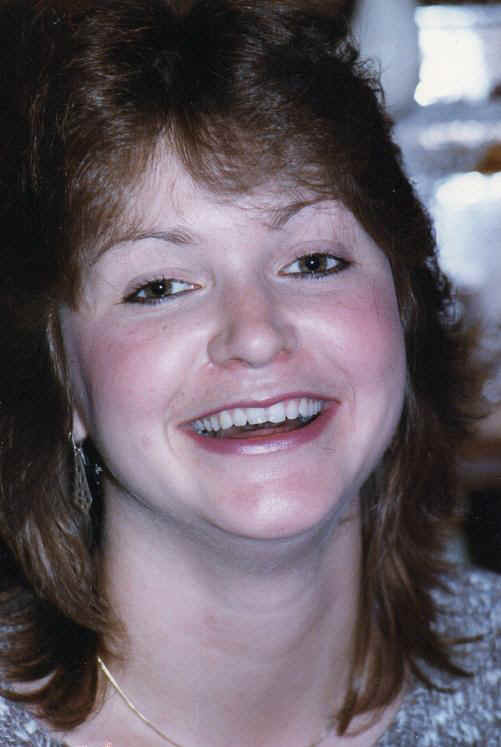 Final though. I broke up with Tammy after the death of my mother January 30th, 1988. My mind was not right and suddenly had a different outlook on life. And a HUGE impact on death of a loved one. It was nothing Tammy did. She didn't do anything wrong, it was me. I simply wigged out and burying my mother was one of, no WAS THE most difficult things I had to do in my life then. Tammy took it extremely hard that I was 'walking away' from 6 years together, after all we had discussed even getting married. At a time in my life I should have used Tammy as my pillar of strength....I failed miserably. But the death of my mom at age 63, who had been battling breast cancer, cellulitis, diabetes, congestive heart failure, (she had been diagnosed with all this in 1982 and given 6 months to live, God blessed us 6 more years of her life) but it really changed me. Tammy walked away confused, broken hearted and depressed after this breakup. I never meant to hurt her, this was a sweet woman and the last person in life I would have ever wanted to hurt was her. But I did. I saw Tammy a few times after we broke up in 1988 at different bars I worked at, notably Scoreboard, where some of my old Dirty's & Sams' Place On Richmond regulars would come in with her on a date. We were cordial, but Tammy, being ever graceful, had hard time looking at me in eye. I understood fully & didn't blame her, as while she still would smile years later, there was a tear behind that smile, as I had shit on her. I last saw Tammy Lynn Evans in middle 1990s. I had heard she had gotten married to a band member up in Dallas and was happy for her, as she did deserve a good man, someone who loved her as much as she loved them!
To her extended Evans family and husband Tommy Spahlholz: I wish all of you peace, strength, and Jesus' guidance in your time of grief over the loss of Tammy. She will be missed and nothing I could ever say or do could, or would, make anyone of ya'll feel better due to the loss of your loved one Tammy Lynn Evans, but
I hope the photos above helped a tiny bit, and will give a glimmer of hope and a smile to those whose lives she touched.....and those many, many, people who will miss this sweet girl.
While I have a plate of regrets in life, two of my biggest was not ever being a man and telling her to her face that I was sorry for how I ended our relationship. I simply went off deep end after my mom died January 30th, 1988, which is NO excuse. This is a regret I will carry with me the rest of my life. Not that she would have forgave me, nor should she. The other regret was not being able to say goodbye to one of the nicest people I have ever met in my life. God has a special seat for this angel in His Kingdom I assure you. Thank you for stepping into my life so many years ago and sharing 2200+ days with you. Tammy, you will be immensely missed. God Bless You Tam.
Adele's Someone Like You
http://www.youtube.com/watch?v=7AW9C3-qWug