Thank you ebay!
A pleasant surprise from anger to elation recently. In August 2016 I sold a NOS set of 68 Ambassador headlight doors to a guy in Finland.
Lets back up a little bit. I had TWO sets of these, one mismatched, that sold 2 weeks before in July 2016 for $60. After auction, this ebayer contacted me "asking if I had another set & would sell at SAME PRICE". I did indeed have another set, but they were MATCHED SET at $100.00...not $60.00, this should have been FIRST RED FLAG.
The SECOND RED FLAG was that he wanted the 2nd set "cheapest shipping" of which if you ship overseas, there is no cheap shipping anymore USPS, even a AMC Dealership Flag is $22.50 USD for instance and it weighs 10 oz.
So I went ahead and listed the second set of NOS headlight doors. He bought them, paid for them, and they went out next day.
This is a copy of my actual USPS SHIPPING RECORDS with his information circled. Sent from: Memorial Park Station, Houston, Texas, 77024-9998 at 8:49AM on August 10th, 2012. The US CUSTOMS NUMBER is LC808700592US There is no tracking to Finland, go ahead and feel free to punch in the customs number here at www.usps.com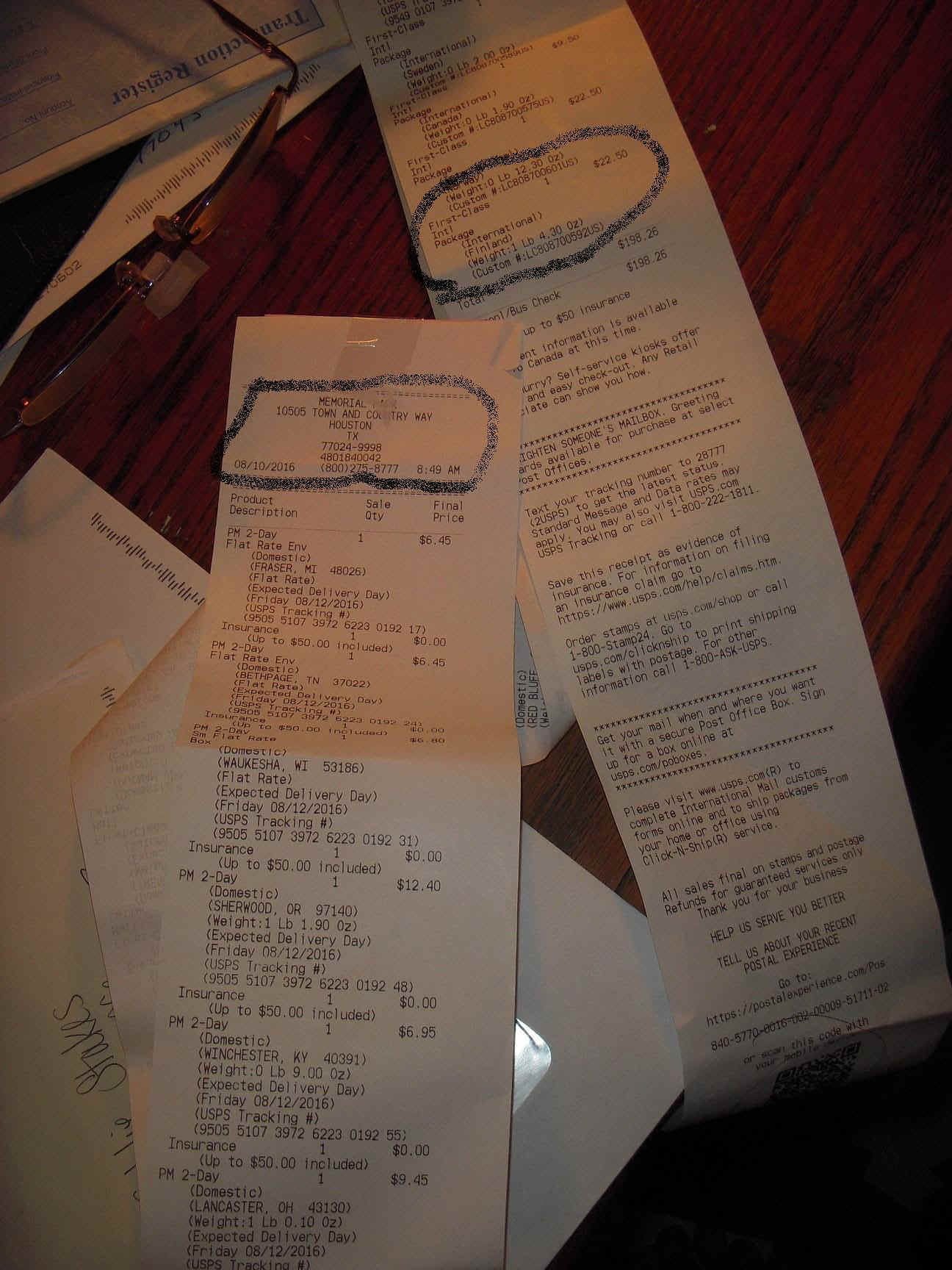 After 2 1/2 weeks I start getting emails from him saying "I have not received my item" so I put up my actual shipping record showing day I shipped, US Customs Number for him also. All of this putting it on ebay to cover my ass.
You have 30 days to file a case with ebay of anything even item not received, he waits until 29th day to "open a case" needless to say, ebay & paypal yanks the money from your account, in this case, $125.00
So after he opens a case, and I give him all my information, he didn't want to check with postal authorities in Finland, saying 'it was near airport'. Yet I had repeatedly asked him to check with the post station "where his mail originates" which is NORMAL PROCEDURE. Even in USA!!!
While case lags open, 2 weeks later I get this from ebay
===================
Sunday, September 18, 2016 3:33 PM
Subject: Case # 5113436207: Buyer contacted Customer Support
We'll review this case and make a final decision
Hi eddiestakes,
The buyer has asked eBay Customer Support to review this case and make a final decision.
We'll get back to you within 48 hours.
You can view the details of this case in the Resolution Center.
==================
Not more than a hour later I get this email from ebay!
Sunday, September 18, 2016 4:40 PM
Hi eddiestakes,
eBay Customer Support has reviewed the case and made a final decision.
We issued a full refund of $123.49 on Sep 18, 2016 to the buyer. As described in the eBay Money Back Guarantee, the refund includes the purchase price, plus original shipping. This amount will be deducted from your PayPal account or charged to your preferred reimbursement payment method. The hold on this PayPal transaction has been removed. This case is closed.
Decision:
This case has been decided in the buyer's favor.
Comments:
We received insufficient tracking info from you. You must provide tracking info in the Resolution Center before a case gets escalated. Note that tracking info includes the shipping carrier and an item tracking number that can be tracked online. If the item $750.00 or more, shipping with signature confirmation is required. You can also view the details of this case in the Resolution Center.
You have to be kidding me! Not ONCE but TWICE I went to the post office (Memorial Park Station) I ship out of.
The Post Office has a special computer at end of counter they can look up tracking and information THAT IS NOT AVAILABLE TO YOU OR ME...only postal employees.
I was told by Paypal to 'ask them for a printout' of which USPS will not allow printout, nor will they allow screen shot as I asked if I could take photo of the information on it with my phone.
The information I did however write down (they allow that) was that this item was DELIVERED TO POSTAL AGENT, CODE AH, VANTAA, Helsinki, Finland, back on August 19th, 2016 at 2:40pm, CUSTOM CLEARED.
So basically buyer was trying obviously pissed off that I would not sell the matched NOS headlight doors cheap as the mismatched set, then wanted possibly 'free shipping' people have gotten used to, so decided to have cake and eat it too and rip me off.
Was really pissed off, as had just watched Houston Texans beat Kansas City Cheifs, so good mood went to hell quickly when I got the ebay "customer support awarded the buyer the $125" so decided to call ebay. Give me customer support.
I was fuming but polite to the lady, letting her know they have one pissed off ebay customer, as I had done everything supposed to do and believed was getting "set up" by a buyer with only 14 feedbacks who obviously mad I would not sell this set cheaper and give free shipping.
So the lady passed me to Trust & Security, whom I have maybe spoken to on ebay since 1999...three times.
===========================
Sunday, September 18, 2016 6:16 PM
Case # 5113436207: You contacted Customer Support about a closed case
Thanks for your message
Hi eddiestakes,
Thanks for your message. The case you contacted us about was closed after we made a final decision on it. We'll review your question or concern and get back to you within 48 hours. You can view the details of this case in the Resolution Center.
============================
The guy I spoke with was nice and understood my points of red flags, and I told him that maybe I should not have listed the item to begin with, but was trying to help fellow AMCer...and have been shipping to Finland...since 1983 no issues!
I got this email few minutes later:
========================
Sunday, September 18, 2016 6:19 PM
MC999 eddiestakes, we've reversed the outcome for case (5113436207)
Dear eddiestakes (eddiestakes@planethoustonamx.com),
Thank you for contacting us about case 5113436207 for the following item:
381722275861 - AMC NOS fender grille headlight door SET Ambassador Marlin ? SST DPL police
We've reviewed your concerns and have reversed the outcome of the case. Within 48 hours, we'll credit the PayPal account used to provide reimbursement for this case. If you used another payment method, please open a PayPal account with the email address we have on file. This will enable you to claim your money.
Because we decided in your favor, this case, any feedback left, and all detailed seller ratings left, will not affect your seller performance. In addition, any feedback left for this transaction will be removed.
If you have other questions, please contact us. You can reach us by going to the eBay website and clicking "Help & Contact" in the upper right corner and then selecting "Contact eBay." Thanks, eBay
Please don't reply to this message. It was sent from an address that doesn't accept incoming email.
==========================
So ebay did the right thing...like I did, selling, shipping, and giving the buyer all the information I had, making multiple trips to the post office, even getting to see the post office's "secret screen" which showed me that the kiey word, DELIVERED TO POSTAL AGENT, confirmed what I had been telling the buyer all along. Needless to say he is on my blocked bidders list!
So THANK YOU EBAY!