Tommy Stakes
Sunrise 8:38PM, March 24th 1957
Sunset April 6th, 2016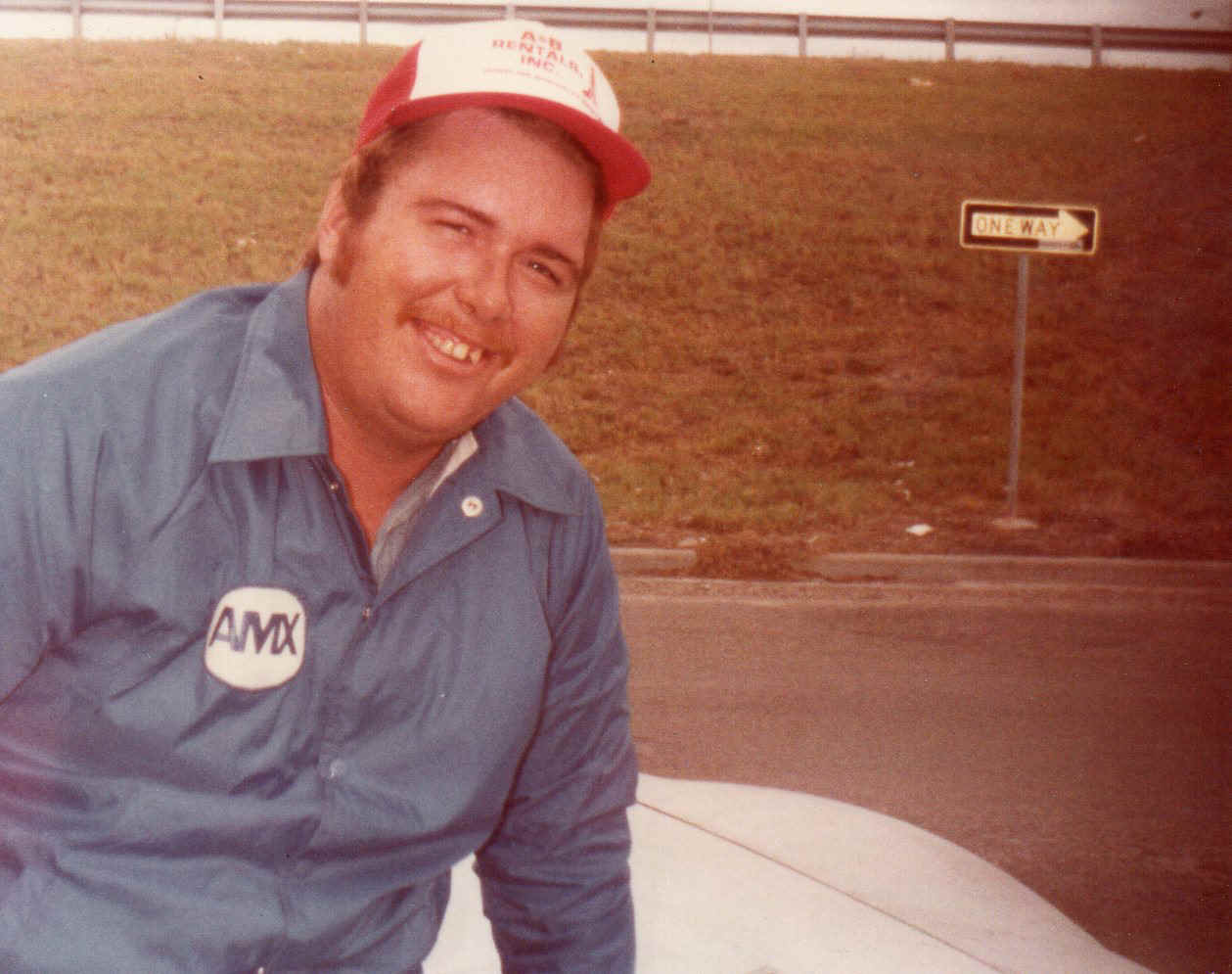 by brother Eddie Stakes

Homer Thomas Stakes Junior was born to parents Homer Thomas Stakes Sr & Sarah Maria Alcala Stakes in Corpus Christi, Texas, 03.24.57. 8.2lbs at birth.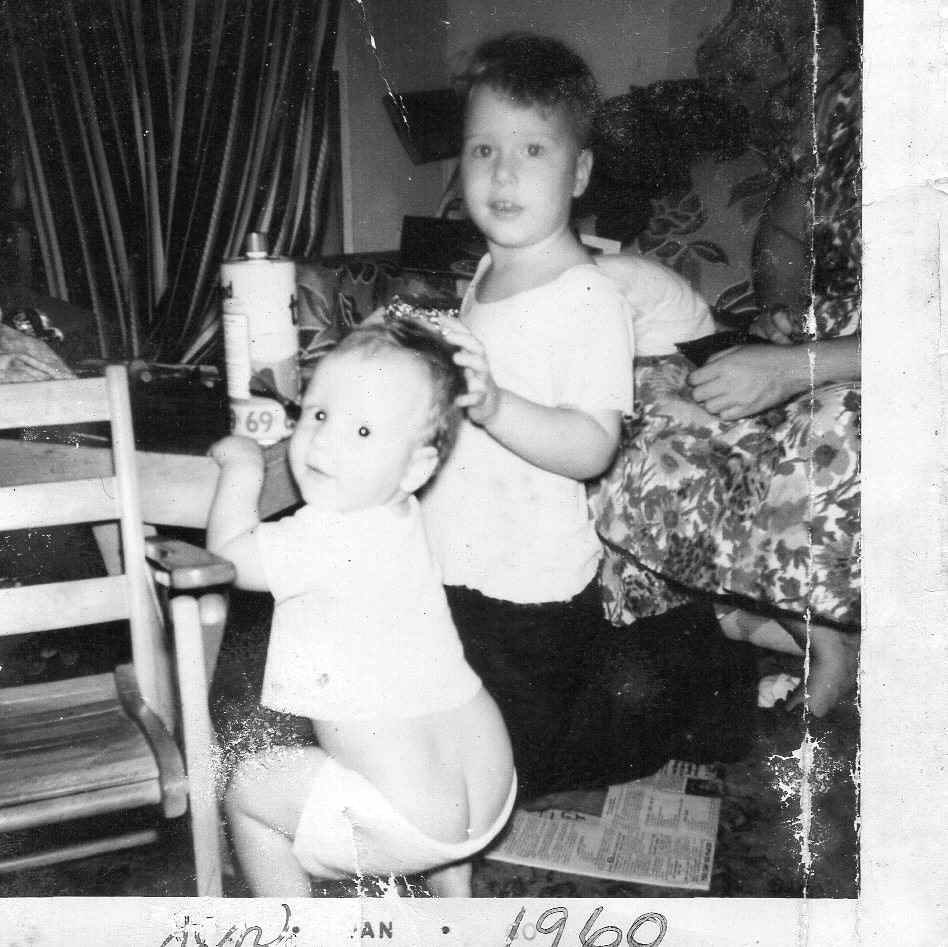 I will try to put his life in photos here. A lot of our family photos were wiped out by Hurricane Celia, Aug 3rd, 1970 in Corpus Christi. The ones that I have are priceless now that he is gone. He leaves behind a wonderful wife of 27 years marriage, Maria, who between brothers, he would tell me she is the best thing that ever happened to him; and two daughters, Sarah & Chelsea, of whenever he talked about them, that big goofy Tommy grin would appear. He loved his family more than life itself. Tommy loved cars, American Motors cars, since dad worked for AMC in CC about 18 years at various dealerships. He worked for Thurman Fondren Glass company for many years, but also held a number of chef jobs in Corpus restaurants. He was a hell of a cook I may add. And small scale model builder.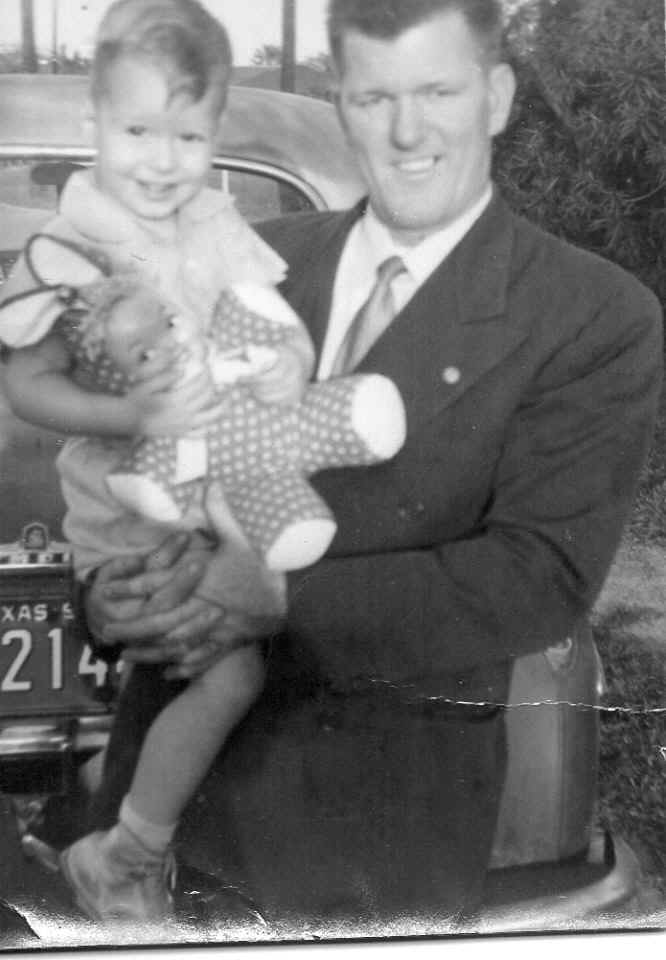 Above: This is one of the earliest photo of Tommy Stakes known to exist, sans the one at top of page. I do not know how it survived the hurricanes that destroyed so many of our precious memories thru years down in Corpus Christi but really happy to have it, that is my dad, Homer T Stakes Sr holding new baby Tommy. I believe this is from 1959, the year I was born, Tommy born in 1957. You can see how big he already was. A few years later Tommy was whining 'oot beer oooottt beer!' as he wanted Root Beer. Whatburger used to sell a gallon of it for 29 cents. So my dad cranked up the Rambler and cursing as it was freezing outside, drove to Whataburger to get Tommy his damned 'ooot beeer'. The license plate looks like it has a 5? for year and possibly 'plymouth' on frame, but we never owned a Plymouth that I am aware of.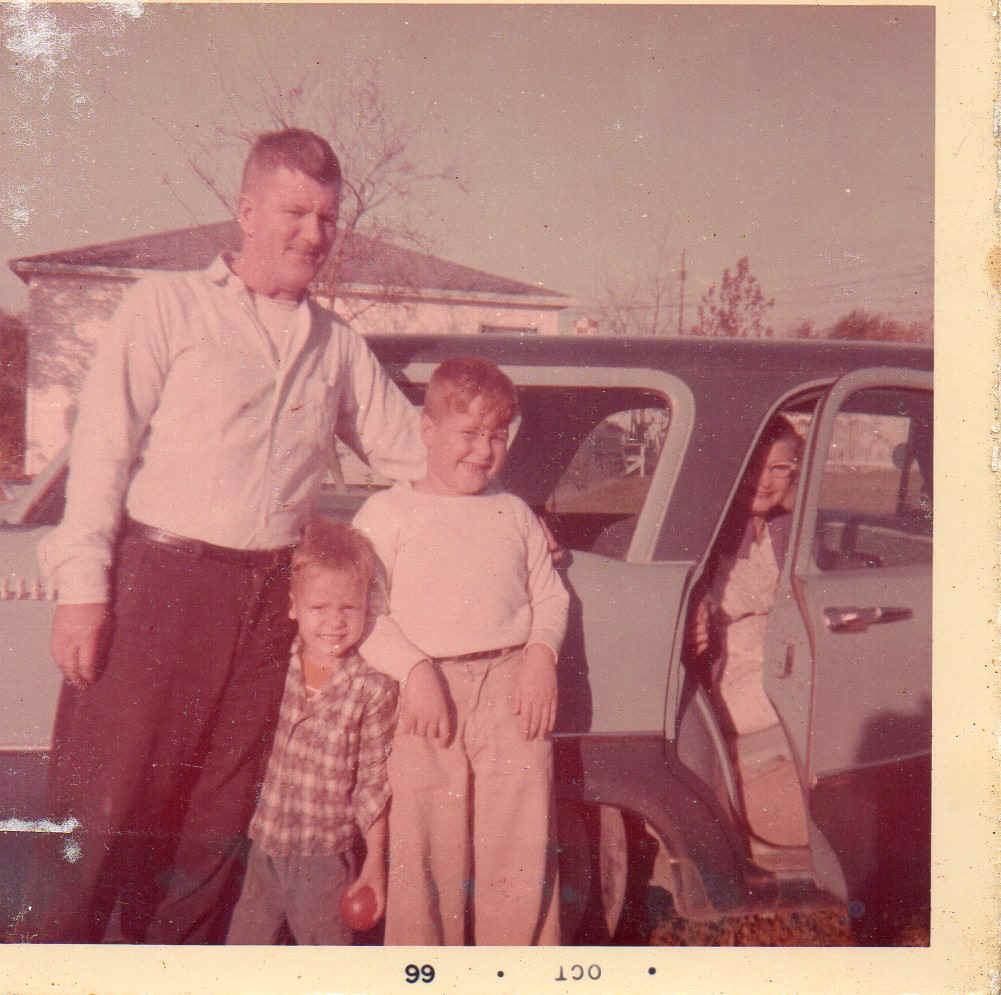 The above photos is from 1966 and shows my dad Homer, me & Tommy, and my grandmother Maria DeAlcala. Note there is some spelling of her last name as Alcala also. It is one of only a handful of photos I have of her, she at one time was a Mexican Socialista who was part of Pancho Villa's movement, remind me to scan the photos I have here framed on wall, quite historic shit. The car she is sitting in was not ours, we had only AMC, it appears to be a Chrysler something. Tommy was 9 in this photo I was 6. My grandmother was born in 1892. Dad was about 40 young handsome man!
These two photos above of Tommy, me & my dad on steps down in Corpus Christi before Hurricane Beaulah in 1967, still wearing out Corpus Christi Cathedral uniforms.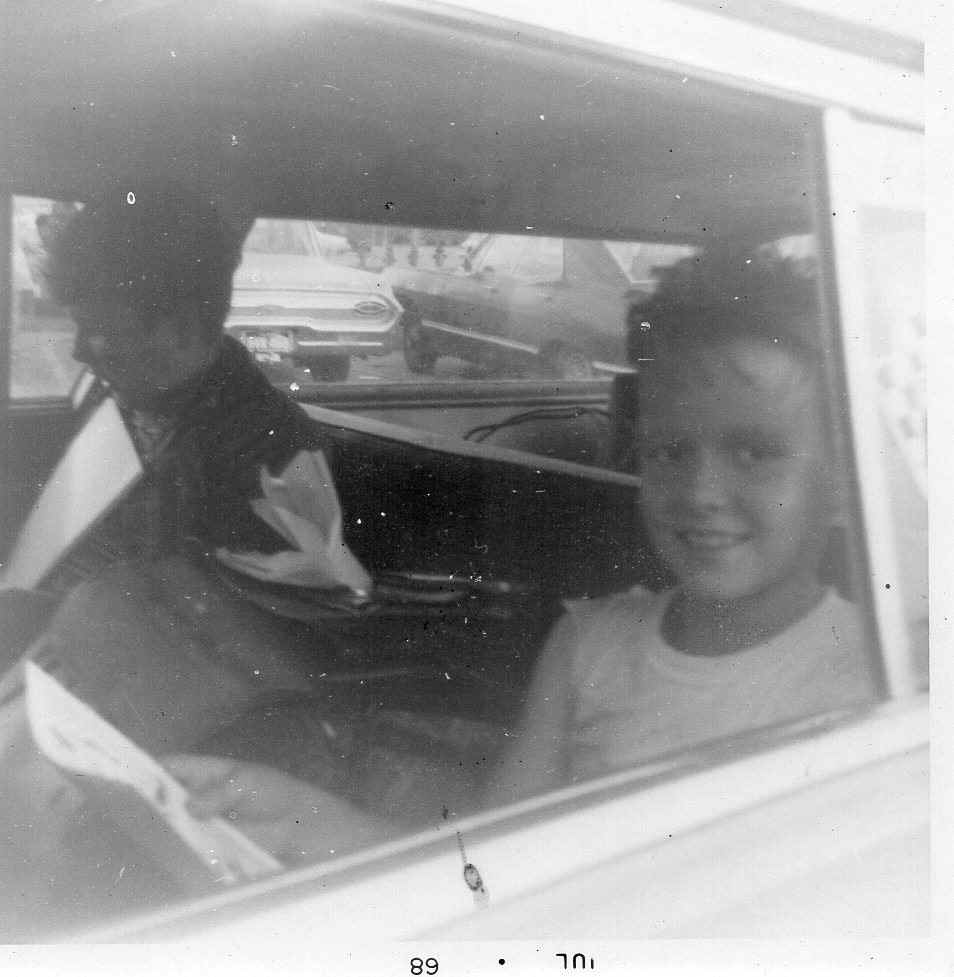 Above photo from 1968, me in foreground, Tommy in background proudly wearing his red, white & blue American Motors Jacket dad had gotten for him at All American Motors AMC Dealership where he worked. We are sitting in out Rambler (I think it was 1962 Ambassador) station wagon!
Above is Buccaneer Days in Corpus Christi, the parade route ran one block from our house from Miller High School downtown to the big carnival at the now gone, coliseum. Tommy proudly wears his American Motors jacket my dad got for him at the Dealership, whihc I think was Andy Anders Rambler (might have been All American Motors), my dad, me and little annoying neighbor kid lower right Peetoe.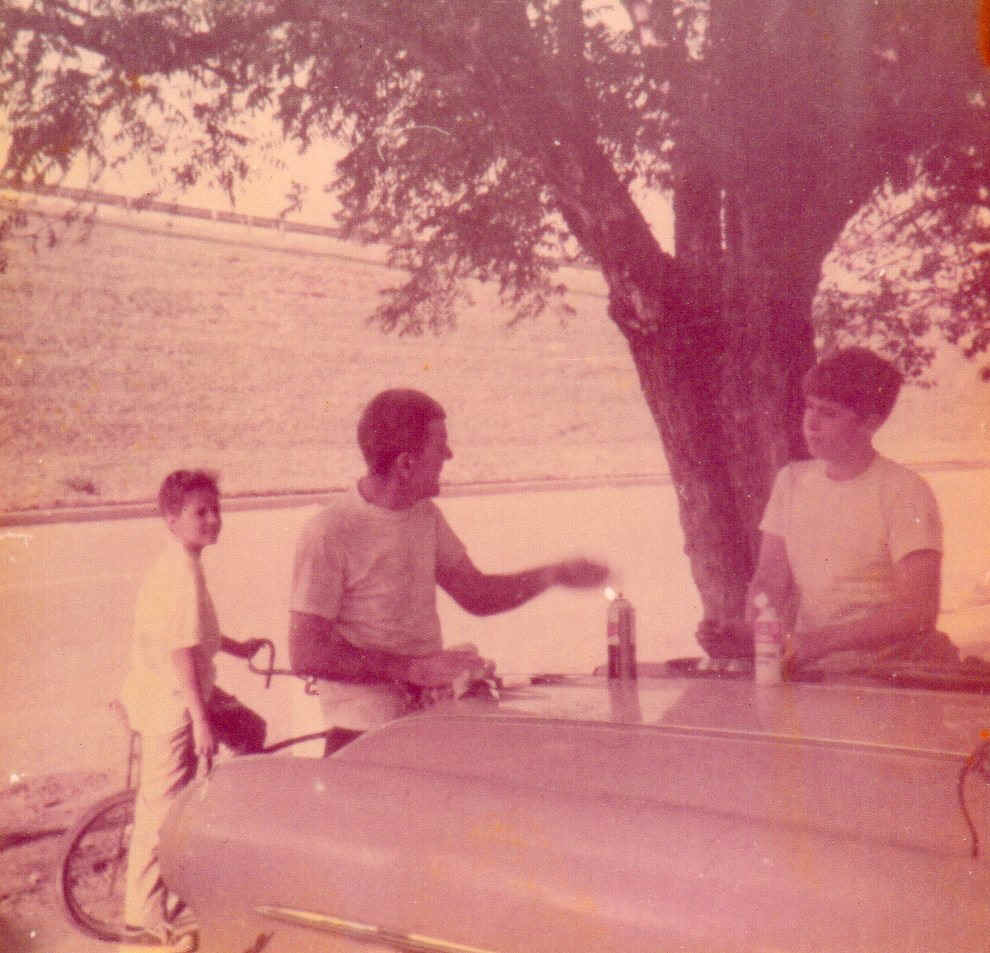 Above photo: when my dad talked, we listened, especially if it concerned bikes. My dad used to rebuild bicycles on the side and was super at it, painting, repair, and then rent them to sailors for day or week, the sailors would leave deposit, and since we were less than mile from docks (down Port Avenue) the sailors, would then ride the bikes dowtown (less than mile away) along shoreline, hotels, motels, even to visit whores. Our neighborhood was filled with whores, even several living next door to our old house and momma hated the men coming and going 24-7. My dad charged sailors $2 a day for bike + that refundable deposit. Not sure what he charged whores f if momma let him rent bikes to them. Here in about 1968-69 he schools Tommy (check out Tommys intense face!) on taking care of bikes. Or staying out of Interstate 37 feeder road which was out fun loving front yard there.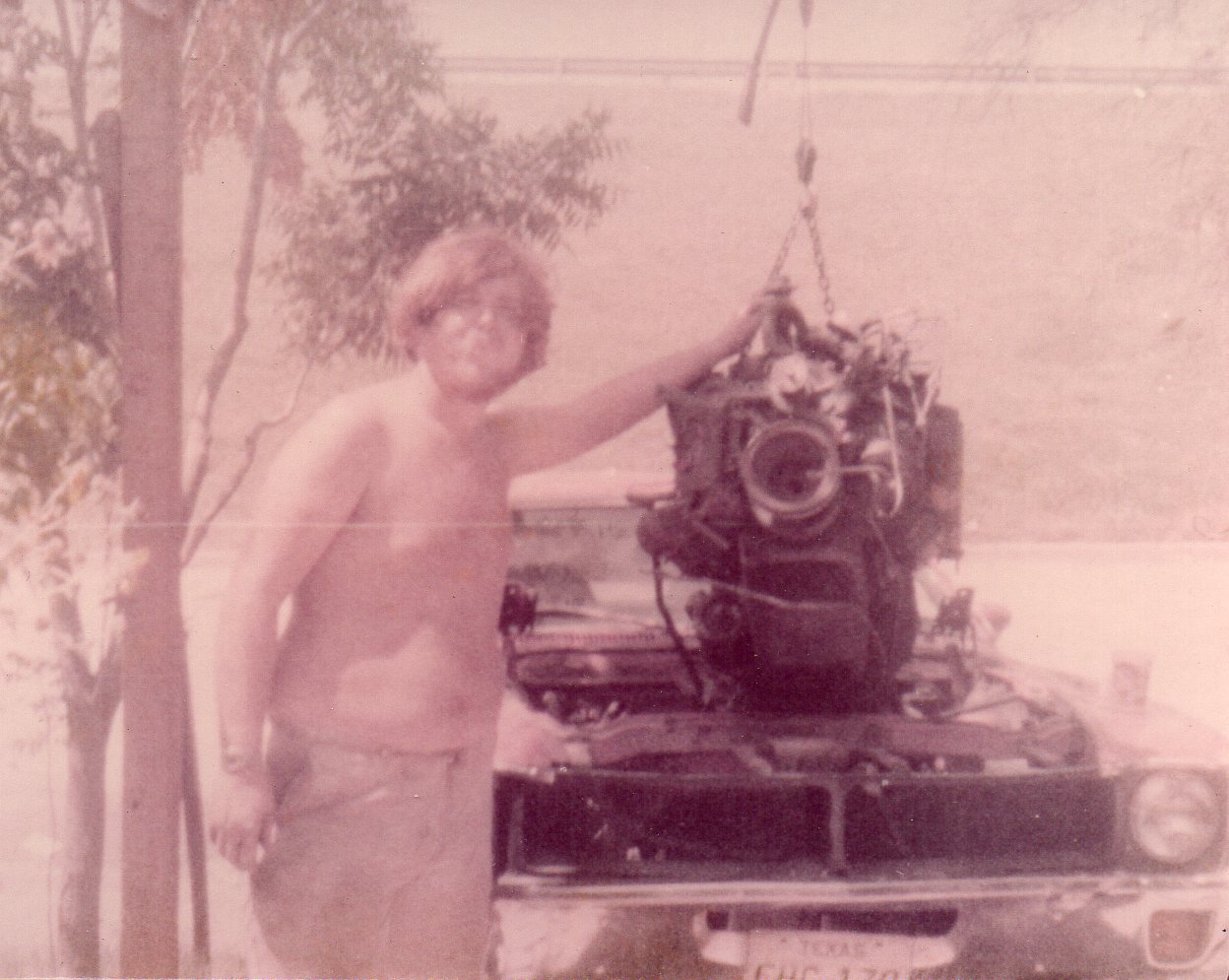 This photo shows Tommy at our old house off Interstate 37 in Corpus Christi, pulling a engine from my 1970 AMC Javelin about 1977. We grew up rather poor, and lived without electricity for about 6 years over there, and the church we had went to as kids, CC Catherdral, helped us out with food. Tommy went to CC Cathedral, then CC Academy on Lantana, and later W B Ray high school on Staples. He made honor roll from 8th to 12th grade about 6 times. Always a big boy, coaches drooled over him to try to recruit him to play football, but something with his feet (I don't remember what) kept him from playing.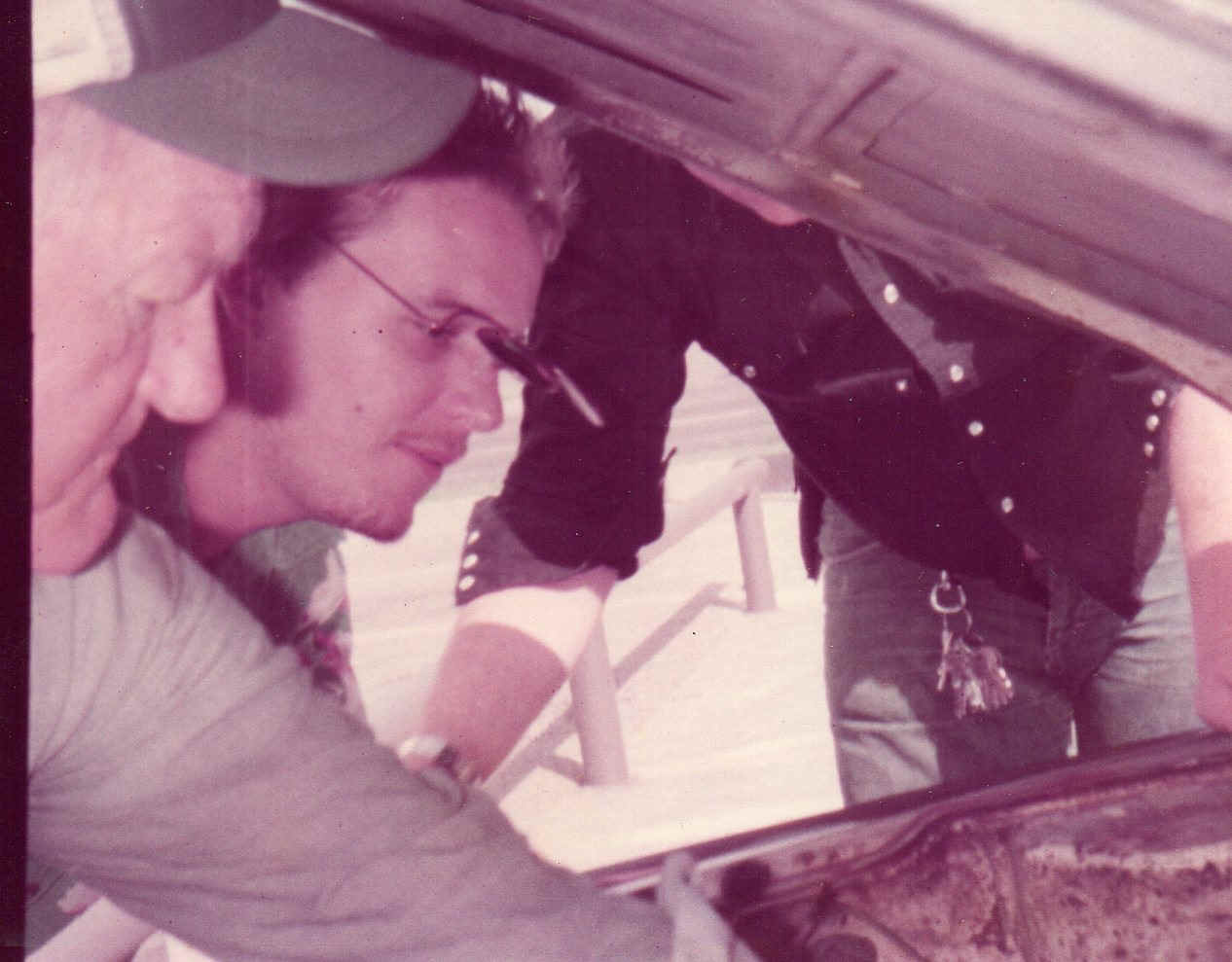 In photo above, my dad, Homer tries to show me how to jet a carburetor. Tommy intently watches....and learned something while I was stoned and wanted to head to Padre. This was in 1970s and he could build a engine on kitchen table if you let him.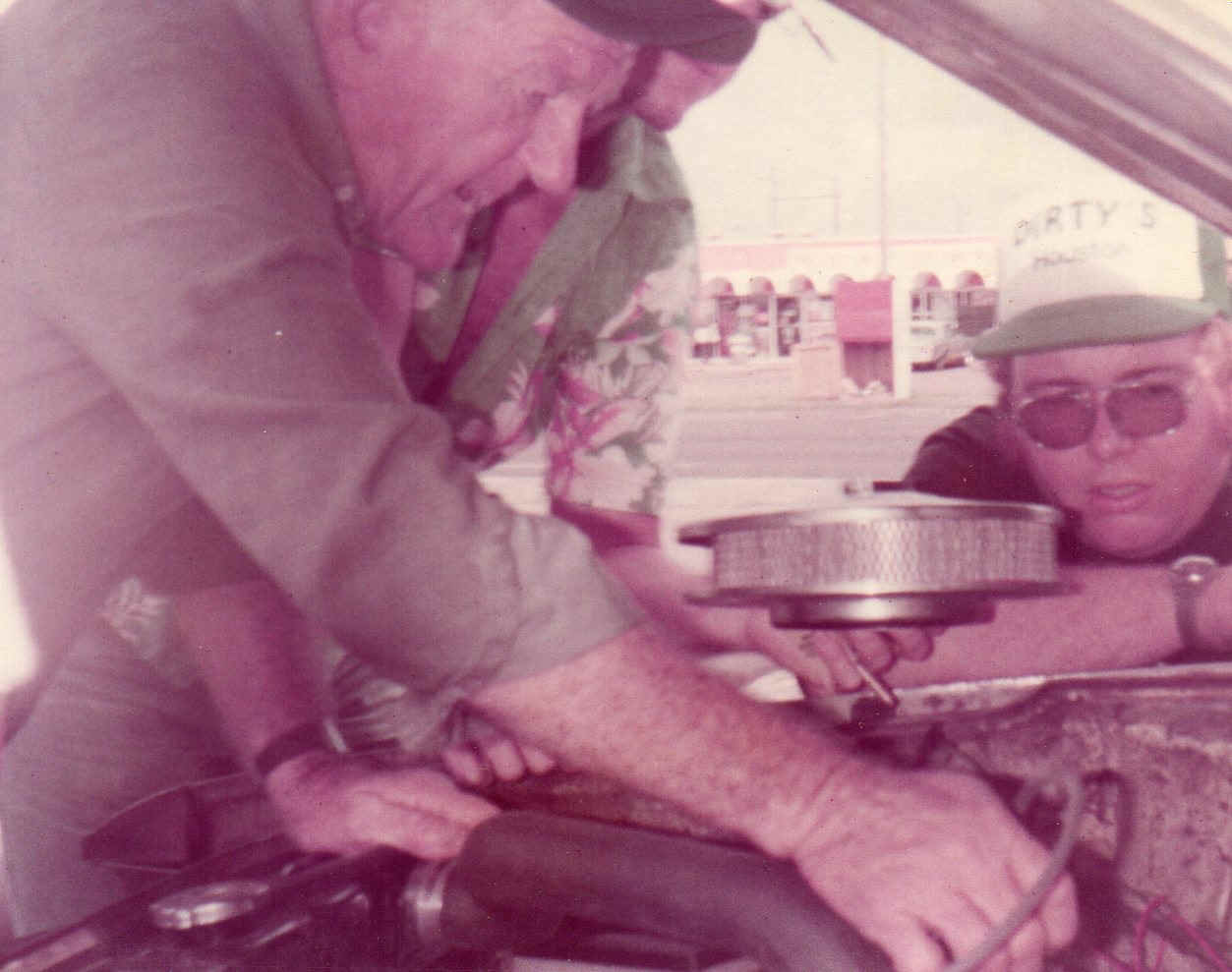 Another angle am guessing momma took these two above photos, Tommy intensely watches dad jet the cab air fuel mixture.
These photos I guess were taken with a Poloroid camera, some of you might remember those. Tommy & me were all dressed up for Cruz Escamilla's wedding, one of Tommy's friends from the Mai Tai Restaurant Jim Seltzer owned, which was on a pier overlooking north beach, not only could you fish off pier, but there was high dollar steakhouse & seafood & tiki bar in place. That is my first car a 1970 AMC Javelin there so had to be about 1977-78, Interstate 37 in background from where we lived at Doss & Antelope in CC.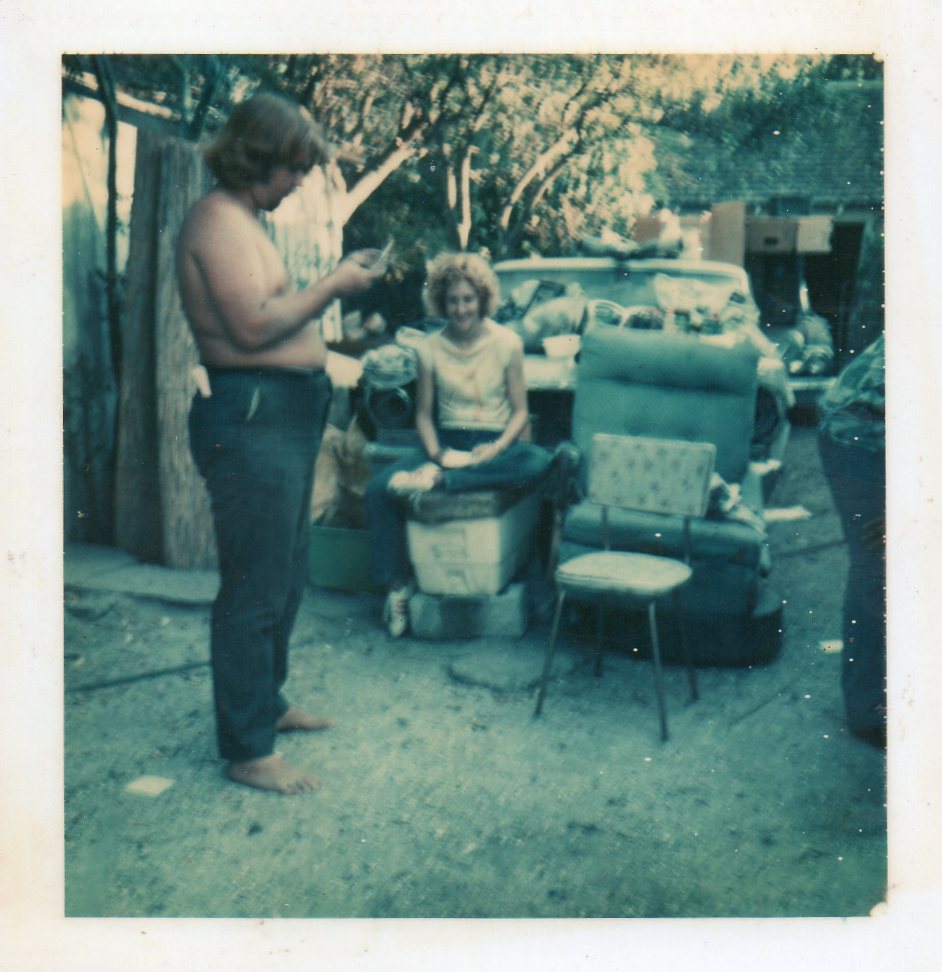 My wife was Cindy Stakes, & Tommy is there amusing her judging by the smile on her face. This is the only photo I have of him with his 66 Chevy II Nova which is behind Cindy. This car was scary ass fast with a 396, 4 speed and straight front axle, even with Tommy in it, he could bounce the front wheels off ground, my mom refused to ride in it. I believe he sold drivetrain to friend of his and well, car then sat. This is about 1978.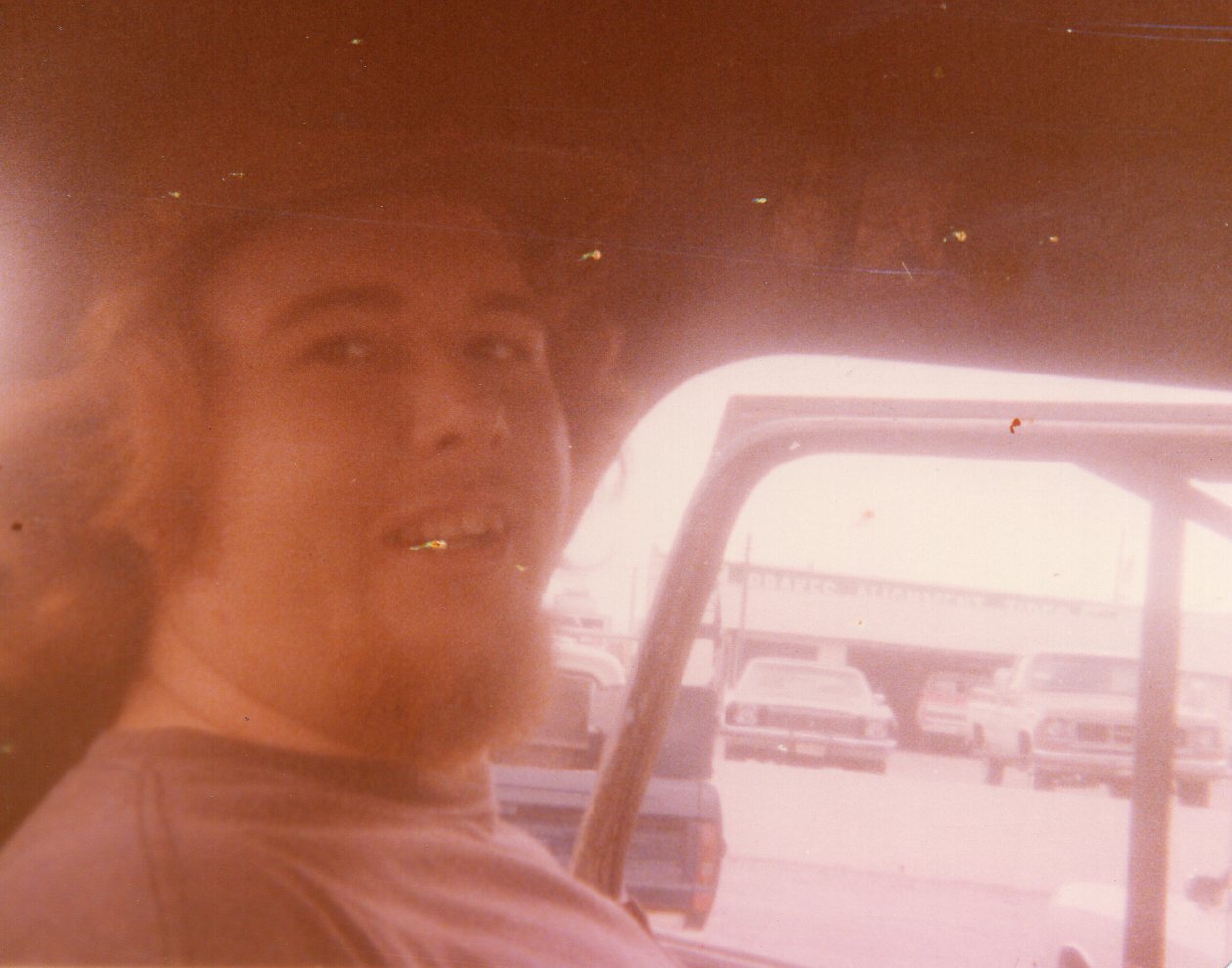 Tommy also liked trucks, Chevy trucks. Non AMC trucks. At one time he sported a indie beard shown here, bright red like his hair. I am guessing this from mid to late 1970s.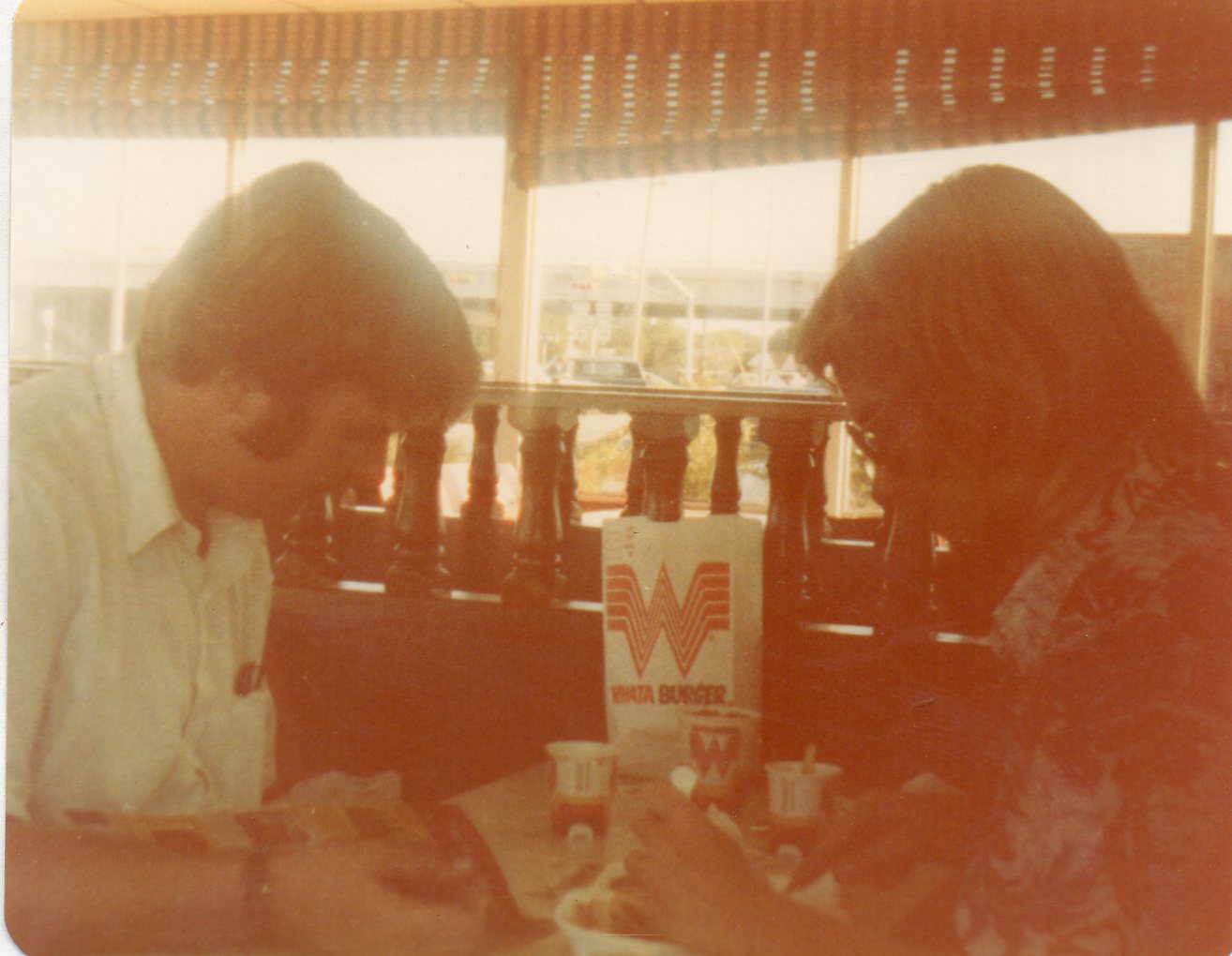 I do not know who took this photo, but at one time in early 1980s Tommy worked for Thurman Fondren Glass Company in Corpus Christi, alongside my dad Homer Stakes. So at time I worked for CPL, Central Power & Light & there was a Whataburger at corner of SPID (South Padre Island Drive) & Weber we would meet at about 6:30am, have breakfast, shoot the shit, then go to respective jobs. My dad loved bisquits & gravy, Tommy liked the BOBs (breakfast on bun) and I liked the BOBs, but sometime pancakes. Note his sideburns. I told him they looked like shit and seagulls would be building nests in them. Not sure that why he cut them right after, maybe momma got on his ass about them.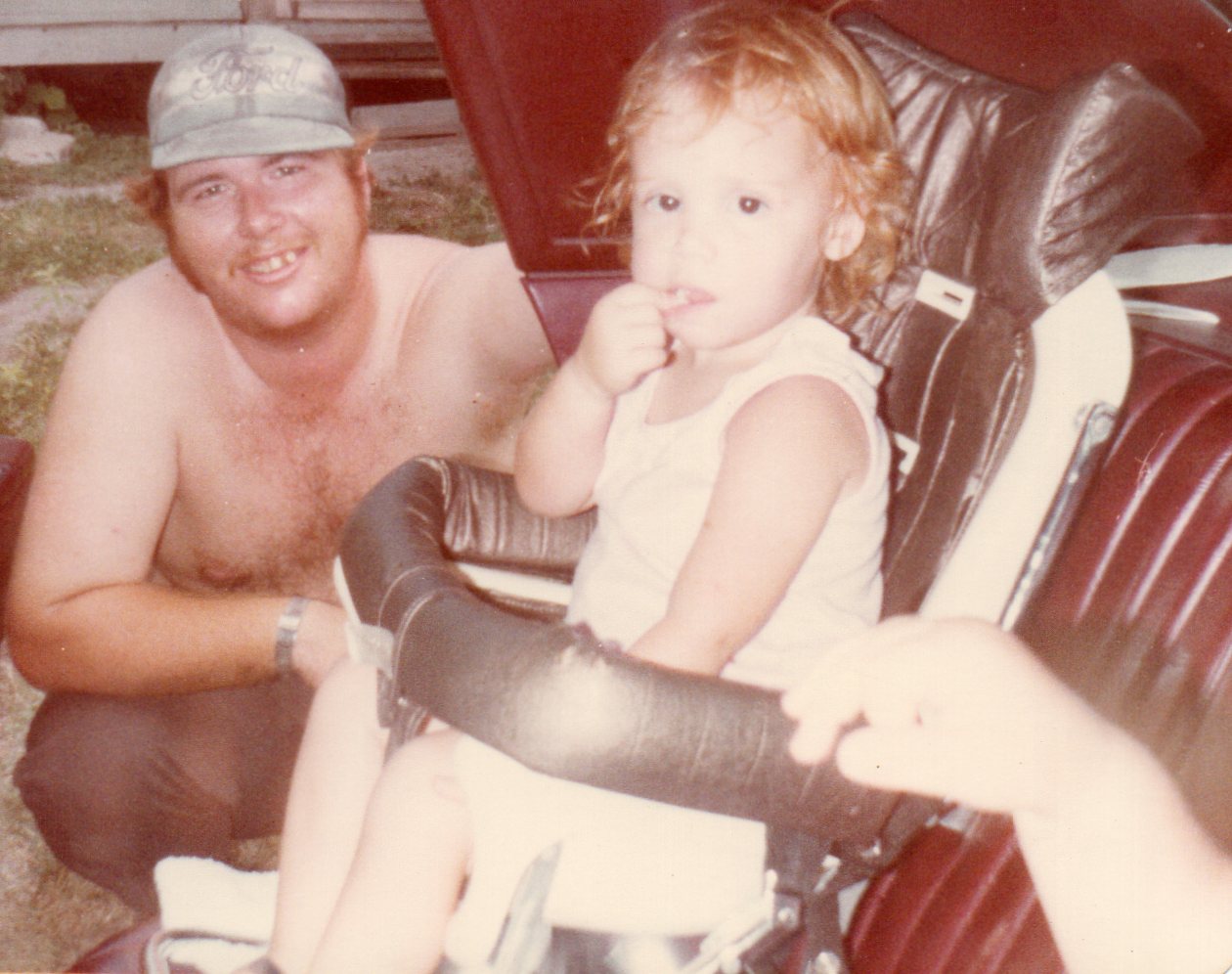 When my first born, Jennifer Stakes born, (Cindy was momma) Tommy fell in love again. He had no kids, and this was my first. Cindy & me would later have a son, Jason, then divorce. But Tommy was a big fucking teddy bear with kids, even at church they liked to crawl over his large frame. Relatives kids too, as he was just biggest guy they knew so looked up to him.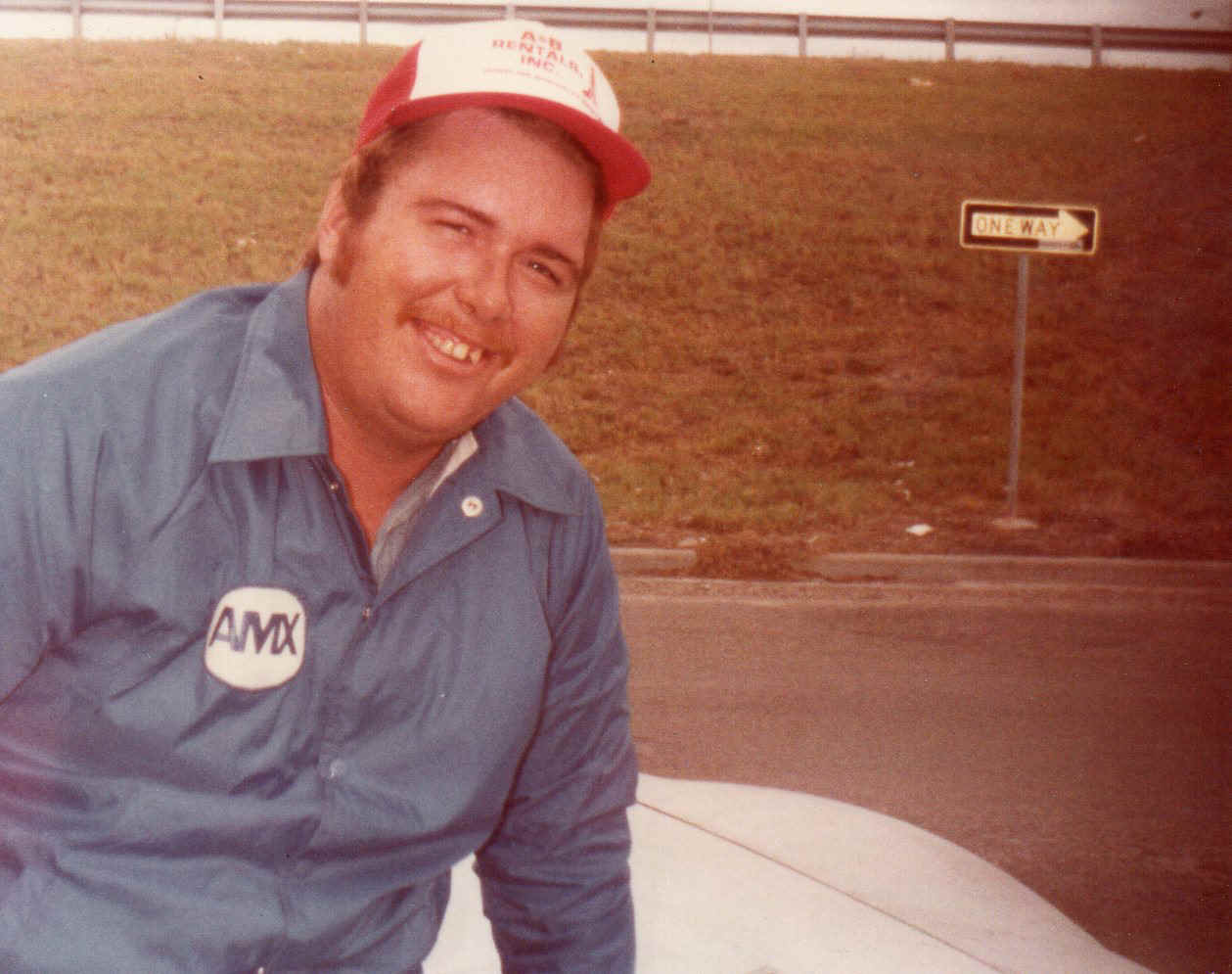 Tommy was still big AMC guy, and here is shown wearing his AMX shirt. With collar! So he could wear it to weddings, parole hearings, barmitzahs, even would have worn it to Cruz's wedding as best man, if he had it a few years earlier. A lot of people will remember Tommy like this. This is about 1982.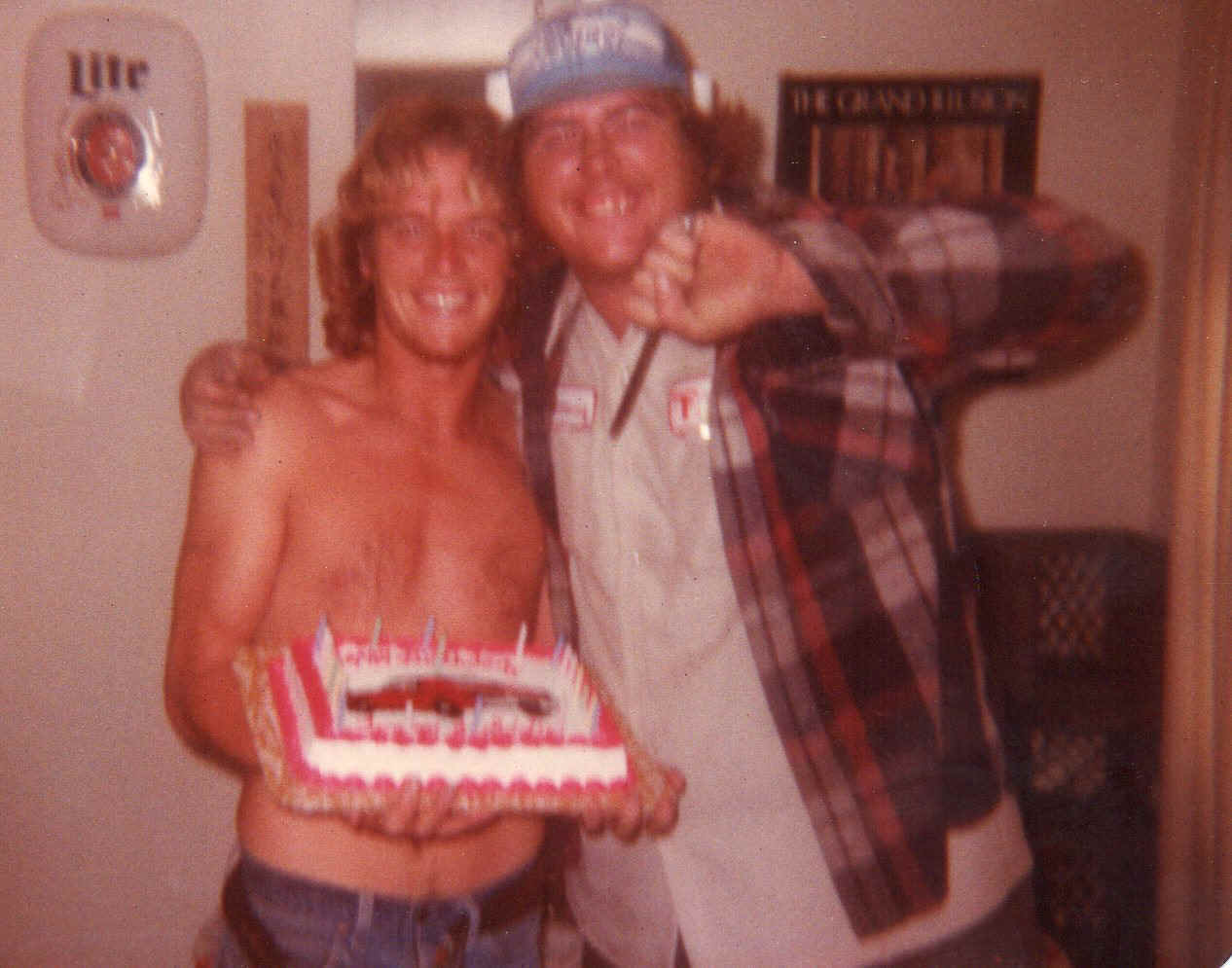 While working at Thurman Fondren Glass Company, Tommy surprised me with a cake at my apartment at The Landing off Weber in Corpus Christi. He had the cake custom made with a AMC AMX on it of course. I have used this photo for many of my AMC related friends on facebook to wish them Happy Birthday!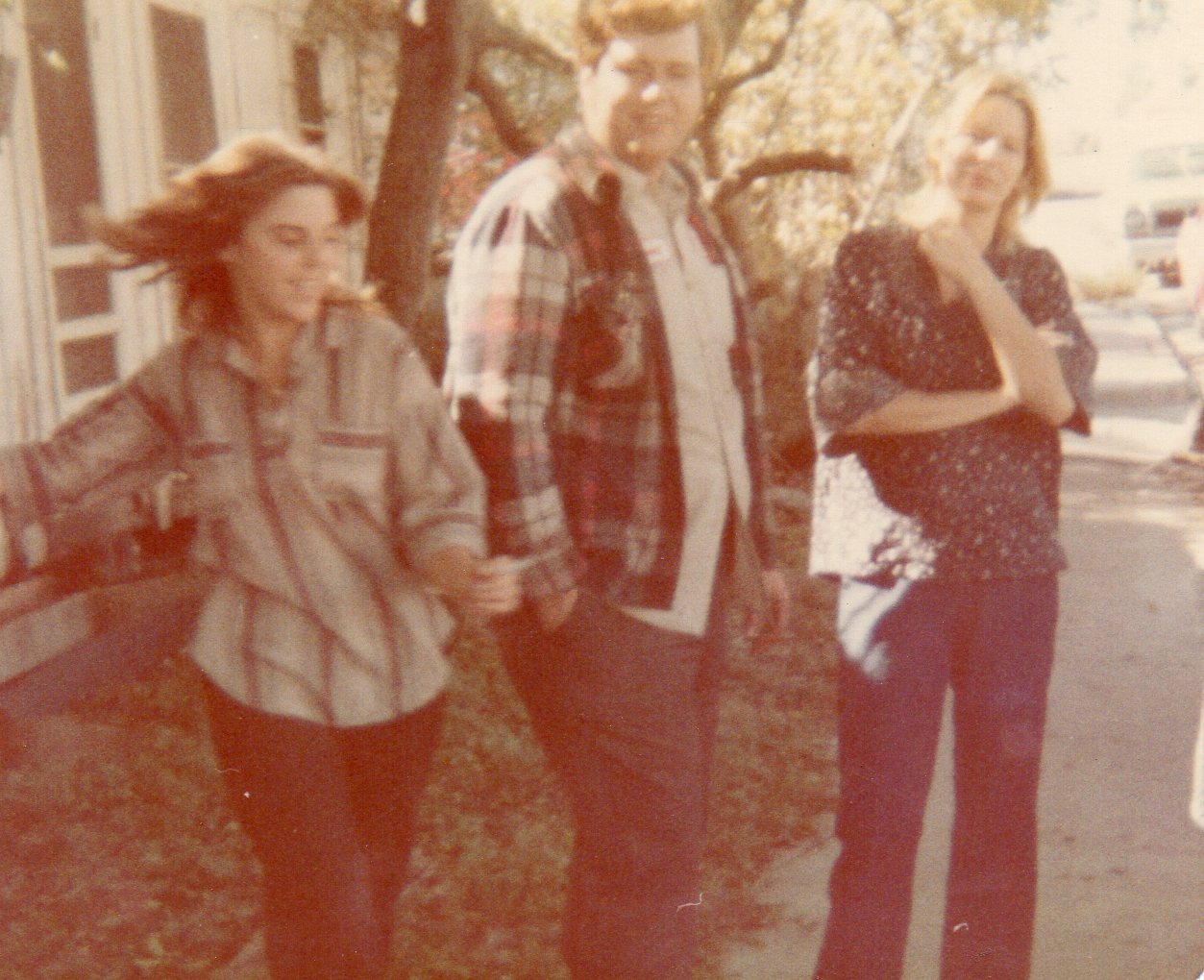 Tommy was also a bouncer & mediator & peacemaker! Here is two of my girlfriends from about 1980, the one on left Denise French, the one on right Debbie Thomas who I think I had broken up by then & she 'stopped by' the old house to say hi to family. Tommy being big guy, just stood between them. He never got violent unless you tried to steal his fries at Whataburger. And my old girlfriends loved him, as he was always there to talk to them about 'eddie problems' if they arose. Just big good guy to lean ear on, he would have made a great shrink or bartender.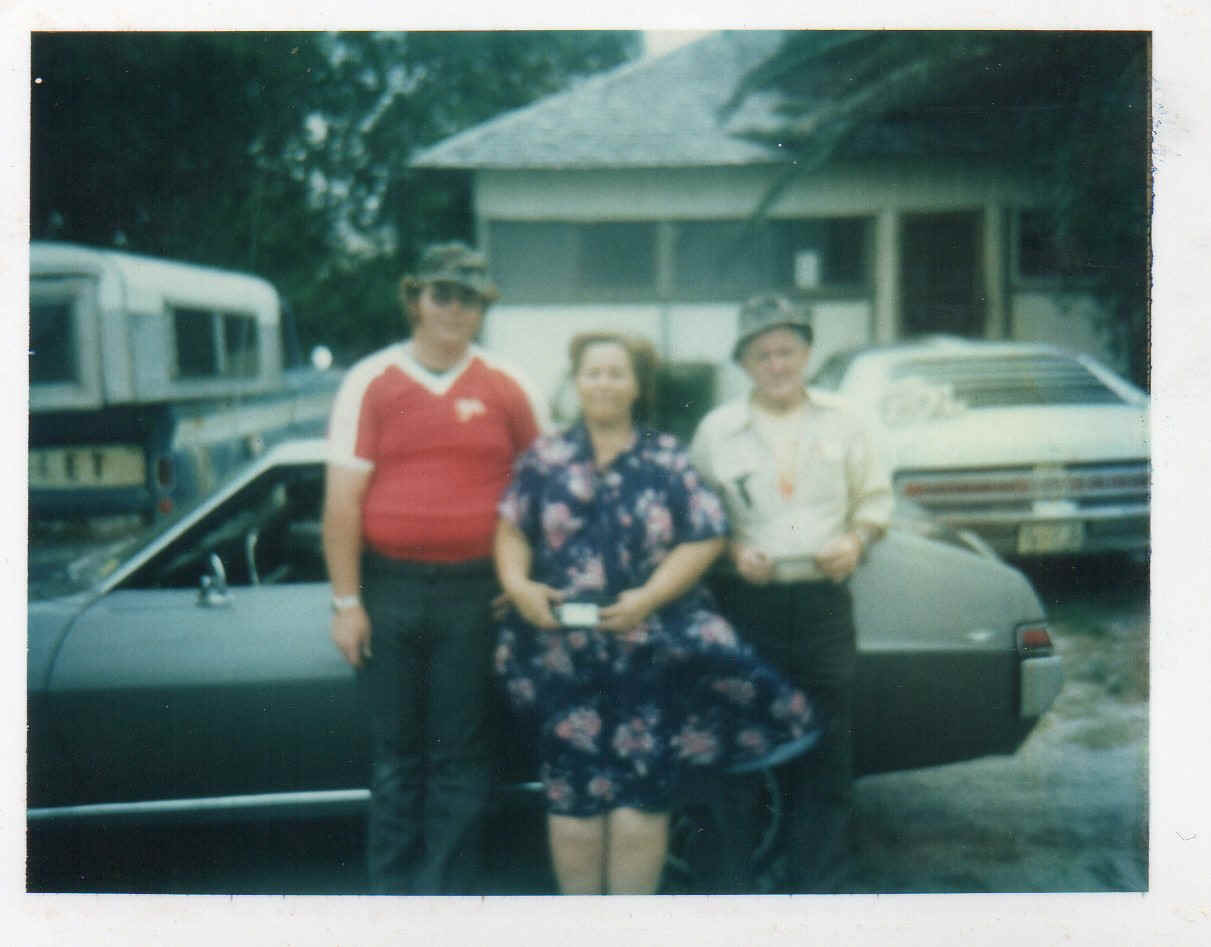 The above photos shows Tommy, mom Sarah & dad Homer in front of the old house & a 68 AMX I had about 1984. Possibly 85. The Javelin on right was first Javelin built in 1972. At this time Tommy & dad had enclosed the whole front porch of 'the big house' shonw in background.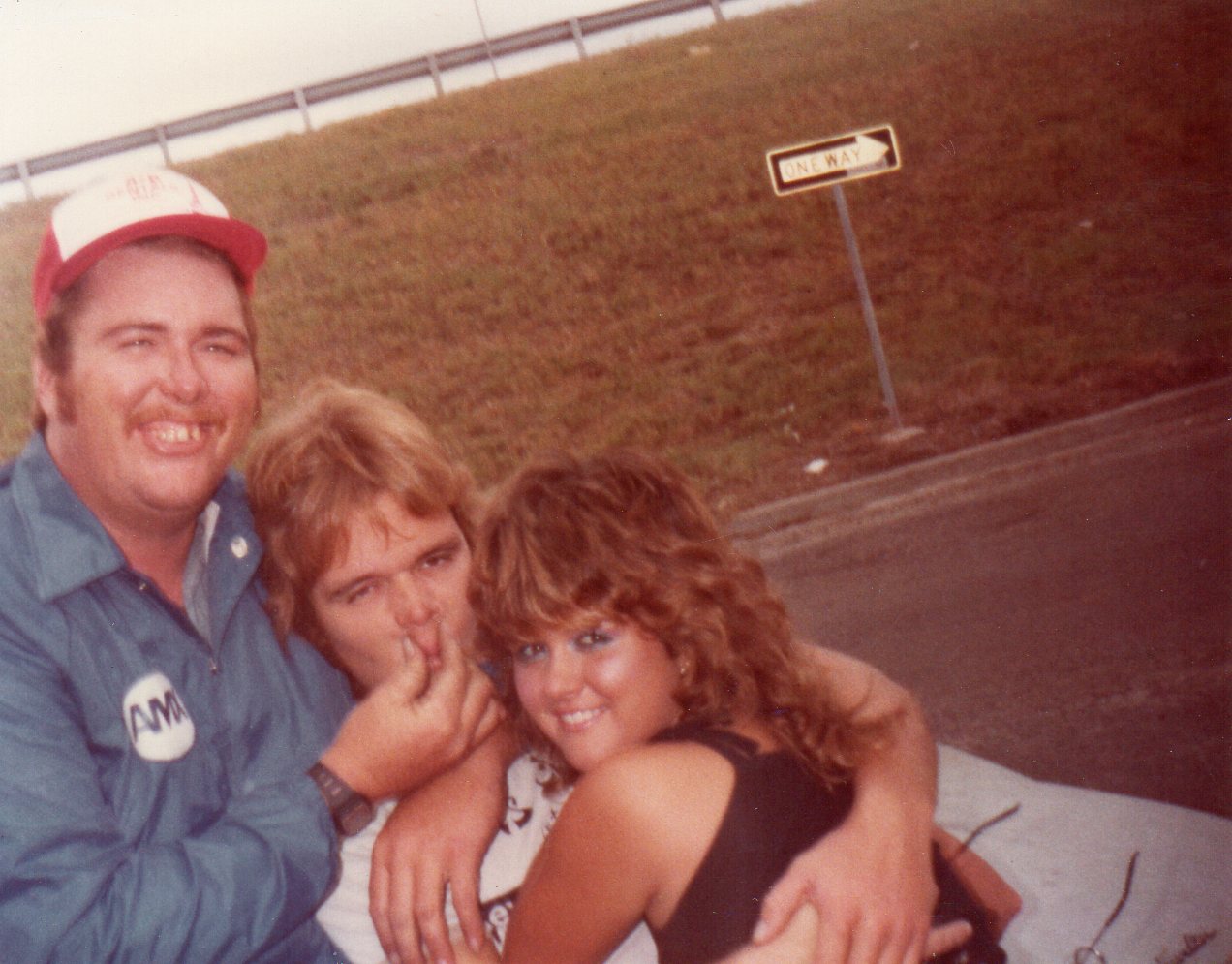 My mom had obviously gotten a new camera, a luxury for our family. I had own apartment, Tommy still living at home, helping out mom, who as mentioned, had been diagnosed with cancer in 1982 & given 6 months to live. God blessed us with 6 more years of her life though! Sitting on hood of what is believed to be the first 1972 Javelin built, which was sent to the oldest AMC franchised dealer in USA, Geiman's of Monroe, MI, the VIN was A2C797P100060 and was a loaded out 360 4 barrel car, at time I was working at Rock Alive a high volume rock club across King High school on Staples. And was dating Lisa Kloster shown here. So Tommy invented photo bombing decades before this word would become part of english lexicon.
This above photo sometimes I stare at, as Tommy gone, momma gone, poppa gone, just me left. I used to pay for hotel several days in Houston, & Tommy would drive up with momma & poppa, I told them don't steal shit from the hotel like towels. But they would come up, expenses paid, for either Thanksgiving or Christmas. This photo has to be 1984-86 I would guess. Momma was battling breast cancer at this time, both Tommy & dad working at Thurman Fondren in Corpus. They drove up Tommy's truck. Later I would take them to Dirty's restaurant where I was working & buy them burgers and chicken fried steak! All the waitresses wanted to meet my folks, my dad wondered how could get anything done with such pretty waitresses. Tommy is not in the 2nd photo but took this photo as my old girlfriend Tammy Evans (who passed away in 2010) be we were preparing Thanksgiving dinner. Note my mom's grip on my arm! Even in pain with chemo....momma still smiled thru it all.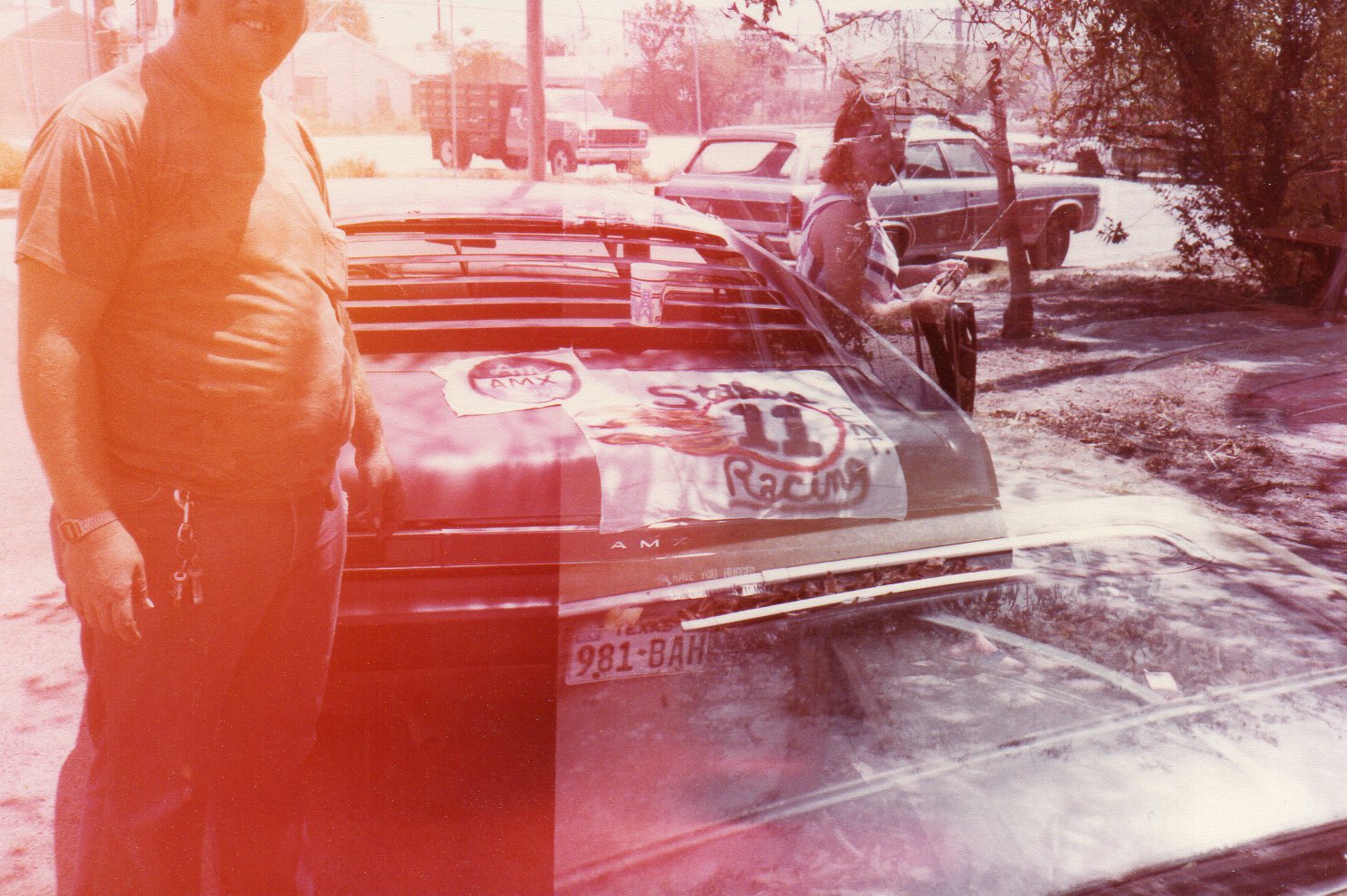 After I moved to Houston in 1983, I continued to drive down to Corpus Christi to visit mom Sarah Stakes monthly as she had breast cancer. With new girlfriend Tammy Lynn Evans in tow I had met at a bar I worked at we would load up the 68 AMX & drive down, stay weekend and come back to Houston. Tommy was always experimenting with shit, and about this time, maybe 1984-85, he was making racing flags for friends, family and well me, two are shown on back of the AMX. I do not know if he was selling them at his favorite place, Corpus Christi Speedway (Terry LaBonte raced there!) The 72 Ambassador wagon in background backstory: my momma never learned to drive and never had license. This was HER car! And Tommy & my dad let her pick out the color of it before having it painted, which ended up ocean blue. Momma used to go back and forth on weekends in it, back up to rail road tracks on Antelope street, then drive forward back to house about 200 yards, over and over. She said it 'counted as driving'. I do not know if I still have these flags. Sadly, my mom died in 1988, Tammy died in 2010, and Tommy in 2016, so let the bullshit fly in heaven when those 3 get together.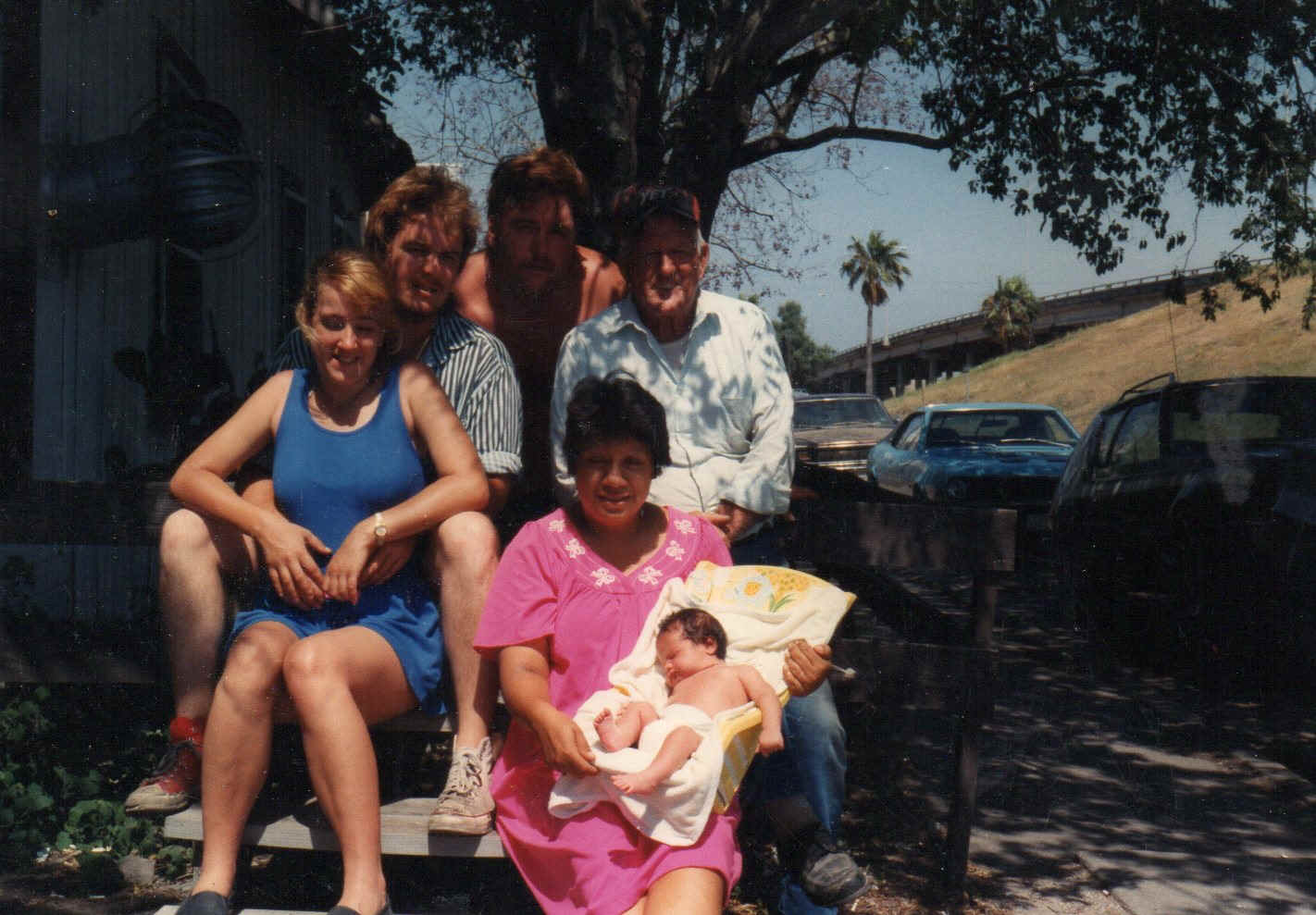 This photo above is from about 1988-1989. They were all crammed into tiny trailer on old property. Tommy never really 'forgave' me for calling CC Human Resources on him years ago for living in a shit hole small trailer on property at Doss & Antelope, the 'old house' as seen in background in some photos, built in 1800s and was a BOARDING HOUSE. So central restroom in back for tenants and renters, but it had fallen into disarray, and Tommy, Maria, my dad, and now new baby Sarah all living in small trailer! No electricity, just Coleman lanterns. And the shit hole neighborhood now had two homeless missions on Leopard, so from bad to worse.

But I didn't want to see him, wife, dad, and new baby Sarah shoved in small trailer no electricity living like that and city was able to get them in some housing off Navigation right across from Selena's studio. I contacted Human Resources which helped get them into small apartment on Navigation, had several bedrooms, hot water, gas, and woohoo, electricity, shit we all take for granted.

He knew WHY I did it, just didn't understand my methods, but after living there, knew I was only trying to lookout for family & big brother, and it worked out. Eventually they moved from there & bought house on Hiawatha street, so two wins. But he stayed pissed off at me for awhile.

Above: Before they moved to Navigation apartment; I mentioned my dad Homer used to sell, but mostly rent bicycles to sailors as we lived near Port Of Corpus Christi, was less than mile and he had been fixing up bikes for years. Sailors leave deposit, he charge them $2-$3 a day, they ride all over damned place, when time for the sailors to leave port, they drop of bike, and get it back, and gone, in background are some of the bikes. Tommy's oldest daughter Sarah shown here ready to help out Pampaw sell or rent bikes. 2nd photos shows Paige sitting on curb having too much fun with Sarah blowing bubbles.

These two photos above are at 'the new place' on Navigation, Tommy really didn't know how to act, he seemed to have been bummed out about being stuck at old house, now suddenly, he could build models, cook, read, watch television and normal shit again. My dad Homer also tagged along, and Tommy was new daddy with Maria shown here, Little curly head Sarah on knee and baby Chelsea with Maria! Evtually they would leave this small apartment for the house on Hiawatha.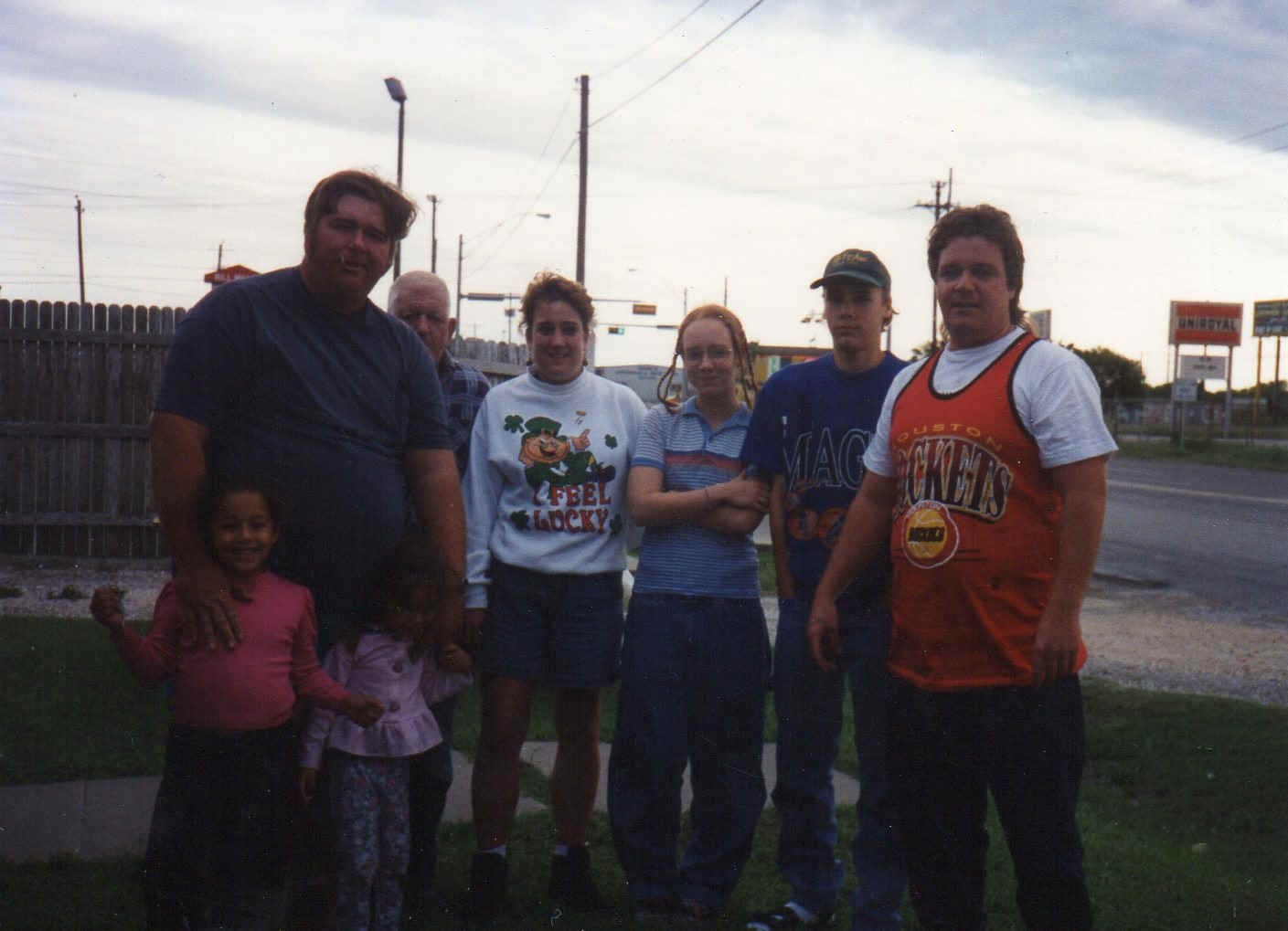 Above photo might be one of the rarest ones on my site. Taken in front of Tommy & Maria's new apartment on Navigation. Whole Stakes family, well sort of, I don't remember whether Maria (Tommy's wife) or Cindy (my ex wife) took this photo, but shows Tommy with both daughters, Sarah & Chelsea, Tommy, dad Homer slightly hidden, my wife Paige, my oldest daughter Jennifer & oldest son Jason. Not pictured are 3 of my other kids (legally give up for adoption, sorry) and my other two Noah & Jacob were not born yet, but not because of Paige & me not trying. Wished the lighting was better on this particular photo. Note that Jason was wearing Orlando Magic shirt while I was wearing my Houston Rockets shirt, as Orlando was playing Houston in NBA Finals that year and I told Jason to get rid of that gay shirt, as Houston was going to beat shit out of Orlando. They not only BEAT them like rodeo pig, they SWEPT them in playoffs 4 games to ZERO.
Tommy loved bowling! But he didn't like getting schooled! I had been on the W. B. Ray Bowling team in high school, he was not, but being a rather avid bowler as him & Maria would bowl several times a month, he sometimes broke even with me. We bet for beers. My dad & Tommy's daughter Chelsea show also. Little Sarah enjoys 'pampaws' company (my dad Homer) at the bowling alley!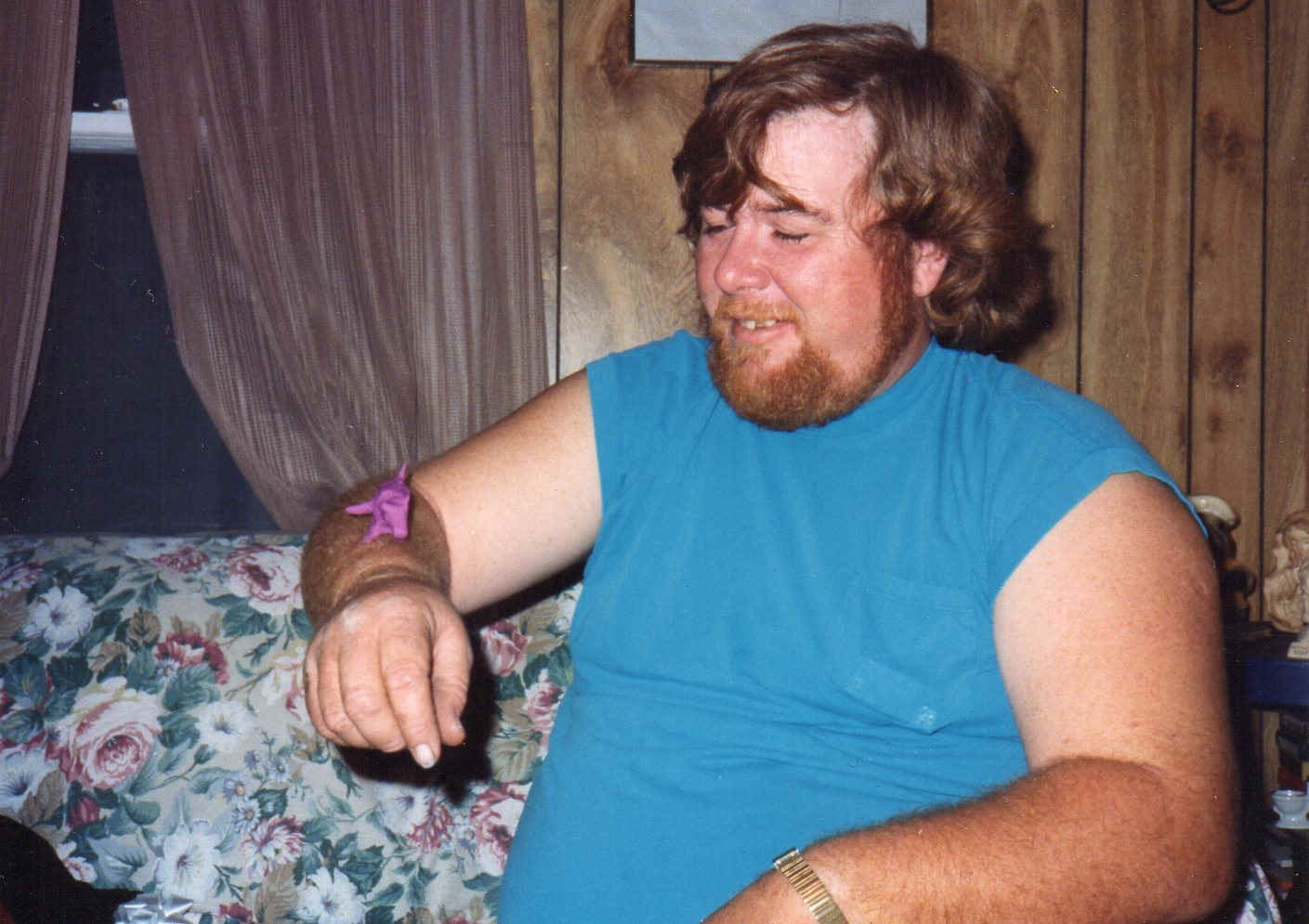 Above: Tommy was great with kids and here he is making daughters laugh with a clay cow. This was at the new apartment, where they could not have a Christmas tree, lights!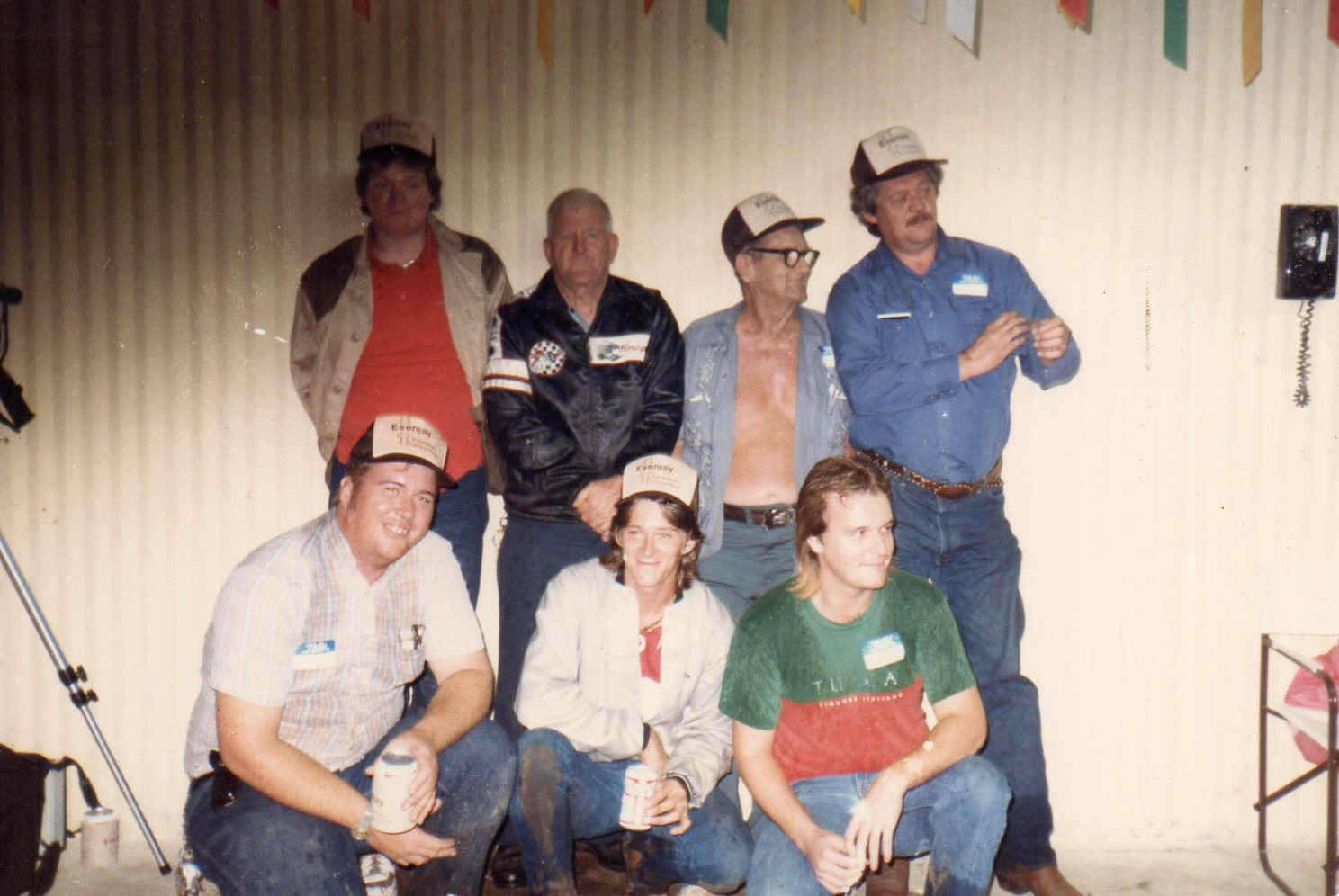 In above photo from huge family reunion which included Stakes, Sanders & Smiths in Pandora, Texas at uncle James Smith's ranch, this was most but not all of the Stakes men...at that time. My oldest son Jason Stakes not shown. Me in lower right, between me & Tommy is Robert, Tommy lower left, upper right is Chuck, my dad Homer 2nd from right top, one of his brothers Juel next to him with shirt unbuttoned, 'big Tommy' upper right. Worth noting is there is a STAKES FAMILY CONNECTION
on Facebook, and neat to see the different comments & relatives. I always told Tommy that I considered him the 'Stakes Family Rainman' as if you asked him a question about who related to who, he could easily go thru several generations from memory.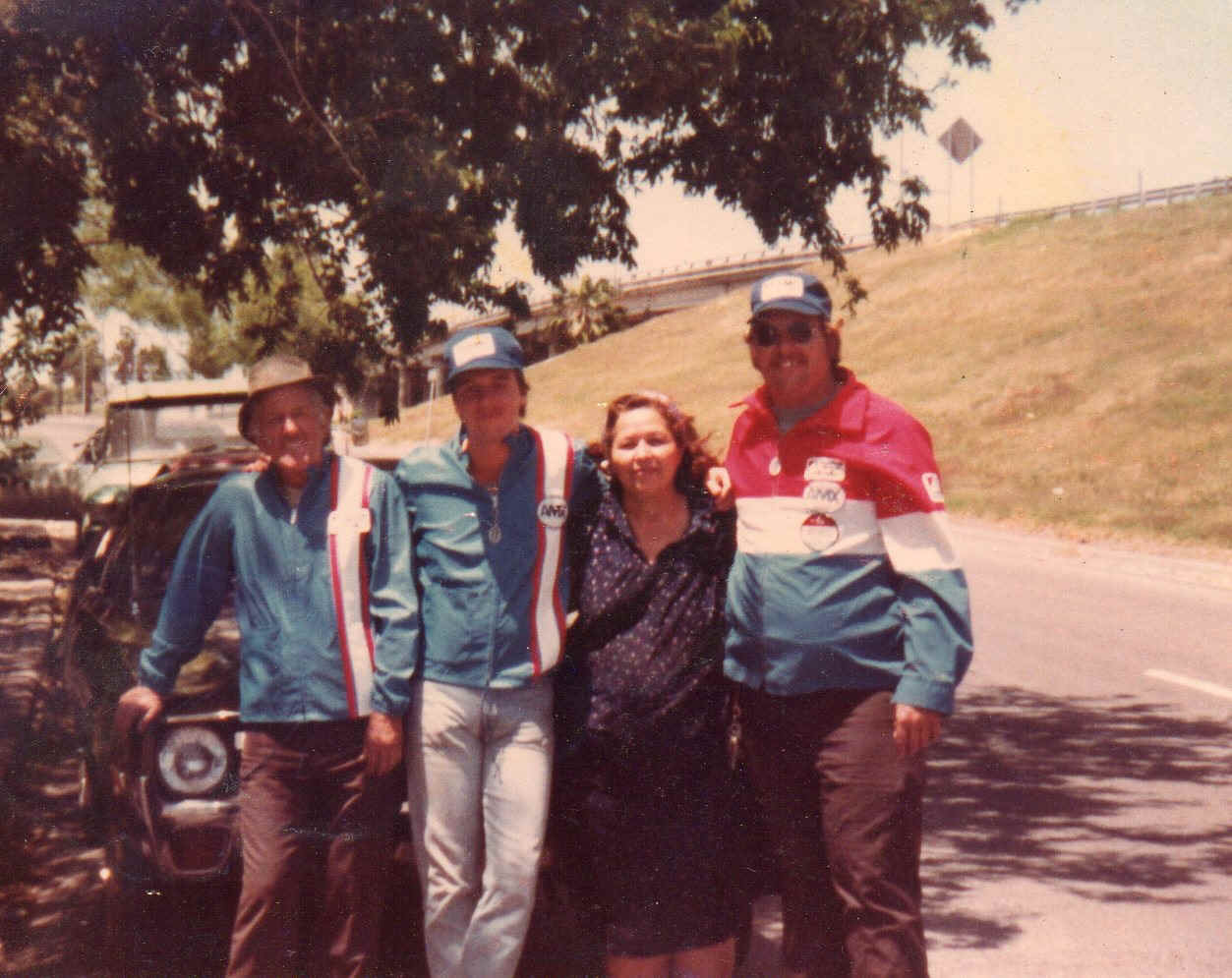 Above photo, a rare photo of all Stakes together. In Corpus Christi. And next to the 'old house' where Tommy & me grew up, next to Interstate 37, see basically in our front yard. About 1982-83 perhaps in this photo. We lived in this fucking shithole for years, no electricity, no hot water unless we boiled it on gas stove. When cold leave burners on in kitchen & not sure how we never died of carbon monoxide poisoning. What we lacked for in wealth $$ we made up for in love. My dad used to make whopping $156 dollars a week at master mechanic at several AMC Dealerships in CC. Mom working days long over in 1950s. I was working bars, Tommy had worked some restaurants but settled into Thurman Fondren glass company where he would eventually retire, as did my dad later on. I could crash my site telling stories about how poor we grew up, washing our hair in freezing cold water pipe outside, then rushing in to put head in oven to warm it up & dry, the church helped out sometimes with groceries, but my mom did not like charity, although the church DID allow Tommy & me free meal card otherwise we would have ate peanut butter & butter (you read that right, tasted like shit) sandwiches. My dad was ashamed he didn't make enough for family of 4, but momma stretched the check really well. And both their credit was not on radar. I could go on, you get the drift. The 70 AMC AMX behind us is A0M397X100090 believed to be the GoodYear Tire Ad 70 AMX.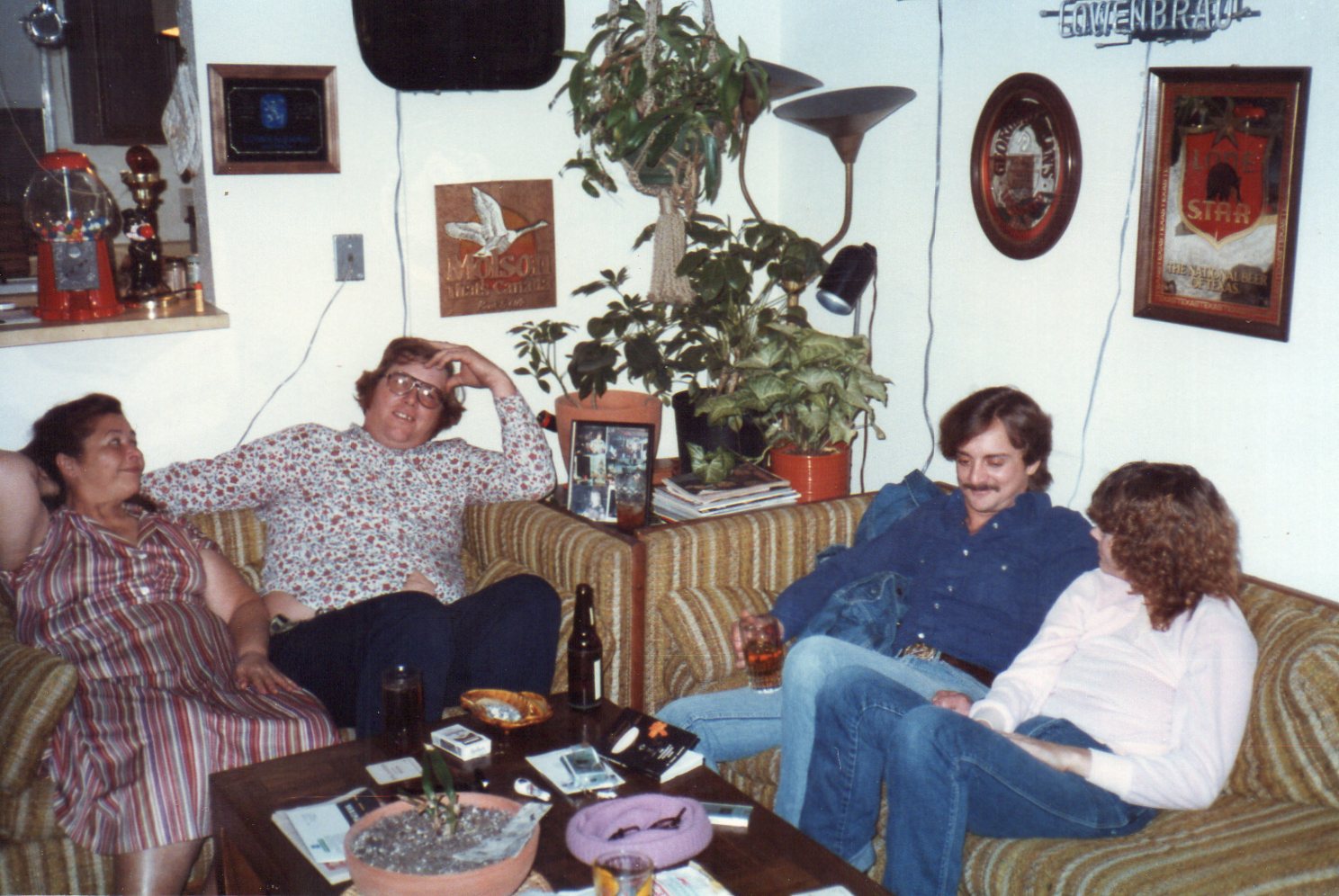 Tommy sits patiently waiting for Thanksgiving dinner in Houston. This was my apartment in Houston, looked like a bar inside but really set up fine. I used to pay for Tommy's hotel, 2-3 days to come drive up with momma and poppa, as long as no stealing towels. Soap, toilet paper, ok, no towels or pillows dammit. So they would come over & eat. That is my mom on left who was mentioned was battling cancer at this time, so was unsure if she was up to trip, she assured Tommy & Homer she was, and up they came. Sitting on right is Ed Vance & I don't remember his girlfriend, maybe Donna, but he was my barback in Corpus Christi, and when he could not find work down there, I told him come up here and he got hired at a country & western club I was working, making $100-$300 a shift. Tons better money than anything in CC. We were joking Tommy would leave some pie, everything else was HIS.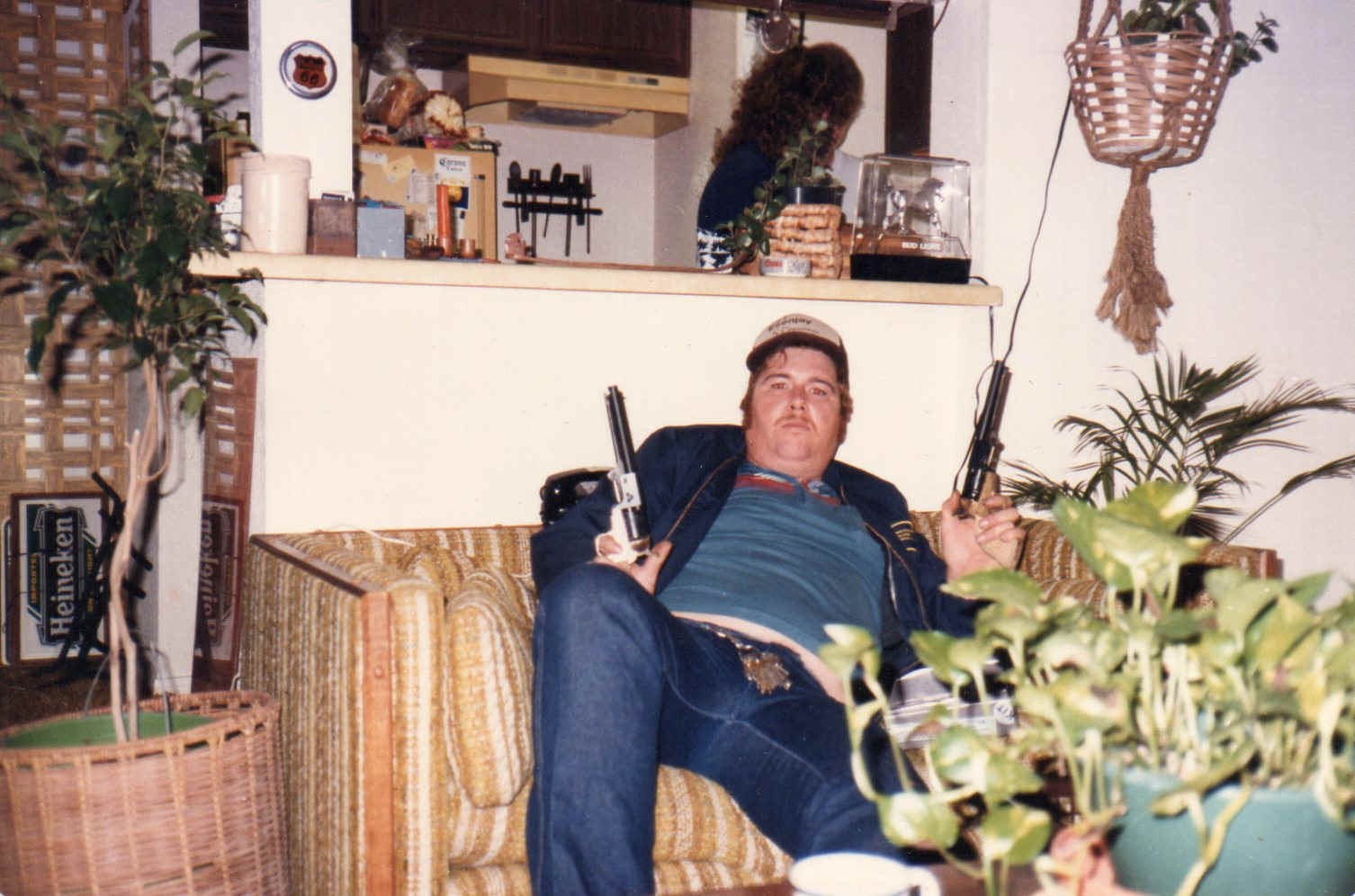 Above photo: Tommy was heavily into guns in the 1980s, even building them from kits. Some of his Corpus Christi friends jokingly called him EL RANCHO. Here he is sitting in Tammy & mine apartment in Houston, while Tammy & my mom cooked in background. My mom literally didn't know how to act with "modern things" in kitchen like electric stove, microwave, fridge.
Blowing out candles at my apartment off Westheimer in Houston, Texas. I probably didn't get much of the cake either.
After momma died in 1988, I broke up with Tammy & started dating Paige. I fixed up a 1970 big bad blue Javelin really, really nice to give to my dad, who was in doldrums after momma died, they had been married 37 years. Paige went with me to take the car down to Corpus to give to poppa and Tommy thought it was the bomb as it had cold AC. And rare color! My dad took Paige & drove off while we bar b qued, and Paige came back to tell me that Homer had went in front of some relatives houses, sat on horn, when they look out window he lit up the tires on the Javelin leaving cloud of smoke! So Homer still had some spin outs left in him. Tommy could not drive this car, as too big, but he had some Matadors & Ambassadors at this time.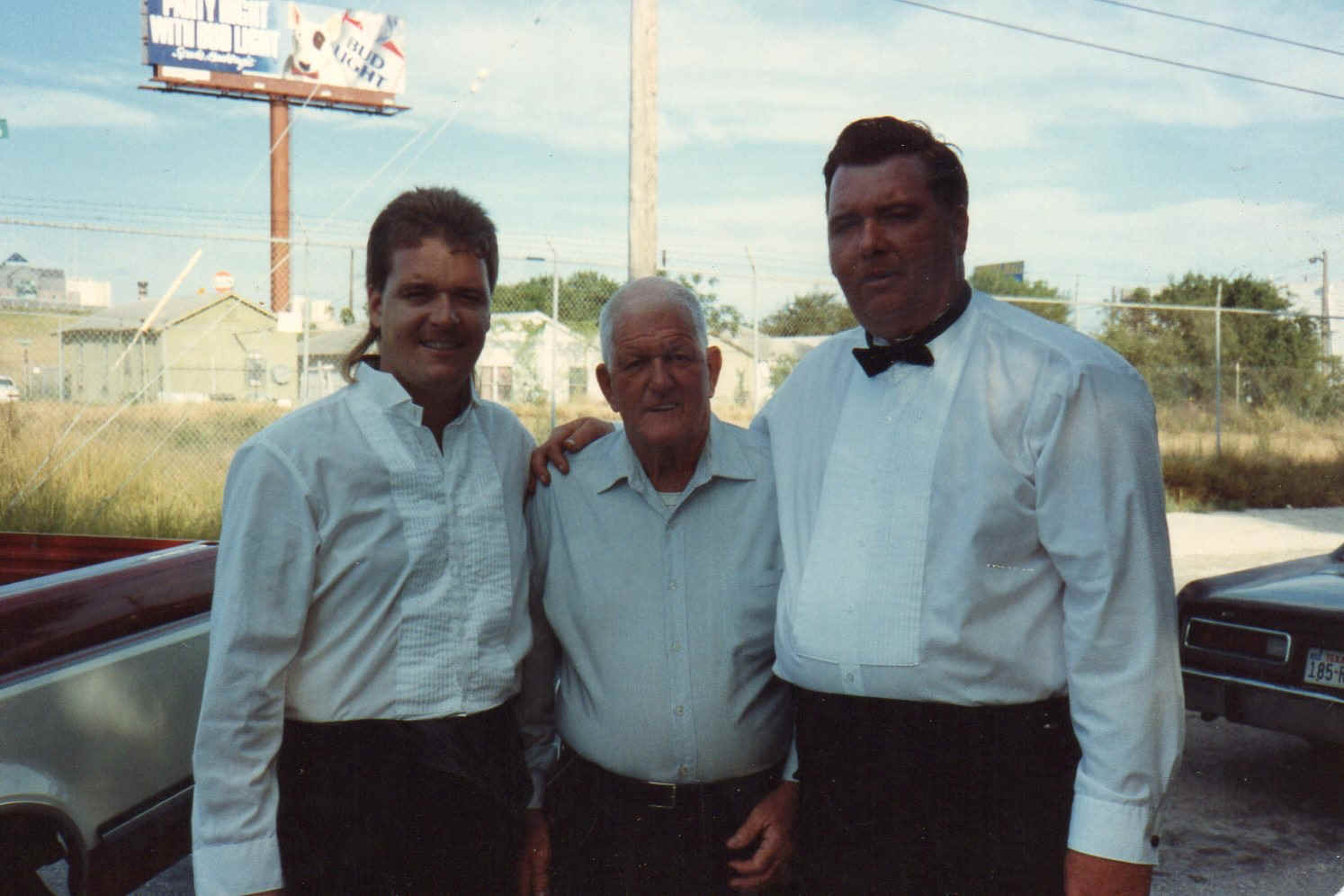 Above photo has me, dad & Tommy on Tommy's wedding day to Maria. This photo was taken in front of the old house off Antelope Street & Doss in Corpus Christi next to I-37. Momma had already passed on so she didn't get to see this wonderful event. Tommy told me 'getting married to Maria was the best day of his life'
And the wedding photos. Tommy & Maria's wedding, the guy on left is Randy Forsythe who was best man, I do not remember lady on far right in one photo. Tommy was a car guy, and this was his Old's Delta 88 in front of wedding place in CC, I mistakenly used I believe white car polish instead of white watercolor. The wedding and reception was held at same place on Leopard St. I wrote a lot of shit on the car in TWO languages; safe sex express (that was big thing in 1980s) Tube Stake on the door, just good vile things, some of them not suitable for kids, car was decorated with beer cans, shaving cream and lots of condoms. That is actually a real jar of vasoline as a hood ornament AND a real pair of soiled underwear on windshield! Ok, let's make that TWO things he probably never forgave me for, as I never heard the end of this as he would remind me 'you fucked up the paint on it can't even compound it out!' I thought it was a improvement on a Olds big 1970s boat. He bitched that he went thru a lot of quarters at car wash trying to get the white off. I told him I increased the Old's value.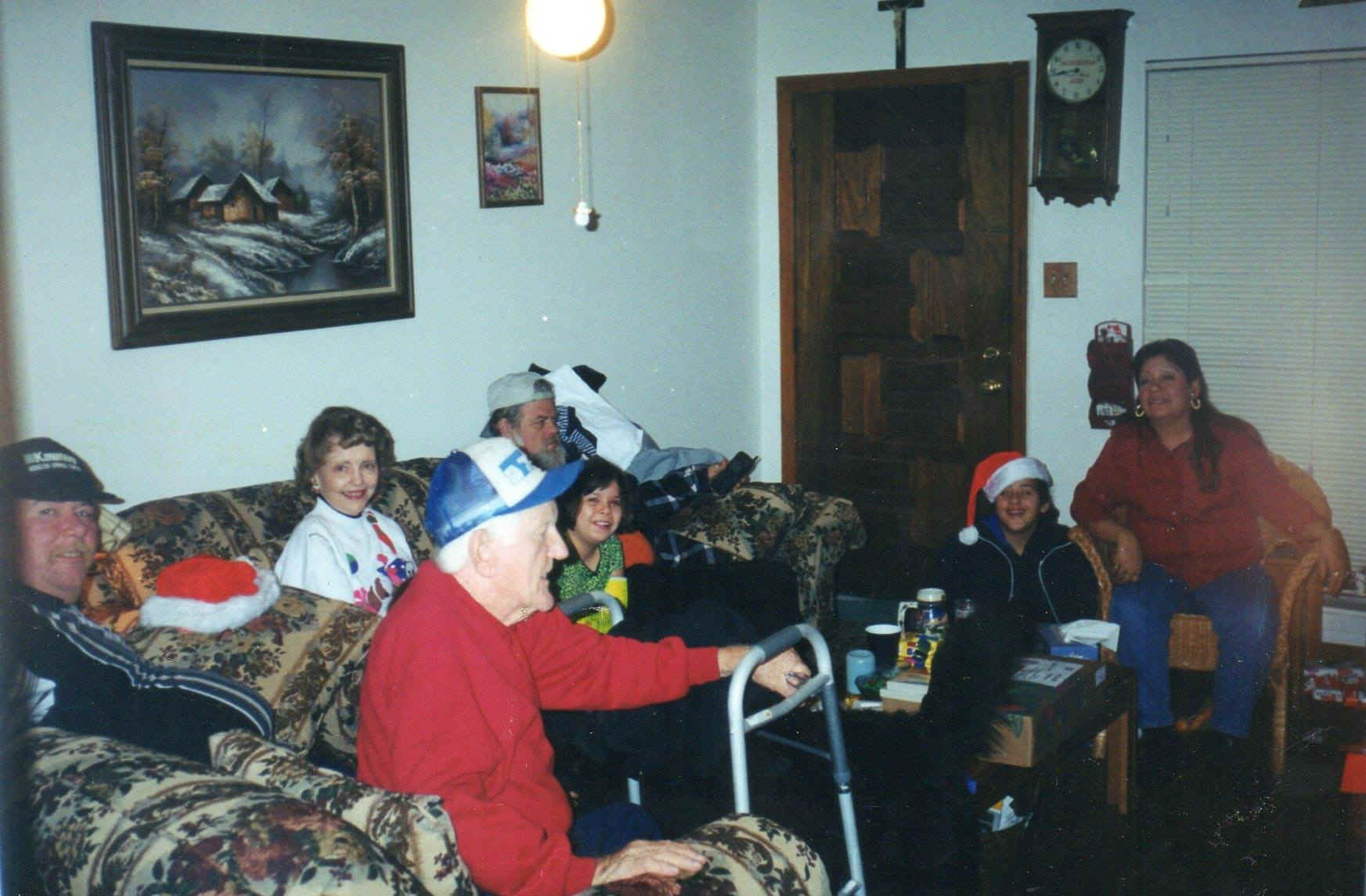 Above photo is a really rare photo no one ever seen. This is inside Paige & my house facing west in Houston. I had invited everyone up from Corpus Christi for Christmas. I would reserve hotel room for them, usually 2 beds, would not want 5 of them in one bed, (although would have paid good money to see that pillow fight) and promise me do not steal towels. Looks like we were going to eat, maybe open Christmas gifts or something. In the red is my dad staring at something on the big tv. Tommy on far left, next to him is Paige's momma, next to her is little Chelsea, next to Chelsea is Bear. Bear was good family friend, not sure where he went to. On right in Santa hat is Sarah and her momma Maria on far right. Look closely in front of my dad is Max our dog, he was a big chow lab mix, really sweet, about 100 lbs.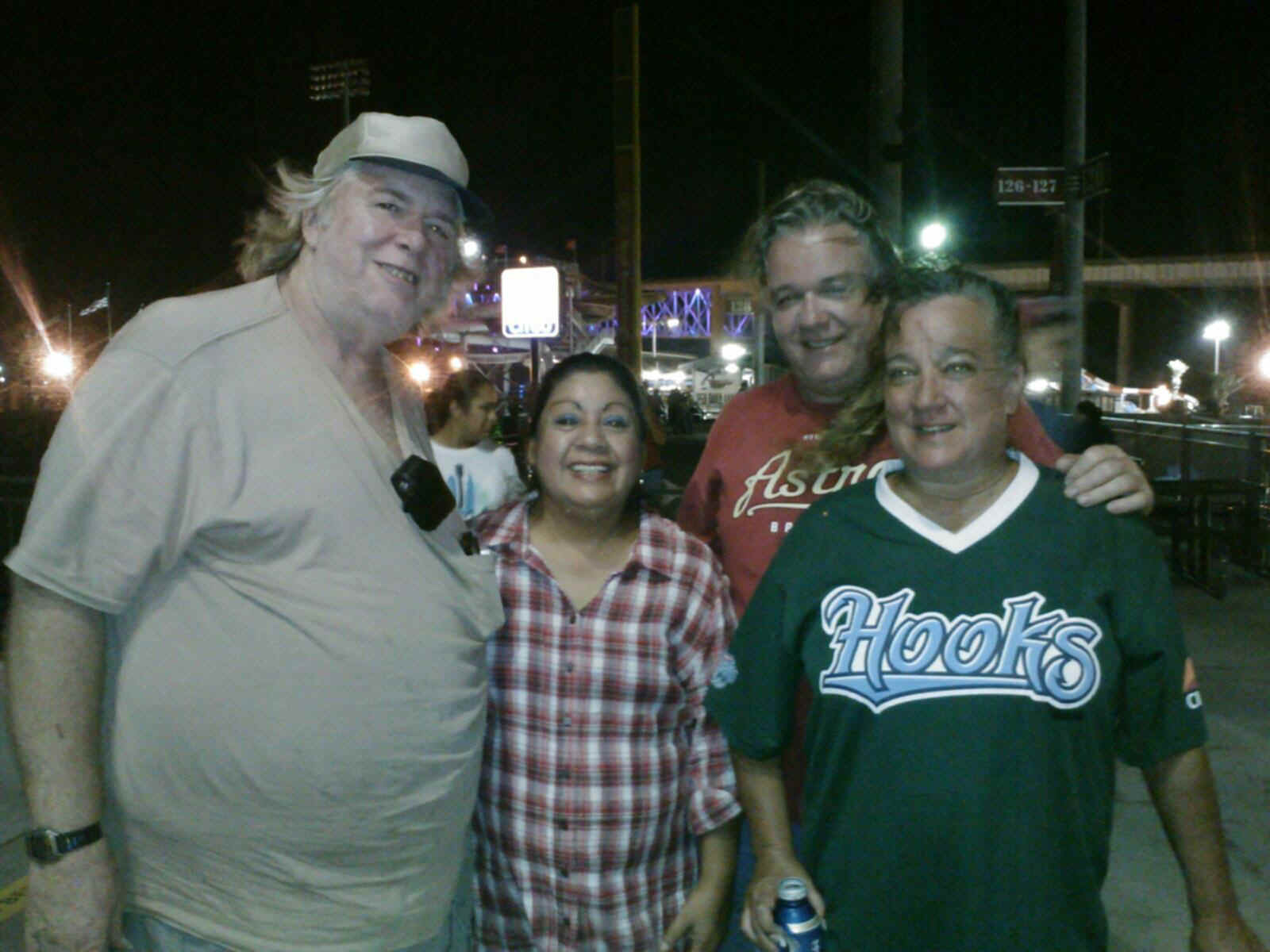 Tommy, Maria, me & Paige in Corpus Christi at Whataburger Field. I believe this is 2013. I bought ten tickets to see the minor league Hooks (Houston Astros farm team!) play and it was a blast. Neither Tommy or Maria had ever been there, and the field is almost right below the Napoleon hat Harbor Bridge. The bridge is supposed to be torn down and replaced with another higher bridge, something Tommy & me were talking about March 24th, 2016 the last time I really spoke to him. The field is less than mile from where we both grew up.

=============================================

On....March 24th, 2016. Please forgive me if I get some of this timeline screwed up as it all seems like a damned bad dream.

I last really spoke with Tommy on his birthday March 24th, 2016. We talked about the old bridge going to be torn down, can't believe the Harbor Bridge will suffer that fate and new bridge going to be built. The bridge is less than mile from where we grew up in the old hood on corner of Doss & Antelope Stree near intersection of Port & Leopard next to rail road tracks, so not far. We joked that 'niggertown' (niggertown is what it has been called since 1930s, also known as The Cut, for good reason) but that the bridge would displace the few people still there. I asked him what he did for birthday, he said 'he went to get legs wrapped' as was diabetic & obviously went to doctor. I told him 'where the hell fun is that? Go grab Maria in next room & pull her panties off & make her squeal like a rodeo pig!' He thought that was funny, but 'was not up to it'. We talked about going fishing. Asked how Noah & Jacob are, Paige & so forth, just usual brother crap.

He did not call me for my birthday 2 days later March 26th, 2016 & I found that strange, but didn't call him either, just figured he was busy. Monday March 28th, I got call in morning from Tommy and it was garbled like 'hi eeeedddiii, rroooom, mfffff' I really could not make out what he was saying & immediately thought stroke, and said 'I'll call you back in few minutes' so hung up, quickly called Paige at work in Houston & told her, she asked if I wanted her to call, I said no, I will call back. I called back 15 minutes or so later & got a nurse, and she told me that 'Tommy was in Spohn hospital' and has had 'a blood clot & bleeding on brain' and is in ICU.

That short muffled conversation was last time would talk to him, but I would like to think his birthday on March 24th 4 days earlier was REAL last time I spoke with him.

A series, no flurries of calls between me, his daughters Sarah & mostly Chelsea (who is youngest & I thought possibly most vunerable) went on for several days, with them keeping me updated. I didn't want to call Maria at this time, giving her some space. In meantime I shoved a shitload of old photos onto Facebook. With descriptions, and letting people know that Tommy was not doing well.

This is some of them.

Brother Tommy update, April 4th, 2016. Tommy's life on this earth is now being measured in minutes. At urging of both of Tommy's daughters, I drove down to Corpus Christi, Texas last night for a final goodbye. I stopped the car south of Victoria on 59 north of Refugio on a side road Kemper City Road West...mainly to show the boys God's handiwork, as it is squid ink black out there no lights, nothing, and thousands of stars. I had forgot how many stars are in consellation Orion, or seen Gemini in decades. Noah & Jacob had never seen so many so we took about 10 minutes. Was extremely peaceful. I had repeatedly asked them if they were mature or ready for what they were going to see when we did see Tommy, who is brain dead according to doctors and now on 'comfort care' until the big guy passes to the other side. How do you measure someone's lifetime? My mind is fucking exploding like Billy Joel in the 'pressure' video. I think of us playing tag, baseball, in Catholic school with goofy uniforms, the nuns always comparing me to him.

That is before they would swack my ass with paddle. The comparisons went into high school at W. B. Ray but he had good grades, just didn't get on honor roll as much as I did I used to tease him. Working on American Motors cars, getting up 4am to go fishing at the Holiday Inn or Oso pier, him getting caught with a Playboy magazine by momma, his marriage, and even the last time I saw him as I paid for tickets to Whataburger Field to watch the AAA CC Hooks play baseball down there, all of us went was quite neat he had never been there. The memories are flooding fast & furious now as his time draws near.

The boys & me got up early & went to Spohn to see him. Before we went to Spohn, which is in the distance in the photos above, I talked again with Noah & Jacob, and asked that they be STRONG FOR ME. Corpus Christi bay looking towards the hospital & downtown was peaceful, Jacob & Noah stand in front of the flat bay. A number of people commented on how much Jacob looks like Tommy. It was 'forced smiles' from the boys; & if Tommy would have seen the bay like this he would have said 'it's like GLASS!!! LETS GO FISHIN!!'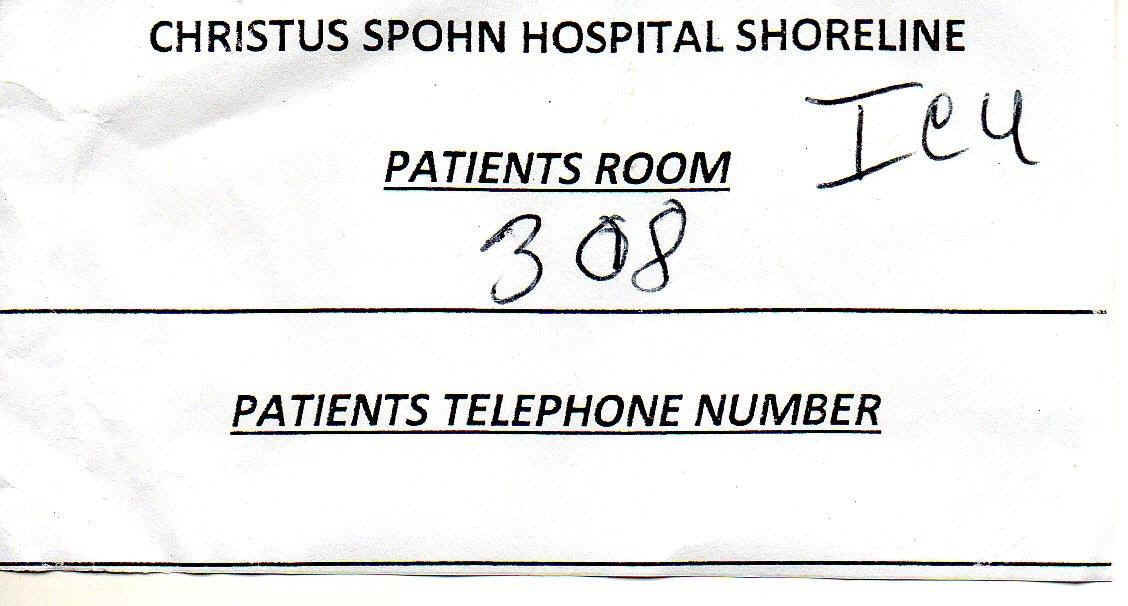 Had to be buzzed in. He looked so peaceful, almost looked like he was dreaming, maybe of better days. Maybe of wife Maria & kids Sarah & Chelsea. Maybe of his beloved sweet potato pie recipe he bragged of at Christmas 2015 'that people were coming for blocks around to get some' and I told him on his birthday March 24th right before he fell ill 'you need to share damned recipe with me or get it copyrighted' of course a big guffaw from him.

Homer Thomas Stakes was born March 24th, 1957. Everyone knows him as Tommy.

Friends, family, AMC people, it's all TOMMY. As Noah, Jacob & me went into ICU a sort of surreal feeling, and I didn't sleep last night after driving down there, but again, seeing God's handwork in constellations I had long since forgot (and can't see in Houston light pollution) was peaceful.

Noah said 'he looks like he is just sleeping poppa' his beard a grizzly adams type, the flame red hair of his younger days now streaked with grey.

The tube in him mouth keeping air in him.

I don't know the first words out of my mouth except to say I wished I could do something for him, how I had always admired him & was proud that he was my only brother even though we had some differences thru years, nothing that was never overcome. I asked Jesus to take his hand and help him along the path that I hope will reunite him with momma Sarah Stakes & poppa who he affectionately called 'Pampaw' Homer Stakes. Was making a mess crying, only two people in room, Jacob stood outside door slightly but his tears were flowing as much as mine & Noah's as I spoke, a unrehearsed bunch of shit just babbling out of my mouth as much as this am writing now.

I took his hand and told Tommy I loved him and always had. Just the occasional beep from one of the machines, his hand warm to touch but I still squeezed it, saying 'Tommy are you there' knowing would be no reply. Damn he looks peaceful, and on his birthday the other day I asked him what he did for birthday joking with him 'you need to get laid!' more laughter from the big guy, he told me 'I went to doctor for my birthday to get leg wraps' as the diabetic legs supporting his big frame had really looked bad last time I saw him. But he was obviously not in pain now.

Noah, Jacob & me were in the room maybe 10 minutes max. Tommy while there physically, is already home with Jesus. The family made the decision the other day to pull the plug, the plug being the tube that drains his brain of fluids, and doctors did a number of tests determining he is 'no longer there'. Sometimes seems so damned unfair, life, that you have nazis living out their lives in their 90s, while someone like Tommy struggled to hit 60, or the young girl, 14, found in field behind our house here last month, or the little 2 year old girl beaten to death in Houston last week by crack head parents. It just does not seem right but I do not question it.

To all of those lives Tommy touched, you were lucky to meet the big guy. He was honest and real as the day is long. Thanks too for all the outpouring of prayers, sympathies for him and to his wife Maria, daughters Sarah & Chelsea. They might say it but they do appreciate it and continued prayers for him & family.

I held my brother Tommy's hand for last time, morning April 4th, 2016, praying to Jesus that his journey is a safe one & thanks for being my brother.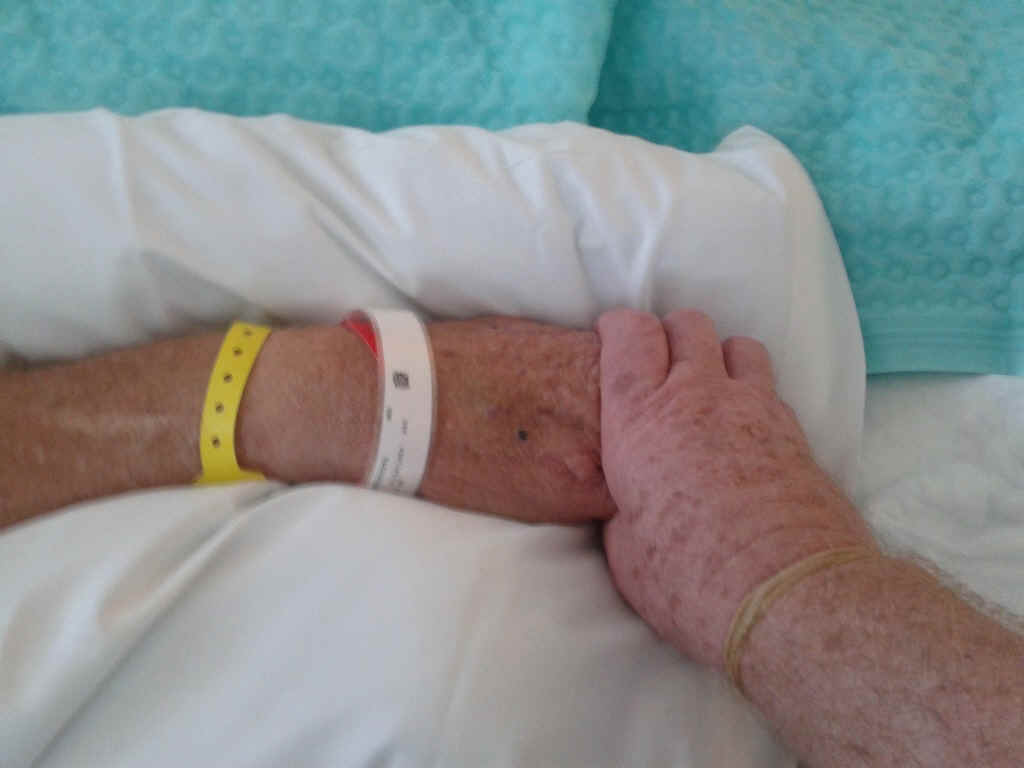 Update on brother Tommy Stakes April 5th, 2016. At 8;00pm today, the doctors will quit giving Tommy medication. The drain tube to brain removed several days ago. He lies there looking peaceful, and almost asleep, but he is gone to Jesus. And with my mom & dad now. Last Rites given a few days ago, he is like me, Catholic and this hopefully will cleanse his soul on journey to God. It's tough as hell for me to write things like this in a past tense, knowing I just saw him in a fly by night trip down to Corpus Christi, but also realizing what I saw there is not the Tommy I spoke with on his birthday a few weeks ago March 24th. We joked about a lot of things, including the 'new' harbor bridge to be built near our old hood in CC, his damned sweete potato pie recipe, even talked about Whataburger of all things, the original Whataburger was not far from where we grew up on poor side of Corpus in 1960s.

I spoke with his daughter Chelsea and did finally call wife Maria today 4.5.16. I have been reluctant to call her mostly to try to give her some space, as I can't fathom what is going thru her mind, being married to Tommy almost 27 years or so. He spent more time on this earth with here than he did me, and even my parents, although my dad lived with them for some years.

Tommy Stakes died tonight. Sunrise 8:38pm, March 24th, 1957 & Sunset 10;10pm, April 5th,2016. God bless all of you who lit a candle, took time of your busy day to say a prayer for him. He may not have known you, or crossed paths with you but the prayers & wishes were appreticated nonetheless. May God give strength to his wife Maria of 27 years, his daughters Sarah & Chelesa. And to those of us who are a fucking train wreck over his passing. We will always love you big guy.

Well, he passed away quietly Tuesday night about 10;00pm when doctors pulled final tubes. The next morning, Wednesday April 6th, while I was outside about 5am saying a prayer for him, I saw a what was not really a shooting star, but tiny millisecond flash burst, probably dust as it his earth atmosphere. A smile thru tears and for a moment, I wondered how long that piece of dust had travelled, maybe millions of light years, only to put tiny speck of light in sky for micro second. How many people saw it? Maybe me only? It was that quick. As I finished my prayers there was a small gust of wind that moved the branches of the live oak above me, and 3 of my citrus trees near St Francis statue. Was about 64 degrees and well, no breezes or anything and it was comforting little breeze, maybe Tommy on his way home.

Or God's way of telling me everything will be alright. I didn't know what to make of either the quick flash in sky, or tiny breeze. And nothing else moved breeze wise just this small space around me.

Above: While driving down for funeral of my brother Tommy Stakes, we stopped at Bucee's in Wharton. Great place by the way, but watch the beaver! In 1st photo Jacob was attacked! 3rd photo, hey, get away from Noah's crotch! The funny part is that a old man in beat up Ford pickup truck, yellow teeh, gimme cap, drove up to me in parking lot and said 'hey, you know when you taking pictures it looked like the statue was molesting your boy!' I told him 'yea, tried to get a photo of Bucky grabbing his ass' and he laughed hard and drove off. It wasn't until I uploade photos noticed the old perv was right, I though I had taken photo of boys with Bucky grabbing hinies! Nothing Beaver Nuggets can't cure. Paige came with us for the ceremony, Tommy was cremated. since he was 'over the limit' weight wise for the cremation they charged them extra, what a load of shit. One of my cousins, Terry Brister, now known as Terry Hodges quickly set up a Go Fund Me account to help out Maria, as if you can believe this, Tommy being a 'car guy' all his life, left Maria without a damned car! No AMC, Chevy, Truck, nothing, so the Go Fund Me account raised about $3600 for family to not only help cover funeral expenses, but also maybe some towards a small eco car. Terry, you are a angel.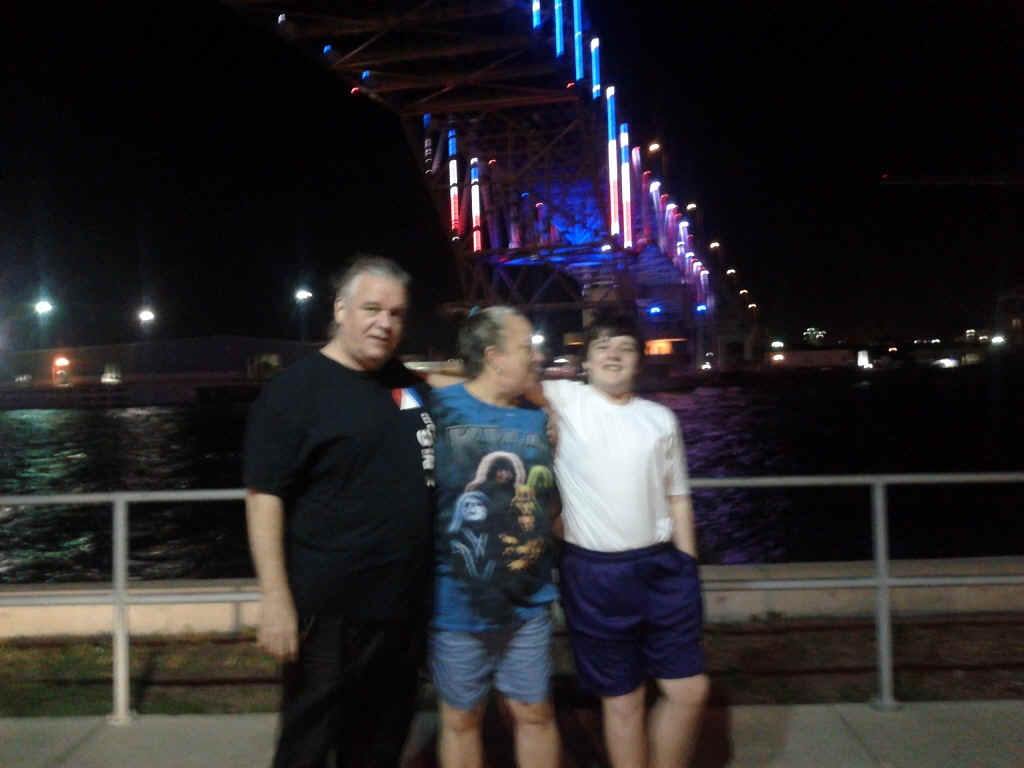 The night before Tommy's funeral we sort of drove around Corpus Christi, me being tour guide for Paige, Noah & Jacob. Nothing special, just depressed trying to clear head. Since Tommy & me in last real conversation talked about the Harbor Bridge being torn down & replaced, figured would take photo of us under it.

====================================================

Tommy's family he left behind, wife Maria married 27 years, daughters Sarah & Chelsea, If you wish to donate prayers, God Bless You for thinking of him it is sincerely appreciated.

What I read at the ceremony for Tommy at church is below....a HUGE THANK YOU to Terry Hodges (Brister) for firing up a Go Fund Me account whish raised about $4000 for Maria & kids right after Tommy's death, also Pamela Stakes who sang a beautiful rendition of Amazing Grace & Ave Maria at the church ceremony, all those that attended, the church was packed, all those folks who cooked bar b que, chicken, sides for the lunch/dinner after ceremony, the food was WONDERFUL, and the pastor of church who took a lot of thoughts, remembrances and the Lord's word & help put all in perspective.

Tommy was a big, easy going fellow who was extremely likable. He was honest as day is long. Would seal the deal with a handshake & smile. If he told you he would be there, he would be there, no excuses. He kept friendships I had destroyed or broken. Almost to a fault, he would pick up that second shift at restaurant without complaining. Could tune up your car, repair your bicycle, change your oil, even bait your hook when fishing. He was good at about anything he did when we were kids, and made friends in the old hood and at school easily with his demeanor.

I always lived in shadow of Tommy. I didn't mind it, as I looked up to him for guidance, wisdom, thinking he had been there done that before me on a number of things as our birthdays only 2 days but 3 years apart. He helped me with homework, and life's little things brothers often share too numerous to list here.

We had a friendly competition thru our lives, who had the fastest car, who had longest hair, who got the best grades, built the best car models.

Brothers tend to do that I am sure sisters do too. Tommy could grow a beard, I could not & it looked like mange.

There is a ton of sadness with Tommy passing. I pray every morning for his wife Maria, daughters Sarah & Chelsea. But before they were such a influentual part of my brother's life, and he spent more time on God's good earth with Maria than he did with me, momma or poppa. That was a good thing.

But back then, he had to put up with me.

So here are some things you probably didn't know about Tommy. And as brothers do and did, a little competition.

Tommy weighed less than me at birth, he was 8.4 pounds, I was 8.8 pounds.

Advantage me.

Tommy could eat a Whataburger in one bite. I challenged him to do this and knew I screwed up when he just smiled at me and said 'double meat double cheese' then let out a big Tommy laugh, guffaw guffaw knowing he just got free food.

Advantage Tommy

Tommy got a new Schwinn bike in 1968 for Christmas complete with banana seat and 3 speed stick. My dad painted my old bike & I didn't know difference until I hit the one way sign in front of our house & paint came off.

Advantage Tommy

Tommy was all the nuns favorite. Teachers pet. Every grade at Cathedral one thru 8. I tried to live up to their expectations, but even with good grades, was somehow still spawn of devil, often receiving the 'heat for the seat'

paddle. 'whycan't you be like your brother Tommy' was constant.

Advantage Tommy

Of 800 kids at Corpus Christi Academy in 1970s, I was 6th smartest in school. When the priests called my name to get award, I looked at Tommy across the gym and his friends were punching him on shoulder, giving him noogies, telling him 'his little brother kicked his ass'. But! We had to work after school cleaning rooms to pay our tuition & Tommy took off early, taking Saxet bus home down Leopard, told my mom, who gathered some change and walked to Rainbo bakery to buy me a day old strawberry cake. When I came home at 5:30 on bus, I had neat surprise for putting up 94.6 grade point average. I never learned what Tommy's GPA was either & Tommy ate 1/2 of damned cake.

Advantage tie on this one

Tommy could rebuild a AMC engine on kitchen table.

Advantage Tommy

Tommy was on honor roll more than me.

Advantage me.

Tommy graduated high school at W B Ray.

Well, advantage Tommy, duh

Who had more girlfriends in high school? Neither Tie

Momma caught Tommy with a Playboy magazing under his bed.

Momma caught me with a bag of weed under my bed.

That is a tie.

At the Mai Tai fancy restaurant on pier on north beach in late 1970s, Tommy & Cruze had just spent over hour cleaning kitchen when owner's wife, drunk from the tiki bar, asked them 'to cook her up a steak' after midnight, they agreed, and took steak on tongs out back door which staircase led down to beach and proceeded to both pee on it. Then cook it. She told them it 'was the best steak she had ever eaten' while they cleaned kitchen again. Tommy was laughing so hard he soiled himself.

If you liked Shakey's pizza on Everhart years ago, you can thank Tommy for putting it out of business. The buffet featured great wings, pizza, mojos. I took him there & he was hooked but instead of taking 1-2 pieces, he would pick up whole metal tray and carry it to table. Managers never said anything, what are you going to say, he was going to eat it all. I also made mistake of taking mom there with him. Mom cleaned out her purse, put plastic in it and filled it with wings and pizza. We got out to car I said 'what the hell did you do?' Momma with her impish smile said 'got some food for ride home!' without batting a eye, and well, there they got nibbling on more food for ride across town.

Although we lived in abstract poverty with my dad bringing home $156.00 a week in the 1960s, Tommy never complained, kept his grades up studying by Coleman lanterns we had in house. Kept his clothes for school & work clean washing them with momma in the washtub on side of house. Momma would reward him by letting him pick a car model or two at Woolco on Staples & a few McDonalds filet o fish sandwiches on Friday when we cashed poppas check. He was big out of the gate, and would have made a great football player if not for feet problem. If there ever was the proverbial gentle giant he was it.

Tommy & me got in two fights our whole lives, one about Hot Wheels cars, other about food.

On the last day I spoke with him his birthday March 24th, we talked about the new harbor bridge supposed be built thru N-Town, also known as 'the cut'

near where we grew up. I told him if he had went to nice restaurant with Maria, he said no 'I went to have my legs wrapped by doctor' and I snapped, what the hell fun is that and told him to go grab Maria in room & get on it!

He laughed really hard with his haw haw haw type laugh.

I am hoping that everyone who crossed Tommy's life will simply remember him for what he was. A big, honest, no BS guy who always tried to do right thing, put his family and friends first even at his own expense.