Wycliffe Flooding
(Houston, Texas. Wrenwood Subdivision)
"City Streets", said Fred Garcia, a civil engineer and spokesman for the Harris County Flood Control District, "are designed to act as detention ponds when heavy rainfall incapacitates storm sewers." "It is a inconvenience, but it keeps water from rising into houses."
NEW!! The Tax Day Storm April 15th, 2016

On Tax Day April 15th, 2016, Houston received what was called Biblicanl flooding. Some areas got 20+ inches of rain. The Addicks & Barker Cypress dams were taxed to capacity. Never before has a FLASH FLOOD ADVISORY been issues for over 3000 (THREE THOUSAND) square miles. Over 3000 homes, businesses damaged or destroyed. Ironically in our little corner of world we did not flood in house, garage or back/front doors but got within millimeters of coing in all those areas. NOT SO LUCKY people in neighborhood, there was water in dozens of homes and now streets lined with drywall, carpet, books, furniture, mattresses sadly. On Wycliffe block I live on 8 houses took in water. Side street Timber Oak which has new sewers, sidewalks, also flooded. I took a video of back Centerpoint Energy fild under water, in of all the fileds from I-10 north to Hammerly, this only one that floods & water stays in it for up to week draining. Lots of ZIKA breeding ground you know. Have a You Tube video or two, search "Centerpoint Energy Flooding Wycliffe" for them.
There are some photos from latest disaster, the Doppler images in white is over 20 inces of rain. The US Army Corps of Engineers rates the Addicks Dam (one block from us) AT HIGH RISK OF CATASTROPHIC FAILURE, and this 70 year old dam in the photos was record levels never seen before. Hiway 6, Clay Road, Eldridge Parkway, all of them under 4-10 feet of water, the water on 6 was 20+ feet in some areas, in my photos below, the water level at Chatterton & Sherwood Forest is 15-17 FEET, that is billions of cgallons of water, it was estimated that the amount of rain from this storm was equlivient of what goves over Niagara Falls....FOR 88 DAYS!!!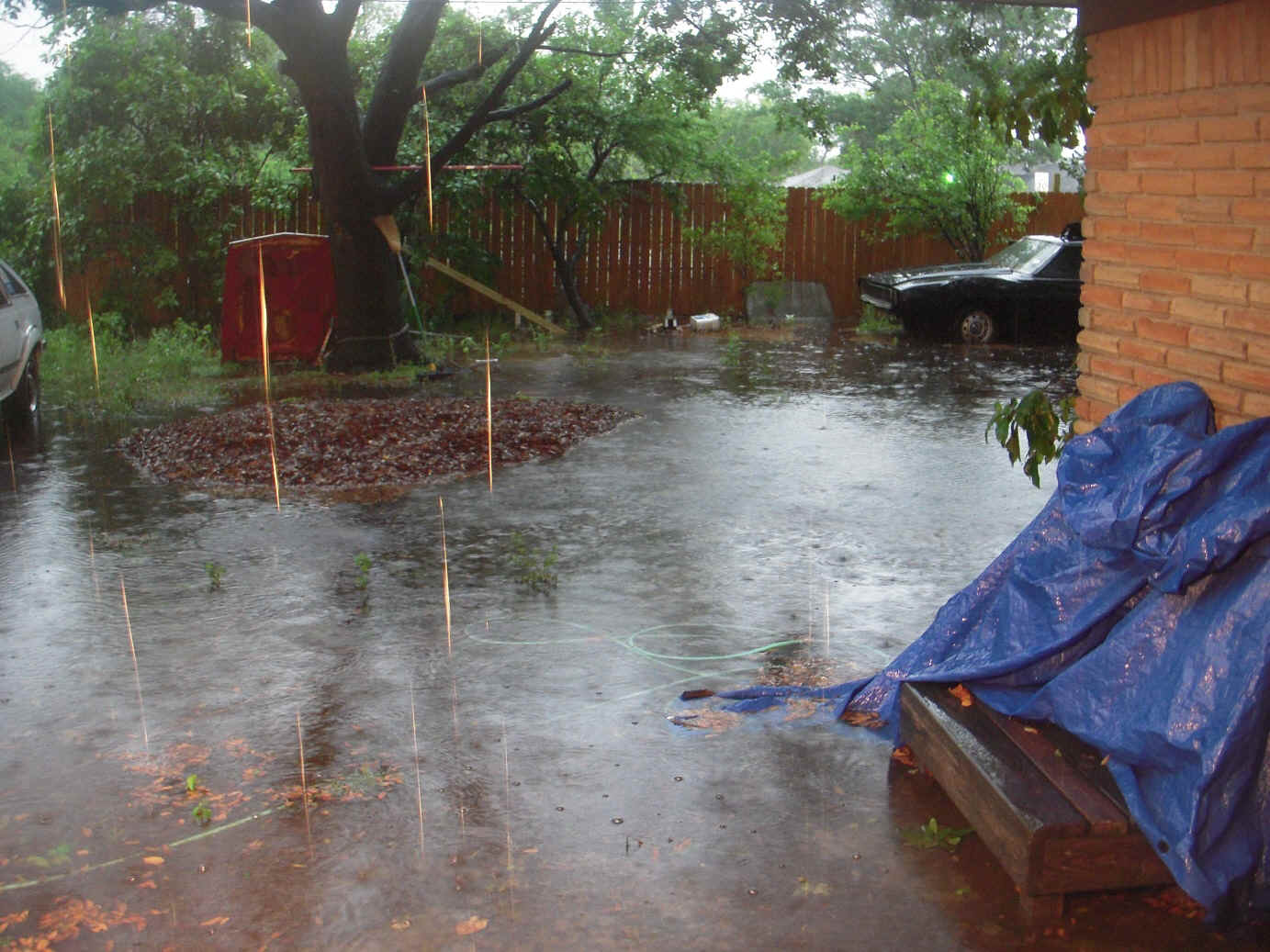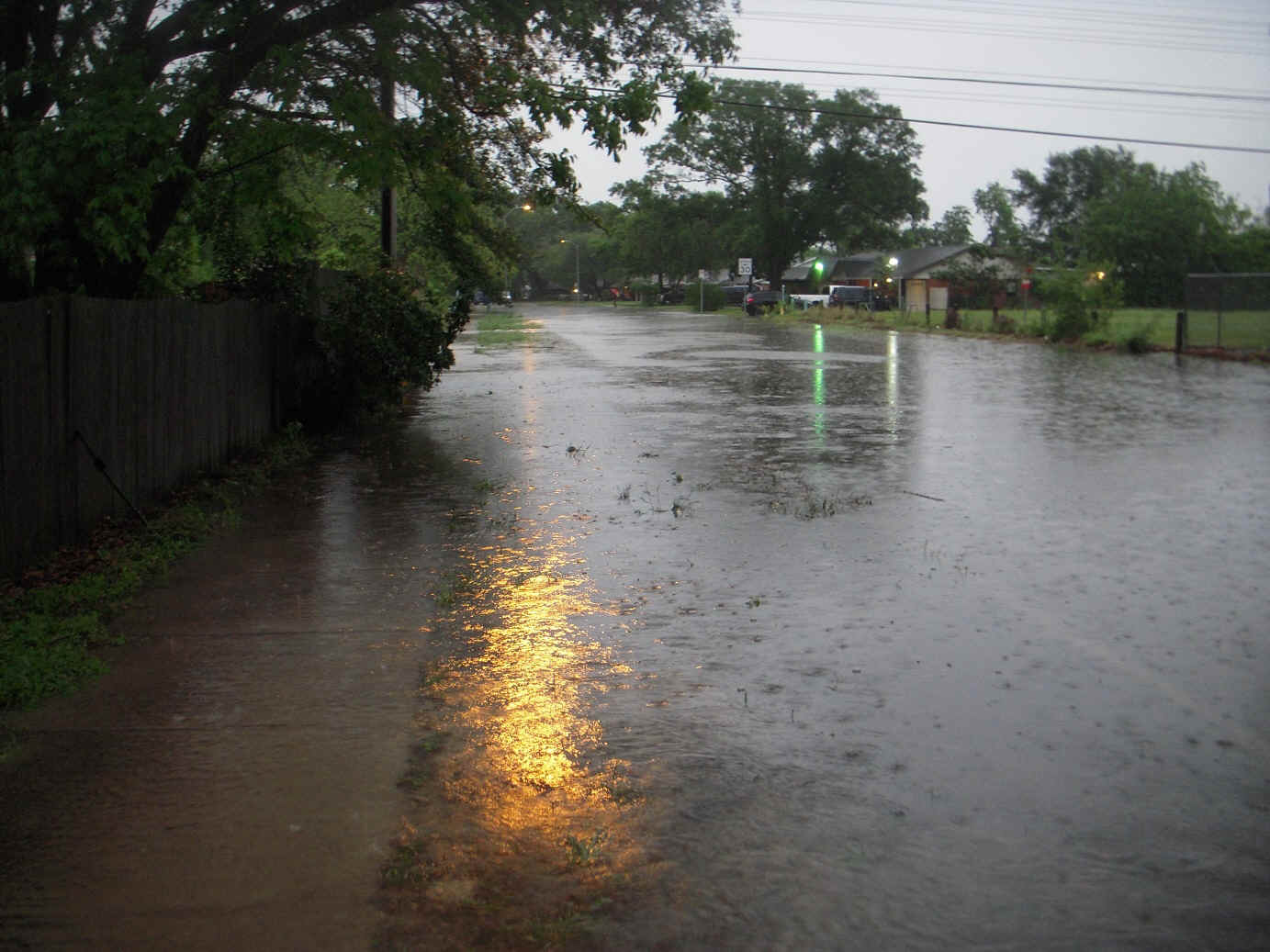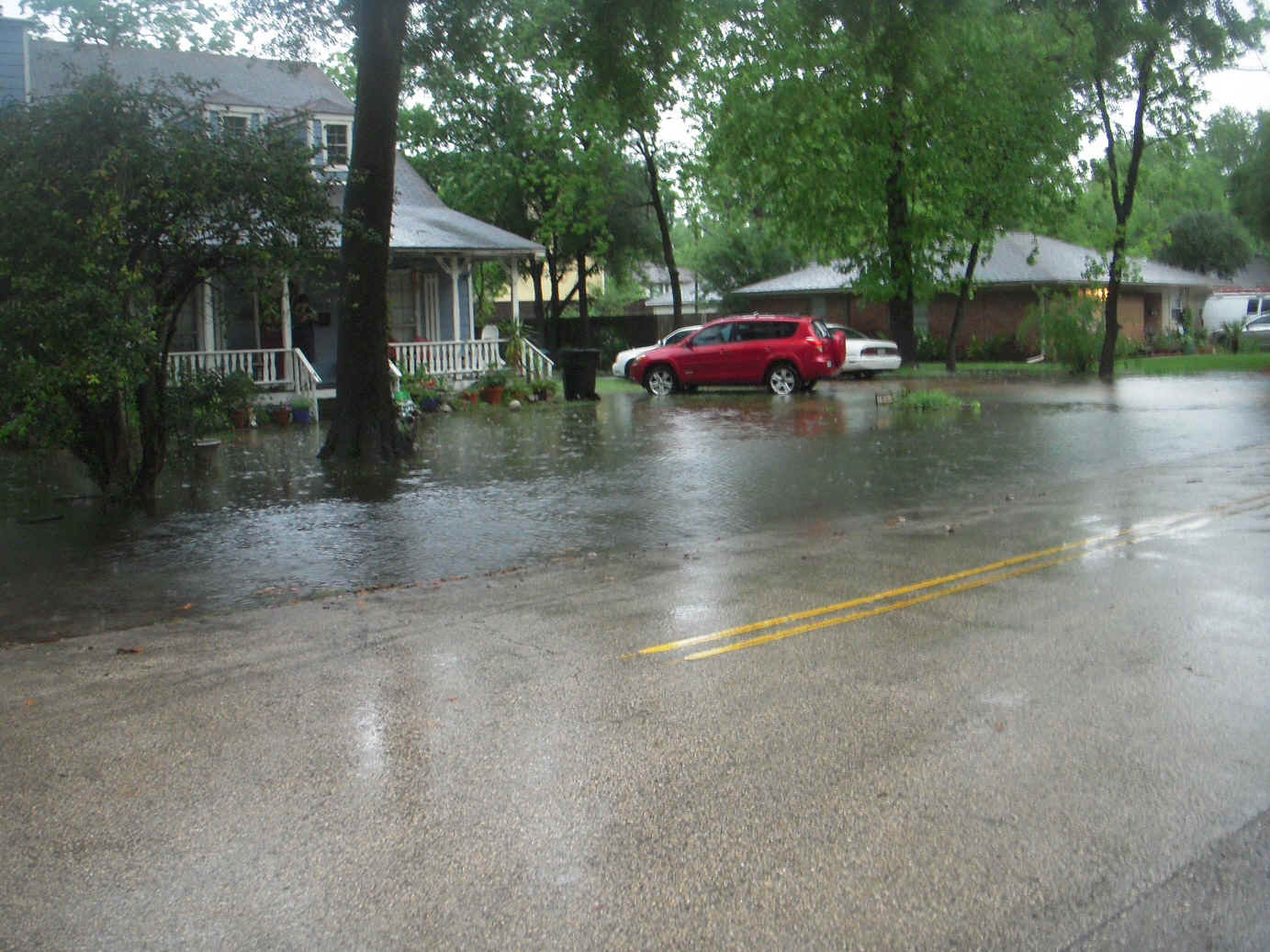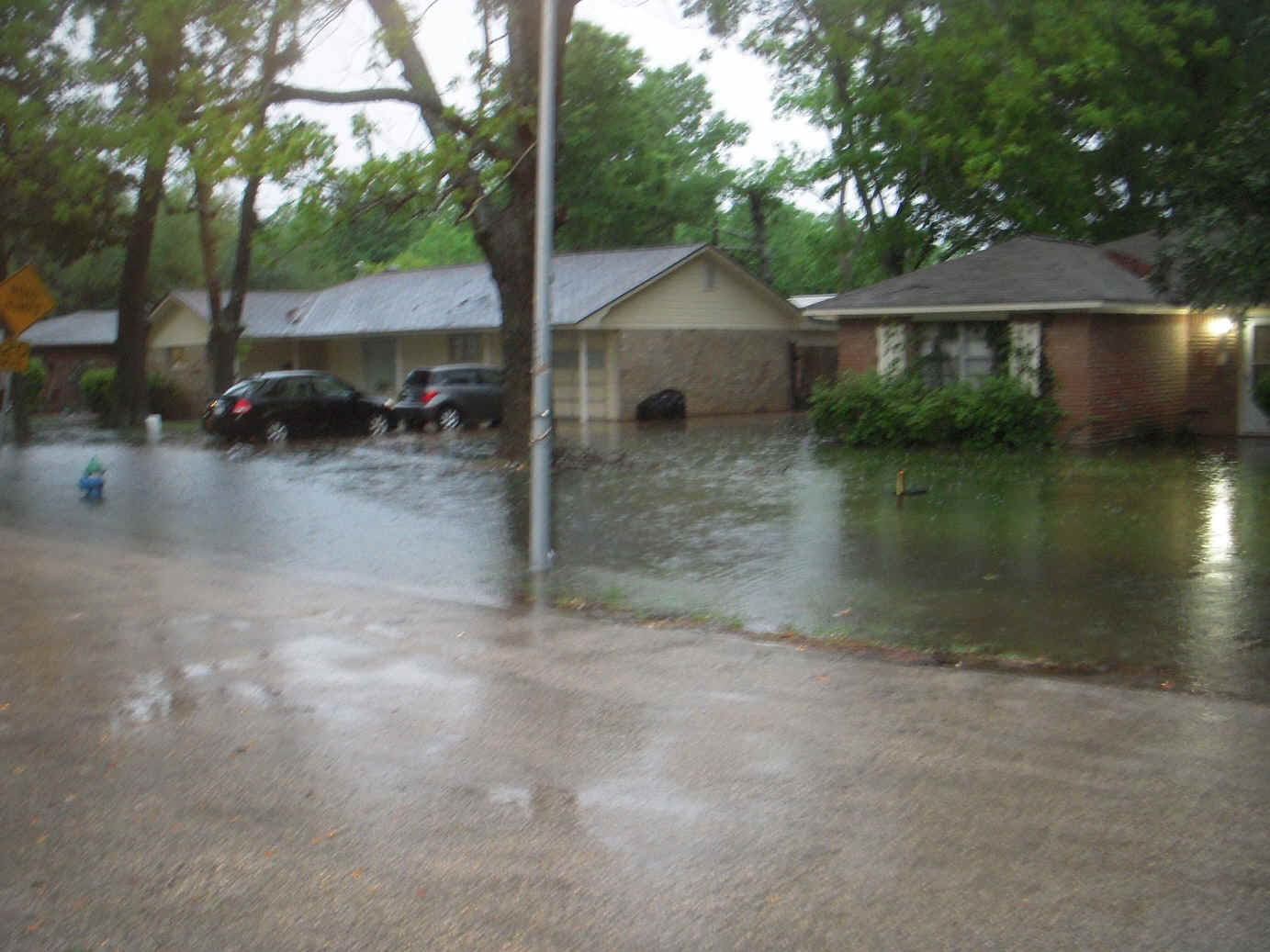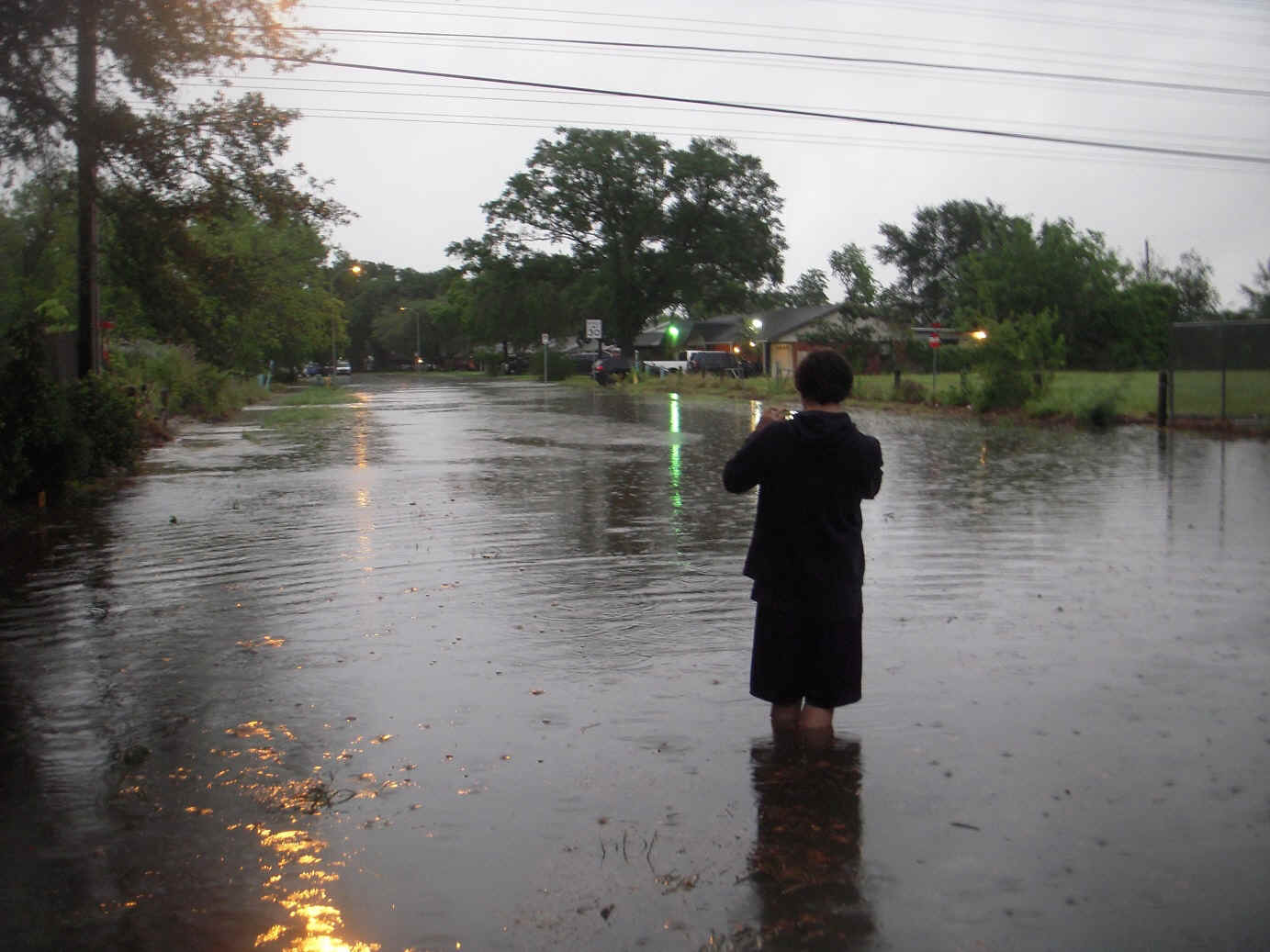 Photo #1 our back yard, #2 Timber Oak facing Brittmoore; #3 Donna's house directly across from us, this is Noah's Ark of neighborhood; #5 Son Noah takes photos facing east on Timber Oak, you can see flooded homes down street.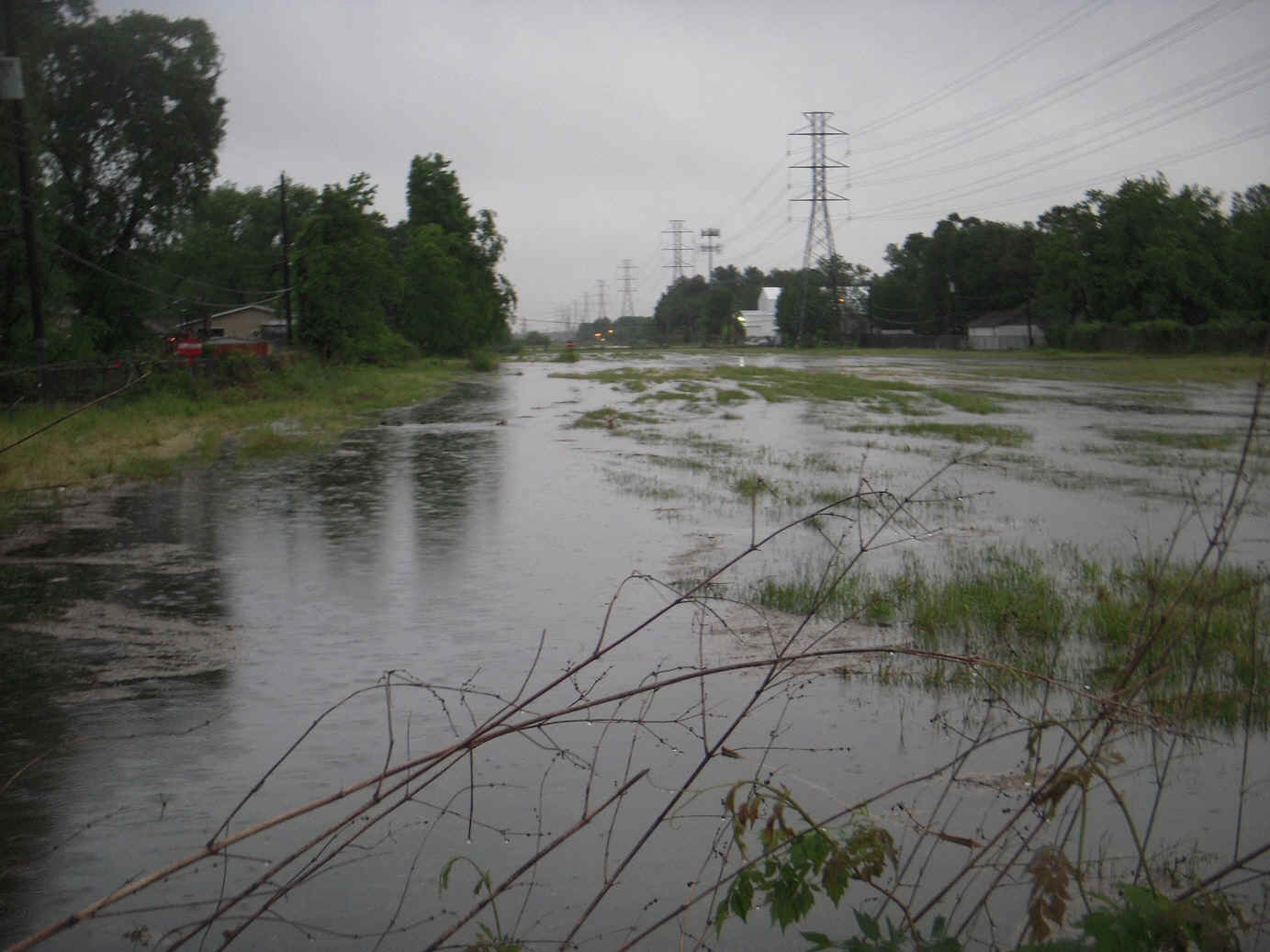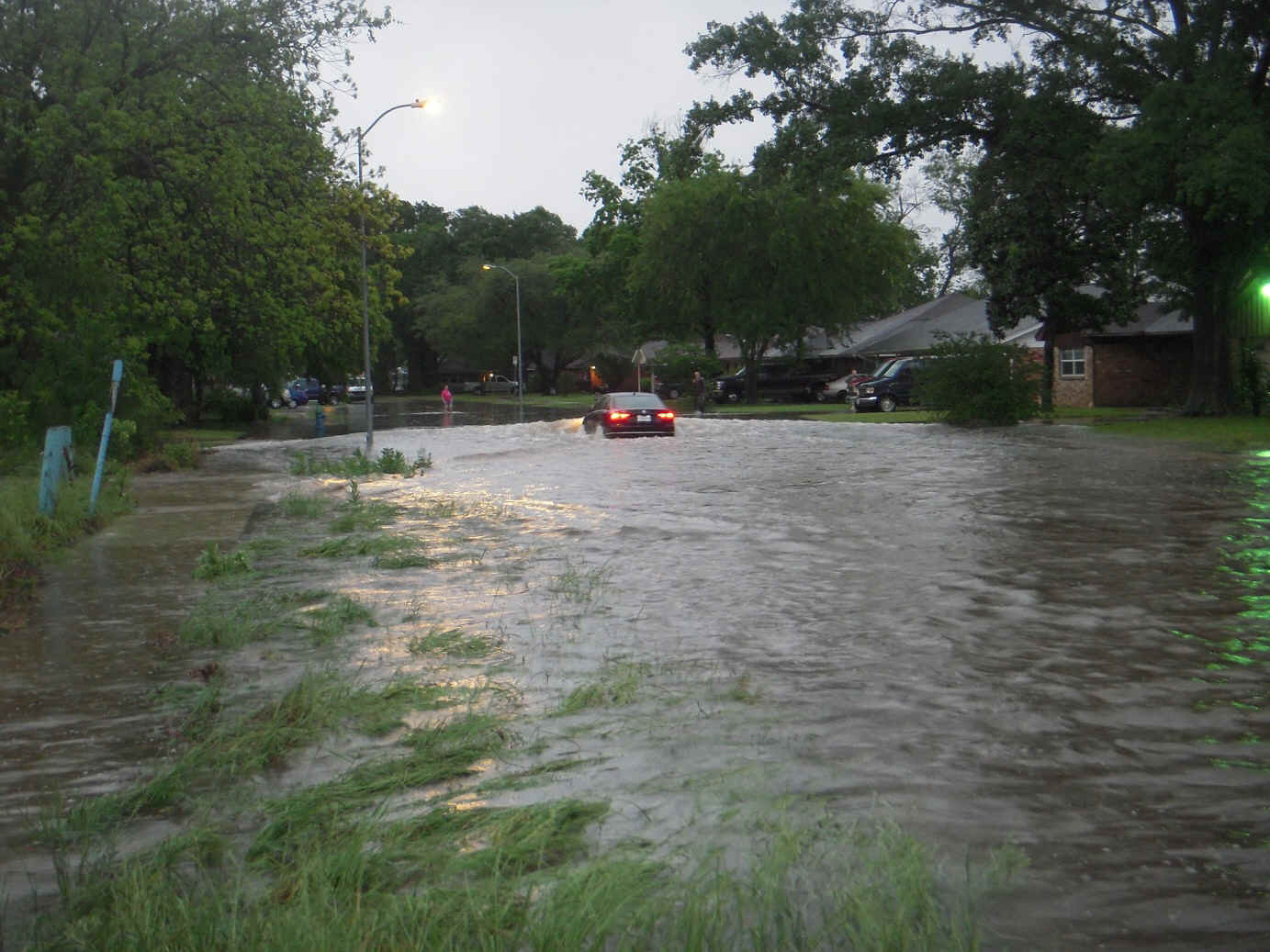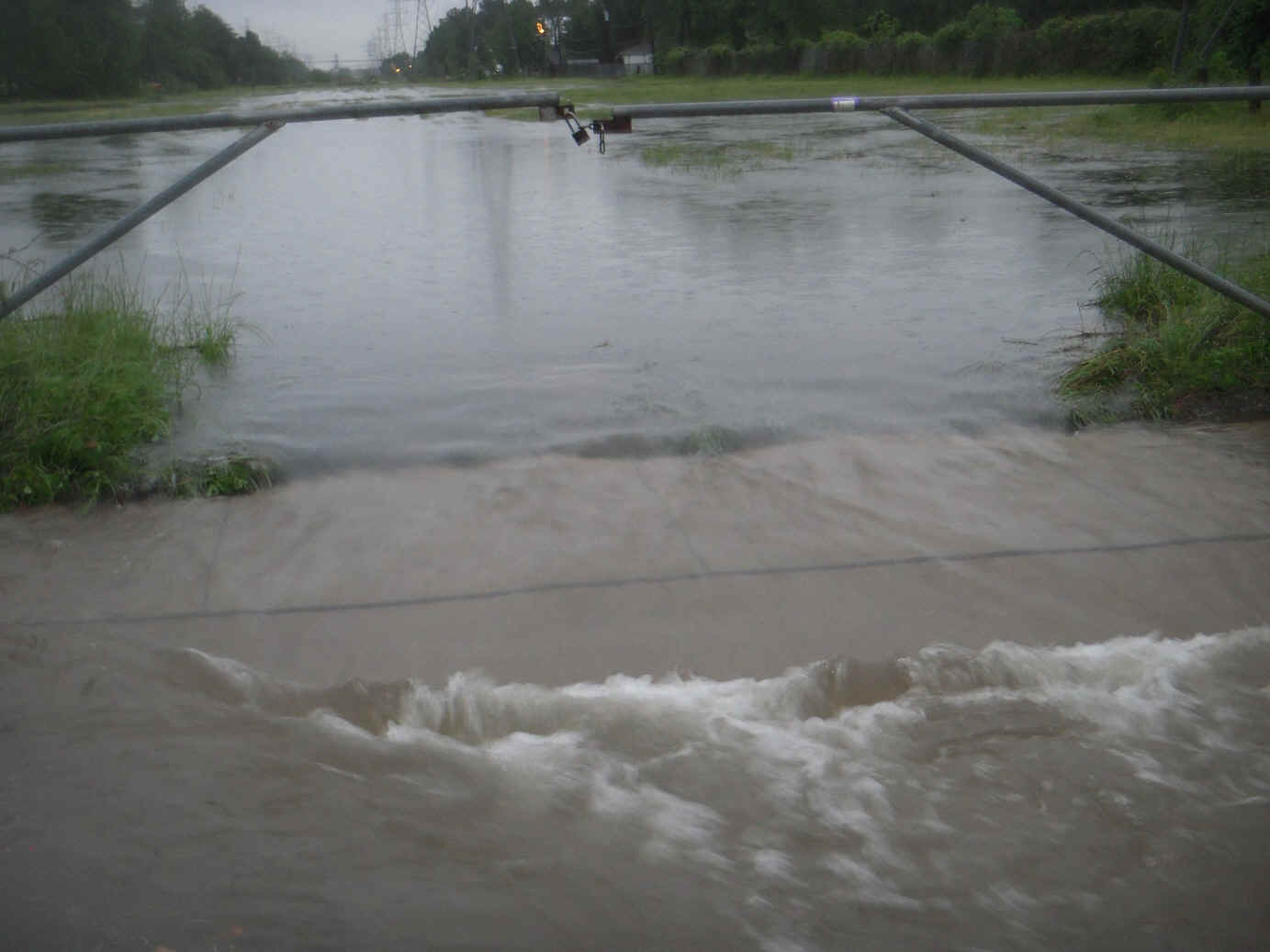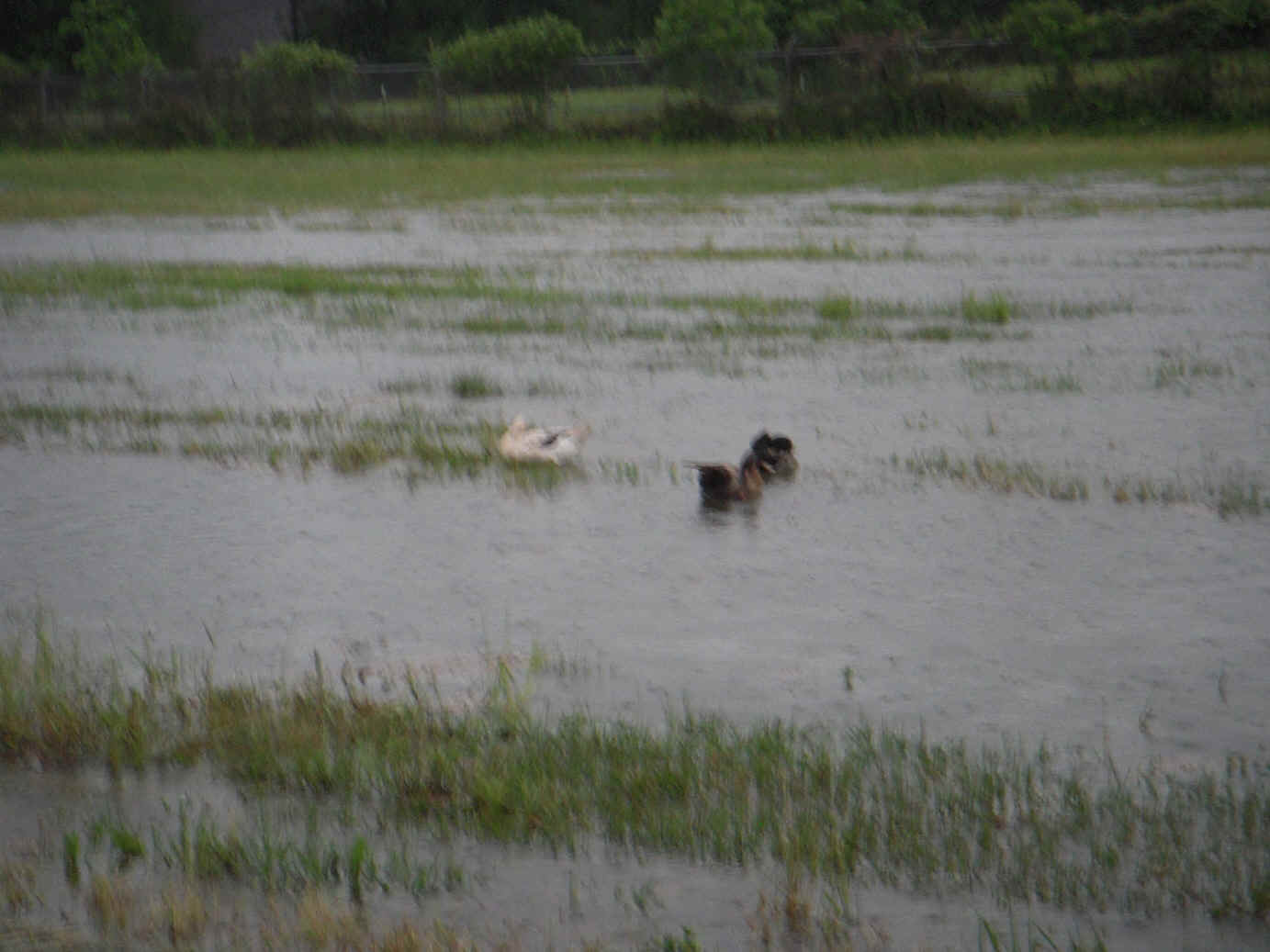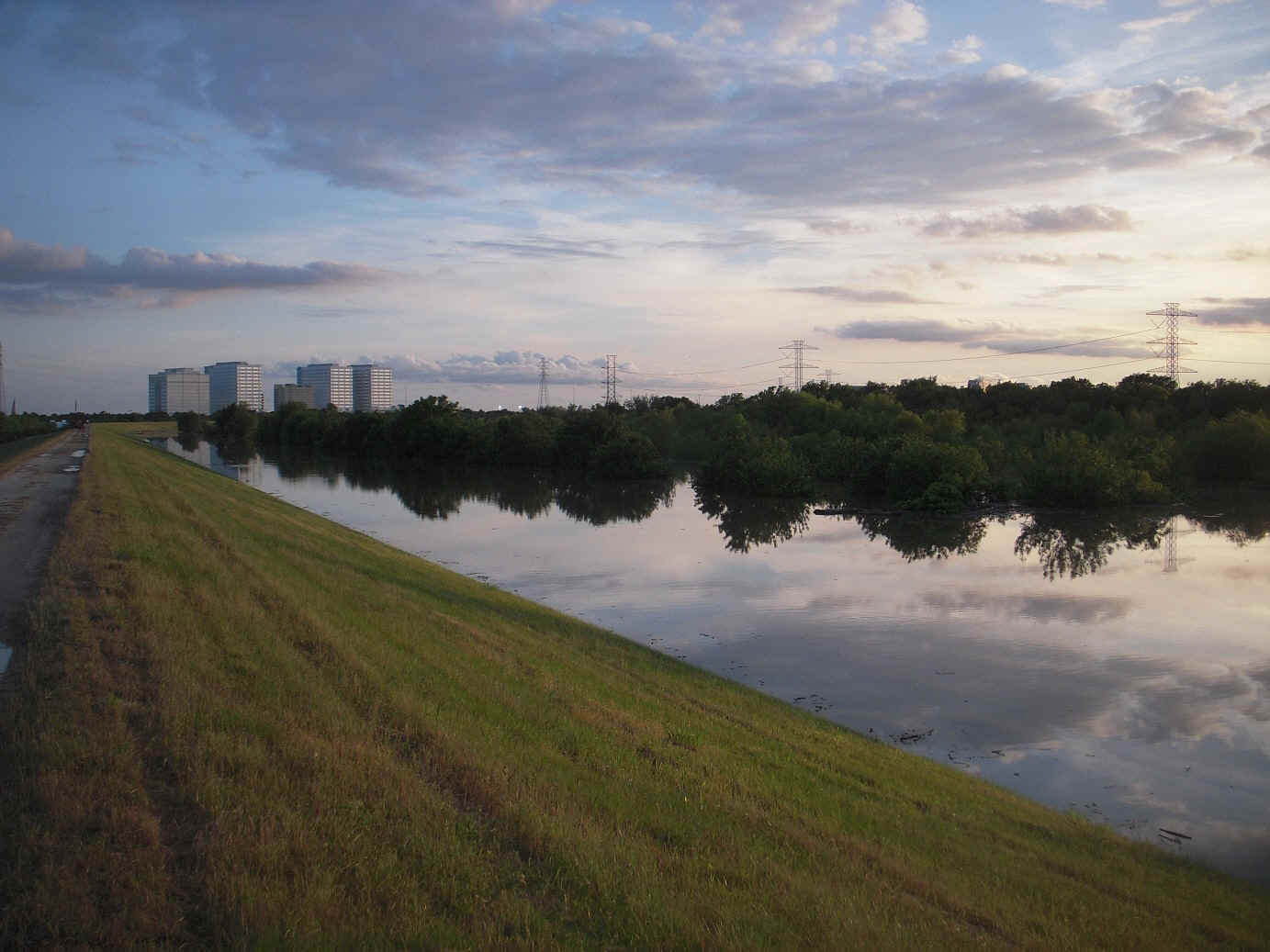 Photo #6 Centerpoint field behind house; #7 Sara's mom trise to stop a car from going fast thru water as any vehicle that would pass.would throw a wake into the already flooded homes making bad situation worse. Even when the cars and trucks that tried to traverse this mess got to Brittmoore, it was flooded even worse and littered with SUVs, cars, trucks stranded in 2+ feet of water as far as eye could see. Photo #8 surf is up with lots of water pouring from Centerpoint Energy field into street. #9. Duck, we had damned DUCKS in field they loved this shit. #10 Behind Addicks dam, standing on top of it, facing south towards I-10. That is 15-17 feet of water back there for miles.
Photos #11 thru #15, all taken day after storm, you can't really appreciate how high the water is back there unless you have seen back there dry as it is most of time. There are a few little lakes with fish, lots of deer, hogs, snakes, and animals.
Photo #16, behind the Addicks Dam watching a sunset, son Jacob near water, I yold him ALLIGATOR! And he scurried back up. Photos #17 & #18, doppler images from two different sources show how large the flooding was in NW, West & North Houston, just staggering amount of rain. The airports, bus lines, schools, interstates ALL CLOSED as most underwater. Photos #19 & #20 show a influx of displaced deer in easement several days later. One ran into side of Chevy truck and had bloody nose.
Photo #21, #22, #23 sadly all the displaced critters from flood had to go somewhere, we counted 30 deer in easement behind house, then they started running everywhere. At one time five of them dead in TimberOak & Brittmoore from collisions with cars & trucks, keep in mind these poor animals had never ben outside the dam area. A 7 foot snake in 1st photo, I let him go, 2nd photo a dead doe, 3rd photo young buck, and behind my blue 82 Concord wagon in background yet another dead deer. The last photo #24 is a buck who just wanted to cruise neighborhood in my 68 Rebel converbile 'Machine' and pick up a few doe.
=================================================
On Memorial Day, 2015, Houston experienced catastrophic, historic flooding We got 9 inches here in the Wrenwood subdivision. But our house didn't flood, however, not everyone in this area lucky judging by the sheer amount of couches, torn up carpet, padding, dresser drawers and matresses tossed out by side of street. With the NEW Timber Oak from Wycliffe to Brittmoore finished, sidewalks, sewers, a false sense of security (at least by me) though no way could Timber Oak flood again as seen in the older photos below. I was wrong, and it came up fast.
A neighbor stopped by 3 days later as the Centerpoint field behind our house continued to drain. It is the LOWEST of the fields from I-10 to Hammerly. She asked 'every time it rains, this driveway empties for days!' I had to explain to her (and other neighbors who have asked!) that there is a DITCH running from Timber Oak to Shadow Wood about 15 feet beind the property lines of Wycliffe, dug there by HPL many years ago to help drain this field. However, when the new sidewalks, road built on Timber Oak, this got PLUGGED UP by construction which didn't take into account this alleviated the flooding problem in the field. So now, you have a 2-3 foot ditch filled with water for over a week after heavy rain. And nowhere to drain as the sidewalk behind my house acts as a dam. So I took these photos after the historic flood.
PHOTOS ABOVE LEFT TO RIGHT: (1) This is where ditch used to drain field. (2) close up of where sidewalk blocks off drain ditch. (3) looking over at ditch directly behind 1902 Wycliffe. (4) farther down image of ditch several houses down. (5) center of field facing north. (6) our own personal waterfall, this drains for 3 to as sometimes as long as over week. (7) angle of water flowing down Timber Oak Falls facing west towards Wycliffe in background. (8) Frank at Channel 2 with doppler map of rainfall from the Memorial Day 2015 storm.
Wycliffe Sinkhole February 2013. Due to weight of illegal 18 wheelers coming down Wycliffe (whole area marked NO THRU TRUCKS) the old street and sewer system collapses such as the photos shown here or the videos I have on youtube. The streets were not built for 10 ton rigs. The sinkhole here is one of three that have appeared in last 2 years, this one as you can see over foot wide, and if look down it, 15 feet deep into City of Houston sewer. During a walk with my boys we came across it so took these photos. It's big enough to take out a leg, tire and rim, or pet. Houston 311 was notified of it and will probably come out and patch it, but not sure how long that will last, as another patched at Wycliffe at Timberline is already starting to sink again.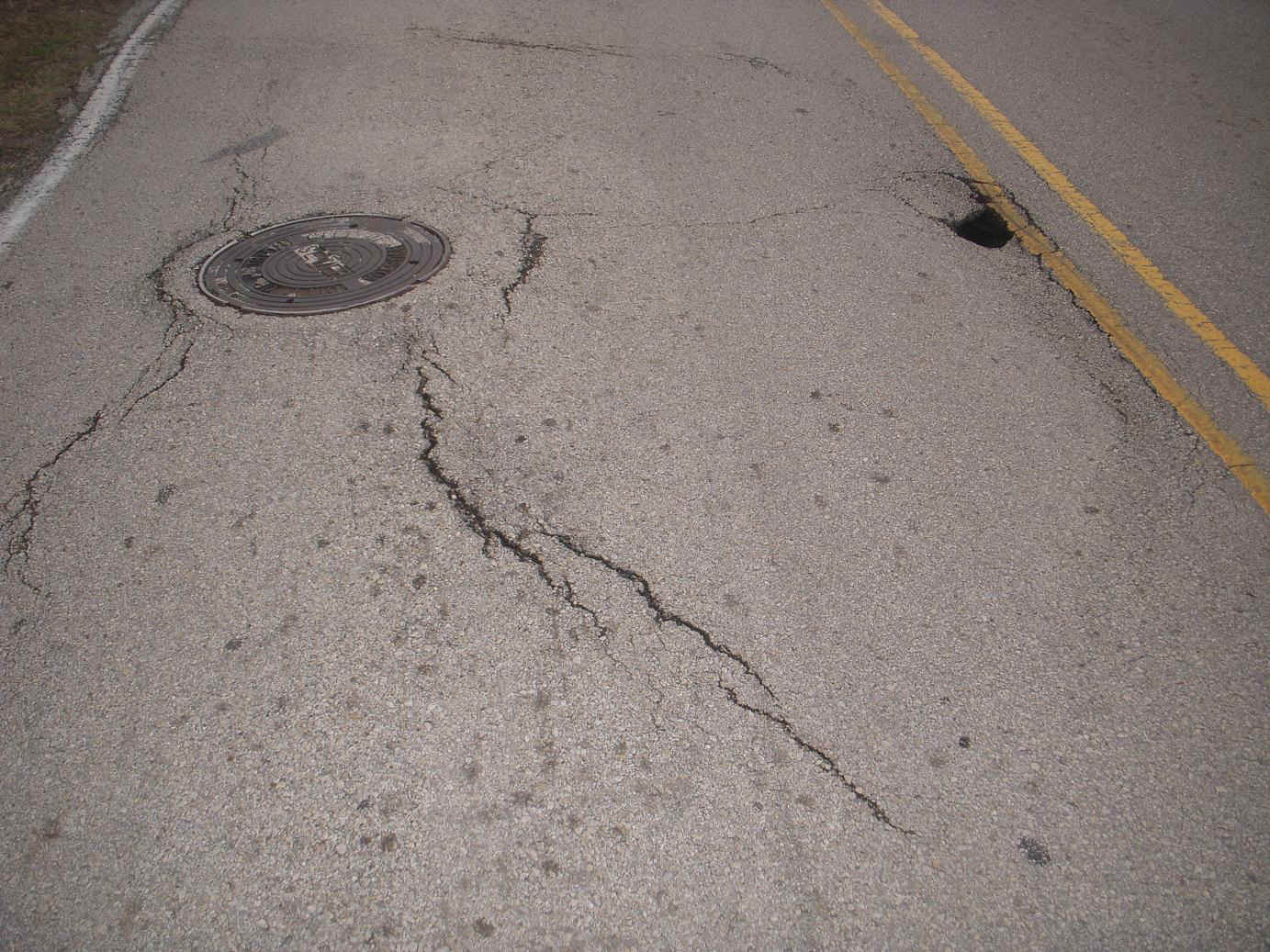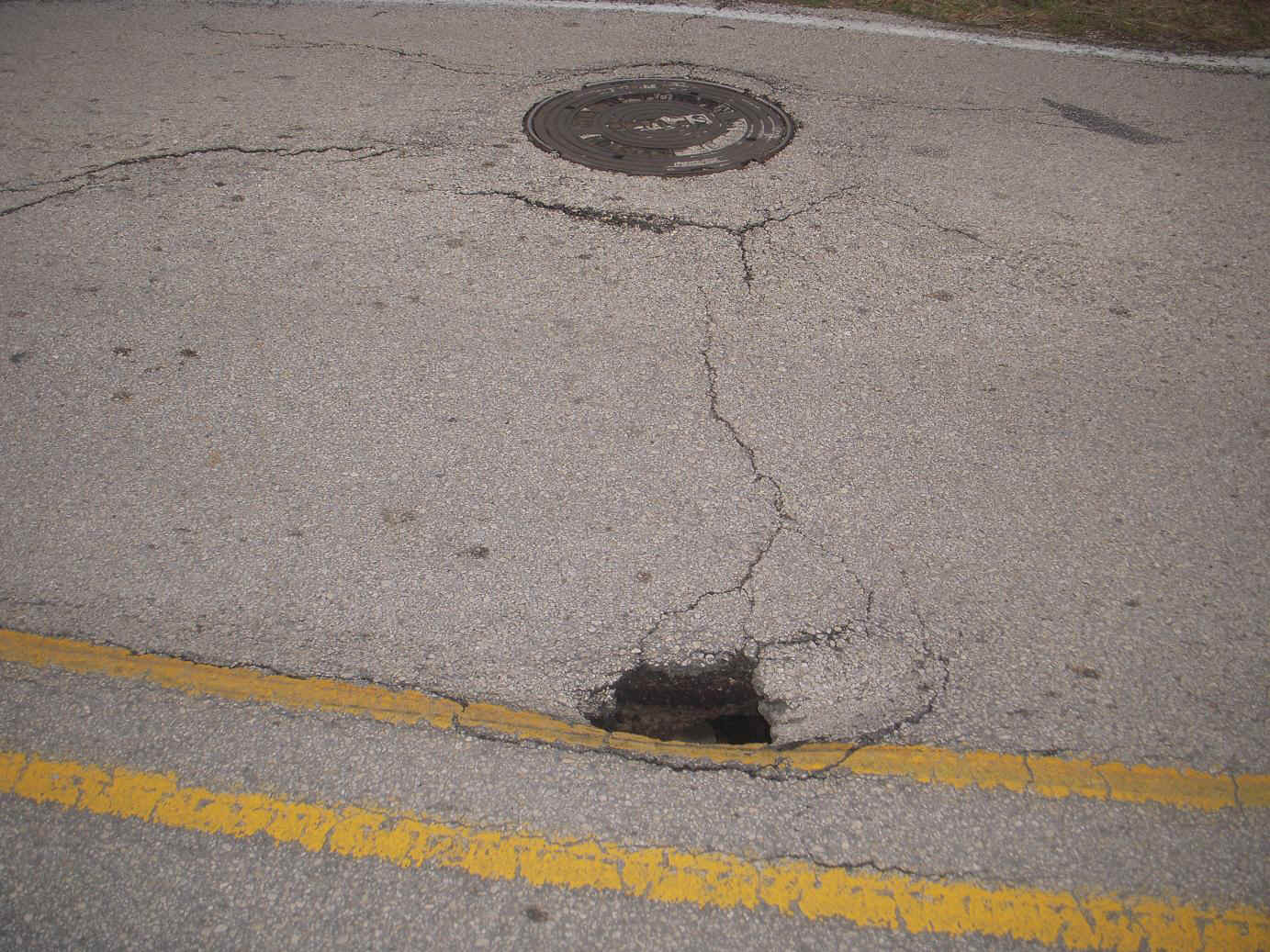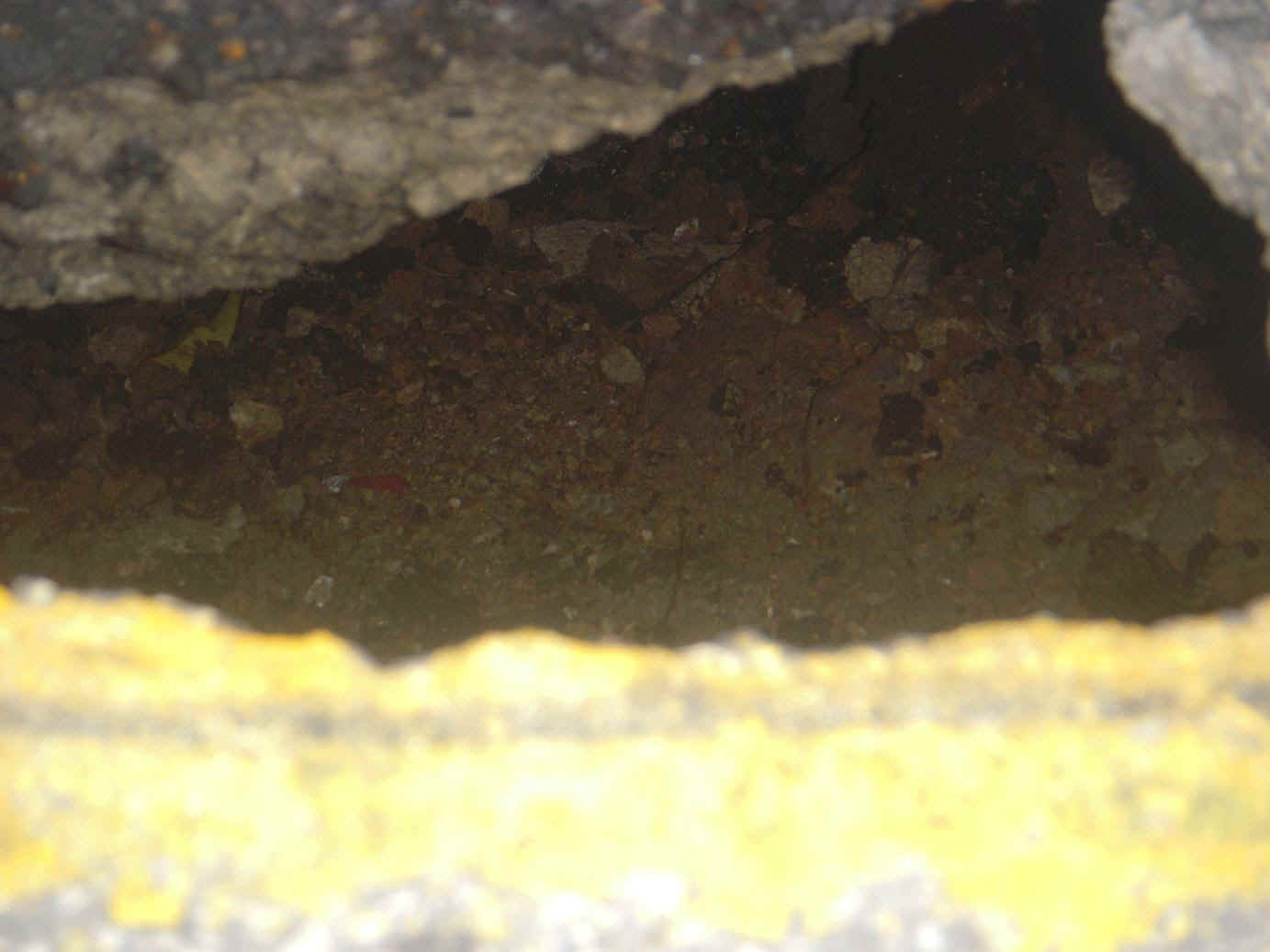 Timber Oak reconstruction, curbs & gutters
November 2011-ongoing: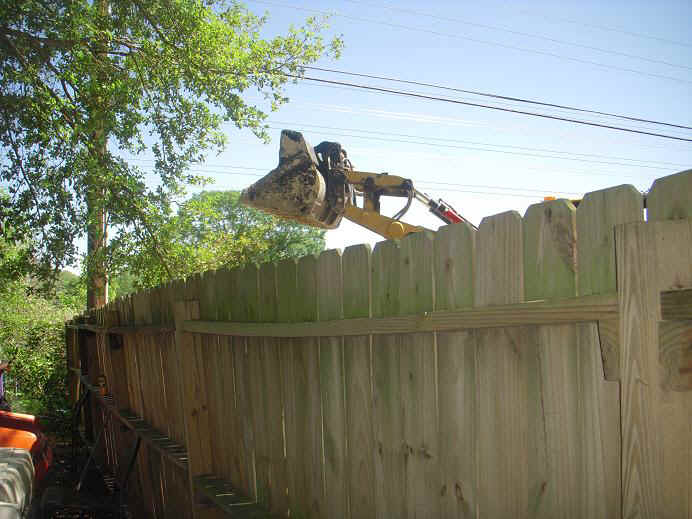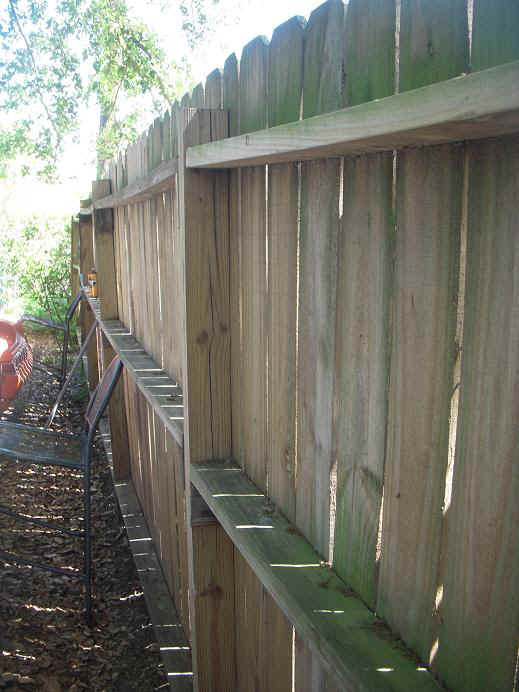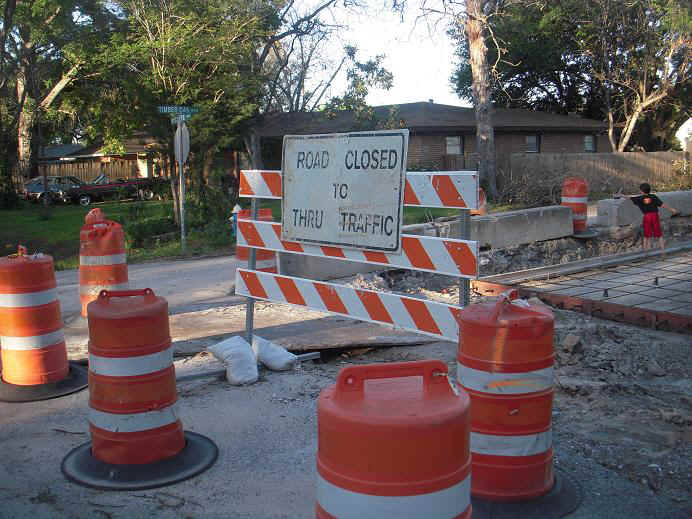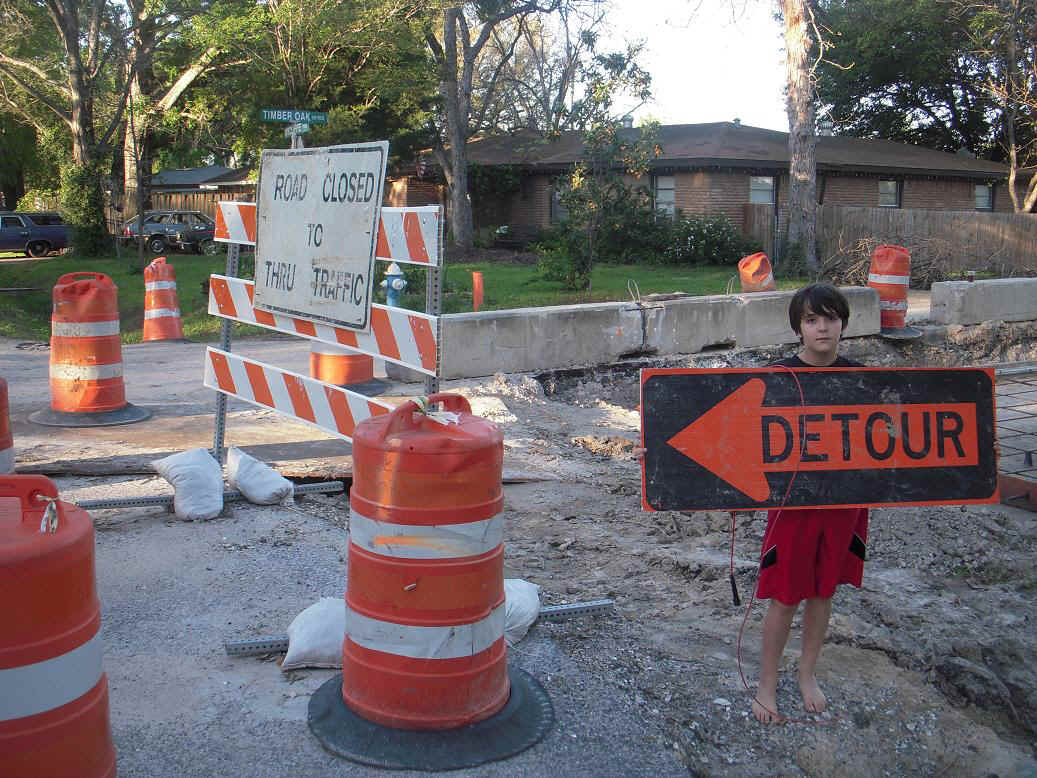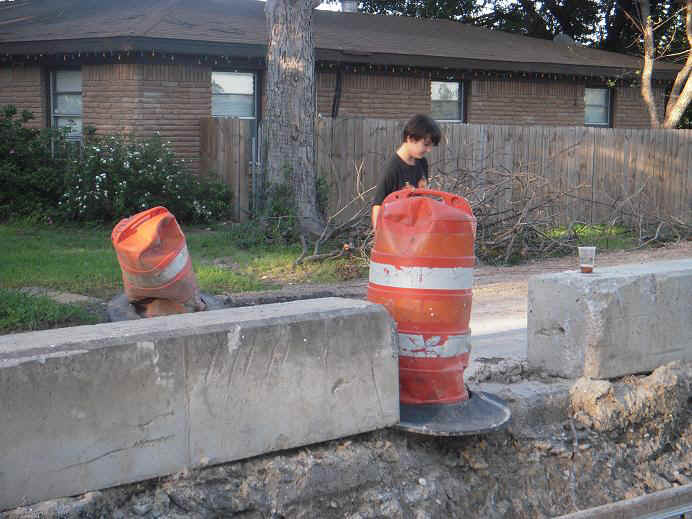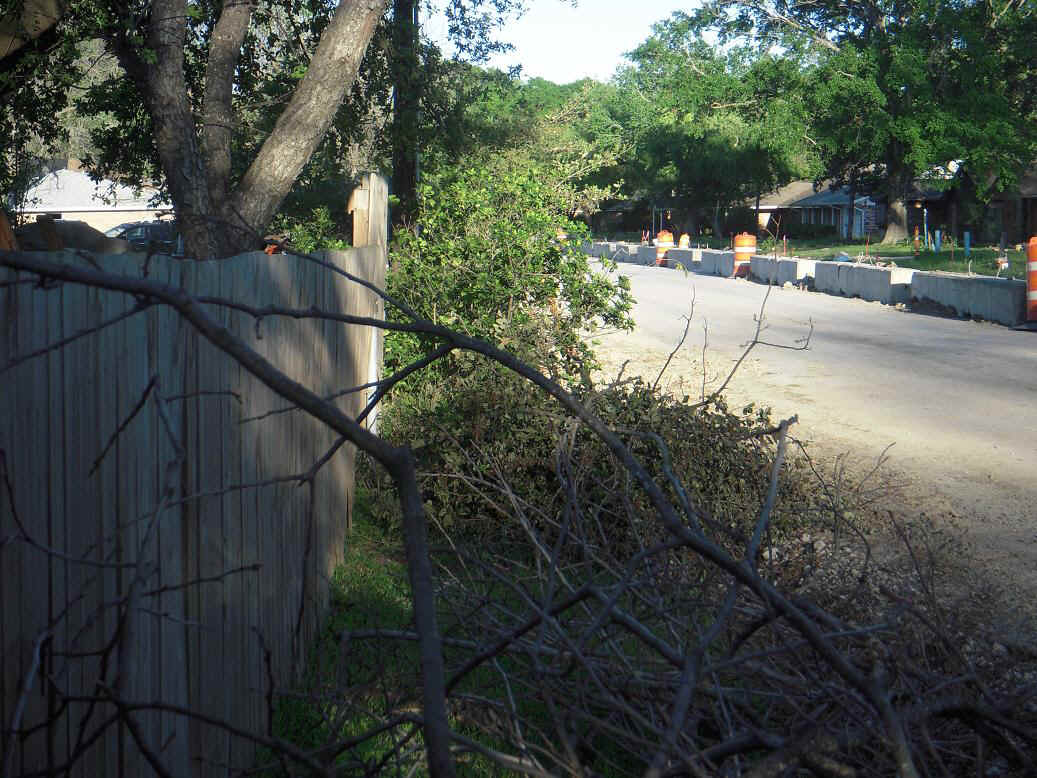 looking over at huge digger from my fence, my house is closest of all the homes to the street as on corner. The sheer mass of the huge machines have wrecked havoc on my fence of which will have to be reset after construction is over. The ditch on other side of my fence dug out so has really left fence ready to fall; this is a fence that had no issues with Hurricane Ike's 110mph winds in 2008.
Above 6 photos, son Jacob stands next to ATT fiber optic cable after it was pulled down by contractors. I was standing in bedroom when a backhoe snagged the line, which was about 12-14 feet off ground. The force of the pull was so great it blew it off three telephone poles! You can see damage to box on the pole next to my property, the idiots hung it up with tow strap. So electricity went out, Center Point called and had it back on in hour. However, cable & internet went out Friday April 6th about 1:30pm and even though I called ATT and they sent several people out, none of them could do anything due to damage. So 'construction' crew with buckets came out and fixed it Sunday April 8th. At least the wires, the cable itself had to be rehung to telephone poles, higher up Monday. Ironically the contractor building the street said 'a dump truck did it' while I watched their backhoe guy snag it! I mentioned this to ATT people in case the flunkies hired for street job try to weasel out of paying for damage they did.
Figuring sons Noah & Jacob could do a better job, I turn them loose on the 'Maters' to finish the job, at least they won't fill the new sewers with cement (another story the crews did) or snag overhead lines. They might build LEGO structures or smash a Hot wheels car that is about it.
If you don't think a 10+ ton machine breaking up concrete next to house causes a earthquake (and foundation problems) here is a short video I took of the monster, note camera shaking:
http://www.youtube.com/watch?v=uEwAC8DueGM
this is the Caterpillar machines on my side of street, again, my house is CLOSEST to the street of all homes down Timber Oak so figured would take this for prosperity measure in case there is property damage, as my 140 foot long fence has already been brushed against so is leaning. This is a fence that withstood Hurricane Ike but don't believe it will stand up to the Cats!
http://www.youtube.com/watch?v=WUXo-5-IP8k
Update November 2006. City of Houston crews came out and dug a trench on the side of my property facing Timber Oak. So thanks to the crew that came out and dug the ditch, I told them they could have all the pecans they could carry on my property, which several of them boxed up a lot, and I gave them about 30-40 fresh Star of the Valley ruby red grapefruits I picked while they worked, hopefully they shared these had a mess of them this year! As for the ditch, this will help but will not fix the problem. There still needs to be a "crossover" pipe under Wycliffe to alleviate all the water hitting the crossover pipe from two angles at this corner. I pointed out to the surveyor that EVERY street that intersects Wycliffe has a "crossover" pipe except Timber Oak for some reason. This is angle of new ditch from other side.
And this is a photo of the new ditch partially in the easement. Unfortunately they just dug a small portion here so water wants to run toward my property, and I don't want it and had to rebuild my earthen damn to keep it at bay, otherwise it is a PILE OF NILE mosquitos here.***
***To read more about the WATER PROBLEMS scroll down to very bottom.
It would be easy to dig up Wycliffe and drop one in, as one has been put north of me at Shadow Wood and south of me at Chatterton; the Chatterton one is new, only a few years old. As for digging the ditch on Timber Oak, one thing I didn't anticipate is the water that has been gurgling up from the ground for 7 years back there (mentioned below) would then start flowing on the side of my house again. I call this my "Mile of West Nile" as no one claims the break. Even more ironic is one City worker told me "yea, I remember coming out 7 years ago for this here problem" when I told him I recognized him. So I had to build a mini dam again so the side of my house would not be full of mosquitoes, crawdads, minnows and other critters, let the water soak back into the ground over in the easement like it has done for almost a decade! It has already reached about 4 inches deep with my little earthen dam. Luckily it flows backwars towards Brittmoore, but the water don't reach the first property behind me, as it dissipates and sinks back into the ground before getting over there.
As I took another beating from the storms that dumped anywhere between 4-12 inches of rain in and around Houston on October 15th, 2006; I though I would simply put up a webpage to document my problems. A few months ago I contacted 311 which is the City of Houston services, to come out and look at a pool of water at the back of my property on Timber Oak. I have been reporting it since 1999. Yes, almost 7 years now. The pool forms and has all sorts of neat critters in it, much to the delight of my kids. On the other hand it is a pool of St. Louis Encephalitis and West Nile Virus too.
The trucks were impressive that came out, one big backhaul digger and count them, five big City of Houston trucks. About a dozen, maybe more workers, all of which decided to have lunch on my property under the smallest of pecan trees; no problem with that and I gave them all Shasta sodas as it was a hot day. However, after calling whoever is I guess the supervisor it was determined to simply pat down the mud. That is right, all that equipment and men came out, and the digger only patted down the mud and then they all were gone. What a huge waste of taxpayer dollars I thought. No effort to even find the leak. Granted, the old H&J Utility water company here has been abandoned, and we are (at least I am!) been boiling our tap water since January 2006, almost a year ago. But years ago, the fellow who owned (possibly by law still owns the rights to the water company) this told me that the water leak was not his problem. So I called the City of Houston. Same deal, they said it was not their problem either. Apparently no one simply wants to claim the leak. So I have had a good sized ecosystem back there for 7 years teeming with life.
Which brings me to this. I just took a $17,000 beating on the appraisal of my house and property. While think it was over appraised to begin with...I have flooded not once, but TWICE this year. If you look at these photos, you will see that across the street on Wycliffe there is virtually NO water in the ditches. On this side however, all the water coming from the huge easement has to go somewhere, and it unfortunately heads this way. See my suggestions down below.
This is what is left of my front yard in July 2006. Look CLOSELY ACROSS THE STREET....NO WATER IN YARDS OR DICTHES! This is looking EAST on Timber Oak on the side of my property, note the vehicles wading thru flooded street. I feel sorry for those poor bastards who live down Timber Oak as they take water IN THEIR HOUSES when it rains as little as 3 inches now. This photo has me standing in over 5 inches or more of water lapping at the side of my house. This photo is looking at the corner....which is the problem at Wycliffe & Timber Oak. As mentioned below, two things could alleviate this quickly, one would be to add another pipe UNDER Wycliffe to help dissipate the water to the other side of street. The other would be to put a larger pipe under Timber Oak......OR BOTH.
This is a series of photos I shot in disgust October 15th, 2006 when only 3 months later.....I flooded again.
This photo shows water lapping into my garage. A photo of two of my classic cars, a 68 Rebel convertible Machine & a 71 SC/360 Hurst Hornet. Water was past the front wheels. A unusual photo shows my foot disappearing next to the tire on my 4x4 Eagle. The water in my driveway was 8 inches here. This photo shows the water on Timber Oak. This is NOT as bad as it WAS, I had to wait until it stopped pouring to get many of these photos due to lightning. This is the side of my house with the Carrier Air Condition unit taking a beating. The water is 4-5 inches up on the side of house; this is facing east towards back yard. This is the corner of my front yard, lucky for the street sitting "so high up" was sort of dry. This angle is from out on Wycliffe, you can gauge how deep water is by my two boys standing in it. You can also see how far up the house it got by the orange Eagle wagon I had taken a photo of my foot several photos above. Standing on the corner, you can see that the damned street is over a foot higher than my property. This NORMALLY would NOT be a problem...however, you have one small pipe trying to handle a lot of water from TWO ANGLES here. This is the lady's house at 1906, and you can see that the water has backed up into her property also. This is my back yard covered in 3-5 inches of water, depending on where you stand. I want you to look across the street, not only at the yards, but also HL&P (or Reliant) easement. Facing the back of my house, the water came within inches of going thru back door. You can see it is really close here though. At the back of my property line Noah & Jacob & Scruffy Dog enjoy looking for fresh crawfish.
This photo really shows it all. Taken in my backyard facing Timber Oak AND Wycliffe shows how severe it is. It is also a good indication of how the street is extremely HIGH as opposed to the properties. Look across the street and you can see Wycliffe is like a Evel Knievel Jump Ramp. Again, however, there is not much water in the ditches on the west side of the street either!
And finally....this is my back yard the morning of October 18th, 2006, 2 days later after the flooding. I believe in God all things are possible. Sometimes however you are tested in life over and over. Some things you can change, others you can't. I believe this flooding can be fixed and below offer some ideas and possible solutions.
The flow patterns have changed since I moved here. The reasons why are several, but will stick to what I have noticed. In March 2007, after a very heavy rain, I walked across Timberoak to make sure tha the old lady across the street is doing ok, we sort of watch out for her. The water on the north side of Timber Oak is flowing WEST.....but cross the street to her side, and it IS FLOWING EAST!! She told me (and look, she has been here since neighborhood founded in 1950s) she told me the water has always (or used to) flow EAST TOWARDS BRITTMOORE! Then onward toward I-10 south.
1. All the damned ditches need to be redug. The city has only come out one time in 7 years to deepen them. And in my two ditches, one on Wycliffe the other on Timber Oak, the Timer Oak side was not touched, and the Wycliffe side only saw what I call a scraping, that is, maybe two inches of dirt dug out.
2. The larger problem is the tubes that run under the street and driveways. All are clogged up. Not only up and down Wycliffe, but also Timber Oak, Sherwood Forest, Upland, Chatterton, and one of the worst is Brittmoore. I walk a lot for health reasons and have always been amazed at the neglect of these.
3. New construction. There has been a number of new houses built on Sherwood Forest, and many of these are putting in a 2 foot base of dirt, then a 1 foot foundation slab. So needless to say the water has to run off somewheres.
4. Interstate 10. I-10 has become a huge Netherlands type dam. I'm sure when it is finished in Year 3000 that the water will flow somehow around it's 24 lanes. But water has always flowed south in this area. Now with that mess, and it is a mess, over there, the water backs up quickly. In past rain events, the people closest to I-10 on Wycliffe have taken a beating. Also the houses on Timber Oak and Shadow Dale between Wycliffe and Brittmoore, and water gets into the houses.
5. This however is probably the biggest reason. Wycliffe was built in the 1950s. It is HIGHER than the surrounding properties. I pulled this from the Houston Chronicle a few days after my yard went underwater AGAIN. This is Fred Garcia, who is a Civil Engineer and spokesman for the Harris County Flood Control District. This is the article. I'll read it to you if you can't read it.
"City Streets", said Fred Garcia, a civil engineer and spokesman for the Harris County Flood Control District, "are designed to act as detention ponds when heavy rainfall incapacitates storm sewers." "It is a inconvenience, but it keeps water from rising into houses."

So while this area was annexed in 1974 by the City of Houston....not only do we have open ditches and no storm sewers, but the damned street is well over a foot above the ditches!
Suggestions.....and possible solutions!
This is my own ideas to hopefully stop this flooding, which is seemingly getting worse.
1. Get the City of Houston to come out and clean the aquaducts, or pipes, under the streets and driveways of muck. Why not do this work when they come in to change our water system over from whoever owns it not? I think Anna Nicole's baby currently owns it and we are getting screwed with $57 water bills. The 94 year old lady next to me don't even have a damned washer, and don't take showers (sponge baths, she would kill herself if trying to get in and out of tub) and she too is getting $57 bill! So why not if going to tear up streets here to go to City water, put in curbs and gutters at same time??
2. Put a relief duct/pipe UNDER Wycliffe at the corner to alleviate flow from Timber Oak. There is one at Chatterton and it works great. Actually there is one at every cross street EXCEPT Wycliffe & Timber Oak. It took the City to acknowledge that Timber Oak actually extended from Brittmoore to Wycliffe SIX YEARS before they finally came out to simply stripe the sides (with white paint) after me annoying them for years. So I am not holding breath on a crossover pipe here to alleviate the two way water flow into one clogged, centuries old pipe.
3. Lower the grade on the streets. On the "other" side of I-10 all the streets are LOWER than the properties. Same on the other or east side of Beltway 8. That area has had new paved streets with curbs put in. And new sewers. Some areas there have sidewalks, some don't. But having the streets lower than property has helped immensely when you have a flooding event to keep water out of homes.
4. Has it ever occurred to anyone whether in city government or Reliant that instead of the easements that crisscross all over Houston like this behind my house instead of them being totally FLAT, why not make them RETENTION PONDS something like Brawner Parkway in Corpus Christi, Texas where I am from? They don't have to be 10-12 feet deep like Brawner, just 5 feet in a slight slope....and it would eliminate a lot of problems all over Houston immediately! Think about it....millions of gallons of rain water that might otherwise destroy people's lives and property, would have a place to go, at least for awhile, instead of houses and businesses. This is a close up looking east of my property down Timber Oak, note the high water the truck is driving thru. These houses get water in them it seems each time it floods.
5. I want to comment also on the 311 Service in Houston. They are polite, attentive to what the problem may be, but unfortunately very SELECTIVE on what they may....or may not....do to tackle the problem. They are great when it comes to fixing street lights. They are good when it comes to digging ditches, usually within 2 weeks. They suck at installing stop signs. I have a large file here from my experiences with them and won't bore you with details. Every time I have seen street lamps out while walking I write down the lamp number, give them a call, and usually fixed in 2-3 days. The ditch mentioned above was dug on the side of my house in 2 weeks. It didn't help a damned thing, just created a moat from the 7 year old water leak in the easement. So I had to rebuild a earthen dam again to keep the water from sitting on the side of my property...filled with MOSQUITOS. While I know it is not legal, I also poured some petrol in the ditch to create a sheen and kill the mosquito larvae.....which it did. The earthen dam is holding back the 3-6 inches of water behind the property in the ditch just fine, and only when it rains hard does the water rise above it. I tried unsuccessfully a few times to get a THREE WAY STOP at Timber Oak and Wycliffe due to cut thru traffic, but to no avail, one Public Works employee told me that "there has to be at least 300 cars go thru the intersection per hour." I don't think 300 cars go thru there per hour, but sit out there at count them between 6:30am and 8:00am or 4:00pm-6:00pm one day and it is close if not above. Some are 300 miles per hour in the 30mph zone. So 311 has a 50/50 record at best, but SELECTIVE on what they may or may not come out to do. Sure wished they would clean the ditches and pipes under driveways as that has never happened in 7+ years.
Another flood April 18th, 2009. This was a series of thunderstorms trailing over Houston, and much of Houston got flooded. Some areas got 10 inches of rain like around Fuqua and Beamer and I-45. We got "only" 5-6 inches of rain Saturday, but enough that it came into the garage. Across the street it went into homes and behind us those poor folks actually blocked off Timber Oak with their vehicles so dumbasses in trucks driving by would not create "wakes" into their homes! So without much fanfare, here is another round of flooding at our house and property......
And the worse flooding yet.....ONLY A FEW DAYS LATER. This is April 28th/29st, 2009. The thunderstorms rolled in from the west...and sat over northwest Houston, with Jersey Village being the epicenter with 11+ inches of rain. However, we had 9 inches of rain here on Wycliffe, but the 8, 9, and 10+ inches of rain stretched from Galleria up to Cypress. For the first time ever....we had WATER IN THE HOUSE. Not only use but whole street, hell, whole neighborhoods that have never, repeat, never had water in homes including all around Memorial City Mall 3 miles from us! I-10 was shut down due to high water. Under the beltway 8 and I-10 was 15-17 feet of water, this 'was supposed to never flood again' considering almost a billion dollars wasted on this intersection, pumps, and drainage and huge viaducts. We lost a lot of stuff there was two inches of water throughout the house and five inches in garage. Some of the photos here show how water level reached a foot into the cars and up to 9 inches on side of house. We have spent the last week (along with everyone else in this subdivision) pulling carpet, throwing out waterlogged books, paper, clothes, anything that had gotten wet. We could not dry anything for a whole day as the water level inside garage was too high and would have burned up the dryer. Hopefully we can save the hardwood floors, others on our street have already started knocking out drywall and sheetrock. Here is a whole slew of photos from this flood April 28th.
The last three photos......I lost a lot of photos, and desperately tried to save them, that is a small part of front yard with them laid out in sun. Photos of my, and Paige's family, dating from 1950s thru 2000s. Huge amount of AMC photos taken at National Meets since 1980s, with the VIN's and Door Tags written on back, not sure if legible now. The last two photos shows the huge debris field in front of our house...May 19th, 2009; about 17 feet long and about 4-5 feet high; clothes, books, toys, shoes, AMC things like posters, photos, it's in there sadly.
This is a Houston Chronicle story from May 2009 as the 'final tally' of homes is estimated at 2300 homes flooded by the April 28th/29th storms. READ IT.
This is a neighbor's house, Joe who is catty corner across from mine and also flooded and can be seen in several photos in the background from my property. He logged a lot of photos to his myspace page for insurance purposes.
Click here to see Joe's photos.
==============================================================
WATER PROBLEMS!!!
I don't want to "water down" the two different issues here....flooding.....and whoever the hell runs the water company like Anna Nicole's whose your daddy campaign. Most people take drinking, or tap water, for granted. In this neighborhood it can make you sick as hell if you drink from the tap.
This is three photos I took of our tap water three different times of day recently in 2007.
Photo One. Photo Two. Photo Three.
I ask you, would you drink this shit? Our water company here has been passed around like my ex wife in high school. At the moment (April 2007) there is some no name company that is fond of sending out $57 water bills and charging late fees, even though at recent meeting no one got a bill from them to begin with, much less had heard of them. I'm not even sure Willis is in Texas. The big water tank behind my house is on verge of collapse. You can see the different tints of the tap water above however and many people continue to boil water and buy bottled water in this area.

This is what I affectionately call THE SEVEN YEAR LEAK.
Photo One. Photo Two. Photo Three. Photo Four.
I can't make crap like this up, you can easily see it spewing fresh water out daily. Wished it was oil and I was Jed Clampett. I pointed it out to a City Of Houston employee April 2007 who was surveying the area. Like many others before him they said to 'call government and report it' but no one claims it. You can actually hear it hissing and it tosses out hundreds of thousands of gallons of water per year......which is why I built the earthen damn, otherwise I would have a permamant PILE OF NILE West Nile mosquito farm here. H&J Utility said it was not their problem. The El Campo Nameless Water Company said ain't theirs either. Every time I have talked to City workers they have said not theirs. Hell, it belongs to someone....BUT NO ONE WANTS TO CLAIM.....OR FIX IT........SEVEN YEARS AND COUNTING ON THIS ONE........
This is actually how many days have passed since it was first reported in 2000!!

It...has been spewing....and I have been complaining.....since Year 2000 to no avail. So The Seven Year Leak Continues. On a brighter note, I have taught the boys to catch minnows back there and there sure are some nice sized crawdads there ready to drop in the boiling pot with habaneros, Tony Cacheries seasoning, red potatoes and corn on the cob. You can also see all types of birds drinking out of it, as it is fresh water spewing up: sparrows, cardinals, wrens, red tailed hawks, morning and Mexican doves, blue jays, grackles, cowbirds, red wing blackbirds, and mocking birds are only a few we have seen back there near the pond. Any frogs or snakes we catch go into the pond also. So not all bad, but the water used to flow towards Brittmoore, not west years ago! It still does, but on the opposite side of street. This is why the earthen dam. Hope whoever ends up being the water company fixes it but I will miss all the birds, so will have to buy large birdbath.
Update 2010: In 2009 the fellow who owned the MUD and serviced the water for this area walked away and abandoned his well. So water was on auto pilot, no one running the ship. The city stepped in and sued him however he was broke, so now city had to come in and lay new pipes and service this area. So we are in 21st Century now with city water.